Here's a piece of something I wrote in another public automotive forum and just wanted to share it here:
After many months of searching for a replacement for my Peugeot 308T, I had finally settled on a Skoda Octavia (made 2006, registered 2008 so effectively it's a 4 year OTR car). Initially placed booking for the Peugeot 508 and VW Jetta but due to a recent property purchase, I can ill afford a monthly car repayment approaching RM2k. So I had a budget of around RM50,000 – RM70,000. My priorities were:-
1) Must have the appropriate business-look (the 308 fails somewhat in this aspect, IMHO)
2) Must be a sedan
Based on those 2 criteria, I shortlisted 2 cars. A new Proton Inspira 1.8MT (cheapest ok looking car for less than RM80k) and a 2nd hand Peugeot 407 (which I test drove a few years back and recalled how capable a cruiser it is and relatively fuss free as reported by owners). I did not take into account any Japanese alternatives as my company's bosses is not supportive of Jap technology. So I narrowed down my search to those cars from September onwards. Some Proton dealerships were throwing RM8k discounts which brings it down to the high side of my budget whereas the only models I can find of the 407 are those made in 2004-2006. I was more inclined towards the 407 since having driven contis before, getting back to an Asian car makes driving a little more mundane. However, those 407s are CBUs and has less features than the 2008/09 CKD versions. Some components may be due to be changed and I am worried about the parts pricing.
Then, 2 weeks ago, this car showed up in Mudah:-
I have been aware of Skoda for quite a while considering they're part of Volkswagen Audi Group and initially, I could not accept their boxy outlook. The Czechoslovakia built car seem to have a design that's appropriate to the 90s and have never given it much thought. A lot of people agree that Skoda is a good brand but it's second hand value is almost non-existent. Also other concerns of potential buyers include availability of spare parts and dealership support (I'll get to those later). But many concur that it might be a good 2nd hand car to buy once the first 3-4 years of painful depreciation is borne by the 1st owner …. but not all follow up with the purchase as newer car models that offers more features at low prices hit the market. With such wide variety of choices, it is easy to forget about this make … unless you happen to stay for a period of time in Europe and see how popular it is there.
Owning a Golf TSi changed the negative perspective I had of the brand …. in the end, it's the driving dynamics, quality of built and functional convenience that comes with the car that matters. So in 2 days since it was posted up, I went to see the car and day 3 saw me paying the deposit for it, day 5 had the loan approved and 6 days later, I was driving it home.
Dimension specifications
It has a length 4,572, width 1,769 and height 1,462 with a wheelbase of 2,578mm. So in terms of size, it's a C segment and direct competitor to Honda Civic, Toyota Altis, Nissan Sylphy, Mazda 3, Mitsubishi Lancer/Proton Inspira, Hyundai Avante/Elantra, Kia Forte, Peugeot 308 and VW Golf.
Compared to a Proton Inspira, the Octavia has almost the same length, same width and rides lower by 20mm. While the wheelbase of the Inspira trumps the Octavia by 57mm, rear legroom remains excellent … better than the Forte, I feel even though Forte's wheelbase is the longest at 2,650.
Full specifications sheet can be found here:
http://www.skoda.com.my/octavia200fsi_spec.htm
Practicality
One of the most useful features about it is how the boot/tailgate opens up. Conventional hatchbacks (and station wagons) have one advantage which is to open its rear and the entry aperture is tall and wide, making it easy to stuff in odd sized objects and large boxes. The Octavia offers similar, if not a better way of giving you the best aperture opening (geez, I'm beginning to sound like a DSLR camera freak)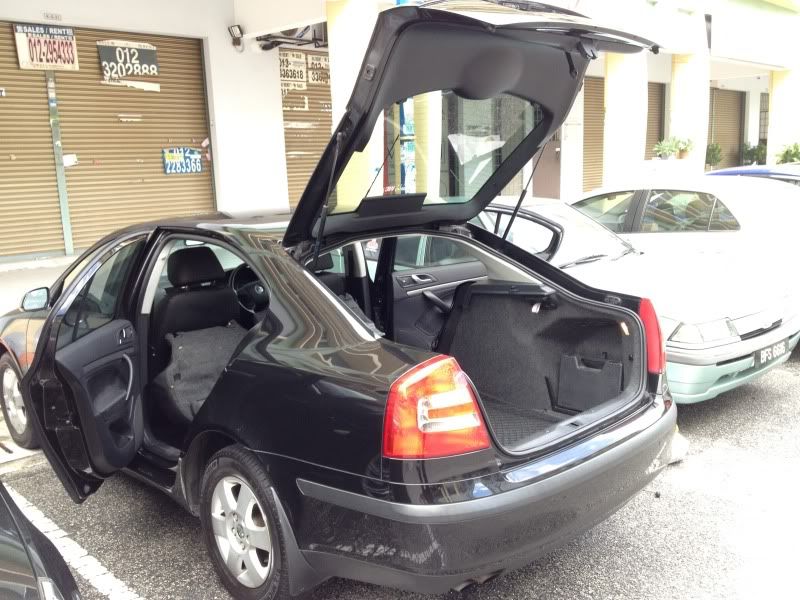 With the rear windscreen opening up together like a hatch. it's HUGE. I think I dare say I can go shopping for a fridge and it'll fit nicely in there. My colleague said he'll call me when he needs to move house. Check out the boot space:
.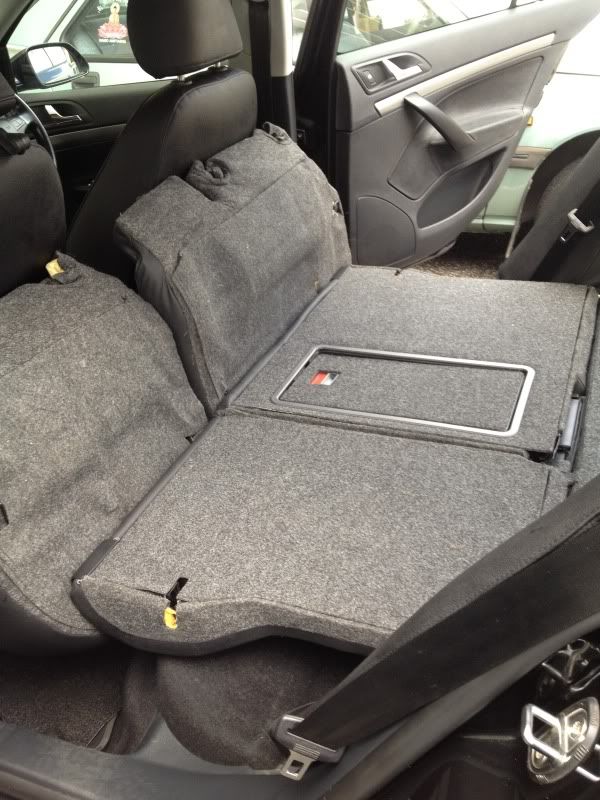 Without the seats folding down, it has a boot capacity of 560litres. Once folded down, the space goes up to a whopping 1,350litres …. in mafia terms, that'll probably equate to …. ermm …. 8 body bags? The rear seats can be folded completely flat, a mini-bang bus?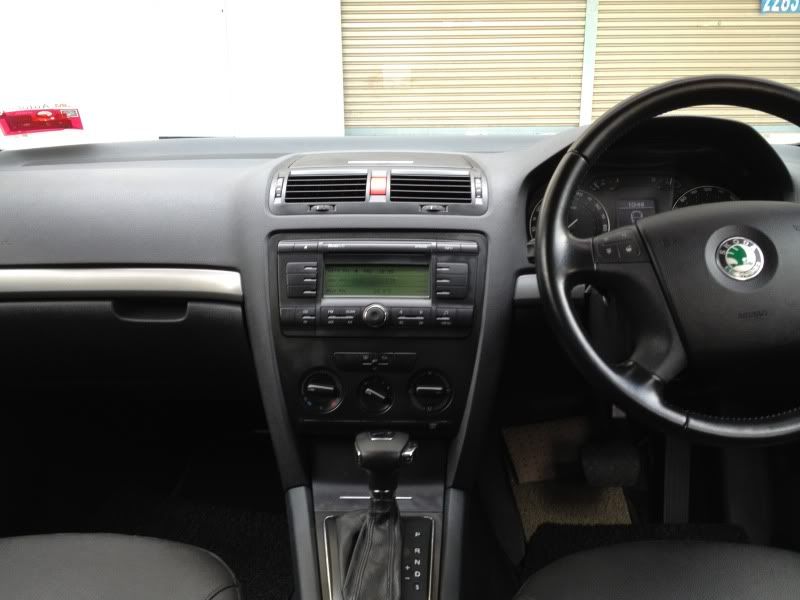 The layout of all buttons and switches are typical German …. simple, easy and practical. Steering is light but communicating good feedback that allows me to take corners at higher speeds (which I did once and discovered how bad all 4 tires were since for the past 50,000km, it was not changed). With stock profile tires sized 195/65/15, the 4 rubbers and VW suspension soaks up pot holes and bumps pretty well. Bro chargerguy here remarked that it felt like an E class, only with better acceleration.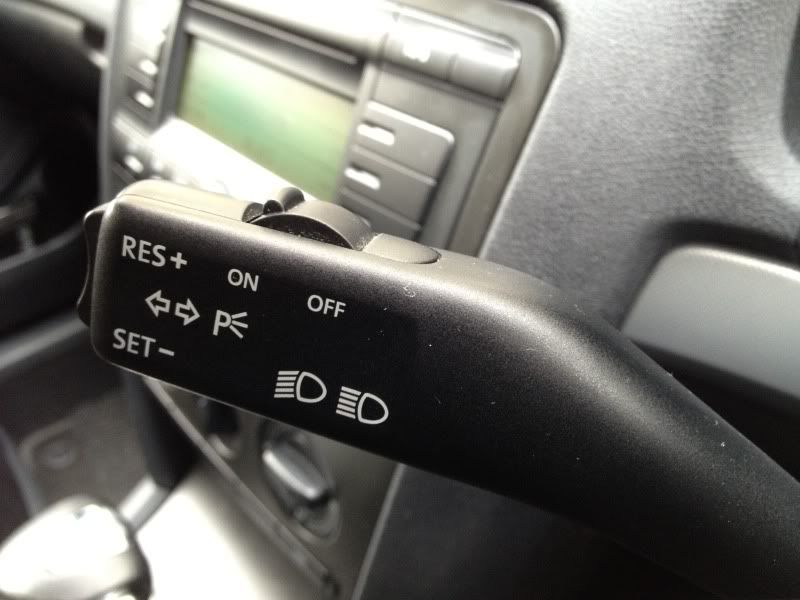 The car has cruise control but has no indication on the instrument cluster whether it's active or otherwise so users must be more alert when using it.
Memory seats, with 3 memory positions. I absolutely love this …. every traffic light would see me fiddle with it to see if I can further improve my seating position …. so much so I wonder if having too many seating options is a good thing. Oh, the memory function also memorizes the side mirror tilt angles so that when the shorter wife gets into the car and selects her seating position (which is usually closer to the pedal), the side mirrors tilt inwards for her to see well too. Last I checked, the 407 does not have this.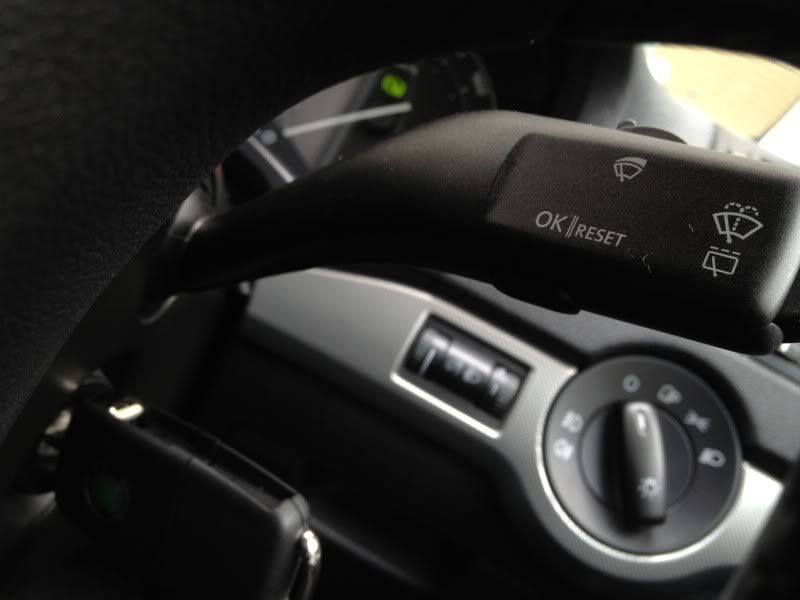 Auto headlight and auto rain sensors are standard in the Octavia. Too bad it uses halogen ….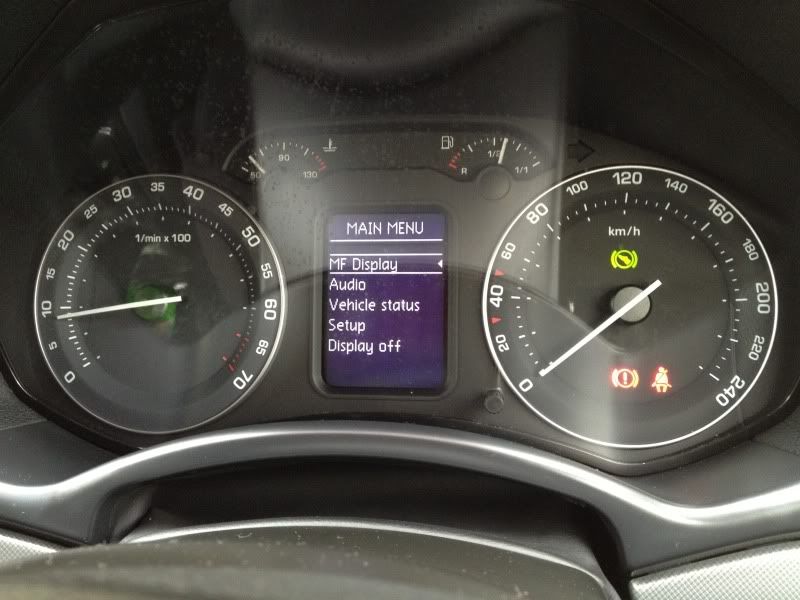 I was quite impressed with the white MFD considering the car is technically 6 years old. If I'm not mistaken, the Golf MkV and Jetta MkV has orange backlights like the 308.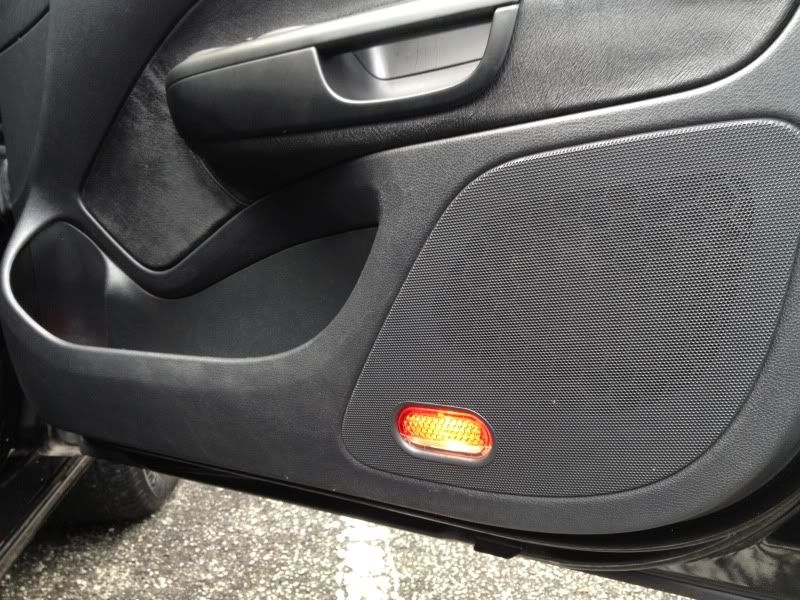 All 4 doors has illuminated warning lights on doors to warn oncoming traffic that the door is ajar. Hardly come across cars that costs less than RM200k with this feature.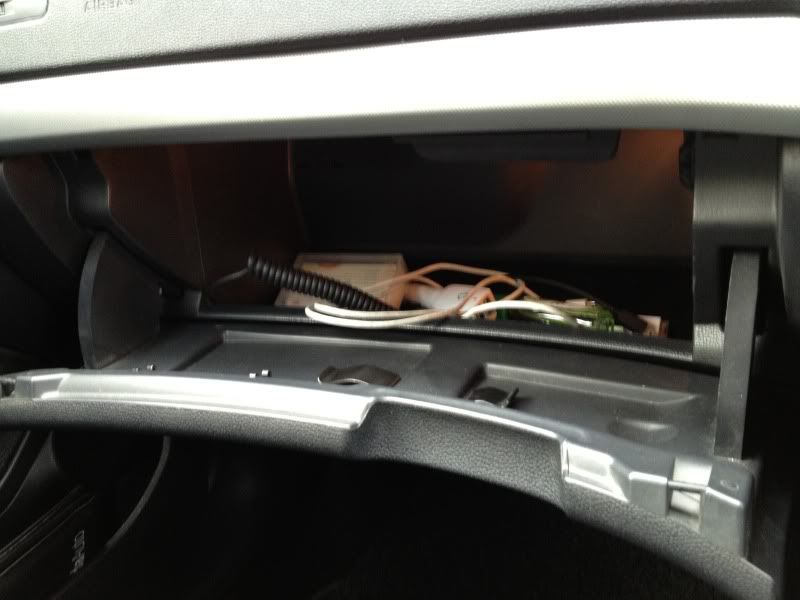 Ample cubicles everywhere for the Starbucks coffee cup, baby milk bottles and other odd liquid containers. No, I don't think there is space for the vodka bottle.
Side mirrors has integrated turn signals and also has the door convenience light so that whenever you open the door, the area below it is illuminated to avoid the patch of mud that you may have otherwise missed parking in the dark alley.
Other practical specs of the car includes Auto climatic aircond, an alarm (you have no idea how surprised I was discovering this since both the Peugeot and Golf does not come with alarms), 8 speaker system (which sounds so much better than the Golf), parking lights (less worry about other drivers not spotting your car at the dark corner when you can switch on one of the side front and rear lights) and all 4 windows are electric with full auto down/up (typical of all VAG vehicles, holding the unlock button on the remote opens up all the windows to cool the car more).
Performance and Handling
At the heart of the Octavia is an Audi sourced 2.0litre FSi (fuel stratified injection) engine which is supposedly more fuel saving compared to other 2.0 engines. And it's true! My first pump has the trip indicator showing 640km range (it has a 55 litre fuel tank, btw) which far exceeds my Golf TSi's range. I was wondering if it was faulty but after driving it around town these past few days, I think it's accurate. And this is purely city drive. Tomorrow will be making a day trip down to Pontian and will report the pure highway mileage. The engine kicks out 150hp and 200Nm worth of torque which is more than adequate to propel the car from 0-100 in about 10 seconds.
6 speed tiptronic gearbox sourced from Audi. Not as smooth as a DSG at high speeds but I absolutely love it at low speeds where it does not suffer the 1/2 second lag of DSGs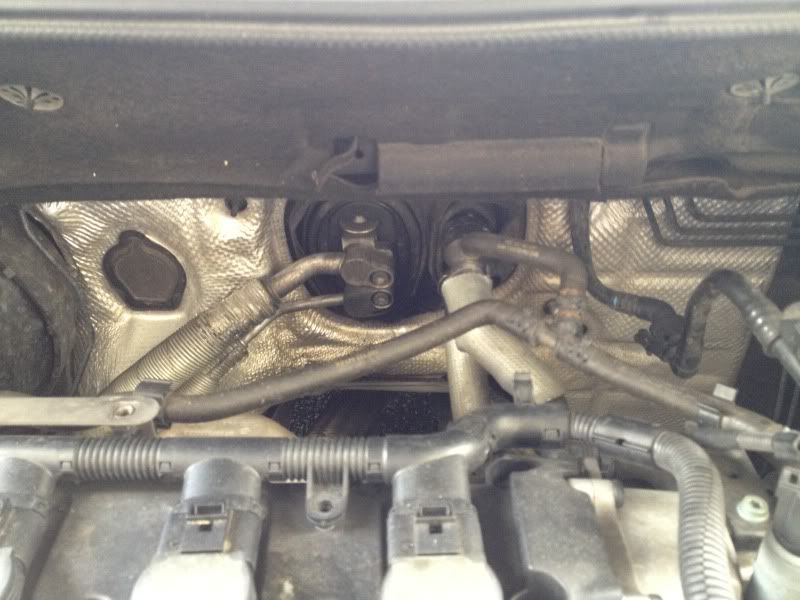 NVH in the cabin is excellent, thanks to proper fire wall and sound-deadening done around the galvanized body. The bad thing is, it amplifies all the little creaks that appears on a few year old car. Need to find time (and a driver) to go "mouse" hunting in this car.
.
As mentioned earlier, my tires are due to be changed and I did that yesterday. In went the Bridgestone AR10 205/60/15 and the rim looks a bit nicer with some side bulge. The bad thing is, the fender gap is now as big as a whale and I could roll over a chicken and it'll probably survive going round my tires
. Oh, look …. Volkswagen suspension. As I recall, the Octavia shares the same platform as the VW Jetta MkV …. shouldn't be too difficult to find spare parts then
.
.
Brake calipers are from Audi/VW …..
.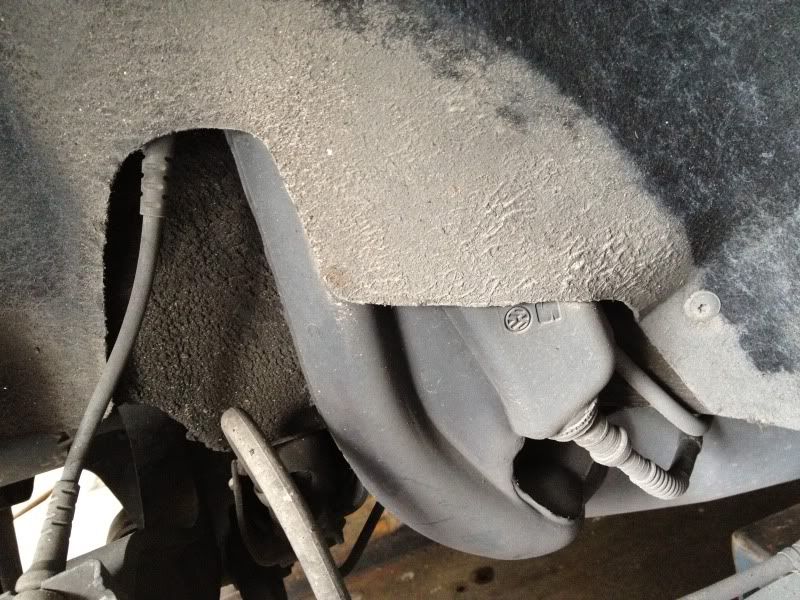 Spot the VW badge
Everything underneath this car is either from VW or Audi. Heck, my mechanic even remarked that the starting growl of the engine is almost exactly identical to an Audi TT.
As for the fuel consumption, I get an average of 500km/50litres city drive while outstation, my best record so far is this:
Scary driving around with zero km range on the trip meter
.
.
Ok, not a single person I have spoken to about the car neglected to mention about availability of spare parts and how expensive it might cost for a car that's as rare as an honest politician. I think for parts, there are a number of Audi/VW specialists around who can source for similar compatible parts. Also heard there's a place in Jln Ipoh that beings in Skoda parts so I'm not that worried. As for the pricing, well, one of the reason why I purchased this car is because it has full service records with the authorized SC. Just to list some of the components that has been changed for this car as well as it's pricing for you to judge:-
Normal service of oil change, oil filter: RM446.85 (done every 10,000km)
ATF : RM319.20
Front windscreen : RM1,725 (surprisingly cheap considering it has sensors on it. Golf costs around RM4k & 308 costs a little higher)
Aircond compressor : RM2,314
Battery 66DIN : RM417
Timing belt kit (yes, it still uses a belt but replaced every 100,000km) : 1,058.40
Drive belt : RM100
Belt tensioner : RM430
I changed a set of Bridgestone AR10 205/60/15 for RM280 a piece.
If you're in Malaysia and wonders if spare parts are easily obtained, here's a list of dealers/workshops that carries Skoda parts as well as other VAG makes:-
BERMAZ MOTOR TRADING SDN BHD (9529-K)
Lot 9, Jalan 219, Federal Highway,
46100, Petaling Jaya, Selangor.D.E.
Tel: 03 – 79576662 , 79573662
Fax: 03 – 79577662
Contact: Mr. Paul D.C , Janet
Email: pauldc@skoda.com.my
DUNIA PRESTASI AUTO SDN BHD (327256-H)
No.5, Jalan Pelukis U1/46, Temasya Industrial Park,Section U1
40150 Shah Alam, Selangor. D.E.
Tel: 03 – 7627 8888
Fax: 03 – 5569 2891
Contact: Mr. Paul D.C , Mr. Wan
Email: pauldc@skoda.com.my
CKW TAYAR SERVIS SDN BHD (663621-H)
No. 13 & 15, Jalan 3/69, Section 3,
Bandar Baru Bangi, 43650, Selangor
Tel: 03 – 8920 3093 , 8925 7393
Fax: 03 – 8925 3903
Contact: Mr. C.K.Wan, Miss Ling
Email: wanhingautomotive@gmail.com
NZ WHEEL SDN BHD (329033-V)
Lot.1385,Wisma Naza, Jalan Kapar, Batu 2,
Kawasan 19, 41400 Klang,Selangor.D.E.
Tel: 03 – 3342 3333
Fax: 03 – 3343 4627
Contact: En. Izzuddin , Nor azian
Email: izzuddinmyusoff@naza.com.my
BUMI MERIDIAN SDN BHD
No. 54 & 54-1, Jalan Kasuarina 12 / KS 7, Bontanic Capital,
41200 Klang, Selangor.
Tel: 03 – 3325 1325
Fax: 03 – 3325 1326
Contact: Mr. Koh Lay Huat
Email: bumimeridian@gmail.com
PRIMA MERDU SDN BHD (NEW BRANCH)
Lot 1872, Block C/D, Jalan Semenyih,
43000 Kajang, Selangor.
Tel: 03 – 8873 8221
Fax: 03 – 8737 5562
Contact: Mr. Alan
Email: alan@skoda.com.my
EXCELCAR SERVICES SDN BHD (497061-V)
No,1, Jalan Damar SD 15/1, Bandar Sri Damansara,
58200 Kuala Lumpur.
Tel: 03 – 6274 3900
Fax: 03 – 6272 7728
Contact: Mr. Steve Chong
Email: excelcar@streamyx.com
ACT- CHIEVERS SDN. BHD
No.33, Jalan Kencana 15, Taman Kencana,
56100, Cheras, Kuala Lumpur
Tel: 03 – 4297 3366
Fax: 03 – 4297 2266
Contact: Mr. Ken Wong
Email: janice@sianghin.com
BERMAZ MOTOR TRADING SDN BHD
214, Jalan Ampang,
50450, Kuala Lumpur
Tel: 03 – 2161 1399
Fax: 03 – 2161 1292
Contact: En. Asmadi
Email: asmadi@skoda.com.my
AUTO TULIN SDN BHD (NEW DEALER)
Lot 14, Jalan Pahang,
53000 Kuala Lumpur.
Tel: 03 – 4022 5828
Contact: Mr. Indran
Email: autotulin@yahoo.com
So far, I have had to service once and I sent it back to Glenmarie because it is conveniently located near my office. If I wanted to go to a non-authorized SC, I would visit:-
Exquisite Marques Sdn Bhd (I call them EM for short)
No 1 & 3 Jalan PJU 3/41,
Sunway Damansara Technology Park
47810 Petaling Jaya
Selangor Darul Ehsan
Malaysia
Tel No: +603 – 7885 9628
Fax No: +603 – 7885 9728
Still think it's difficult to get after sales service for this car?
As for the price, the car was sold new in 2008 at RM173,xxx minus a few thousand discount.
I bought it for RM58,800 OTR inclusive of insurance (with windscreen insurance added), transfer fees, convenience fee, hardship fee, blah blah blah. May complained about how poor the 2nd hand value of Skoda, to which I agree (at this point). So it's good to get a 2nd hand unit then when the first owner have absorbed the first 3-4 years depreciation cost.
A 2006 Octavia should cost between RM45,000 to RM60,000 depending on condition and mileage. 2nd hand dealers may mark up higher to factor in the cost of long storage (it's not everyday you find a willing buyer to purchase such a "cold" car). The older MkI Octavia with a 1.8 turbo engine such as those from 2004 to 2005 may be had for RM30,000 – RM50,000. So for those shopping for a car with a budget of RM40,000 to RM60,000, you can only afford B segment Japanese cars of the same segment such as Honda City (2004-2005), Nissan Sentra (2005-2006), Toyota Vios G Spec (2004-2005) and Hyundais/Kias. When you compare against those makes, the Skoda's lower 2nd hand value makes it practically a steal!
Personally, I can't complain much about the price (though I think it's slightly on the high side but considering the car condition is still good, has full service records, I am willing to pay a bit more for it) …. at least, I think it's a better buy compared to an Inspira or a 2nd hand 407. But that's just me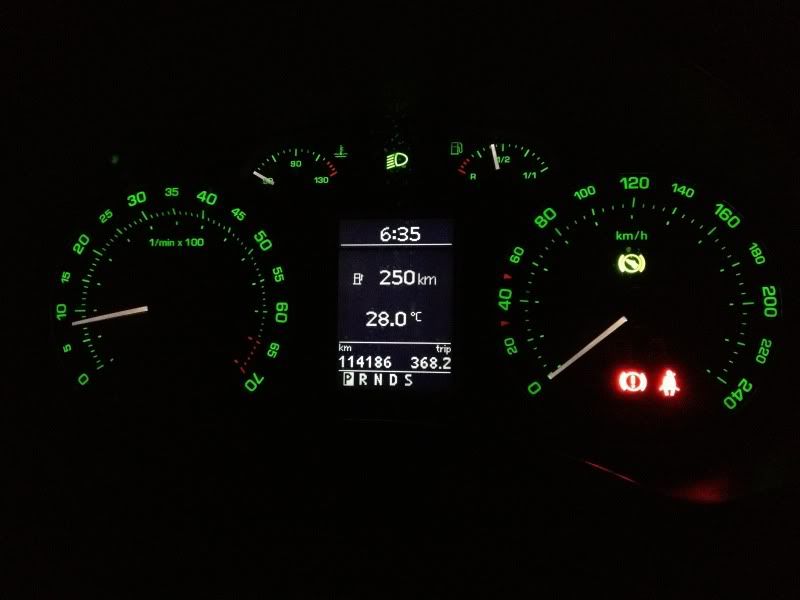 The instrument cluster …. green, green, green …. easy to see yet I feel is classy compared to orange dials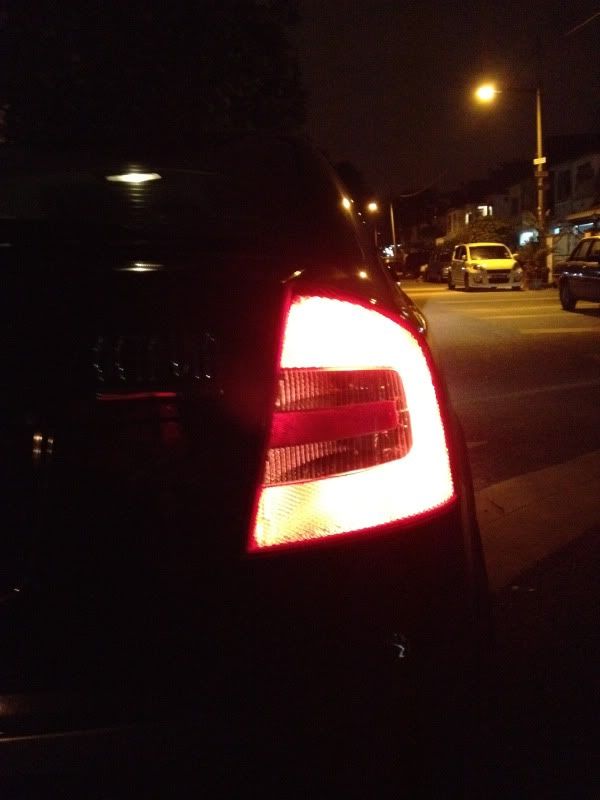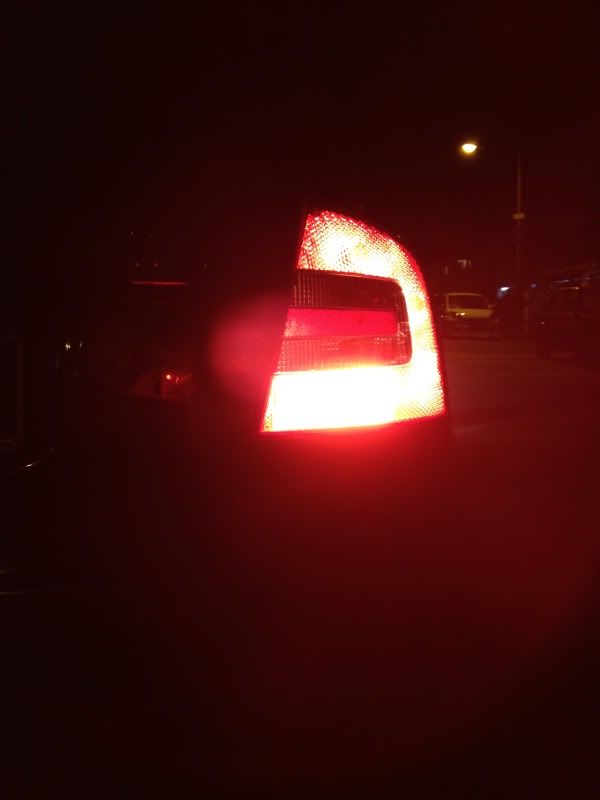 The rear lamp light profile, without and with rear fog lamps. Sorry for the poor image quality, the rear fog lamps looks a lot brighter than what you see here.
Subsequently, after spending a whole day at the spa, my ride is truly 10 years younger!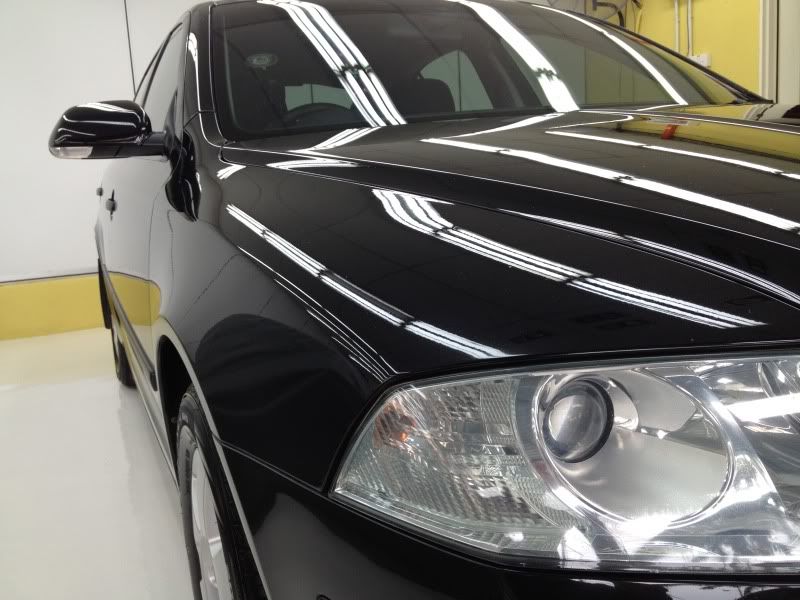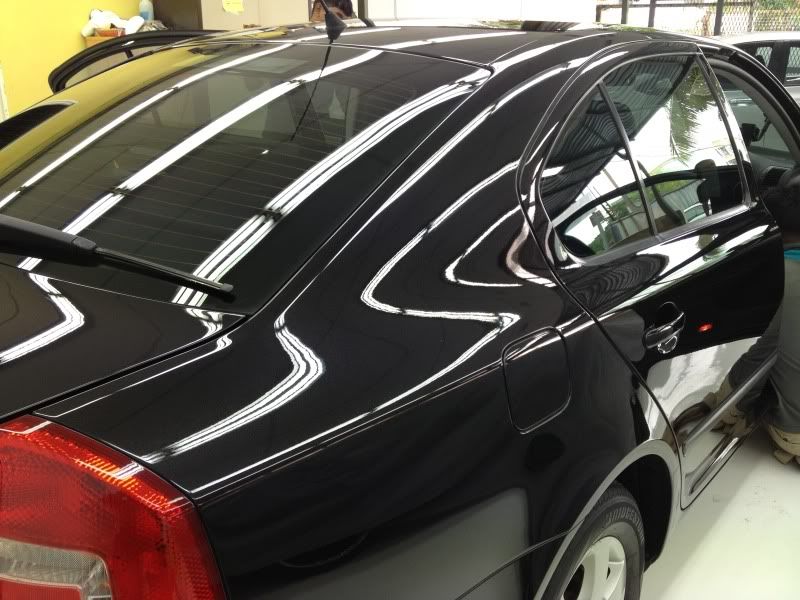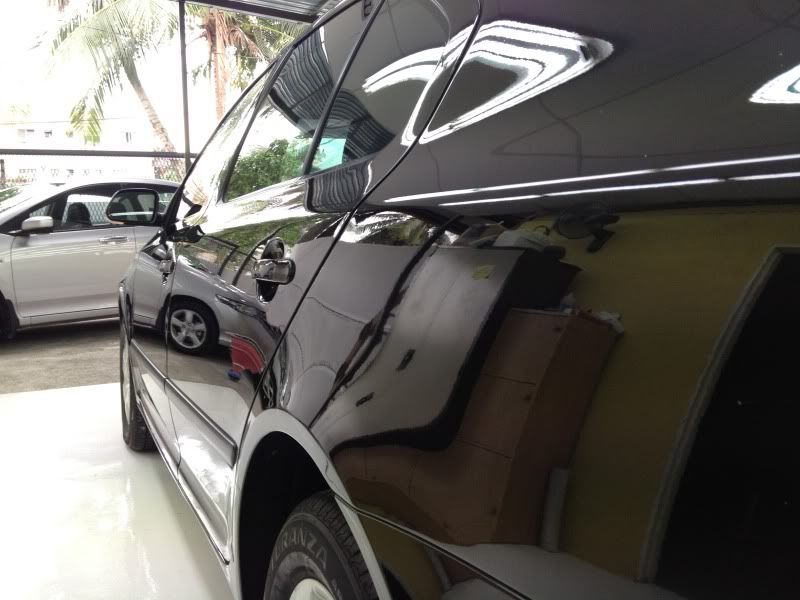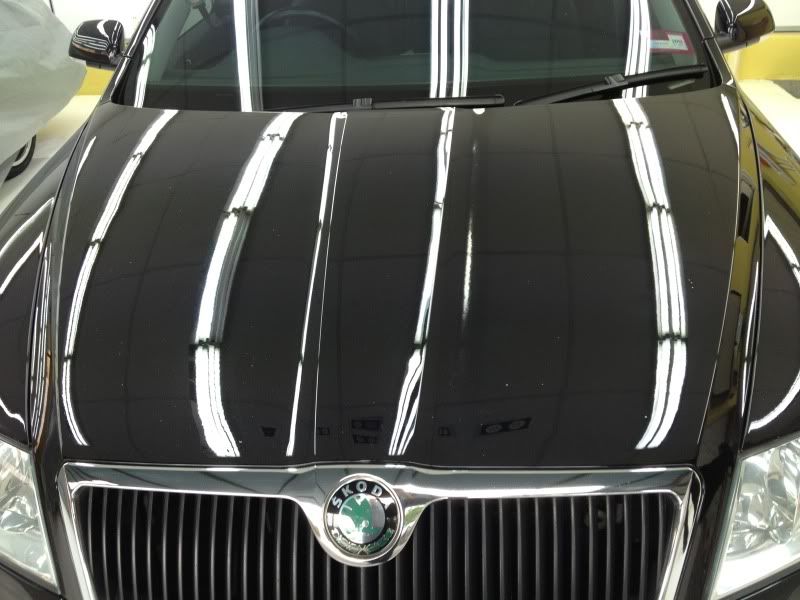 Subsequently, I ordered a pair of after market headlights from Germany. Amazing how a pair of headlights can change the whole front profile: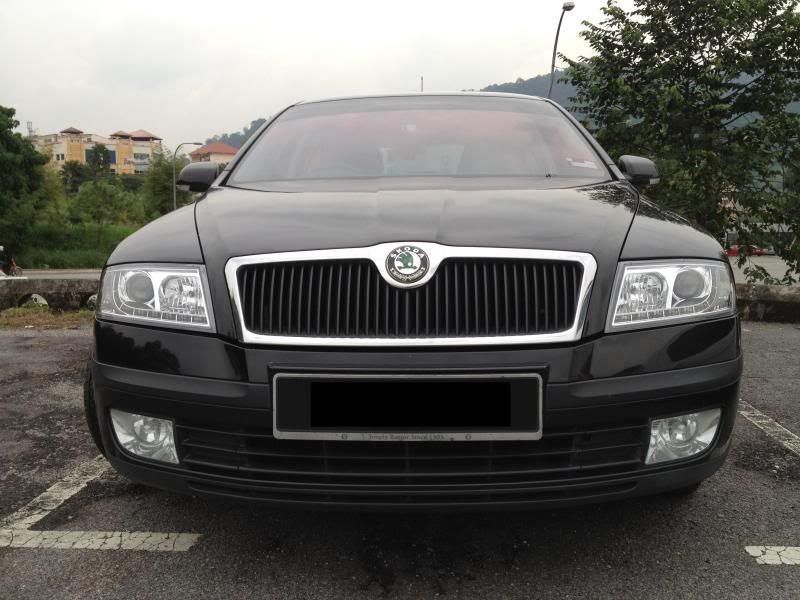 Here's how the DRL looks under low lighting conditions:
.

All in all, I'm quite pleased with the car. To me, the main selling point of the Octavia is:-
1) Large boot and tailgate opening
2) Kerb view left side mirrors
3) Parking and rear fog lights
4) Continental stability, especially in high speeds.
And 2nd hand unit prices makes them a steal …. just make sure you get to see the full service record before committing.
I would be most honored and grateful if you could visit https://www.facebook.com/Kensomuse and Like the page to show your support and receive updates on the latest articles.  Comments are most welcomed. Thank you very much!