So here I am in Borneo, the land beneath the winds where sup-ed up turbo Kancils roam the city streets and 4x4s ply the inter-town roads; where it probably takes you a century to travel from one end of the island to the other and the definition of "road" here is pretty much anything 4 wheels can traverse on. Gravel, mud and sand are the staple diets of tires here, particularly if you have to drive between towns and doing so in a hybrid makes as much sense as using semi-slick tires on a wintery road. It comes as no surprise then that the state governments of Sabah and Sarawak impose minimum road taxes on four-wheel drives considering there isn't much roads to begin with and as such, Sabah and Sarawak are the only places where 4x4s outnumber MyVis on the road.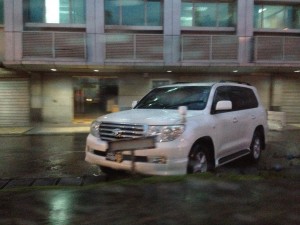 And among all the 4x4s found here,  the Ninja King is the undisputed king of the hill(s) here. If not from around here, you might not know that the Toyota Landcruiser is called the Ninja King. Being enlisted here for a non-automotive related exhibition cans any chance of doing any test drives and writing about it but seeing so many Ninja Kings around, I couldn't help but ask:-
Why is the Landcruiser called a Ninja King?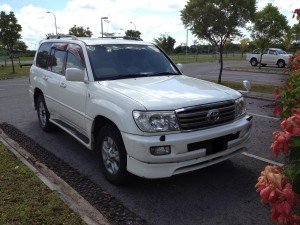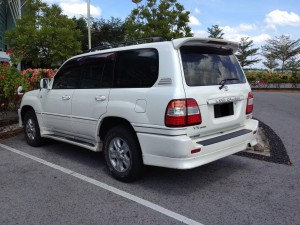 I went online and searched but found no references of Toyota's longest vehicle running series being called as such in other countries. It appears to be known only as such in Borneo and seem to originate from the state of Sabah in the late 80s. So I asked a few Sabahan on this nickname and here' s what I found out:-
1) The same time period had a popular hit television series, Teenage Mutant Ninja Turtles which seem to be a hit among Sabahans
2) The Toyota Land cruiser 80 series had a curvy exterior that looked like a turtle shell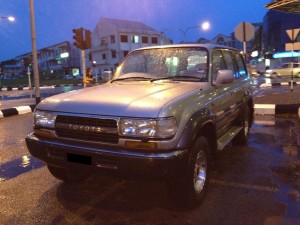 Hence, the Ninja name.
Not only that; it's been said that  the headlights look like a ninja turtle's headband slit eyes …
As for the "King", the Land cruiser is the epitome of luxury, the most comfortable mafia car your money can buy. So put them together, you get the Ninja King. Funny thing is, ask any Peninsular Malaysian about the Ninja King and they may stare at you blankly as if you've just spoken Ibanese.
The biggest conundrum I had was trouble wrapping my mind around was that not all Land cruisers are Ninja Kings. The closest thing I can understand is only those with a Lexus variant and having engine displacements the size of a jumbo jet qualify to be the Kings.  Engines smaller than 4.2 diesel are known as Ninjas while other variants such as the Prado aren't even fit to be called a ninja.
And between non-ninjas, Ninjas and Ninja Kings, you can't drive pass a street here in Borneo without bumping into one of them
So there you have it … something truly unique and invented in Malaysia.