10 years ago when you asked me what a face lift is, the immediate image that comes to mind is syringes and saggy skins. Today, that word gets thrown around so much in the automotive world, soon you'll see a "new" model being introduced every month in Malaysia. Facelifts are inexpensive …. ofttimes some cosmetic changes such as slapping a new set of bumpers, grilles, skirts and you'll get that 30 year old looking like a 13 year old again. And the latest vehicle to be facelifted is the popular Peugeot 308 hatchback.
Introduced in Jan 2009, the 308 has radically changed the perception of Malaysians towards the brand. For one, Nasim Sdn Bhd, the franchise owner of Peugeot managed to price the 308s cheaper than Australia, a country known for offering low price (but not low spec) vehicles and more importantly, lower than Japanese offerings which has swayed a number of buyers away from the usual Japanese suspects. This has allowed many to sample the power of a conti and a turbo vehicle; as it did in my case. Sufficiently poisoned to the point where a non-conti and a non-turbo simply won't cut it.
Despite having a good head start, all is not always well with this Lion. The earlier AL4 4 speed gearbox prince engine which kicks out 140hp and a good 240Nm  thrust was marred by unintentional jerks, especially at low speeds and worse, depollution errors where the engine goes into limp mode by deactivating the turbo and relying solely on the 1.6NA engine to push the car. Then came engine knocking and visits to the service centre was a regular affair.
Fortunately at the end of 2011, Peugeot introduced a upgraded version where it gets an additional 2 speed on the gears and power output increased to 156hp. Torque remains the same. What was apparent with the upgraded model is that the issues plaguing the 4 speeders were significantly reduced and we don't see as many 308s being stuck at the SCs. Peugeot has learned from all the complaints and offers the same engine/gearbox combo for the facelift.
So what's different with the makeover? Ok, we have to admit that the styling, especially the front may not appeal to everyone. One thing is certain, the design is not as aggressive as before. To me, the sharp front lines are now blunted …. making this Lion look tame, domesticated. Some might say the 308 has matured well into a well groomed feline …. personally, I like my Lion to be a bit on the wild side. Well, each to his own. Here's a picture of a side by side comparison between the fronts of a pre-FL and FL. Which would you prefer?
Both variants gets the following:-
– redesigned front headlights and front bumper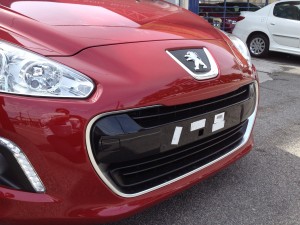 – LED DRLs. There are 6 of them and the light emitted are of the reflector type similarly found on the Proton Preve except instead of angling upwards, the LEDs are aimed sideways. The horizontal slit is just a light conducive rod that draws illumination from the LEDs below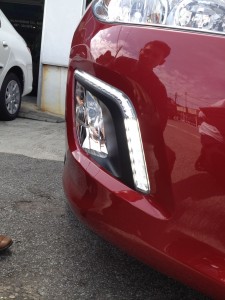 – USB port now in armrest compartment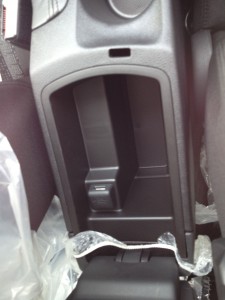 – chrome lining on the boot (above the Peugeot logo)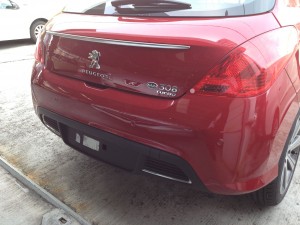 Individually, the VTi gains (sorry, no pictures as none was on display):-
– panoramic roof
– rear diffusers
– rear aircon vents
– 16″ Santiaguito 7 spoke rims
Whereas the THP gets:-
– GTi spoiler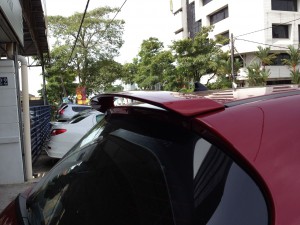 – classy white dials makes a comeback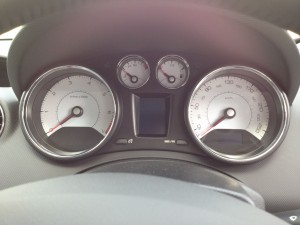 – 17″ Melbourne 8 spoke rims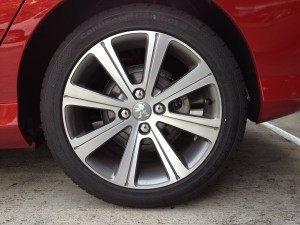 – flat bottom aluminum ringed steering wheel with aluminium pedals (note the center console is now the glossy black finger-print magnet found in the 408T)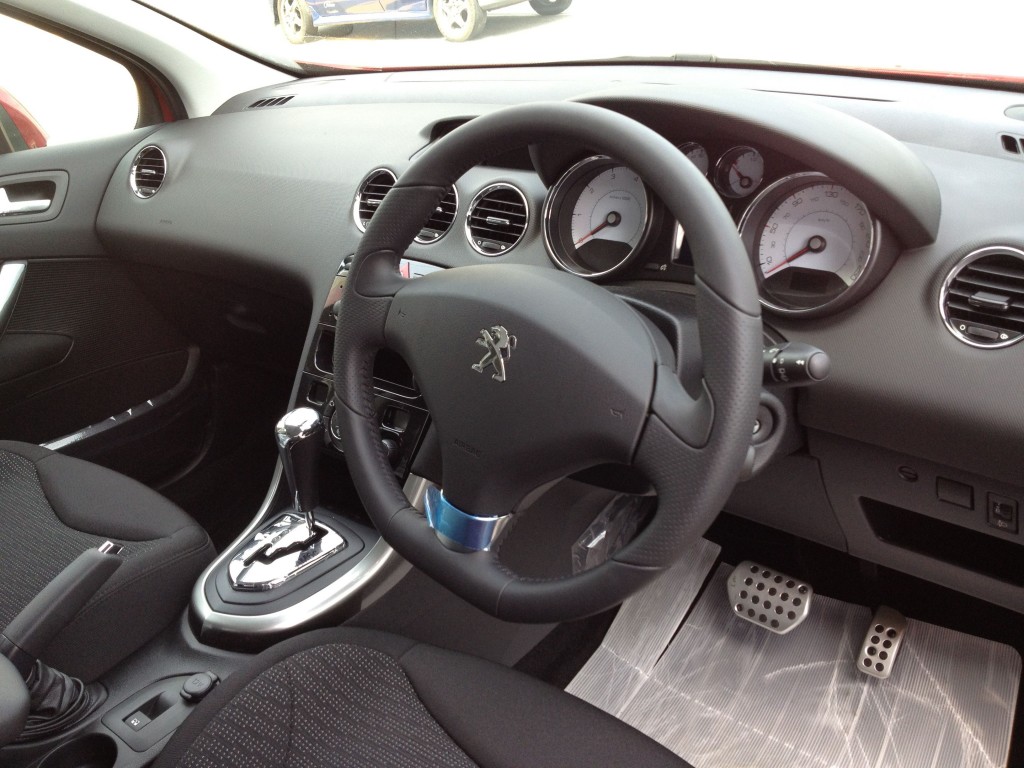 .
All yours for the price of RM121,888 for the THP and no price announced yet for the VTi. As a matter of fact, I don't think you'll find a FL VTi anywhere since Nasim is just going to quietly introduce the FL without much fanfare (probably not to overshadow it's 408 sales).
Are the additions worth the increase of RM3,000 for the pre-FL 6 speeder THP? You be the judge.
Performance
Since the FL and pre-FL shares the same drive train and engine, performance remains at a brisk 9.1seconds for the century sprint for the THP and 12.5seconds for the VTi. Having driven both the 4 speed and 6 speed THPs, the acceleration in the FL "should" be as linear as the pre-FL 6 speeders although it won't glue your butt to the seats like the 4 speeder is won't to do. Personally, I enjoy driving the 6 speeder more as I find it less stressful to constantly moderate my speed and power is always available on tap, especially since the turbo kicks in at a low 1,400 rpm. The THP will eat any C segment Jap cars it sees on the roads though at speeds in access of 170kph, it feels wobbly.
If insane speeds are not your cup of tea, then the VTi is your best mate. Running on 205/55/R16 shoes, it's less bumpier compared to the THP and has better FC (I scored at least 50km more in city drives whereas outstation is quite similar to the THP is I maintain cruising within speed limits).
Ride and Handling
I can't really say how it handles around corners since I've only sampled per-FLs. Pre-FL THPs are jittery at corners, especially on high speeds. I've attacked certain corners at speeds and I constantly get the feeling that the rear wheels wants to do some acrobatic air stunts (no such issues with the VW Golf though) and from comments made from those who tried to do some Initial D stunts on their way to Genting, they almost ended up in a ravine. If everything is the same, then the ride characteristics should be similar.
The VTi on the other hand has all the hallmarks of a continental made vehicle. Stable at high speeds, accurate steering (though steering feels lighter than the THP and therefore not as much road feedback as the THP) and the added tire side wall makes riding in one more comfortable, albeit under-powered.
Cabin Convenience
Both THP and VTi comes with a barrage of conveniences that makes driving one such a pleasure. For the full list, you can read in the specifications list below. Also interesting to note is the seat fabric design has been changed.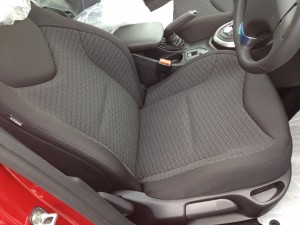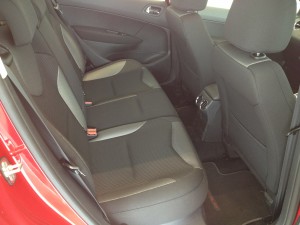 Note the difference in the fabric design (the top most is the THP whereas the one directly above rear seats are VTi). Personally I felt the fabric found on the THP is courser compared to the VTi which was found in the pre-facelift THPs.
Also different is the inner door handle which is now gloss plastic: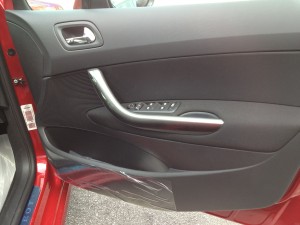 VTi handles are not glossy.
.
Specifications
Peugeot 308 1.6 VTi
Exterior
Sporty Rear Diffuser
Panoramic Roof with electronically retractable blind
LED Daytime Running Lights
Halogen headlamps with auto function
Manual headlamp with leveling function
Headlamps delay security illumination ("Follow Me Home")
Peugeot Smart Park Assist
Front and rear fog lights
Front windscreen (Laminated & Acoustic)
Auto front windscreen wipers
Electric folding mirrors
Side mirror turn light
Intermittent rear wash/wipe
Interior
Automatic dual zone air-conditioning (separate for driver & front passenger)
Cruise control with Speed limiter
Auto dimming rear view mirror
World in Peugeot Sound with 6 speakers and AM/FM/CD/MP3 playback capability
Audio control stalk at steering wheel
USB and Bluetooth Connectivity
Rear passenger air-conditioning vents
Adjustable front centre armrest with built in storage compartment
Rear center armrest with storage compartment and 2 cupholders recesses
Front map reading lights
Instrument panel lighting dimmer
Instrument panel LCD display (trip recorder, total distance recorder, cruise control, service indicator, warning & status display)
Height and reach adjustable steering
One touch electric window with anti-pinch feature on all windows
Combined active carbon/pollen filter
Light illuminated glove box
12V power outlet at front center console
60:40 split folding rear seats
Safety
Driver airbag
Front passenger airbag with deactivate switch
Driver and front passenger side airbags
Anti-whiplast front seats with active head restraint
Pre-tensioning and force limiting front seat belts
Force limiting rear seat belts
Rear doors child safety locks
2 ISOFIX location points (2 outer rear seats)
Auto illumination of rear hazard lights
ABS
EBD
EBA
Peugeot rolling code transponder immobilizer security
Peugeot 308THP
(In addition to the VTi specifications)
GTi rear spoiler
Leather wrapped sport steering with aluminium ring
Sporty white instrument dials
Two curtain airbags (total 6 airbags vs 4 in VTi)
ESP
DSC
Maintenance costing
Here's how much it's going to cost you for each service:
Yeah, that's RM3,600 for 60,000km service. Apparently, yes considering the amount of things they're going to change (take a close look at those items). Earlier 308THP 4 speeders didn't have to pay as much as they were using the old Peugeot AL4 gearbox but with the AISIN 6 speed gearboxes, Peugeot is importing the gearbox oil from Toyota, Japan and re-exporting them to other countries. This round-the-world trip jacks up the price significantly and sadly, we're not able to buy our own ATF and ask the SC to change them for us.
Here's a tip: Decide on a service centre you would go regularly and have them break up the items that needs to be changed in the 60,000km service interval. While this does not change the total amount at the end of the day, it does help remove some of the pain of paying so much at one go. With the service interval being 6 months or 10,000km, got time to save some money.
All in all, at this price scale, the 308 remains to be one of the best value for money continental vehicle your money can buy.
The question you may need to ask yourself is should you fork out a little more for the 408T which has a modified Prince engine that's supposedly more compliant with local fuels and higher power output, a boot and better rear legroom. If I don't have any kids and don't need to carry as much in the rear, the panoramic roof and sexy hot hatch silhouette presents a very interesting proposal.
Additional note: The VTi has been launched and here are some of the key features that were not found in the previous version or different from the THP: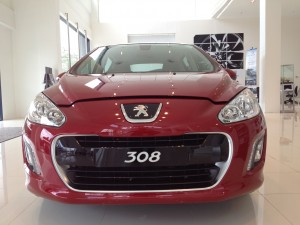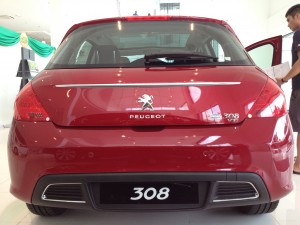 Visually, they look identical except for the rims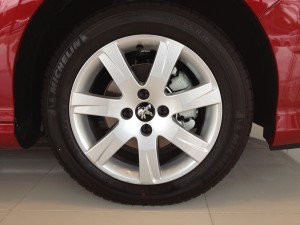 Inside, the difference between the THP and the VTi is more apparent: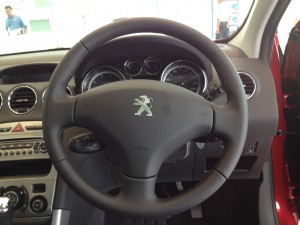 Same steering wheel as found in pre-FL THP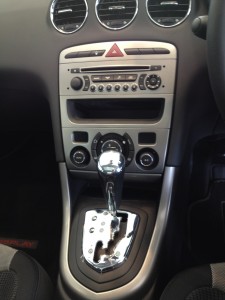 No glossy black center console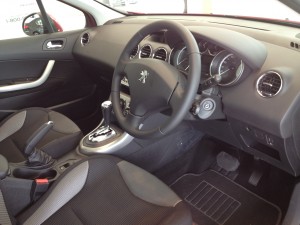 No aluminum pedals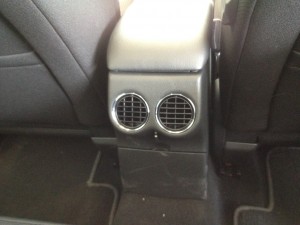 Rear air conditioning vents – previously not available in VTis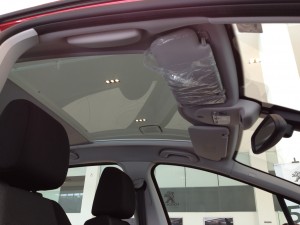 Panoramic roof – previously not available in VTis