I've often wondered (especially after watching a zombie infested movie); what car would I like to be driving if the world ended yesterday and the only companion you get in the streets are infected humans? It has to be a car that's frugal since petrol would probably be scarce and have lots of space to better store years of can beans supplies.The car needs to be fast to better escape hordes of undead chasing after your blood and nimble to avoid body parts being strewn on the road.
Quite obvious, you won't be needing a sports car since you'd spend as much time hunting for a petrol station as the zombies hunting you and there's no chicks around for you to impress (unless you have a fetish for corpses). A hybrid makes a lot of sense then … its fuel-sipping characteristic would ensure you have enough range to reach the next town. The only issue is space. While a Toyota Prius certainly has more than sufficient space to move a family of 4, an MPV can store a lot more beef jerky and milk powders. So which MPV has all the abilities above? I think the answer lies in the Volkswagen Cross Touran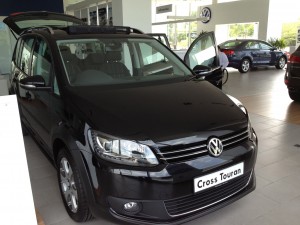 Design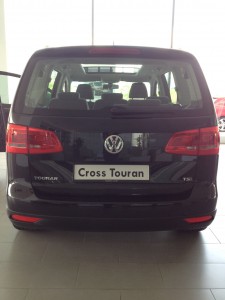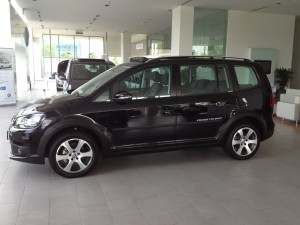 Ok, in terms of design, it's not going to get any pulse racing but since most of the inhabitants of the infested world don't have a pulse to behind with, that's ok. It's not that bad really … the design grows on to you the longer you stare at it.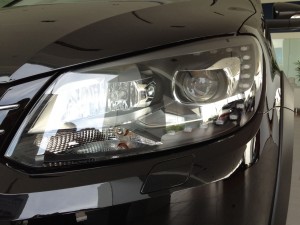 The LED DRLs up in front increases the visual appeal and helps to boost your presence on the road.
Performance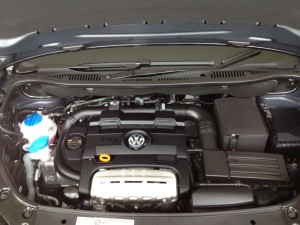 Under its hood, you'll find a 1.4litre TSi twin-charged engine. Though it's the same engine as the Golf TSi, the Cross Touran's output has been detuned to dishes out 140PS @ 5,600rpm (20PS less than the Golf) and 220Nm from 1,250 to 4,500rpm (20Nm less than the Golf). As such, you won't feel the thrust as much as the Golf and power delivery is linear and comfortable (as it should be for a family MPV). Despite that, this is still a sub 10-second car with century sprint being attained in 9.8seconds …. perfect for plowing down any zombies that gets on your way.
Fuel consumption is rated to be 8.9litres for urban, 6.0litres for extra-urban and 7.1litres for combined per 100km travel which is good compared to a hybrid, especially when you're driving between abandoned towns and the hybrid technology isn't as effective when cruising at a fixed speed.
Ride and Handling
It's an MPV …. period.
Actually, despite that, it tackles corners pretty well. Some have remarked that the secret is in the rigid suspension and over some uneven roads, this may cause rear passengers to get uncomfortable. Granted I was at the helm of the car so I can't really say how the rear passengers feel.
Cabin Convenience
Someone should re-write the dictionary and put the Cross Touran in there under the word utility because that's what this car has … in abundance. The car swallow a lot …. 1,989litres to be precise. Heck, it's practically a Noah's Ark (ok, a Compact Noah's Ark) on wheels.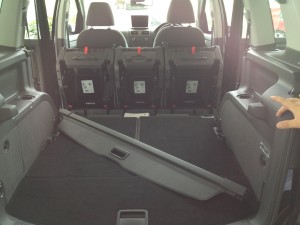 The rear seats, aside from being able to fold up, can even be completely removed. I bet you could stuff a cow and some chickens in there in case you decide to start a farm somewhere.
Tired from the long drive? Swap people and the fatigued driver can lounge comfortably in the rear by reclining the rear seats to a position of his/her liking.
Volkswagen claims there are 500 configurations that you can do with the seats inside. I think a normal person would find it challenging to utilize just 5% of the said number. Of course, in a post-apocalyptic world, you can never be fully prepared.
Should you feel stressed from staying in the car too long, sunlight and fresh air can be let in with the panoramic sunroof.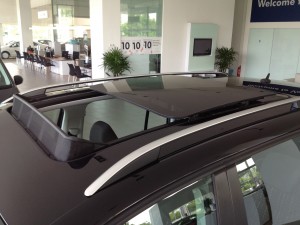 It even has rails on the roof in case you want to tie a fridge up there …. just make sure you don't open the roof while you're at it.
At the helm, it's all function and no nonsense. All controls are within easy reach and simple to understand, which is good in case you need a 5 year old to operate the car while you're busy fending off some monsters trying to steal your dinner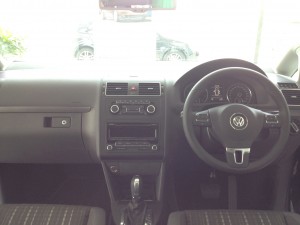 The Cross Touran has auto lights to activate the bi-xenon headlights that illuminate the empty, dark roads. The lights have both static and dynamic bending abilities for you to better see carcasses on the road and avoid (or roll over) them.
Got some blood covering the headlights? No problem … turn on the wipers with the headlights on and the car's washer system will ensure no goo will ever block your lights.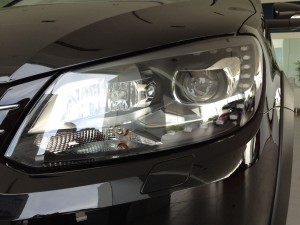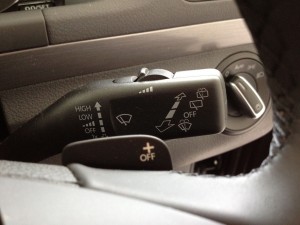 You'll also get automatic wipers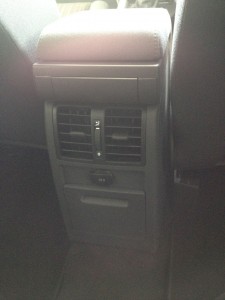 Rear occupants gets aircon vents located in the center console and a 12V charger to make sure your phone or emergency walkies-talkie never runs out of power.
Another beautiful thing about the Cross Touran is the bins and cubicles to store the odd items you might collect as you traverse the roads. It is said that there are over 40 storage bins all over the car and I especially like the cup holders that are found inside the huge glove compartment (perfect place to store stim packs and other medicine)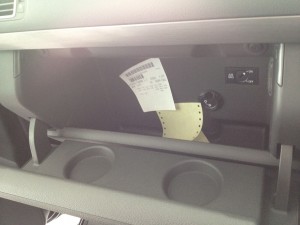 As the landscape is probably blasted with rabbles and broken glass, a tire puncture is probably expected and despite the Cross Touran having 2 different tires for front and back (215/50 R17 for the front and 235/45/R17 for the rear) and no spare tires, you have a tire repair kit and an electric driven compressor which draws power from another 12V outlet near the rear boot of the car
Safety
If the car goes barreling too quickly, you've got the whole ESP, ABS, EBD, ASR to steer you out of danger. If despite that, you still managed to crash the car, you've gota 5-star NCAP rating and 6 airbags to ensure greater survivability.
Good luck in out-running the millions of walking dead though.
Specifications
Engine & gearbox
1.4litre 140PS TSi twincharged direct petrol injection 4-cylinder engine
7-speed direct shift gearbox DSG
Interior
All-round power windows
Central locking with radio remote control, 2 remote control folding keys
'Climatronic' air-conditioning system with 2-zone temperature control
Cruise control
'Fey' fabric seat upholstery
Front center armrest with storage box, height and longitudinal adjustment, 2 rear vents and 1 cup holder
Gearshift knob in leather
Height and reach adjustable steering wheel
Interior chrome trim
'Iridium' decorative inserts for dashboard and door trim panels
Radio 'RCD310' with MP3 player including CD player
Mobile device interface MEDIA-IN with USB adapter cable & AUX-IN in front center armrest
Multi-function display 'Plus'
Multi-function leather-covered 3-spoke steering wheel with paddle shift control for DSG
Park distance control PDC
Exterior
Automatic headlight activation with separate daytime running lights, 'Leaving Home' and manual 'Coming Home' function
Bi-xenon headlights for low beam and high beam with dynamic bending light and intergrated LED daytime running lights
Door mirrors with integrated turn signals
Electronic panoramic tilt/slide glass sunroof
Exterior mirrors, electrically foldable, with environment lighting and curb view
'Funplay' alloy wheels, 6.5J x 17″ front, 8J x 17″, tires 215/50 R17 front, 235/45 R17 rear
Headlight washer system
Rain sensor
Remote unlocking for luggage compartment
Silver anodised roof rails
Safety
3-point seat belts in second row of seats with height adjustment for outer seats and two in the thrid row of seats
ABS with EBD
ASR
Curtain airbags for front and rear passengers including side aribags in the front
Driver and front passenger airbags with front passenger airbag deactivation
Electronic differential lock EDL
Engine drag torque control EDTC
ESP with driver steering recommendation
Euro NCAP 5-star rating for adult occupant protection
Warning triangle breakdown sign
All this for the price of RM167,608 OTR without insurance. Only thing is … I wish it came with leather seats because cleaning dried blood on fabric seats is such a chore.