It's been a while since I saw the Japanese animation "Initial D" but I do recall the first few episodes of it. A couple of my Penang mates came over for a visit and I introduced the show to them. It was late, they were tired and they said, ok, just 1 episode. We ended watching 5 that night. The Toyota AE 86, the main feature car in the anime was already a legend back when season 1 was released but I feel the show has propelled the car well into occult status. For one, my buddies and I know nuts about drifting, much less a car like the 86 … until Initial D came along. Then, being the nerd that we were, the topic of driving dynamics and natural laws of physics were brought out …. heck, my Form 4,5,6 Physics text book sounded a whole lot more interesting now.
Since 1987 when the AE 86 was put into retirement, there hasn't been a car (by Toyota) that comes close to its excellent balance and feel. So when in 2007, the head honchos of Toyota sat together and announced they were doing a successor to the AE, it naturally generated a lot of buzz in the automotive world …. such big shoes to fill. Today, it's finally here in our shores and from the amount of raves the international automotive circuit has about it, I'd say they pulled it off. Here's a few facts about the Toyota 86:-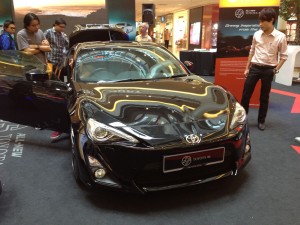 1) It has a twin sister named Subaru BRZ
2) Parents Toyota gave its design and product planning DNA while Subaru injected its engineering and production seeds.
3) It comes in both manual and automatic (although the thought of anyone getting an automatic for this car confounds me; it's like getting an iPhone 4S and downgrading the iOS to 3.x)
Design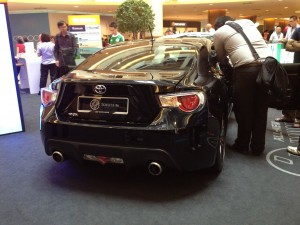 It's pretty enough in its own right … sleek and sharp. I was actually quite surprised seeing its dimensions in reality. Measuring 4,240mm in length, 1,775mm in width and 1,285mm in height, it's pretty easy to park. Just to give you a point of comparison, against a Proton Preve, the "Hachiroku" (nick name of the 86 in Japanese which means eight and six) is shorter in length (vs 4,543mm), almost the same width (vs 1,786mm) and has a much lower roof line as befitting of a sports car (vs 1,524mm)
The 86 has a co-efficient drag of 0.27 which means that any cars who hits you head on would probably be getting an impromptu flying lesson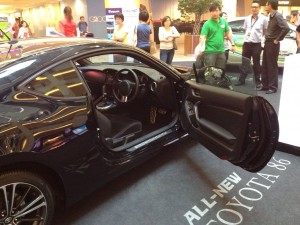 Frameless windows adds more to the touch of class
Performance
It has a 2.0 litre NA engine, serving 200PS @ 7,000rpm and 205Nm torque @ 6,400 – 6,600 (so yeah, it loves to be revved … hard. You won't hear this engine squealing as if to scream "YA-MA-TE! YA-MA-TE!" at you as you ram you right appendage down hard on her pedals). Due to its excellent power to weight ratio (it weighs only 1,222kg), Toyota claims zero to hundred kph is achieved in 7.7 seconds. It's not the fastest sports car around but it's not a push-over either.
Ride and Handling
Front engined, rear wheel drive. Need I say more?
With its low center of gravity, 6 speed manual (I'm going to just ignore the auto transmission), a sports spec limited slip differential (LSD) which maximizes traction by allocating power to individual wheels as the situation demands it and rear double wishbone suspension set up, the 86 promises endless hours of cornering fun and drift excitement. Even if your balls ain't that big (pardon to the ladies, figure of speech), just by sitting in the car makes you feel like a pro drifter already.
Though the manufacturers did not attain the 50:50 weight distribution, the 86's 53:47 is close enough that many have said the chassis balance is fantastic.
Tip: Set aside some moneys for regular tire changes
Cabin Convenience
Being the sports car that it is, you don't expect much convenience from it. Don't get me wrong; it is comfortable for the driver and passenger …. just don't try to fit your mother in law behind if you want her to like you because there isn't any space: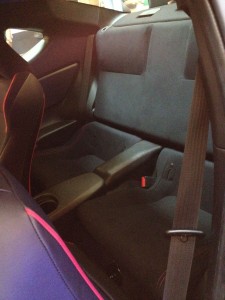 Alternatively, if you have a (future) mother in law that always tags along, this is the perfect car to ditch her citing lack of space.
The front seats are snug, inviting and comfortable. Feels like getting reacquainted to an ex-girlfriend/boyfriend you've not met in a long time.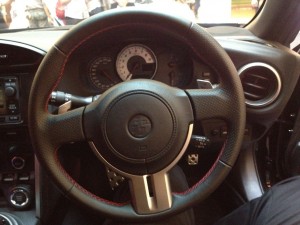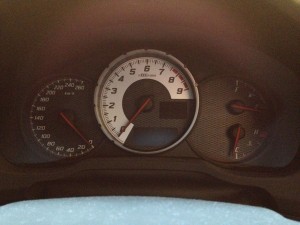 The steering wheel feels nice to hold … and the tachometers are easy to read. Expect the middle meter to point to numbers 7, 8 and 9 often. The Multi Info Display tells you temperature, trip meters, average vehicle speed, average fuel consumption, cruising range and elapse time.
Sadly, they only have the auto on display in Midvalley at the time I took this picture. I guess you "could" shift it to M and manually change gears. I guess I shouldn't complain too much since the 6 speed automatic draws its inspiration from the Lexus IS-F. Paddle shifters adds to the fun (only available for automatic only).
On the audio side, the 86 is equipped with a 2-DIN regular CD player with AUX-IN and USB and sound comes from 6 speakers …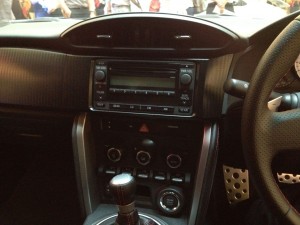 … which don't matter much since the 86 comes with a Sound Creator that channels the engine's vocal cords into the cabin. This car is for true driving enthusiasts who places driving pleasure above audio ecstasy … if you're an audiophile, get another car, please.
For a sports car, the boot space is not bad … a little shallow perhaps but I doubt anyone would want to upset the weight balance of the car by loading heavy stuffs behind, worse if it's a body bag that's rolling around as you slide through the corners.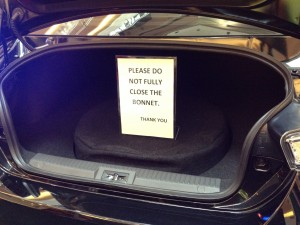 Next to the steering, this will be the other component that you will be in contact with very often.
Specifications
Exterior
HID with auto leveling, auto lights and washers
LED rear combination lamps
Interior
Keyless Smart Entry and Start System
Cruise Control
Dual Zone automatic air conditioner
3-spoke leather, Tilt and Telescopic adjustable
2-DIN Head unit with tuner, CD-player, AUX-In and USB with 6 speakers
Leather with Alcantara seats
High solar and security film tints
Safety
Vehicle Stability Control (VSC) with VSC Sport mode
Traction Control
ABS
Reverse sensors
7 airbags (front, front side, curtain and driver knee)
Immobilizer, siren with Back-up battery and cabin sensor
The big question is, at RM243,000 for the manual and RM249,000 for the auto, is it worth it? Well, for these kind of budgets, you have the following performance oriented vehicle options:-
 Renault Megane RS250 Cup (RM229,800)
Volkswagen Golf GTi (RM209,888)
Volkswagen Scirocco 2.0 TSi (RM257,888)
Peugeot RCZ 200BHP Manual (RM223,888)
BMW 320d (RM248,800 w/o insurance)
You could also buy an Audi 1.8TFSi at RM235,000 though it's not a performance car.
As you can see, the 86's pricing has ventured well into the continental range. I can't help but feel only drift purists will consider getting this car … and probably as a 2nd or 3rd car. If Toyota was able to price it like in Langkawi at RM142,930 for the manual and RM145,840, there would be a long queue at every Toyota showroom …. yours truly would be one of them lining up.