There is a number of men I know that gets intimidated when dating a taller person. Physical height, to them at least, is of significant importance that if they do find themselves standing a foot shorter then the other gender, their confidence plummets, their ego is worth as much as an dirt and they feel like an earth worm …. and would probably squirm like one throughout the entire duration of the date.
Well, if you know of anyone who seems to suffer from such issues, all is not lost for them. Introducing the Kia Sportage, the SUV that instantly increases your masculinity by a few thousand points and heighten (pun intended) your appeal.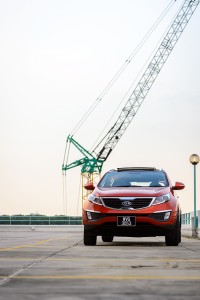 Design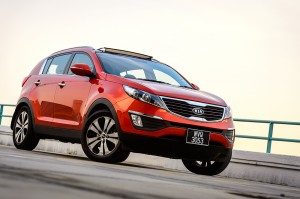 There are cars that simply oozes manhood and to me, this is one of those few ones where driving in one portrays a sense of machoness. I've yet to come across a person who finds this car's exterior unappealing. More often than not, I hear the Sportage being compared with another butch car, the Nissan Murano. Having Peter Schreyer on board was probably one of the best things Kia has done to change its fortunes.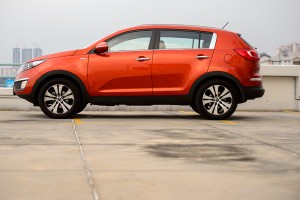 Looking at the side profile, the concave lower side lines that runs from the front to the rear door underlines an impression of a puffed up athlete and the gargantuan fenders housing the wheels is artfully done. With dimensions of 4,440mm in length, 1,855mm in width and 1,635mm in height, it's just marginally shorter in length, significantly wider and lower than the Honda CRV (4,565mm L, 1,820mm W, 1,680mm H). Small wonder it looks menacingly squat and purposeful.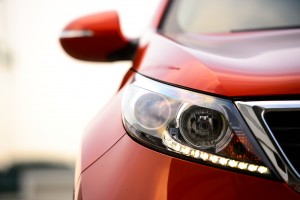 Up in front, the LED Daytime Running Lights ensures the other gender will always know when you're about. Personally, I prefer the position of the Sportage DRL as opposed to the K5 which is a bit low.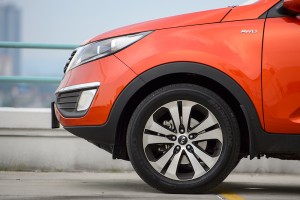 Complimenting its looks, the 18″ rims can be polished to a bling that'll glitter and shine like diamonds at the night clubs as you cruise by.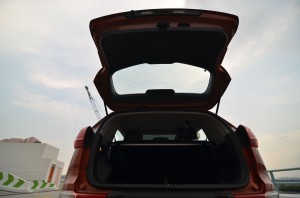 Surprisingly, I noticed another Schreyer "tiger" in the form of the rear windscreen; very obvious when taken from bottom up.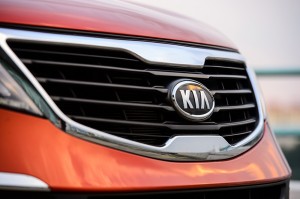 Performance
For such an impressive car is meant to be thoroughly enjoyed by those watching it go by. So while it is indeed capable of going fast, rumbling along the city streets slowly is the best way to enjoy this car. In its hood, you'll find a 2.0litre DOHC DCVVT Theta II engine, the same you would encounter in the K5, Hyundai Sonata 2.0 and Tucson 2.0. Mated to a 6 speed automatic gearbox, it produces 166PS @ 6,200rpm and 197Nm of torque @ 4,600rpm.
True to its name, the tuning of the engine/gearbox generates a rather "sporty" tune above 3,000rpm. My colleague loves the sound … personally, I'm a more … conservative person. At 4,000rpm, the engine gets a little too boomy for my liking so I generally keep within 2,500rpm and 3,500rpm when I drive.  While this may not propel it like a hot hatch, it is sufficient for overtaking maneuvers and to catch up on traffic as you join highways. This is NOT a fast car, some quarters report that zero to hundred is achieved in slightly over 10 seconds so don't expect it to shoot like a bat out of hell.
Nevertheless, at speeds beyond 150kph, the car still felt composed and stable. It could comfortably gun down any Camry or Accord that are notorious in flashing you off the NSE …. the only problem is, to get to 180kph, it would probably take you a century. Best stick to sane, legal speeds …. let others admire your car more.
Ride and Handling
You'd be tall while driving in the Sportage (which is probably one of the main reasons why a person buys an SUV in the first place). Sitting position allows a commanding view of everything all around you and (bad of me), bullying your way into traffic is also easier … not that you should, of course.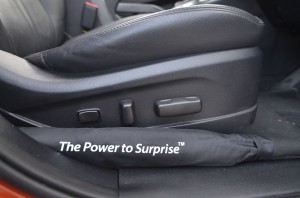 The 8 way powered seats provides greater convenience. Too bad no memory settings unlike the K5, though
18″ rims with tires as thin as toothpicks provides great connection between the passengers and the road …. to the point where such intimacy may result in a few nights of you being locked out of your own bedroom by your wife. But hey, if girls can endure all sorts of discomfort just to look good, why don't ride on some big wheels and make some compromise on the ride.
Ok, seriously, it's not as bad as I make it sound. While it's generally harsher than most sedans I've driven, I felt it's not has stiff as the 308THP I was driving. For example, I never knew NPE to be a bumpy road until I used the 308. In the Sportage, the bumps are less pronounced but obvious. The positive side of having a stiff suspension is body rolls are kept in check and chassis doesn't wallow as much. I still won't go too fast around bends due to the steering which, as a hallmark of all Asian made cars can be a little insensitive.
Special mention must also be said about the AWD system which the Sportage has. Below speeds of 30kph, the driver can manually engage the 4 wheel drive lock mode in which the torque is split 50:50 between the front and rear wheels. This is perfect if you happen to try to impress your partner about the off road capabilities of the Sportage and got stuck in the mud. In this sense, I'm more confident about traveling to some remote town deep in the jungle …. which is what I did in my recent trip down south again.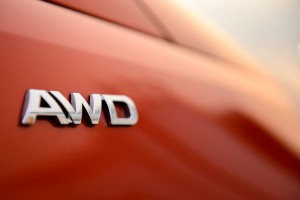 Taking the Sedenak exit towards Pontian, there is a stretch of road that's gravel. Having taking this route before using my Skoda Octavia, I was surprised to note the ride was very composed while traveling at speeds that would normally condemn my Octy's suspensions. The Sportage's Amplitude Selective Damper (ASD) which moderates a valve on the suspension (the valve is fixed when cornering and releases when on rough roads) truly shines in such conditions. Honestly, I've never been more comfortable driving in that road before.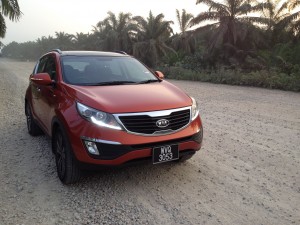 I don't care if you drive a Ferrari or Porsche, in these roads, you can eat my dust!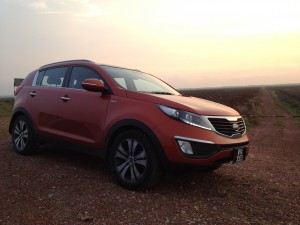 Ah, the great outdoors … the Sportage won't look out of place hunkering around here.
I've tried going fast at corners and the front MacPherson combined with rear multi-link set-up does allow for higher speeds. The only setback is the relative light steering which does little in telling you how much traction left on the wheels. But never once did I felt the car was going out of control.
Didn't have the chance to test out the Downhill Brake System which helps control the car's speed while going downhill but the Hill-Start Assist is particularly useful, especially at traffic lights with positive gradient.
Cabin Convenience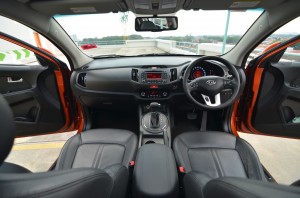 The continental DNA is certainly present here. Everything, from air conditioning switches to audio controls are well within easy reach and intuitive to use. Testimony to Kia's Power to Surprise theme, they threw in everything but the kitchen sink in this (and every other Kia) model.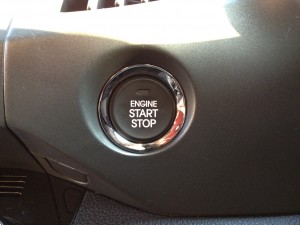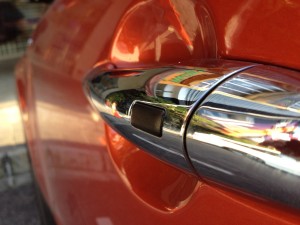 The first thing you're going to notice from the moment you approach the car is that searching for your keys in your pocket/bag is so outdated. With it's keyless entry system, as long as the key is within 1 meter of the door handle, you can lock/unlock the car at the press of a button found on the handle. This works as well for the passenger door and for the rear boot, if the car is locked, you can still open the boot and the car locks again the moment you slam the boot shut.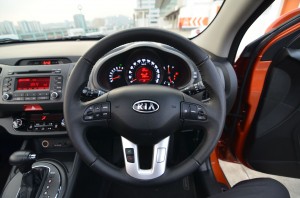 On the steering, you'll find audio, Bluetooth as well as cruise controls. In my drive to Johor, I used the cruise control often to try to maximize mileage but finds the ECU regulating it to be a tad aggressive. The moment when speed drops below 5kph from the set speed, it downshifts (sometimes 2 gears depending on the gradient) to boost speed. Not a very efficient way to save fuel.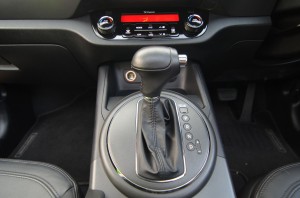 The good news is, I discovered a way to overcome this. Set the speed, shift the gear to manual and you'll be constantly cruising in 6th gear, though your speed may not maintain a constant 110kph. Speaking of speed, I find the speedometer to be accurate after counter checking with my GPS. 110kph is truly 110kph so don't think you've got allowance to speed up more if there is speed traps up ahead.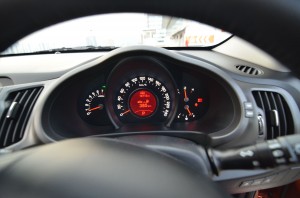 The Supervision cluster (Kia's word for its display) prevents the front passenger from seeing how fast you're going (excellent if the HM is the kind that nags on speeds). The Multi Info Display can be accessed with the trip button that's found between the cluster and the right side air conditioning vents and you can see elapse drive time, trip meter, distance to empty, average and instant fuel consumption. You'll also get a cooling glove box.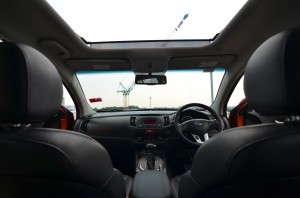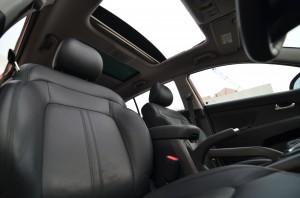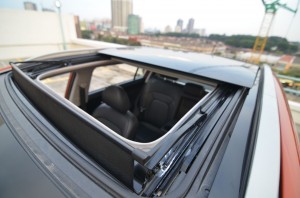 You'd get a panoramic sun roof with power, tilt and sliding for front half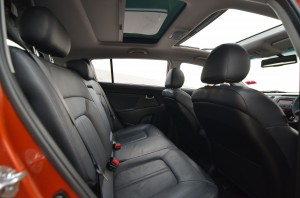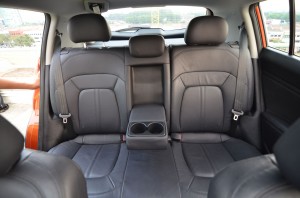 Rear legroom is good although missing rear air conditioning vents are keenly felt. The glass roof, which is also extended to the rear ensures rear passengers never feel claustrophobic.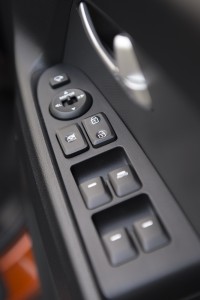 On the driver's door, you'll find the usual controls for windows (one touch up-down for the driver's window), side mirror adjustments as well as the controls for folding the Gull-wing type power mirrors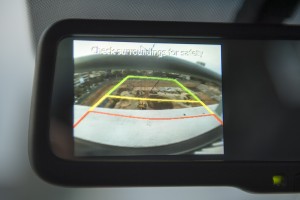 The rear view camera is a much appreciated feature, especially considering this is a tall car and you may not be able to see what you're reversing against. Seen in the picture above, as long as you don't exceed the red line, you'll be reverse parking like a pro.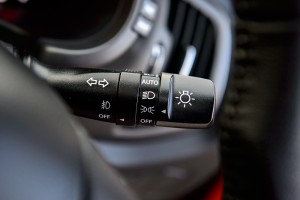 The Sportage is equipped with auto lights. With its bright DRLs, often times I just leave the lights in OFF position at dawn and dusk.
The air conditioning system, which features dual zone climate control also has an ion generator which generates fresh air and eliminate fungi in the cabin. Too bad no chance to test this out with durians.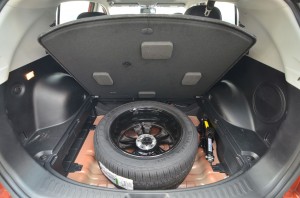 At the back, you'll get a full sized tire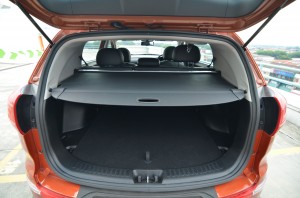 Boot space is impressive at 740litres. I don't know about you but I've got colleagues who's rear windscreen was broken into due to thieves stealing luggage so with the parcel shelf cover being supplied together with the car, this will prevent others from seeing what you have inside.
And I just noticed something pretty nifty. It's a habit of mine to have the rear cabin lights to be set to "door" so that the moment when I unlock, the rear seats are illuminated and any intruders can be easily spotted. When I did the same for the Sportage, the rear seats automatically light up the moment the car handles detect the keys (at a distance of about 1 feet) even before I unlock the car. How cool is that?
Specifications
Exterior
Projection halogen headlamps
Daytime Running Lights (LED)
Auto light control system
Escort lights
Front fog lights
Rear multi-layered lens combination lamps
Panoramic sunroof with power, tilt and sliding for front half
Roof rack
Chrome coated outer door handles
Chrome coated radiator grille
Electric folding and adjustable side mirrors with integrated LED side turn signal
Interior
Supervision cluster with trip computer
6 CD Changer with Radio/CDC/MP3/EXT. AMP
6 Speakers & Sub Woofer
AUX + USB + IPOD Connectivity
Speed sensing auto door lock
Impact sensing auto door unlock
Electronic Chromic Rear View Mirror
Organ type accelerator pedal
Full leather seats
Rear view camera display
8 way power seat (driver only)
Headrest adjuster
Center armrest with cup holder for rear passengers
60:40 split folding rear seats
Leather wrapped gear shift knob
Cruise control
Bluetooth Connectivity
Safety
Dual front airbags
Side airbags for driver and front passenger
Curtain airbags
3-point Seat Belts For All Seating Positions
Front Seat-Belt Pretensioners w/Force Limiters
Height Adjusted Front Seat Belt Anchors
ABS
EBD
TCS
ESP
Cornering Brake Control (CBC)
Brake Assist System (BAS)
Hill Start Assist Control (HAC)
Downhill Brake Control (DBC)
Front Active Headsets
Rear Child-Safety Door Locks
Anti pinch power window (driver only)
Euro NCAP 5-star rating
NHTSA 5-star rating
ANCAP 5-star rating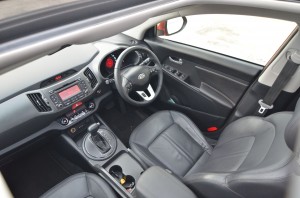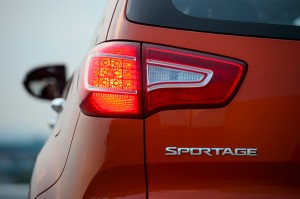 All in all, this is a great all rounder SUV.  Its most direct competitors would be the Hyundai Tucson, Honda CRV, Nissan X-Trail and to a lesser degree Cross overs such as the Peugeot 3008 and Mitsubishi ASX. None of them has as much features as what the Sportage offers and for RM138, 888 OTR inclusive of insurance (RM141,180 in Sabah and RM140,159 in Kuching) with 5 years unlimited mileage warranty, it's literally a steal.
As for the ownership cost, here's the breakdown:-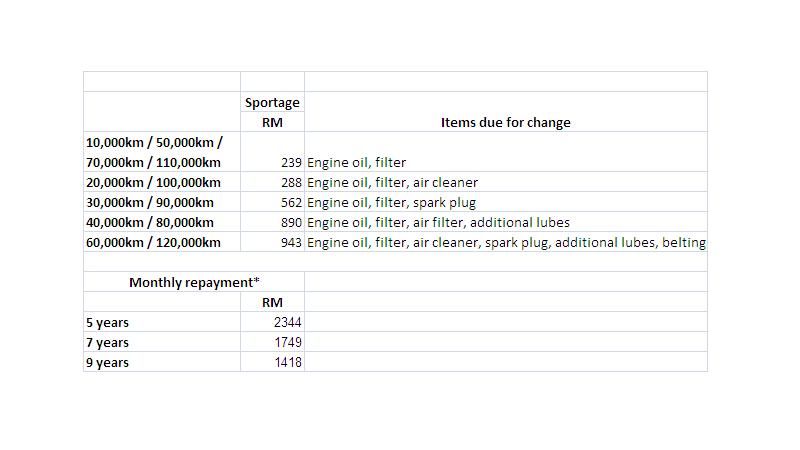 * Monthly repayment is based on the assumption of annual interest rate of 2.5% and 90% loan
How's the FC, you ask? Well, I just came back from another trip south and here's my result (all achieved within legal speeds and on RON95):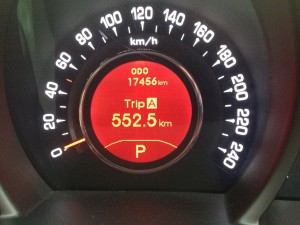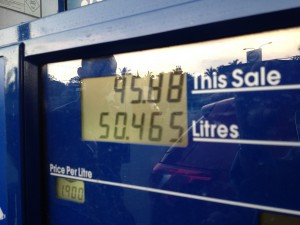 That translates to about 0.17cents per kilometer (based on current fuel prices) which isn't bad for such a heavy car and such a fuel tank capacity (recall that a K5 scored about 15cents per kilometer and that car didn't have to deal with the harsher driving conditions such as running on gravel as did the Sportage here).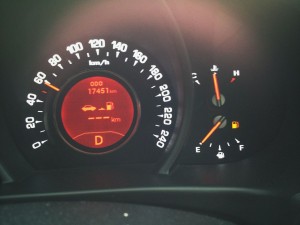 Still, it was an interesting experience, driving until the Distance to Empty showed –km remaining. I distinctly recalled it was showing about 50km left before it went bonkers.
It has been a really interesting experience driving the Sportage. I even managed to test something I've always wondered …. if the sunroof was open and it was raining, would you still get wet if you drove up to a certain speed? I did 100kph and not a drop of water came in during a moderate shower. Only problem was the mesh that breaks the wind above the roof breaks the water droplets to tiny mist that floats in …. which has a very nice cooling and refreshing sensation, I might add.
So, inferiority complex, check …. now go get yourself a hottie for the night and drive her back in this impressive ride. It's got the looks and the right stuffs to stir the blood … btw, dating a taller date makes others jealous. It's obvious she WANTS to be with you and who knows? Perhaps that Sportage parked in the garage has something to do with that appeal …
Pictures taken here are done by Khairulzaman Abdul Razak, a professional photographer who has been involved in shooting basically anything since 1996. While others upgrade cars, Khairul is busy upgrading his cameras, moving from model to model driving his passion and has been invited as primary photographer for university convocations and even to Parliament events.  He could probably be driving a Polo for the same amount of money he used for his gear. He can be reached via his email at khairulzamanabdrazak@gmail.com
Exterior pictures taken using Nikon D4 with telescopic lenses whereas interior shots done using Nikon D7000 with wide angle lens. Some were done using iPhone4S