You can fall in love many times, but you will always have only one first love; hence the first love is the most difficult to forget. Similarly, you many have owned many cars but the first car registration card bearing your name will always hold a special place in your heart. In my case, my first love was the Suzuki Swift.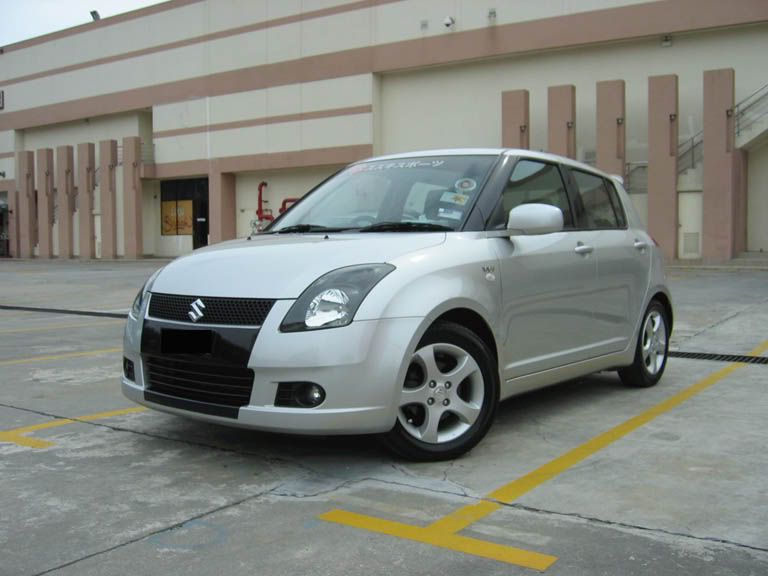 I still remember back in 2004 when it was first launched, it was the most expensive B segment Asian made hatchback in the market, yet at the same time for a fully CBU unit out of Japan, it was truly value for money. I got the 2nd batch and I recall how excited I was when I was told my car was ready to be collected (and cursing the fact that I was in Langkawi attending a sales and marketing conference back in 2004).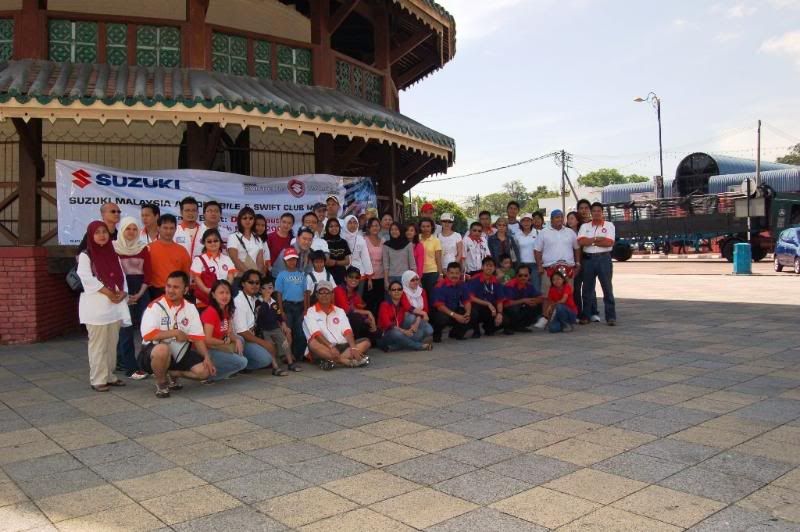 The Swift also made me experience what it was like being involved in a car club; how fun it was hanging out with people with similar tastes and passion; arranging & coordinating events and sponsorships and making a load of friends in the process.
Life goes on … the car was sold after owning it for 4 1/2 years with no complaints …. yet from time to time, my mind wonders back to my silver Swift … how's a 2004 CBU model being compared against the current CKD Swift? And what makes the Swift being the best selling Suzuki model world wide? A colleague recently bought one and it has rekindled feelings associated to my first love. Did you know that for a B segment vehicle (albeit a hatchback), the Swift GX is the most affordable Japanese vehicle in Malaysia (the cheapest Japanese make regardless of segment is the Suzuki Alto which not many can accept its size and shape).
Let's see if we can find out more here ….
Design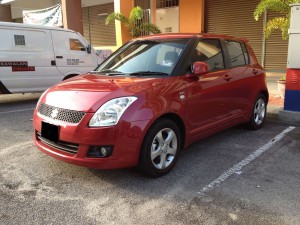 Little has changed since its introduction. Other than redesigned front and rear bumper, things pretty much remains ever green.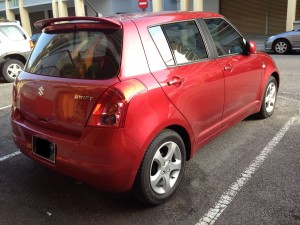 Measuring 3,760mm in length, 1,690mm in width and 1,510mm in height, the Swift is longer by 7cm, wider by 2.5cm and shorter by 3.5cm compared to a MyVi, creating a more purposeful looking vehicle.  Despite being almost a decade old, the Swift is still pleasing to the eye. It's one of those vehicles that ages well.
This is a Frankenstein GX-GLX model because the GX by rights does not come with foglights. My colleague managed to get hers fitted with them. The fog lights are turned on by default whenever the front lights are switched on.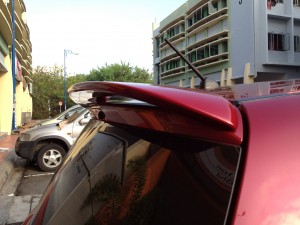 Personally, a rear spoiler is a must for the Swift as it completes the whole car look.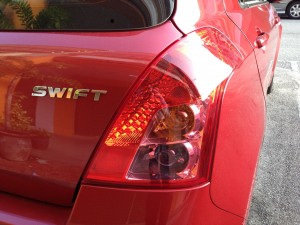 The tail light cluster is different from the CBUs and today, you can get a load of after market accessories for the Swift if you wish to dress it up more.
Performance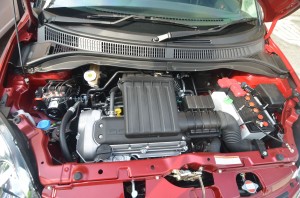 Powering this is a 1.5litre VVT DOHC engine producing 101hp @ 6,000rpm and 133Nm @ 4,000rpm. While 4 speed gearboxes are no longer the flavor of today, it's still very popular among Japanese manufacturers for its proven reliability (and probably economies of scale) and that's what you'll find in the Swift. Your speedo will take approximately 10 seconds to reach 100kph from standstill and while it won't win you any drag championships, it's peppy enough to get you going.
There are 2 variants being offered. The bare bones GX and the standard GLX. Seen here is "supposedly" a GX but loaded with options to the point where it's a semi-GLX (more on this later). Looking at the engine bay, there was item that caught my eye … some cables/connectors that were loosely held together: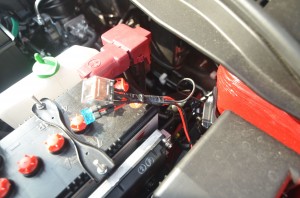 That cluster of cables were just dangling near the battery and to me, it seemed like a gross way of assembling an engine. At least lock-tight it somewhere la. I wonder how Suzuki could have let pass a shoddy work like this, regardless whether it poses a safety issue (gasp!) or not.
Ride and Handling
Now this is where the Swift truly shines. You will NOT find another car below RM70k that eats corners like the Swift and you won't find another review on the Swift that does not have the word "Fun" tagged to it. Take it up to Genting or some B roads and you'll find how amazingly stable the car is around bends. I recall a fellow Swifter sharing with me how she spun her Toyota Vios a couple of times while owning it but after changing to the Swift, she never had such issues. Pushing it further gives you a hint of oversteer but power off and the car will move itself back in line with little fanfare.
The 4AT gearbox is relatively smooth but seriously, anything with only 4 cogs is bound to be thirstier compared to 6 speeders, particularly when driving around at swifter than legal speeds. I used to recall my silver was scoring an average of 420 – 450km per 37 litres of petrol city drive, which is ok compared to other 4 speeders (except Vios which I also had for a period of time and driven under the same conditions, the Vios gave me about 100km more for the same amount of fuel).
Drive it too fast will have one undesired effect: Rear passengers won't like you very much. The suspension is tuned to be hard and while this is great for the driver, passengers may not appreciate the level of intimacy with the road.
Cabin Convenience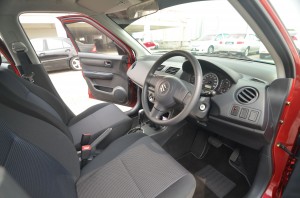 The cabin remains pretty much the same as it was before and largely the same for both variants except:-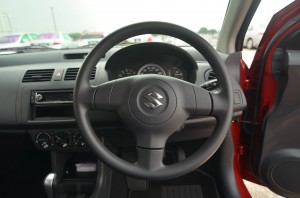 The steering lacks any buttons for audio controls.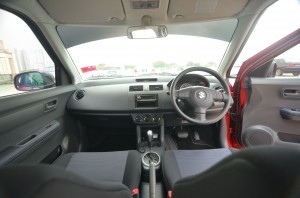 The side air conditioning circular vents has its bling bling covers removed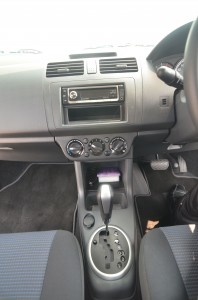 The head unit  is a a Blaupunkt single-DIN head unit with USB connectivity and a two-speaker system as opposed to the GLX's integrated flush HU with 6 speakers.
The tachometer remains uncharged between mine and the current Swift with all the information presented in a clear, simple manner.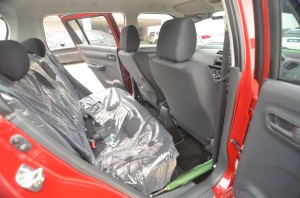 There is 3 banes associated to the Swift and they all spell bad news for rear passengers. Do note that GX does not come with rear headrest but this unit did.
Lack of rear headroom
Lack of rear legroom
Inclination of the rear seats are too straight
This means, if there's someone who always takes advantage of commuting in your car, put him/her behind for an outstation trip and after 4 hours, you will be cured of this person forever! Coupled with the bumpy suspension, the back is not some place fun to spend too long a time in. Swift justice!
In fact, a few Swifters back in 2004 entertained the idea of converting their cars into a full time 2 seater and utilizing the rear seat space for something else. A Brunei friend of mine did exactly that and installed a kick-ass audio system.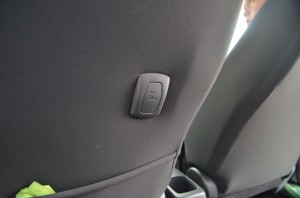 The "teh tarik" hook, something that should have been made mandatory for all cars, IMHO!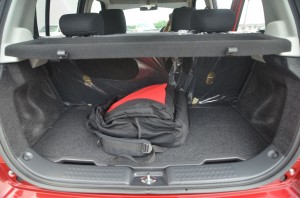 The boot, at first glance looks pathetically small but it's one of those few cars that comes with a 2 tier shelf.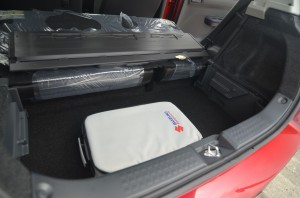 Lift up the top shelf, you'll find approximately another 5 inches of depth. SMA is very thoughtful to include an emergency kit.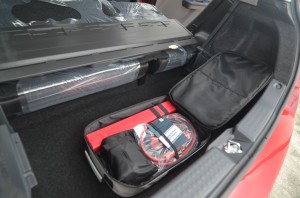 Inside the kit, you'll find a jump start cable, bandages and a safety triangle.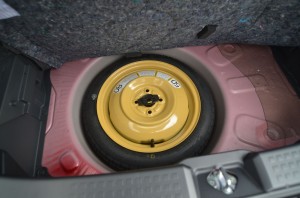 Below that, you'll find the space saver spare tire. And below that tire, you'll all the necessary tools to change your tire.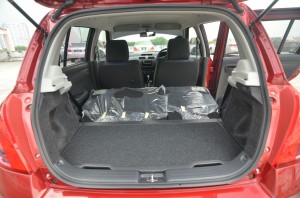 Well, all is not bad (in terms of space) for the Swift. Being a hatchback means the boot aperture is huge and with the rear seats folded down, you get an almost flat layout which is good for odd-sized cartons and boxes.
Safety
Despite cutting down the prices and slashing some specifications off (most notable is the KEYSSEY which is present in the GLX), the safety features of the car remains the same between the GX and the GLX. You get:-
2 frontal airbags
ABS
EBD
BA
Specifications
Engine : 1.5litre VVT DOHC
Drive system : FF 2WD
Dimensions : 3,760mm (L), 1,690mm (W), 1,5150mm (H)
Wheelbase : 2,390mm
Maximum output : 101hp (74kW)/6,000rpm
Maximum torque: 133Nm/4,000rpm
Fuel tank capacity : 43litres
Transmission : 4 speed Auto
Steering : Electric Power Steering, tilt adjustable
Brakes: Front – Ventilated disc, Rear – Drums
Suspension: Front – MacPherson Struts & coil springs
Suspension: Rear – Torsion beam @ coil springs
Tires: 185/60R15
Audio: CD tuner (MP3/WMA) with USB
SRS Front airbags
Head impact protection structure
ABS with EBD
Electronic Brake Force Distribution
Break Assist
Foot protection design for brake & clutch pedals
3-point ELR for front seat belts with pre-tensioners
3-point ELR for rear seat belts
High mounted stop lamp
Immobiliser
Side impact beams
The Swift GX retails for the price of RM65,888, under-cutting the next cheapest Japanese B segment (and most popular): the Toyota Vios sells for RM73,200 (even then you've got only 1 driver airbag and a manual transmission).
However, in this segment, the Swift has a strong heavy-weight contender: the "Lagi Power, Lagi Best", Perodua Myvi which is the most sold model in Malaysia (up to April 2012, a total of 28,832 units are put to the roads. The most popular Japanese car, Vios can't even hit half that number standing at 10,566units). The MyVi 1.5litre Extreme Auto outspecs the Swift by a huge margin; offering Muti Info Display, a funkier dashboard, headunit with Navi, better rear legroom, leather seats, leather-wrapped steering with audio controls and cheaper by about RM4k.
At the end of the day, it depends on your priorities. The Swift would be ideal for you if you have the following criteria:-
I don't want a national car
I have a tight budget not exceeding RM70k
I don't need a boot
I want a safe and fun car to drive around
While prices in Malaysia are insanely inflated, at least when compared to others, the Swift GX is relatively affordable. Get one and you are looking at something like the following monthly repayment (assuming 10% deposit and 2.5% interest rate):
5 years – RM1,111.90
7 years – RM829.50
9 years – 672.60