So the time has come where you've outgrown your shirt and it's time to buy a new one. A few minutes later and you find yourself in a departmental store and you're faced with a myriad of choices. There's like a zillion brands to choose from and from those you've got long sleeves/short sleeves, cuffed/uncuffed, cotton, wrinkle free, long tail tees, pull overs …. gosh, now you understand why I hate shopping.
And IMHO, selecting a C segment sedan puts you in a scenario similar to the above. So you've finally got that promotion you've worked hard for and your wife is expecting so your family is expanding and that 10 year old Perodua MyVi suddenly feels a tad tight with that added waistline of yours after all those years of excellent cooking from your wife. There's no 2 way about it …. time to find something bigger.
Shopping for a new C segment sedan in Malaysia can be pretty daunting with all the choices available to you. There are 11 cars for you to pick, each with its own strengths and weaknesses and among these 11 sedans, there are sub-variants as well (smaller engine, different trims). In a way, we should be thankful of the fact that we can't customize things like interior colors …. by the time you're done picking the car you like, your kid has probably grown up and you're now a grandfather.
At any rate, one of such options open to you is the Kia Forte. Launched back in Nov 2009, it is my humble opinion that this is the car that changed the perception of Korean cars in Malaysia and suddenly, this kimchi became a popular choice among Malaysian car buyers. Paul Tan felt that the game changer was the (previous generation) Kia Optima with its 2.0 GEMA engine. I disagree because the price scale of the Forte puts it smack in the middle of popular Japanese B segments and this has resulted in 2,888 units sold until May this year, making it the best selling non-national C segment sedan (best selling C segment is Preve at 3,265 units and 3rd is the Proton Inspira at 1,878 units*)
* Source: http://www.motortrader.com.my/news/top-50-models-in-may-2012/
NazaKia offers the Forte in 3 variants; the 1.6EX, the 1.6SX and 2.0SX. If you go to most sales branches, chances are you'll be able to test drive a 1.6SX. I was fortunate enough to be given a 2.0SX and hope to provide as much insight about this car as possible to you.
Design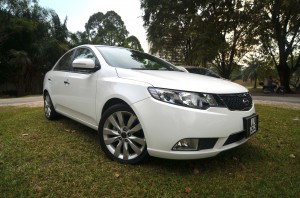 Hiring Peter Schreyer on board has paid huge dividends to Kia and the Forte is the most common "signature" you'll find dotting Malaysian roads. Honestly until today, I still fail to see the resemblance of the tiger and the front grill. Maybe I lack imagination.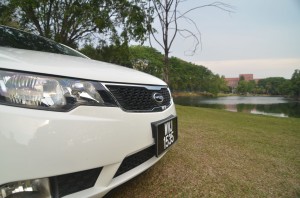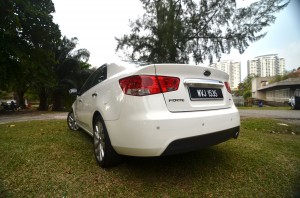 I remember prior to its launch, I see a few Cerato, the name of the Forte in Singapore being parked in Johor Bahru and I appreciate its clean lines. It evokes a sense of young-at heart emotion. With the accentuating curves connecting the front headlamps that extends all the way to the rear and a clean wedged like chisel surface along the side door creates a sense of speed even when it is not in motion. It's as no-nonsense as a pair of spandex underwear on an Olympic swimmer.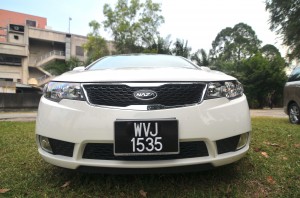 Roar?
Today, despite being 3 years on the roads and as common as McDonalds, it still has a commanding road presence (more so if you encounter the Forte Club on convoy).
The Schreyer line has its influence on the rear combination lights as well.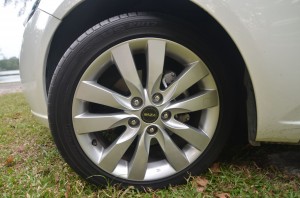 Visually, it's hard to distinguish a 1.6SX and a 2.0SX. There was one time where a limited number of Singapore spec-ed units with sunroof was brought in to Malaysia but other than that, an SX looks virtually identical. On the SX range, you'll find 17″ wheels wrapped with 215/45 rubber.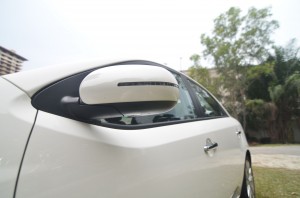 LED turn lights integrated to the side mirrors are the common things you'd expect in a modern C segment
Performance
I have to admit, I am very surprised at its power. Having tested the 1.6 variant before, I felt the car's weight coupled with 17″ wheels made a poor partner with the 1.6DOHC MPI CVVT Gamma engine. Though the power is sufficient to pull the car comfortably, it didn't leave a great enough impression in me that I dropped it off in my list of consideration.
Not so with this 2.0 litre engine. The 2.0SX variant gets a cast aluminum block 2.0litre DOHC CVVT Theta II engine and kicks out 156PS @ 6,200rpm and 194.2Nm @ 4,300rpm. Zero to hundred is said to be done in 10.5 seconds but it felt a lot faster. Compared to when it was launched back in 2009, the Forte has been updated from a 4 speeder to a 6 speed gearbox last year and this has promised improved fuel economy and a smoother drive.
Ride and Handling
I find the car to be well balanced … so much so that taking corners at a fast pace does not scare me as much as another Korean 2 litre car I was driving a few years back; the Hyundai Avante. The steering offers better feel than the previous generation Elantra but still not quite a match compared to a continental. Still, for its price, I have to say it handles itself pretty decently.
The suspension is not overtly hard until you crash through bumps as if you're on roller skates (like a Peugeot 308) but not as soft as an Altis. A good middle ground, I'd say and body roll is kept reasonably well. It's sad that the 1.6litre variant does not allow you to test the limits of the chassis as well as the 2.0 but I can say you'd be impressed with it.
Cabin Convenience
For the 2.0SX, you get plush leather that's agreeable with my bum.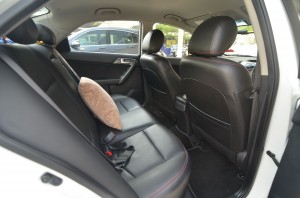 Rear head and legroom is comparable to most other C segments in the market and generally no complaints behind (other than the lack of rear air conditioning vents.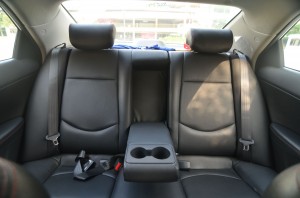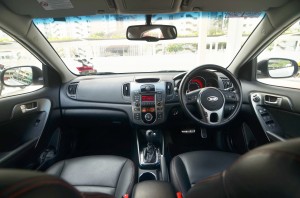 Kia nowadays sports dashboard designs similar to continental brands Everything smells of excellent ergonomics and easy to read and understand functions. Do note that this layout is of an older model. Earlier this year, NazaKia has refreshed the head unit to feature a touch screen Navi. What you can expect if you place a booking now is this: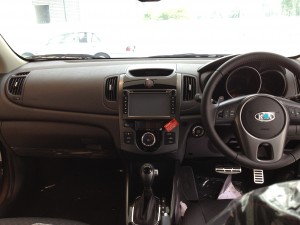 I like the newer dashboard design. Looks neater and more upmarket. Also, the answer/drop call button has been moved from the lower part of the steering to the right (sorry, the picture failed to capture its position)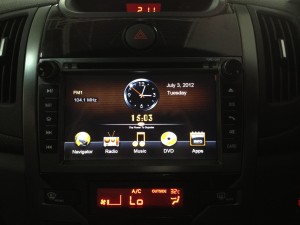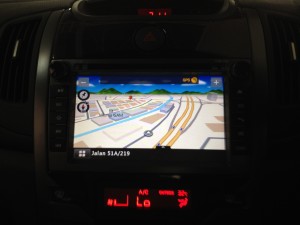 The display on the touchscreen is clear and it uses SpeedNavi GPS navigation. I'll come back with more details on the map type and whether the maps can be updated and where.
Typical of Kia again, they threw everything into this car. You get:-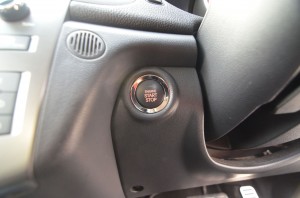 Keyless entry and keyless start/stop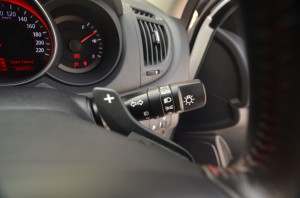 Paddle shifters are an absolute joy to use and you'll also find the convenience of having auto headlight function on the right stalk.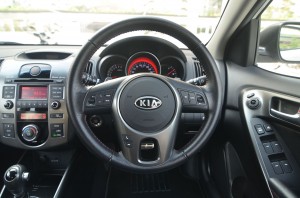 On the steering wheel, you'll find the controls for audio, auto cruise as well as call/drop calls. Yes, the car comes with Bluetooth connectivity and the microphone is found right above the driver. You need not shout to be heard on the other side … just speak with your normal tone.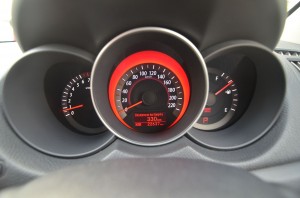 Behind the steering, you'll see Kia's usual Supervision cluster where the RPM, speedo as well as fuel meters can be clearly read. The cluster features a Multi Info Display where drive time, Trip A, Trip B, Distance to Empty, Average Fuel Consumption, Instant Fuel Consumption, Average Speed and other warning messages can be found.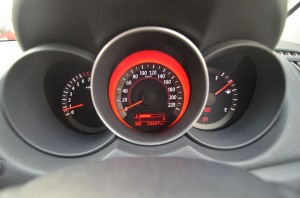 Don't panic if you can see your engine temperature. It's here as well.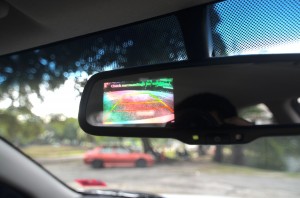 Aside from an auto dimming rear view mirro, you'll also have the reverse camera screen here. I prefer this layout over those that uses a display on the center console as you can augment both views to help you park like a pro.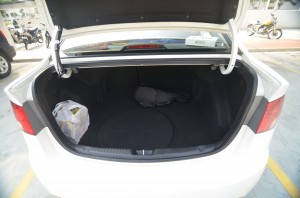 The boot is huge, more than enough for a full load back to your home town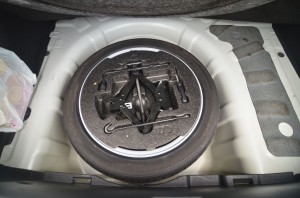 And underneath the boot board, you'll find a full sized spare tire.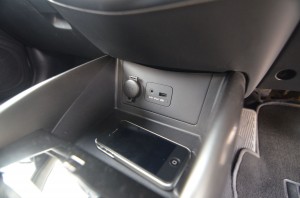 In the center, you'll see the iPhone/iPod/iPad docking station which not only allows you to charge your device but also stream music through it. The Bluetooth system also allows wireless audio connectivity and it's perfect for watching movies (no, not for you, Mr Driver).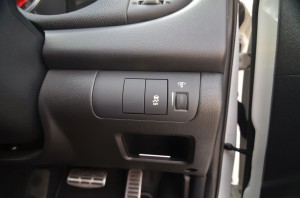 Deactive the ESP for some sideway fun.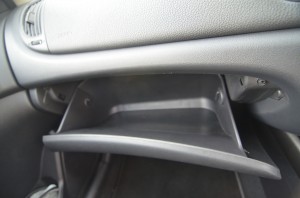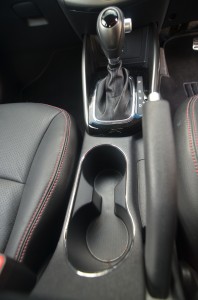 Perfect for any Asian family, lots of nooks and holders for your Milo, Nescafe, mineral water, baby bottle, and any rubbish you might  want to collect somewhere before disposing them at the next stop. Not shown here are bottle holders on the side doors.
Specification
Exterior
Tinted windscreen glass, UV protected
Chrome finished outer door handles
Electric adjustable with intergrated LED side turn signal and electric folding side door mirrors
Auto light
Front fog lamps
Interior
Supervision Cluster with trip computer
Radio/6 CD changer/MP3/AUX
6 speaker system
USB + iPod connectivity
Fully automatic air conditioning
Electronic Chromic rear view mirror
Rear view camera display
Alloy driving pads
Leather wrapped gear knob
Leather seats
Leather wrapped steering with metal paint center spoke and audio, bluetooth, cruise control and paddle shifter, tilt and telescopic
Motor driven electric power steering
Safety
Dual front airbags
Dual side airbags
Curtain airbags
ABS
EBD
Cornering Brake Control (CBC)
Brake Assist System (BAS)
Traction Control System (TCS)
ESP
Maintenance and owning one
The Forte 2.0SX retails for the price of RM97,800 whereas the 1.6SX sells for RM85,800. Aside from the difference in engine, the 1.6SX does not have full leather seats, motor driven power steering, side and curtain airbags and auto cruise.
Here's how much an SX (in both 2.0 and 1.6 variants) would cost you in owning and maintaining one:
* Monthly repayment is based on the assumption of 10% deposit and 2.5% interest rate.
.
The 1.6SX outsells the 2.0SX by far but I would attribute it mainly to the lack of test driving experience, which is a shame really because the 2.0SX is truly one of the better C segment your money can buy. Here's how it stacks up against other contenders in the segment: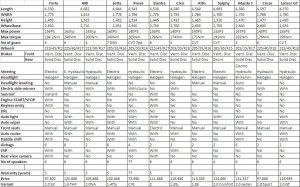 With specifications like these, it's no wonder why the Forte reigns as the undisputed champion among all other non-national C segment contenders. Just take my advise …. make the extra effort to hunt down a 2.0SX test drive. You won't regret it.
Follow kensomuse in Twitter @ https://twitter.com/kensomuse
Follow kensomuse in Facebook @ https://www.facebook.com/Kensomuse