Ok, I have to confess …. I wasn't too keen on testing this car. First of all, I have always favored sedans and based on my vehicle preference, comfort and cabin quietness ranks highly in my selection. The last SUV I reviewed from Kia was the Sportage and as capable as it is in itself, it simply did not have the qualities I desire. In other words, to attempt to sell me a Sportage is akin to trying to sell refrigerator to an Eskimo refrigerator sales person. Don't get me wrong; I still think that a Sportage is a great car with all the features for that price scale …. I'm simply not that kind of buyer that would appreciate it as well as an SUV lover.
So when the opportunity to test the Sorento presented itself, I thought it would have similar driving characteristics as the Sportage's, except being a bigger car, the characteristics, both positive and negative would be amplified. I couldn't be more wrong. The Sorento took my preconception of "large and ungainly" and rubbished it. Here's why:-
.
Design
.
Like most Kia nowadays, the Schreyer grille is the main theme for its front end. When I first saw the pictures when it was launched at the end of 2010, I thought the eyes were a little squinty, "sepet" for its size. Seeing it in the flesh quickly dispelled this illusion.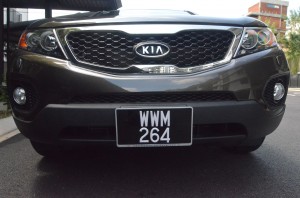 The honeycomb grille creates a mesh-like image that's carried over to the fog light casing.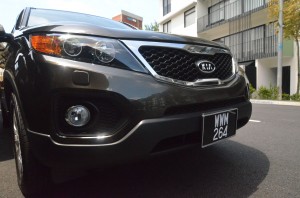 Don't be intimidated by it's size …. it may look gargantuan but with dimensions measuring 4,685mm in length, 1,885mm in width and 1,710mm in height, it's actually shorter than most D segment sedans and marginally wider. For example, against the new Camry, the Sorento is actually 140mm shorter in length and 60mm wider. Easier to do side parking but not so easy to squeeze between tiny "lorong" and tight parking spots.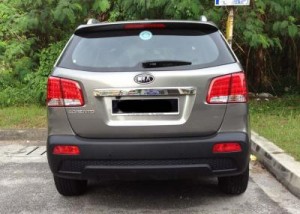 At the back, you get large LED tail lights and chrome bits decorate the boot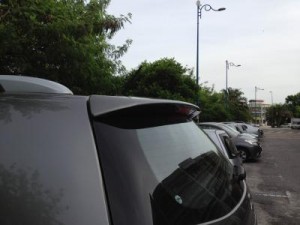 The Sorento comes complete with rear spoiler which completes the overall outlook of the car
18″ wheels wrapped in 235/60 rubbers provides excellent ground clearance and comfort when going through bumps. You need not be so concerned about flash floods in KL anymore.
 Performance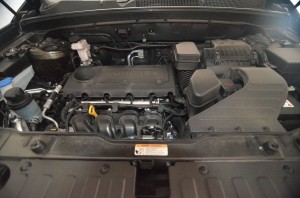 Powering the Sorento is a 2.4litre DOHC 16 Valve Dual CVVT Theta II engine that produces 174PS @ 6,000rpm and 226Nm @ 3,750rpm. Those numbers may not look that impressive but when driving it, I truly enjoyed every moment of it. The torque is readily available with a wide torque band and unlike the Sportage while can sound boomy at higher RPM, the Sorento's powerplant sounded a lot more quiet, more refined and definitely power powerful, creating a stress free driving experience that I particularly enjoy. Call me an old uncle but comfort and quietness has always been high selling points to me.
There are no official zero to hundred numbers but really, 0-100 stats are pretty inappropriate for an SUV of this size. Nevertheless, it does feel good when flooring the accelerator and I think I surprised quite a number of motorist as I pull ahead of them with relative ease one the lights turn green. The engine may not have the brutality of the Hyundai Santa Fe's 442Nm torque but I find the 2 litre aluminium block more than sufficient in propelling the car from standstill.
.
Ride and Handling
.
This is one aspect that astounded my passengers and me; For a car the size of a whale, it handles surprisingly well around corners. Up in front, you get MarPherson Struts whereas at the back the independent multi-link suspension works wonders at absorbing shocks from our less-than-ideal roads while improving its ability to tackle bends with minimal body roll. It's still a big car, mind you; so long as you don't drive it like a hot hatch, it steers itself well in any road or off-road conditions.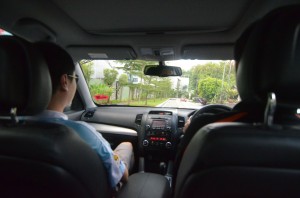 This is the tallest car I've ever driven and despite having a preference for low-seating cars, the commanding height is exceptional. I could see miles ahead … and with its size, it can also be somewhat a bully on the road. Cutting into lanes is easy.
It insanely easy to drive. You'd think that for a car the size of a whale, maneuvering and parking would be a pain but it's not. As a matter of fact, I find it exceptionally easy to park by just focusing on the side mirrors, then looking at the reverse camera on the rear view mirror to see how much I need to reverse. And, as I have mentioned before, if you happen to park next to a Camry, you'd notice your nose is parked deeper in as it is a (relatively) shorter car. I've always been one of those who keeps hoping that the car is reversed as deep as possible to avoid any inattentive driver who might decide to do some impromptu surgery on the nose of my car if they whack it while looking for parking.
.
Cabin Convenience
.
The Sorento is for the price-for-size buyer. Being a 7 seater, bringing the whole "kampung" out for a picnic is no longer an issue. Or moving house, for that matter … which is what my friend did recently. Here how the car looked after folding down both rear seat rows to be completely flat and stuffing it almost to the brim:-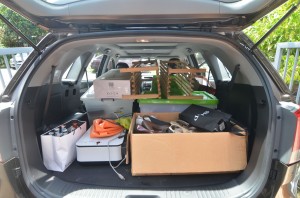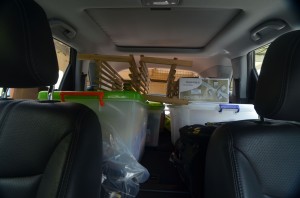 It may not look much but if you see closely, there are 3 of those huge plastic containers, 2 show racks, a whole box of shoes, a vacuum cleaner box, a medium sized luggage, a printer, a couple of bottle of wine plus a few odd items here and there. Unless you happen to be driving a station wagon, there's no way you can stuff as much things in. Actually, we could still create more space if we re-arranged the layout but do remember that for a non-commercial vehicle, it is against the law to stack items that may hinder the driver's view, which means the police may stop you if your items are stacked above the bottom of your windows so do take note.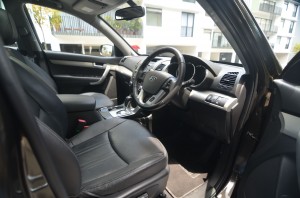 Up at the Captain's chair, everything is neatly arranged. The driver gets 8 way powered seats but unfortunately no memory settings.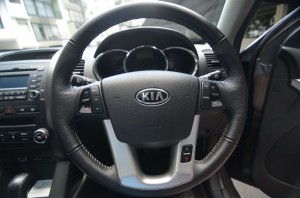 The leather wrapped steering has a nice meaty feel to it, very reassuring to grip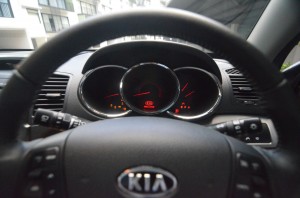 Supervision cluster is on every Kia model nowadays and the Sorento is not an exception. In the Multi Info Display, you'll find the usual drive time, Trip A, Trip B, Distance to Empty, Average Fuel Consumption, Instant Fuel Consumption, Average Speed and other warning messages.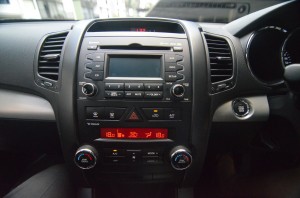 The center fascia retains its Audi-like sporty appearance. The dual zone fully automatic air conditioner provides sufficient cooling in our hot climate and it also features a cluster ionizer that generates anions and cations that inhibits mold which then ensures fresh air always fills the cabin.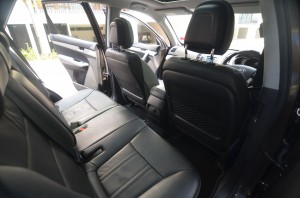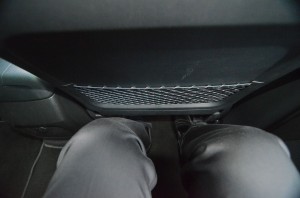 Back in the rear, space is great. At my height of almost reaching 6 feet and with the driver's seat adjusted to my driving position, I still have space at the back. The 2nd row seats have a 60:40 splut whereas the 3rd row is 50:50. Another feature that makes the rear passengers love you for taking them out in this car is that the 2nd row seats can be reclined (like what is usually found in the front passenger seat), making it very comfortable to lounge at the back during long distance travelling.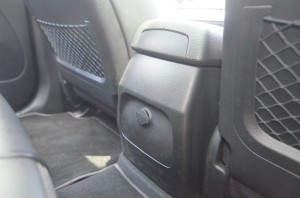 2nd row passengers can also charge their portable devices via a 12V port. Also, the 2nd row air conditioning vent is found at the B pillars (as is most of the time found in SUVs)
Also, typical of any 7 seater, the 2nd row features a double folding walk in device that facilitates easy 3rd row passenger access.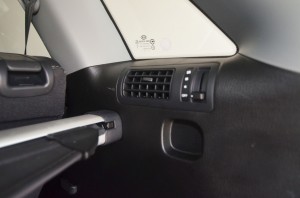 Speaking of the 3rd row, passengers sitting at the back gets their own air conditioning vents which can be turned off if not used.  I'd tick this (having individual air conditioning vents for each row of passengers) as very important in our climate. I must say though that the 3rd row can be a little narrow and best used to ferry kids.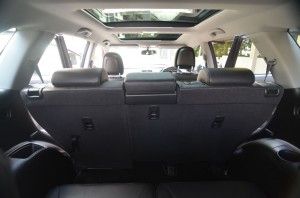 All your passengers will enjoy the airy feel due to the panoramic roof with the front half being able to open for some additional fresh air … and is very effective in removing heat from the car.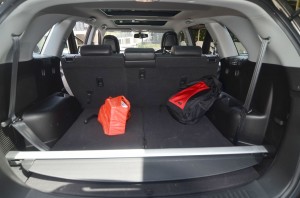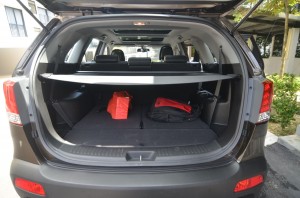 With the 3rd row folded, you can get a sizable boot and with both rows down, you can get up to 1,047litres of space. And, equally important is like most SUVs, large aperture opening of the boot allows easy ingress and egress of stuff (like we found out in the moving house experience).
Also as you can see in the 2nd picture above, there is a shelf cover that hides the contents of your boot from prying eyes. With all the security issues we have at malls nowadays, I can't imagine anyone wanting to remove this. By the way, if you look at the 1st picture, the shelf cover can be positioned on the floor of the boot. There are slots for it to be fixed to prevent it from moving around when driving. As a matter of fact, you get 3 of such slots (2 of them can be seen in the 3rd row air conditioning vent picture and the slot furthest rear gives you an idea how much inclination the 2nd row can go)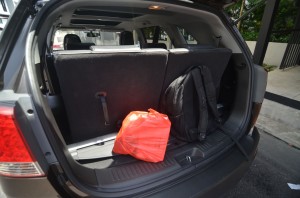 However, do note that with the 3rd row up, there is no way you can fit large luggage inside. The roof rails that comes with the car would be very useful in this respect.
Safety
A load of safety features has seen the Sorento to be awared as the car of the year in Parents magazine, US, a magazine that focuses on family and parenting. With the Sorento, you get:-
Electronic stability control
Downhill Brake Control which keeps the car vehicle at a constant 8km/h when braking downhill
Hill Assist Control that saves you the heartache (and wallet-ache)  of whacking your rear to the car behind you at the parking lot slope
5-star NCAP rating
Pedestrian safety system that makes it harder to kill pedestrians and bicyclist
ABS
EBD
6 airbags
Active headrest
Specifications
Exterior
HID Xenon head lamps with auto leveling device
Headlamp washers
Headlamp with escort function (Follow Me Home)
Front fog lamps
Rear LED Combination lamps
Panoramic sunroof (with power, tilt & telescopic)
Roof rack
Chrome coated Outer Door Handles
Chrome coated radiator grille
Rear spoiler
Electric folding side mirrors with integrated LED turn signals
Interior
Supervision meter cluster with trip computer
Radio/CDC/MP3/ Ext Amp with 8 speaker & sub woofer
6 CD changer
AUX + USB + iPod Connectivity
Fully automatic dual zone air conditioner with Cluster Ionizer
Electronic Chromatic Rear view mirror
Integrated rear view camera display on rear view mirror
Leather wrapped gear shift knob
Leather seats
Active headrest
8-way power seat (driver only)
2nd row 60:40 split folding
3rd row 50:50 split folding
Headrest adjusters
Center armrest with cup holder
3-point ELR front seatbelts with height adjusters
3-point ELR rear seatbelts
Leather wrapped steering (tilt and telescopic adjustable)
Hydraulic power, rack & pinion
Steering controls include audio control, auto cruise control and Bluetooth connectivity
Keyless Entry and Engine Start/Stop button
Auto up and down power windows with anti pinch feature
Safety
6 airbags
Rear parking assist sensor system
Speed sensing auto door lock
Impact sensing auto door unlock
ESP
ABS
EBD
CBC
BA
TCS
Downhill Brake Control (DBC)
Hill Assist Control (HAC)
Maintenance and ownership cost
To own and run a Sorento, you'd be looking at figures like this: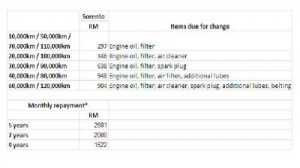 *Monthly repayment based on the assumption of 2.5% interest rate and 90% loan
And in my recent trip to Penang (80% highway and 20% running around town), I scored 636.6km for RM122.22 on fuel consumption while traveling at the maximum allowable speed limit; that's about 19 cents per kilometer. Good or bad for a car this size? You be the judge
So in the end, should you consider the Sorento if you've looking for a 7 seater SUV? I think so …. after all, for a price of RM158,888, you'd be hard pressed to find another similar segment vehicle that offers what the Sorento has. The only weakness as I see it is the power … as I have mentioned before, it is sufficient to keep me happy but in contest against its nearest rival, the Hyundai Santa Fe with its turbo diesel 2.2litre engine generating 442Nm worth of torque, it's no surprise why the Santa Fe is outselling the Sorento.
Having said that, I'd still pick the Sorento over the Santa Fe because I prefer the Kia because in term of an overall package of performance, interior quality, exterior design, family-friendly features and technology, I'd say the Sorento comes off ahead.