If you are in the market for getting car care products for your ride, you would be surprise to find that you have loads of options. Recent introduction of car coating have been tremendous – you can find as many choices as washing machines in an electronic departmental store. Most of them going for this usually think that this would be a one stop solution, removing the need to clean or care their cars.
I for one would think that it is impossible if you want to maintain your ride in a good condition with 1 time coating alone – due to various factors: our road conditions, weather (tropical is not exactly gentle to the paint), daily wear and tear will take a stride to eventually need you to send in your ride for some maintenance touch up. How long the coating last would also depend on how you wash it – an outside cheapo wash using machine or so forth would diminish your coating and paint in no time. And so proper washing is really required to prolong even for the coating.
This leads us to the in between product – the DIY coating. Coating done by the shops are relatively expensive, and I do believe once a while you will encounter mishaps that requires some retouching and so forth. Getting the wax or sealant using the conventional products will not be so long lasting. So the answer is DIY coating. But how about contaminants you may ask, well unlike spray painting, coating is basically applied on hence there is no risk of getting contaminants on (this is typically the general fear people have).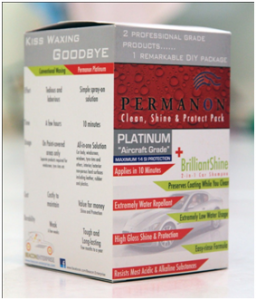 Now I have the courtesy of testing out this product Permanon and do a simple review. For starters I got the Permanon Platinum – and based on info I had this is not suitable for glass and windscreens hence I will only focus on the paintjob.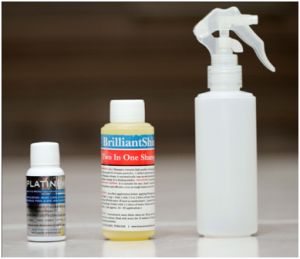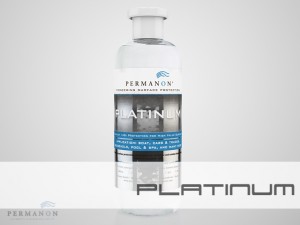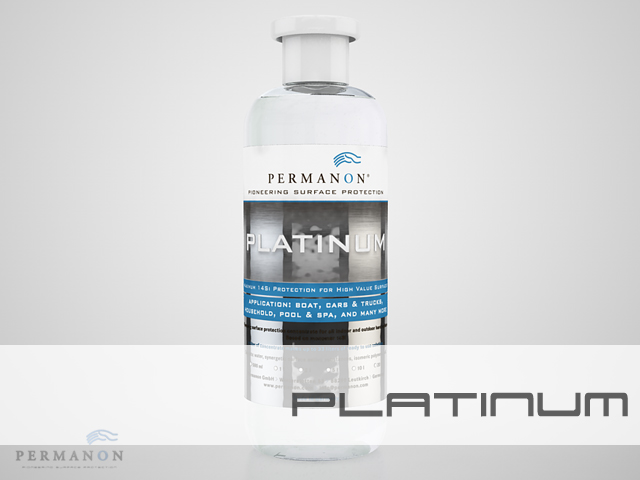 The product arrives in a simple box, all the instructions laid out on the outer box. Open up and this is what you have: a shampoo, a small bottle of coating and a sprayer. I won't be going into details of how to wash the car, instruction is to clean your car with the shampoo then rinse dry with towel. Instead of using it's shampoo, i did it once with the normal shampoo then another round with the given BrilliantShine shampoo – ensuring that I clean and do it correctly. Cleaning or "Prep" step before the coating is vital, do this wrong and durability of the coating will be compromised.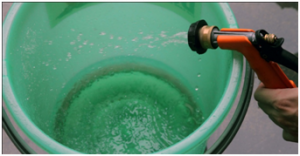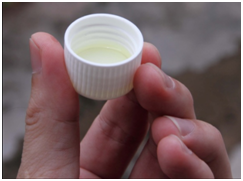 The shampoo is quite concentrated, so i just follow the instruction from the box – diluting 1 cap for 1 liter. Do a single wipe through, using the 2 mitts for top and bottom. Then rinse dry using the microfiber towel (I'm using waffle weave btw). This is all routine car wash process. Then coating part, diluting as per instructed 30ml for 2/3 of the sprayer bottle given – using a microfiber sponge applying as I sprayed on the car panels itself.
Overall the application is quite simple and fast. Relatively easy to use comparing to some other coating I tried before. As the dilution is water based, there is no fear that it dries off too fast. Also there is not much residue to be afraid of, overall the process is very fast and easy. In fact there is no buffing required after you applied the coating. To test the panel out, I spray on some water and feel the panel – it was very smooth to the touch and this certainly confirms that the application is ok. The water will sheet off instead of sticking on the panels. Drying off with the towel also confirms the similar feel – it is very smooth to the touch.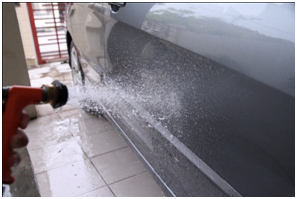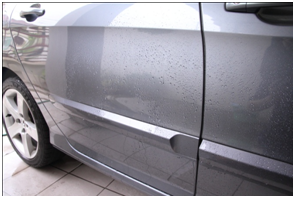 Coming to the gloss, i would say very commendable as if the prep done right it is quite shiny and smooth. Together with the ease of application, this product is certainly easy to use. The only question now is the reliability and with the steps done right – this could probably last around 6 month to 1 year (based on what is stated on the box). But for the price you pay, and the particular set can probably last for 4 rounds of coating – hence if the product kept its promise on durability (if it can last at least 6 months) hence you won't be buying anything else for the next 2 years which is really a value for money really.
Kenso's notes:
With regards to the durability, I have been using this for over a year now and what I like about Permanon is the fact that each time you use the shampoo to wash the car, it adds a thin layer of Permanon on top of it. Think of it like each time when you wash, you're doing maintenance at the same time so the gloss and shine will remain great as long as you follow the usual minimum-1-week-1-wash routine (and that applies for ANY shampoo). Do note however that like all coatings, water marks may be prevalent and this is very common especially in Malaysia where rain and shine happens within a span of 1 hour. As the water droplets on the bonnet dry off due to sun and heat from the engine, you may encounter marks the shape of the water pool that was on the bonnet earlier. This applies to ALL types of coating.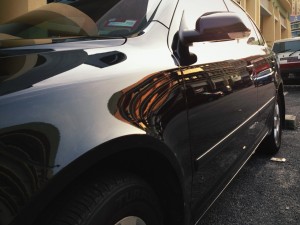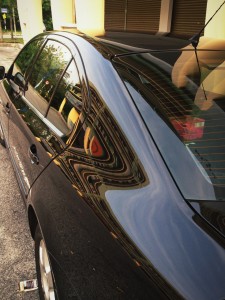 Permanon Platinum on a black Skoda Octavia
.
Still, I am quite pleased that for the price you pay, you get a simple, easy to use coating that even a 5 year old can help you in detailing the car (how's that for bonding time with you kid). Despite the instruction against using it on windscreens, I did that (even on the car rims too) and water just sleets off in the rain (no more Rain-X for me).
Advertorial notes:
Permanon Platinum has no issue with application on glass and windscreen. Due to its highly concentrated composition, excess Permanon Platinum marks will be visible on the applied surface when it is not wiped off. When applying on transparent surfaces e.g. windscreen or windows, just wipe off with a slight damp cloth to wipe the applied surface areas or rinse with water after the application to remove the excess Permanon Platinum residue.
.
I have noticed that in terms of durability, it the shine can last for about 6-8 months, depending on the frequency of washing with the Brilliantshine shampoo and my recommendation is as each box gives you about 4 coats, coat it once every 3-4 months. And coating is as Beh said, a simple spray on and wipe off. That's it. Your car's shine and gloss will be the talk of the town for the entire year.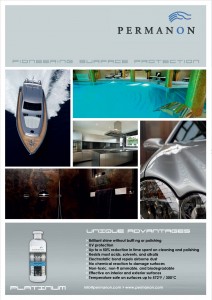 Price and packaging
A starter pack which consists of
1 x 120ml Brilliant Shine Shampoo
1 x 35ml Permanon Platinum Coating
1 x spray bottle
Costs RM105 on retail. Please email to permanon.my@gmail.com for more details. Good news is when you mention you are directed from kensomuse , you'll be entitled for some special discounts!
 Writer: behcw loves fast cars & music, photography, cycling and sports. An avid detailer due to the love of cars. Favorite past times are Japanese Anime and Kamen Riders – was and still the Old Boy that never grew up. His blog can be accessed here:
Follow kensomuse in Twitter @ https://twitter.com/kensomuse
Follow kensomuse in Facebook @ https://www.facebook.com/Kensomuse