It was a nice warm day as Ford kick started their customized test drive sessions for the general public today. Held in Holiday Inn, Glenmarie, the session was purely by appointment and only for those who have registered for the test drive. Kensomuse registered while the Focus was on display at Pyramid and was quick to jump onto the opportunity to be one of the first in Malaysia to test the car and share with you some insights about it.
Before I go on, please read the earlier article below as I won't spend too much time explaining about each features since it has already been covered and will focus more on how each feature works as shown in this test drive session:-
http://www.kensomuse.com/the-next-generation-ford-focus-start-more-than-a-car/
When the car was in display in Pyramid, there were little information on the specifications and trim levels. Today, Sime Darby, the official distributor of the Ford range revealed more information about the car and it's scheduled for launch some time in September. The Focus will be sold in both sedan and hatchback form and there will be 2 trim levels; a standard and a higher spec version called Plus.
Design
Ford's Kinetic design conveys well in both hatchback and sedan form, looking pretty handsome in either form.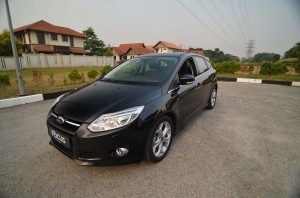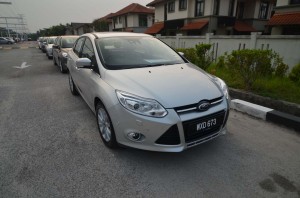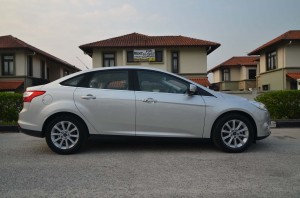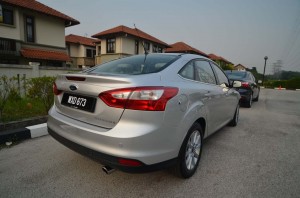 Ford calls its hatchbacks Sport whereas the sedans are called Ghia. Sport gets 17″ alloy wheels while Ghia gets 16″ and this applies to both Plus and non-Plus specifications.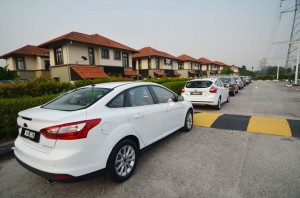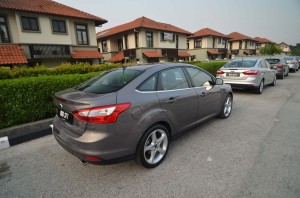 There were 3 Ghia colors on display; ingot silver, frozen white and surprisingly a bronze color which is not part of the local offering (other than silver and white, Ghia can be had in midnight sky blue and for Ghia Plus, you can also order it in Candy Red). The last picture above is a UK spec-ed unit which explains the color and the star-shaped rim is not something we will be getting here.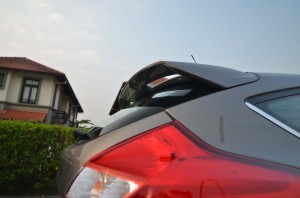 On the Sport, you'll get a nicely shaped spoiler which completes the overall look of the hatchback.
.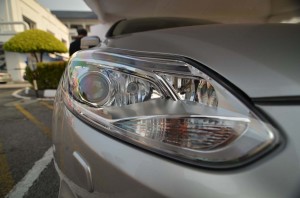 .
The Plus gets Bi-Xenon projector headlamps and DRL (DRL only for Ghia Titanium Plus)
.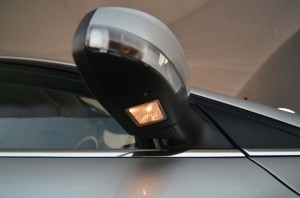 .
Both variants gets puddle lights which is a great convenience in avoiding dog poo when parking in the dark
.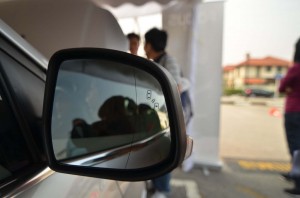 .
Also found on the side mirrors of the Ghia Plus are the Blind Spot Information System where a small yellow light would light up if there is a car beside you in your blind spot so that you don't blindly change lanes.
.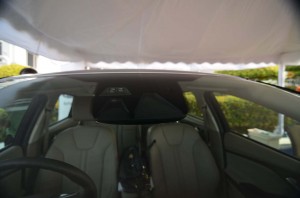 .
Check out the amount of sensors the front windscreen has
.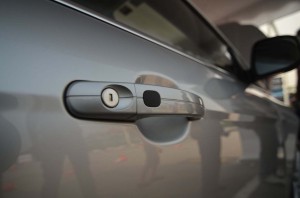 .
Stand within 1-2 feet to lock/unlock the doors
.
Performance
We'll only be getting one engine variant and that's the 2.0 litre Twin Independent Variable Camshaft Timing (Ti-VCT) 4 Inline producing 170PS @ 6,500rpm and 202Nm torque @ 4,550rpm which is pretty decent for a NA engine.
Acceleration is brisk and unlike Asian made cars, the engine does not sound strained when pushed. Ford claims the Focus can hit a top speed of 207kph for both the Ghia and Sport and no official zero to hundred figures were given.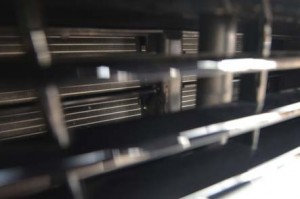 The Focus has Active Grille Shutter which closes the front vents to improve aerodynamics. I doubt anyone can feel it working but it's supposed to improve fuel efficiency.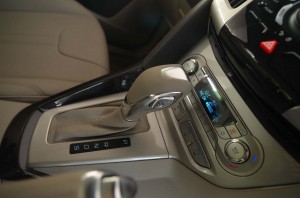 Paired with the engine is a 6-speed Twin Clutch automatic gearbox with manual override. Note the manual over-ride is not the usual + – slot as most other tiptronic gearboxes may have. It's probably the only car in the world that has the manual shift controls ON the gearstick itself. Until today, motoring journalists around the world are still baffled as to why Ford choose to reinvent the wheel … particularly when the wheel is working so well. It certainly felt a bit odd to be shifting gears with my thumb and this is the only way to do it as the Focus does not have paddle shifters. It might not be more easier to use if we were a left hand drive market as most drivers use their right hand more often (hand brakes, changing gears, etc) and the right thumb is well "exercised" but I believe most drivers would not have a deft left thumb when trying to manually engage gears when the mood to go fast hits. An ergonomic oversight for Asian markets?
As the roads were clear, I didn't notice if the the gearbox displayed the usual juddering at slow speeds as most dual clutch gearboxes. However at high speeds, the gear shifts are seamless and occupants won't feel any gear drag that usually accompanies gear kick down. It's still not as sharp and fast as VW's DSG but much better than a conventional auto transmission.
.
Ride and Handling
One of Ford's forte is in the handling area and the Focus certainly demonstrates this with great aplomb. The test route had us drive out from Holiday Inn Glenmarie, run on some curvy B roads before hitting straights. Drivers would not feel the Torque Vectoring Control working but it must be as the car felt really planted on the road. There's a small roundabout at the regular Glenmarie test drive roads and throwing it round and round, it manages to stay focused on staying stable. Unless you're attempting suicide or drunk, the limit of what a sane person will attempt in taking corners is pushed higher. Dare I say that this is probably the best C segment car I've ever driven!
My only gripe is that the steering felt a tad too light. It still manages to convey a good amount of road feedback but I would have preferred a slightly more weighted wheel. Having said that, the light steering is a great point for those regularly commuting within the city and more often than not encountering heavy traffic.
Cabin Convenience
The Sport gets semi leather seats: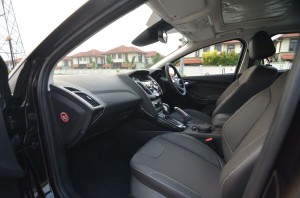 Whereas the Ghia gets full leather seats with a beige interior: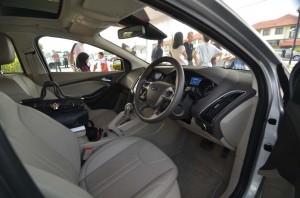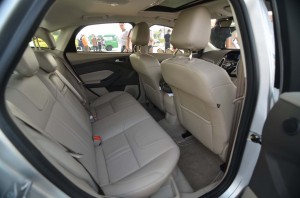 .
I like the beige interior …. it adds an airy ambiance to the cabin
.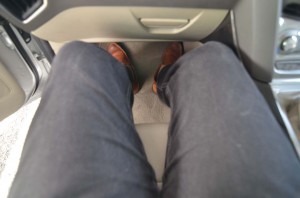 .
My biggest complaint about the Focus are the seats. For my height, the front seats do not offer sufficient thigh support as you can see in the picture above. Driving long distance may be tiring for a person with long legs and Ford can't increase the seat length too much else the rear legroom, which isn't fantastic to begin with will shrink even more. However, for the fairer gender, I believe most women are of that height and will find the seats comfortable enough for them.
.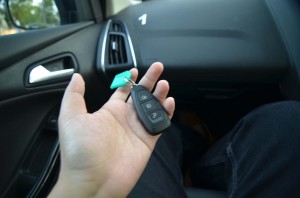 .
Keyless entry and Push Start is standard on all variants
.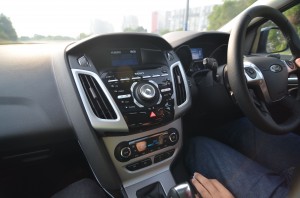 .
The Sony head unit features CD, MP3, AM/FM & AUX Input port. It also allows playback from USB and has iPod connectivity.
.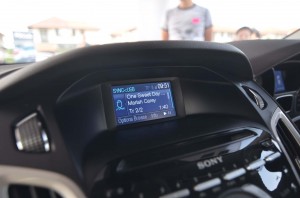 .
Song title and artist are clearly displayed on the 4.2″ Color Multifunction Display and the USB Port is found within the glove compartment
.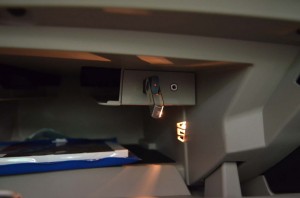 .
Ford SYNC Audio System with Voice Command
.
Over 10,000 voice commands are programmed into the car and all you have to do is speak the proper commands the Ford SYNC does the rest. We had a chance to try out the audio controls via voice commands and it could understand local accents well enough. It could also read SMSes to you and we tested with the following message:-
.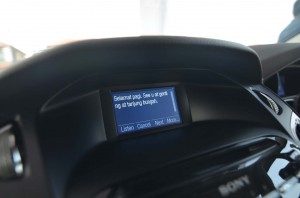 .
It sounded like the same lady in Garmin GPS systems were speaking to us and the usual US mispronunciation such as "Gent-ting" and "Bung-gah" was present. It's bound to be a source of endless amusement to you and your passengers as you discover newer ways of pronouncing local words. Btw, LOL would be read in full Laugh Out Loud. You may also voice command an SMS reply but only preset templates that cannot be re-programmed.
.
Active City Stop
.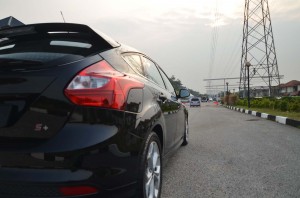 Only available for Plus spec models, Active City Stops will bring the car to a complete stop automatically within speeds of 30kph. This is perfect for those who love SMSing while driving and it is most useful in situations such as roundabouts where you're busy looking at oncoming traffic on the right without realising the car in front has stopped or in shopping malls where the car in front suddenly stops after spotting a car exiting a parking lot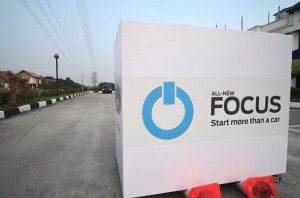 It was unnervingly like a rollercoaster ride when the instructor told us to accelerate towards the white box but keeping within 30kph and consciously not to step on the brakes. True enough, at about 6 feet away from imminent impact, the system automatically kicks in and the car is brought to a complete stop for about 1 second before it starts to creep forward again. The reason why it would move again is because Ford has conducted studies that concludes that most drivers would automatically step on the brakes if they are aware of any obstacles ahead. It's due to the lack of awareness that caused the accident in the first place but once they can see it, they will brake so the system is not required after the braking maneuver is done.
The system will still work at speeds above 30kph but may only slow down the vehicle without stopping in time to reduce impact. The system will also work if you were lightly tapping the brakes.
Active Park Assist
Perfect for those who find it challenging to do parallel parking, this system automatically scans for a parking space big enough to park the car and turns the steering wheel automatically. Here's how it works: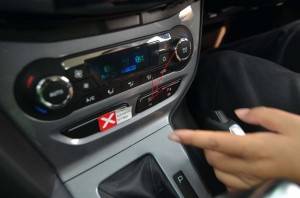 Press on the 'Auto |P| ON' button found in front of the gear stick. The system will automatically scan the LEFT side of the car (this is by default) since we are in a driving-on-the-left-side-road country. You can scan the RIGHT side by switching the RIGHT indicators on. The car needs to be moved within 2 feet of the adjacent vehicles for the lateral sensors mounted on the front and rear bumpers to work.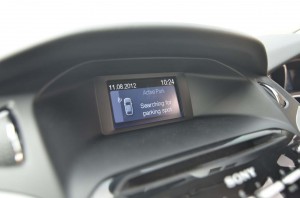 Once a suitable parking space is found, you're then prompted to do the following: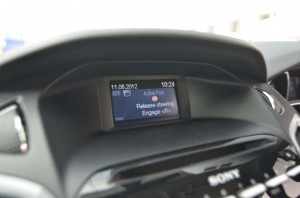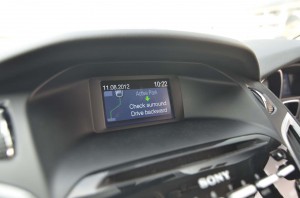 Hands off and poltergeist takes over the steering. All you need to do is just manage the brakes. The car will creep (like how your car tend to move forward on its own when the gear is on 'D' mode) towards its intended direction
.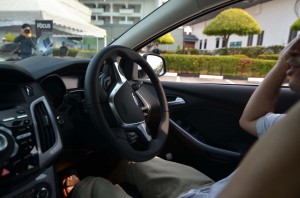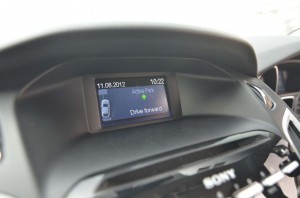 Slot the gear forward after reversing to the proper position. The steering then turns by itself again to move forward and then you're done.
.
You can manually override the system by holding onto the steering. The system disengages when it encounters resistance on the steering wheel.
Safety
Next to a Volvo, the Ford is probably one of the safest C segment vehicles you can find on Malaysian roads by offering:-
Anti Lock Braking System (ABS)
Emergency Brake Assist (EBA)
Electronic Brake-force Distribution (EBD)
Electronic Stability Program (ESP)
Traction Control System (TCS)
Hill Launch Assist (HLA)
Torque Vectoring Control (TVC)
Driver & Passenger single stage airbag
Side airbags
Child Proof Door Locks
Seat belts with pretensioners
Driver and Passenger Seat belt minder (audio chimes)
Ultra Rigid Safety Cell & Crash Crumple Zone
Collapsible Steering Column & Control Pedals
Front & Side Collision Protection Beams
Electronic Passive Anti Theft Security System (EPATS)
Perimeter Alarm
Front & Rear Disc Brakes
Front & Rear Parking Aid
.
Plus spec has curtain airbags (bringing a total of 6 airbags) in addition to the non-Plus spec
.
Specifications
The Ghia Titanium sedan has the following specifications:-
Exterior
Halogen headlamps
Front & Rear Fog Lamps
Reversing Lamps
Center High Mounted Stop Lamps
Electric Folding Side Mirrors
Power Adjustable Side Mirrors
Turn Indicator and Puddle Lamps
High Gloss Black Color Front Grille
Chrome Window Trim
Front & Rear Towing Hooks
205/60 R16 tires with 16″ alloy wheels
Mini sized spare wheel
Interior
Keyless Entry with Push Button Start
Automatic & Electronic Dual Zone Climate Controls
Leather Wrap Steering with Audio Controls
Leather Wrap Gear Shift
Power Windows – all 4 windows "one touch up/down"
4.2″ Color Multifunction Display
"SYNC" Audio System
Bluetooth Connectivity and Voice Control
Audio System – CD, MP3, AM/FM & AUX Input Port
USB and iPod Connectivity
9 Premium High Series Speakers
Leather seats
Power- 4 way Driver Seat Adjust
Sun-visor with Illuminated Vanity Mirror
Rear Center Armrest
60:40 Split Folding Rear Seat
Front wipers – Variable Intermittent
EcoMode
Transmission & Driving Dynamics
Twin Independant Variable Camshaft Timing (Ti-VCT)
Gasoline Direct Injection (GDI)
6-speed Automatic Twin-Clutch with Manual Override
Front Suspension Independant with McPherson Strut
Rear Suspension Control Blade Independent Rear
Electric Power-Assisted Steering (EPAS)
Rack & Pinion Power Steering
Active Grille Shutter
*The Sport hatchback gets the following in addition to the Ghia sedan:-
LED Rear Tail Lamps
Full Body Kit
Rear Spoiler
215/50 R 17 tires with 17″ alloy wheels
Semi Leather seats (instead of full leather seats in the Ghia)
Manual 4-way Driver and Passenger Seat Adjust (instead of Powered Driver seats)
Rear Wipers – Intermittent
Opting for the Ghia Titanium Plus would give you the following:-
In addition to the non-Plus spec unless specified otherwise
Exterior
Bi-Xenon HID Headlamps with Headlamp Jet Washer (instead of Halogen)
Follow-me-home Lighting
Power Tilt/Slide Sunroof
Daytime Running Lights (DRL)
Interior
Rain Sensing Front Wipers, Variable Intermittent
Automatic Headlamps
Cluster Variable Dimming
Auto Dimming Rear View Mirror
Transmission & Driving Dynamics
Active Part Assist
Active City Stop
Blind Spot Information System (BLIS)
Cruise Control
*The Sport Plus hatchback gets the same addition as the non-Plus over the sedan but with the addition of the Plus kits. However for some reason, Ford has removed BLIS and DRL (not sure if this is a printing error on the spec sheet but only way to be sure is to wait for the launch date) from the hatchback so don't go looking for it.
Ownership and maintenance
The selling price OTR with insurance is as follows;-
2.0l Ghia Titanium sedan and Sport hatchback – RM115,888
2.0l Ghia Titanium Plus sedan and Sport Plus hatchback – RM128,888
Another cool thing about the is the Focus is now offered with a FIVE year warranty, something of a norm nowadays for C segment vehicles or 200,000km whichever comes first.
With these prices, the closest C segment competitors is the Honda Civic and Mazda 3 while the Peugeot 308/408 is not that far off. In terms of specifications, here's how the Focus looks compared to its competitors:-
Sedan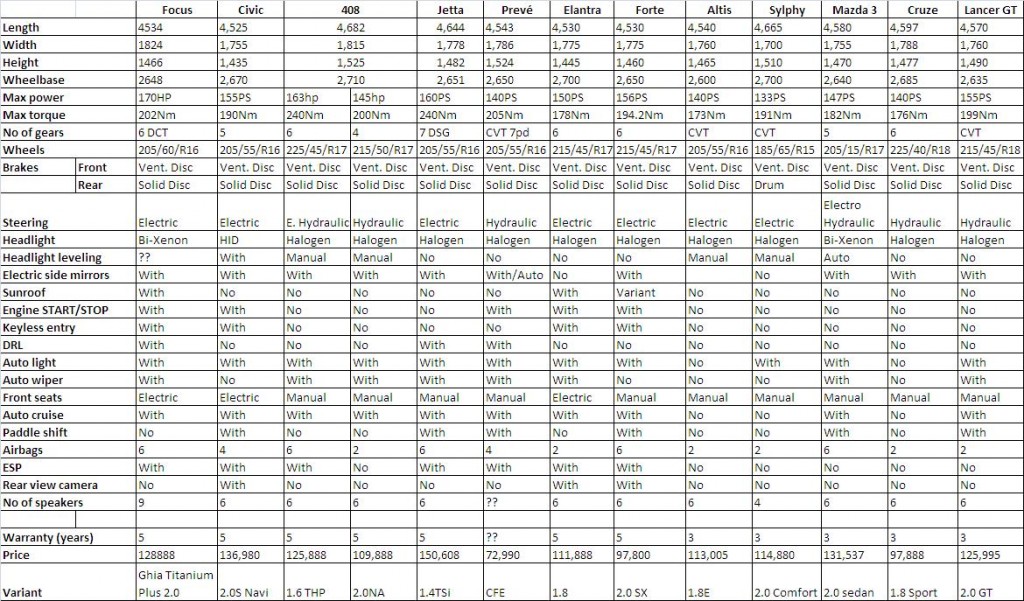 Hatchback
Looking at the chart above, I doubt you will be able to find another car that comes with such cutting edge technology being sold at these prices and certainly worthy of considering. When you are able to sample it in a test drive, bring your cheque book along; you'd be hard pressed not to buy one after being poisoned by its superior specifications and driving dynamics.
Follow kensomuse in Twitter @ https://twitter.com/kensomuse
Follow kensomuse in Facebook @ https://www.facebook.com/Kensomuse