This weeks seems to be a week of iconic cult vehicle launches. From the Golf Mark VII, to the 3rd Generation Beetle and now this; the John Cooper Works GP Mini. If you're like me who has always found the Mini to be a cool car to drive around but find it a tad too mainstream nowadays, you'd appreciate Mini's fastest and sportiest Mini to date.
Some history lessons first:- 50 years ago, a sports car designer named John Cooper who, probably having the same taste as we do, decided to make the classic Mini into something more fun, more artisitic, more ganas and birthed the ultimate fun-to-drive Mini. Continuing that tradition, the latest Mini incarnation goes through some serious workout, with a load of upgrades taken from the track and is able to run circles around its predecessor.
Design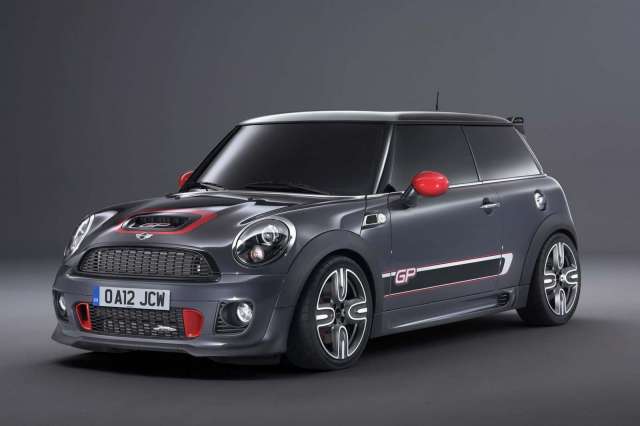 Only 2,000 units of the GP will be produced and will reveal itself in the flesh for the first time in the upcoming Paris Motor Show. Dimension wise, it remains similar to the stock models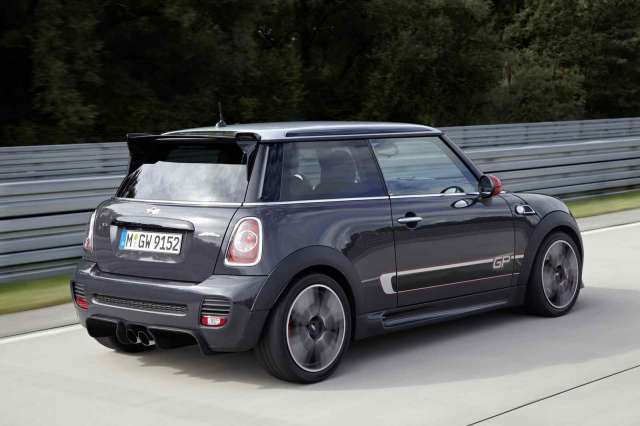 I don't know … it has a stealthy feel to it …. another kantoi car in the making. It reminds me of a packet of nasi lemak at the nearby mamak stall … looks small, nondescript and when you open it, you scoff at that itsy bitsy amount of sambal on it …. that is, until you put the first spoonful into your mouth.
Of course, to entice people to splurge more on a car, some 'discreet' differences must be had:-
body is painted in the exclusive colour Thunder Grey metallic
red lining paint for the edging round the bonnet opening as well as for the exterior mirror caps and the side air intakes in the front apron
John Cooper Works insignia appear on the lower air intake and the tailgate
"GP"-badged side stripes running between the front and rear wheel arches
large front and rear aprons
striking side sills
model-specific roof spoiler
Performance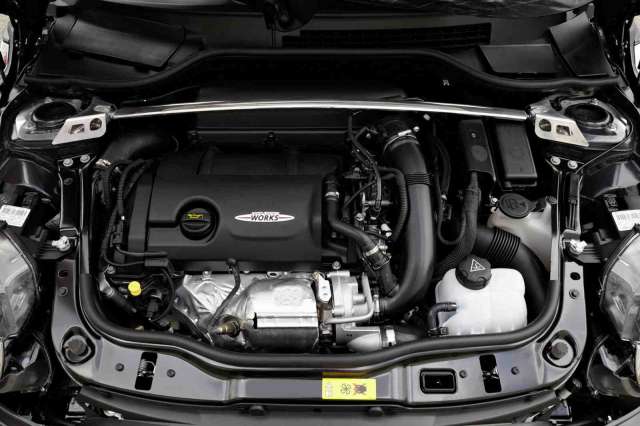 The 1.6litre twin-scroll turbocharged engine remains as tight as ketupat, yet somehow, the engineers managed to squeeze out 218hp at 6,000rpm with 280Nm worth of torque from 2,000rpm. You'll hit 100km from standstill in 6.2 seconds. If movie makers decide to do another Italian Job with this car, the show would probably be over a whole lot sooner. Having tested the car at the Nurburgring North Loop (no, not tested by me but one can dream), it manages to cross the line a full 18 seconds faster than its predecessor. That's like time for a bath, a meal and a quick nap if you race with someone up to Genting from KL with this Mini. No doubt about it, this is the finest tuning ever done by John Cooper Works to date. Sigh, if only my personal trainer at the gym can do that to my flabby body.
Two options for you to "shoe" the GP:  a low-weight 17-inch alloy wheels run on high-traction 215/40 R17 sports tyres or you can spec the standard-size 205/45 R17 tyres on the same wheels, offering a good sporty balance between performance and good handling in wet or low-temperature conditions. FC is probably better on the 205 width …. wait, why are we talking about FC for a car like this? That's like discussion perfume on swim wear.
Ride and Handling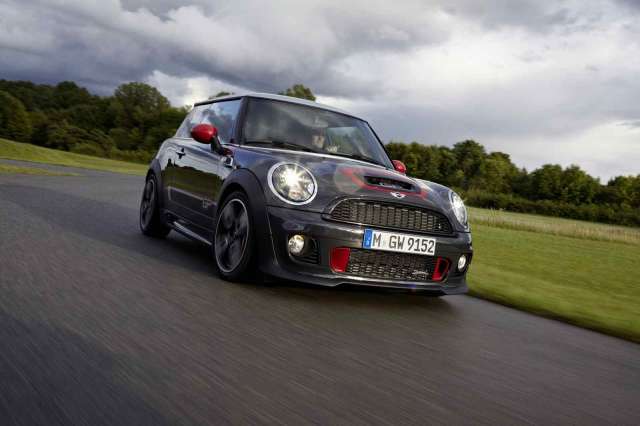 For the first time ever, you'll get individually adjustable coilover suspension that allows ride height to be lowered by up to 20 millimetres so a trip through bumpy kampung roads that requires a higher clearance and low-riding cruising in Bangsar can be done with ease.
To further improve on its handling, whatever that can be stiffened is probably stiffened (male organ driver  stiffening: optional). Shock absorbers and piston rods are mounted upside down, front chamber increased, reduced front-wheel toe-in and increased rear camber all serve to bring unadulterated driving pleasure to the one behind the steering wheel. Dynamic Stability Control has also been tampered with the traction control being separated from the whole DSC package (DSC is a form of ESP and usually consist of a few other programs such as Anti-lock Braking System ABS and Traction Control System TCS working together to ensure the driver gets back into control as soon as he/she loses it). When driving hard, some drivers prefer not to have the TCS automatically applying brakes when the car is on the edge of losing control so separating it makes good sense for professional drivers.
Stopping power have similarly been beefed up, with the GP having six-piston fixed-calliper disc brakes, vented at the front. The front discs are 330 millimetres in diameter and 25 millimetres thick, with 280 x 10 mm discs at the rear so your brain would probably ooze out of your nose if you decide to stomp hard at the brakes from its top speed of 242kph.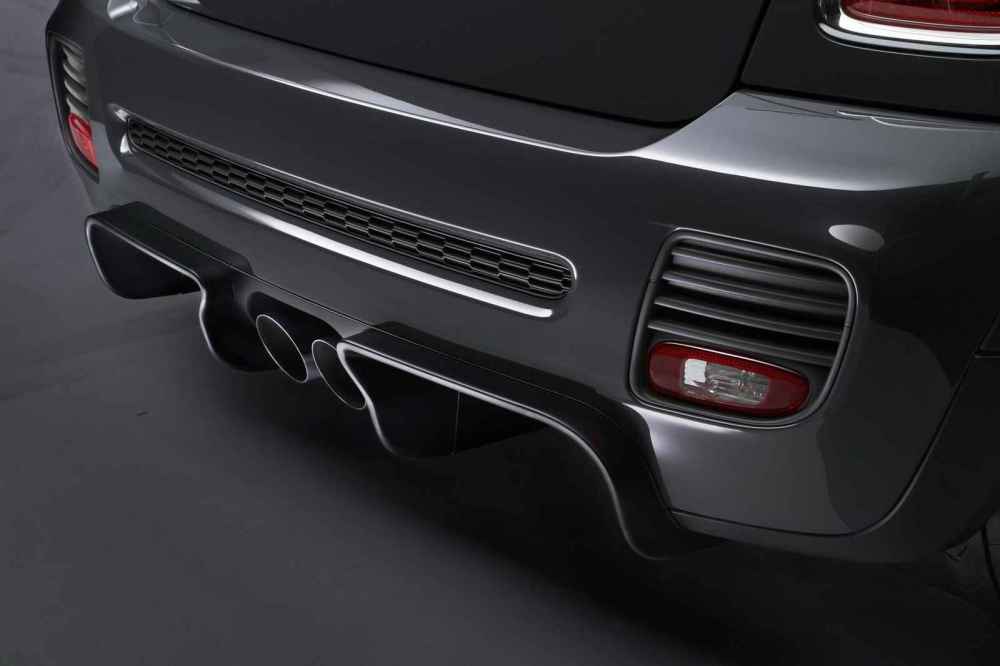 You'll also get a big-arsed rear diffusor that, together with the underside panelling and the roof-edge spoiler, reduce lift forces at the rear axle by 90 per cent resulting in impeccable handling control even under high-speed cornering and when driving at or near the limit. Pizza Hut should probably buy a couple of these and have their Pizza Hut delivery boys to test this since they seem to have mastered the art of 'flying' with their bikes on our streets.
Cabin Convenience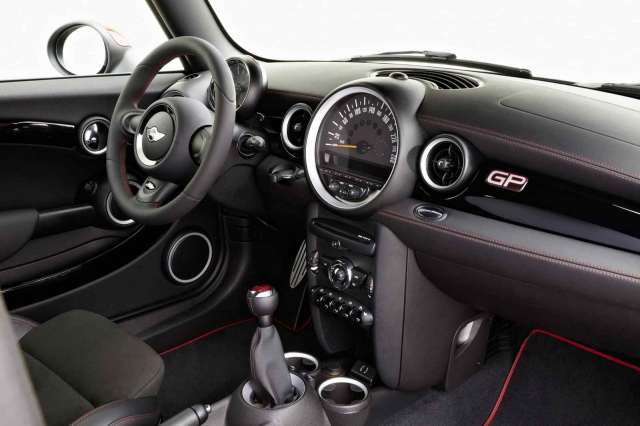 Mini drivers should find the dashboard layout familiar with a few 'minor' changes such as Recaro sports seats with special GP stitching, a John Cooper Works thick-rimmed leather steering wheel and the gearshift knob with chrome ring and red shift diagram. Other features like the anthracite roof liner, the piano black interior surfaces and door grips, and the anthracite rev counter and speedometer dials, this interior also helps to improve the driver's concentration and focus on the road.
As for the rear seats ….. wait, what rear seats?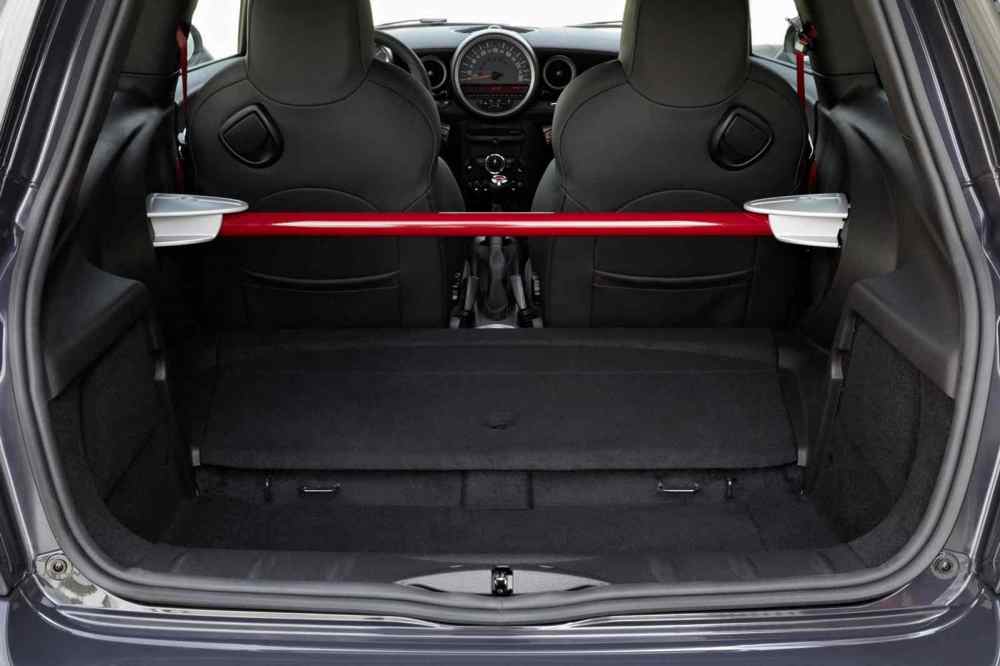 There aren't any. This is a true two-door, two-seater car. You'll find a cargo guard that prevents items from sliding forward out of the luggage compartment in sporty driving situations. Why should you be carrying luggage in a sporty driving situation beats the hell out of me.
Specifications
The standard specification of the Mini John Cooper Works GP includes
xenon headlights in black shells,
foglamps,
sun protection glazing,
air conditioning,
DSC with special GP mode, and a Sport button
Wait for your friendly neighborhood grey importer to get one of these for you in the near future …. while you're at it, you should probably advertise your liver and kidney on Mudah to see who can offer the best price for you buy it and place it in your garage.