As an automotive fan, a significant portion of my income is spent on automotive magazines. Among the myriad magazines you can find at the book stands, one of those magazines I never miss each month is Live Life Drive. Personally, I appreciate the creativity, wit and style of writing and it also serves as an inspiration for how I frame my articles and pictures. No, this is not advertorial or endorsement for the magazine but I just wanted to let you all know why I often state references in relation to them. For example, the Forte Koup article HERE starts of by mentioning about them. I thoroughly enjoy their issues and if you have a chance, give them a try.
Now, coming to the topic at hand, their most recent publishing (Issue # 36) had a writer, Ahmed Shahriman commenting about how much he disagreed with Datuk Aminar Rashid Salleh, the Managing Director of Perodua in considering to produce compact sedan vehicles. Mr Shahriman accused Datuk Aminar Rashid of not caring for the brand. To quote the writer " by line-extending his solidly built small-car brand into the forays of the extremely competitive sedan segment, he will almost undoubtedly cause an erosion of Perodua's brand's strength, built over 20 years of hard focus." It is the writer's opinion that branding-wise, Perodua is a specialist company, a focused company, a small/compact car company. Venturing to other segments is seen a brand dilution, particularly when Perodua is synonymous with small/compact cars such as the Kancil, Kelisa, Kenari, Viva and of course, the national's best seller, the MyVi and Mr Shahriman proceeded to present his case with marketing quotes and examples to make his point.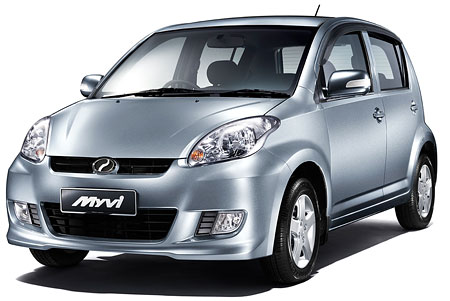 Well, with all due respect, I disagree and find his examples to be a little off the mark and inappropriate.
First of all, let's talk a little about the history and development of the national car project. The National Car Policy was first introduced in 1983; it's primary purpose was to put Malaysia on the world map as one of the most developed car manufacturing centres of the world. Eventually, came another master plan where 5 local companies would specialize in 5 different vehicle segments; Perodua on specialist small car, Naza on sedans, Proton on luxury sedan, Inokom on MPV/van and HICOM on trucks and by ensuring each company focusing and improving on each segment rather than spending resources manufacturing similar segment vehicles and end up fighting each other for the same pie. This way, the pie can be grown as a whole.
A brilliant plan …. you can have a young Malaysian who just started his career and needs an inexpensive & fuel efficient vehicle with minimal maintenance cost.  He then finds the girl of his dreams and despite his modest beginnings, they hit it off well & decides to get married and expects their first child soon. The compact hatchback then makes way for a compact sedan with similar criteria as the first car. The first kid comes, the guy gets promoted and the couple plan for a second child. Compact sedan becomes a C or D segment sedan and as his career (and family size) advances, may move to an MPV or other luxury segments.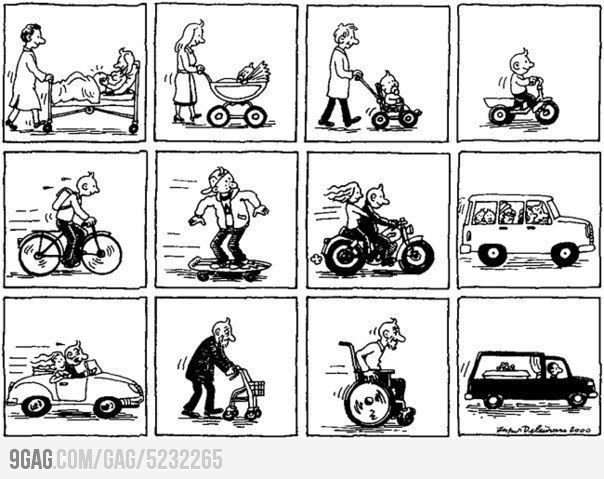 In a perfect world, the government would want that person to start with Perodua, then go to Proton/Naza/Inokom (Hyundai). Think of it like this; you start off with a BMX bike, then upgrade to a larger BMX bike before going to a  Raleigh bike and ending up with exotics like Audi e-Bike which has an electric motor that allows you to outrun a cheetah at 80kph.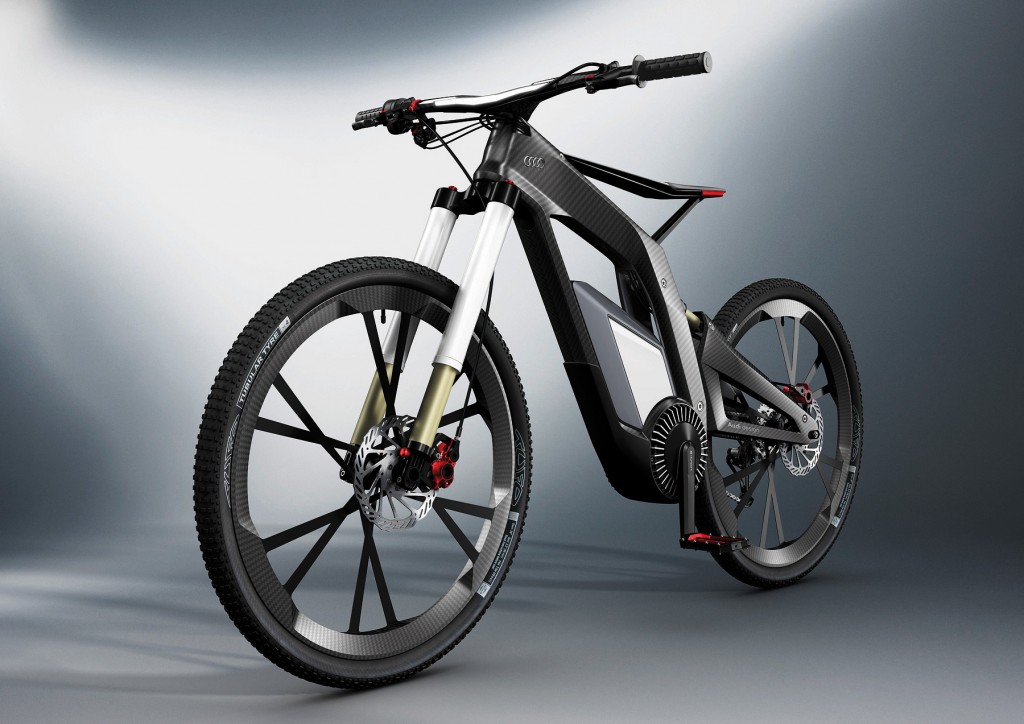 The problem is Proton has compromised on quality and reliability so much that a large number of Malaysians would rather place themselves in higher debt and get other makes instead of a Proton if they can afford it. There is a disconnect in the transition between brands and money just flows elsewhere (and we're talking about the country as a whole. Don't forget that ultimately, Perodua, Proton, Naza, Inokom and DRB Hicom are 5 different companies whose individual P&L means as much as crap to each other). So much for the master plan.
So here you are,  happily cycling your upgraded BMX bike to some remote jungle before sh*t happens and the chain snaps, the handle bar breaks, the brakes fail and you're left stranded in the middle for nowhere. That one incident will probably ensure you'll never grace your butt on a BMX anymore (sorry BMX for comparing you against Proton, this is purely for illustration only). To make it worse, you Facebook/Tweet/9gag the entire world and instantly, the bad publicity spreads faster than lice on an unclean dog. The only good thing is, Proton's reputation, as much as they have indeed improved, is still so bad, their isn't much worse you can do by stepping on it more (we're talking about Proton as a business so please don't bring the national-pride-ego into this discussion). It's indeed sad for a 28 year old company when everyone, even their own staffs say "it's a Proton, what did you expect?"
I find it most amusing that in Mr Shahriman's statement about Perodua being good for small and compact cars only, there was an Alza picture right next to it. As a matter of fact, Mr Shahriman conveniently ignored Alza existence in his entire article despite it selling more than 20,000 units for the first half year of 2012 (Motortrader Jan-May statistics and CBT June statistics), making it one of the most popular vehicles in Malaysia. When it was introduced, many analyst looked at the Alza in disfavor …. like Mr Shahriman, they were like thinking WTF is Perodua doing stepping out of its expertise and making compact MPVs? Haven't they learn from the Rusa failure? What more, it's pricing is very close to the Proton Exora which beats the Alza hands down in terms of space and specification. Yet today, the Exora continues to trail behind the Alza in terms of sales (until May 2012, Exora sold 10,721 units vs Alza's 16,397. Source: HERE).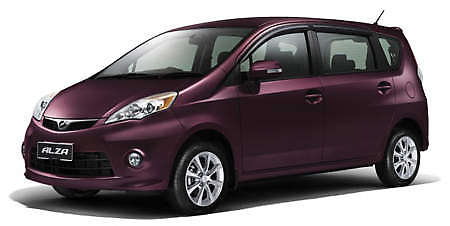 The Alza represents an anomaly to Shahriman's logic. By his argument, the Alza should NOT exist, not to mention should not even top the best selling 5 models in Malaysia. Yet it sells out as fast than your favorite nasi lemak at a famous food stall and continues to lead by a reasonably large margin month after month compared to the Exora.
Why? I believe the answer lies in the point that most Malaysians believe Perodua = Japanese technology. While no company can claim all their cars are 100% problem free, Perodua has been a lot more consistent in producing lemon-free units that are economical to run and maintain. Doesn't help that most Proton vehicles aren't particularly well-known for their fuel consumption so with the threat of higher fuel prices constantly looming on the horizon, the demand fuel efficient vehicles will be on a constant high. In this aspect, Proton stands at the losing end.
Both Proton and Perodua has not been particularly innovative in producing new technology and this is particularly damning for Proton which many have harbored hopes that one day it will be a serious player in the international automotive circuit. Unfortunately, despite all the years of protection from the government, Proton has been the butt end of jokes and, like everything else that goes online, its negativity gets amplified once published. Despite whatever has been said, Perodua still has a stronger reputation here in Malaysia and banking on that, Perodua has successfully introduced the Alza and judging from the response, I'd say they're ripe to try something else.
So, would Starbuck open a tea parlour shop simply because there's a lot of tea drinkers in the market? Of course not …. but that has not prevented them from coming up with a range of tea menu for non-coffee drinkers. And please, don't bring up the example of Harley-Davidson venturing into the car business … that is a totally different segment. The appeal (and function) of a motorcycle is as different as durians and rambutans. You can spawn various species but you can't exactly say shifting from a lifestyle bike to a car an upgrade, can you? Or moving from a HICOM truck to an MPV. They fulfill totally different functions and needs of their users so this example is rather ludicrous.
Ultimately, everyone will need a bigger car …. why let others gain the business when your core values represents so much more to the consumer than just a small/compact hatchback car manufacturer? Perodua can be developed into a full fledged profitable global business if not for the excessively protective stance of the government in fattening Proton to a state of obesity until they can't stand on their own two feet without the intervention of the government …. but on the other hand, perhaps it's because of this very reason that Perodua had to learn to be independent on their own a lot sooner.
So yeah, why not give it a shot, Perodua? You can't do any worse than a Proton Juara