It's not often one gets to drive an iconic car …. not only are they rare to come by but icons have a rich history and only those who have experienced that part of history can truly appreciate the sentiment of driving the icon. Take an analog camera that uses negative rolls for instance. If someone were to place an analog Leica camera in my hands, it would remind me of the good old times I had with one … how careful I was at making sure each shot is framed perfectly to avoid wastage of negatives and development cost, how inconvenient it would be to snap some …. ermm, intimate moments if there was no personal darkroom to develop them, how heavy it was lugging one of these around with its full metal body and how we'd all come out under the hot sun trying to see the latest eclipse through a couple layers of negatives. Fond memories, all of them.
Today with continuous improvement on handphone cameras and DSLRs, I fear the current generation of youngsters no longer appreciate the value of those moments. Sure, a camera manufacturer can make a retro camera body that resembles an analog but to most who did not live in the period, they'd probably see it as just another (good) camera. The thing is …. I feel that you cannot have an icon without nostalgia and to have that, you'd need to have lived that moment in which that icon had some impact to you personally.
And so when I had the chance to test drive the new 1.2L TSi Beetle, my take on it may be very different compared to who had driven previous generation Bugs (something that, I unfortunately did not have the liberty of doing). It's a 2 door coupe-like car, with a modern turbocharged engine and 2+2 seating, the younger generation might say. Their parents who have experienced the earlier Beetle might insist that it's an iconic car with over 70 years of history & have played a part in shaping their family to what it is today. The younger generation might have the same puzzled look akin to being told that they've been eating Tic Tac the wrong way all their life: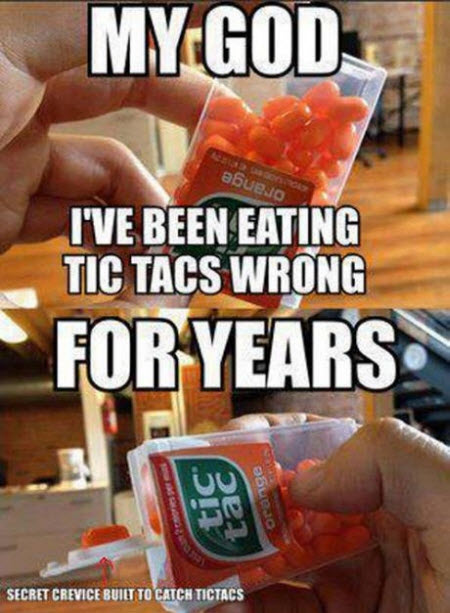 So let's see if the latest incarnation of the Bug lives up to its expectation.
Design
An earlier article on the Beetle (found HERE) and this article will cover more on some of the points missed prior to a test drive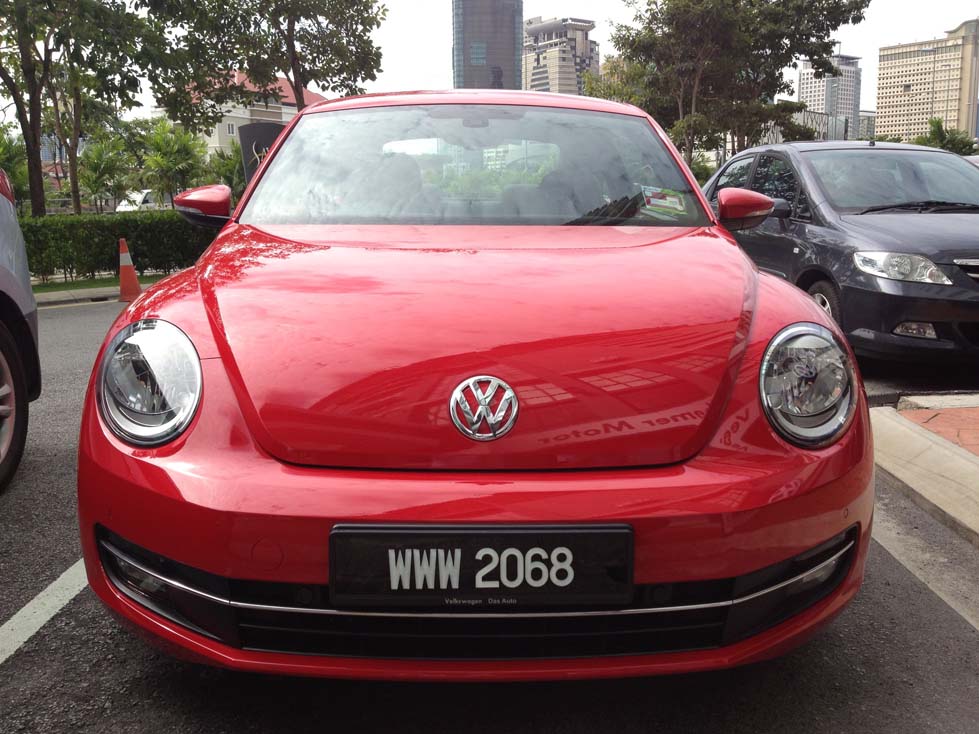 .
The new Bug is 4,278mm long, 1,808mm in width and 1,486mm in height.
.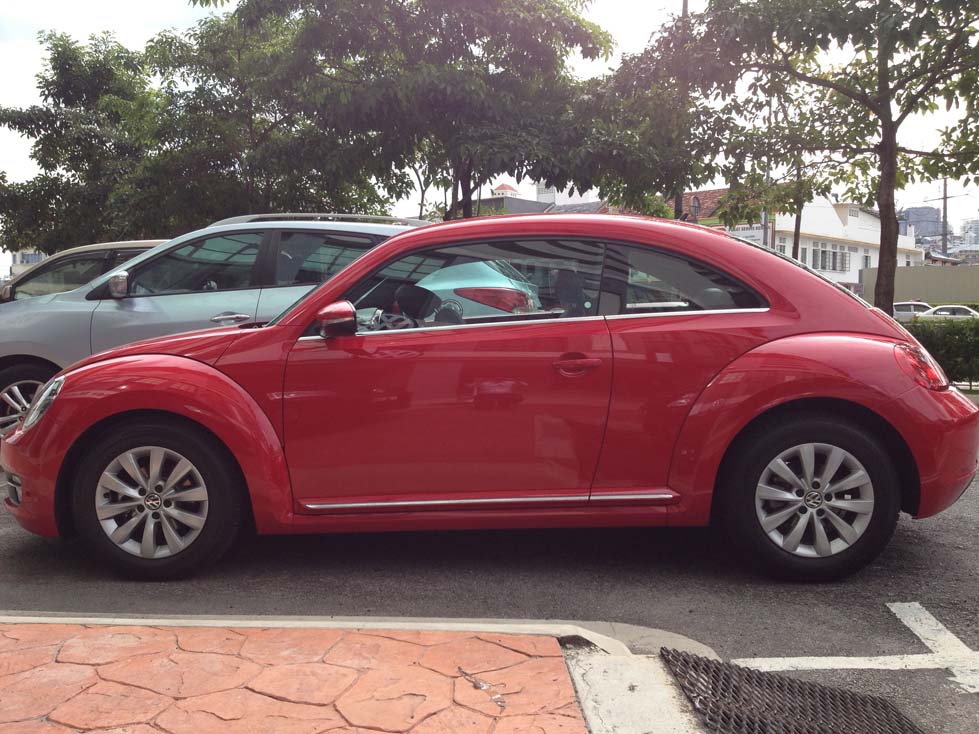 .
.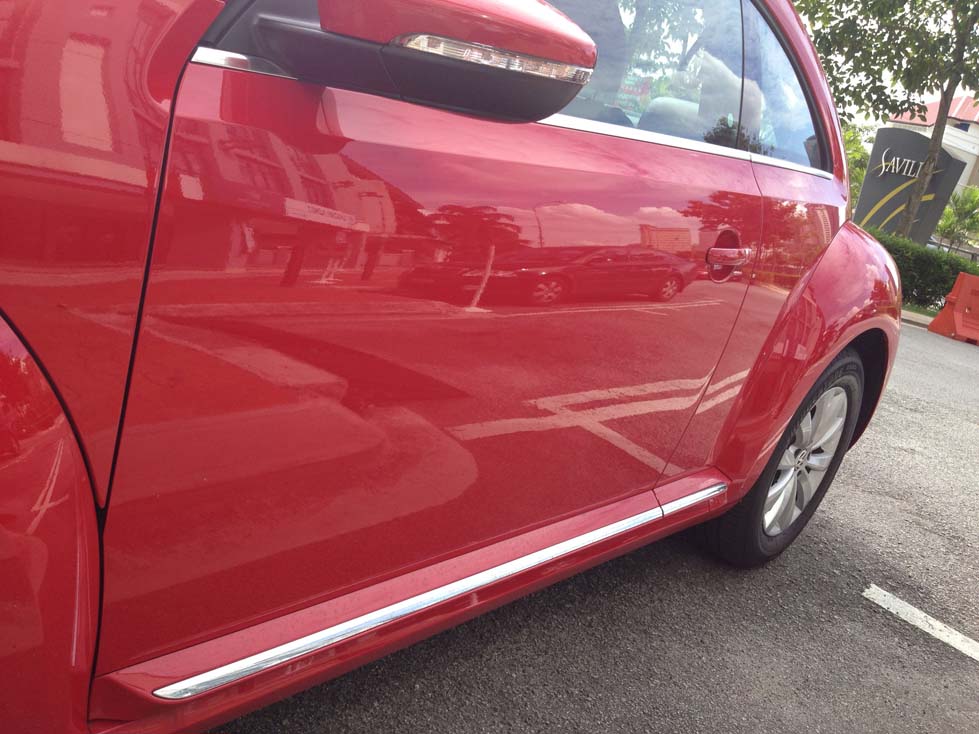 .
The most obvious difference between the new Bug and its predecessor can be seen from the side profile. The roof is no longer as "bubbly" as the old and the entire rear looks stretched backwards. I like the chrome linings found on the lower window and bottom of the door all the way to the rear fender. Makes the car look lower, more aerodynamic …. functionally probably next to none. Kinda like garnish on a dish … you can't eat them but it does make the whole plate look more appetizing.
.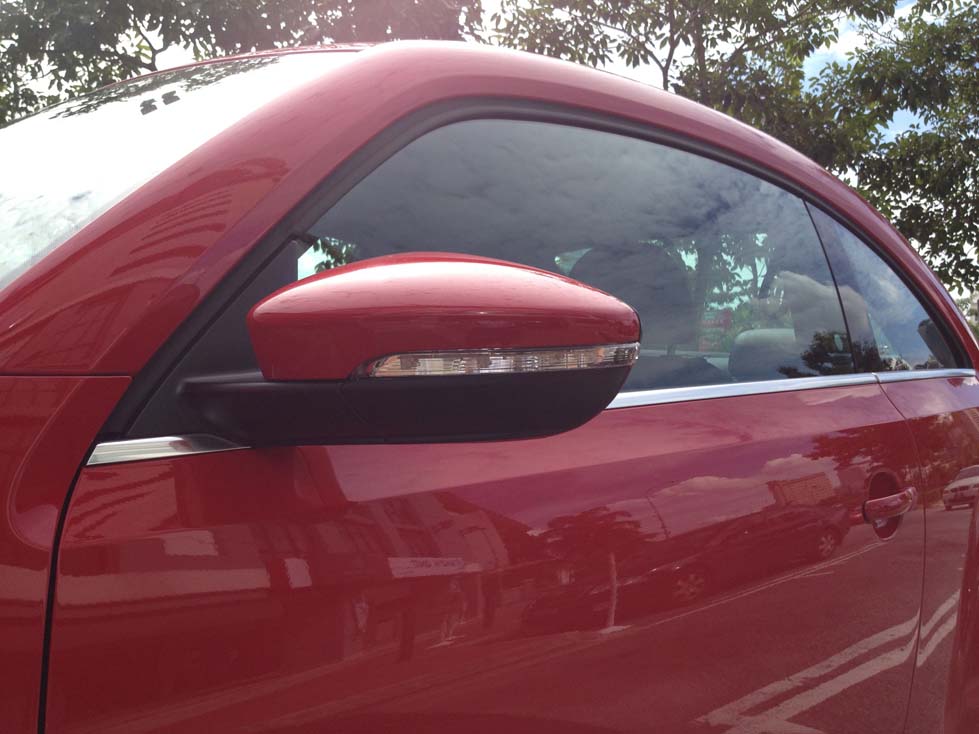 .
Integrated blinkers to the side window. Too bad no puddle lights.
.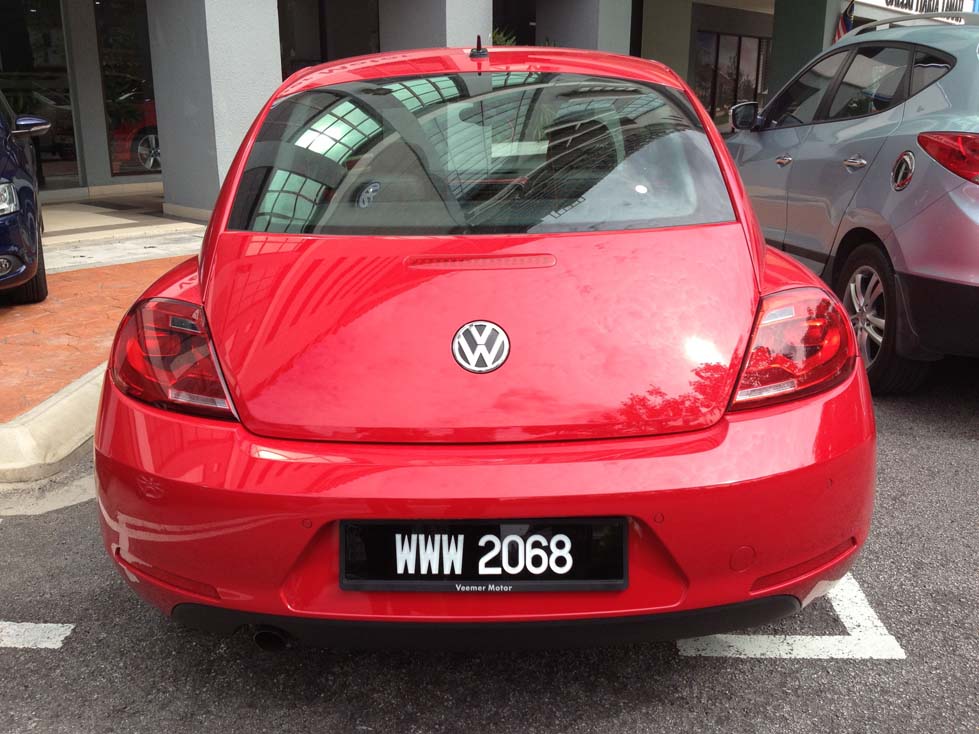 .
.
.
I've seen a couple of the new Beetle zooming around town and at night, the rear lights has its own unique signature. You can never mistaken a Bug's ass for anything else.
.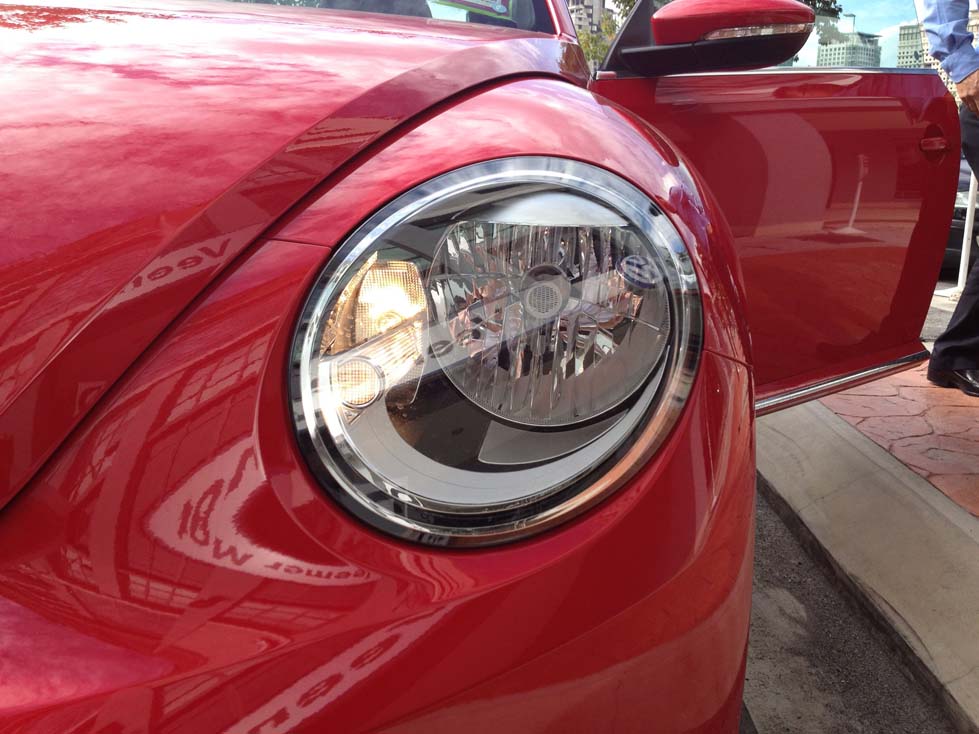 .
The 1.2TSi also has DRLs but they're halogen (unlike the yet-to-be launched 2.0L). Probably the same bulb as the Jetta.
.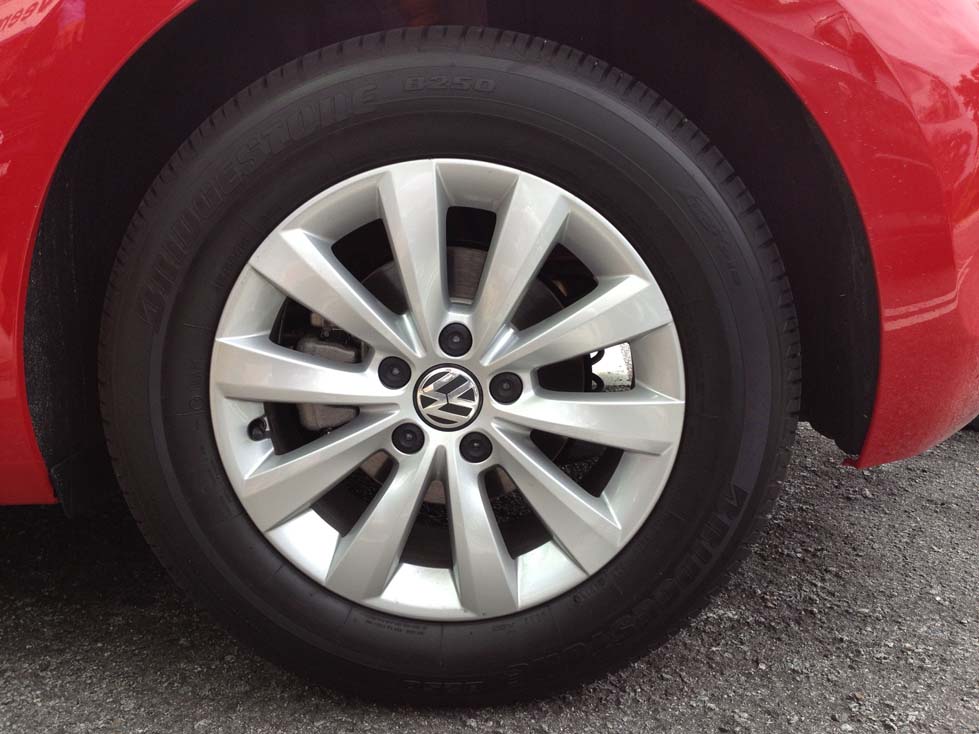 .
.
Performance
.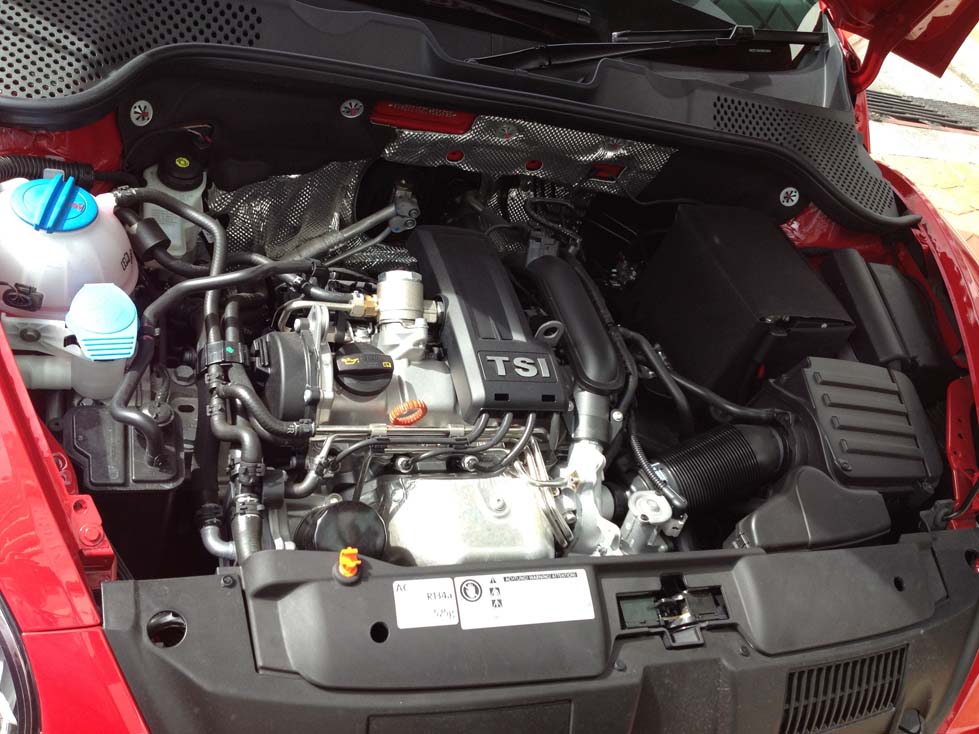 .
As the first Beetle variant to be launched, the 1.2L TSi engine isn't exactly a sprinter. Zero to hundred is rated at 10.9seconds and when driving it, the engine has the exact same characteristic as the Polo Sport, good low end pull with enough power to pull to join highway traffic easily but loses breath at higher speeds. The exception is the Beetle feels a lot heavier whereas the Polo Sport felt more agile and nimble.
.
Mated to a 7 speed DSG gearbox, you can expect to encounter the same 1/2 second lag when hitting the gas. However, once you're pass 1st gear, subsequent gearshifts are not noticeable.
.
Ride and Handling
.
The 1.2 TSi may not be fast but it completely blew me away with its handling! There is no other car to date that I have tested that allows me to reach its cornering threshold while at the same time giving me the confidence of knowing when I want to move back in line of continue to slide. And it's ridiculously easy to drift with the Bug.
.
Drive faster to a corner, you will experience fair degree of understeer (as does most FF cars) …. and what this happens, the Bug's rear tires will start to screech and you can …. err, "dramatize" your cornering skills a little. Keep the pressure on the gas pedal, the car will continue to slide sideways a fairly good amount before the ESP system kicks in (you can choose to deactivate the ESP). Lift off the pedal and the Bug goes straight again. This is quite surprising considering my initial thought of the Bug based on its exterior was that it's bulky and clumsy. It's most certainly not. Emergency braking at 100kph to zero is achieved with hardly any fuss. The nose dives perceptibly and the ABS catches twice before stopping completely.
.
.
Cabin Convenience
.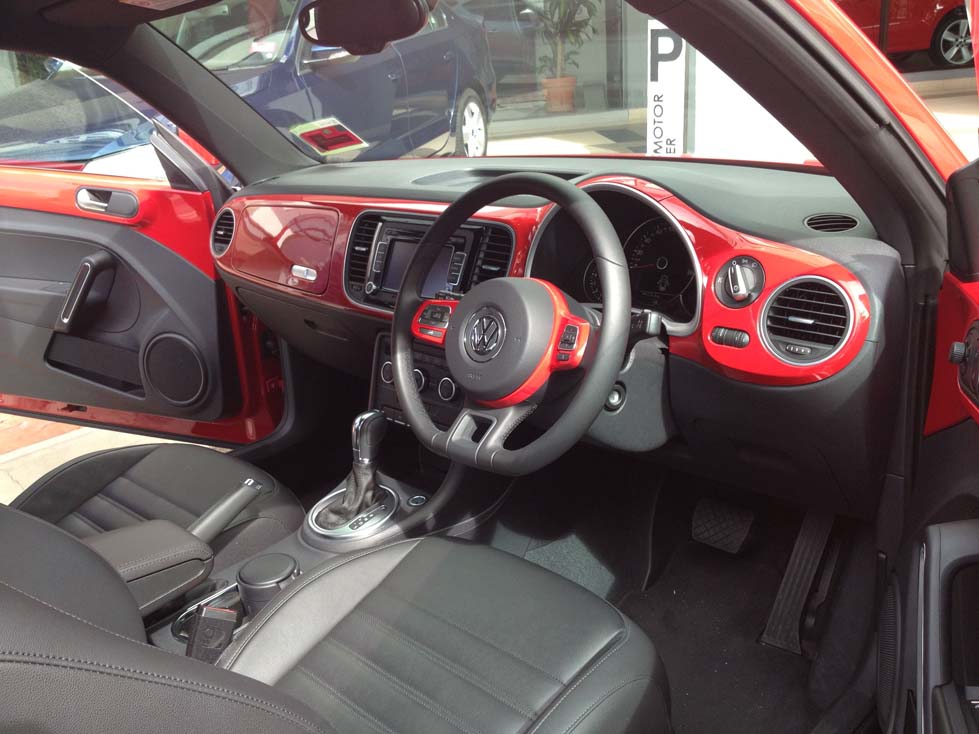 .
Be prepared to be seeing red all the time if you purchase the red unit. While it's certainly a novelty in getting a dashboard that sports the same color as your car's exterior, the glossy interior can be a little glaring at times.
.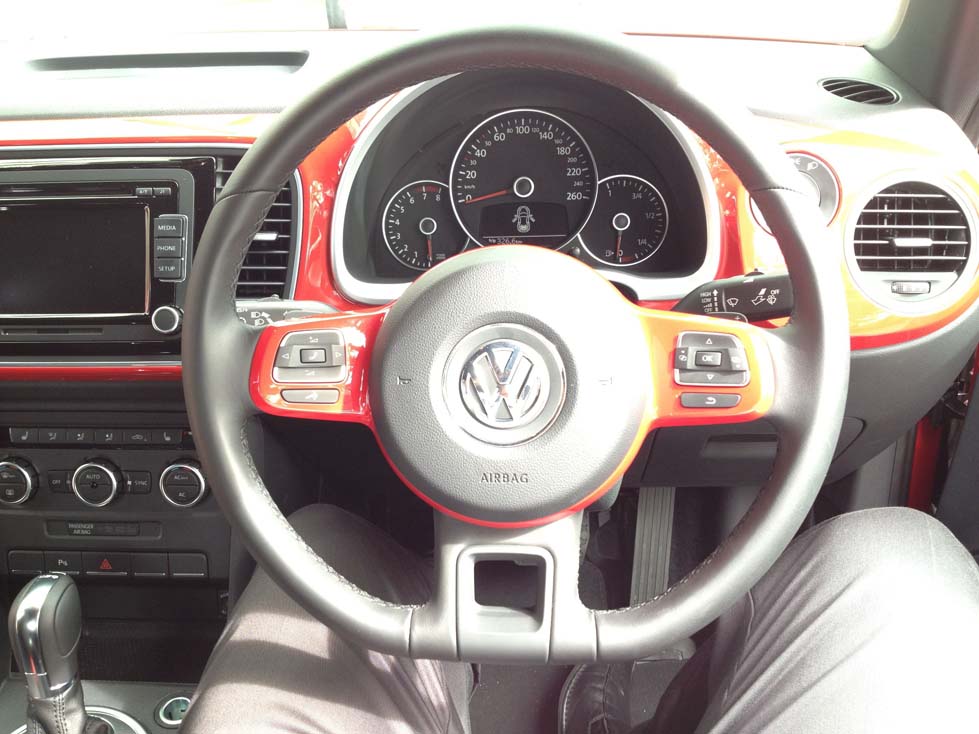 .
The 3-spoke steering stays true to the original Beetle steering wheel design …. barring the flat bottom, of course. The usual VW controls for audio and MFD can be found on it.
.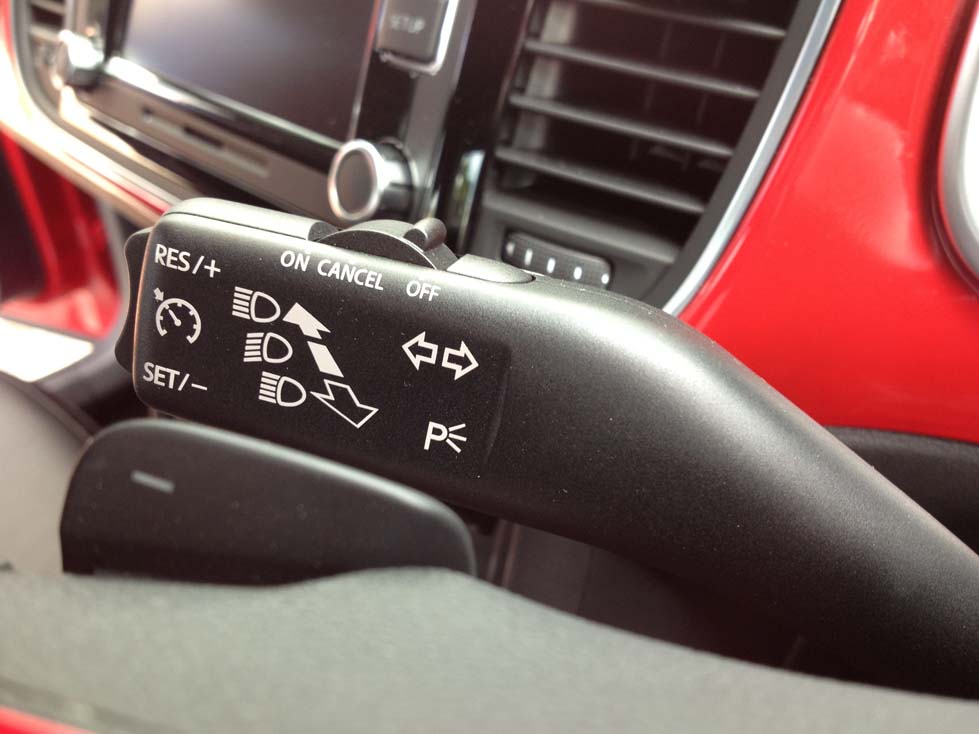 .
Modern vehicle features such as cruise control can be operated from the left signal stalk.
.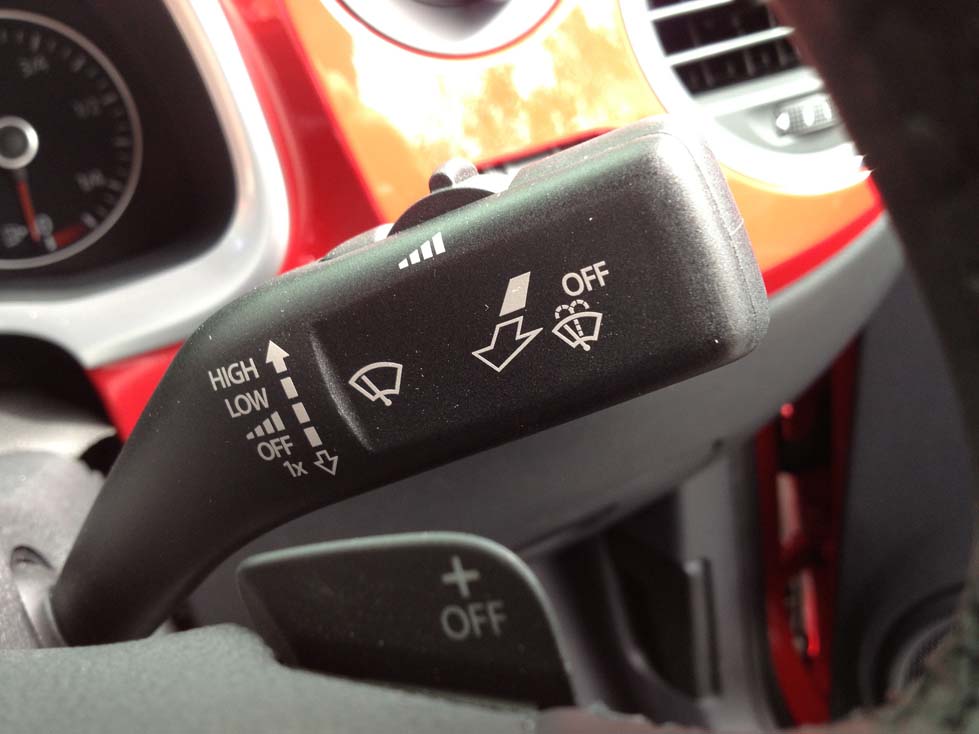 .
While on the right, auto wipers can be activated. Tap down once to sweep the wipers once. In case you've missed the '+OFF' paddle, yes, the Beetle comes with paddle shifters.
.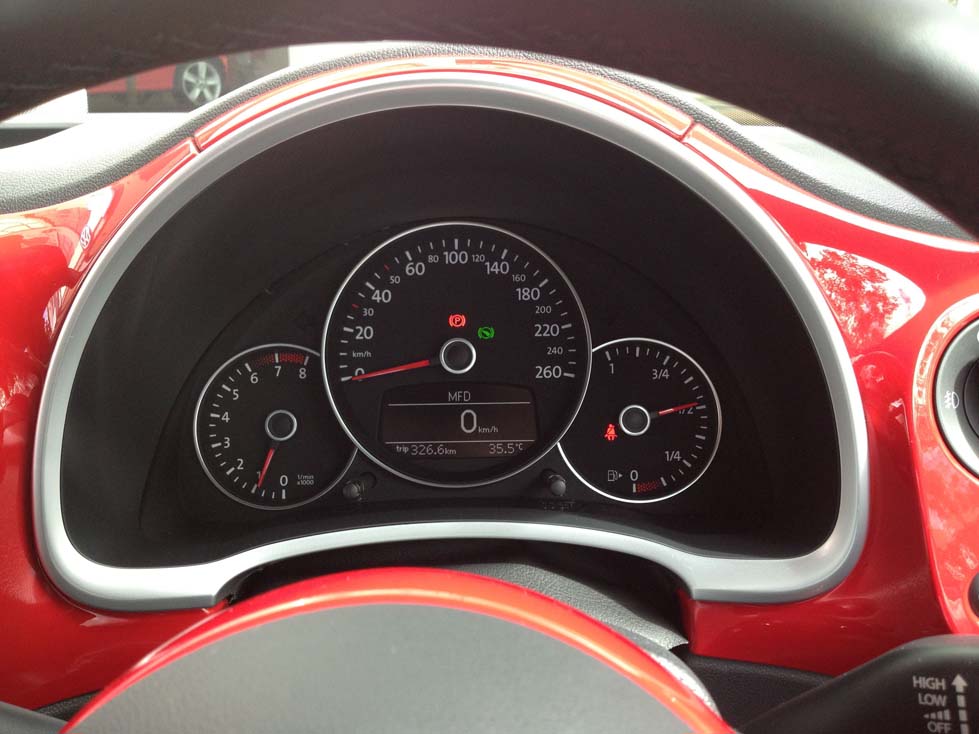 .
I love the retro ODO meter design. No temperature gauge but one of the MFD function tells you how hot your engine is.
.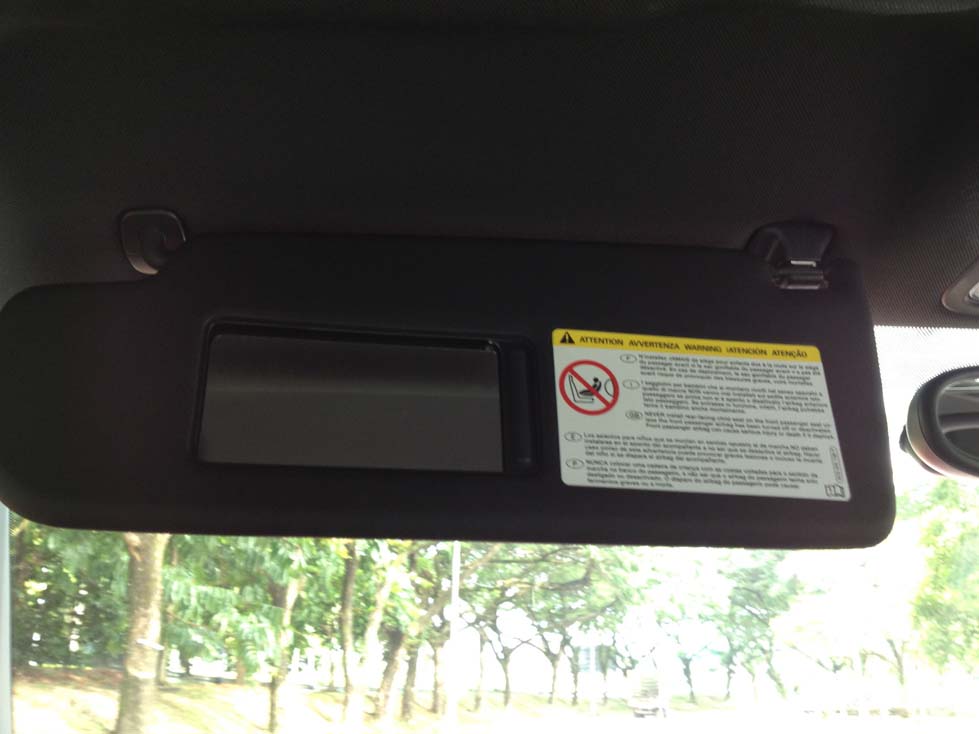 .
Sadly, no illuminated vanity mirrors
.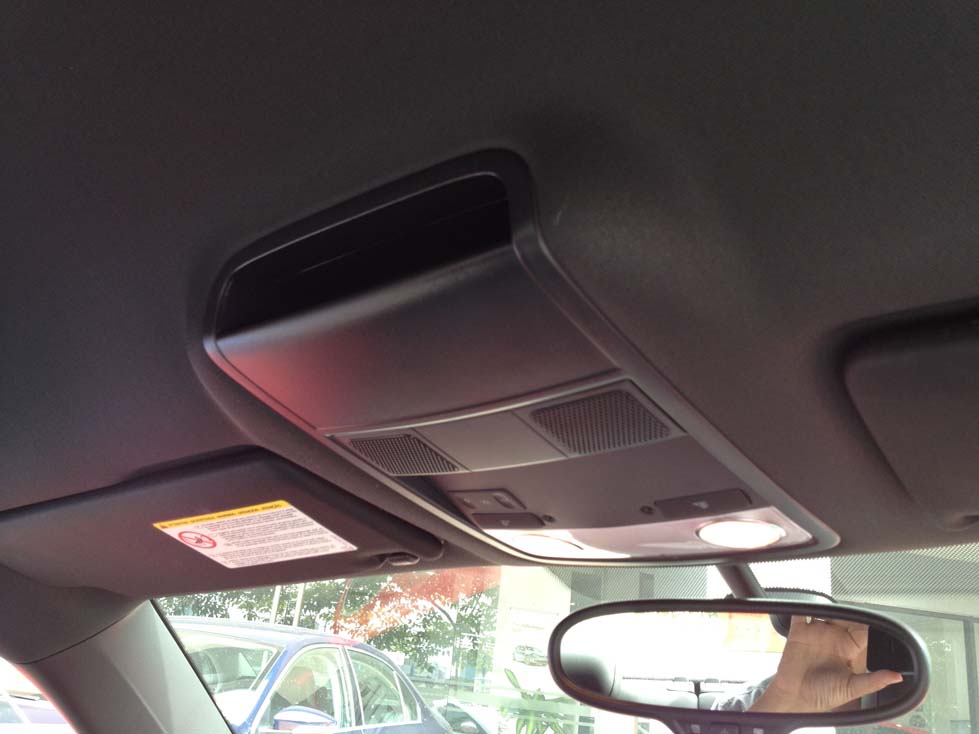 .
The sunglass holder is abysmally small. You'd have more luck keeping a clip-on sunshades there than a full sized sunglasses. The black housing adds a bit of class.
.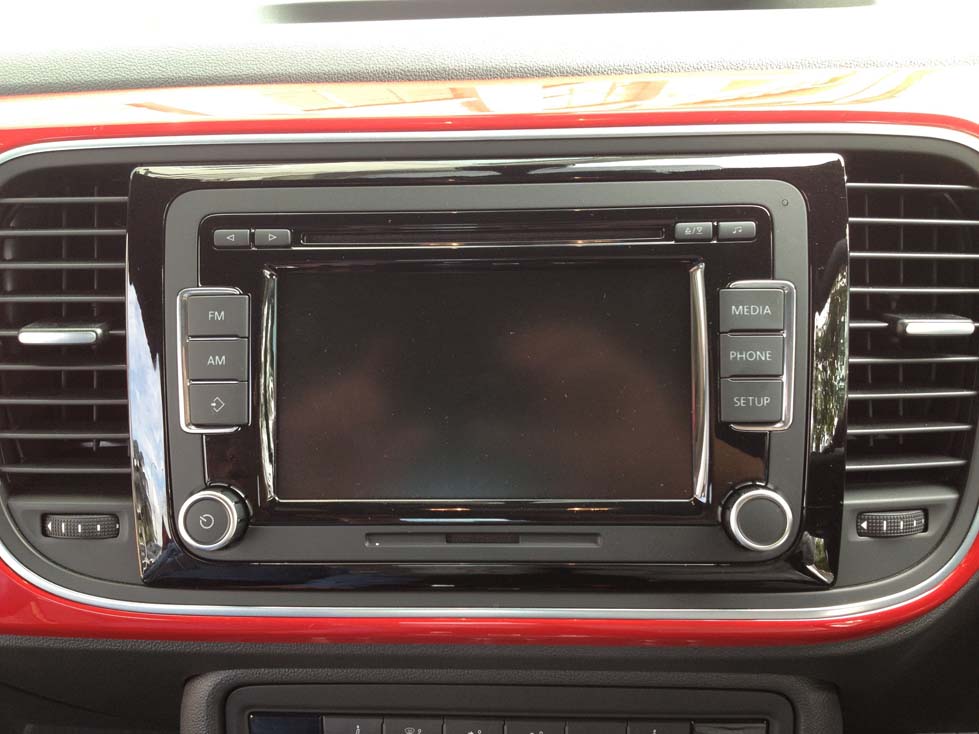 .
The RCD510 headunit which is the same found in the Passat adorns the center console.  The sound is loud and clear through an 8 speaker system
.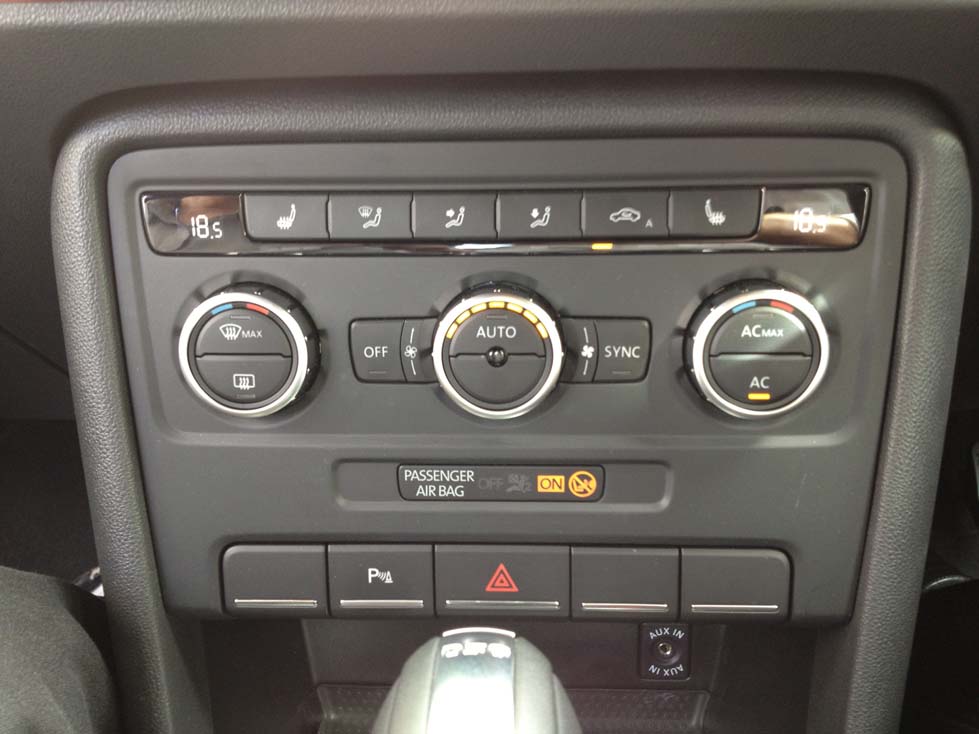 .
Automatic dual climate control.
.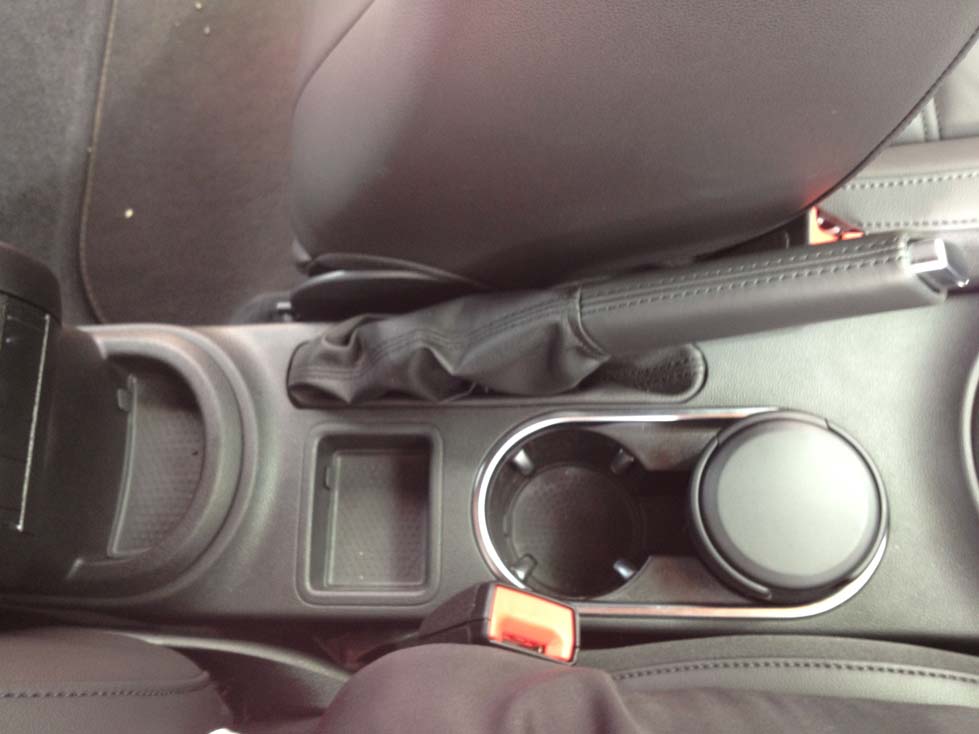 .
You'll find sufficient number of cubicles and compartments to put your Starbucks take-away and whatever spare change from the highway toll
.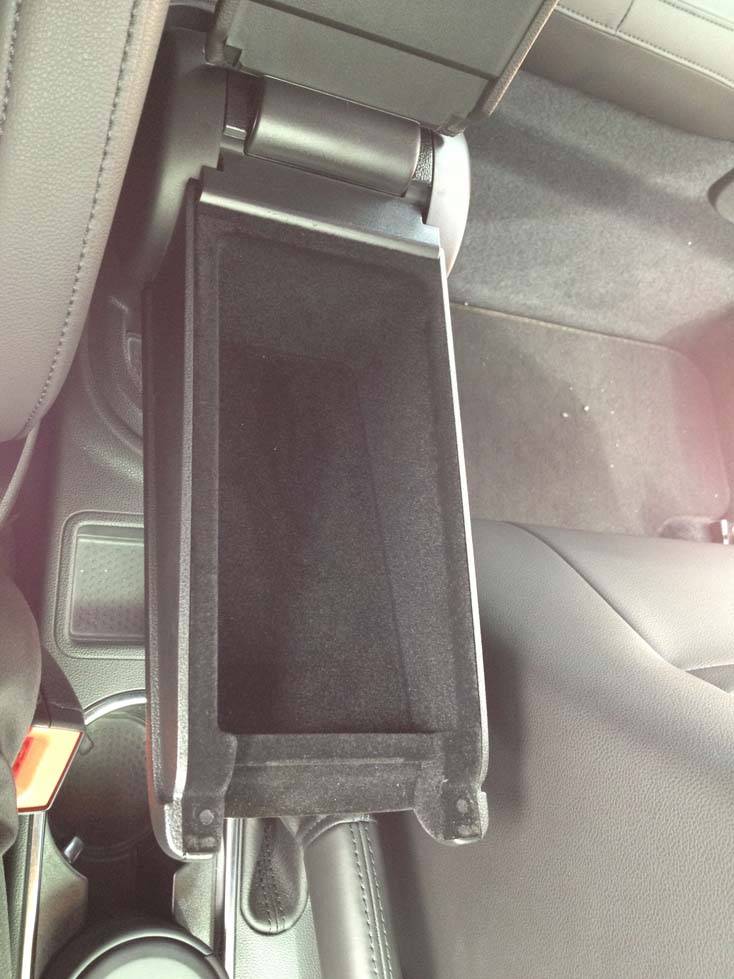 .
The center armrest is very similar to the Polo Sport and opens up to offer sufficient space for Smart Tags.
.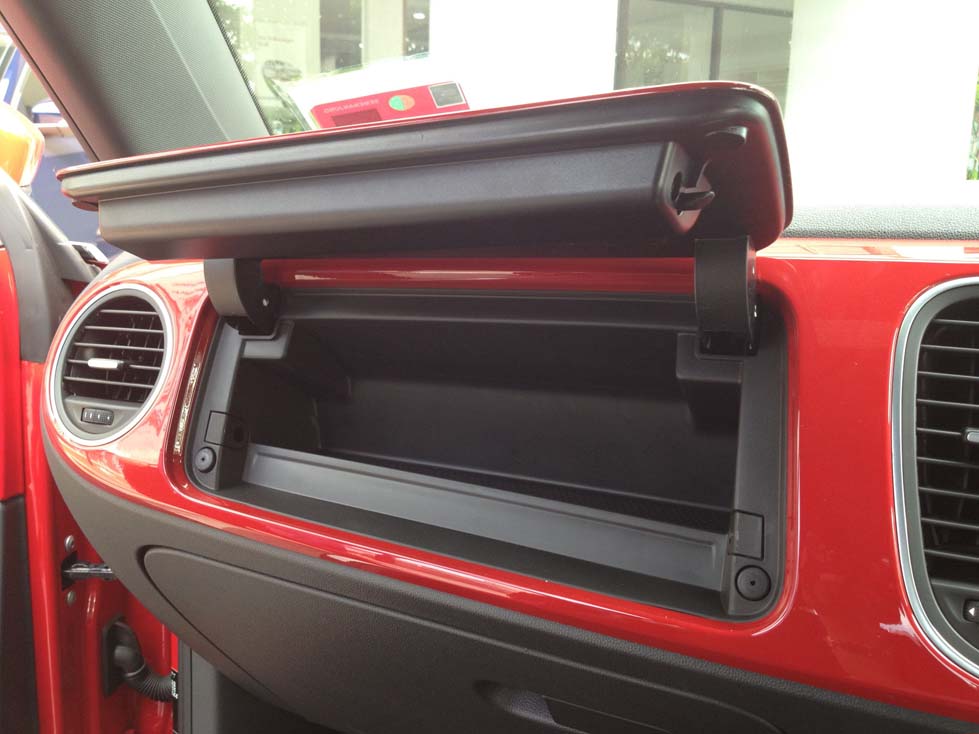 .
The Beetle box … opens upwards. The space inside is probably good for handphones and tissue packets. For anything larger, use the glove compartment found below.
.
.
.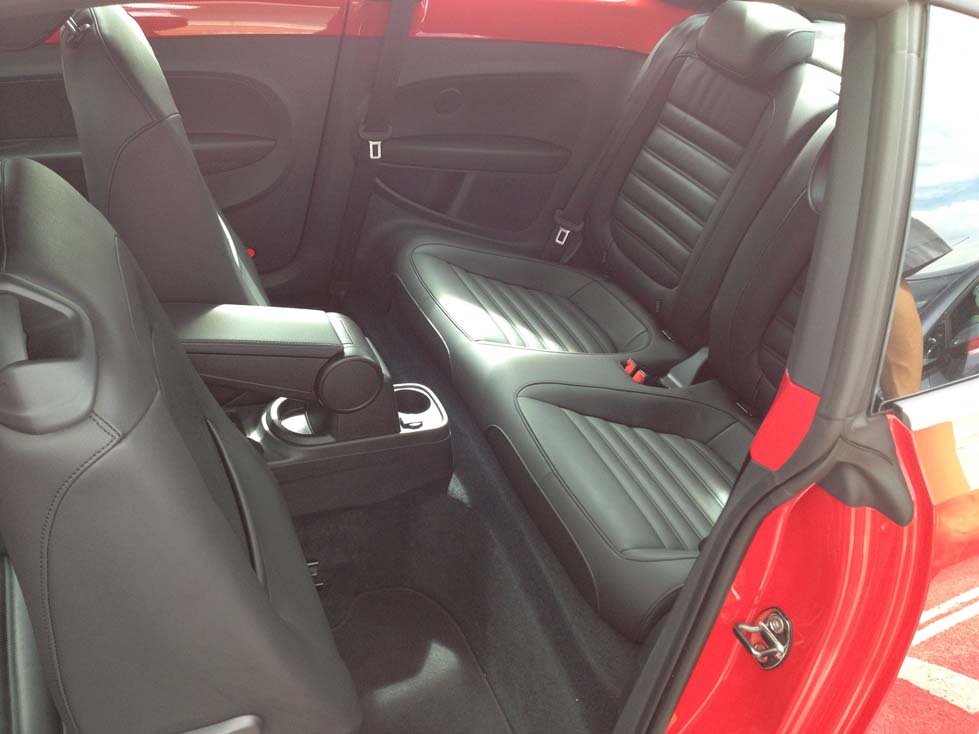 .
In case you've missed it, the seats all fully clothed in Vienna leather. It's the back that the Bug loses points. For a person of my height, sitting behind is not entirely fun.
.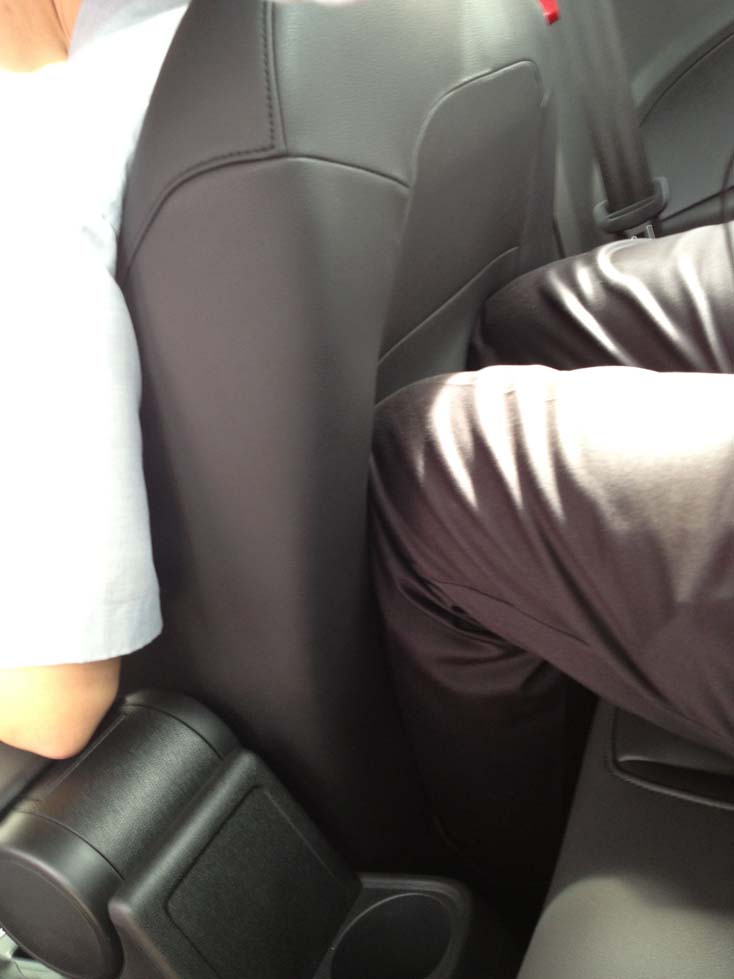 .
If you have a tall driver in front and you have a rear passenger with 5'10", the rear passenger's knees will be scraping the front seats. Even then, I had to sit really straight and my head was almost touching the roof. I'd probably need to go for a long back massage if I had to stay long in here.
.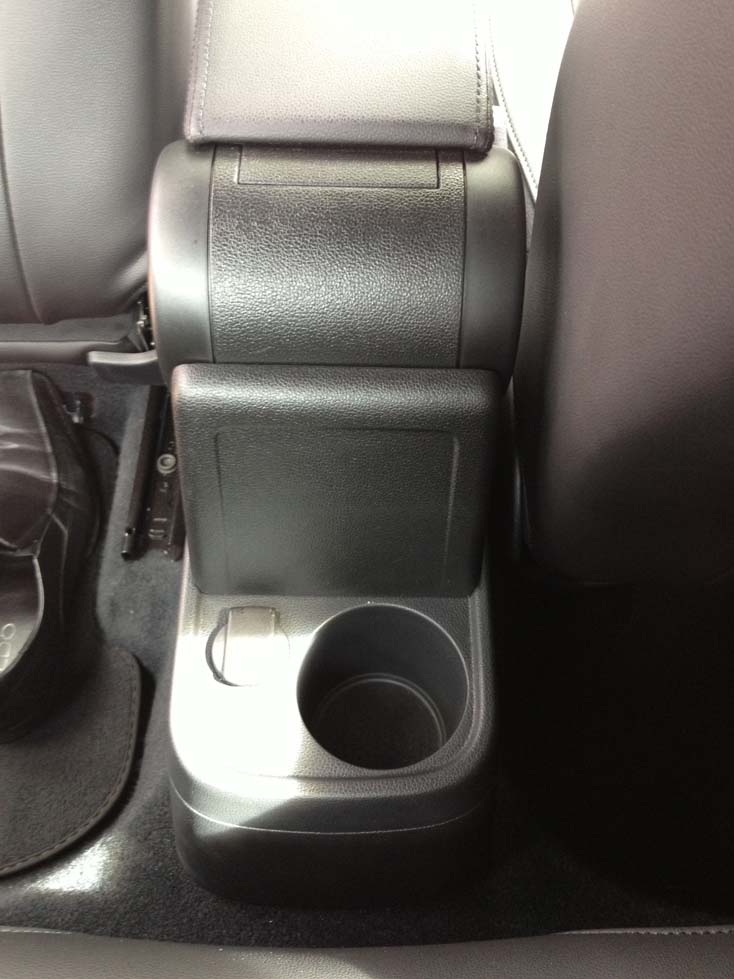 .
No rear air conditioning vents here ….
.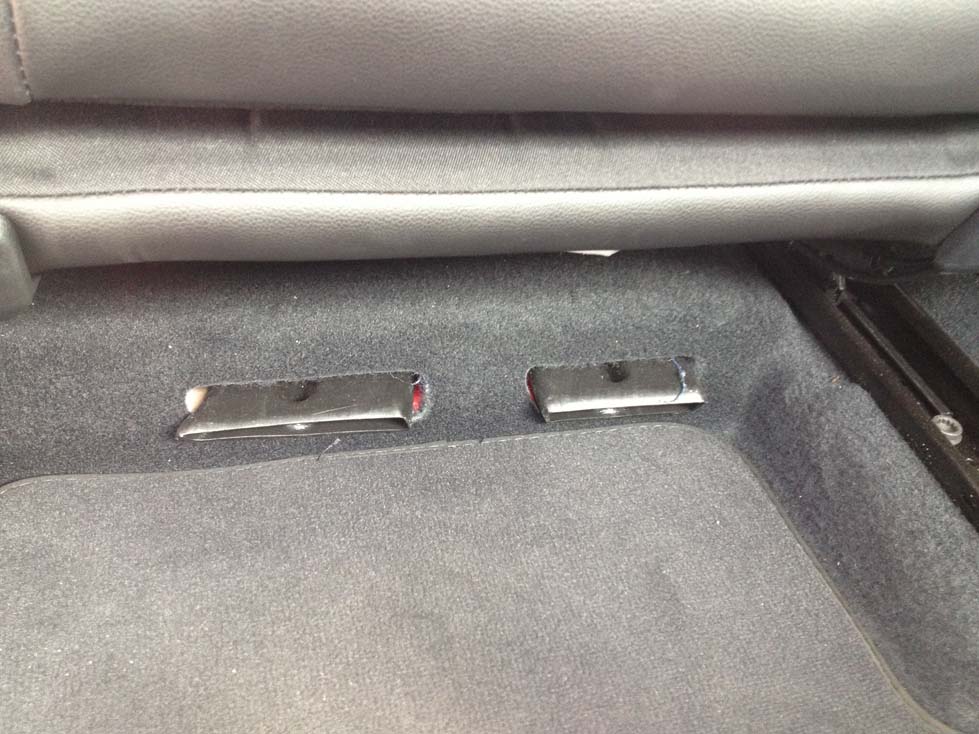 .
…. but you do find air conditioning vents at the bottom of the front seats. Air blows out of here only when the blower is set to bottom …. get ready for some unattractive aroma if your passengers have smelly feet.
.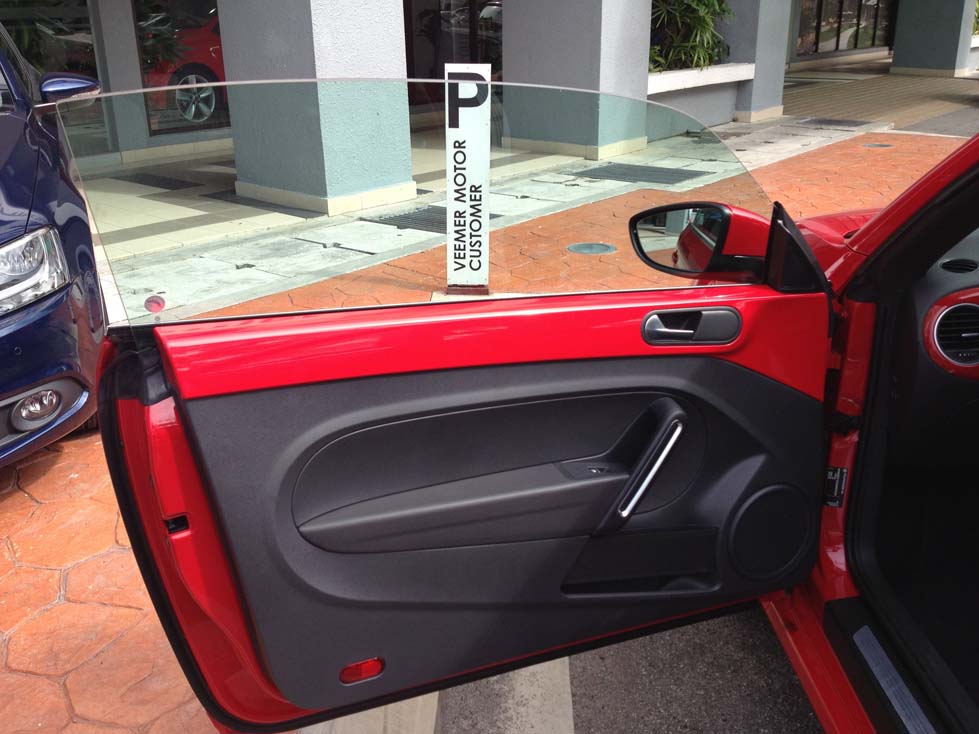 .
Frameless door windows …. nice. Holding the unlock button on the remote allows you to wind down from afar and holding the lock for more than 2 seconds winds them up.
.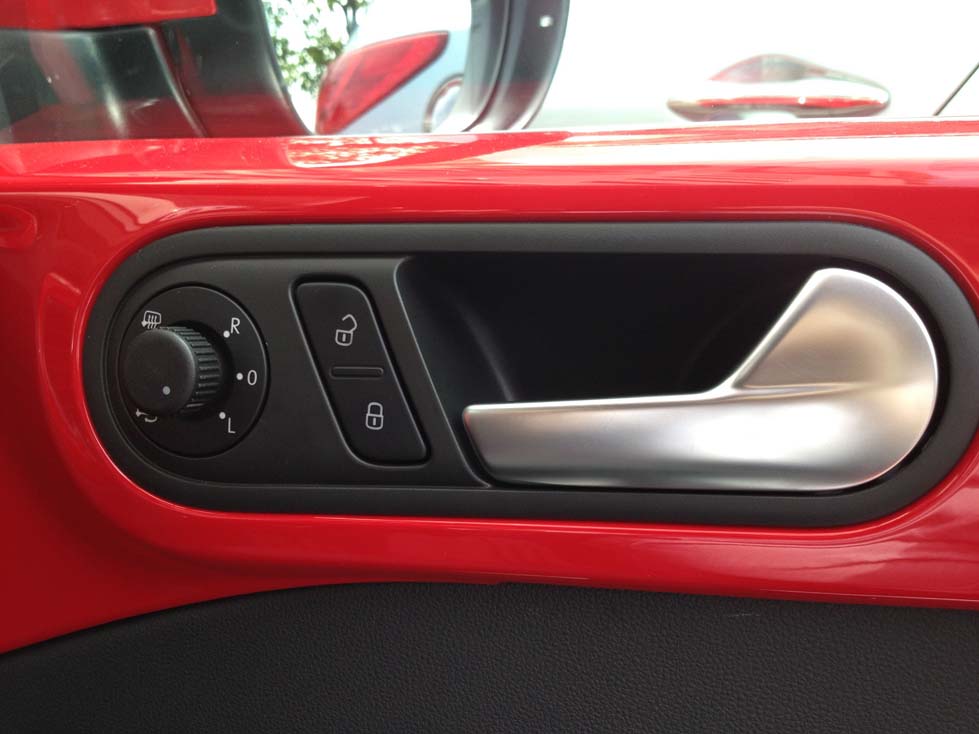 .
Electric foldable side mirrors with heater function. Too bad the left side mirrors doesn't down tilt automatically when reversing though.
.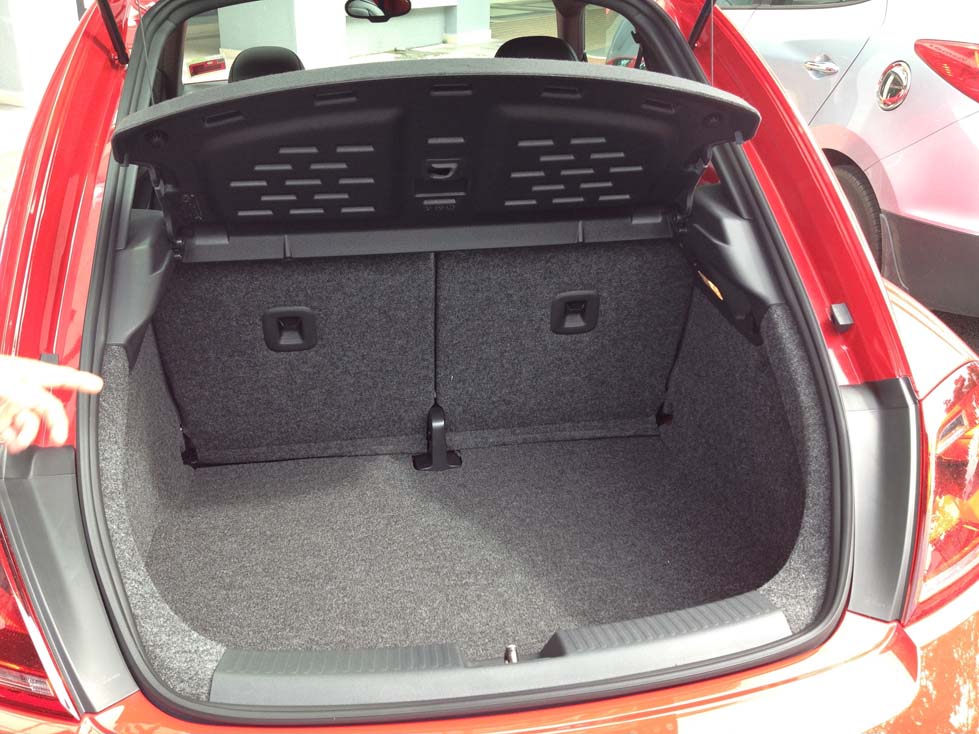 .
Only 310litres of space here.
.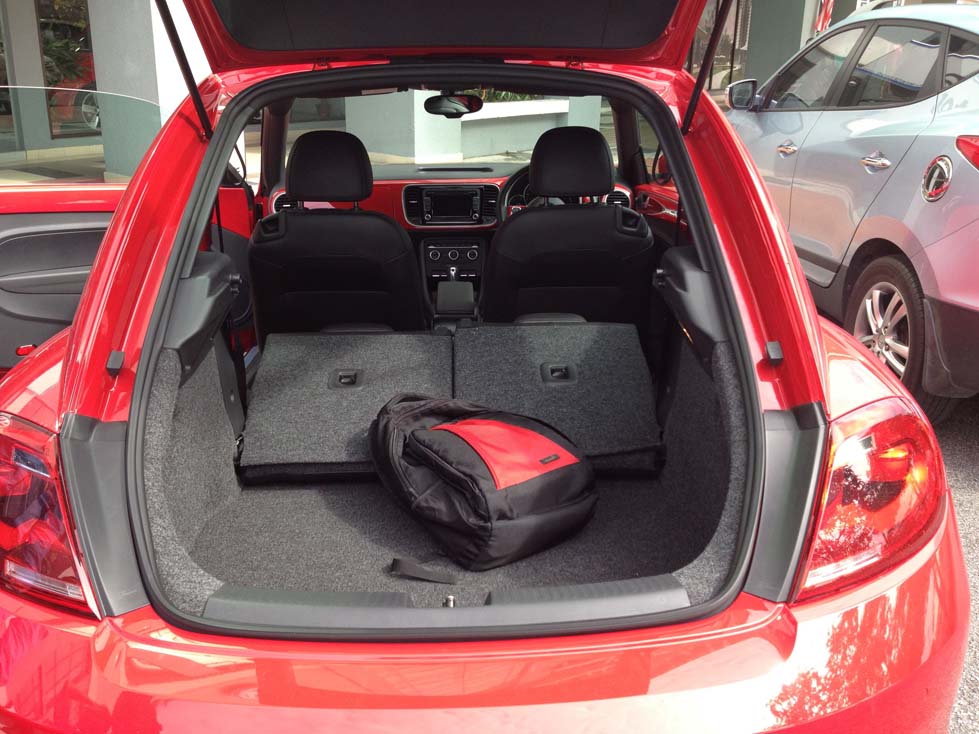 .
Folding the rear seats down increases the space 3 fold to 905litres. Too bad the rear seats can't be folded flat.
.
.
Safety
.
As reported in the earlier article, the 1.2L comes with the following safety features:-
3-point seat belts, front with seat belt tensioners
Anti-lock braking system ABS
Brake assist BA
Combined side airbags and thorax airbags for front passengers
Dual front airbags with front passenger airbag deactivation
ESP
Electronic vehicle immobilization device
Hill-hold control
ISOFIX preparation for child seats
Safety optimised front headrests
Two 3-point rear seat belts
Cost of ownership and maintenance
.
The 1.2l TSi retails for RM139,888 excluding registration and inspection fees, road tax, number plate and insurance so the total price may be RM3-4k higher. No info on the maintenance cost yet but will try and get one as soon as possible.
.
So should you buy one? I'd say yes if you are moved by its design and features. The Beetle remains as one of the best looking cars around and some might complain of its relative high price but consider a Scirocco 1.4l costs about RM40k more, it's quite acceptable … so acceptable that I hear if you place a booking for a 1.2, you'll have to wait till end of 2013 or early 2014 to get your unit. God knows what might happen in 2014; the world economy might collapse? we suddenly find no more fossil fuel? you suddenly discovered you've got quadruplets coming your way? One thing for sure … the icon will remain as one of the most desirable cars in the world. On that alone, it might just be worth the wait ….
.
Oh, and the Tic Tac crevice thing is true …. I checked
.
.
.
This review is made possible with the assistance of Mr Sam, of Veemer Motor, Old Klang Road. He can be reached via his contact number 012-273 8929
.
.