.
No car is perfect in this world …. and invariably, all cars will break down. It's not a question of IF, merely a debate on WHEN. And so when my 1.4l TSi Golf broke down in the middle of nowhere, I was not surprised, particularly when its a mechatronic issue considering 8 out of 10 Golf TSi problem is related to this problem. The mechatronic, a component related to the VW DSG dual clutch gearbox that does the job of replacing your left foot in a manual transmission is notorious to go bonkers and it's a worldwide issue … it's so well documented that VW had to even issue a statement of apology to the people of China (read about it HERE).
.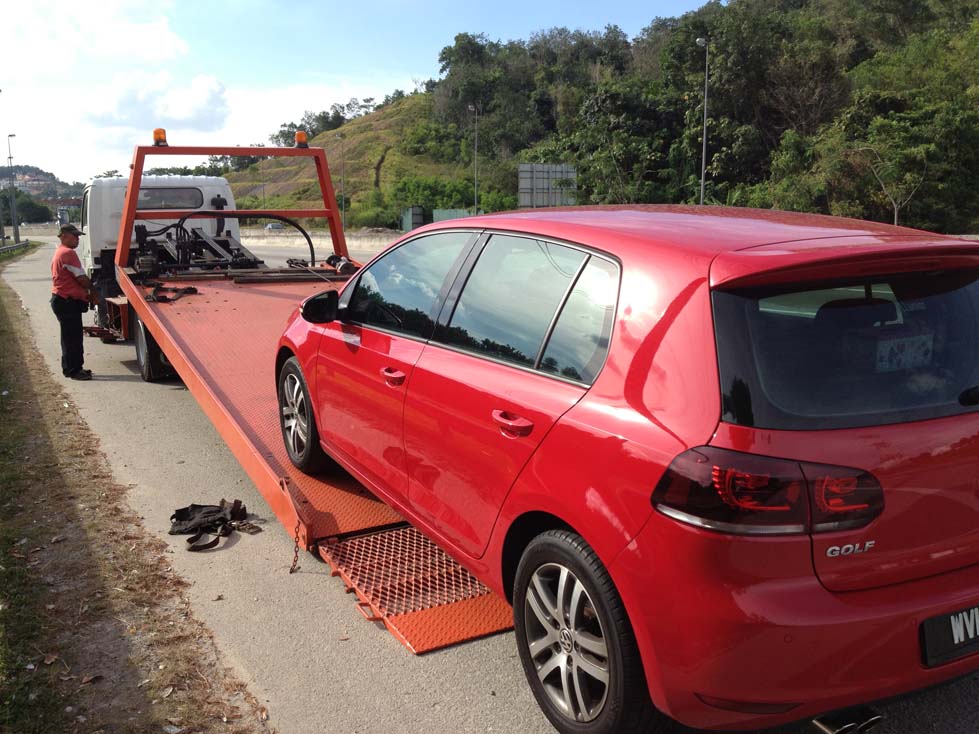 .
As is with every vehicle breakdown, it's important to keep calm, move the vehicle to the emergency lane and call for assistance. In this case, VW has a 24 hour hotline and a tow truck was commissioned to the location I was at. Under the terms of warranty, I am to have the car towed to the nearest authorized service centre but since I was far from any SC, anyone would do. Made a few phone calls to a couple of friends who've had the same issue, searched online (this is where being a member of a car club comes in very handy) and everyone reports almost every SC can rectify this well known issue within 2-3 days, subject to parts availability. Since it was a Sunday, all SCs were closed and I couldn't check if any one of them had the parts necessary to expedite the repair. Consultation with the sales advisor verified that his SC can do the job within the stipulated period IF they had the parts.  So in the end, I decided to have the car towed to where I bought it; Old Klang Road.
.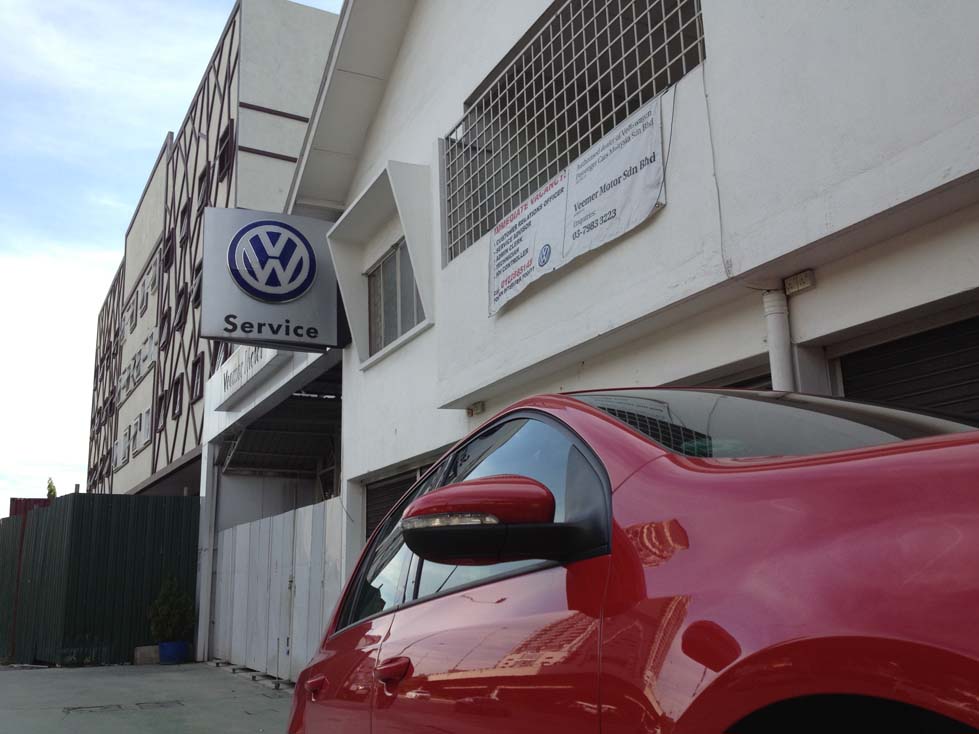 .
It's a rather long story but let me just skip the boring part and highlight the following:-
The car was not moved from the spot where I left it for more than 24 hours citing appointment is full & needs to be taken cared of first
No one from the service centre called me to update me on the progress of the car (I made 2 personal trips to the SC to see what's going on)
The staffs ignored my sharing that it's a mechatronic issue saying procedures needs to be followed. I wonder how difficult it is to plug in a VAGCOM (VW diagnostic device) to confirm the faulty component
After wasting 1 1/2 days at the SC, they finally "verified" that the fault is related to the mechatronic
And they have no stock. Their Singapore counterpart ALSO has no stock and needs to order from elsewhere. Needs "more than a week" to repair. Based on feedback found online, the expected waiting period for parts ordered from Germany is 3-4 weeks.
No offer of a courtesy car is ever mentioned (I later found out from my SA that the arrangements for a courtesy car is done by the sales department but since I opted to have the car towed away to get it done elsewhere, the offer was quite pointless. Still, would have been nice if the service advisers shared that this was a possibility that can be arranged subject to availability)
.
I immediately called Volkswagen Hotline to have the car towed to another FA Wagan Jalan 222 where they promised to complete the repairs within 3 days.
.
Naturally, I am quite upset over the whole ordeal and after having a few days to cool off, I looked at the whole issue objectively and came to one conclusion:-
.
Veemer Motors Service Centre is unfit to be an authorized service centre for Volkswagen.
.
There are a few reasons for this conclusion. As this is a "business rant", let's look at the facts:-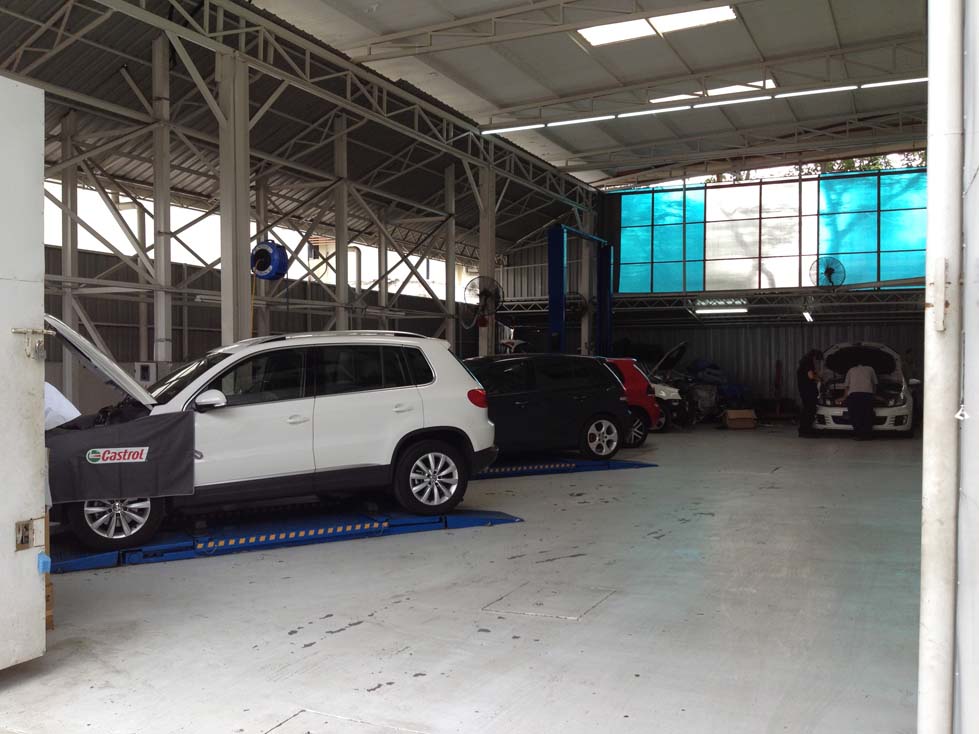 .
1. Veemer's primary weakness is space. Take a look at the picture above …. how many bays do you  see? There are only FOUR. There is absolutely no space for expansion. I can understand why their appointments are so packed but to the point where they can no longer handle last minute emergencies like breakdowns is not very professional.
.
2. There are no safety demarcation of each bay. I've worked in a factory and been to my fair share of service centres but this borders to gross negligence in terms of ensuring cars are safely parked and …
.
3. … most importantly, staffs are working in a safe, designated area. Without demarcation, everyone is just working based on "estimates" of where their working zones are. You will also note that lighting is not particularly bright & its fortunate that the ceiling is high & ventilation is acceptable otherwise it gets stuffy inside and I have to wonder about the quality of the work done if the workers are not working in a conducive working environment.
.
4.The Golf mechatronic issue is a well known problem. In some companies I've worked in, OOS (Out Of Stock) situation are viewed very seriously as it jeopardizes consumer confidence of the brand. In this case, clutch packs and mechatronics are 2 most common claimed items. To have it run out of stock and asking customers to wait 3-4 weeks for replacement parts without the use of a courtesy car is absurd. I am not familiar with the warranty claim structure of VW but if other SCs can have sufficient parts in store, why not this SC? Is being small an excuse for not carrying sufficient parts and causing great inconvenience to the customer?
.
5. Not many people know that Veemer Motor's service centre is not recognized by all car insurance companies in Malaysia. I had the unfortunate experience of being hit by a car and had to claim against that party. MAA, one of said insurance company who represents the guilty vehicle does NOT acknowledge Veemer as part of their panel and I had to move elsewhere. This was shocking to me! I guess it's fine if you're claiming your own insurance company (I do not believe the sales advisers are dumb enough to recommend a company that does not acknowledge Veemer's SC) but if you're claiming against another, do check first if Veemer is on their list of workshops.
.
.
I have always believed that the business of selling cars is governed by 1 rule: Sell the Experience (wrote about that HERE) and I must commend Veemer's sales department for training an excellent group of sales advisers (the SA who sold me my car took the effort to meet me on Sunday night for me to pass him my key so that he can go to the SC early next morning to get things moving …. even when he was not on duty to save me the hassle of taking leave on Monday morning! Kudos to you, Sam!). Where most sales branches have one or two great sales advisers, I have heard no less than 3 excellent SA recommendations from Veemer being praised from various automobile forums and blogs. This, of course translates to more sales for them … which then taxes their capacity in their "under-the–tree-workshop"
.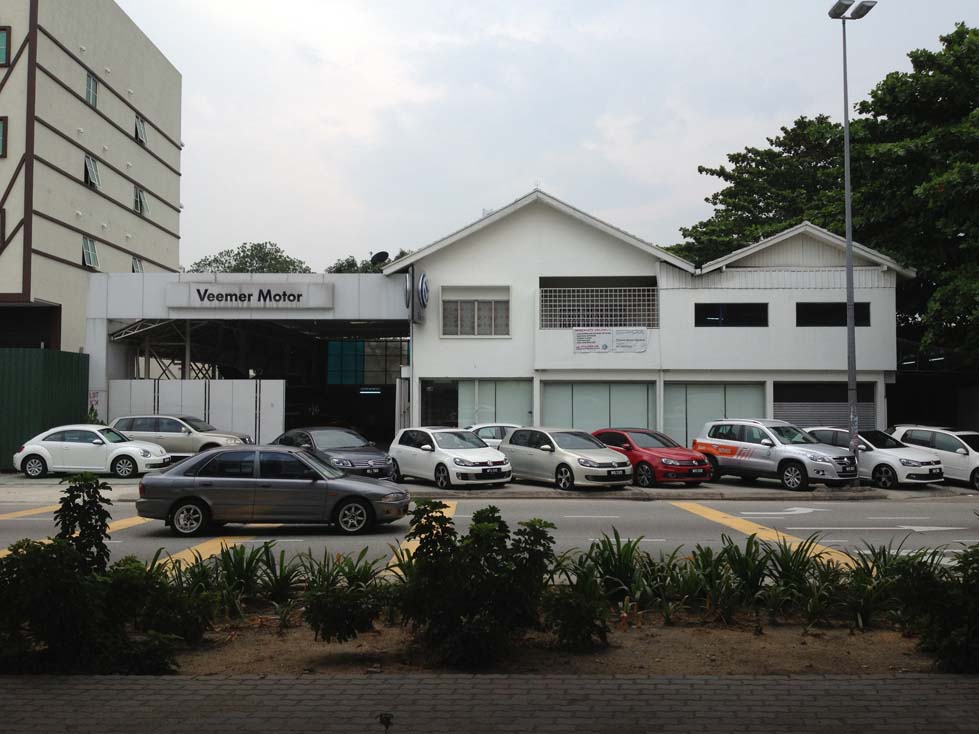 The Veemer Service Centre, where only half of this building is the service and storage area while the center  covered area in the middle is the waiting and reception. Even now, you can see there is virtually no space at all to park cars that are done/waiting for service.
.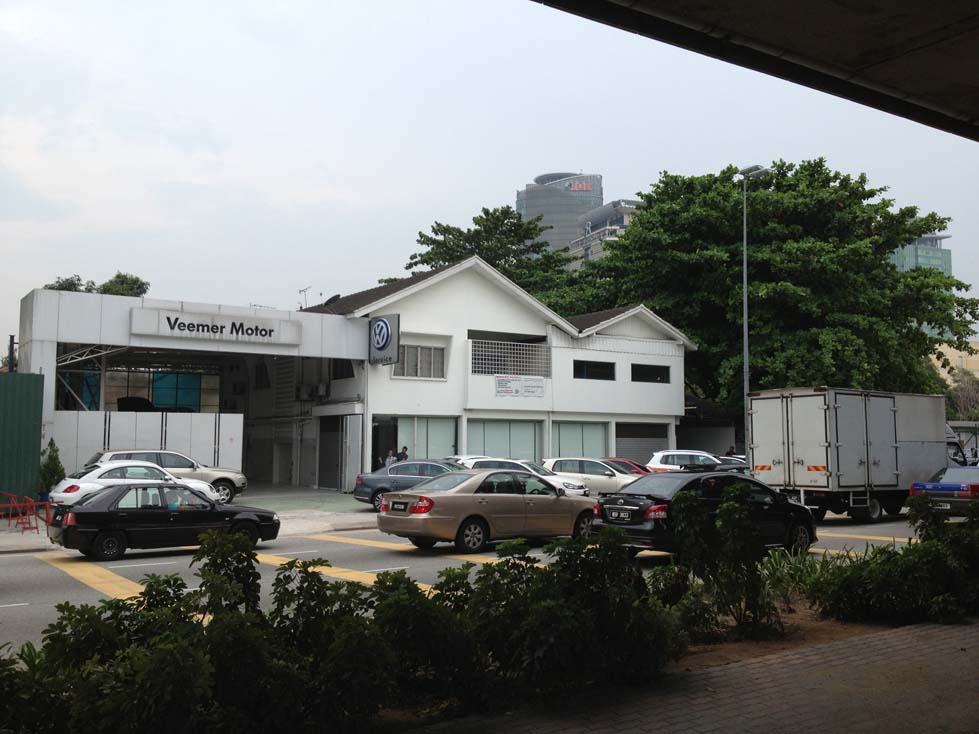 .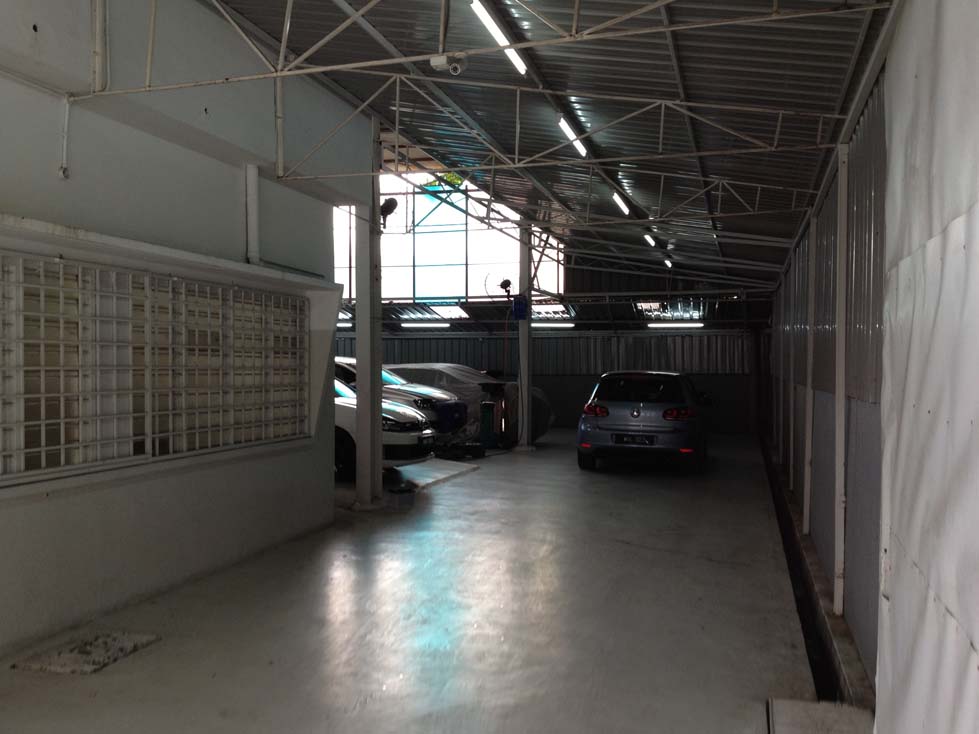 The area that's directly beneath the tree on the right where additional cars are being kept. You would never imagine that this is a prominent Volkswagen service centre had I not told you, would you?
.
.
In all honesty, I question Volkswagen Group Malaysia's tolerance for such an appalling workshop standard for a prestigious, world renown brand  as Volkswagen. From an exterior view of haphazardly modifying a residential bungalow into a permanent service centre to improper management of spare parts inventory, especially common breakdown items, to a lack of empathy shown to customers, you cannot find another Volkswagen Service Centre in Malaysia as badly set up as this. I had even requested to meet the service manager and when the receptionist tried to call him, he pushed the deed to a junior service adviser who was earlier assigned to me. Seriously, if there is a customer who's willing to fork out his own money rather than continue to leave the car in his centre, I'd damn well want to give my personal apology to him if I was the manager (doesn't solve anything but at least it will show some sense of responsibility)
.
No doubt, the owner(s) and management of Veemer may not have as much cash as FA Wagan and Wearnes (the same, I believe for other countries where there are bigger, deeper pockets dealers around),  small, single outlet dealers like Veemer can provide a more personalized service to all of its customers. Small automobile dealers worldwide remain viable by having greater understanding of its customer's needs and responding faster to customer's demands compared to the larger players. In this respect, Veemer has done splendidly in the sales department …. only to fail miserably in the after sales side …
.
.
… and whether you like it or not, it's the after sales that builds fans or creates antagonists.
.
.
P.S: My car's mechatronic was subsequently replaced in FA Wagan Jalan 222 in 1 1/2 days (I had to pay RM150 for the towing charges as VW does not cover towing from SC to SC so take note). This further contrasts the poor service provided by Veemer. I do hope that Volkswagen Group and VGM will look into this as the brand is gaining traction here in Malaysia. With such a competitive market (Peugeot has stricter standards in appointing Sales & Service branches especially with the recently opened 3S centre in the heart of Kuala Lumpur HERE is a testament to their aggressive business outlook), VW must be as good, if not better …. and any weakness within the operation chain must be rectified so to ensure the brand lives up to its reputation. VW is not cheap in Malaysia and with owners paying a premium for it, higher expectations is only natural. At this point, even Proton can be better than Veemer.
.
.
Latest update as of 12 Oct: Got my Golf back today. Surprised to note that Volkswagen Group Malaysia has opened a file about my complaint and sent 3 of their staffs to interview me to find out more about what happened. After listening to my accounting, they are surprised to note the following irregularities:-
.
1) Veemer did not follow up on a customer's car that has been towed. SOP states that the service centre must call the customer for updates once the car is accepted by the SC.
2) Veemer had very recently obtained mechatronic parts from VGM so they should be well aware that VGM has sufficient parts in their office in Malaysia. Why an OOS answer was given to me is what they wish to find out.
.
The expansion and compliance of safety guidelines of SCs to VW standards is handled by another department. They have also promised to refund the towing charges.
.
With this development, I am impressed at the speed in which the principal responded to this complaint. I do hope that they take this matter serious enough to apply pressure on dealerships that fail to conform to the corporate identity of VW. Companies like Peugeot has been known to apply a "buck-up or buck-out" method in dealing with its service centres and from what I have seen how VW deals with recalcitrant dealers such as the now defunct VW Cars/Cartrade (in 2006, the VW distributorship was given to CarTrade and after years of countless complaints to VW about the exceptionally poor service shown by CarTrade, VW booted them out in 2009) I have no doubt VGM can and will come down hard on dealers that are uncooperative.
.
.
.