I remember when I first started my career and being a complete noob when it comes to automobiles, I came across a US auto magazine that segregates cars according to their owner's status and the BMW 3 Series and Mercedes C class fell under a category labeled "Entry-level Executive". And when I was promoted from sales rep to a product executive, I was scratching my head wondering how on earth can a person on my level be able to afford even the cheapest Beemer? I thought my Chinaman boss was  screwing my pay cheque until other friends of mine holding a similar title in other companies, some multinationals report the same earning capacity …. and, of course subsequently learning about the NAP and how it made every Malaysian paying through their noses for even the lowest spec, entry level VW makes everything clearer.
.
And let's face it … titles are all hypes and everything with the word "Executive" sounds so up market. Executive Producer …. Executive Director …. Executive Board of Directors …. Executive Spa ….. wait, forget about the spa; that's a whole different image. So in Malaysia, when expats say executive title, what they really mean is "boss" … and befitting every boss/executive,  having the right vehicle to be seen in to keep up with appearances counts.
.
And though some may very well be able to afford Mercs and BMWs, having such a flashy marque may not be their cup of tea. Some of these individuals may seek to maximize their "investment" by purchasing something that offers class and comfort while having the extra cash saved by not getting that Audi/BMW/Merc spent on other money making activities. And so you get the usual suspects filling the list: Toyota Camry, Nissan Teana, Honda Accord, Peugeot 508, Ford Mondeo and last but not least, the VW Passat. Each has their own appeal but personally, I find the Passat to be the vehicle that offers the best balance for an executive car. I had earlier written an article about the Passat HERE but that was done before I had a chance to test drive it. Here's what I think after I drove it for a couple of days:
.
Design
.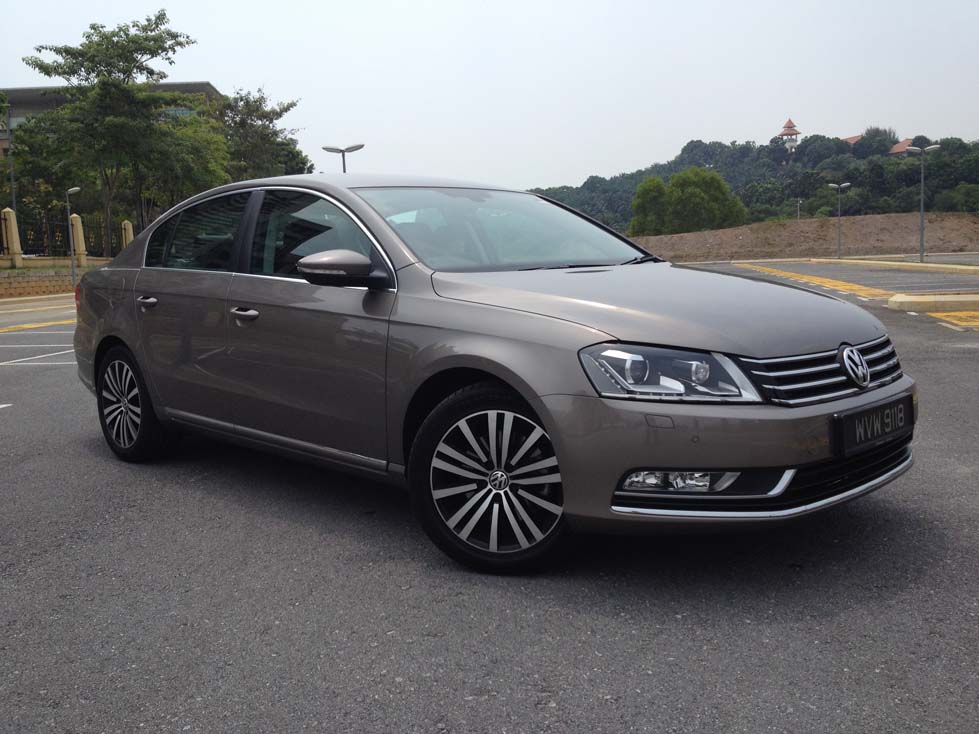 .
Ok, I admit there are prettier cars around and among those who commented about its looks, the term "uncle car" is probably the most I hear …. but hey, if uncle means financial stability, success and maturity, I'd say the Passat has hit the nail spot on!
.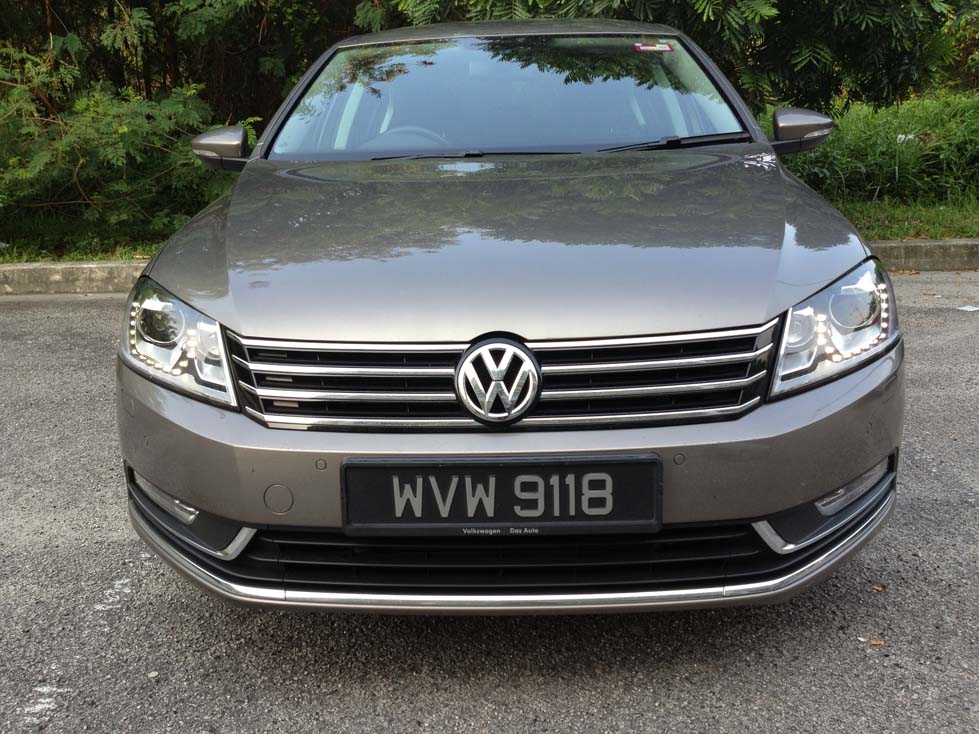 .
Keeping in line with the family fascia, the Passat looks very much like a grown up Jetta. Chrome grille linings, fog light casing, lower lid on the bumper serves to accentuate the class the Passat represents (or we Asians are just suckers for anything that's pretty and shiny). Front sensors (4 of them) helps the driver to judge the front before banging anything (Saves lots of money from resprays thanks to boss wife accidentally hitting the front gate when parking)
.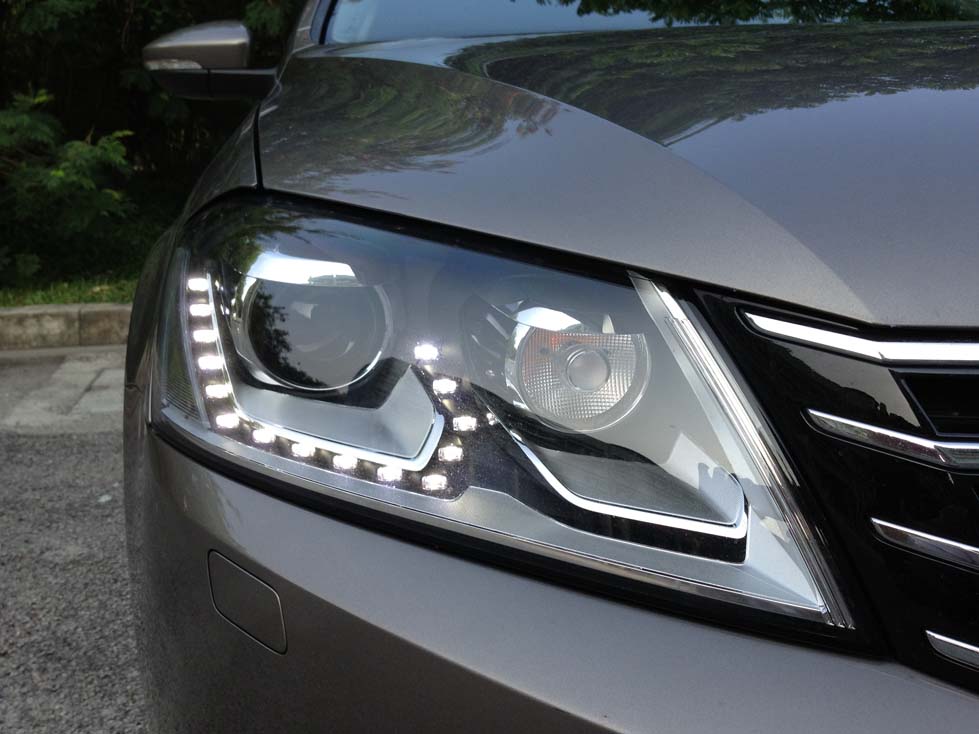 .
In the headlight department, you'll find VW's signature LED DRLs that's probably bright enough to serve as runway lights at the airport landing strips and there's no mistaking a VW when you see one from afar. The only confusion that may arise is which VW model since they all feature a slanted 'U' shape.
.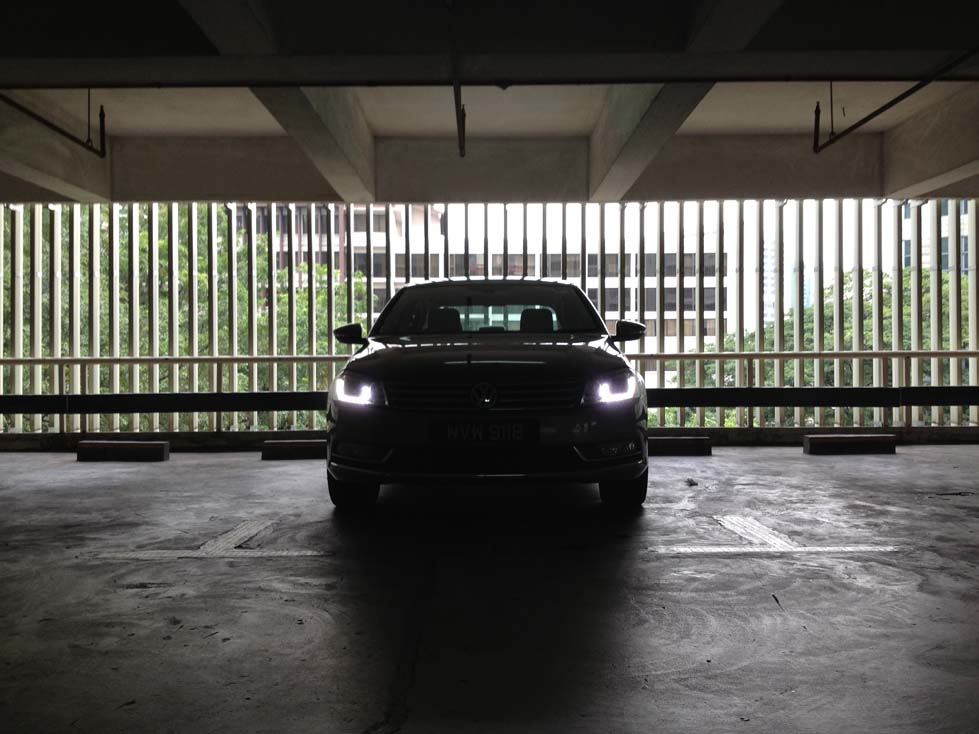 .
.
Measuring 4,769mm in length, 1,820mm in width and 1,470mm in height with a wheelbase of 2,712mm, the Passat is slightly shorter than the Camry. The Ford Mondeo is still the segment leader with the longest wheelbase at 2,850mm (not to mention the widest at 1,886mm and longest at 4,850mm as well)
.
.
Beautiful 17″ Minneapolis alloy rims wrapped with Continental 235/45 tires.
.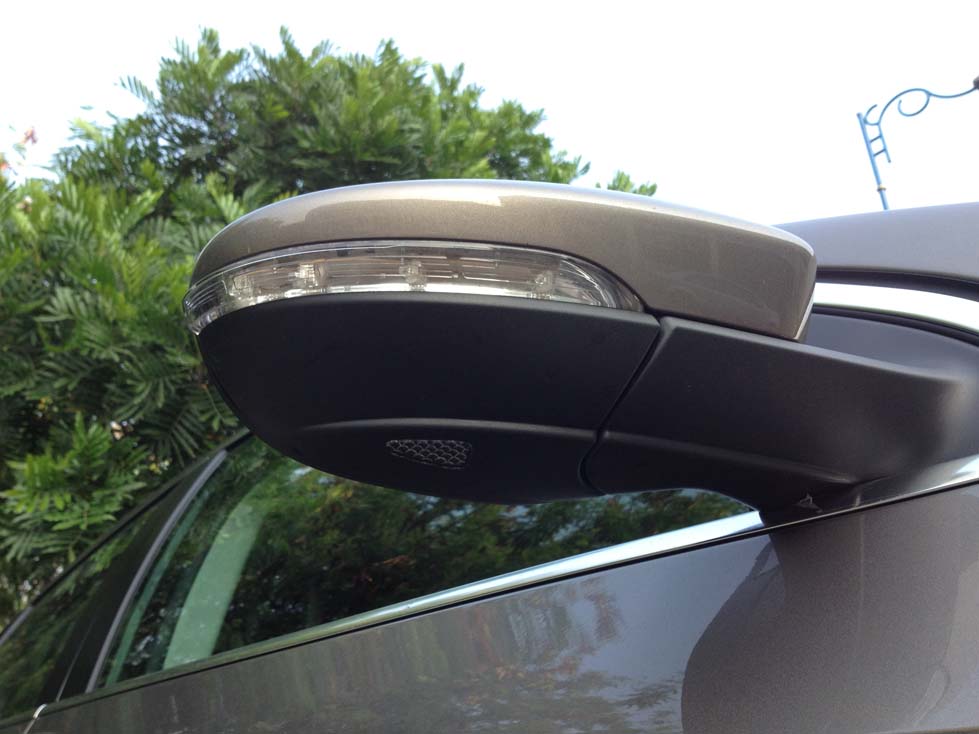 .
The Executive must never been seen making a trail of stinky dog-pooed foot prints so puddle lights are must haves in the Passat when alighting in the dark.
.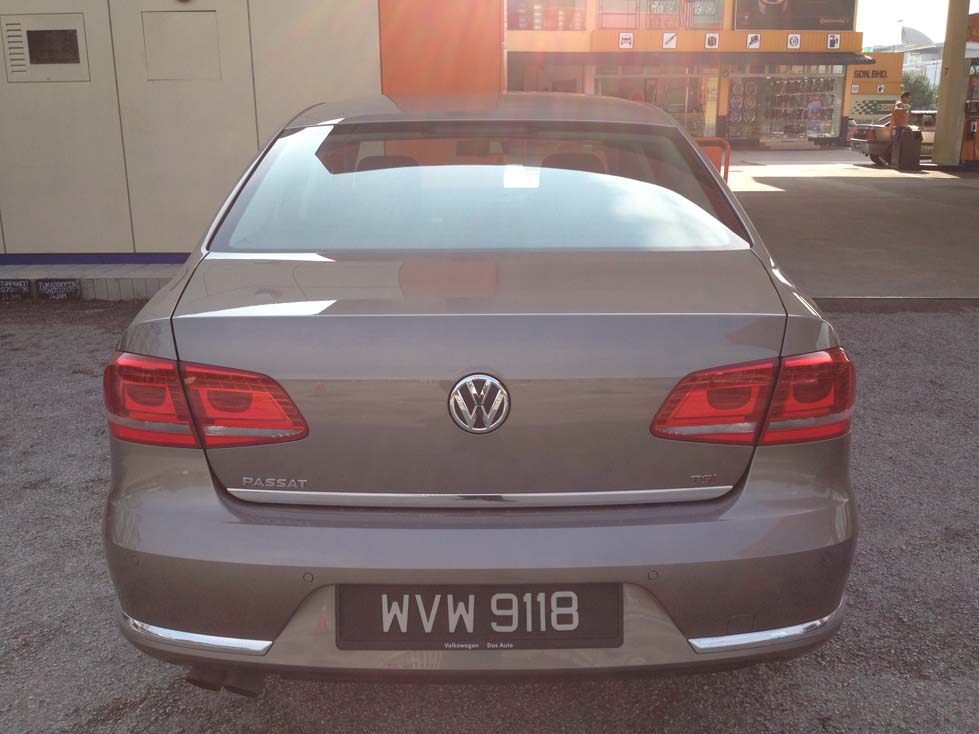 .
I believe the area that garners the most disapproval is it's rear end. While some can say simple equals elegance, I'd say the rear design in downright boring. It's as though the designers spent 18 hours without rest designing every aspect of the car and when it came to the back, he was too tired to pen it to greater detail. Still, it's as "uncle as it gets".
.
.
Rear fog lights …. perfect for those who love tailgating you … or those who install HIDs on their non-HID spec-ed reflector headlights.
.
.
Performance
.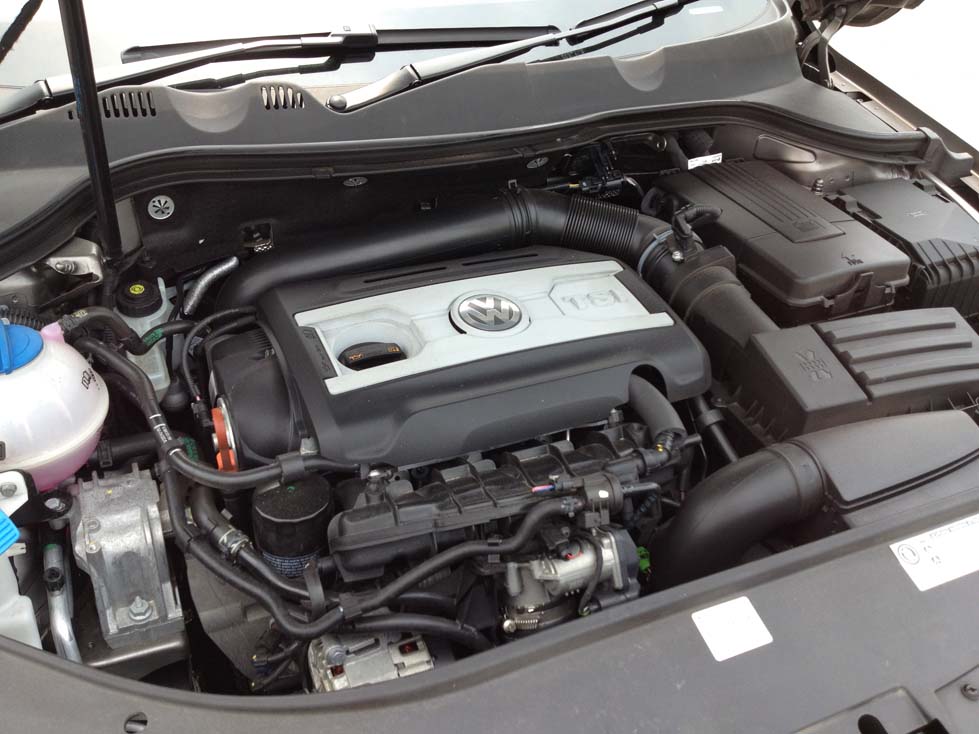 .
At the heart of the Passat is the Audi-developed 1.8litre TSi engine that churns out 160PS with a torque rating of 250Nm from a low 1,500rpm to 4,200rpm. Typical of any turbocharged engine with maximum torque achieved at such a low rpm, you'd have no problem catching up and leaving traffic behind. Mated to a 7 speed DSG gearbox, acceleration to 100kph is said to be achieved in 8.5seconds from standstill.
.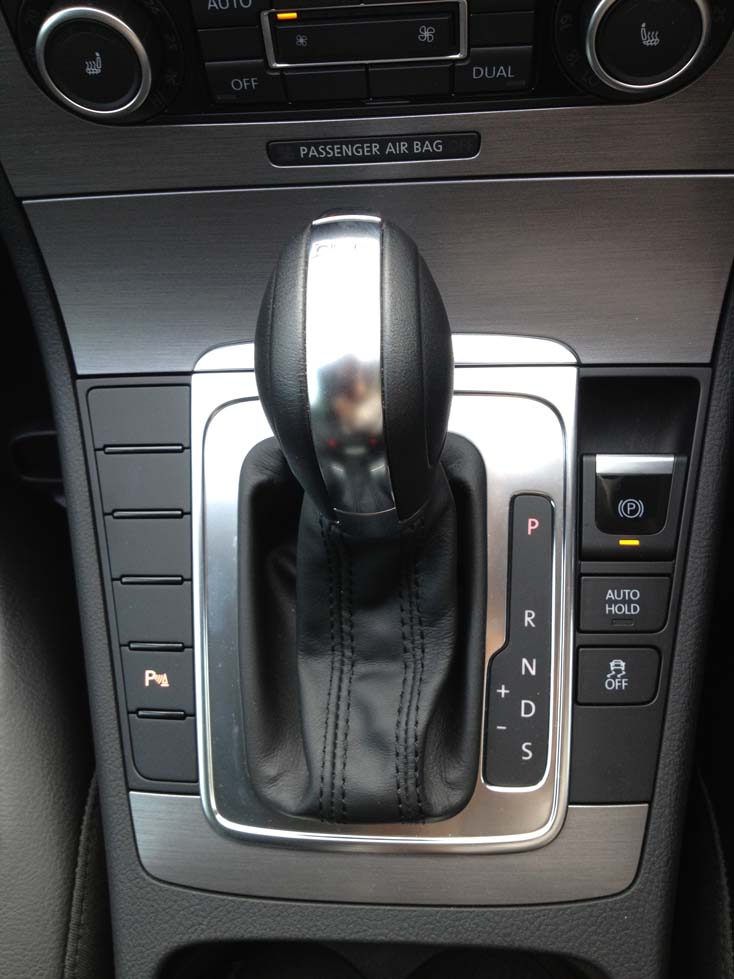 .
As a testimony of my age, I'd say in general I don't quite prefer turbos. The trusts you get from the slightest tap of the accelerator makes driving so much more …. urgent. While power is always welcomed in my books, the delivery of it takes precedence over how much wheelspin I can generate with my tires. And it is in this area that makes me admire the Passat all the more. The VW Jetta has similar power output (but achieved with a smaller 1.4litre engine), the linear delivery of the 1.8 TSi makes the Passat feel a lot easier to drive in the city. And at higher speeds, the Passat demonstrates a willingness to go faster more eagerly than its 1.4litre TSi sibling. I guess in this sense, there truly is no replacement for displacement.
.
Compared to the Peugeot 508 which also has a turbocharged engine (albeit a smaller one at 1.6litres), the Passat pulls more cleanly and felt more composed on the road. Emergency braking done from 100kph to zero shows the Passat being able to stop quicker and the nose does not dive as much as the 508. Yet to test the Camry so can't compare with the driving experience but since it's not a continental, I don't expect it to be able to offer the driving experience these "gwai lou" cars do.
.
Ride and Handling
.
Comfort is the name of the game for the Passat and no matter how many times Autoworld Malaysia keeps saying Peugeot has a more cushy ride compared to a VW (read any articles when they have shootouts like 308 vs Golf and Passat vs 508), the Passat is probably the only other D segment vehicle with a magic carpet ride to equal, if not better the Camry …. and this is saying something as the comfort has always been one of the hallmarks of the Toyota.
.
Here's a little trivial for you: Ever wondered what are those beady things hanging from the top of an emperor of China's head for? Nope, as decorative as they appear, they do have a function.
.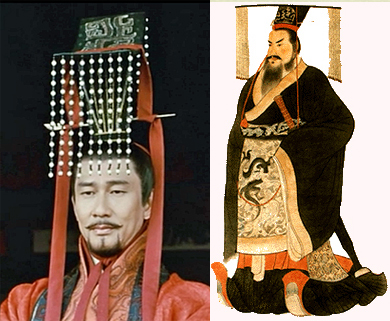 .
Beads like those shows how cool, collected and un-fretted the emperor is even in the face of any situation (not to mention to ensure he sits perfectly straight). The slightest movement of the emperor's head would cause the beads to shift and that would be a breach of protocol for the emperor.
.
Put that emperor in a Passat and the beads would probably stay as still as tofu with the comfort setting of MacPherson struts on the front and four-link rear suspensions. Though its power may at times lull you in thinking its a sports car, its non-adaptable chassis stiffness allows greater amounts of body roll when cornering.
.
Having said that, the Passat still corners pretty well. Long sweepy turns are tackled with confidence once you're in it but the steering feels light and feedback is rather limited. Still, there is sufficient road feel to know when traction is at its limit. Too bad you can't drift with it since it uses an electric parking brake.
.
Cabin Convenience
.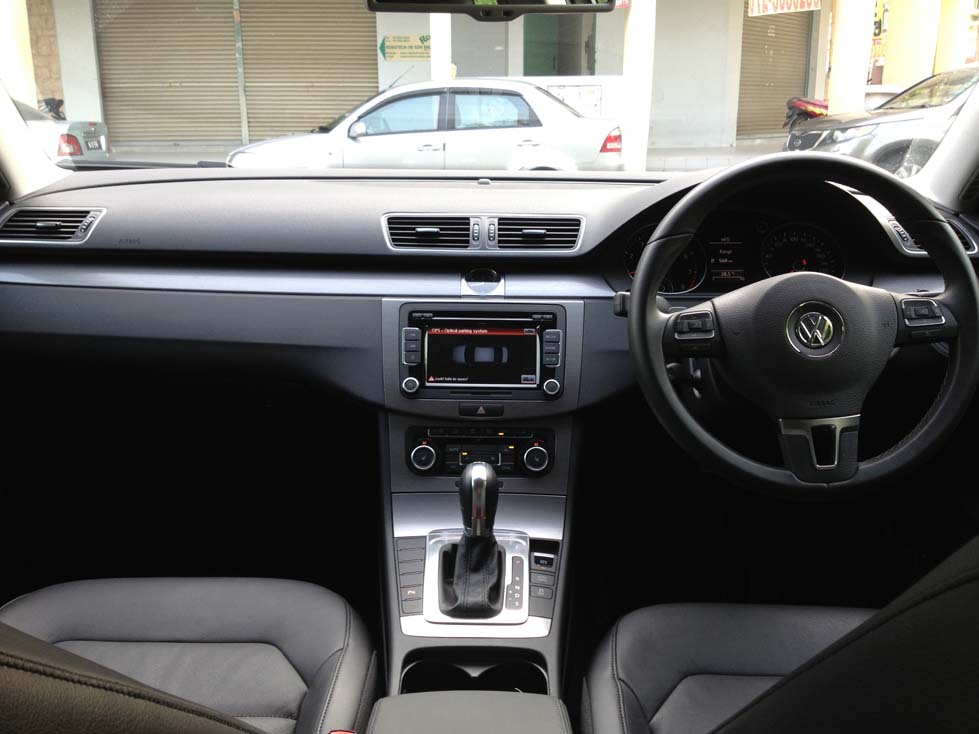 .
Some complains the cabin being too plain and perhaps they're right. However, in fashion less is more and the simple dashboard layout makes everything look clean and neat. I especially like the 2 tiered air-conditioning vents which cuts out the top part of the dash that runs from the side vents tracing a convex shape near the windscreen to the other vent.
.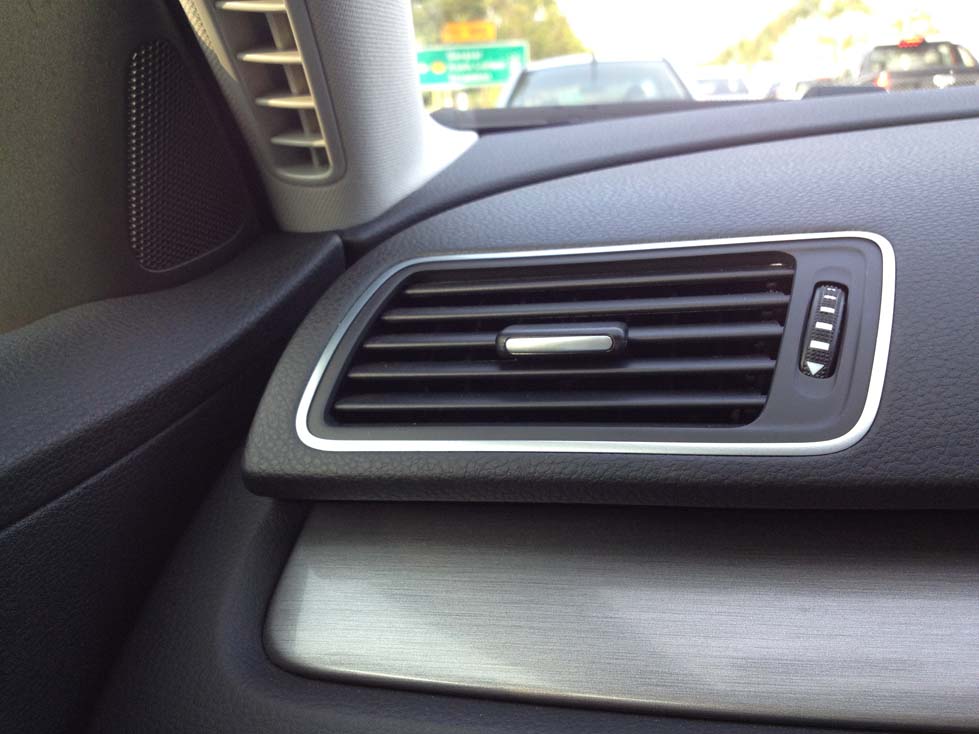 .
Without this design, I can imagine how much more complaints people will have of its interior design. The dash is of soft plastics though.
.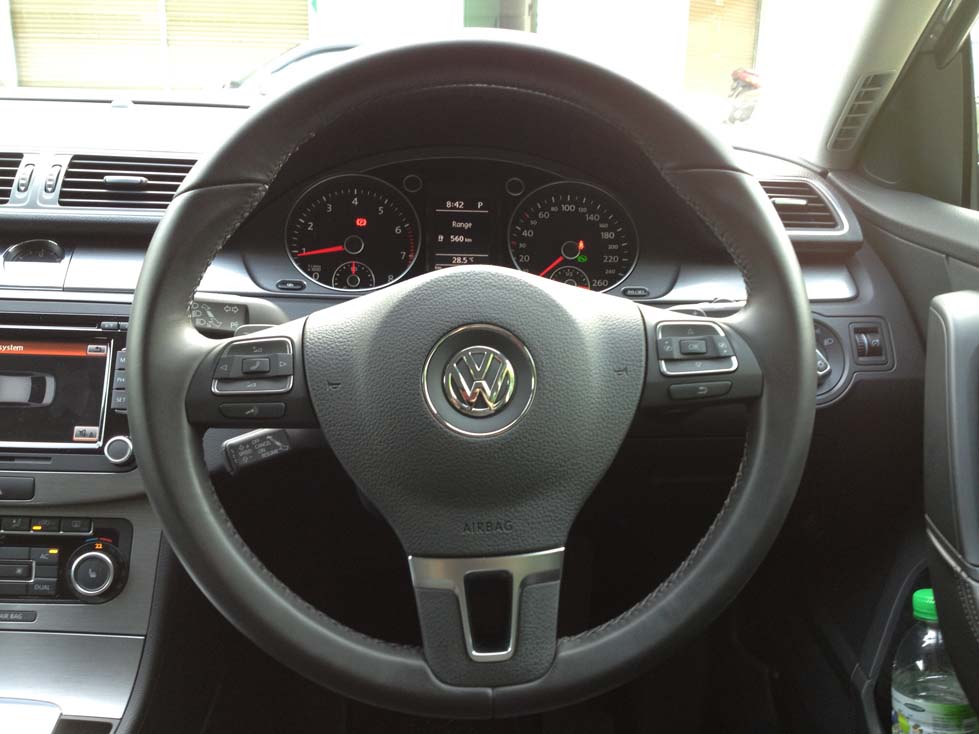 .
To go with the "uncle" exterior, you get a rather plain, conventional steering wheel. Thicker 10-2 positions gives better incentives to grip the steering there.
.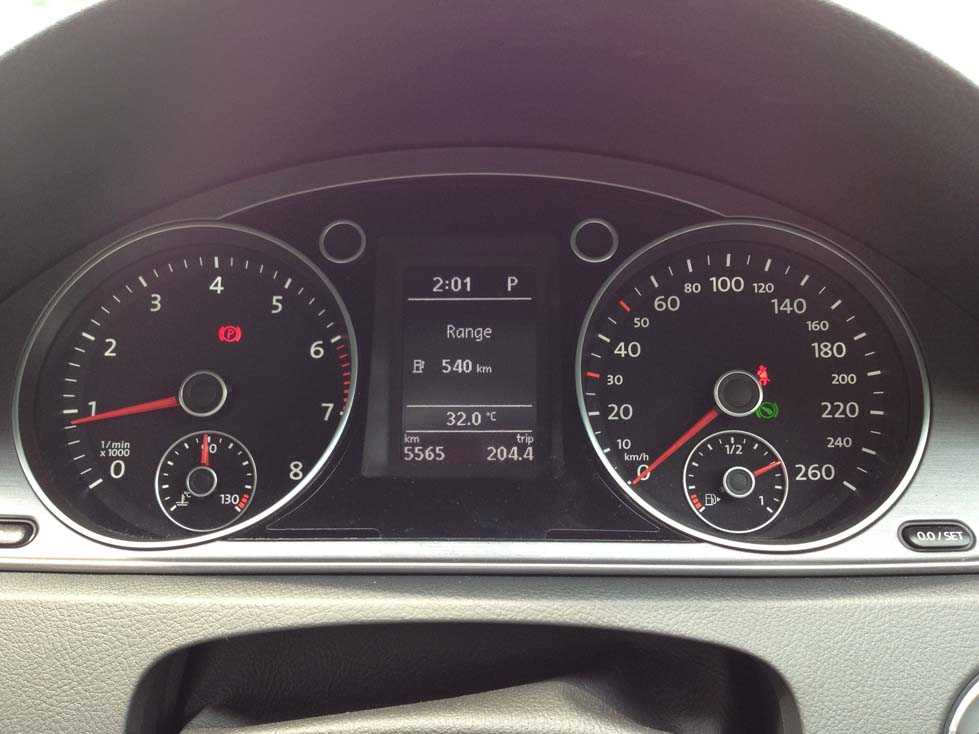 .
The MFD and other meters are very easy to read and displays the usual load of information to tell you how far you can still go for your remaining fuel as well as other axillary info. Too bad no tire pressure monitoring system though.
.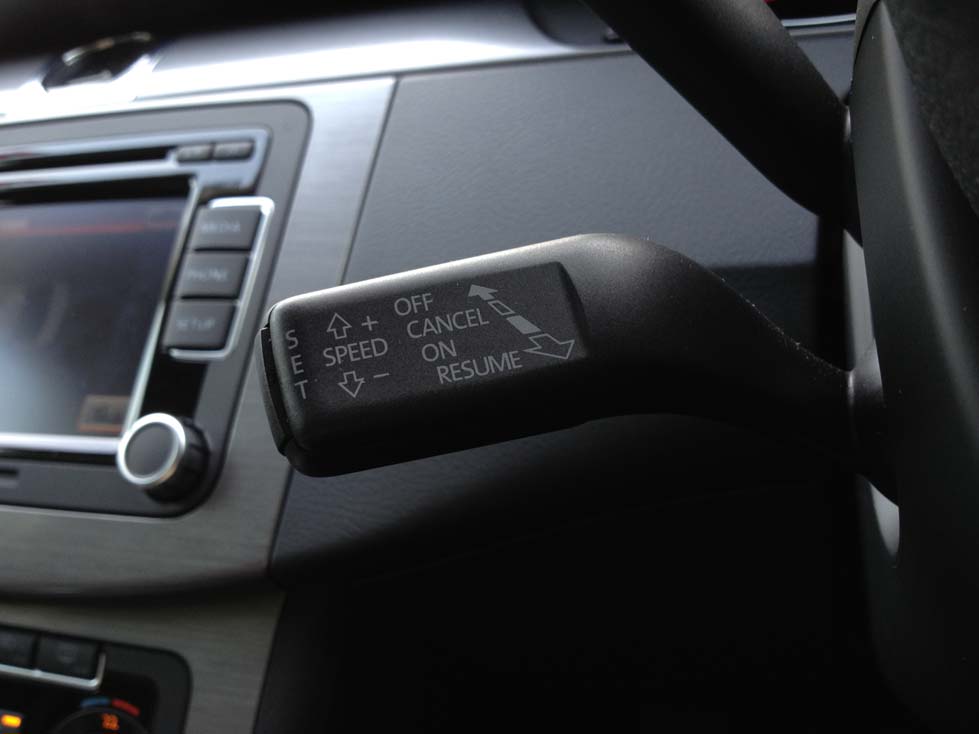 .
Cruise control helps elevate the pressure of driving ooh-so-slowly at active Automatic Enforcement System (that's the highly controversial automatic camera system that the government has installed all over the country).  Saves fuel too.
.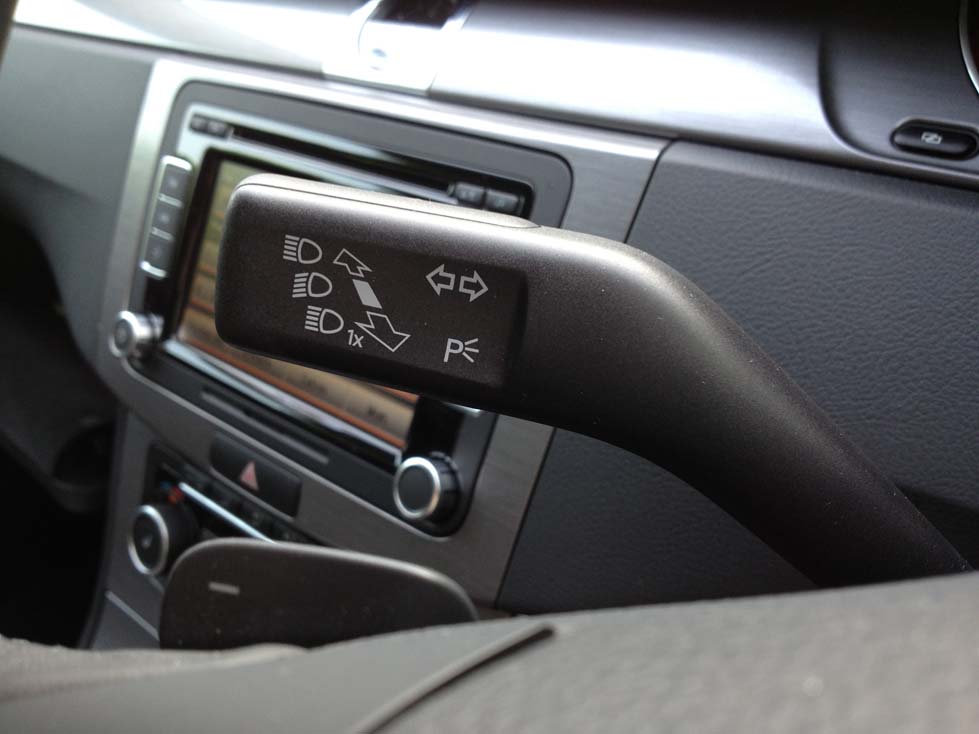 .
Above the steering stalk, signal stalk is at its usual left-side continental car position.
.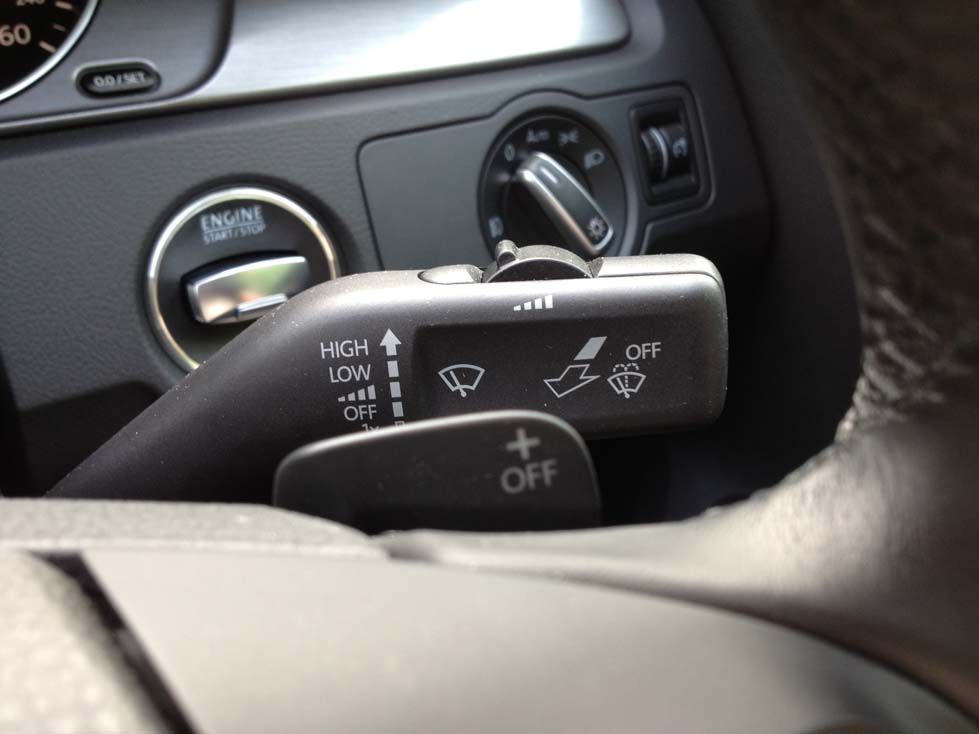 .
Whereas the right side has the wiper controls. Did I mention the steering has paddle shifters? Not that I used it much since the DSG did a spectacular job on its own. Just expect the usual 1/2 second DSG lag as always.
.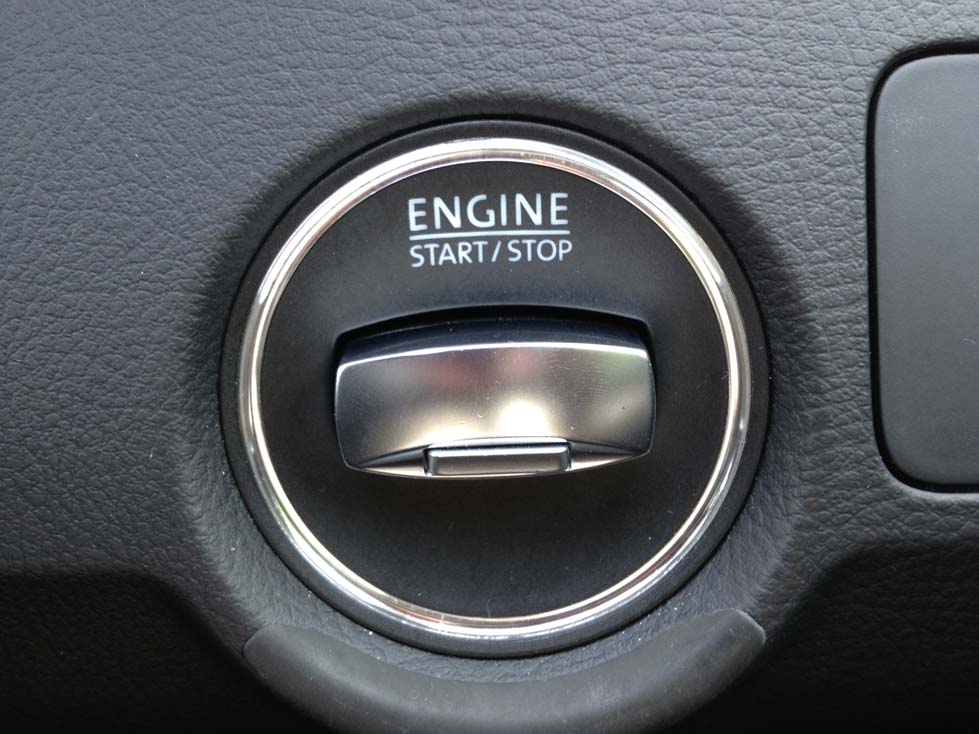 .
Unlike the Passat CC R-Line which was tested HERE, the Passat does not have full keyless entry and start/stop. Instead, you'd still need the key to unlock/lock the doors and it has to be inserted into a slot and pushed in to ignite the engine. I generally like to "insert", "thrust" and "pull" things into holes so this arrangement is fine with me …. only a full KESSEY would have been preferable since it adds to the security aspect of not wasting time rummaging through hand bags (for the ladies) when going to get the car.
.
.
Illuminated vanity mirrors ensures that the "tai-tai" (that's wife of the boss) will always have some last minute powdering up before going about her business.
.
.
Being a D segment, the rear view mirrors must, of course be the auto dimming type.
.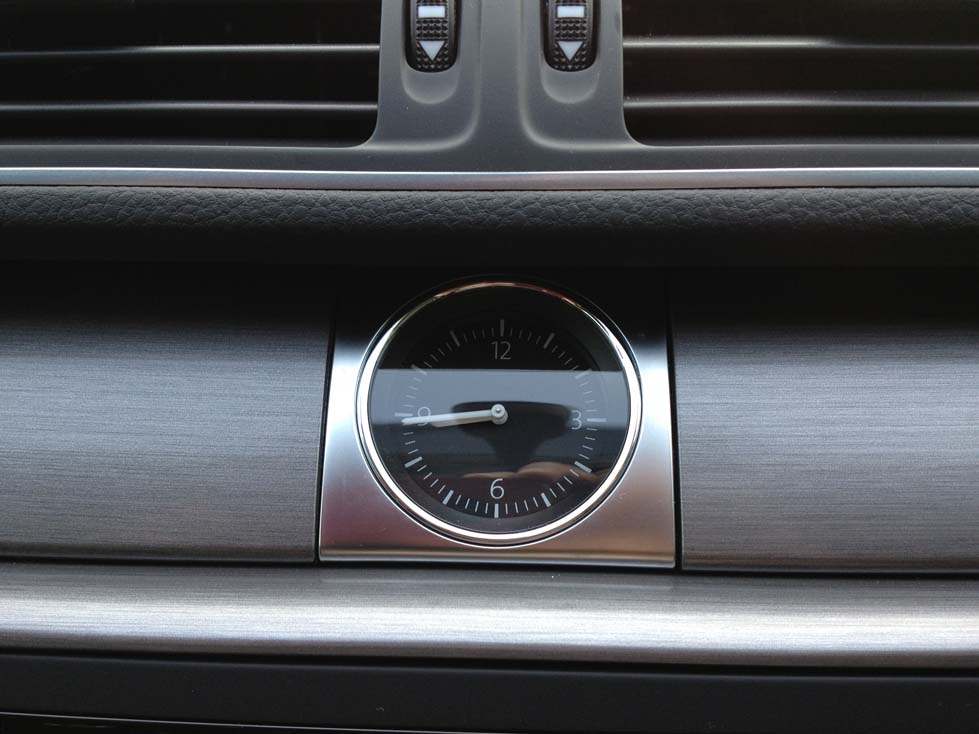 .
Retro analog clock adds panache to the layout
.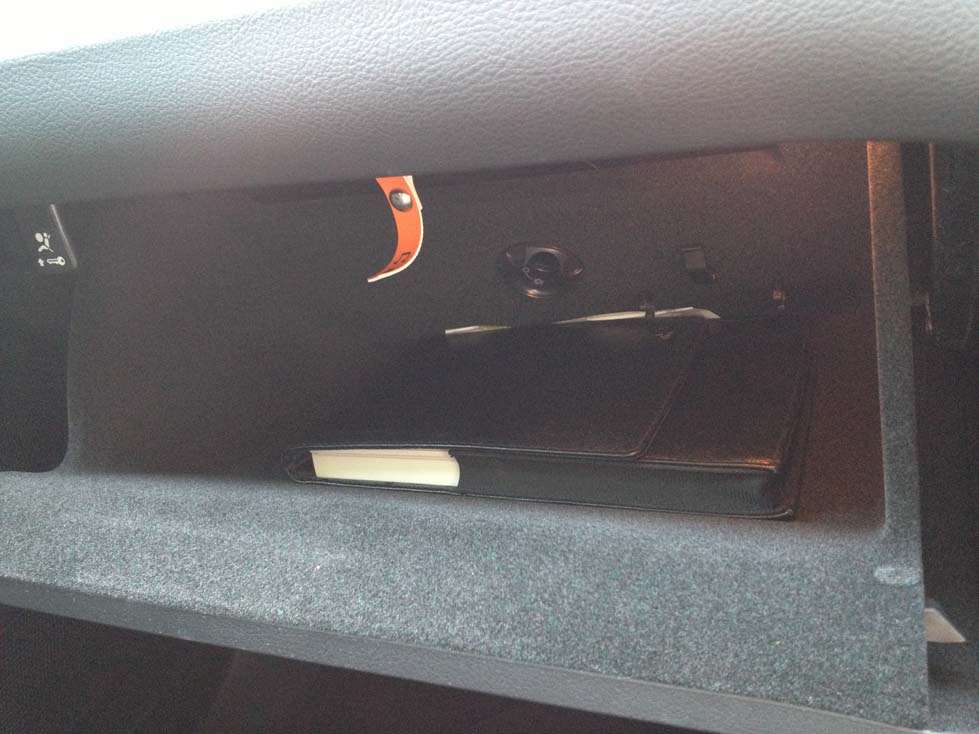 .
The glove compartment is big enough to stuff most small pieces of stuffs and if you need those stuffs to be chilled, there's an air conditioning vent in there that can be opened or closed.
.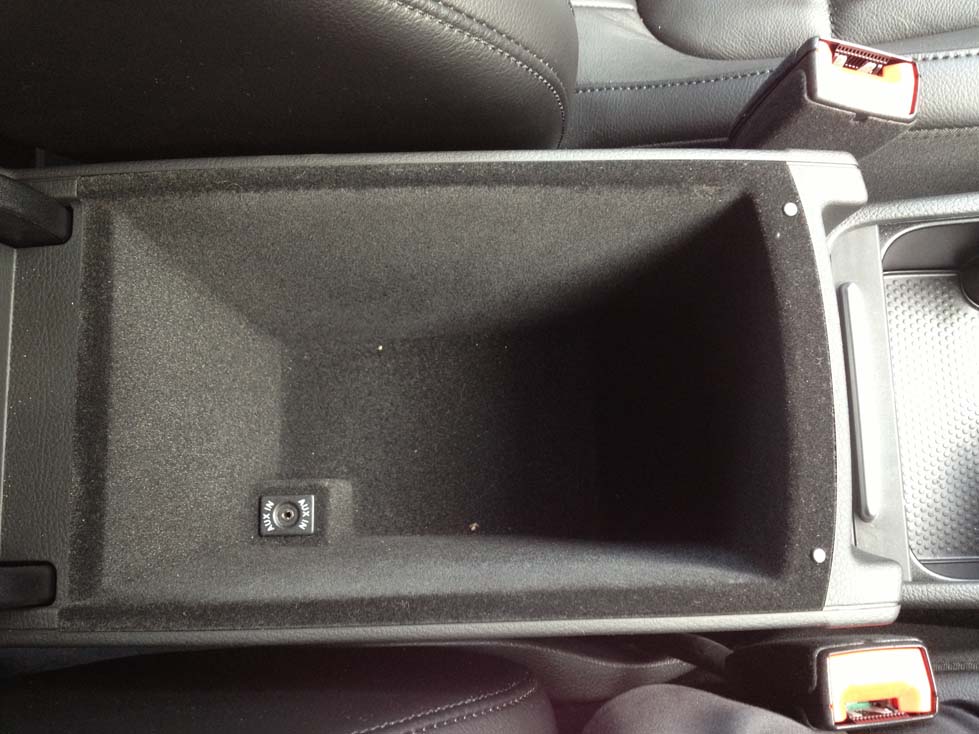 .
Need more space? No worries …. the center arm rest offers a lot more …. I could probably fit 50 iPhones in there.
.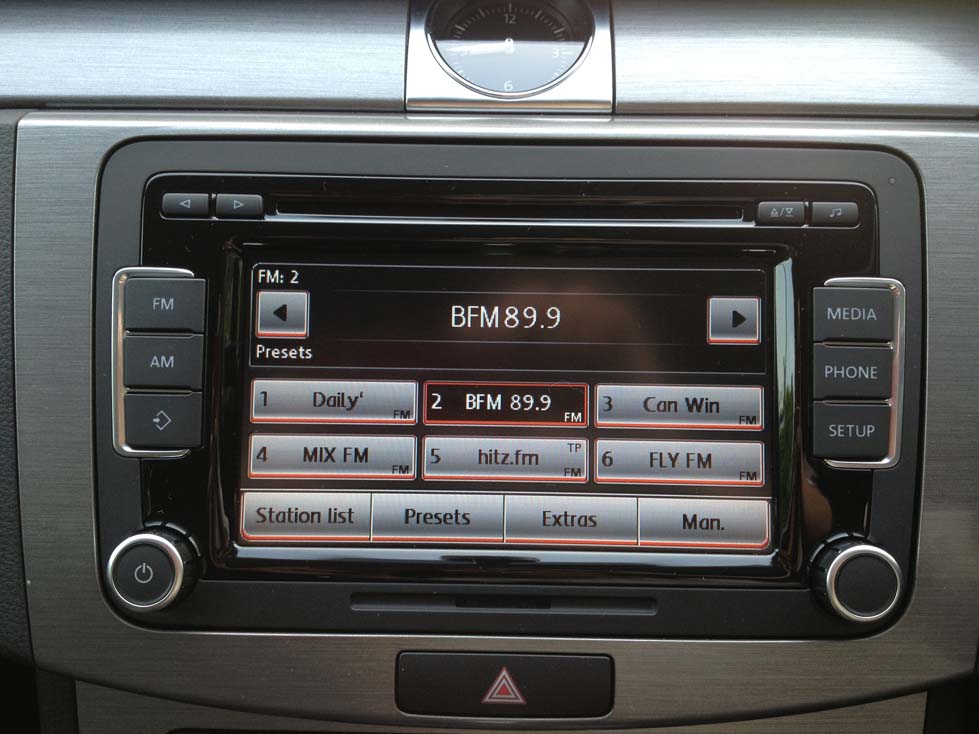 .
For entertainment, the Passat comes with the RCD510 touchscreen radio with MP3 player. This player eats 6 CDs at one go and produces sound via an 8 speaker system.
.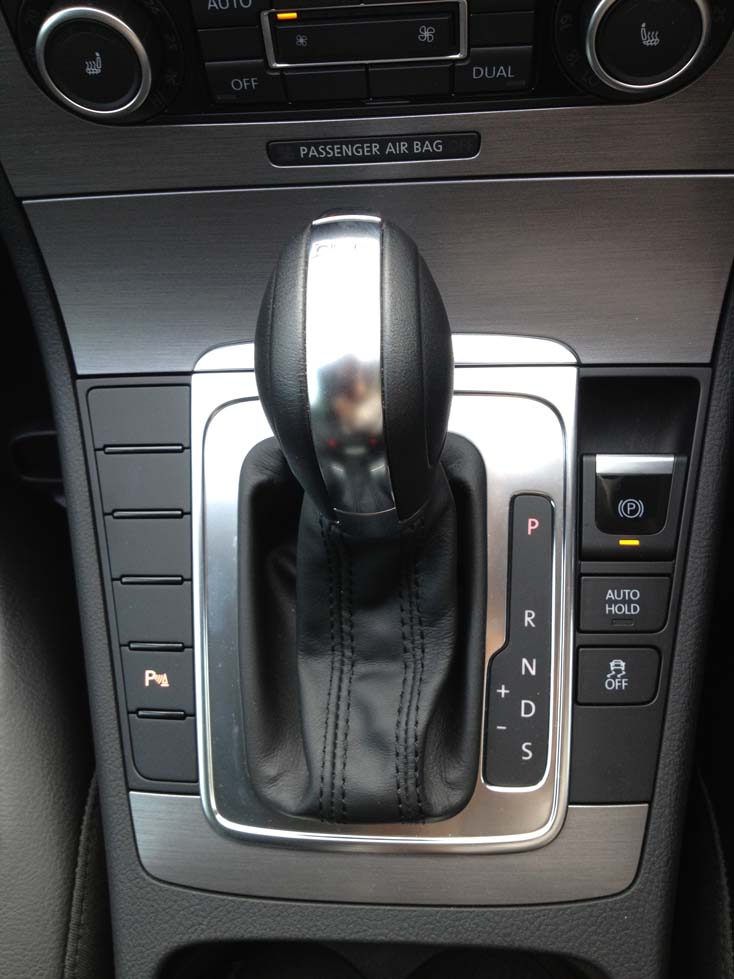 .
The Passat has an auto-hold function which automatically engages and disengages the parking brakes when stationary. It's a little unnerving when I first used it and eventually, I kept it off so that I don't get confused. It wouldn't do to bump the car in front thinking the function was switched on. The hill-hold, which is permanently active helps prevent the car from sliding backwards particularly with the 1/2 second DSG  lag at stop-go situations.
.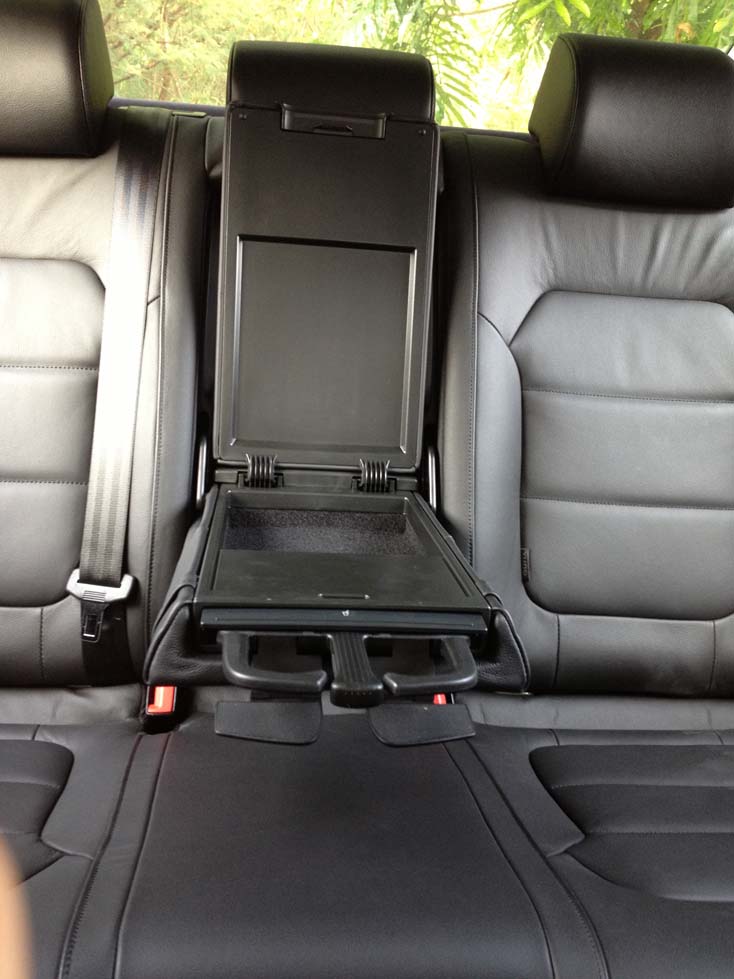 .
Rear seats are plush and comfortable, offering 2 rear cup holders that slides out with much style.
.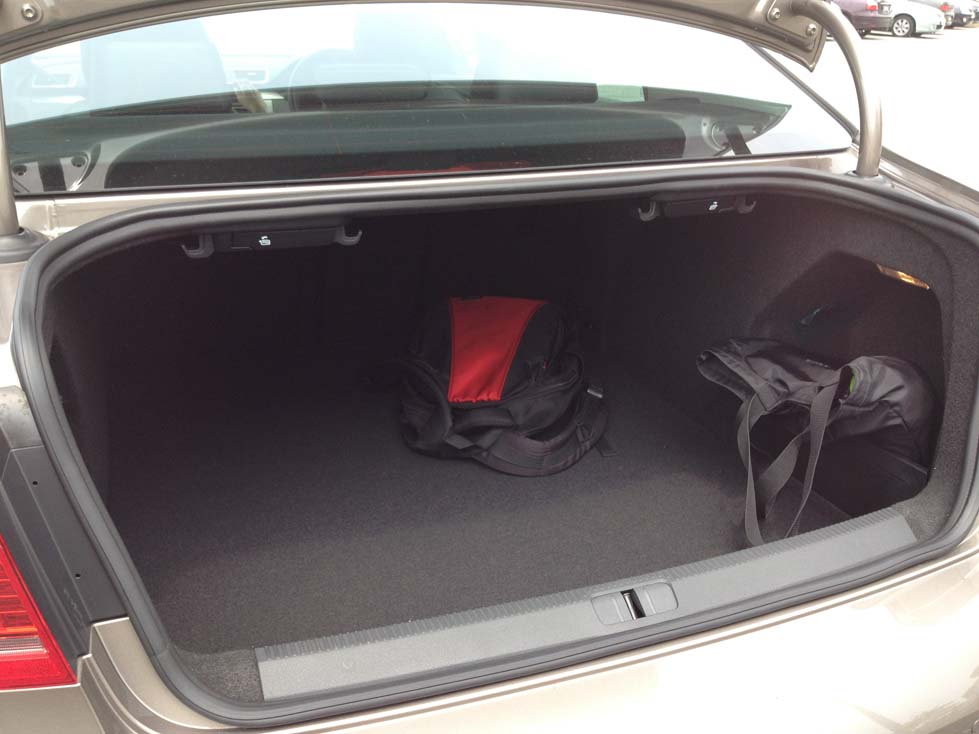 .
The boot is sufficient for a D segment. If you need more room, a quick release lever found on the roof of the boot allows the rear seats to be folded in for longer cargo.
.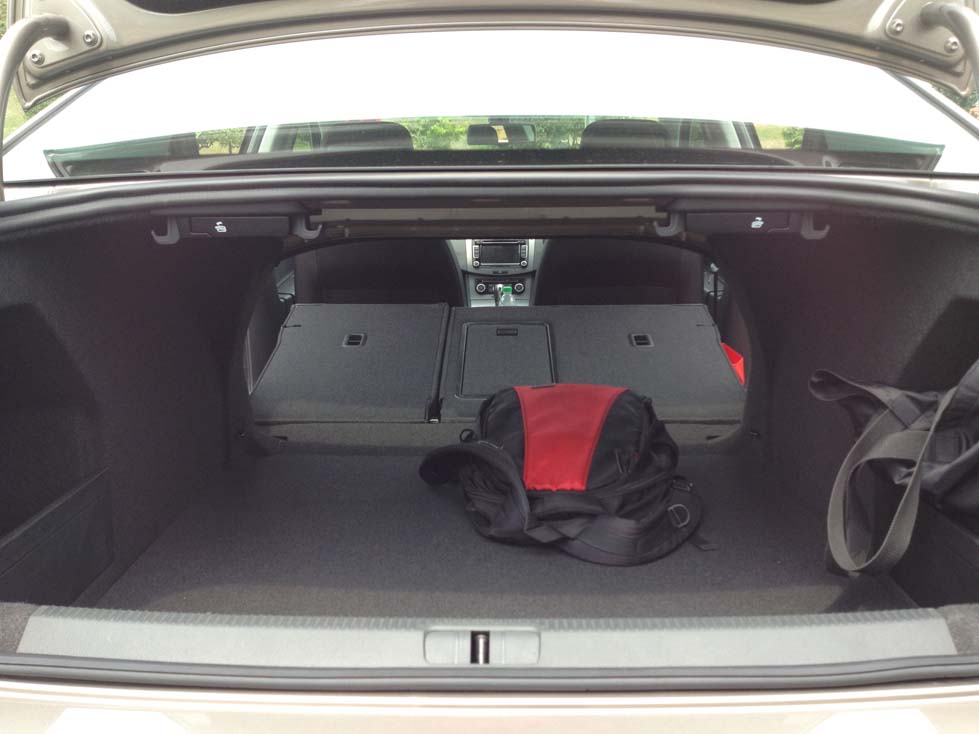 .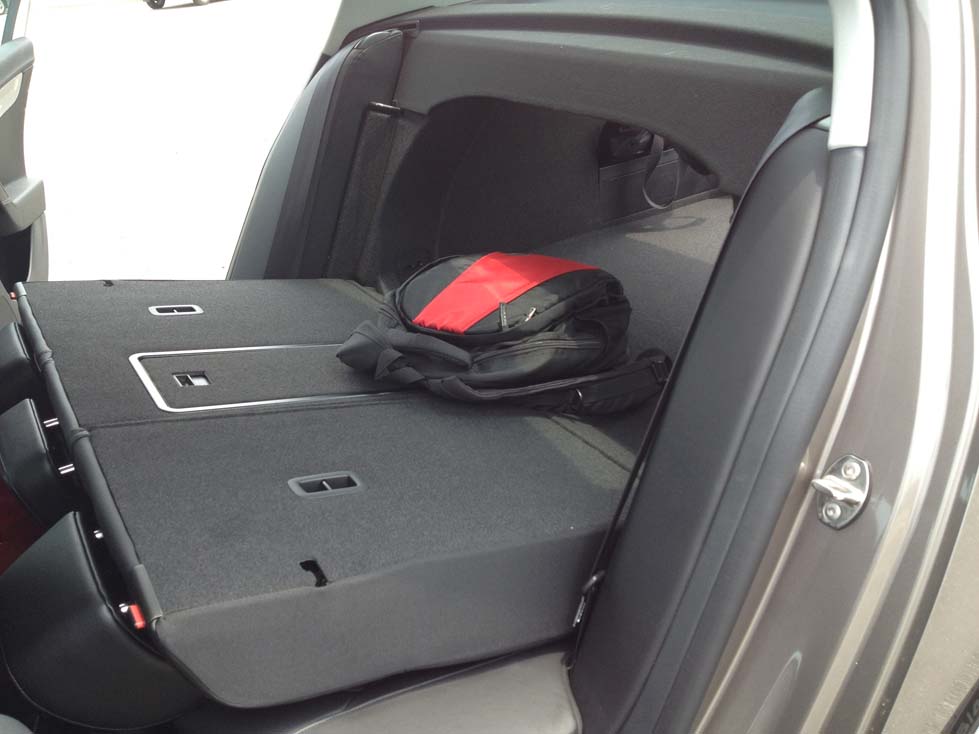 .
Not entirely flat but good enough
.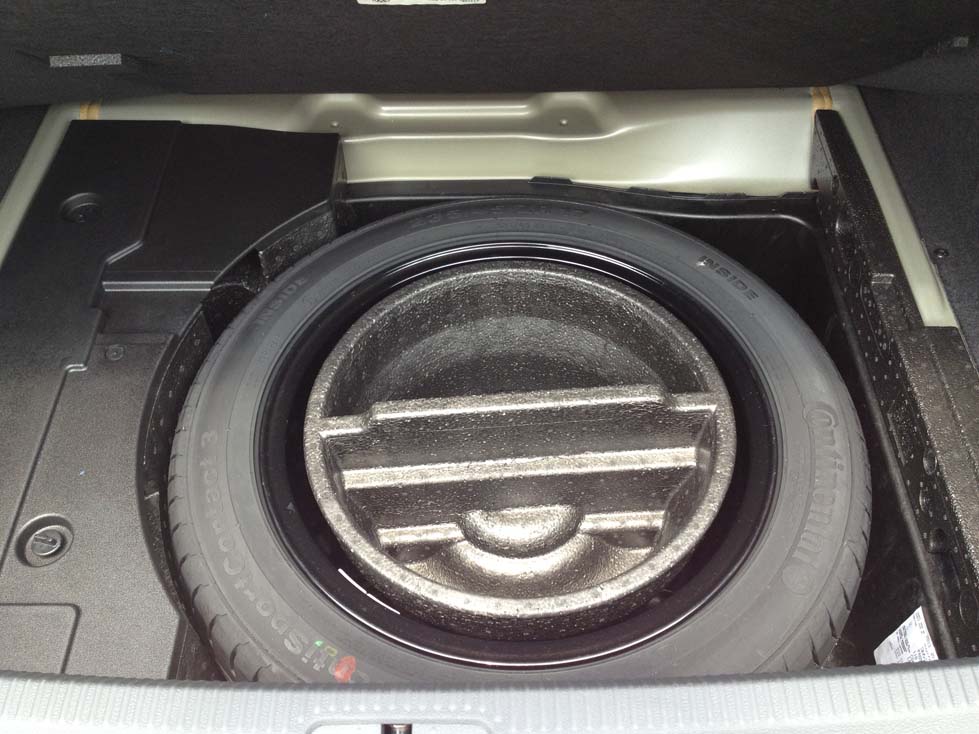 .
Below the boot floor, you'll find a full sized spare tyre.
.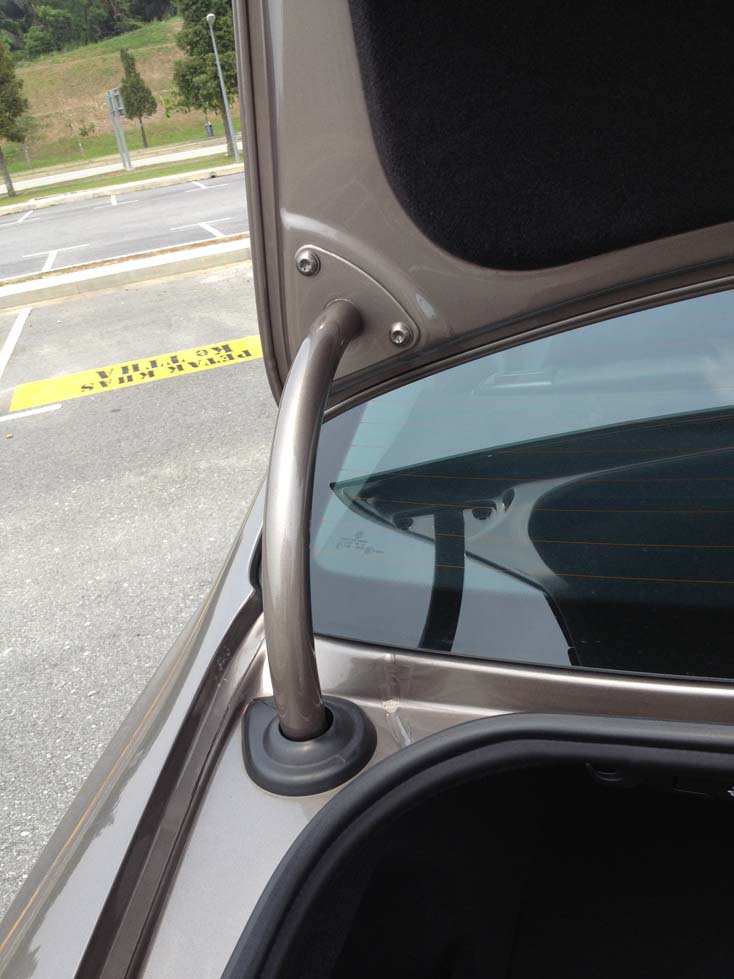 .
I like the boot hinge which flips the boot open when released with the remote.
.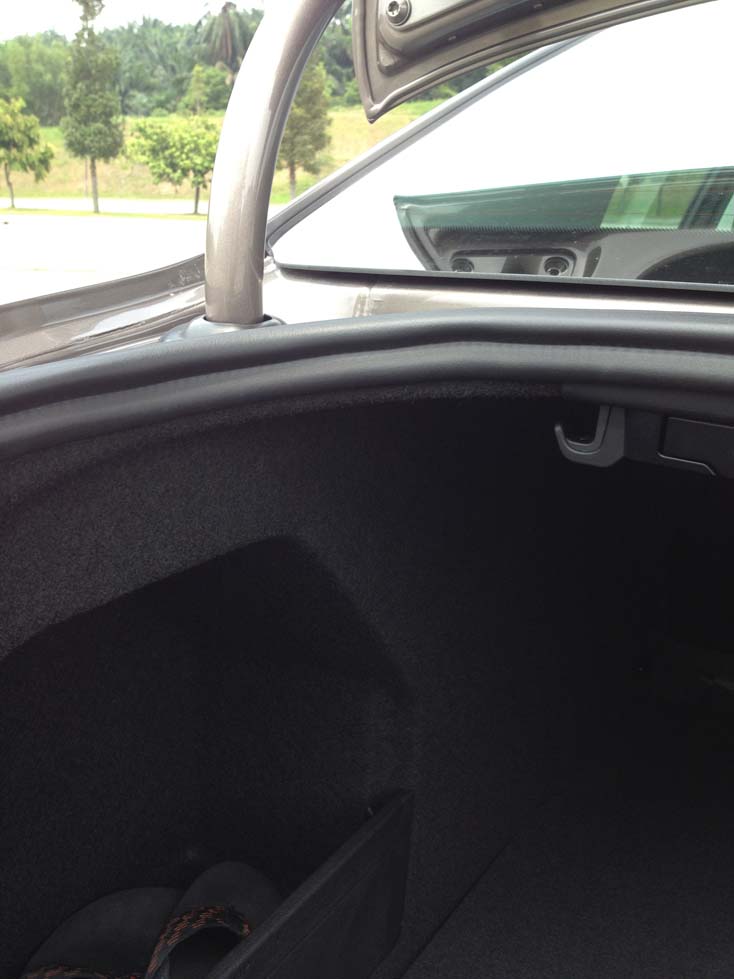 .
While the hinge cover prevents your bags from being squashed when closing the boot, it also makes the boot smaller.
.
.
Safety
.
The Passat does not skimp on active and passive safety features (unlike the non-VSA equipped Camry):
.
3-point front seat belts with height adjustment and seat belt tensioners
Curtain airbag system for front and rear passengers
Driver's and front passenger airbag with front passenger air bag deactivation
Front side air bags (total 6 airbags)
Electronic differential lock EDL
ESP
Electronic vehicle immobilisation device
ABS
EBD
TCS
Engine drag torque control (EDTC)
Euro NCAP 5-star rating for adult occupant protection
ISOFIX anchorage points (mounting fixture for two child seats on rear seat bench)
Rear assist drowsiness detection system (advises when's the best time to have coffee after noticing erratic steering input that matches the driving pattern of a 'stoned' driver)
Trailer roll stability program
.
.
Specifications
.
The Passat is offered in 2 different trim levels now. The standard, which can be had in both CKD and CBU at this point of time comes with the following specifications:
.
Interior
.
3-spoke leather wrapped multi-function steering wheel with control for DSG, MFD and radio
Auto-dimming interior rear view mirror
'Climatic' air conditioning system with 2-zone temperature regulation and indirect ventilation mode
Comfort start function 'Press & Drive'
Cruise control
Electronic parking brake with auto-hold function and hill-hold function
Flat tyre indicator
Front centre arm rest with storage box, 2 rear air vents and 2 rear cup holders
Front seats with height adjustment, with electric backrest adjustment for driver's side
Gearshift knob in leather
Height and reach adjustable steering wheel
'Iridium' printed decorative inserts for centre console
Mobile device interface MEDIA-IN & AUX-IN with USB adapter cable
Multi-function display 'Plus'
Park distance control PDC, acoustic warning signal for obstacle in the front and rear
'RCD 510' touch screen radio with MP3 player including 6-disc CD changer, 8  speakers
Remote unlocking for luggage compartment
Seats in 'Vienna' leather upholstery
Split folding backrest, with centre arm rest
.
Exterior
.
4 'Minneapolis' alloy wheels, 7.5J x 17″ tyres 235/45 R17
Automatic headlight activation, 'Leaving Home' and manual 'Coming Home' function
Bi-xenon headlights for low and high beam with integrated LED daytime running lights
Dynamic headlight range adjustment, with dynamic bending light
Exterior mirrors, electrically adjustable, heated, auto-dimming on driver's side
Headlight washer system
Rain sensor
Tail lamps with LED technology
.
With the addition of the Passat Sport offering, you can get the following additional features:-
In addition to the standard spec unless specified otherwise
.
Electrically adjustable lumbar support, front
12-way electrically adjustable front seats with memory function (driver 's seat only)
Electric tilt/slide glass sunroof
Exterior mirrors, electrically adjustable, foldable, heated with environmental lighting and auto-dimming on driver's side, with memory setting
'Kansas' alloy wheels, 8J x 18″, self-sealing tyres 235/40 R 18
Sports suspension
.
Compared to other D segments, here's how the Passat looks:
.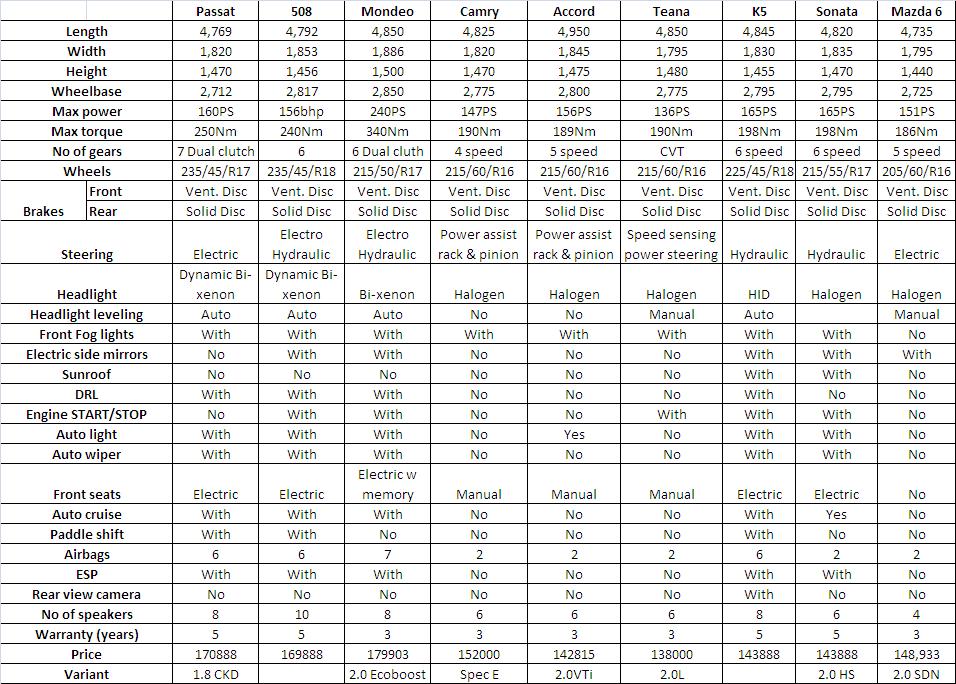 .
Looking at all the Ds above, the Passat won't  wow you in the specifications department but opting for the Sport will give you some equipments on par with other continental makes. Unfortunately, you'd still need to fork out your own money for Bluetooth which has become a norm for most, if not all D segment vehicles.
.e
In terms of purchase affordability, you're looking at the following financial requirements (do note that the price listed here are without insurance & other fees. Also, the interest rate is based on assumption so best check with your respective SAs):
.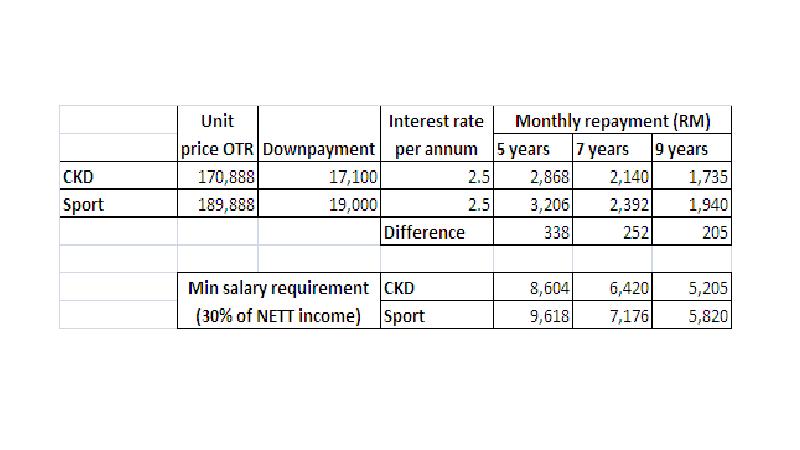 I would imagine quite a number of Passats will be bought under company books even though in terms of tax exemptions, it won't be as ideal as purchasing a sub RM150k car. Still, the Passat ticks on all the right boxes when it comes to being an executive … powerful, comfortable, spacious, luxurious. If you prefer a more contemporary design, get a K5.