We've all been exposed to the hype of electric cars and I do believe quite a number of us are receptive towards using a zero emission vehicle. And the biggest issue with an electric vehicle such as the Mitsubishi Miev and Nissan Leaf is range, both of which claims a maximum distance of 160km per full tank of electric juice … and it's probably likely that most theoretical range (I say that whenever manufacturers use terms like "up to") are rather optimistic and only remotely possible when driven like a wussy. After all, an electric car is not a super car and hence, one should not expect constant exhilaration while saving mother earth.
.
Or should we?
.
The Tesla Model S is probably the only electric car to date that gives you the cake and allowing you to eat it at the same time. Touted as the world's first premium sedan, the Model S has been engineered from ground up as a full electric vehicle that does not compromise on comfort, luxury and performance. It's an electric car that allows you to drive from Kuala Lumpur to Penang without needing to stop for 8 hour recharge after driving for 2 hours and it can even out-sprint a BMW M5 (more on this later).
Design
.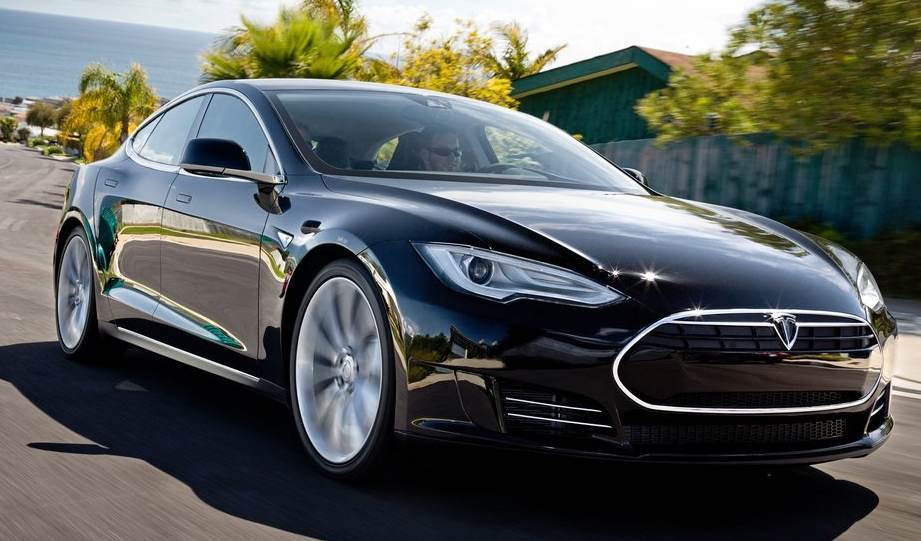 .
Measuring 4,978mm in length, 2,189mm in width and 1,435mm in height with a wheelbase of 2,959mm, the Model S is a full fledged D segment. Just to put things into perspective, it's about as long as a Honda Accord, wider than the Ford Mondeo and a roof line lower than a Mazda 6 while the long wheelbase trumps even the market leader here, the Mondeo by about 100mm. It should feel fairly spacious inside but that would depend on the design of the cabin.
.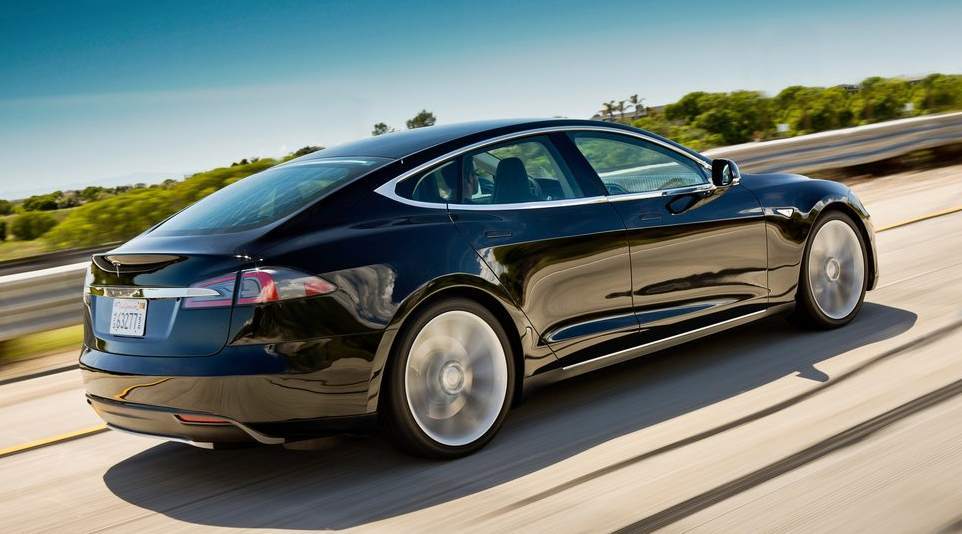 .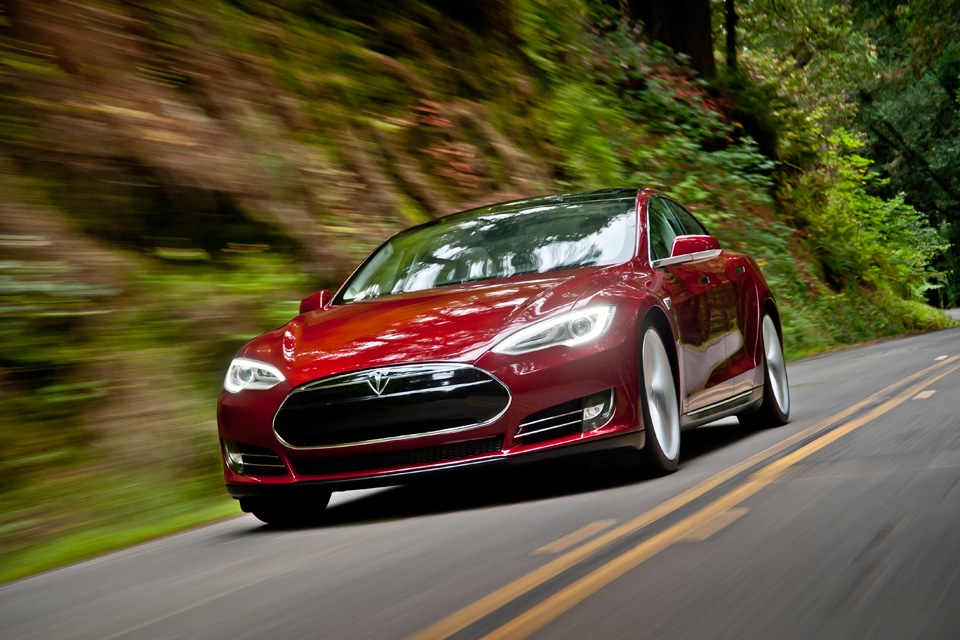 LED DRLs adorn the front headlights. I don't know … each time I see those lights, I get the impression this is how a headlamp would look if the headlamp from a Peugeot 508 made love to a Mazda 6 Takeri and gave birth to this.
.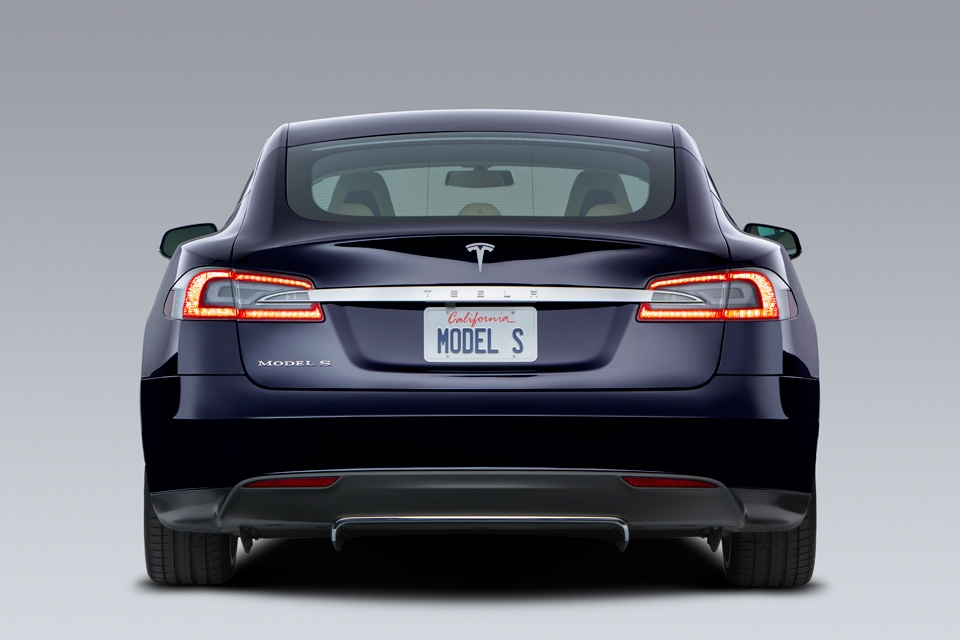 .
… and you'll find LEDs in the tail lights too.
.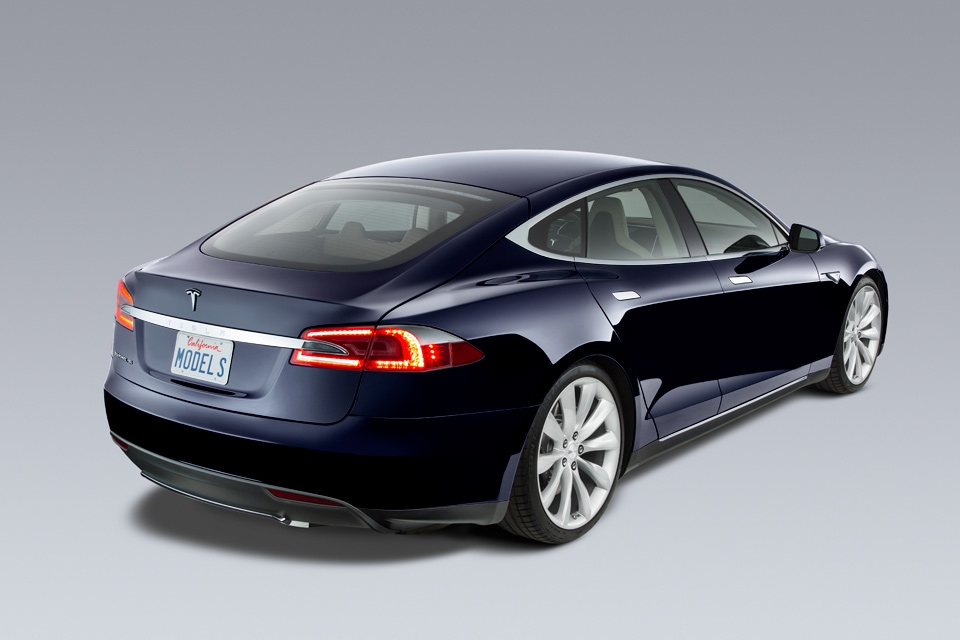 One of the greatest novelty about the exterior design is the fact that the door handles extends out from the car when pressed and retracts when the doors shut. I'd love to see the faces of people trying to get in …. of course, not good to gloat too much since you don't want to irritate some friends who might decide to stick some gum between the handles.
.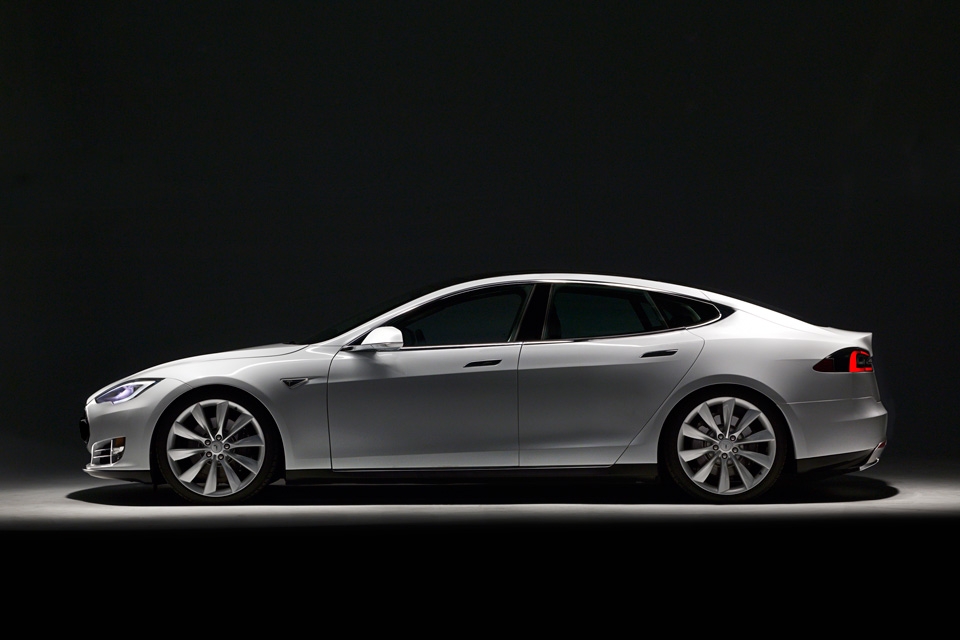 .
Being an electric car, everything is about efficiency and nothing is more true than it's ability to cut through wind resistance. The Model S has a drag coefficient value of 0.24, beating even the Toyota Prius. For comparison sake, a Nissan GT-R has a cd value of 0.26 so the Model S is one slippery b@stard on the road.
.
The Model S is shod with 19″ aluminum alloy wheels with all-season tires with an optional 21″ wheels …. this is probably the only less-efficient feature of the car since 245/45 R17 tires or 245/35R21 has increased rolling resistance. Tesla probably sees this as a necessary compromise for increased stability of the car during high speed cornering and cruising.
.
.
Performance
.
Quite naturally, how far you can go depends on the capacity of the battery and there are 3 choices of battery you can choose to spec the Model S. Assuming that you drive a constant 90kph, the smallest capacity 40kWh gives you a range of about 260km per charge, mid-sized 60kWh battery will roll the car 370km before it dies and the top-of-the-line 85kWh gets you as far as 485km per charge. Since most would likely to drive beyond that speed, I'd probably apply a 20% deficit on the claimed figures if I were to drive at maximum speed limit of our Malaysian freeways.
.
Interesting enough, how fast you can hit 100kph is dependent on the battery you choose. The batteries feeds an AC induction motor with a rated power of 350hp and with the 40kWh batt, you'll hit century mark in about 6.5seconds whereas the 60kWh brings you there in 5.9 seconds and the top of the line Performance S model shoots there in 4.4 seconds. Here's how it cans the BMW M5 in the sprint:
.
.
Though it was pretty obvious the Tesla Model S couldn't maintain that lead for longer periods of time. Still, for an electric car and considering the competition, to be ahead as long as it did was impressive enough for me. Just don't expect it to go as far as it claims if you go this fast.
.
.
Ride and Handling
The Model S has a rear wheel drive configuration and the higher spec-ed models gets Active Air Suspension which automatically and continuously adapts the suspension settings depending on speed and road conditions. You may, of course override the automatic nature of the suspension system by using the touchscreen found inside the cabin. Double wishbones can be found for the front while independent multi-link coil spring suspension is featured in the rear.
.
The body's aluminum lightweight construction further increases its efficiency on the road …. just be sure not to get into an accident with it. Aluminum is a real pain when it needs to be repaired and in almost all cases, panels damaged needs to be completely changed. Hmmm, sounds kinda contradictory when an electric car is supposed to be saving the planet but promotes wastage in materials as it cannot be recovered once damaged.
.
.
Cabin Convenience
.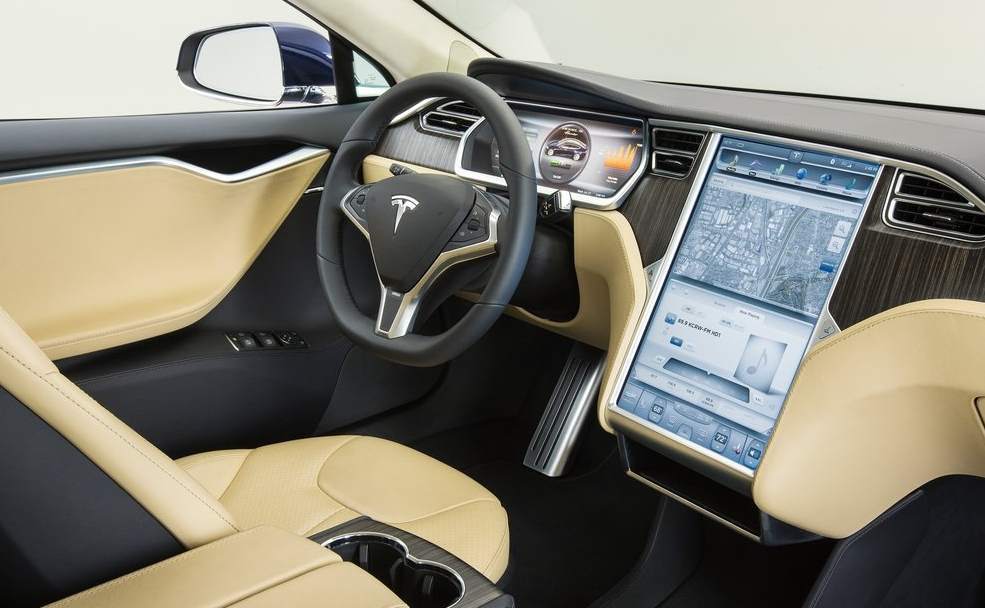 .
I'd like to hear people call this boring since the number of physical buttons you can find in a mobile phone probably outnumbers what you can find in the Model S's cabin. Simplistic does not necessary mean dull and Tesla has clearly demonstrated that in the Model S.
.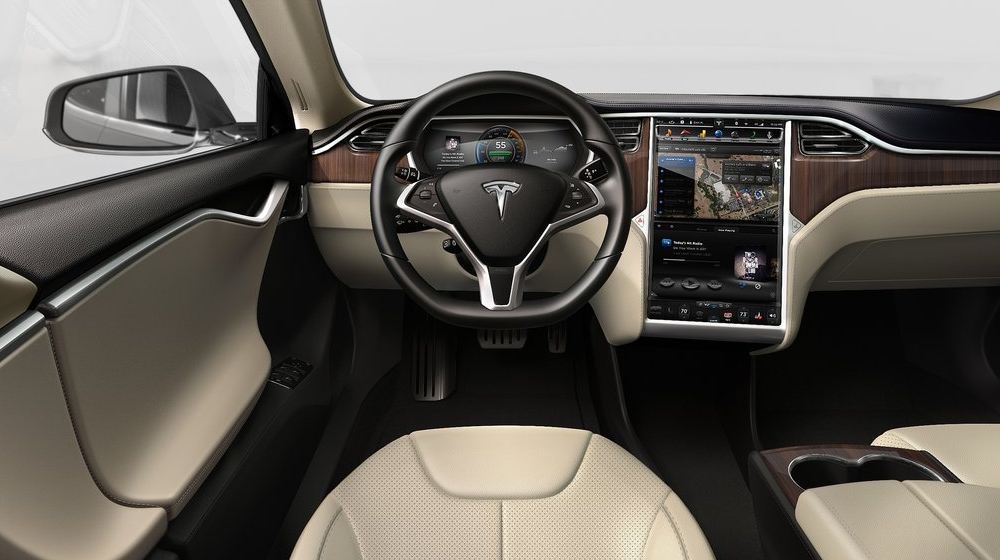 .
The only buttons you'd find are the power windows controls and those on the 3-spoke steering. Most other functions are found in the 17″ touch screen that manages navigation, media, communication, cabin, and other vehicle controls. Bluetooth is standard and I guess it's just a matter of time before someone decides to plonk an on-board camera for video calls.
.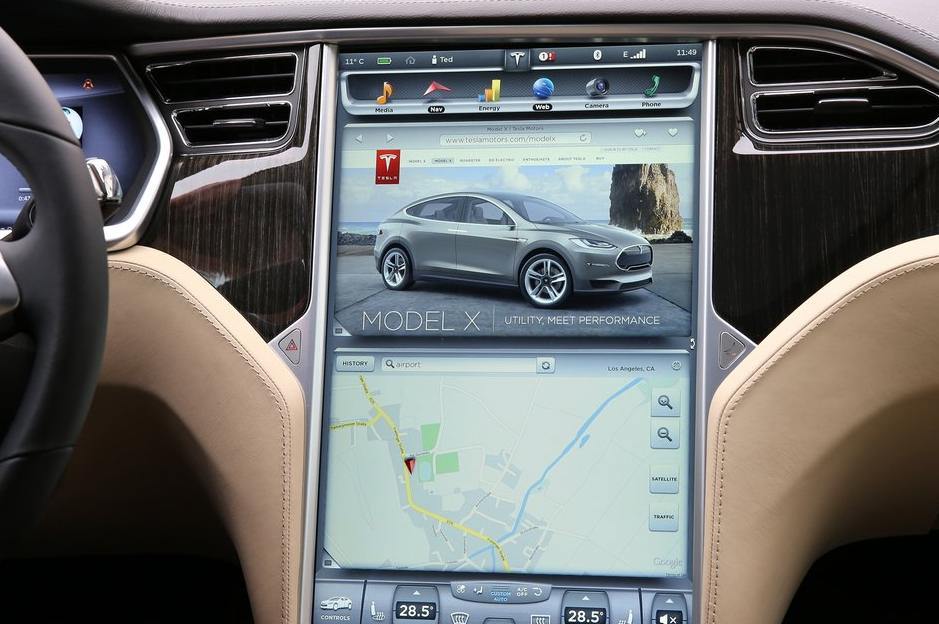 .
Panoramic sunroof is optional but other conveniences such as rain sensors, keyless entry and Start/Stop, cruise control,  Power windows featuring one-touch up and down  with anti-pinch and dual zone air conditioning come in standard.
.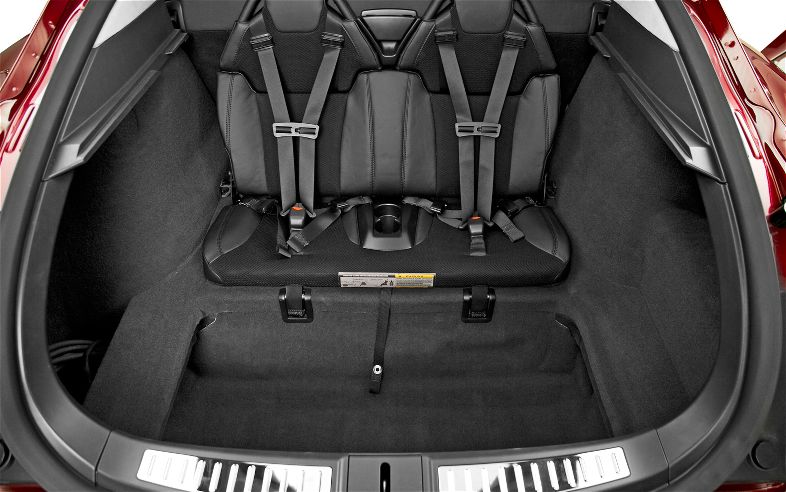 .
Also of a novelty is the twin rear-facing jump seats for children.
.
With Proton set to be producing electric cars in the near future, one can only dream they can make it to feature even 30% of the car. As of now, only in the US can you buy this car and the base price starts at USD49,900 …. that's equivalent to RM154,690 here at today's exchange rate.
.
One can also hope that car prices would continue to drop …. after all, an electric car is about saving resources …. and that includes the wallet.
.
.