What was your first car? The first car I owned under my name is a Suzuki Swift but the first car that was given to me under my car for a long period of time was a Perodua Kancil company car. First loves are hard to forget: until today I still remember the moments when I took the little red out terrorizing the neighborhood more than a decade ago.
.
And, if you're like most Malaysians where there's a huge disparity between earning capacity and car prices, you'd probably start with a small B segment vehicle, mainly due to affordability and, IMHO having a small first car provides much needed road experience before moving to larger makes. Whether you'd just starting college or a new job, a car is probably as much a priority as wearing underwear when going out.
.
So if you're out looking for a car that does not make you eat bread everyday for breakfast, lunch and dinner, a B segment sedan makes an excellent choice of balancing practicality and your paycheck. As always, you've got the usual suspects from Toyota and Honda and without a doubt, Vios reigns supreme in this segment, spawning as much variants as Chatime on pearl milk tea. Next off, Honda offers its competition with the City while others like Nissan Almera, the Mazda 2, Ford Fiesta sedan and Peugeot 207 promises the battle for the segment leader to be a colorful one. And among all these fishes in the B pond, the most expensive (yet the cheapest in its model line-up) is the Volkswagen Polo Sedan. Does the Polo sedan have what it takes to sell without relying on its badge? Lets find out.
.
.
Design
.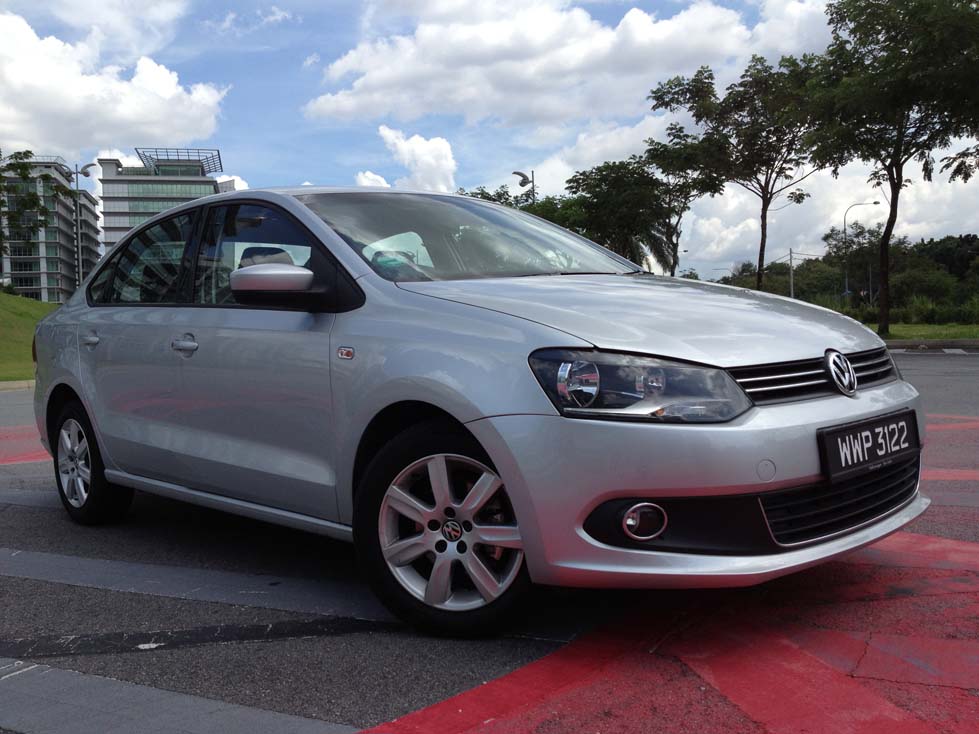 .
In keeping true to the family looks, the Polo sedan sports the same understated look that's pretty much anything VW nowadays.
.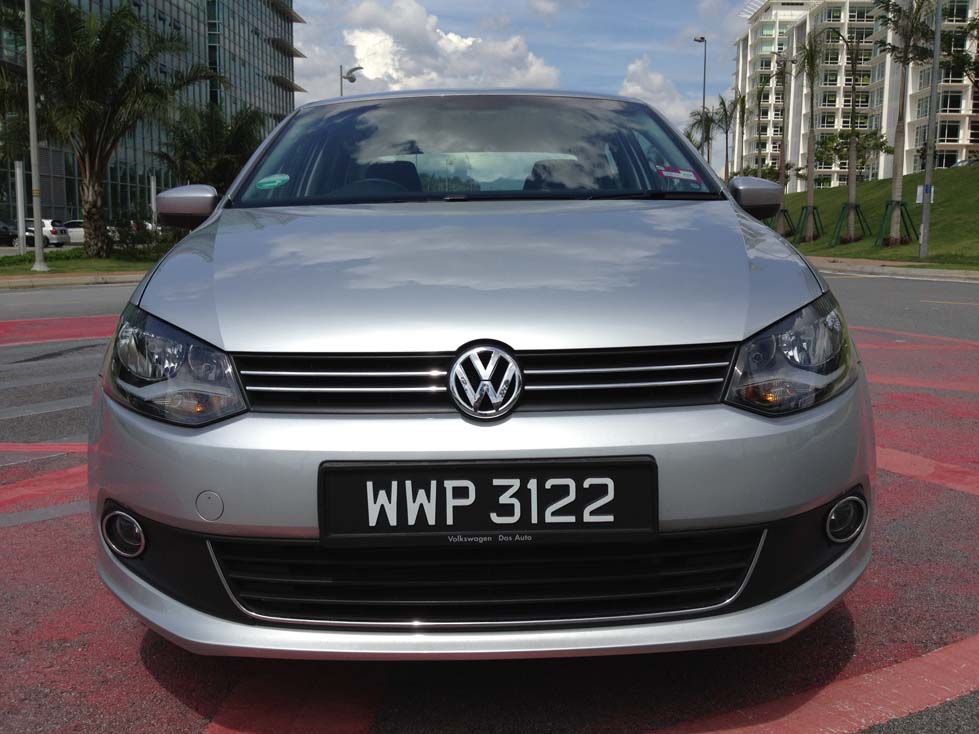 .
The same horizontal chrome grilles as found in the other models are prominent here as well. Foglights comes as standard.
.
.
Unfortunately, similar to the Polo Sport, there's no DRLs for the Polo Sedan. Reflector halogen headlights is not ideal to retrofit HIDs as this would cause too much glare to oncoming traffic.
.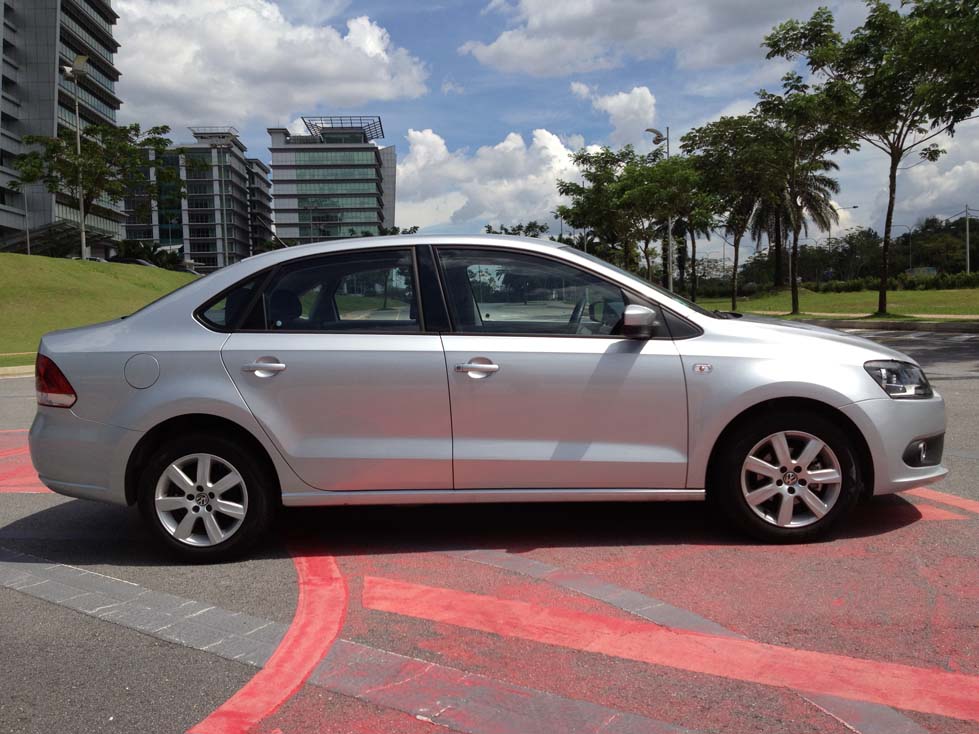 .
With a 4,384mm length, 1,699mm width and 1,466mm height, the Polo Sedan is about the same length and height as a Honda City and almost the same width as a Toyota Vios. Prior to the Nissan Almera, the Polo Sedan had the longest wheelbase of the segment at 2,552mm.
.
Unlike some vehicles that's based on the hatchback, the Polo Sedan has a much thinner C pillar and a slightly lower vehicle height compared to the Polo Sport (1,488mm). The translation from hatchback to sedan is so perfect, one would be wondering which incarnation did the Polo started of first? Hatch or Sedan.
.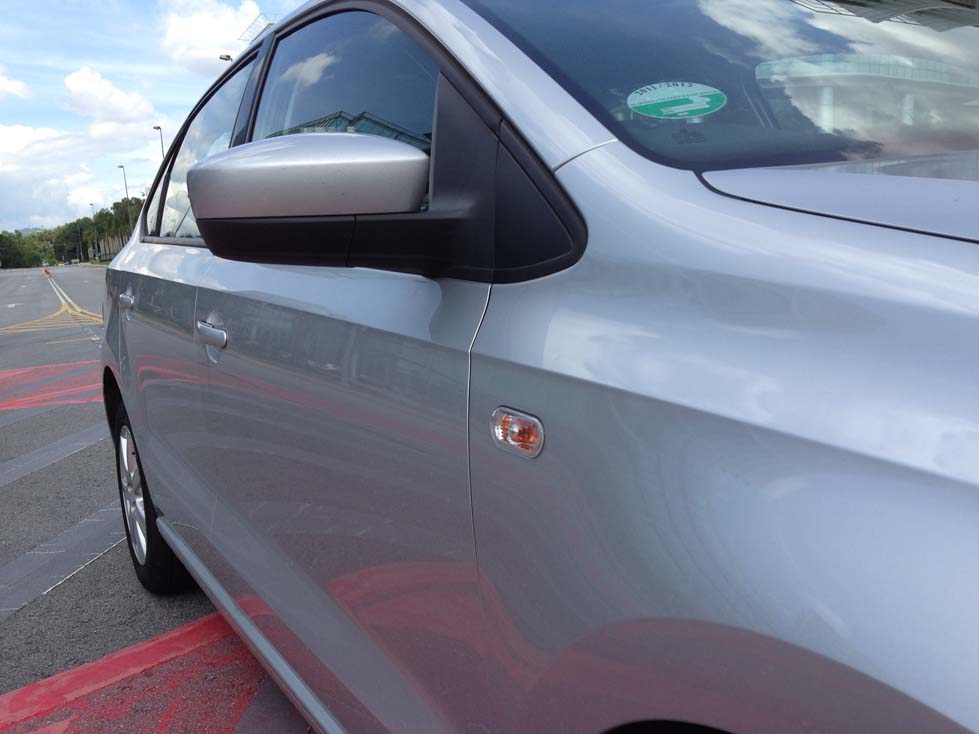 .
Clean lines adorn the sides, starting from the front fender stretching all the way to the rear makes the doors look shorter and sleeker. As expected from an entry level model, don't expect to find puddle lights here.
.
.
Performance
.
.
Other than a Passat CC R-line and Toureg V6 (both of which shares the same engine), the Polo Sedan is the only other model sold in Malaysia that does not come with forced induction. A 1.6litre 4 cylinder engine powers the sedan, serving 105PS @ 5,250rpm and 153Nm worth of torque @ 3,800rpm.
.
Paired to a conventional automatic 6-speed tiptronic gearbox, it's …. not very fast. As a matter of fact, zero to hundred takes 12.3 seconds and that's assuming you hit the perfect shift spot like playing Drag Racing or CSR Racing on your iPhone/Android device. Having said that, it's not particularly slow either and the gear changes as well as its associated thrust when revving is more rewarding compared to a CVT-type transmission. You won't get a turbo powered shove but you won't be struggling to play catch-up at the traffic lights either. This is a city car and city cars are meant to be sensible.
.
.
Ride and Handling
.
Now this is where being a continental, the Polo Sedan shows its mojo. The Polo Sedan is very easy to drive yet at the same time is poised and composed in almost any speed you throw at it. Don't believe me? Check this out:
.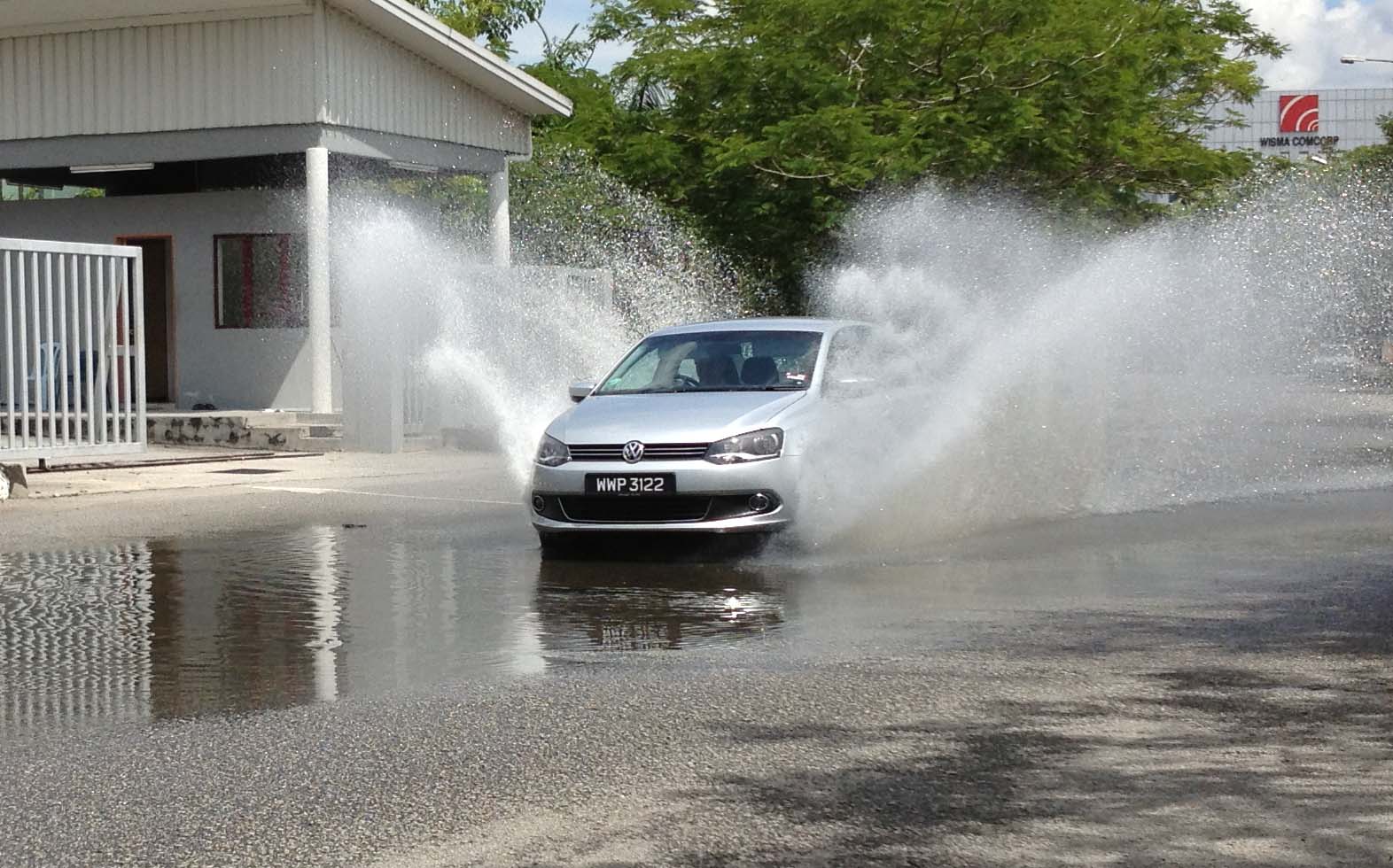 .
Find a large puddle of water and go full throttle at it. You'd discover that the Polo Sedan (and any Volkswagen Group vehicles) has an uncanny ability to steer itself straight. Do this with an Asian-made equivalent and you may end up looking really cool doing a 360 spin then really dumb getting stuck at a ditch. With all the Flying Vios-es we see  decorating highway barriers every once in a while, having a stable car is much appreciated considering we face torrential rain as exciting as Hurricane Sandy almost everyday in October/November.
.
Not only does it go straight well, the Polo Sedan is also easy to recover from an oversteer. While ….. ermm, "exploring" the limits of the car, I found that the car loves going sideways and the car is very easy to balance at a corner, despite the somewhat soft suspension and unavoidable body roll. I attribute partly to the strong chassis which does not flex as much as Asian vehicles and this, in turns makes each driver confident in pushing the Polo Sedan a little faster at the corner …. that is, if you're finally ok with the rather "meh" engine output.
.
Steering response is excellent … you'd know when the traction limit is reached before that happens so unless you're drunk, you'd know when to lift off the gas. The Polo Sedan has one of the best NVH cabin for a B segment and if you're ferrying kids around, they would be comfortably resting behind while you cruise at high speeds home.
.
.
Cabin Convenience
.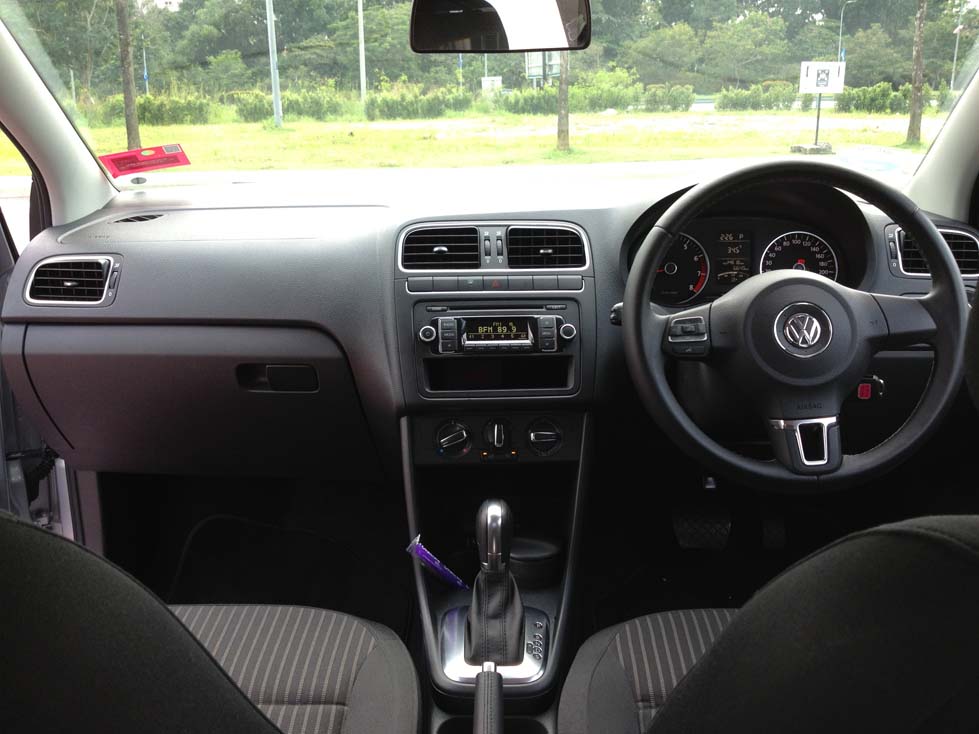 .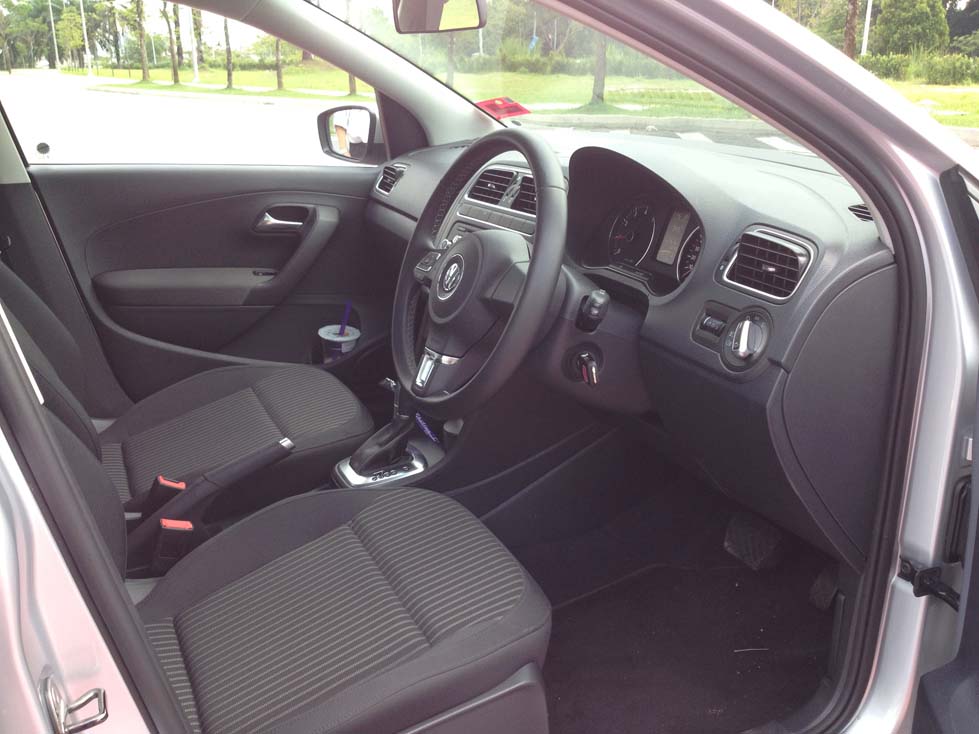 .
For an entry-level car, don't expect to get First Class amnesties with Economy Class prices. Despite that, fit and finish is good although you've got hard plastics staring at you almost everywhere you look. Also at this price scale, it's fabric seats all round.
.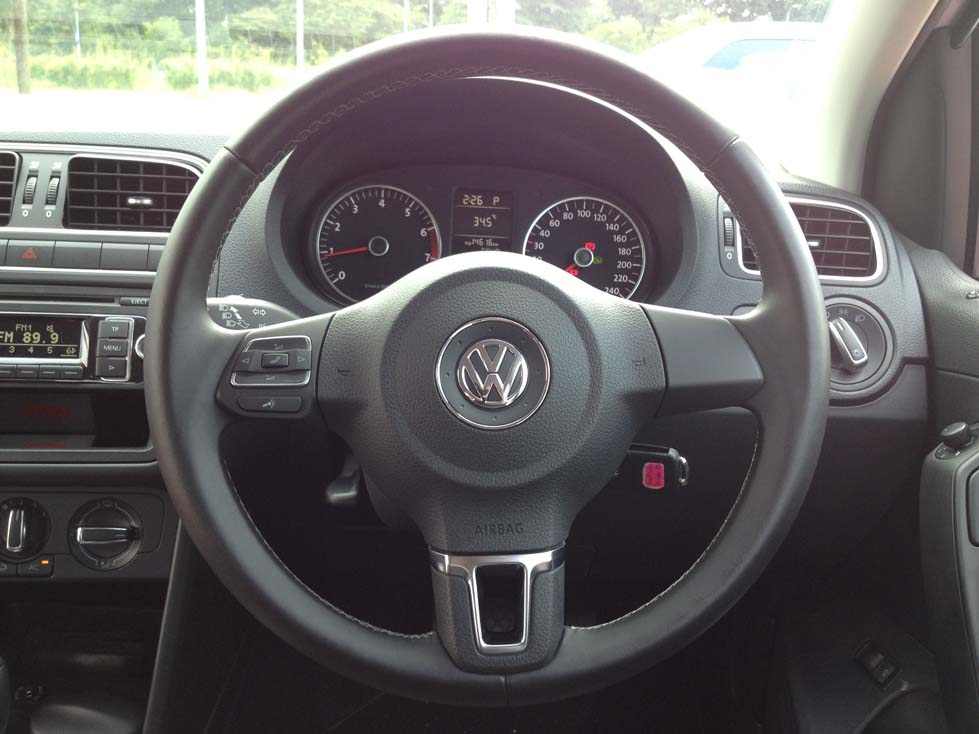 .
The usual 3-spoke steering, nicely wrapped in leather of course since nowadays no one like to grip plastics complete with audio controls on the left. Ignore the telephone icon as the car does not come with Bluetooth and since it is a considerable sum to retro-fit an original VW BT module, an earpiece would do just as nicely when using the phone while driving.
.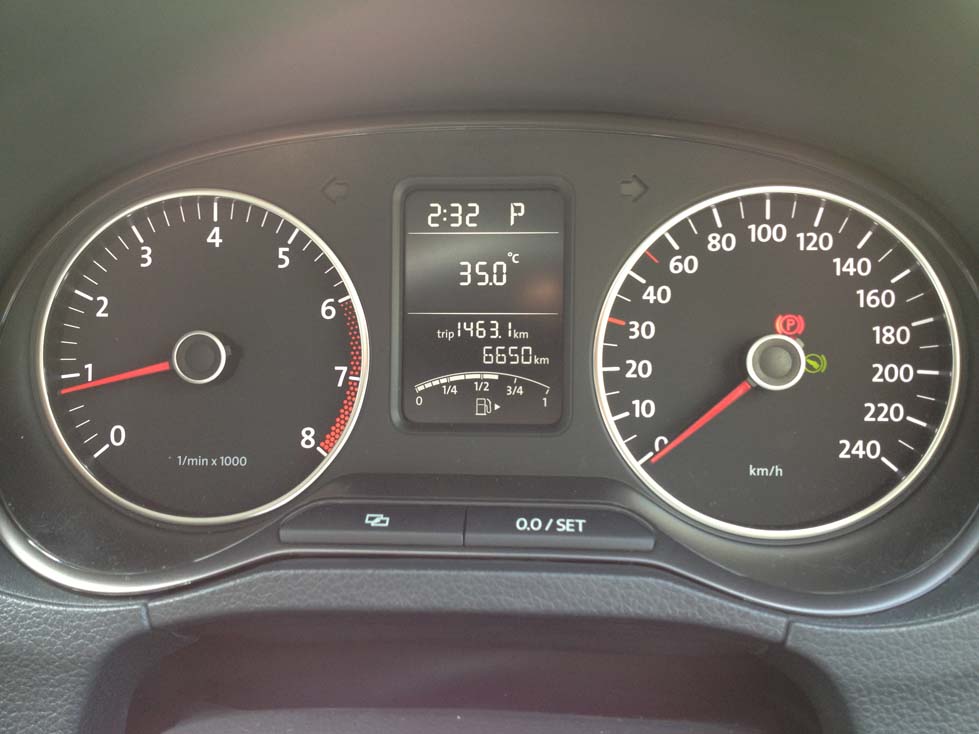 .
The meters reminds me of the Jettas …. plain, clean, simple with most critical data on display …. except for engine temperature. Apparently, VW doesn't want to overburden you with engine overheating anxiety so the only warning you'll ever get of your engine blowing a top is a warning light. Yet to hear of a case where this happens, though.
.
Also, there's no Multi Info Display for you so don't bother looking for it. Hey, they don't call this entry level for nothing. Besides, a create number of other B segment contenders don't feature MIDs.
.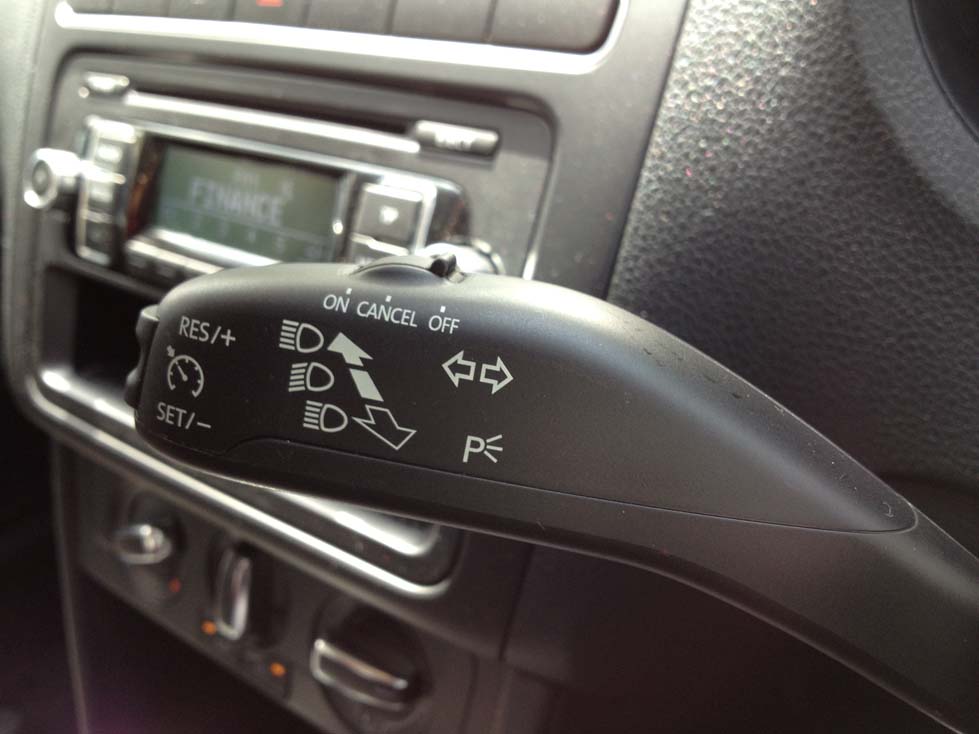 .
Left stalk: signal and cruise control. Once you've set the cruise control speed, the only indication its on is an icon on the meter. No digital display of the set speed.
.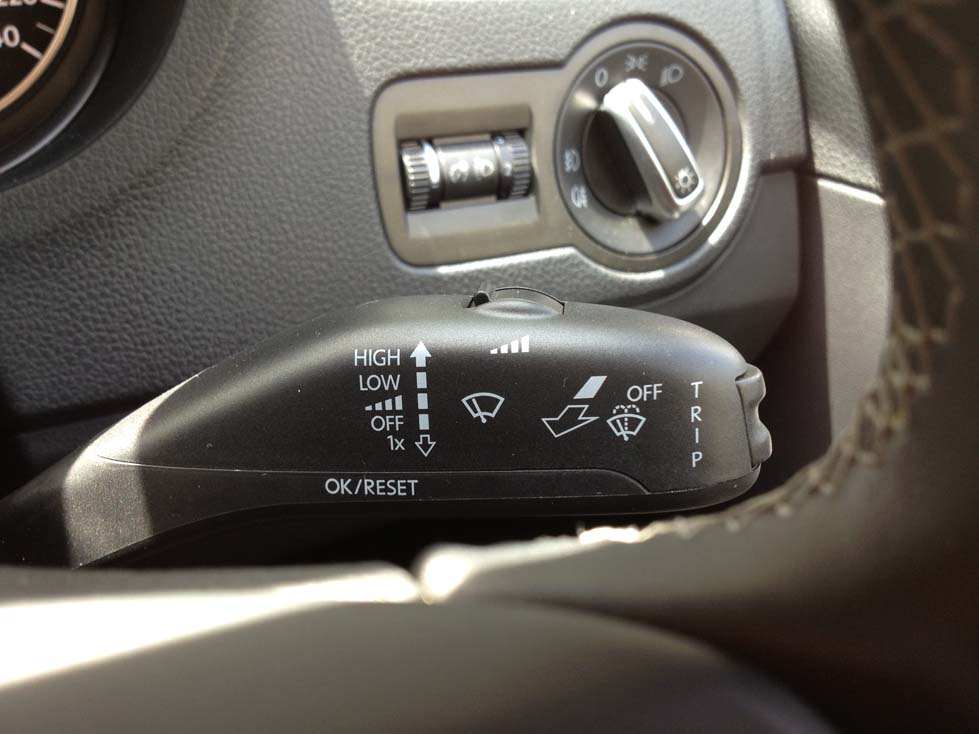 .
Right stalk: Wiper and trip meter controls. You do get intermittent speed wipers though.
.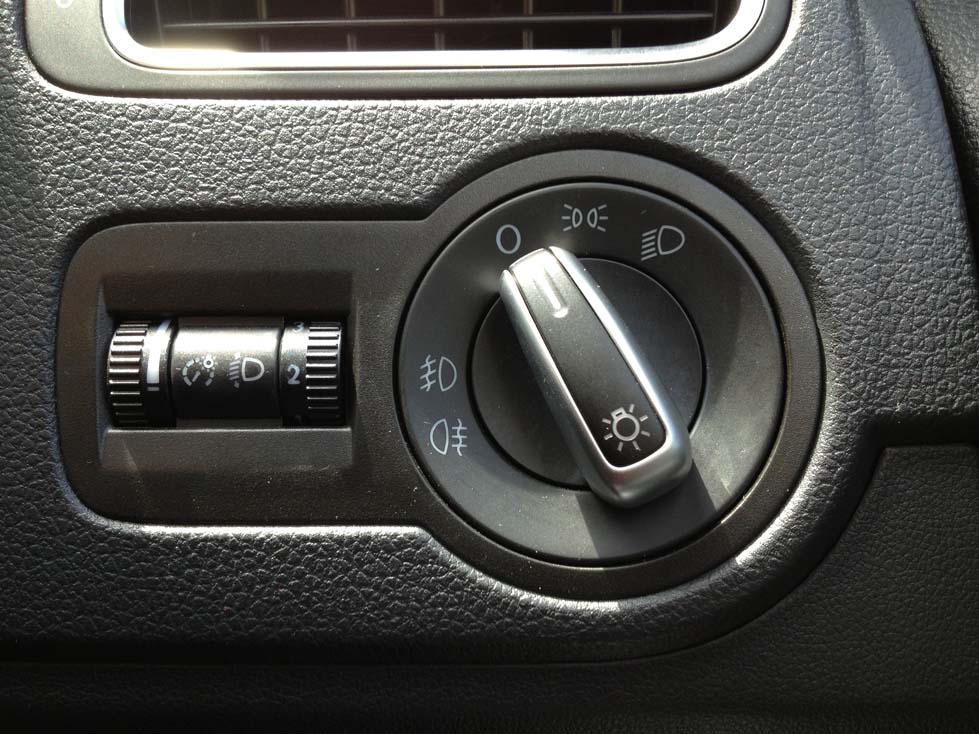 .
As it is with all Volkswagen Audi Group (VAG) vehicles, headlight and fog light controls are all on the driver's left below the left air conditioning vents. No auto light function but it does come with rear for lights and manual front headlight leveling. To turn on the fog lights, twist clockwise to turn on the main headlights and pull the knob up one step for front fog lights and two steps for rear fog lights.
.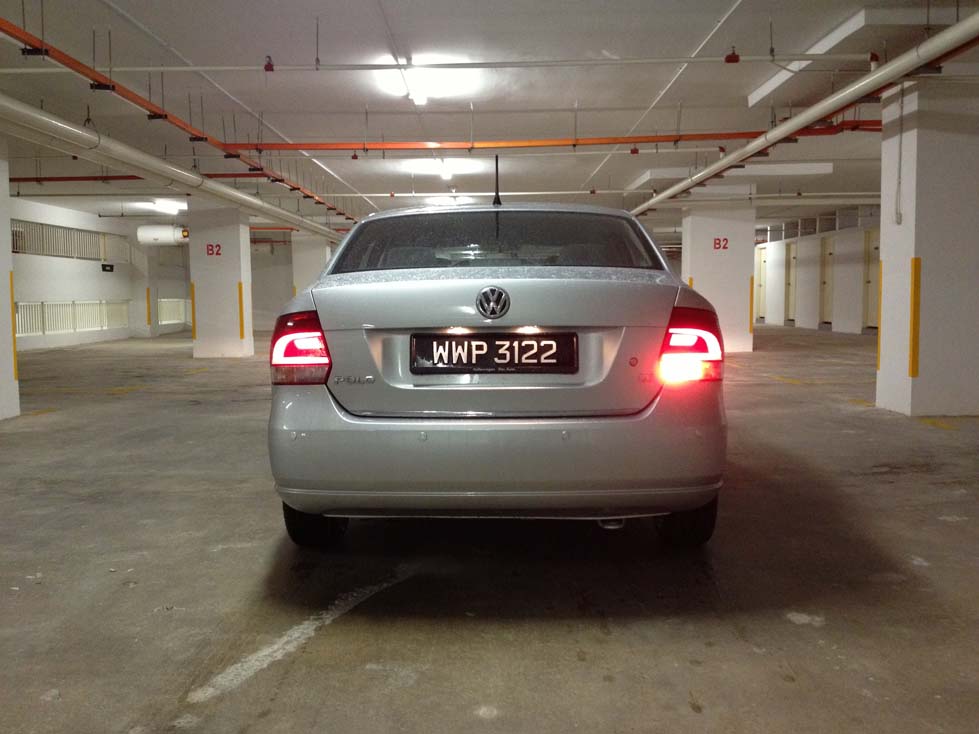 .
Speaking of rear fog light, it's bright enough for even the blind to see you in a heavy rain so don't go switch on the hazard lights the moment when you feel visibility is low on the highway. Also, those unaccustomed to some continental cars would exclaim in alarm that your newly bought Polo Sedan has a reverse light bulb malfunction since only left side lights up. Hello … the other side is not a reverse indicator.
.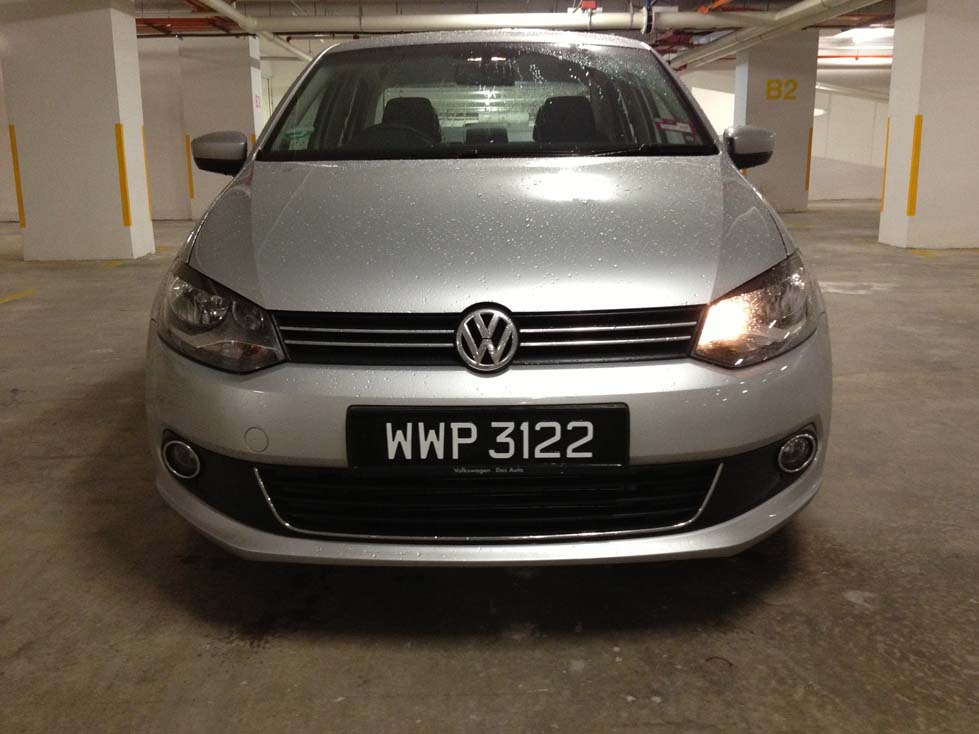 .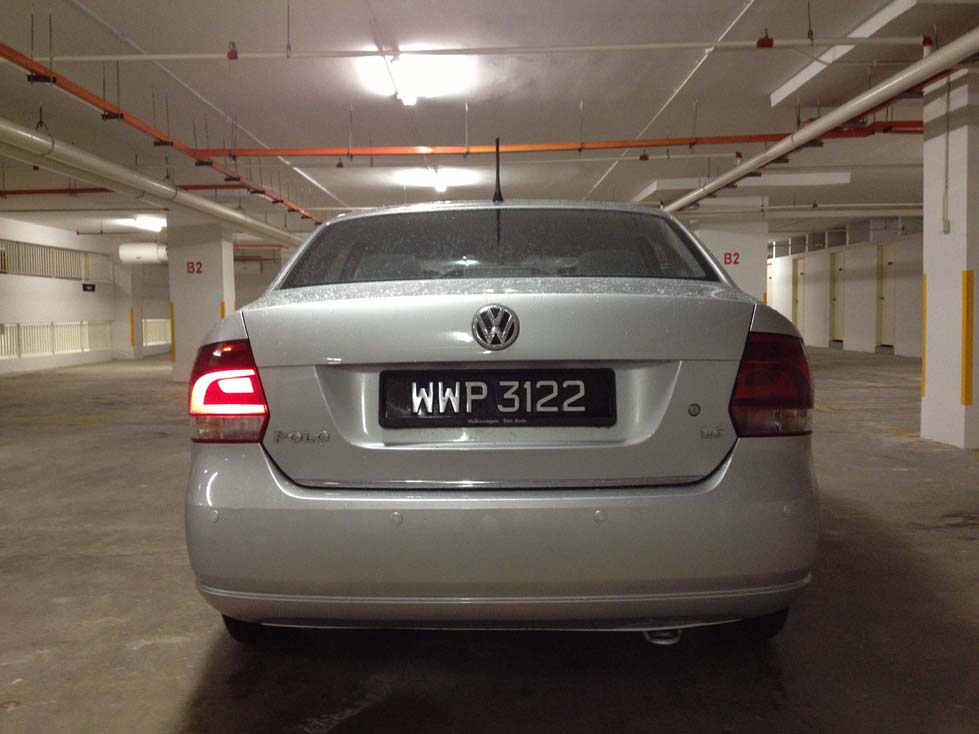 .
And since we're on the issue of the exterior lighting, the Polo Sedan is the only car in its segment that offers parking lights (that means only one side; either side of rear and front small auxiliary light is switched on) so you need not worry too much if you're parking at a dark corner and no one could see you.
.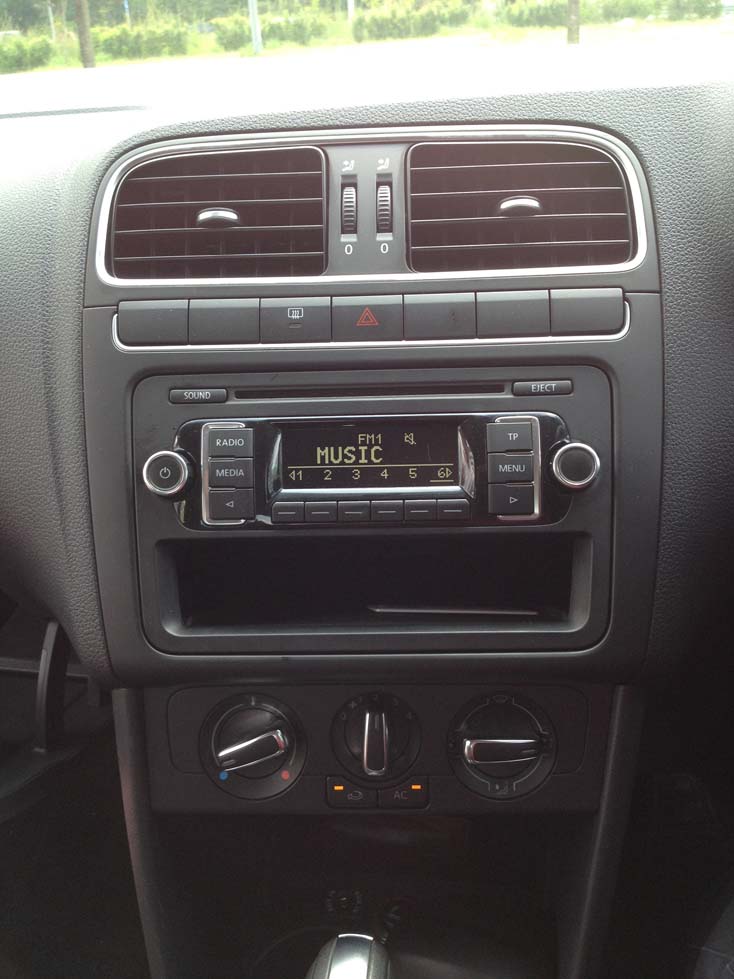 .
In the entertainment section, the car comes with a bare-basic headunit which has as much features as my 20 year-old Sony Walkman player. Sound is played through a 4 speaker system (2 in front and 2 rear) and with the speakers mounted low on the doors coupled with the absence of tweeters, the audio experience is quite a let down considering this is a car costing 6 figures once you factor in the insurance and road tax. Best to do some upgrades in this department for a more enjoyable time when stuck at traffic.
.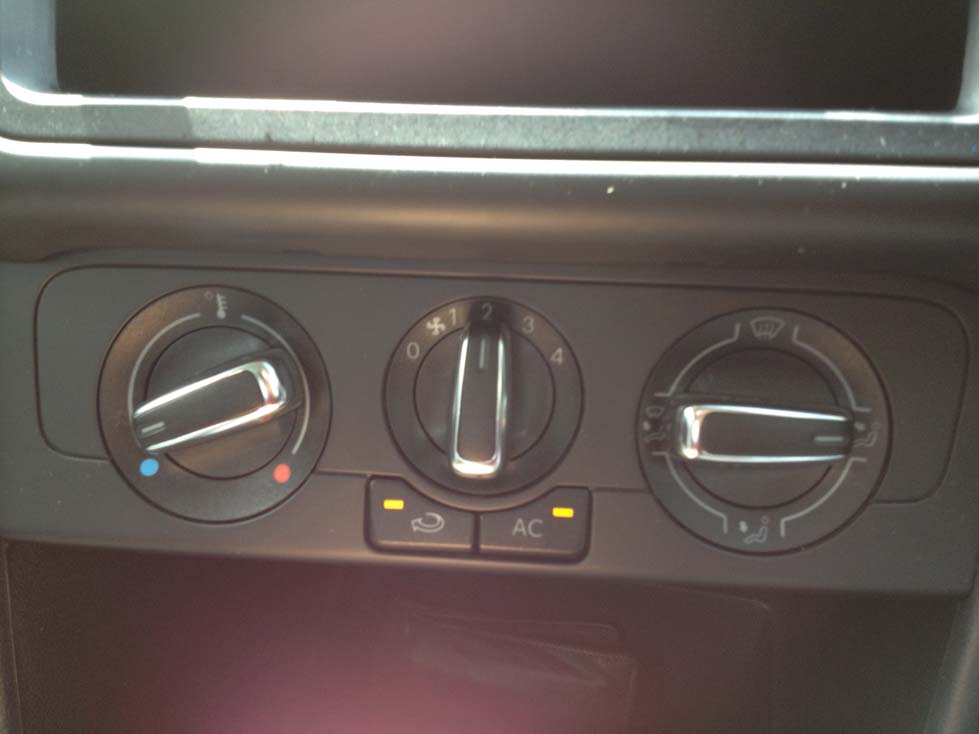 .
Air conditioning controls reminds me much of my good-ol' Skoda. Nothing fanciful here and the blower is quite adequate. Add some good tits … I mean, tints and you're good to go!
.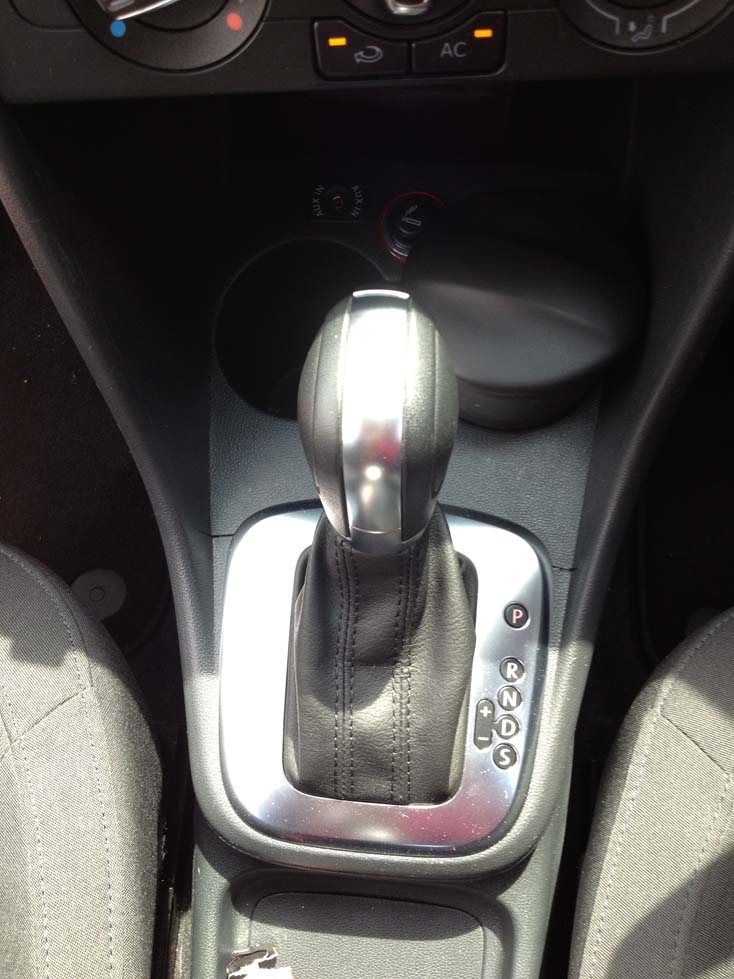 .
Below the air conditioning controls is the 2 cup holders and further higher than the cigarette lighter is a small area where you can stuff small bits of stuff like handphones or in my case, I prefer to remove my wallet from my pocket when driving so it conveniently goes there. I do find it a hassle to remove things (and this includes drinks) when the gear is slotted in P as the panel below the air conditioning controls are quite low and makes the aperture somewhat small.
.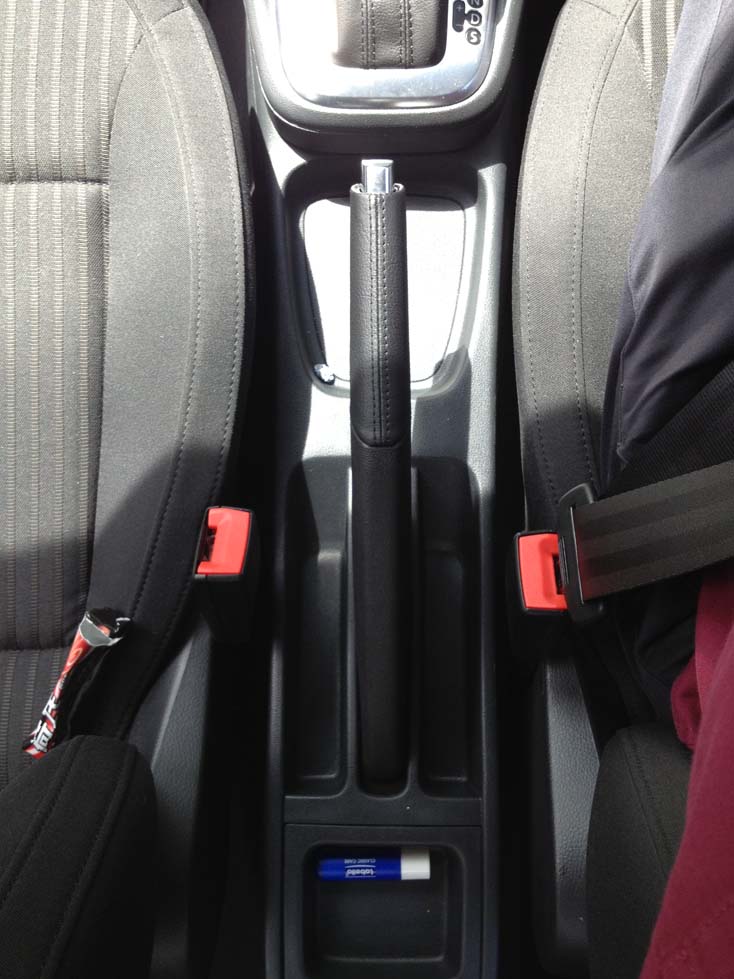 .
Nothing much in the center to obstruct you from getting really close and cozy with your partner in the car.
.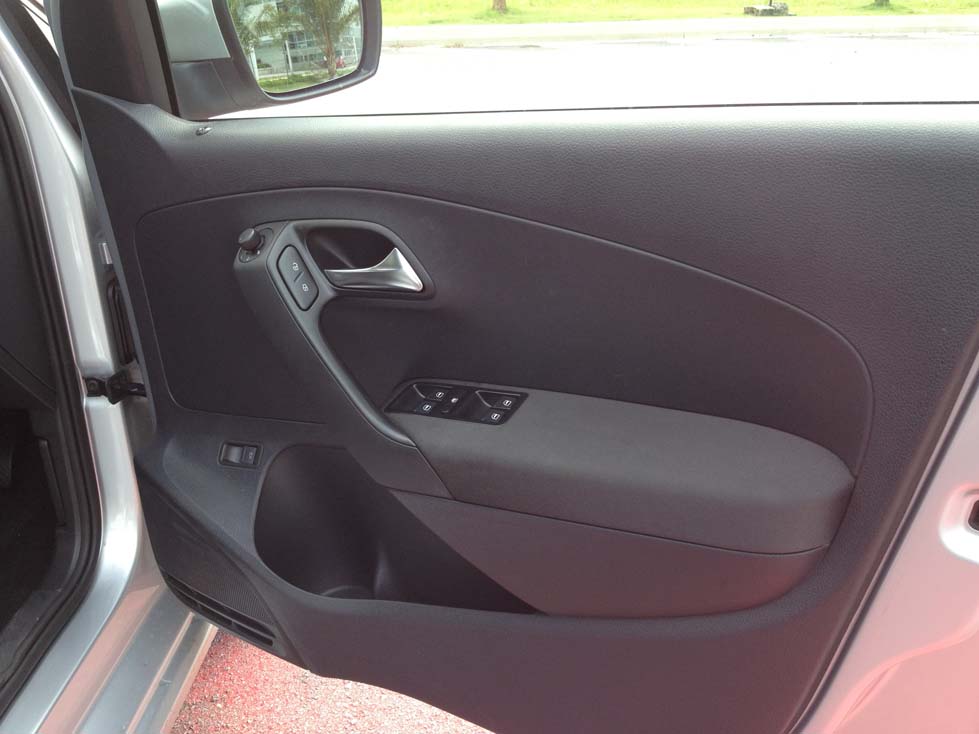 .
If your cup is of considerable size (say a 1.5litre bottle), use the door holders. Door lock/unlock as well as the boot release (yes, this is one of those rare VWs that does not have a flippable rear badge on the boot to open the boot) can be found here. The thing that I find least ergonomic  in the whole cabin is the orientation of the side mirror controls; you'll find that it's at an odd angle and during my time when I had it, I couldn't master its use properly, especially since pushing forward doesn't exactly tilt the mirror up. It's like the designers try to orientate the button controls to follow gravity direction instead of the knob direction and its pretty dumbfounding … or it could be that I'm just plain daft.
.
Also about the doors are the powered windows which are one-touch up/down. And this means the Polo Sedan is the only vehicle in the segment that features remote winding and unwinding via the remote control. Makes evicting heat from the car on a hot afternoon parked under the hot sun a breeze (not to mention wow-ing a few friends since no other equivalent model has this function)
.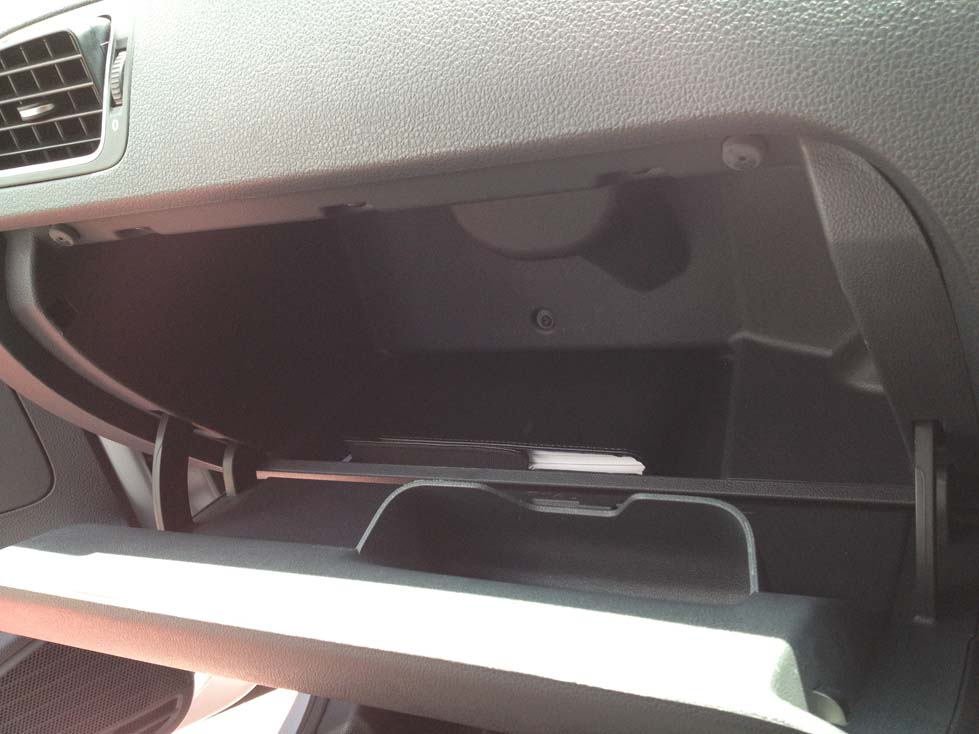 .
The glove compartment is certainly large enough to fit most of everything ….  sorry ladies, that oversized Coach handbag can't go in there but everything else smaller can.
.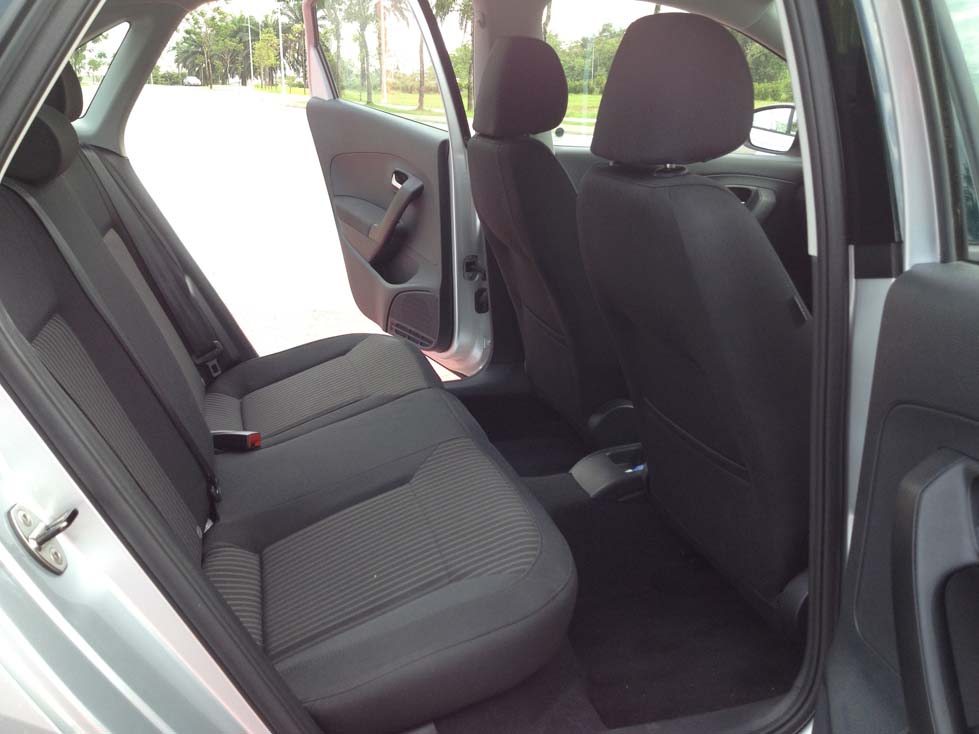 .
As I have said, the Polo Sedan has the rear space that even rivals some C segment sedans and only recently being trumped by the Nissan Almera. Nevertheless, there's still a lot of space for the young and upcoming to meet their other half, go dating, get married, have kids and grow old in it.
.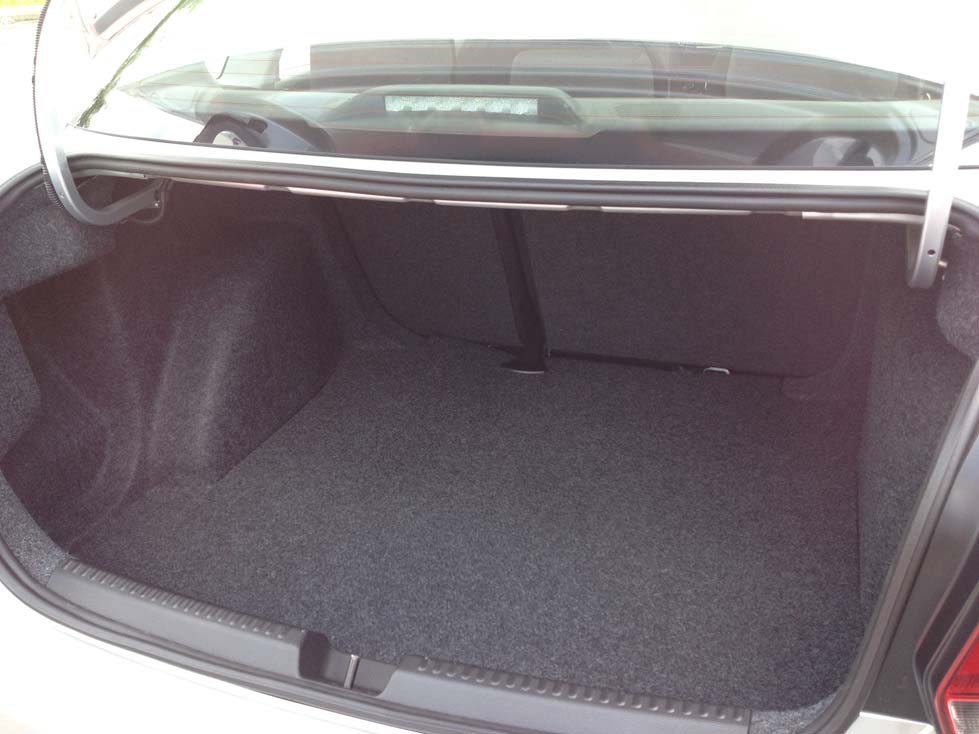 .
Speaking of kids, the boot is huge for a B segment … certainly more than capable of stowing one or two baby trolleys plus luggage. In its pursuit to optimize space, the rear fender eats into the boot but overall, it's large enough for annual family trips.
.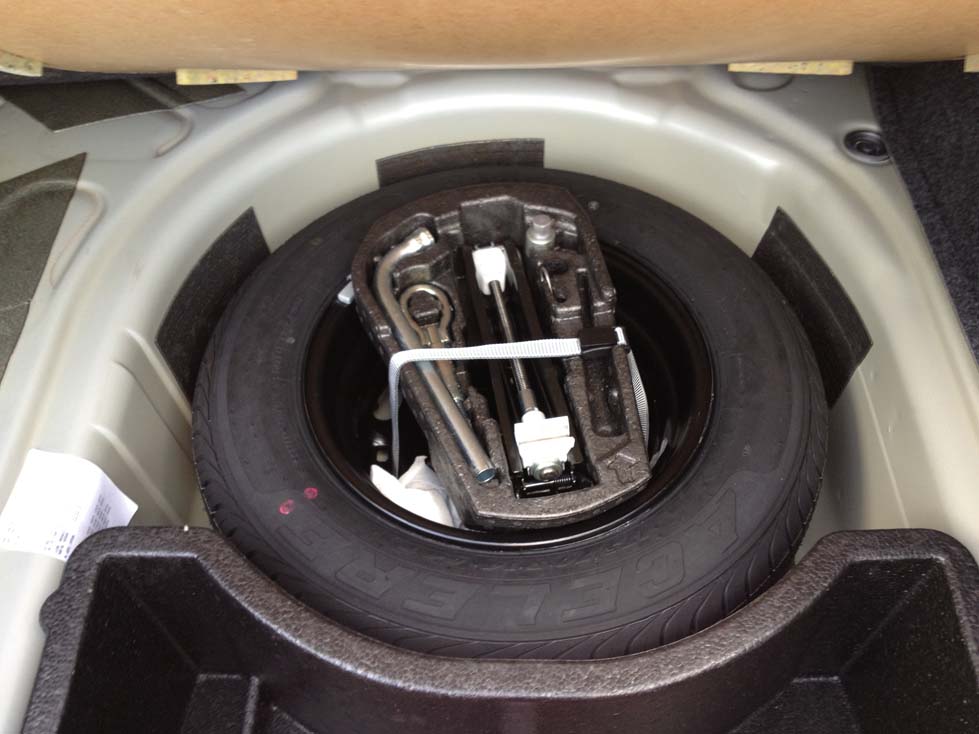 .
Underneath the boot floor, you can find the spare wheel and at first glance, it may look like a full sized tire but it's 1″ smaller at 14 inches and made of steel instead of alloy like the other 4 wheels.
.
.
Safety
.
The Polo Sedan has the following safety features:-
.
3-point safety belts for rear occupants
Driver and front passenger airbags with side airbags, front (total 4 airbags)
Anti-theft system with interior surveillance and back-up alarm
Electronic anti-theft immobilizer
EBD
Fog lights, front and rear
Height-adjustable 3-point front seat belt
Height-adjustable headrests, front and rear
High mounted third brake light
Pinch-guard safety for all 4 power windows
.
.
Specifications
.
Interior
3 grab handles above doors, folding with coat hooks
Adjustable steering wheel (tilt and telescopic)
All 4 power windows (with one-touch up and down on all windows)
Central locking system
Center console including 2 cup holders
Electrically adjustable outside rear view mirrors
Front centre console including 12V outlet
Fuel-lid with push style opening
Genuine leather-wrapped steering wheel, gearshift knob, handbrake lever and gearshift boot
Height-adjustable driver & passenger seat
Interior chrome package (chrome surrounds for light switch, AC vents, steering wheel accent, handbrake lever knob and gearshift)
Instrument cluster with tachometer, speedometer, trip odometer and digital clock
'Metric fabric seat upholstery
Power door locks (includes safe-LED)
Power steering
Radio with CD-MP3/WMA player with 4 speakers including roof antenna
Rear centre armrest
Rear defogger
Rear doors with storage compartments
Remote control for central locking, with 2 foldable keys for ease of carrying in the pocket
Remote opening and closing of windows with key remote
Remote opening of boot lid with key remote
Storage compartment in front doors including cupholders for 1.5 litre bottle
Storage pockets on front seat backs
Sun visors on both sides, ticket holder on driver's side and vanity mirror on front passenger's side
Trunk illumination
White instrument backlights
Exterior
14-inch steel spare wheel
15-inch alloy wheels
Body-colored bumpers
Body-colored exterior door handles and mirrors
Chrome finish on front air dam, trunk and fog light surrounds
Green tinted heat absorbing glass
Height-adjustable halogen headlights
.
Comparing against other B segment contenders, here's how it stacks up:-
.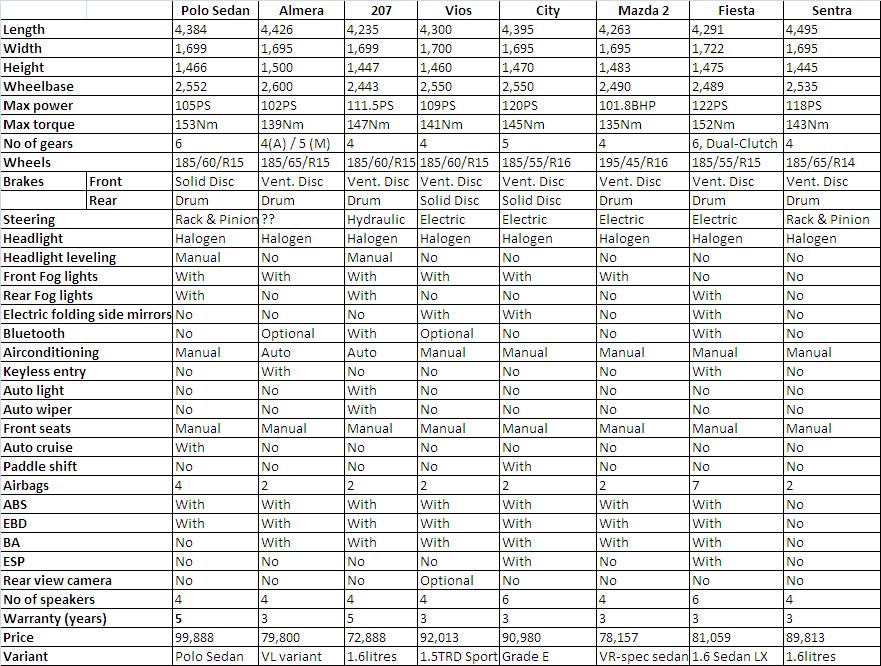 .
.
Ownership and Maintenance
.
VW hails the Polo Sedan as the most affordable model in its line-up, retailing for RM99,888 but do note that when you factor in the registration fees and insurance, it breaks the RM100k mark, making this vehicle the most expensive in Malaysia's B segment market. If you calculate based on 2.5% annual interest rate and 90% maximum loan, you'd be paying at least RM1,020 per month … and that's calculated with a 9 year loan. VW runs a promotion to make the Polo Sedan  more affordable by reducing it to RM980 monthly which means you still need to be earning at least RM3k per month to afford the car. The  cheapest "People's Car" is still beyond the reach of a large number of Malaysians.
.
We could only hope that when DRB Hicom rolls out the CKD variant, the price will be significantly reduced (probably to the price tag of the Honda City). It still won't be called cheap but with the way automobiles are priced here, one can't expect too much.
.
Maintenance is scheduled to be once every 15,000km like all VWs and the good news is, it's cheaper and easier to maintain compared to other models since it does not have a turbo and no DSG. The Polo Sedan now comes with 5 years unlimited mileage warranty.
.
.
Ultimately, it is worth it? For a continental car with good looks, German reliability and excellent stability, it's certainly a good package. Price has always been a subjective affair and for me, at least, to market a B segment for a non-luxury marque above RM100,000  is a bit ambitious. Unfortunately, with how the government "advises" retail prices of vehicles in Malaysia, there isn't much Volkswagen Group Malaysia can do about the India-mari CBU. It's not to say that the Polo Sedan is a badly made car …. far from it, in fact. With the way it's engineered, it could probably survive Malaysia weather better than TSis and DSGs … but with a price tag approaching C segments, one has to wonder whether paying so much for a car of this size with these basic features justifiable.
.
The VW badge however is another matter altogether so buy it if you must have a VW in your garage. No one can fault you for being brand conscious, after all.
.
.
.