.
Being different can sometimes provide the competitive edge to be successful. Whether it's winning a business proposal or the girl of your dreams, setting yourself apart from the competition by not following the grain and thinking outside the box by offering something of greater value is most of the time a good thing. So what if you've transcended the common D segment sedan and now have a budget for a car exceeding RM200k? Do you move on from the regular Camry/Accord/Teana to the luxury 3 series/C-class/A4 trinity? Let's face it, cars like these, as expensive as they may be are a sen too many on our streets and seeing one go by hardly warrants a second look. Not that they're not particularly handsome, mind you but if durian is your thing, having too much of it just might cause one to develop an abhorrence towards it (as well as everyone abhorring you)
.
So, coming back to the question at hand, there's very little cars that can different the owner from others than a coupe. But traditional coupes are seen to be somewhat impractical as they lack 2 rear doors for better ingress & egress of rear occupants. The solution? Get a 4 door coupe! Mercedez introduced the CLS and the world was never the same again. Unfortunately, a new CLS would be several times above budget. Not to be undone, BMW introduced the 6 series while Audi the A7 as their answers to the CLS … sadly, both would cost you an arm and leg to own brand new. Which is the point of the Volkswagen CC. I have heard many argue that for a car that shares the same engine and gearbox as the Passat sedan but costing significantly more is rather outrageous. The thing is, there is no other four door coupes around that evokes a sense of style and uniqueness while conveying an expression of taste, refinement and class that costs below RM300k. That is the proposition the CC offers to all buyers. But is a pretty shape all there is to the CC?
.
Let's find out:-
.
.
Design
.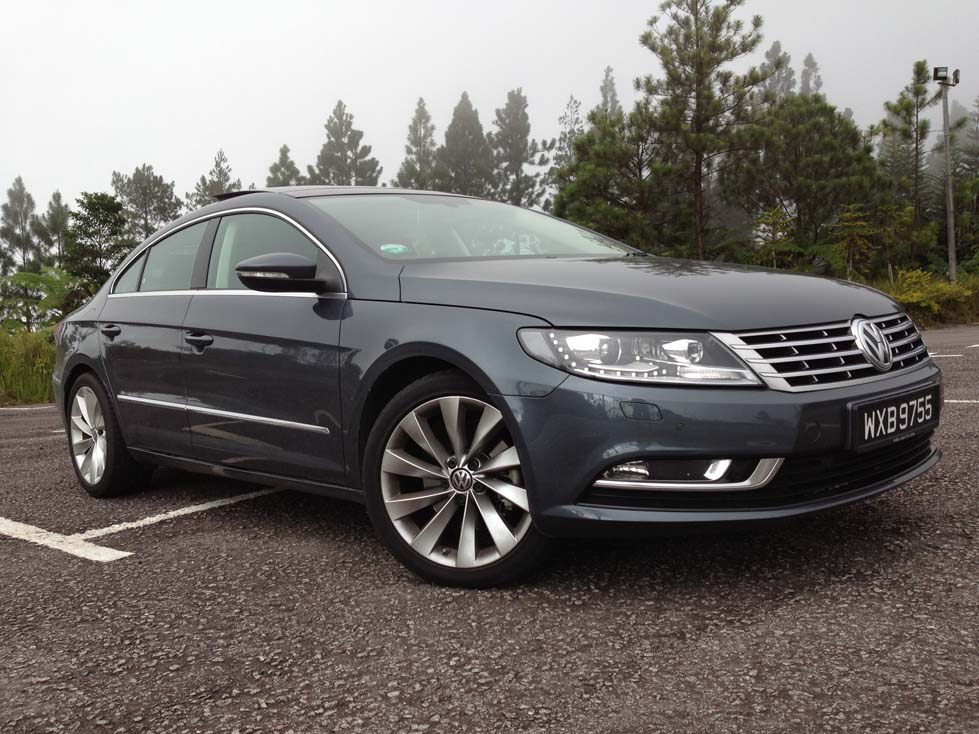 .
Launched in June 2012, the CC replaces the Passat CC. Apparently, Volkswagen decided that since the Passat and the Passat CC does not share common body panels, it makes sense to drop the "Passat" name and just call it the CC (which stands for Comfort Coupe in VW).
.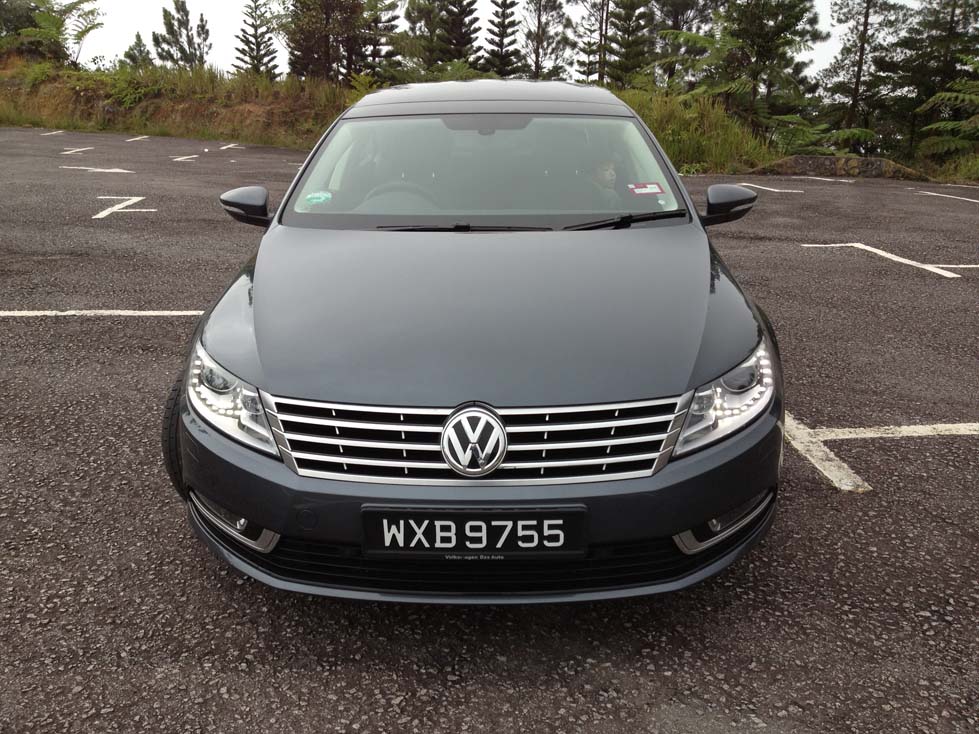 .
The CC features redesigned front that is more in line with the VW family front fascia with 5 horizontal grilles that looks as sharp as a Gillette razor. With the front headlights being stretched backwards and the slim front fog lights, the entire nose looks sleek and low while crease lines on the bonnet that starts from the headlights to the A pillars gives it a muscular look. I still can't decide to call this car a "He" or a "She" since it has elements of both masculinity and femininity.
.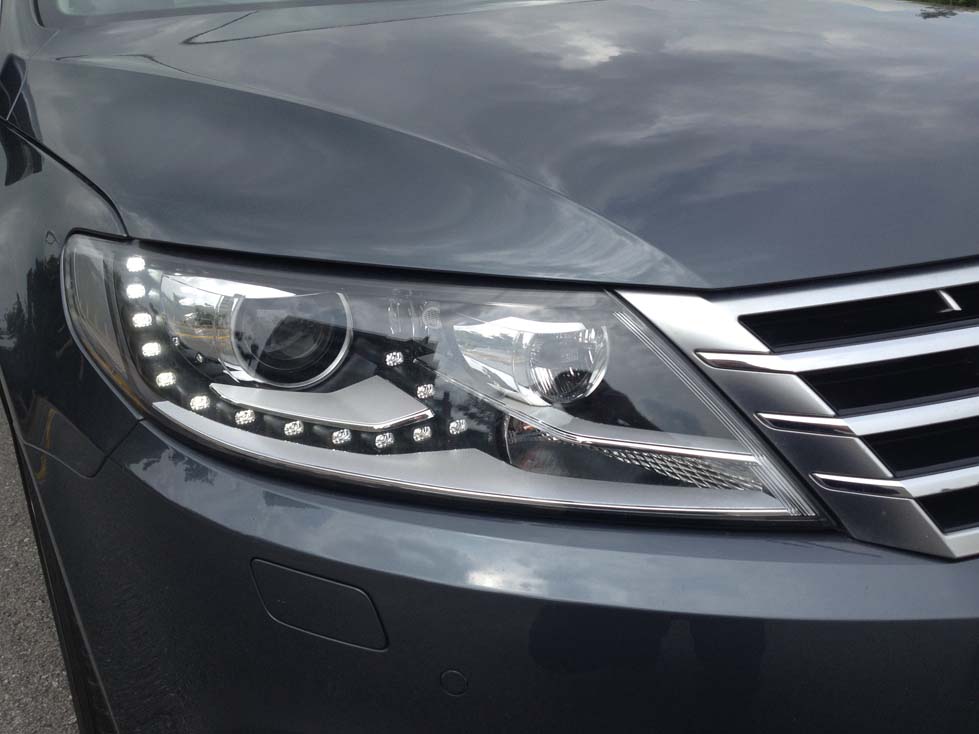 .
Both the Passat and CC have bi-xenon head lamps with its projectors nestled by daytime running lights but the CC features a slightly more slanted "U" DRL compared to the Passat.  And if you look closely between the projector lamps and auxiliary lights, near the center LED DRL, you'll find another bulb aimed sideways. This is the static bending light and turns on when you make a corner. It's bright enough to shine quite a distance and works well with the inherent dynamic light bending system which swivels the xenons in the direction where you are turning to better illuminate cornering roads.
.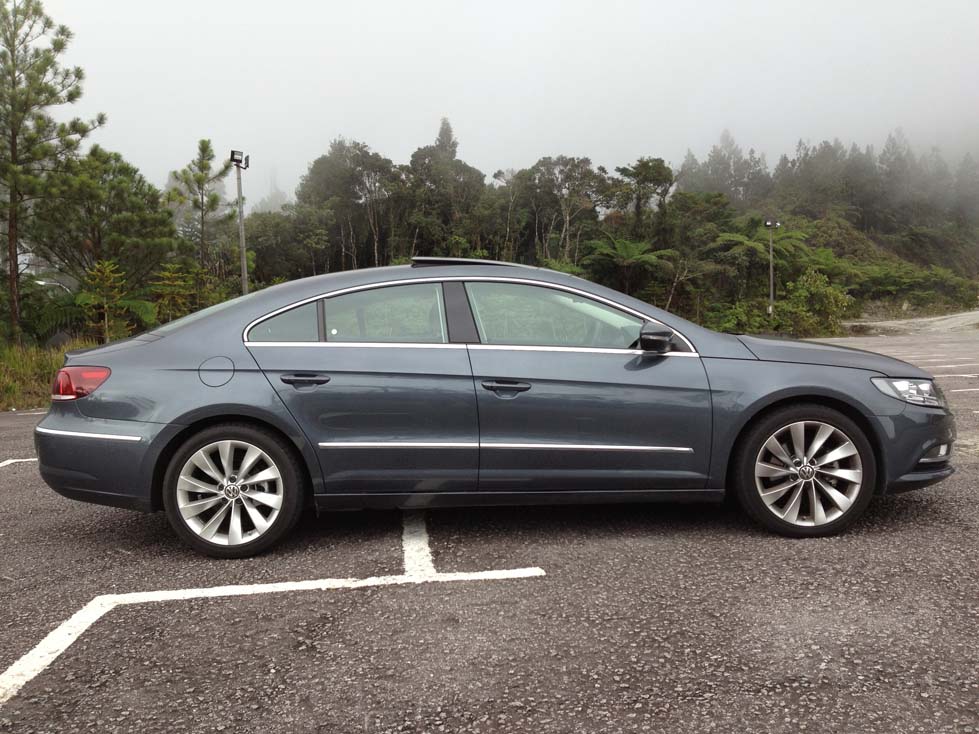 .
Measuring 4,802mm in length and 1,855 in width, it's about 3cm longer and wider than a regular Passat and despite it's coupe outline, it's only 5cms shorter than the sedan. That's probably the typical height of an female executive's working heels. Wheelbase is reasonable at 2,720mm which is a nose-hair longer than the sedan.
.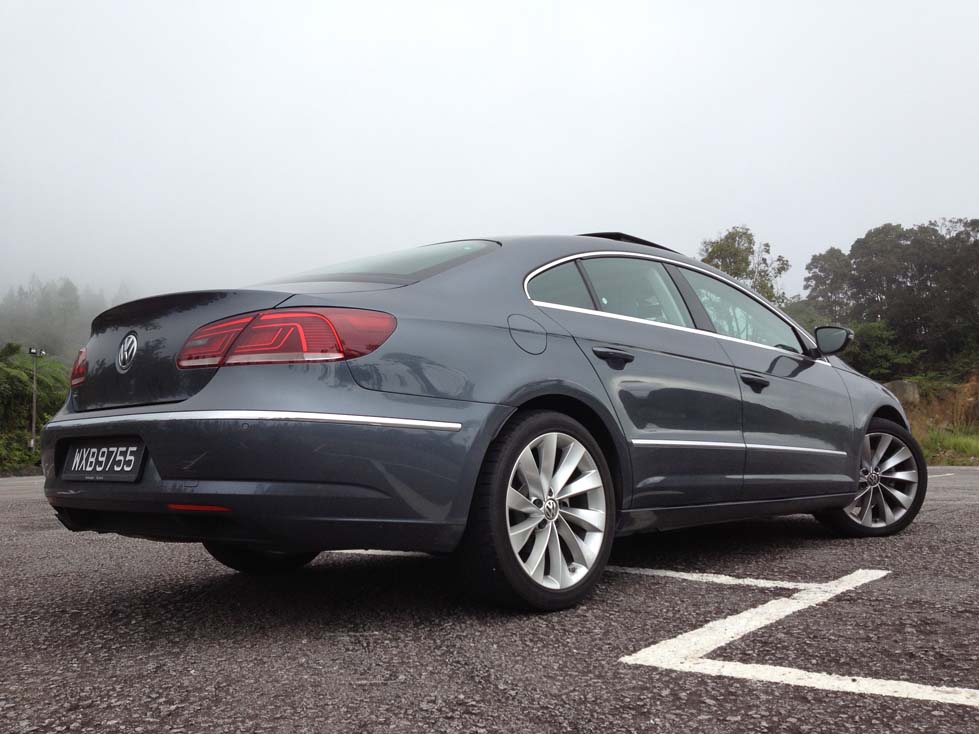 .
The sleek outline carries itself well to the back with chrome lines running from the lower part of the doors all the way around the rear bumper. Coupled with the line that starts from the front fender towards the rear tail lamps, it confuses the eye into thinking the door is lower than reality.
.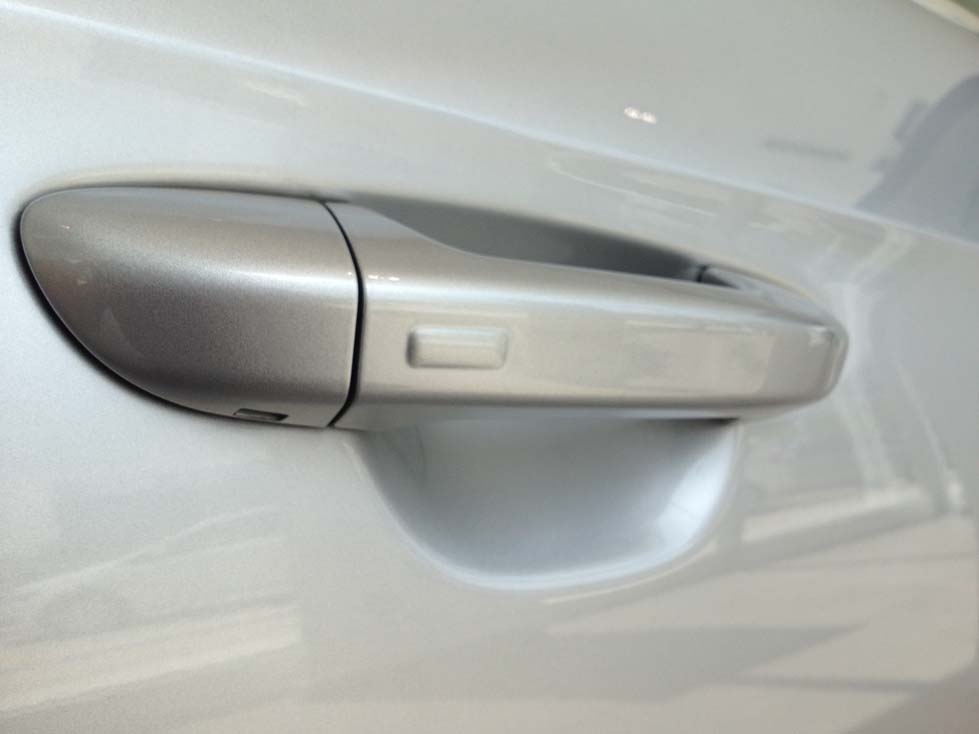 .
With keyless entry, just grip the door handles to unlock and press the small square area to lock …. all done while the key is still in your pocket or handbag.
.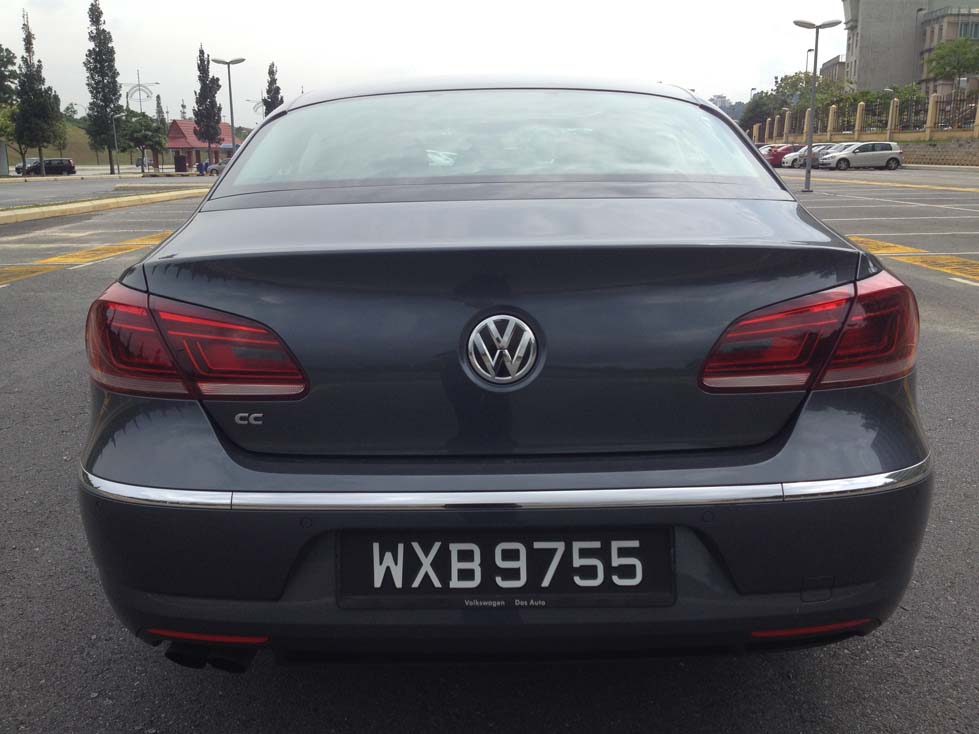 .
Where the Passat had a crap load of criticism on its rear end, the CC's arse will brook no arguments as being simple yet beautiful.  This is the Sport variant and with it, the rear VW badge has a hidden reverse camera. When reversing, the badge top slants inwards to reveal the camera
.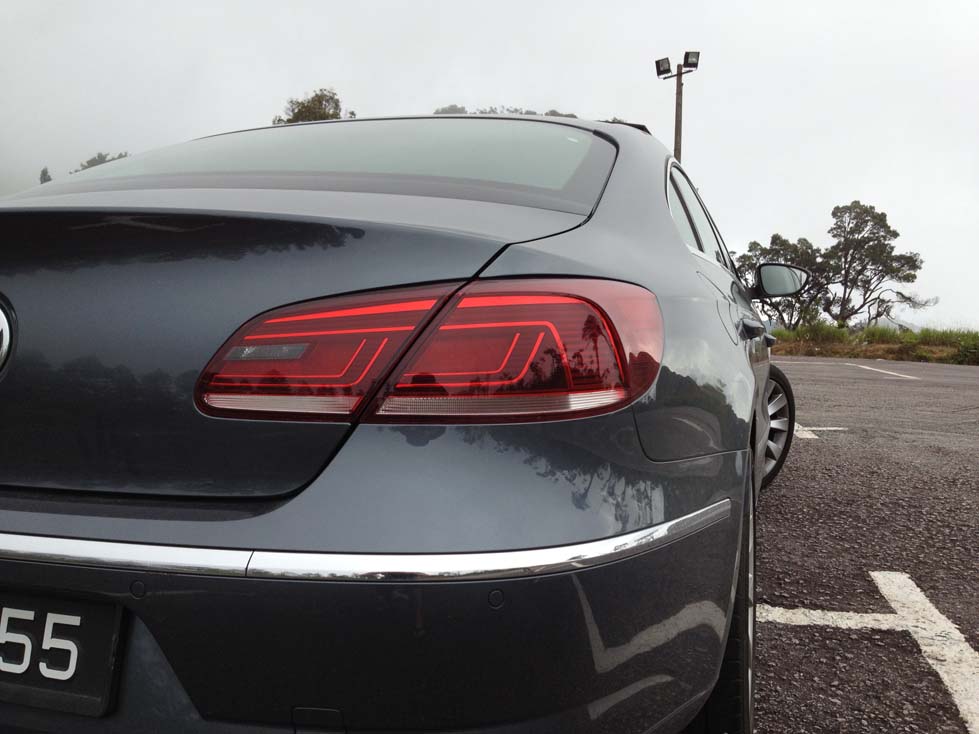 .
The rear tail lamps sports 2 pairs of horizontal slits that resembles a large inverted 'L' on top while two small mirror-imaged "L" sits at the bottom. It's light signature is inherently unique and you cannot mistaken the rear end of this car for anything else at night.
.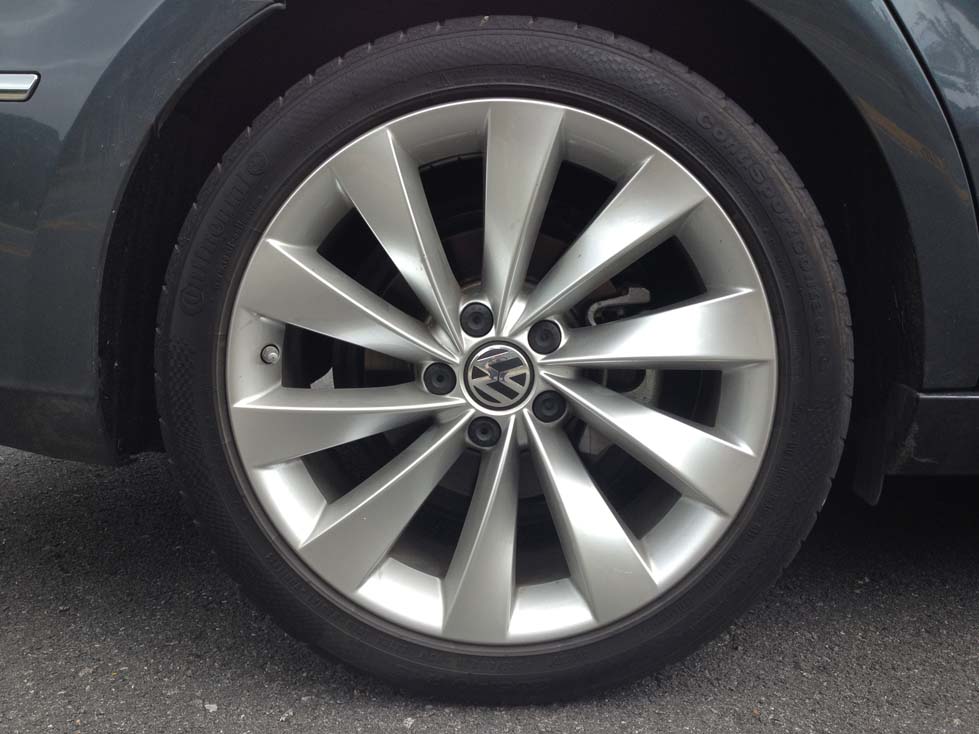 .
Beautiful 'Interlagos' 8J x 18″ alloy wheels with self-sealing tyres 235/40 R18 adorn the Sport variant. The Comfort variant gets 'Phoenix' 8J x 17″ alloy wheels with self-sealing tyres 235/45 R17
.
.
Performance
.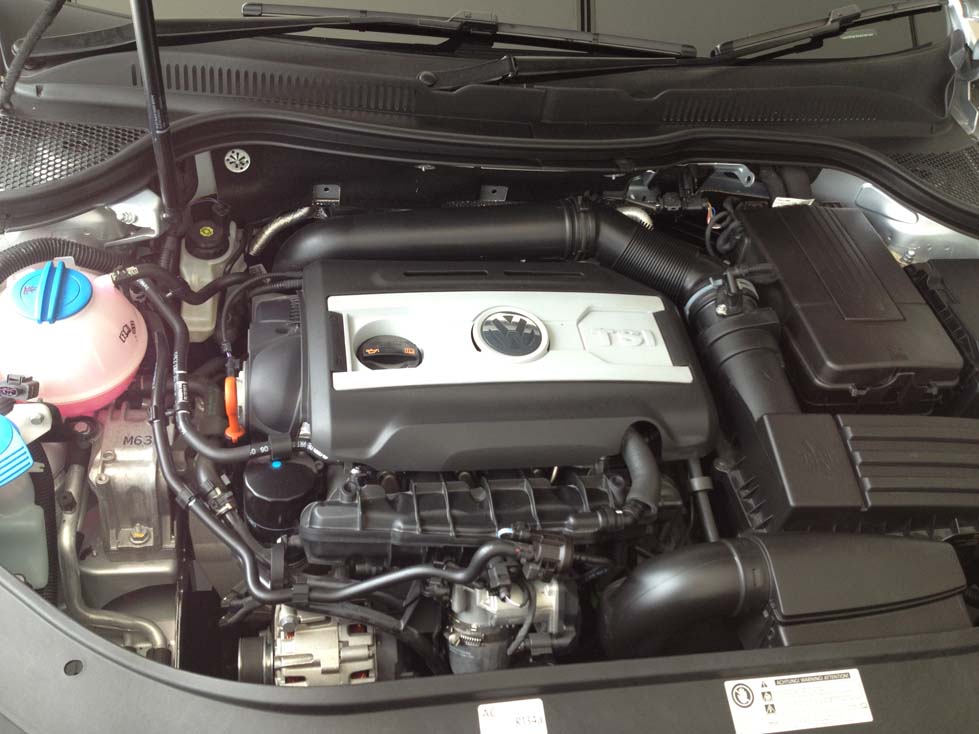 .
Quick notes:
Engine: 1,798cc, direct injection, turbocharged
Output: 160PS/250Nm
.
If the Golf R is the kind of gal (ok, I'm calling it a female since that would be my preference) that you can expect to find at the squash courts  ever ready for action, the CC is the kind you would see frequenting fine dining restaurants and expensive shopping galleries. While she can eat or walk fast, doing so may seem less becoming. Acceleration is brisk but not stomach thumping as you would expect from a turbocharged vehicle and zero to 100kph is done in 8.5seconds which is adequate to match and overtake traffic with ease but driving like a speed demon is not what it's designed for, even if it is capable of being driven as such.
.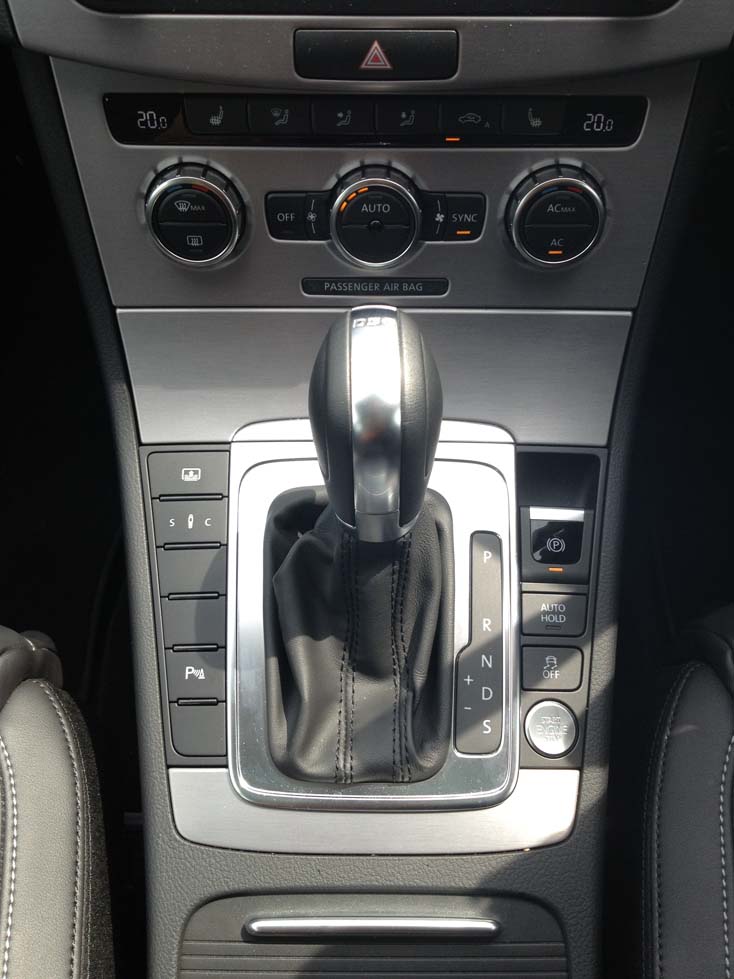 .
Paired with a 7 speed DSG gearbox, you can expect a smooth ride while cruising. At low speeds, the 1/2 second DGS lag is still present but is less pronounced compared to the Golf I have back home.
.
P.S: If you pop the hood off the Passat sedan, you'll see this:
.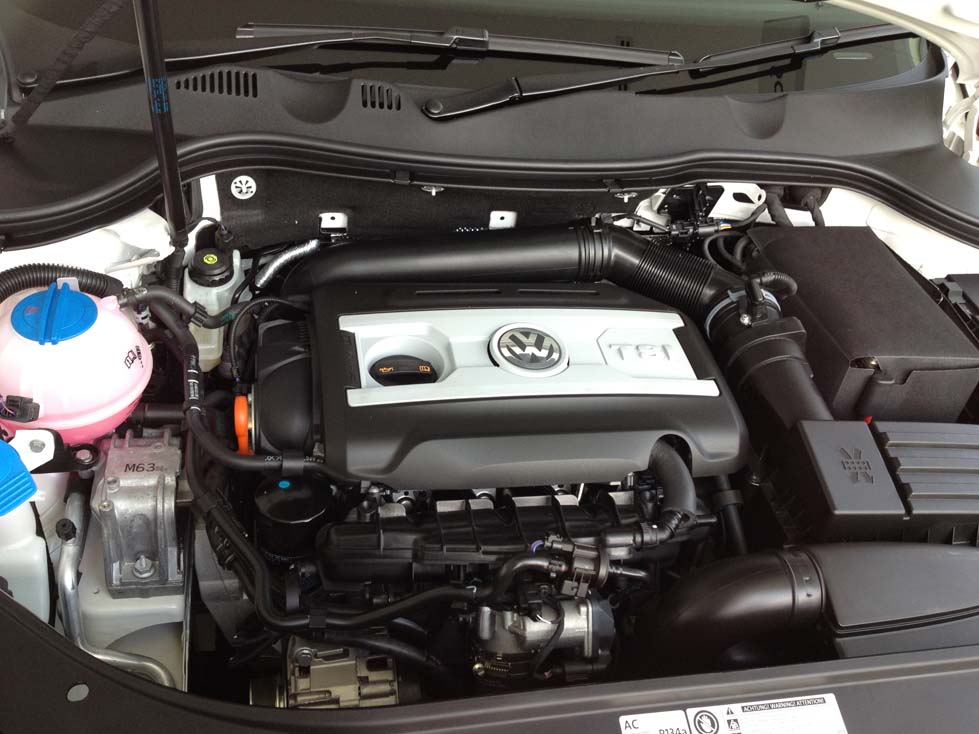 .
Spot the difference? Aside from the battery cover, I can see none … which can be a deal breaker for some since you're paying so much more for a model that has the same powertrain as a cheaper model. What more, its predecessor, the Passat CC had a 2.0litre GTi engine so this smaller capacity engine with lower output (compared to the Passat CC) can be seen as a downgrade to some. How I wish we could have the Australian top spec that comes with the Passat CC R-line 3.6litre V6 engine with the same 4Motion all-wheel-drive system …. but that would probably push the price over the roof.
.
.
Ride and Handling
.
Quick notes:
Front suspension: Independent front struts
Rear suspension: Independent multi-link
Brakes: Ventilated front disc, solid rear disc
.
I had the chance to take the CC to Genting Highlands on a Sunday afternoon and it felt great. While power delivery could have been better, body roll was kept in check and never once did I feel the car go out of control even when cornering at high speeds.
.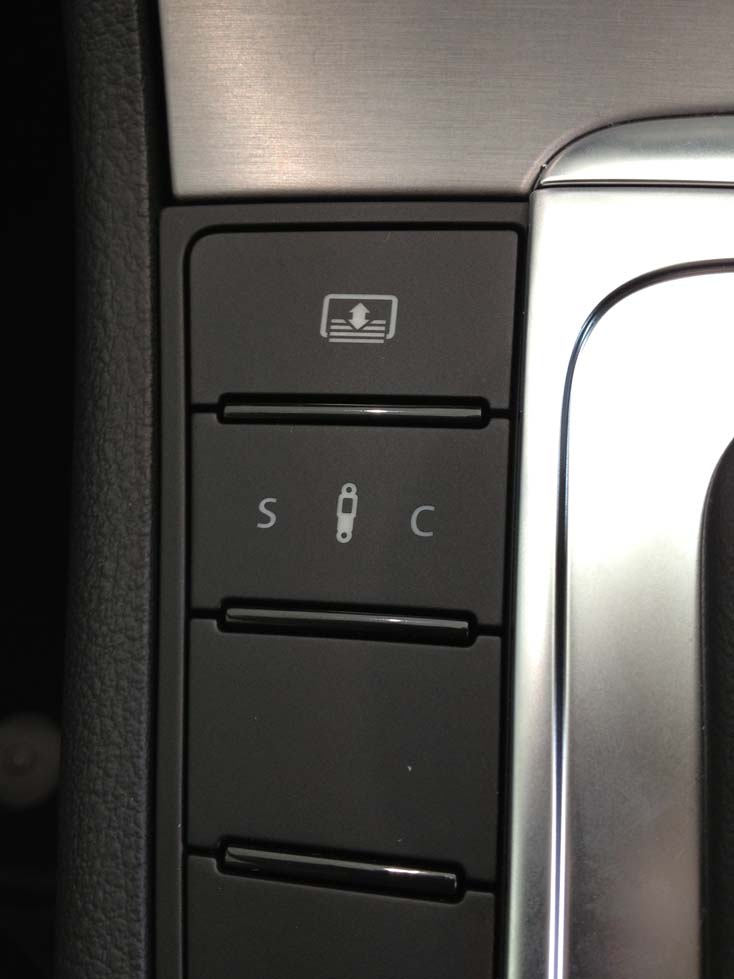 .
Especially fun when you change the Adaptive Chassis Control (DCC) from Comfort to Sport. You'll get bone-jarring hard suspensions but in return, you get tire loads of confidence in knowing when you push hard at a corner, the car won't flex as much. The damping nature of the Sport mode is very similar to the Passat CC R-line (reviewed HERE) but unlike the CC R-line which has the all-wheel-drive system, the CC relies primarily on its front wheels for traction so it won't go as extreme as the R-line. Nonetheless, by being able to control the damping rate at the press of a button is wonderful to better cope with different driving conditions.
.
In Comfort mode, the suspension is compliant and cushions road imperfections very well. Being as old as I am, needless to say this was my default choice when driving the CC. Noise, vibration and harshness are kept to a minimum and even at speeds in excess of 150kph, the cabin was quiet and serene. Regardless which setting you choose, puddles of water is never an issue with the CC as it will always steer straight. Don't get me wrong; it's never a good idea to go too fast on wet roads and the CC is not aquaplaning-proof but with its inherent stability, the driver will have a greater margin of safety before things go out of hand.
.
Anyways, it's good to know that both Comfort and Sport variants gets the DCC.
.
.
Cabin Convenience
.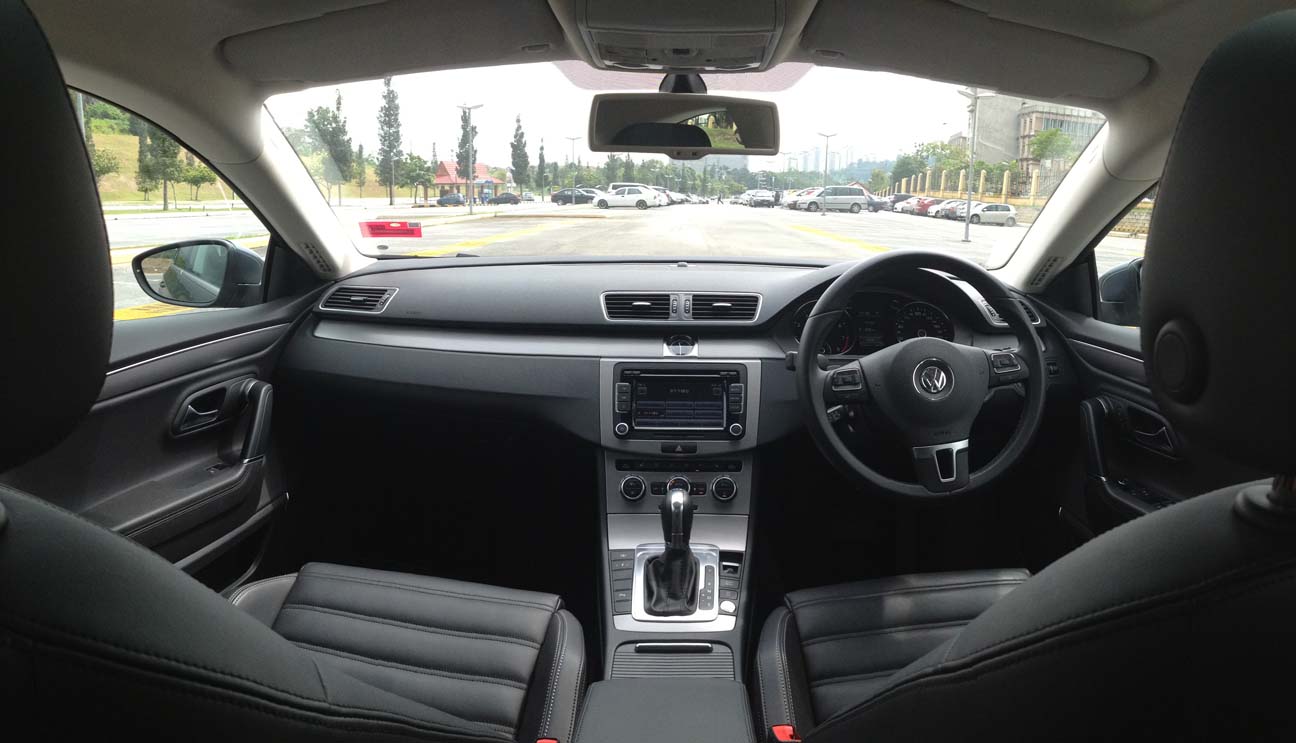 .
Aside from you sitting closer to the roofline, inside looks virtually identical to the Passat sedan. Clinical, precise, functional and it's funny that I hear people complaining that the Passat sedan is as boring as a door knob but no one says a whit about the CC. It's as though the brownie points earned from its exterior is carried inside. I never had any issues with VW interiors since it keeps things neat and tidy.
.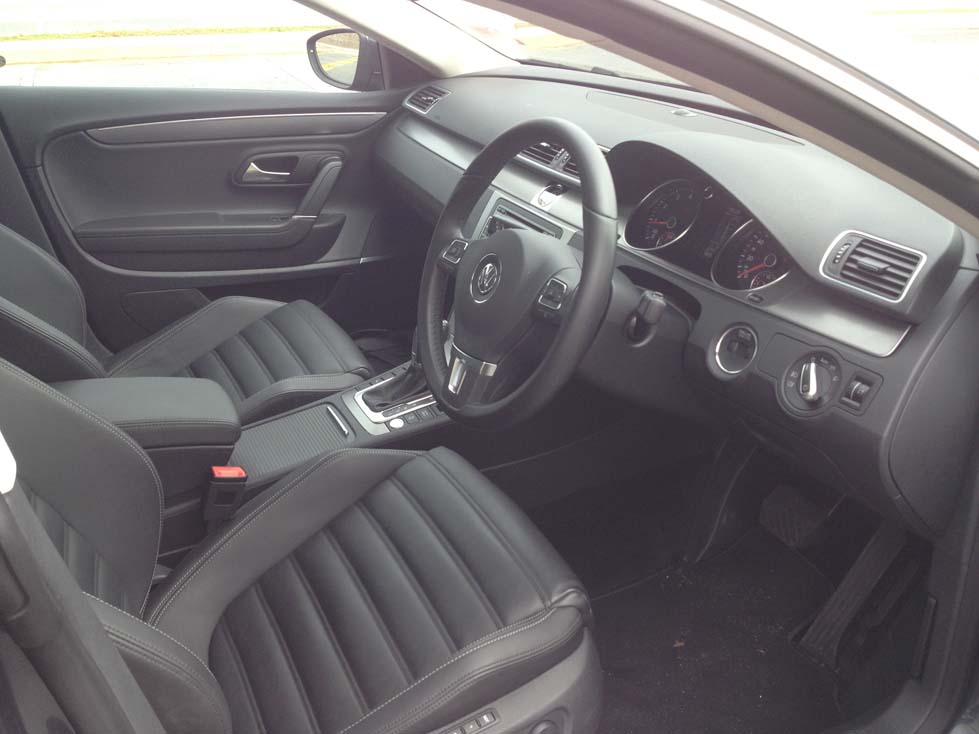 .
If you've driven a Volkswagen Audi Group vehicle before, you'll fit in here nicely without much of a learning curve.
.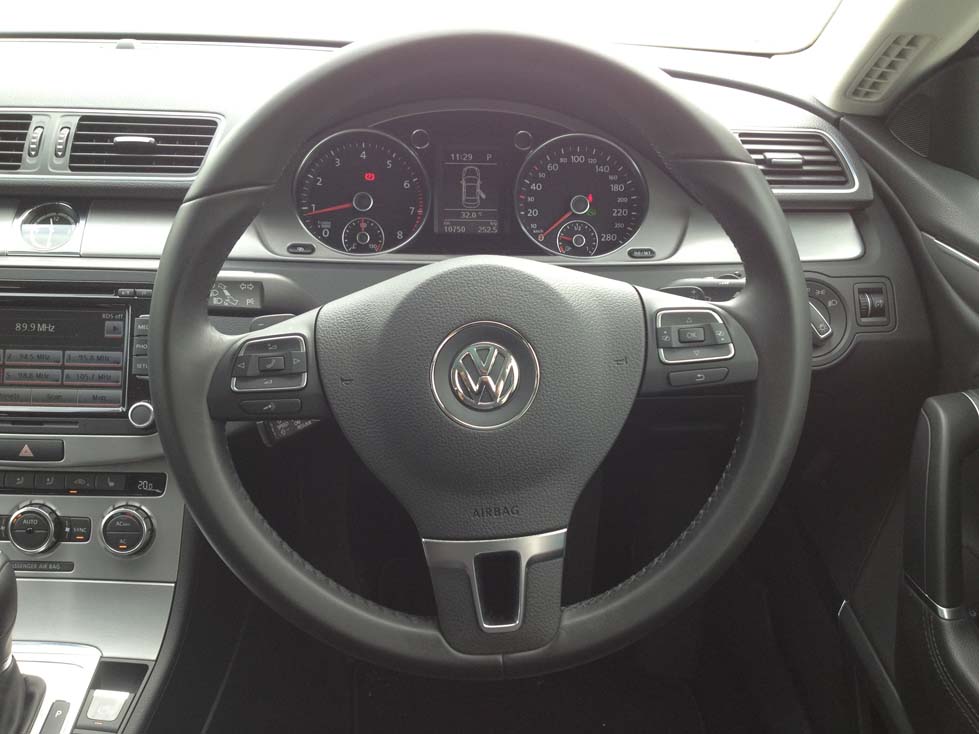 .
Nothing new here as the steering wheel is identical to the Passat Sedan. On the left spoke, you have the audio controls while on the right is the MFD controls. At the 10-2 o'clock position, the leather wrapped steering is pleasantly chunky to hold.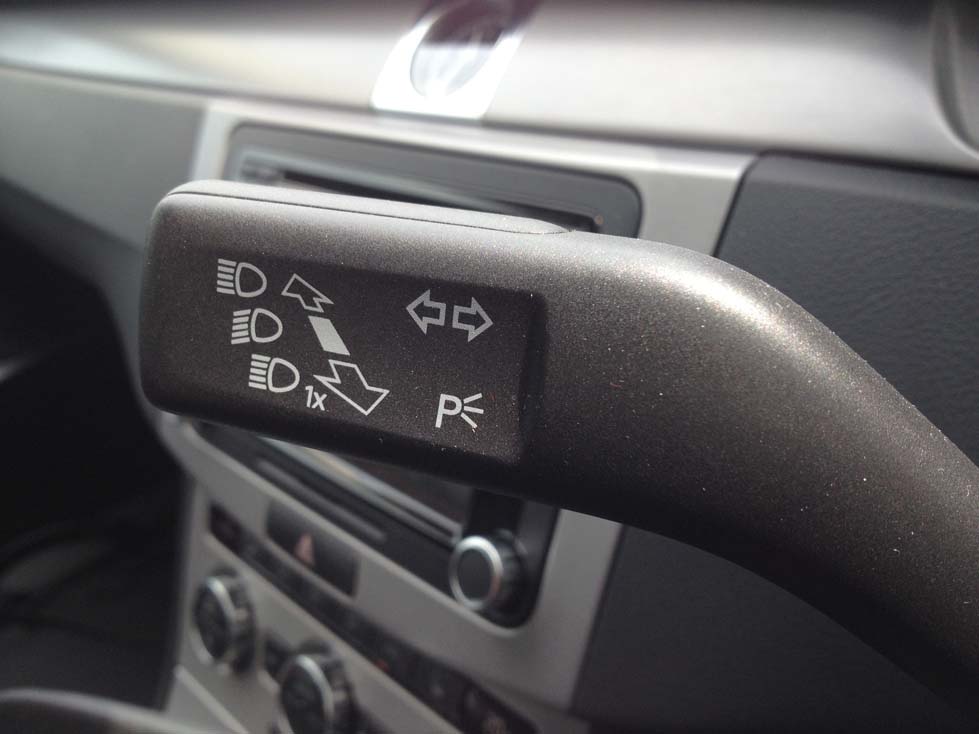 .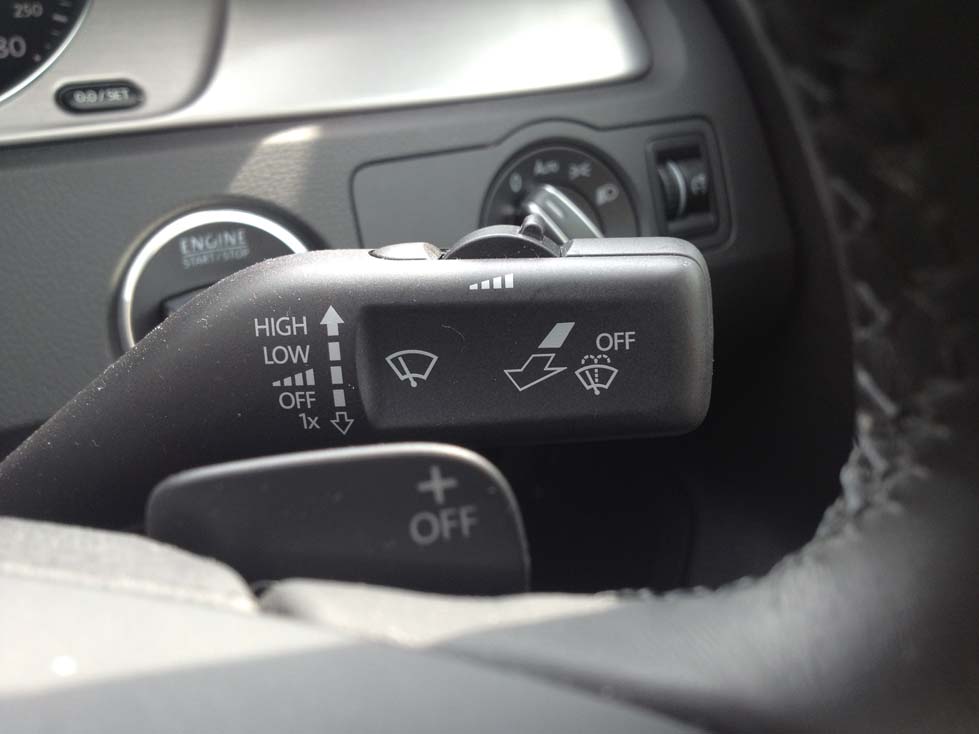 .
The usual signal stalk on the left and wiper on the right. Paddle shifters can be seen at the back of the steering
.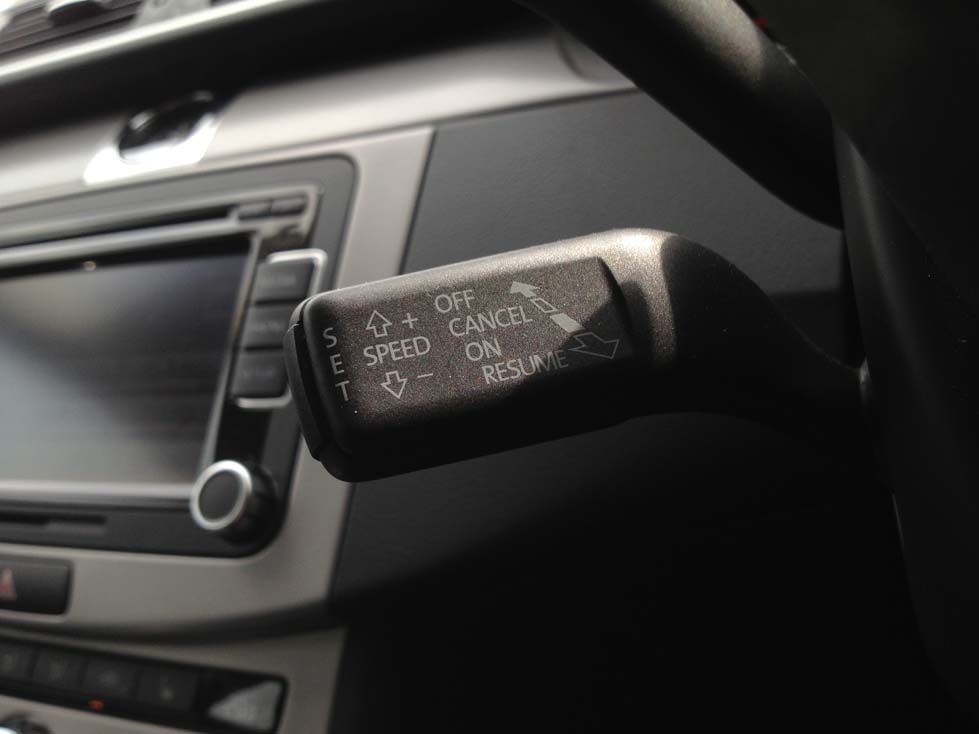 .
Whereas the cruise control stalk is found below the signal stalk on the left
.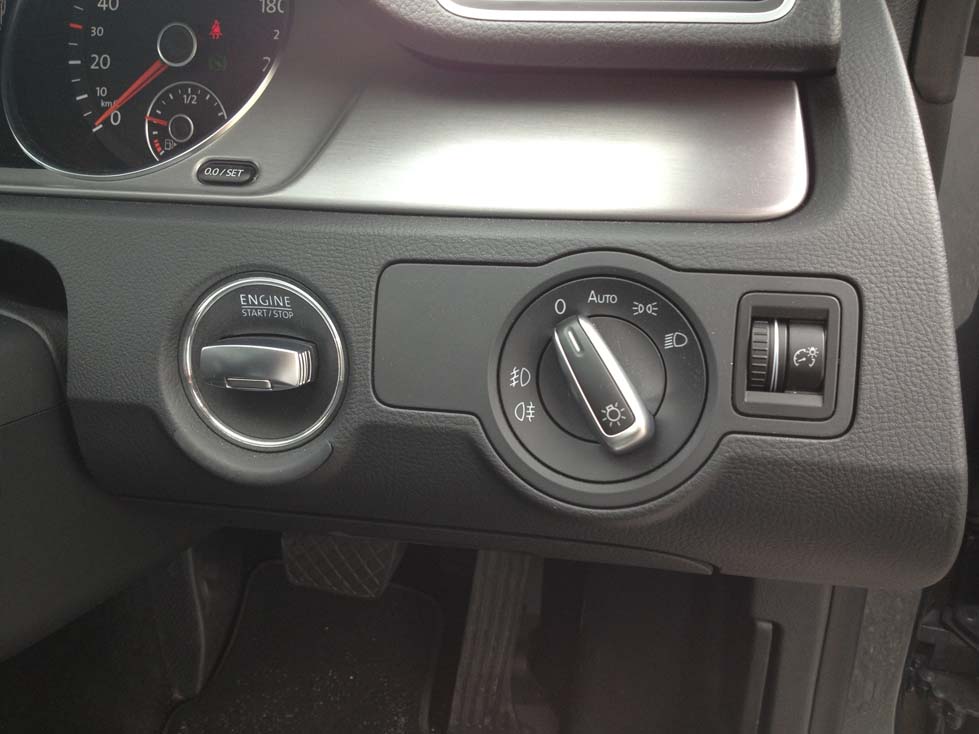 .
On the right side of the driver, you can find the key slot to insert the key (like duh!) and pushing the key in can start the engine when the brake is depressed. On the right are the light controls and the dimmer for the dashboard.
.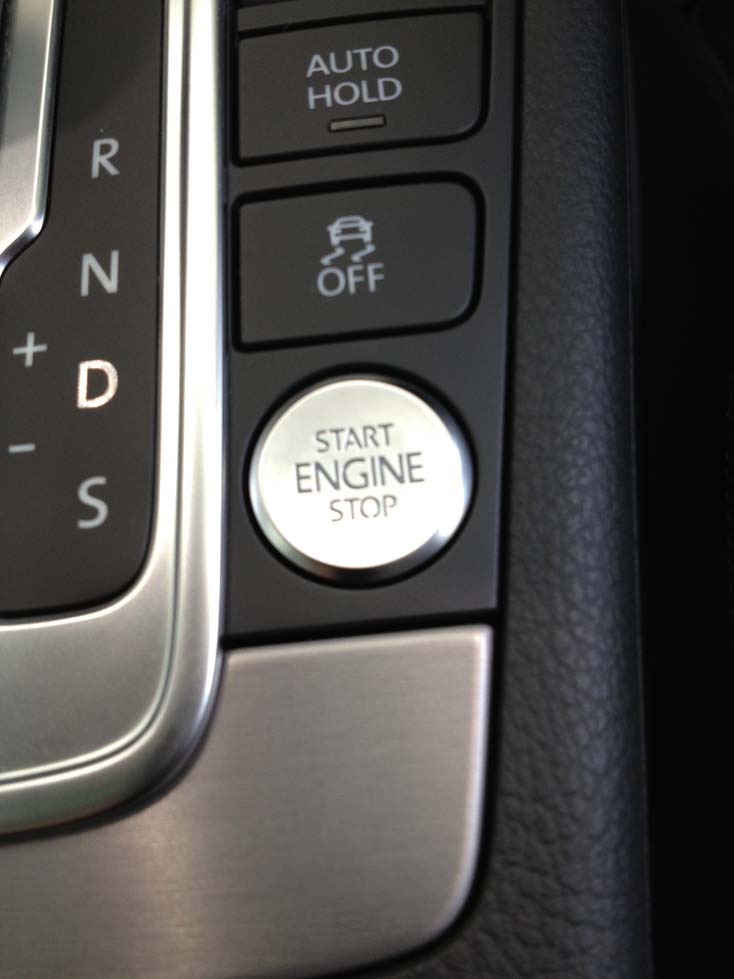 .
Even if you don't insert the key in the slot, you can still start the car by pressing the Start Engine Stop button found in the center fascia near the gear lever.
.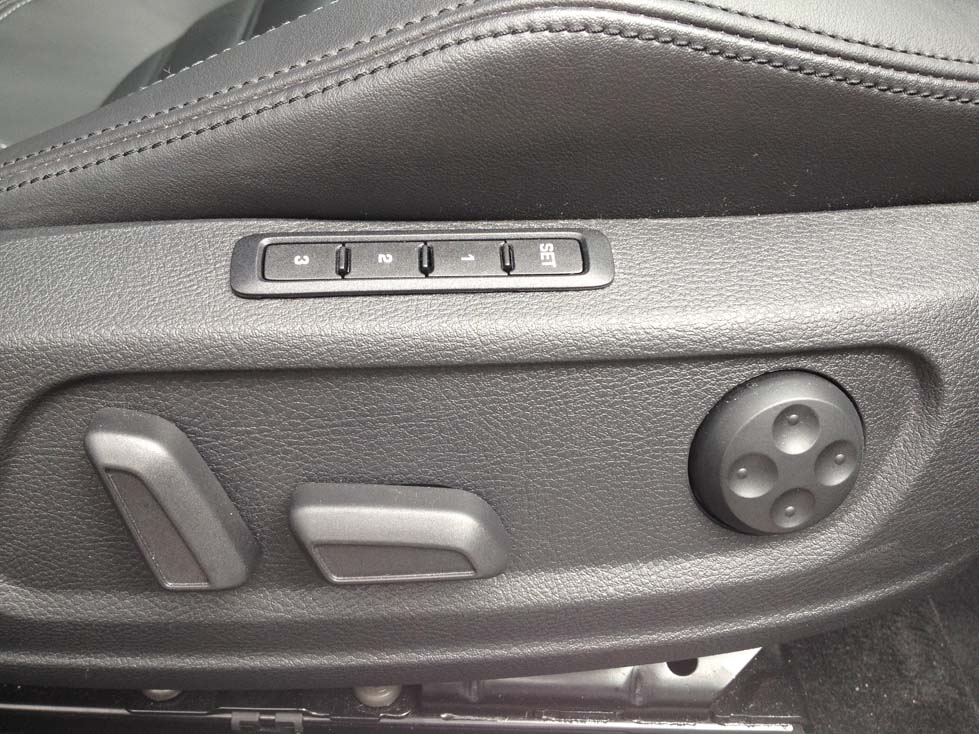 .
Full electric seats for the front and the driver gets memory seats that sets both seat and side mirror positions.
.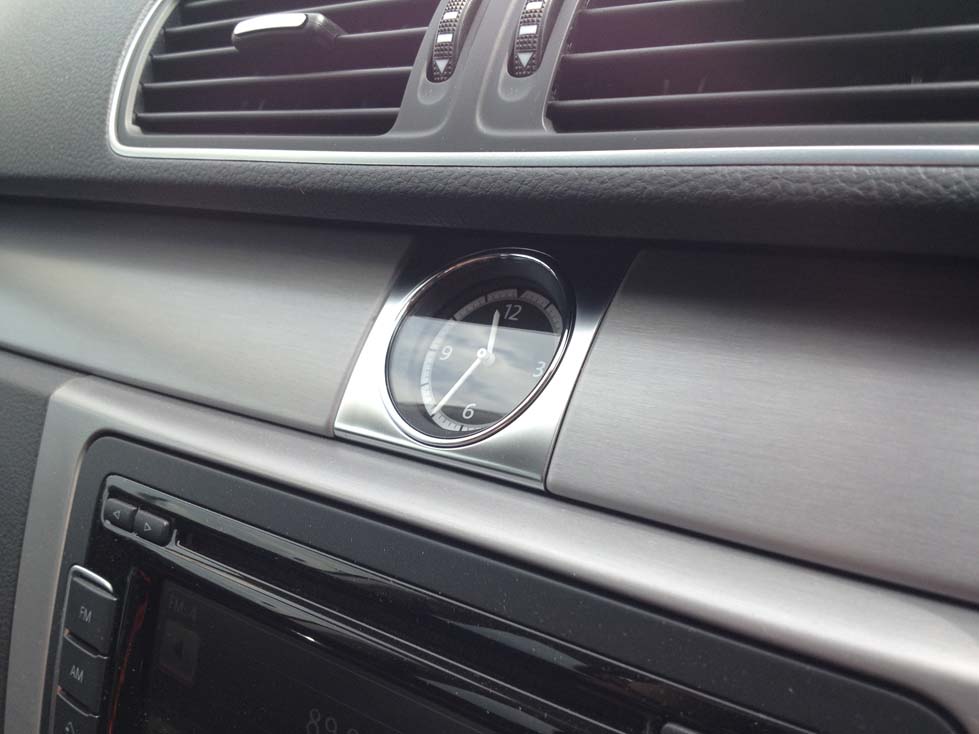 .
Like the Passat, nothing like an analogue clock to give a retro feel to an otherwise modern dashboard
.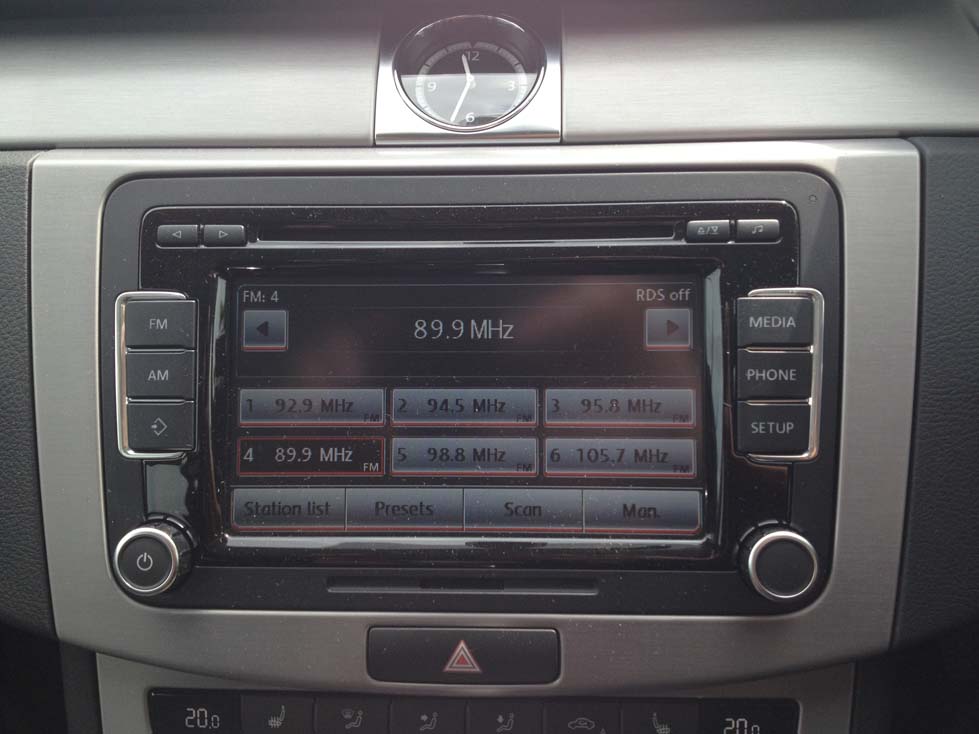 .
Below the clock you can find a TFT touchscreen RCD510 which is simple enough to use.The RCD510 is  a 6 CD changer radio with CD/MP3/WMA replay function.
.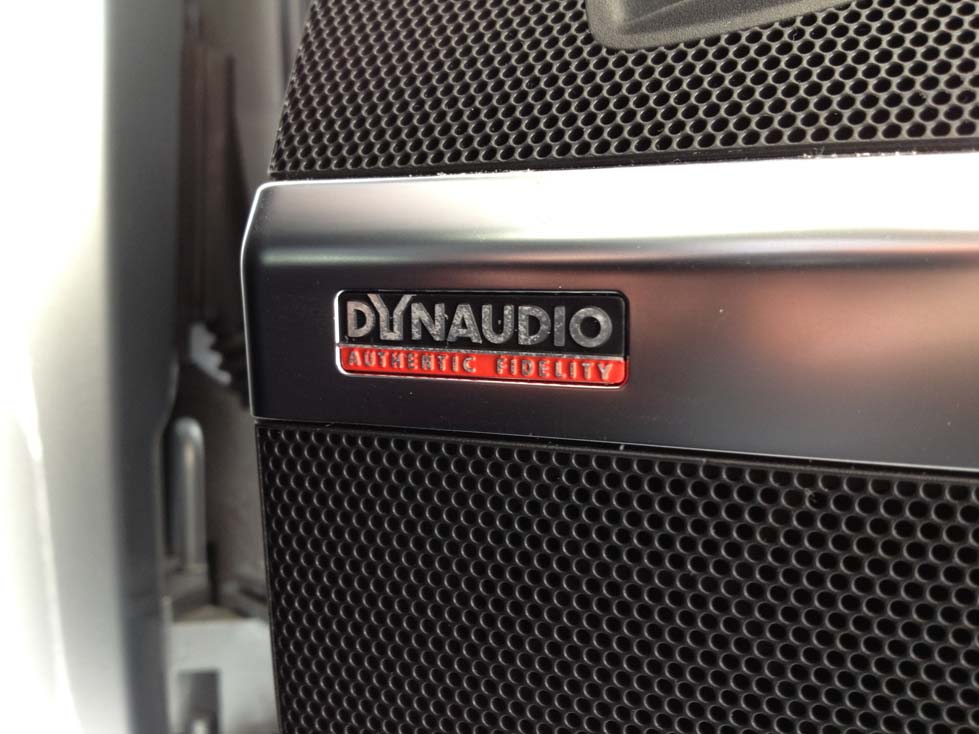 .
Sound is channled through a DYNAUDIO 'Confidence' 10 speakers, 600W premium sound system. It's punchy enough to stir you with excellent clarity but I didn't have time to properly set the sound preferences so the whole time when I had it, I couldn't get proper sound staging and imaging. Sound pressure is definitely present.
.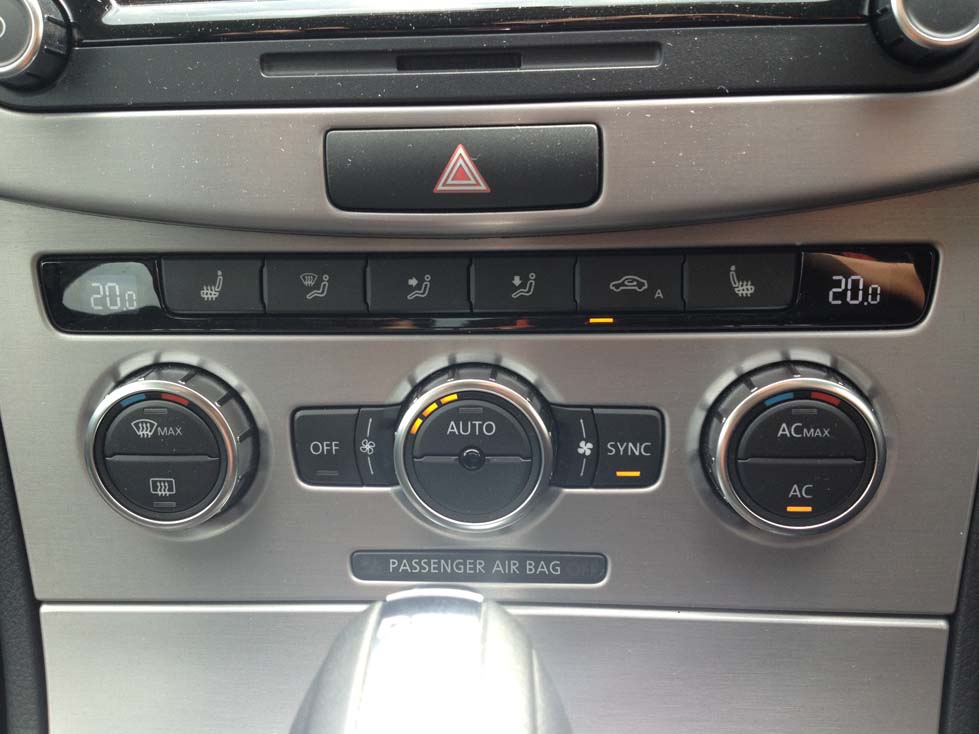 .
Below the headunit, you'll find the air conditioning controls which, like the RCD510 is as easy to use as an iPhone.
.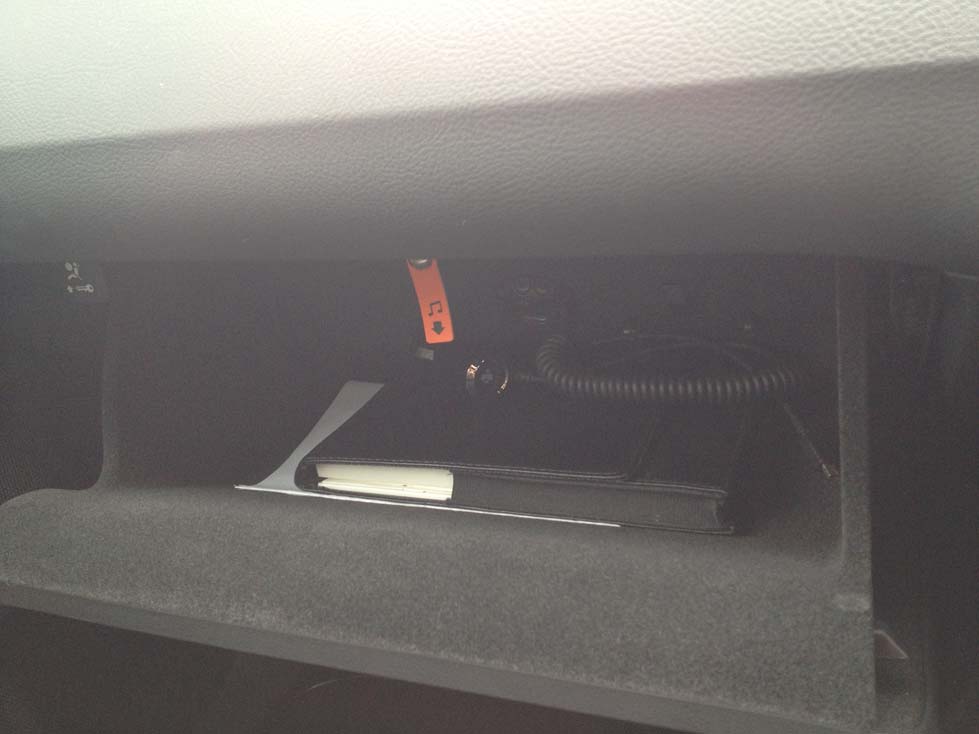 .
The glove compartment isn't particularly huge but adequate and when you pull the orange tab with a melody icon on it, you'll find the USB Media-In port. You can also purchase an Apple Media-in interface for iPods and iPhones (sorry, not the iPhone 5 yet)
.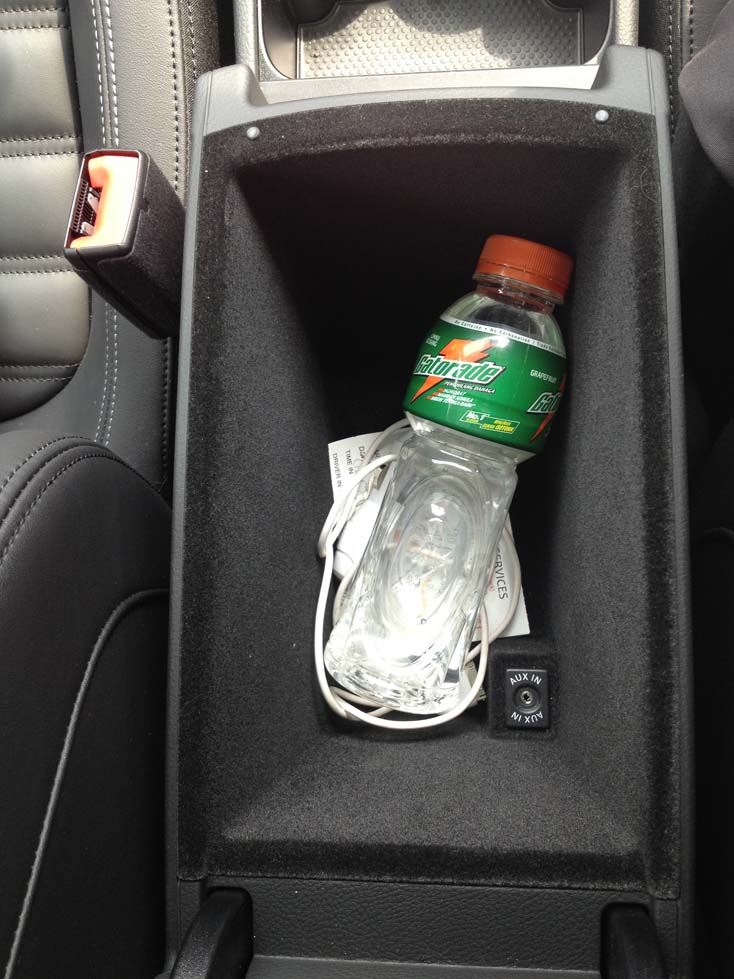 .
What IS large is the center arm rest console which is large enough to accommodate a 500ml bottle. An AUX-In 3.5mm port can also be found here but I find that using the Media-In Port gives better clarify.
.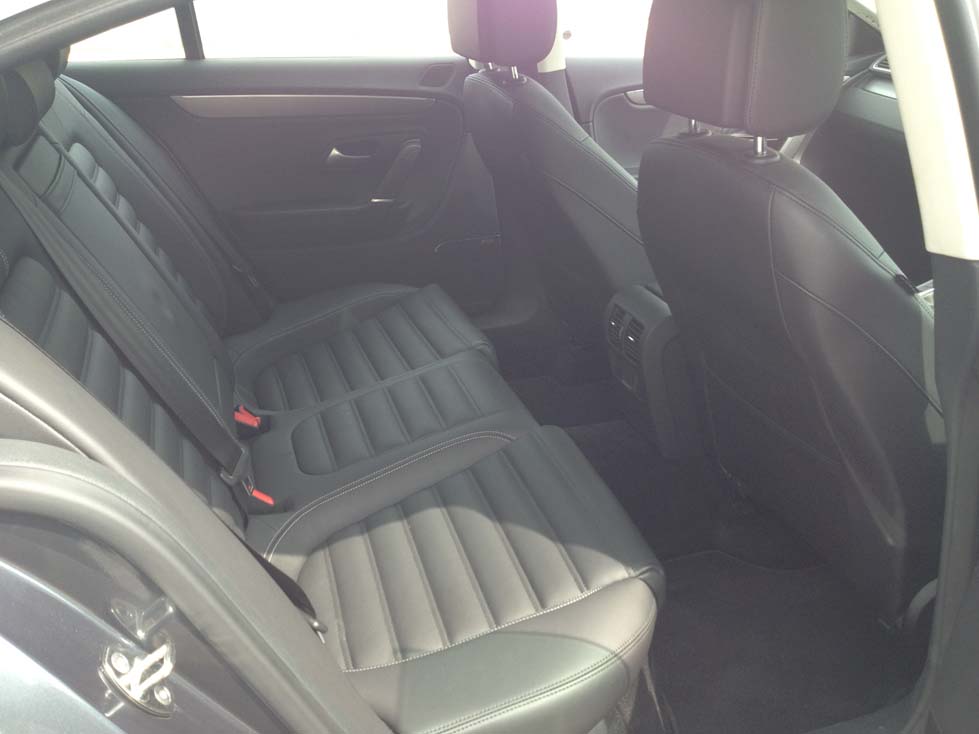 .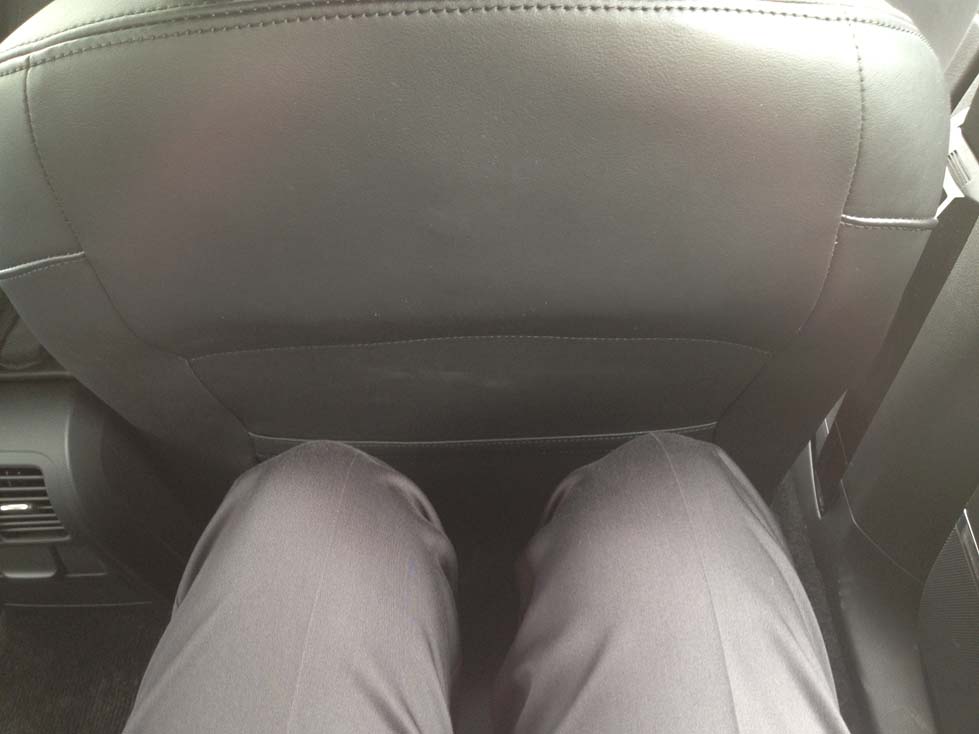 .
Rear legroom is excellent. After adjusting the front driver's seat to my 178cm frame, I still had this much knee space at the back which is impressive. The only setback is that the CC being a coupe would compromise rear headroom a little but not so bad until I was hitting the roof each time we go through a bump.
.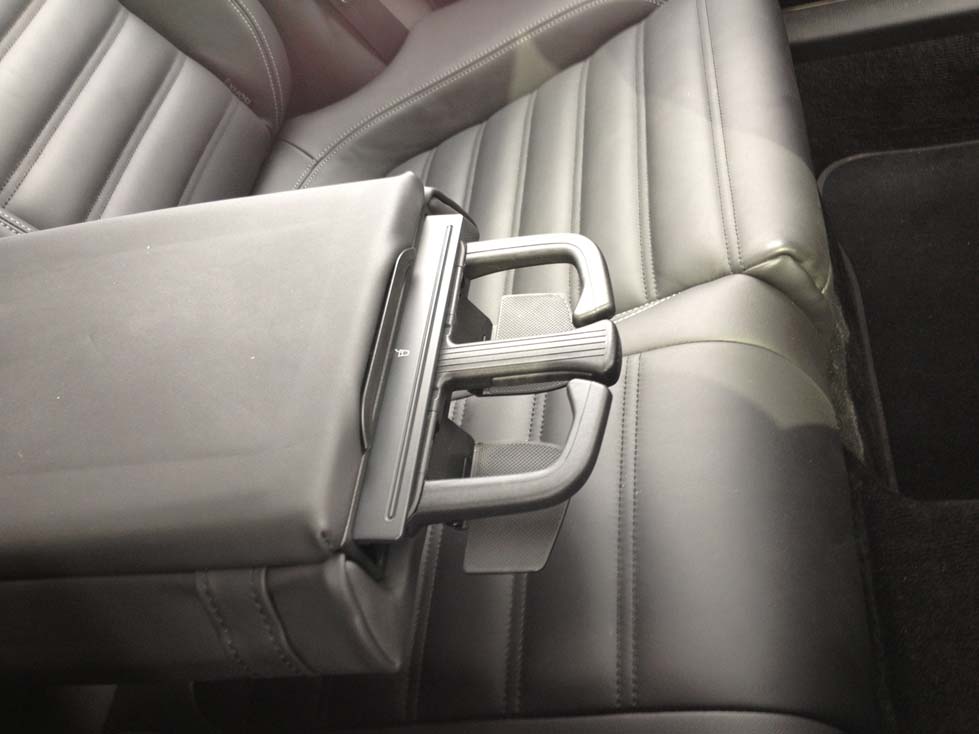 .
The rear center arm rest has a mechanical cup holder that springs out when pressure is administered in the center. I don't know why but I can't get bored pressing that damn thing each time I sit behind.
.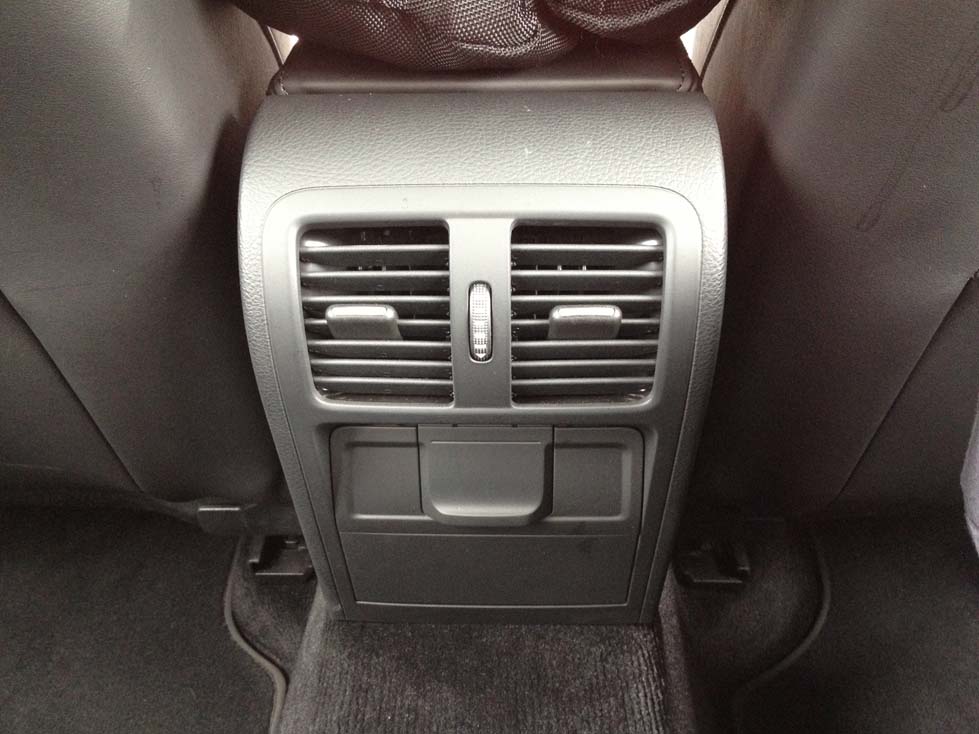 .
Rear passengers also benefit from having rear air conditioning vents mounted behind the center front arm rest and there's a 12V charger right below the vents.
.
.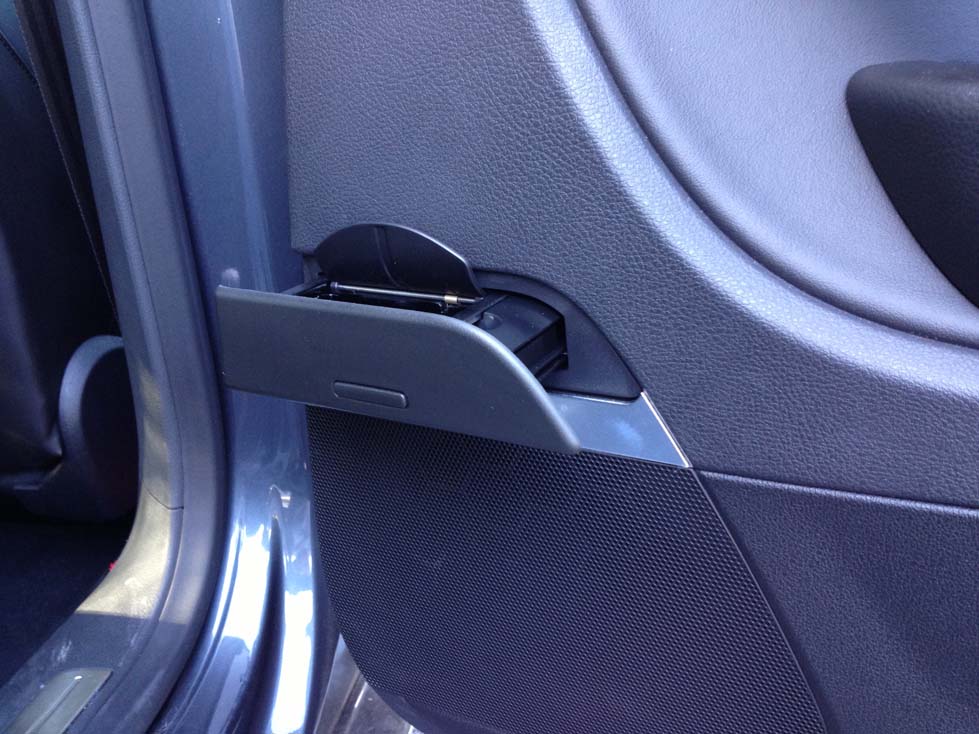 .
There's also this bit of a mystery I uncovered. I didn't know that the rear right door had an intergrated ashtray above the rear door speakers until a passenger of mine snagged it while coming onboard and the whole piece just came off. I discovered that on the other door, there isn't one. I've asked a couple of VW SAs about this perplexing one-side only ashtray and no one seems to be able to give me an answer. If I were to hazard, I'd say the CC was originally designed as a left hand drive and naturally, bosses sit on the opposite side of the driver so rear right. Smoking bosses can't be seen flicking ash outside his car now, can he? But that's just a hypothesis on my part.
.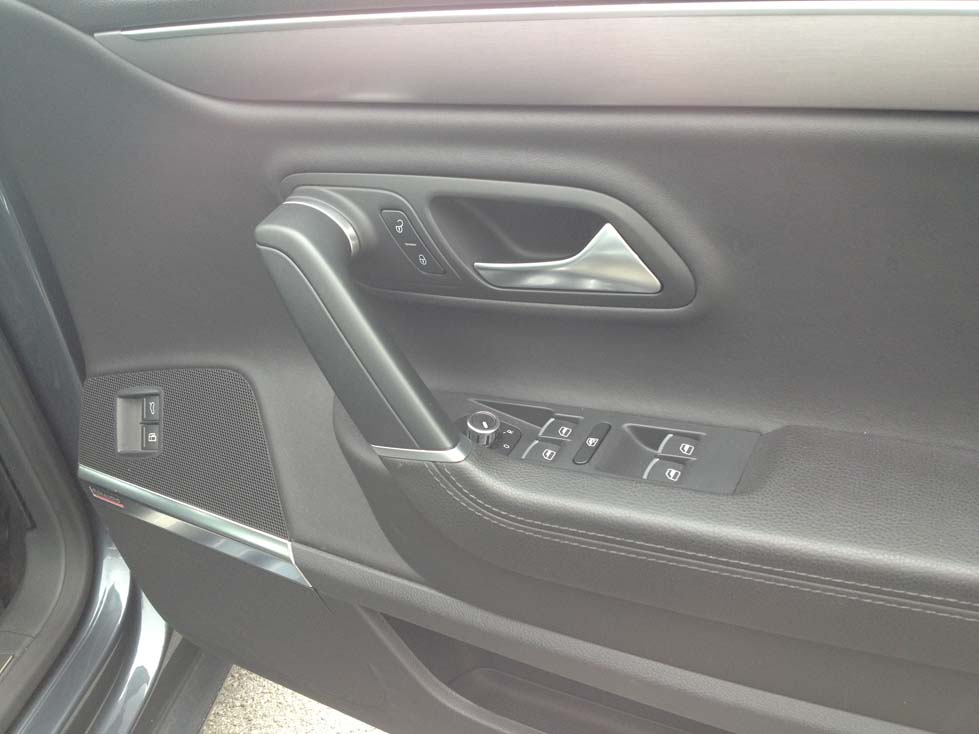 .
This is just about as many buttons you can find on a VW car. Do note that the CC has curb view left side mirror which basically tilts the left side mirror to an angle that you set whenever you reverse and goes back to normal position once you more forward again.
.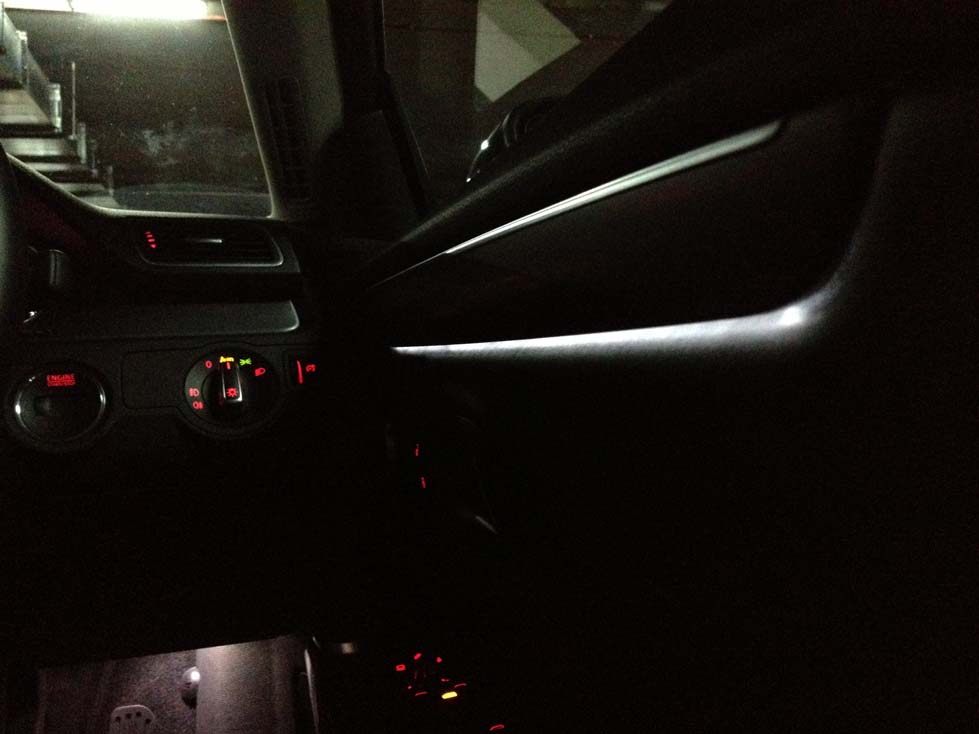 .
What's particularly cool is the ambient soft while light that can be found on the inner panel of the door and this white line extends to the rear doors as well. Nice small touches to differentiate the car from the regular Passat.
.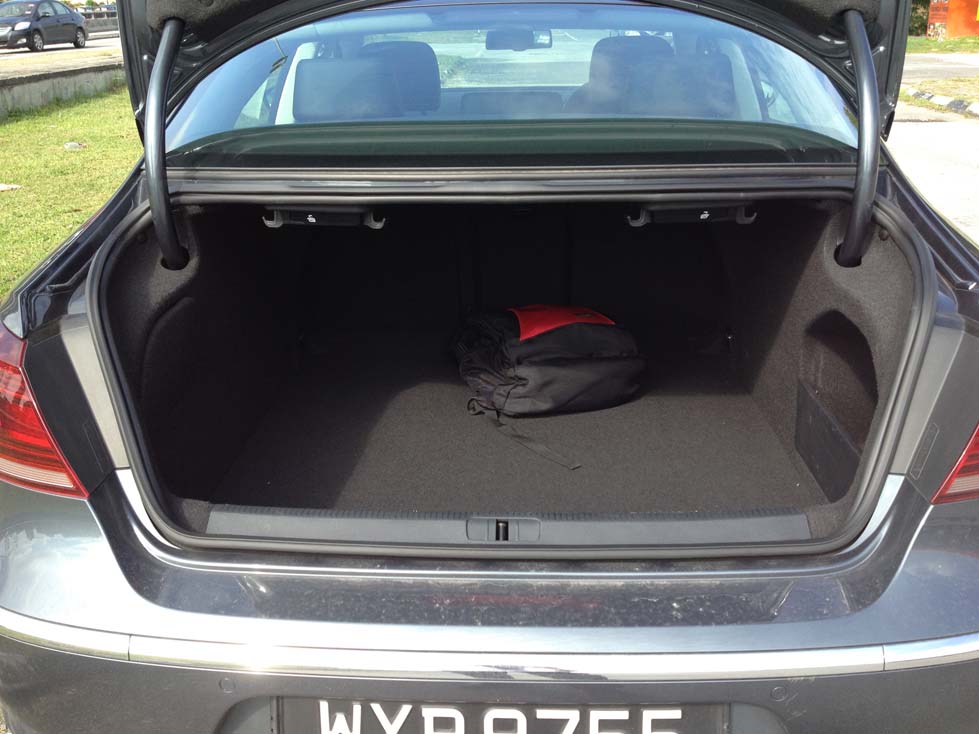 .
With the rear seats up, the CC's boot space is an impressive 532litres. Good enough for a couple of golf bags
.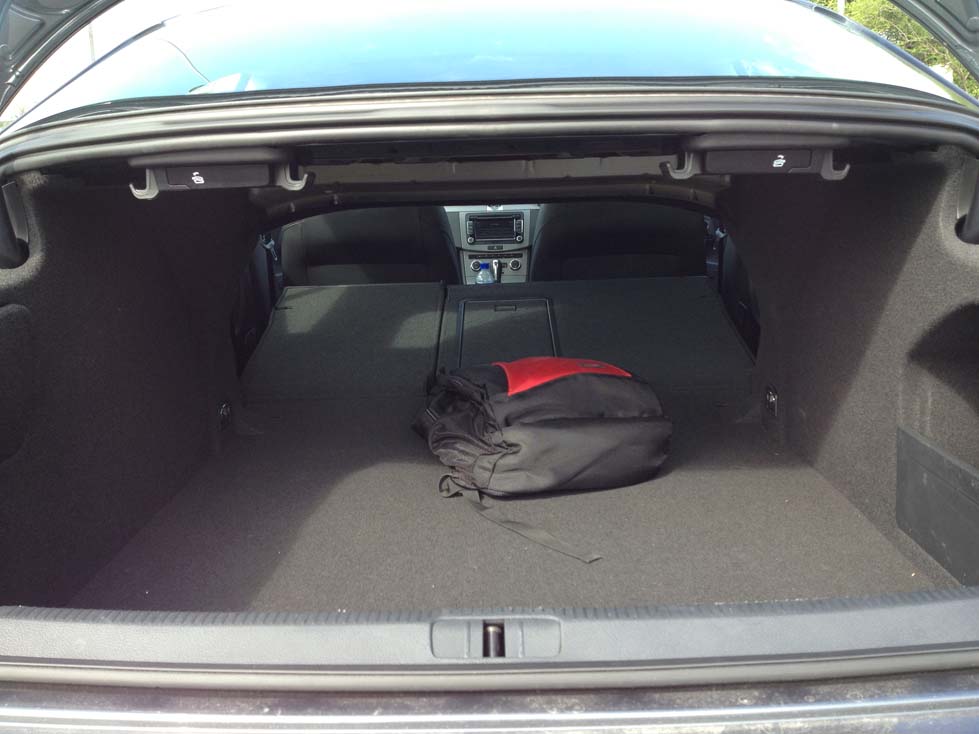 .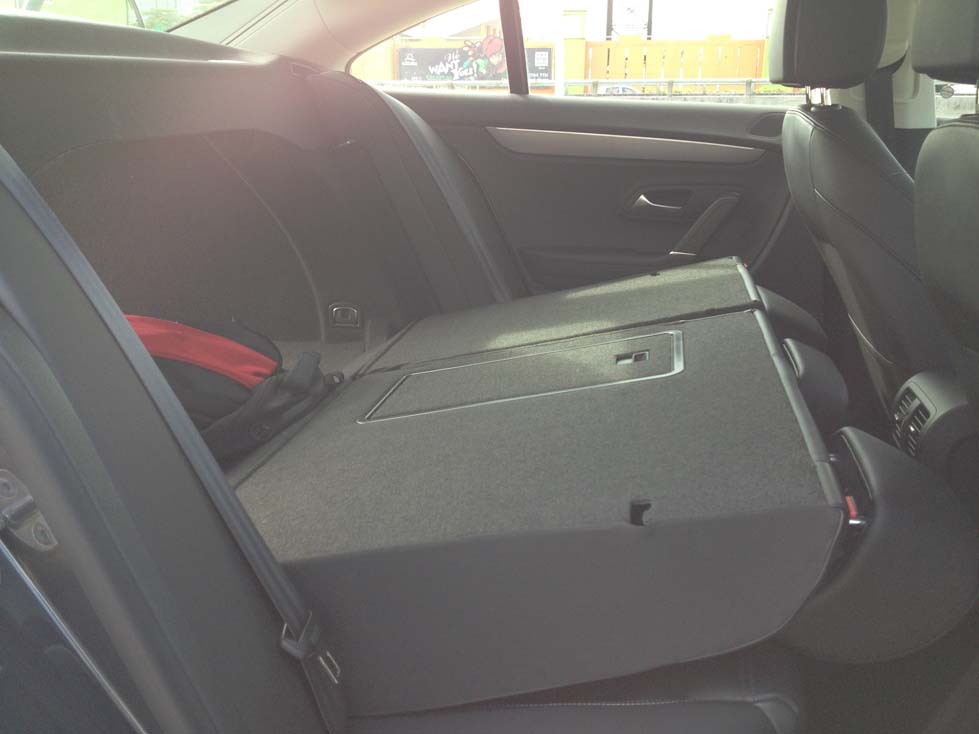 .
With the rear seats down, the cargo capacity is further increased (by how much, I have no idea as the data is not available). A pity that the rear seats don't fold completely flat though but that's just nit picking.
.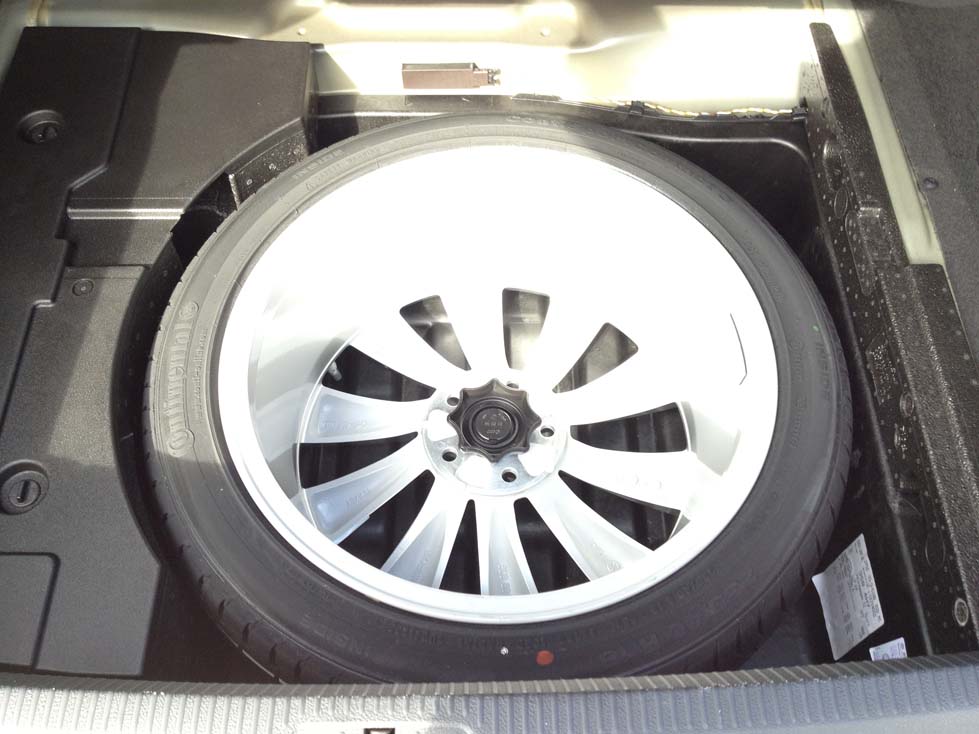 .
Underneath the boot floor, you'll find a full sized spare tire.
.
The Sport variant also comes with a tilting panoramic roof which unfortunately does not open but is sufficient to release hot air trapped inside the car after being parked under the hot sun for a while.
.
.
Safety
.
The CC provides its occupants with the following features:-
.
3-point seat belts with height adjustment and seat belt tensioners in front
ABS
Brake assist
Curtain airbag system for front and rear passenger
Dual front airbags with front passenger airbag deactivation
Electronic differential lock EDL
ESP
Electronic vehicle immobilisation device
Hill-hold control
ISOFIX preparation for child seats
'Rest Assist' drowsiness detection system
Side airbags for front occupants
Tyre pressure monitoring system
Wheel locks with extended anti-theft protection
.
.
Specifications
.
Interior
3-spoke leather steering wheel with control for DSG, MFD and radio
Analogue clock in dashboard
Auto-dimming interior mirror
Brushed dark aluminum decorative inserts for center console
'Climatronic' air conditioning system with 2-zone temperature control
Comfort start function 'Press & Drive'
Cruise control
Driver's seat with memory
Electric parking brake with auto-hold function
Electrically adjustable front seats
Electrically operated roll-up sunshade on rear window
Leather gearshift knob
MEDIA-IN multimedia interface for USB drive and AUX-IN
Multi-function display "Plus'
'Nappa' leather seat upholstery
Ornamental wood 'Ebony' decorative inserts for dashboard and door trim panels
'RCD510' touch-screen 6 CD changer radio with CD/MP3/WMA replay function, 8 speakers
Stainless steel scuff plates in front and rear, with 'CC' nameplate
.
Exterior
Bi-xenon headlights with dynamic headlight range adjustment, dynamic bending light and LED daytime running lights
Exterior mirrors, electric adjustable and foldable, heated, auto-dimming and memory on driver's side
Front fog light
Front windshield wiper with intermittent control and rain sensor
'Phoenix' 8J x 17″ alloy wheels with self-sealing tyres 235/45 R17
LED tail lights
Park distance control PDC for front and rear
.
The CC Sport gets the following amendments to its specifications:-
Brushed dark aluminum decorative inserts for dashboard and door trim panels
DYNAUDIO 'Confidence' 10 speakers, 600W premium sound system
'Interlagos' 8J x 18″ alloy wheels with self-sealing tyres 235/40 R18
'KESSY' keyless entry and starting system
Panoramic tilting glass roof
'Rear Assist' rear view camera
.
.
Ownership and Maintenance
.
For RM226,967.20, you can purchase the CC Comfort line but do note that the price excludes insurance whereas the Sport variant will cost you RM244,967.20 OTR without insurance. If you're opting for the Sport, you can be sure to be asked why not go for luxury marques like Audi, BMW and Mercedes where the entry level models are similarly priced. I had the liberty of testing the A4 1.8 TFSi and compared to the CC, the A4 is certainly quicker despite it having a CVT gearbox. Though I've not tried the F30, there is enough raves in the market about how spacious and powerful the new Beemer is that I have no doubt it is a worthy contender. If luxury is your cup of tea, then the Mercedes C-class W204 would surely win your heart. But wait, there's another worthy contender in the safety aspect: The Volvo S60's new looks and uncompromising safety features has lead to quite a number of units being sold here in Malaysia.
.
So where does that leave the CC? It seems for its asking price, others offer better engine performance, better ride and handling, better cabin design and most importantly, better brand power. The only area where the CC might score more points is the specifications where the other entry level marques may only offer a basic spec sheet (sadly still no Bluetooth which has become a norm for all other car manufacturers. Hopefully VGM can look into rectifying this soon).
.
Despite all that, the greatest selling point of the CC is it's 4 door coupe form. With specifications and  performance that ensures your neighbors won't look down on, the CC is a rare form on our roads. In that sense, if different is what you want to be then the CC is the car for you.
.
.
.