If the purpose of a business is profit, then the best kind of business to be in is eatery. I mean, what's not to like when all your customers line up to pay you in cash while you can, in some cases choose to pay your suppliers in terms, allows you to set almost any price that you want and you can choose, at your whim and fancy when to work and when to take a break. The challenge here is getting to that point where all this happens regularly and no amount of clever marketing can ever deliver you there if your kung-fu in the kitchen is not strong enough. Working hard only is not enough since without that secret recipe that has people from all walks of life flocking to your restaurant, you won't be much different from seeing Namewee's opening scene in the movie Nasi Lemak 2.0 where his eatery was empty except for one customer and the rest of the story was how he embarked on a journey to find the perfect recipe.
.
Granted you cannot have a recipe that appeals to ALL, it remains important that you have one that most would agree is good enough to savor again and more importantly, to recommend others to patronize the place. Translated to a car, the flavor nowadays are focused on soul moving exterior/interior design, excellent fuel consumption, impressive driving dynamics and cutting edge safety features. Other seasonings like reliability, affordability and after sales are tossed in and in the hands of masterful engineers, a hot seller is produced. And this is where the new Mazda 6, the 3rd revision of the Mazda flagship menu attempts to entice its buyers to give it a try and (hopefully) get addicted to it enough to part ways with their hard earned money and poison their friends and relatives to do the same.
.
Recently, Bermaz had a media preview of the new Mazda 6 at their showroom and members of the media were invited to a drive up to Bukit Tinggi and back. Yours truly was sadly excluded from this select group of fine journalists but that's fine as I had a chance to sample the car very recently through a chance meeting of it on the road and I went to the nearest showroom to inquire about it.  True enough, Bermaz was allowing the public to test the car and like any hungry person who just stumbled upon a restaurant with nice food smells wafting out, I quickly signed up for a test drive. And what a fine dish, the Mazda 6 is ….
.
.
Design
.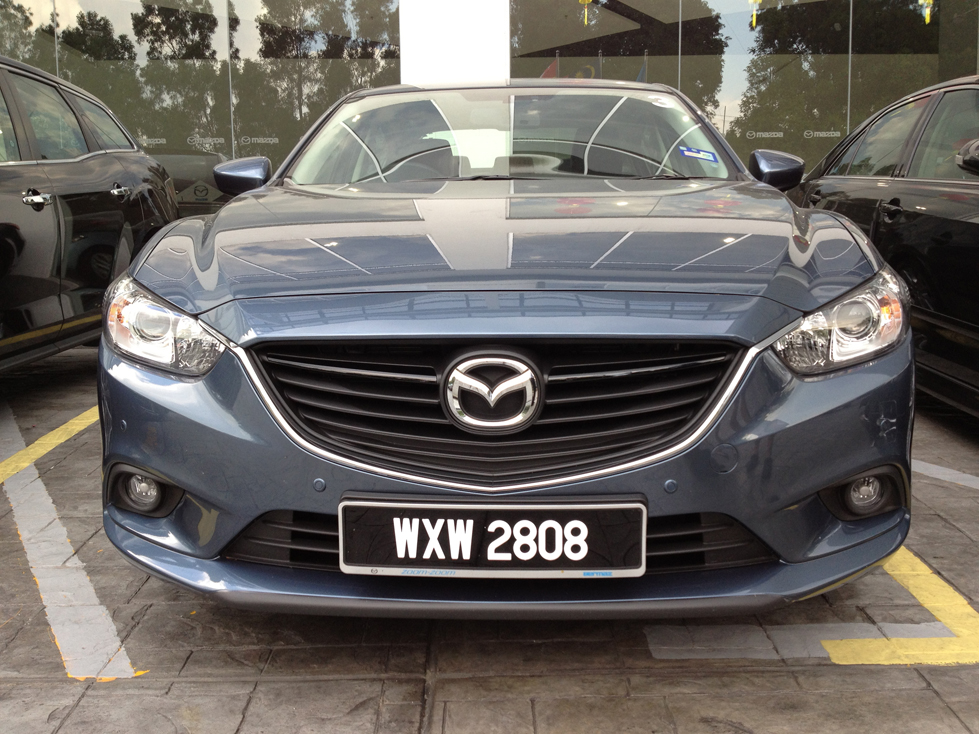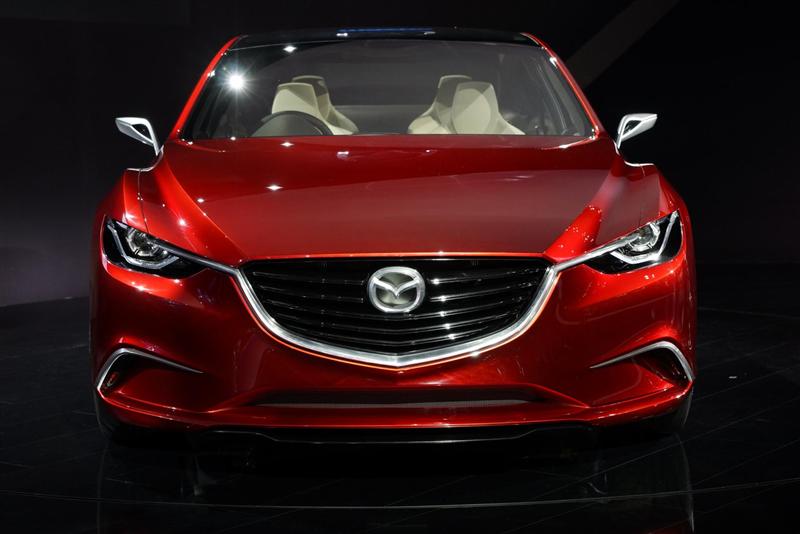 .
We've been given the teaser menu titled Takeri which means "Male" in Japanese. Guess if a female were to drive this, she'd probably be perceived as drinking something manly like beer ….. or prune juice *cringe*. It looks great, especially when most of the design from concept to production is carried forward, exception being some changes to the headlights and fog lamp area. The aggressive front fascia makes any female driving this looking like a butch … if you see one coming down your rear window, it's like an animal ready to pounce on your rear end.
.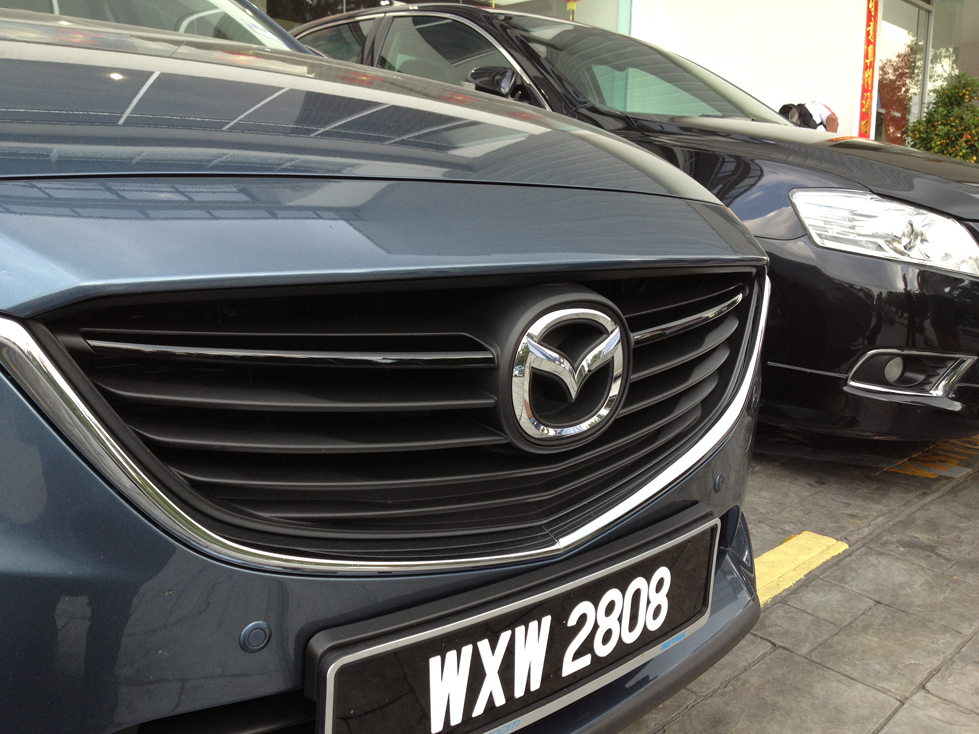 .
In line with keeping with the family appearances, the Mazda 6, like the CX-5 sports the new grille which features a logo-on-wings design.
.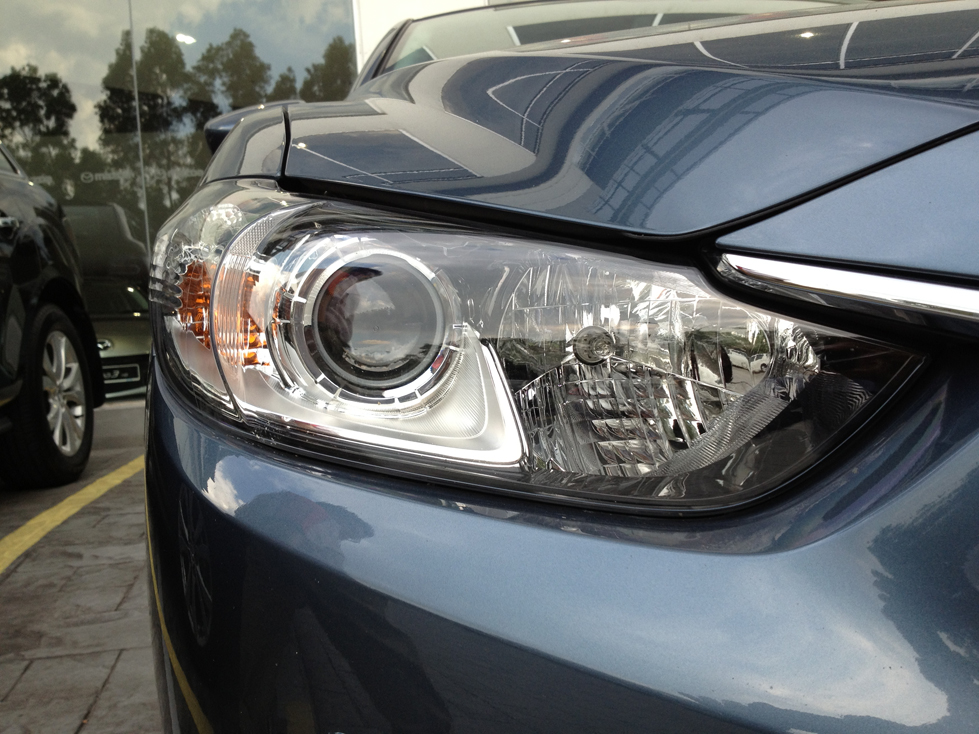 .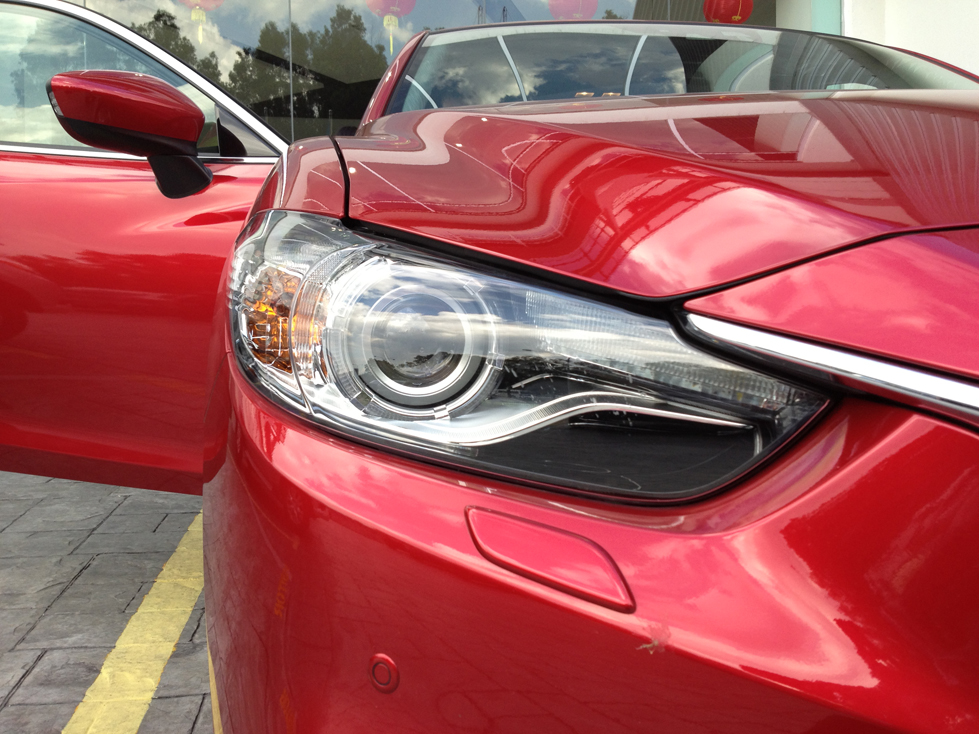 .
We get 3 variants when it goes on sale some time in March. A standard 2.0litre SkyActiv Bento, a 2.5litre SkyActiv Bento Special and a 2.5litre hatchback Touring SkyActiv Super Bento. There weren't any Touring wagon when I arrived at the showroom but I did managed to snap some pictures of the 2.0 vs 2.5. One of the differences between the 2 models is the headlamp cluster …. the 2.0 (the blue one) has a somewhat conventional projector design. In it are the manual levelling, auto On/Off halogen lights.
.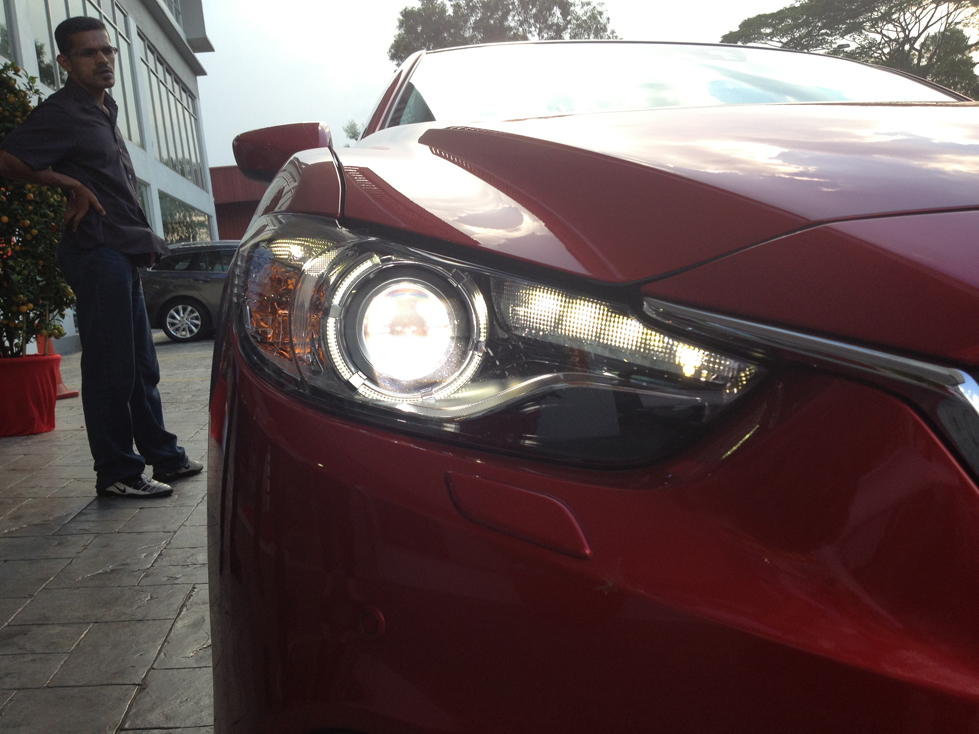 .
The 2.5litre however gets LED Daytime Running Lights, auto levelling, auto On/Off bi-xenon headlamps.
.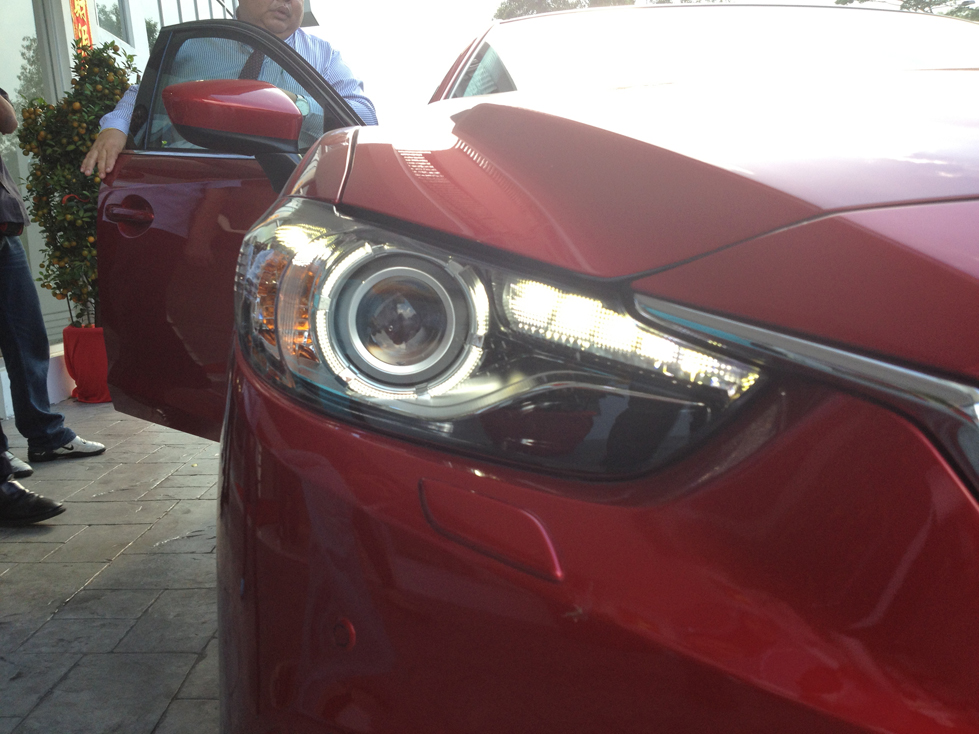 .
The background is rather bright but if you look closely, you can see the light corona (or some call it Angel lights) surrounding the projector lamps. This feature can also be found in the 2.0.
.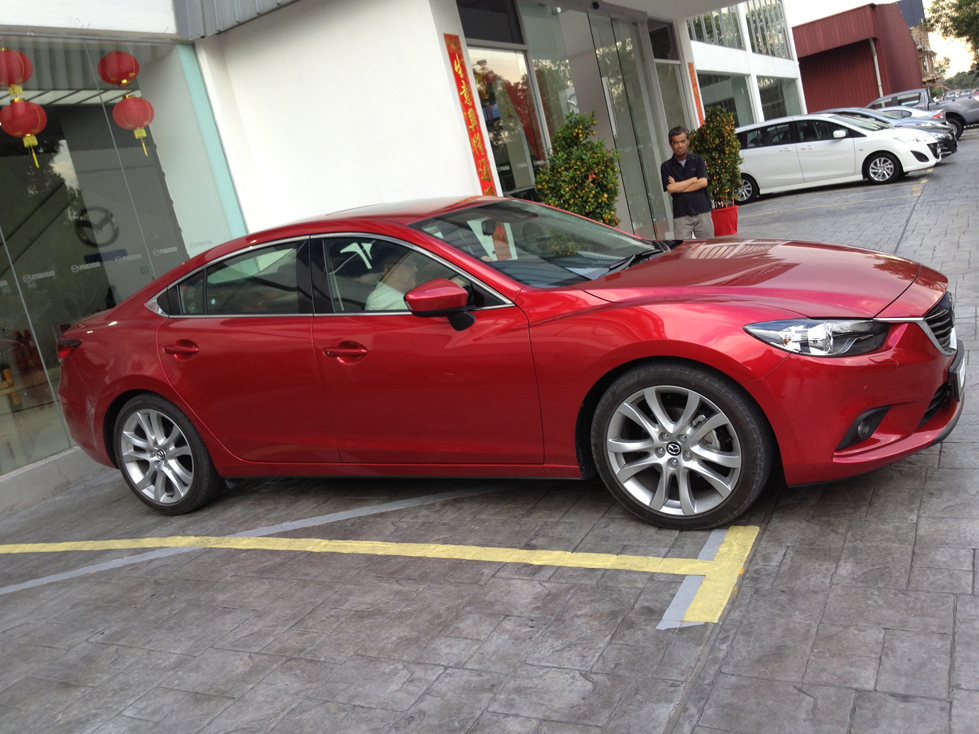 .
Measuring 4,865mm in length, 1,840mm in width and 1,450mm in height with a wheelbase of 2,830mm, the new Mazda 6 is 110mm longer, 45mm wider, 10mm higher and most importantly, wheelbase is 105mm longer than its predecessor. In terms of competing in the segment, its wheelbase betters even the Honda Accord which was once the class leader in this area before the Belgium chocolate Ford  Mondeo was introduced. Now, the Mazda 6 trails by a mere 2cm behind the Mondeo in terms of wheelbase length and dethroned the Peugeot 508 to occupy the 2nd longest wheelbase in the D segment. But we can't tell cabin space just looking at the wheelbase (case to point: the Passat vs Peugeot 508 where despite the 508 trumping the Passat by almost 100mm, rear legroom is pathetic compared to even its smaller sibling, the 408). More on the cabin space below.
.
And when driving, the Mazda 6 is as slippery as soba noodles, registering a drag coefficient value of 0.27 for the sedan and 0.28 for the Grand Touring, the same figures as its predecessor. At 0.27, it's the same value as Japan's heavy weight beef, the Nissan GTR.
.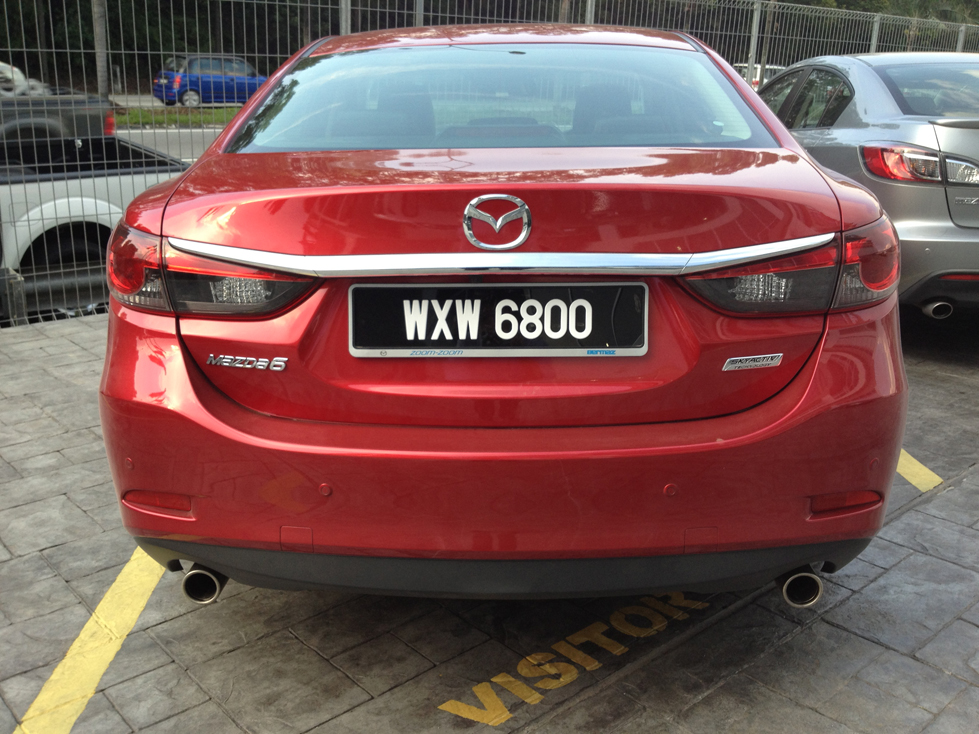 .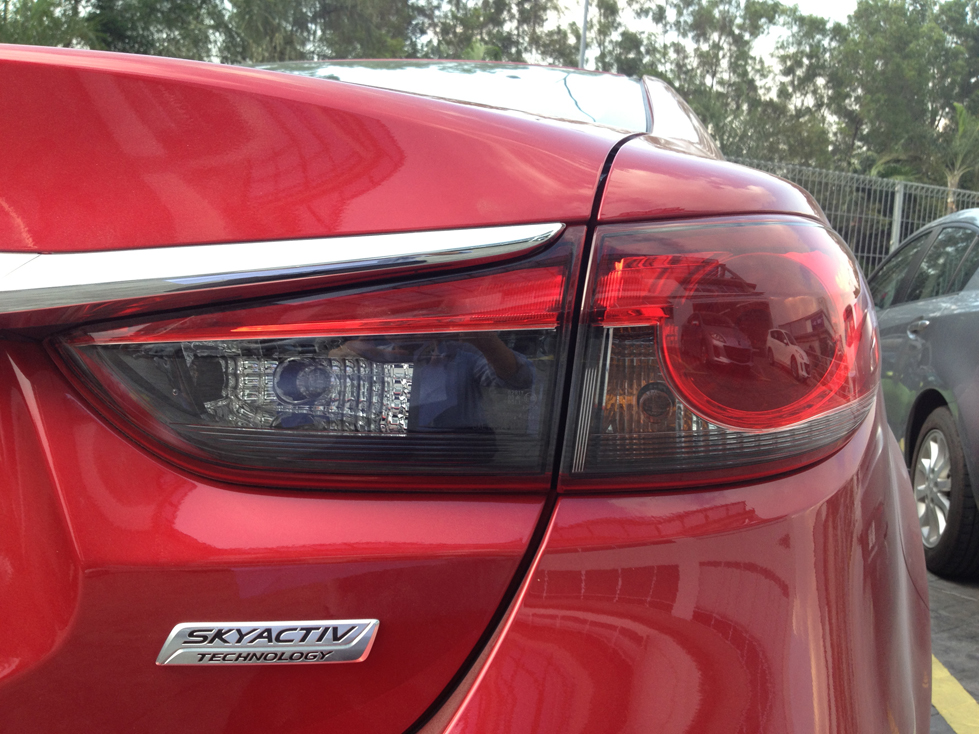 .
At the back, the rear is kept neat and simple, with the most eye catching element being the chrome bar joining the tail lamps that looks like it was inspired by what Masked Riders would have decorated their rides .  Speaking of the rear lamps, the similarities between the Mazda 6 and the Sonata's is hard to be missed but rather that this having us screaming of design piracy, they complement each other (and their cars) pretty well. The rear lamps are LEDs.
.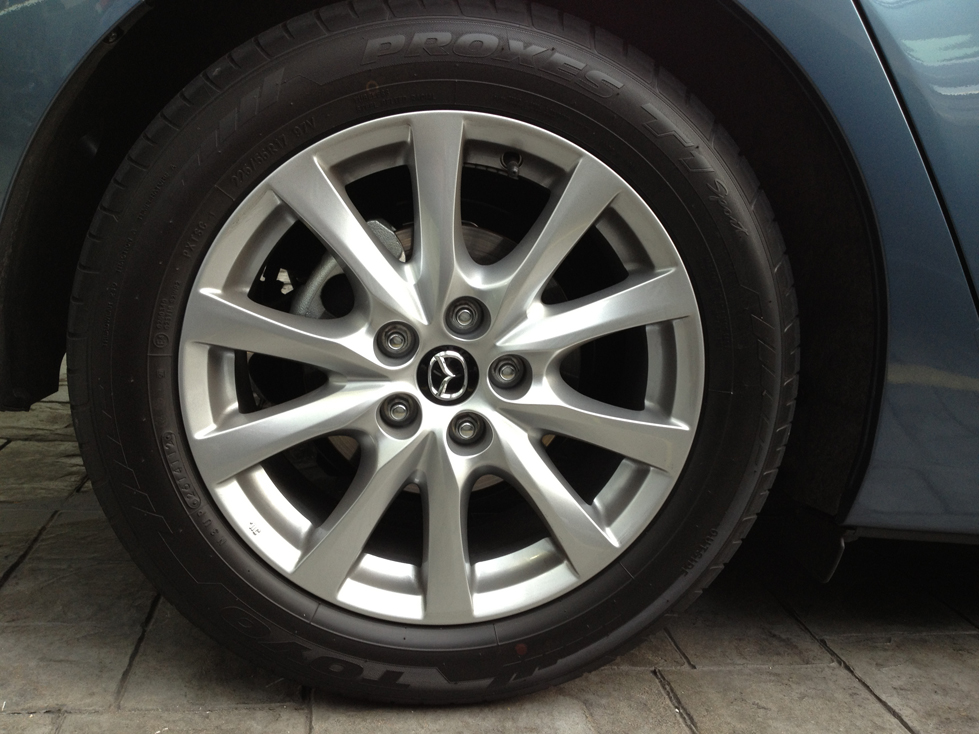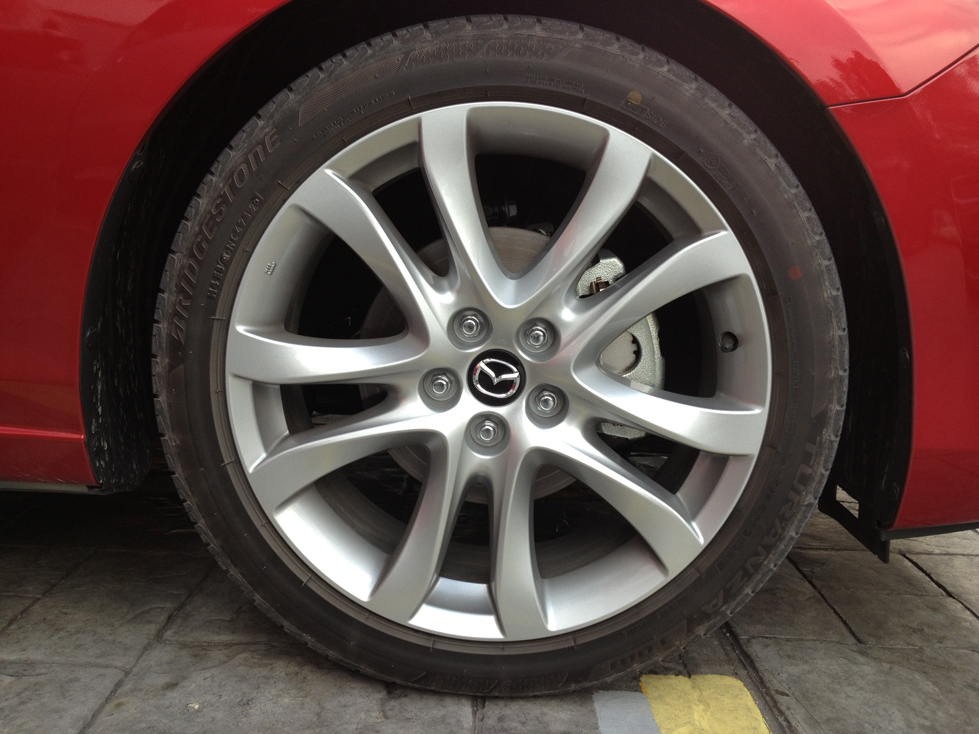 .
.
Performance
.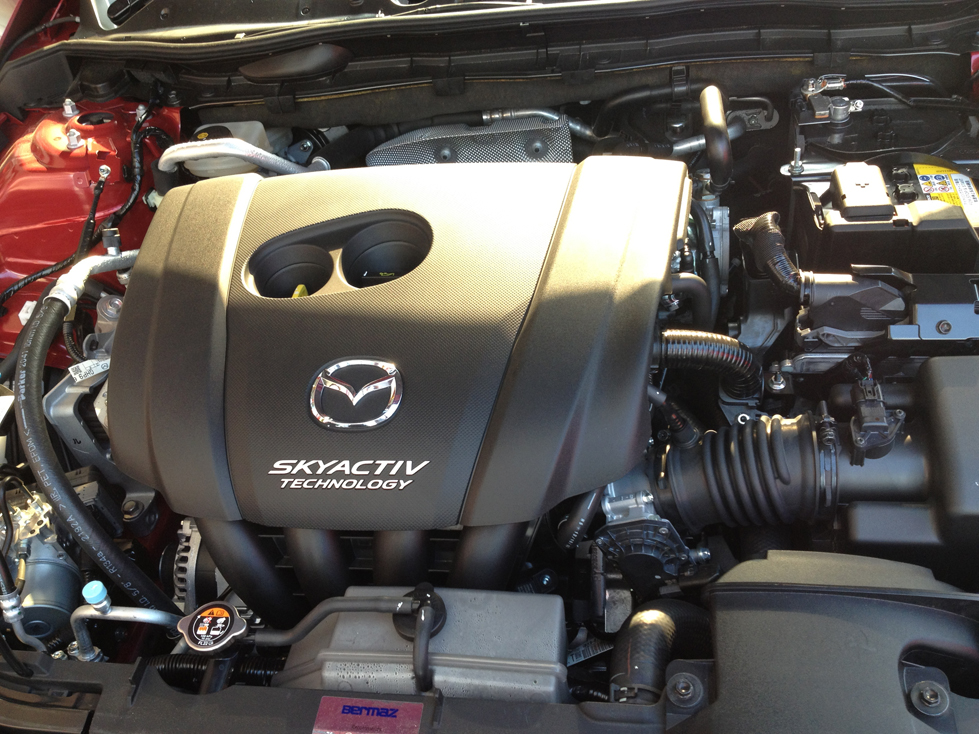 .
As mentioned earlier, we get 2 types of engines: the 153hp @ 6,000rpm with 200Nm of torque @ 4,000rom 2.0litre and the 2.5litre that produces 185hp @ 5,700rpm with 250Nm of torque @ 3,250rpm. If zero to 100kph is a dinner course, you'd finish it in 10.5 seconds with the 2.0litre and 8.1seconds in the 2.5litre. Unfortunately, the 2.o litre was delivered to another dealership when I arrived, leaving only the 2.5litre for me to sample.
.
On the go, the car felt nimble and light, nothing much to shout about really when you're at crawling speeds moving off car parks. Push the engine pass 3,000rpm and the 2.5litre mill starts singing in a low growl that you can only get in anything above 2litres of engine cc. It sounds very different from the Nissan Teana's V6 even though they both have the same engine capacity; the Nissan has a sharper, more mechanical-like whirl whereas the Mazda emits a more low key guttural tone. Not tested the new 2.5l Camry so can't say anything about how it sounds like. Try to listen to the sound it makes HERE …. even though it's a diesel, the guttural sound is quite similar to the petrol variant we get here.
.
I was taken to the B roads leading to Holiday Inn Glenmarie so not much opportunity to take it on a long, high speed cruise but on paper, you can push the 2.0 engine to 6,800rpm and the 2.5 to 6,500rpm before the engineers say that`s enough wasabi for you and cuts fuel. The 2.5litre can hit a top speed of 221kph before the engine shouts "Ya ma te! Ya ma te!" ( in an imaginary feminine voice). No figures for the 2.0 though.
.
.
Ride and Handling
.
In the pursuit for the perfect driving experience, Mazda came up with a cooking style called SkyActiv. A series of new technology that focuses on specific areas of the car where combined would cause incurable ear-to-ear grinning, some stomach upsets and, in some cases, a hardening of some appendages found within the male body. Mazda embarked on a journey to give you a meal as heavy as a full serving of oily tempura with high sodium fried rice minus the fat and calories. This high-energy-low-fat Japanese salad offering is done via a SkyActiv-Drive, SkyActiv-Engine, SkyActiv-Body and SkyActiv-Chassis. In detail, here's how each ingredient adds to the final mouth watering, "oishii" product:-
.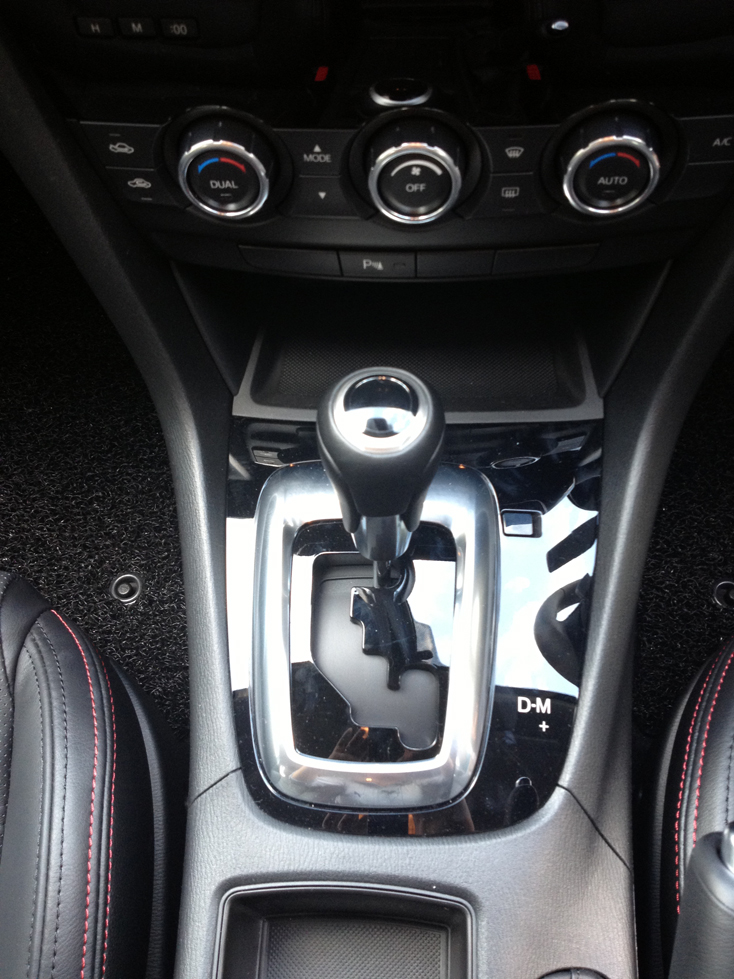 .
SkyActiv-Drive – essentially, the gear stays connected to the engine for as long as possible to ensure a direct, connected feel like a manual transmission. Kinda like an extended cunnilingus; constant, salivating action at whatever pace you want.
SkyActiv-Engine – a complete redesign of the engine components with an explosive 13:1 compression ratio that allows more power to be derived from the engine, better fuel efficiency (less fuel needed to reach combustion temperature).
SkyActiv-Body – a body as rigid as a world class body builder with the weight of a petite Japanese geisha.
SkyActiv-Chassis – Reengineering of the suspension, steering and braking system. Enhancing the feeling of "oneness" between car and driver.
.
In the windy roads of Glenmarie, I had a chance to experience it all as a whole …. it was amazing. Despite the car being a D segment, it handled almost as a good as a Ford Focus. Pushing it at a sharp corner, understeer was kept in check and I dare say I've not felt a D segment as confident inspiring as the Mazda 6. As a whole, the car felt nimble and light, the steering is quite chatty for a D segment family car; the traction on the wheels were well communicated to the driver. I was expecting the car to slide a bit at a particular corner when I was pushing it but surprisingly, the car held onto the road pretty well. The 19″ wheels hardly squealed, much less having the car's ESP kicking in to save my @ss from an embarrassing situation.
.
Of course, the offset of having such large rims is a somewhat stiffer suspension but I find it's not much different from say, a Honda Civic 2.0. It's certainly a lot more comfortable than before and noise, vibration and harshness is class leading. Some other senpai journalists have remarked that it's almost as good as a luxury continental brand and I have to concur. This is something that you should definitely try out when given the opportunity.
.
.
Cabin Convenience
.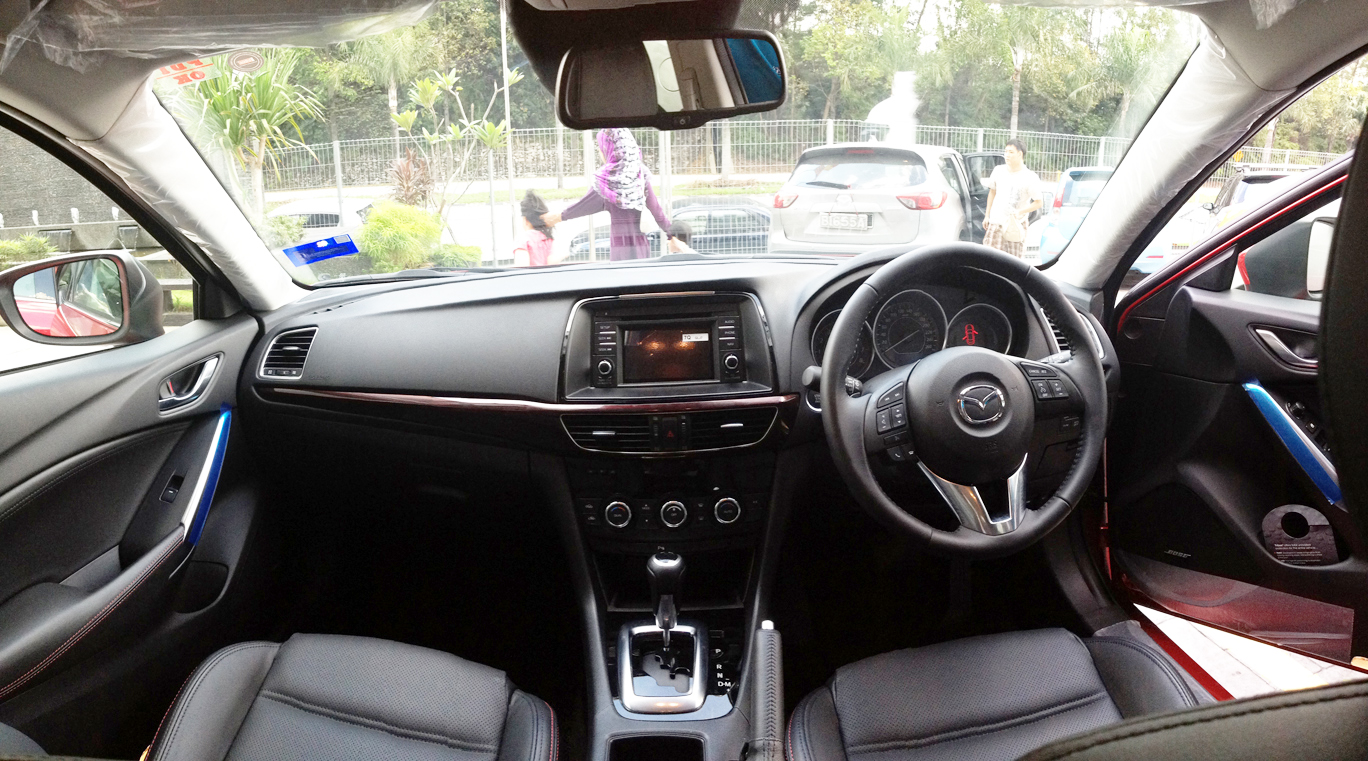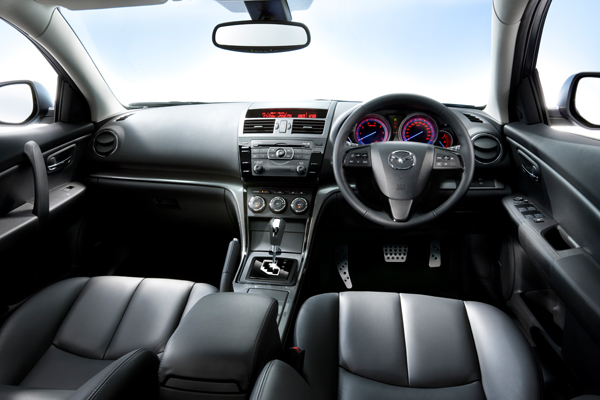 .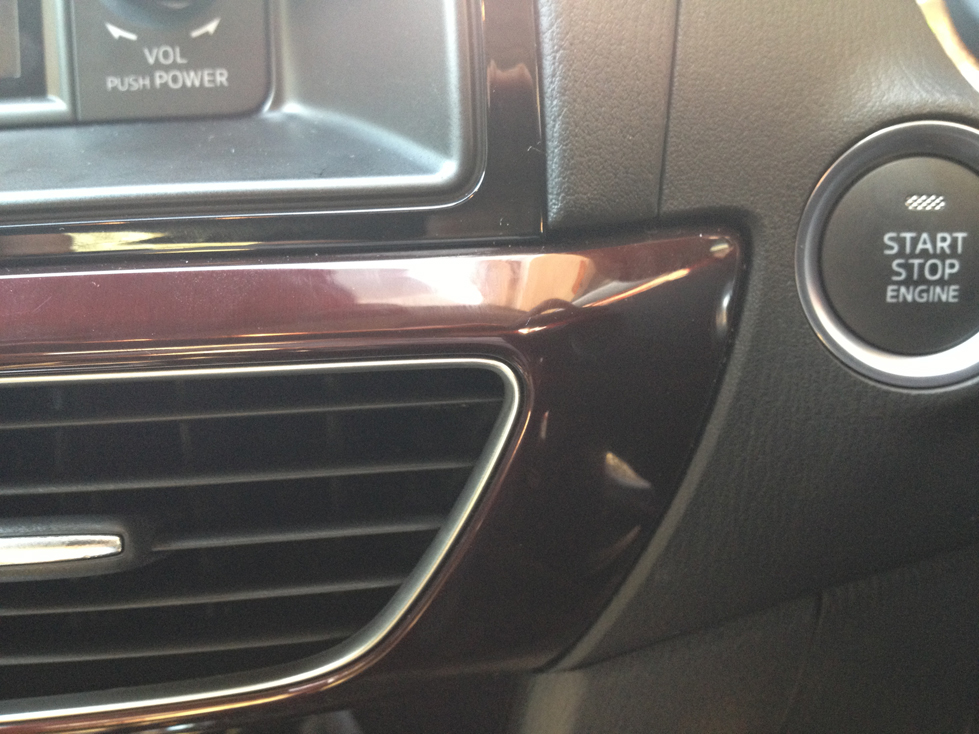 .
A far cry from the predecessor which had as much buttons as an Airbus A380, the designers of the new Mazda 6 have gone back to the kitchen and came up with something a lot simpler but no less tastier. Compared with the previous model, the dashboard has been divided to two with a wood ingrain panel that runs from the left to the center. The clean lines from the outside are carried inwards and the abundant use of soft plastics on the dash communicates quality in the highest form. I didn't quite like the CX-5 interior due to its rather tall dashboard layout and thicker wood grain which kinda makes it look somewhat bare. The Mazda 6 on the other hand does not suffer from having a too large dash area to fill up.
.
.
The leather wrapped steering is meaty enough with all the usual controls being where they are, namely:-
.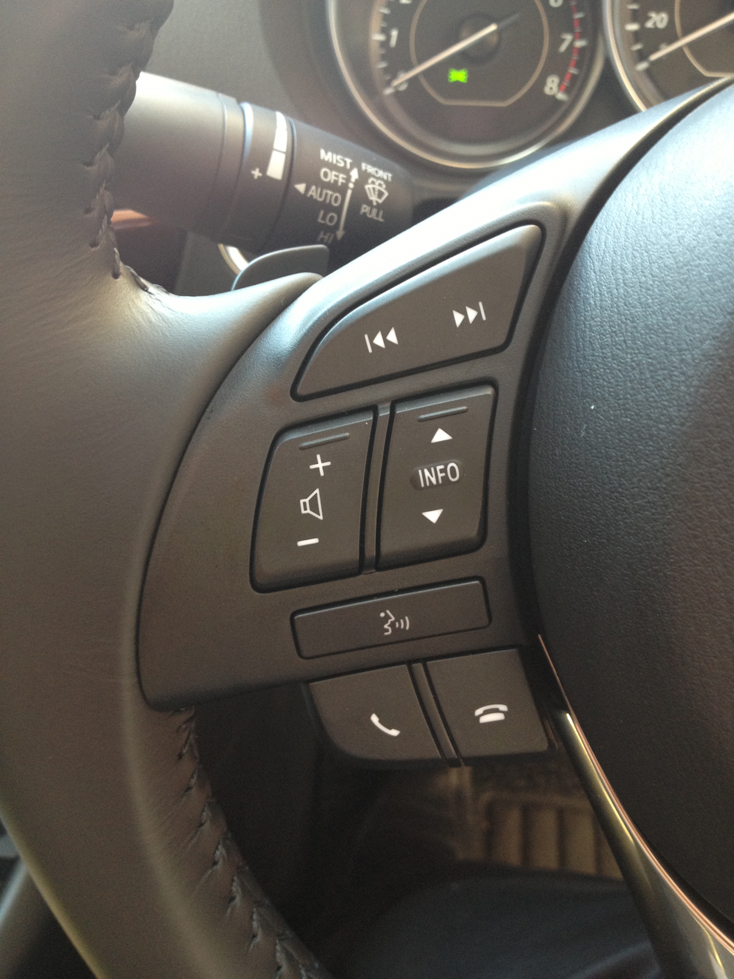 .
Audio and call controls on the left and
.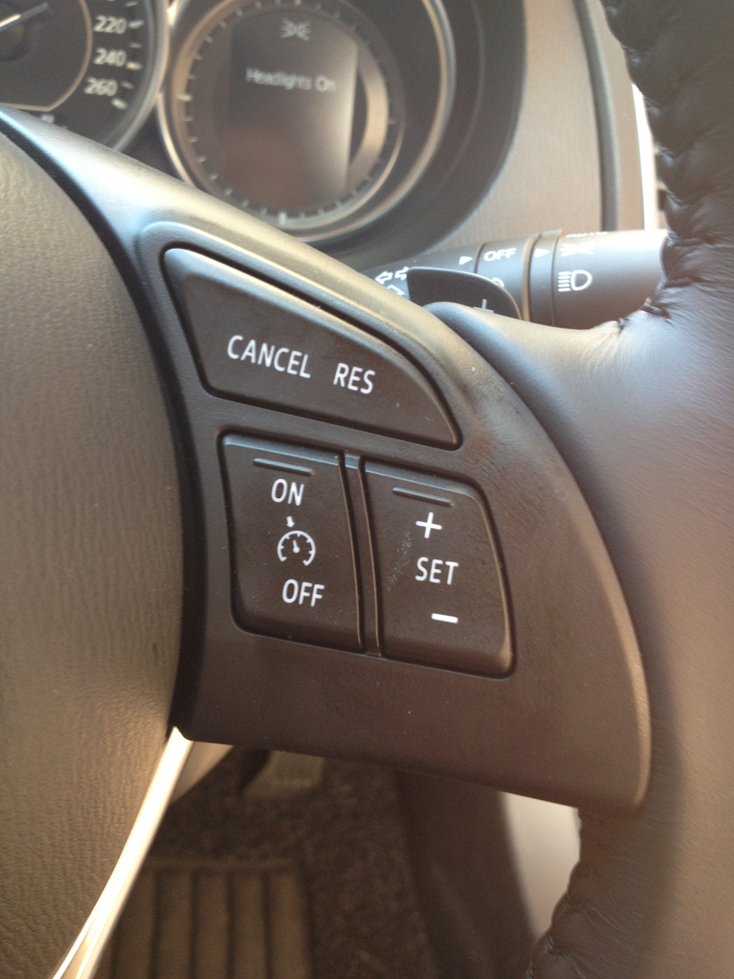 .
MFD and cruise control on the right. Speaking of cruise control, other markets can spec their Mazda 6 with Adaptive Cruise Control which automatically brakes and speeds the car if there are any vehicles traveling slower than you in front. Ours come with a standard cruise control.
.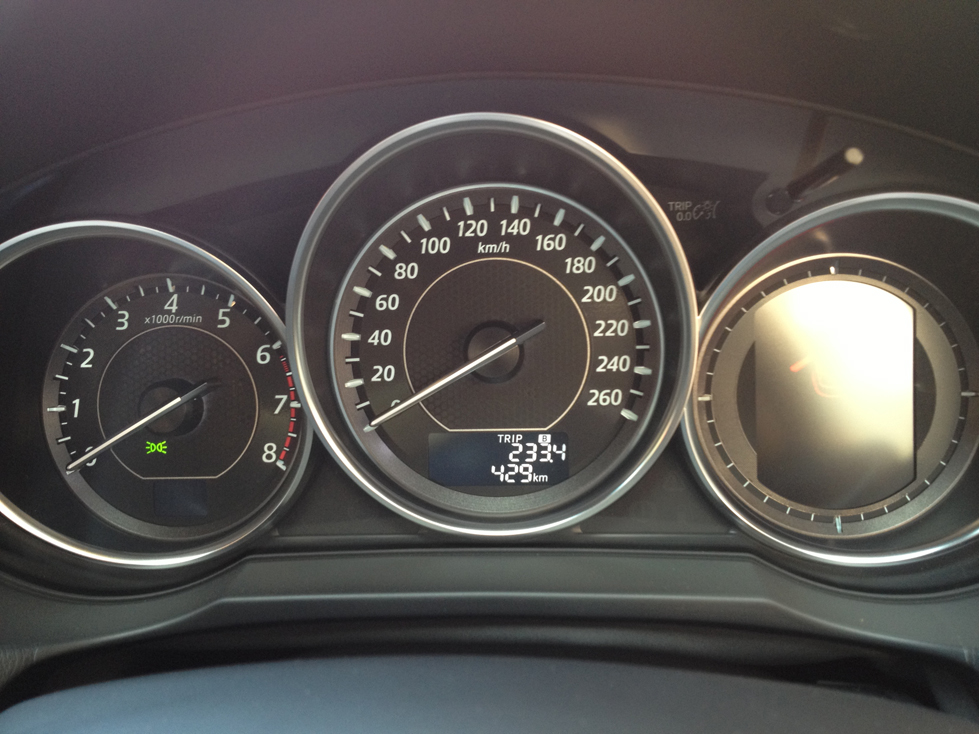 .
Gone are the red/blue meters and replaced with the CX-5 like classy white dials.
.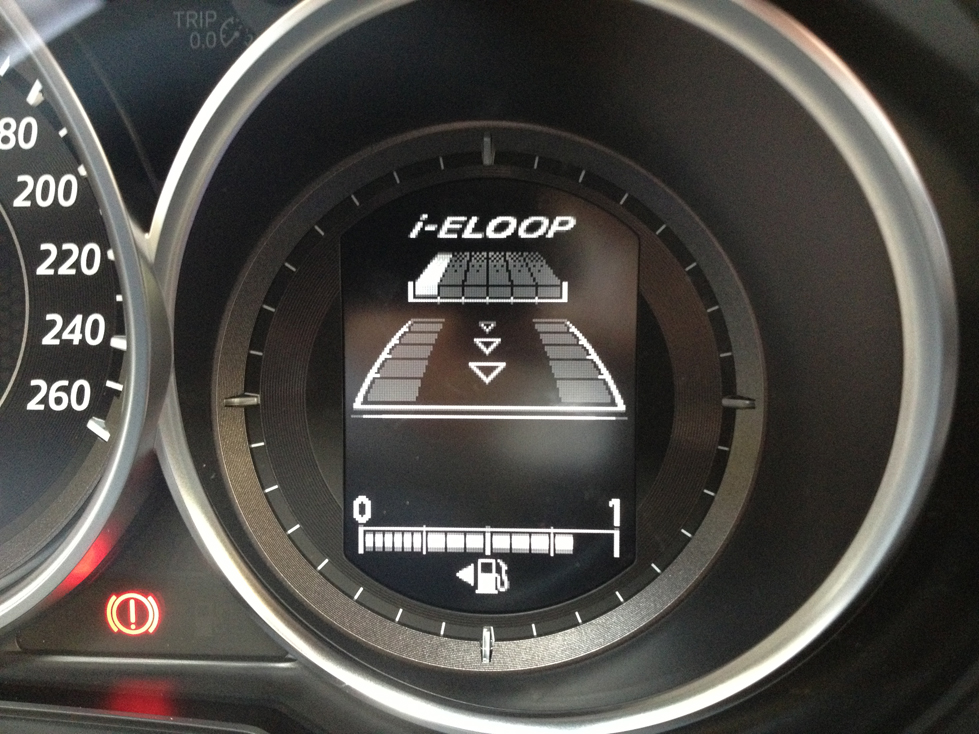 .
The Mazda 6 2.5litre is the only model in Mazda's current range to feature i-Eloop, a regenerative braking system that captures energy lost during deceleration and stores it in a high-capacity Electric Double Layer Capacitor (EDLC) which is then used to power the car's electrical systems. Not to be confused with other technologies with regenerative braking system, the recharge happens when you lift your foot off the accelerator, NOT when you depress the brakes (which is the conventional case for most regenerative braking systems) so some have asked how natural the braking experience is considering other systems causes an unnatural, 2-step-level depress positions. The answer in the Mazda 6 is it's perfectly natural …. which is of course since they don't have any additional regenerative brakes and relies solely on the conventional friction brakes on the discs to slow/stop the car. All it takes for a full charge of the EDLC is 7-10 seconds of coasting … faster than you can finish that California Temaki.
.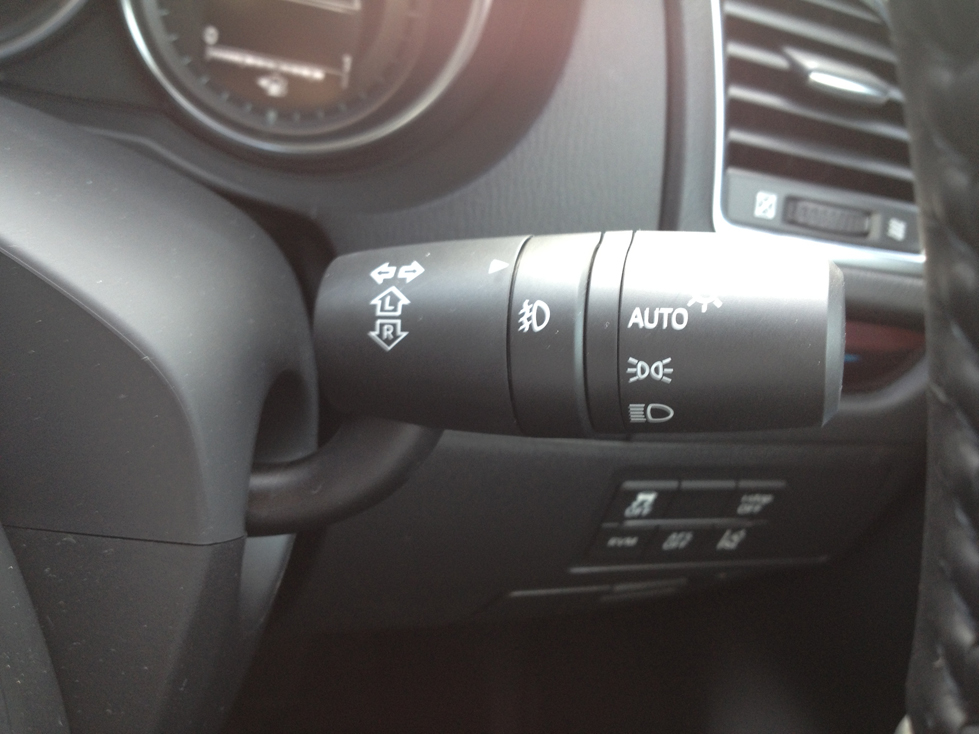 .
I love the suspended design of the stalks which follows the conventional Japanese orientation of left side wiper, right side signal. For any top of the range flagship model, auto headlamp activation and auto wipers are standard.
.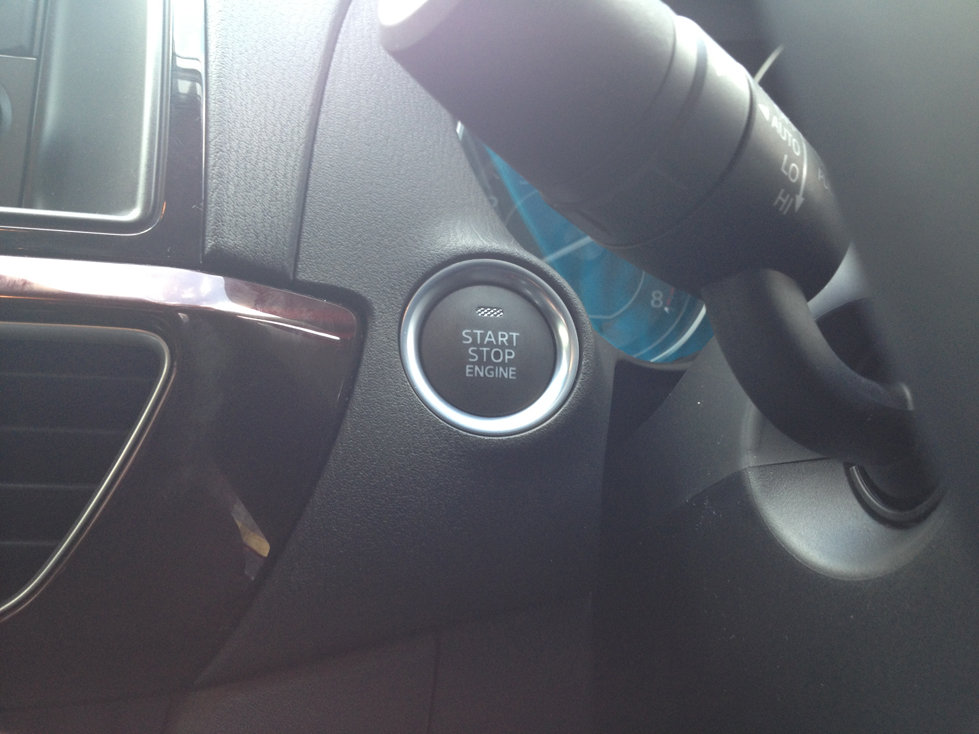 .
Also part of the flagship spec, keyless entry and push start is also considered quite the normal serving for a car costing this much.
.
.
Look down to the right side behind the steering and you'll find a couple of buttons with symbols not often found in this segment. I think the car-tyres-peeing-on-the-road symbol is pretty self explanatory. The i-stop on the other hand is a feature which shuts your engine down when coming to a stop, improving economy by as much as 5% (ignore the 5% if you happen to consume your entire tank of fuel travelling from Bukit Kayu Hitam near the Malaysia-Thai border to Singapore since this feature does absolutely nothing unless there is a traffic jam on the highways).
.
RVM (no, it does nothing to your Rear View Mirror) stands for Rear View Monitoring is pretty much a blind spot indicator used to detect any vehicles behind traveling faster than you as you signal out. Here's a video of how it works:
Just remember to use your blinkers when signalling and don't go blaming Mazda if you don't follow road manners when changing lanes.
.
AFS or Adaptive Front-lighting System is a directional headlamp system that changes the angle of the xenon headlights depending on the steering input. Check out the video here:
Why would anyone want to switch off AFS beats me … it's like throwing away a useful pair of chopsticks so that you can preserve it?
.
The lower right icon with a picture of box bending sideways is the a lane departure warning system. The driver will be rewarded with a sound similar to running over a rumble strip when he/she is being naughty and switches lane without signaling or falls asleep on the steering wheel …. or being dumb enough to drive drunk after all that sake. Here's how the LDWS system works:
.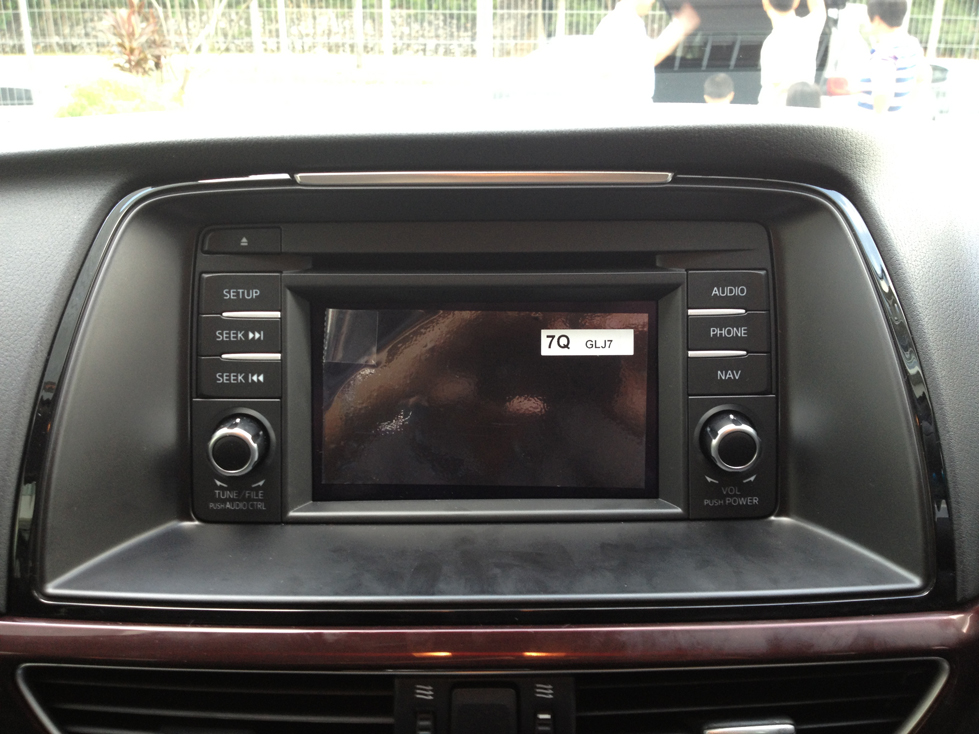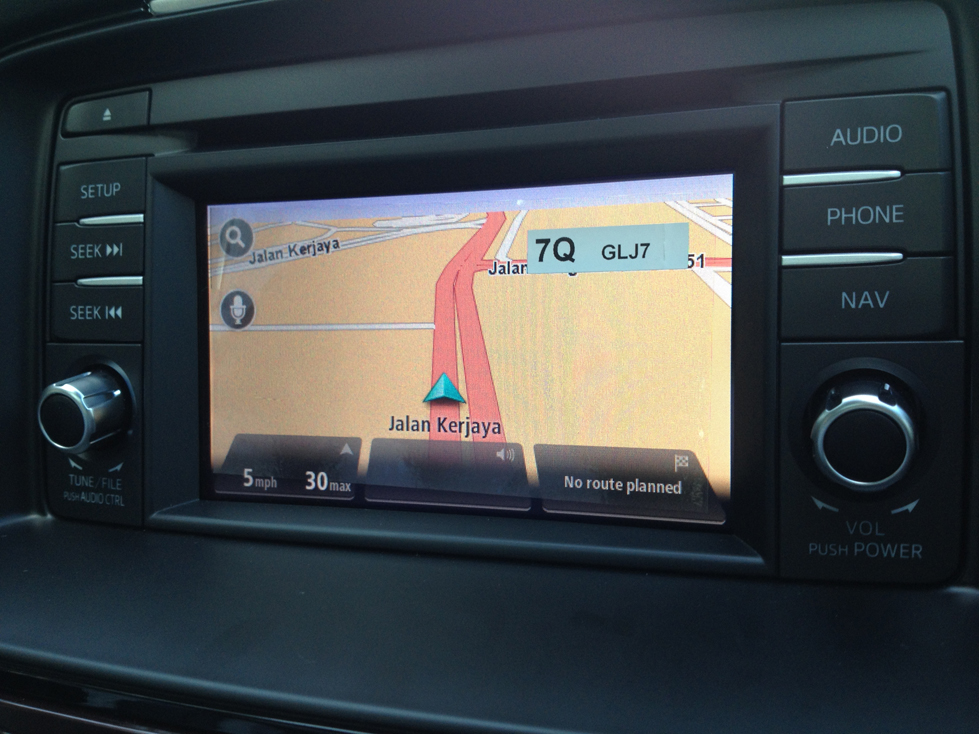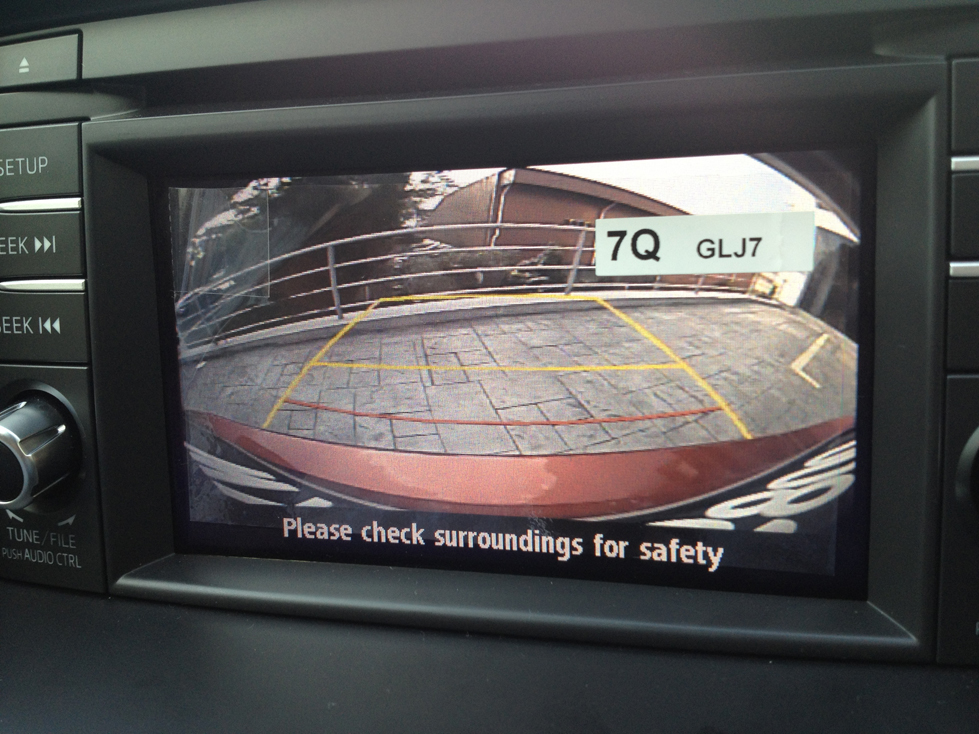 .
Many of the controls from the earlier HU in the outgoing model are now integrated to the TFT touchscreen which as radio tuner, CD, MP3, AUX & USB as well as Bluetooth connectivity functions. It has the same navigation as found in the Mazda 3 and CX-5 and personally I hoped it could have been larger. The unit also has a reverse camera integrated with static reverse lines … again, having directional reverse lines would increase its class.
.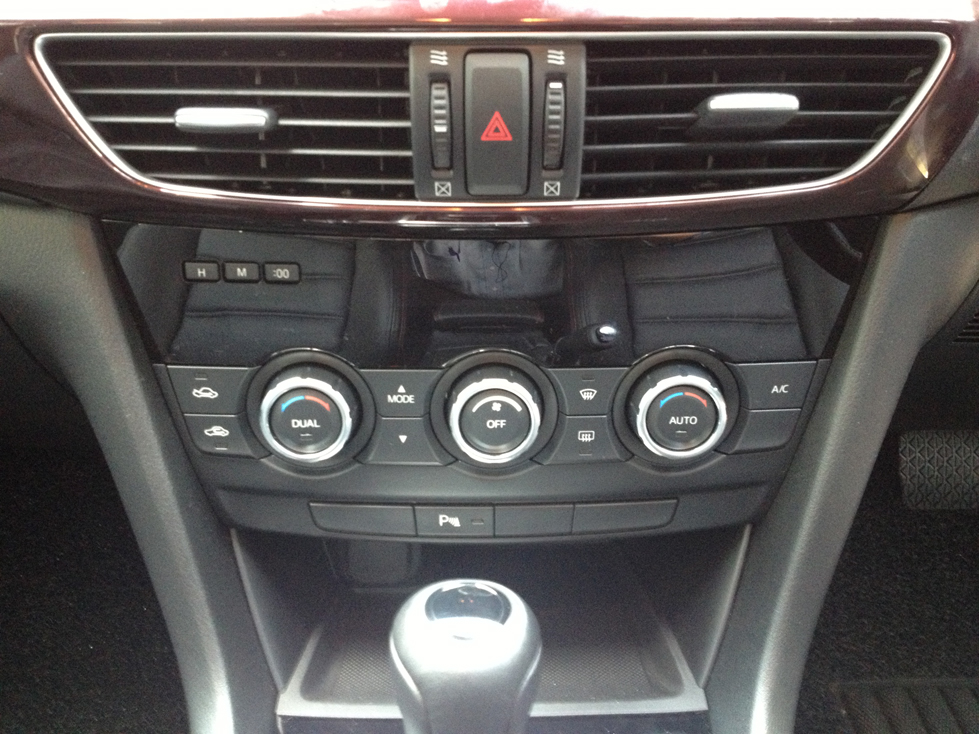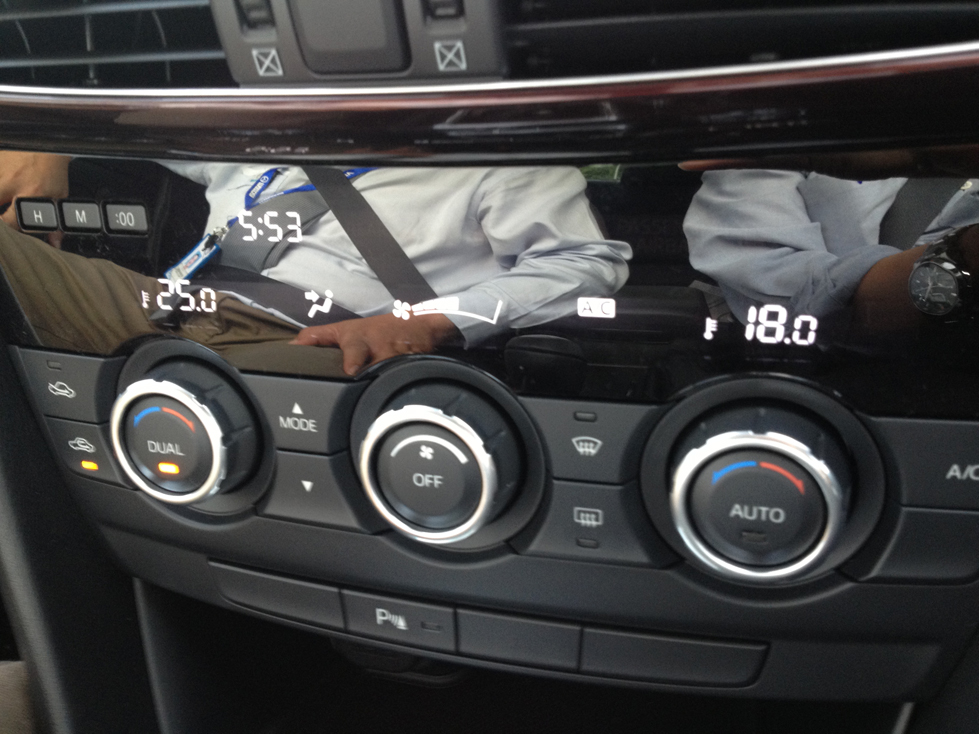 .
The air conditioning controls are quite easy to operate and the digital display are elegant …. only problem is it's too far low and takes the driver's attention off the road if he/she needs to specifically adjust the temperature.
.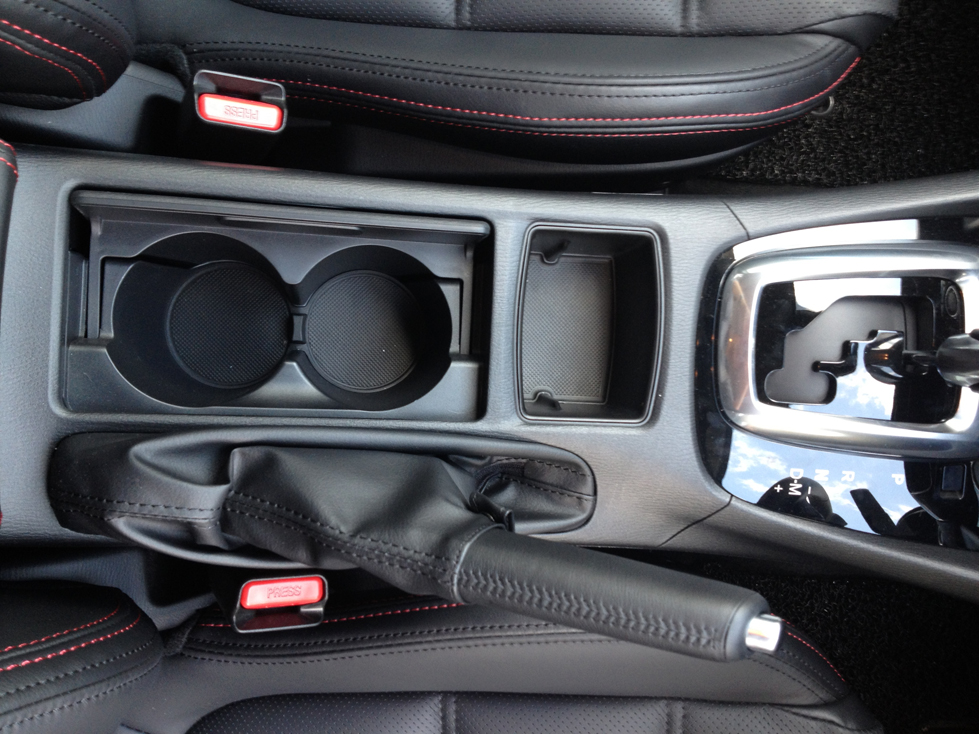 .
Cup holder cavity can be covered by a lid that slides from the left. It's too bad we don't get the controller like the i-Drive in BMW (see below)
.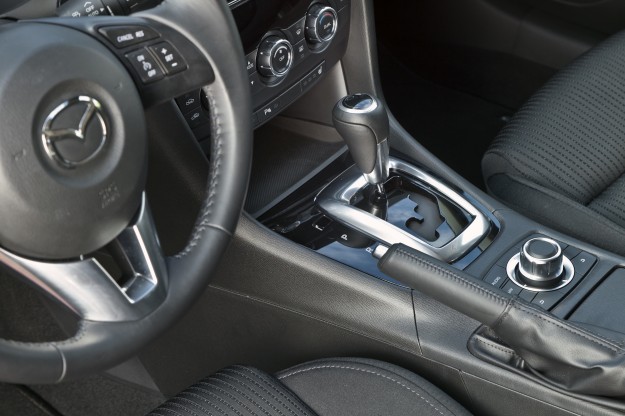 .
.
The center armrest compartment is sufficiently deep enough to stuff your Smart Tag, handphone, iPod and there's a USB as well as a 12V socket to charge your devices too. I'm thinking a MiFi device would be good here.
.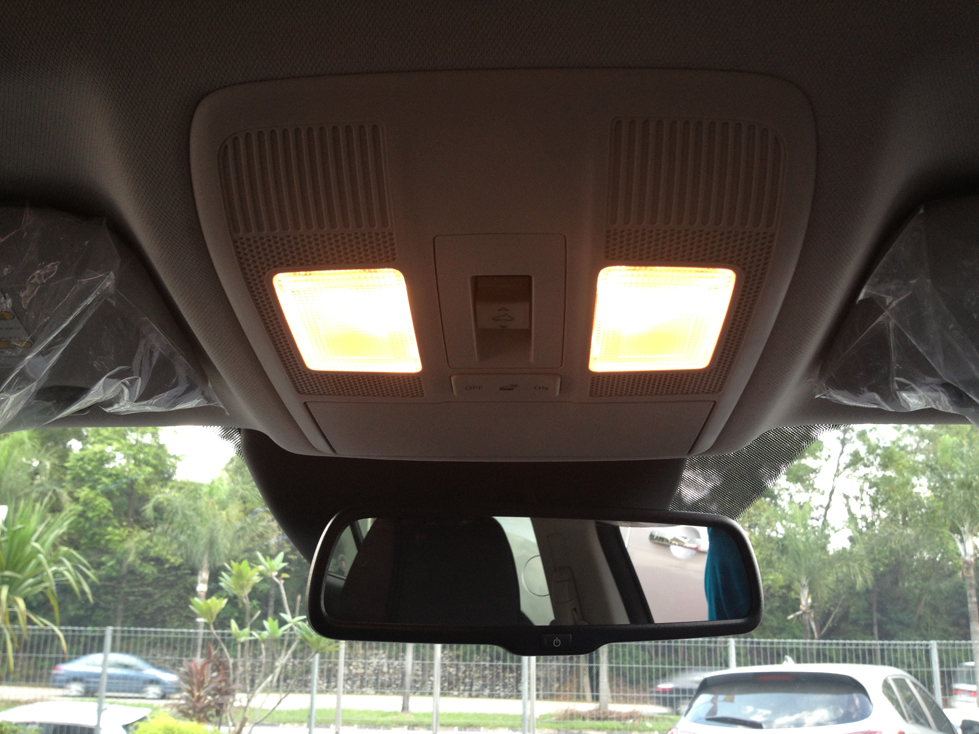 .
I do wish the maps lights were white though. Controls for the sunroof are also where it's supposed to be.
.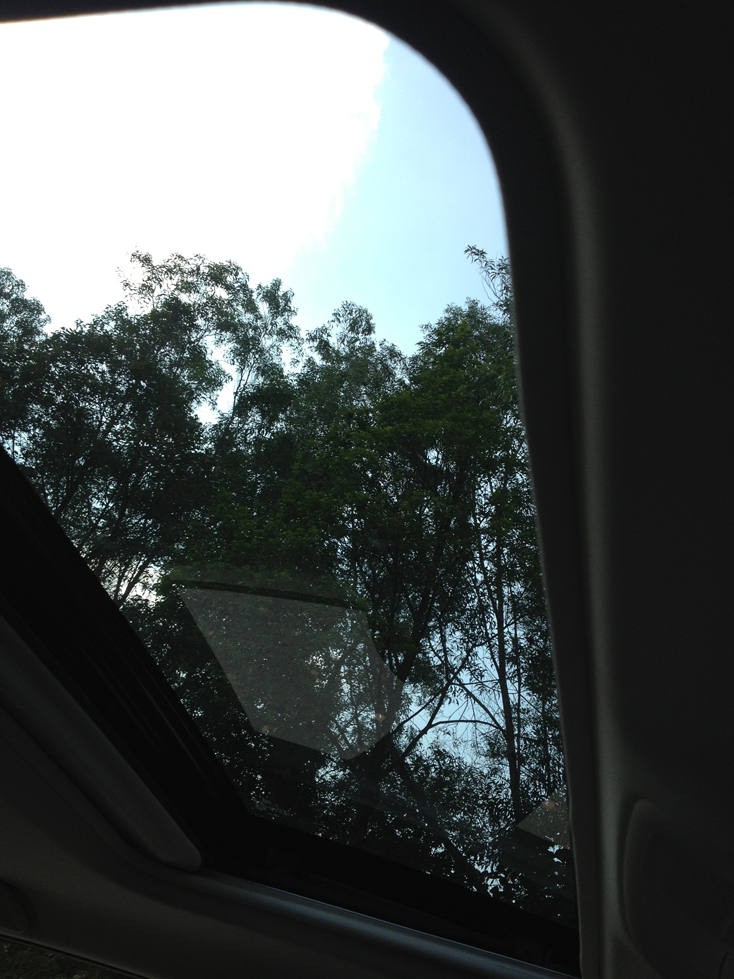 .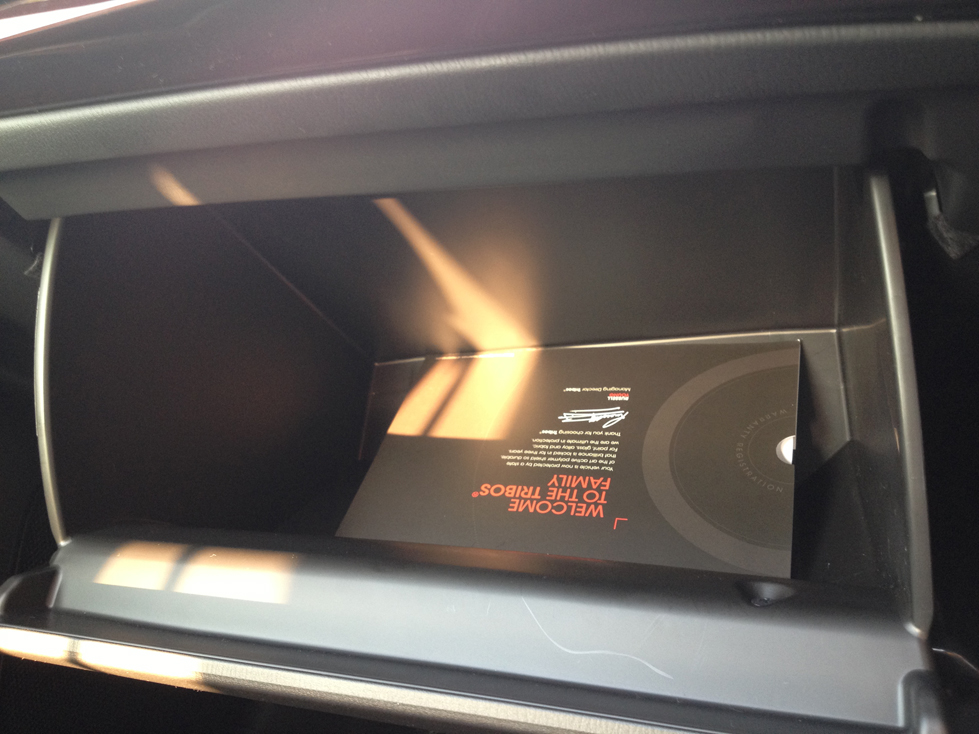 .
As huge as a CX-5's glove compartment, you could probably stuff a Rottweiler in there as additional theft deterrent
.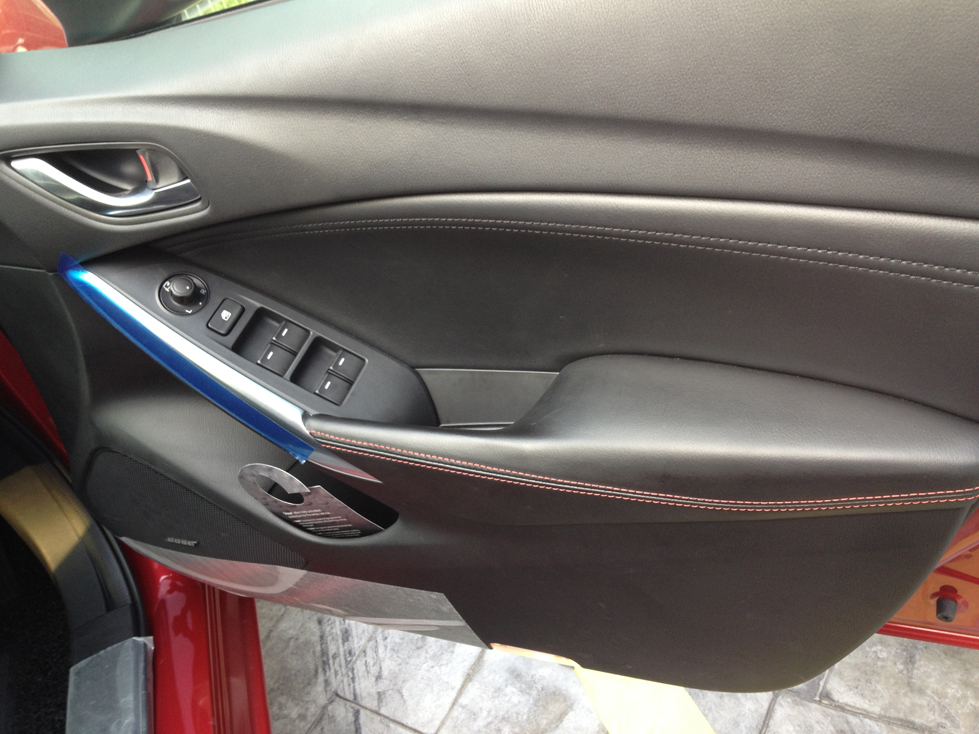 .
Ahhhh, leather with red stitching …. candles and whips would look perfectly normal if found in this car
.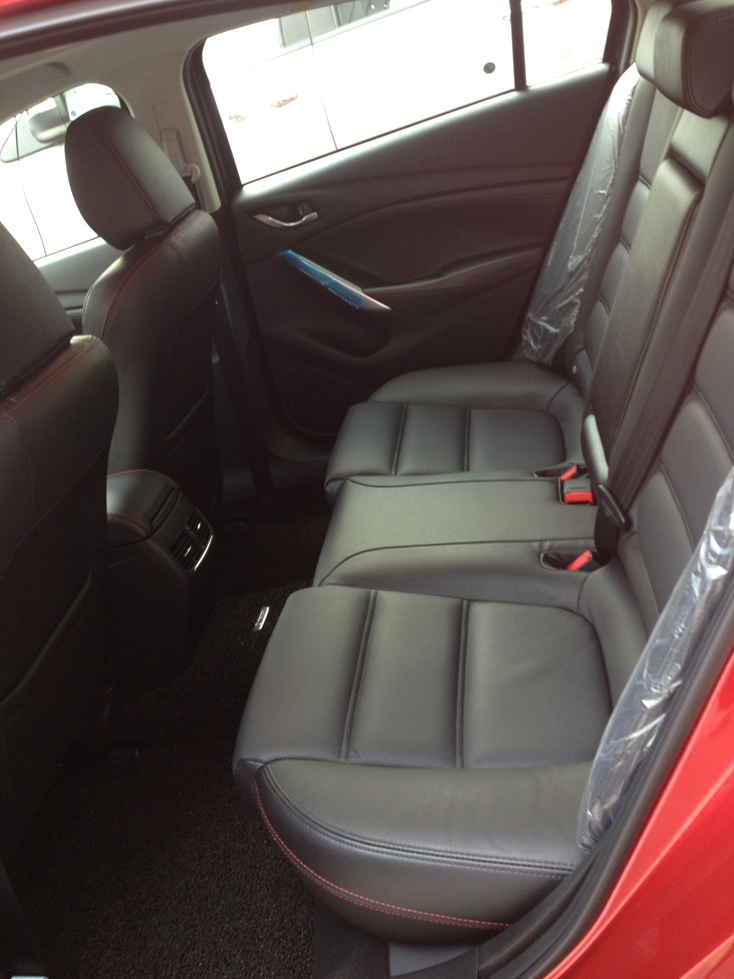 .
Rear seats are now a joy to be in instead of the earlier model's claustrophobic rear legroom. The 2,830mm wheelbase is certainly obvious here but somehow, the Honda Accord's rear space felt larger. Honda is still a master of cabin space design, I guess.
.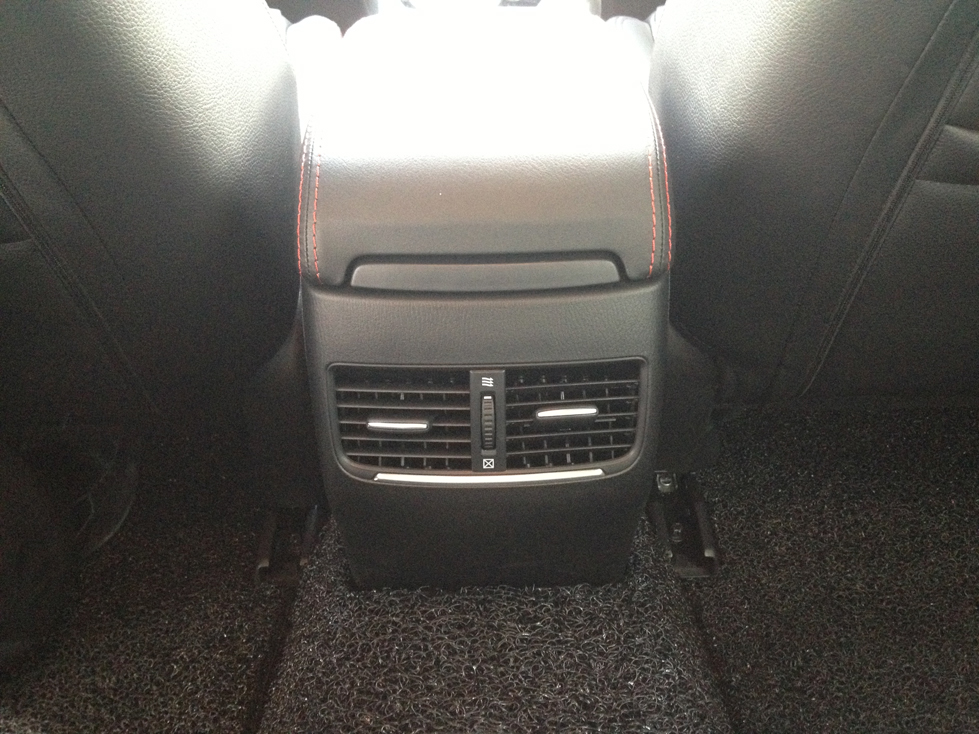 .
A most welcome addition; rear air conditioning vents which its predecessor does not have.
.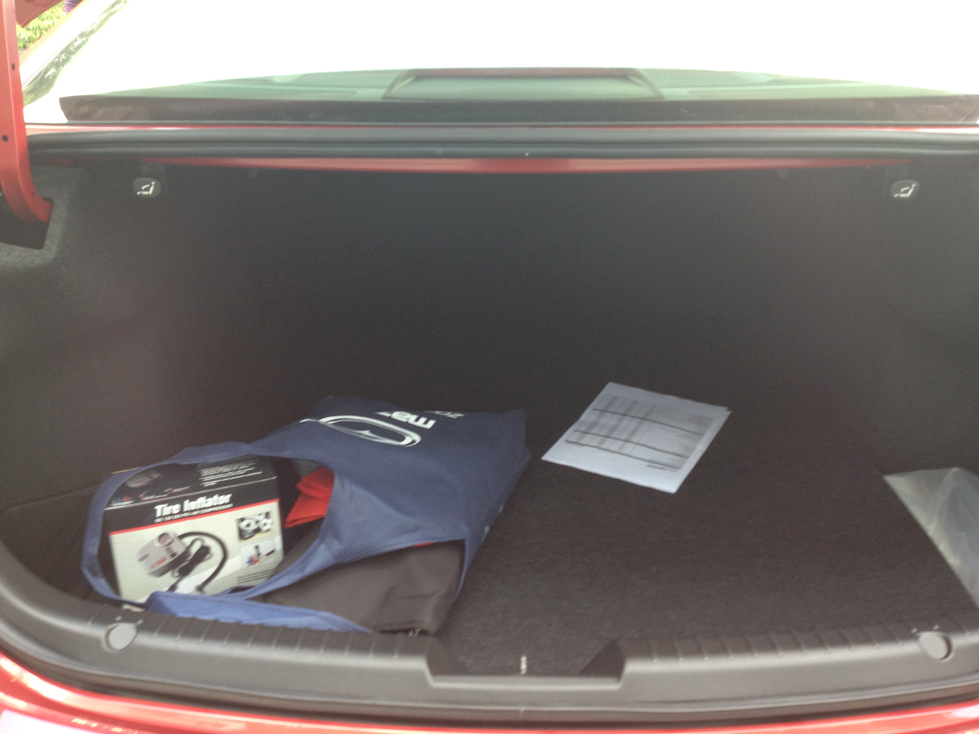 .
Behind in the boot, you'll there's enough space not to disappoint your family members if you all decide to go on an extended holiday somewhere.
.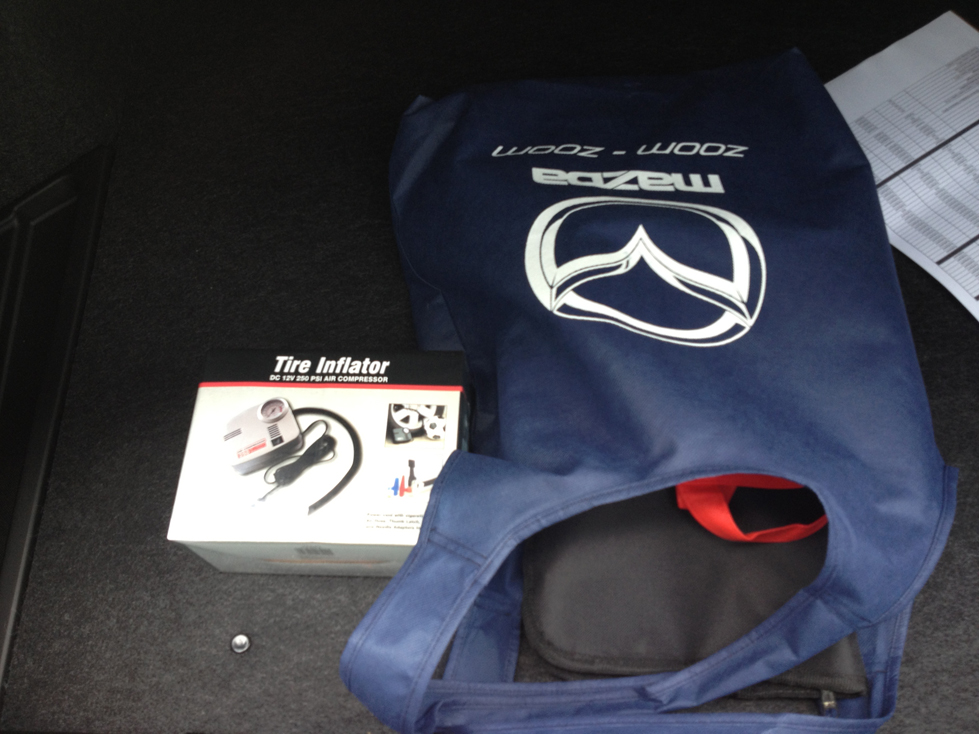 .
Don't go looking for a spare tire underneath the boot floor because there isn't any. Instead, you'll get a puncture repair kit. Speaking from my personal experience, those punctures I experienced cannot be repaired by such a kit since they were chewed up by sharp edges of potholes so do be careful when driving, especially at the country side. It would look really silly on you if you're ferrying your boss around and cannot move because of a flat.
.
.
Safety
.
This is probably as close to a Volvo you can find in a Japanese car when it comes to safety
.
2.0 Sedan
.
6 airbags
Super Lock System
Immobilizer
Burglar Alarm
i-Stop (Idling Stop Technology)
ABS
EBD
BA
TCS
Dynamic Stability Control
.
2.5litre Sedan & Touring
.
In addition to the 2.0 Sedan unless stated otherwise
.
Lane Change Aid
Adaptive Front-headlight System (AFS)
High Beam Control (HBC)
Rear Vehicle Monitoring (RVM)
Lane Departure Warning (LDW)
Smart City Brake System (SCBS)
.
.
Specifications
.
With a slew of features, it's a good thing this is a web-based review otherwise a magazine would probably print a inch thick issue:-
.
2.0 Sedan
.
Exterior
.
Auto On/Off Manual Leveling Halogen Headlight
Fog lamps
LED tail lamp
Wing mirror turn indicator
Puncture repair kit
.
Interior
.
Power adjustable leather seat (driver & passenger) with memory (driver)
60:40 foldable rear seat
Push Start
Rain sensing wiper
Cruise control
Auto climate control
Rear ventilation
Front and reverse sensor
Touchscreen TFT display
Audio (tuner, CD, MP3, AUX & USB) & Bluetooth device
Reverse camera with static line
6 speakers
Auto dimming rear view mirror
Slide type center armrest
Sunvisor with vanity mirror, cover & lamp (driver & passenger)
Door courtesy lamp
.
2.5 sedan
.
In addition to the 2.0 sedan unless stated otherwise
.
Auto On/Off Auto Leveling, Bi-xenon headlight
Daytime Running Lights
Head Lamp washer
Sunroof
Keyless entry
Paddle shift
Multi Dot Display
GPS Navigator
11 speakers BOSE Sound System
i-ELOOP Regenerative Braking System
.
2.5 Grand Touring Wagon
.
In addition to the 2.0 and 2.5 unless stated otherwise
.
Roof spoiler
Karakuri Tonneau cover
Boot roller blind
.
.
Maintenance & Ownership
.
No official news on its price although Bermaz has release the speculative price of RM159,440.20 for the 2.0 sedan, RM187,659.30 for the 2.5 sedan and RM191,763.30 for the Grand Touring (all OTR prices inclusive of insurance). Quite a number of people have complained that the 2.5litre range is too expensive for a Japanese make but for its specs, is it really? Here's how the Mazda 6 2.5litre stacks up against other top spec D segments:-
.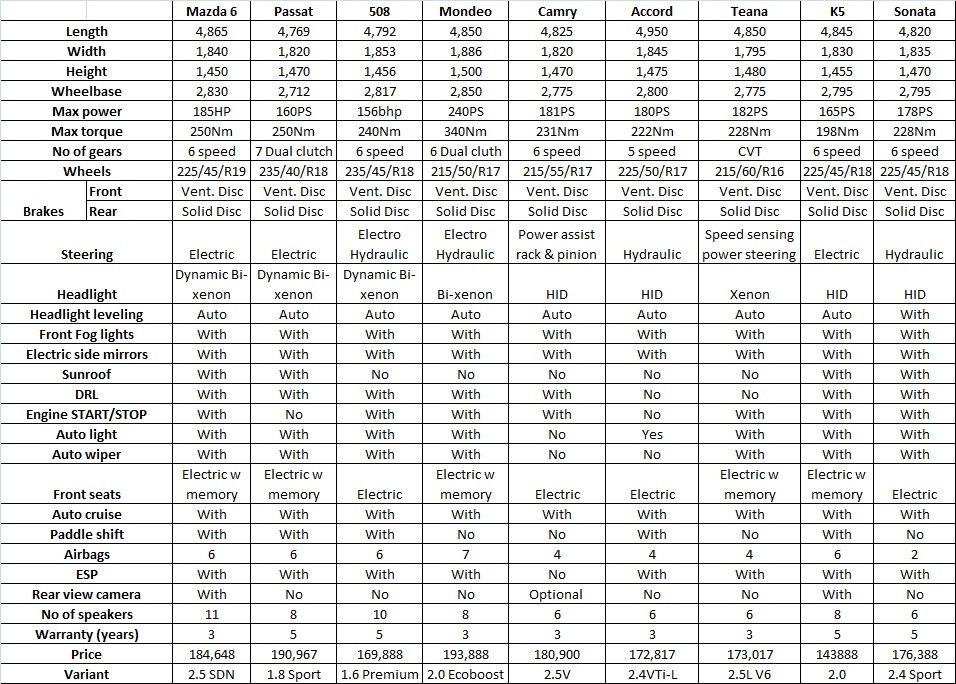 .
Also, do note that the 3 years warranty is not confirmed. Mazda is currently running a 5 years warranty + 5 years maintenance Chinese New Year promotion package so who knows, perhaps come March when the Mazda 6 is launched, the warranty will be on par with other continental warranty schedules. With its good looks, class leading specifications (at its price bracket) and claimed excellent fuel consumption of 17.4km per litre for the 2.0, 15.6km per litre for the 2.5 and GT (surprisingly, the fuel tank size is only 62 litres), it's certainly going to be a hot seller. I heard the first batch of 100 units brought in and currently roasting in Port Klang are all taken up so if you do want one fast, better head to the nearest Mazda showroom and book one. For me, the Mazda 6 2.5litre has certainly ticked all the right boxes on my palate and truly deserve to be called the best Japanese D segment to buy in Malaysia. Expensive? You won't complain so much if it was a 5-star Japanese restaurant serving the best food for your stomach, would you?
UPDATE:
.
The new Mazda 6 has been launched on 20 March 2013 and is priced at RM155,159 for the 2.0 sedan, RM184,648 for the 2.5 sedan and RM188,648 for the 2.5 Touring wagon (all prices OTR with insurance) and all models comes with a 3 years warranty and free maintenance package. While the warranty period may not be the same as some continental makes, it is on par with other Japanese offerings. IMHO, the pricing is good considering the amount of technology the car has and one hopes that the demand is good enough for Bermaz to consider running a CKD operation here and bringint the price lower.