Ok, it's time to hit the roads back to where you first came into this world …. or wherever else that catches your fancy and as long as you're moving on something with wheels and doing your part contributing towards global warming, you might want to know when's the best time to get going so as to avoid the situation where everyone, from babies to grandparents hates: Needing to pee and no where to stop without throwing your dignity off the window.
.
Historically, PLUS's Travel Time Advisory has been relatively useful and many road users remarked it was indeed smoother when everyone followed the recommended time. It also helps heaps when everyone keeps to a specific speed and be extra vigilant so as to avoid giving big ang pow to those pesky opportunistic tow trucks who prays hard someone screws up on the road. So, make sure your tires are checked and well inflated (this includes the one hidden underneath the boot floor), coolants are full, brakes are operational, all lights (front, side and rear) are working, all electrical devices (handphones, iPods, iPads, etc) are fully charged, emergency items like tool kits, first aid kit, warning triangle are where they're supposed to be and do recharge yourself and your car (that's fueling up, mind you) before starting your journey. Oh, don't forget about filling up snacks and empty your bladder …. don't expect the R&R stations to be empty so best be fully prepared.
.
Here's what PLUS says about when you should head off:-
.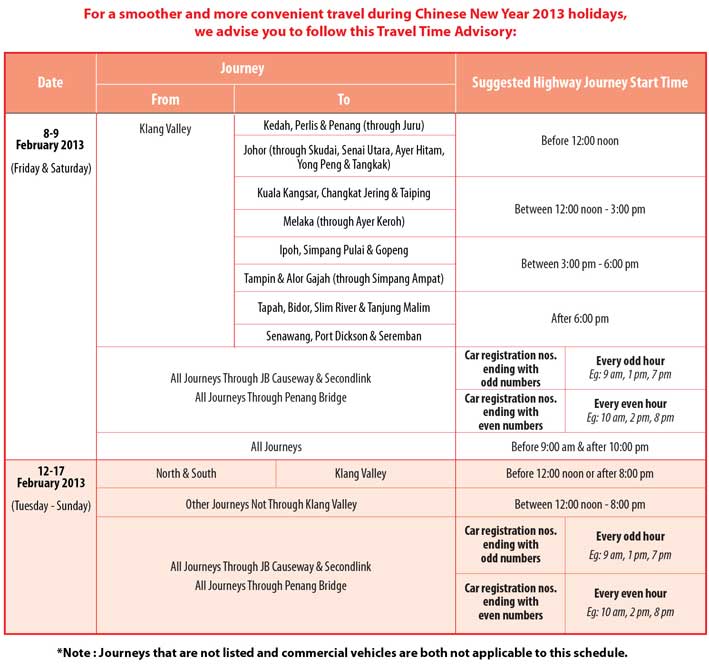 .
Those heading towards the East Coast of Peninsular Malaysia, do note the following TTA from MTD Prime, the highway concessionaire for Karak Expressway:
.
.
Whether it's for tradition ….. for family ….. for a break …. or just for the fun of joining the crowd on the roads, kensomuse wishes everyone safe travel and a HAPPY CHINESE NEW YEAR!!
.
Oh, do note the following emergency numbers that you should save into your phone book in case of emergencies or to check the traffic situation ahead:-
.
On the North South Expressway – PLUSLINE 1800 88 0000
On the Karak Expressway – MTD 09 547 9111
On the Malaysia Singapore 2nd Link – PLUSLINE 1800 88 0000
On the Butterworth-Kulim Expressway – PLUSLINE 1800 88 0000
On the Kajang SILK Dispersal Link Expressway – SILKLINE 03 8921 0123
On the Kajang Seremban Highway – LEKAS Infoline 1 800 888 021
On the Kuala Lumpur-Kuala Selangor Expressway – LATARLINE 03  6145 1515
On the Seremban Port Dickson Highway – PLUSLINE 1800 88 0000
On the Guthrie Corridor Expressway – GCE Infoline 03 6038 5052
On the Penang Bridge – PLUSLINE 1800 88 0000
.
Last, but not least …. double checking on the iPhone app Waze or Google Maps won't hurt. Drive safe and be well, dear readers!!! XOXO
.
.
.