.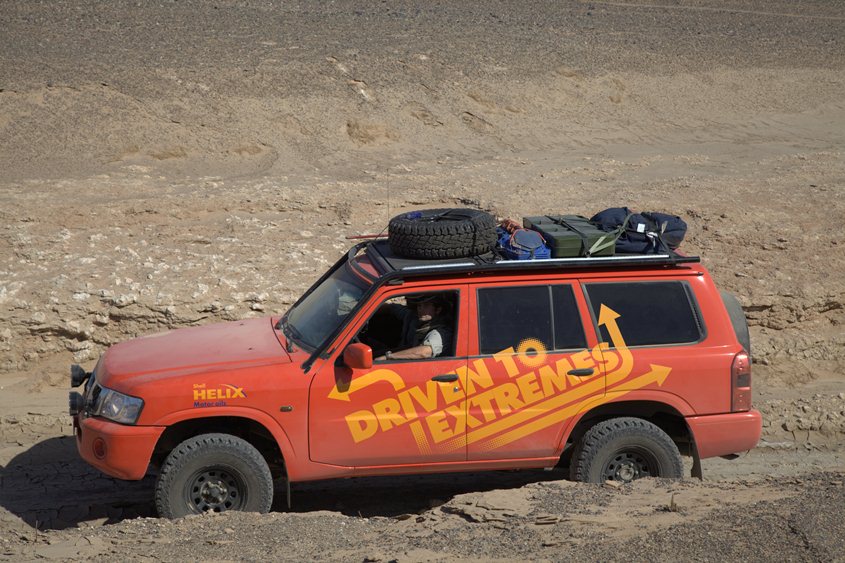 .
From the ice roads of Siberia, we now move to the sand dunes of the Taklamakan Desert in China. Also known as the Desert of Death, locals there call it Takla Makan because it means "go in and you will never come out" or "the point of no return". Kinda like marriange, no? The desert is the world's second largest shifting sand desert with about 85% made up of shifting sand dunes …. meaning the landscape you see today will be entirely different in a couple of weeks time. Yup, pretty much describes how women are.
.
Anyways, on 20th March 2013, Discovery Channel will be screening the second episode of the Driven to Extremes series where this time, we'll see The Man of Steel actor Henry Cavill and World Superbike champion gets better acquainted with the temperamental nature of the desert in their attempt to cross the desert; putting themselves, and their vehicle, to the test. And here's the trailer to the second episode:-
.
.
And here is the question to the 2nd week of kensomuse Shell Helix Ultra Engine Oil giveaway:-
.
In the trailer, Niel said he was once drove down a beach and got arrested. Name that beach.
.
Again, FOUR winners will be selected randomly from those who answered correctly. The prize is a 4litre pack of Shell Helix Ultra Fully Synthetic 5W 40 Engine Oil worth RM218, delivered to your door step.
.
Contest begins today and will end at 8pm on Thursday, 21 March 2013. To participate, just follow these simple steps:-
.
A question will be posted based on the trailer of the week. The question and the trailer will be released on Sunday (3 days before the airing of the show every Wednesday) and closing date for each week shall be on Thursday (1 day after air day) at 8pm.
Answers are to be PMed directly to kensomuse Facebook page which means you have to first LIKE kensomuse Facebook page
The winners will be picked at random from the list of participants who answered correctly each week and announced on Thursday evening after the closing time. 4 winners per week.
Winners need to PM their full name, delivery address and contact number to kensomuse Facebook. Shell Helix will arrange to send the engine oils directly to the winners. Upon delivery, kensomuse shall notify the winners.
.
For the Terms and Conditions, refer to the first week's contest details HERE
.
So good luck everyone and SHARE away!!
.
.
.