As the 20th century industrial design saying goes, "Form Follows Function". The principle is that the shape of an object should be primarily based upon its intended function or purpose. So then, what if its intended function or purpose is to look good? Can Form follow Form? This is probably what the designers at Land Rover were thinking when they came up with the Evoque, even more challenging, I would imagine in building a case for it in a company so rich with history and function. While the typical Range Rover, Discovery and Freelander certainly has its own identity and appeal, the Evoque's design was so far removed from the LR family fascia, it might have been adopted. It was well and good that the executives decided to give their thumbs up after debuting the LRX Concept car in which the Evoque is based on (probably after seeing a long line of customers shouting "shut up and take my money!").
.
And my, what a pretty car the Evoque is … and it's also pretty expensive to own one. Being in the premium SUV segment, the Evoque counts the Audi Q5, BMW X3, and, to a lesser extent, the Volvo XC60 as its competitors. Does it have what it takes to court the rich from the traditional "safe" picks? We shall see ….
.
Design
.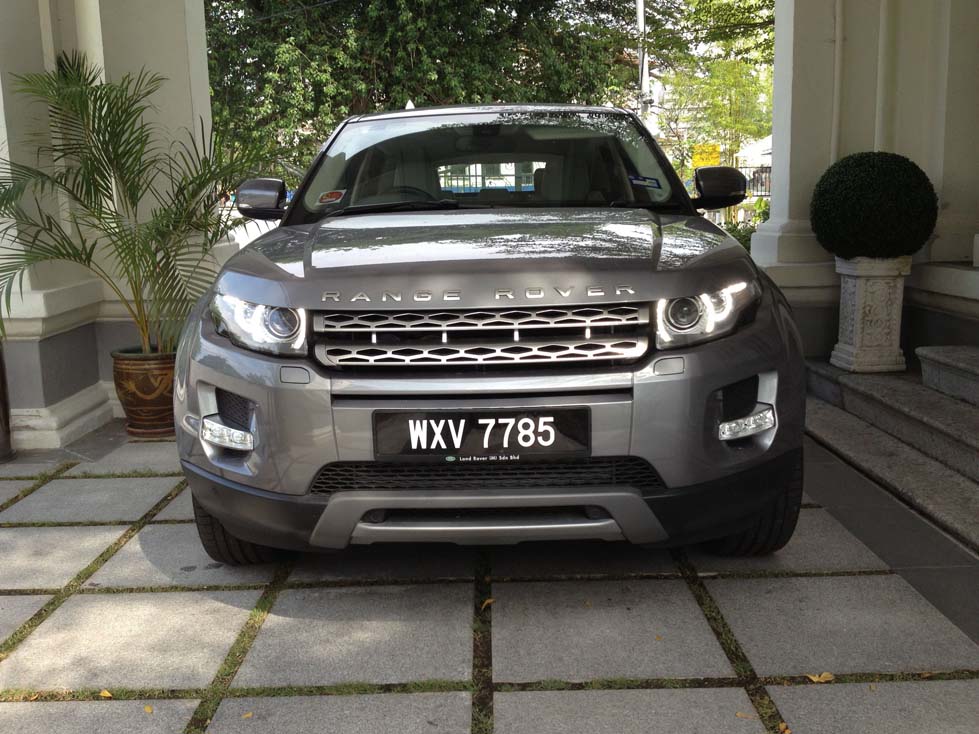 .
If a person who buys the Evoque tells you it's not for looks, that person probably has a psychological disorder with a bad sense of fashion. Because the Evoque is fashionable in any way you look at it. Derived from the LRX Concept car that was first unveiled in the Detroit Motor Show back in 2008, the Evoque is virtually identical to the concept except for the curved rear glass which, for good economic reason, was dropped in favor of a conventional 3-piece rear window/rear windscreen.
.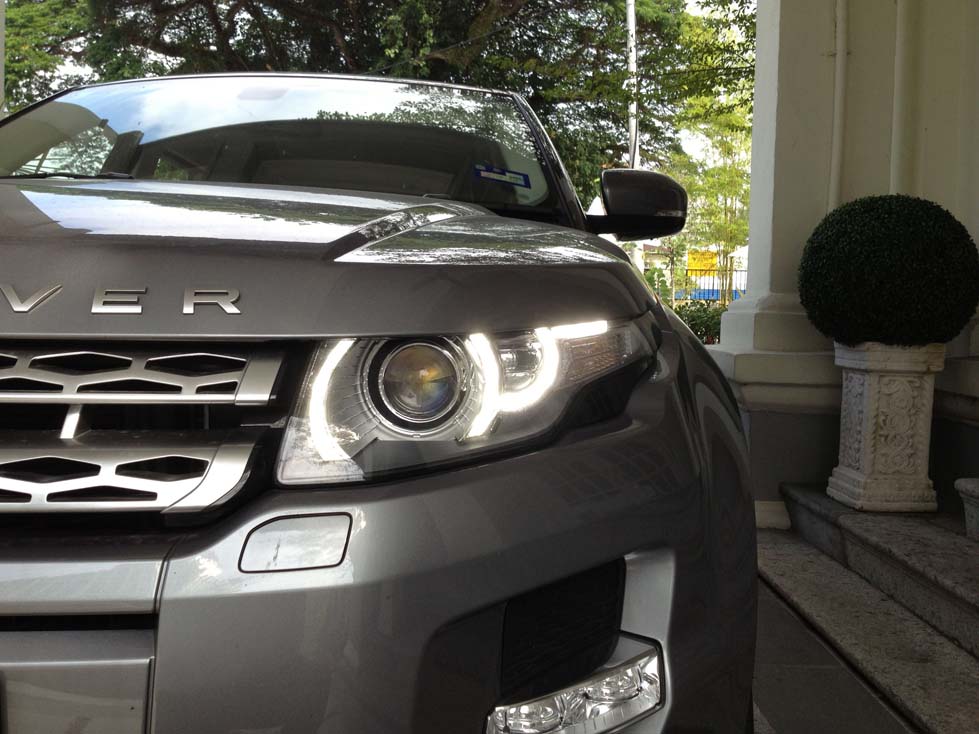 .
I love following black cars …. the DRL reflections makes it look as though the car is staring back at you ….. admiring you as much as you're admiring it. How's that for stroking your feel-good-factor? It also has static cornering lights which, unlike certain continental makes which comes from the fog lights, are incorporated to the main headlight.
.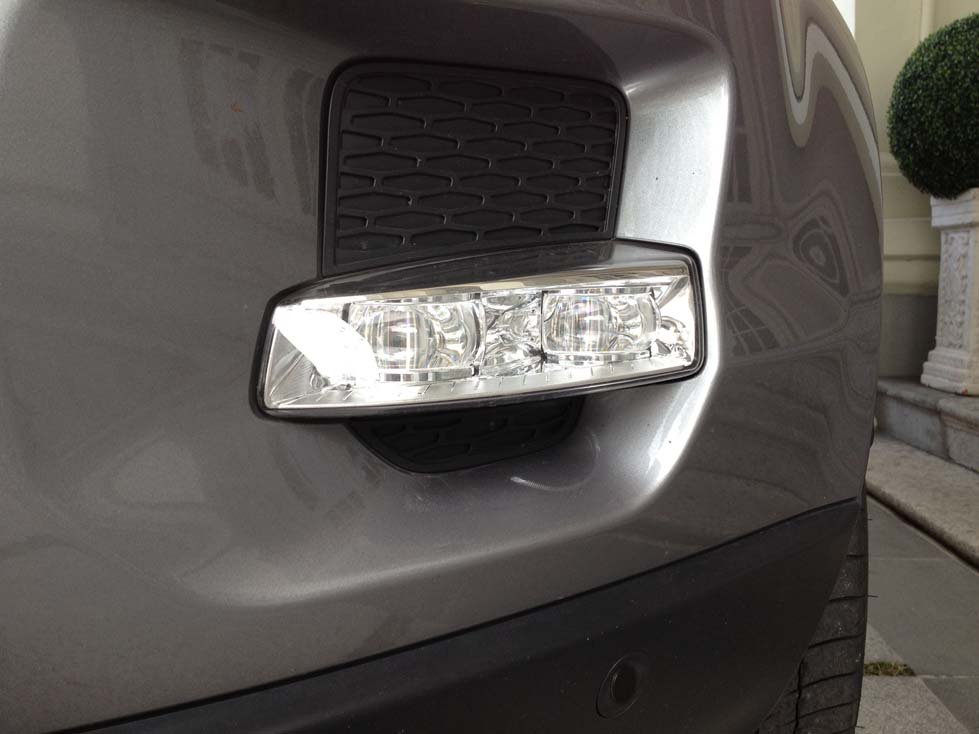 .
Speaking of fog lights, they are incredibly bright, almost as bright and white as xenons.
.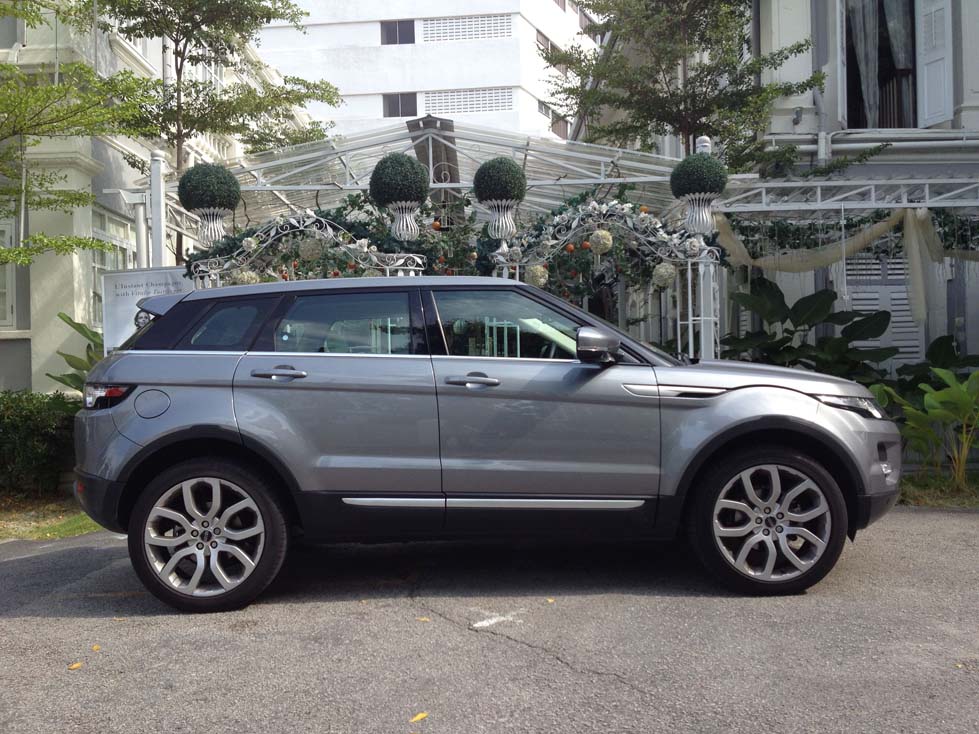 .
With a rising beltline that tapers down frontwards and a rearwards sloping roof, this is an SUV that visually "shouts" at anyone nearby. Measuring 4,355mm in length, 2,125mm in width and 1,635mm in height with a wheelbase of 2,660mm, it is considerably shorter (4,629mm in length) and slightly wider than the Q5. However, the Q5 has a significantly longer wheelbase at 2,807mm.
.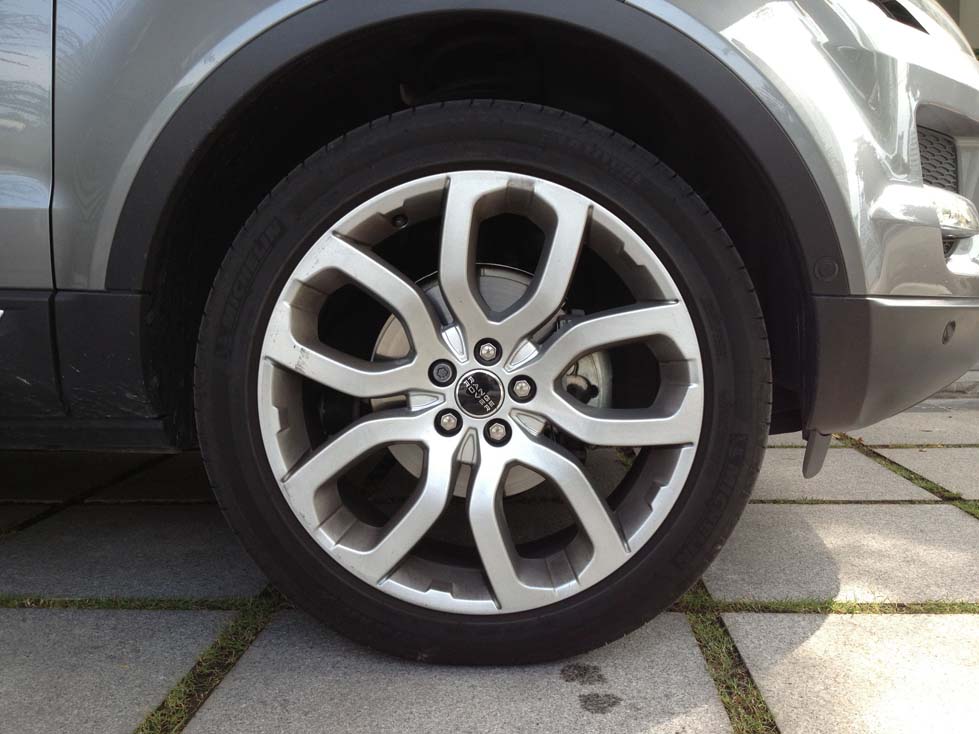 .
Humongous 20″ rims wrapped in 245/45 rubber, the cost of replacing each piece is more than a Q5's standard 19″ …. which is fine for the Evoque owner since exclusivity comes part and parcel with this SUV.
.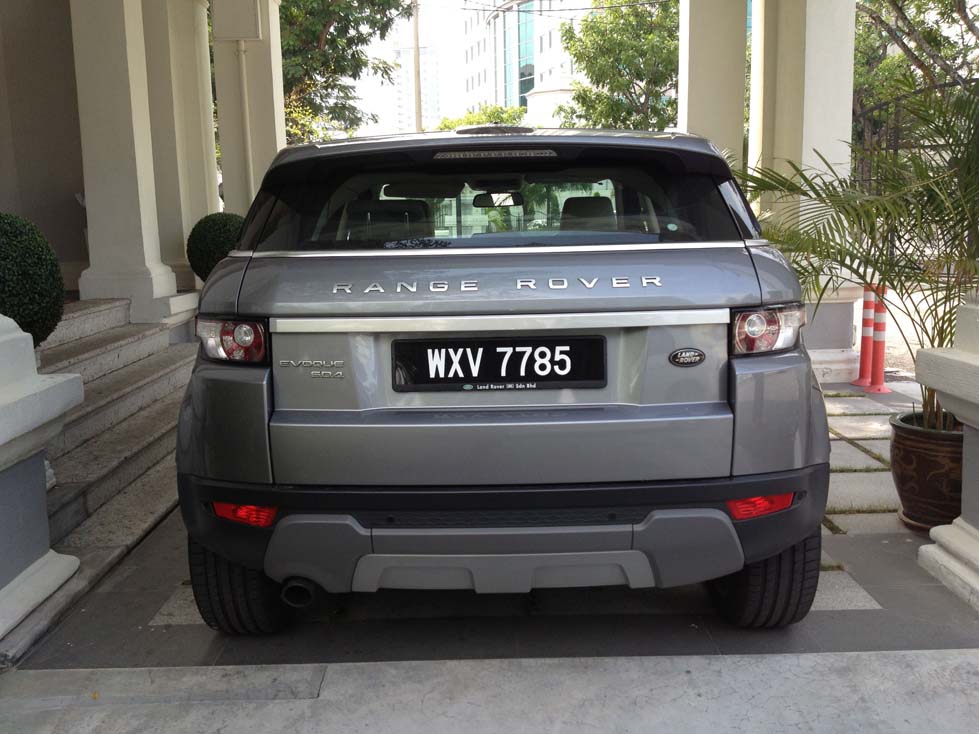 .
The sloping roof and rising beltline does have one limitation though … the Evoque has one of the smallest rear windscreen in its segment and this makes reversing quite challenging as rearward vision is less than ideal. A good thing that it has Park Assist (more on this later) which does away the hassle of side parking.
.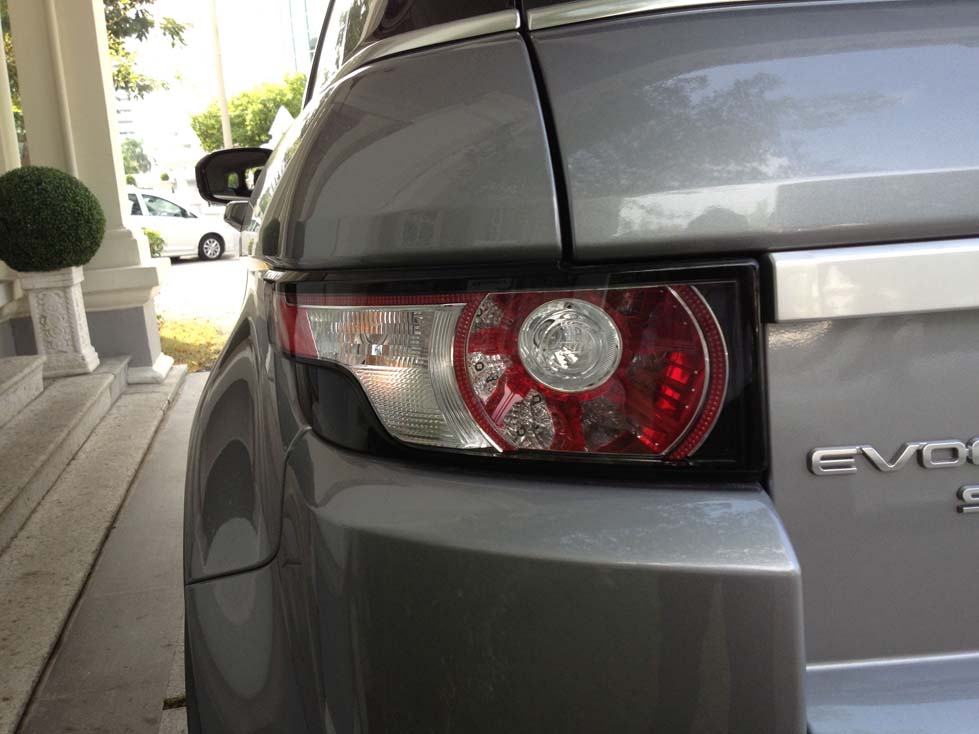 .
As is the front headlamps, the rear lamps are relatively small, leading to the image of the Evoque having a huge ….. rear.
.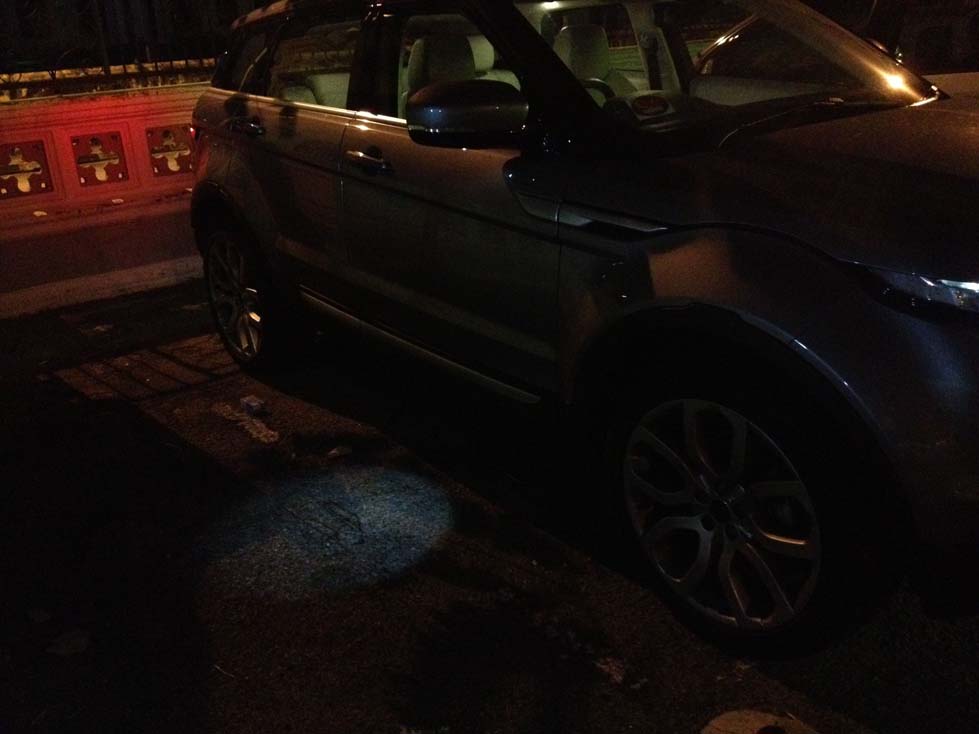 .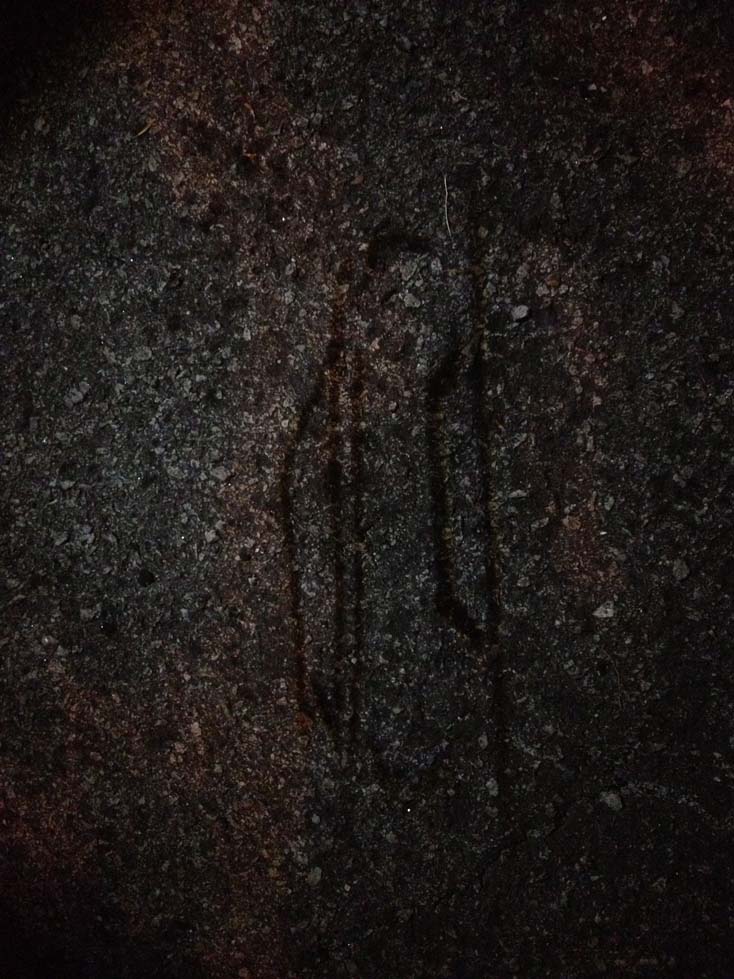 .
Here's something unique to the Evoque. The puddle lights shows a silhouette of the SUV …. small detail yet so much class
.
.
Performance
.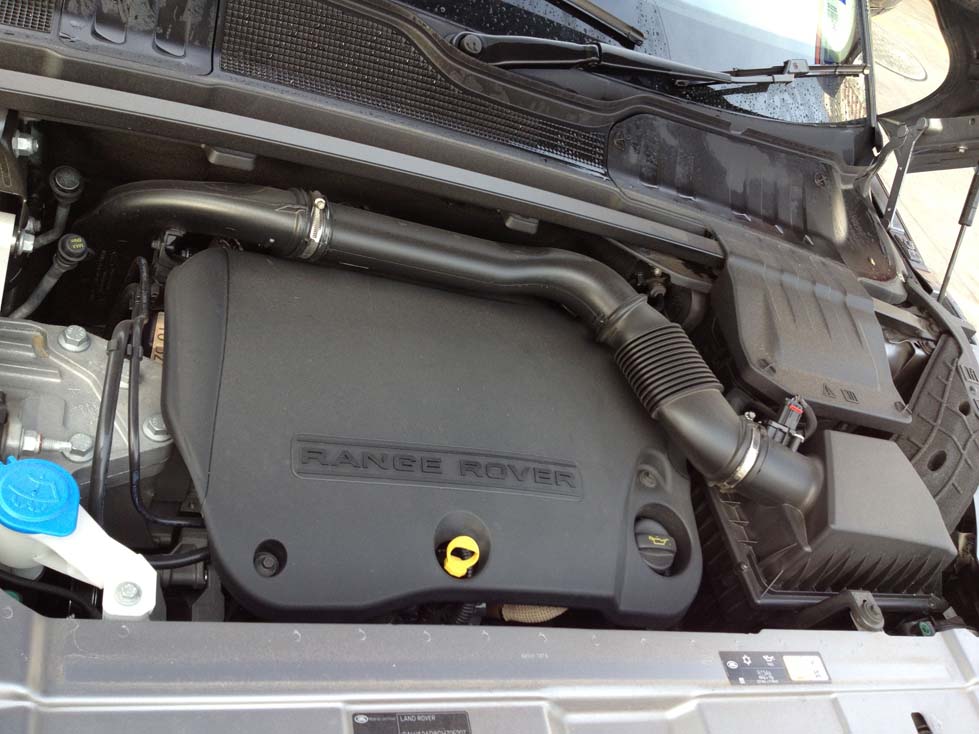 .
Two engines to choose from: the more expensive 2.0litre direct injection, turbocharged, twin independent variable valve timing engine that serves you 240PS @ 5,500rpm and 340Nm of torque @ 1,750rpm and the one tested here which is the 2.2litre turbo diesel that delivers a good 420Nm worth of torque and 190PS. The turbo diesel behaves very much like a conventional petrol engine (well, aside from the diesel clatter which is present despite all the lining on the bonnet) with a linear power delivery. The guttural sound is rather pleasurable, particularly when you attempt that 8.5 seconds zero to hundred acceleration.
.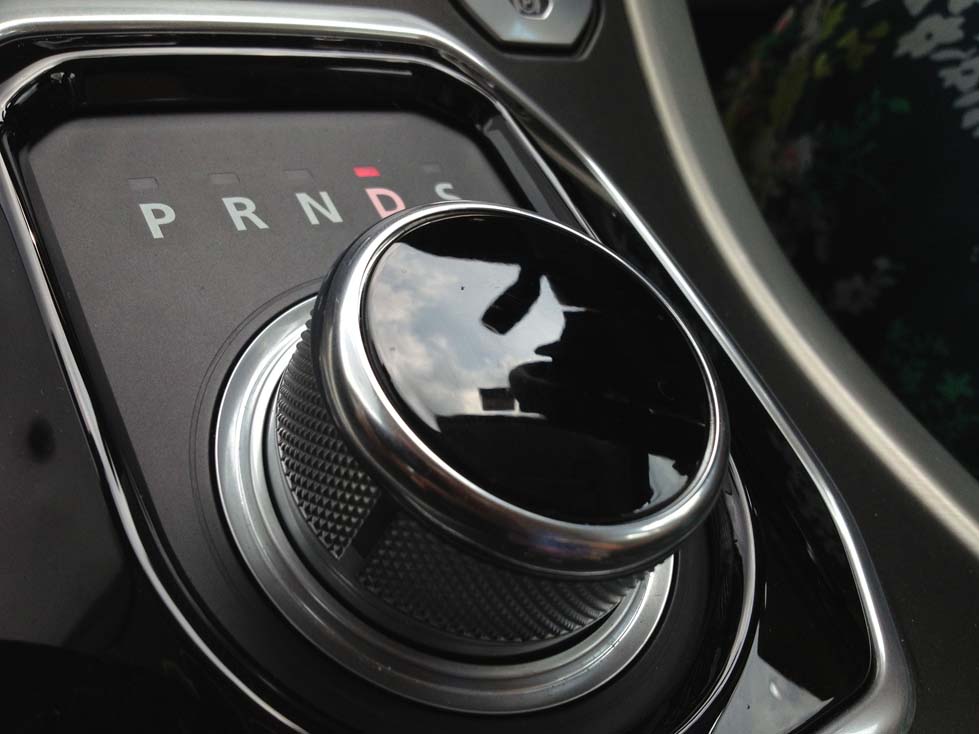 .
The 6-speed automatic gearbox does have a slight lag when one decides to move hastily from stationary but is smooth once one goes up to speed. It's certainly not as bad as a DSG and after driving it a while, it's easy to get used to. The gear knob never fails to wow anyone who comes in …. took me a while to get used to the fact I don't reach for a stick when trying to engage D.
.
.
Ride and Handling
.
For a vehicle that weighs over 2.3 tons, the Evoque is quick but one does not get the impression that he/she is way over the speed limit unless he/she looks at the speed counter. The cabin is so serenely quiet, the only sound that intrudes is from the massive wheel arches and even then it's only if you decide to court the AES speed camera in taking a picture of you.
.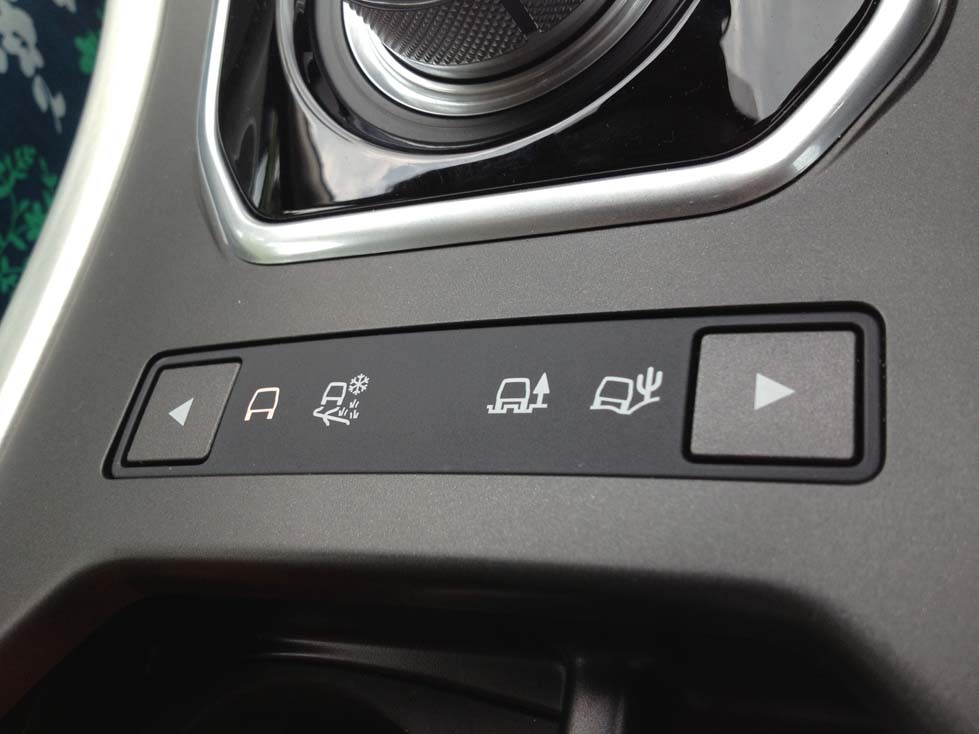 .
Aside from the looks, the Evoque has one advantage compared to its competitors and that is you can choose to go off-road with it. Granted, I've yet to come across a person who would deliberately ford a river in the deep jungle, it's Terrain Response technology would almost guarantee the driver to be ready for any road conditions, be it tarmac, gravel, mud or sand. Terrain Response changes the engine, transmission and electronic system settings to maximize traction, comfort and drivability.
.
The first setting on the far left is what you need to select when driving on normal roads. One step to the right is the setting for gravel, snow and grass which is what you need when traveling on slippery surfaces ….like the head of Patrick Steward. Upon its engagement, I noticed the steering tightened considerably (so as you don't do something silly like turning the wheel too much when you're sliding on the surface) while the the traction control's sensitivity is pushed up. Think of it like your wife constantly pulling your ear while driving in heavy rain …. the faster you go, the more restraint is given, therefore reducing wheelspin while at the same time altering the ABS response. The 2nd from right (car with an arrow erection) is for mud and it works by pushing as much torque onto the wheels by locking onto gear 1 as long as possible. Steering lightens considerably to allow you to wallow your precious out of the mud patch. Sand setting (the one with the cactus …. or a USB icon) is similar to mud where it throws lots of furry hamsters on the wheels and generating lots of wheelspin. Gears are locked on considerably longer as if the ECU controlling the transmission is under some sort of jetlag and isn't changing gears at its usual pace.
.
4 drive settings …. what more can you ask? Malaysian torrential rain, mud slides, flood, collapsing flyovers …. the Evoque takes them all in stride.
.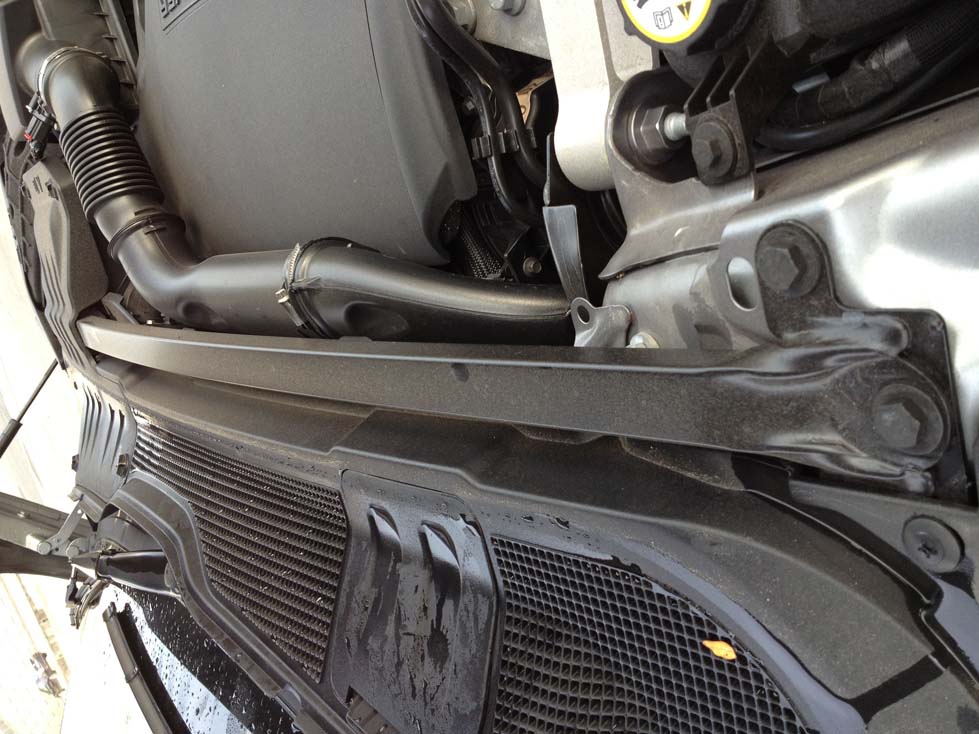 .
Oooo, look what we have here … a strut bar. No wonder the Evoque handles like a hatch on corners.
.
.
Cabin Convenience
.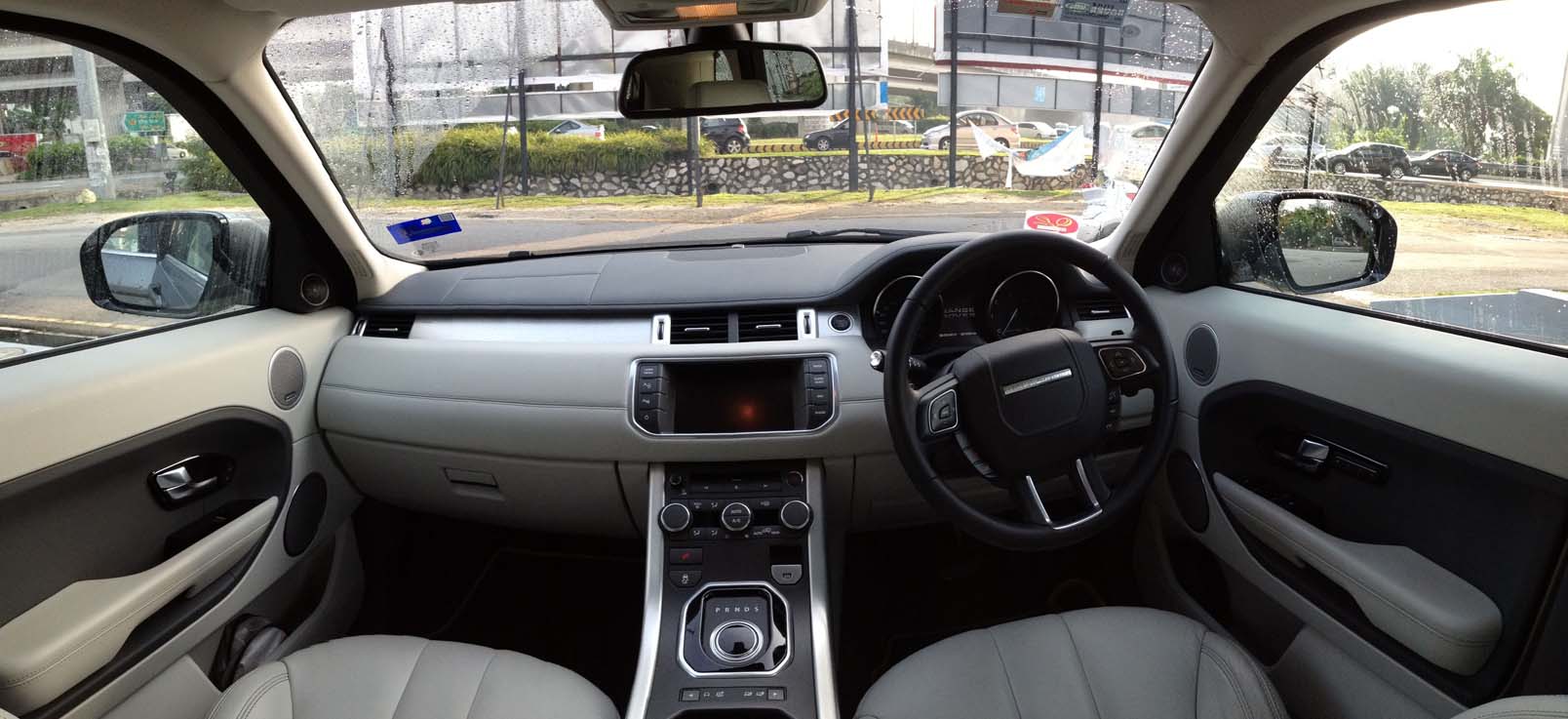 .
If you want to feel expensive, you couldn't be in a better place than the cabin of an Evoque. Neat, clean, simple, elegant with enough leather to make probably a hundred high-grade dining room sofas is what greets you as you step inside.
.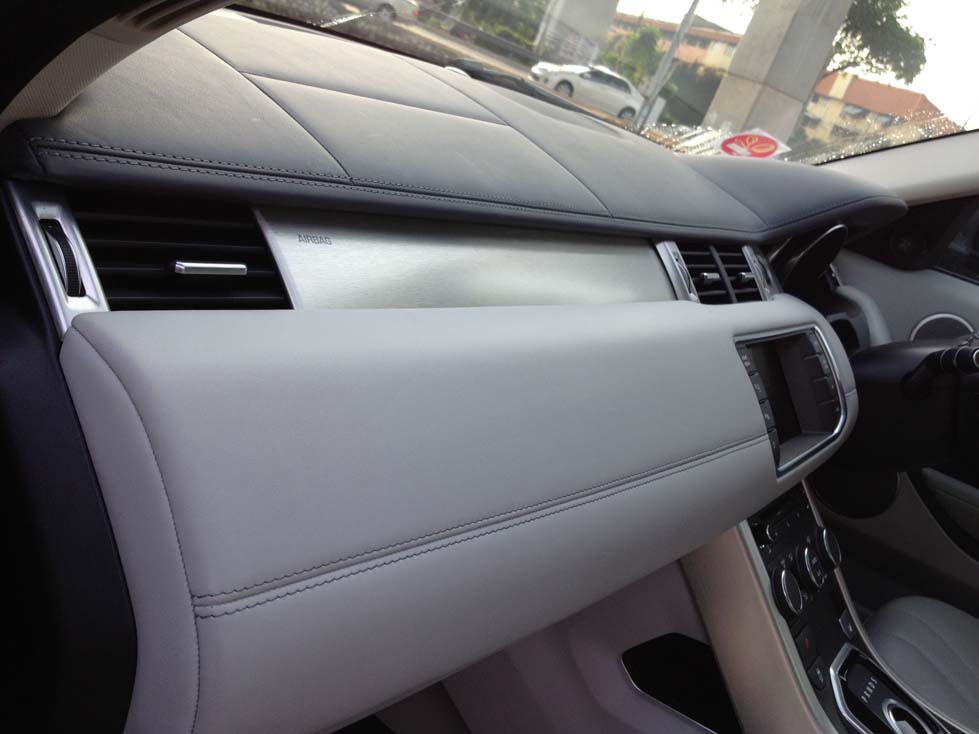 .
Fit and finish is superb … an ant would have a hard time finding some gaps to go in and build a nest.
.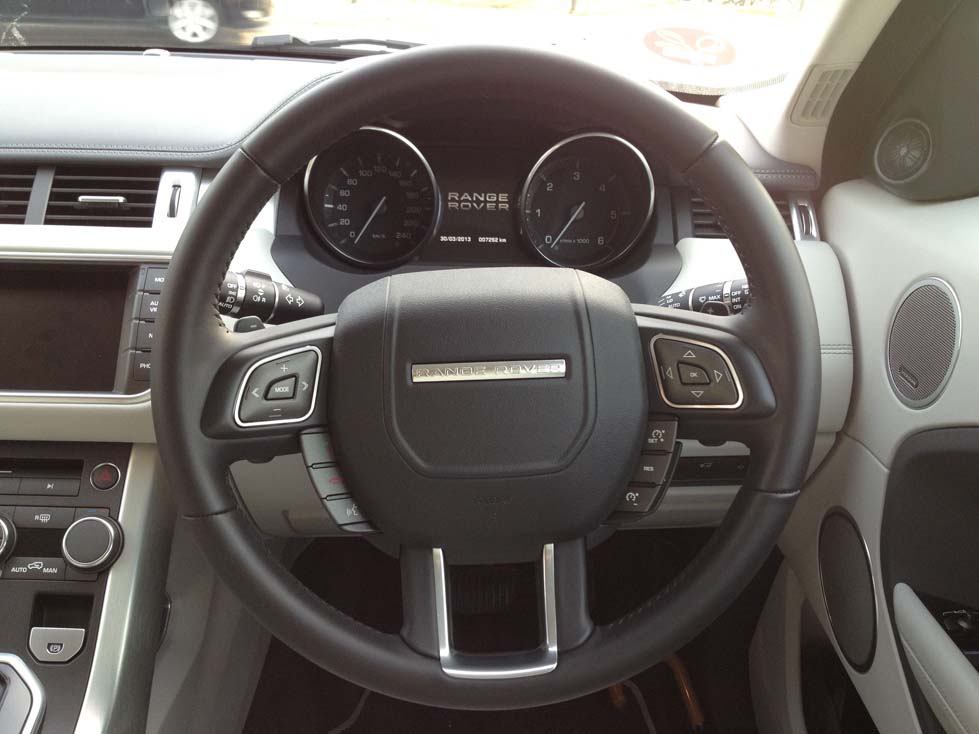 .
The leather wrapped steering wheel is adequately thick enough to bring joy to anyone holding it with all the buttons well laid out that you couldn't possible not know what each does.
.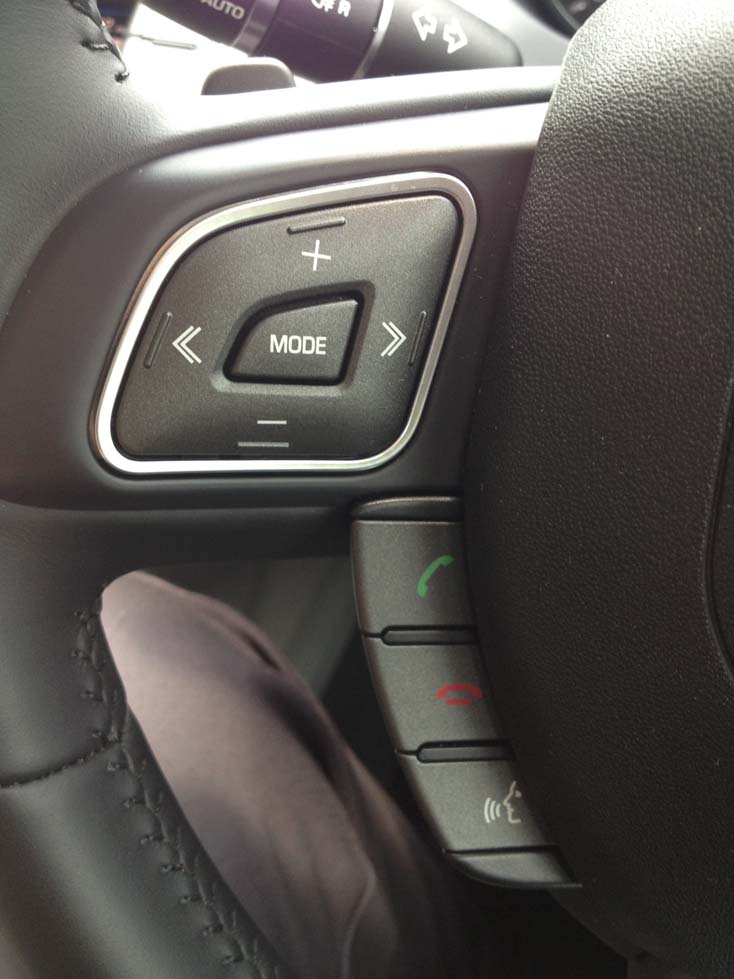 .
But just in case you don't, on the left are the controls for radio, Bluetooth telephony and voice command (yes, you can speak to it and tell the Evoque to do something …. all replied with a decidedly British sultry female voice)
.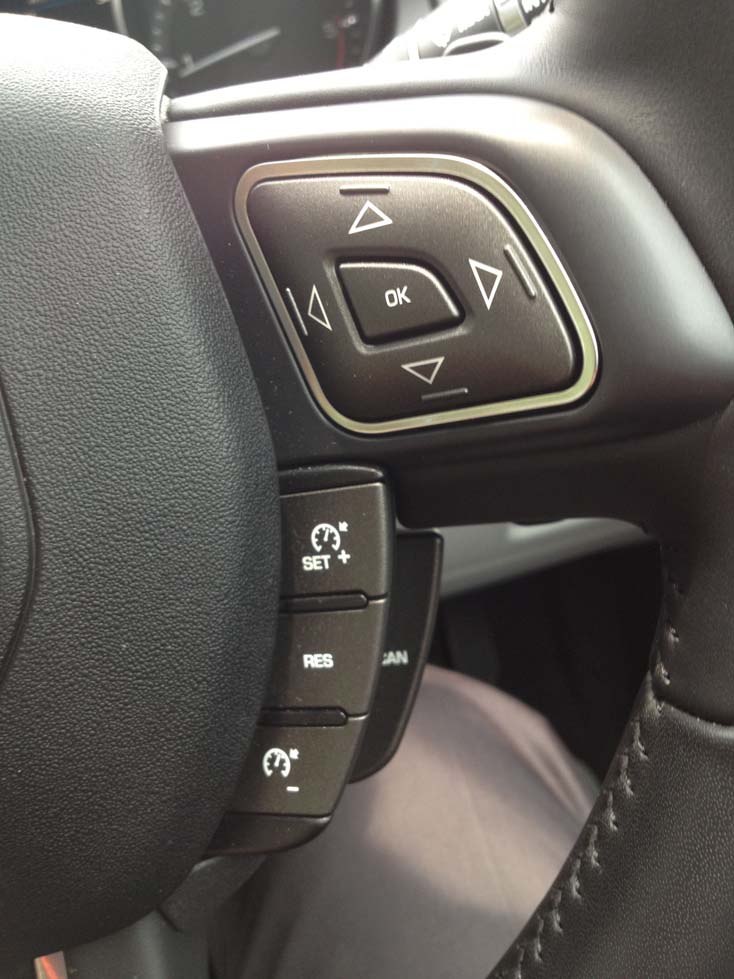 .
On the right are the Multi Function Display controls and Cruise Control (non-adaptive, I'm afraid)
.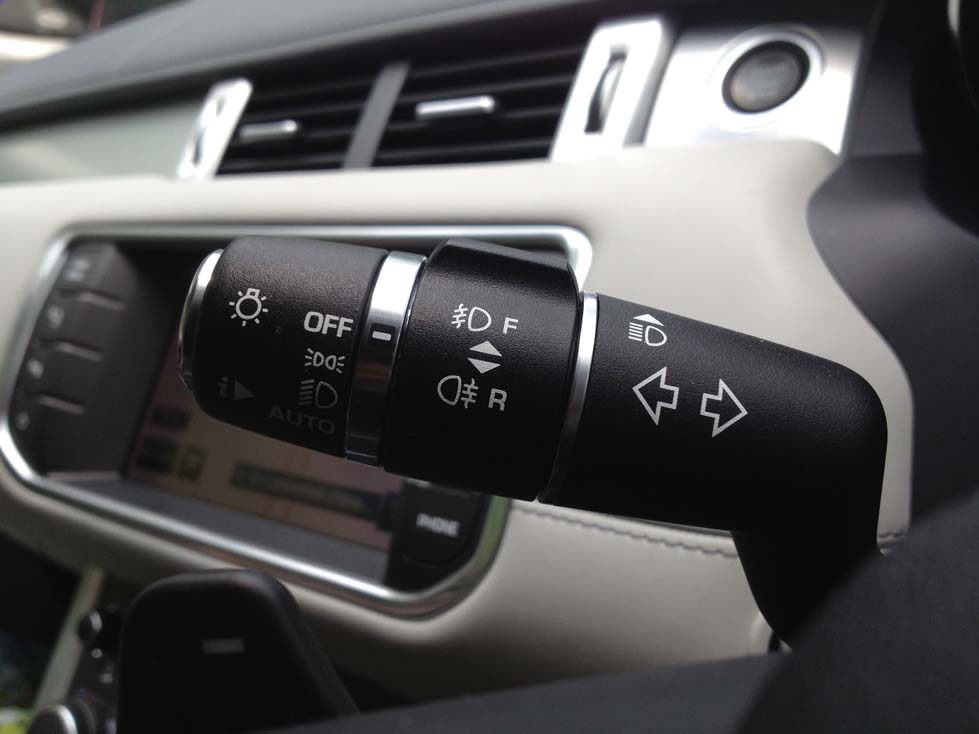 .
Being a continental make, signals are on the left with the front and rear fog light controls
.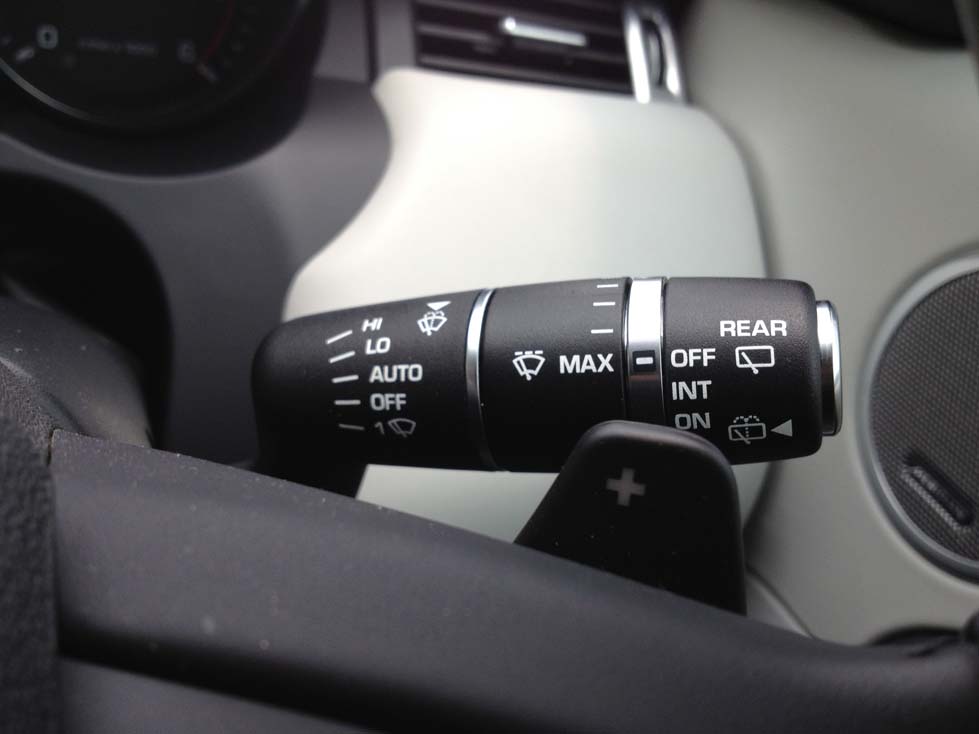 .
And every conceivable wiper controls for the front and rear on the right stalk.
.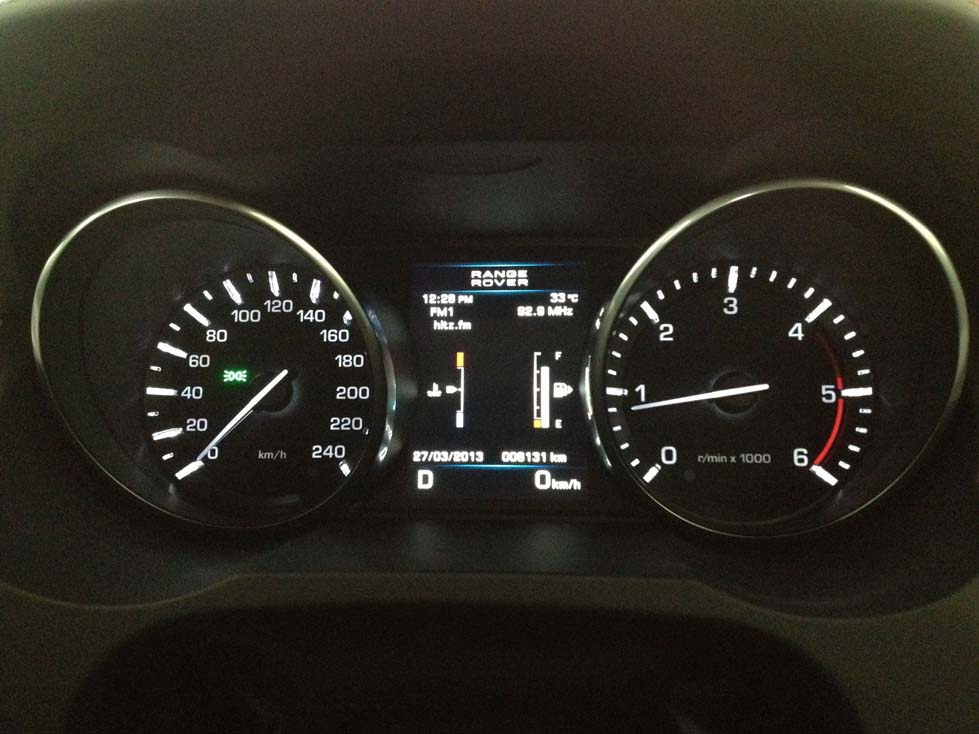 .
I was wondering why did the designers leave a gap in the center of the 5″ TFT screen and it was only later when I used the GPS navigation did I find its use. The digital speed display climbs insanely fast when you floor it … it's almost like playing Asphalt 7, only in real life.
.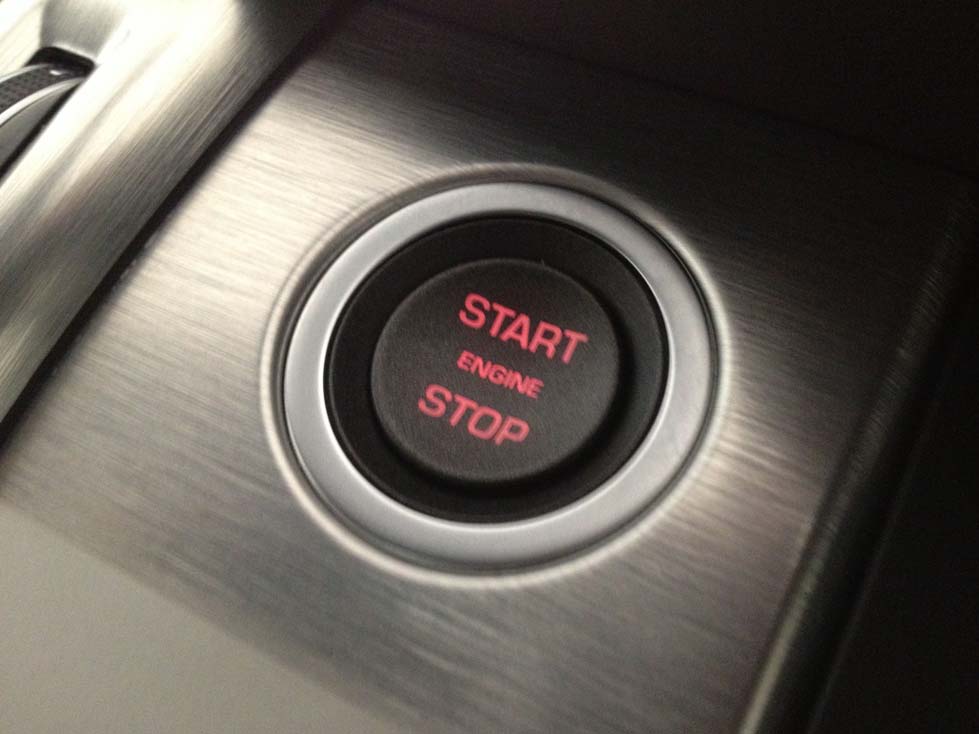 .
Who can live without this in today's modern, luxury segment. However, I am curious as to why they allowed you to start the vehicle with the key in your pocket but not to lock and unlock the car doors. To do that, you would still need to use the remote.
.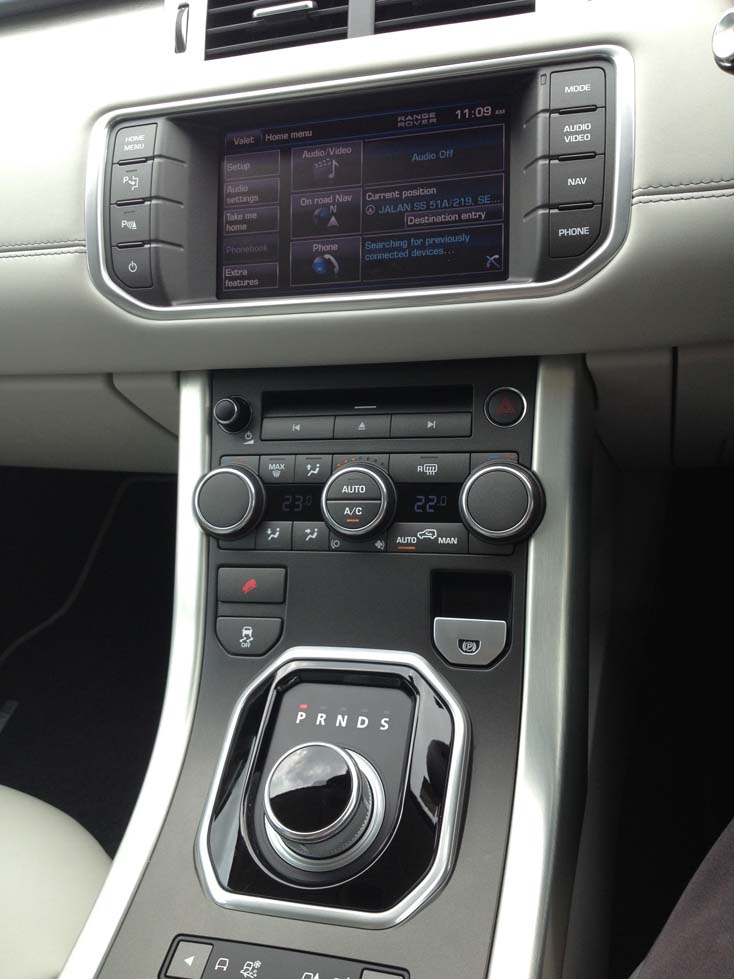 .
The center information stack has a cascading fountain look to it and flows with the interior. Having white leather on the dashboard does contrast the center controls a bit and I am in the opinion that specifying the interior color to be ebony blends better.
.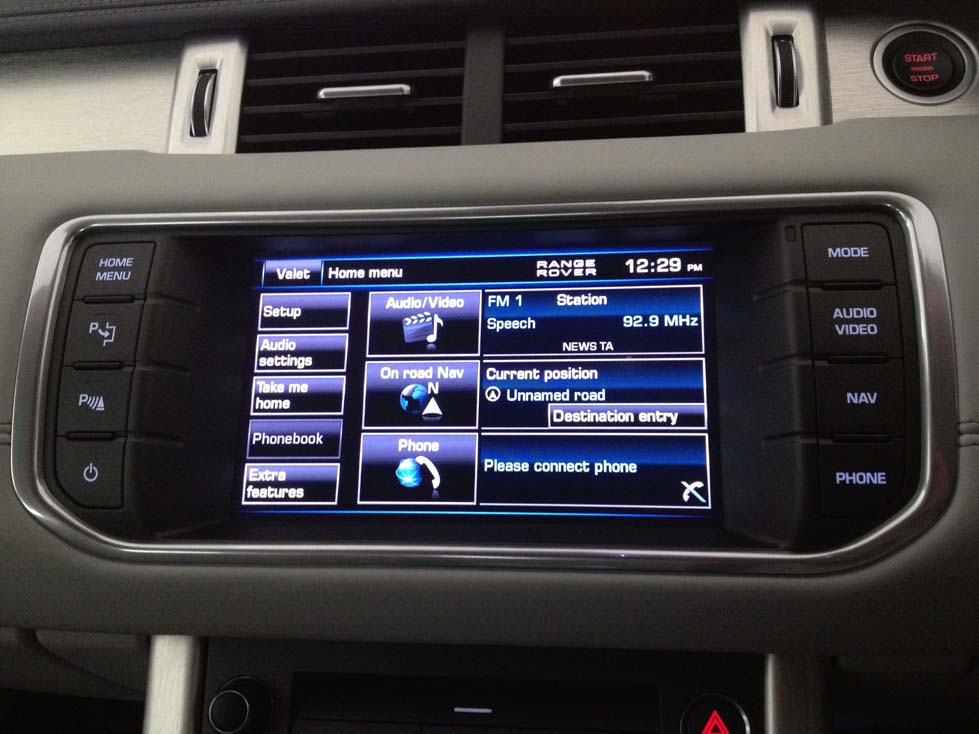 .
The 8″ touchscreen with hard disk drive navigation system is the primary interface for drivers to access everything from ambiance lighting to satellite navigation.
.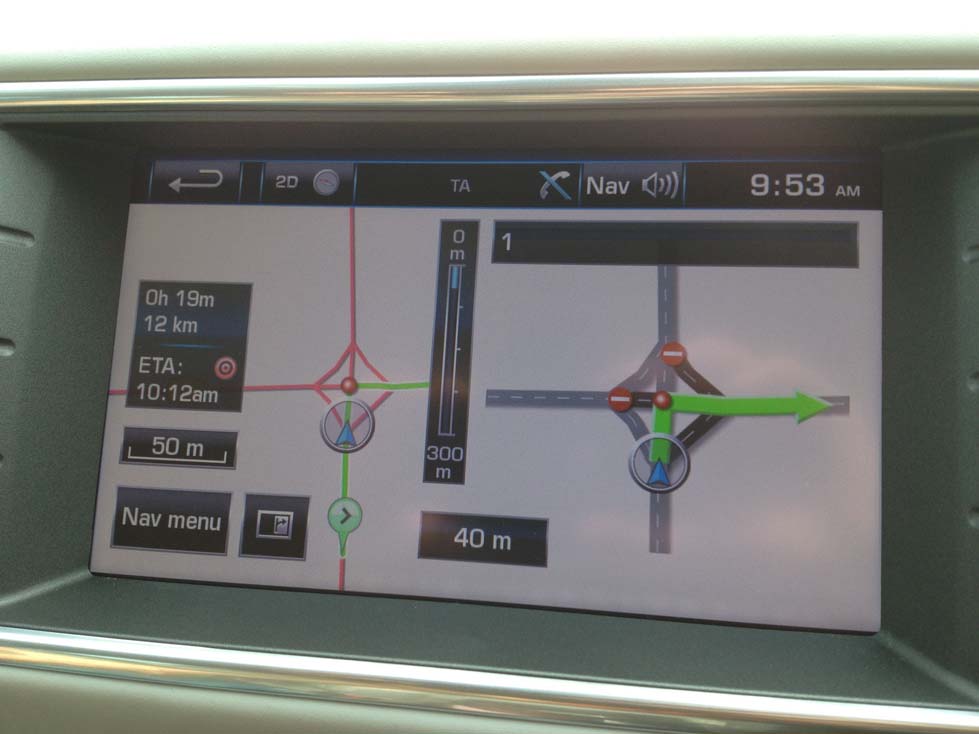 .
Speaking of navigation, the interface is far superior to the one in my VW Golf's RNS system. The Points of Interests and addresses are far more complete and navigation read out is clear and easy to follow. Especially useful is the center bar where you can see 0m and 300m. Most of the time, we hear our portable GPS barking turn right in 200meters …. unless you're in construction or the renovation business, being asked to estimate how far is 200m is like asking me to take an ounce of salt with a tablespoon … more often than not, I overestimate. Hantam saja, boss! will be a thing of the past with this system as drivers have a visual aid to see how far away from the turn they are and prepare accordingly. Word of caution, try to keep your eyes on the road as often as you can instead of looking at the screen.
.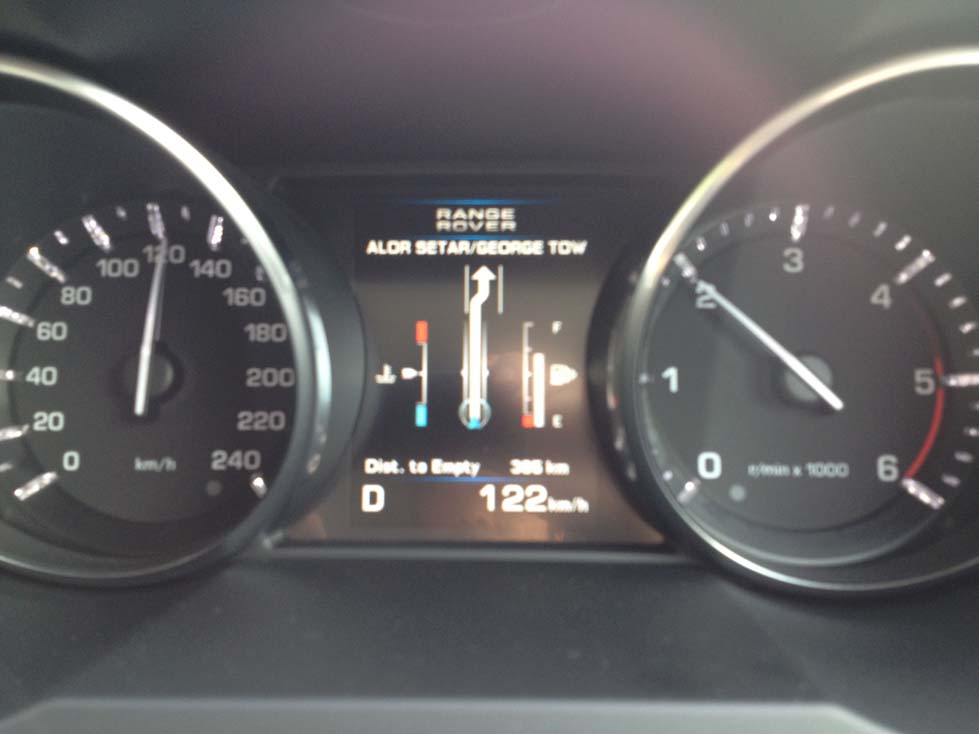 .
And this is what's displayed in the center once navigation is set.
.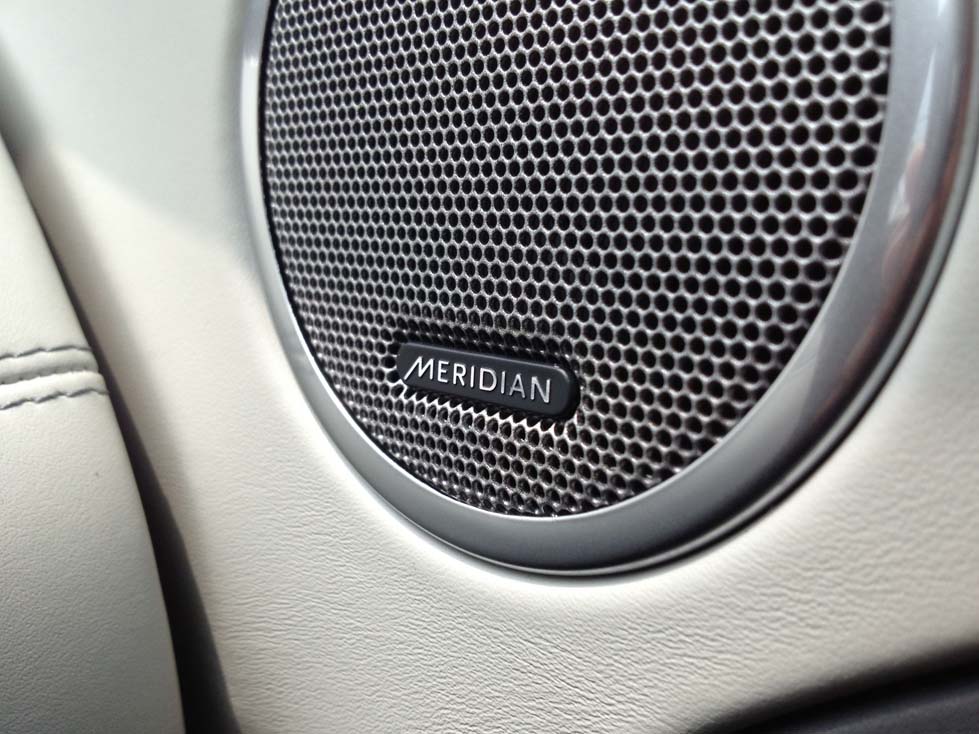 .
Because B&O is too mainstream ….. the Evoque sensationalizes your ears with a 380 Watt Meridian audio system. Audio ecstasy comes to you through a 12 channel, 11 speakers including a dual-channel subwoofer combo …. for ears like mine, that's way past good.
.
.
Dual zone automatic temperature control works reasonably well …. I never did figure out how to permanently set the recirculation button from auto to manual. Every once in a while, the MAN setting would jump back to AUTO and it seems to be on default. Still, in most cases, you won't realize this until you happen to be trailing a lorry with emissions that looks like it's obviously way past its retirement
.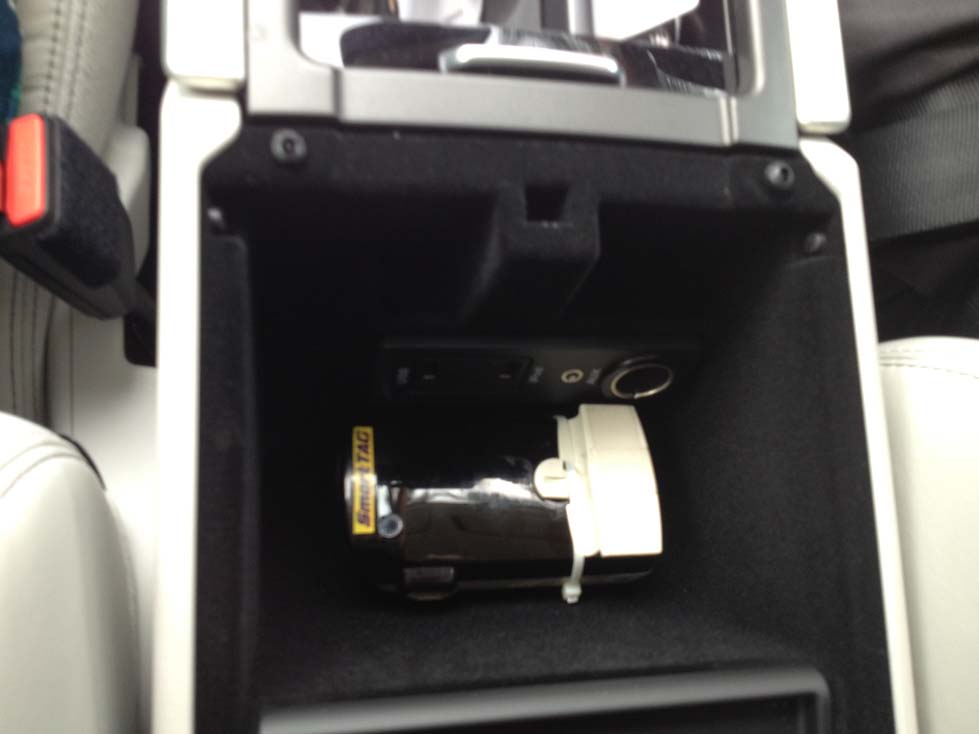 .
For such a large car, the center console is surprisingly shallow.With 2 USB connections inside, AUX port as well as a charging port, I wonder how can one fit everything inside simultaneously.
.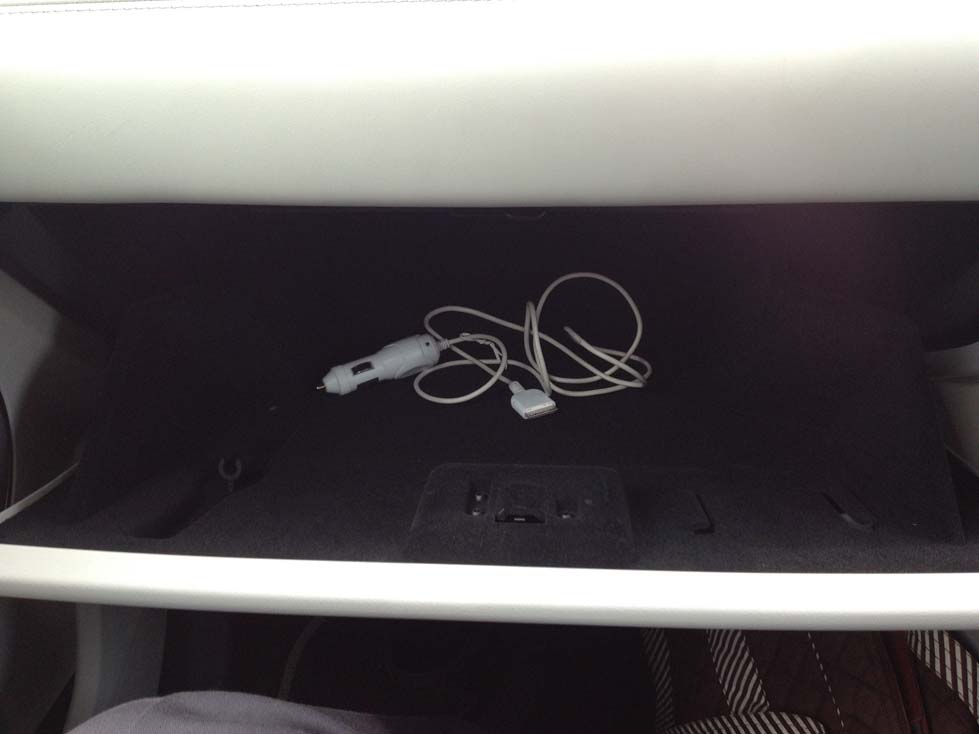 .
It is well that the glove compartment size more than makes up the lack of space in the center.
.
.
The center console does feature a small gap behind the air conditioning controls …. large enough for a Smart Tag but probably designed not for it since reaching in can be a hassle.
.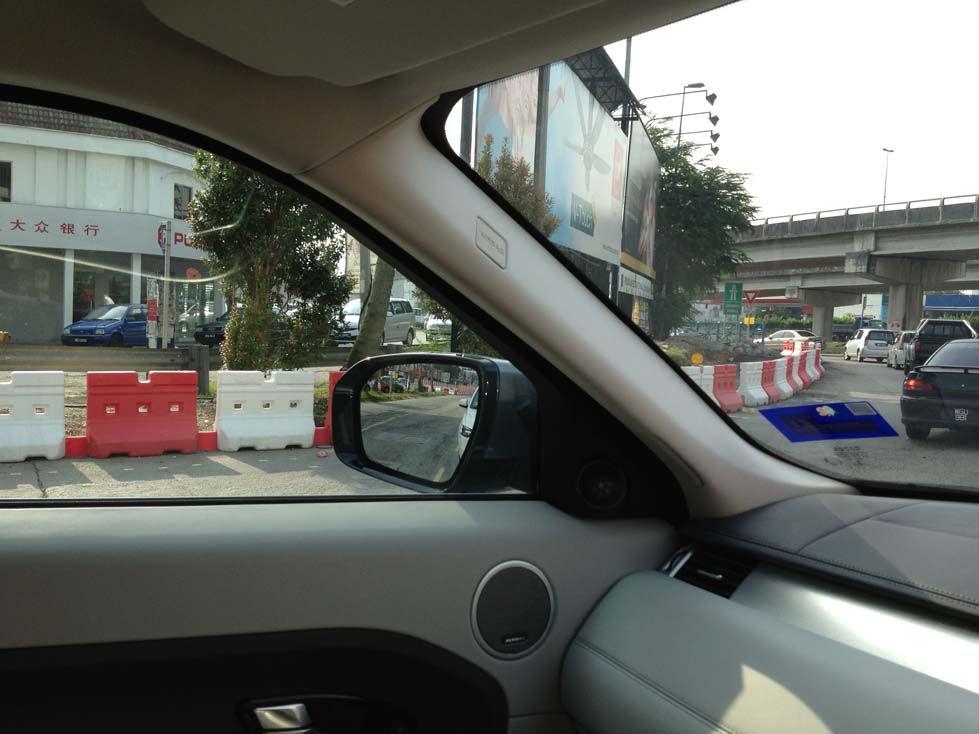 .
One of the biggest limitation of the Evoque is the large side mirrors and thick A pillars. As you can see in the picture above, the blind spot is thick enough that if you missed that garbage tong by the side of the road, you're in for a messy fix.
.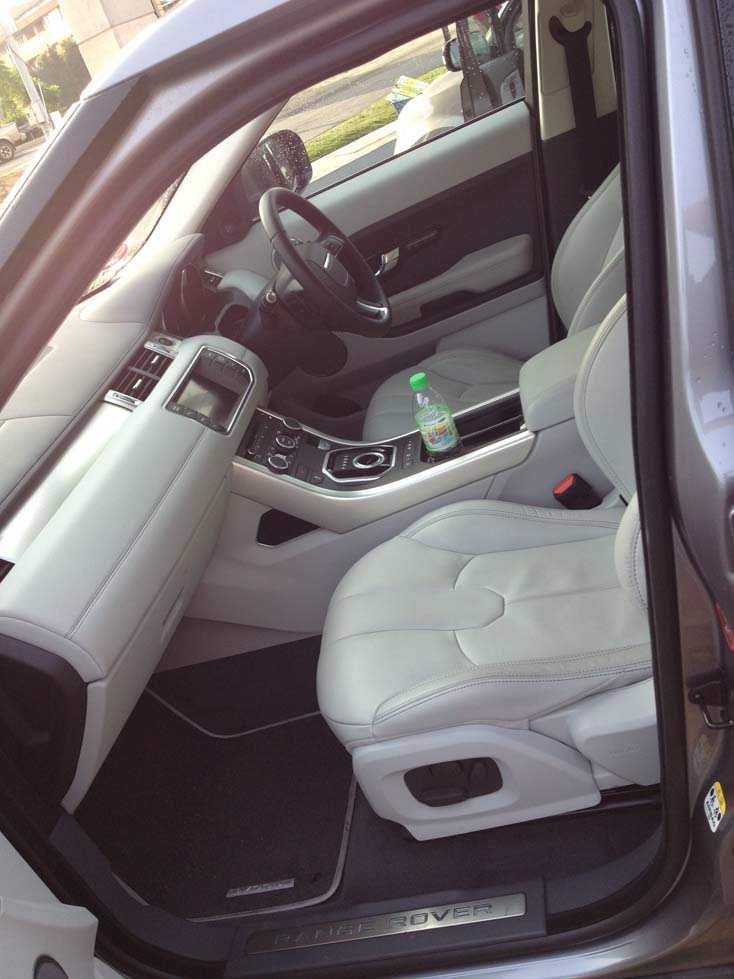 .
Both front seats are electrically powered with lumbar adjust. Additionally, the driver's side has 3 memory function.
.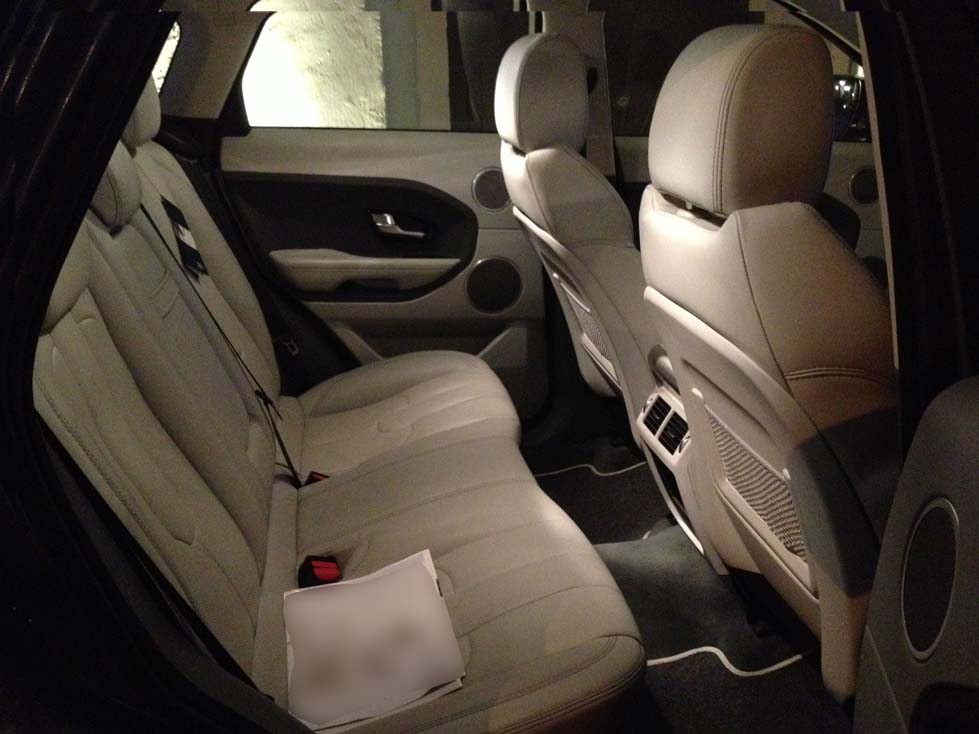 .
The rear is as luxuriously finished as the front but the seating position can be a little too upright and taller passengers beyond 5.5 feet may find the thigh support
.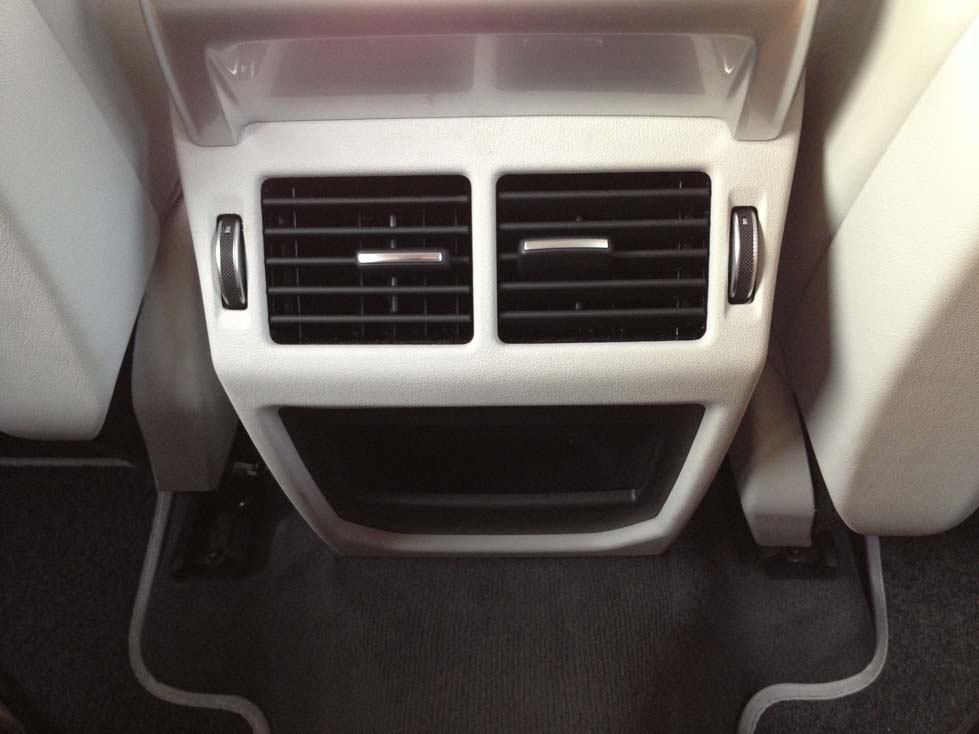 .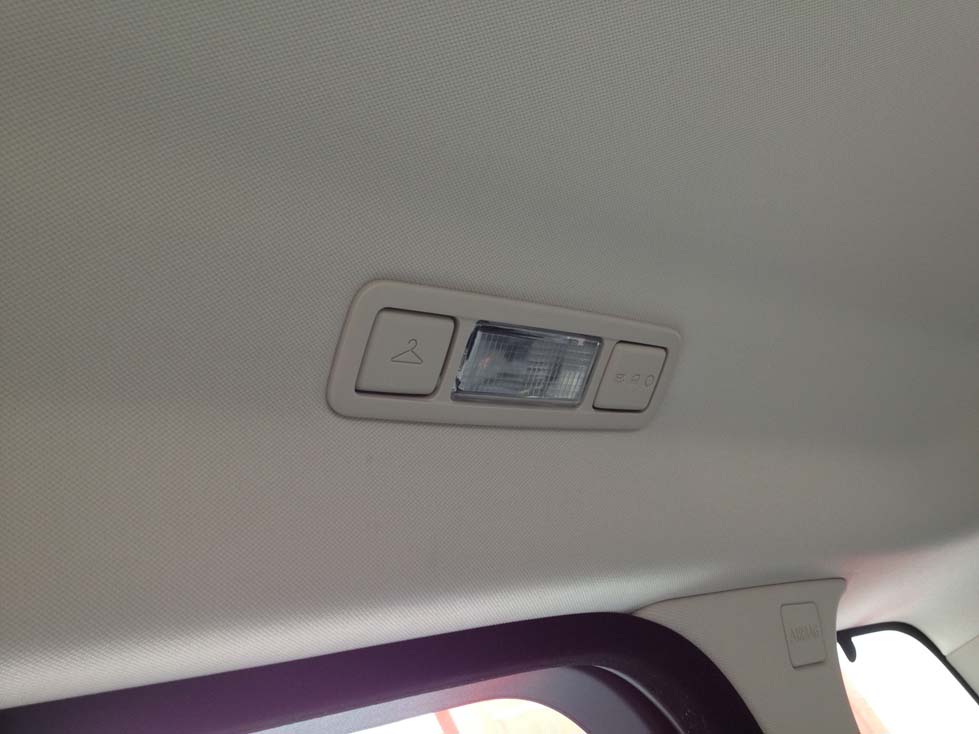 .
Land Rover must be expecting every Evoque driver to drive at sensible speeds, especially when cornering since rear passengers won't have hand grips to hand onto. Of course, we do expect business owners to buy this and the hook for coat hangers is a must.
.
.
Powered tailgate is always the hallmark of an premium SUV and the Evoque, naturally has it.
.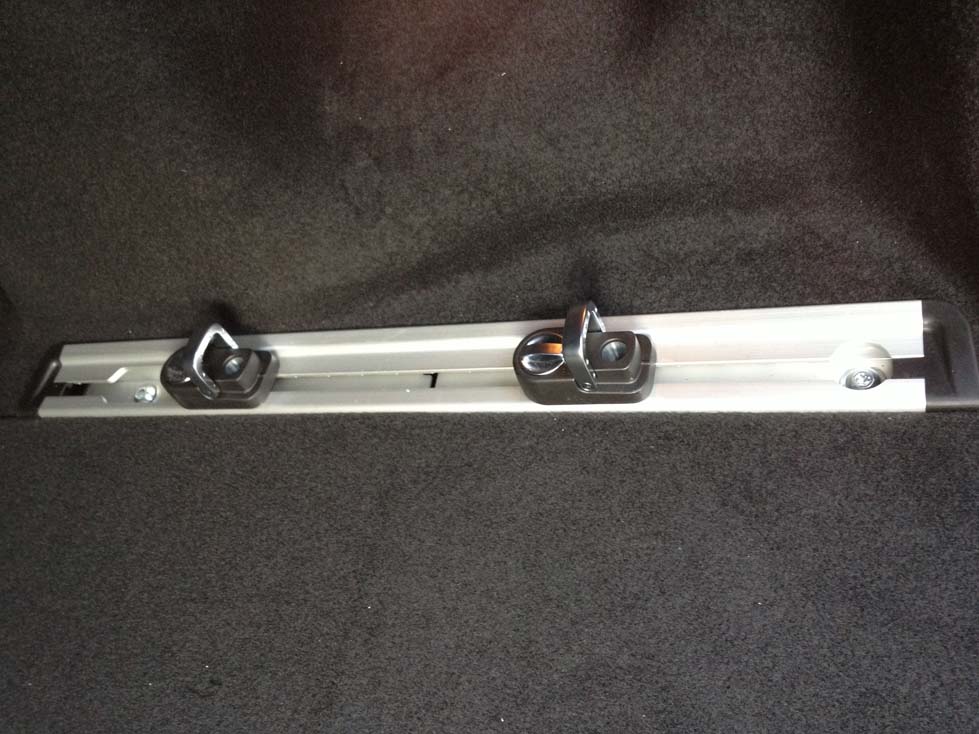 .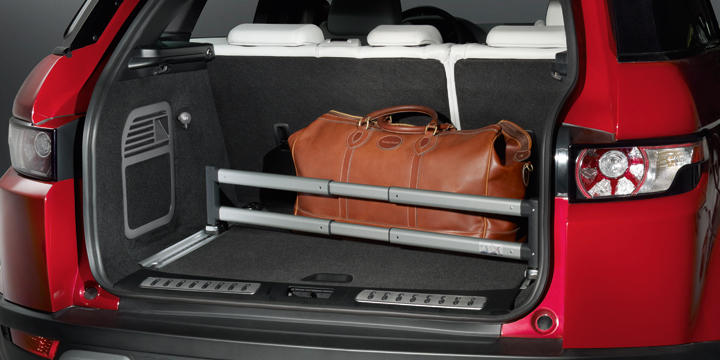 .
At the back, boot size is modest with load space stowage rails which is useful when needing to create a compartment to minimize luggage being thrown about when driving spiritedly (picture courtesy of Land Rover Singapore).
.
.
Hooks are found in the rear instead of in the cabin. Useful to hang food you bought from the market …. not so if you need to constantly see it in case it spills.
.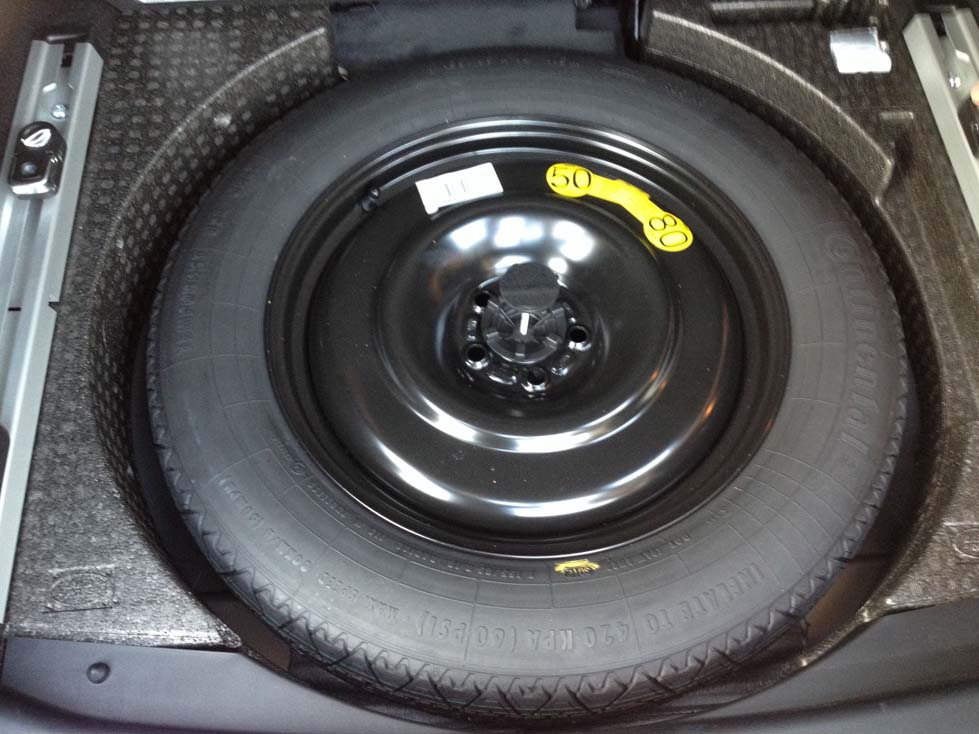 .
Space saver tire instead of a full sized one which is very logical since we don't want additional weight on an already substantial car.
.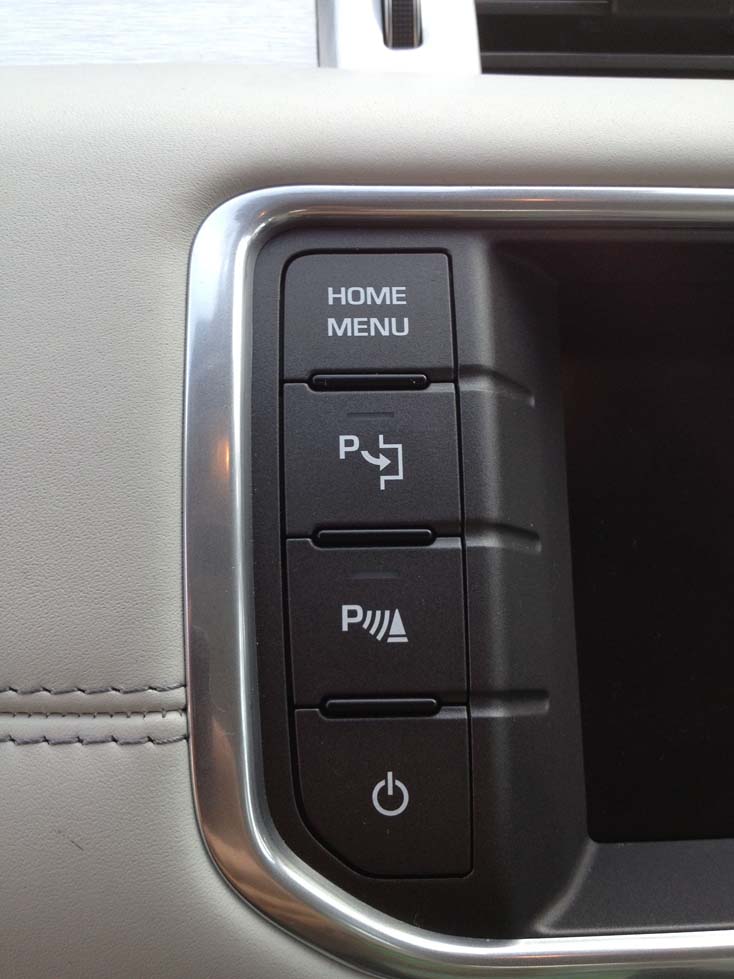 .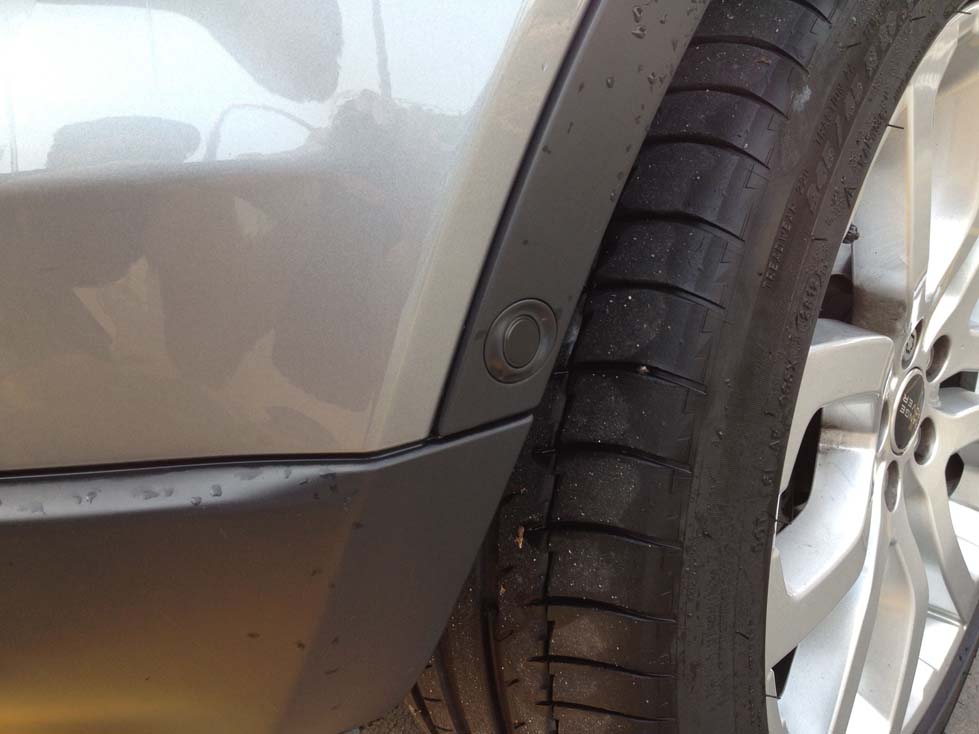 .
Another useful feature found in the Evoque that never fails to impress people is the Park Assist, a system that uses side facing sensors to measure available parking space, turns the steering wheel for you while you move into position (yup, very similar to a certain Blue Oval manufacturer's latest C segment offering). All you need to do is to follow the instructions on the 5″ TFT and modulate the brakes. Do note that the system only works on side parking and it is still your responsibility to ensure there are no other obstacles (such as an exposed drain) that may hinder the vehicle's movement. Also does not work in parallel parking.
.
.
Safety
.
With three variants to choose from, it's good to know that Land Rover Malaysia imports all three with the same active and passive safety features:-
.
Adaptive Xenon headlamps
Front fog lights
Airbags – driver, passenger front and rear
Dynamic Stability Control (DSC)
Electronic Brake Assist (EBA)
Hill Descent Control (HDC)
Electronic Traction Control (ETC)
Enhanced Understeer Control (EUC)
Perimetric & Volumetric Protection
Hill Start Assist
.
.
Specifications
.
Depending on the variant, the 2.2l diesel 5 door Prestige as tested here has the following specifications:-
.
Comfort & Convenience
.
Automatic Temperature Control (ATC)
Push Button Start
Cruise Control
Personal Telephone Integration (PTI)
Electronic Front Seats with lumbar adjust and memory function (driver only)
Ekectronic Park Brake (EPB)
Auto dimming interior rear view mirror
Park Distance Control (PDC)
Electric power assisted steering
Powerfold exterior mirrors
Rain sensing windscreen wiper
Approach lamp
Headlamp power wash
Powered tailgate
Loadspace stowage rails
Park Assist
Climate control rear vents
Illuminated vanity mirrors
Paddle shift
Trim & Styling
.
Single exhaust tailpipe
Textured aluminum
Ambiance lighting
Wheels
.
20″ Alloy style 6
Locking wheel nuts
.
Information & Entertainment
.
380Watt Meridian audio system
2 x USB Connectivity System
5″ TFT Driver Information Centre
8″ touchscreen with hard disk drive navigation system
Bluetooth – Audio stream
.
If you opt for the 3-door 2.0l petrol coupe Dynamic Plus, you'll lose 2 doors (but of course) but gain the following in addition to the 5-door variants unless stated otherwise:-
.
Adaptive Dynamics
Fixed Panoramic Roof
Solar Attenuating Glass
Twin exhaust tailpipes (also found in the 2.0litre petrol 5-door Prestige)
Illuminated tread strip
Satin brushed aluminum (instead of textured aluminum)
20″ alloy wheels style 7 (instead of 6)
Foot pedal – metal finish
.
Ownership & Maintenance
.
The 2.2litre turbo diesel tested here costs RM369,888 while the 5-door 2.0litre turbocharged petrol would set you back RM379,888 and the super chic 2.0litre 3-door coupe has a price tag of RM409,888. All prices are without insurance so cheap it is not. Compared to the Q5 which many perceive as the market leader in the premium SUV segment, the Evoque's least expensive variant still costs almost RM42,000 more. Of course, if one adds in the B&O sound system and navigation to match the equivalent of what's being offered in the Evoque, that price difference drops to RM16,888 which is relatively negligible when one considers how much these cars cost.
.
The Evoque comes with 5 years warranty (or 300,000km whichever comes first) and Land Rover Malaysia is offering a 3 years free schedule maintenance package. The breakdown of items in the maintenance is as follows (sorry, was not able to obtain the costing after the free maintenance)
.
.
So from a price perspective, we can't say it is a point of contention with the Q5 (that is, assuming one can accept the fact that we're comparing a diesel powered Evoque vs a petrol Q5). There is one major setback in owning a diesel vehicle as I discovered in those few days I had it: towards the end of the month, it's a challenge to find a petrol station with available diesel for you to pump. Worse still if you happen to find yourself in a neighborhood that has lots of diesel vehicles such as lorries and buses. I went to 6 petrol stations before I found one that still has stock to sell. So the best thing is, don't wait till you're almost empty to refill if you're driving the TD.
.
Other than that, it has been a great pleasure to drive the Evoque. It is one of those cars that I genuinely miss and realise I have been sufficiently poisoned by it. Another Land Rover fan has been born and for a person who's never been much into SUVs, that's saying a lot about its appeal.
.
If you're interested to see the catalog, you can download it from HERE. For a simple one, you can see it here:-
.
.
.
.