.
We often hear the words "Fun" and "Exhilirating" used to describe almost any car and when you throw in "Affordable" into the mix, you'd usually find small B segments which are hardly as entertaining as advertised. Sure, there are many cars costing sub-RM100k that's quite capable in tackling corners at high(er) speeds but for the average person who've gone through their fair share of Perodua Kancils and Proton Iswaras, the usual Korean C segment and affordable continental examples represent little more than a faster means of moving from point A to point B.
.
When it all looks like we're consigned to a future where we'll be dull drivers moving faster than our parents, Suzuki challenges the general paradigm by offering us the Suzuki Swift Sports. It's small, it's chic, it has a chassis that's as playful as a kitten and an engine as eager as a puppy. And it carries a 5 figure price tag. But is it something one can use as a daily driven car. Most importantly, would the Mrs be giving her blessing for this purchase? Let's find out:
.
.
Design
.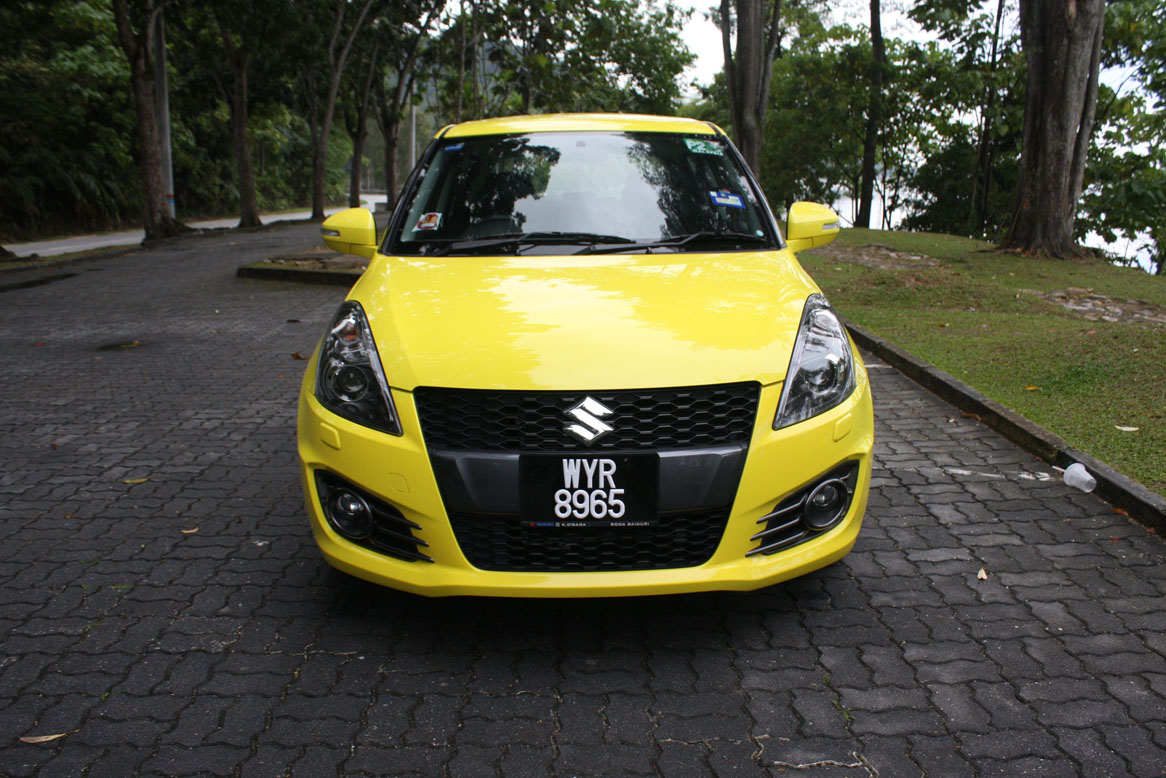 .
The Suzuki Swift's exterior has remained more or less the same since it's first introduction back in 2004 here in Malaysia and one of the most annoying thing that happens to me, being the 2nd batch of Swift owner back then was aunties coming up to me and saying "Nice MyVi you've got there". Since the MyVi and Swift was launched on a date relatively close to each other, it is understandable why non-petrol heads get confused between the two.
.
10 years down the line, even the worst near-sighted aunty could tell the Suzuki from the Perodua. Aside from some cosmetic changes, it looks pretty much like what it did a decade ago. And when it comes to the Swift Sports, it has got to get extra visual candy since it is the flagship.  Seen from the front, the distinctive bumper design with a blackened mid section that makes the grille looking like one giant maw flanked by 3 "claws" at the front fog lamps distinguishes the Swift Sports from the regular 1.4litre Swifts.
.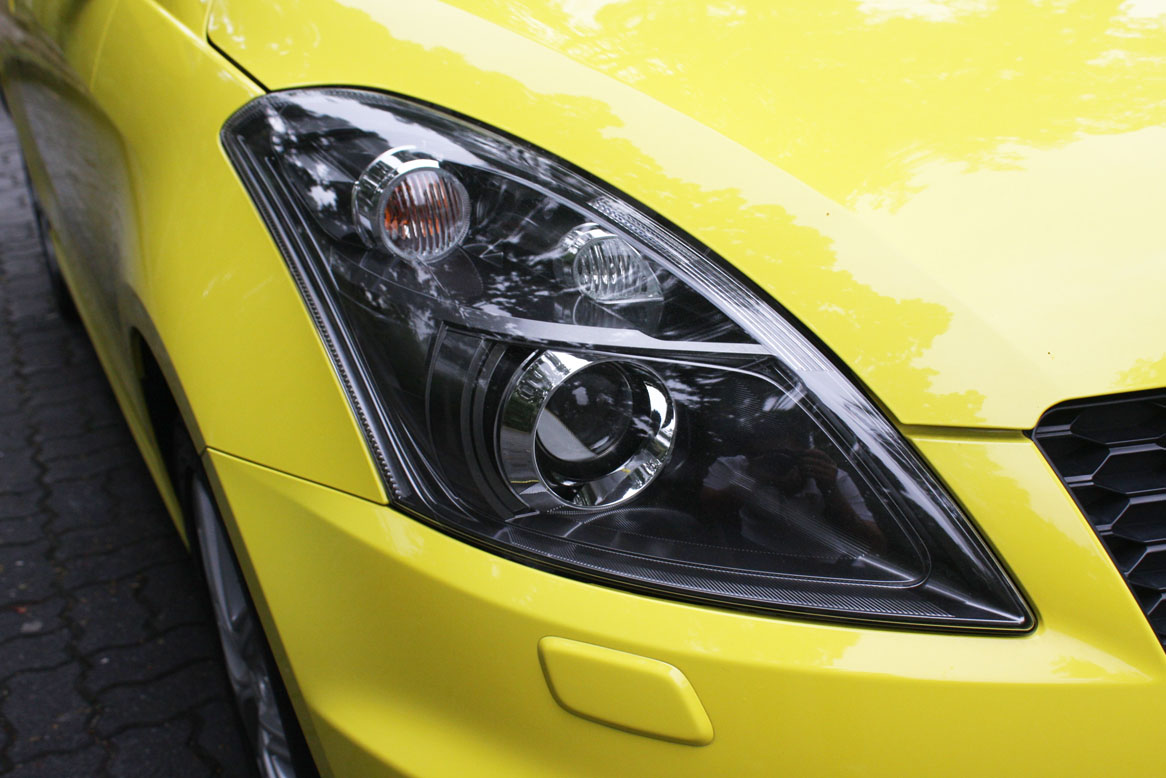 .
Lending further appeal to its sporty nature, you get smoked bi-xenon headlamps which blends well with the oversized dark grill and fog lamps inserts.
.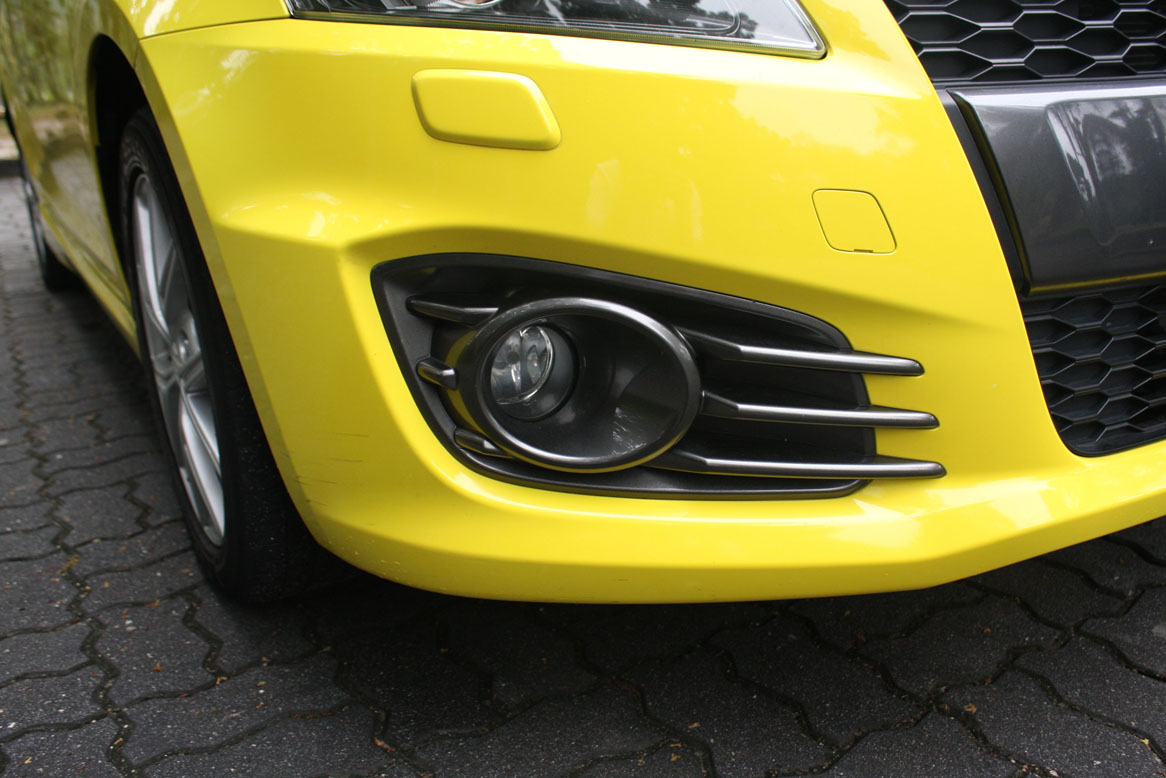 .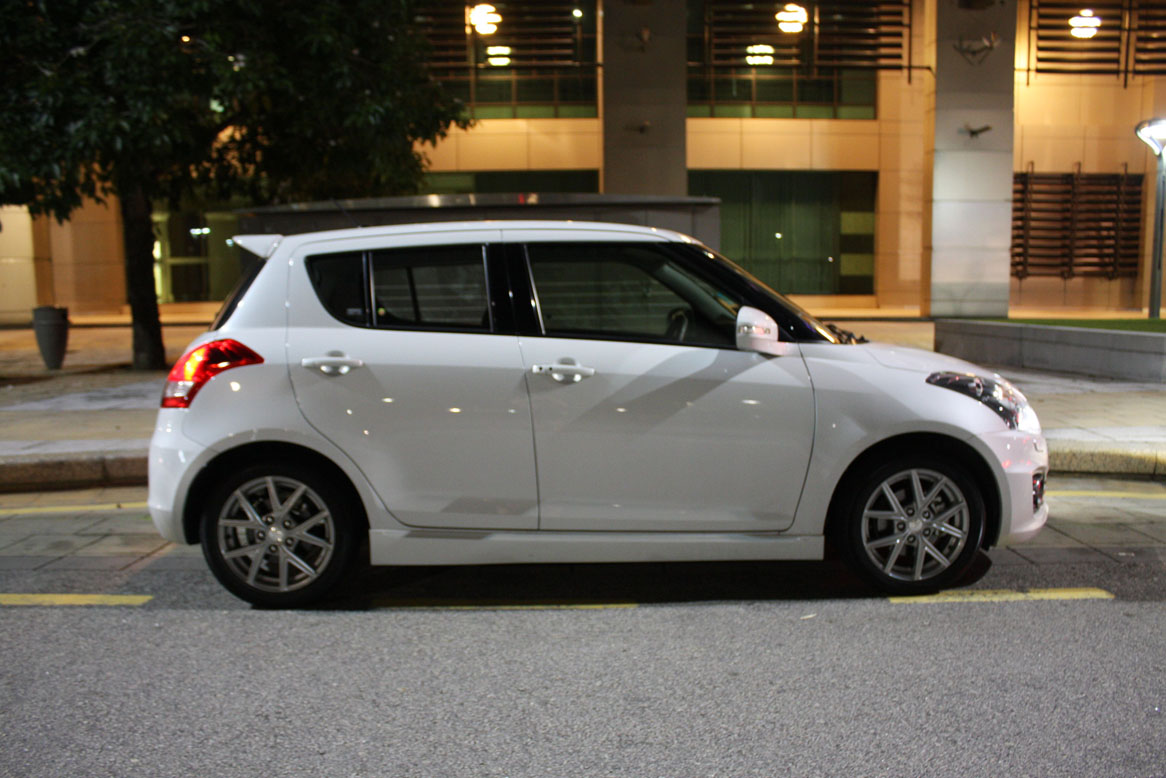 .
Seen from the side, the side skirts, top spoiler marks and 16″ sports rims marks the Swift Sports.  Measuring 3,890mm in length, 1,695mm in width and 1,510mm in height with a wheelbase of 2,430mm, it has grown slightly longer (+10mm) and wider (+25mm) from the previous generation. It is overall shorter (-15mm) and has a shorter wheelbase (-50mm). Translated within, if you have a 6 feet driver and a 6 feet passenger sitting behind, it won't be very pleasant for the both of them as rear legroom is tight.
.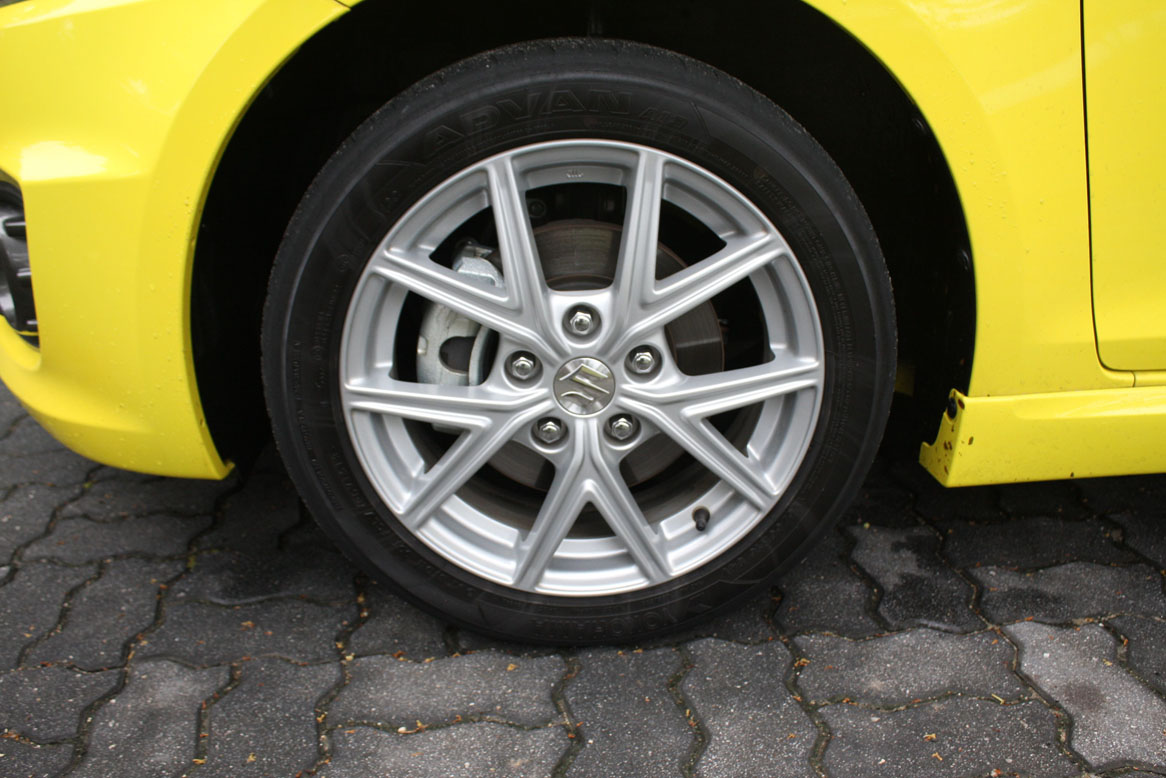 .
Light weight 16″ aluminium alloy wheels shod with 195/50 rubber. For a CBU unit that has such true sport nature, I can't think of any other make that offers stock tires thinner than 200.
.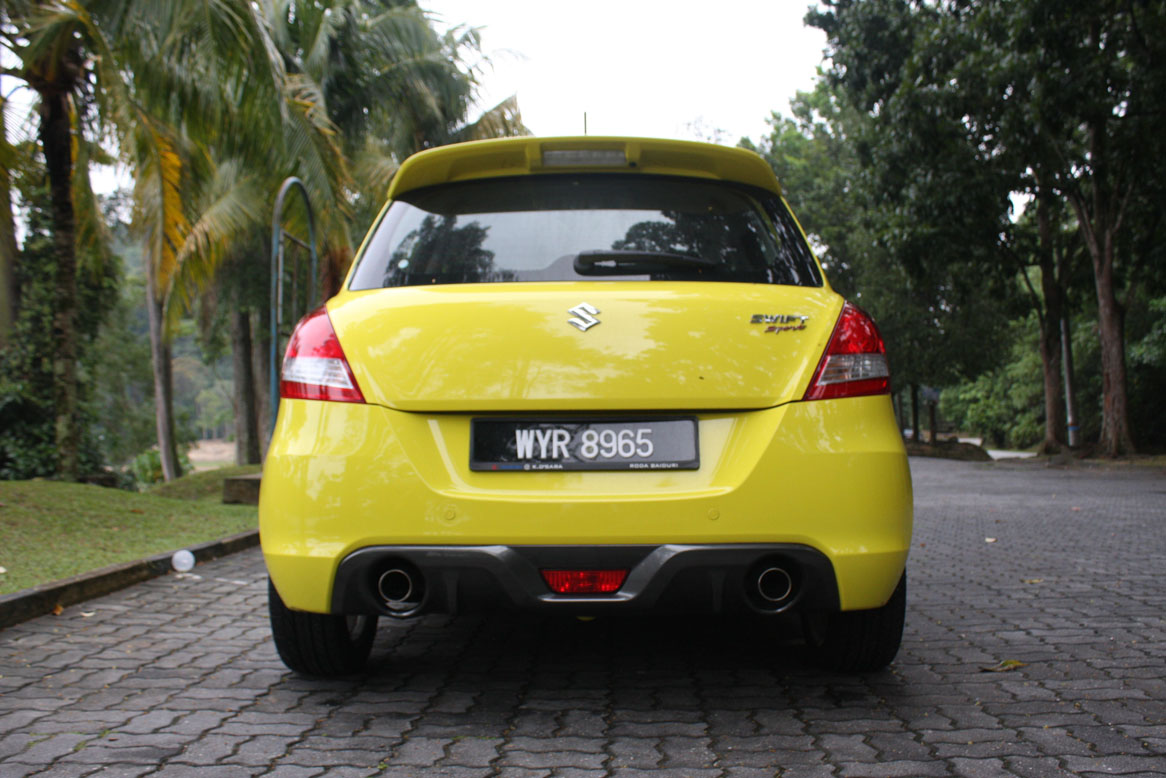 .
The twin exhaust pipes set in a distinct black diffuser at the rear bumper stands out most prominently. The line from the body carries on to the lower part of the rear bumper and this has the unfortunate effect of creating a jumbo sized rear number plate area. This is one of those cars where a number plate spoils the rear design of the car.
.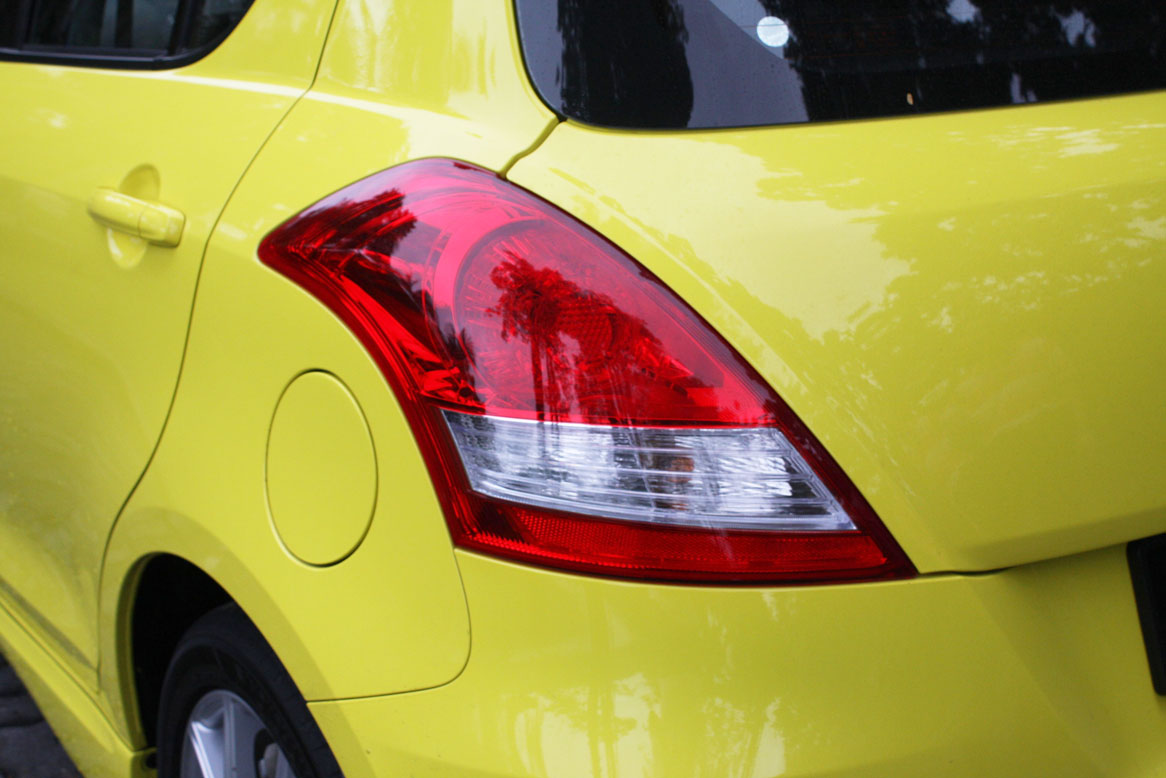 .
.
Performance
.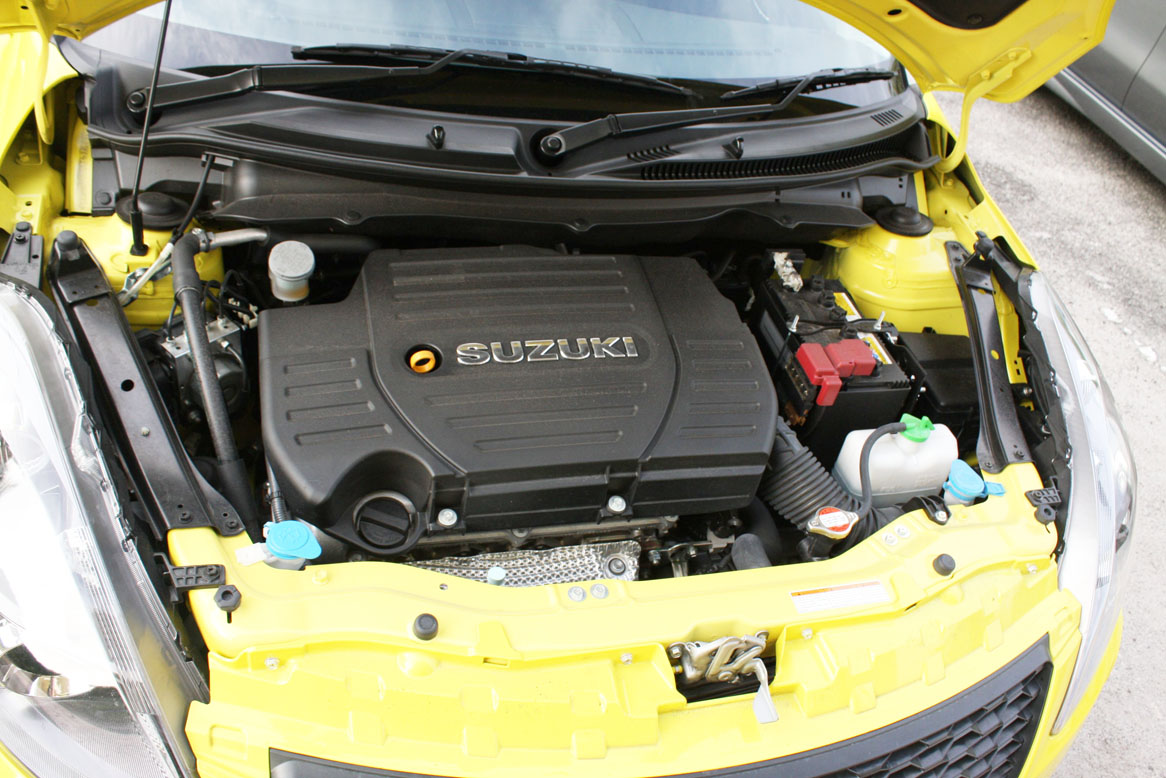 .
Wherever the Swift Sports is available, it would have not be wanting of fans. But the problem with the first generation Swift Sport was its appetite for high Octane fuel. In 2006 when the Swift Sport was launched, we had RON92 selling for RM1.88, RON97 at RM1.92 and Shell VPower going for RM2.02. Compared to today's standards, it is cheap but back then, Swift Sports owners had to hunt for either VPower or RON97 then fed with Octane boosters. Such selective diet was a huge turn off. When the fuel prices went up and VPower became more expensive than premium baby milk powder, sales of the Swift Sport plummeted. Coupled with the launch of the CKD Swift which added greater price disparity between it and the Swift Sport, the rest is, as they say history.
.
It is a most welcome news that the second generation Swift Sport can now consume RON95 (even though Suzuki still maintains that RON97 is a must if you want to have the engine performing at optimum level). Speaking of engine, the heart of the 2nd gen Swift Sports is a 1.6litre M16A VVT powerplant entertaining you with 136PS @ 6,900rpm and 160Nm @ 4,400rpm. Zero to hundred is dispatched in 8.7 seconds (assuming you use optimum RON fuel and not the 95) and will reach a maximum speed of 195kph for the manual and 185kph for the CVT auto.
.
Not exactly the fastest rocket in today's pockets and quite frankly, if it's outright speed you want, the Swift Sports may not be the car for you. Nevertheless, the Swift Sports remains to be one of the fastest car around for its price since anything with a stock turbocharger will be above RM120k at least.
.
.
Ride and Handling
.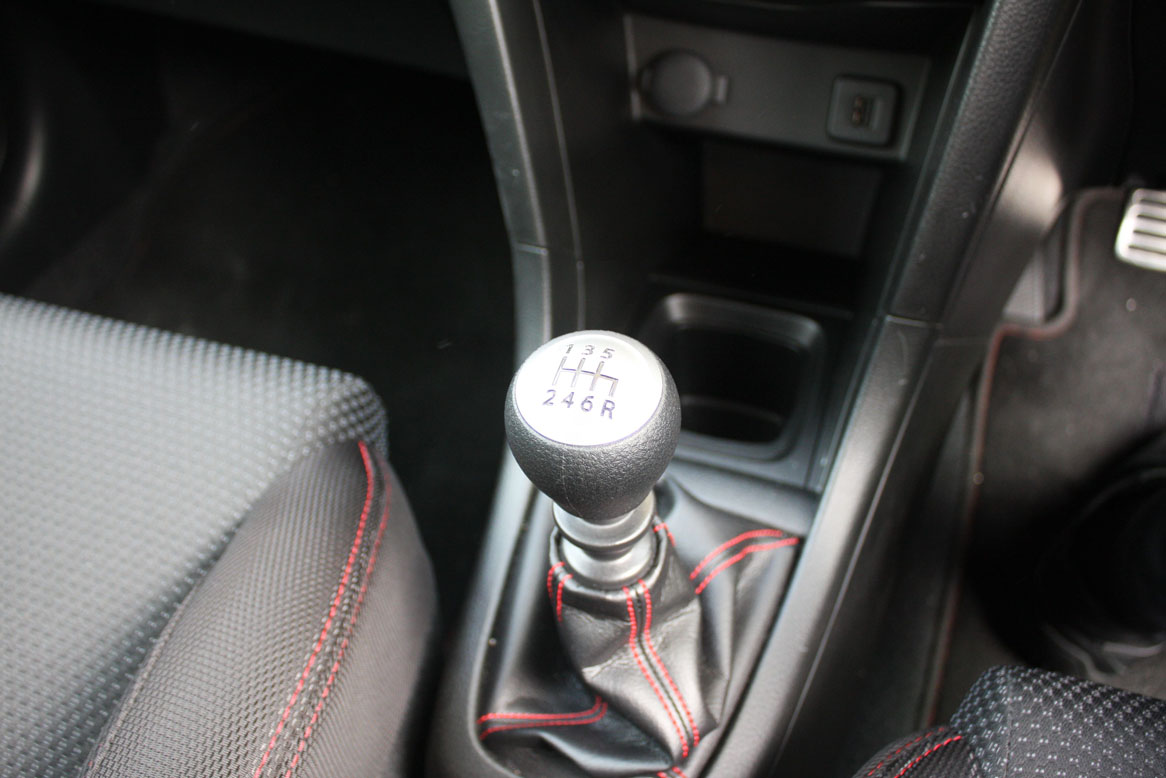 .
If it's one thing I learned during my time with the Swift Sports, it is that outright speed does not necessarily guarantee an outstanding driving experience. Taking the route to Ulu Yam, then up Genting before heading back to KL, there were a lot of other vehicles overtaking the Swift Sports and the only thing that was on my mind was constantly challenging myself to take the next corner a little faster, to achieve the optimum power at the corner a little bit quicker. Or if drifting is your thing, then getting that back end to slide out a little more, or to get the slide to last a little longer.
.
.
With MacPherson strut and coil spring for the front and rear combo torsion beam and coil spring coupled with a well balanced chassis, not many hatchbacks (certainly none costing near to RM100k) is able to match the agility of the Swift Sports. Steering precision isn't as sharp as some continental makes but far more competent that other Asian make models. The challenge is more in keeping the optimum power band which is between 4,400rpm to 6,900rpm. The good news is the engine loves to be revved and getting to that limit is easily achieved; It's keeping it there that separates the novice from the pro. And the pros would almost assuredly go for the manual 6-speed gearbox. Pushing the needle to red isn't torturous as it might sound in other cars. In fact, the Swift Sports eagerly encourages you to do that and every corner you make would be accompanied by the high pitched engine working hard to keep juice flowing to the 2 front wheels.
.
However, if one goes for the convenience of the automatic which offers CVT as its transmission, the Swift Sports loses quite a bit of its luster. It's still fast, mind you with both manual and automatic sharing the same century sprint but not to be able to switch gears manually disconnects you from the car somewhat, thereby denying you the full pleasures of pushing the car and yourself to the limit of fun. If that wasn't bad enough, the CVT found in the Swift Sports (similar to what was encountered with the Kizashi tested earlier HERE) limits the free revving nature of the engine, making it perform and sound unnaturally strained plus that annoying rubber band effect is a turn off. As Malaysians call it, very potong stim!  The automatic on the Swift Sports is like a date with Maria Ozawa who's down with a permanent flu.
.
The Swift is know to be one car being offered with stiffer suspensions compared to other Japanese makes. The Sports version takes it a notch higher with firmer spring rates and bushings, allowing the driver to tackle corners at such speeds that one wonders what are his balls made of.
.
.
Cabin Convenience
.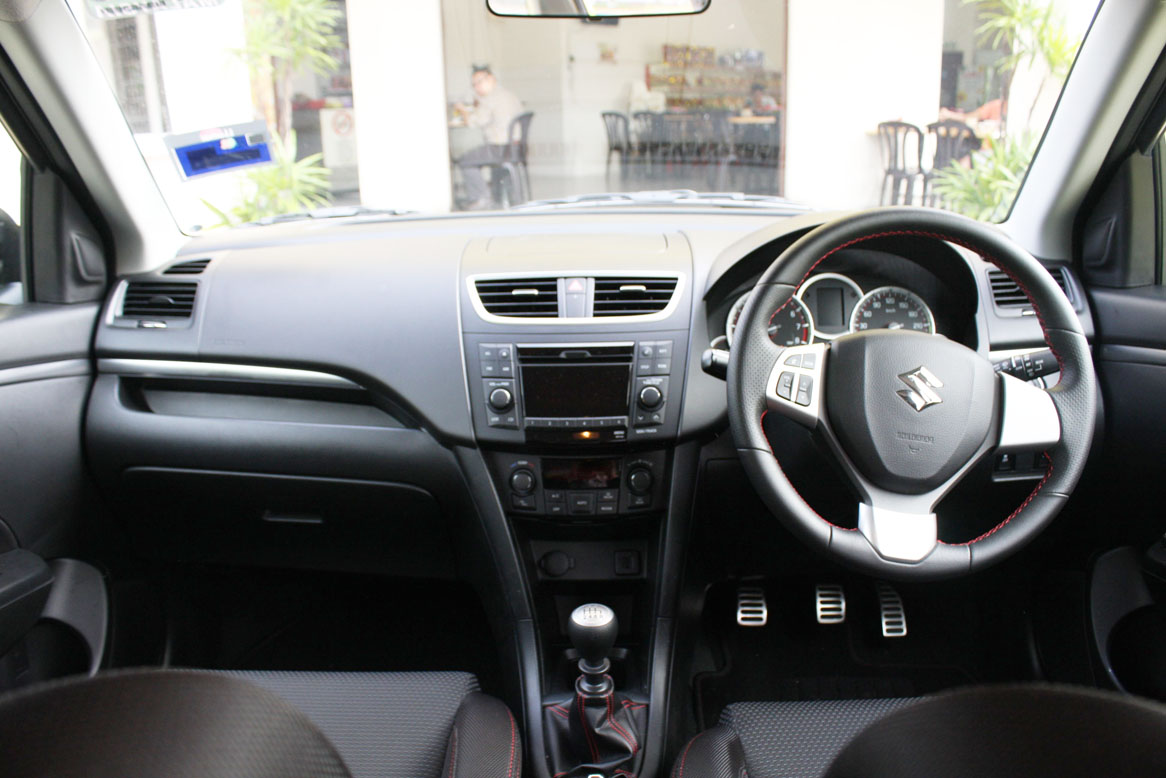 .
Inside, the cabin strikes a good balance between ergonomics and design. The red stitching contrasts well with the dark leather, makes for a menacingly elegant look. Who says men aren't into leather and fine craftsmanship, ladies?
.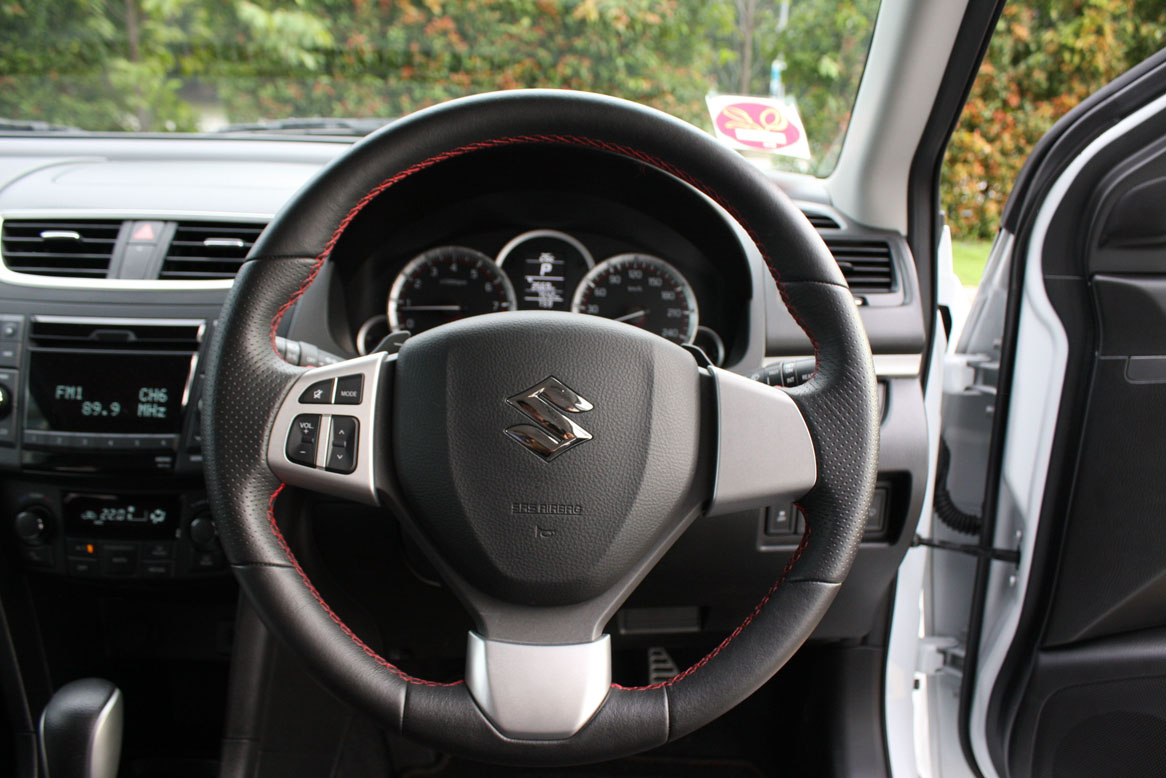 .
Good, chunky leather wrapped, flat bottomed steering wheel, complete with audio control buttons on the left. Paddle shifters are included if you choose the CVT automatic option.
.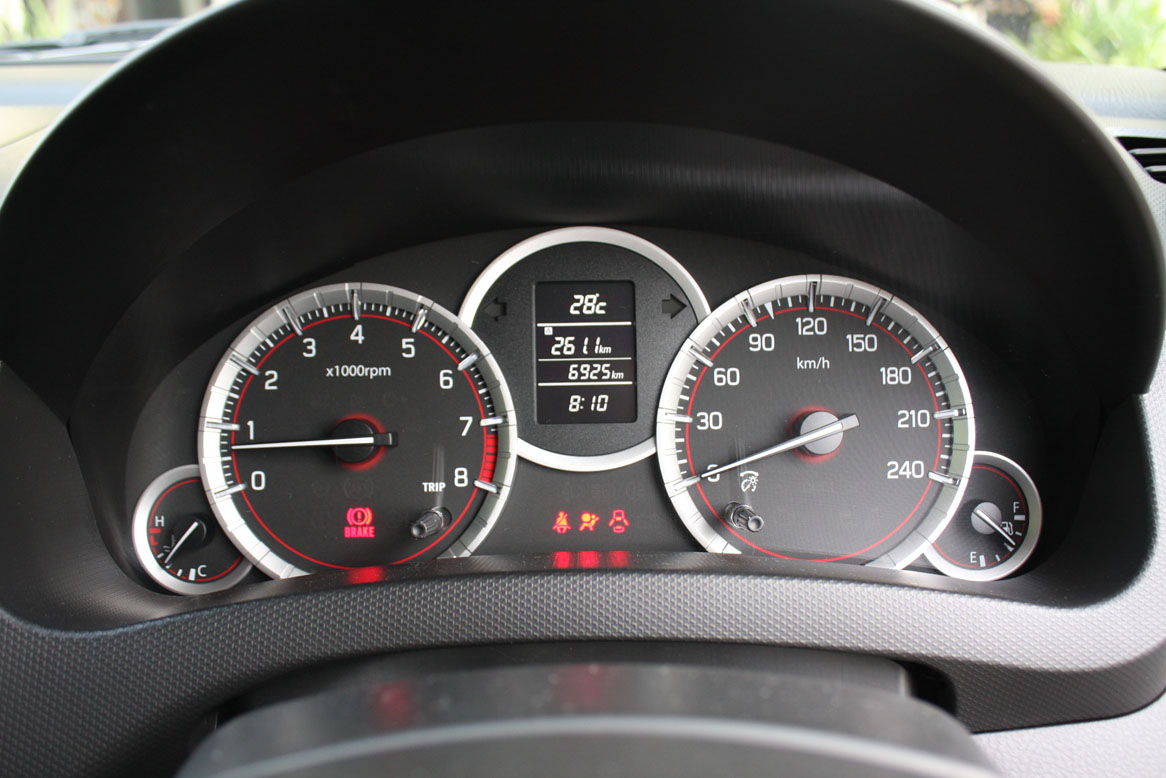 .
Simple, easy-to-read yet stylish meters. No need for those fanciful rainbow colored MFDs.
.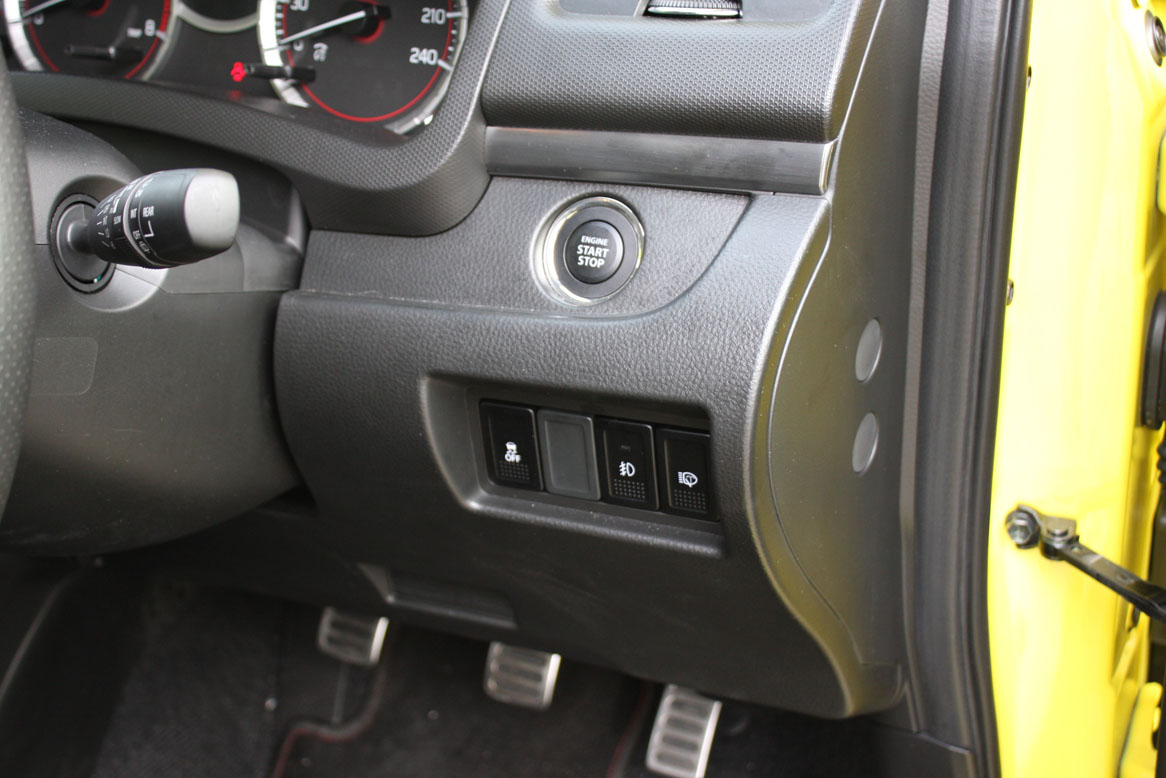 .
Both automatic and manual comes with Push Start/Stop button. Was a bit embarrassing for me when I took a while longer to figure out how to crank up the manual since in most automatic, we just step on the brakes. With most modern manual Push Start/Stop equipped cars, the clutch needs to be fully depressed before the button does anything for you (well, aside from powering up the electrical systems only)
.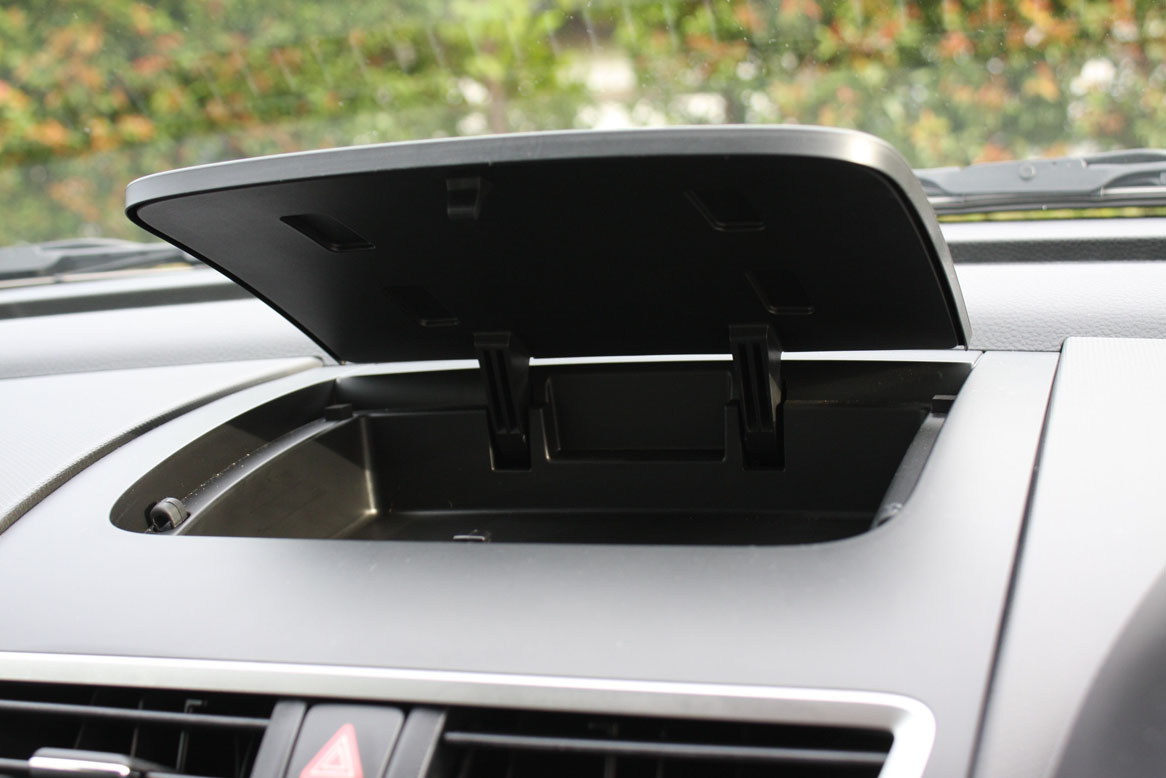 .
For those who have run their own company or into sales, finding a place to put toll and parking receipts can be an arse, which is why cars with top center compartments is very much appreciated by people like us. Never did try putting access cards in there though for fear that our weather will fry it.
.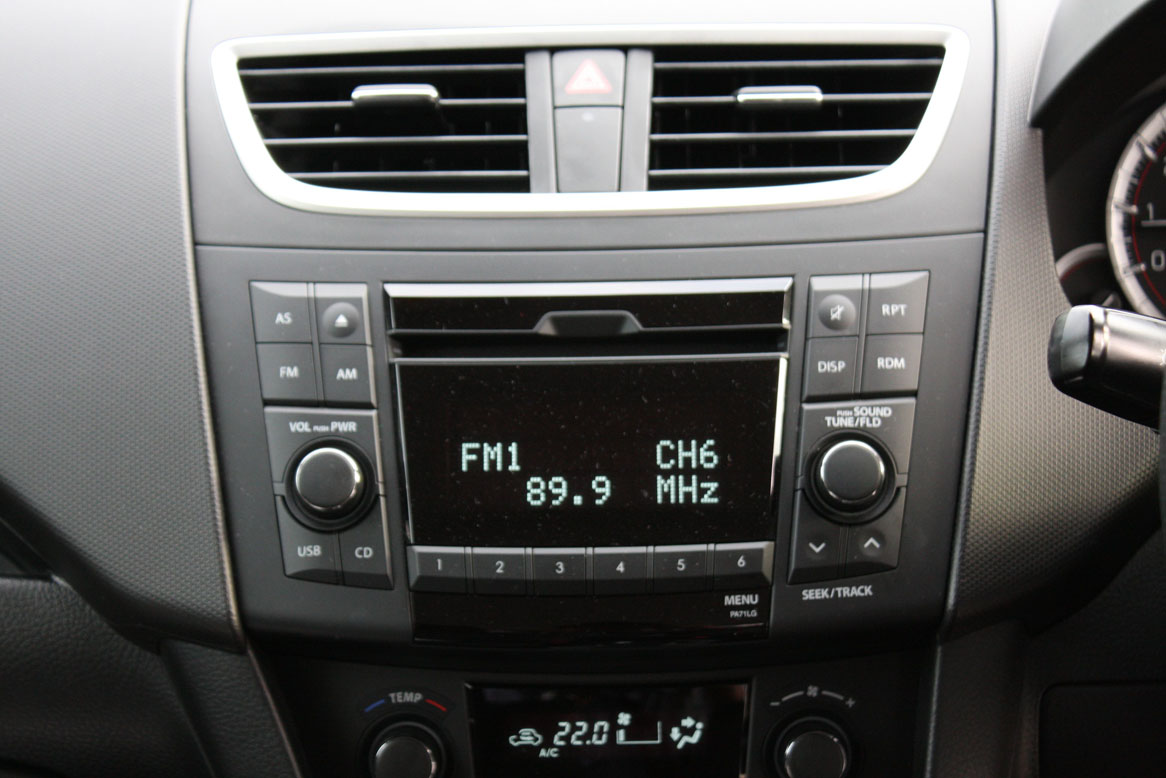 .
A simple, no-frills headunit that provides CD with MP3 playback and radio. No Bluetooth which is a shame. The good news is it has a USB jack but I couldn't get the player to work during my time with it. Not sure if it's the USB drive itself or the format is wrong.
.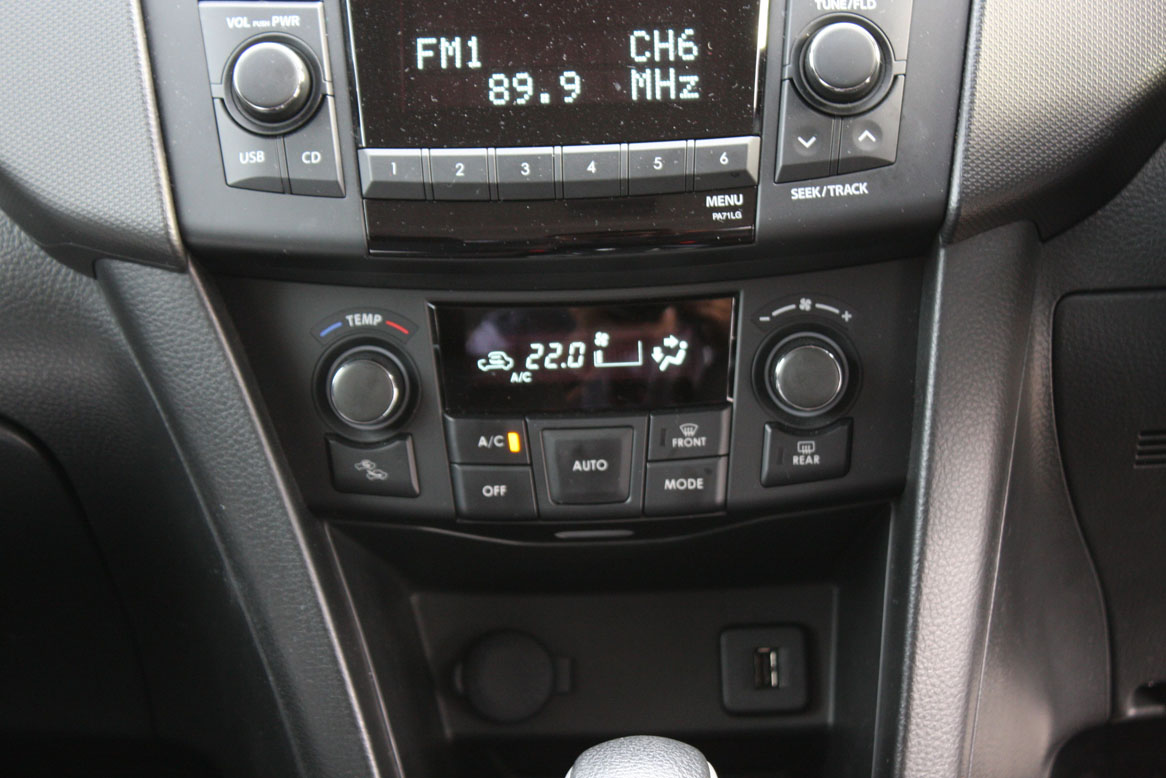 .
Never did get the need to have an automatic climate control air conditioning. Most of the time if I ever use it, it's to blast the cabin with cool air on a hot afternoon but that's mostly because I'm lazy to turn up the dial myself. Nevertheless, the Swift Sport has this feature for those who wish to have the car to do everything for you.
.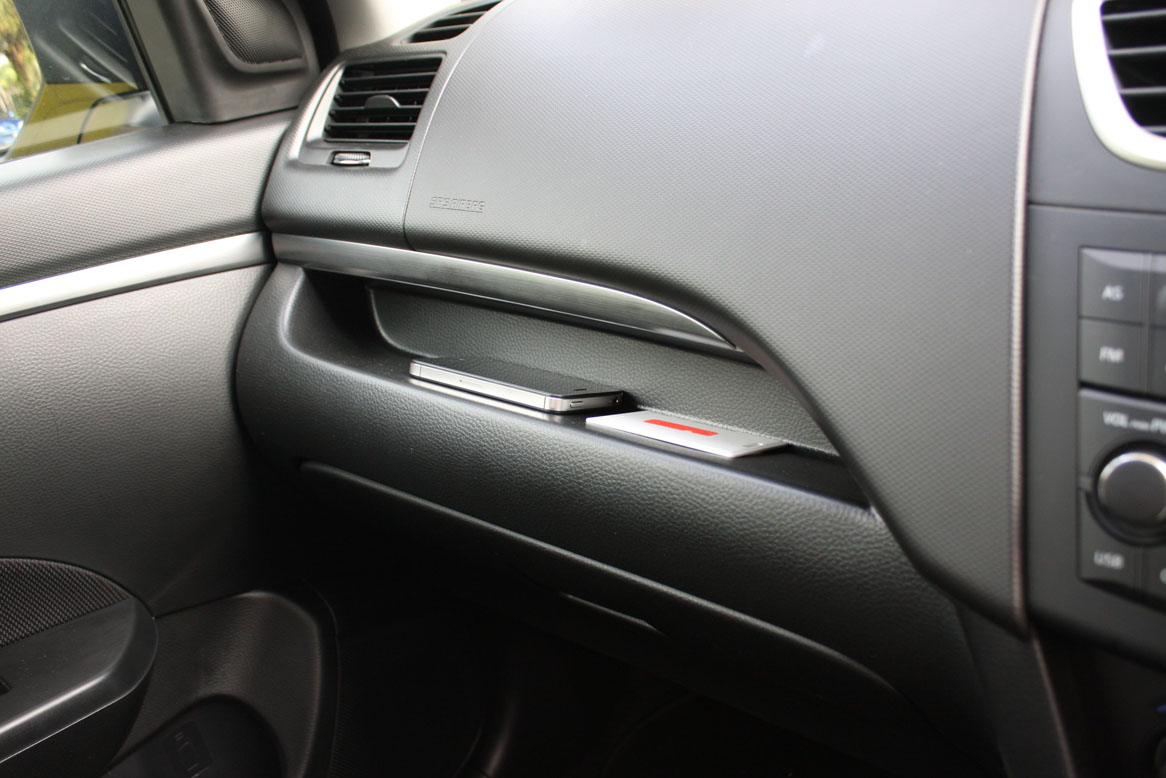 .
There is this little space on the dashboard that's deep enough for access cards and mobile phones. Convenient, yes but also raises the visibility of said devices to unscrupulous individuals on motorcycles outside the car. You should probably use that space for decorative inserts or pens.
.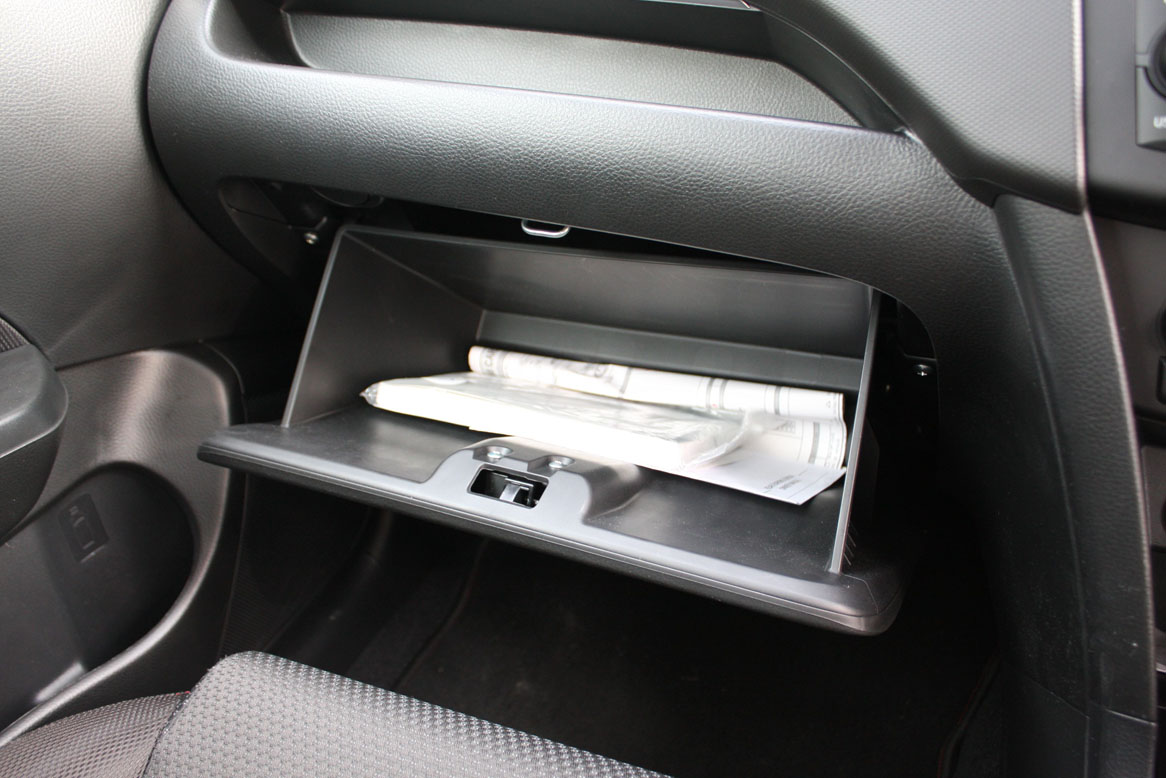 .
And beneath that slit is the glove compartment which, as you can see is adequate for almost everything that's smaller than a laptop or a Longchamp handbag. Seriously, if MyVi is the default choice of most Malaysians, the Longchamp 'Le Pliage' is definitely the bag all women, from college girls to grandmothers.
.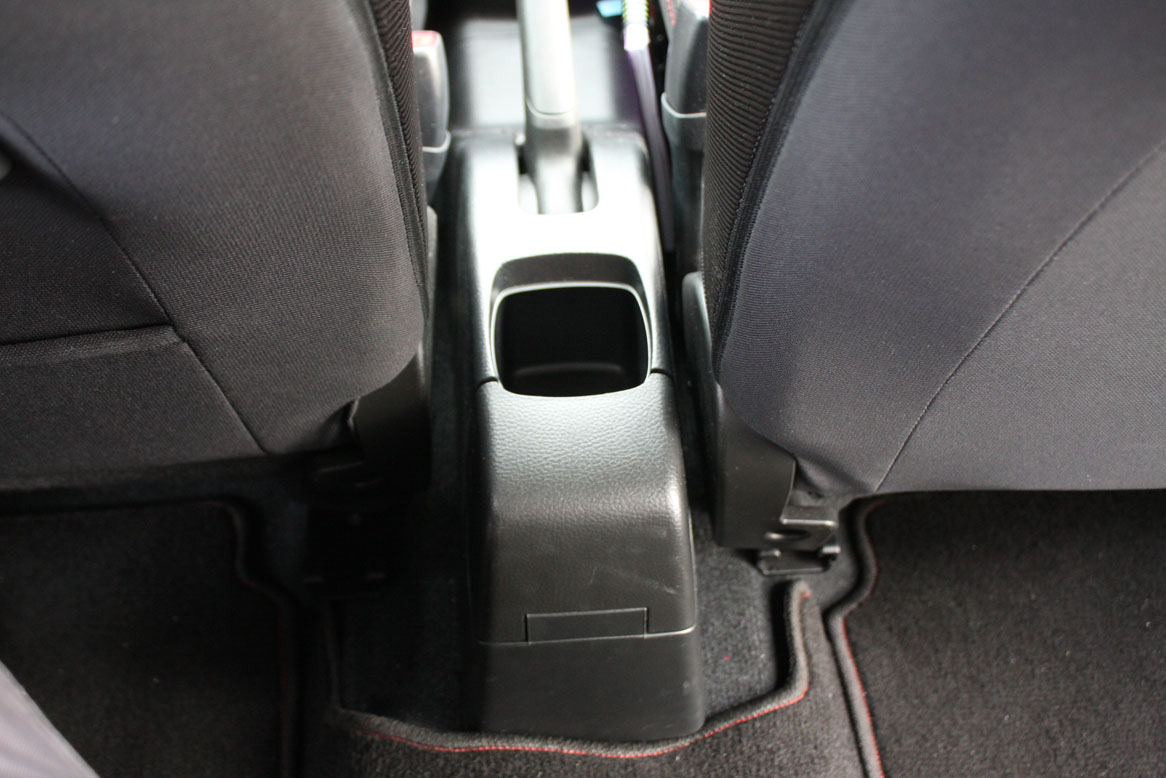 .
Take my advice: Go custom make an armrest for the center. It improves the ergonomics of the front driver and passenger a lot, especially in long distance drives.
.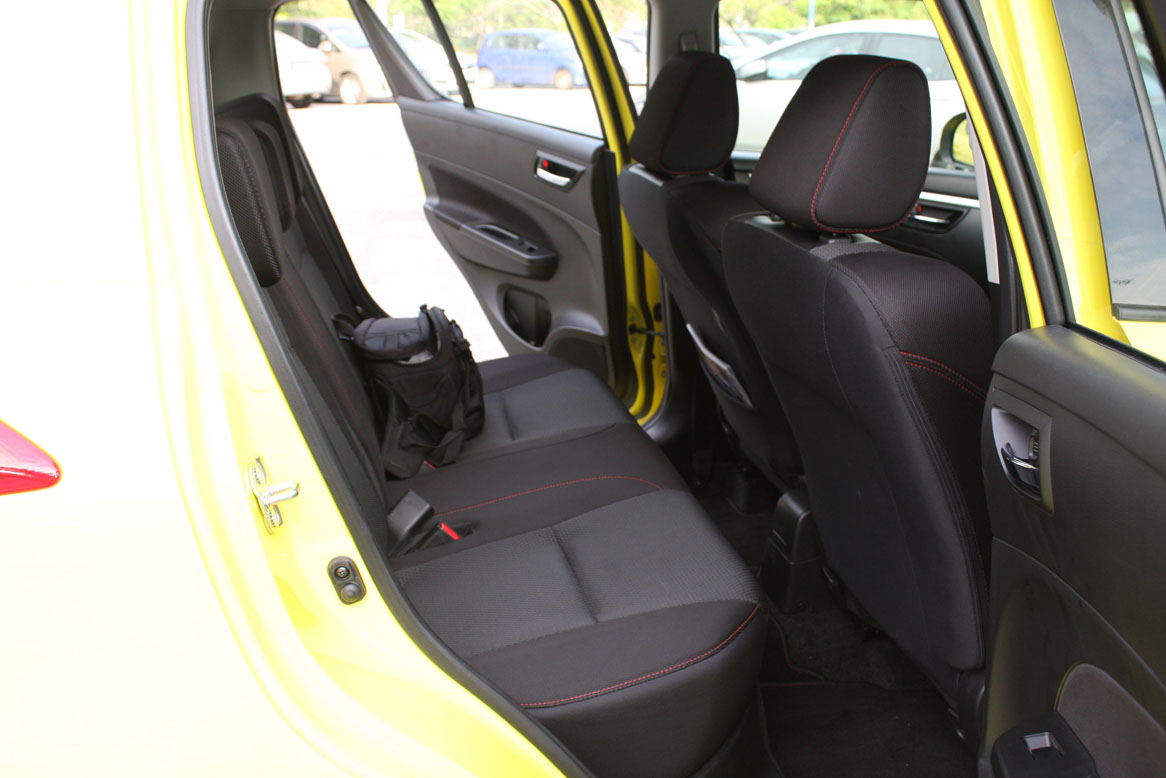 .
Nothing much to report on the backseat. Sitting position as straight as it has always been for a Swift. For tall passengers, their knees wills scrape the back side of the front seats and there are no rear air-conditioning vents.
.
.
The biggest problem with the Swift Sports is the boot; there almost isn't any! You could fit a small baby stroller inside but if the rear passenger usually consists of 2 kids and a maid, this isn't the car for you.
.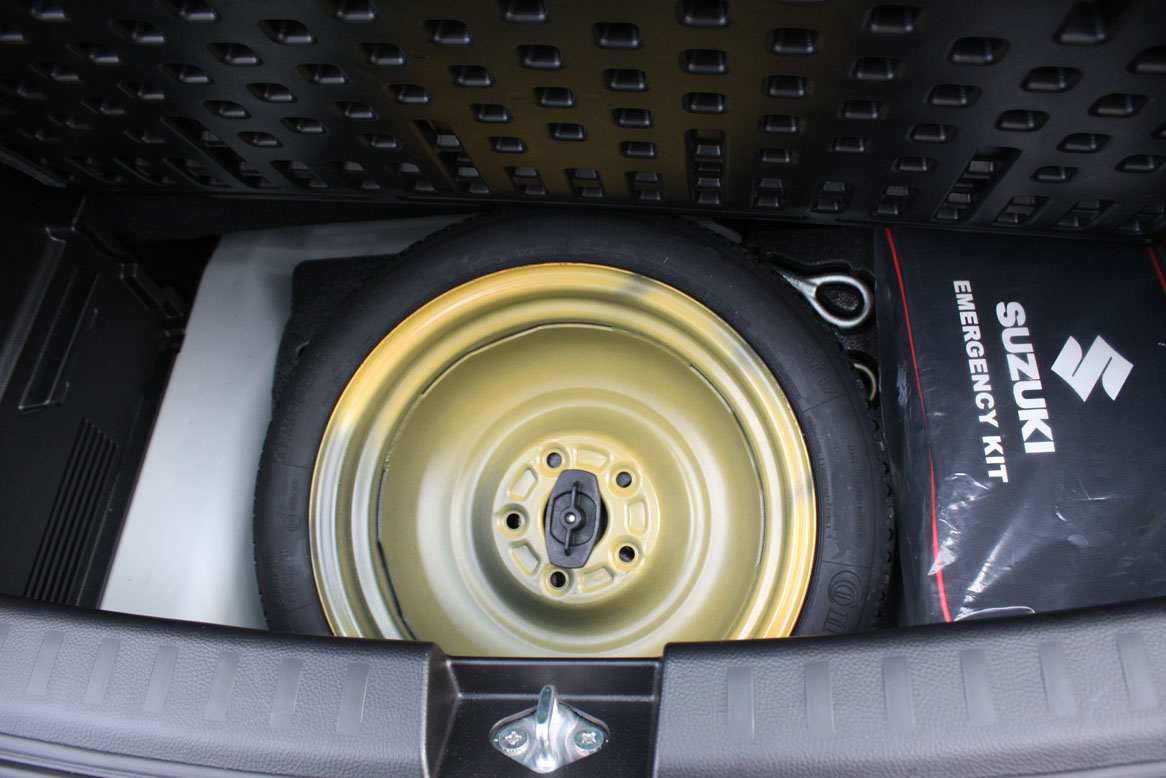 .
At any rate, weight is crucial in any performance car so you might not want to load the boot with too much stuff (then again, you not be exploring the limits of the car if you're ferrying kids in the car). Keeping to this principal, Suzuki provides a space saver tire for the Swift Sports.
.
.
Safety
.
A full compliment of safety features can be found in the SSS:- .
SRS dual front airbags
SRS side airbags
SRS curtain airbags (total 6 airbags)
Brake and clutch pedal foot-protecting design
Front 3-point ELR seatbelts with pretensioners force limiter and height adjusters
3 pcs rear 3-point ELR seatbelts
ISOFIX child seat anchorage (x2)
Child seat tether anchorage (x2)
Childproof rear door locks
Side impact door beams
ABS
EBD
ESP
Hill hold control (only in the CVT variant)
Brake assist
Shift lock (only in the CVT variant)
High-mount stop lamp
Immobilizer
Freewheeling key cylinders
Security alarm
Keyless entry
.
.
Specifications
.
Exterior
High-intensity discharge (HID) projector headlamps with washers, automatic headlamp leveling
Front fog lamps
Electrically adjustable, folding side mirrors
Sport exclusive front bumper & grill
Sport exclusive rear bumper
Side under spoiler
Rear-end spoiler
Dual exhaust pipes
.
Interior
 3-spoke leather covered steering wheel with audio switches, tilt and telescopic
Power steering
Multi info display (clock, outside temperature gauge, instantaneous/average fuel consumption gauge, driving range, gear position indicator for CVT)
Keyless Push-Start
Stainless steel pedals
Automatic air conditioner
CD tuner with MP3 playback function
6 speaker system (speaker x 4, tweeter x 2)
Sport seats with extra support from deep bolsters and from side-support pipes
Paddle shifters (only for CVT variant)
Cupholders ( front x 1, rear x 2)
Bottle holders (front x 2, rear x 2)
Instrument-panel upper box
Storage pockets
USB socket (center-lower box)
12V interior accessory socket
.
.
Ownership and Maintenance
.
The Swift Sports manual has a price tag of RM97,888 whereas the CVT automatic is yours for RM102,888 and both variants come in either yellow or white. Servicing is done every 10,000km or every 6 months whichever comes first and depending on the promotion, warranty is between 3 years or 3+2 years. Best check with your respective Suzuki dealer.
.
To be honest, the Swift Sports manual had me completely smitten. Here's a car that reconnects me to the joys of driving a manual … it's almost like tasting an old coffee flavor you once had with your grandfather at the kopitiam when you were a kid. Not only that, with its finely balanced chassis, eager engine and excellent suspension, you'd always find that the regular corners you take from office to home can be conquered a little faster, day in and day out. It's a car that makes you want to take the long way home (assuming there's no traffic jam) and one that won't cause you a limb to own. Does Suzuki have a case for the Swift Sports? Yes, it does. With the manual at least.
.
If it's the CVT automatic, you might as well top up a little more and get the Volkswagen Polo Sports. Or any car with a torque converter. IMHO, the words "Sport" and "CVT" should not be mixed together, particularly when it's as "Affordable" as the Swift Sports.
.
.
.