.
They say that all good things come in small packages; be it an exquisite diamond ring, a pair of rare pearl earrings or a watch masterpiece and while they're all nice gifts to receive, one would usually think twice if one has to fork out one's own money to buy them for oneself, especially in consideration of the rising cost of living 2014 has in store for us. So if one were to look at an affordable small package in the form of a car, then the all-new Kia Picanto is a viable option.
.
The first Picanto introduced by Kia was back in 2004 worldwide and over here, it's locally assembled and rebadged as the Naza Suria in 2006. Sporting a 1.1 litre SOHC engine, it produces 65PS @ 5,500rpm and 99Nm of torque @ 2,800rpm and is paired to a 4-speed automatic transmission. A common problem with the Naza Suria as reported by owners is the gearbox which has a tendency to go bonkers (a colleague of mine bought a 2nd hand unit and he couldn't upshift beyond 2nd gear) and back in the era where Kia is associated with high maintenance cost/time and thirsty engines, this issue became ammo for aunties and uncles to berate buyers for being "so smart" in getting a Kia.
.
The brand has moved on and since the Forte, Kia has done a complete 180 degree handbrake turn. The Kias nowadays are affordable, economical, easier to run and sporting a design that won't make you feel embarrassed if parked next to a Japanese or even a continental equivalent. And the second generation Picanto looks all set to conquer the small compact city car segment.
.
.
Design
.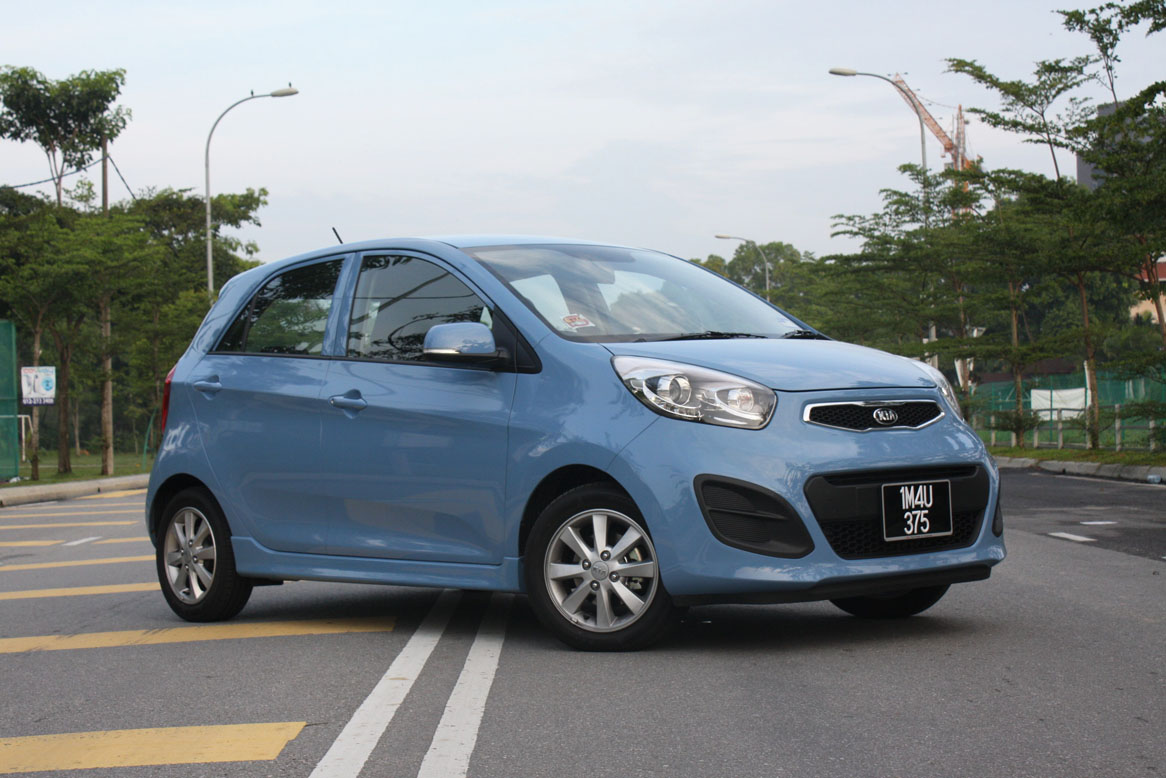 .
It was once mentioned that the Kia Rio has the smallest tiger grille in the Schreyer family; that honor now rests with the Picanto. If anything, the smallish grille further emphasizes the lower bumper's humongous intake like some sort of bulbous Koi fish which instead of looking clumsy and bulky is rather refreshing. I've always defined people calling something "cute" as ugly but adorable and the Picanto is anything but ugly. Compared to it's sister, the Hyundai i10, the Picanto is arguably the one getting the better genes when it comes to the exterior (well, at least until the new i10 arrives here) .
.
.
Strangely enough, the Picanto's headlamps resembles the new MyVi 1.5l where in the MyVi, you get projector headlamps. Unlike the MyVi, the Picanto features LED Daytime Running Lights, the only one in its class. The DRL's arc is limited mainly to the front of the vehicle, no thanks to it's rather short length and angulation.
.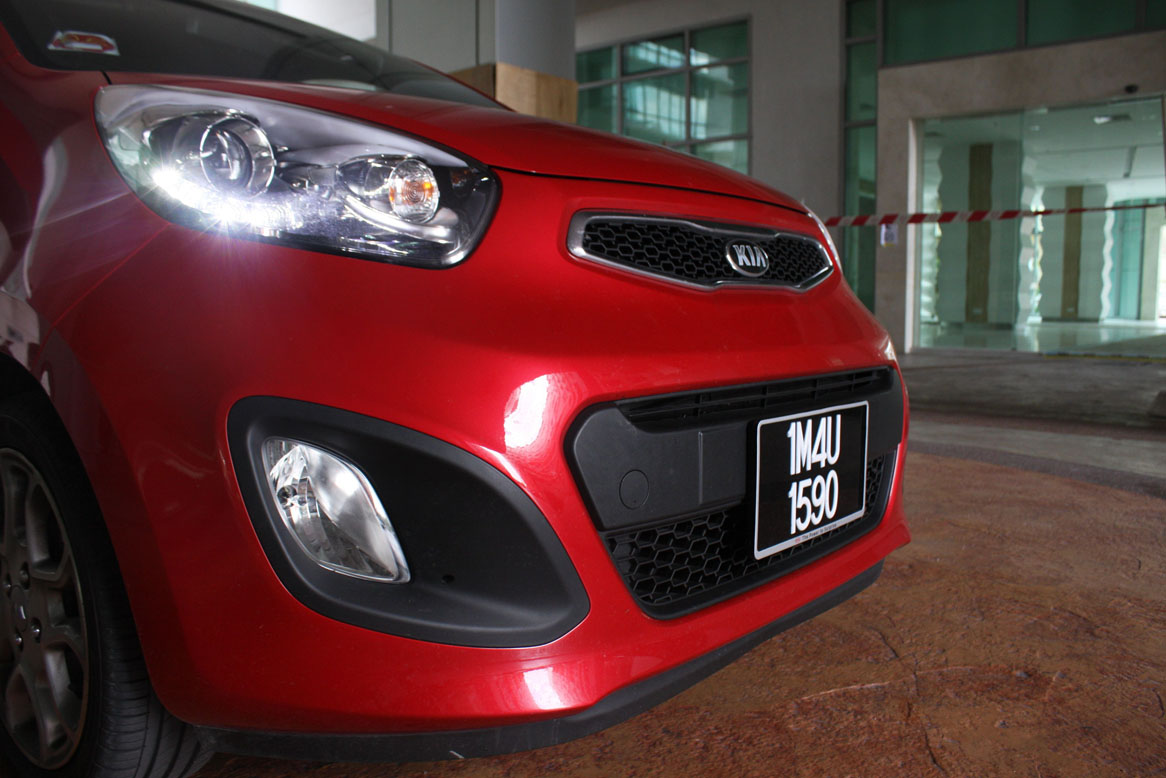 .
To tell if it's an automatic or manual from the front, one  needs to see if it has front fog lamps. If the answer is yes, then it's the auto.
.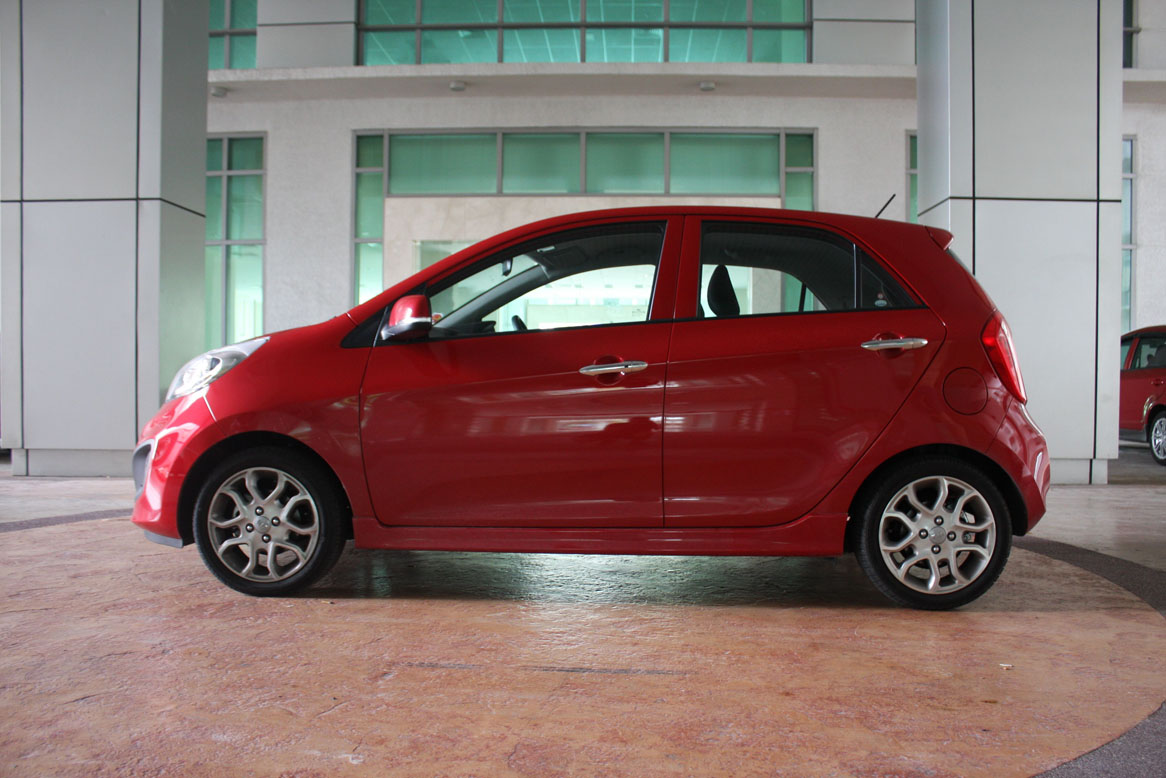 .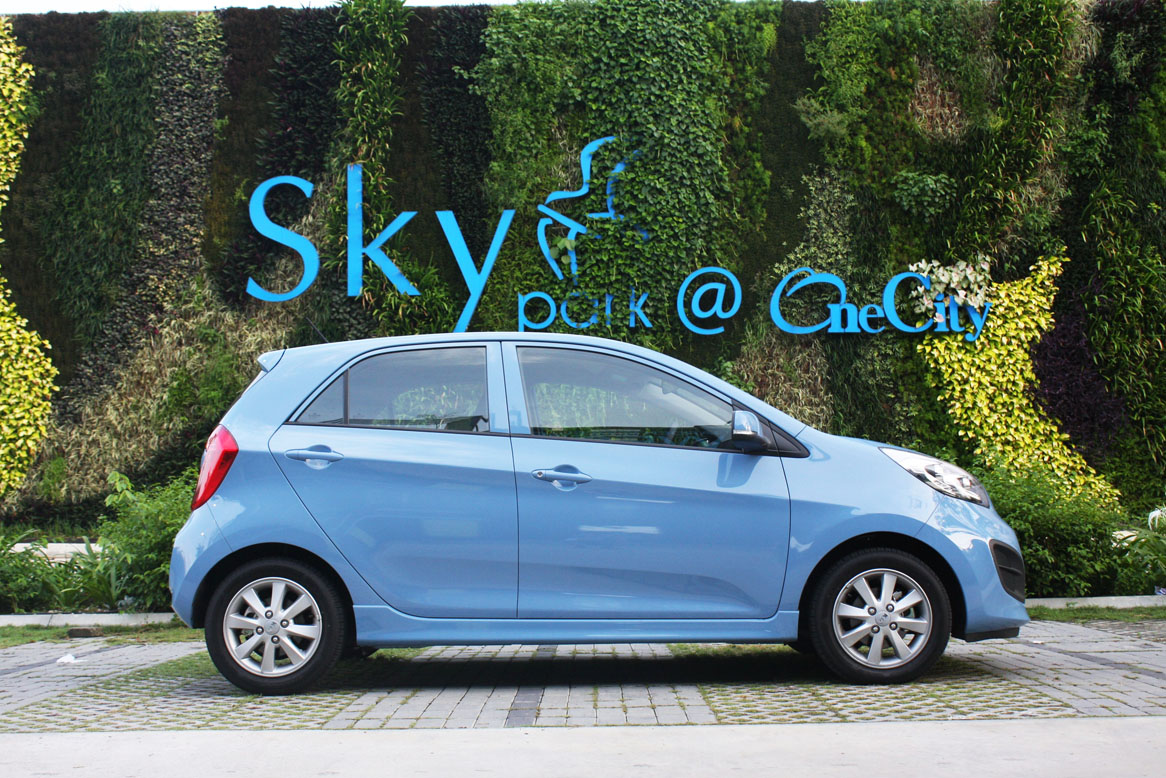 .
Measuring 3,595mm in length, 1,595mm in width and 1,490mm in height with a wheelbase of 2,385mm, it has grown a little compared to its predecessor. From the sides, a shoulder line can be seen running from the front fender, intersecting the door handles before joining with the apex of the rear tail lamps. Creases at the bottom of the rear doors creates a sharper, more muscular look while at the same time making the door look smaller than it really is. Make no mistake; this IS a compact small car so don't expect the luxury of space behind. The most telling difference between the manual and the auto are the wheels; the manual gets 14″ 8-spoke alloy wheels whereas the auto has a more complicated 10-spoke 15″.
.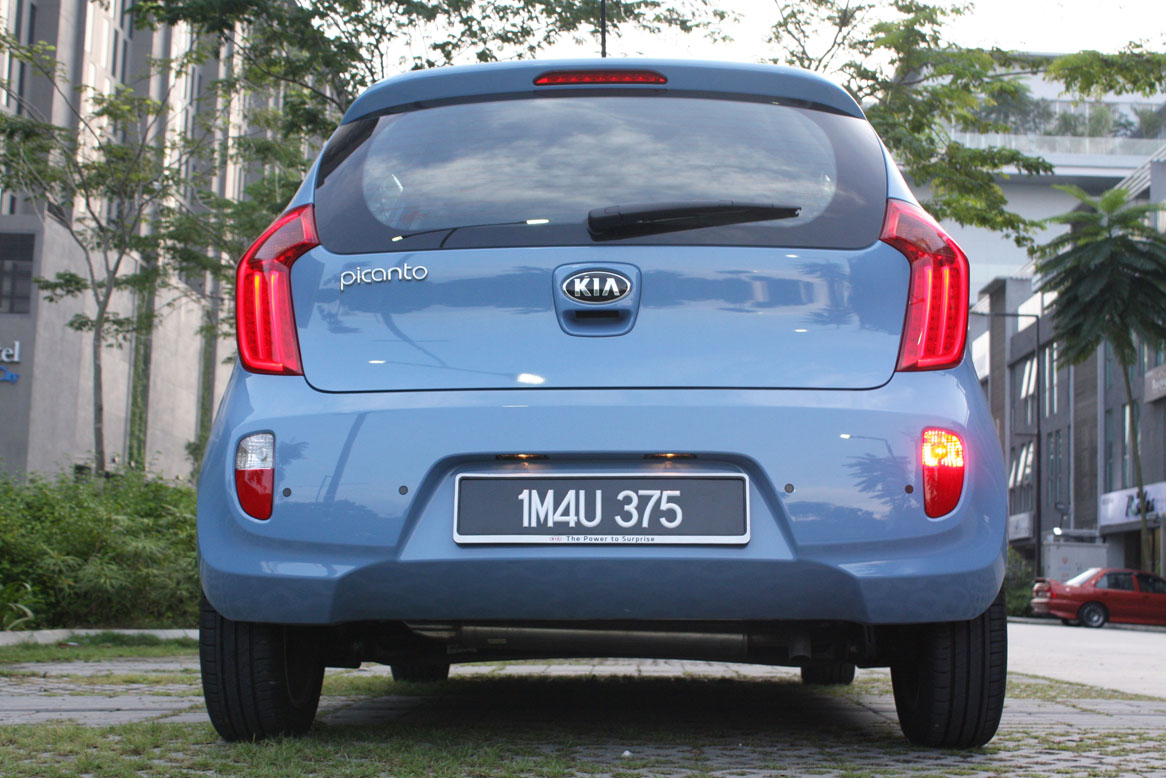 .
At the back, the LED rear combination lamps are the most prominent. Shaped like arrows pointing outwards, the rear lamps accentuates the boot curves, like how a cheongsam or a Malay baju kebaya wraps around the curves of a lady's hips. The end result is a clean and simple with a wide bumper which gives a sense of stability. The Picanto is also the only car in its segment to feature rear fog lamps, something which I find extremely useful in warding off some tailgaters and idiots who install HIDs on their reflector headlamps.
.
.
Performance
.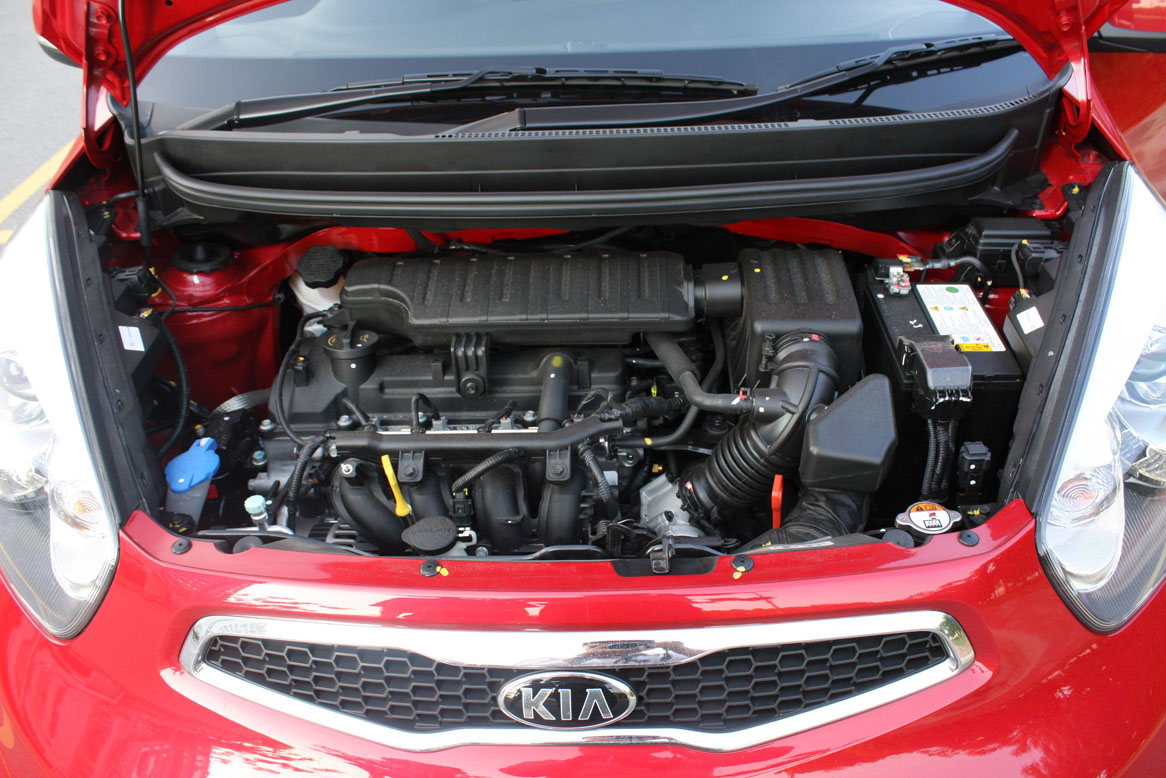 .
Tasked with propelling the Picanto is a Kappa 1.2litre CVVT 4-cylinder engine which has an impressive fuel consumption rating of 22km per litre of fuel, in spite of it being paired to (just) a 4-speed automatic or a 5-speed manual. With a fuel tank of 35litres, it's theoratical range should have us travel from Kuala Lumpur to Johor Bahru and back in one full tank. Unfortunately, we didn't have a chance to verify these  figures but we did make a run to KLIA and back and from what's observed the FC is very pretty accurate.
.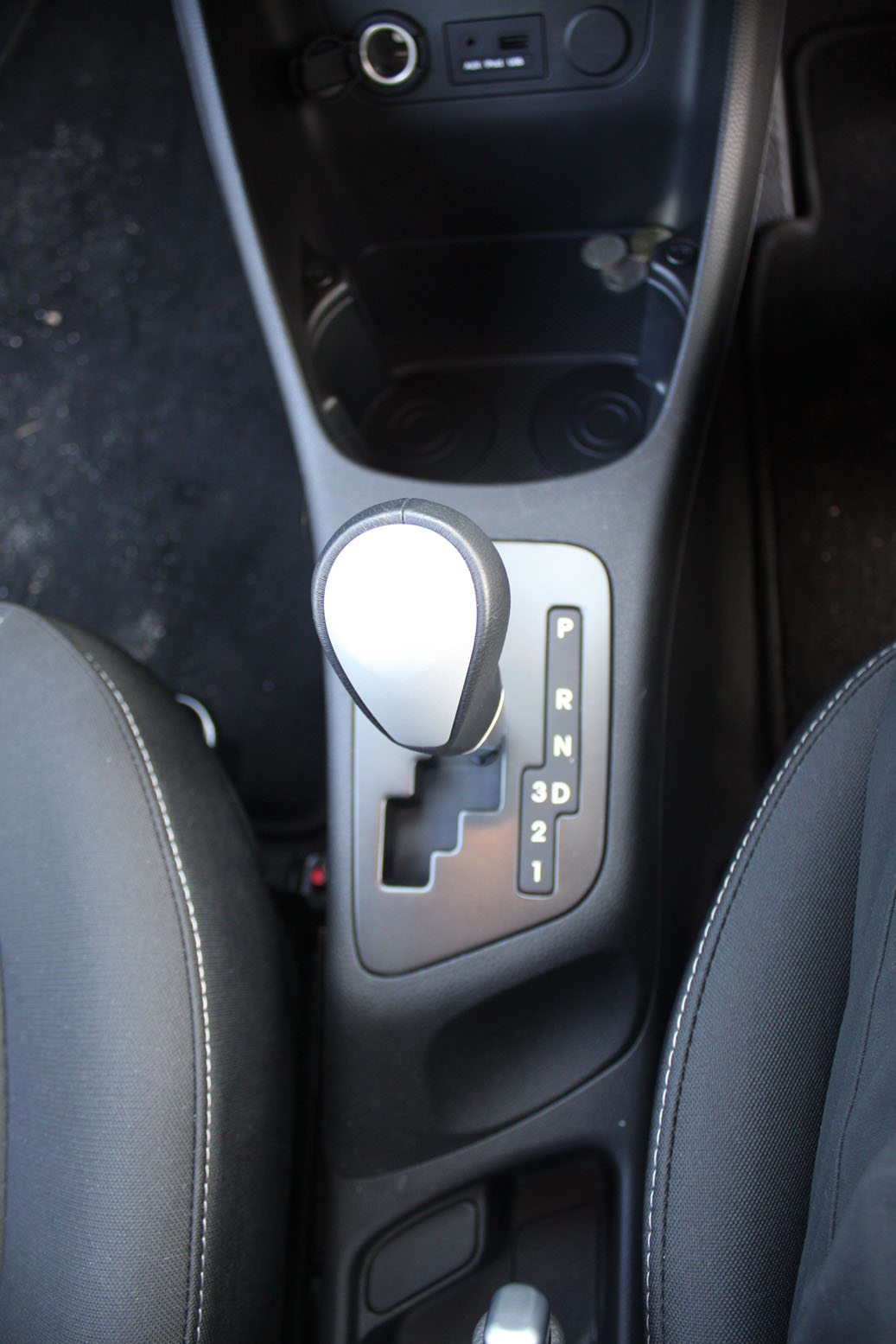 .
There are no official figures of the Picanto's zero to hundred sprint time but we did manage to record a video of the automatic's run (seen HERE) which appears to be about 12 seconds. The Kappa engine is preppy and responsive and although it has a meager 87PS @ 6,000rpm power rating and max torque 120Nm @ 4,000rpm, it is more than adequate for city commutes.
.
.
Ride and Handling
.
With MacPherson struts for the front and coupled torsion beam axle (CTBA) for the rear, the Picanto handles pretty well for its class. Small cars of this segment have one desirable characteristic: steering response is sharp and immediate like a Go-Kart. Flicking the wheels left and right is effortless, also thanks to motor driven power steering (MDPS). Funny isn't it? That couple of years back, we had to pay for the top spec Forte to get MDPS. Now it's standard even in the cheapest Kia sold in Malaysia.
.
Unfortunately, while the MDPS is great to drive around at shopping mall carparks, it robs road feel, making you at times wonder when the front tires is going to rebel and stop listening to your steering inputs. The good news is that the Picanto is very planted on the road and in most cases, very reassuring to drive at almost any speed. Don't underestimate this little car – while Kancils can be turbocharged and all, driving at speeds above speed limits can be terrifying for most Asian made cars. Not so with the Picanto. At 110kph, the rpm meter reads 3,000rpm; push it to 140kph, you'd feel a surge in power as maximum torque band would be achieved beyond 4,000rpm. At this velocity, you'd notice there is lots of wind, road/tire and engine noise but soft enough to be on par with some C segments. What's surprising is that for such a small car, the Picanto feels very planted on the roads – one could let go of the steering and the car would still fixedly go straight even at such speeds (not that you should do this anyway) . Suspension is firm and you'd be hopping when passing through yellow lines but not as uncomfortable as a Peugeot 308. Body roll is present but Kia has done a fantastic job at minimising it when going around corners, encouraging you to push it a little faster every time a bend comes around. Not bad, for a city car.
.
.
Cabin Convenience
.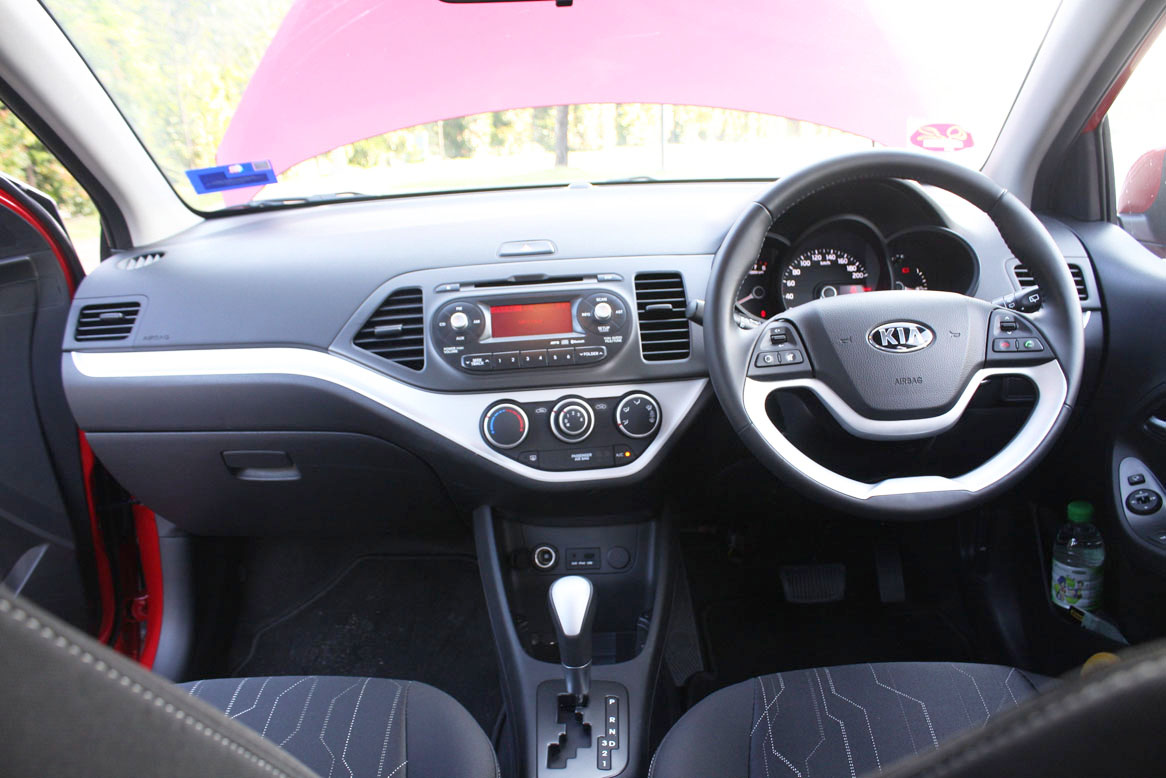 .
Modern amenities is a must have for the modern commuter and the Picanto is quite the pocket knife when it comes to a small car. First up, let's talk about the cabin design. Contrasting black and silver panels mark the asymmetric dashboard, with all the essential controls within easy reach of the driver. It's cosy in there, not claustrophobic and the perfect car to go dating as your partner would have no issues leaning over to put his/her head on your shoulder.
.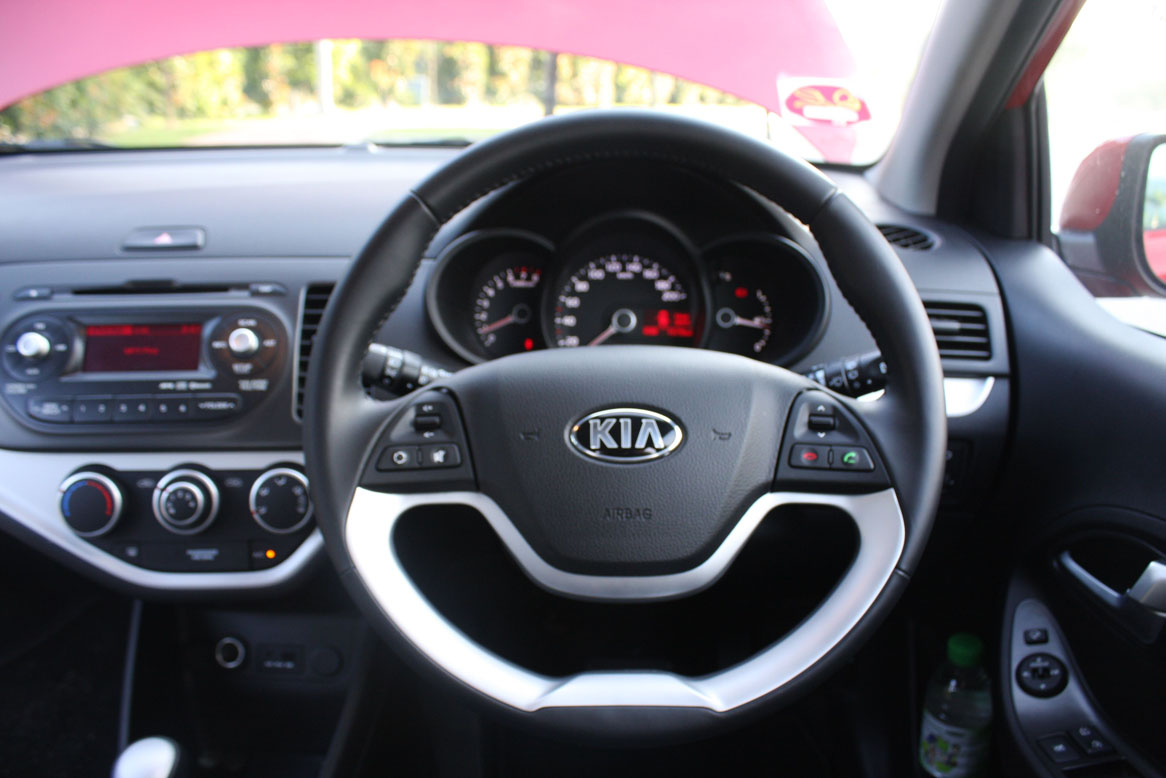 .
Stress is everywhere so it's important to take life easy. So says the clown-like smiley Picanto steering wheel. It's not often we find a two-spoke steering and it sounds really silly but people who loves sliding their hands from the t0p of the steering to its 9 – 3 o'clock side position and back would probably understand why there's a certain degree of satisfaction running at the insides of the wheel. Opting for the slightly more expensive Automatic, you'll find steering wheel controls for the Bluetooth and audio controls as seen here. The Manual steering has bare plastics.
.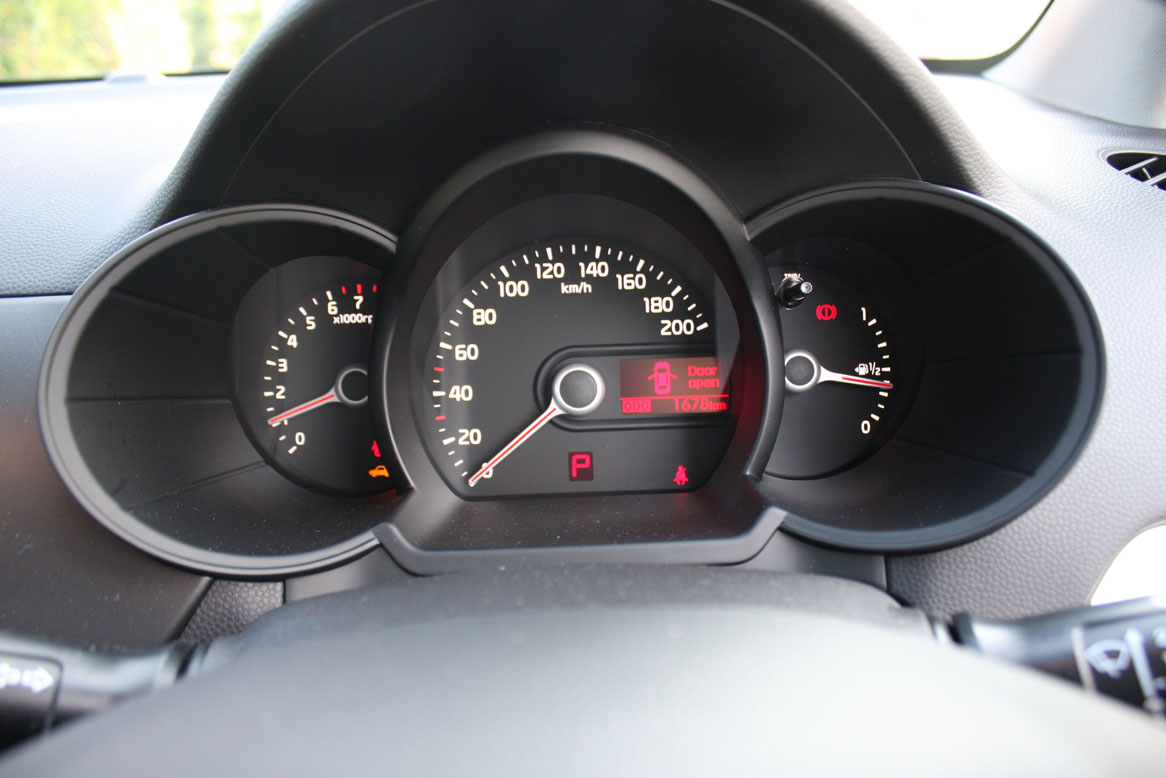 .
The meters are simple and easy to read although the exclusion of a temperature meter is a shame. Both variants have a trip meter which tells real time fuel consumption, door open/close status, steering alignment upon start-up, reverse sensors, illumination bar and if automatic, the gear position.
.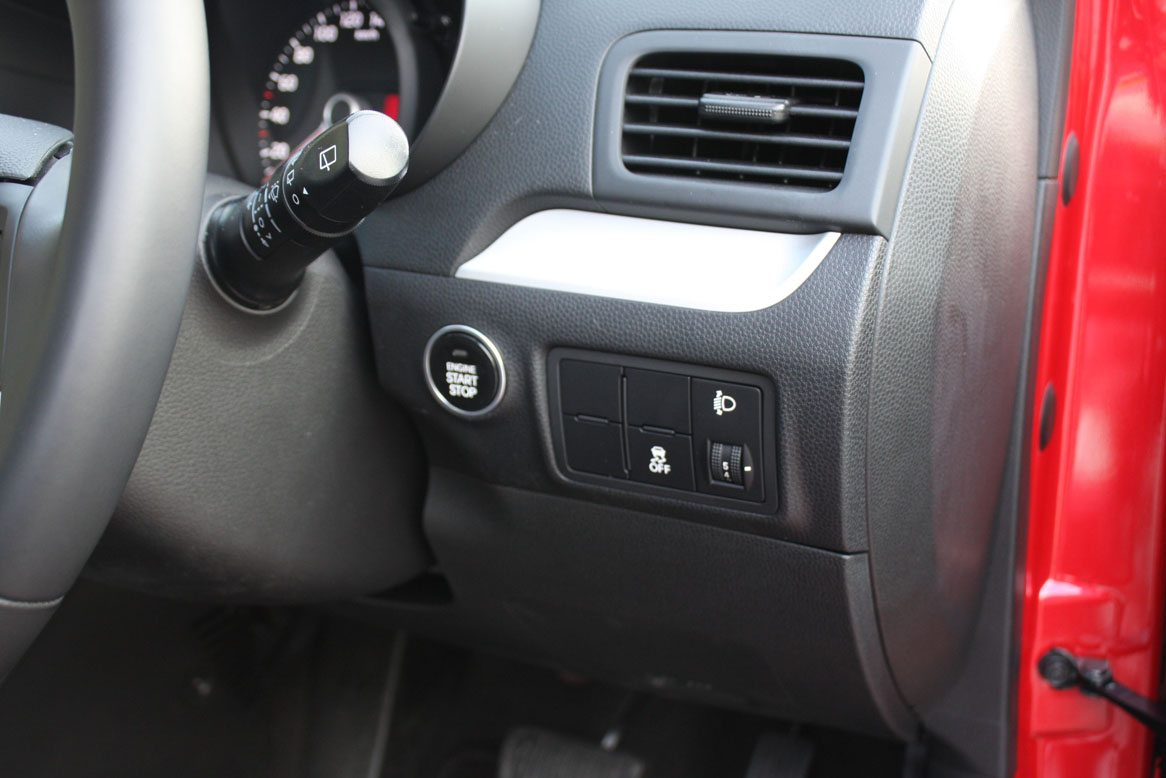 .
The automatic gets a Push Start/Stop Button with keyless entry. The manual allows you to enjoy the full pleasures of opening the doors and starting the engine with the folding key.
.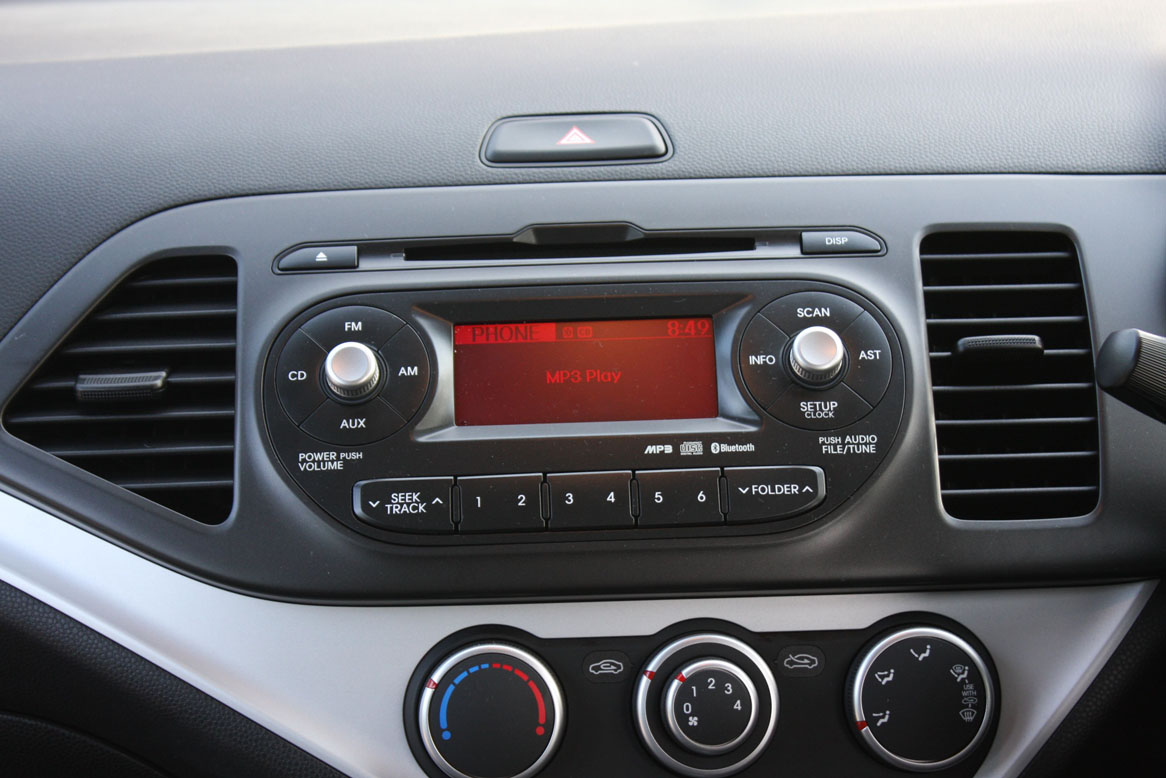 .
Even answering calls has to be manual as only the automatic gets Bluetooth functionality which is an even greater shame since the Picanto aims at those young or young at heart and would likely have a Smart phone that contains a whole library of songs. Bluetooth music streaming is only reserved for the automatic. What's not exclusive is the headunit plays CDs, MP3 format and USB although you'll experience greater audio pleasure since it has 2 additional speakers compared to the manual's 4 speaker system.
.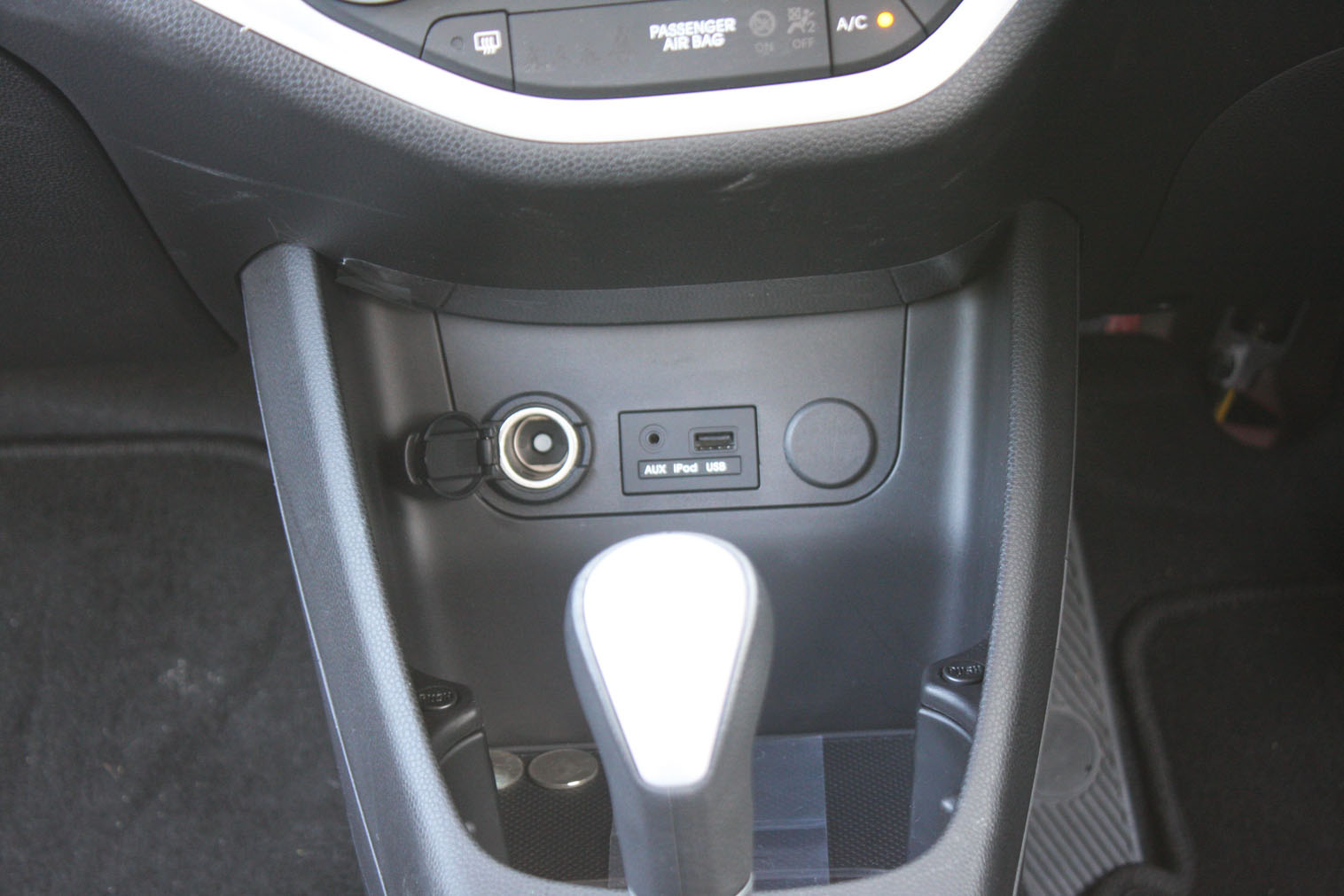 .
But don't fret, there's an Auxiliary port below the  air conditioning controls for you to listen to your favourite songs via AUX cable. Depending on the quality of the cable used, I personally find the Bluetooth clarity to be slightly better. Those accustomed to storing their songs in USB drives would be delighted to learn there's a USB port there for you to plug in.
.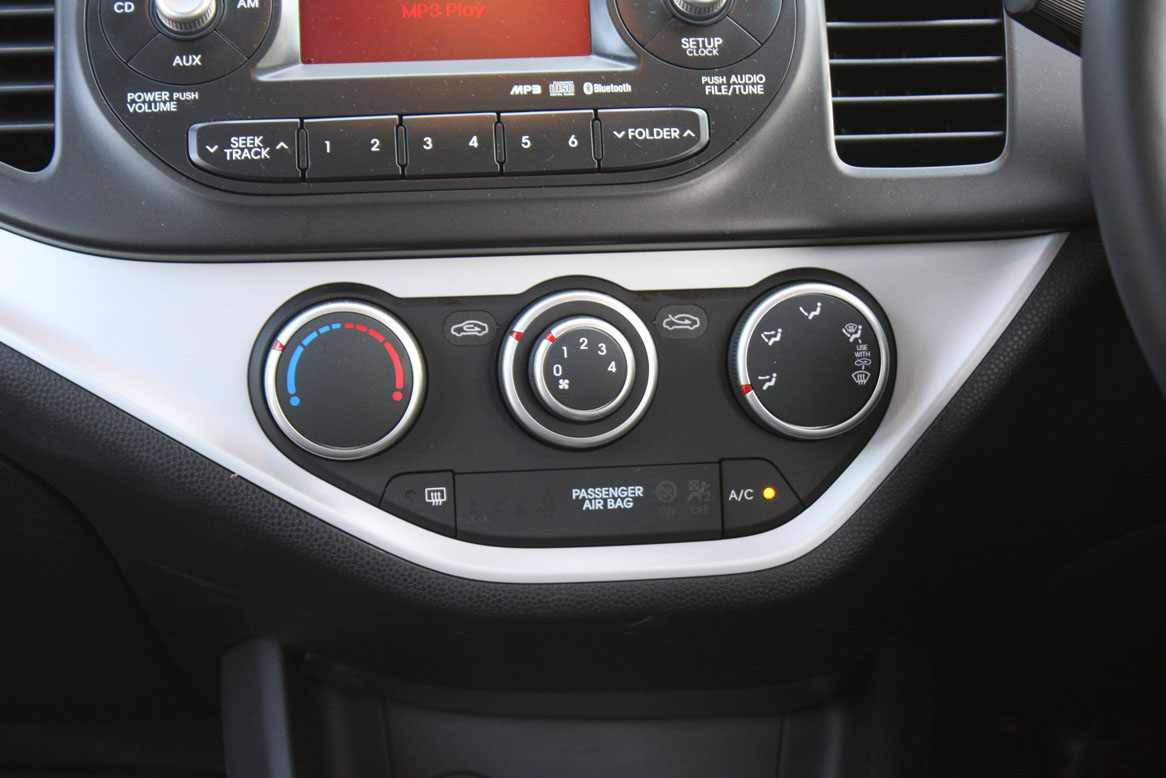 .
While it may appear that Kia has thrown in everything but the kitchen sink, the only letdown is the manual air conditioning system. Throughput is acceptable when one puts the temperature setting to the level indicated in the picture above and overall, I leave it at Step 1 when cruising on highways.
.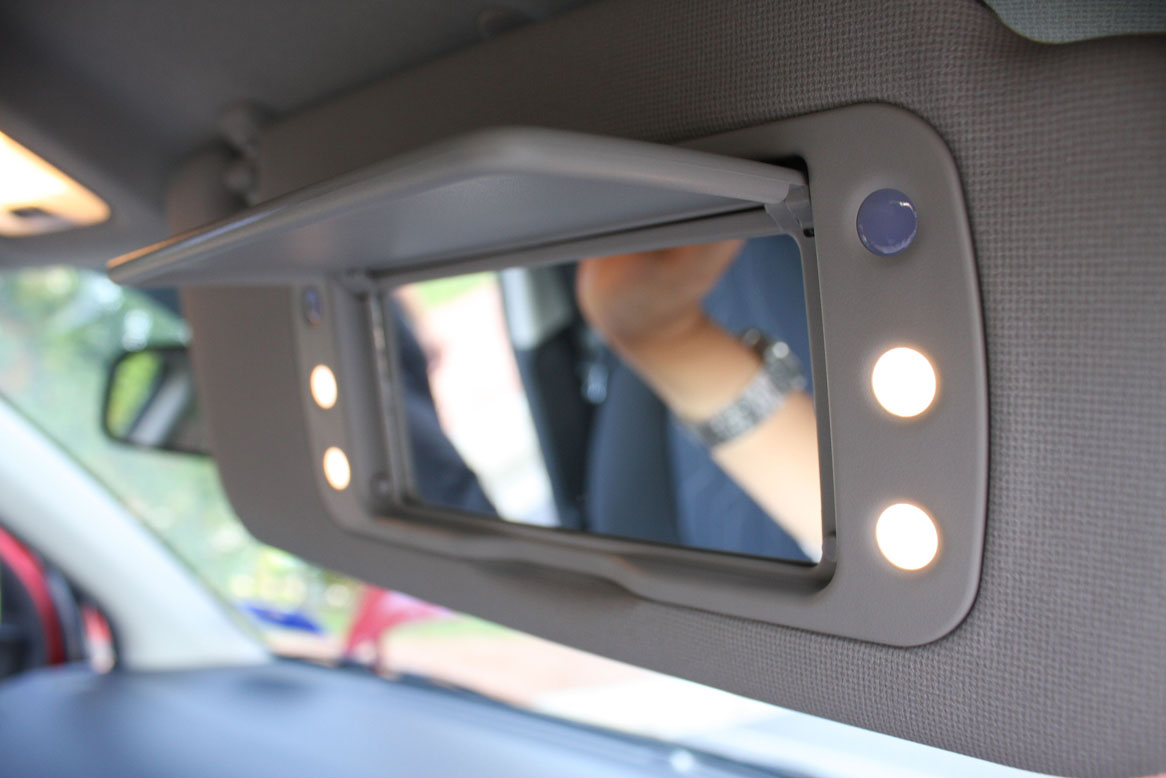 .
Here's the party piece of the Picanto; a vanity mirror the size of a Hollywood make-up table and LED vanity lights that comes on in pairs one row at a time. Makes less sense compared to all 6 'dots' lighting up at the same time for maximum illumination but cute, nonetheless.
.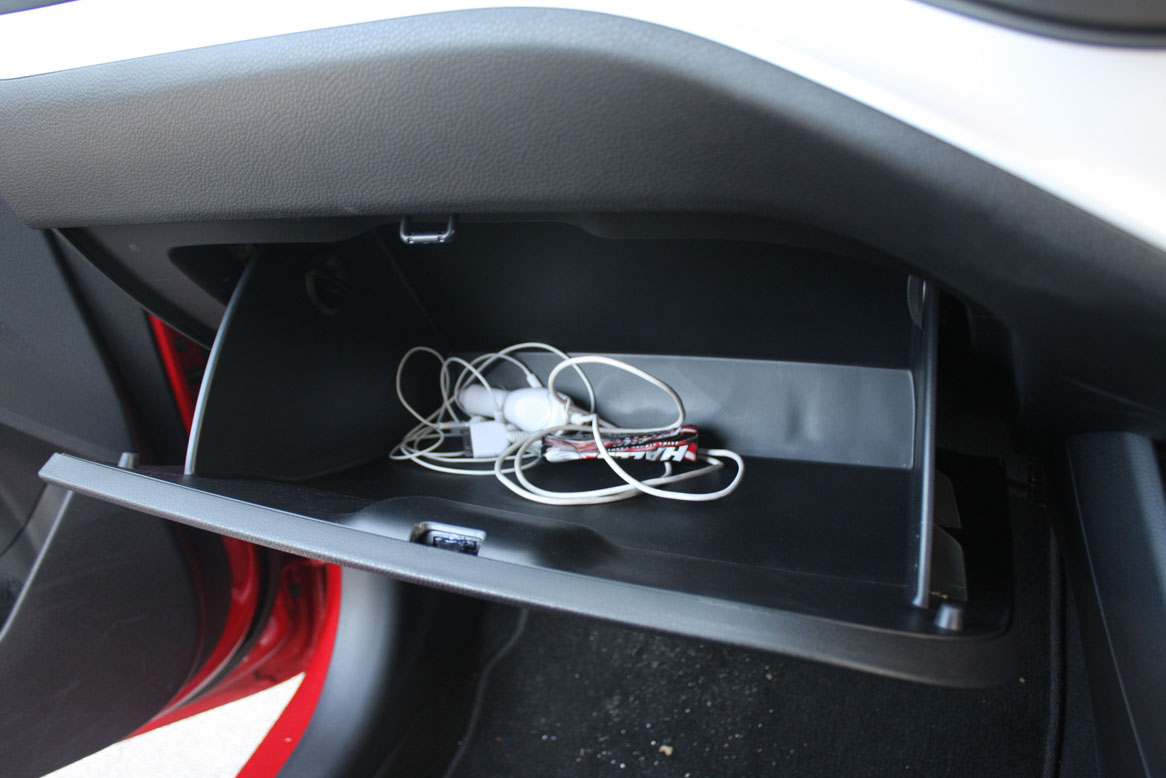 .
For a car this size, the glove compartment is big; definitely can swallow more than what a Peugeot offers nowadays.
.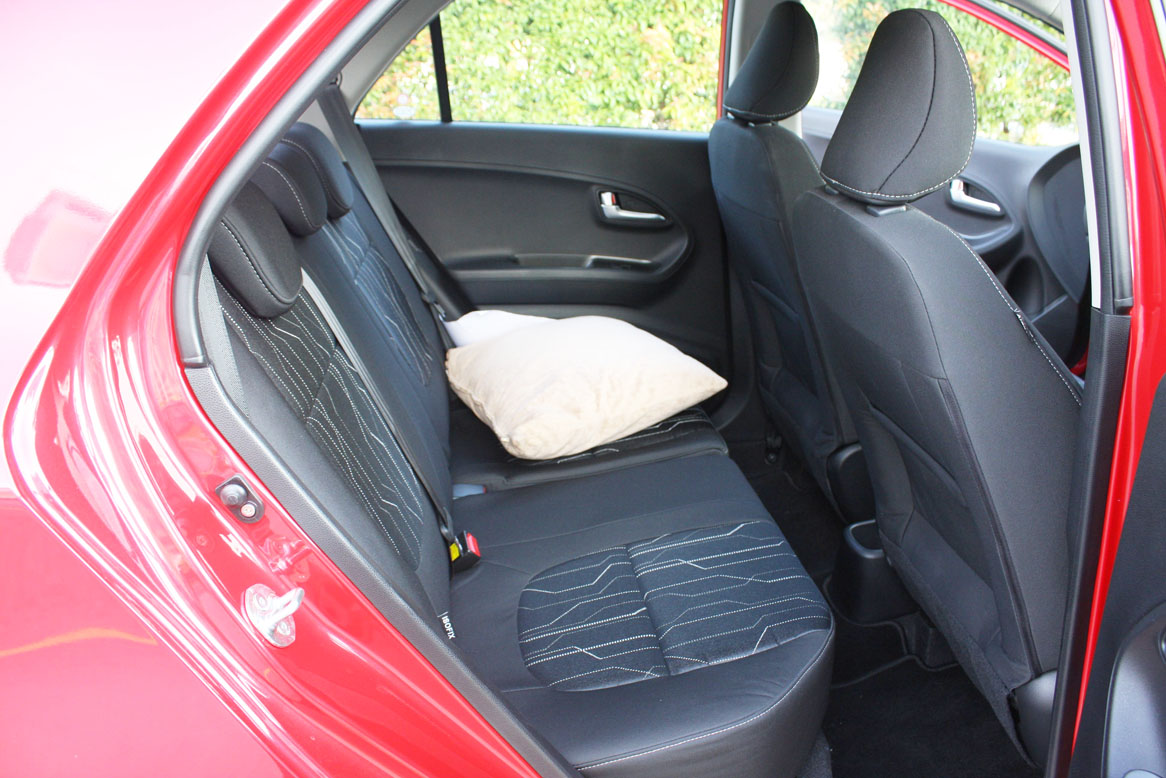 .
The Picanto is a small car and one should expect compact dimensions for rear passengers. In this area, the MyVi allows better leg and head movement
.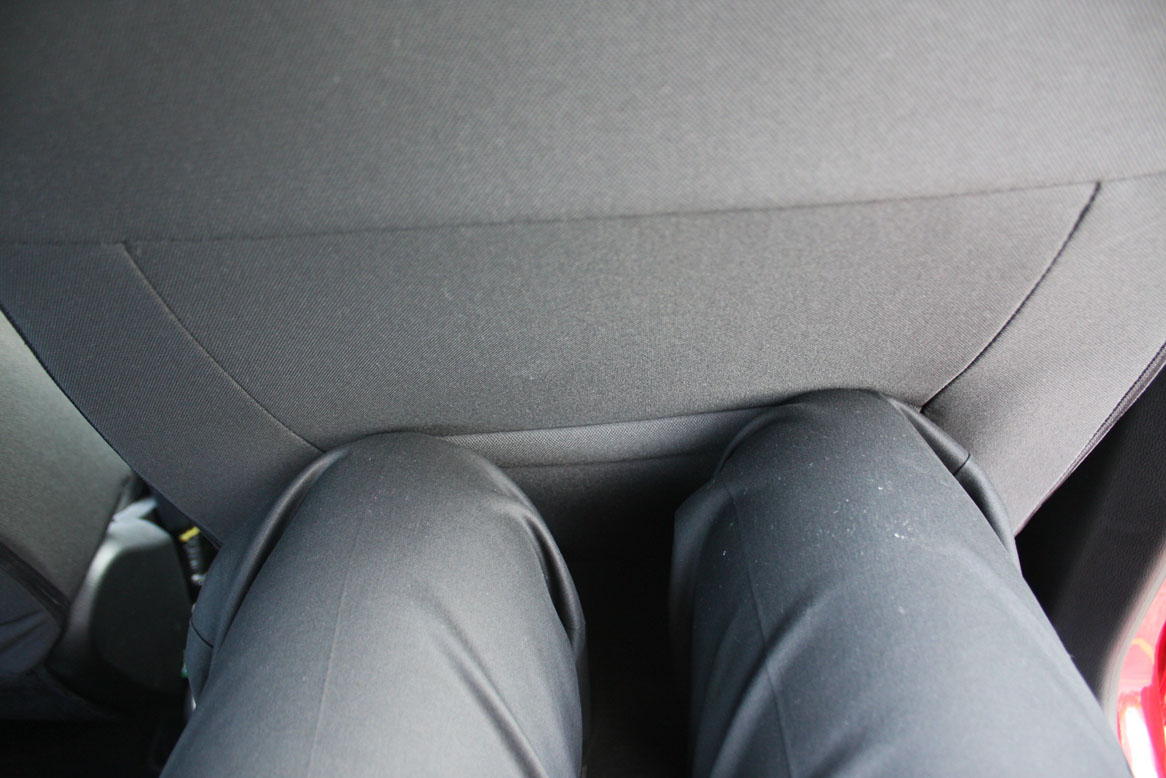 .
For a person taller than 5 1/2 feet, expect your knees to be intimately connected to the front seats.
.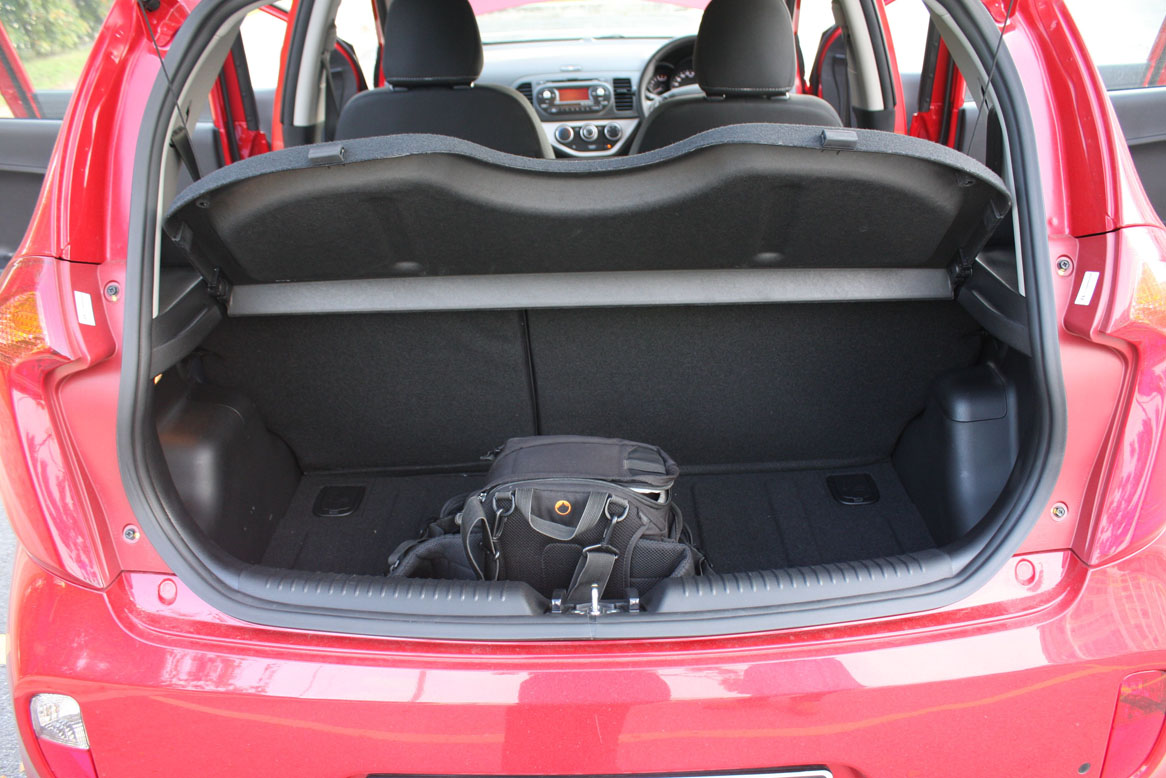 .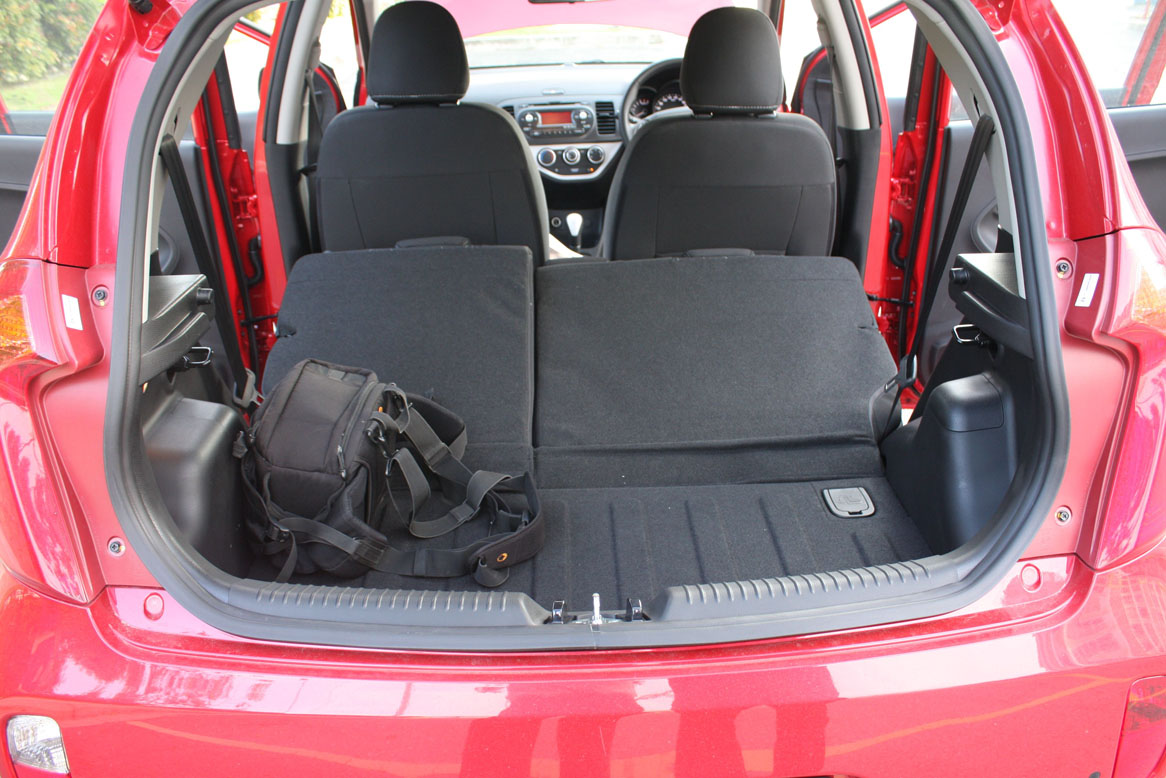 .
Boot space is surprisingly good for a car this size. The cushion support or butt rest can be raised for a completely flat bottom once the rear backrest is lowered (a picture I was not able to take due to an oversight on my part. Sorry)
.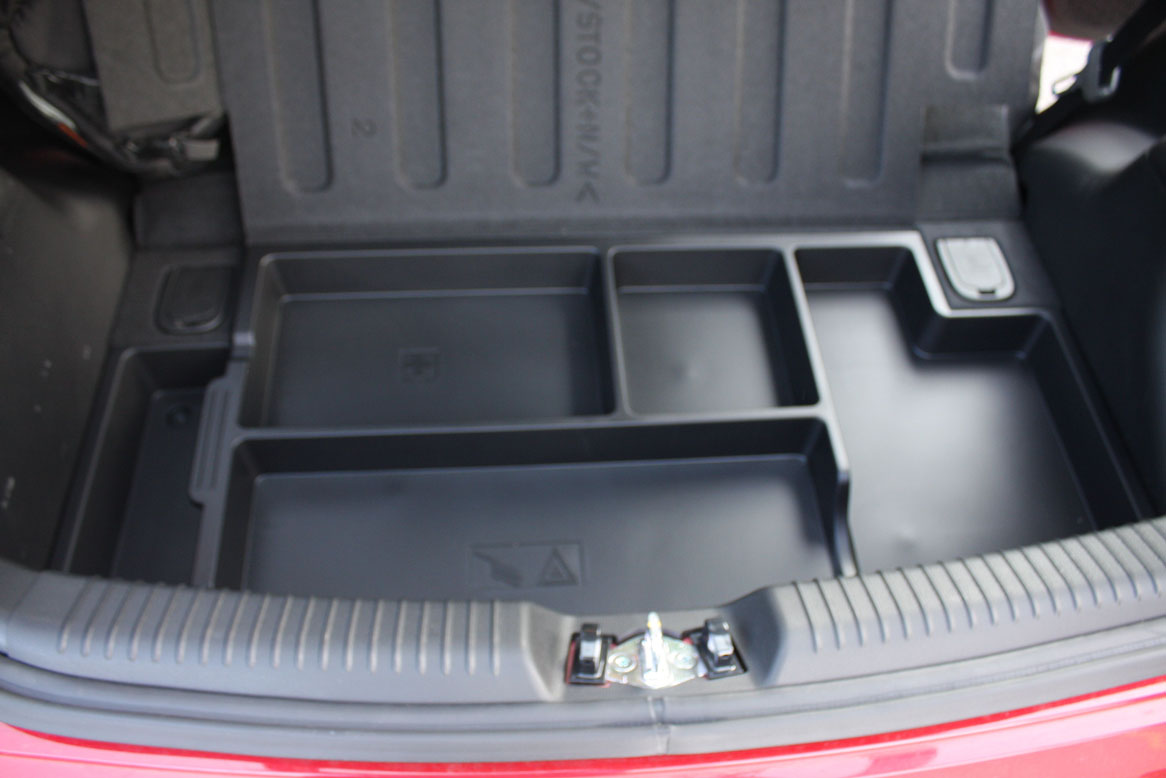 .
Below the boot floor is a shallow platform that's compartmentalised for items such as first aid kits, tool boxes and a couple of spare underwear.
.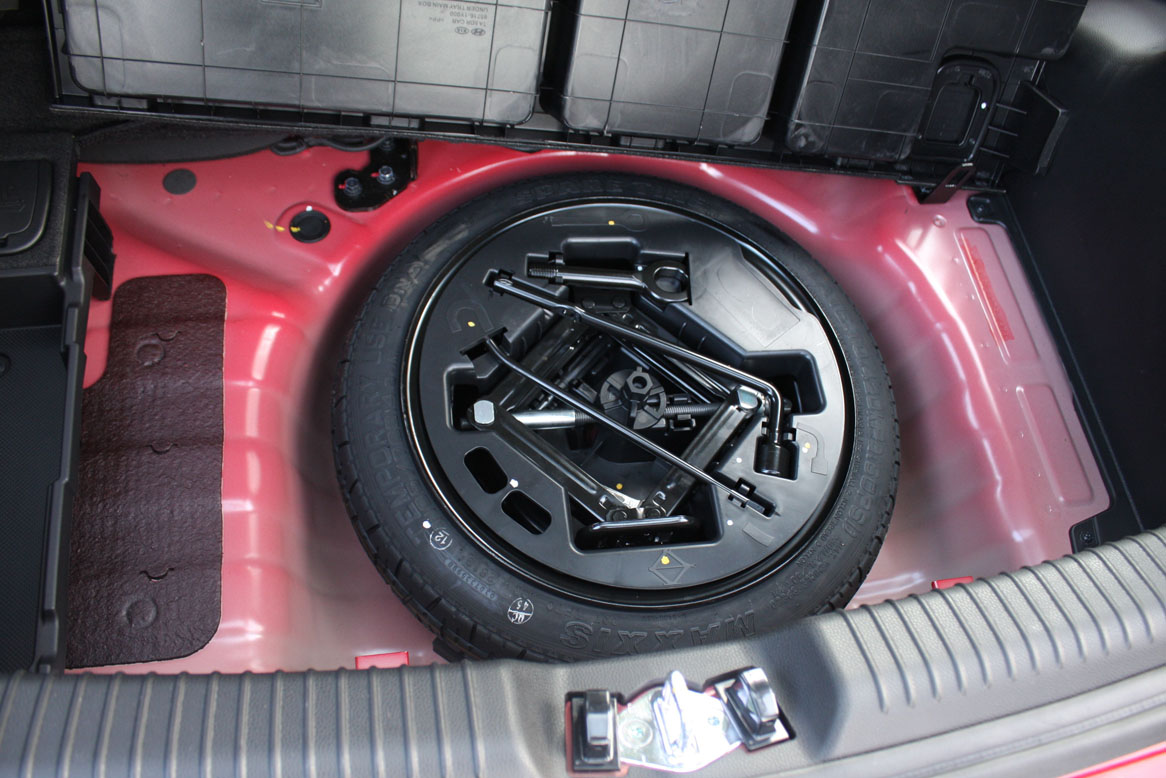 .
Last but not least, you'll find a space saver tire for spares.
.
.
Safety
.
Though there is significant differences in kit between the auto and the manual, it's a good thing that on the safety side, there is no compromise:-
.
Dual front airbags
Side airbags
Curtain airbags (total 6 airbags)
ISOFIX
Rear Parking Assist System
Speed Sensing Auto Door Lock
Impact Sensing Auto Door Unlock
ABS
BAS
EBD
Traction Control System (TCS)
Hill-Start Assist Control (HAC)
Electronic Stability Control (ESC)
Vehicle Stability Management (VSM)
3-point ELR type front seatbelt with height adjuster
3-point ELR type (sides) and 3-point static (center) rear seatbelts
.
.
Specifications
.
1.2 Manual
.
Exterior
Halogen with Manual Headlamp Levelling Device
Auto light
Welcome light
Escort light
LED Daytime Running Lights
LED high mounted stop lamp
LED rear combination lamps
Rear fog lamp with clear lens
Electric adjustable, electric folding, body colored with integrated LED side turn signal side door mirrors
Body colored outer door handles
.
Interior
Instrument panel with trip computer
Dot matrix meter cluster
Sunvisor with small vanity mirror and ticket holder
Radio/CD Player/MP3/AUX/USB
4 speaker system
Manual air conditioner
Fabric seat with height adjuster and passenger seat under-tray
60:40 split cushion tip up, split bench folding
Steering with tilt function
Folding key
Front cup holder
.
1.2 Automatic
.
 Same as 1.2 manual unless stated otherwise
.
Exterior
Front fog lamps
Chrome finish outer door handles
.
Interior
Supervision cluster meter
Sunvisor with big vanity mirror with LED illumination
Driver side with sunglass case
Audio player with all functions as manual with additional Bluetooth function
6 speaker system instead of 4
Steering audio controls
Leather wrapped tilt only steering
Keyless Entry & Smart Key
Cup holder with illumination
.
.
Maintenance and Ownership
.
The all-new Kia Picanto is sold for RM59,888 for the 1.2 Automatic and RM54,888 for the 1.2 Manual (inclusive of insurance and road tax). Both variants come with a 5 years unlimited mileage warranty.
.
Looking at the difference of spec kits, I'd go for the Automatic despite it costing RM5k more than the manual because we have to look into the context of who this car is made for. Traffic jams are part of the daily city commute and an automatic makes such conditions a little more bearable. And since you're stuck in the cabin, the Bluetooth connectivity and illuminated vanity lights are additions that most, if not all city drivers would be using. The manual is probably aimed at more hardcore drivers who prefers the stick since the price difference between the auto and manual of about RM70 per month (assuming 2.5% interest x 7 years loan) is hardly significant. What I didn't quite like about the manual is the clutch gap feels too wide and therefore causing the car to jerk more aggressively compared to other manual transmission vehicle. So for convenience and features sake, the automatic is the better buy.
.
One cannot consider the Picanto without thinking about the MyVi and the national best seller is still the one offering better cabin space, good value for money and as cheap as kangkung to maintain. Picanto offers far better safety kit, styling that makes you stand out a little more and cabin features that's as future proof as any car in the segment can be. So for those who has a budget of about RM60k and is looking for a car of this size, the Picanto is a good option to consider. Trust us, not having to test out the manual is not a big loss …. just go with the auto.
.
.
.