.
I've been in the corporate world for more than a decade now and one of things I absolutely abhor is the bosses calling for a yearly review and my entire team gets mobilized to put together some background info of what our objectives were, what we've done, where we are now and what more do we need to do. Then, it's the bosses' turn to take your beautifully crafted business plan apart and crush it till it's worth nothing more than a pile of dirt and, in the process pulverize your self esteem until you don't even know your family name.
.
After reading the National Automotive Policy 2014 document, I can't help but wonder if it's being put together by a couple of college students with the help of Wikipedia and some sleepless nights powered by Red Bull. And if a guideline like this was presented to any automotive bosses like those who went for the announcement event today, you can be sure the person responsible for putting this document together would be out in the streets looking for another job now.
.
It goes to show how badly planned and executed the NAP 2014 is. But first, let's have a look at the nutshell of NAP:-
.
 Established in March 2006, revised in 2009, current is 3rd revision
.
Objectives in first revision: encourage domestic automotive market to be more competitive and resilient, establish Malaysia as regional automotive hub, encourage local manufacturing capabilities and value added services, encourage higher levels of automotive exports and competitive related components, encourage greater competitive and thorough Bumiputera involvement in domestic market and protect the interest of consumers by offering safe and high quality products at reasonable prices.
.
Objective of NAP 2014: same as before with addition of completing the domestic automotive industry in the areas of manufacturing and after sales
.
Current performance between 2009 – 2013: increase of vehicle sales from 536,905 unit to 652,120 units. Increase in automotive investments from RM700mil to RM3bil (Jan-Oct 2013) in which RM2.3bil is domestic and RM700mil are foreign investments for the recorded period in 2013. Automotive trade is not improving where imports are higher than exports. 2012 saw a deficit of RM16bil where RM21.7bil are imports and exports only amount to RM5.3bil. In the same year, exports of components and spare parts is RM4.3bil while vehicle exports is only RM700mil.
.
Did you know that with Malaysian population being around 28million, selling 652k units in 2013 is equivalent to 2% of population. Of course, not all of us needs to buy a new car each year but compared to the population of Thailand and Indonesia, it's small wonder why this is also a factor in considering when setting up a manufacturing plant.
.
In the Asean circuit, Malaysia ranks third after Indonesia and Thailand with Thailand leading with 2.45mil vehicles manufactured in 2013.
.
Now, to what NAP 2014 is all about:-
.
Consists of 3 Core Directives (involving Investments, Technology & Engineering and Market Expansion) and 3 Core Strategies (involving Component & Spart Parts Supply Chain Development,  Human Resource Development and Safety & the Environment)
.
Core Directive: Investment
.
Establishment of Malaysia as EEV hub through strategic investment and high technology adaptation by automotive companies for domestic, regional and international markets by 2020.
By international definition, an EEV is defined as a vehicle that fulfills a set of specifications determined through it's fuel efficiency (litres/100km)  and CO2 output (g/km) and this includes fuel efficient vehicles, hybrid, EV and alternatively fueled vehicles such as CNG, LPG, Biodiesel, Ethanol, Hydrogen and Fuel Cell. Technical specifications of the use of energy is as follows:-
The standard in which fuel efficiency is measured is based on international standards as adopted by Europe, America, China, Japan, South Korea, Thailand and Taiwan) and will be discussed with local automotive industry players. This adaptation allows for a strategic and high technology investment.
The standard of fuel efficiency will be used as reference and updated inline with the development of the Green Automotive Technology Industry Guideline which will be established by the Malaysia Automotive Institute (MAI) with the assistance of related government agencies.
At this moment, EEV is only based on the standard fuel efficiency rating while the standard for carbon emission will be used when the Euro 4M petrol and diesel fuel qualityis introduced. A thorough study on the use of Euro 4M is being conducted with consultation with industry players and related government agencies.
.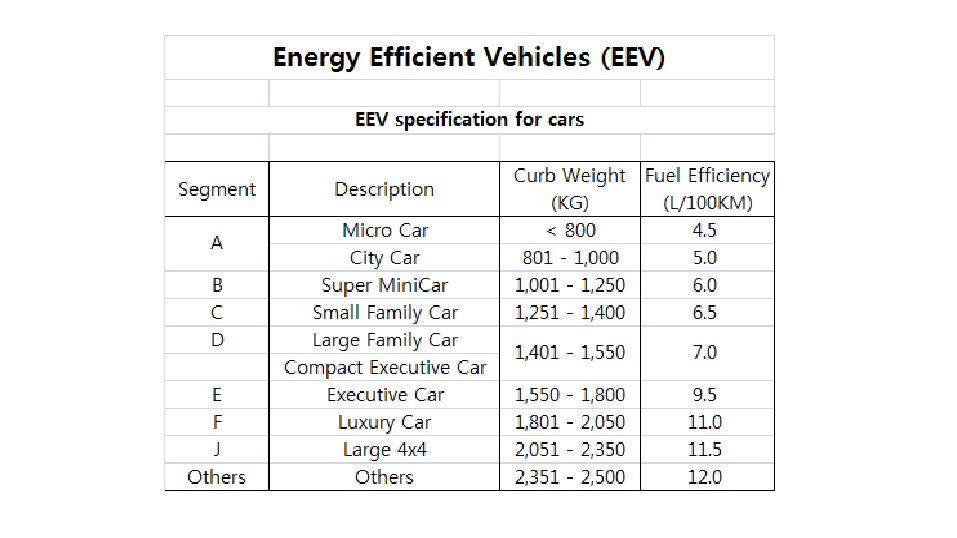 .
Actions under Investments includes issuing new licenses for manufacturers of EEV vehicles, maintaining current policy of issuing new manufacturing licences for non EEVs, a "customized" incentive to encourage strategic investments for strategic sector growth so that the automotive ecosystem can be improved. Among strategic sectors are engine, transmission & ECU, die and mould, aluminium mould and non-ferrous.
.
So what's the full definition of an EEV? Don't know. What standards is the FC going to be based on? Don't know. As different countries use different type of fuels and is testing in different environments (even some variants sold here are specific to our market only), who is going to determine what's an EEV or not?
.
Furthermore, anytime when you see the word "customized incentive", try replacing it with non-transparent, closed-door, one-to-one discussion with a select few government officials in negotiating for the incentive. This is one area in which abuse could occur and explains why CEOS of big bosses are so pissed with the government for coming out with such a scheme. How then do they do their forecasting and planning if the costings involved in producing/bringing in a car cannot be determined?
.
.
Core Directive: Technology and Engineering
.
Emphasis on technology and engineering for strategic sectors such as engine, transmission, control unit, die and mould, aluminium mould and non-ferrous, engineering design and prototyping, testing facilities for components, sub systems and vehicles, plastic engineering and automotive grade steel manufacturing.
Everyone is talking green so NAP 2014 has decided on actions that includes increasing the use of green technology, increasing strategic cooperation between Malaysia and FTA allies, local companes with International Center of Excellence as well as between local companies and local universities in the field of green technology. In addition, NAP 2014 focuses on increasing the R&D and D&D expertise and establishment of relevant green technology infrastructure.
Actions under Technology and Engineering includes import and excise duty exemption from 1 Jan 2014 – 31 Dec 2015 for hybrid CKD models and until 31 December 2017 for electric CKD vehicles. CKD manufacturers of hybrid and electric vehicles will be considered for customized incentive which, among others is based on the level of strategic investment by the company covering amount of investment, output level, technology transfers, R&D activities, establishment of supply chain, job opportunities and export numbers.
Incentives in the form of Soft Loans and tax exemptions 
.
Recognizing the point that there is no way Malaysia can compete against Thailand and Indonesia based on market size and existing manufacturing facilities, it is wise for the government to focus on a niche area; namely EEV production. But the question is, since the policy on import/excise duty exemption will expire in 2 years (less once you deduct all the feasibility study, boardroom meetings, yada yada yada), it's a huge capital risk for manufacturers to invest millions in setting up an EEV plant only to have the policy blow up in their face if MITI decides to change the terms of the policy at the end of next year.
.
.
Market Expansion
.
Objective; open and expand market for component and spare parts suppliers through strategic cooperation and sharing of existing manufacturing capacities to fulfill expected increase in exports without the need to increase individual capacities.
Actions under Market Expansion includes the launch of Automotive Parts & Components International Market Expansion (APCIMEX) program that covers activities involving critical factors that affects the export capabilities of component manufacturers to countries and regions targeted such as ASEAN, China, India, Africa, EU and North America, disbursement of soft loans amounting to RM126mil from 2014 to 2020 to finance the establishment of a central distribution network that includes warehousing, packaging, logistics, scheduled delivery, inventory control, delivery control, customer service management, technical communication, project development management, quality control management and supplier assessment and finally, increasing technical and economic cooperation with FTA trade allies.
.
Nice words. Launch anything you want but how does that translate to clear and measurable performance?
.
.
Component & Spart Parts Supply Chain Development
.
Objective: Development of component and spare parts distribution network that encompasses increase of QC system, operation management, company management and capability & capacity of testing and validation.
Action includes Soft Loans amounting to RM765mil from 2014 – 2020 to Tool, Dies and Mould (TDM) manufacturers, soft loans amounting to RM295mil from 2014-2020 for component and spare parts manufacturers for the purpose of increasing competitiveness by improving processes involving automation, consolidation, technical cooperation and others and is used to finance activities such as pre-commercialization usage research, design and product development.
.
Human Resource Development
.
Objective: To develop the competencies and capabilities in the areas of leadership, management, engineering, quality, design and cost reduction
Actions includes establishing a pioneer automotive program that involves MAI and Ministry of Education, disbursement of RM100mil from 2014-2020 for the purpose of human resource development for programs such as placement of automotive specialists in component and spare parts manufacturing companies, component and spare parts manufacturing technology, lean production system, leadership mastery as well as developing capabilities in the areas of management, engineering, quality, design and cost reduction.
.
Safety and the Environment
.
Objective: reduction of carbon output, increase fuel efficiency, restoration of the environment and natural resources
Actions includes voluntary vehicle inspection of vehicles older than 5 years not limited to Puspakom only (?), involvement of students from higher education institution and training centres (?), development of a standard for component and spare parts, adoptation of 3R (Reduce, Reuse, Recycle) International Standards in Malaysia Standard for the purpose, encouragement of private sector to be technical services supplier for the purpose of Vehicle Type Approval inspection (supervised by JPJ and "customized" incentives will be provided to those qualified.
.
Another gray area in which the guidelines for the technical services suppliers appointments are not available and again, that "customized incentive" appears. How can the government encourage trust when there is no transparency?
.
.
Bumiputera Agenda
.
Objective: Strengthening Bumiputera economic position while realizing the objective of producing Bumiputera entrepreneurs  who are competitive enough to participate in the global market. 
Actions includes grant amounting to RM75mil from 2014-2019 for the purpose of technological development, human resource and supply chain and continuous scrutiny on vehicle manufacturers and all parties involved in the manufacturing sector and after sales to ensure significant participation of Bumiputera companies in the domestic automotive market.
.
National Vehicle
.
Objective: Development of a vibrant domestic automotive market. Focuses on Proton, Perodua and Modenas
Actions includes financial aid from the government via various funds and non-financial aids which includes industrial manufacturing programs such as MAJAICO, Apprentice, Automotive Industrial Certification Engineering dan Lean Production System. 
.
.
Ultimately, the target of NAP 2014 is to achieve the following:-
.
Production of vehicles amounting to 1.35mil units per year (of which 1.15mil are EEVs)
Sales of domestic passenger vehicles amounting to 1mil per year and 100,000 units for commercial vehicles
Exports amounting to 250,000 units per year
Production of 800,000 units of motorcycles per year of which 650,000 units are EEVs
More than RM10bil exports of automotive components per year
Authorized Treatment Facility and Re-manufacturing Industry with exports of "remanufactured components and recycled materials reaching more than RM2bil per year.
New job opportunities as much as 150,000 positions in which 70,000 is in the manufacturing sector and 80,000 is in after sales and services.
Replacement of 80% foreign workers with Malaysians
Improve and establish 180 component and spare parts manufacturer to level 5 capabilities according to international definition, improve and establish 140 component and spare parts manufacturer to level 4 capabilities according to international definition and improve and establish 100 component and spare parts manufacturer to level 3 capabilities according to international definition.
Establishing 2 design and engineering specialization centres
Establishing a full VTA testing centre
Establishing a vehicle user solution centre
Placing Malaysia as the main destination for investments, research, technology and human resource in the fields related to green powertrain technology, advance automotive manufacturing and low carbon emission manufacturing processes.
Development of new industries such as engineering and software, design and prototyping, foundry and casting, aluminium and non-ferrous casting, sub-system testing and vehicle components, automotive steel grade and plastic engineering.
 .
The above are bold targets and like most reviews in the office, the lower staffs would always present slides that look nice in a Powerpoint. The question is, even if we do manage to set up multiple EEV plants and aims at exporting a significant amount of the targeted 1.15mil EEVs, who we going to sell it to? Unless car prices here are reduced significantly (something with the Minister himself has said it will not happen in the near future), these are all meaningless numbers. And without stimulated sales, how then can there be more job opportunities when we can't consume enough of what we produce?
.
Exports? Who's going to buy? Thailand and Indonesia? What makes you say the government of those countries are going to welcome Made-in-Malaysia cars with open arms when our government has not been doing that?
.
Oh, did I also mention that the government is reviewing the abolishment of the AP system due in 2015? Funniest announcement I heard on the radio this morning; "The government is going ahead with its plan to abolish the AP system in 2015 but this is subject to a thorough review by the ministry and relevant parties". So, is that ON or OFF? APs are one of the most damaging policies affecting our automotive market. Where serious players invest in R&D and service centres, these people only need to worry about warehousing. Where proper companies have proper marketing and sales team managing the business, AP holder companies need to update Mudah, OTO.my or Carlist and probably place some Facebook ads here and there. It might be argued who is the main beneficiary of the AP system but the effect of discouraging large automakers in investing and establishing a greater presence here cannot be denied. And if you're wondering why is the government making a U'turn and re-examining the decision on getting rid of the AP, perhaps this article can shed some light to the matter:-
.
Is AP helping us or screwing us big time?
.
In conclusion, the NAP 2014 creates more questions then answers. It has a tendency to lead us astray more than guiding us clearly to the future. While the current global automotive market isn't as solid as a golden brick road, I can't help but feel the NAP 2014 is nothing more than a piece of document for short term gains by politicians who may or may not have their own agenda. If the public were the boss of the government, when can we fire those at the top?
.
.
.