.
There is something captivating about Penang. You want sun and sea? Plenty of those here. Delectable food and drinks? The whole island has it. Hills and twisty roads? Yup, checked. Penang is like a jack-of-all-trades and appeals as much to historians as do those with a taste for adventure. By that token, the same can be said about the newly launched new Peugeot 3008 SUV. First seen in September 2013 in the 65th Frankfurt Motor Show, Nasim Sdn Bhd has launched the new 3008 on 17 April 2014 and has chosen Penang as host for this event. Promising high-quality and contemporary style, comfort in all situations and driving sensations with the ability to adapt, the 3008 offers its owners the performance of an SUV, the practicality of an MPV and the agility of a hatchback.
.
That's a pretty tall order to fulfil for a vehicle and one wonders if it's all marketing hot air. Well, we've tested it and we think it's not – well, not all of it anyway. Just how good is the new 3008 vs its predecessor (as tested HERE)? Or more importantly, how is compared to other competitors in its segment? Let's find out.
.
.
Design
.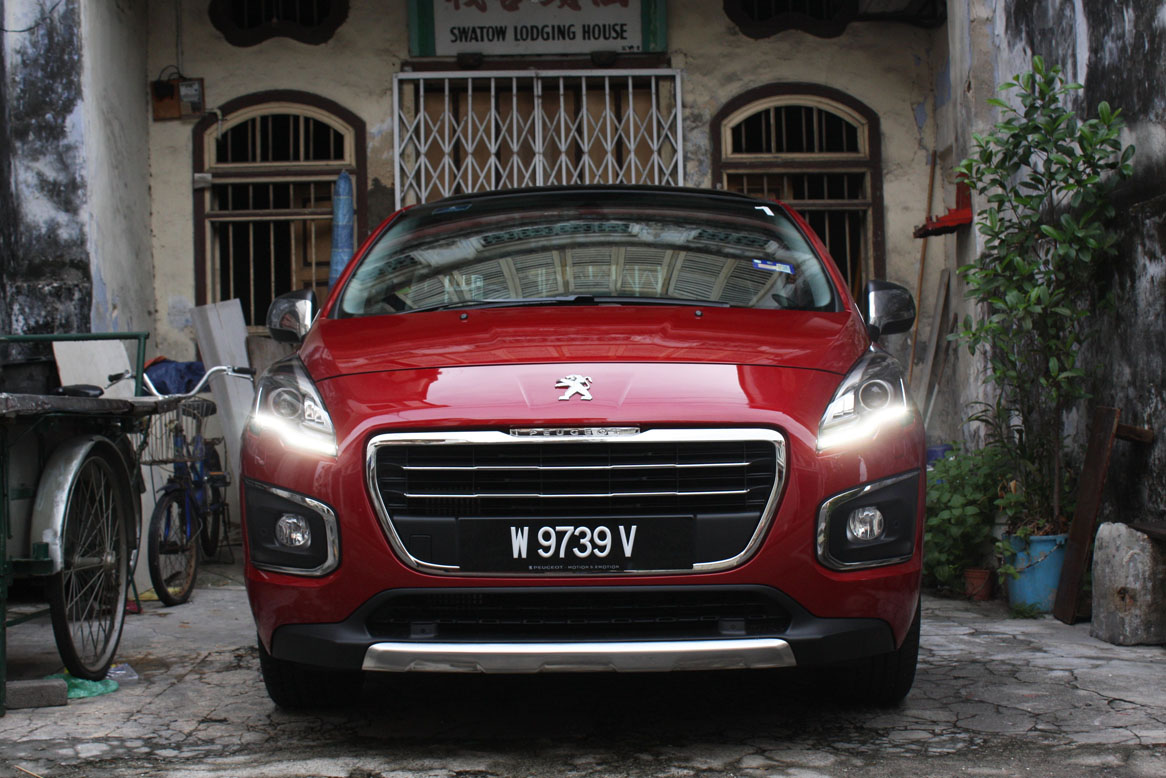 .
Things are changing in Peugeot and this is more true in the 3008 which sees a radical change in its design. Gone are the huge triangular headlamps and replaced with something sleeker and shaper, complete with a LED light strip illuminating the lower part of the lamps. The headlamps are now projector type with dynamic bi-xenon lighting which swivels as you turn the steering wheel at speeds (turning the wheel while the vehicle is static in an effort to show this feature to your friends isn't the smartest thing to do). The frames flanking the front fog lights have a chrome "boomerang" that blends very well with the chrome-lined center grille
.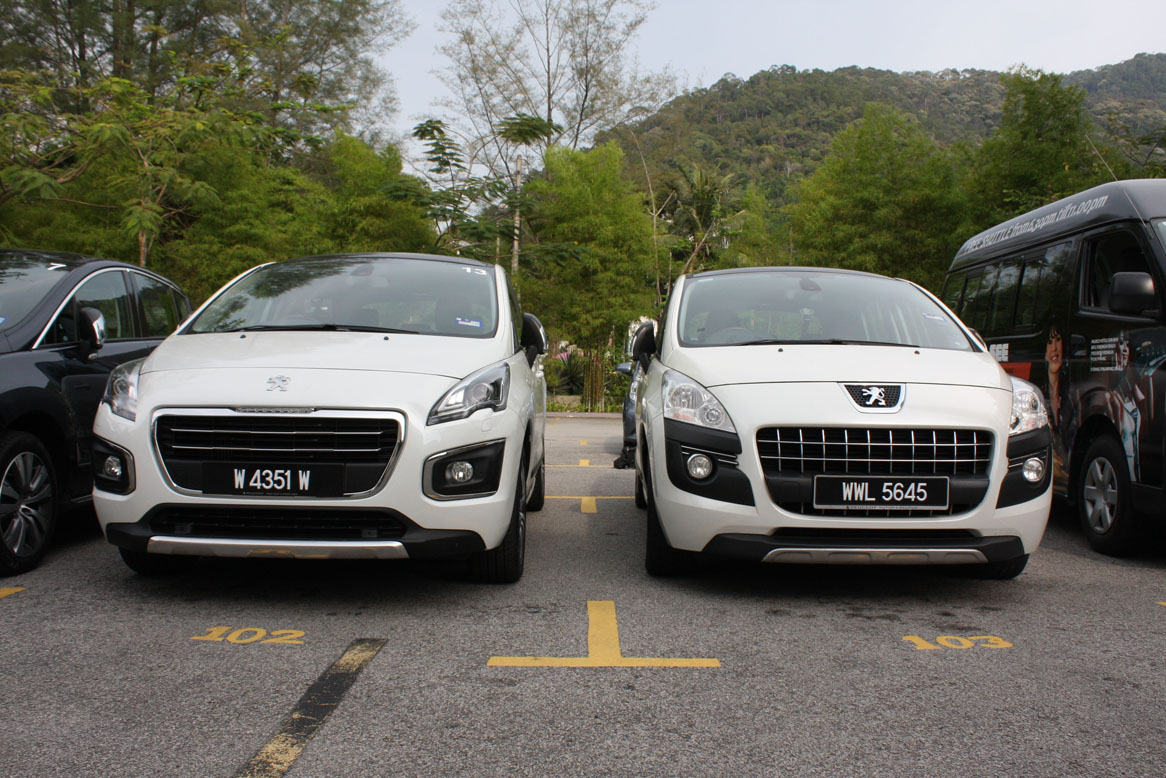 .
You'd still find a silver sump guard at the lower front bumper but instead of chequered grilles, two horizontal chrome bars run across the new grille.
.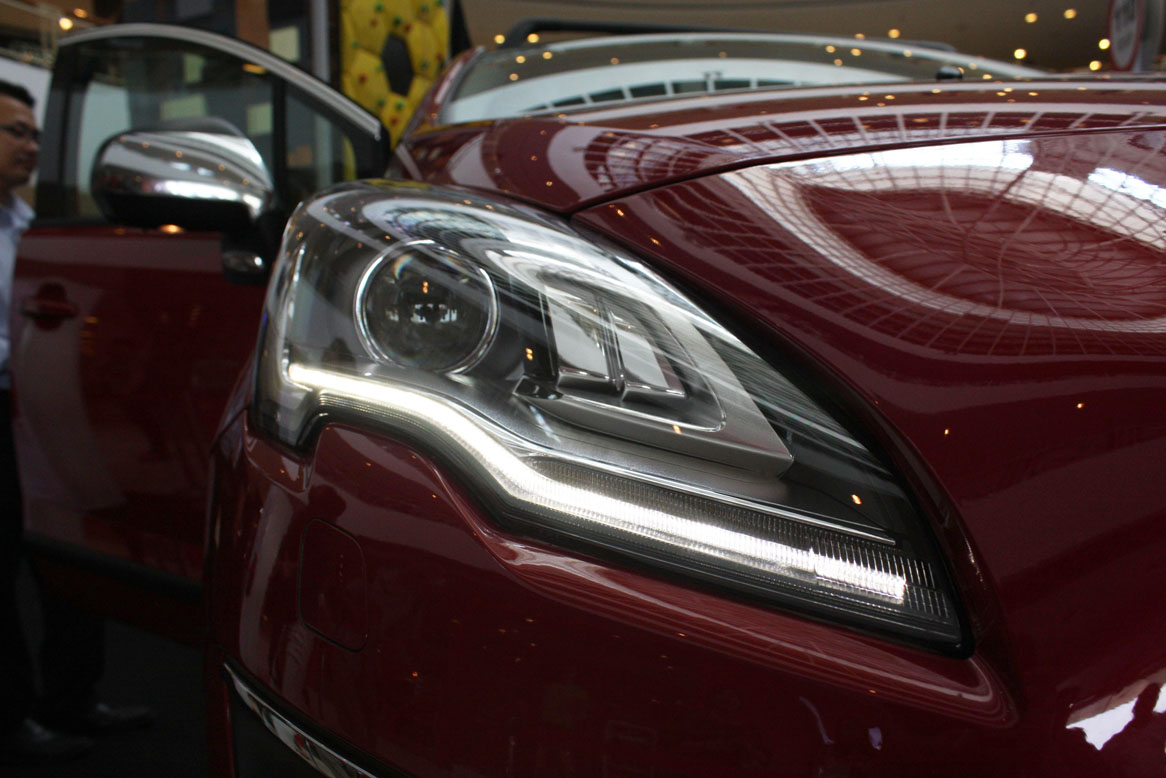 .
The LED DRLs are bright enough that even in a sunny afternoon, motorists have no issues noticing you from afar.
.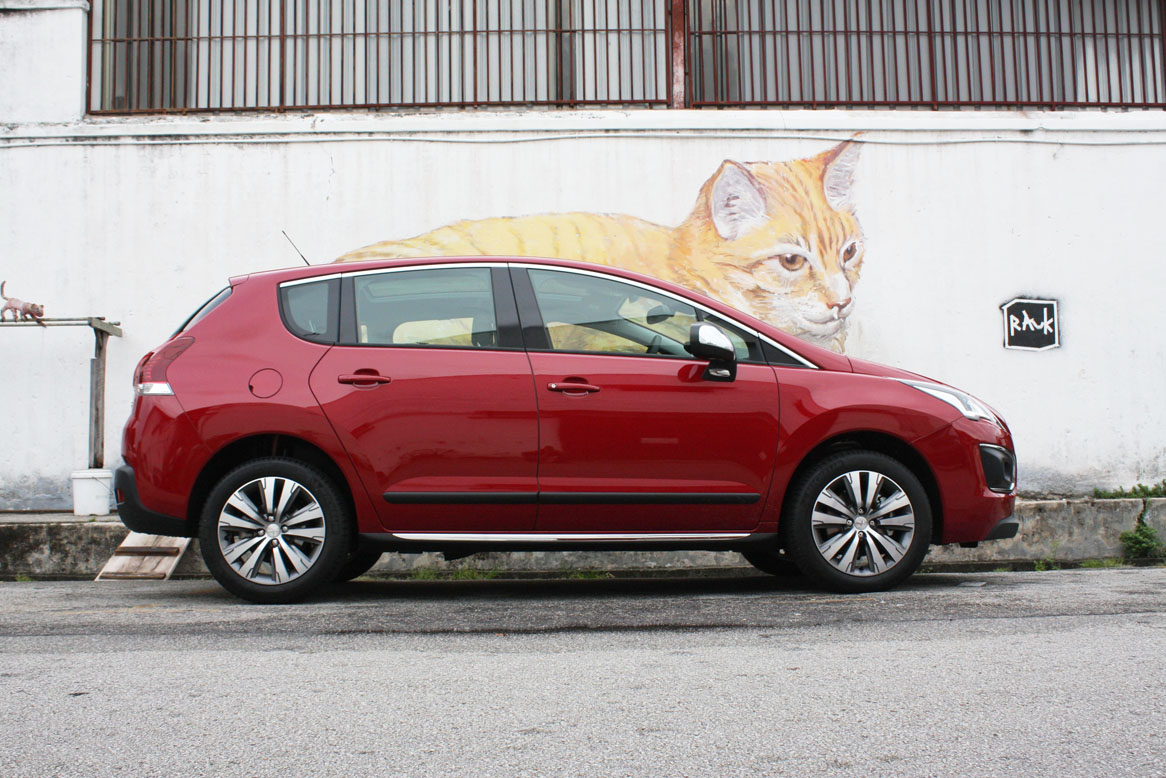 .
Measuring 4,365mm in length, 1,837mm in width and 1,639mm in height with a wheelbase of 2,613mm, the new 3008 has the same dimensions as its predecessor.
.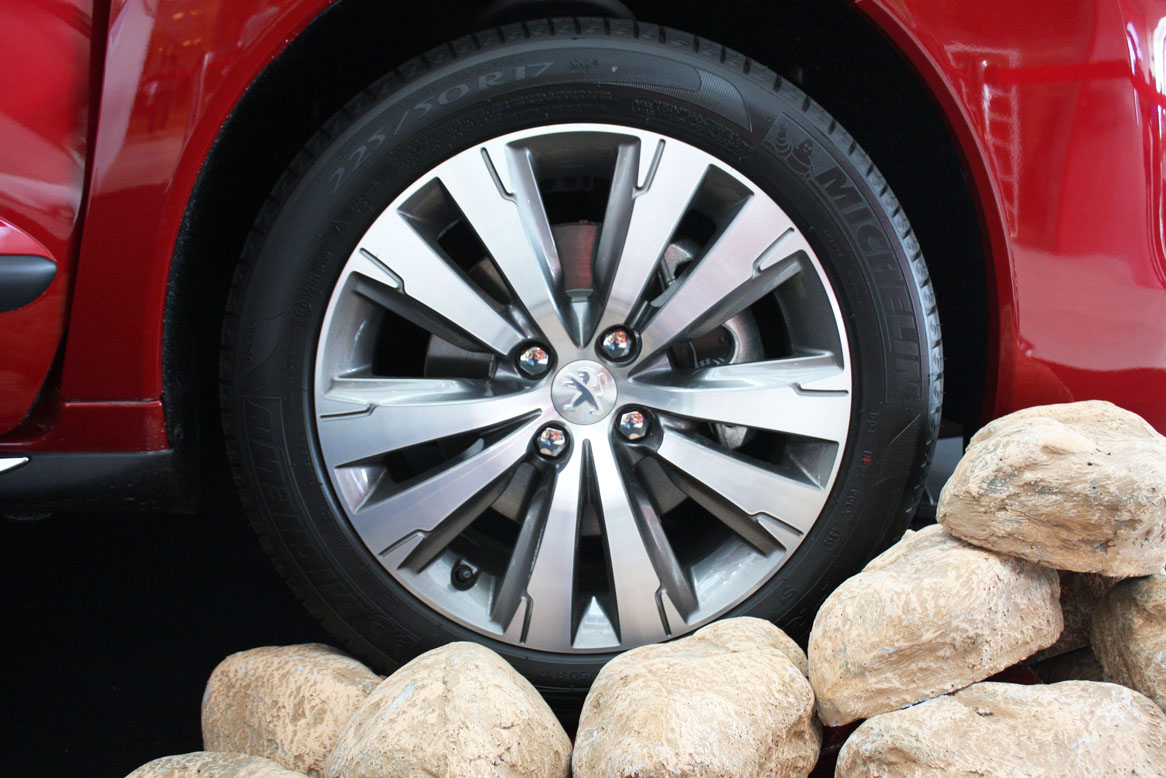 .
Both old and new offers 17″ rims wrapped with 225/50 rubbers but the newer one has a more exciting design instead of the earlier 5-spoke model.
.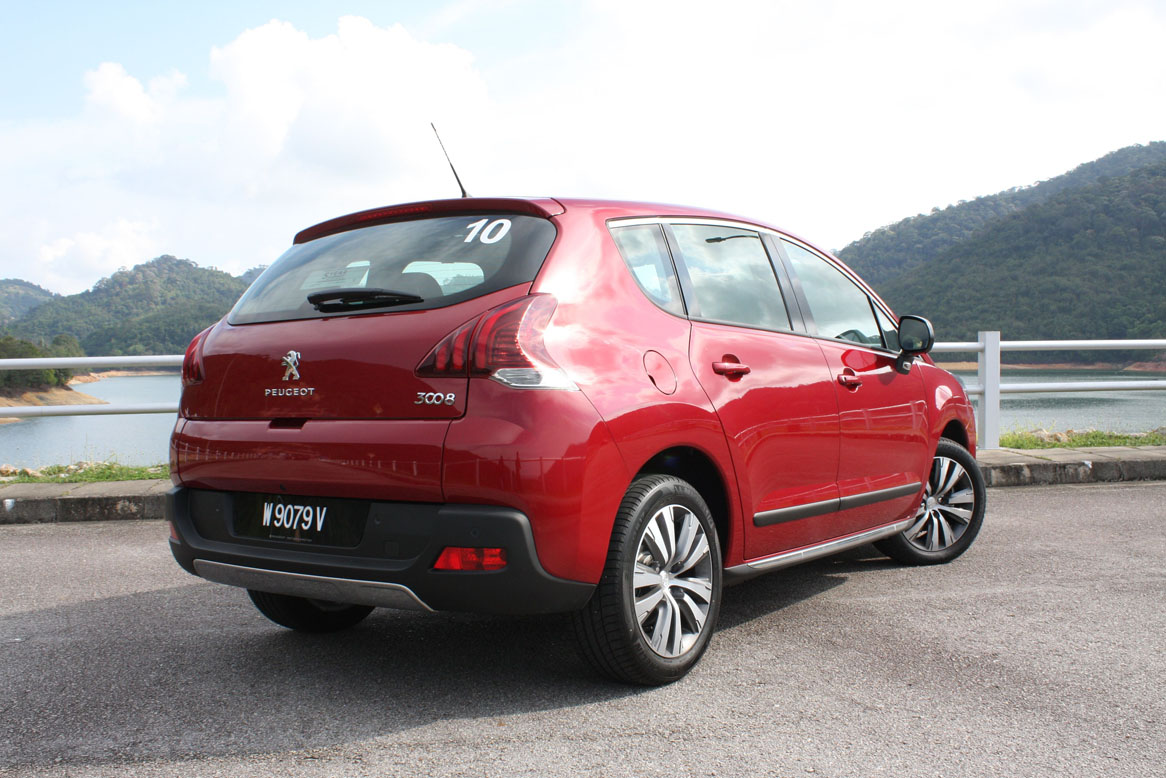 .
The only thing noticeable at the back that's different with the old is a new LED tail lamp design.
.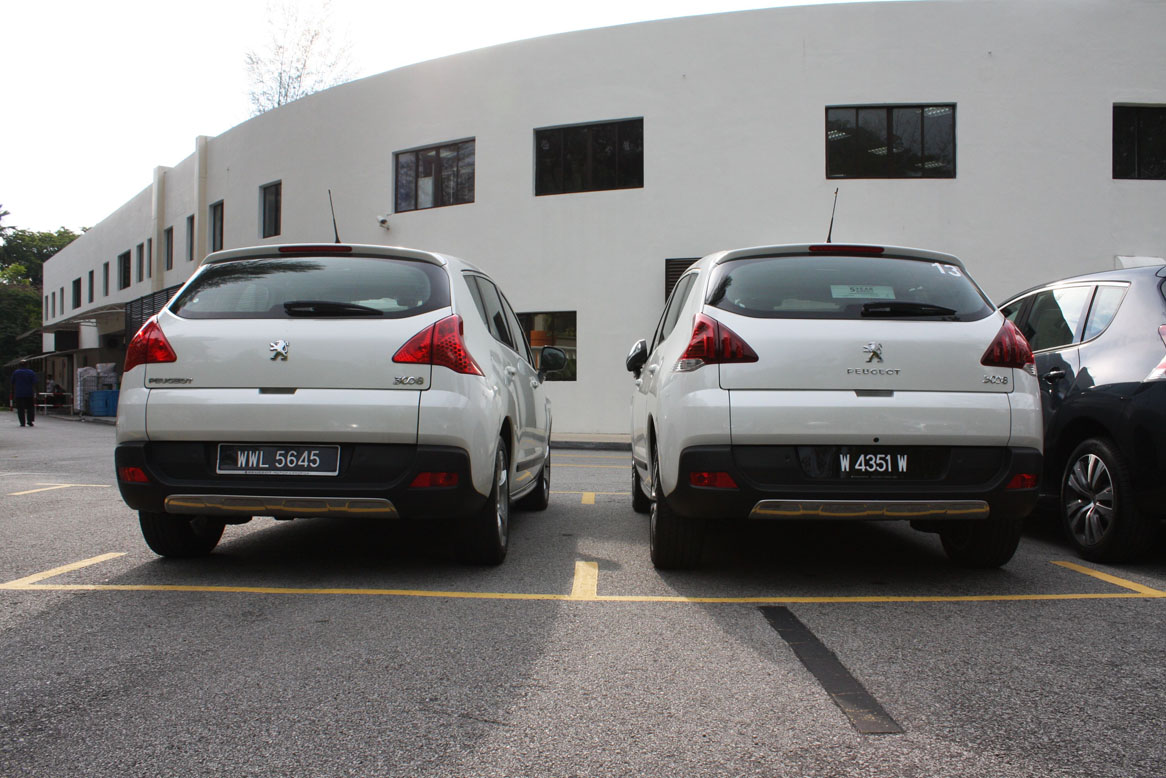 .
Otherwise, it's pretty much status quo.
.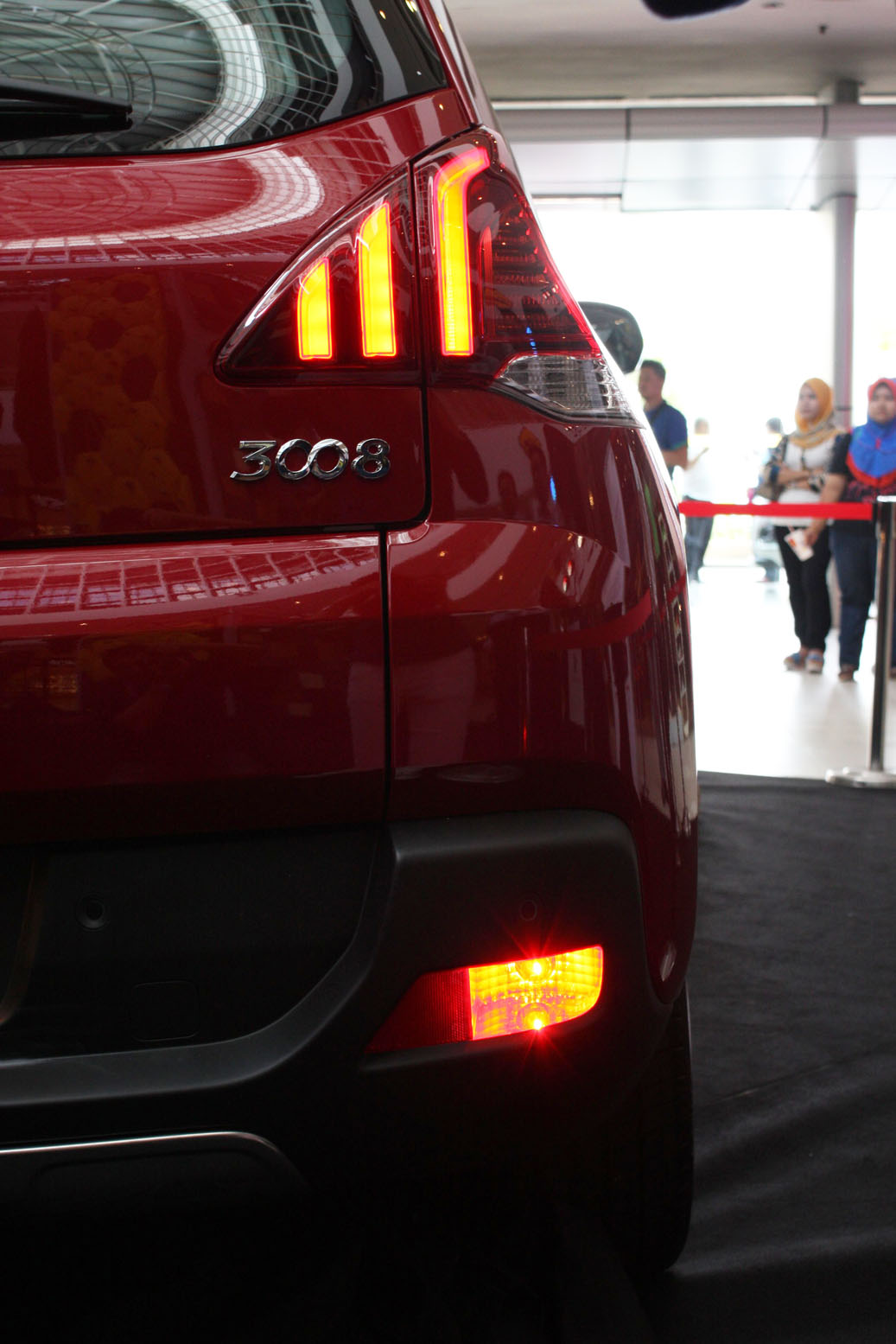 .
LED "Claws" tail lamps are becoming a norm with newer Peugeot models and the 3008 features them in a vertical state. Seen here is also the rear fog lamps which is an excellent feature to have on raining days. Just – be sure to turn them off on clear nights, ya?
.
.
Performance
.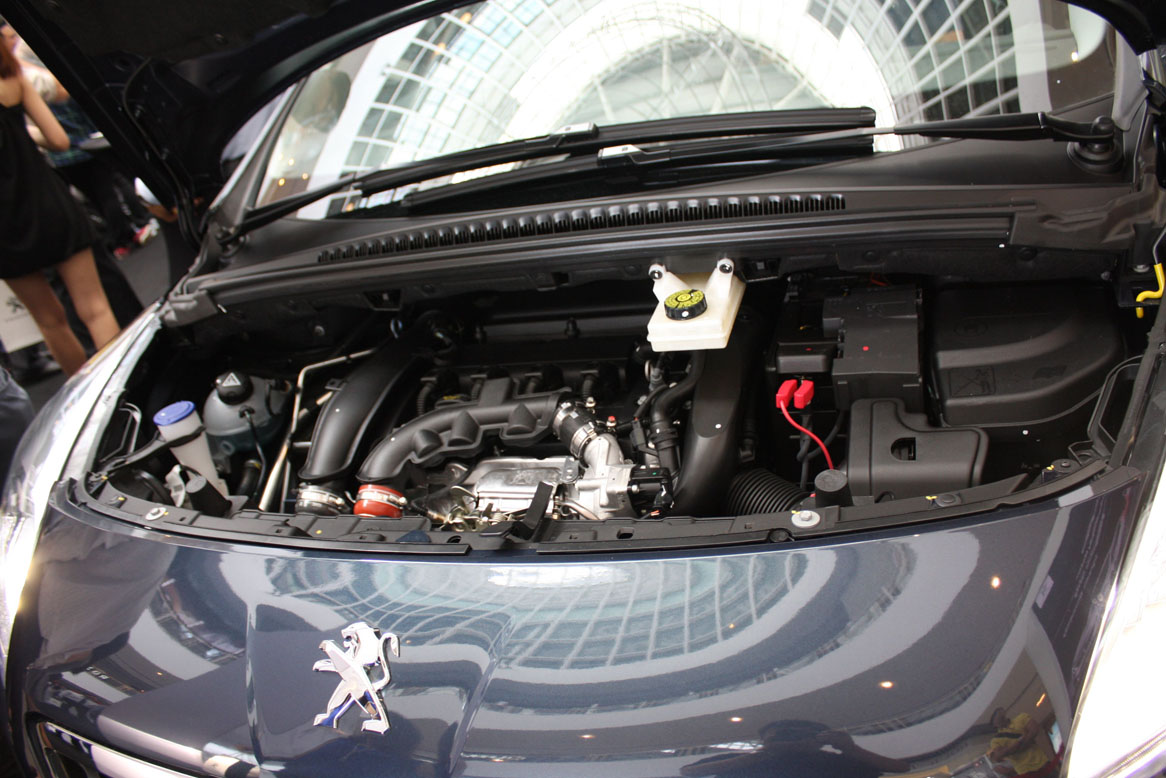 .
The new 3008 comes with the new, modified 1.6litre twin-scroll turbo high pressure (THP) Prince engine that gives 165PS @ 6,000rpm and 240Nm worth of torque from 1,400 to 4,250rpm, an improvement of 9PS from the old. 0-100kph is done in approximately 9.5seconds which is the same as before despite the higher power output and promises a fuel economy of 7.7litres of fuel per 100km in a combined drive cycle.
.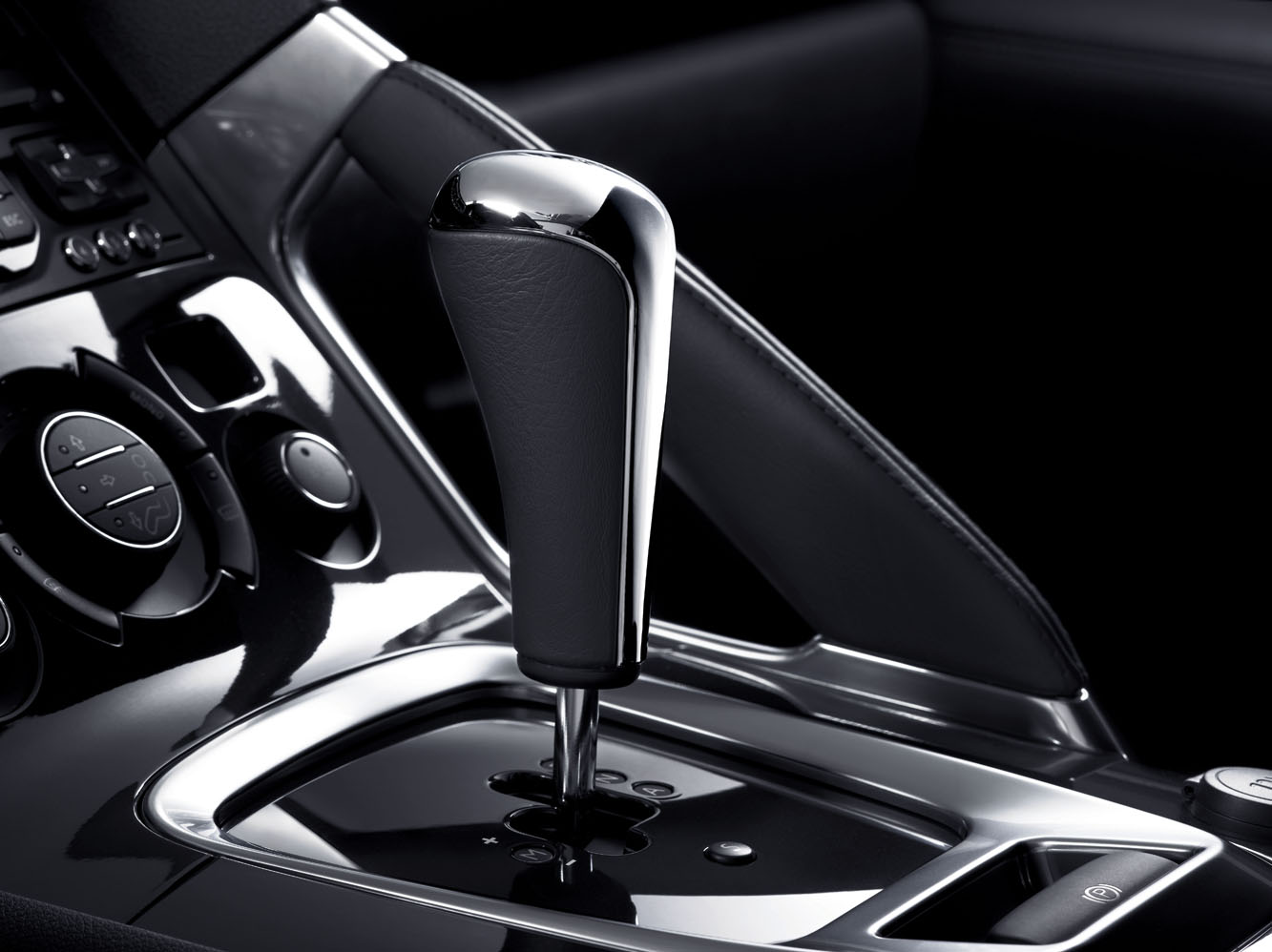 .
Despite the odometer showing only 44km on it, the models we tested had plenty of grunt and acceleration is not an issue. There is hardly any turbo lag since peak power comes in as soon as you step on the pedal and with the same 6-speed automatic gearbox as before, power is easily controlled and isn't as scary as dual-clutch gearboxes which doesn't always tell you when you'll have power to move forward.
.
The only issue with the gearbox (as is with all other Peugeot models equipped with this gearbox) is that it isn't programmed to change gears within the optimum levels. Maximum torque is achieved until 4,250rpm therefore when you rev the engine beyond this limit, you're not getting more power but instead just wasting more fuel. The sweet spot where you have full thrust is between 3,000 to 4,000rpm but if you just floor the pedal and leave the shifting to the gearbox, you'll be reaching 6,000rpm (6,500rpm if Sport mode is activated) before the next gear is engaged. Shifting to tiptronic and manually changing gears yourself would cure this malaise and trust me, you'll be having a lot more fun moving the cogs up and down yourself.
.
.
Ride and Handling
.
The 3008 is a tall car so it's always a good thing to exercise caution when driving a vehicle with a high centre of gravity. When I first wrote about the 3008 2 years ago, I was amazed at its road holding capabilities. The Dynamic Roll Control (DRC), a system that defies the realms of physics by changing the load of the rear wheels when cornering does a fantastic job at keeping the compact SUV glued to the ground, allowing you to explore the cornering limits of the vehicle a little more keenly (before the cannot-be-switched-off ESP kicks in and kills the fun).
.
That is, assuming you can accommodate the light steering which is a pleasure to use in the hustle and bustle of an urban landscape but anaesthetise road feel to the point where the only appendage communicating what kind of road you're on is your butt. Still, nothing one can't get used to given sufficient driving time and I've always preferred a lighter steering (yes, call me old and lazy)
.
Surprisingly in the new 3008, the road holding part went out the window. With a suspension setting that's tuned more for comfort, the amount of body roll is – well, as expected of an SUV. Bear in mind that you will only notice this if:-
.
1) You're driving like a hooligan and behaving like petrol is free in this world
2) You've got a long, large-radius corner
3) You've driven a DRC-equipped 3008 like the predecessor and fell in love with it.
.
Only if you have done all three will you feel the omission of the DRC in the new 3008. Otherwise, you'll find the 3008 to be quite pliant when driven reasonably. Particularly impressive is the noise, vibration and harshness which is well insulated from the cabin, even at speeds above 110kph. The 3008 is one of those vehicles where you and your family members would enjoy the long drive to any destination.
.
.
Cabin Convenience
.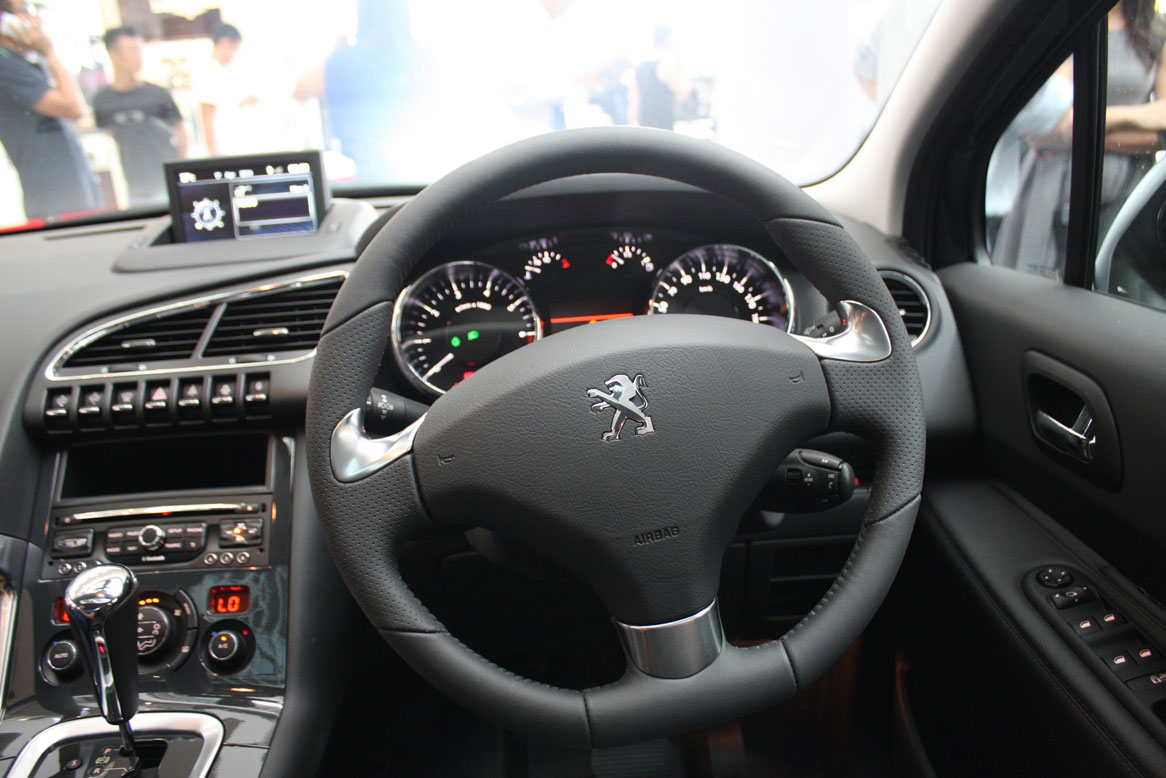 .
The cabin is a particularly nice place to be in; not only are you sitting one head higher than almost everyone else short of another SUV or a pick-up, the cockpit-inspired design will keep satiated during traffic jams. Now, how often do you see a flat bottom steering wheel on an SUV?
.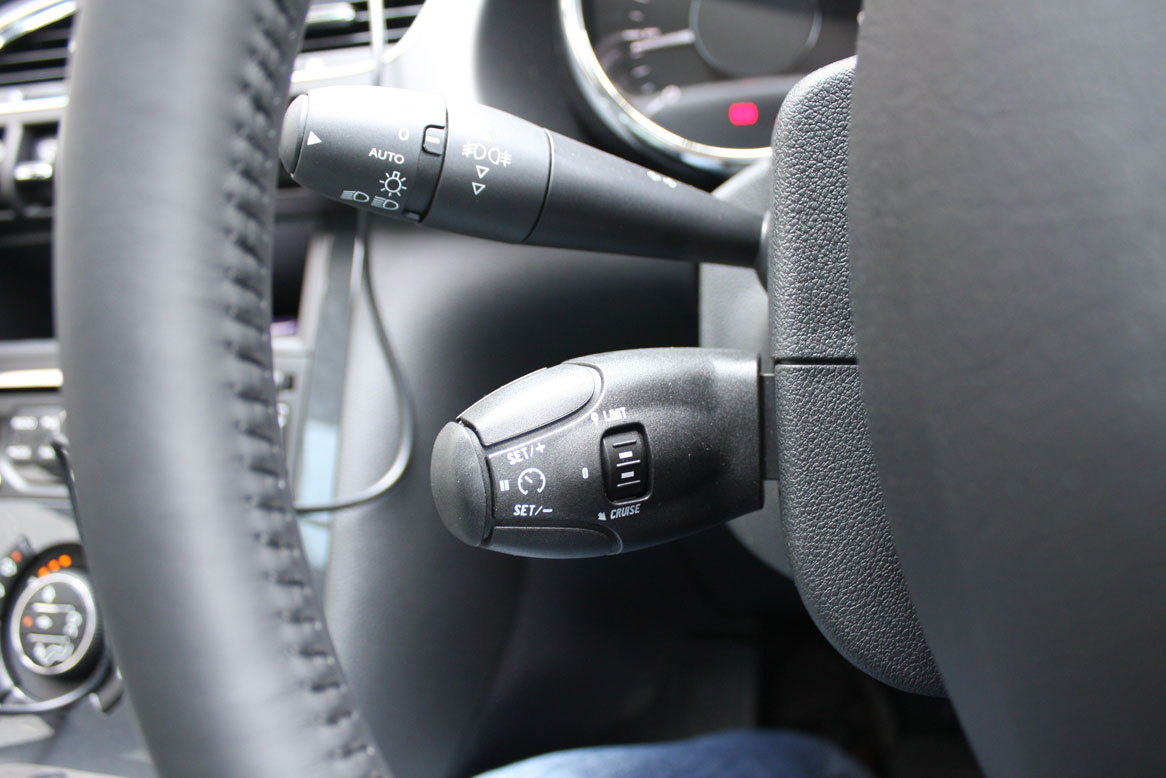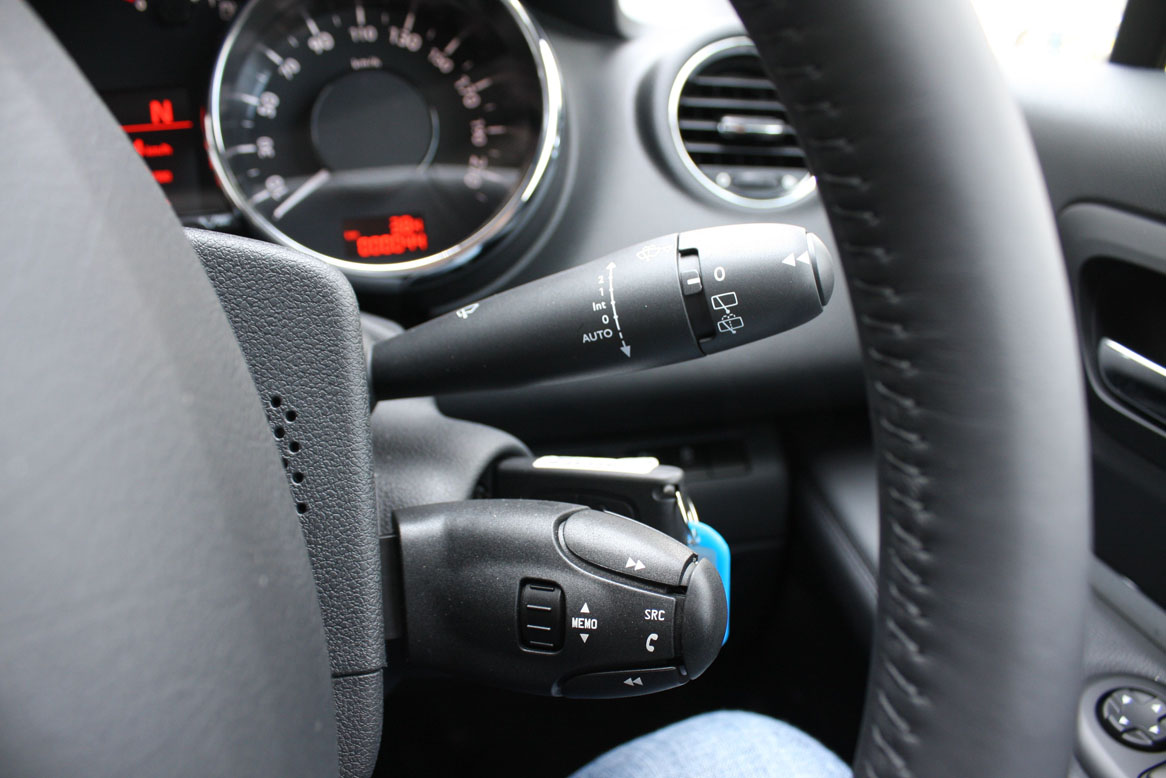 .
Drivers who've not had much dealings with Peugeot will be forgiven if they're caught bitching about the fact that they're paying so much for a vehicle that doesn't have a single button on the steering wheel. Since the 206, Peugeot has been adopting a minimalistic approach in their steering design, keeping all steering controls on 2 additional stalks found behind the steering wheel. The lower left stalk controls the cruise control and speed limiter whereas the lower right stalk allows access to audio and telephony controls.
.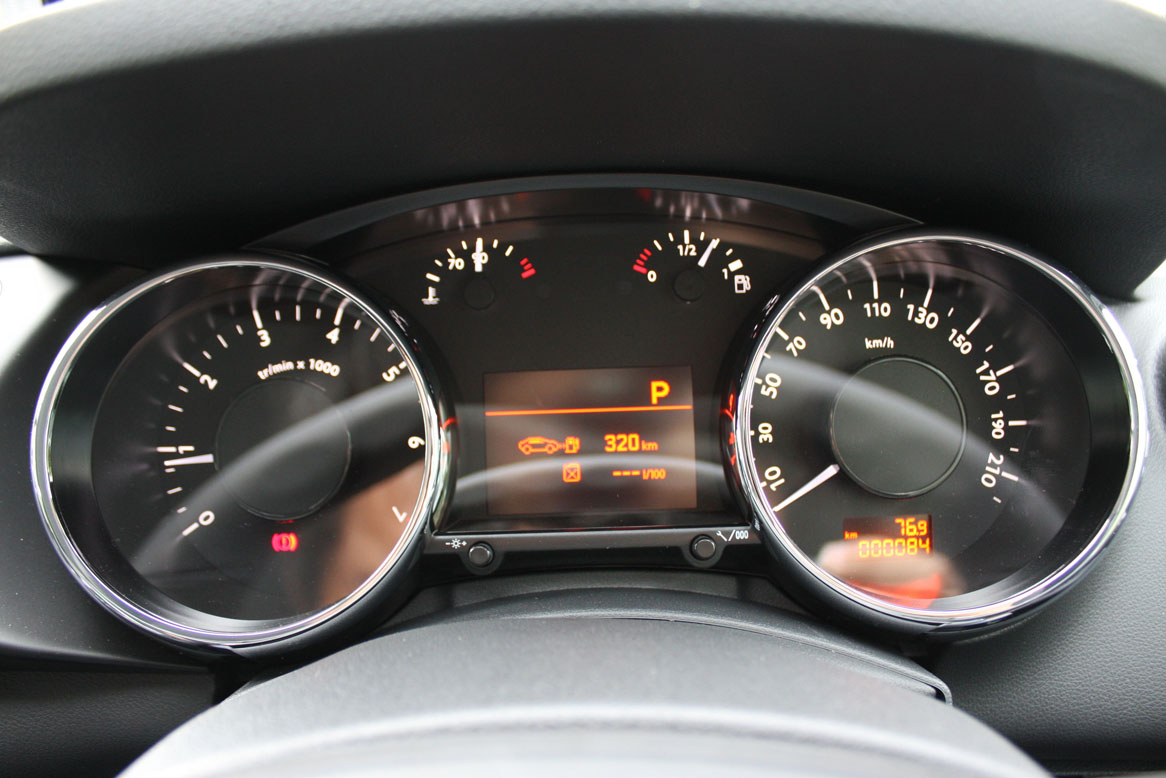 .
Take a close look at the new and older 3008 meter cluster; kinda hard to spot the difference, eh? The Multi Info Display in the center shows gear position, odometer, trip to empty, simple GPS position as well as trip A/B and to switch between modes, just press a button on the tip of the wiper stalk.
.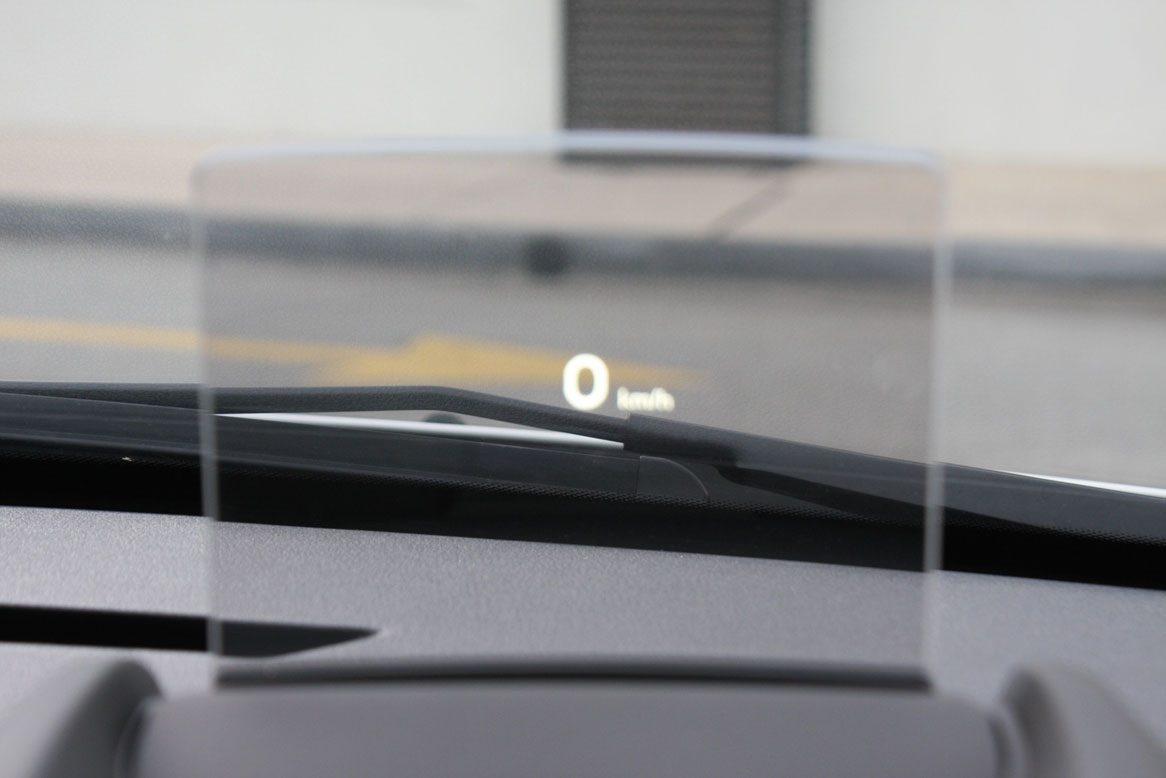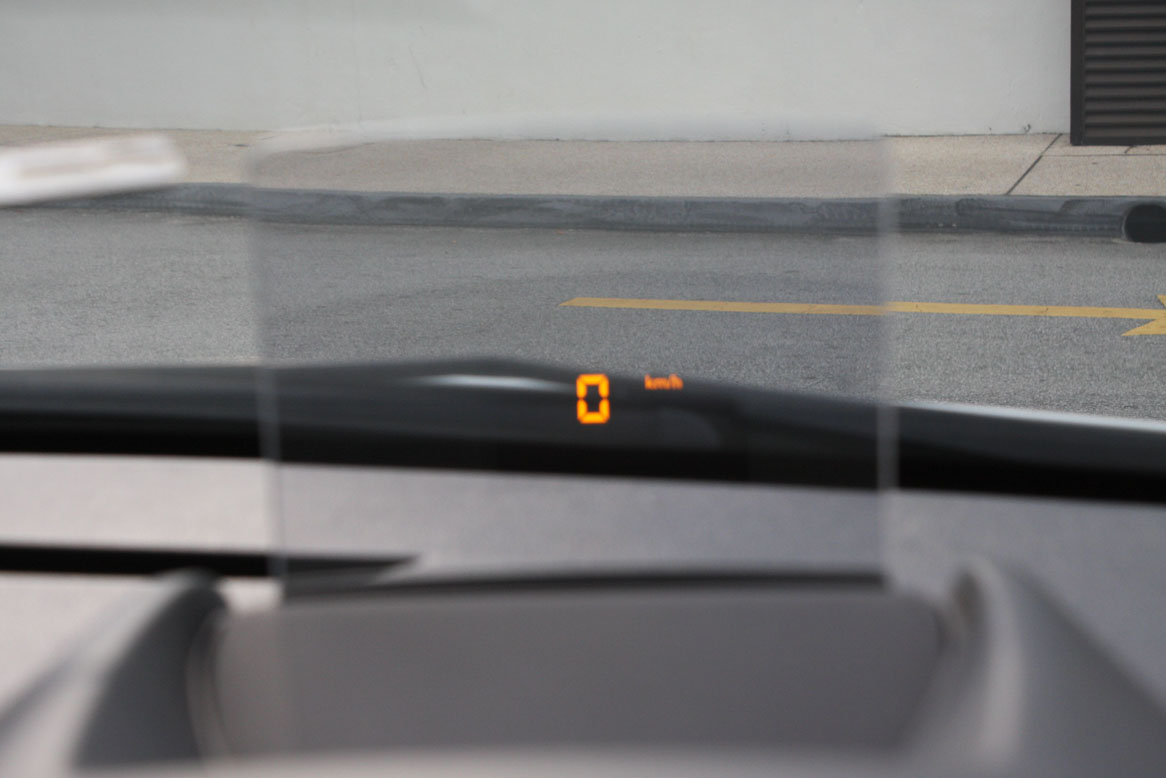 .
The Head Up Display, HUD is now colored instead of amber and displays speed, cruise control and distance to vehicle ahead.
.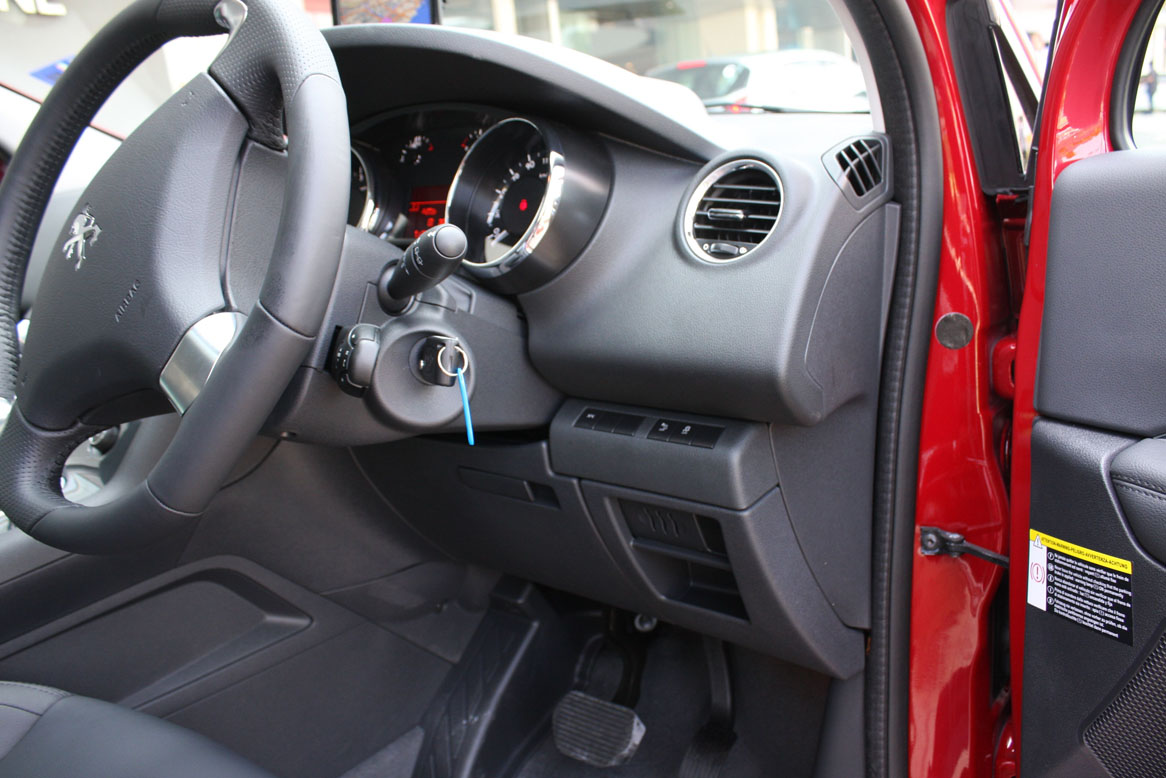 .
ESP on/off and proximity alarms controls are found near the ignition on the right side below the steering.
.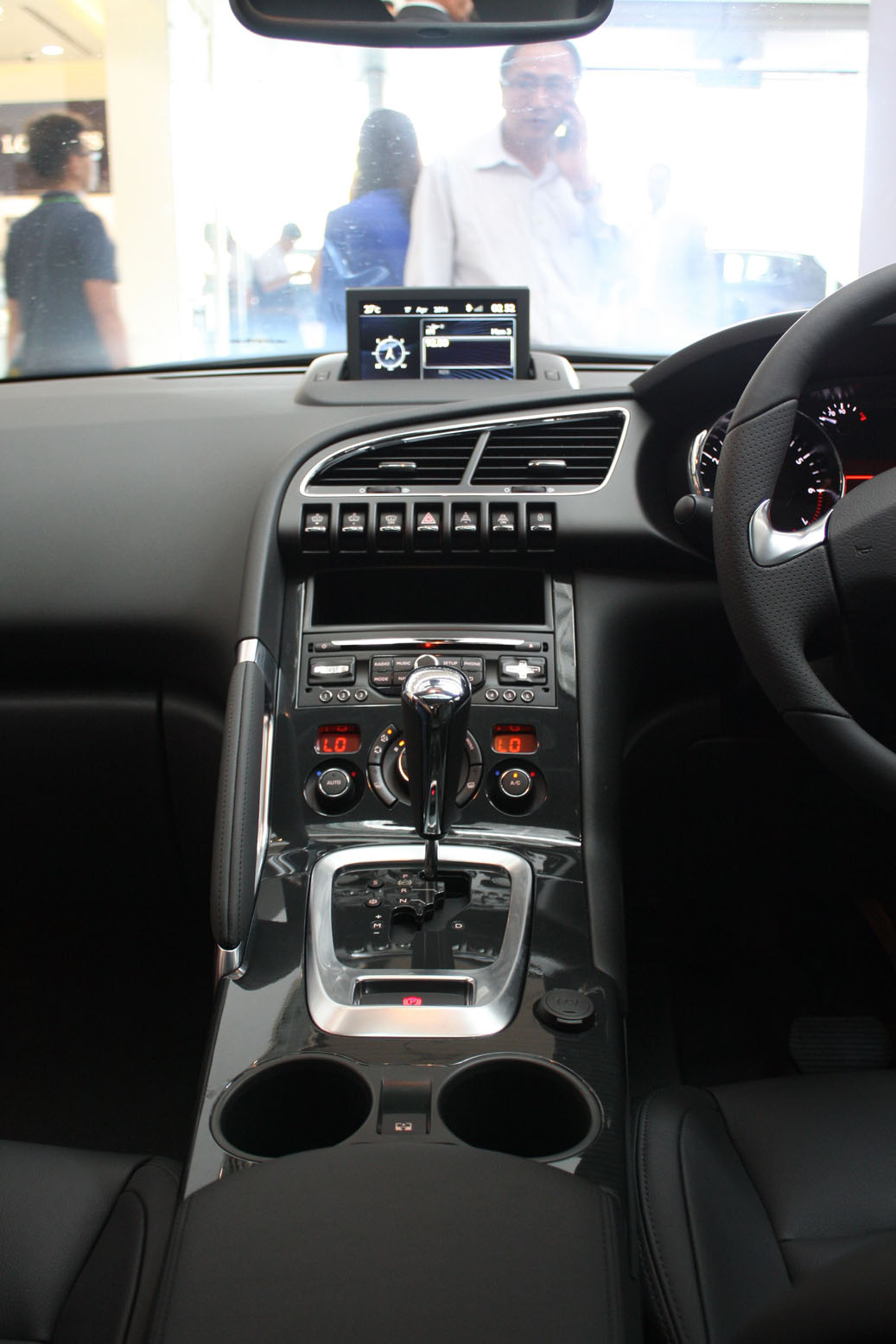 .
The center console's aircraft inspired, cascade design is largely left unchanged from the predecessor.
.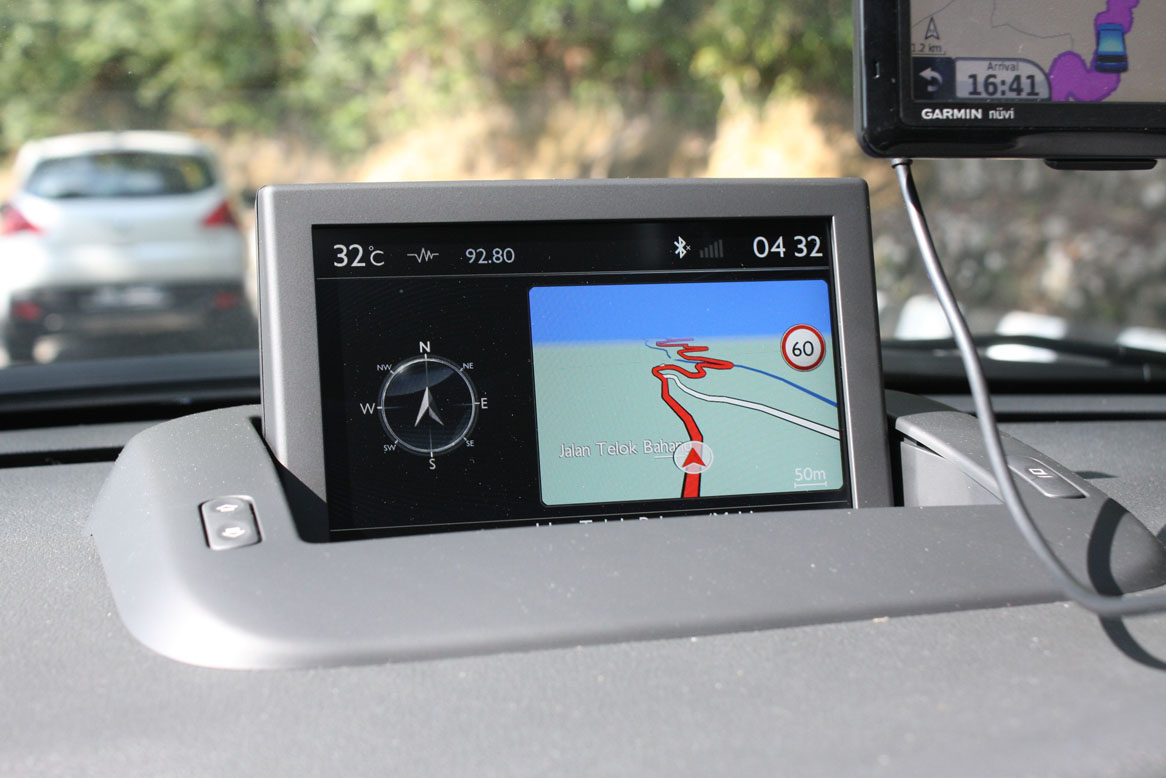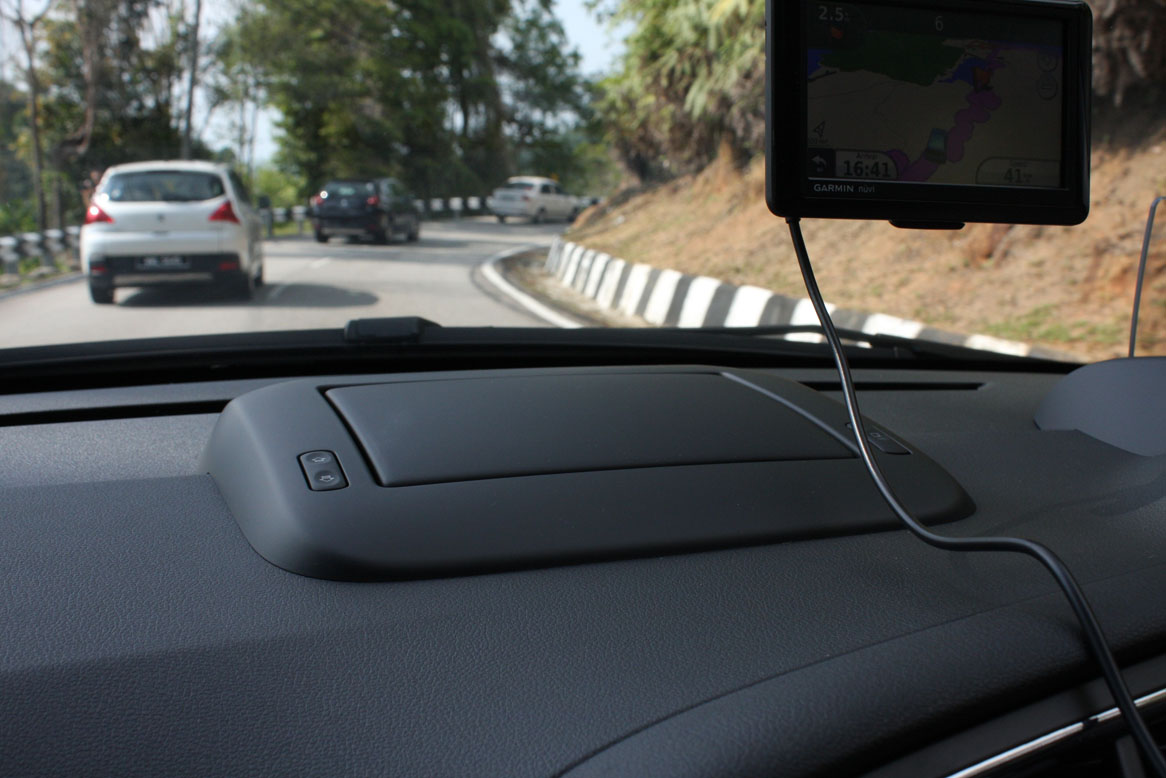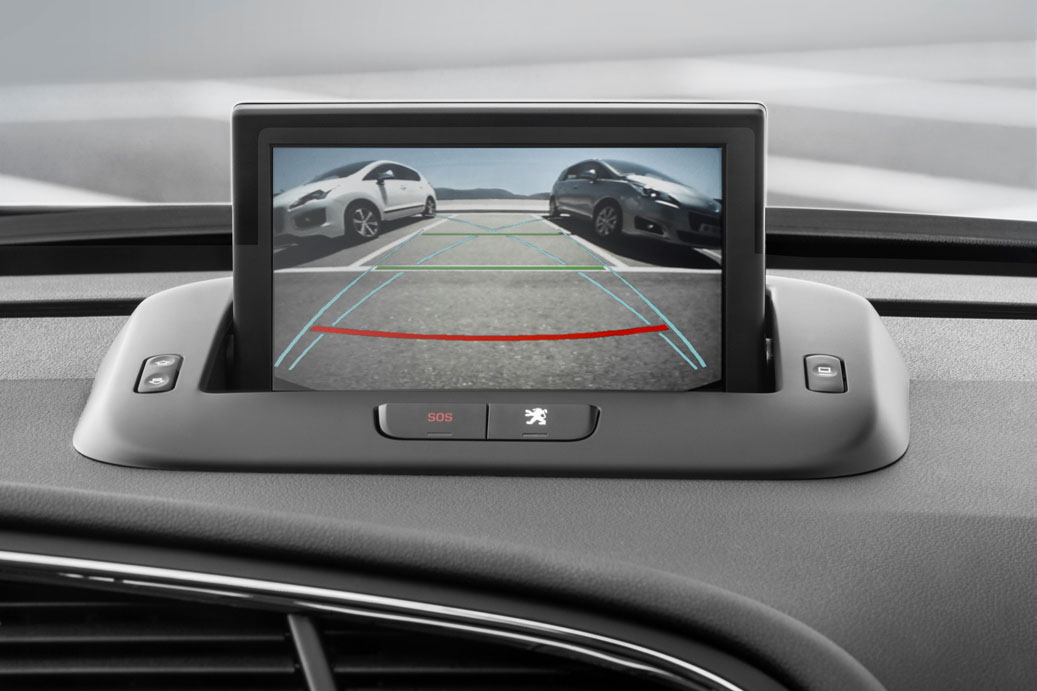 .
The most obvious difference comes in the form of a high resolution 7″ retractable color screen with navigation. The screen is flipped open automatically when the ignition is turned on and can be stowed away either manually or when you turn off the engine. It is possible to tilt the screen to conform to differing driver's heights via two buttons found on the left side of the screen. This screen also projects the reverse camera images when reversing.
.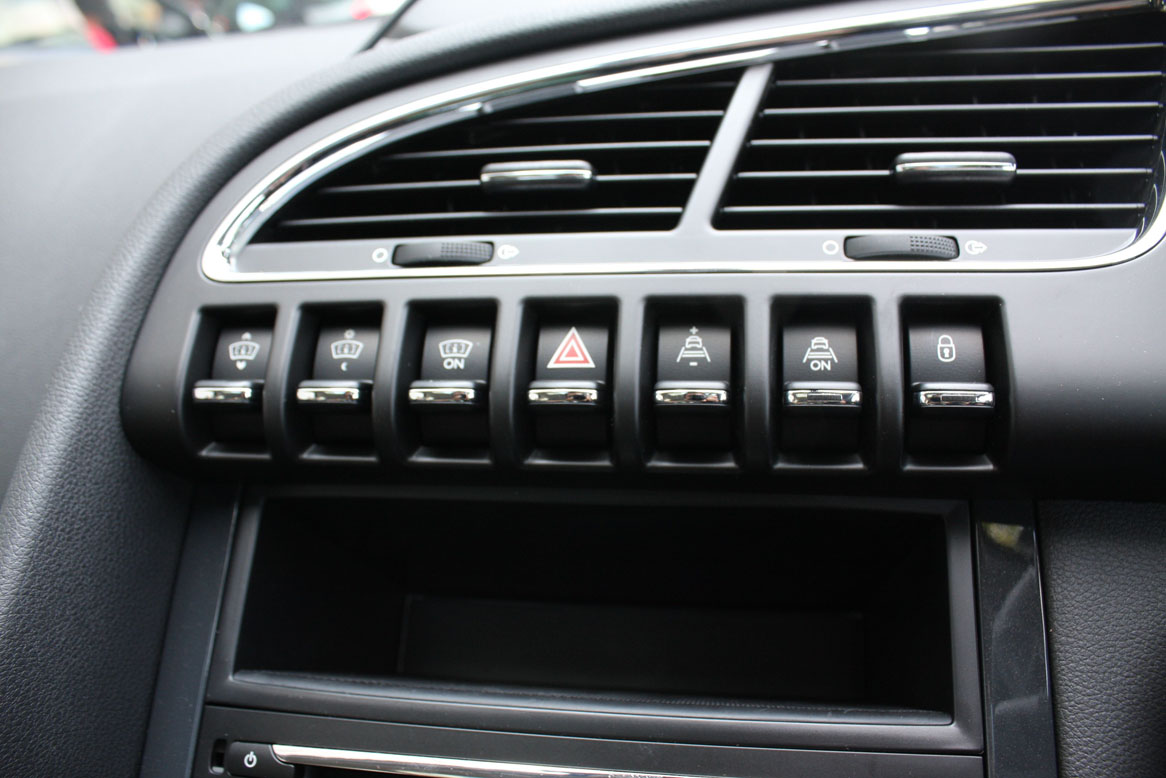 .
Aviation switches; from the left of the hazard button are the HUD controls, the right are vehicle distance alert and central lock.
.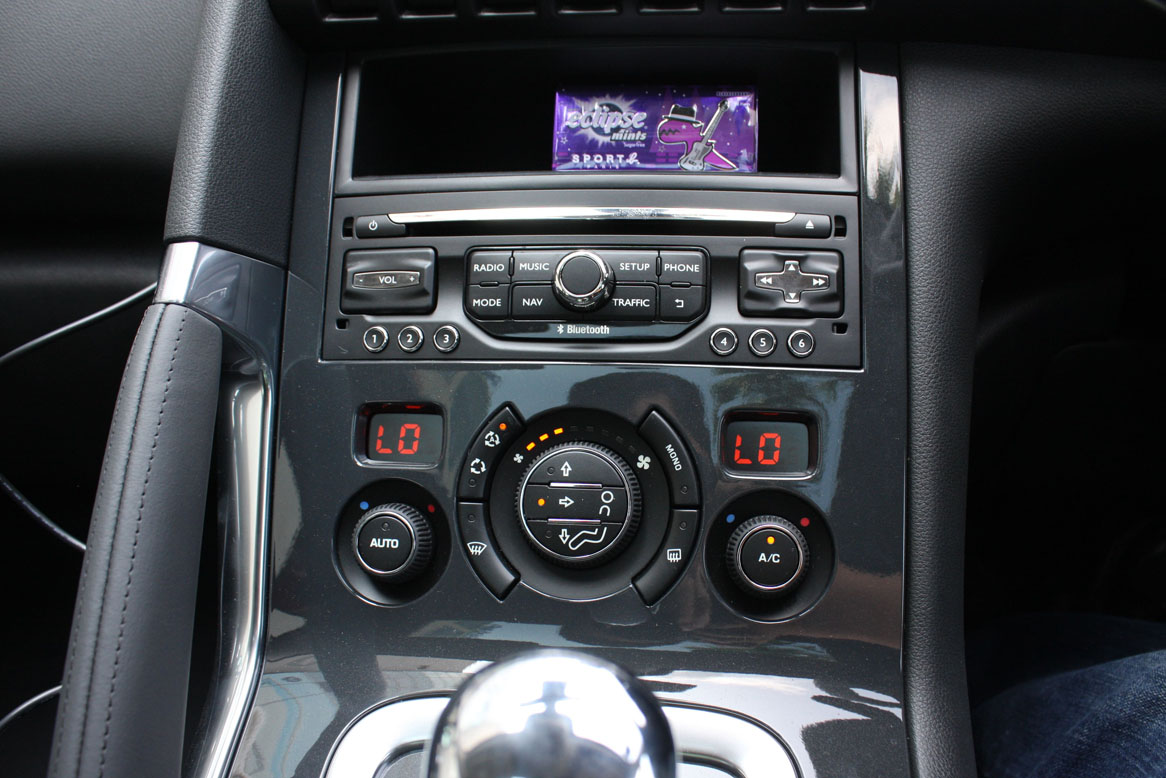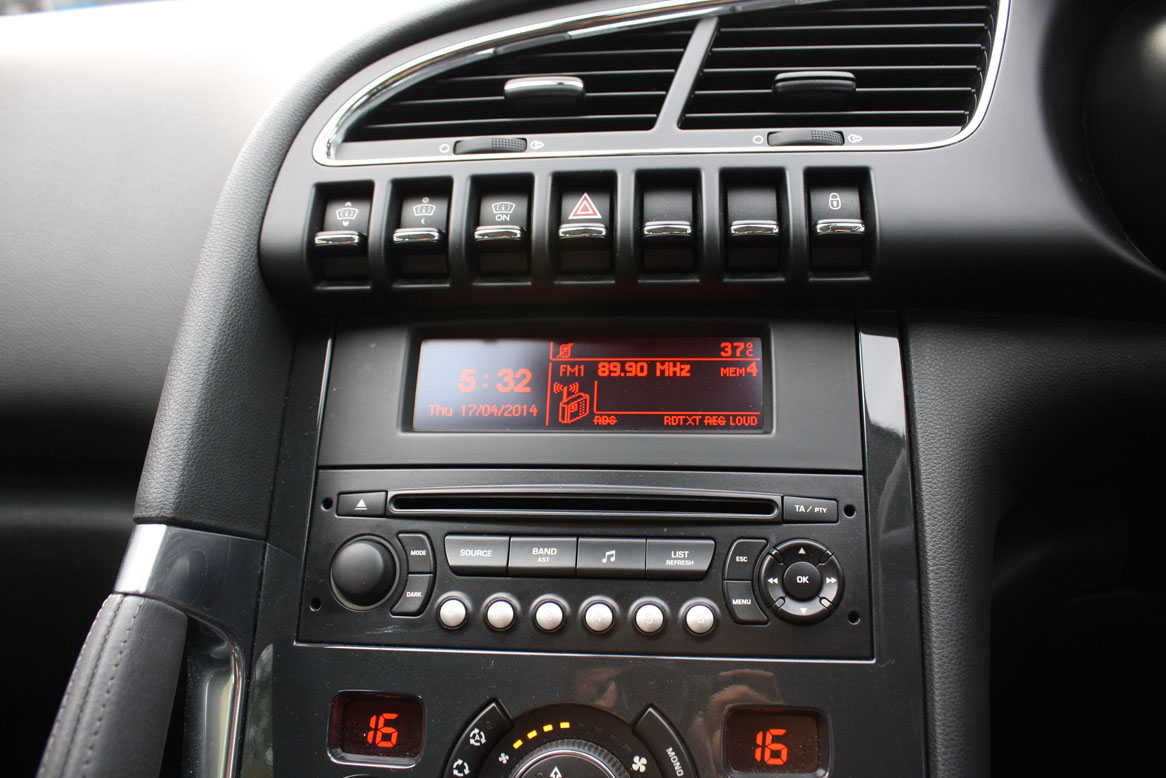 .
The new 3008 also sees a complete redesign of the audio controls. With the 7″ screen, there is no longer a need for a display above the headunit so you'll find a small compartment ideal for phones, smart tags and access cards and the occasional candy. The new head unit have all the buttons well labeled and using it is not an issue but you will need some time to get used to the center knob isn't for volume which is more instinctive so half the time, I was trying to adjust the sound level only to realise I was getting nothing.
.
The knob is the navigation button to access various other functions such as navigation. For example, if you're trying to type a location, you'll have to turn the knob until the selector appears on the alphabet you want before depressing the knob and moving on to the next alphabet. This takes some time and most certainly not recommended to do when you're driving alone. I find the navigation system to be adequate with quite a number of Points of Interest and never had loss of satellite signal  (that's because I didn't go anywhere underground) but the maps does not show traffic direction (not having traffic updates is, of course expected). Those from Penang would know that the roads around Pulau Tikus has been changed and more often than not, the Navi would guide you to one-way lanes. The other issue with the map is you have to know the full name of the street you want to go. In a country where Bahasa Malaya is used as much, if not more than English when labeling street names, you can't just type the name of the road like you always do with Waze or Google Maps; you have to include 'Jalan' or 'Lebuh' or 'Lorong' or XXX Street /Lane before the Navi can find what you're looking for. What's great about the Navi is that since it is projected on the 7″ screen on top of the dashboard, you'll have no problems keeping a level eye with the roads and read the info on the GPS.
.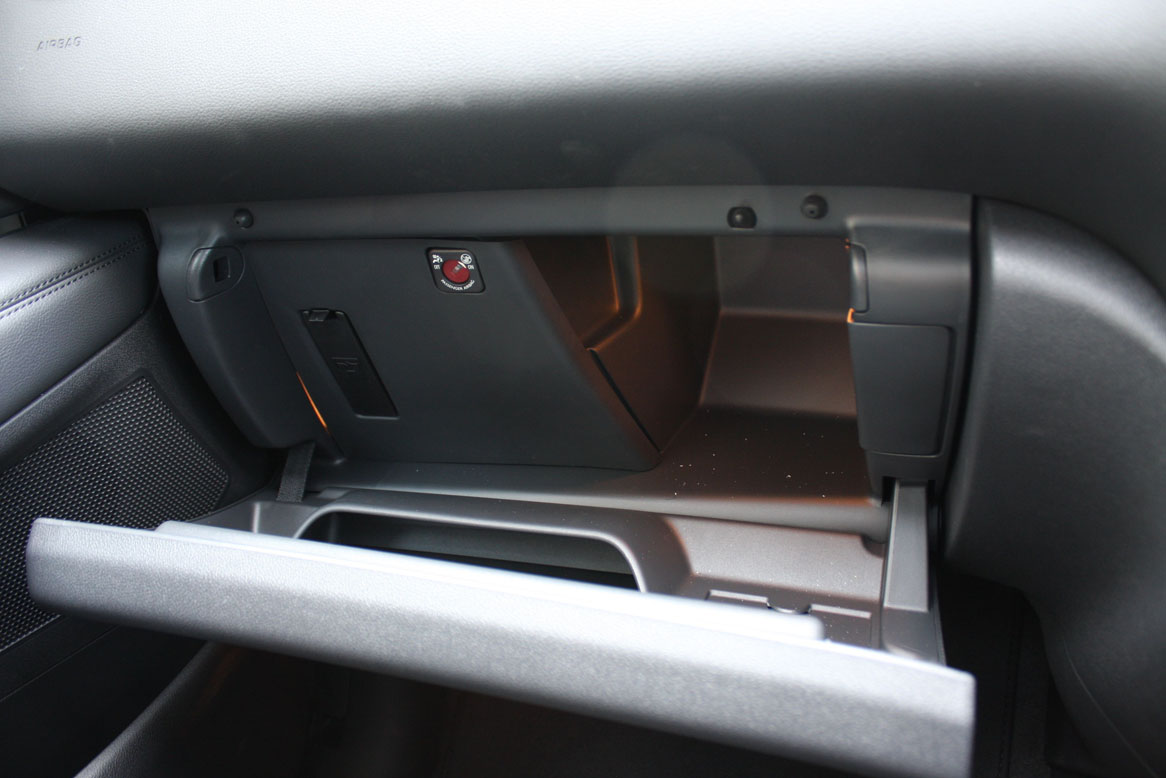 .
Ah, the French – maintaining the left-hand-drive position of the fuse box which compromises on the space of the glove compartment. Also, the center compartment below the arm rest can hold as much as 13.5litres and is ventilated to keep items such as 1.5litre bottles chilled.
.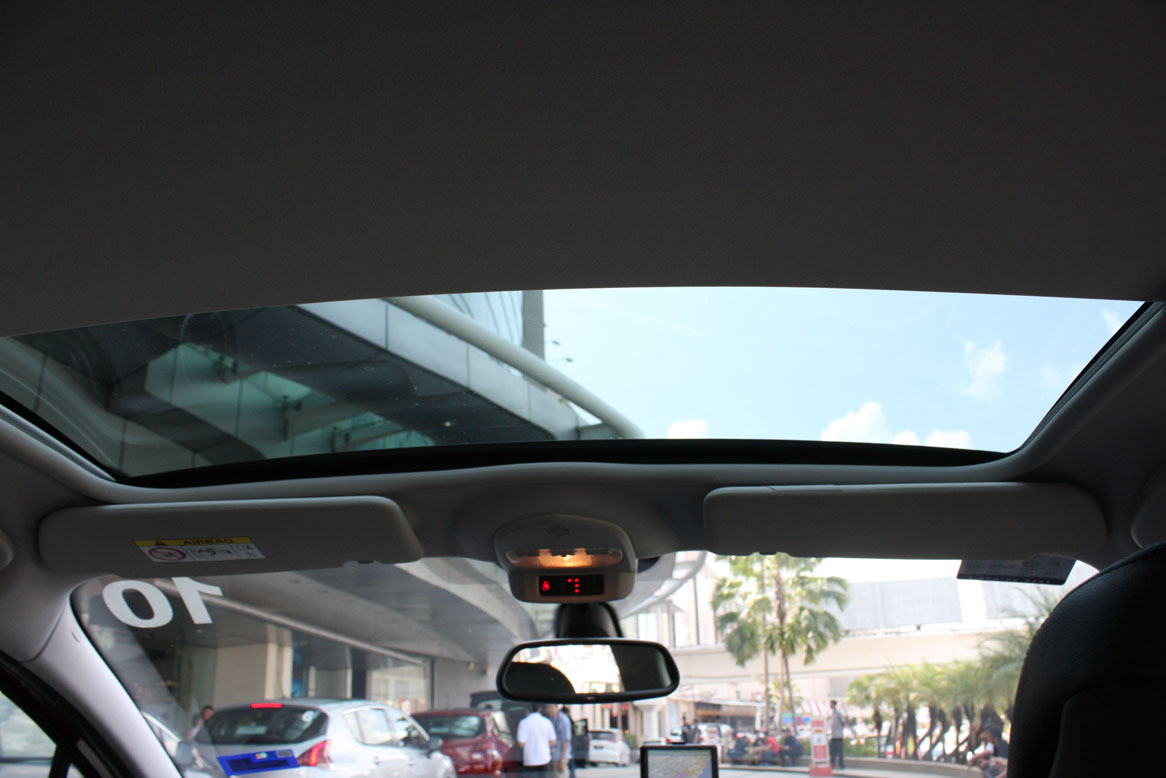 .
Some might disagree with the moonroof as it traps heat and since you cannot open it, the heat won't dissipate as quickly as a vehicle equipped with a sunroof. Personally, I love it as it allows so much natural light into the cabin, something sunroof won't be able to do. As for the heat, well, I've been driving the 308 which also has a moonroof and it didn't bother me much.
.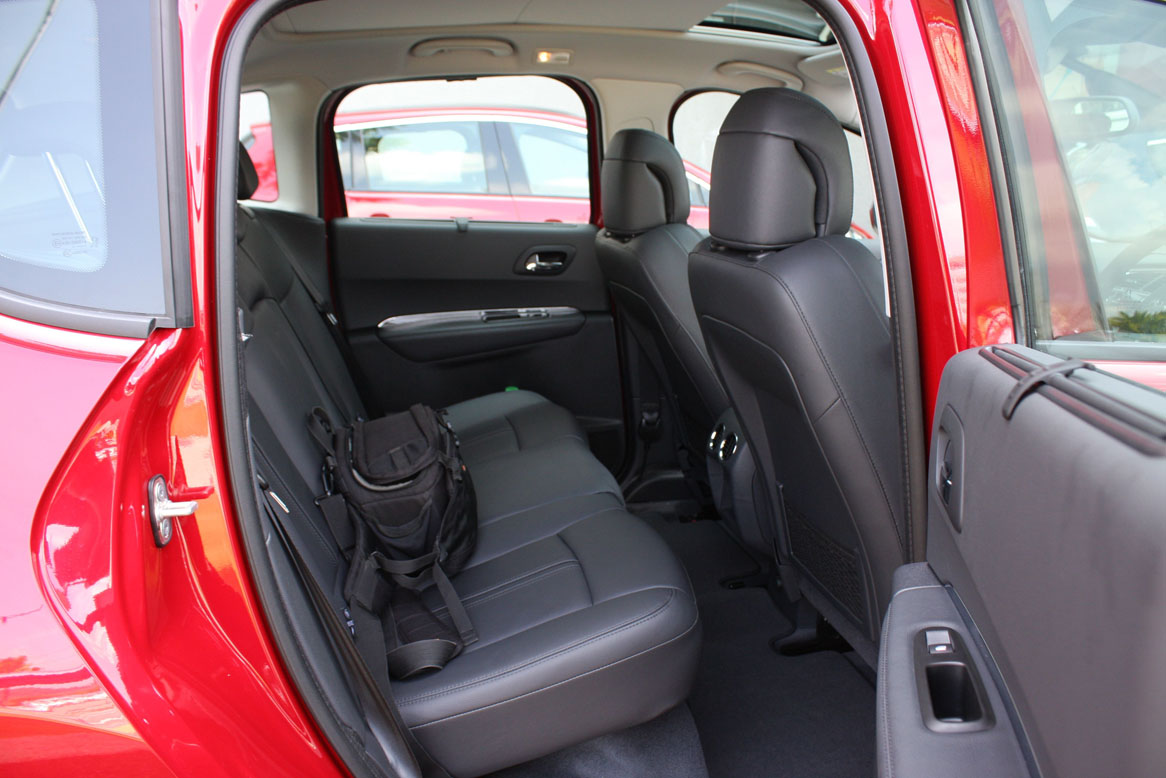 .
With leather seats all-round (and the driver seat is now 8-way electric driven) and an almost flat floor, rear occupants should find it comfortable, unless you're above 6 feet in which case, you'll find the rear legroom to be a little tight.
.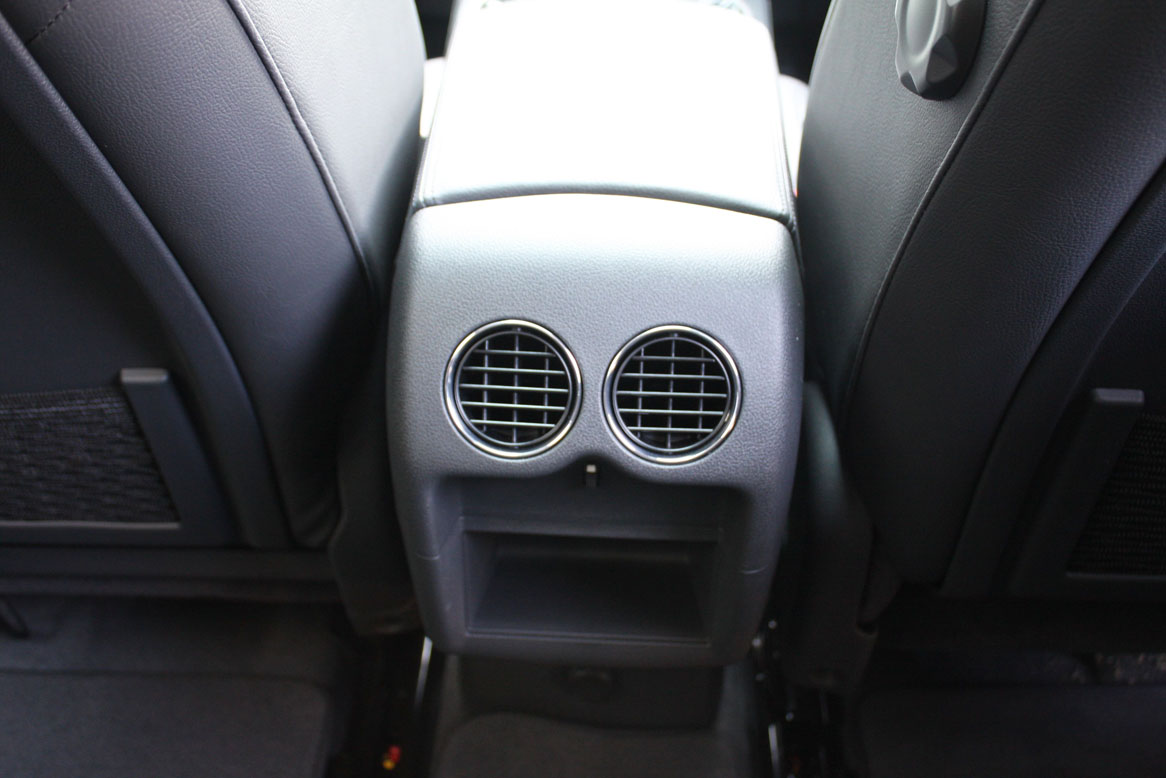 .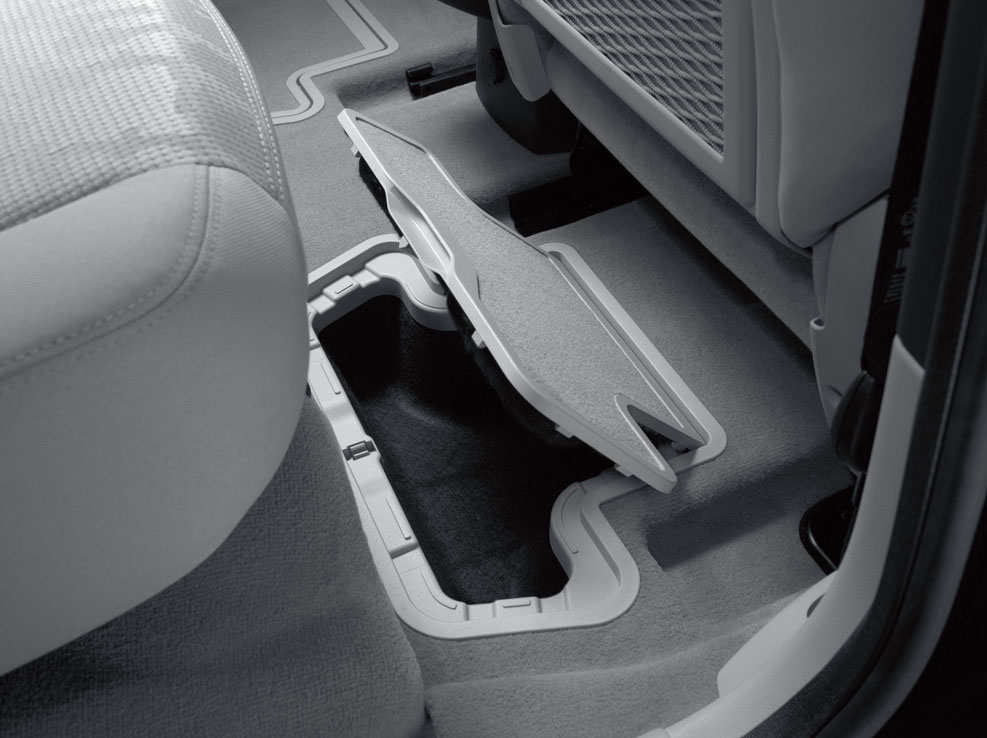 .
If you need to smuggle something, you'll be glad to note that there are secret compartments hidden below the mats on the floor. Not recommended for you to take a piss in there no matter how urgent the need to go to the bathroom on a highway traffic jam. You can find this compartment on left (holds 3.3litres of items) and right (holds 3.8litres of items) side of the rear floor space.
.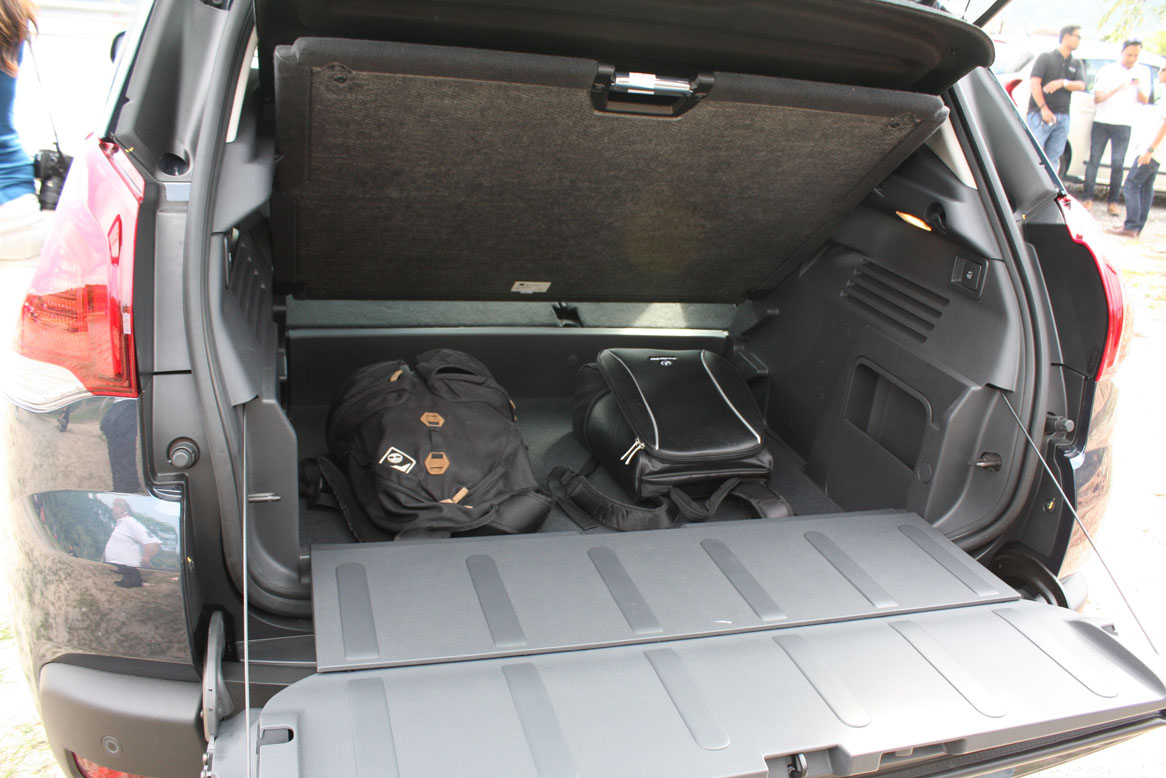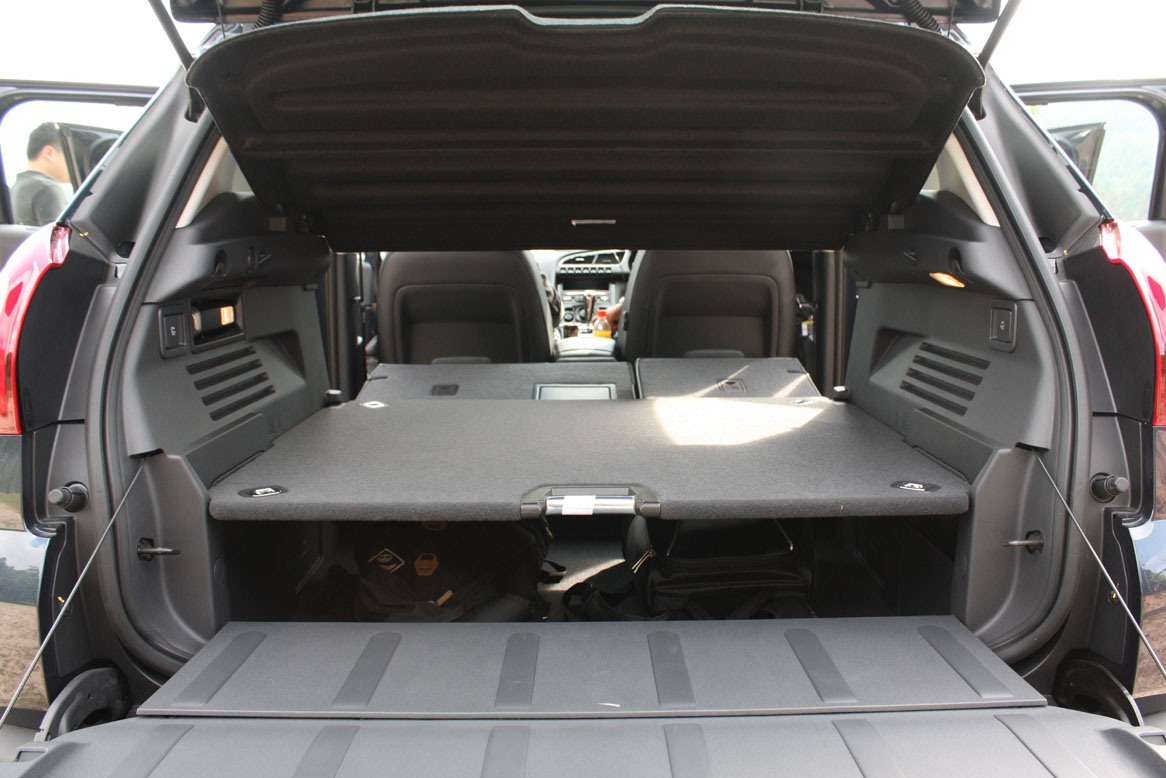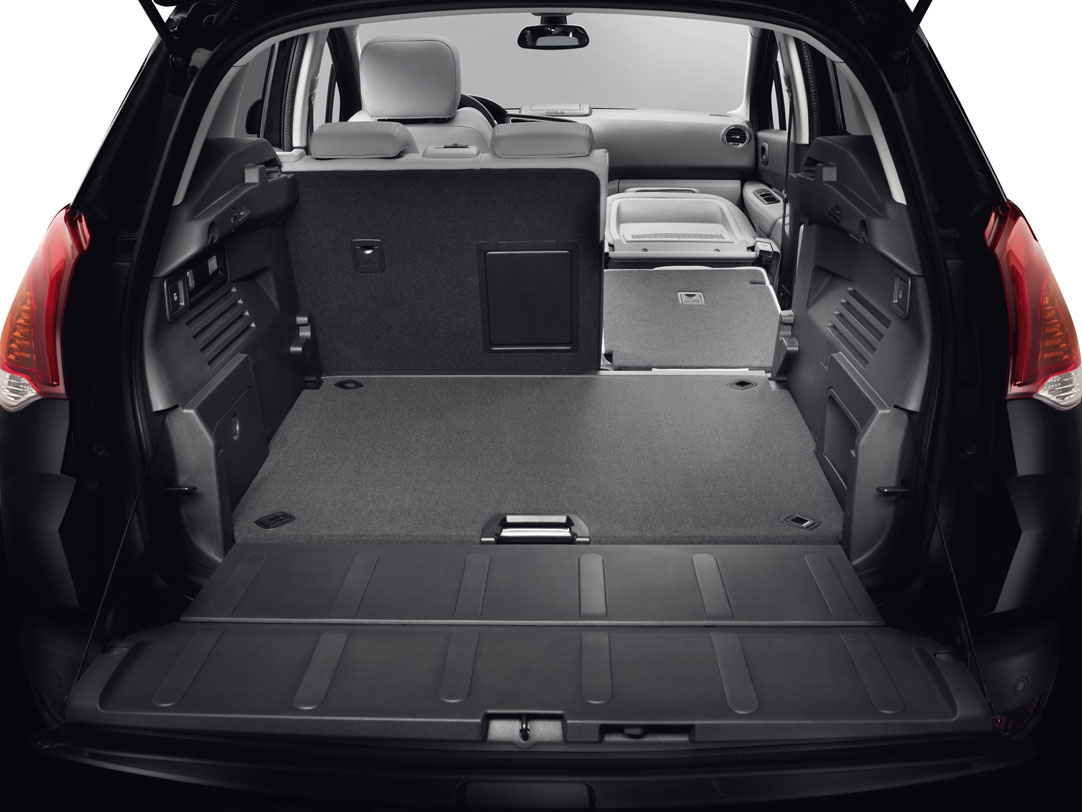 .
Being an SUV, cargo space is excellent with 512litres of space with the rear seats up and can accommodate up to 1,604litres with there rear seats down. The front passenger seat can also be folded flat for long items such as lamp posts. The tailgate can be lowered to allow easier access and can hold up to 200kg of weight. You'll also find a shelf which splits the cargo area into two and this greatly increase the flexibility of the cargo hold to carry items that should not be squashed.
.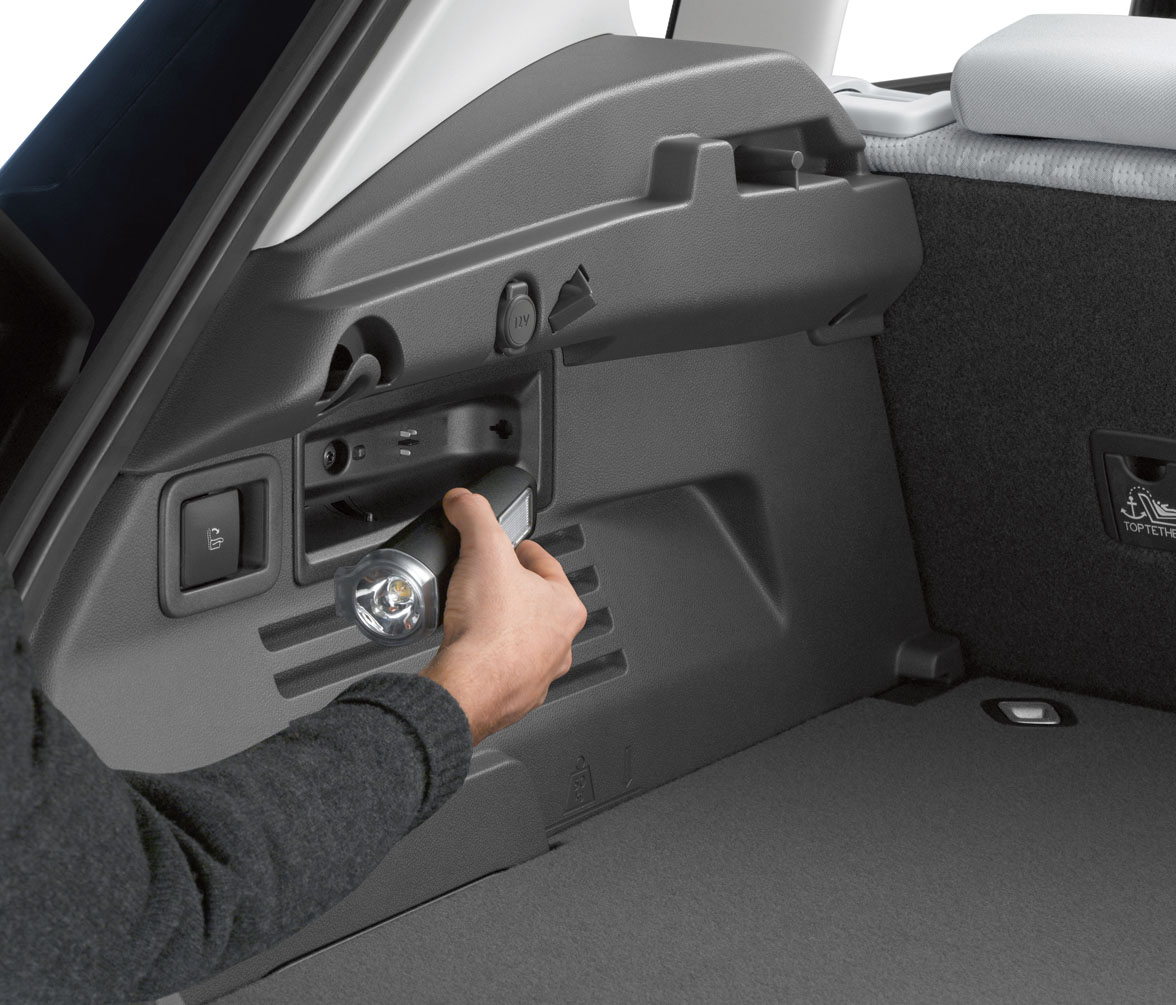 .
Also in the boot area is a rechargeable torch light which doubles up as a cargo light when placed in its housing.
.
.
Safety
.
As it is with all Peugeot vehicles, the safety bar is set high and the 3008 passes it with flying colors. You get:-
.
5-star Euro NCAP safety rating
Front and driver airbags
2 side airbags
2 curtain airbags (total 6 airbags)
Peugeot Hill Start Assist
ESP
ABS
EBD
EBA
ASR
Dynamic Stability Control
Electronic child safety door lock
2 ISOFIX location points (2 outer rear seats)
Auto illumination of rear hazard lights
Deadlocking
Peugeot rolling code transponder immobilizer security
Peugeot Park Assist (front and rear sensor)
ASM (Available Space Parking Management)
Reverse camera
.
.
Specifications
.
Exterior
Dynamic B-xenon advanced lighting system with directional lighting, auto levelling adjustments and auto headlamp washers
LED Daytime Running Lights (DRL)
17″ alloy rims
Front and rear lamps
Headlamps delay security illumination ("Follow Me Home")
Automatic electric folding mirrors with spot lamps
.
Interior
High resolution 7″ retractable color screen with navigation
USB & Bluetooth connectivity
6 speaker system
Automatic Dual Zone air-conditioning system and row 2 air diffusion
Premium luxury leather seats
8 way electric driver seat
Driver seat lumbar and height adjustment
Leather trimmed steering wheel
Leather and chrome trimmed gear knob
Leather trimmed centre console grab handle
Color Head Up Display (HUD)
Automatic Electric Parking Brake
Smart One touch 60:40 foldable rear seats
Flat floor feature from boot to front passenger seat
Multiflex with split tailgate, unique 3 position boot floor area and row 2 seats fold flat
Row 2 side windows retractable sun blinds
Front centre armrest with 13.5litres cold storage
Rear centre armrest with storage compartment and 2 cup holders
Portable rechargeable torchlight
Fingertip audio remote control
Cruise control with speed limiter
Auto dimming rear view mirror
On board computer (speed limiter, cruise control, trip distance recorder, current gear indicator, service indicator, engine oil level, distance recorder, trip computer, time, date, temperature, door opening status and audio sources)
Height and reach adjustable steering
One touch electric power window with anti-pinch feature on all 4 windows
12v power socket
.
.
Maintenance and Ownership
.
The new Peugeot 3008 is launched with the price of RM153,888 OTR inclusive of insurance and comes with a 5-year unlimited mileage warranty. That's asking RM7,000 more compared to its predecessor which puts it as one of the more expensive variant in the compact SUV segment. Against the rest, here's how the new 3008 stands:-
.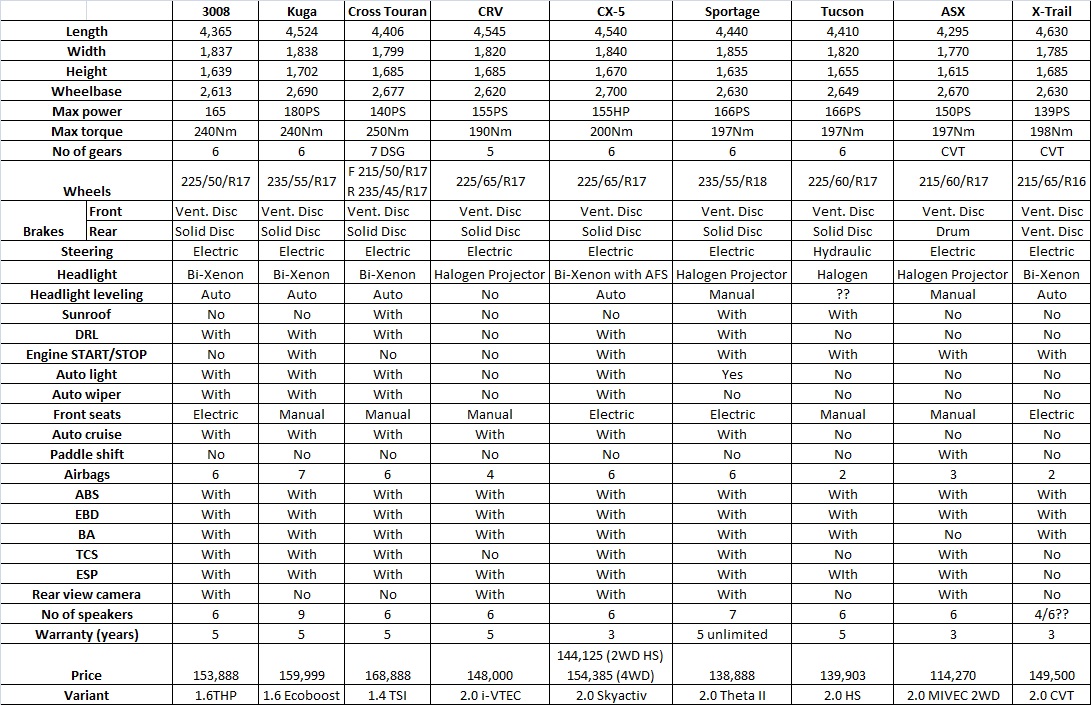 .
Among the continental offerings, the 3008 is the most affordable, coming in third in the list and is the only model without a dual clutch gearbox which isn't a bad thing since we hear so much about low-speed gearbox judder and reliability issues. On that basis alone, the 3008 is certainly worth considering. The main contention, I feel comes from the Asian made models and the Mazda CX-5 has moved up to being one of the more popular choice among Malaysians. Having said that, it does not have the performance figures of the Pug; none of the Asian models have a turbocharger so in a sprint, the continentals would have an edge over them. If you're usually on site-visit and travel on gravel roads, perhaps the full fledged SUVs are a better option. But if your daily routine involves running around in the city, then the 3008 makes a compelling case of being a balance of space, comfort, specification, performance and affordability.
.
.
.