.
Character – that which defines us and separates us as distinct individuals. Whether it's our choice of deodorants or our ability to unerringly find stuffs within our beautiful oganized mess at our desks, we are each unique in our preference and taste. And to some of us, nothing is more insulting than to be called a 'generic' you're-just-like-everyone-else. The same can be said about our cars and what it says about us. With such punitive high car prices, choices of cars that makes up our character are – limited and more often than not, other priorities (such as an unscheduled I'm-Pregnant phenomenon) distracts us from saving enough for the car of our dreams. But the best things about being human is our ability to cope with adversity and make the best out of every lemon that gets thrown at us.
.
So a baby is coming along the way but already up to your neck with monthly commitments? Get a bigger car with a smaller price tag! Sounds contradictory unless you're into pick-up 4x4s but with the wonders of science, added with a pinch of competition and sprinkled with a strong desire to be one of the top leaders in the automotive industry, you can now have the Nissan Almera. And if you want to add a bit of character to your ride, there is the Almero Nissan which features exterior and performance upgrades that'll entice you, your passengers and most importantly, your in-laws
.
Nismo, which stands for Nissan Motor Sports is the go-faster division of Nissan. Established in 1984, it's goal is simply; to bring acclamation in the motor sports foray worldwide for Nissan. On the Almera, it won't do much to improve 0-100kph times but it will deliver driving enjoyment and safety which fulfilling the enthusiast' desire for individuality, as stated by Mr Tan Keng Meng, Director of Marketing & Product Planning during the launch of the Nissan Almero NISMO Performance Package at the KL International Motorshow 2013. And Mr Tan wasn't exaggerating.
.
.
Design
.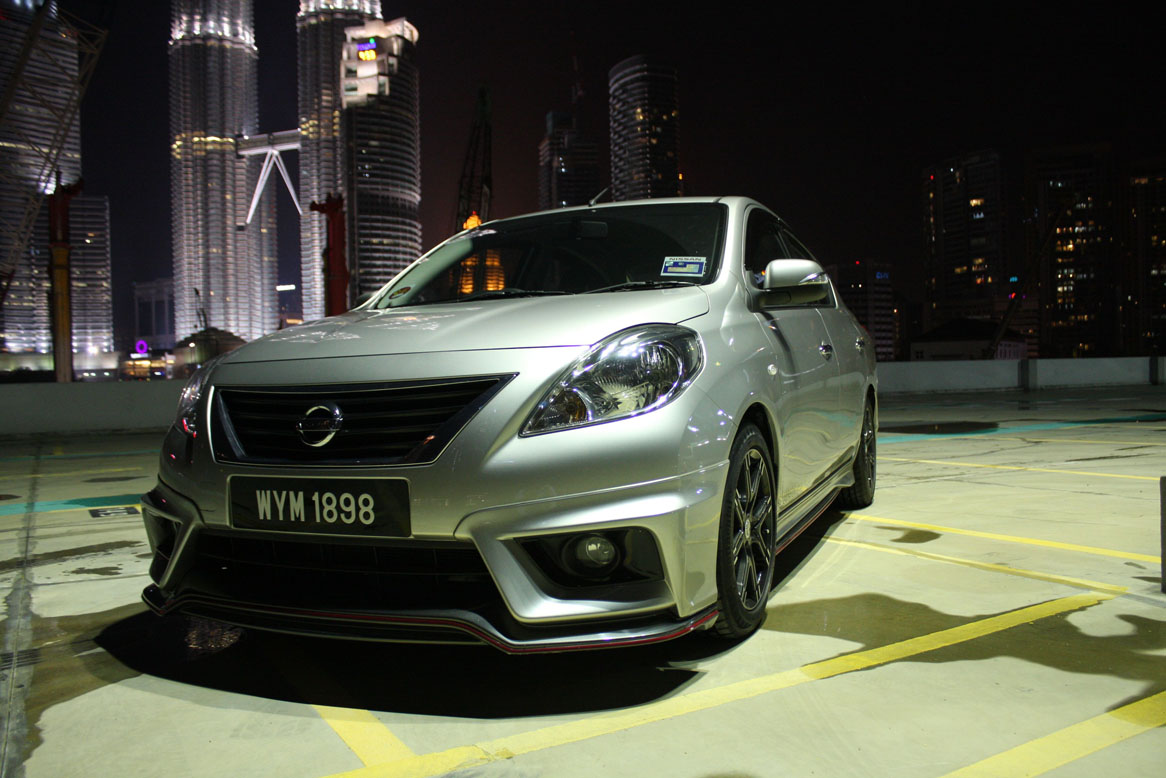 .
In stock form, you can't really say the Almera is unattractive. But neither can you call it an emotional-stirring piece of machinery. It's a functional family B segment sedan that does what it's supposed to do, unpretentious to some, a tad dull looking. Personally for me, I don't see anything wrong that that. People seem to forget that dull ages gracefully and give it 10 years, you'll still feel the love for the Almera you bought a decade ago each morning when you open your doors to it. But some people, in their quest to "enhance" the appeal of their rides adds all sorts of exterior bits. There's nothing wrong with that except not everyone is artistically gifted enough to be an automotive designer. More often than not, you end up with a plate of something that tried hard to look good but resulted in something overcook, overdone and looking something more at home in a circus rather than your porch.
.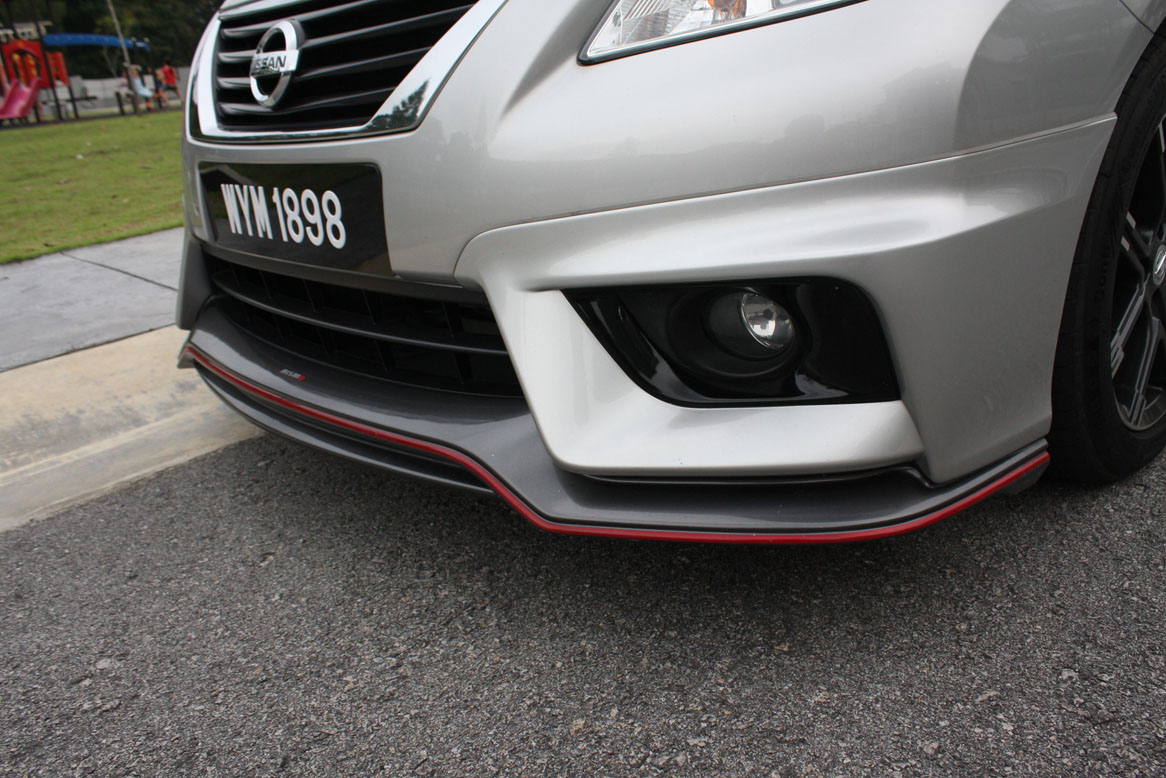 .
With the NISMO Aerokit, the designers did a fine job of enhancing the car's stock form rather than going overboard and shifting the focus from the car to the kit. The kit's red lining with black motif is designed to reduce lift and drag, resulting in improved aerodynamics and road holding. From the font, you'll find the Nismo Front Bumper spoiler that follows the curvature of the 'X' front fascia. The bad thing about a lip as pronounced as this is that it has a tendency to kiss ramps and when you couple that with the NISMO Performance Suspension System which lowers the car by approximately 30mm, it pays for you to be extra cautious when going into multi-storey parking areas like malls and condominiums.
.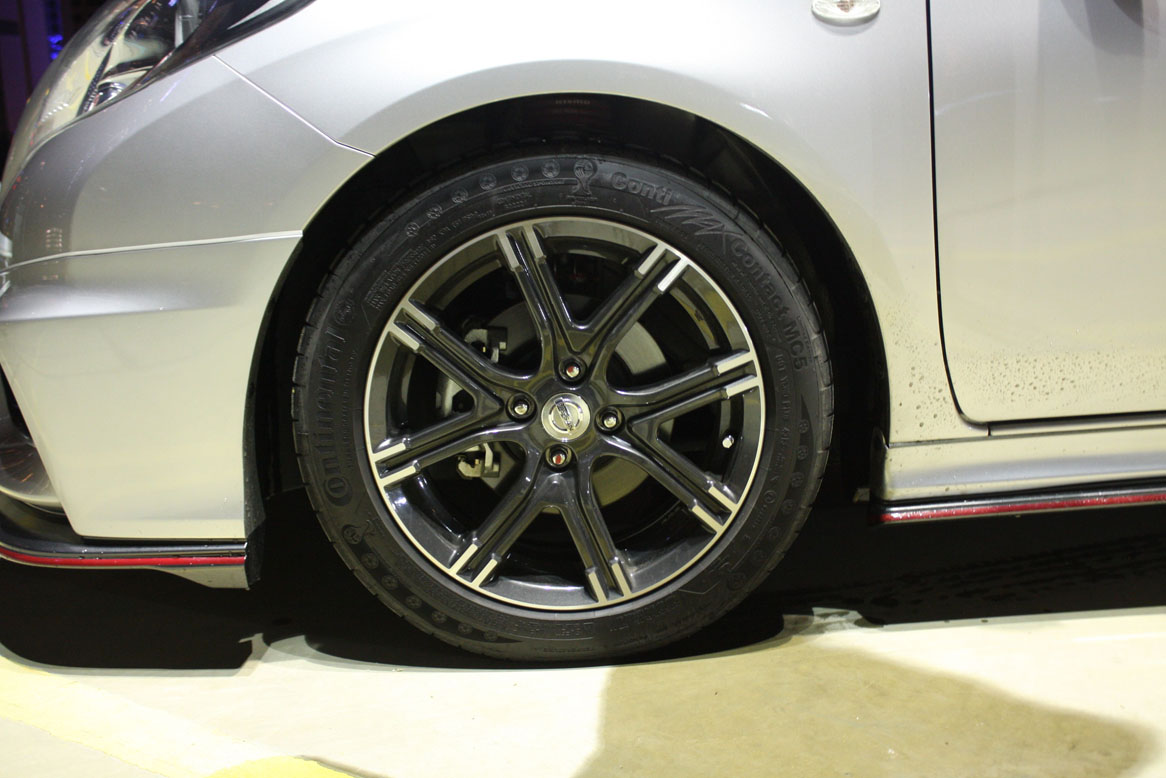 .
Measuring 4,425mm in length, 1,695mm in width and 1,510mm in height with a wheelbase of 2,600mm, the Almera boasts one of the best rear legrooms in the segment. Seriously, how many B segments can you sit behind with your legs crossed?  Seen from the sides, the NISMO side skirts makes the car look lowered and enhances the car's purposeful stance with it's lower front and higher boot line.
.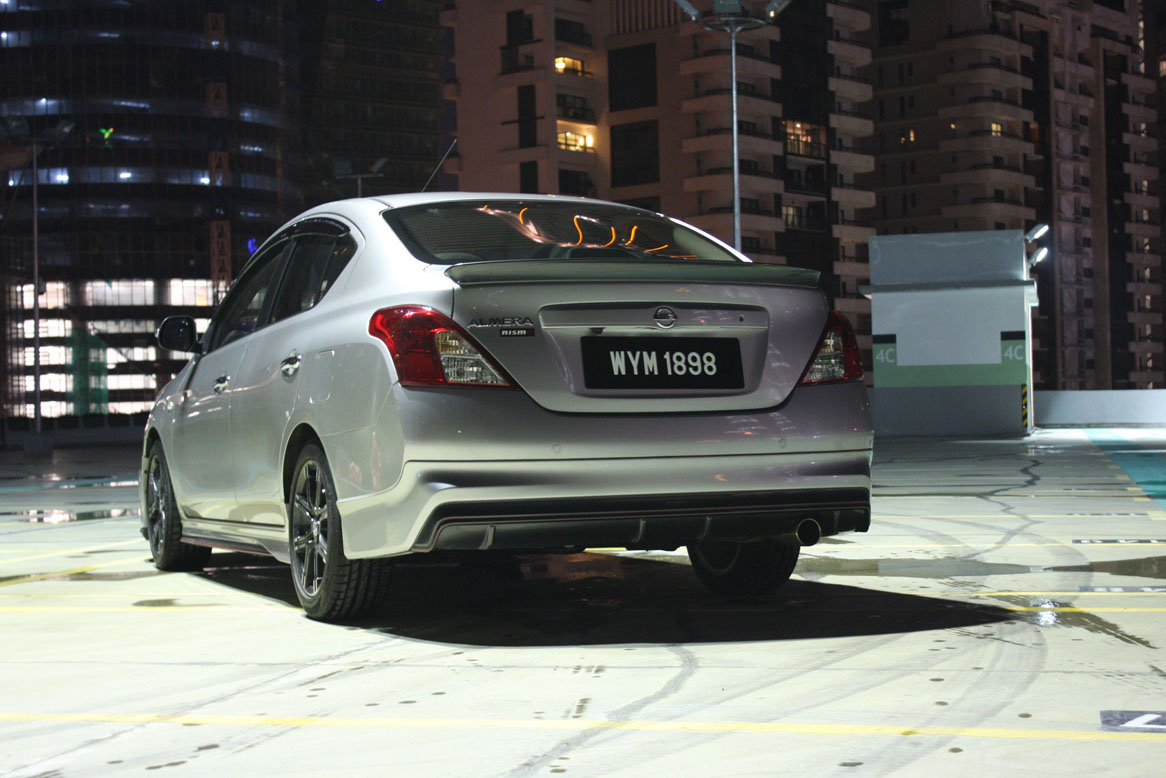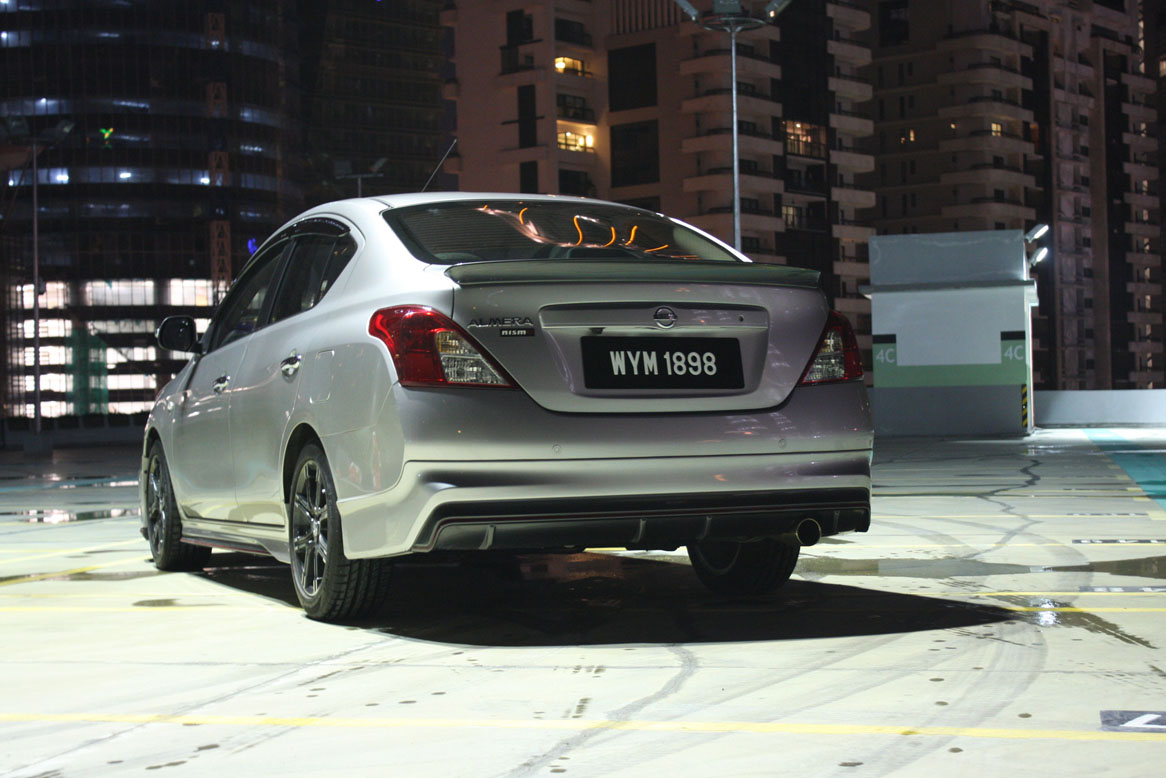 .
The rear spoiler and side skirts completes the Aerokit design for a final result that tastefully done and not to the point of being called Ah-Beng.
.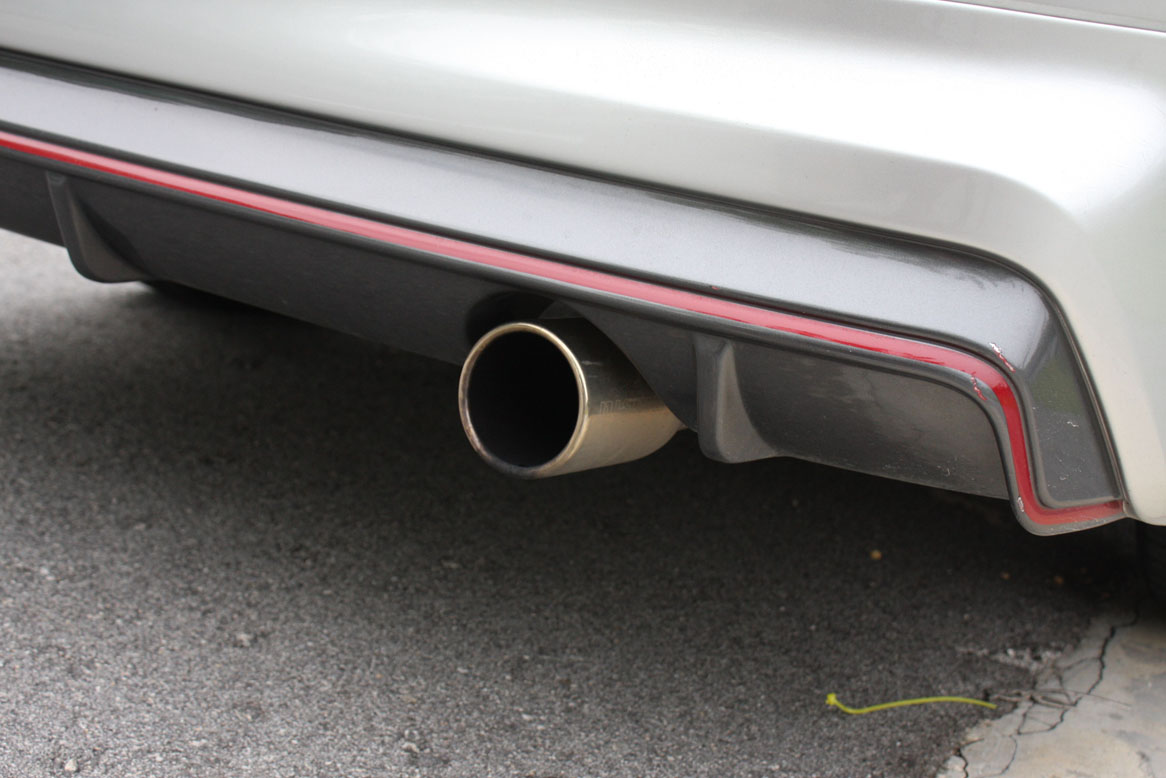 .
NISMO Sports exhaust muffler adds a note of excitement whenever you press the pedals. The result is a low, bassy rumble that makes you feel like you're driving a car with a much higher engine displacement but not too loud to the point of waking up the baby each time when you want to drive out to meet your buddies on football night outs. It's not just all sounds, mind you – the muffler provides less restrictive airflow which, in turn makes the engine more responsive.
.
.
Performance
.
.
 No change to the 1.5litre CVTC four-cylinder engine. You still get 101hp @6,000rpm and 139Nm @ 4,000rpm (albeit now you'll have a sportier exhaust note). The Almera is meant to be driven sensibly so don't expect it to perform like a GTR when springing from the traffic lights.
.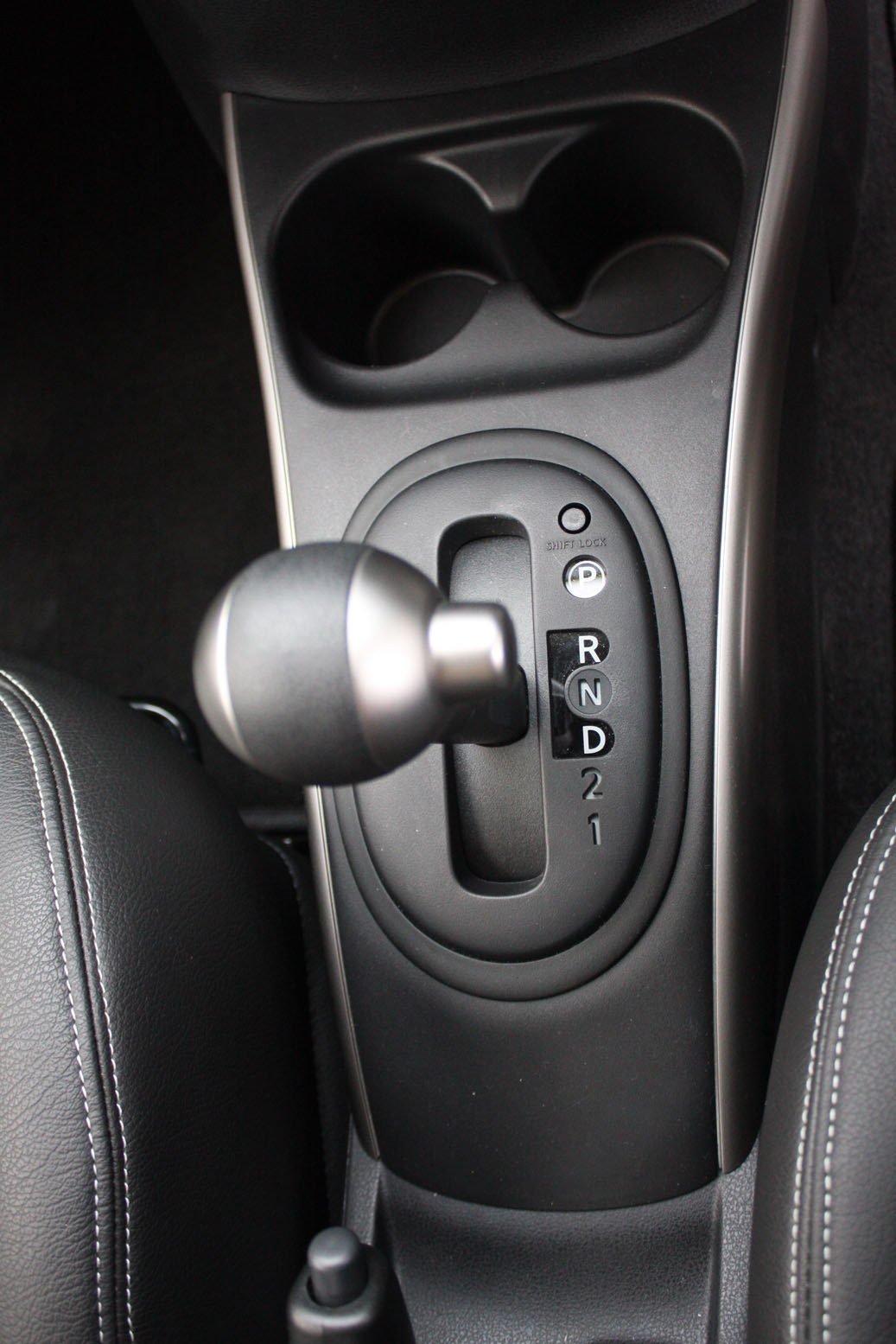 .
Paired to a 4-speed conventional automatic torque converter, it's performance isn't something to shout about but Nissan never did position the Almera as a high performance vehicle anyway. There aren't any official century sprint time but let's just say it'll still climb Genting Highlands if there is a need to do so – you might be slower than the infamous Genting Nissan taxies but you'll get there in due time.
.
.
Ride and Handling
.
Only one word can describe how the NISMO Almera handles; brilliant! We've heard bad reviews about how trashy earlier Impul suspension systems are and that's perfectly understandable. If you want less body roll, you sacrifice comfort. Yet the folks at NISMO has found the magical formula to tether the Almera in a zen state between confidence-inspiring corner attacks and cushioning occupants from all but the worst potholes and road irregularities. The NISMO Performance Suspension System coupled with 205/50 R16 Continental Max Contact MC5  is certainly firmer than the stock system but the trade off with the risk of spilling your agar-agar while on the move is small and it's priceless when compared to the endless fun of surprising other Japanese B segment makes.
.
Noise level isn't the best around and in this regard, some continental makes and the Almera's biggest competitor, the new Honda City scores better – but hey, you asked for the sports exhaust muffler for a reason, right? Not being able to enjoy the muffler soundtrack would be like buying a Blu-Ray disc but playing it on a non-HD TV. Nevertheless, the engine does sound workmanlike when pushed and more often than not, you would need to push it in situations like joining traffic on a highway
.
Anyways, it's too bad that people tend to emphasize more on aesthetics rather than function so the Aerokits sells a lot faster than the suspension. Hey, it's your money so don't let anyone tell you how to spend it – unless, your home minister wife is also acting finance minister back home in which case you should propose the make based on room for the family to grow and some other goodies found inside.
.
.
Cabin Convenience
.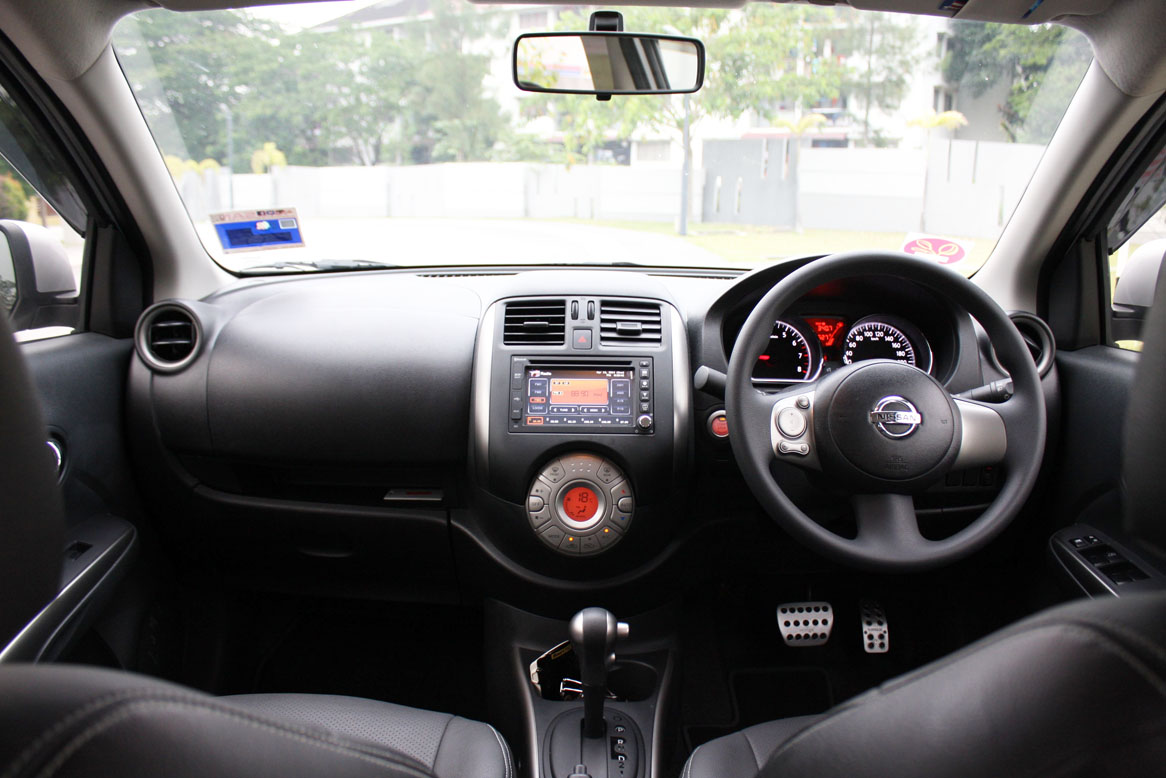 .
If it isn't apparent enough for you, the overall black/silver theme is made up of hard plastics. But that's ok because it's what you'd expect from vehicles of this segment. And the circular designs found at the center airconditioning controls, side air conditioning vents steering wheel and its controls – the last time I saw so many of them was crop circles in US farms.
.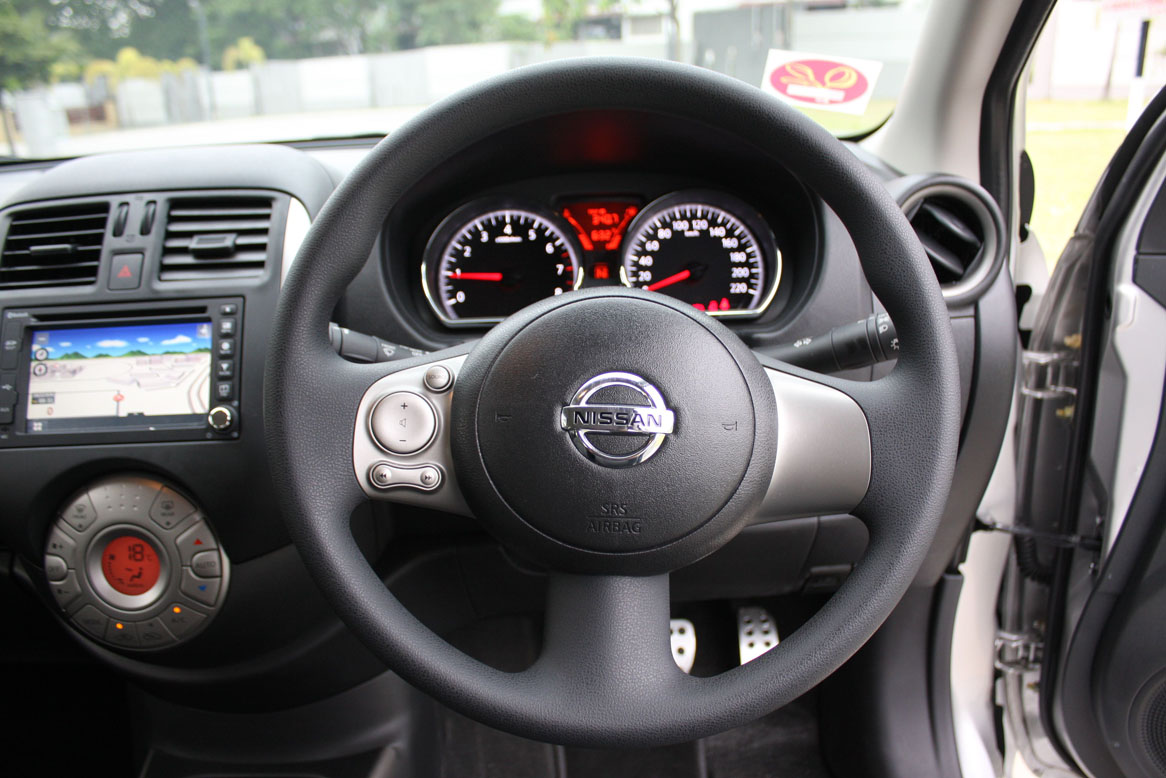 .
The steering is about as no-nonsense as my old chemistry teacher but it's light and easy to manipulate. Perfect for the city driver.
.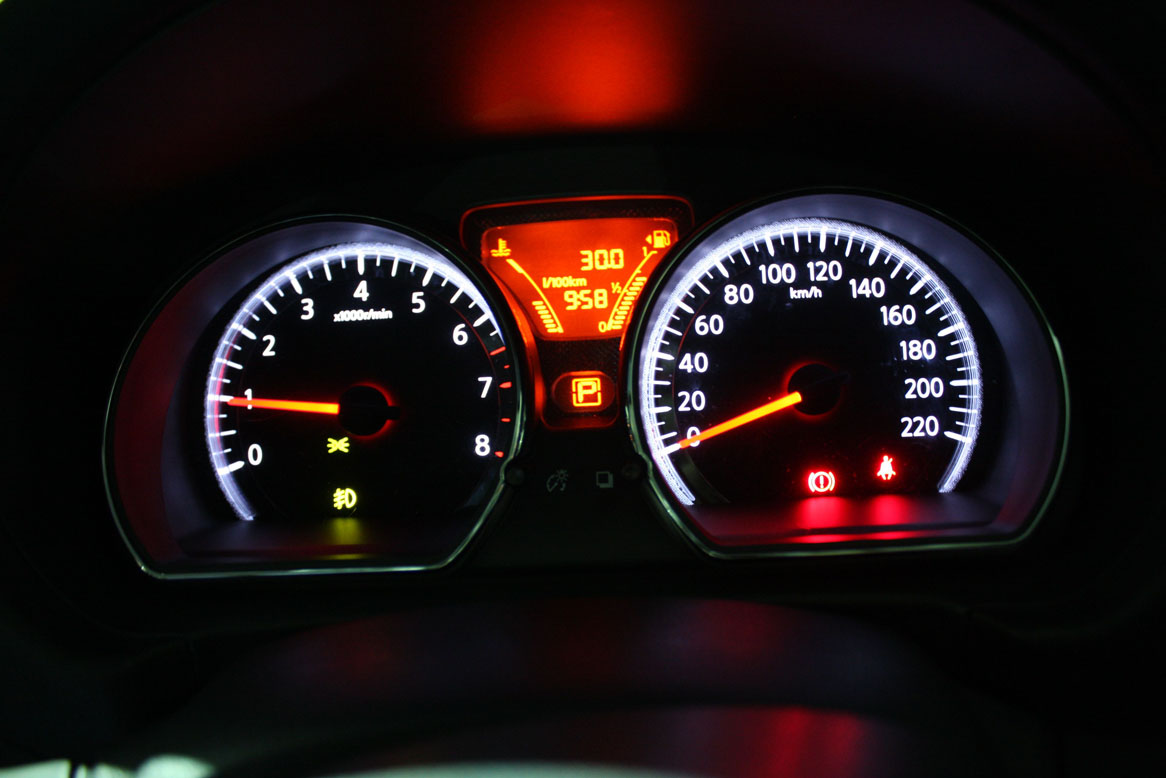 .
The meters are clear and easy read in both dark and bright afternoon sunlight.
.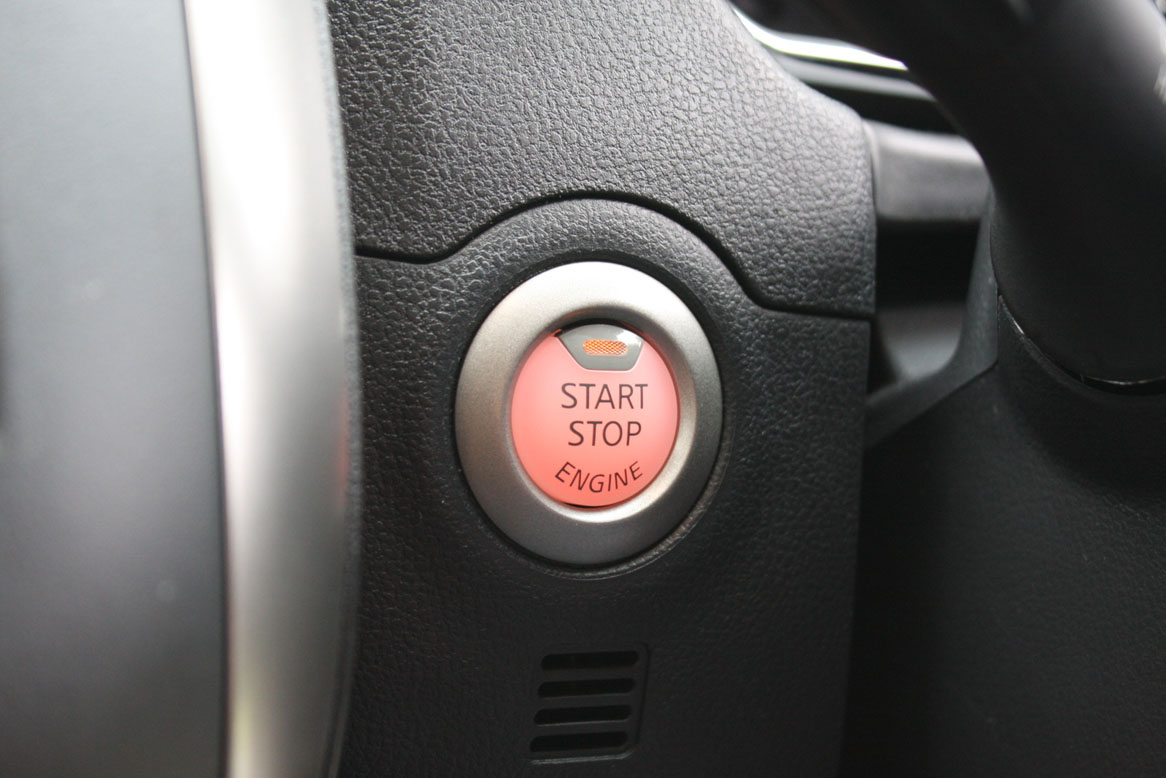 .
Keyless entry and Push Start/Stop; a must have in today's modern vehicle. Does wonders in elevating the safety of single females when collecting their cars and lazy people like me who's got all sorts of rubbish in my pockets and finding the right key can be a hassle.
.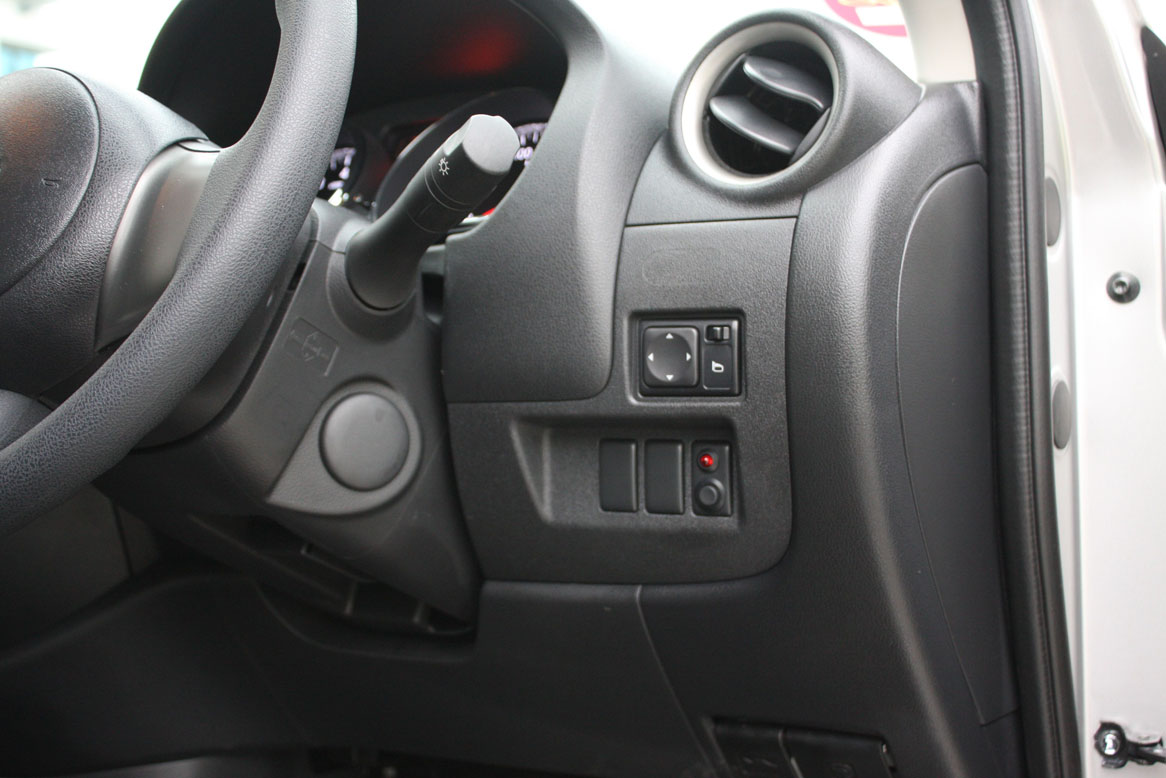 .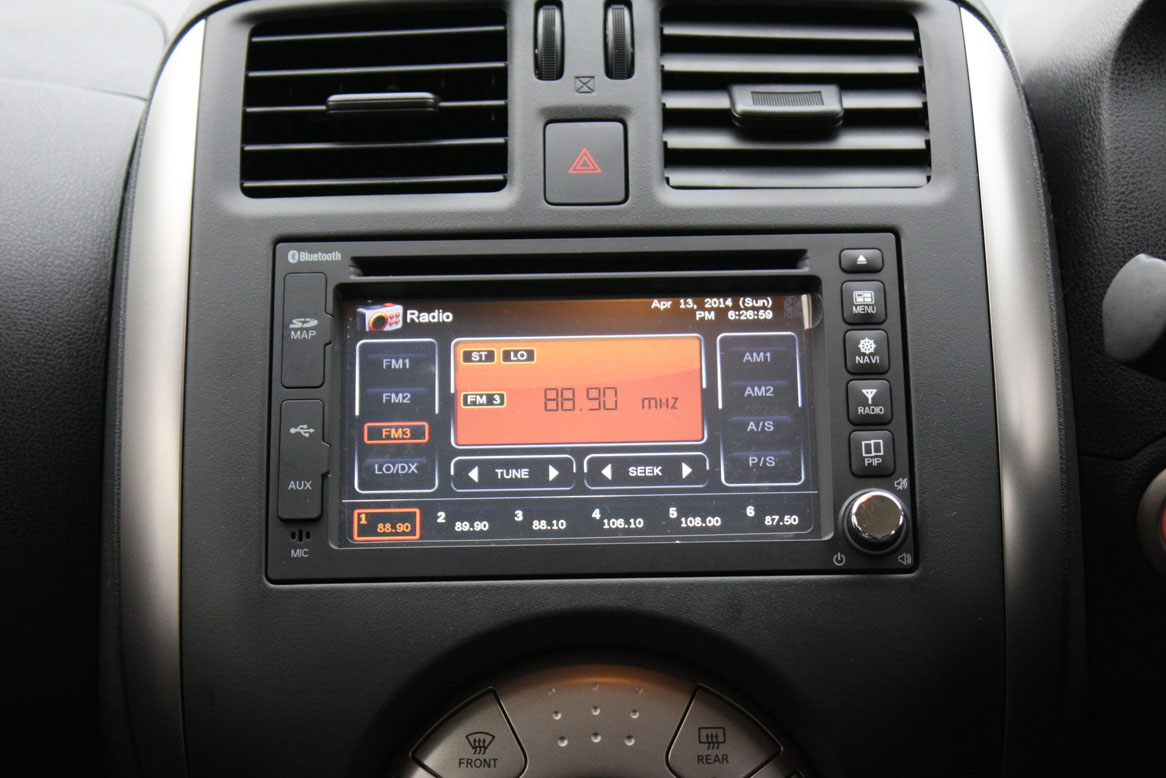 .
What you're looking at in the picture above is an RM2,800 optional multimedia navigation system complete with reverse camera display, DVD, iPod, USB and Bluetooth. Sound is played through a 4-speaker system. If it is one additional modification you want to make with the Almera, it's to add a pair of tweeters on top of the dashboard. The sound reproduction on the stock audio system is diffused and since it all comes from the side doors, much of the clarify and staging is lost. The tweets will being the sound up and make drives more enjoyable.
.
P.S: kensomuse disavows all responsibility of any electrical warranty being void as a result of this modification. Learn more from your local Nissan dealerships.
.
.
Some call it the IronMan display but we all know the new IronMan has a rectangular chest now, don't we? Anyways, the controls are intuitive enough to know what they do; just need to get used to where the buttons are located as we are used to a horizontal configuration as found in most vehicles.
.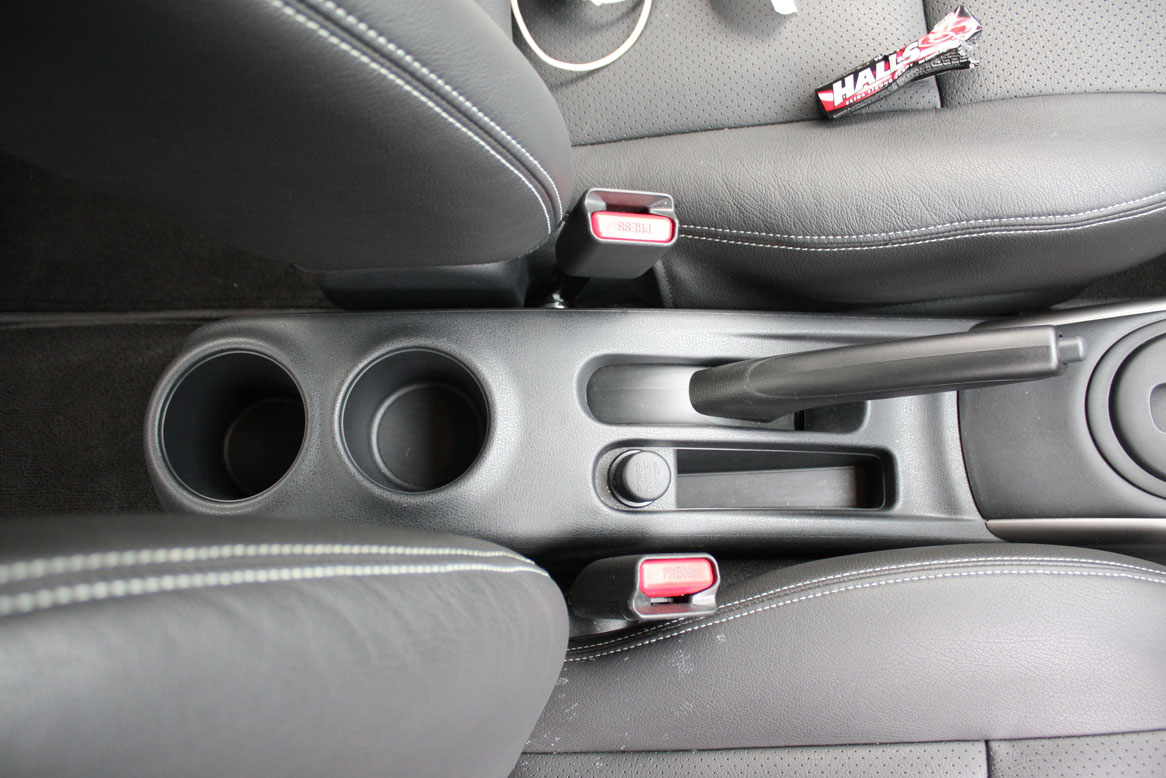 .
Adding to 2 more cupholders found in front of the gearstick/below the air conditioning controls, you'll find 2 more cup holders between the front seats.
.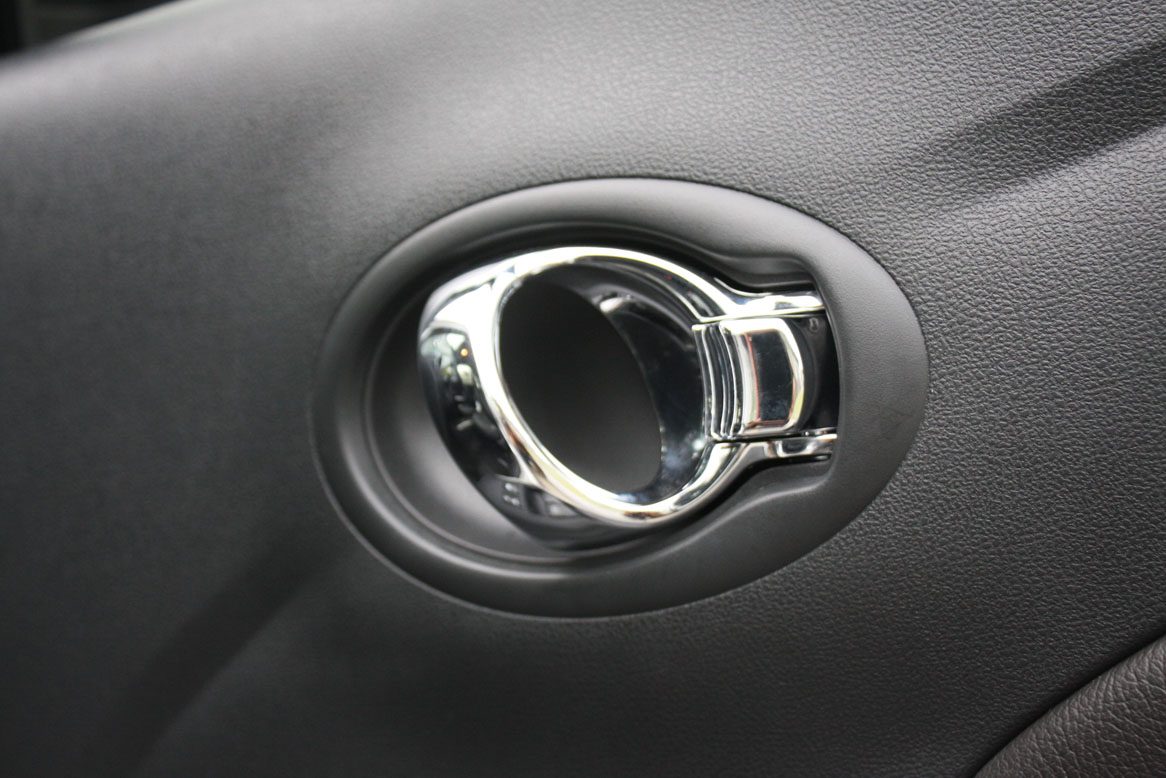 .
More crop circles … this time, found in the form of door handles. Does look rather stylish, no?
.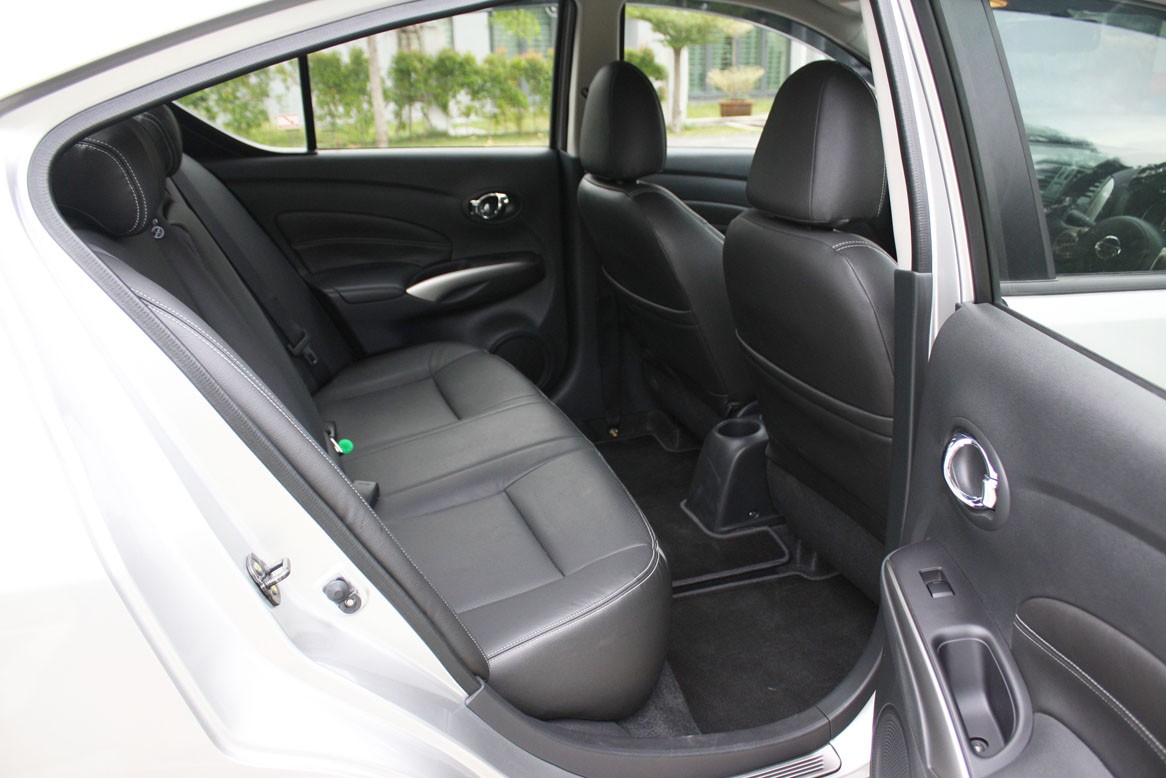 .
Now this is the real party piece of the Almera! Check out the humongous rear legroom space. I actually have a picture of me crossing my leg sitting at the back but since I was warned the last time I posted a picture of me in shorts and slippers, it got certain fans a little too excited so I'd better not. You'll just have to take my word for it or try it out yourself at the showrooms. Pity there aren't any rear air conditioning vents but for a car this size, it may not be that important.
.
Leather seats are an optional RM1,800 item.
.
.
Boot space is huge – as much as 490litres of space can be had in here. A pity the rear seats cannot be folded down but for as much as it can swallow, you might not need the rear seats much unless you're transporting furniture from Ikea. Btw, the trunk tray you see here is an optional RM180 item.
.
.
Ownership and Maintenance
.
The Nissan Almera is offered under 3 variant guises: the lower priced E spec, the middle V spec and the priciest VL spec. Among them, only the E spec comes with either 5-speed manual or 4-speed automatic transmission. The model as tested here is the VL and costs RM79,827 equipped with the Premium Navi Package (RM6,000 extra) which consists of:-
.
LED stainless steel kicking plate
LED wing mirror signal light
Door visor
Trunk tray
Sport pedal
Combination leather seat and door panel
Solar Gard Amorcoat tint
6″ Multimedia navigation with rear view camera, DVD player, iPod connectivity, USB & Bluetooth
.
Then, you add the following Almera NISMO packages:-
.
Aerokit (includes front bumper spoiler, rear bumper spoiler, side skirts and trunk lid spoiler) – RM3,600
NISMO 16″ alloy wheels (set of 4) – RM2,800
Continental Max Contact MC5 tires (set of 4) – RM1,600
NISMO Sports Exhaust Muffler – RM2,000
NISMO Performance Suspension System – RM3,000
.
Buying them as a set (Items 1,2 & 3 in the NISMO Aero Package and all 5 items in the NISMO Performance Package) is the same price as purchasing them separately so you can do it one at a time if you like.
.
Additionally, you can also order additional NISMO parts such as carbon fibre door mirror cover, Alcantara trimmed steering wheel with red stiching and red center-mark at 12 o'clock, sports seats with red stitching and NISMO logo and carpet mat with red stitching and NISMO logo. For pricing of the addtional items, please contact NISMO Department of Edaran Tan Chong Motor Sdn Bhd at nismo@tanchong.com.my or call 03-4047 8786
.
So, is it worth owning?
.
Let's go straight to the point and address the pink elephant in the room: ever since the new Honda City was launched, everything in the B segment sedan market has changed. The City challenged the boundaries of space, spec and price and with over 10,000 bookings within a month, everyone else has to re-look at their business case. Both makes positions cabin space as the primary selling point of their cars (Honda even goes as far as to say the City's cabin space is bigger than a Toyota Camry's) but the City scores a little better in terms of interior width and slightly better rear legroom. In terms of NVH, the City is also better.
.
But the problem with the City to a select few is that it has (or will soon be) ubiquitous, so common to be seen everywhere. While that's fine for the average family man, where's the character to be seen in one when there's so many on the streets? Also, the CVT gearbox in the City does not provide as much ummph as the Almera (and this is despite us finding the Almera's performance not too stellar to begin with). So if it's practicality you want and don't want to spend too much on a car, you won't go wrong with either the City or the Almera. But if it's character, road presence and distinction you wish to add to the practicality, then up the budget and get the Almera NISMO.
.
And please order one with the NISMO performance suspension system. That box of option should be made mandatory to be ticked.
.
.