.
It was surprising to note that it has already been 5 years since the Volvo XC60 first set foot in Malaysia. The reason why it's such a surprise is because the XC60 still looks fresh and modern and it was considered one of the key vehicles in opening up new markets for Volvo. In other words, it was one of the first Volvo models that brought potential buyers who may have had the "boring but safe" Volvo perception into the showroom and walk out with that perception permanently changed.
.
The Volvos of today are stylishly modern, practical and enduring and rarely would a young executive be labeled as having "uncle" taste if seen driving one. Volvo retains its position as one of the key players in offering cutting-edge safety technology while introducing contemporary Swedish design and craftmanship, a combination that looks set in establishing Volvo as a more mainstream option for those seeking premium marques.
.
"The trend moves closer towards cars that are both functional and luxurious. The new XC60 was designed to not only meet those demands, but provide a more cost-effecient option in the market. This is in-line with our goal of making luxury affordable and accessible to consumers," states Keith Schafer, Managing Director of Volvo Car Malaysia.
And the new XC60 sits at the bow for this push and here's why;-
.
.
Design
.
.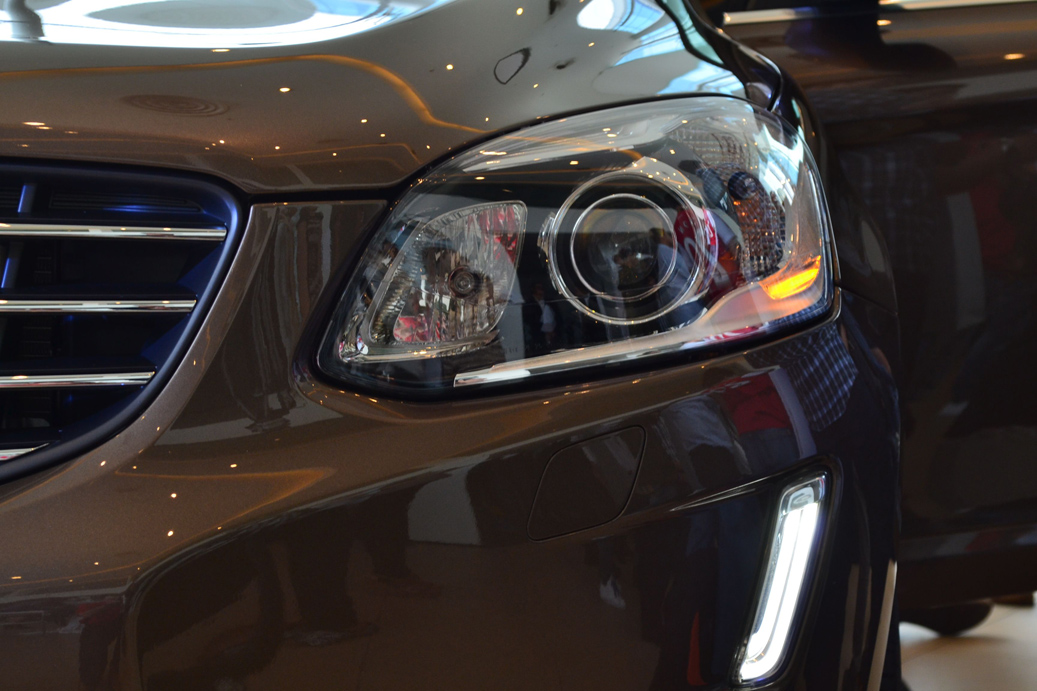 .
Exterior-wise, you can't mistaken the XC60 for what it is and the most telling difference between the older model and the new is the repositioned LED Daytime Running Lights which are now housed in the lower bumper instead of beside the grille. The bumper itself is new, with the anodised chrome bits forming a frown instead of a smile in the predecessor. The hood is now bulged with ridges forming 'U' on the bonnet.
.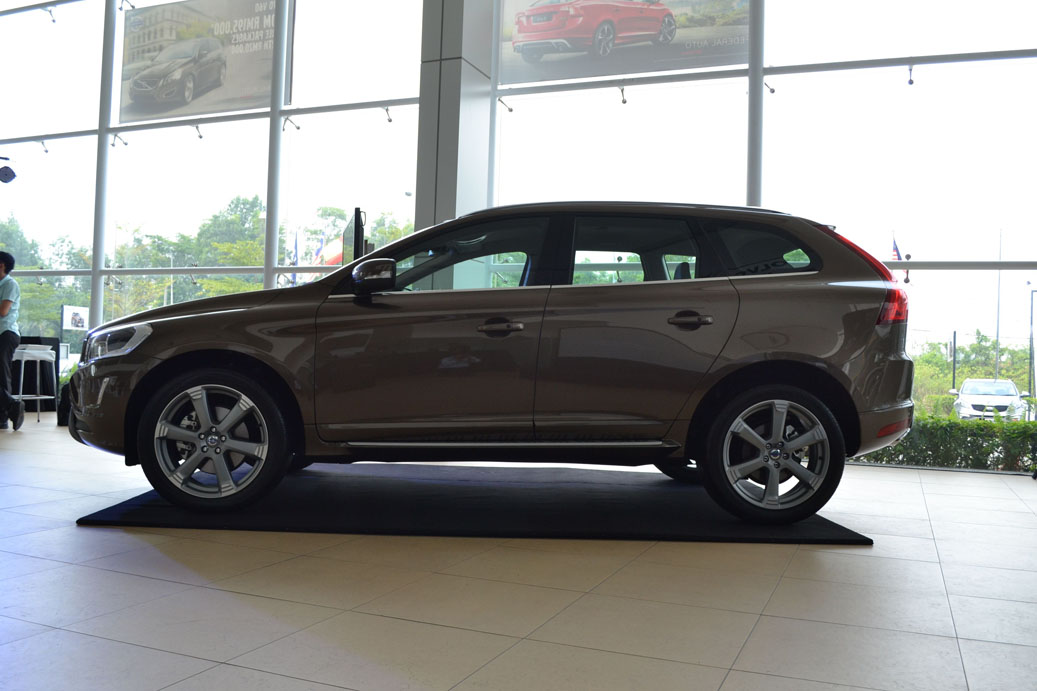 .
Dimension-wise, it's the same. The new XC60 measures 4,644mm in length, 1,891mm in width and 1,713mm in height with a wheelbase of 2,774mm.
.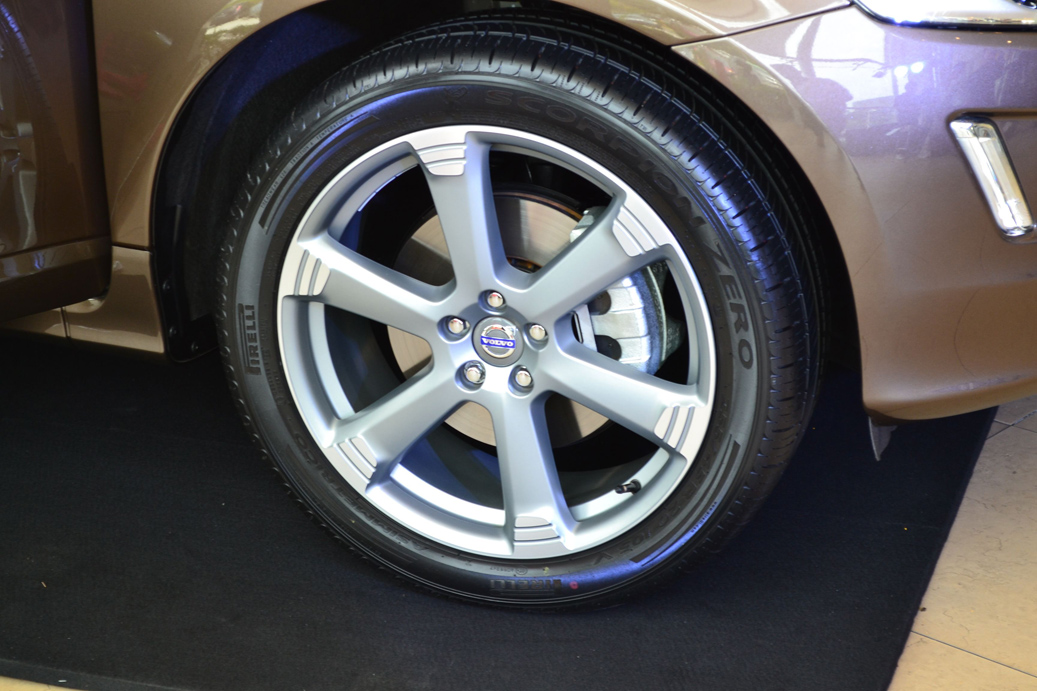 .
.
Behind, the tailpipes are integrated with the diffuser and also a chrome bar sits prominently above the number plate.
.
.
Performance
.
.
 There are some buyers out there who emphasise on the age of the engine believing that the newer its technology, the longer its relevance, hence more "future proof". Such buyers would then find the new XC60 to be immensely appealing thanks to its all-new, highly anticipated Drive-E powertrain, a modular engine platform that complements future Volvos buit on the Scalable Product Architecture.
.
What's Drive-E and why is it so important to Volvo? Here's a few reasons;-
Like all manufacturers, multiple engine are created for various models. Prior to Drive-E, there are 8 engine variants in Volvo's line-up (some shared with Ford). The Drive-E architecture is in-house developed and features just 2; a petrol and a diesel.
The Drive-E engine is a modular engine. Think of it as a complex piece of Lego where you can built on top of the base model to change the power output. This would allow far greater economies of scale in production and logistics.
Drive-E engines are 4-cylinders and compared to some 6-cylinder engines found in Volvo, it's a lot smaller and lighter, allowing greater flexibility in pairing with various models, improved fuel economy and so forth.
.
The new XC60 is the first Volvo model to feature a Drive-E engine with a power output of 245hp @ 5,500rpm and a maximum torque of 350Nm @ 1,500-4,800rpm. The engine is paired to an Aisin-sourced 8-speed Geartronic automatic gearbox (replacing the 6-speed dual clutch in the earlier model) and the car has a top speed of 210kph and a fuel consumption of 6.7litres/100km in a combined cycle.
.
.
Cabin Convenience
.
.
The XC60 not only looks good in the outside, it's a pleasure to be inside on too. Most of what was found in the previous XC60 is found here too with the exception of steering mounted paddle shifters and, if you've ticked the VIDAR option which is the Adaptive Digital Display, you'll find a new meter that changes its display according to which mode you choose (Elegance, Eco and Performance).
.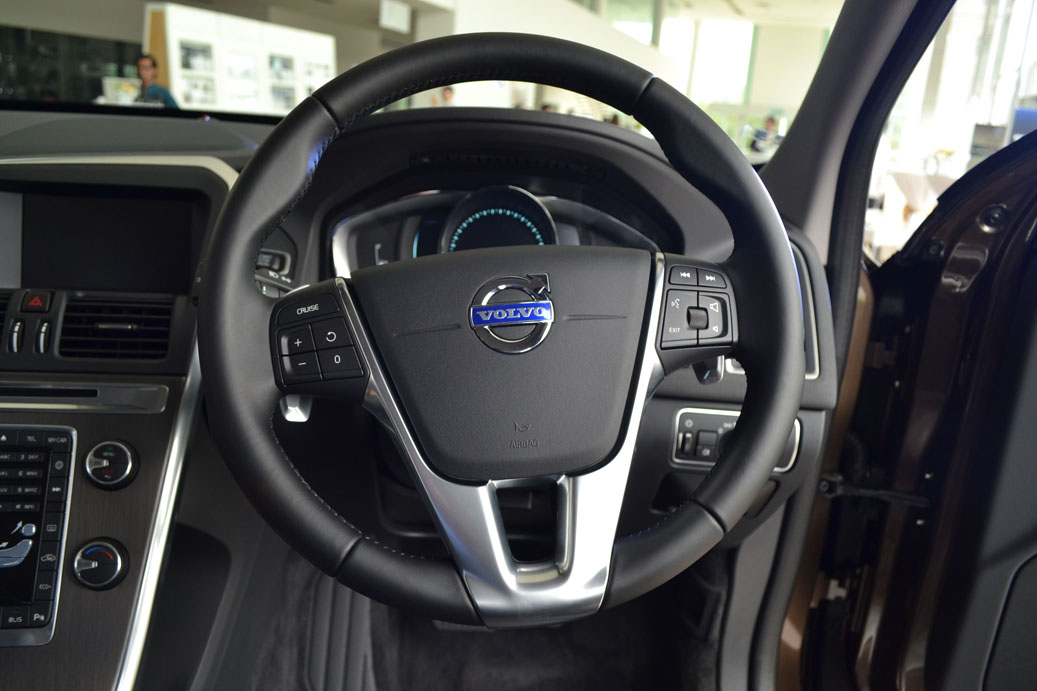 .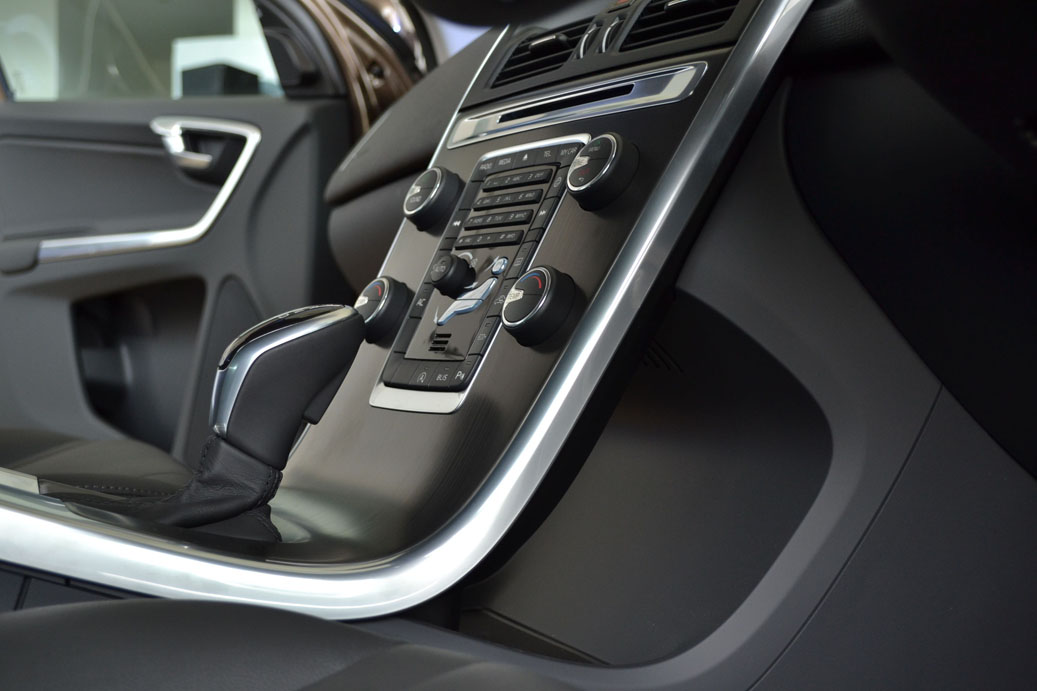 .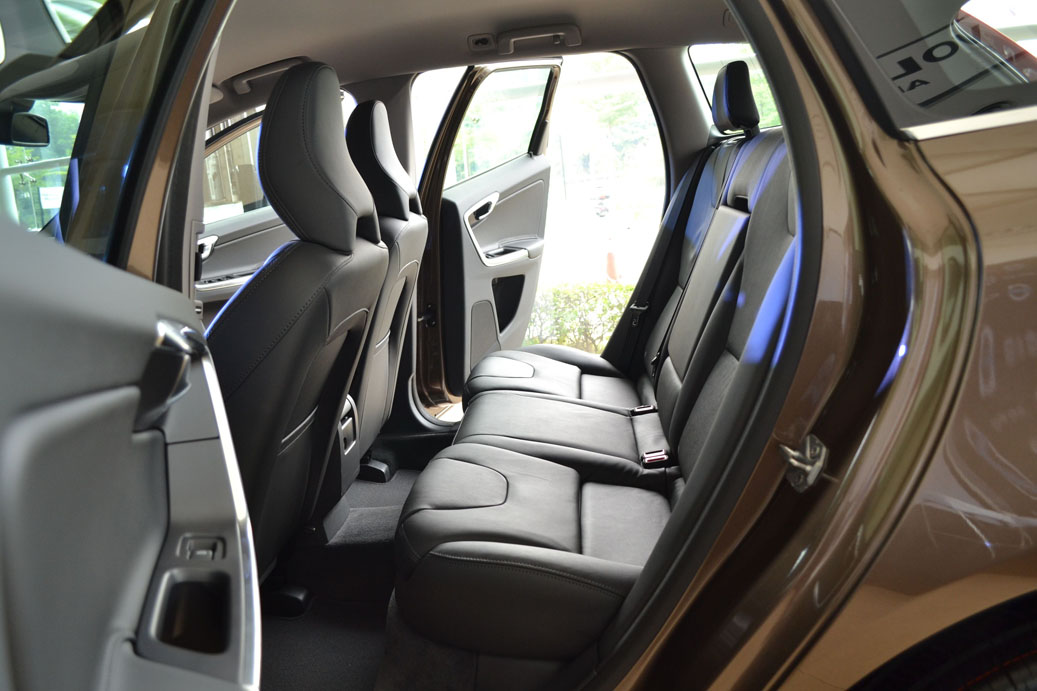 .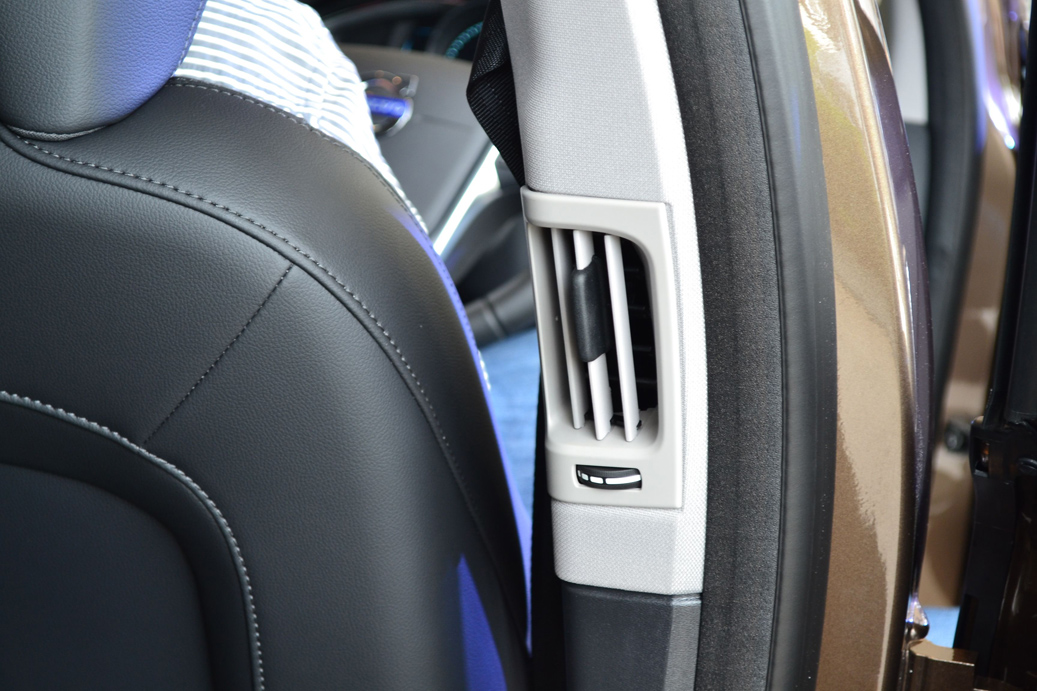 .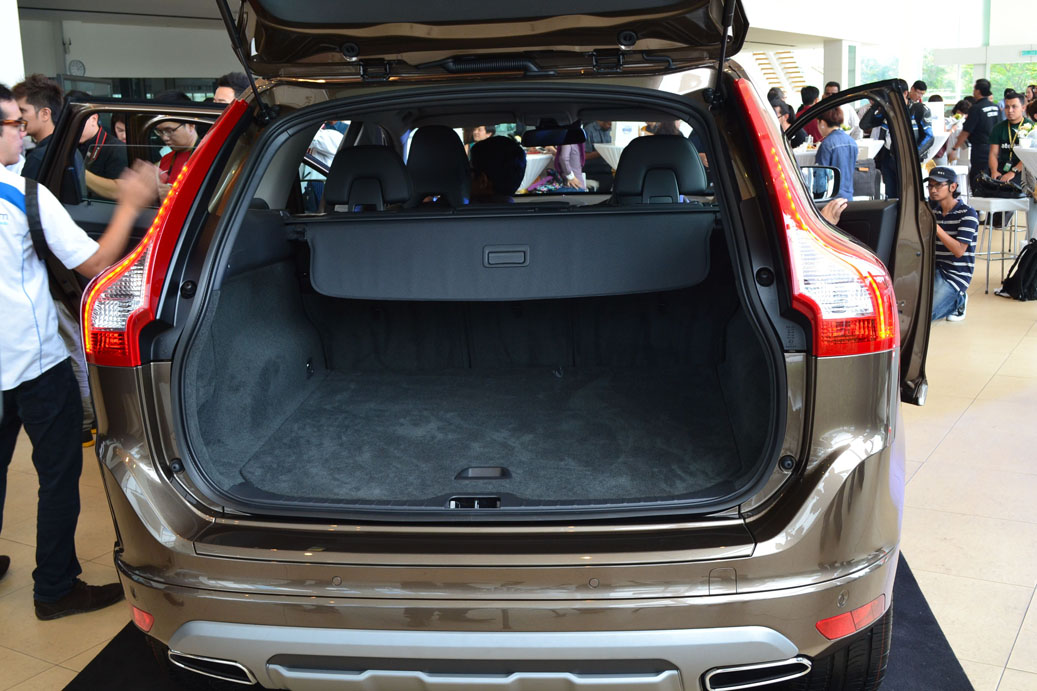 .
Safety
.
Volvo has a vision and that is by 2020, nobody shall be seriously injured or killed in a new Volvo. In line with achieving this goal, Volvo is constantly developing technologies and innovations that will make cars safer to drive. The new XC60 features enhanced versions of these technologies including City Safety, Blind Spot Information System (BLIS) with Closing Vehicle Warning (CVW), Cross Traffic Alert and Whiplast Protection System.
.
The enhanced City Safety system now has automatic brakes at speeds up to 50km/h while BLIS now uses radar-based system to monitor and alert the driver to rapidly approaching vehicles up to 70 meters behind the car.
.
Ownership and Maintenance
.
The new XC60 (variant T5) offered here is a CKD variant and is priced at RM288,888 OTR excluding insurance. Early 2015 will see the introduction of the XC60 T6 that has an engine pushing beyond 300hp and a plethora of Active Safety technologies. Sadly, due to our poor diesel quality, none of the diesel variants is going to be coming here anytime soon.
.
Buyers also have the option of spicing their XC60 with the following Accessory Packages:-
SIGRID – Iron stone exterior styling kit (front bumper and skid plate) – RM3,300 (normal RSP RM4,073)
CANDOR – Complete wheels with tires 8×20″ Diamond Cut/Iron Stone alloy wheels, Limited and Locable bolts – RM15,400 (normal RSP RM19,020)
OLAV – Set of 4 mouldings (front and rear), primed color running board and silver aluminium step – RM6,650 (normal RSP RM7,945)
VIDAR – Adaptive Digital Display – RM2,600 (normal RSP RM3,216)
VIKING PACKAGE – All of the Above – RM25,155 (normal RSP RM34,254)
.
As of now, the T5 is available for booking at all authorised Volvo dealers, which are Federal Auto Cars, Clear Marque and Angkatan Hebat.
.
.
.