.
"An inch longer is an inch stronger". That's a popular Chinese saying in which one must always strive to better and every advantage, no matter how small should be sought. If that's the case, driving a large, tall car would definitely appeal to those who believe in this saying. Not only would you enjoy the better vantage point sitting higher than almost everyone else, the tall position affords some measure of protection against prying eyes of criminally inclined motorist and, if need be intimidate based on sheer size. Judging from the increasing number of SUVs on the road these days, Malaysian tastes are changing from the regular 4-door sedan. The occasional flash floods may also have something to do with this.
.
At any rate, if the benefits of the above mentioned SUV is sought, you'd probably want to stop reading this article because personally, we wouldn't go as far as to call it an SUV no matter what the catalog says. It's more appropriate to call it a cross over, being neither as low as a sedan nor as large as a full fledged SUV. Utilising the same platform as the compact 208 (review HERE), the 2008 is pretty much a jacked-up compact sedan where you sit slightly higher than the regular hatchback it's based on. We don't see much of them on the road which is the reason why it commands some degree of attention from passing motorists. As to why there are so few on them on the road, we guess it boils down to two reasons;
.
1) Price. Not the cheapest crossover/SUV in the market
2) Size. As compact as a 208 but costing a whole lot more
.
A shame really because the 2008 comes with a host of features that makes it one of the more modern cross over you can buy today. But is it enough to convince the public to part good money for it? Let's find out.
.
.
Design
.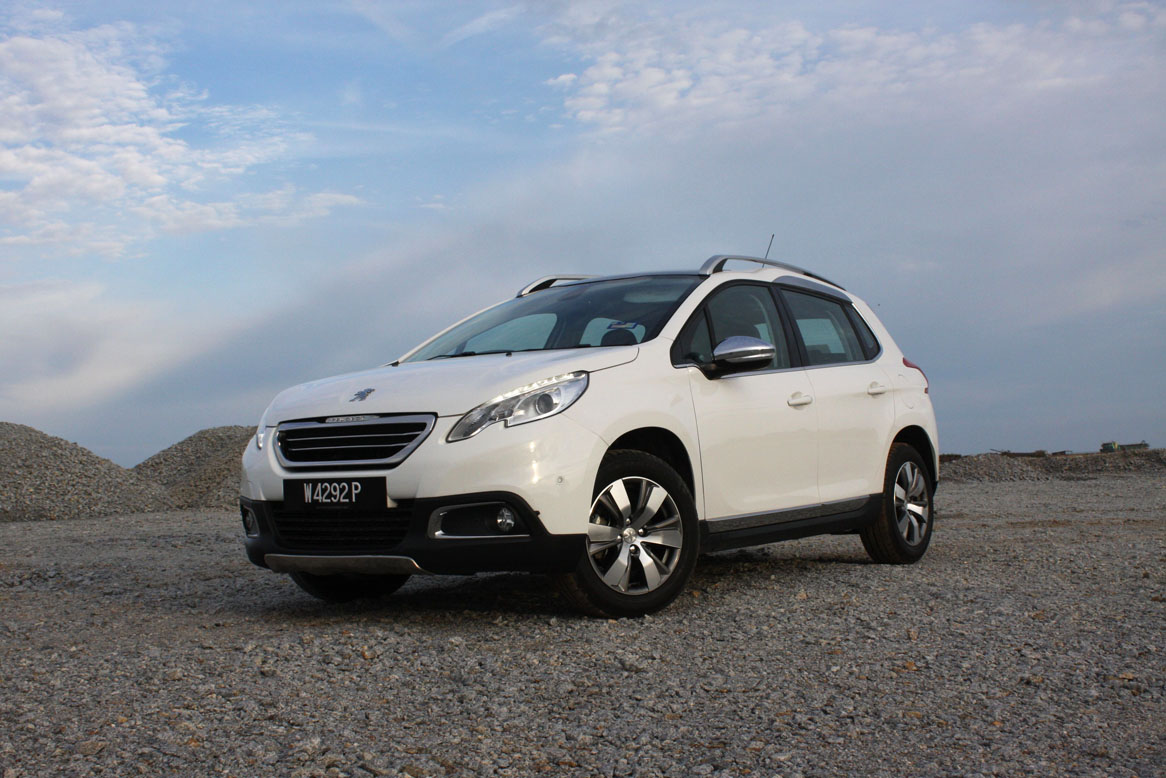 .
One thing we can all be sure of; despite the small stature, the 2008 is one of those vehicles that will certainly stand out in the crowd. It's rakish front design is emphasized by its LED Daytime Running Lights equipped blade-like headlamps and boomerang chrome accents outlining the front fog lamps. The tapering roof with anodised roof rails carries the sharp silhouette at the sides before abruptly ending at a similarly coloured rear spoiler.
.
.
The 2008 features the new floating Peugeot lettering on the grille. The overall chrome bits are well placed and not overtly done.
.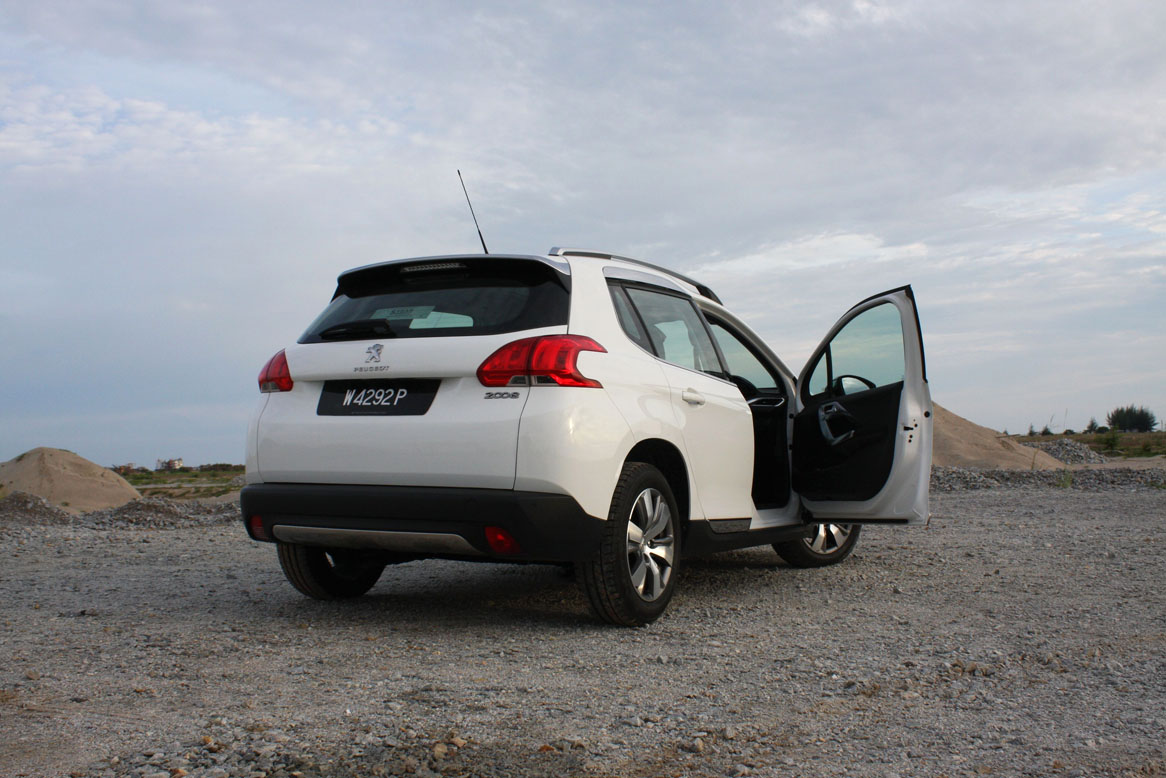 .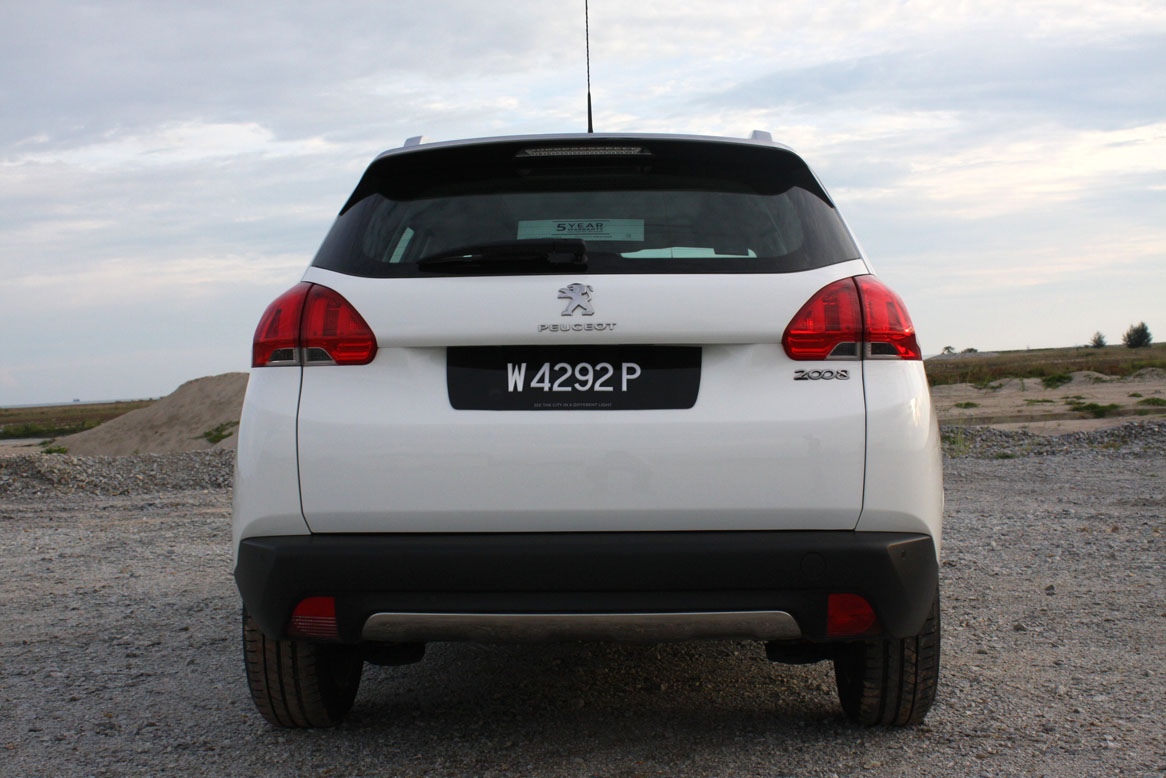 .
Where the front looks modern and sophisticated, the rear unfortunately appears over simplified. Most of the design elements are found above the number plate with the most notable feature being the c-shaped rear tail lamps. With little else to define the lower tail gate, the bottom looks bulky and uninspiring. Pretty much like a regular gym goer who doesn't do squats.
.
.
Performance
.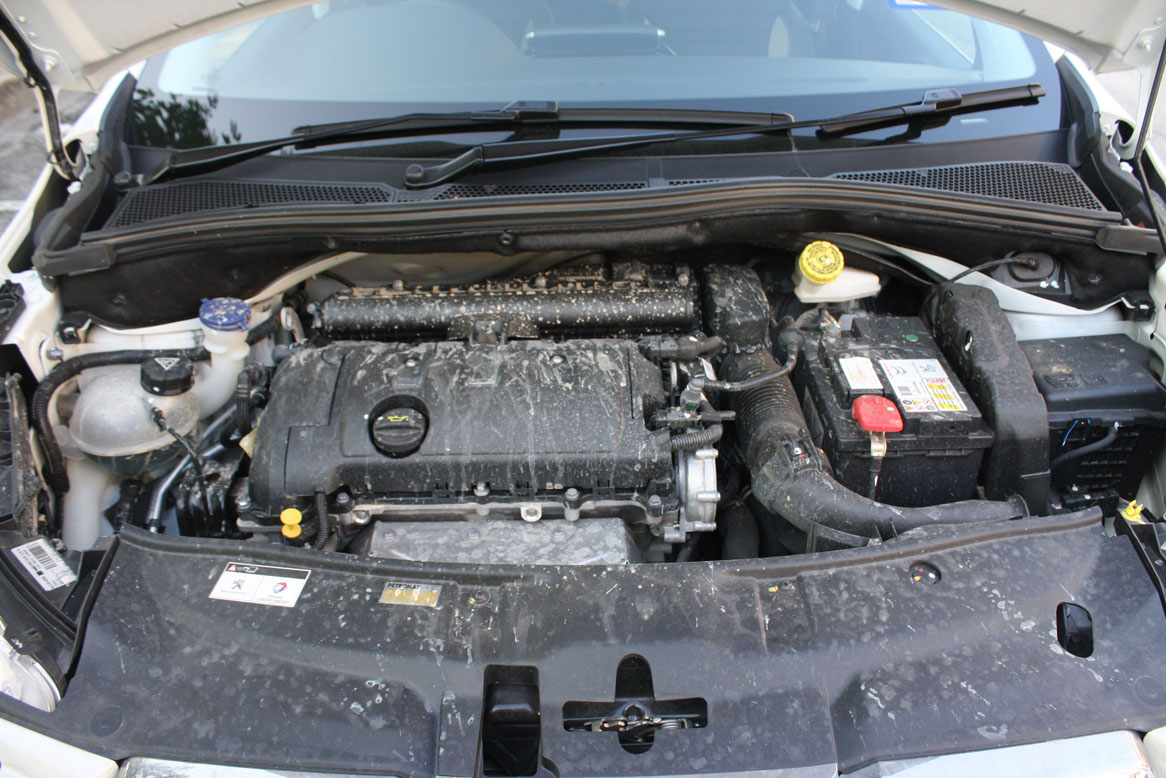 .
No, I didn't cum on the engine if that's what you're thinking. Only one engine variant is offered with the 2008 and that's the non-turbo version of the 1.6litre VTI Direct petrol injection engine DOHC with Variable Valve Timing that serves 122PS @ 6,000rpm with 160Nm or torque @ 4,250rpm.
.
.
Paired to a 4-speed automatic adaptive gearbox with tiptronic and sport mode, the 2008 reaches 100kph from standstill in a leisurely 11.2seconds with a maximum speed of 190kph. Combined driving cycle fuel consumption is rated at 6.5litres per 100km. Not particularly fast nor powerful and with a front wheel driven layout, not recommended to go off-road with.
.
.
Ride and Handling
.
Doing the business of the 2008 suspension are MacPherson struts with anti roll bar in the front and trailing arm with deformable cross member axle for the rear. For the most part, the 2008 handles pretty much like a 208 which is to say comfort oriented and not as planted as some other continental rivals at high speed corners. Add to the fact that the 2008 is a taller vehicle, chucking the crossover like a hatchback is not recommended. Driving at sensible speeds and through rough terrain like minor floods and construction zones are confident inspiring, even if it's not as well-equipped as a full fledged SUV or 4×4 pick-up.
.
The steering weight, like most Peugeots these days is light and less chatty. Better than most asian made models and for most commuters, it's fairly acceptable, if not appreciated as the lighter steering allows easier maneuverability around the urban areas. The good news is the steering is quick to respond to inputs and moving the car out of harms way is as fast as your reflexes allow.
.
It's the noise (both wind and engine) that gets a little annoying when cruising at high speeds on the highway. Since it has a 4-speed gearbox, pushing the engine beyond 3,000 rpm is normal when you need to overtake another at slightly higher than legal speeds.  At this velocity, the intrusion is obvious.
.
.
Cabin Convenience
.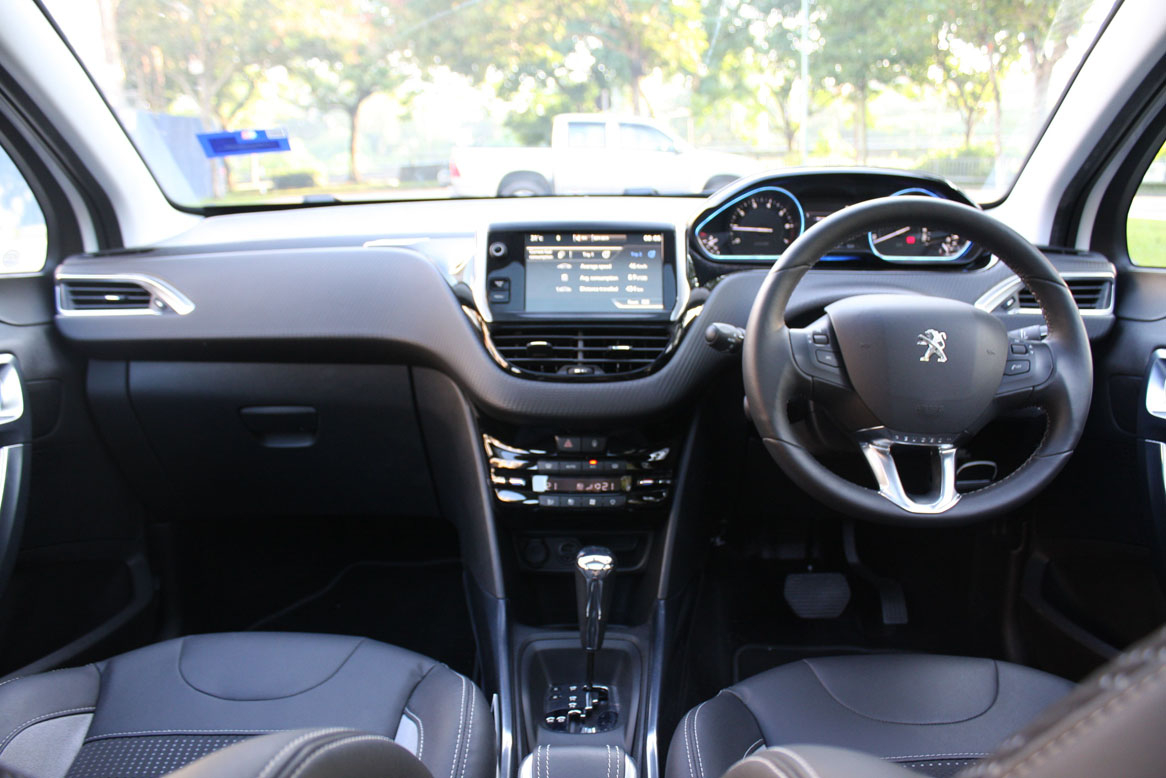 .
Those who've driven the 208 will be at home with the 2008. The cabin layout is almost identical, down to the smallish steering wheel which makes you play peekaboo with the meters.
.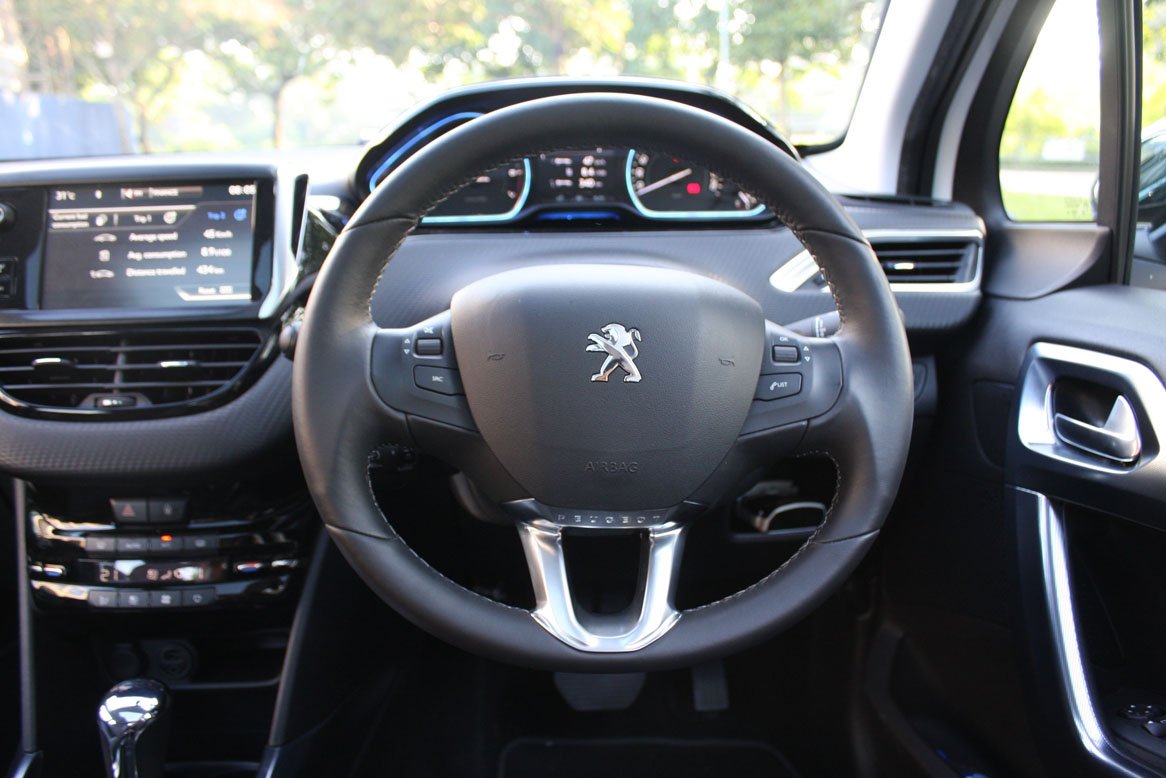 .
If the 2008 were to win any awards in the crossover/SUV segment, it would have to be the winner for the smallest steering wheel. Not that it's a bad thing, mind you especially since it comes with steering mounted controls for audio.
.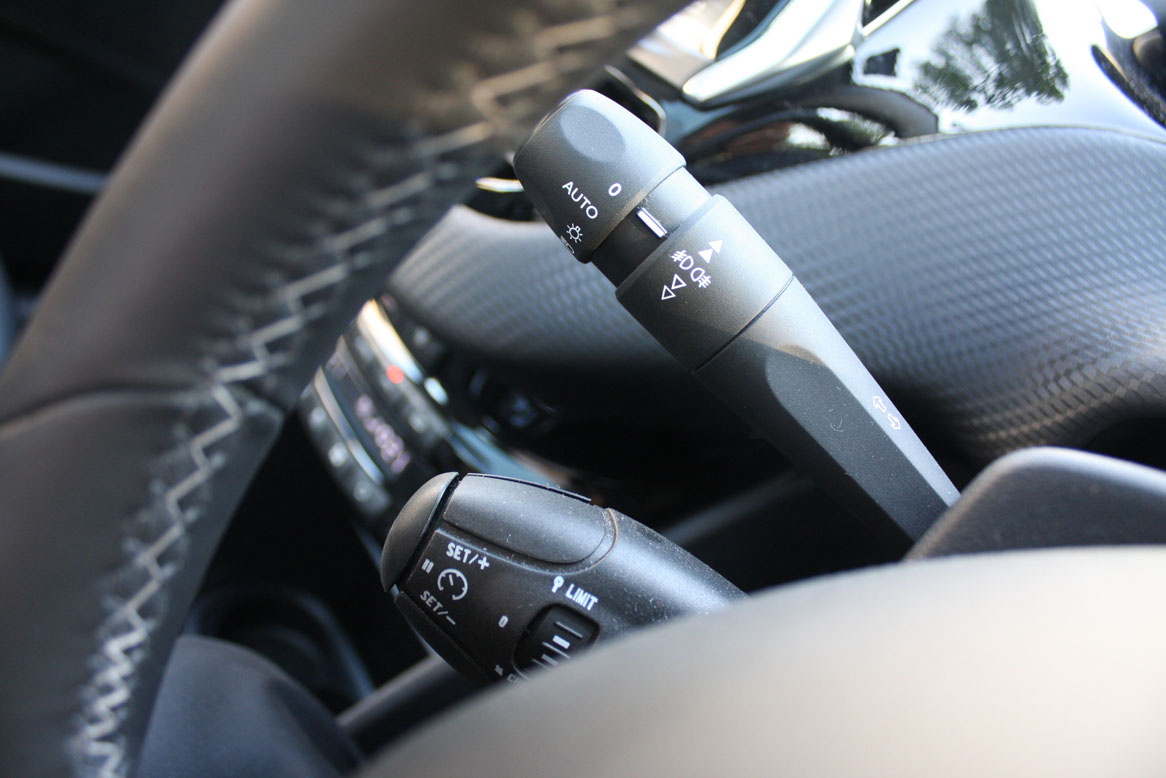 .
With automatic headlight activation, the 2008 also features convenience features such as cruise control which is managed by a separate stalk behind the steering wheel. Said stalk also operates the speed limiter which prevents the vehicle from exceeding whatever speed you set.
.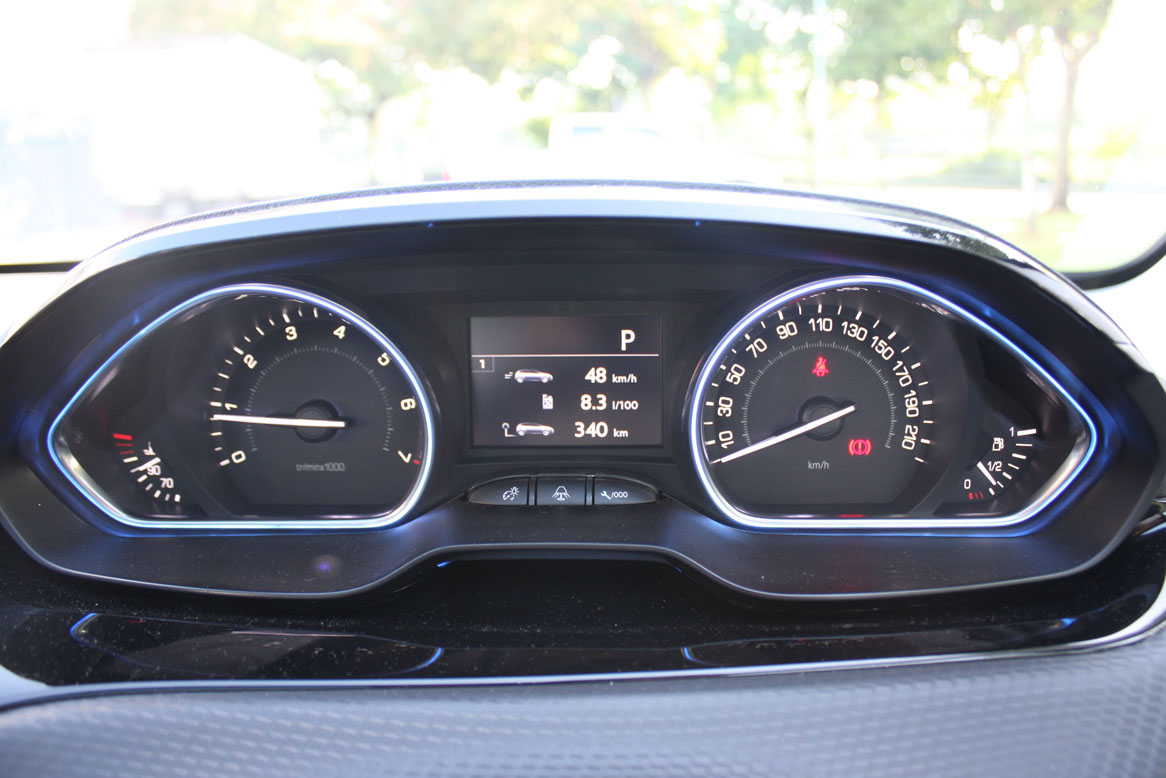 .
Sourced from the 208, the instrument panel has a blue LED outline and the readouts is easy to decipher.
.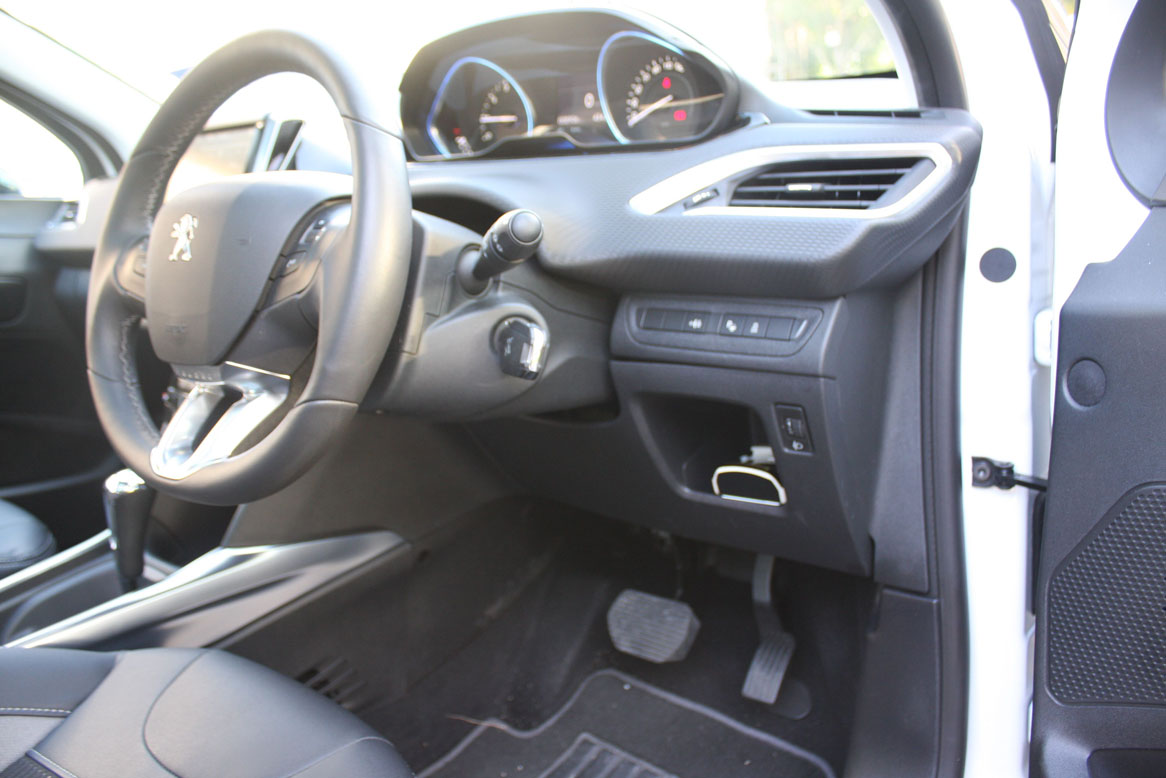 .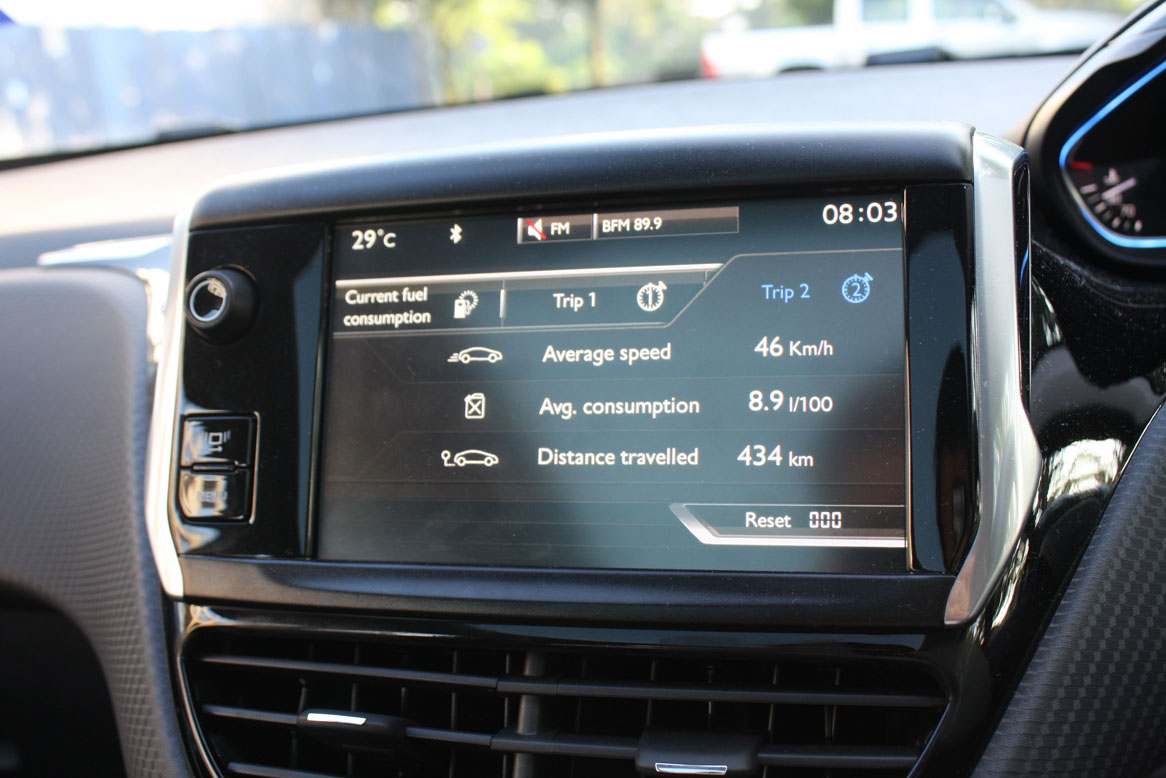 .
The interactive HD colored touchscreen monitor is crisp. It was also here that we discovered that there are 2 themes to select; one that confuses users into thinking the operation mode is sliding like an Apple mobile device. This theme is easier to use as you know what to poke if you need to access various functions such as driving information, USB audio streaming, Bluetooth streaming and more. Sound reproduction is handled by a 6-speaker Arkamys 3D system which isn't too shabby.
.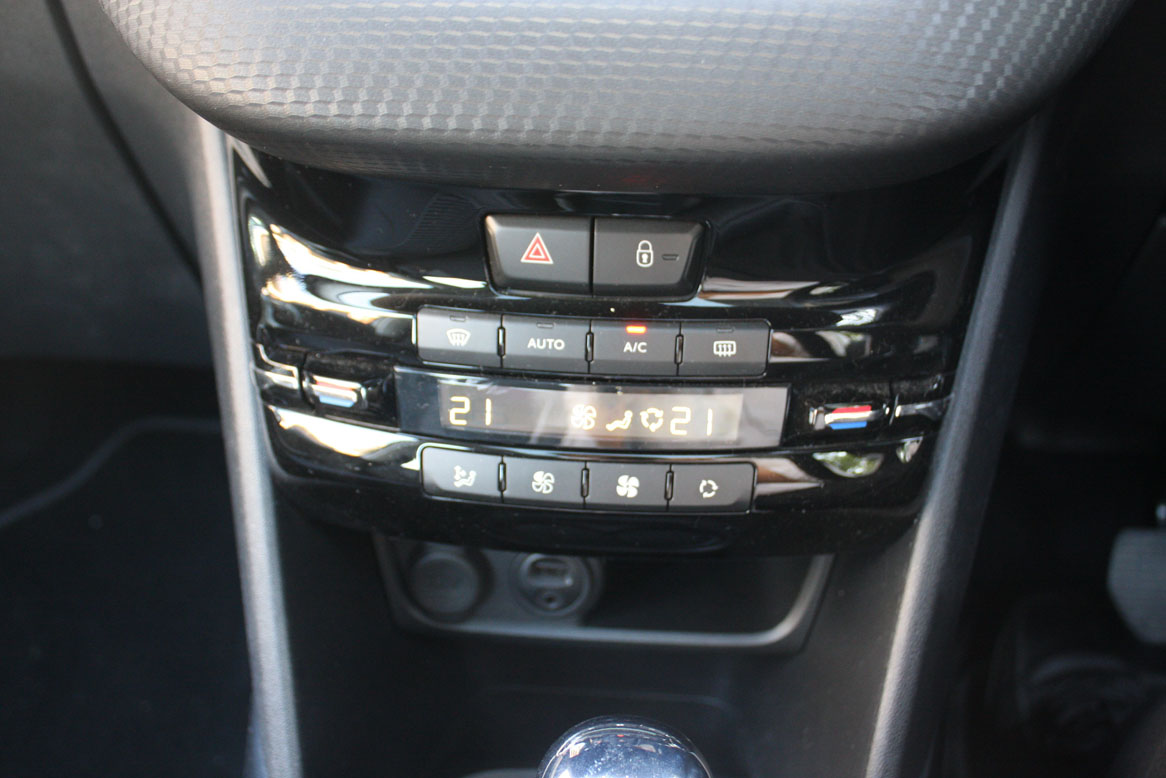 .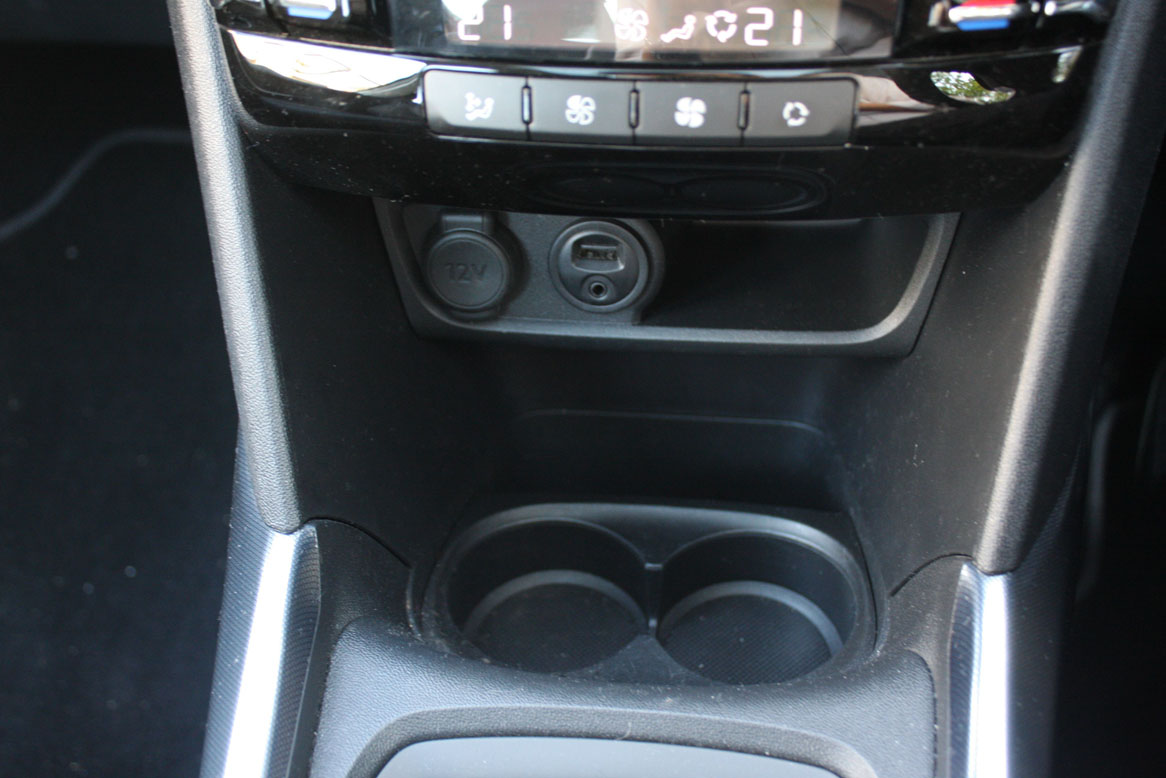 .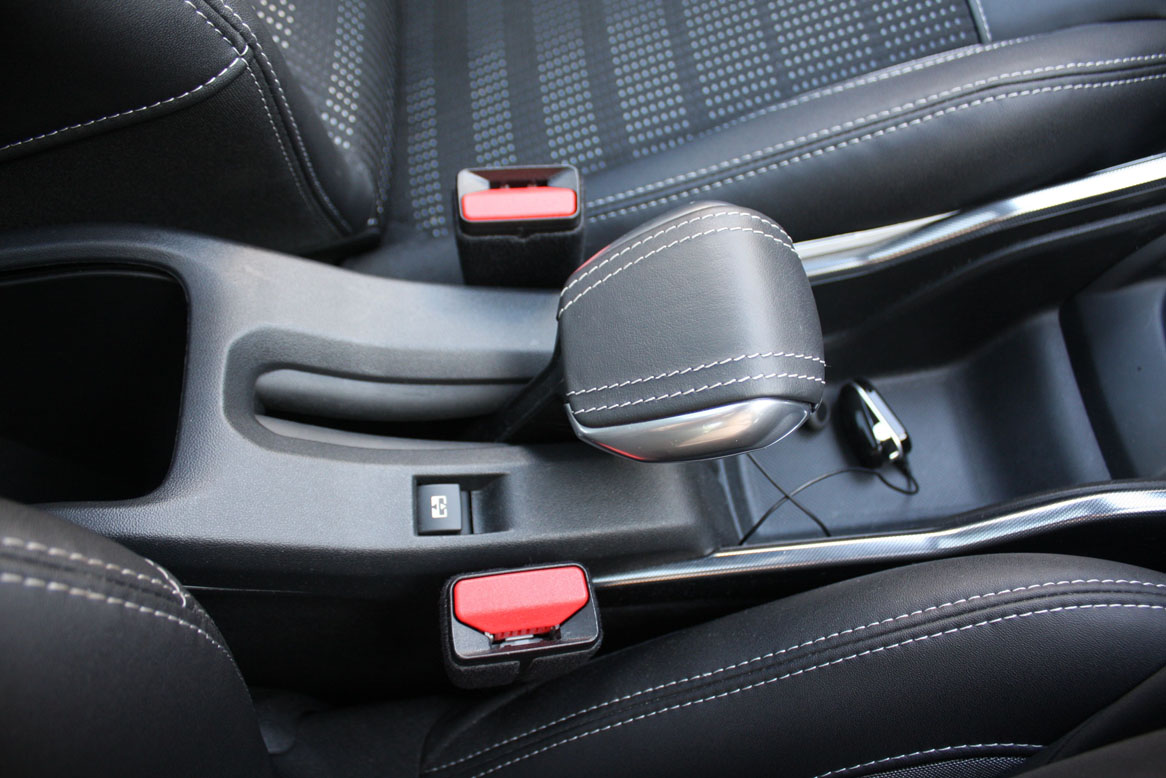 .
The one thing that stands out different from the 208 is the handbrake which resembles an aircraft gear. It might score points in terms of design but does nothing in terms of ergonomics. Where you just need to reach down and pull the handbrake, this lever requires you to arch your arm backwards before pulling it up. Rear passengers who's sitting in the middle might be elbowed.
.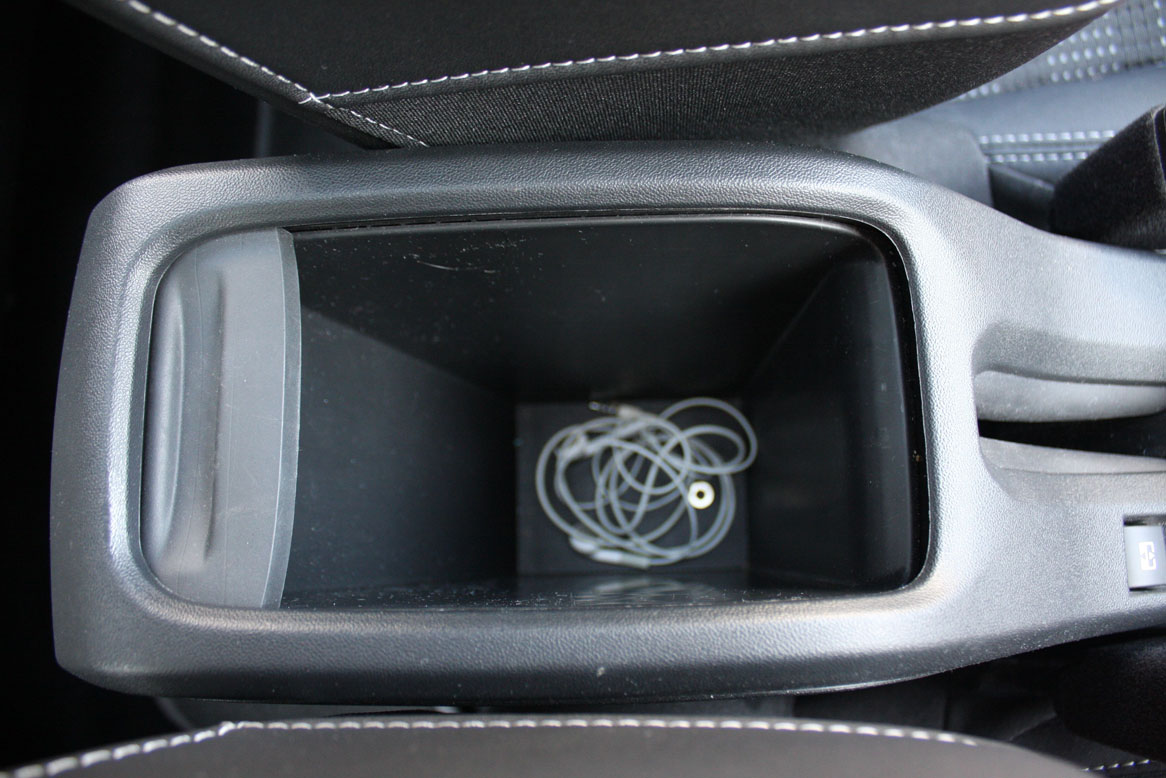 .
The center compartment is deep but not very wide so while you can dump a Smart Tag inside, larger items might not fit.
.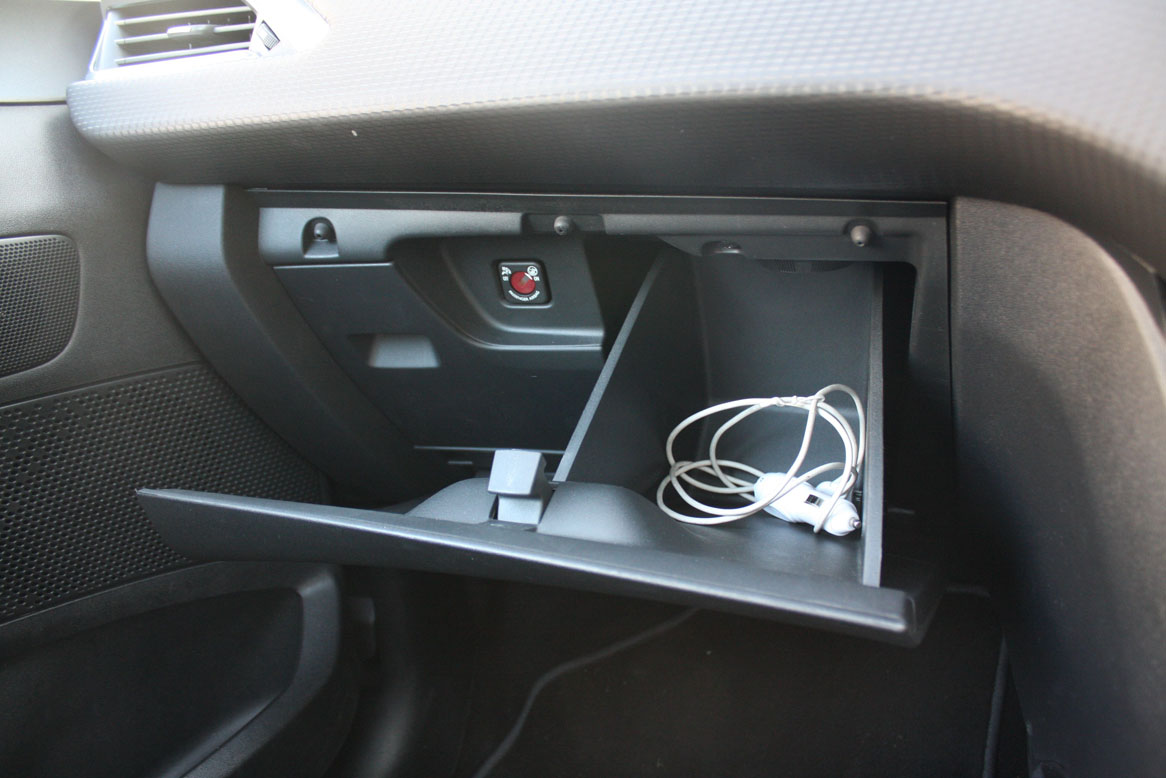 .
Like most French cars, the fuse box remains to be on the left and this compromises the glove compartment space. Compared to a 308 however, this compartment configuration provides greater depth and this allows better flexibility in what it can keep.
.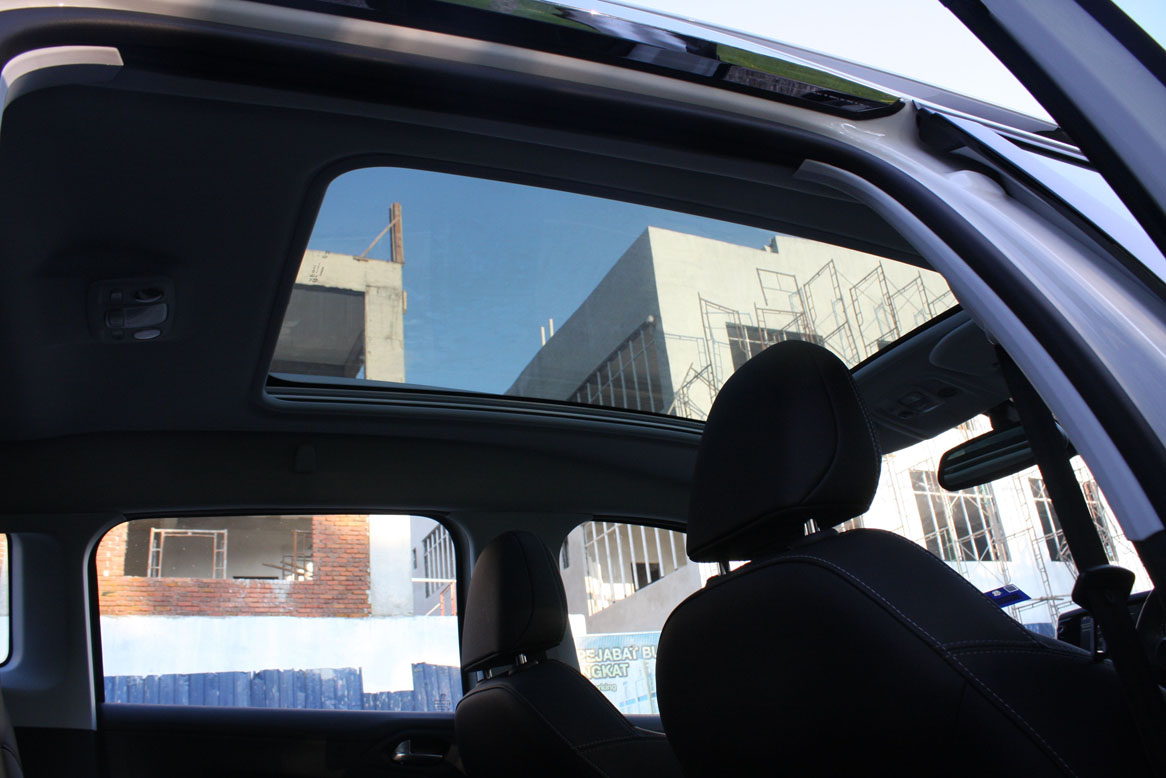 .
Some like, some hate it but personally, we prefer the panoramic roof which creates an airy ambiance for the cabin.
.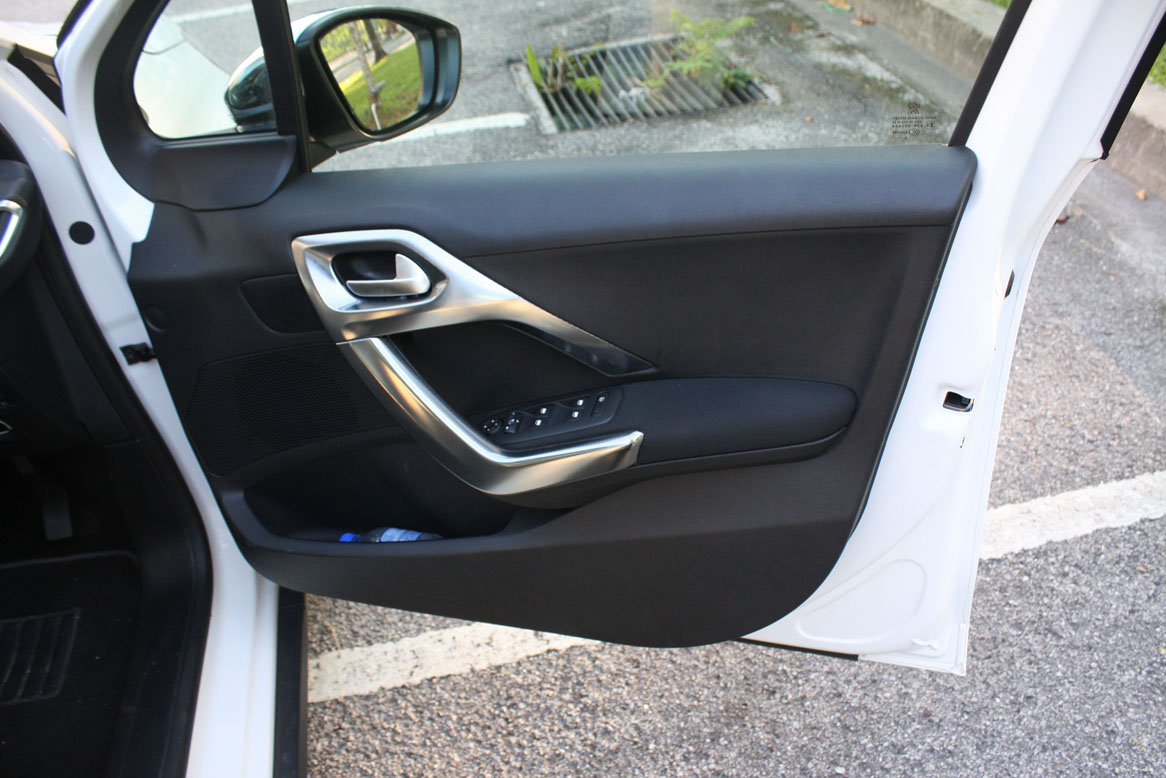 .
.
Seating arrangements is like a 208 where rear passengers seat upright and rear legroom is limited. What's better is rear passenger headroom is improved thanks to a higher roof.
.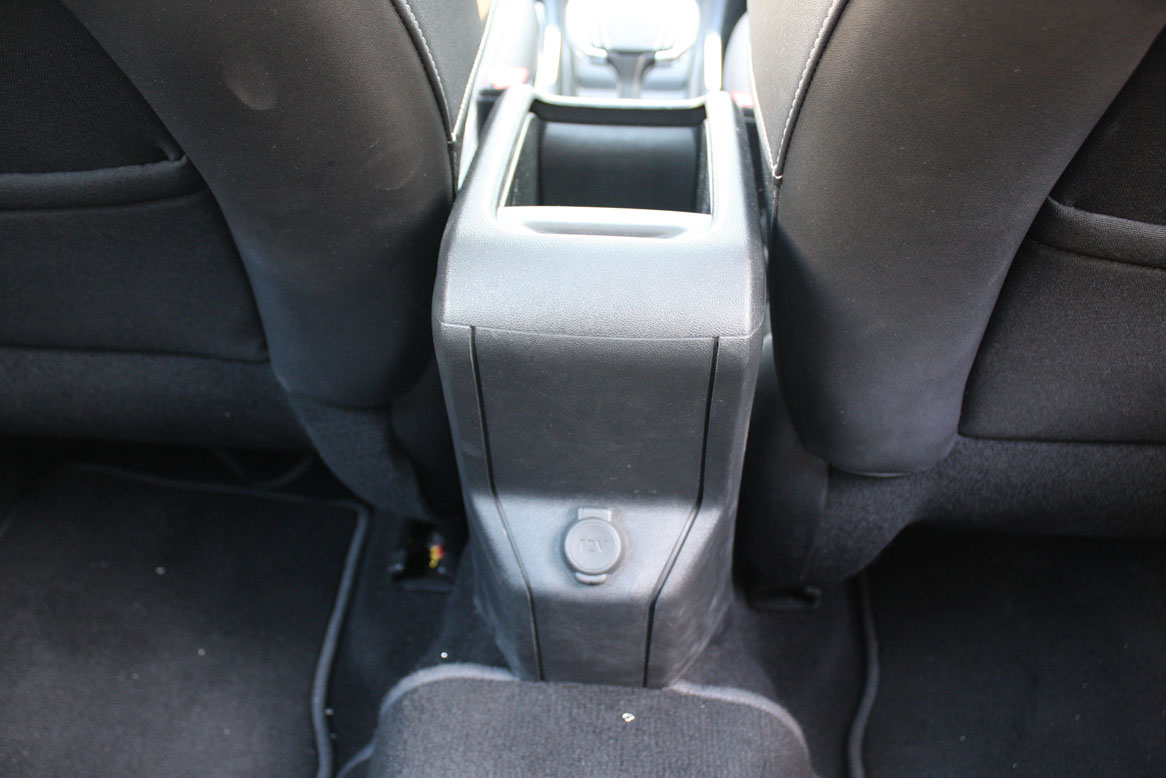 .
No rear air conditioning vents but you do get a 12V charging port.
.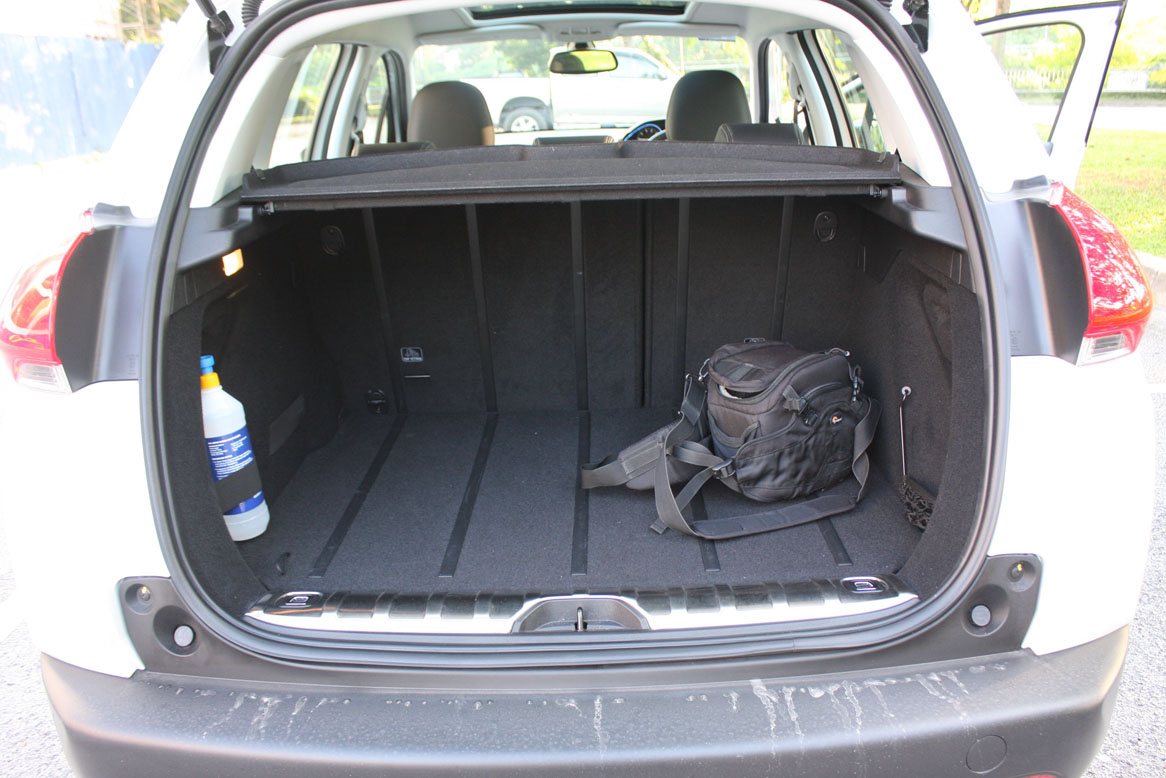 .
Boot size isn't the best for this price range; it can take 360litres of cargo but folding the rear seats will increase the cargo capacity to 1,194litres.
.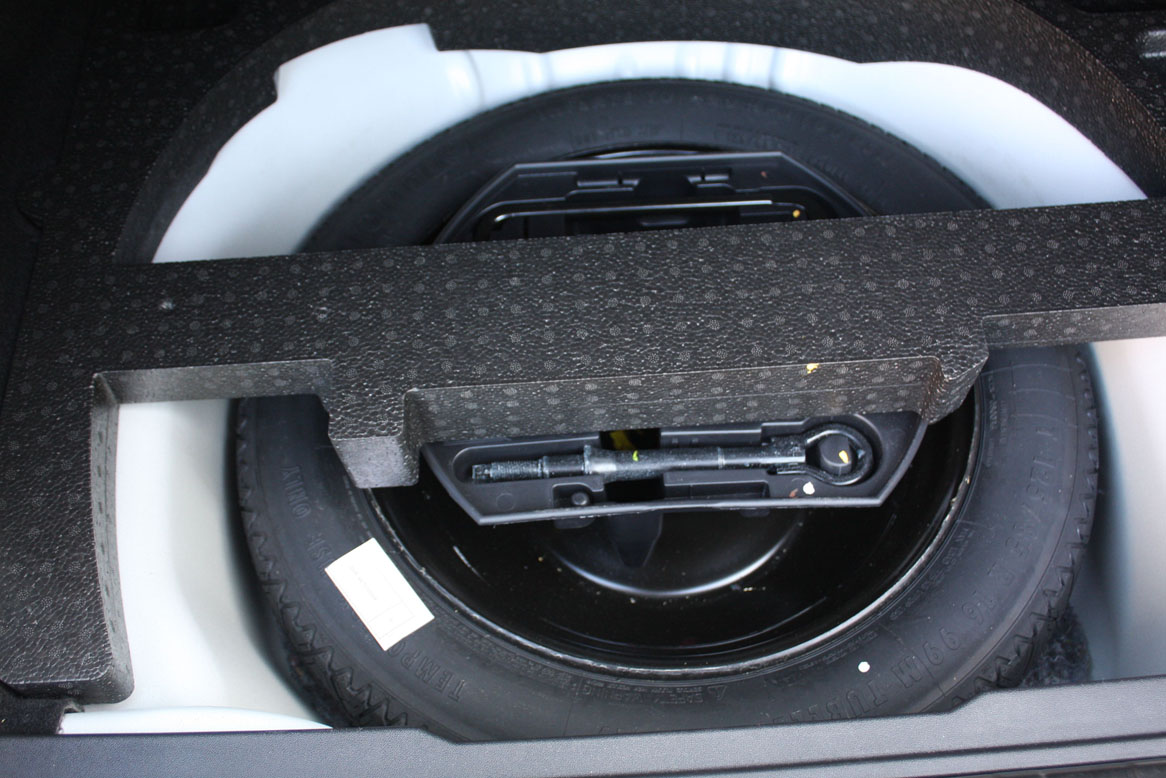 .
Space savers for spares below the boot floor.
.
.
Safety
.
The 2008 comes with a comprehensive list of active and safety features:-
6 airbags
Advanced Electric Power Steering System (EPS)
ABS
EBA
EBD
ESP
ASR
DSC
Hill Start Assist
Very High Strength Steel (VHSS) body structure
Deadlocking
Electric child safety door lock
Peugeot rolling code transponder immobiliser security
Auto hazard light on de-acceleration
2 x ISOFIX anchorage points at rear
3 x 3-point rear seat belt
5-star Euro NCAP
.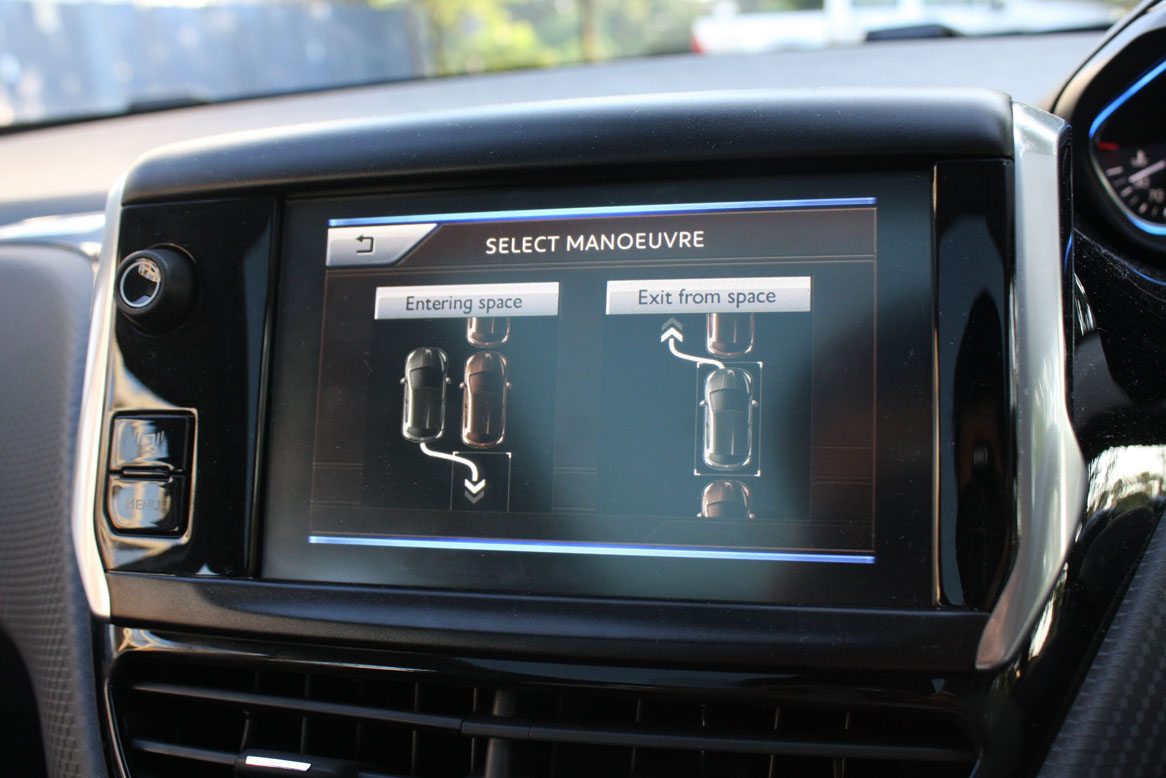 .
What deserves special mention is the Smart Park Assist with front and rear parking sensors. We've seen a number of cars featuring self parking with the Ford Focus probably being one of the more successful ones at marketing it. The 2008 has not only self-parking on its lists of abilities, it can also self exit. And we had the perfect opportunity to test this feature once when parking near a KTM (Kuda, Toto, Magnum) outlet. Those who've done that would know motorcycles come in droves and they'd usually slip between whatever space they find among the cars parked parallel. Those unable to estimate parking distance well may find it a challenge to get out of the space.
.
With this feature, all you have to do is select the Exit from space icon on the touchscreen, use the indicator to signal exiting left or right then control using brake and gas while shifting the gear between forward and reverse. The steering wheel will move by itself depending on whether you're moving forward or back. Gripping the steering wheel will cancel this function so hands off.
.
A note of caution though; the Smart Park Assist uses parking sensors to control the wheel. If the sensors don't pick up objects (ie a kerb or a pole), you might hit them. Always be alert when doing any form of maneuvering and don't take technology for granted.
.
.
Specifications
.
Exterior
Front & Rear LED Signature Lighting
Smart Park Assist (entry & exit)
Front and rear parking aid with audio visual asisstance
Chrome grille design
Auto headlights & auto wiper function
"Follow me home" security lighting
Remote "Guide me home" security lighting
Cornering Assist Fog lamp
Driver and passenger rer view mirror with heater
Electric folding mirrors with chrome
One touch all power windows with anti-pinch
Front and rear fog lamps
Automatic rear wiper in reverse gear
16″ two tone alloy rims
Side mirror in chrome finish
.
Interior
Panoramic roof with mood lighting & electric sunblind
Color touchscreen with USB & Bluetooth connectivity
Arkamys 3D Sound Audio System
6 speaker system
Digital dual zone auto air-conditioning
Head Up instrument panel with LCD colour display, multi stage illumination and blue lighting surround
Trip computer, trip distance recorder, service indicator, engine oil level, speedometer, door opening status and audio source
Leather steering wheel with intuitive controls
Aviation style parking brake
Advance electric power steering system
Driver and passenger seat height adjustment
Centre armrest with storage
Smart one touch 60:40 foldable rear seats
Passenger and driver sun visors with vanity mirror (illuminated)
Auto dimming rear view mirror
12V power socket for First and Second row
.
.
Ownership and Maintenance
.
The 2008 retails for the price of RM119,888 OTR inclusive of insurance. Available in Digital White (as tested), Virtual Blue, Dakota Brown and Artense Grey, the 2008 comes with an unlimited mileage 5-years warranty.
.
In conclusion, we feel the 2008 is vehicle people buy for its novelty first, practicality second. While its styling is not gender specific, the slightly taller seating position and the Smart Park Assist scores maximum for the fairer gender. If one can accept that feature-wise, the 2008 is fully loaded with functions that makes living with it in the city enjoyable, the only question is it's asking price (and to some, an archaic 4-speed gearbox) which is in the C-segment sedan range. For that, you'd get a cabin that's bigger and no less well-appointed and this is probably a fact that Peugeot understands and does not expect much sales numbers from this model. A pity that we don't get what some European countries does; the 2008 comes with a diesel engine and an updated 6-speed gearbox. Perhaps when our country fully adopts Euro 5 fuel will we see a change.
.
But for now, the 2008 remains a novelty on our roads. It most certainly not a bad car but given that it has crossed the RM100k threshold, you will have a lot of options to choose from such as the Mitsubishi ASX which undercuts its pricing while offering a higher capacity engine or other segment vehicles. The young and hip would probably see more sense in the more affordable 208 which doesn't lack features so that only leaves those who're more adventurous who may not be taken in by the petrol, non-turbo front wheel drive layout.
.
.