.
I recall growing up in a neighbourhood where we had a night market every Wednesday. It was a relatively small one; less than 500 meters in length and like all pasar malams, vendors set up according to the products they sell. So all the vegetables and meat are on one end, the clothes and plastic pails on the other and various food like popiah, laksa and fruits in the middle. It was quaint, simple – everyone got along well with each other and I still believed love can conquer all, politicians were honest and girls were only good for being a source of answers when you forgot to do your school homework.
.
And among all the stalls there, my first visit shall always be the one selling VHS tapes. I believe till this day, locked somewhere in my house you'll find an entire series of Dragon Ball anime packed nicely in a box. The couple who owned the stall were always friendly even if I was an annoying brat who is less a customer and more a nuisance. Years go by and came the invention of CDs and VCDs. With it, piracy. The couple whom I patronize scoffed at it, saying they're running a legitimate business and believes in making an honest living by following the rules laid down by the authorities. A year go by, stalls selling pirated materials increase three fold and business for the couple dropped to a point where they'd have better luck selling fresh flowers next to a garbage dump.
.
Then the inevitable happened; they started to sell those very items they vowed they would not. It was sad and I could see it in their faces. Asked why, they said there was no way they could cope with the loss of income versus the cost of doing business. They had two kids to feed, manage inventory of stocks, pay for business licenses, logistics and a load of other stuffs that bills that cannot be deferred. They see themselves as having little choice in "joining them if you cannot beat them" but I could see this decision affected them greatly, to compromise on a principle in order to survive in a pragmatic world.
.
Funny how I am reminded of this memory when reading about the on-goings of taxi associations and Uber. Anyone who has taken a taxi here in Malaysia, particularly the Klang Valley would have horror stories to tell. My experience with taxi drivers are usually limited to those at the airports and some large shopping malls that offer coupon services. This service provides a more transparent and consistent way of moving from Point A to Point B even if it may cost a little more than trying to flag a cab on your own. To many, it's a safer bet than to put up with cabbies who refuse to use the charge meter, price fix, bully or outright reject you and making you look like a fool. There is no guarantee that you won't encounter horrendous levels of service or worse, sexual harassment and threats but at least more than half your problems are gone and we're rushing for time with no other mode of transport readily available.
.
Taxi drivers would counter with the long working hours, limited opportunity to maximize fares due to terrible traffic conditions, rising cost of running and maintaining a vehicle and the occasional family member has medical conditions that needs lots of cash to justify their actions, their need to bend the law to suit them. And to that very example of airport and mall coupon systems, taxi drivers have to sacrifice a portion of their earnings to these monopolistic companies whose investment consist of nothing more than a staff, a couple of stamp workers and electricity.
.
Then came Uber, the transport service provider that challenges the status quo by providing a method of moving around in a safe and secure manner, in the comforts of a clean, pleasant vehicle and it comes with a driver that's as honest as the entire experience of using the service. I had some misconceptions about them early on such as I've always thought drivers (and their cars) are private so why does anyone who can afford an Audi, Mercedes or BMW (or any large and current D segment) need to sign themselves up as a driver and go about ferrying passengers. Later on, I realised it's limo service providers that ties up with Uber to provide this solution and indeed, this is one point that makes Uber legal because those limo vehicles have all the necessary license and insurance to take a fare. Privately owned and driven vehicles are still in contention though.
.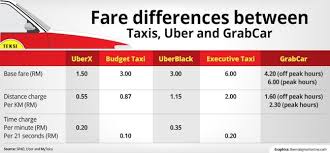 .
I believe there is more Uber's business model (such as how it is able to at this point offer transportation lower than what taxies are charging legally) but that's besides the point. Consumers like us benefit from having an alternative and this provides greater incentive for all industry stakeholders to improve their services in order to remain competitive. The move by taxi associations to shut down Uber "because it has affected the income of taxi drivers" is absurd because they have failed to address the real reasons as to why they were affected in the first place. To expect protection from the authorities shows lack of innovation, creativity and the genuine desire to step up to the plate of offering a truly world class taxi experience by focusing on the customer instead of solely their members like it's their god-given right to be protected.
.
To date, I have not had the opportunity to use Uber but I can share my best taxi experience. It was from Sunway to Bangsar and the elderly pakcik  who picked me up gave me multiple choices on the route (whether to use the tolled highway or Federal highway which was usually congested at that time) and used the meter all the way. Along the way, he asks about my family and shared a little of his wisdom over the years of how to be a good person in this life. I can't recall the exact words but I knew he didn't have to do that and his sincerity touched me. I tipped him an extra one third of my fare, something he didn't expect but was nonetheless grateful. To that uncle who did that, I pray God's grace will be with you always and hope you will never ever need to see the need to do as the couple who sold tapes to me in the past.
.
The law is there for a reason. To disregard it is to allow anarchy to fester and grow. The problem with piracy is the lack of enforcement and the cure for pirated VCDs is technology; why buy when high speed internet streaming is so readily available. It is ironic that the cure to the malady of our poor taxi services also lies in technology and if the authorities have been having problems reining unruly taxi drivers, let Uber do the job for you. As the pakcik has shown me, it is not that taxi drivers do not have the ability to match or exceed Uber's solutions – it is all a matter of providing the right kind of motivation for them to do so.
.
.
.