.
I have to confess; I've not "always" been an automotive enthusiast. Sure, like any boy who's into anything that moves, I have my stash of matchbox toy cars but I've never given much thought about the technical specifications of them (unless it was one of those card games that compared specs to win). But one thing I do remember; every time when Mercedes-Benz or BMW releases a C-class or 3-series, I'd make my way to the magazine shelves and read anything I can about them. For many, these two brands represents the pinnacle of success and the C-er/3-er, being the introductory stage for luxury sedans is naturally the focus of most consumers, affordability notwithstanding. Yes, we may all have posters of Ferraris and Lamboghinis but somewhere along the way, there's bound to be a Merc or a Bimmer.
.
But nowadays it isn't so simple. The entry level, Mercedes-Benz in particular has changed with the introduction of the CLA whereas BMW still retains the 3-series as it's proper 4-door sedan entry point, albeit one with a smaller engine displacement but no less enjoyable to drive. We've pitted the entry level 1.6litre turbochargers (read about it HERE) and it's no surprise that if the buyer is family comfort inclined, the 316i would appeal more to them. The introduction of the new C-class should give those buyers pause and assess what the latest compact sedan has to offer.
.
.
Design
.
It is by no coincidence that the new C-class looks like a baby S-class. Any sharp angles that may have existed in its predecessor is eliminated and the final result is a vehicle that's more fluid, more organic and it's low coefficient drag value of 0.24 is testimony that it's not all just for looks. Two variants are launched by Mercedes-Benz Malaysia; the C200 Avantgarde and the C250 Exclusive.
.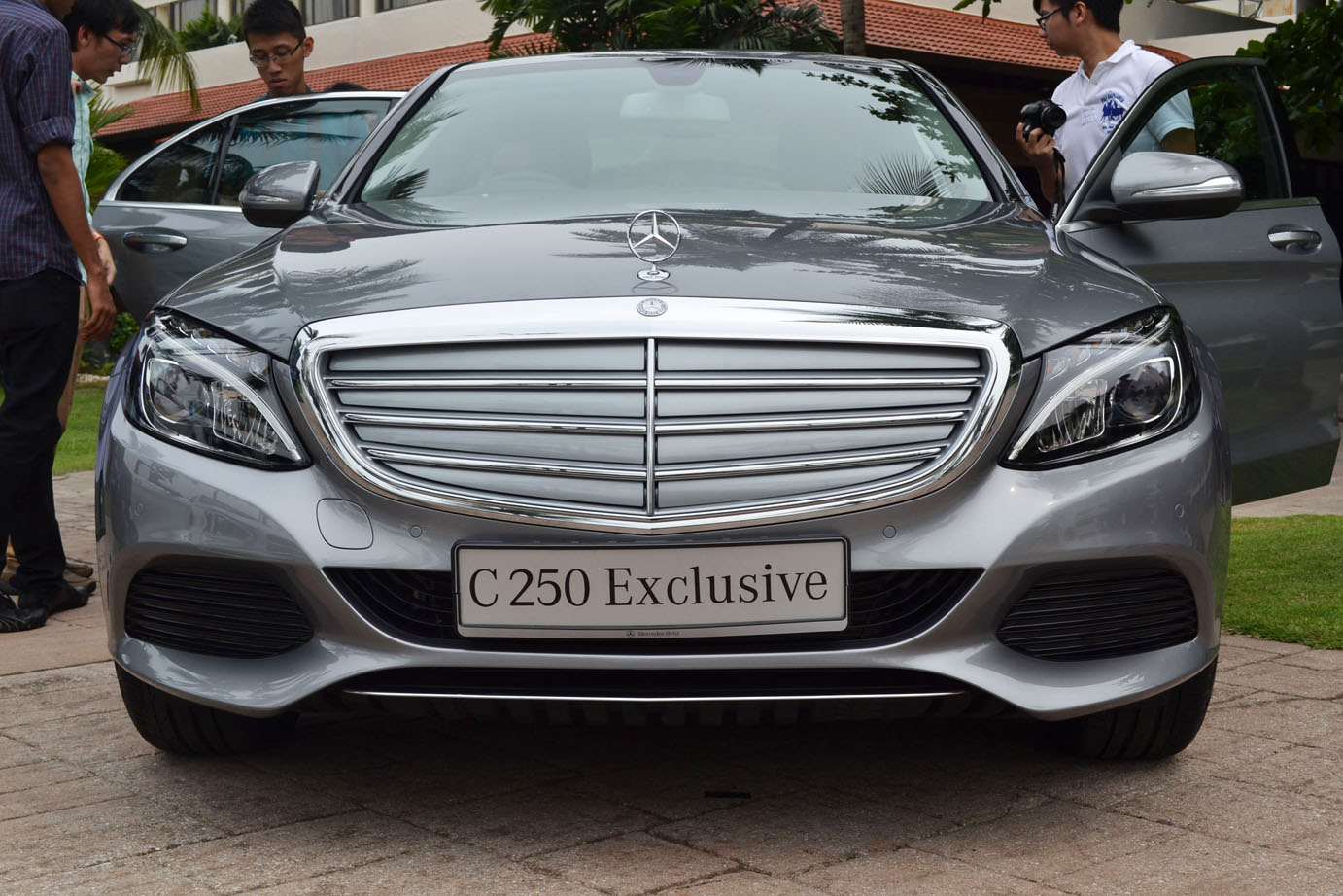 .
The most obvious way to tell the difference is to look at the grilles; the C200 Avantgarde has a sportier logo-in-center with twin horizontal fins (or louvres as they call it) whereas the C250 features a traditional grille with a standing logo mounted on the hood. Exclusive to the C250 is the Airpanel active radiator shutter, a feature that opens or shuts the lourve depending on cooling demand to optimise air flow and reduce air resistance.
.
The new C has grown, measuring 4,686mm in length, 1,810mm in width and a wheelbase of 2,840mm (up 95mm, 40mm and 80mm respectively compared to its predecessor) and this translates to a more spacious cabin with improvements on leg and headroom. Having said that, this is a compact luxury sedan and you shouldn't be expecting some Asian made C-segment vehicle space.
.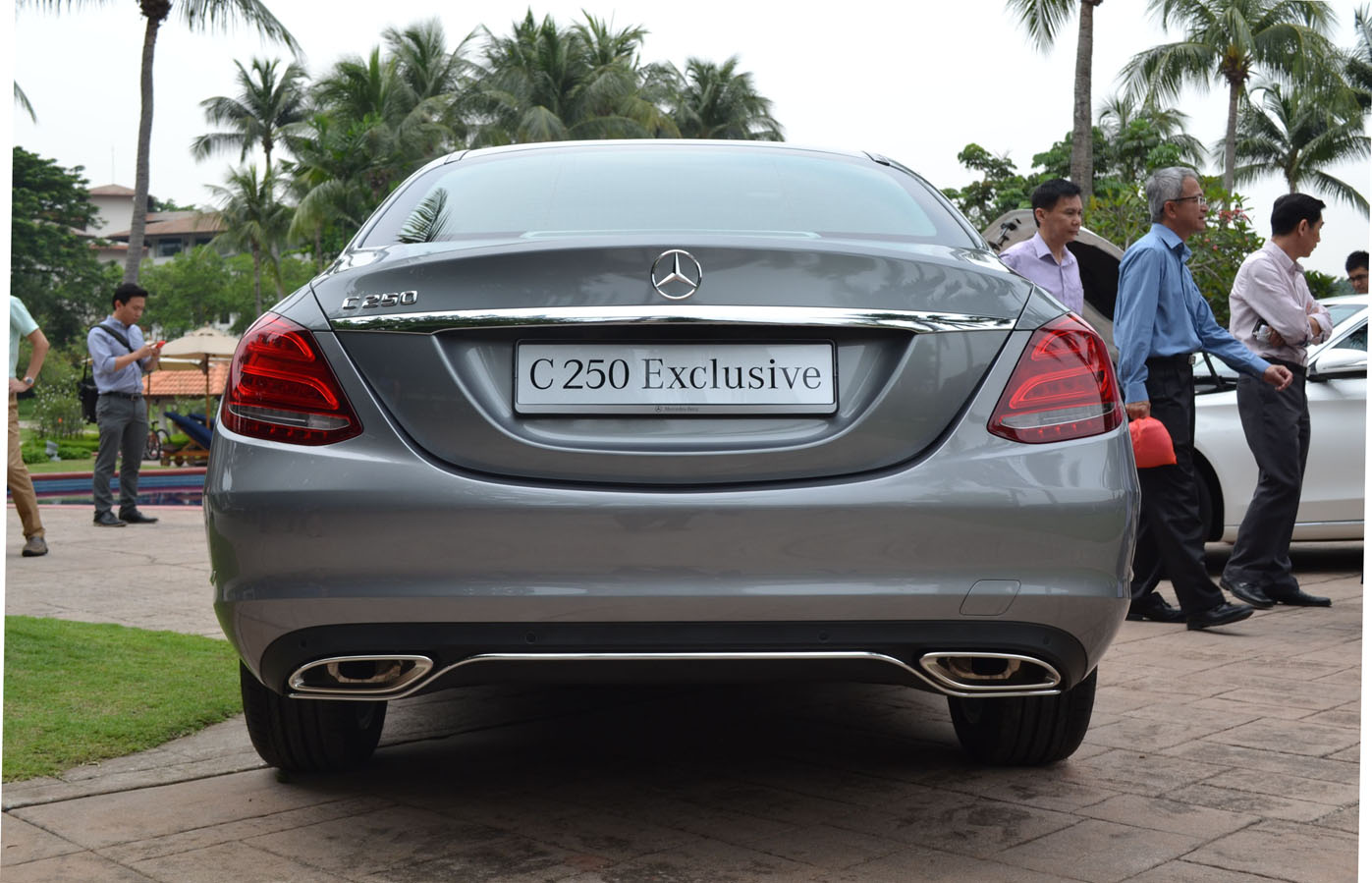 .
Similar to the S-class flagship, the C-class has no light bulbs; instead, anything that provides any illumination comes in the form of energy-saving LEDs, most prominently featured in the head and tail lamps. There are no visible front fog lights on both variants though.
.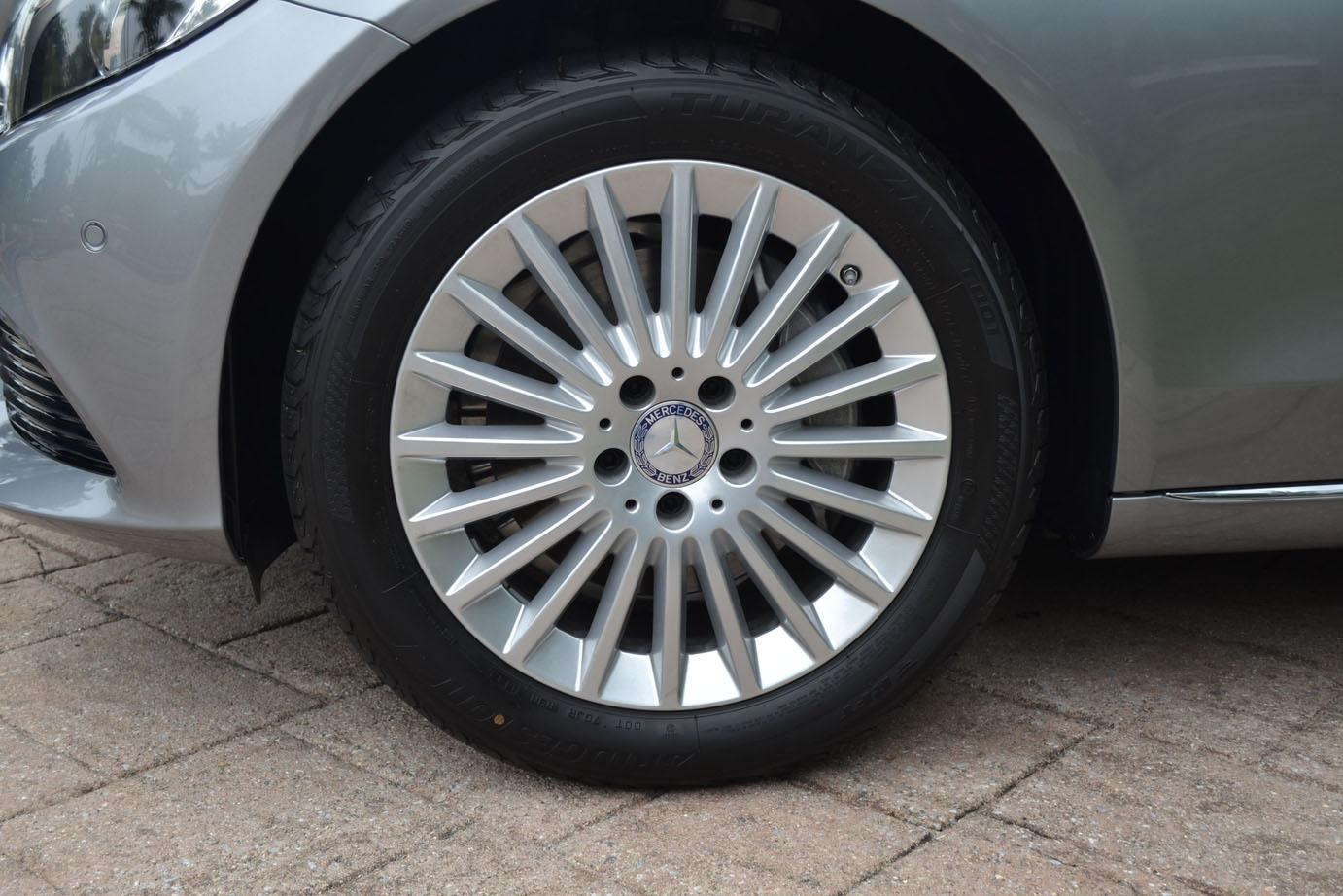 .
While both variants have the same "shoe" size of 225/50 R17, the C200 features a sportier 5-twin-spoke design whereas the more powerful C250 has a more traditional 20-spoke rim. It's quite mind boggling to me and I don't think I'm the only one who feels like this; I feel like I want the exterior finish of the C200 but the more powerful C250 engine. It's quite obvious that you're going to be driving a little quicker on the C250 so why make the exterior look so – stately? But then since you can spec the car in any way you want, perhaps some arrangements can be made?
.
.
Performance
.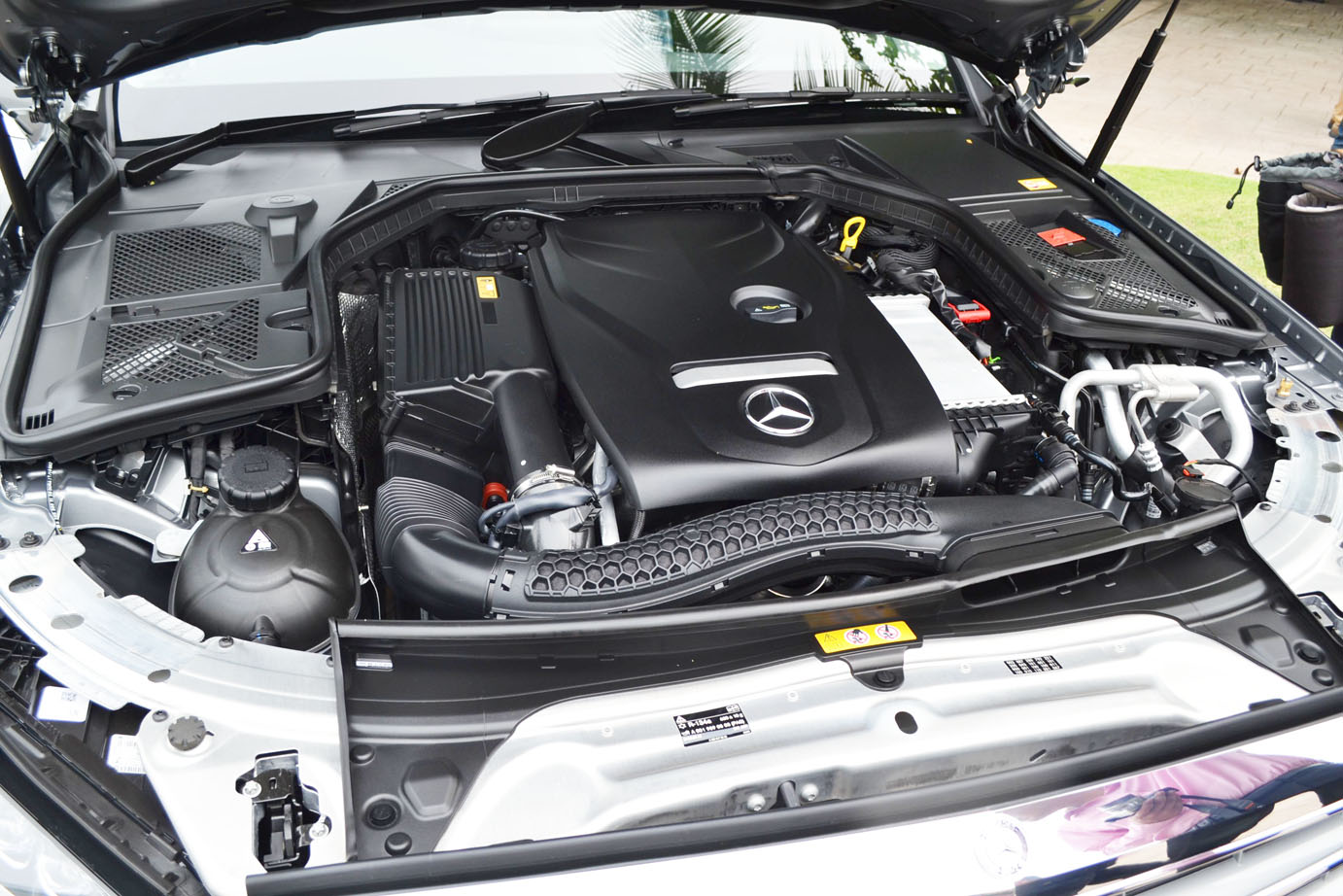 .
Both C200 and C250 features a 2litre 4 in-line direct petrol injection engine but at different states of tune. The C200 provides 184hp @ 5,500rpm with 300Nm of torque rom 1,200-4,000rpm whereas the C250 entertains us with 211hp and 350Nm. Zero to hundred is done in 7.3seconds for the C200 and 6.6 seconds for the C250, limited to 235kph and 250kph respectively.
.
.
Ride and Handling
.
The new C-class has multi-link, coil springs, gas-pressure shock absorbers and stabiliser for the front while the rear has multi-link independent suspension, coil springs, gas-pressure shock absorbers with stabiliser. Let's face it, this isn't the kind of car you would want to get as an ultimate driving machine; not to say it's bad but if it's the whole driving experience you emphasise more than anything else in a car, there's probably another option. The C-class is about comfort, being elegant and arriving in style.
.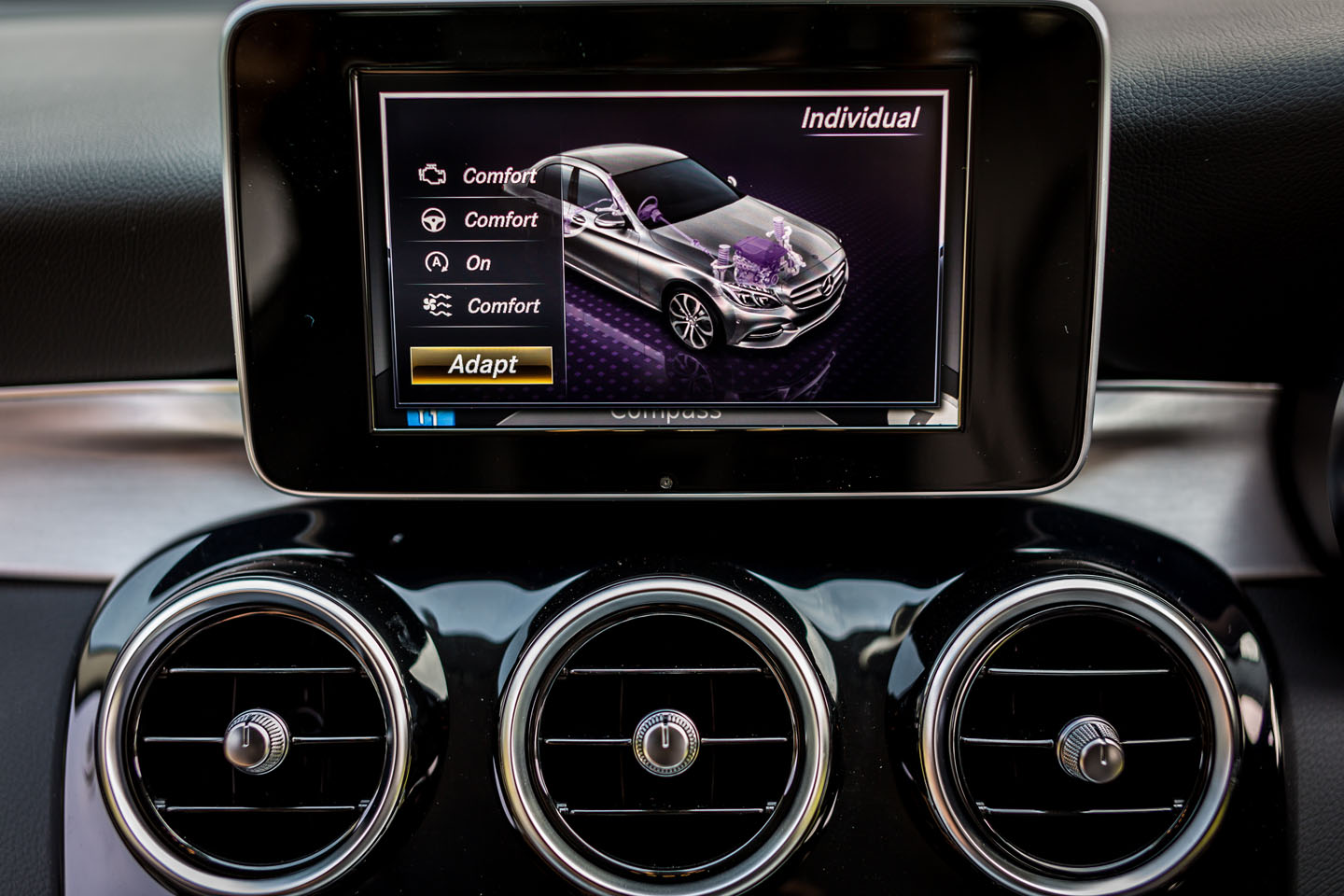 .
Nevertheless, you can adapt the engine, transmission, suspension and steering settings by utilizing the Agility Select lever found next to the trackpad sitting between the front passenger and driver. By default, "Comfort" mode is always engaged when starting the car. Drivers may then change between "ECO", "Sport", "Sport +" or an Individual setting.
.
.
Cabin Convenience
.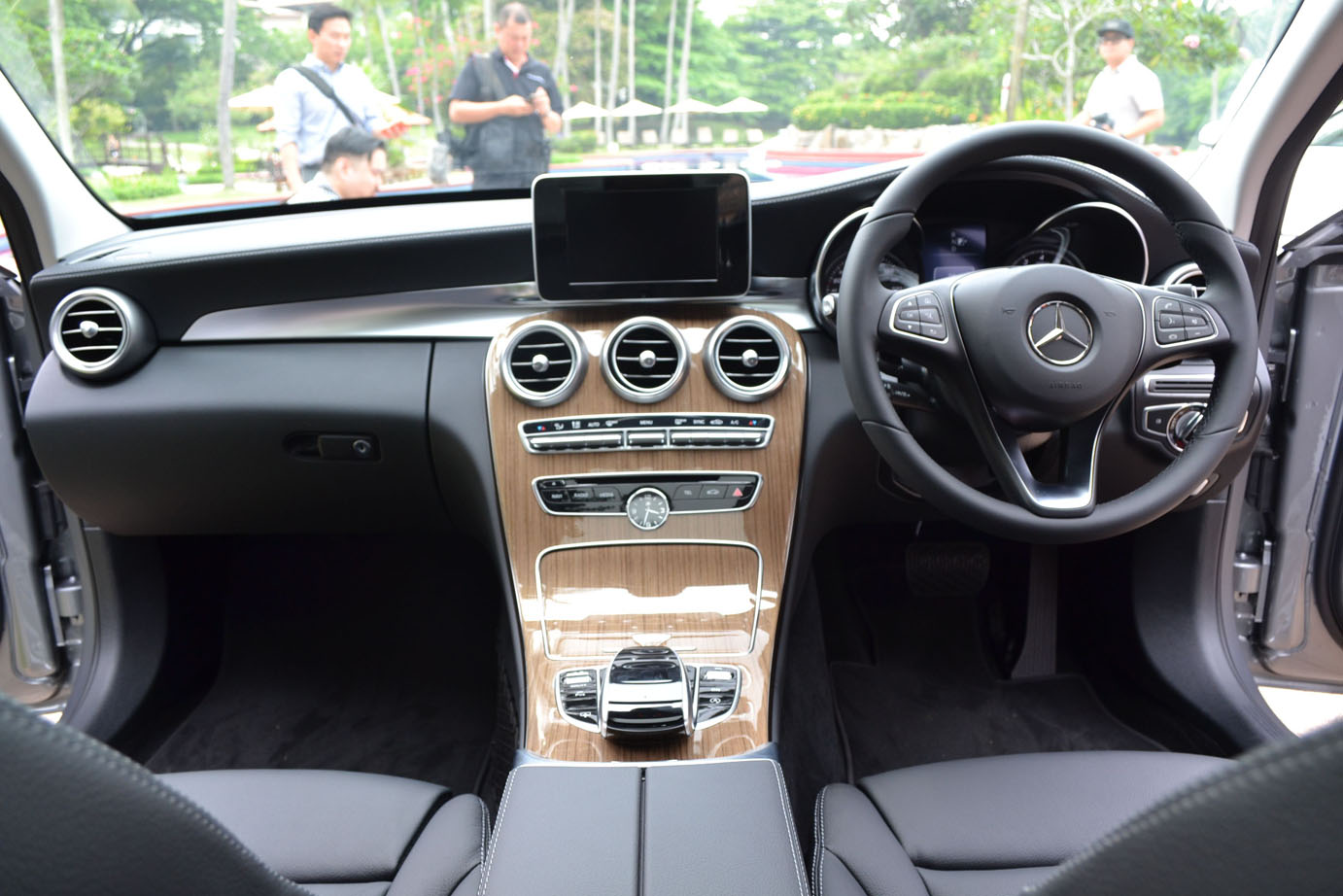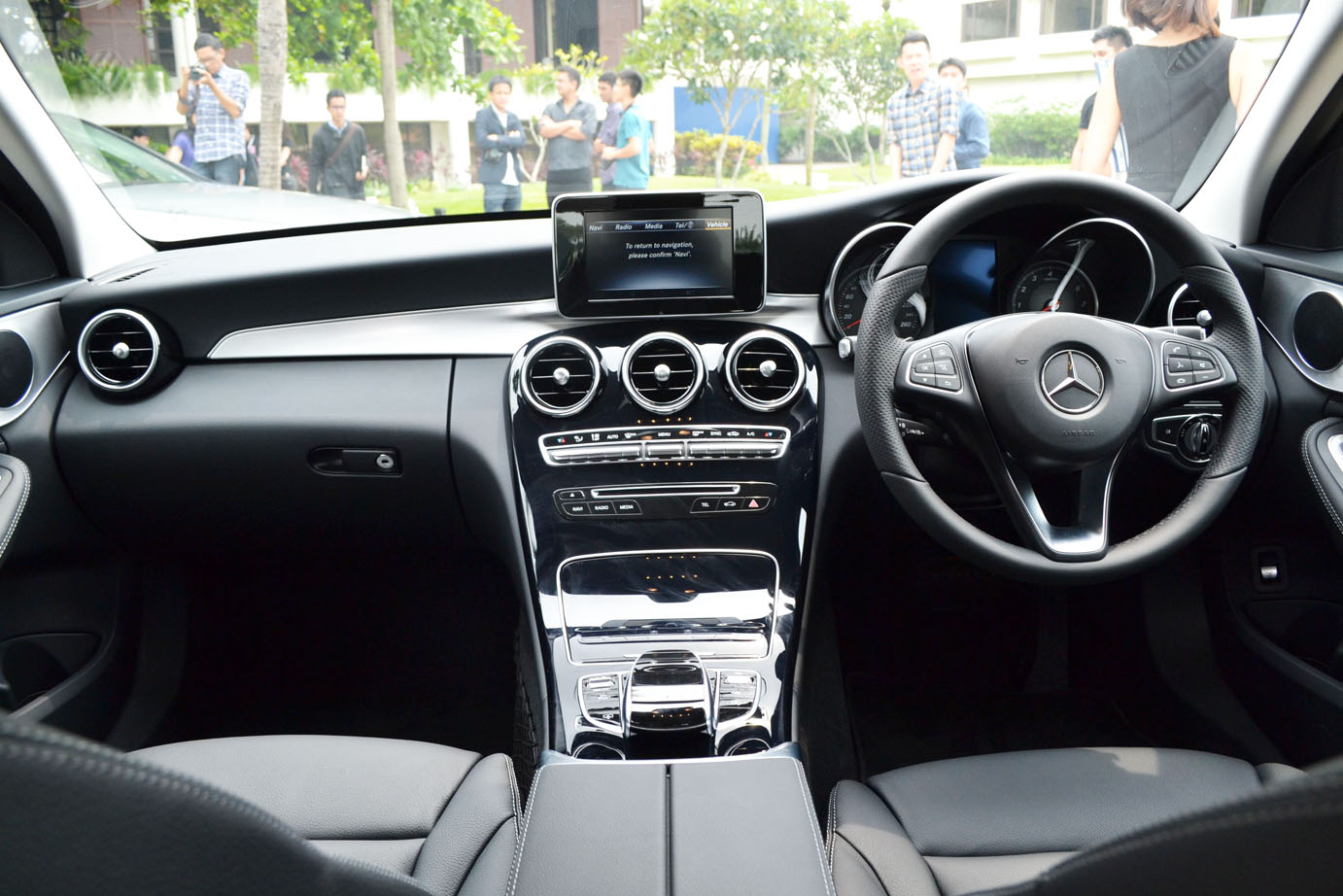 .
It is the insides that defines it being far ahead of the competition; the C-class oozes luxury and class in a manner even the blind would know he's in something special the moment he steps in. Always fancied a yacht and a Mercedes? Get the C250 and you'll have wood trims not so dissimilar to what you'd find on a deck of a luxury boat whereas the C200 has piano black panels. The lines on the dashboard flows in a manner that's both modern and sporty while the analog clock on the C250 adds much retro into the overall feel of the cabin. Here are some pictures
.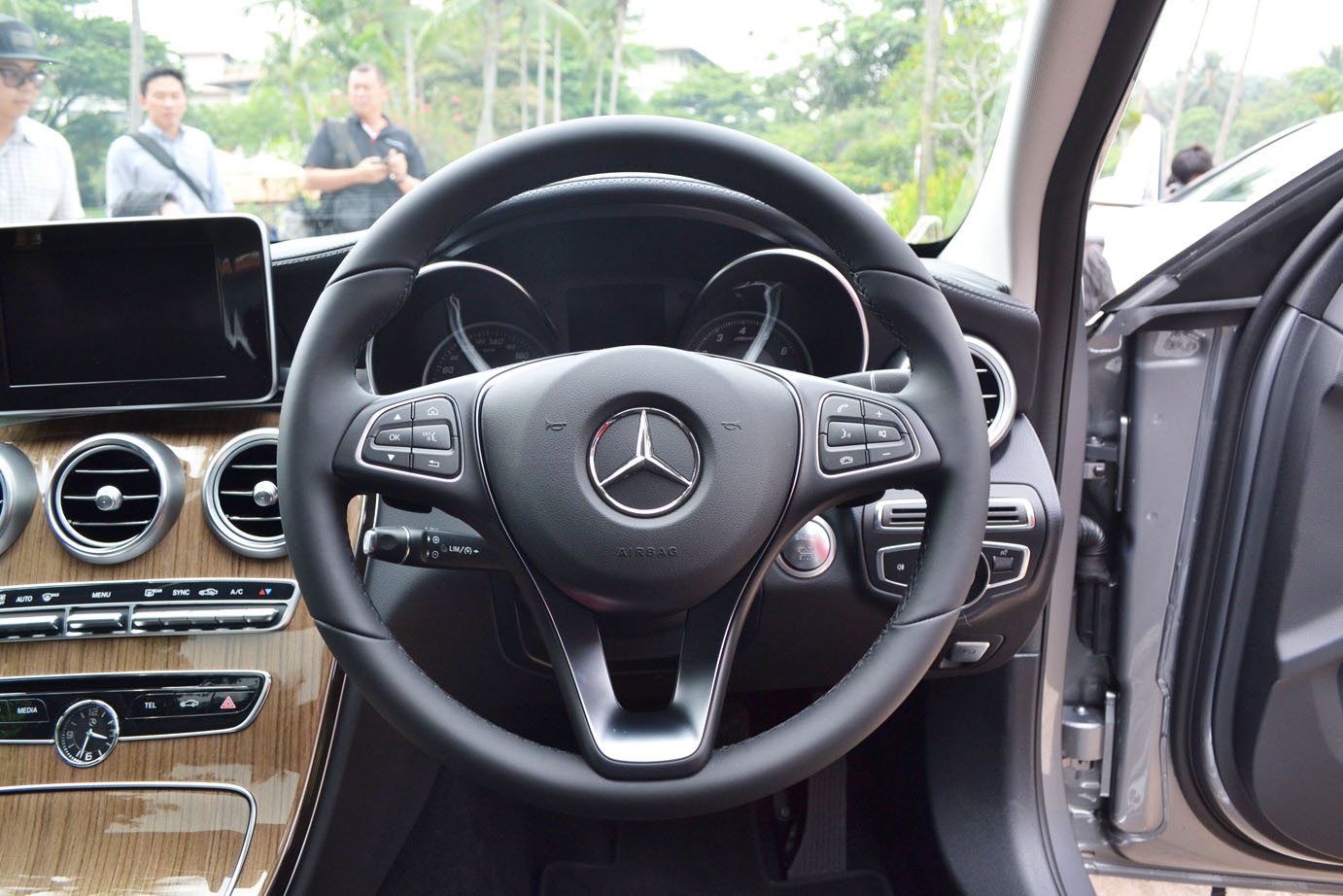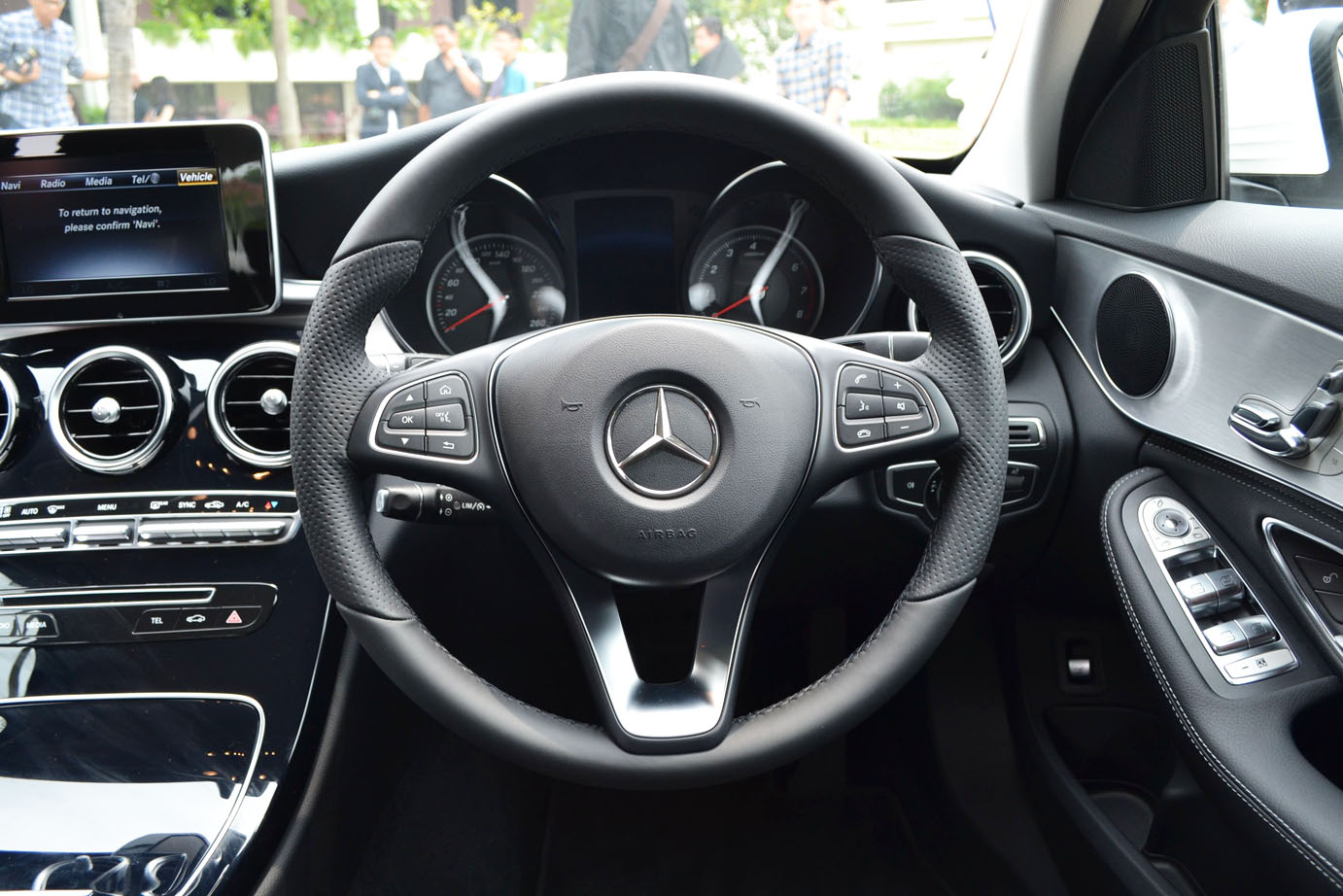 .
In case you didn't know already, the gear stick is located behind the steering on the right side.
.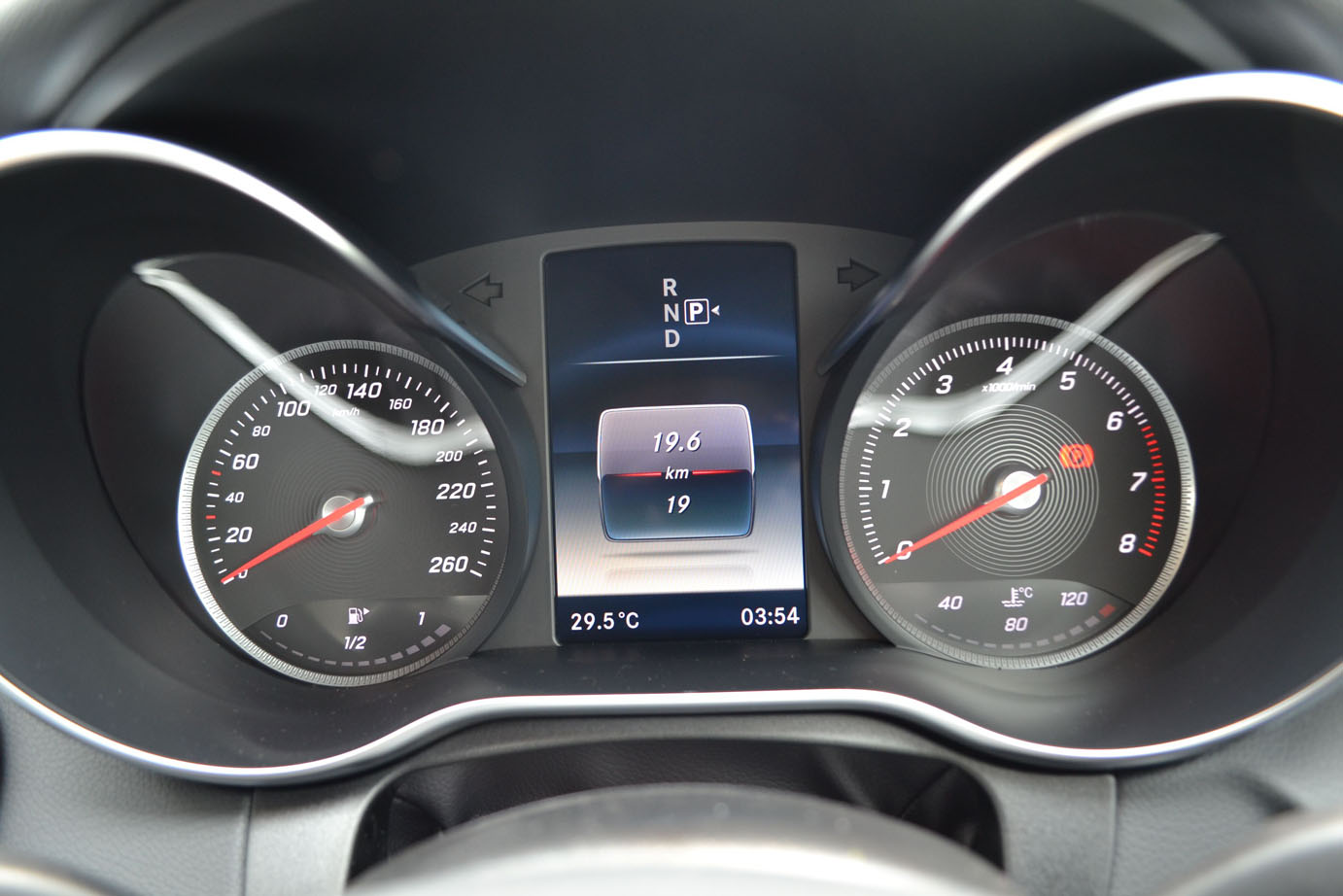 .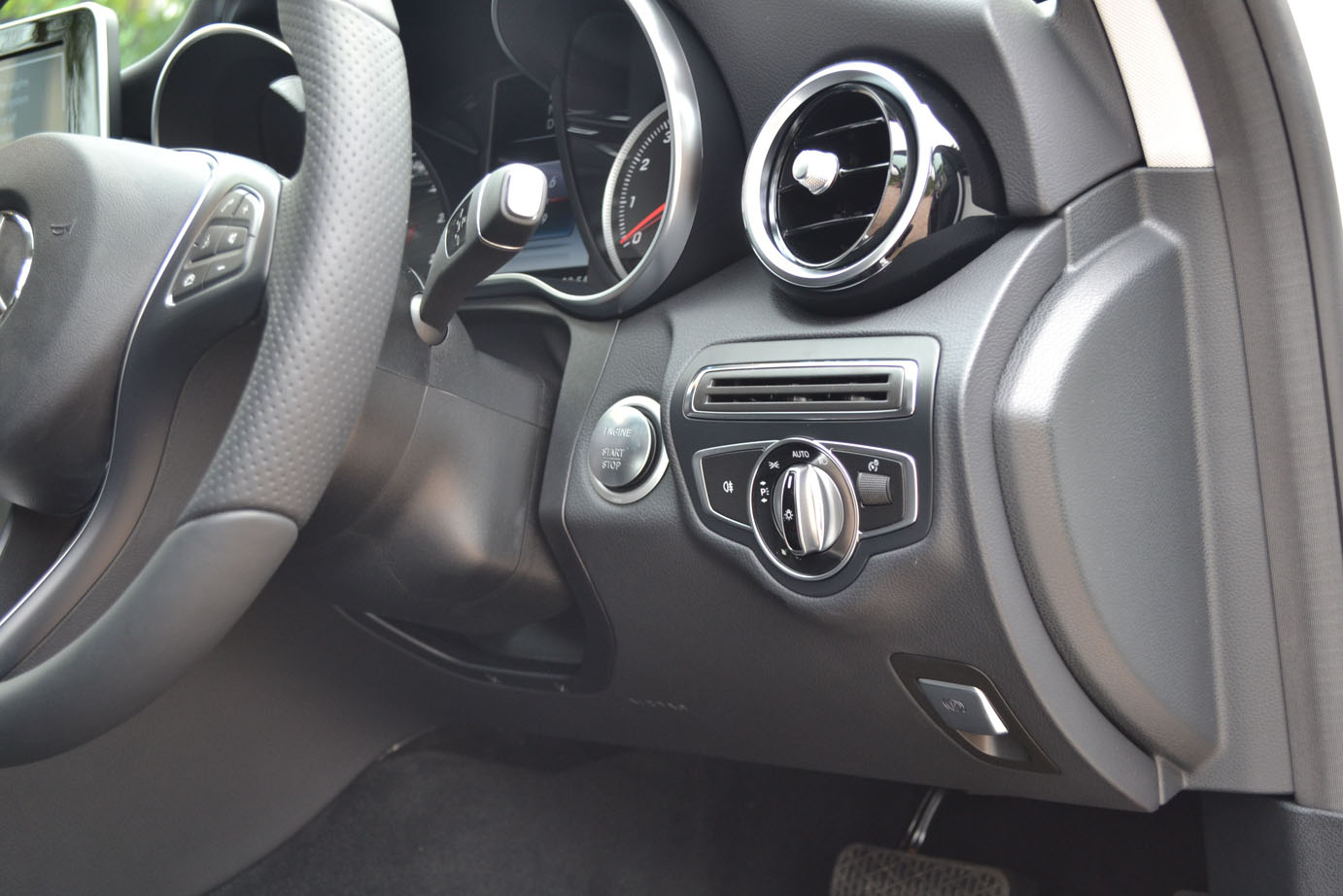 .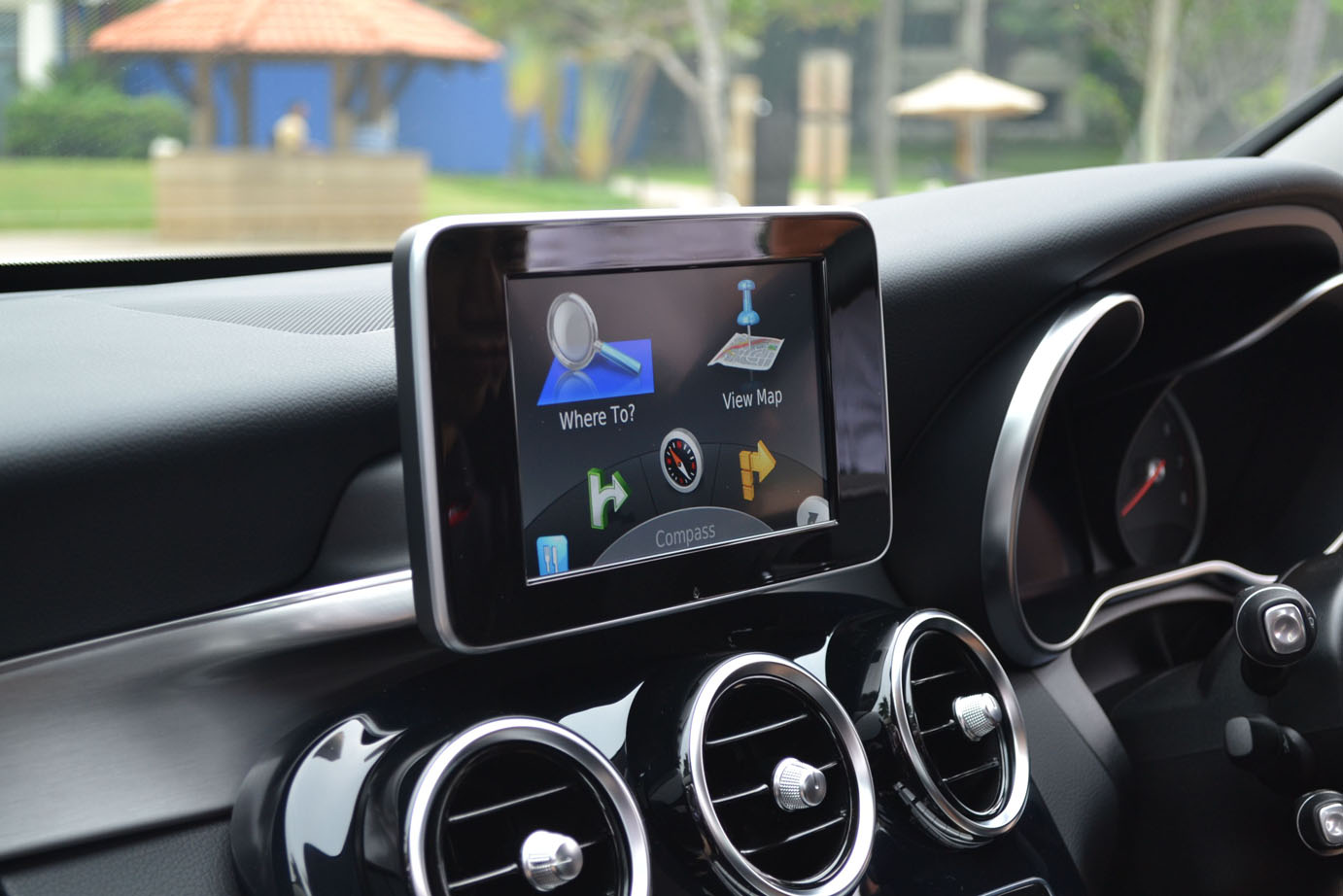 .
The 7″ display located on the top of the center air conditioning vents isn't touch screen but it's well positioned to display critical information such as GPS without the need to divert your eyes far from the roads.
.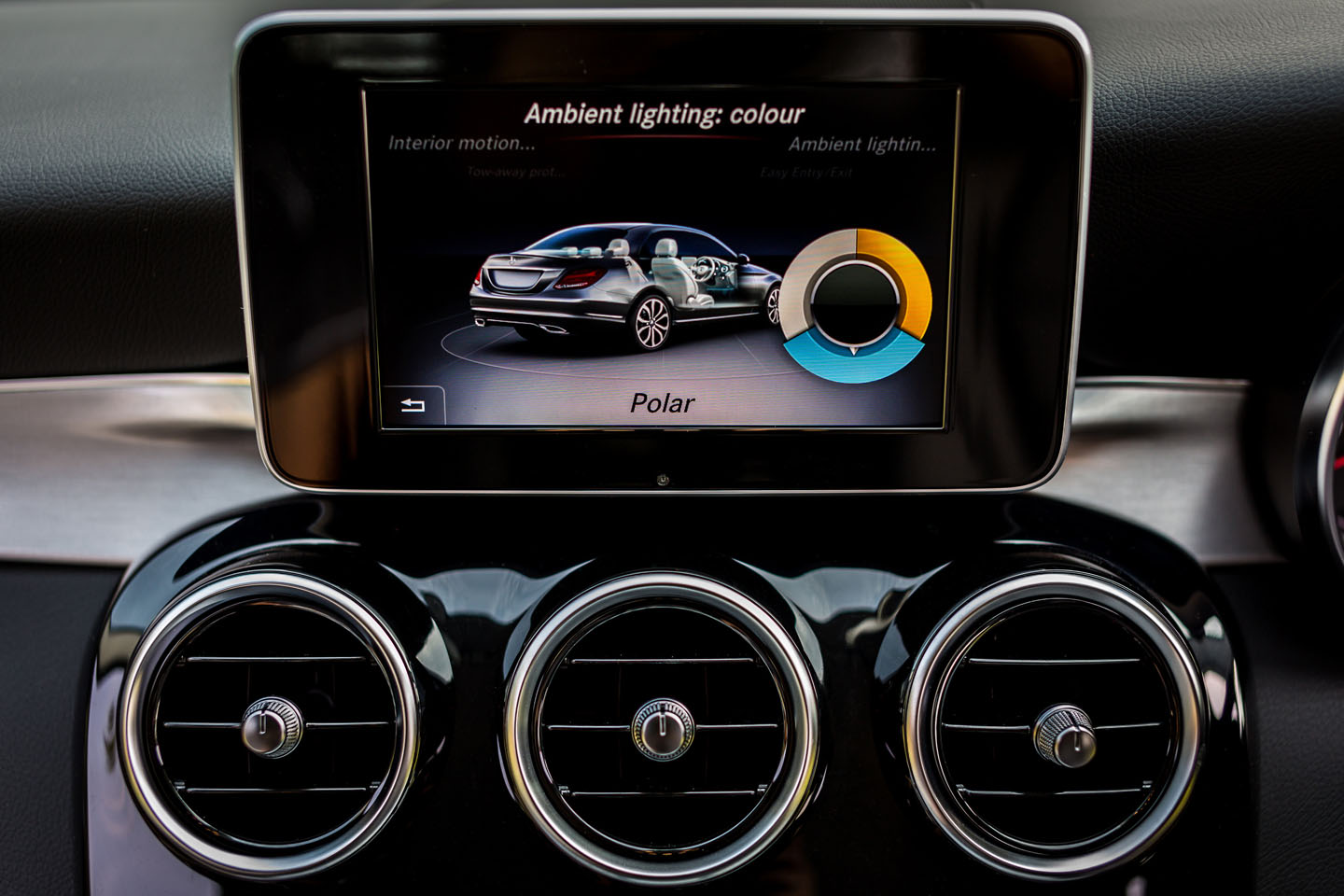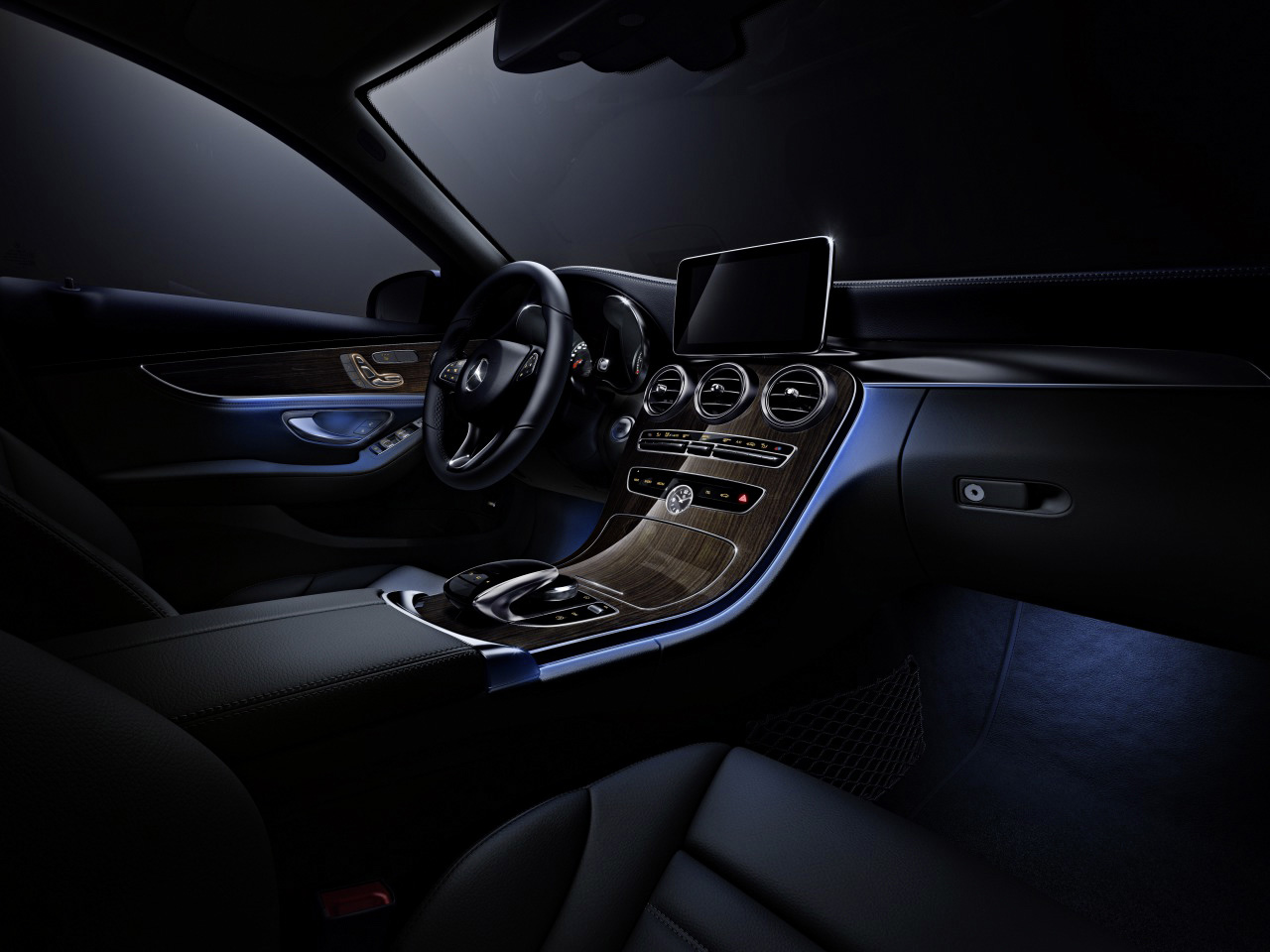 .
You can change the interior lighting to three colors; solar, polar and neutral, all emitting from LEDs and selected by the head unit and you can adjust the brightness to five levels.
.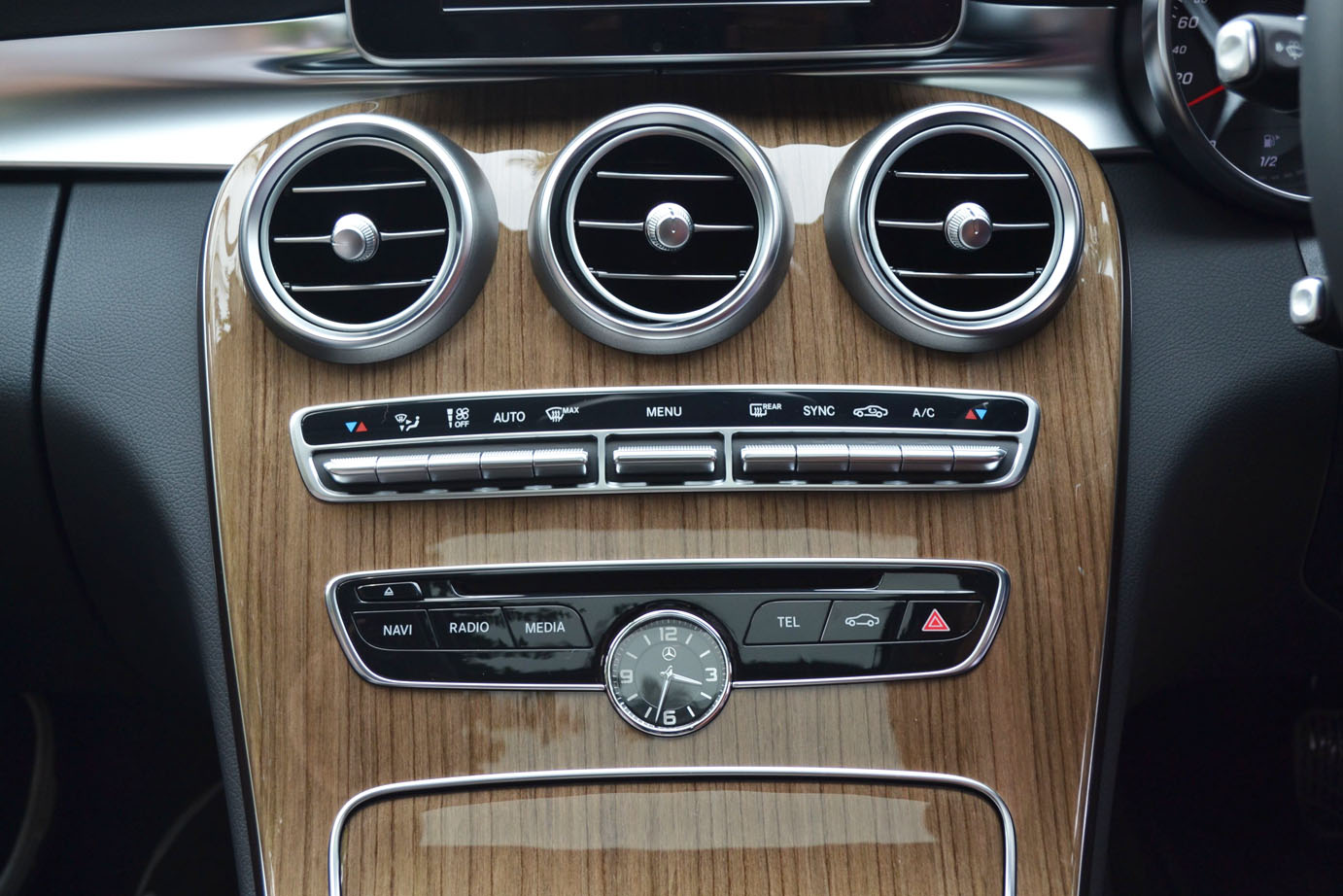 .
The controls are simple, neat and cleanly arranged. The clock is so beautiful, no? The C250 has AIR-BALANCE which is an active fragrancing, air ionisation and a more efficient filtration compared to the C200.
.
As for the sound system, the Audio 20 is a Bluetooth enabled, radio, CD/DVD, USB, SD card and Apple iPod/iPhone compatible. Sound reproduction is handled by a unique Frontbass system whcih uses the cross-member and side member of the body structure as a resonance chamber for the bass speakers.
.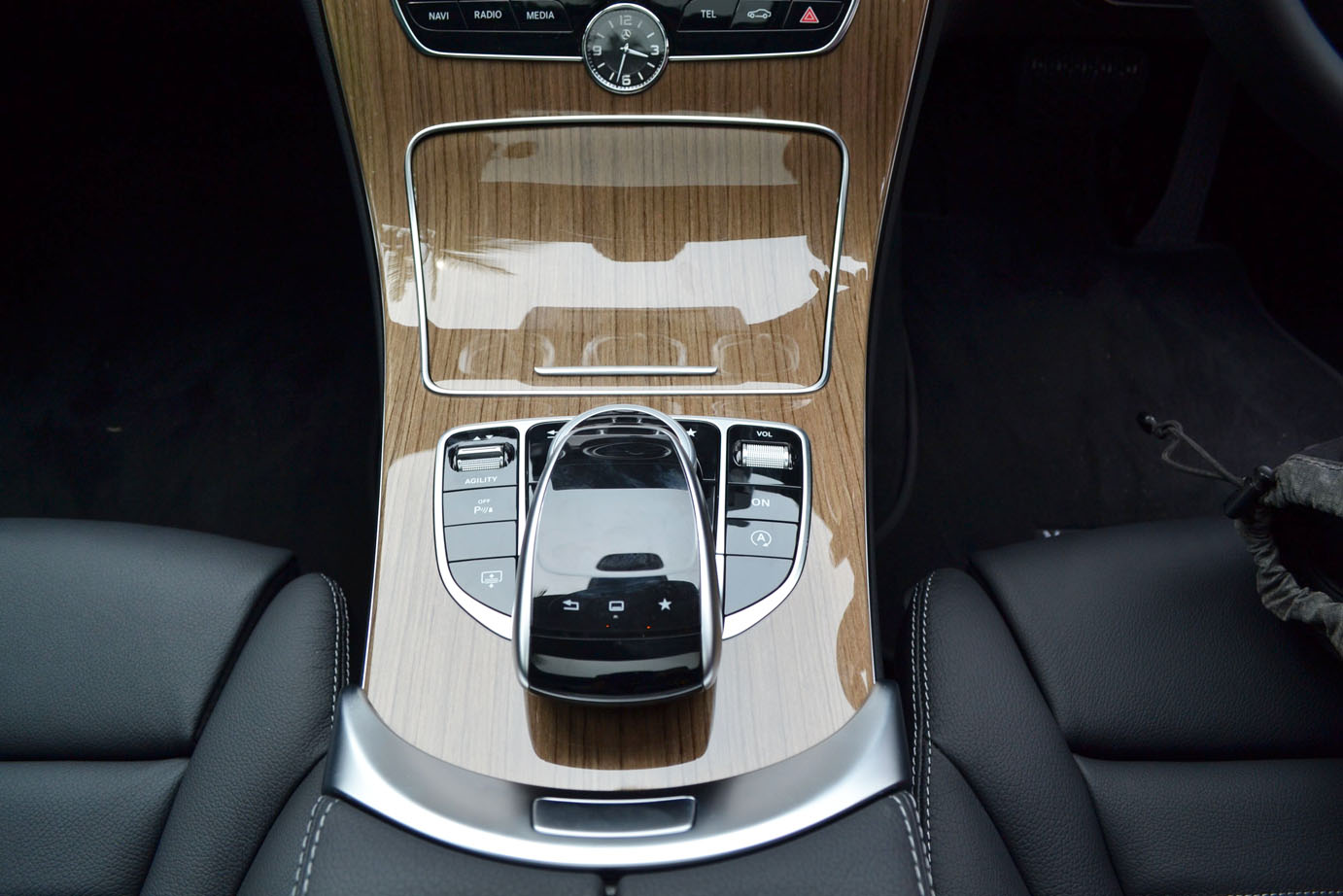 .
No, that's not the gear lever. Instead, you get a touchpad which allows you to input letters, numbers and special characters, all entered in handwriting, in any language as supported by Audio 20, Mercedes Benz's audio system. All characters are displayed on the 7″ monitor on top.
.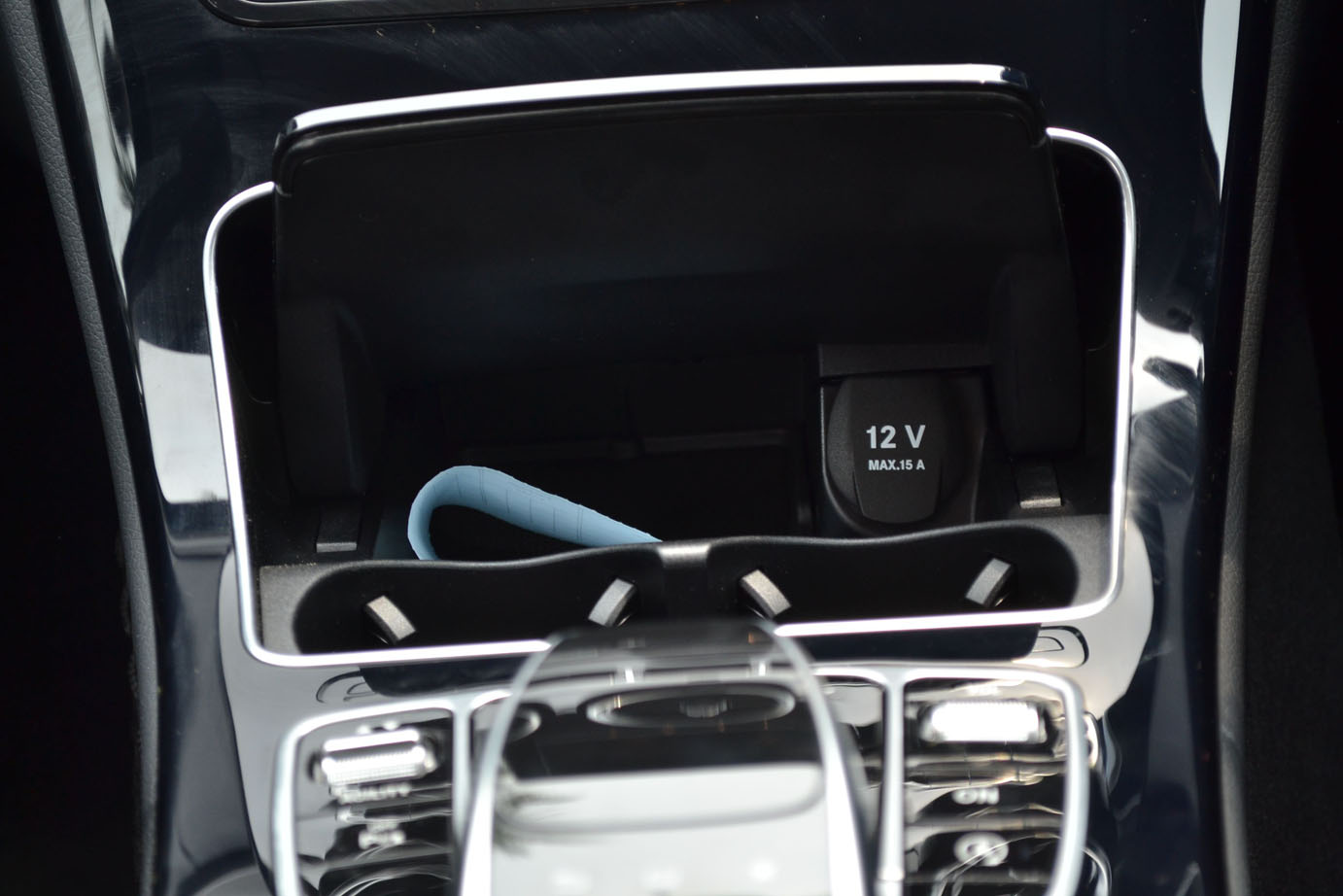 .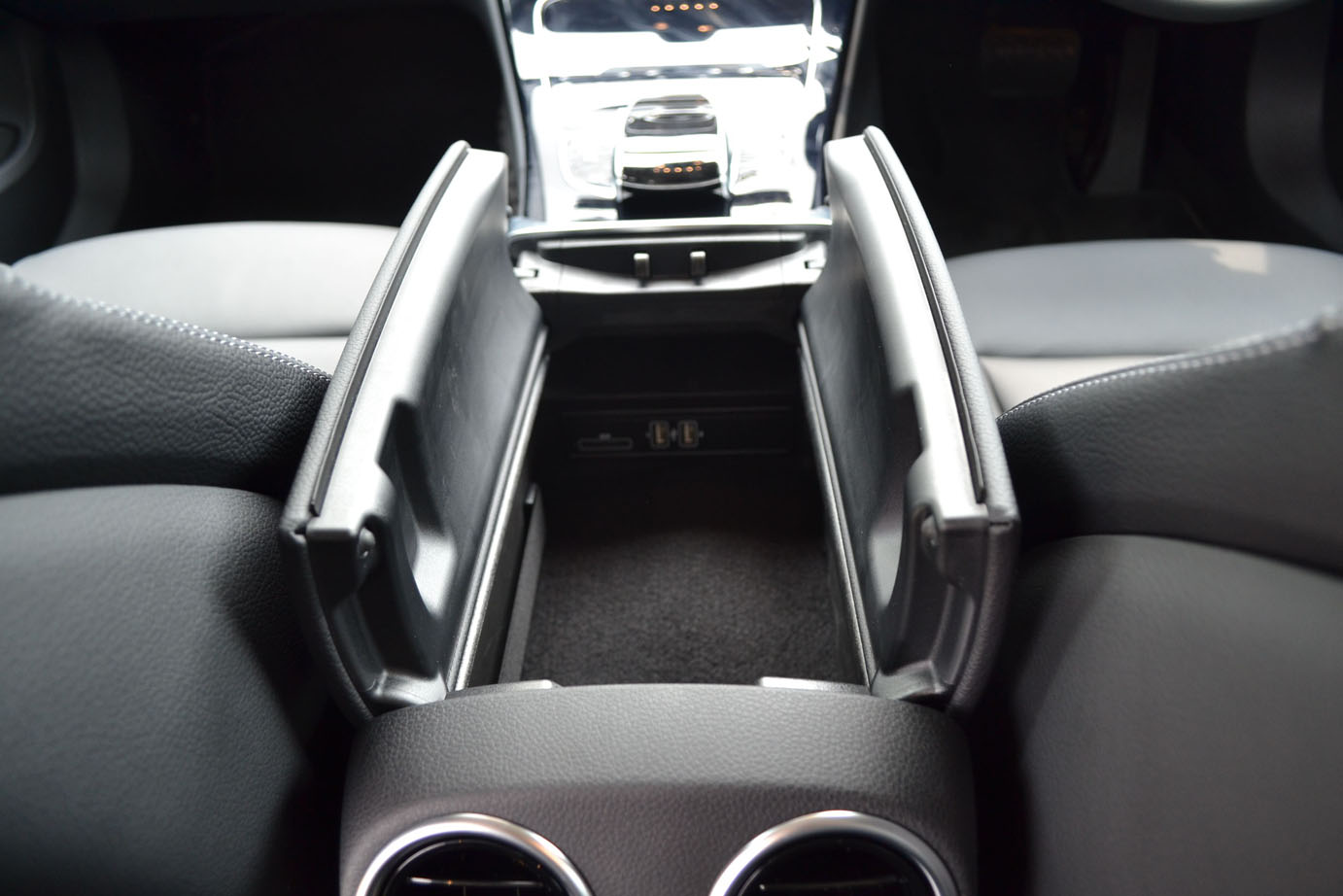 .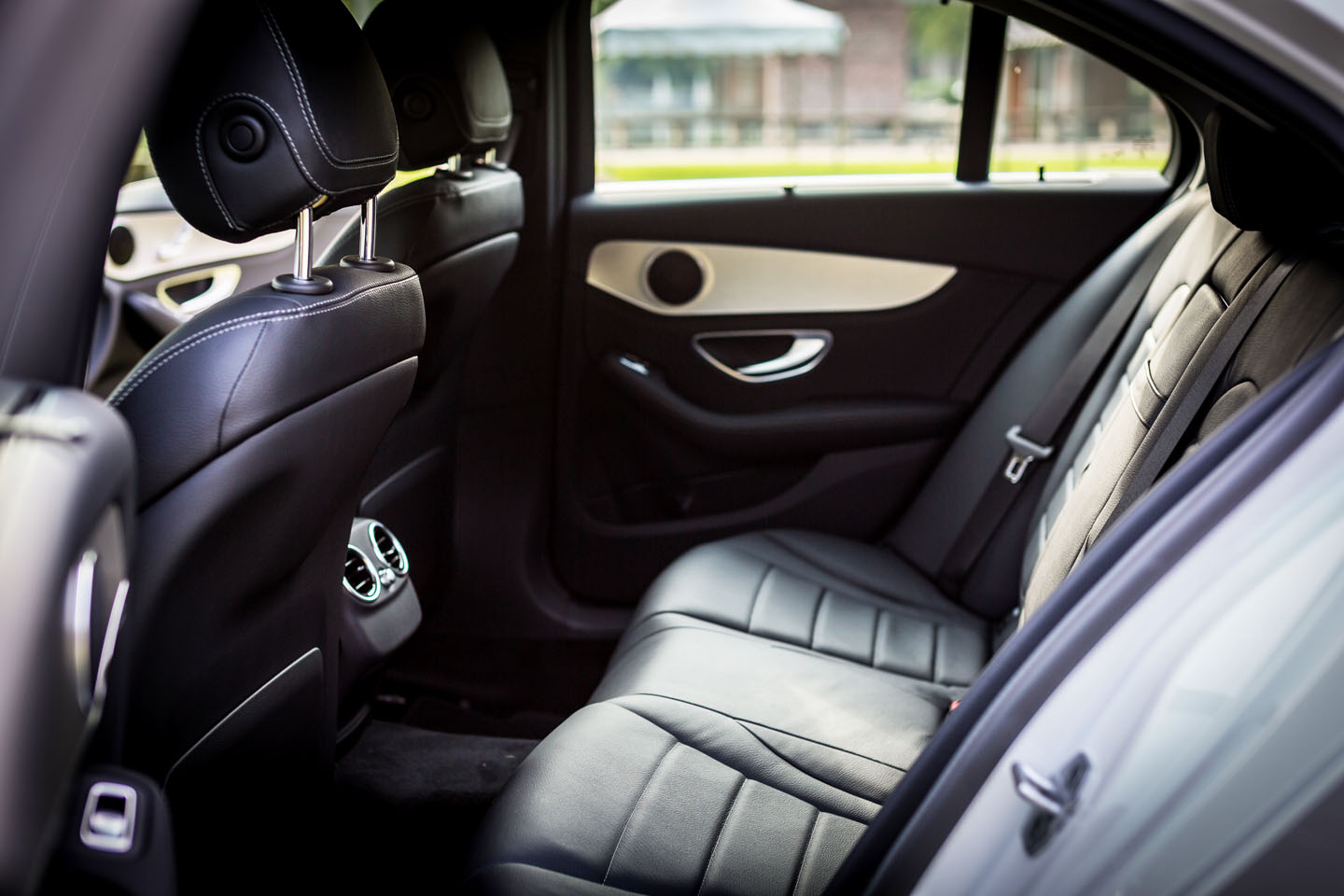 .
Rear legroom is adequate for adults with enough headroom for tall passengers but in this respect, the BMW 3er feels slightly better. At least the rear backrest recline is more comfortable compared to the CLA.
.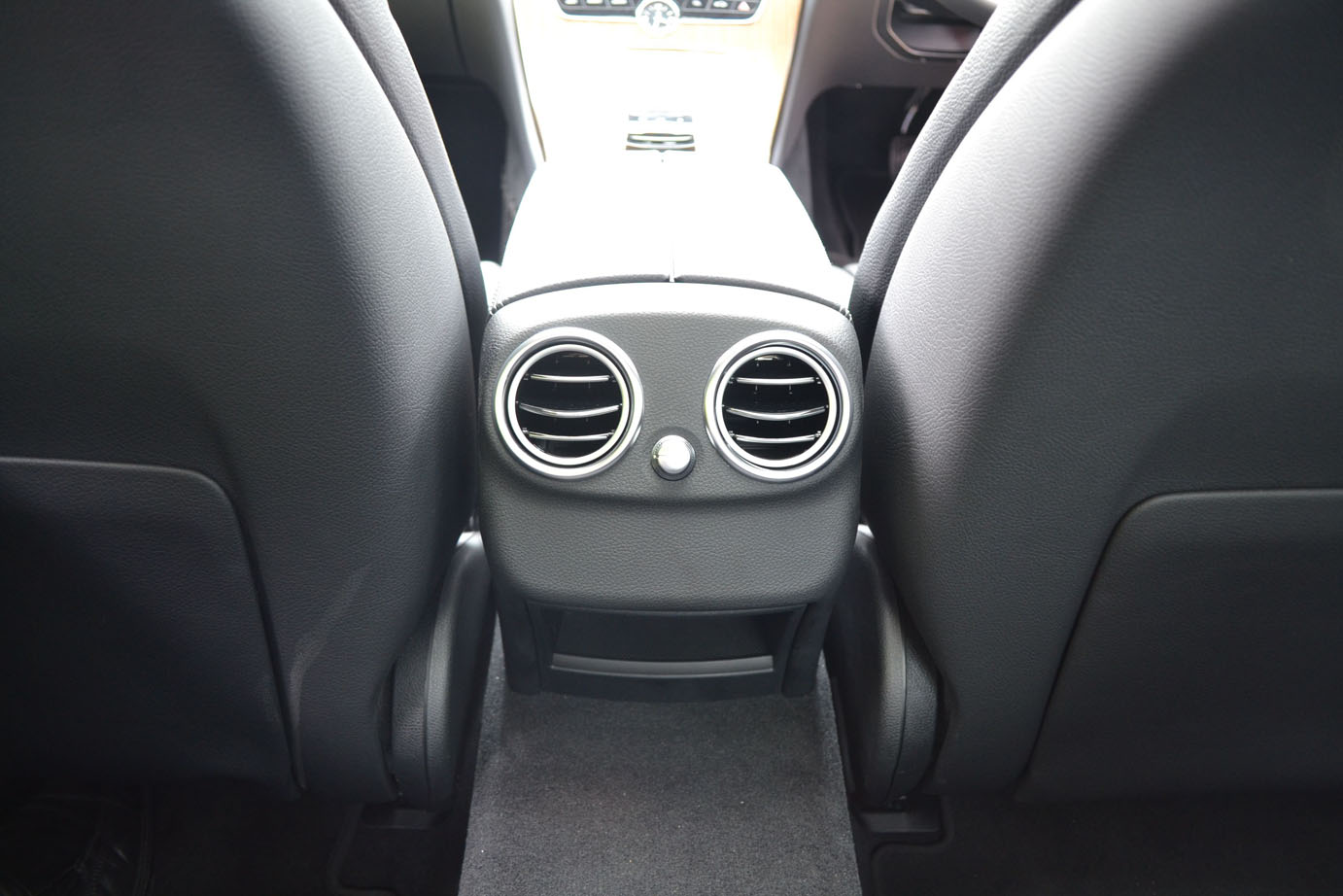 .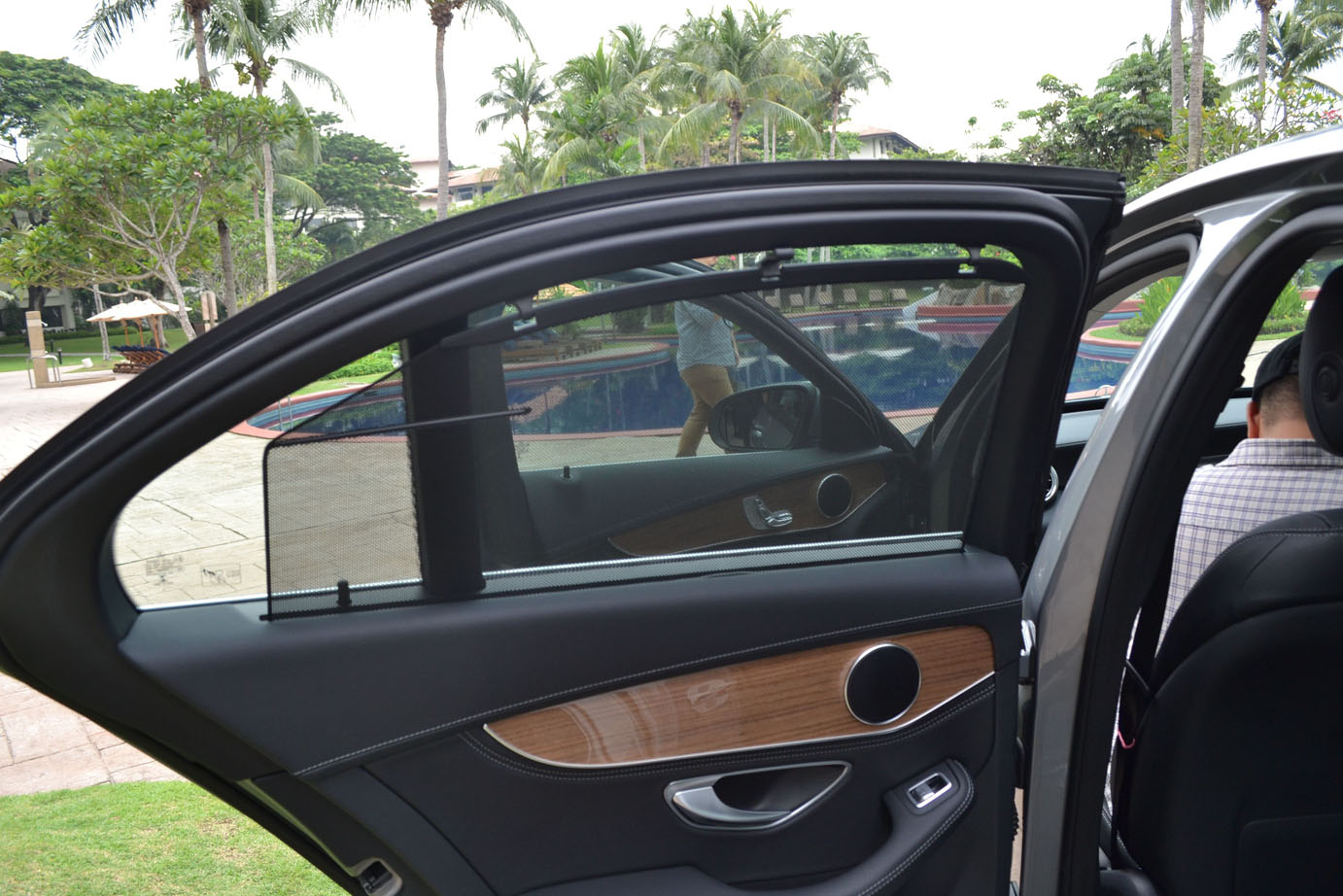 .
Forget about foldable shades; rear windows has shades integrated to the door.
.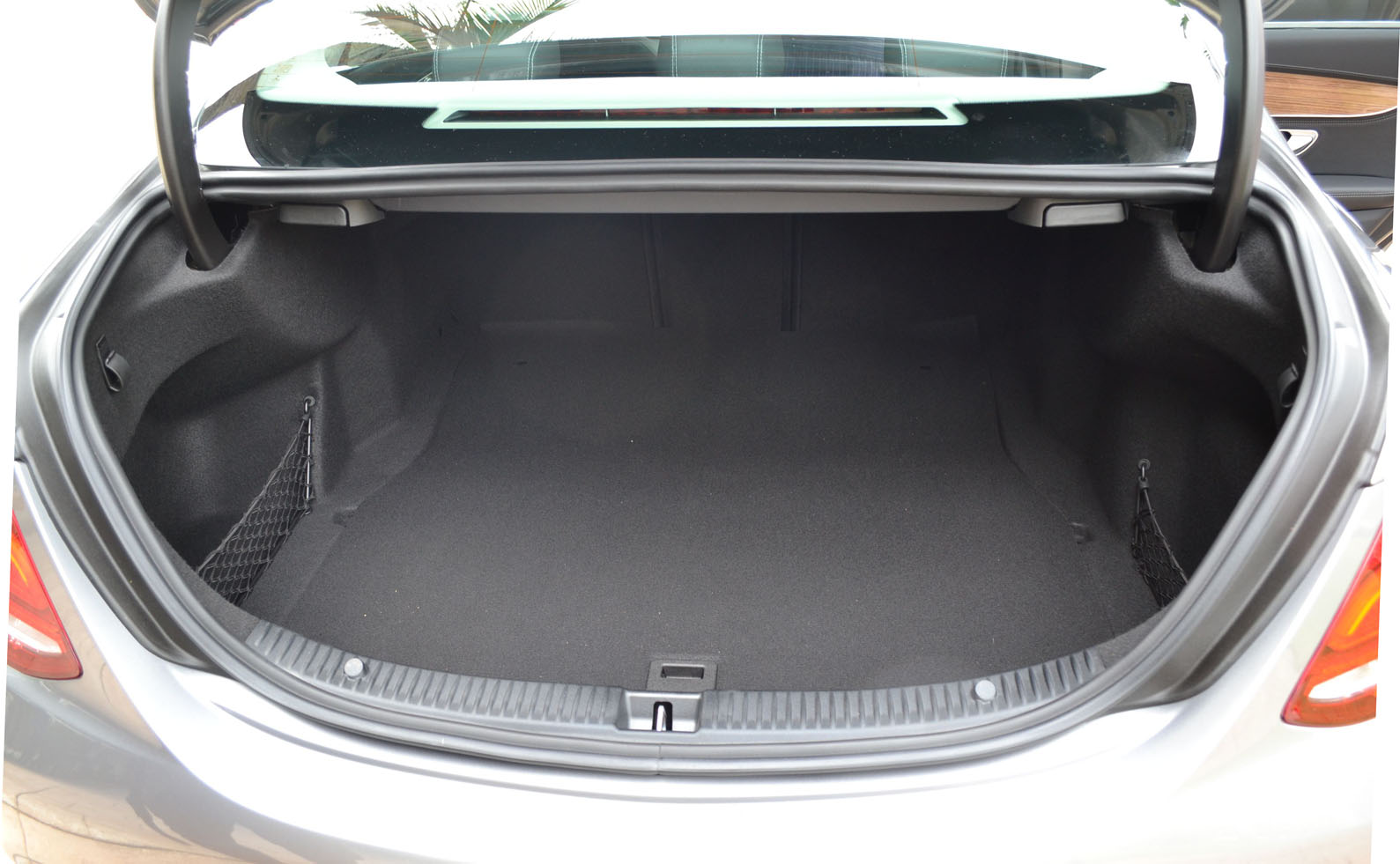 .
Boot space is great with 480litres of space  and the rear seats can be folded with the levers near the boot hinges.
.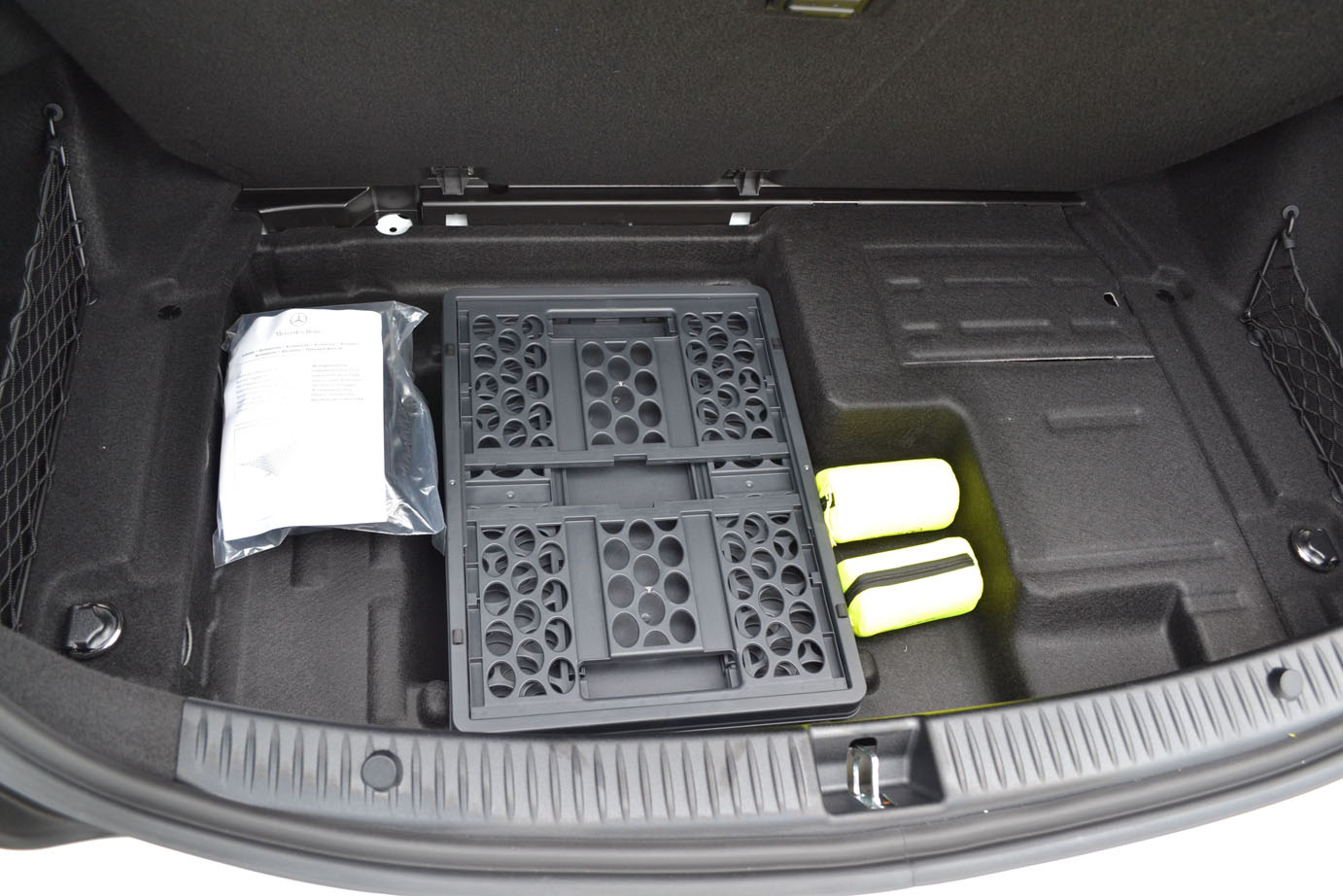 .
Nope, no spare tires here.
.
.
Safety
.
The list of safety features is impressive. You get:-
ATTENTION ASSIST – warns the driver of inattentiveness and fatigue by informing them of their level of drowsiness and how long they have been driving since their last break
Adaptive Brake Assist – protection from collisions from speeds as low as 7km/h
COLLISION PREVENTION ASSIST PLUS – autonomous braking at speeds of up to 200km/h or brakes in response to stationary vehicles at speeds of up to 50km/h or prevent rear-end collisions at up to 40km/h
Active Parking Assist – automated parking with active steering and brake intervention in both parallel and end-on parking spaces
Front and passenger airbags, combined thorax/pelvis sidebags for driver and front passenger, a newly developed windowbag and a kneebag for the driver
Front passenger has automatic child seat recognition which automatically deactivates front passenger airbag when a child seat is fitted and reactivated once it has been removed.
.
.
Ownership and Maintenance
.
With a price tag of RM285,888 for the CBU C200 and RM314,888 for the C250 (prices without insurance), it's not an easy price to swallow, especially considering the BMW 328i costs significantly cheaper yet offering a much more dynamic driving experience. However, keeping in mind that the present offering are fully imported with the local assembly due only next year, it is almost assured that the prices will be lower and competitive against it's greatest rivals. How much lower is the million dollar question. Those interested to book can still do so as delivery is expected to be some time mid 2015, by which, you'd have no choice but to take the CKD as last we heard, the initial CBU batch are all snapped up. Time to look for a buyer for my kidney.
.
.
.