.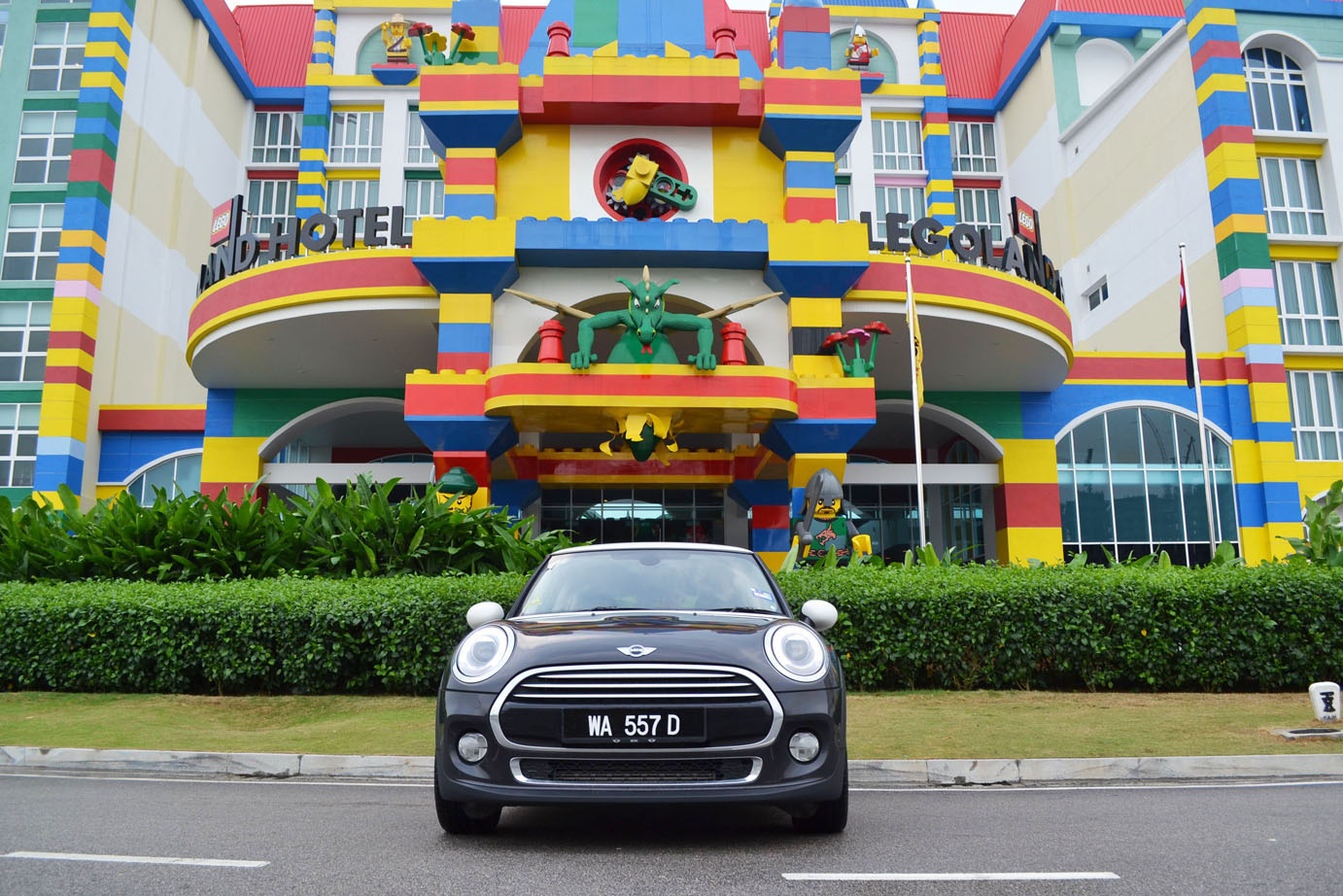 If the adage "The difference between boys and men is the size (and price) of their toys" is anything to be believed, then the MINI Cooper would be the perfect example to accentuate this belief. As the newest iteration of a pedigree that stretches 55 years long, the third generation MINI Cooper aims to better what it's predecessors has packaged so well; unbridled driving fun (while having lower fuel consumption than its predecessor). A tall order, no doubt and one that probably had their engineers pulling hairs at the drawing board but after spending a couple of days in one, I'd say they deserve a good pat in the back for a job very well done. The new MINI Cooper is, to put it simply: quite brilliant.
.
.
Design
.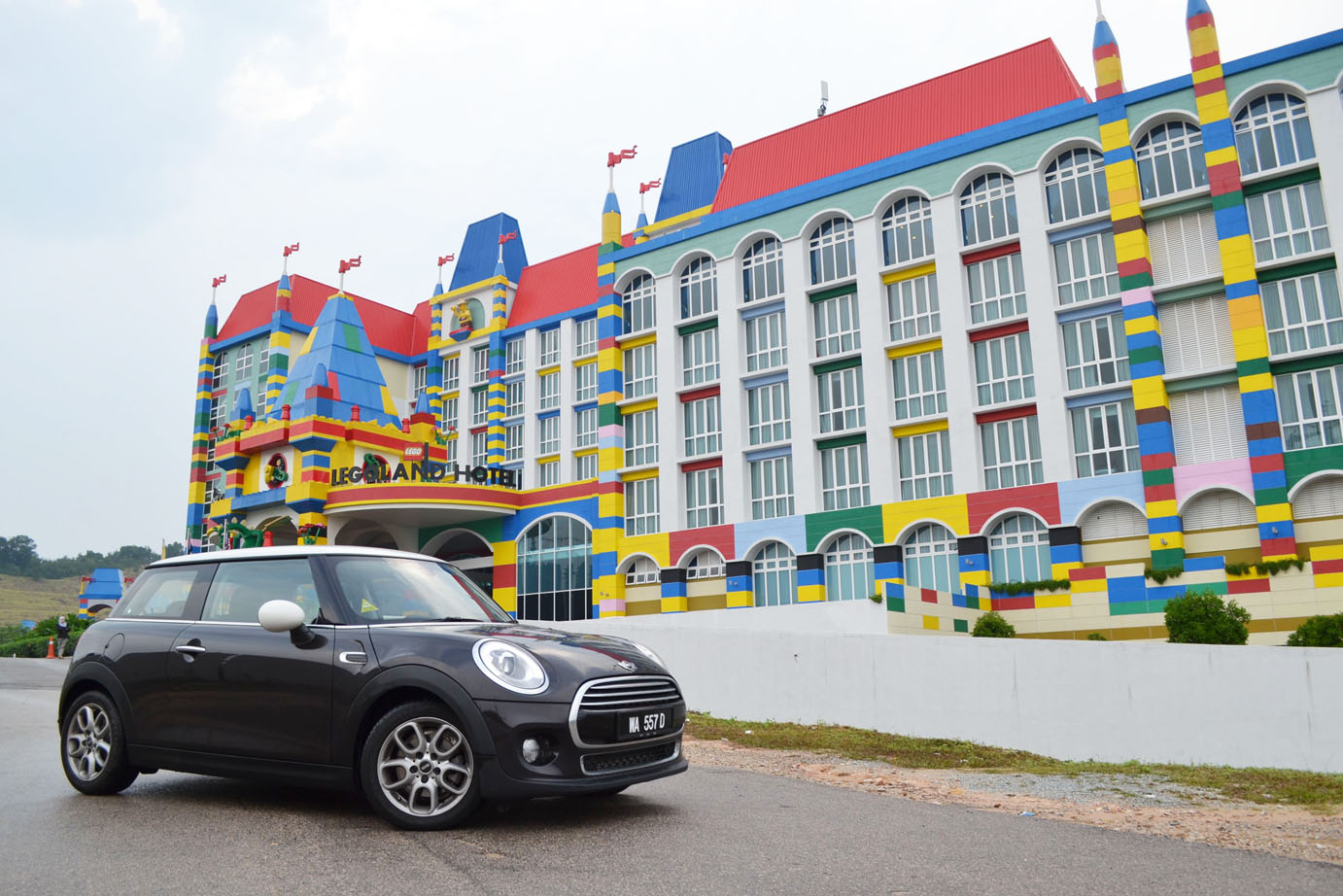 .
If you're not a MINI person, you'd be excused for not being able to tell a third gen from a second at first glance. The main body shape, the distinctive roof, bug-eyed headlamps and the horizontal chrome radiator; essentially everything that makes a MINI – well, a MINI is there. Look closer however and you'll see some differences, such as it's size being bigger than its predecessor – which, you can't really tell unless you see one parked side by side so that doesn't quite work out. The horse-shoe LED Daytime Running Lights would though as it's the first to incorporate this design and adds a tinge of cheekiness to an otherwise already endearing, if not timeless, mien.
.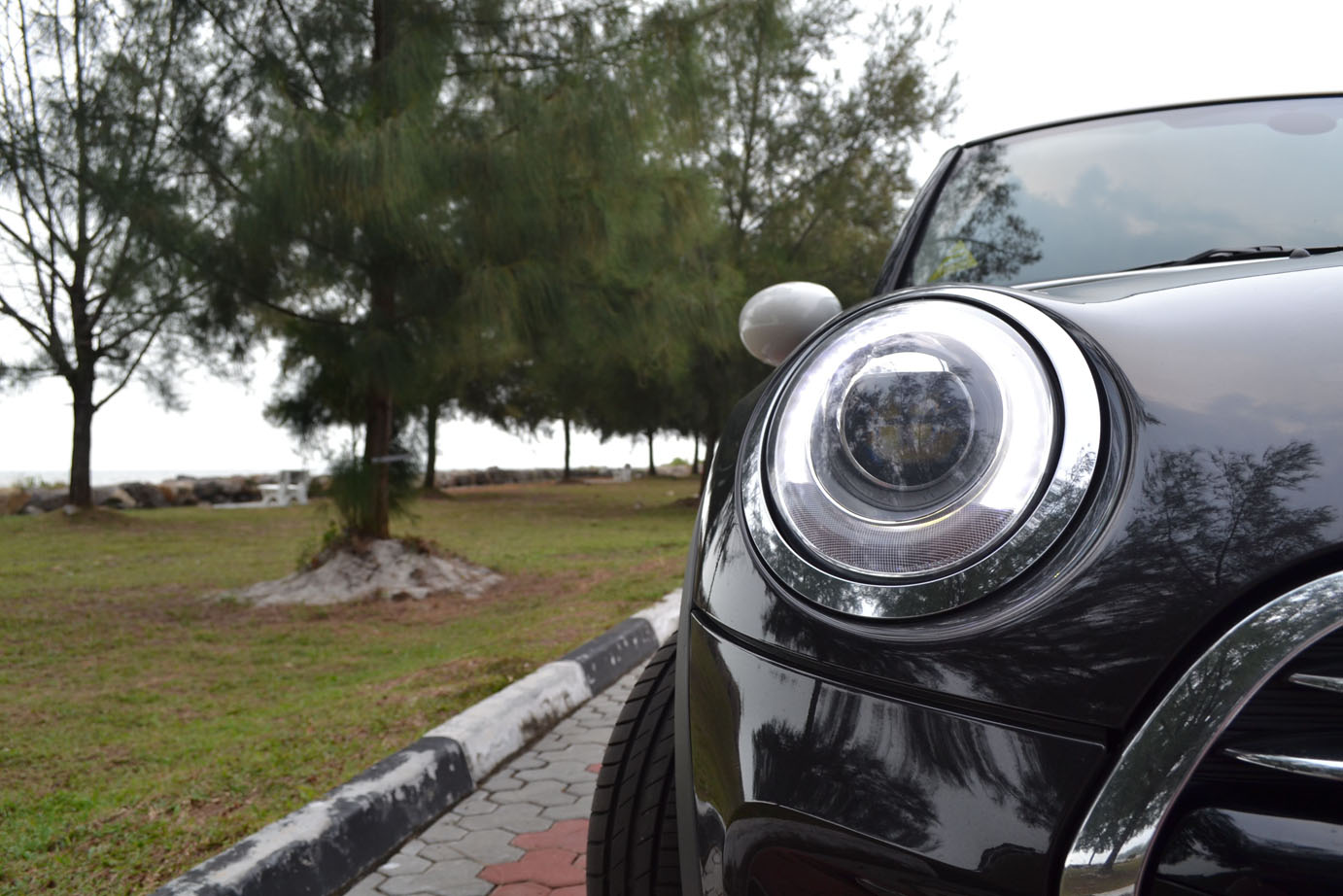 .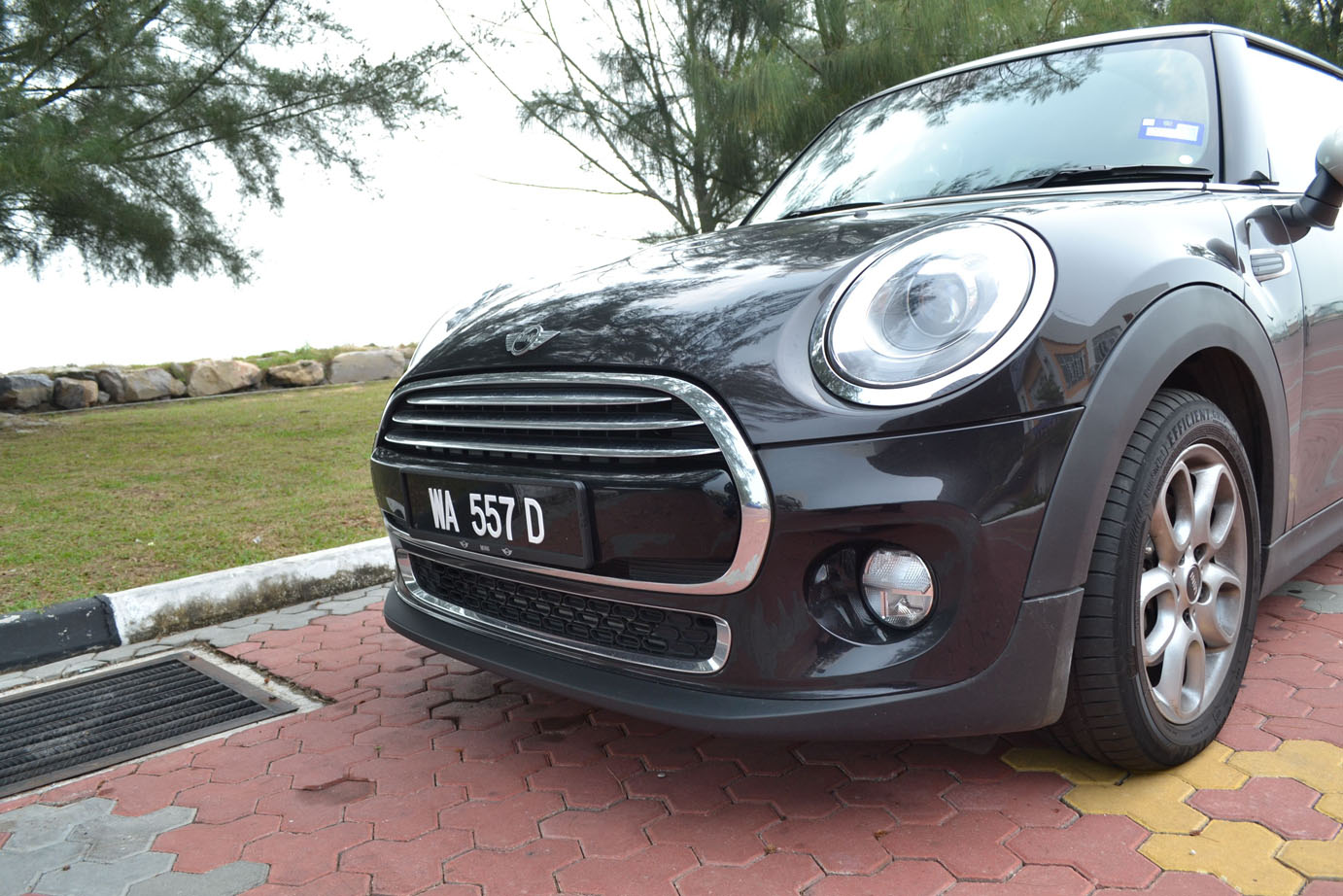 .
The lower fog lights in the MINI Cooper Chilli are LED (and so are the headlamps) and are very bright, providing ample illumination on the road ahead in any weather condition.
.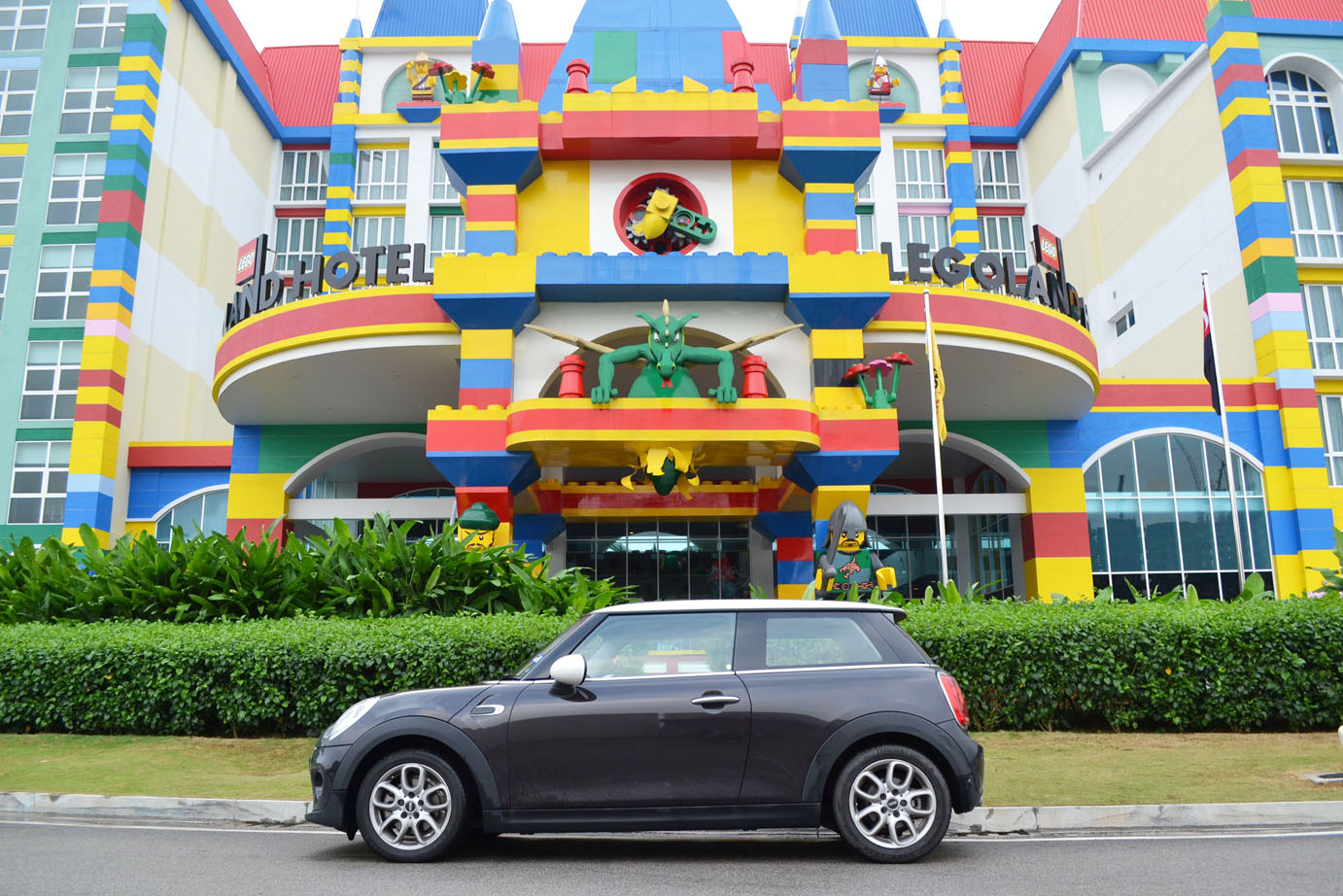 Like most kids nowadays, the next generation MINI is bigger and better. Measuring 3,821mm in length, 1,727mm in width and 1,414mm in height, it's grown longer by 98mm, added 44mm of girth and taller by 7mm. Against it's great grandfather the original MINI, the latest addition to the MINI legacy is an absolute giant with a whopping difference of 802mm in length, 330mm in width and 68mm in height. Ain't nothing junior about this junior.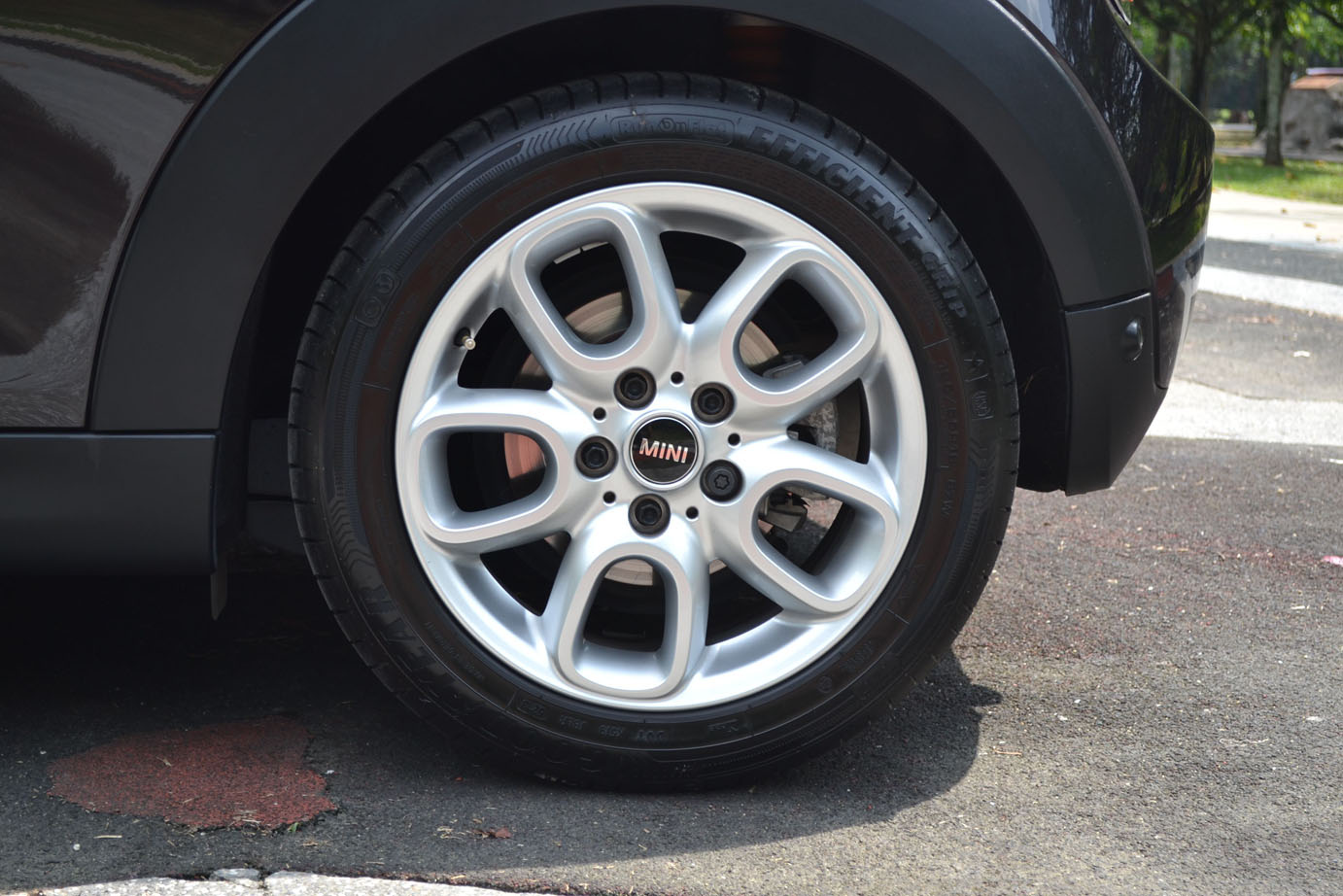 .
16″ light alloy wheels Loop Spoke Silver for the MINI Cooper and Cooper Chilli. The Cooper S would get 17″ wheels.
.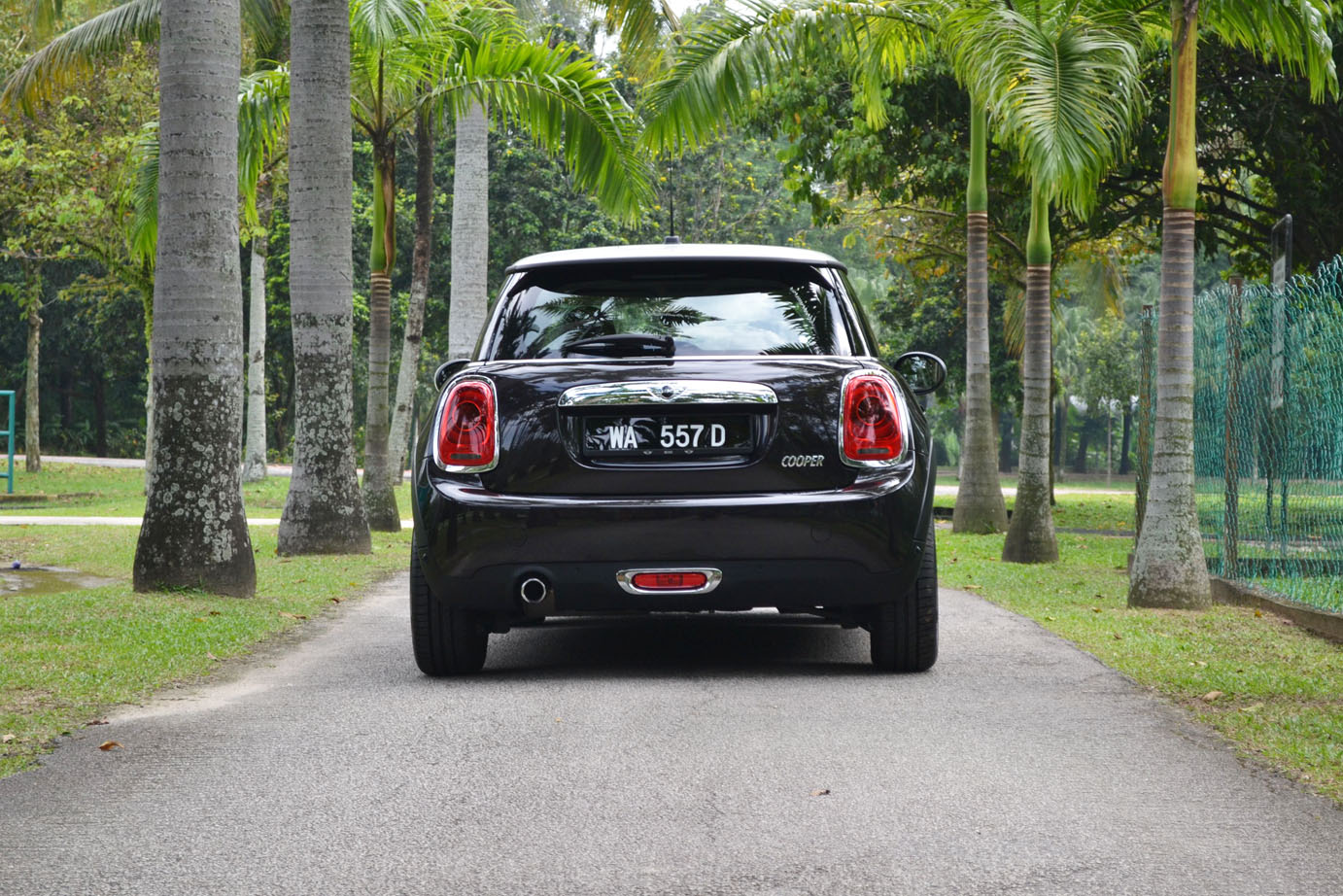 .
Also quite different from the rest of the MINI family are larger rear tail lamps. Some say it's a tad too big but personally, I find it quite a alright. Then again, I'm Asian and Asians love large lamps.
.
.
Performance
.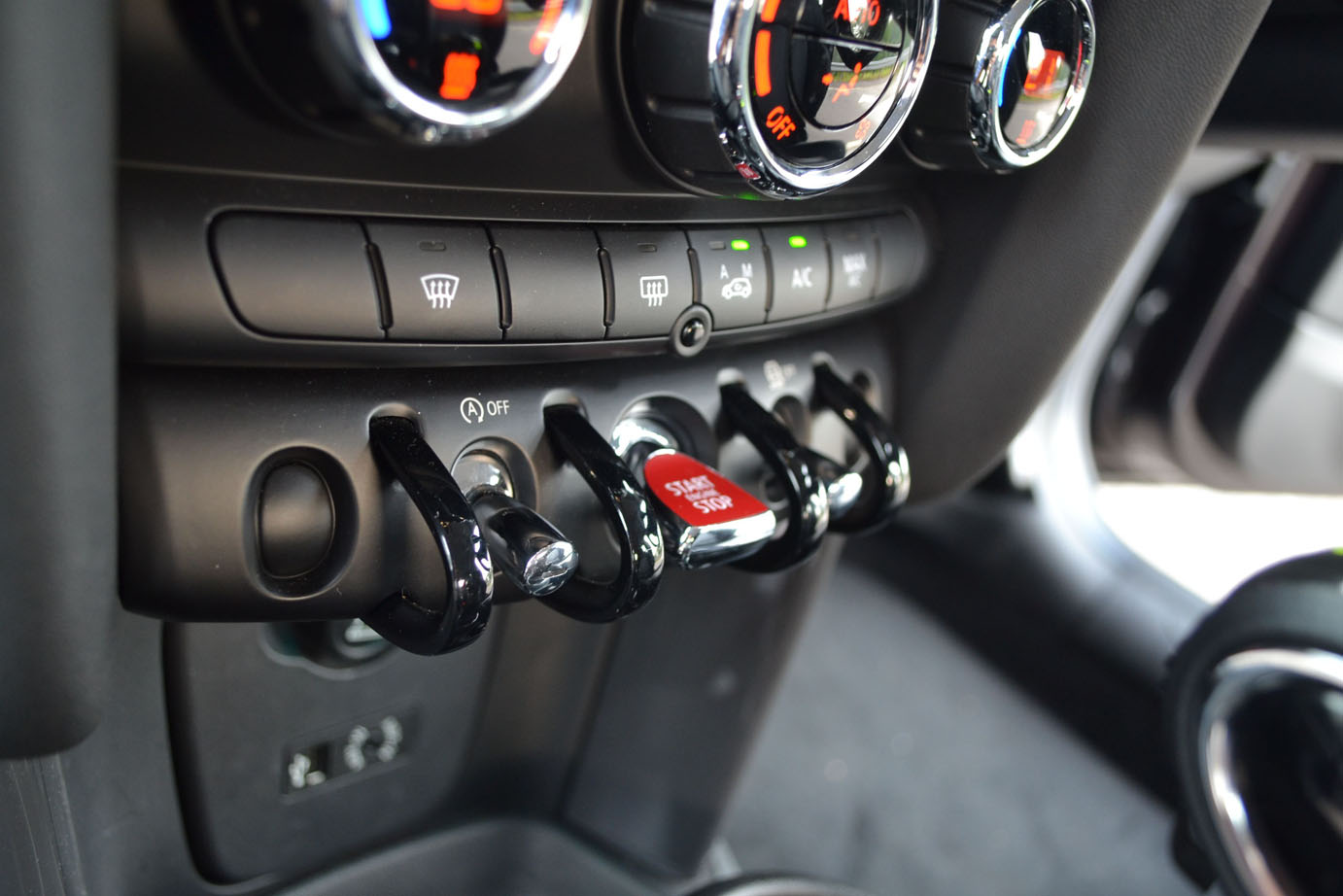 .
There are many vehicles these days that claims to offer go-kart feel when driving them but only the Mini lives up to this. Step into the cabin, press the engine Start/Stop switch and the 1.5litre MINI TwinPower Turbo Technology engine burbles cheerfully to life. While 136hp and a maximum torque of 220Nm may not sound much but it would be a mistake in underestimating it. Weighing only about 1,115kg, it's quite capable of sprinting from zero to hundred in 7.8 seconds and reaching a top speed of 210km/h. More than enough firepower to kart this little chilli on any track, all from a 3-cylinder engine.
.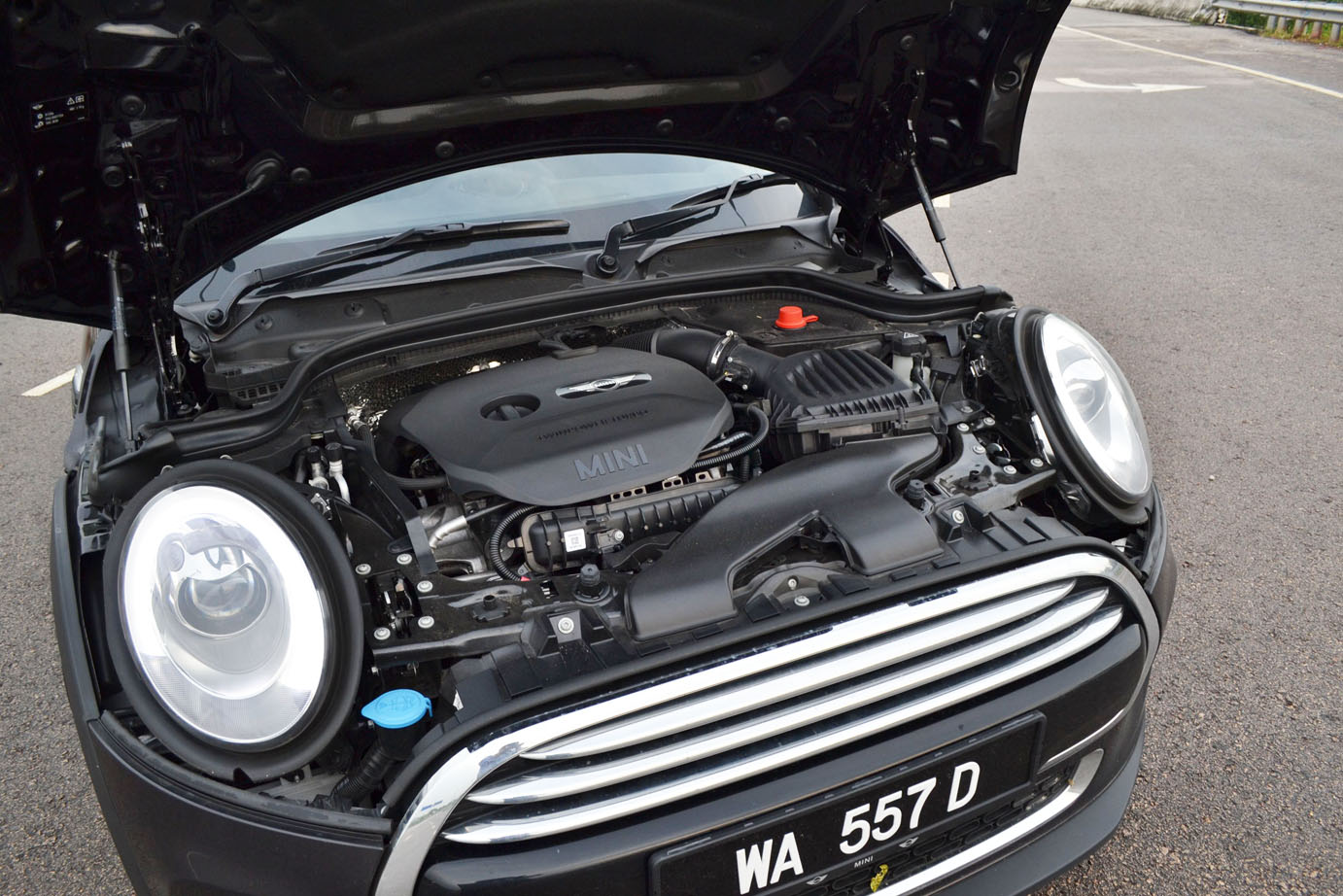 .
Technically all 3-cylinder engines are imbalanced and this causes quite a rattle when idling. Why? Because in any typical combustion engine, there are quite a number of moving parts. You've got pistons that move up and down, crankshafts that rotate and a myriad of other components and parts that shifts when the engine is put into motion. Not much different from how a woman's brain works when she's working up an argument with you, really. The problem with 3-cylinder engines is it works up quite a bit of vibration when you have unequal number of cylinders moving against each other and generating a lot of inertia forces that just wants to go everywhere. How bad can the vibrations be? Imagine a lawn mower and you won't be far off.
.
The engineers at MINI (and probably with some help from parent company, BMW) have worked their magic so that the engine vibrations are all minimized. Not gone but manageable. It still sounds somewhat like a mini diesel and when the auto engine start/stop kicks in when you come to a standstill, it prattles quite a bit when it comes back to life, annoying to some. But it's ok, it's all part of the new MINI's character. Dropping one cylinder does have its other benefits. Fuel consumption efficiency has increased by some 27 percent and in my drive to Johor Bahru from Kuala Lumpur, traversing 60km worth of city roads, 250km on highways with cruise control on at speed limits and about 70km of trunk roads, I scored 5.6litres/100km. The MINI should be labeled as an Energy Efficient Vehicle here in Malaysia.
.
Or maybe not if you ever decide to push for record travelling time from JB to KL. 210km/h is easy to attain provided there are straight empty roads but you'd see your tank drain faster than your wallet with all the AES summons you net along the way.
.
.
Ride and Handling
.
You can't have go-kart feel without go-kart discomfort and that was how the previous generation MINIs were. Hard and over-sprung, the older MINIs present an element of rawness that probably appeals only to those who find pleasure in rubbing salt on an open wound (theirs, preferably). The new-MINI meanwhile seem to have found a better balance between crashing head-on into potholes and a measure of comfort. It's still jarring, mind you and doesn't glide over road irregularities. Instead, it glues itself onto the roads and is quite capable of masking a fair degree of the road irregularities. Where the earlier genereation MINIs provides excellent handling prowess at the expense of comfort, the new MINI Cooper sacrifices none of its strengths while making a better case of itself being a daily drive-able car.
.
If you ever feel the need for more excitement, the MINI Cooper is very chug-gable around corners and with the amount of grip it has, you have greater levels of safety margin before things get out of hand.
.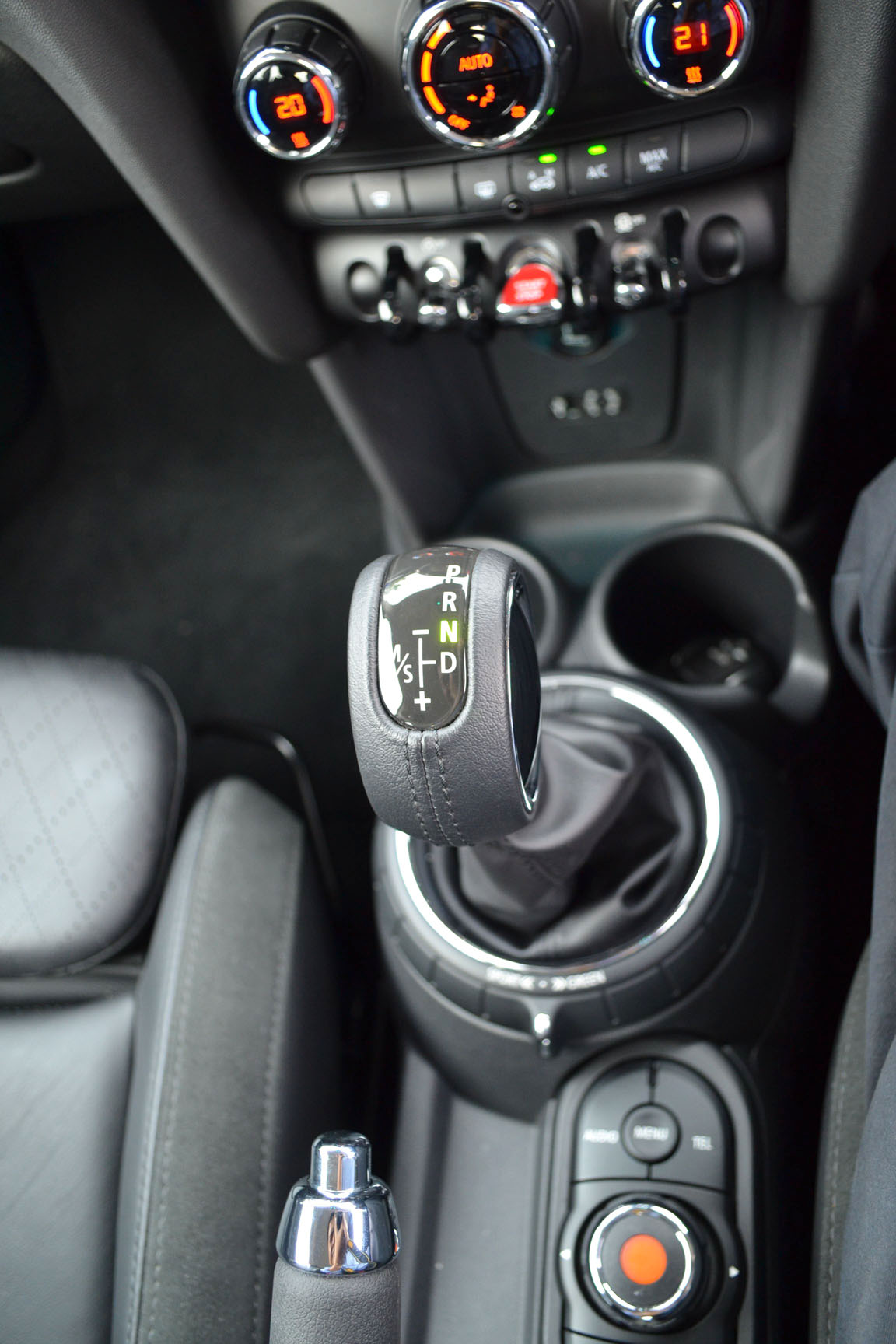 .
Handling all that power is a 6-speed automatic gearbox. Smart and intelligent, it never gave me the impression it was out hunting for gears during the time I had it.
.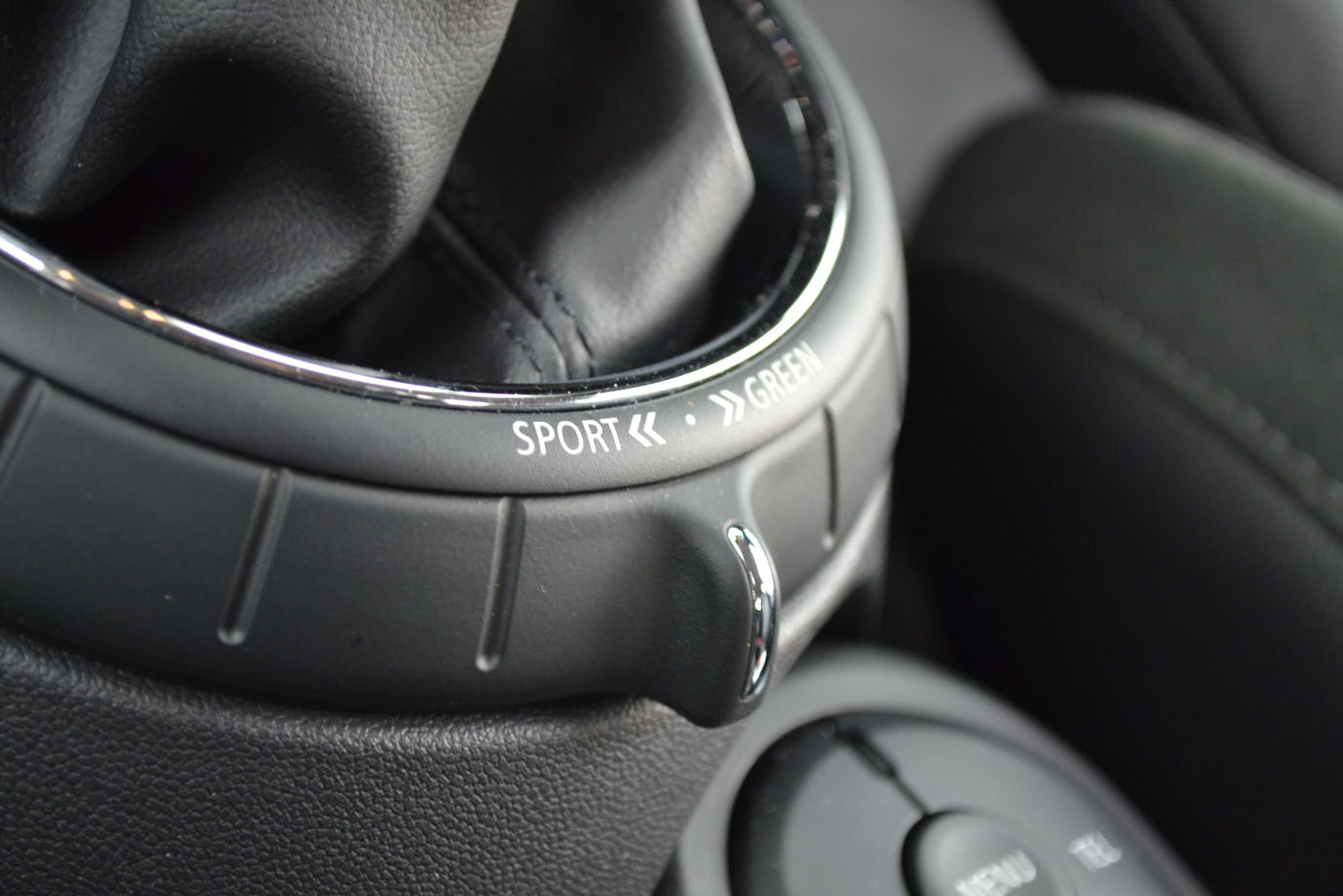 .
You'll find this little, unobtrusive rocker ring below the gear lever. This allows accesses the MINI Driving Modes which changes the engine throttle response and level of assistance to the steering wheel.
.
By default, whenever you start the car, it would be on MID Mode which is a balance between fuel efficiency and performance. Shift the lever to the left and you'll enter Sport Mode. In this realm of maximum go-kart feel, power is almost instantaneous whenever the pedal is floored and the steering becomes a lot more hefty so that you don't accidentally fling yourself off the road when maneuvering on the roads. Flick the lever to the right and you'll  rob a little of the fun out of the MINI by going into Green Mode which favors fuel consumption. Steering weight in this mode is the lightest and engine response is slower while air conditioning and exterior mirror heating is reduced. It's fun and easy to use and if you've driven on the roads I have, you'd be shifting it to and fro so as to find the best setting to suit the tarmac you're on.
.
.
Cabin Convenience
.
.
It's round, it's funky and cosy here in the MIN Cooper cabin. The perfect couple's car as the sitting distance between the front passenger and driver is small and perfect for your significant other to lean over to your shoulder – or your trousers depending on what you have in mind. As the Chilli variant, the car tested here boasts front sports seats which provides a tight, snug fit for passengers of all sizes. The thigh support, can also be extended for added comfort for long legged drivers and passengers.
.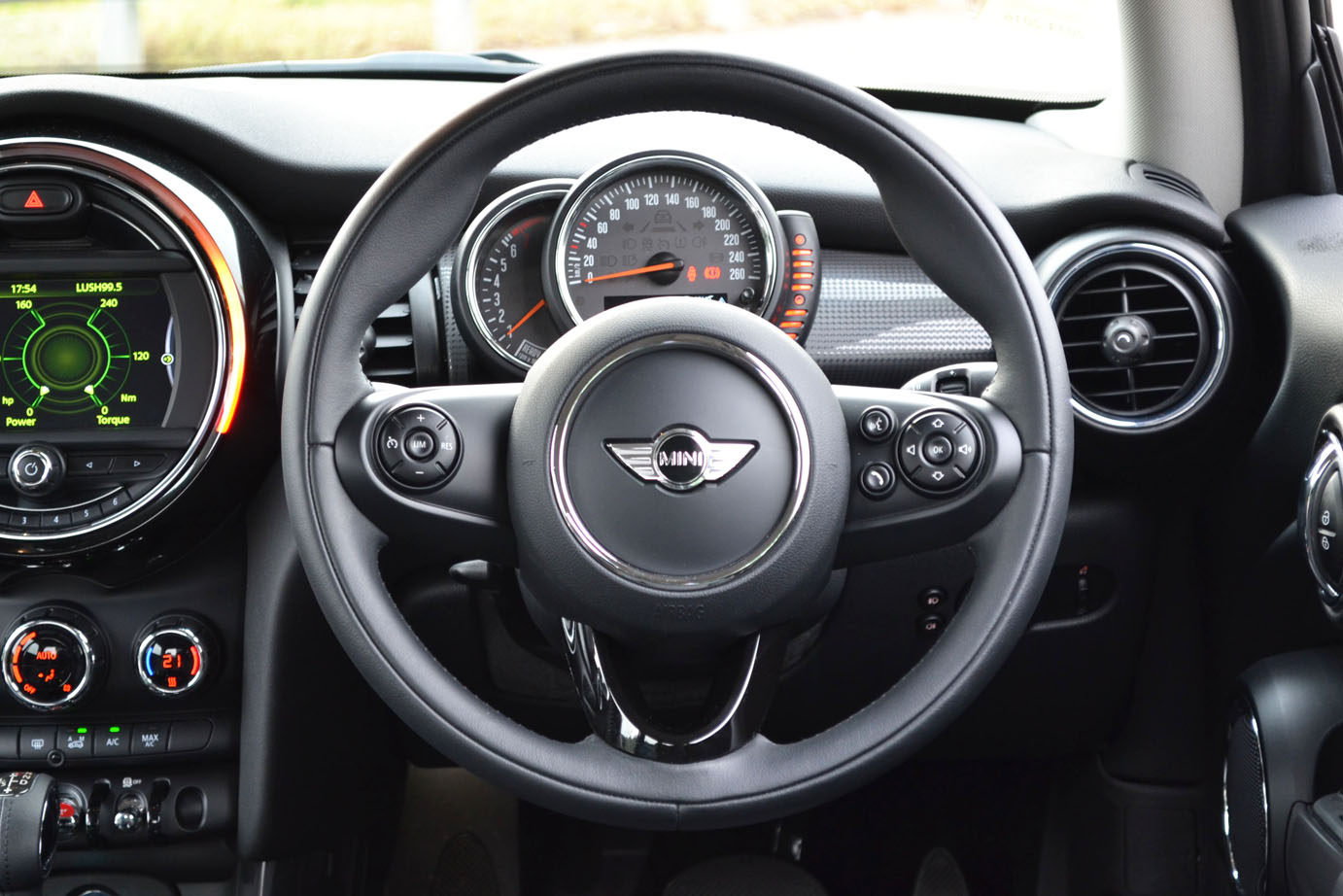 .
The leather wrapped steering wheel is tilt and reach adjustable with audio controls on the right and cruise controls on the left. Sadly, the Chilli variant as tested here does not have paddle shifters.
.
.
Previous generation MINIs have the speed meter in the center display. This is no longer the case as the speed and RPM readouts are now mounted pod-like on the steering wheel column itself. This means when you tilt the wheel up or down, the pod shifts along with it, ensuring you'll always have a good view of the read out. There are no temperature dial here; to see that, you'll have to toggle the Multi Info Display (where the range of 563km is in the picture above) until temperature is seen. The fuel tank display is cute. Instead of a dial, you'll see bars of LEDs on the right.
.
.
Light switches are located on the right side of the steering wheel while activation of the front and rear fog lights are buttons on the left of the main headlamp switch.
.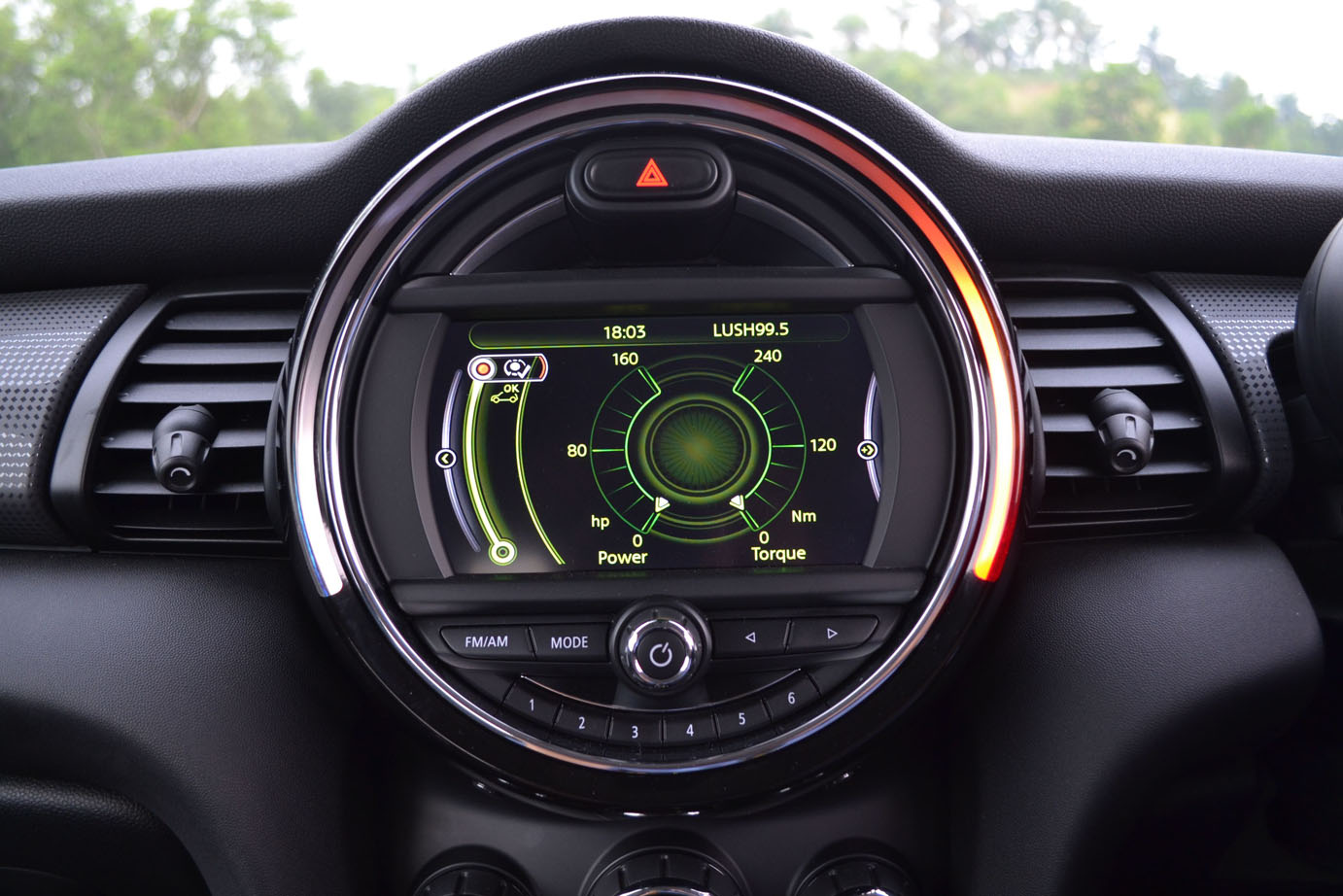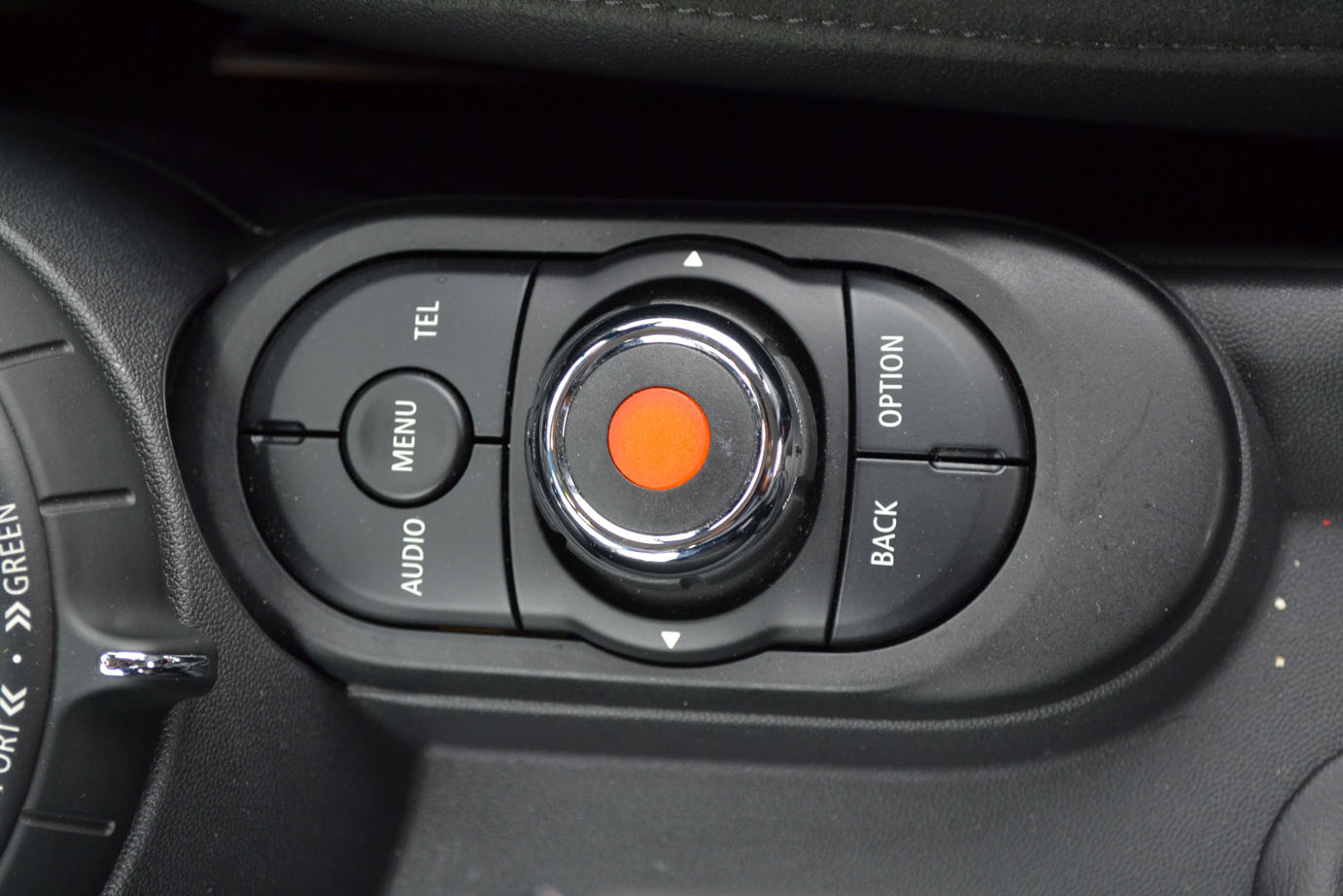 .
As mentioned earlier, gone is the center speed/rpm dial. In its place is a 6.5″ LCD display that's crisp and clear and displays all manner of things such as audio settings, MINI Driving Modes, Bluetooth, on-board computer readouts and my personal favorite, the MINI Excitement display which shows the amount of power and torque I am utilizing when driving. It's not a touchscreen and control inputs are done via a 5-button BMW iDrive-like controller found in between the front seats. And just like all BMWs equipped with the iDrive, it's easy to operate, particularly when the fonts used on the displays are "geriatric-friendly".
.
One of the coolest thing about the center display is a large LED ring which illuminates in 6 different colors. Select a color via the overhead switches (where the map lights are) and the door trim, floor well, overhead light and center cup holder well. The LED ring also shifts color depending on various functions of the car being accessed. For example when increasing or decreasing the air conditioning fan speed, a white LED is activated and shifts correspondingly to the position of the fan. When reversing, the entire LED ring lights up in white and changes to yellow or red when obstacles are detected. Changing the temperature would also have an effect. Quite a party piece.
.
On the audio side, it's a bit of a let down due to the lack of tweeters which means most of the sound comes from the bottom. Compounding to the problem is the angle of the front speakers which makes the left side sounding a little louder, brighter compared to the right which is partially blocked by the driver's leg. Bass reproduction is good but don't expect audiophile level of reproduction.
.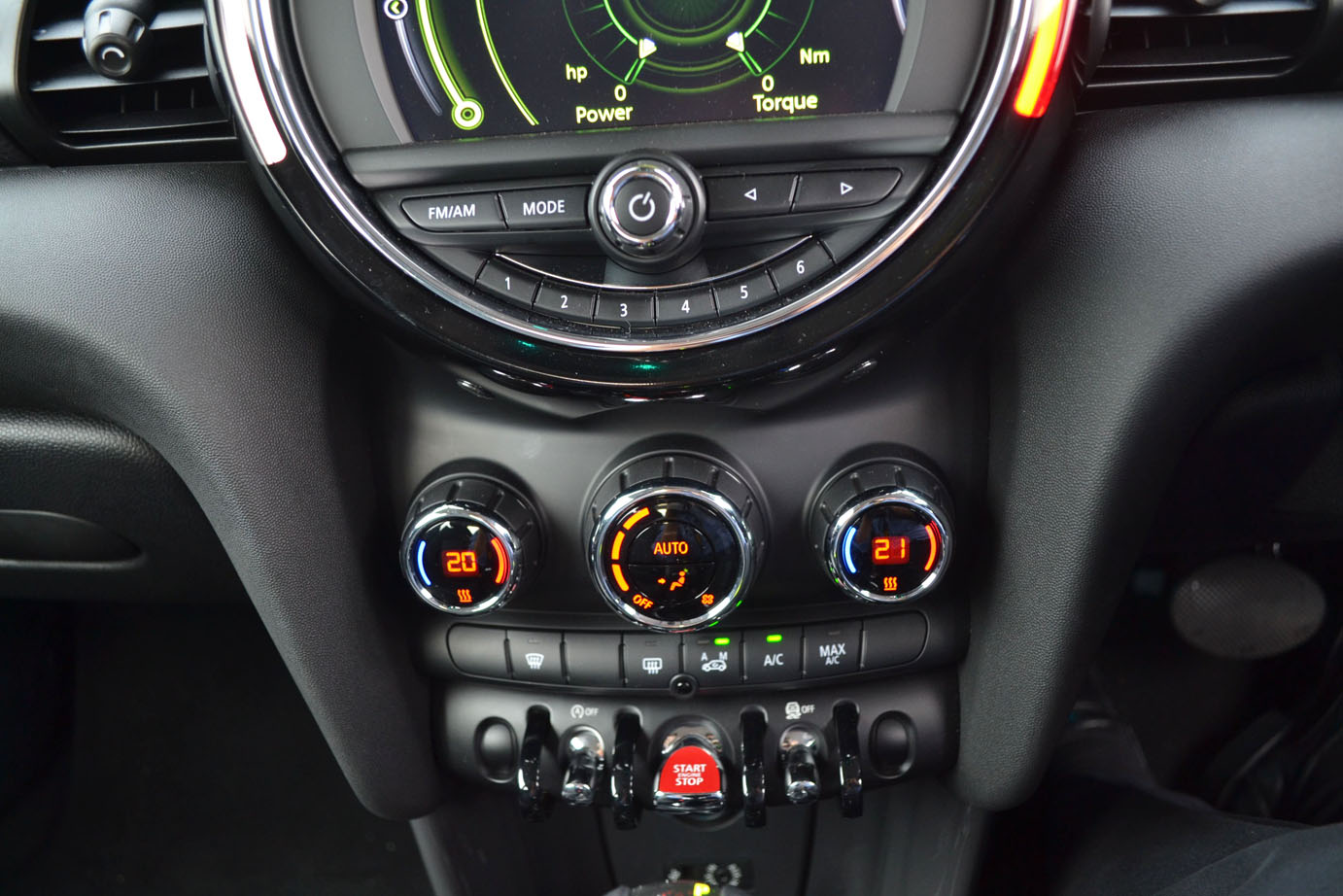 .
The Chilli variant has dual zone automatic air conditioning and is quite idiot proof.
.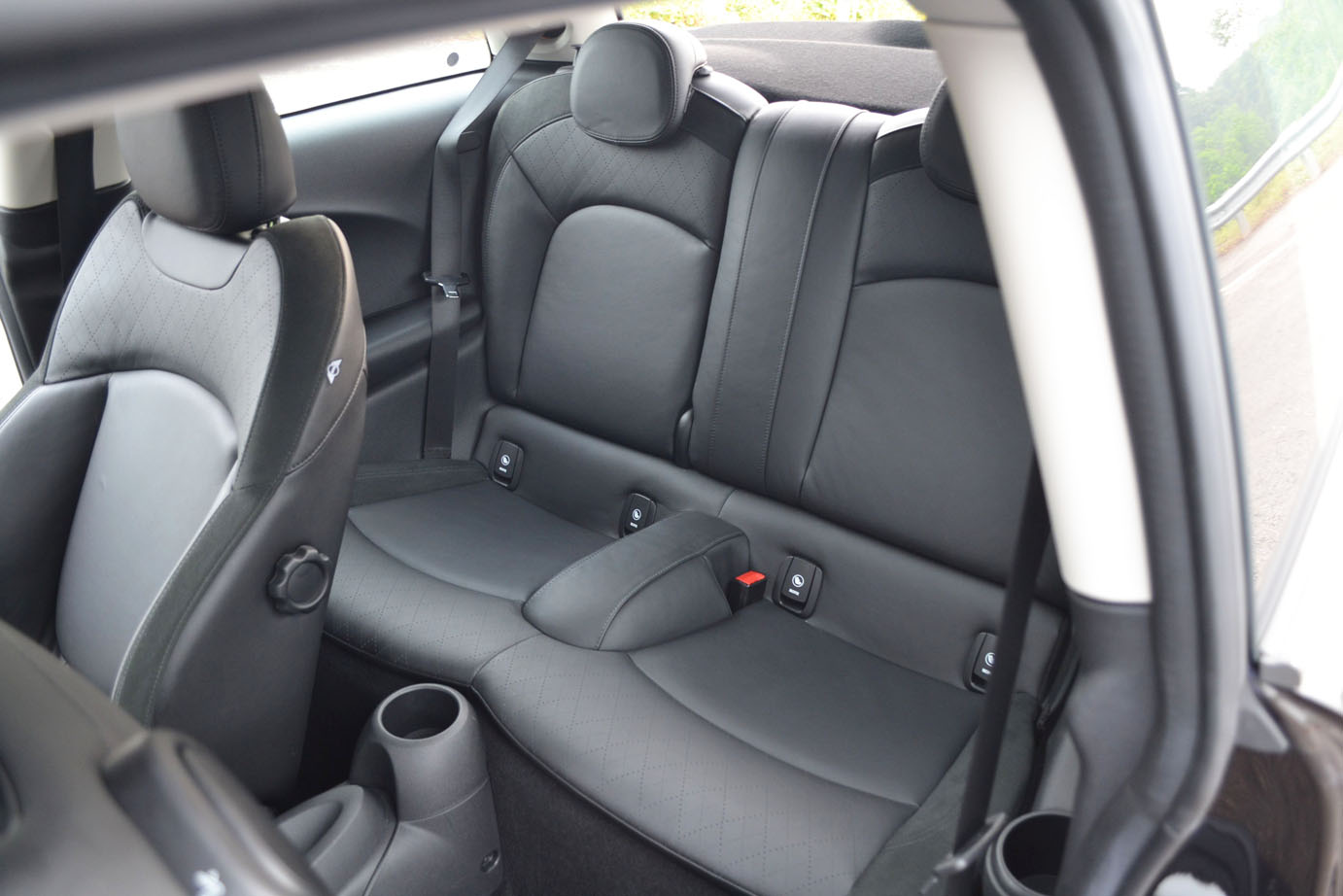 .
And here we have the rear benches of the MINI Cooper. Not exactly brimming with acres of rear space but is good enough for small kids, small pets and packs of takeaways.
.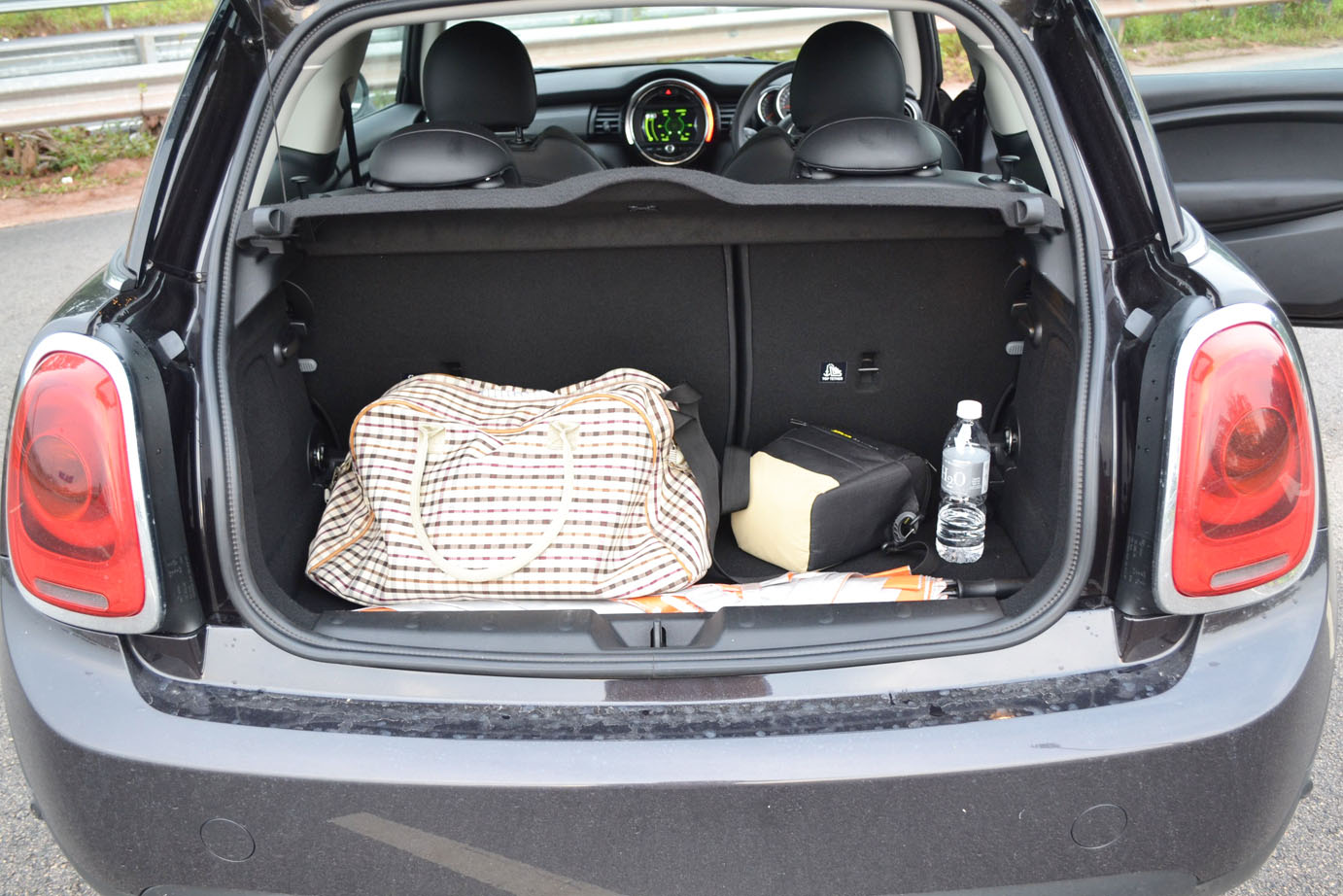 .
The boot space isn't exactly great either but it's enough for small luggage bags. Full sized week out bags will require the rear seats to be folded down and this increases the cargo space significantly.
.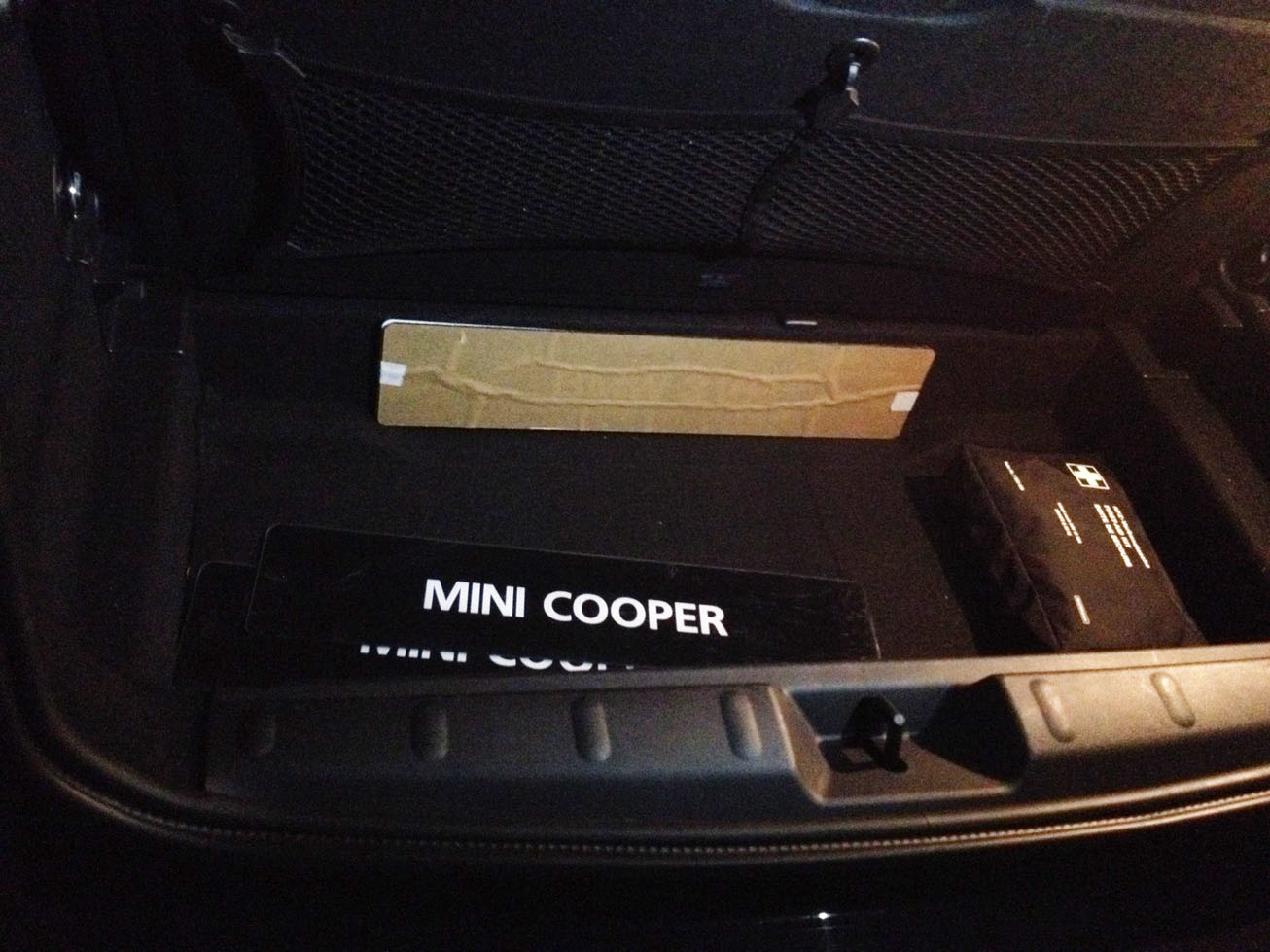 .
The problem with the boot space is the raised floor. Since the MINI Cooper runs on run-flats, spare tires are not required so why there's a raised floor is beyond me. Nonetheless, with about 4-5″ of raised space here, it's perfect to keep your tray of eggs safe here.
.
.
Safety
.
In the MINI Cooper Chilli, you can expect to find the following active and passive safety features:-
Airbags for driver and front passenger (4 airbags)
Brake disc, front (ventilated) and rear
Central locking system with electronic immobiliser and crash sensor
Dynamic Stability Control (DSC) including Automatic Stability Control + Traction (ASC+T), ABS and pullaway assistant
Dynamic Traction Control (DTC) including electronic differential lock control
Park Distance Control (rear)
Run-flat tyres and flat tyre indicator
.
.
Specifications (MINI Cooper Chilli variant)
.
 Exterior
16″ light alloy wheels Loop Spoke Silver
Chrome line exterior
Metallic paint
Roof and mirror caps: Black/White
Foldable side mirrors
LED Daytime Running Lights
LED fog lights
LED headlights for low-beam and high-beam headlights
White direction indicator lights
ISOFIX
3-point seat belts with belt tensioners and belt force limiters
Partial active bonnet
.
Interior
Automatic 2-zone air conditioning
Cruise control with braking function
Floor mats in velour
Keyless Go
Lights package
MINI Excitement package
Multi-function leather steering wheel
Sports seats for driver and passenger
Storage compartment package
Interactive LED ring on central instrument display
Interior rear view mirror with automatic anti-dazzle function
MINI Connected
Bluetooth hands-free kit with USB audio interface
On-board computer
Radio MINI Visual Boost with 6.5″ LCD display with 5-key controller
.
.
Ownership and Maintenance
.
The MINI Cooper Chilli as tested here retails for RM198,888 on-the-road without insurance and comes in ten colors to choose from: Volcanic Orange, Moonwalk Grey, Blazing Red, Deep Blue and Thunder Grey (exclusively for the MINI Cooper S variants only). The roof, exterior mirror caps and bonnet stripes meanwhile is available in two colour options of white or black.
.
The third generation MINI Cooper Chilli comes with MINI Service Inclusive program which offers comprehensive MINI after-sales care for 3 years or 50,000KM. The program is offered on the base MINI Cooper and MINI Cooper S variants at an additional RM 5,900.00.
.
Is it worth the asking dough? It's a MINI. And like all iconic cars, price isn't really a factor for owning a piece of history. All I could say is I miss this little bugger when I returned it. Everyone should be own a MINI at least once in their lifetime and with this latest incarnation, there's never a better time to own one than now.
.
Pros: Go-kart feel, funky interior, good fuel consumption if driven sensibly
Cons: Still too stiff suspension to some, no rear legroom space
.
.
.