by kenso and Vinod Nair
How about something a little different? In this review of the new Nissan Sylphy, you'll find not one but two different writers reviewing the same car. If you were paying to read articles here, you'd be getting two for the price of one! On one hand, you'll be getting the dour, sometimes-too-serious-for-his-own-good kenso review while the other is done by in an easy to read manner by Vinod. Do enjoy even if it might be a little lengthy. This is, after all a double serving
Reflecting back on my childhood, I came to a surprising discovery that the first car brand that formed a strong impression on me was not Toyota (even though my dad had one) but Nissan. Largely because when I was very young, I frequently visited my dad's friend who had a Bluebird at home. I mean, come on, at the age of 4 or 5, anything that puts to mind a colored wee-wee is bound to leave a lasting memory in your head. Then as I got older, I got to know about the legendary Genting taxies. Undisputed kings of touges long before drifting was popular.
Of course, the market place is a lot more different today. Where once the benchmark for reliability was to climb Genting hills without your engine sui-kwan (local slang for the over-heating), it's about comfort, drivability, size and fuel efficiency nowadays. In light of this, the third generation Nissan Sylphy hopes to score big in the C-segment market. But then, so is everybody else. Does it have what it takes to make a stake? Let's find out.
Design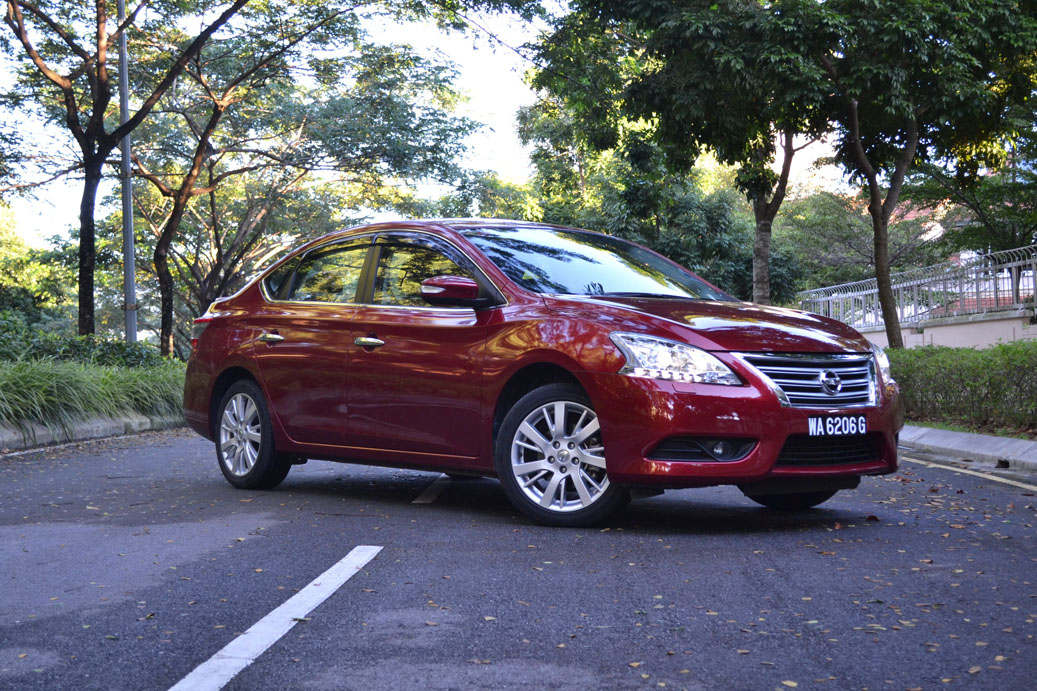 The previous Sylphy isn't agreeably a handsome car to all. It had lots of legroom, a decent, dependable 2.0litre engine and drives smoothly, even if little boring. Perfect for the uncle in me who at one point actually considered to purchase one. That didn't happen but the Sylphy remained as one of those 'sensible' cars to have if I ever get bored of continentals. The new model is visually a lot more appealing.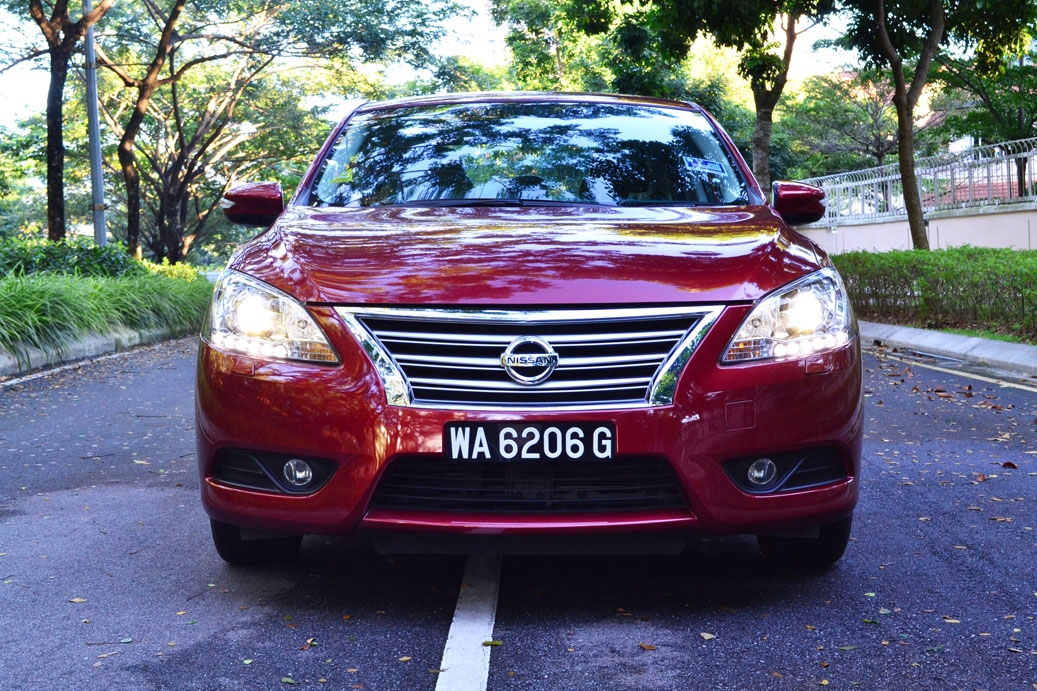 Gone are the over-sized hair clip-looking headlamps and in its place is a sharper, more distinct LED accentuated examples flanking a three dimensional Nissan signature V-shaped chrome front grille that's no longer as bublish looking as before. Seen here is the the higher spec 1.8VL which has automatic projector xenon with auto leveling and washer. Also found only in the VL are front fog lamps.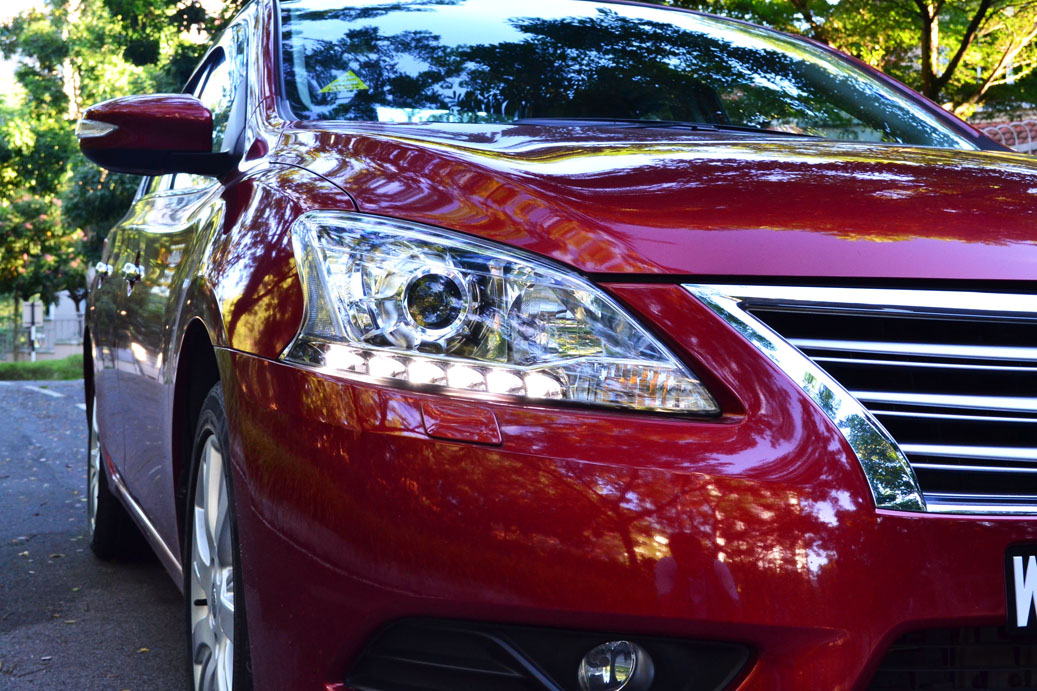 These aren't Daytime Running Lights which is a pity really. It boggles the mind knowing that some manufacturers have headlamp designs that makes for beautiful DRL silhouettes but they're activated as auxiliary lights instead. Perhaps room for the facelift version to offer. The side mirrors for the VL are power foldable side mirrors with intelligent key (i-key) link. Lock the car and the mirrors fold and will only unfold once the engine is started.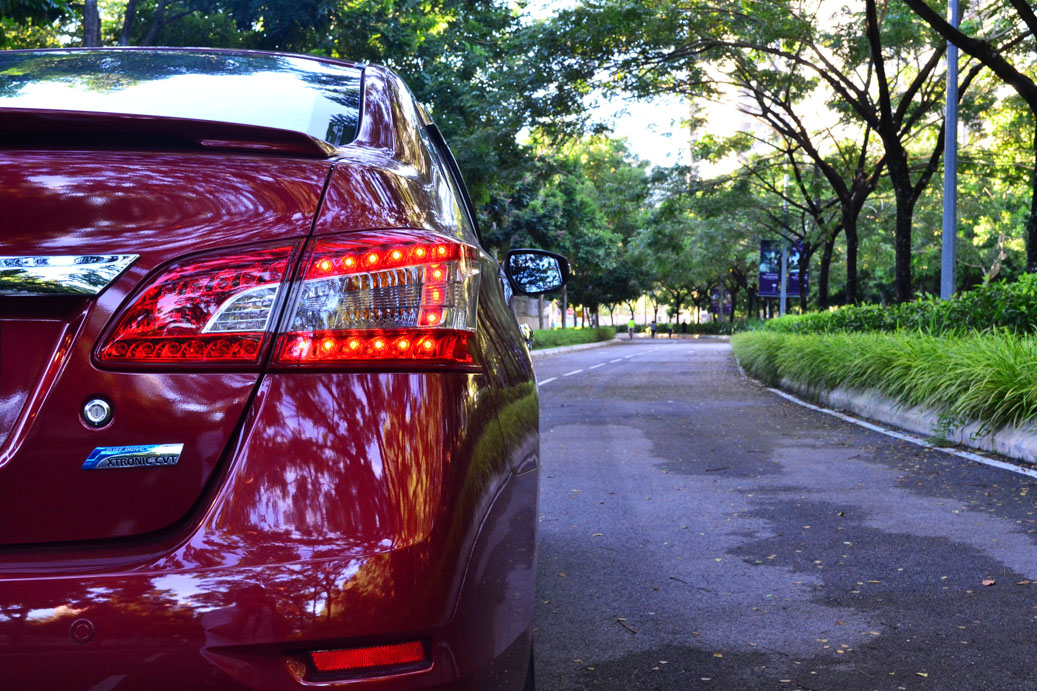 Character lines on the side that connects the front lamps with a curved front fender to the rear horseshoe shaped design LED lights combination lamps lends an athletic stance that looks like an arrow bolt. The whole aerodynamic design isn't all for show as the new Sylphy has a coefficient drag of only 0.29; the equivalent to the Porsche Boxster. For wheels, the 1.8E comes with 195/60 R16 whereas the 1.8VL as seen here has 205/50 R17.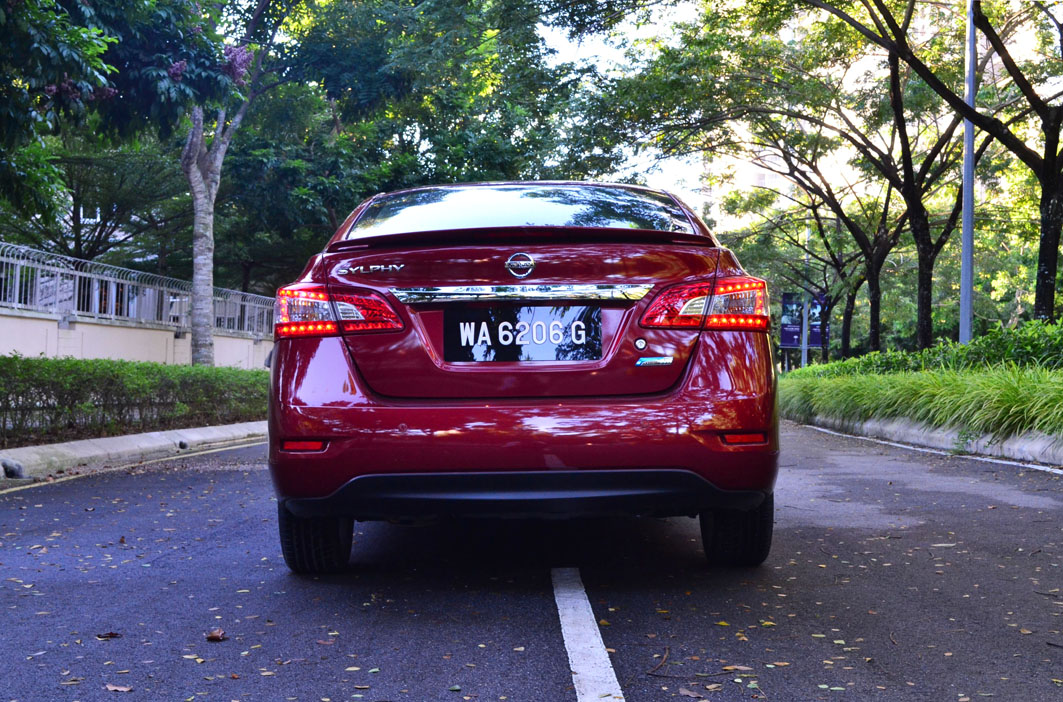 At the back, the VL variant comes with an LED high mount stop lamp mounted in spoiler.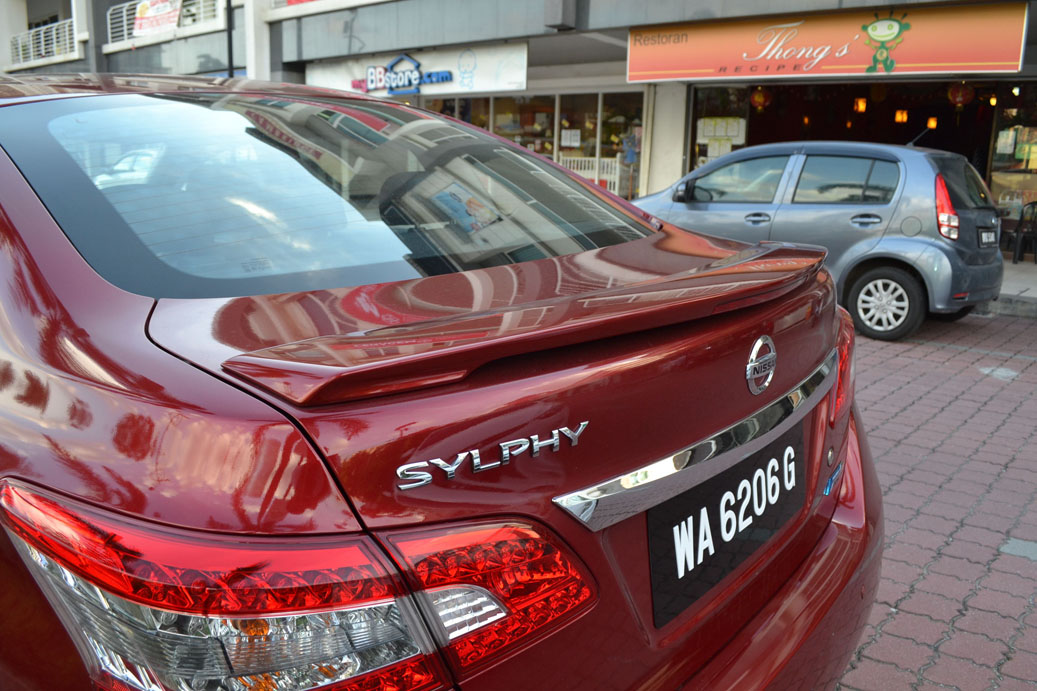 Performance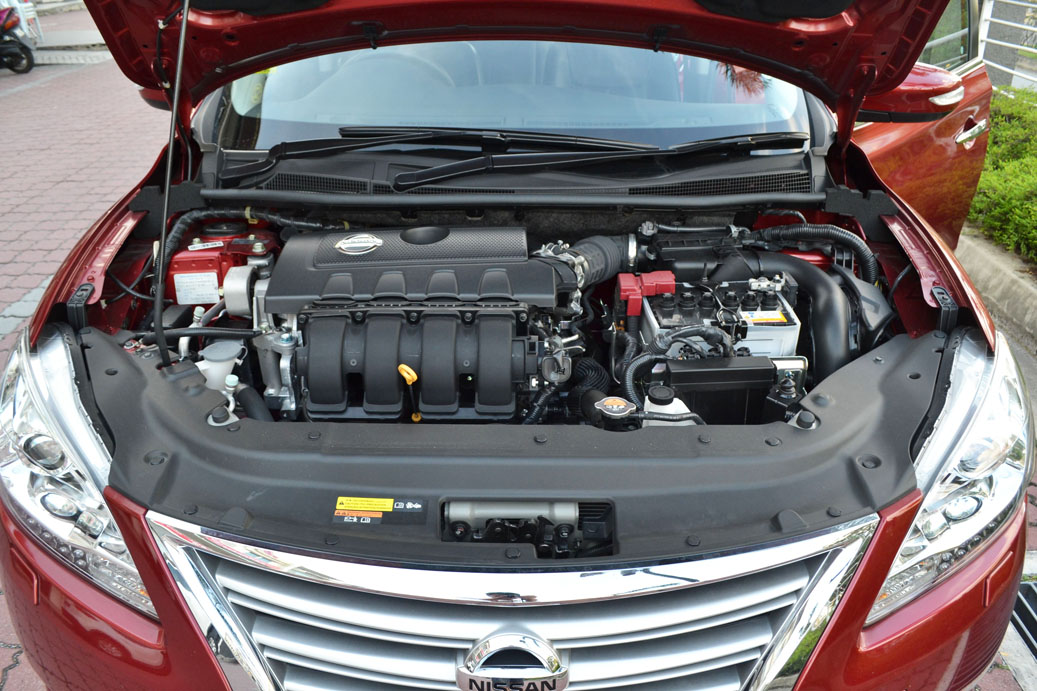 Except, you can't be expecting Porsche performance. Compared to its predecessor, the new Sylphy sports an engine 0.2cc smaller. A 1.8L Twin CVTC engine is now found under the hood, pushing 131 PS @ 6,000rpm and with maximum 174Nm of torque coming in at 3,600rpm. Low end acceleration is punchy and drivers won't complain overtly much about it being underpowered off the mark. Push beyond 3.6k rpm however and you'll note the lack of power and refinement from the engine. Translated to the real world, you'll find driving in stop-go traffic and parking lots to be effortless, more so with the electric power assisted steering. Joining moving traffic on a highway and urgently climbing past 60km/h would make you wish it still has the older 2.0litre mil which demonstrated greater zest in moderate and high speed acceleration.
Ride and Handling
Paired with the MRA8DE engine is the XTRONIC CVT (Continuous Variable Tranmission) which not only helps in saving fuel but eliminates gear shift shock commonly found in torque converters. Those following this blog would know this writer isn't a big fan of CVTs; they cause the car to drive as if it's pulled by rubberbands, there is a delay in the power delivery and it just whines and whines like a woman having a bad case of PMS (no wait, I take that back. At least they don't bite).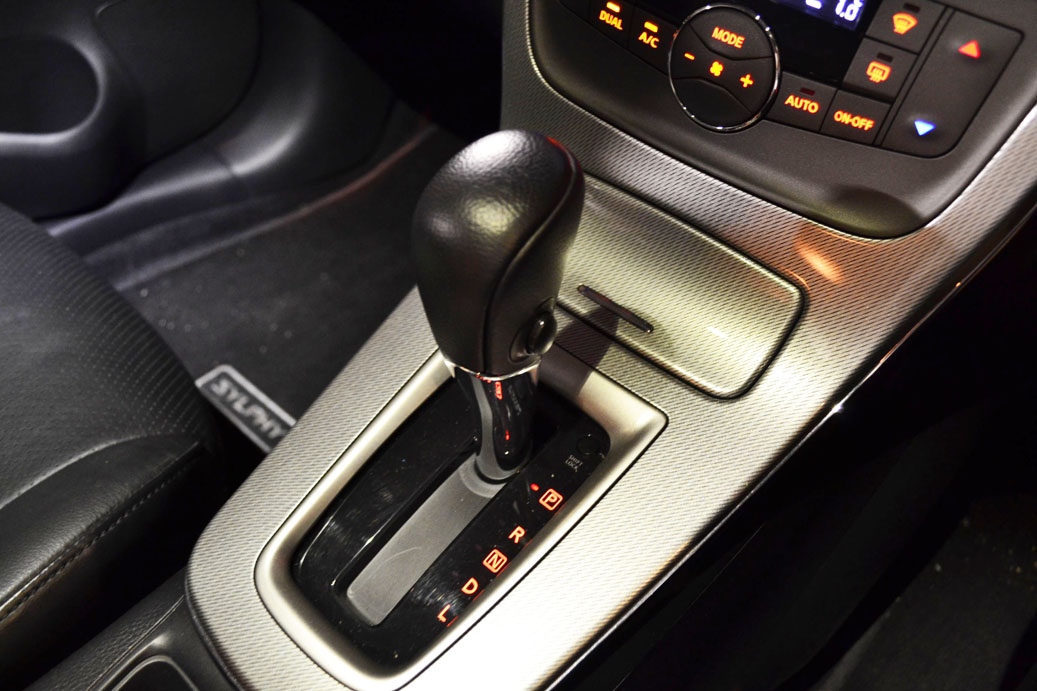 Having said that, the CVT in the Syphy isn't really that bad. Nissan has done a great job at ensuring minimal lag when flooring the pedal and most of the time, you won't notice the rubberband effect much until you attempt to overtake something at medium speeds. To help you do that, there is an unlabeled, uncolored Sport button that's so unremarkable, it's almost as if the engineers at Nissan doesn't want you to discover it found on the gear stick where upon depressing it, the rpm would jump by about 1,500 to summon more horsepower to move faster. Which naturally means more whine from the engine that, means more noise intrusion into the cabin. Best leave that button alone and drive in a more leisurely pace.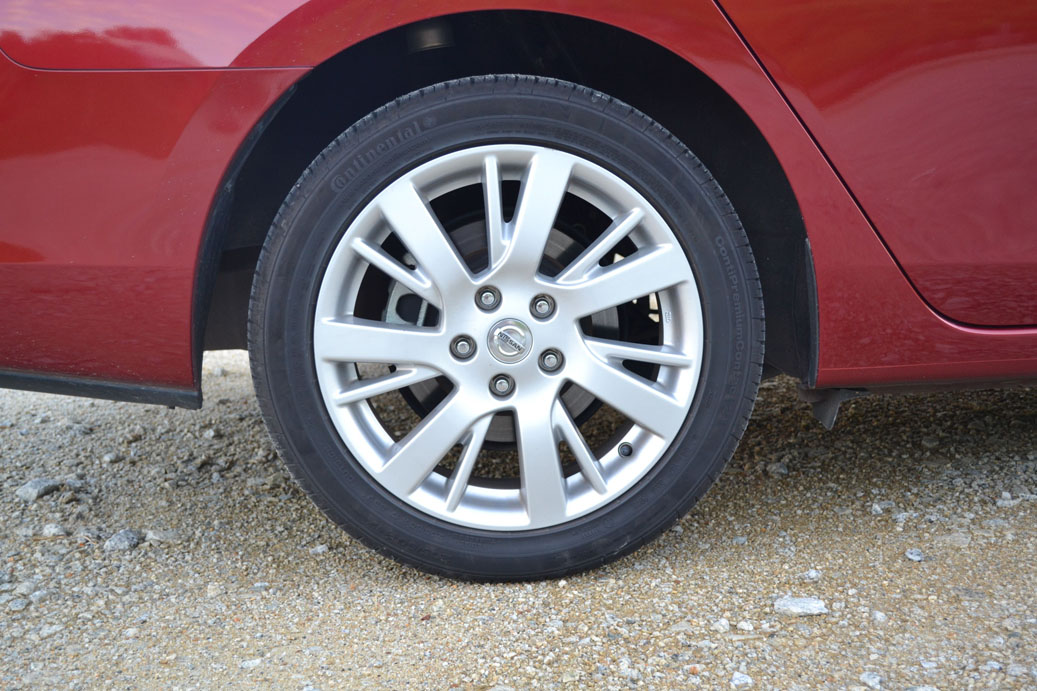 The rear drum brakes found in the previous generation Sylphy has been replaced with disc brakes, thereby increasing braking performance. Ok, we just made that up  because
a) we didn't do any braking test with the predecessor to determine how much distance is required to bring a Sylphy barrelling at 100km/h to stop in the shortest time possible
b) we didn't have a ruler with us.
So that was entirely hypothetical because as we recall in our earlier test drive, the drum brakes of the previous generation performed just as well in stopping the car.
The new Sylphy corners pretty well with its MacPherson strut with stabilizer bar front suspension and torsion beam with stabiliser bar for rear but with 17 inches for wheels, things can get a little bumpy depending on road conditions. It's still pliant and comfortable for most.
The anesthetized steering feel of the predecessor has been elevated somewhat in the new one, although it still pales when compared against continentals. I still find it too darn light, too over-assisted which isn't really an issue for city drives but it would be nice to know a bit more what the front wheels are doing.
Cabin Convenience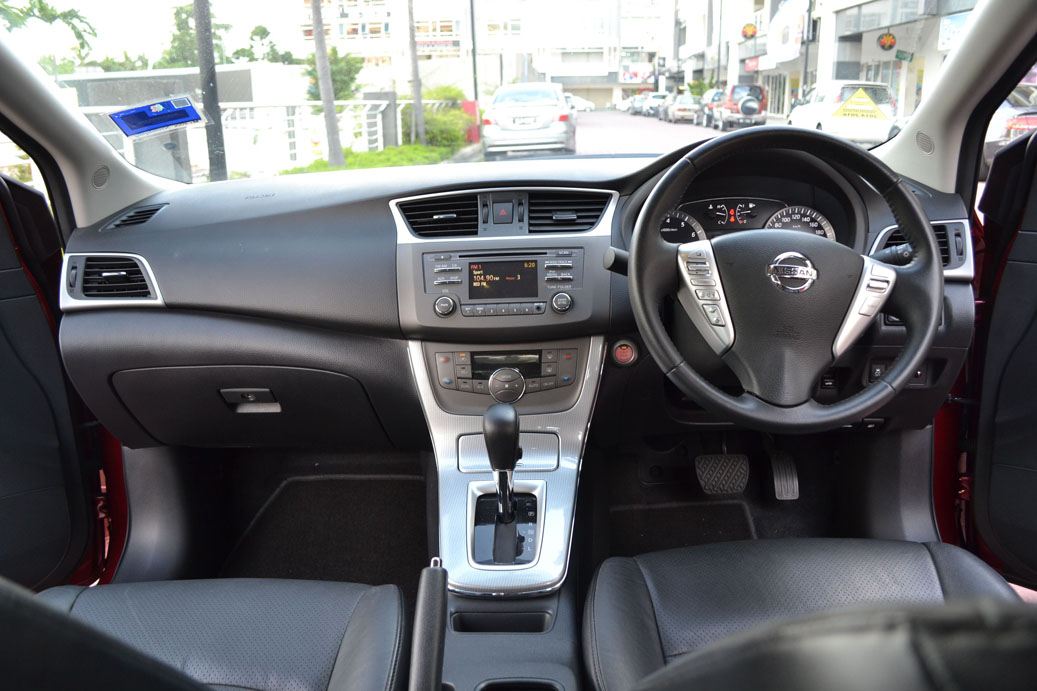 Much like its exterior, the new Sylphy's interior has been given a total makeover. Where the 2nd generation Sylphy had more angular squarish elements in its design, the new one adopts more flowing styles. The use of soft pad trim adds a touch of premium feel and the center console is all flush mounted into the  dashboard. Compared to the previous generation, the new Sylphy provides 30mm more shoulder room.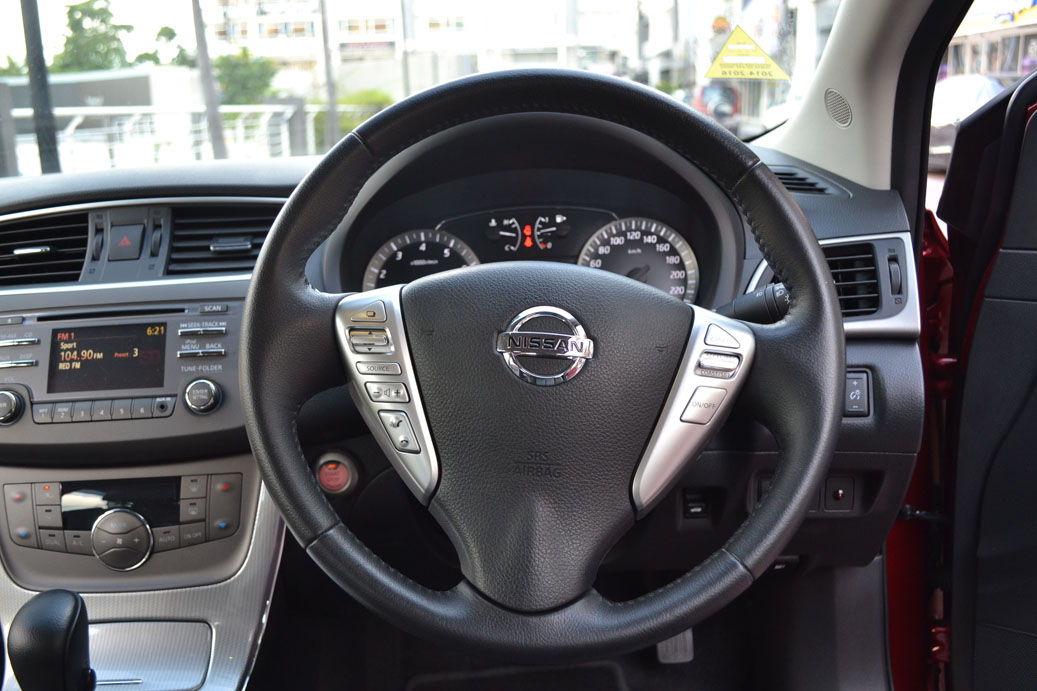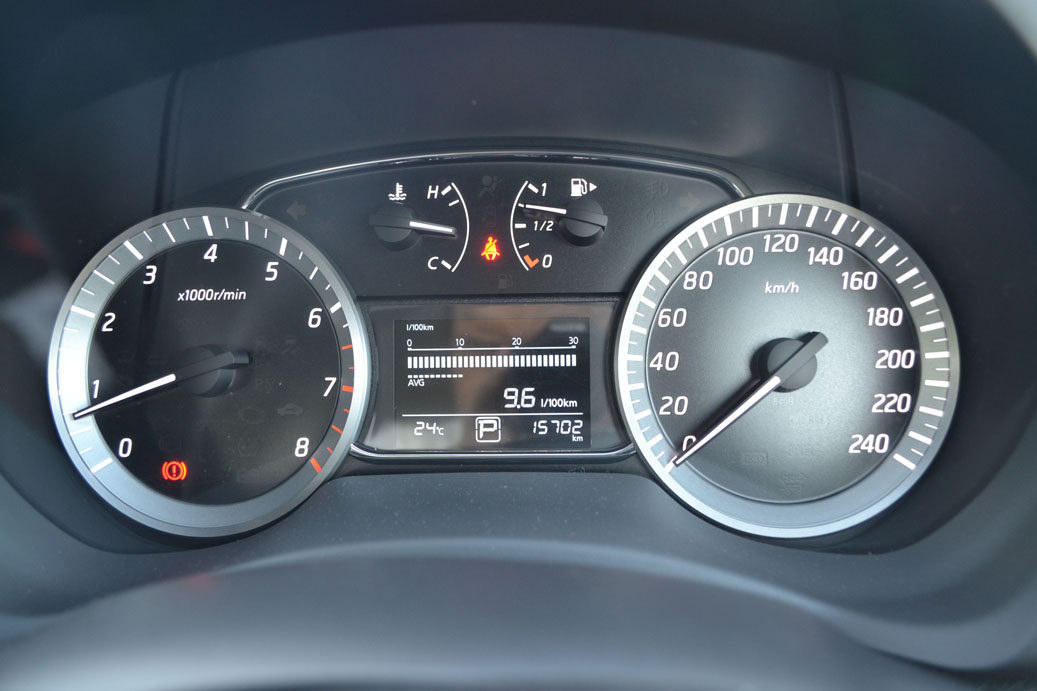 The tilt and telescopic adjustable steering wheel comes with a host of buttons that controls the auto cruise, audio, Bluetooth handsfree as well as multi-info display. Speaking of the MID, you'll get to see distance to empty, ECO drive indicator, average fuel consumption as well as trip A and B. The meter has a classy white font with chrome outline that's simple and easy to read.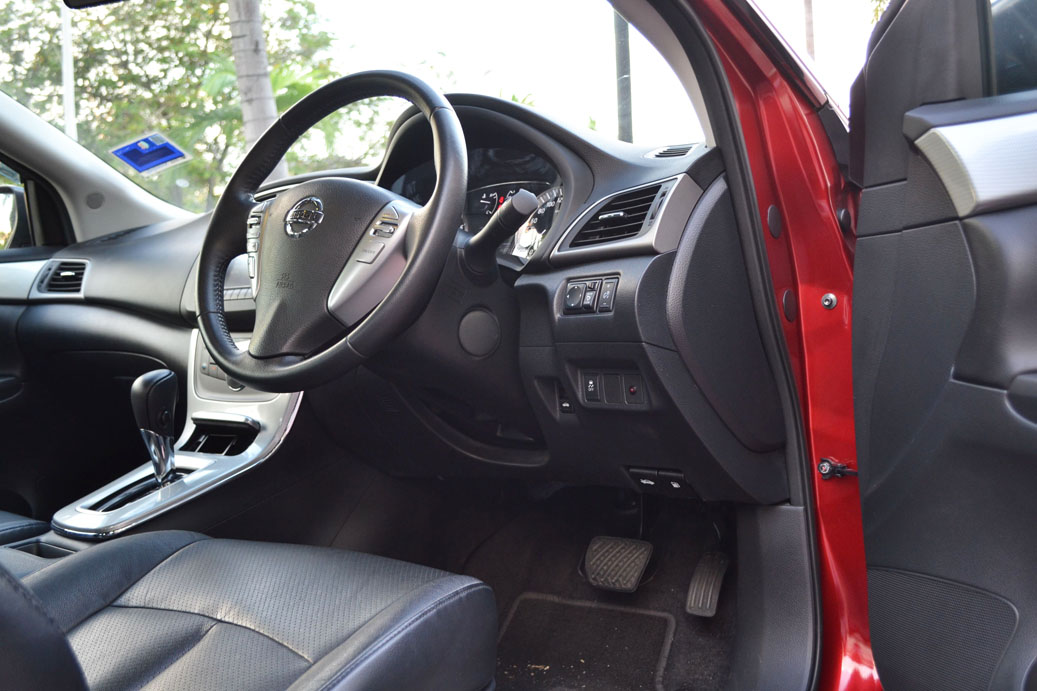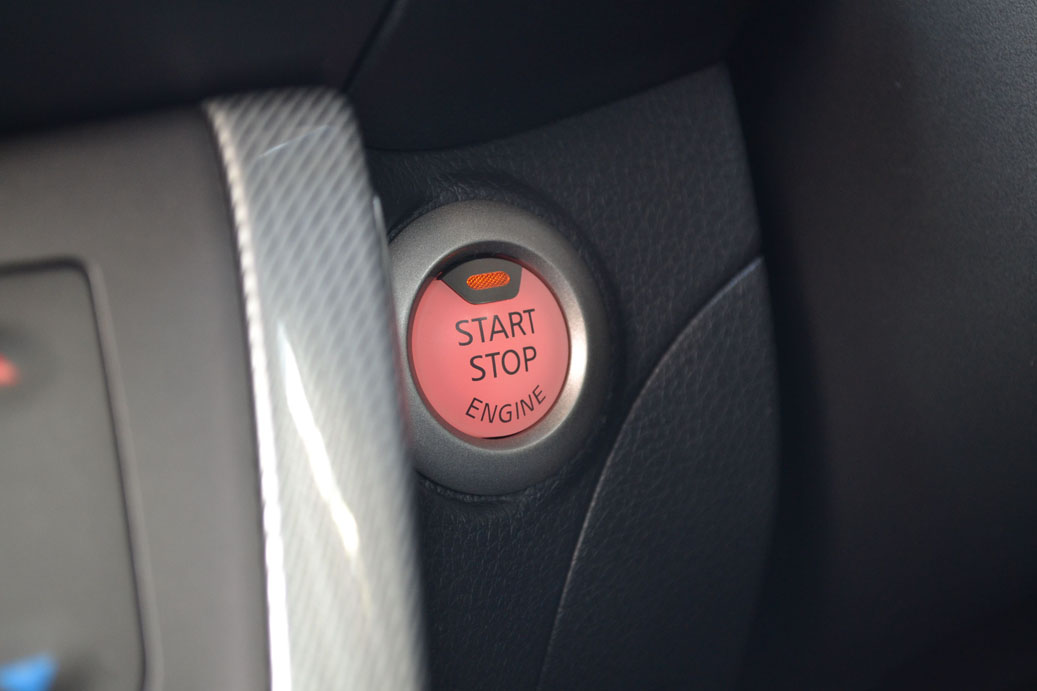 Unlike some manufacturer that equip their cars with Push Button Start/Stop, the VL spec's button is found on the left side behind the steering wheel with the right side housing the controls for the powered folding side mirrors, boot lid, fuel and bonnet release.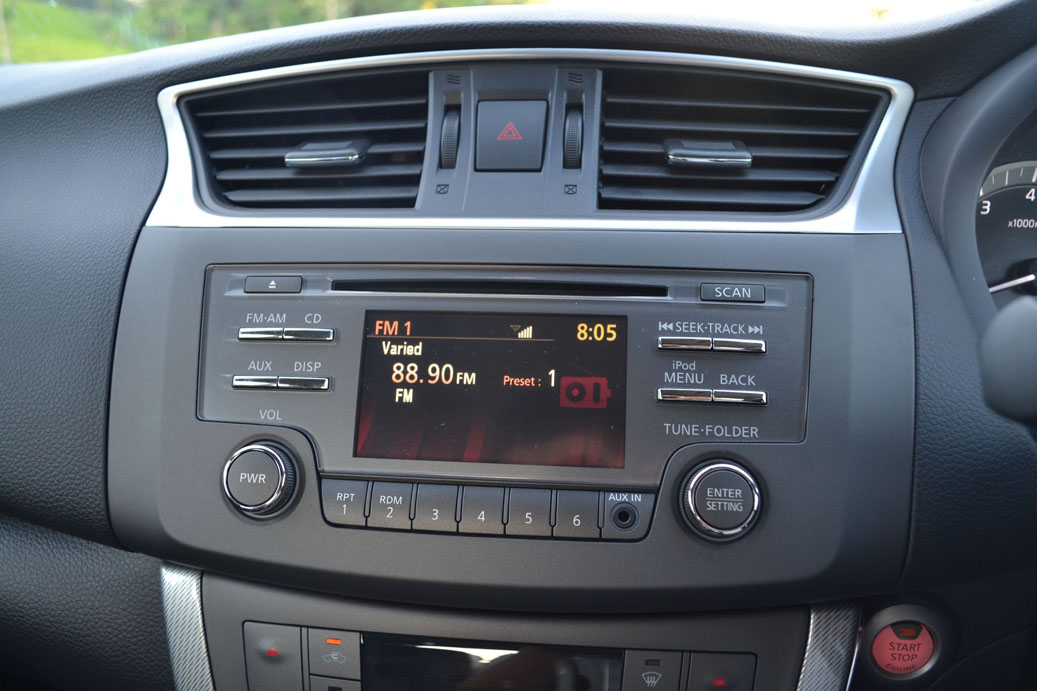 The E-spec model has AM-FM Radio with CD, MP3, Bluetooth and AUX-In input whereas the VL offers a 4.3″ front display with reverse camera and iPod connectivity in addition to the E-spec's capabilities. Audio playback is through a 6-speaker system which isn't too shabby. The staging is higher up, with better clarity and bass; Certainly an improvement over other Nissans that doesn't have front tweeters.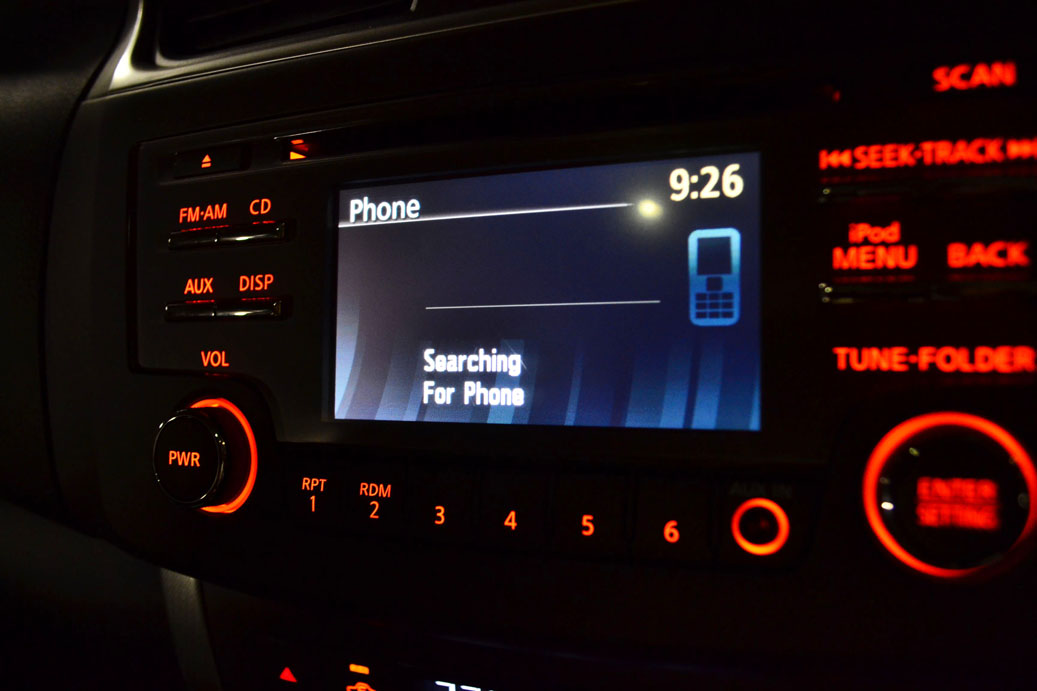 While we're talking about the Bluetooth system, I have to say this; it is one of the worse I've ever used. Most Bluetooth functions would be embedded within the headunit and it's just a matter of sifting through the myriad of functions to find it. After spending sufficient time to see some of my hair turning white, the Bluetooth controls was nowhere to be found. On hindsight, I could have read the manual but heck, how hard can Bluetooth controls be? Turns out that to access the BT function is found on the steering wheel. Specifically, the answer/decline button that you would normally be fiddling with AFTER you've hooked up your phone with the headunit. Depressing the Answer button summons a Siri-like telling you commands.
Wait, it's a voice activated module? Well, yes and no. Somehow, you're supposed to instinctively figure out how to search, store, erase phones through the two buttons and due to the lack of a keyboard, individual phones are stored via voice (a loud and clear noise would suffice. The system won't be able to tell the difference between kenso's iPhone from Meh!). And once connected, it's purely for voice calls. No BT audio streaming is available. The good news is, you can listen to your iPod/iPhone/iPad via the USB port.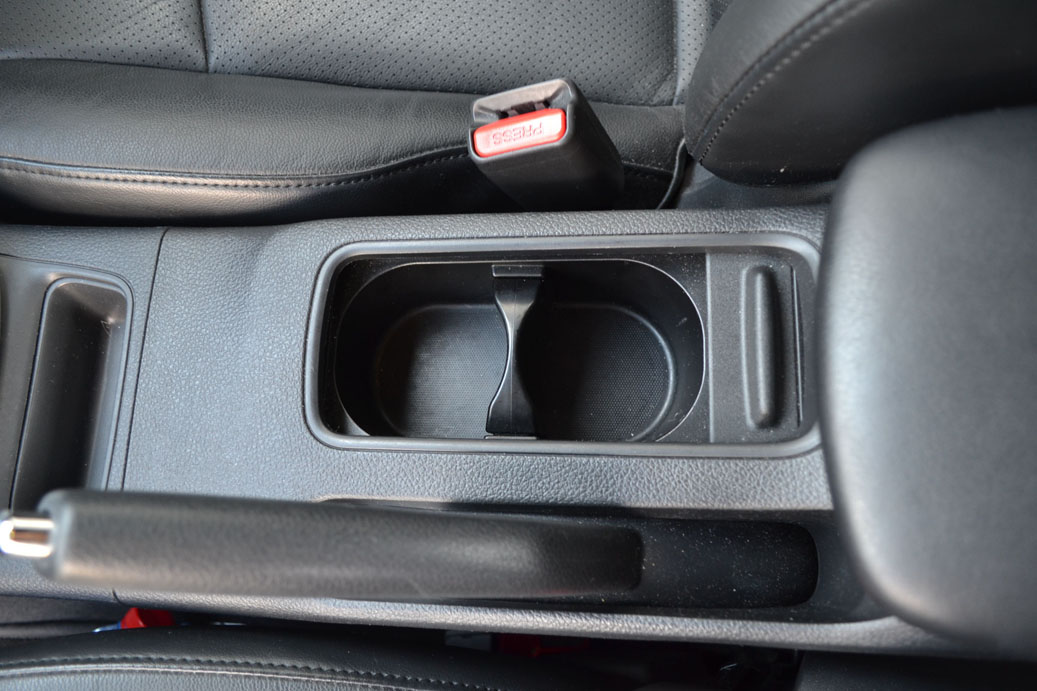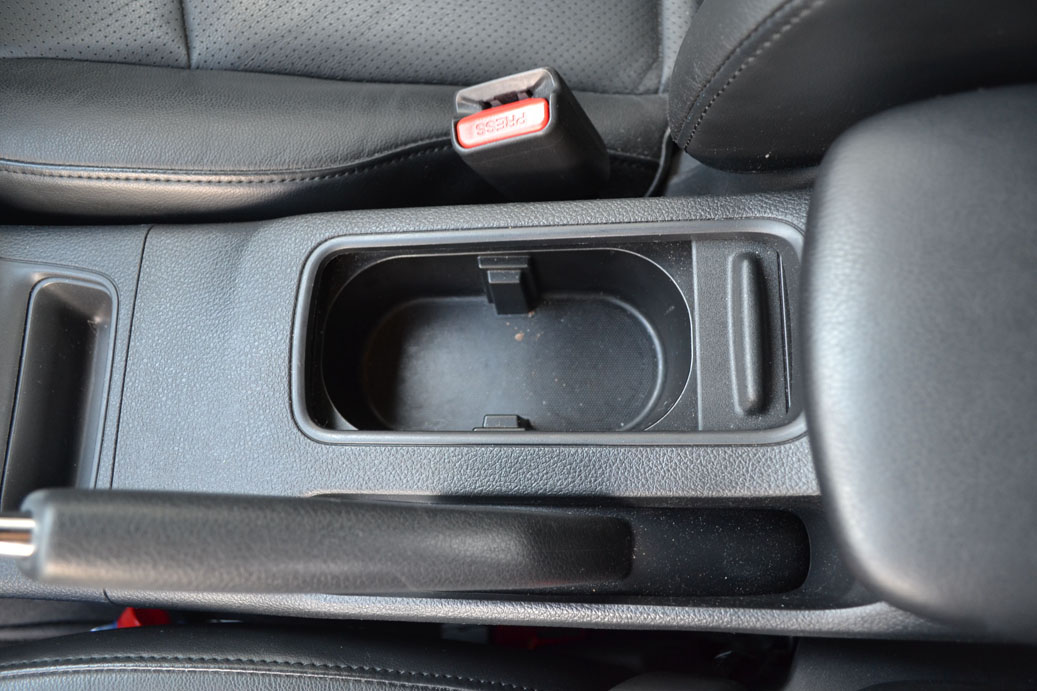 The other gripe I had with the 3rd gen compared to the 2nd was the removal of the cavernous center console and replaced with a shallow cup holder that's made slightly more palatable by allowing users to remove the cup divider. Sorry the pictures above don't show how deep it is but it's negligible.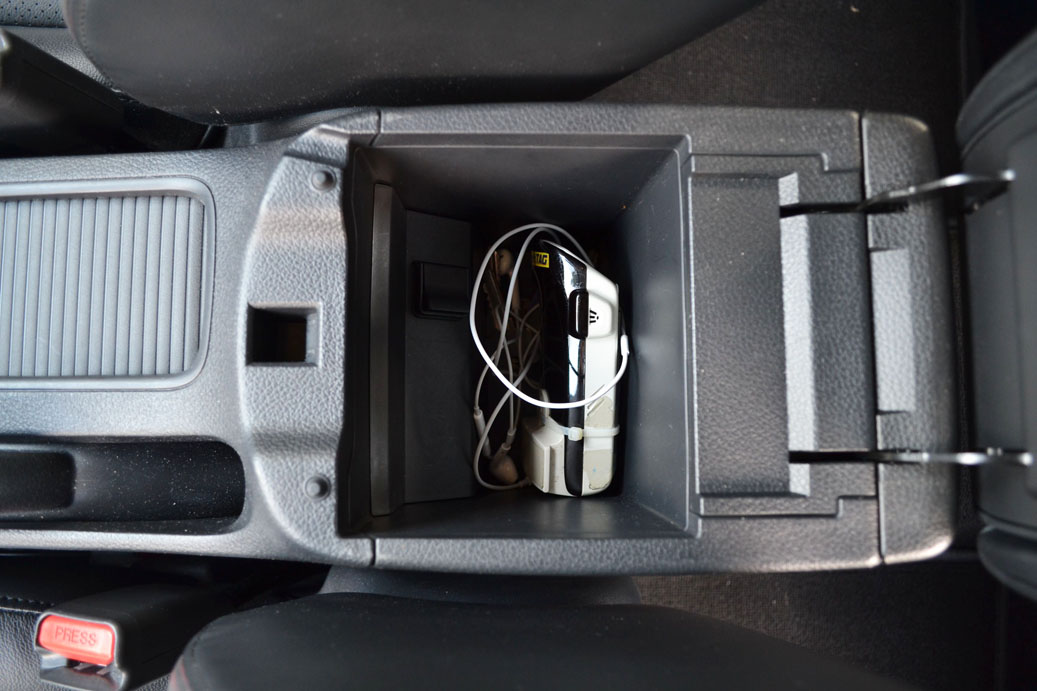 You're better off using the center console to keep stuffs like Smart Tags and other small peripherals. Do be careful wit the USB port here, though; you wouldn't want to damage your cable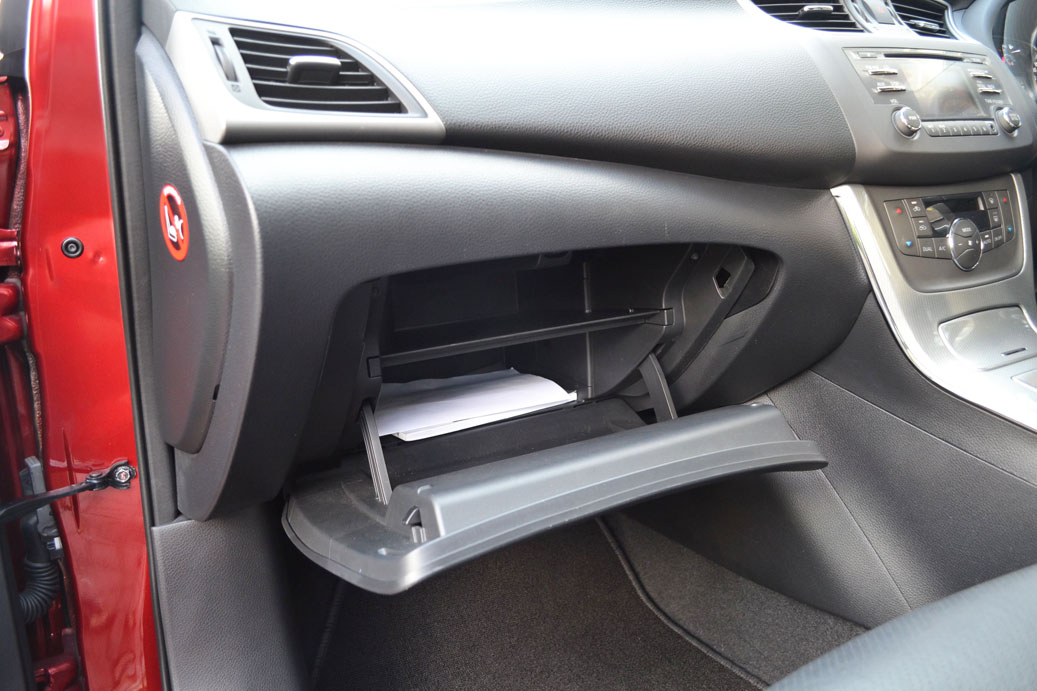 Like most Nissans nowadays, two-tiered glove compartments can be found here and the size is large enough that both tiers are able to accommodate quite a bit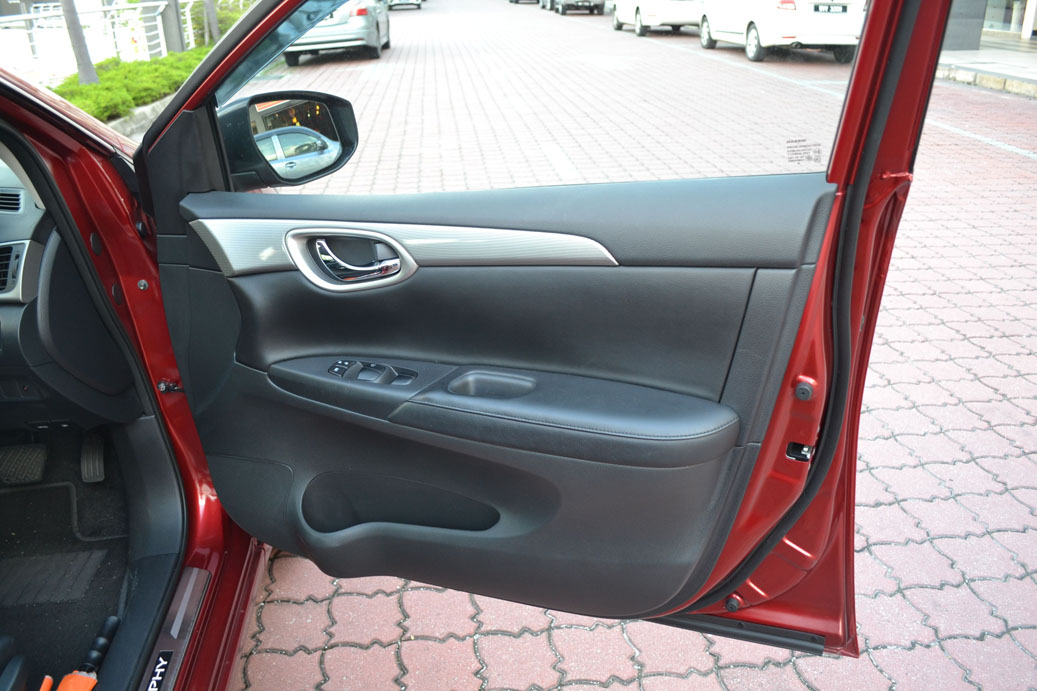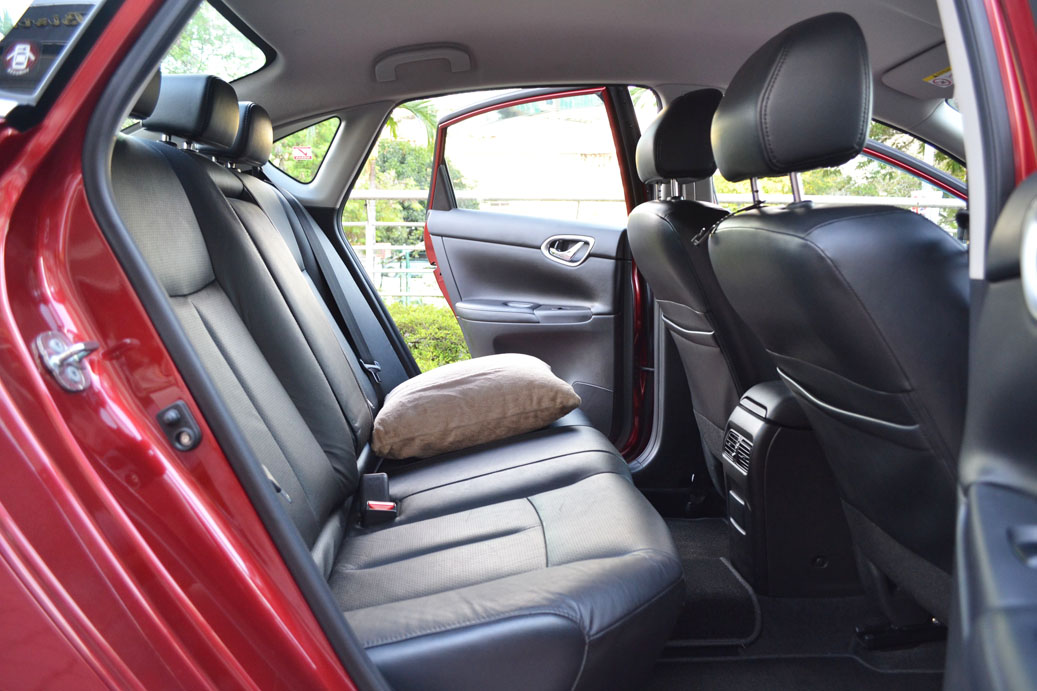 Continuing the Sylphy's tradition of providing excellent space, the new one doesn't disappoint in this area. There's more than enough space for small families to grow. Rear passengers won't be complaining much with the inclusion of rear air conditioning vents but sadly, there's no power socket behind here. The VL spec here gets all round leather seats vs fabric in the E spec.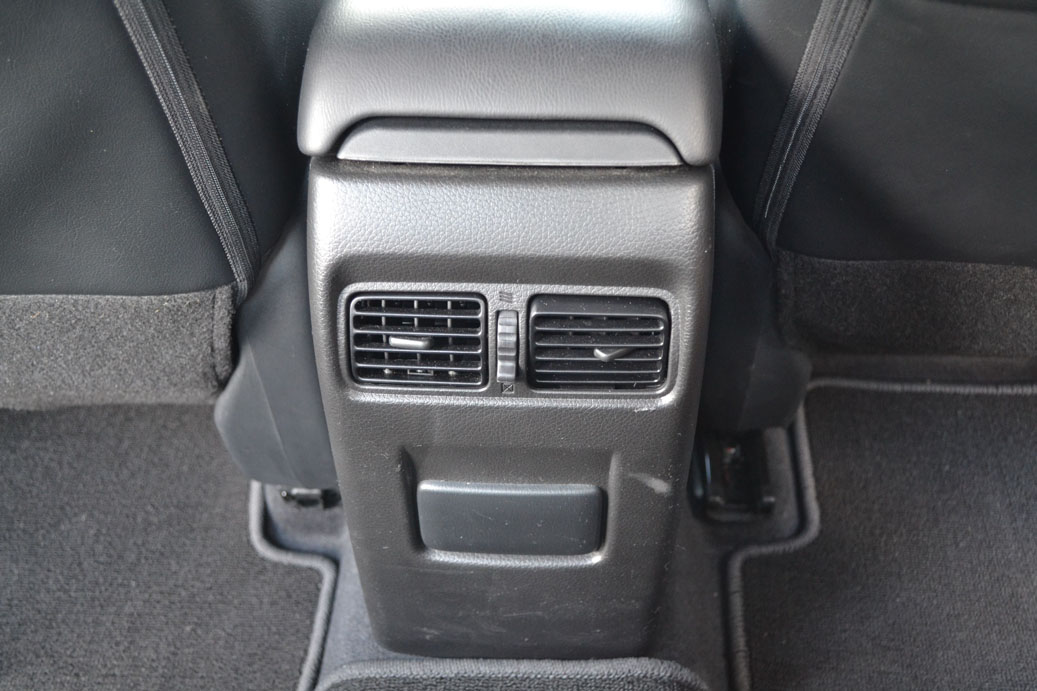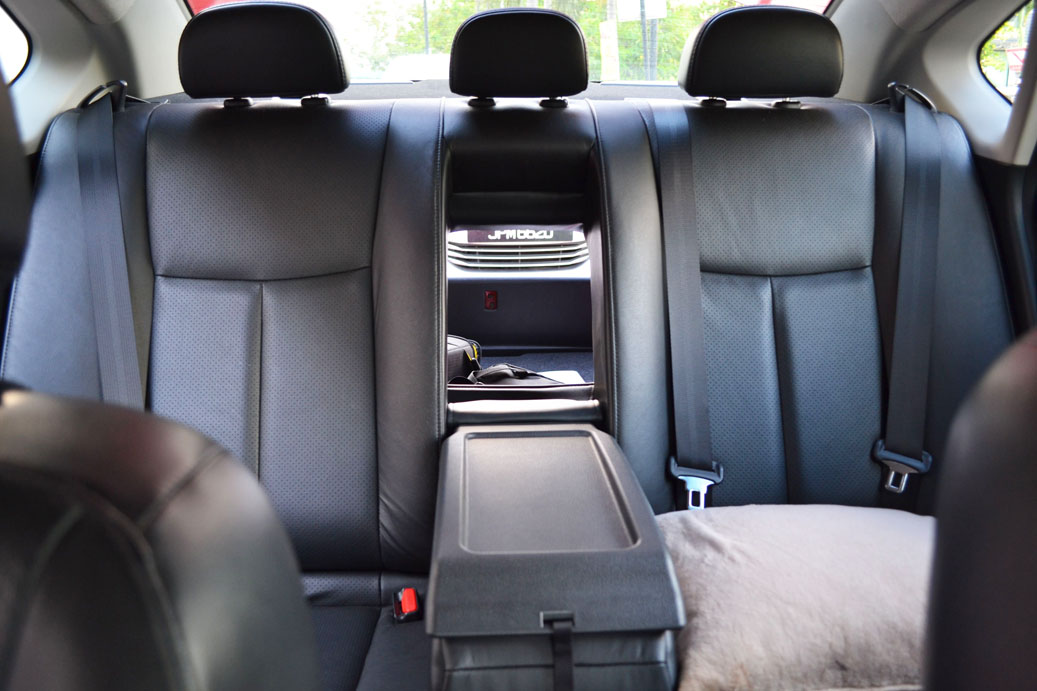 Another notable setback is the lack of 60:40 rear folding seats. You can still carry longish items but so long as it fits that little hole behind the center arm rest.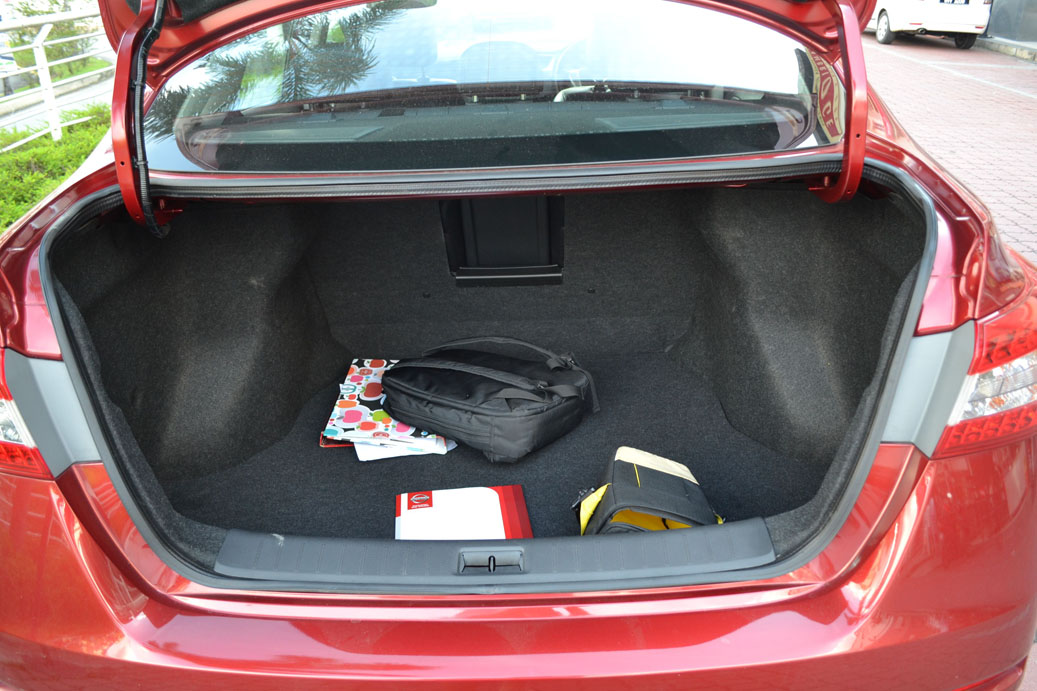 The boot offers 510litres of space which is more than enough for your hometown trips but the rear fender does eat into the boot quite a bit so while golf bags will not have a problem occupying space here, large, squarish items such as XL sized luggage bags might need a bit of maneuvering to fit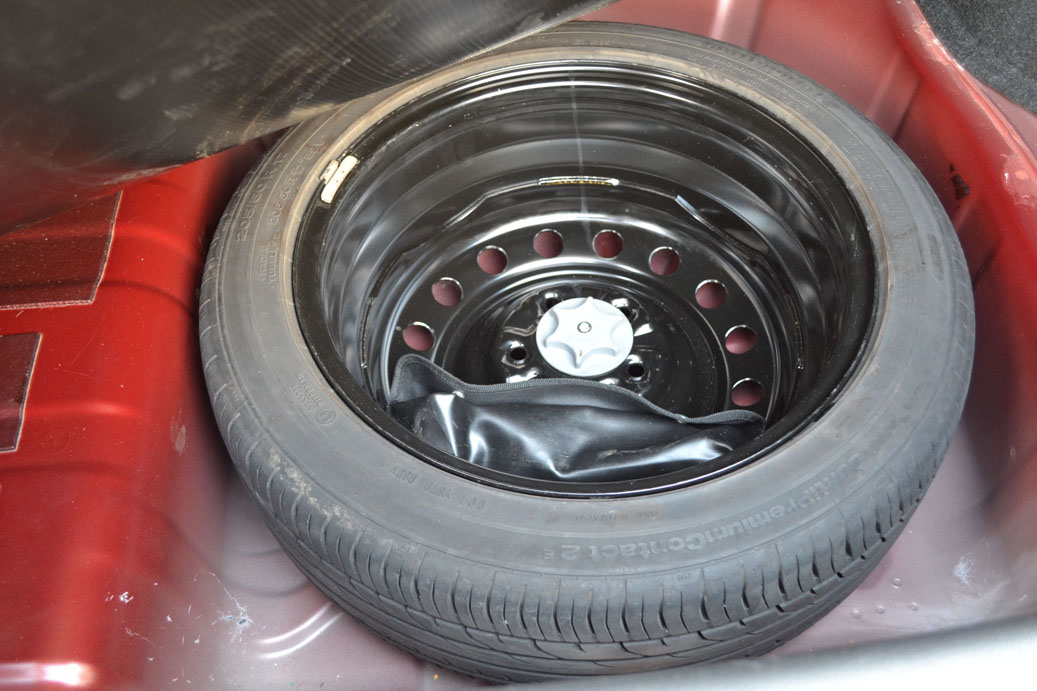 Full sized spares are always a welcome since you don't need to reduce speeds to below 80km/h if using space savers.
Safety
Both variants offer the same safety kit, namely;-
ABS
EBD
BA
6 airbags
Vehicle Dynamic Control (VDC)
Traction Control
Front 3-point with load limiters and pretensioners
3 x 3-point rear seatbelts
The only exception is the VL comes with a reverse camera
Specifications
Between the two variants offered, here are the comparison between them.
1.8E
Exterior
Halogen headlamp with manual leveling
Manual foldable side mirrors
LED high mount stop lamp
195/60/R16 wheels
Interior
Bright silver instrument panel finish
Urethane steering wheel material finish with silver finishing
Speed sensitive electric power steering
Tilt and telescopic adjustable steering
Illuminated steering wheel controls for Bluetooth handsfree, audio, MID, Cruise control
Urethane gear shift lever with sport function
Standard fine vision meter
Manual air conditioning
AM-FM radio with CD, MP3, Bluetooth and AUX-In input
6 speaker system
Fabric seats
Rear seat arm rest and trunk access
1.8VL
In addition to the 1.8E unless stated otherwise
205/50/R17 wheels
Projector xenon with auto leveling and washer instead of halogen
Auto headlight
Power foldable side mirrors with intelligent key (i-key) link
LED high mount stop lamp mounted in spoiler
Silver sports instrument panel finish instead of bright silver
Leather steering wheel instead of urethane
Leather gear shift lever instead of urethane
Chrome surround fine vision meter
Dual zone automatic climate control with rear seat vent
 4.3″ front display with reverse camera, AM-FM radio, CD, MP3, AUX-in, Bluetooth and iPod connectivity
Leather seat material instead of fabric
Ownership and Maintenance
The new Sylphy retails for RM 111,900 (RM115,817 with insurance) for 1.8E and RM 121,900 (RM126,093 with insurance) for the 1.8VL. Choice of colours includes the All-New Cayenne Red (as seen here), Premium Black, Bronze Gold, Diamond White and Brilliant Silver. It with a warranty of 3-years or 100,000KMs, whichever comes first.
So should you buy one?
If you're looking for a fuss-free, reliable, trouble free, comfortable, spacious vehicle with proven Japanese technology and you don't want to go the T and H route, then yes, the Sylphy is a good option. Personally, I find its exterior to be the most conservative among the Japanese choices and may suit people looking for something more executive looking and less racer-boy outlook. Something I could probably pick. But the omission of a proper Bluetooth interface (there's a cost option for a 6.5″ 2-DIN Touch Screen headunit that has that but that'll set you back by RM3,300) and the lack of an fully expandable boot due to no rear seat folding capabilities puts a damper on things.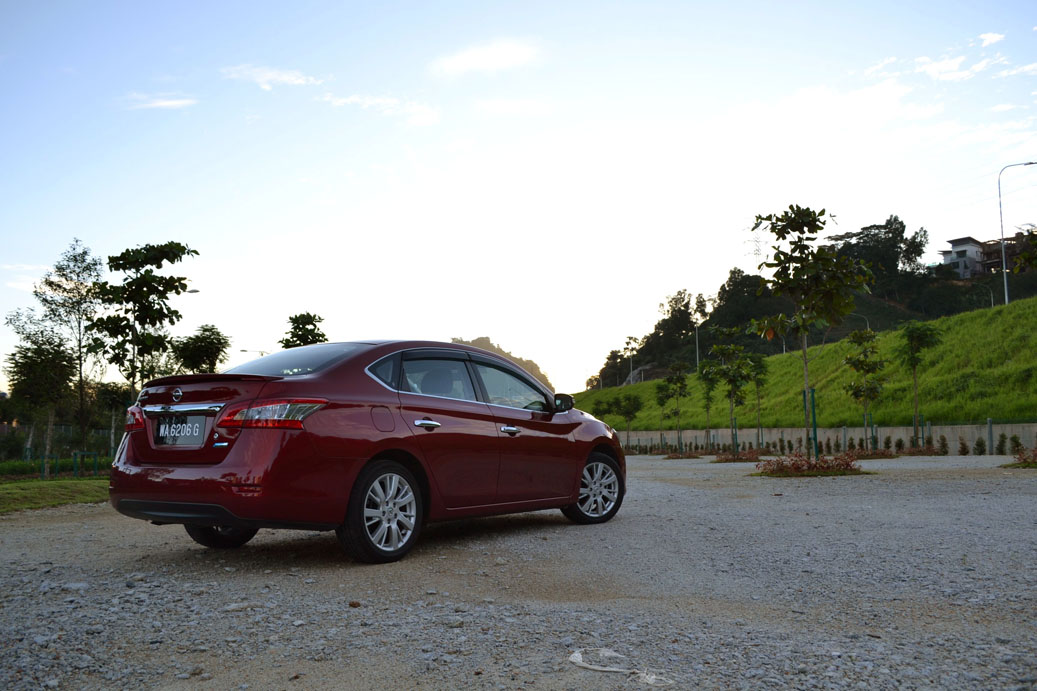 .
.
.
by Vinod Nair
Feeling Sylphy-ish Lately?
This time round, I chose not to research a car I was about to review.  That should help me neutrally sample a car without the bias of super-duper hyped marketing and performance figures.  Oh what a blessing it was during my stint with the Nissan Sylphy.
Of course I cared about the name of the car more than car itself!  Quick research says 'sylphy' is derived from 'sylph' which means any class of imaginary beings assumed to inhabit the air or a slender graceful young woman. Sylph has also been used to describe Gong Li. Oh my!  How does Nissan come up with such exotic names for its cars?!
If you think that's smart and cute, mission accomplished. I'll try to use this new word I learned in this article for you folks. But if you think that name is way overboard, you should Google up the name 'Almera' and have a good laugh.  😉
Enough about the name… Let's get started.
A Sylphy Manifestation of a Curvy Car
Ok, so that subtitle wasn't my best effort.  At first glance at the car's design, I thought "Seriously, they packed that many curves into a car?!"  There's nothing clean about the design; it just seems busy from any angle you see it.  It's a far cry from the clean designs coming from Europe, including neat looking cars from its strategic partner Renault.
I am a big fan of the 3rd generation Altima (also known as Stanza, Bluebird Altima or Teana.. Why Nissan? Why?!).  I had the privilege of driving that car for a few months and I loved its simplicity in design. Even the 4th generation was pleasant. Looking at the Sylphy and our Teana today, I can't help but wonder if Nissan is trying too hard to stand out.
It's a good thing that they didn't bring this complicated feel into the interior space of the Sylphy. I liked the textured soft-touch dashboard. Everything looked fine except for the steering wheel which I felt was a bit too 90's.  Even the grip was so slender; it didn't have that chunky premium car tactile feel.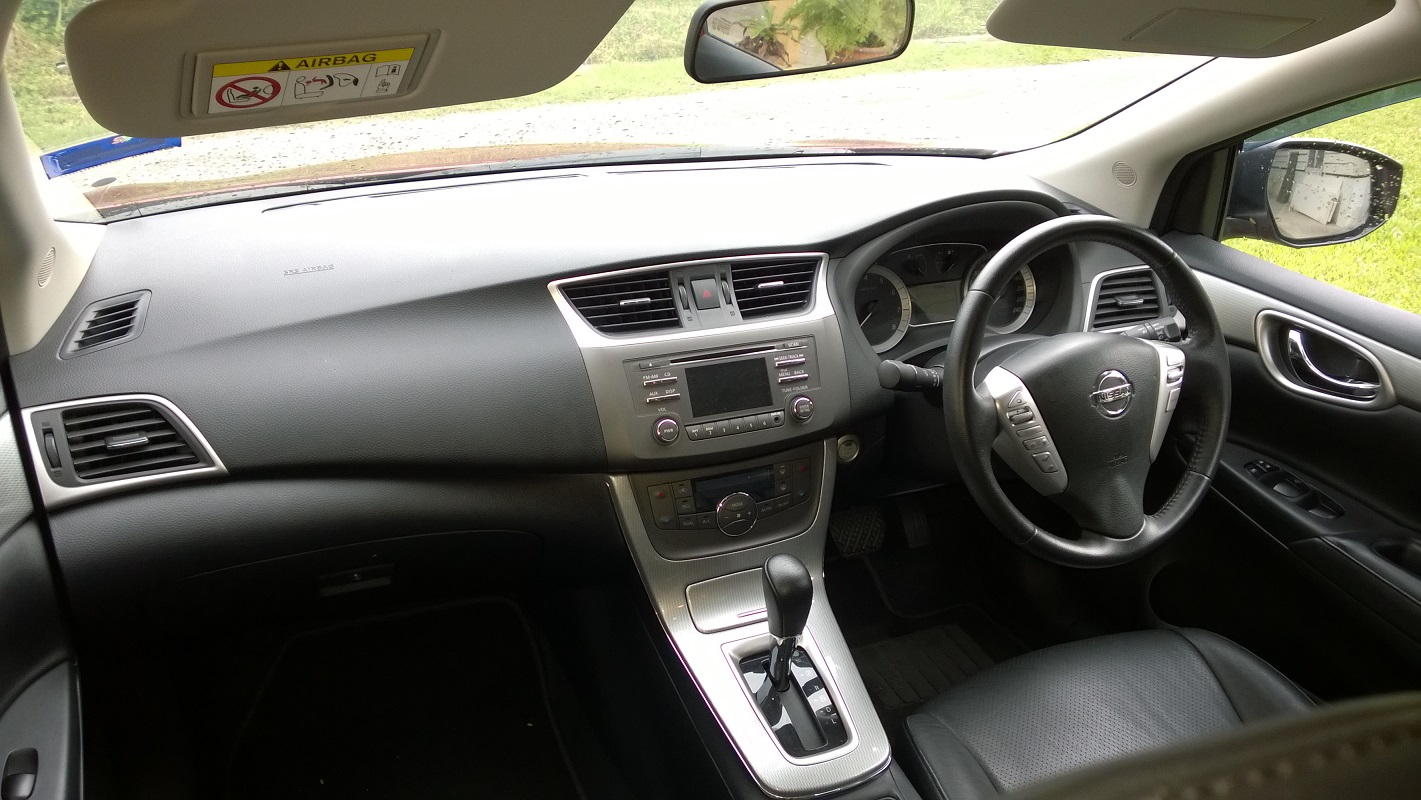 Also, they managed to fool me for a second.  At one glance, it all looks seamless until you start knocking it gently with your knuckles.  In this shot alone, there are 3-different materials used (very cleverly) with the same texture.  On the dash you get soft-touch plastics, leather-like padding along the armrest and the rest is sadly hard-plastic.  Nice way to cut corners without looking cheap.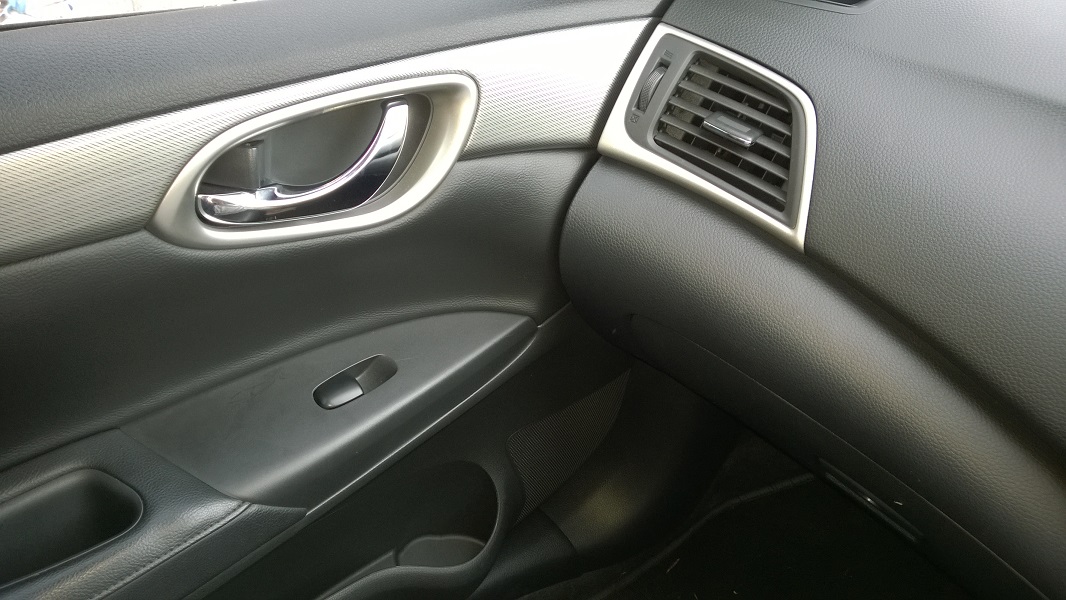 Drive Me Crazy, You Sylphy Animal!
Lo and behold, the name couldn't have described the driving experience better.  The Sylphy is extremely easy to master within the first 10 minutes.  The electric-assisted steering is super-light and a blessing to use in traffic jams, but can get a little jumpy at high-speeds.  To prove my point, I got my 19-month old kid to do his first short car review and he managed to steer the car with ease while happily chatting. (Disclaimer: It was done at an empty car park.)
VIDEO: Kids, do not do this at home …. not with another kid. Controlled environment only!
Fuel consumption is okay with my mixed driving commute of over 150kms clocking in 8.2 l/100km.  Flick on the Sport Mode and that shoots up sky high.  In normal mode, you can cruise at 110 km/h at around a gentle 1,900rpm but it hangs at close to 4,000rpm in Sport Mode.  Yeah, the Sport Mode seems to hold the rpm really higher than necessary and the screaming engine isn't that sexy either.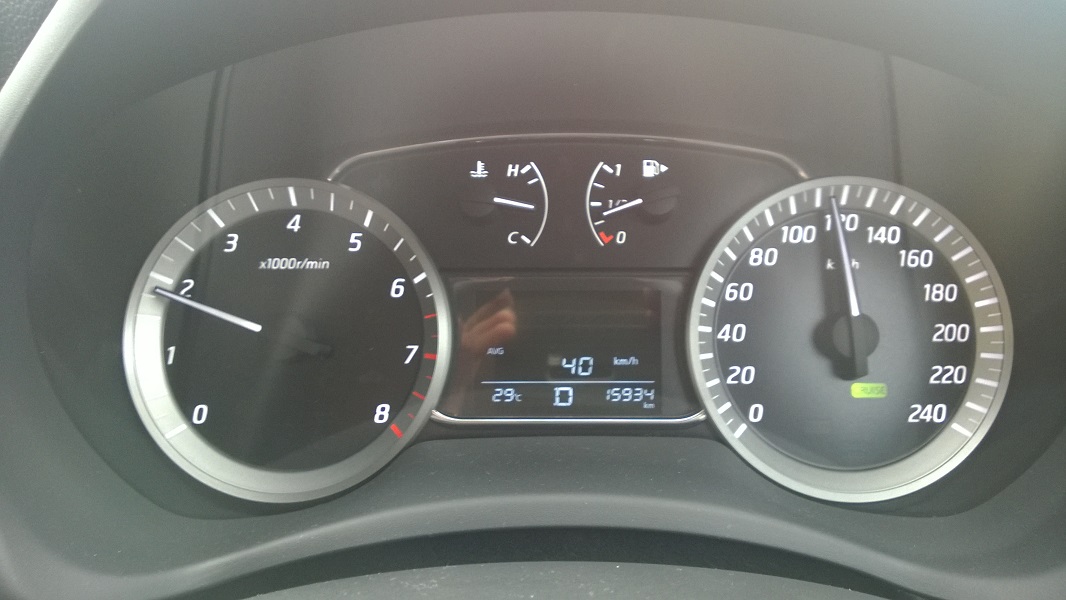 Its low-profile 17-inch wheels look great, especially now that it FINALLY has 5 lugs.  The previous Sylphy only had 4 which didn't give it that classy look.  Unfortunately, the thin boots seems to translate all road bumps into sometimes very uncomfortable vibrations and noise.
Overall, I had a nice time cruising with the Sylphy.  When I pushed it hard however, the droning engine noise sucked all the fun out what would be a rather fun experience.
Ave Sylphy-ya, Benedictus Tu Inter Carros
Sing along if you know the song! Or… just… never mind. Anyways, Kenso will definitely highlight all its features which are aplenty. I'll just feature some features this car is blessed with. (Get it? Blessed and Benedictus?.. Oh nvm.)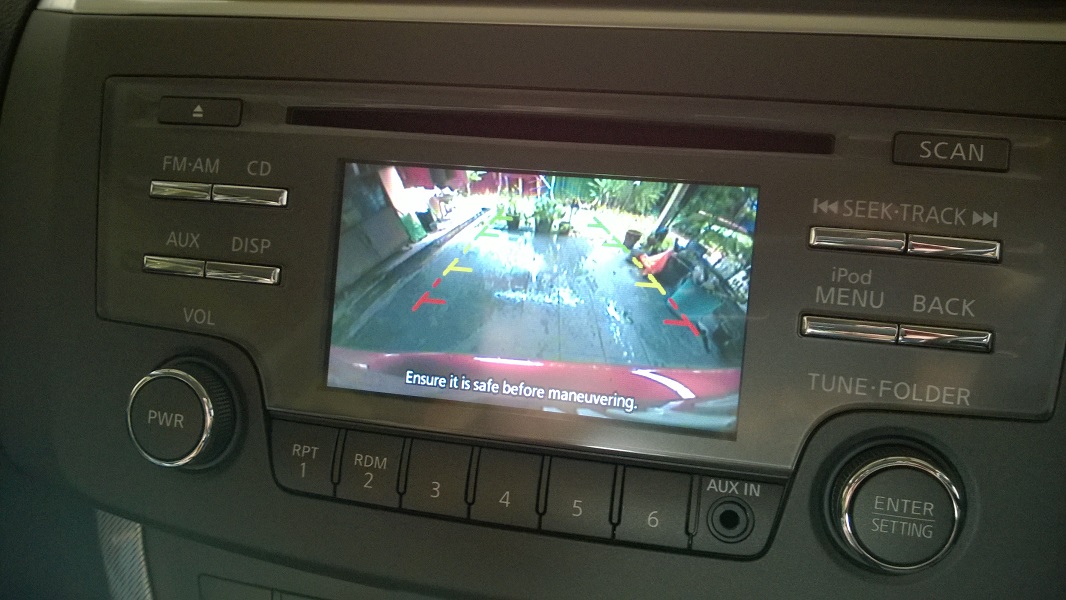 Its reverse parking camera is (unlike in most cars) very accurate.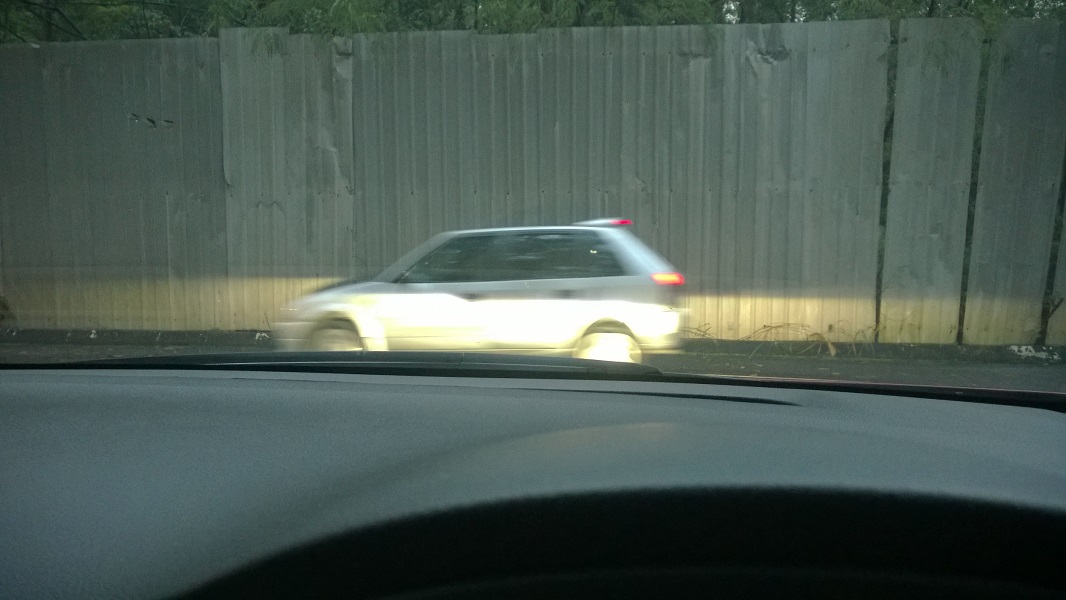 The HID headlamps are more than capable of lighting up dark roads ahead without glaring those in front.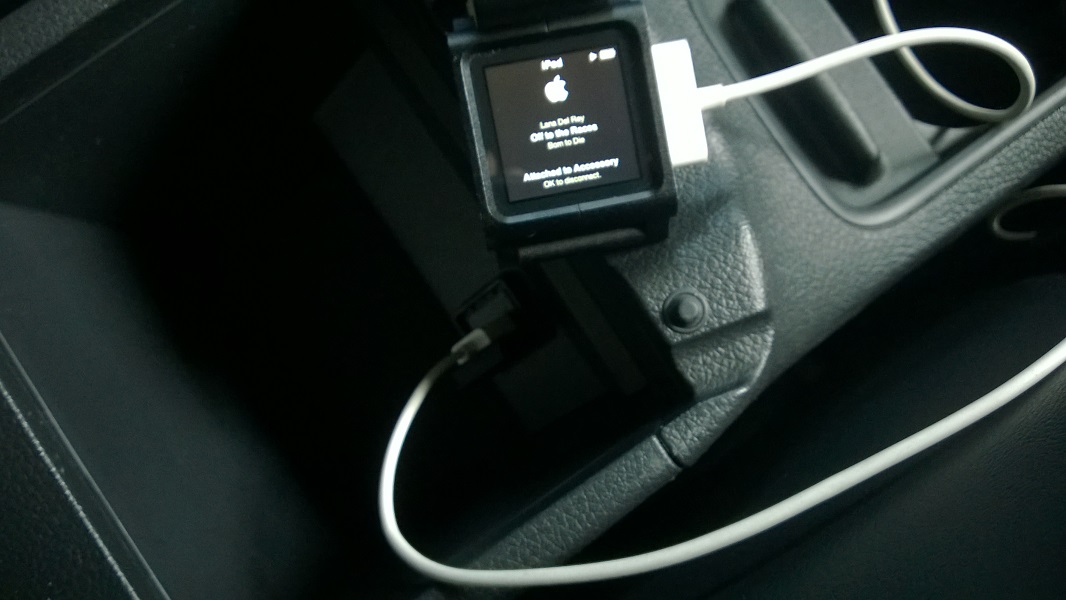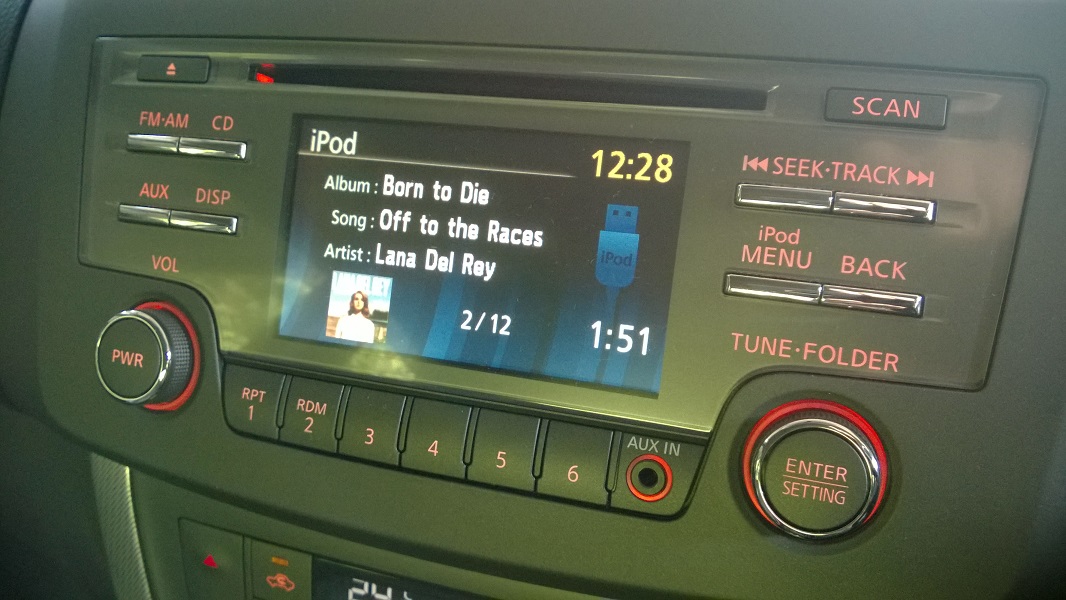 iPod-ready… yes! No touchscreen, damn!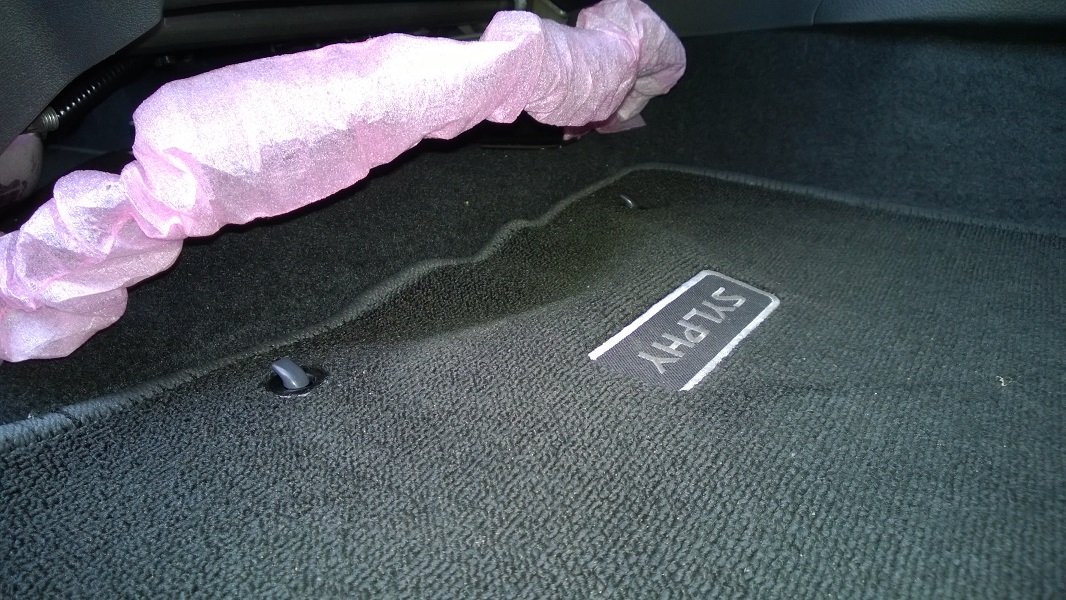 Clever hooks and Velcro hold the carpets in place, but makes its removal very dirty and tiring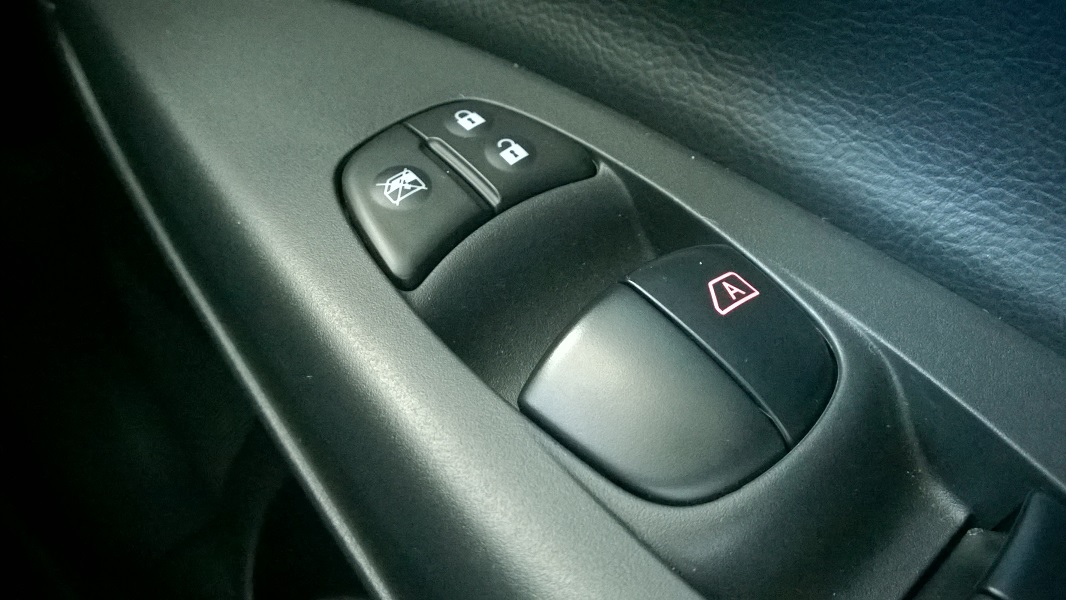 Not all buttons light up. Cutting corners again?
Sylphy-ously Confusing Conclusion
So the Sylphy range is and was also once known as Pulsar, Blue Stage (whatda?!), Sentra, Sunny and Almera (double-whatda?!).  As confusing as that is, so will my verdict be.
It's nice to drive, reasonable fuel economy, decent power and above all, pleasantly comfortable.  But its daring and over-powering design might not stand the test of time and perhaps already looks dated; it should have followed more closely to the new Teana.
With the premium variant going around RM125,353.80 (OTR, private, P. M'sia) plus another RM3,800 for additional goodies like navigation and other premium bits, it's easy to see how the Sylphy will struggle in the fiercely competitive C-segment dominated by the usual suspects Civic and Altis and better equipped Korean makes too.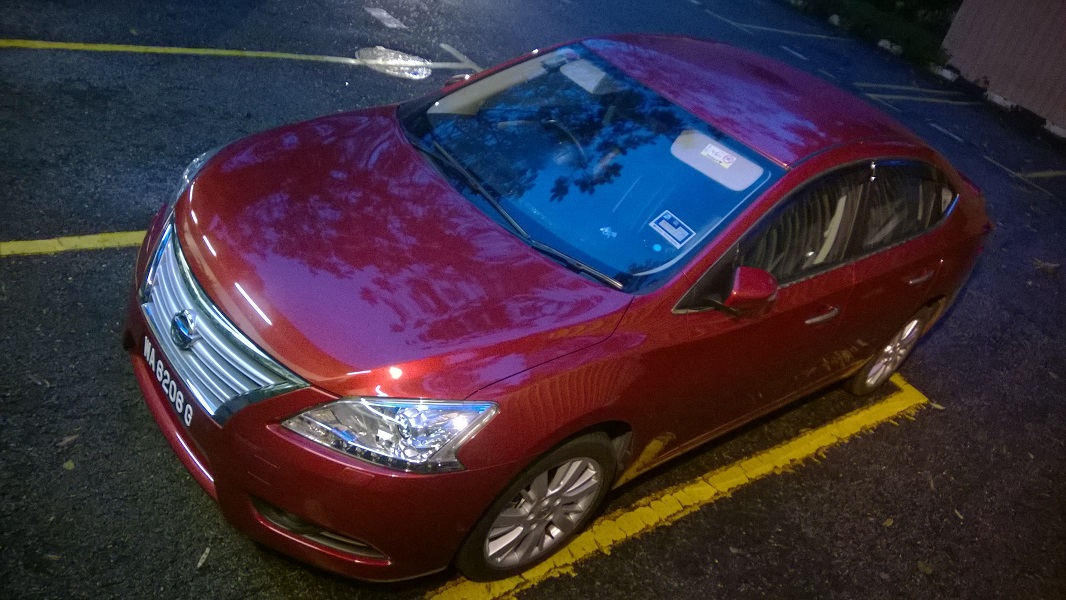 Nevertheless, the Sylphy is a great car in its own right.  It offers something different compared to the competition; sensible comfort and quality, better than most of its rivals. Perhaps that's why Edaran Tan Chong Motor is banging heavily on the Sylphy tagline "Mark of Distinction", trying to convince young executives that this car will deliver on its brand promise of an upmarket image.  That tagline would have worked better with the Teana, not this Sylphy.
In my honest opinion, the Sylphy is a balanced blend of the Almera and the Teana, sitting quietly in the middle of the two.  Don't want an Almera but can't afford a Teana; there's the Sylphy for you.