As some of you may already know, I have a Volkswagen Golf 1.4 TSI. My experience with the Golf since 2011 when I first took it home has been marked with ups and downs but overall, I am satisfied with the vehicle. During the course of ownership, I had to change the mechatronic unit twice, a seat belt buckle and now I find myself needing to change the clutch plate the second time due to excessive juddering at low speeds, in particular between D1 and D2. Although the number of mechatronic related complaints has dropped, the clutch problem is an issue that is still faced by owners. So I made an appointment to get it done and a date was fixed. A month later, I went to the FA Wagen Volkswagen Glenmarie SC and here's a summary of my experience there, starting from the moment when I first made the appointment:-
 .
10 February 2015 – sent vehicle to Glenmarie for 60,000km service. Asked to check on the juddering issue and service adviser Mr Lee confirmed it needs to be changed and my record shows I qualify for warranty claim. Appointment made to bring vehicle in on Monday, 2 March for clutch replacement. Estimated 2-3 days retention in the service centre
.
27 February 2015 – called Glenmarie to reconfirm my appointment.
 .
2 March 2015 – dropped vehicle at 0810hours
 .
3 March 2015 – no one from Glenmarie called me to let me know whether it's two or three days job. Attempted to call Glenmarie SC line but each time the line picked up, it got cut (it was later on discovered they had problems with their phone line). Managed to get through around 4pm, spoke to a Mr Bala who answered in an disinterested, bored voice, failed to identify himself nor the SC I called and could not locate any information about my vehicle in the SC. Said he will ask the service adviser to call me.
 .
3 March 2015 – 7.30pm Service adviser Mohan called to inform me that I can collect the vehicle on Friday. I was shocked that what was initially promised to be a 2-3 days job had dragged to the entire working week. Mohan claims that he did not know my car was in since Monday, then said if that's true, then I should be able to collect it tomorrow (4 March).
 .
4 March 2015 – No calls received. I decided to visit the SC and I saw this. Take a good look at these two pictures below and tell me what's the difference.
 .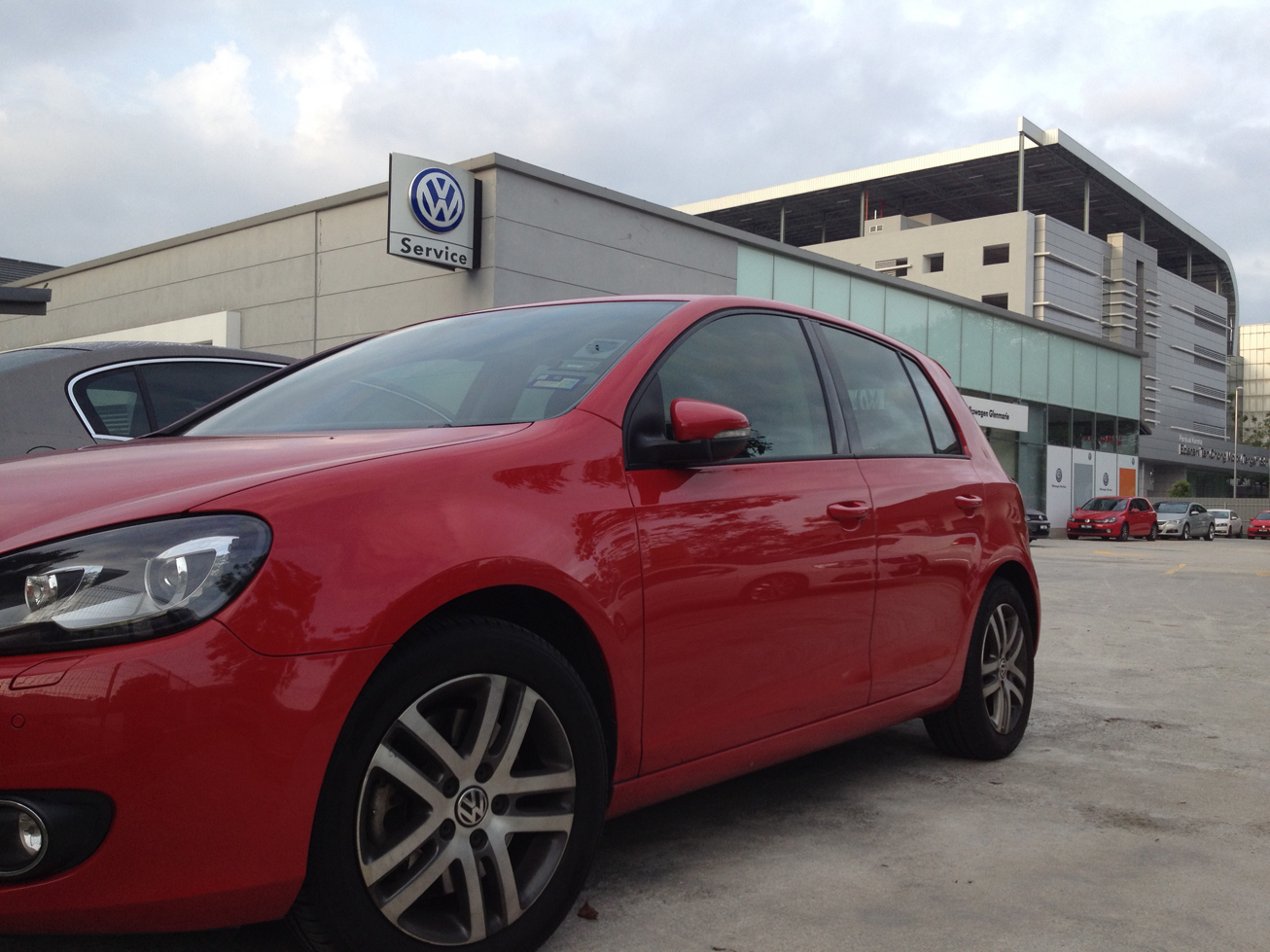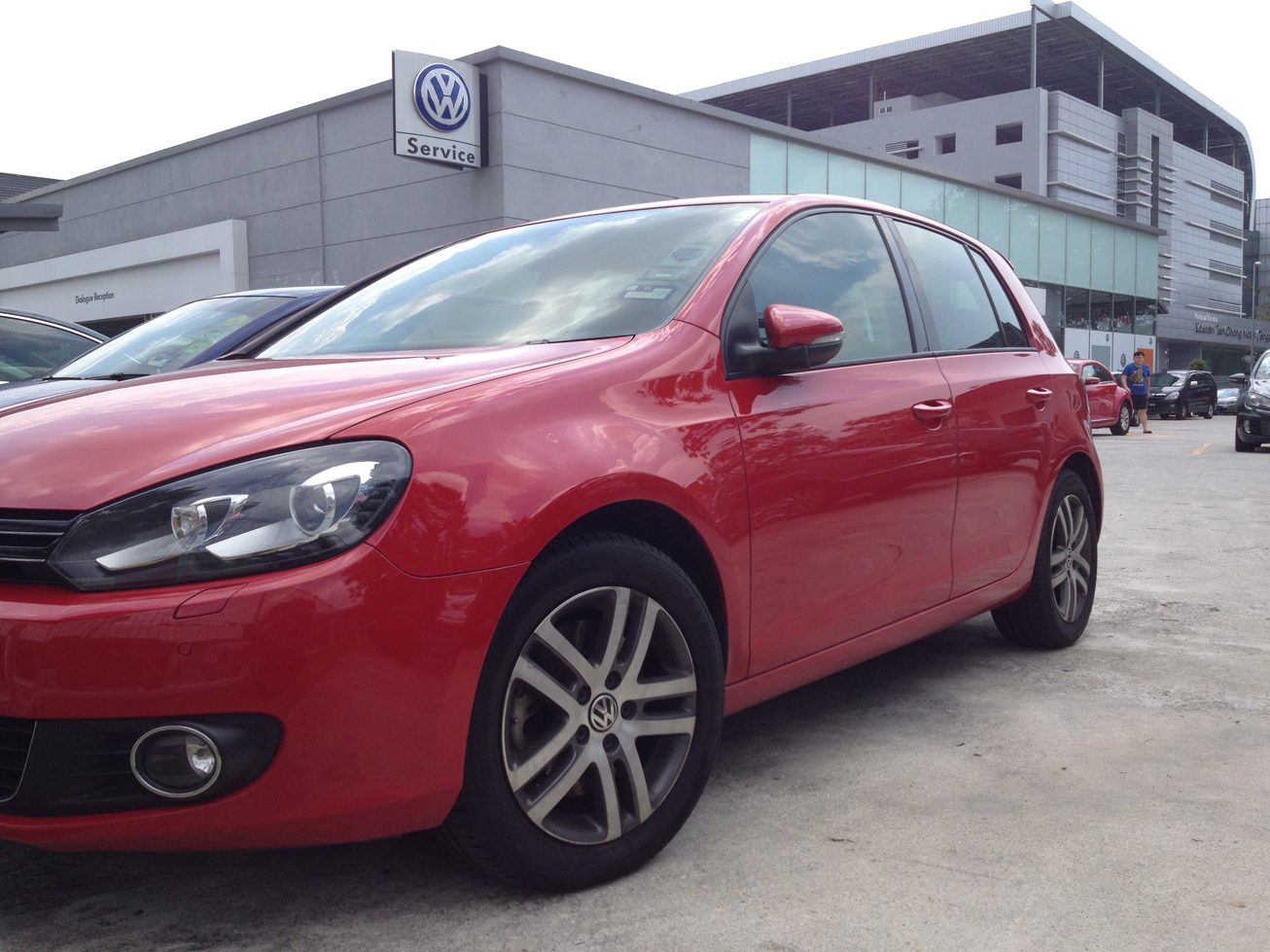 .
That's right. There isn't (other than the lighting and the background). My car has NOT MOVED AN INCH from the spot I left it on Monday morning. If you drove your pregnant wife in the throes of childbirth into a hospital, your baby would be 2 days old before she's wheeled into the delivery room!
.
I'D LIKE TO SEE YOUR BOSS NOW, THANK YOU
.
I confronted Mohan, then requested to speak to the service manager, Mr Das and this is what was relayed to me:-
 .
This is my second clutch change. VGM has changed the policy of warranty claims and now demands that the vehicle MUST be in the SC, a new set of data collected, forwarded and approved by them before repairs can be carried out. This caused the additional 2-3 days delay
Mr Das apologised that his staff had "over-promised" the delivery time and promised to get the vehicle repaired asap (meaning 2 extra days).
No courtesy car was offered.
 .
 .
FA Wagen Volkswagen Glenmarie has been receiving a lot of flak from dissatisfied customers and I can attest to being one of them. How can:-
The ONE and ONLY service centre hotline is down for days? In any other front line service industry, this is entirely unacceptable and puts a mockery of VGM's new tagline, "Always By Your Side".

How can a person like Mr Bala, who exudes the customer service warmth equivalent to dry ice from the tonality of his answer, the lack of identification, the lack of solutions offered and sounding like he wants to get this call being over and done with as quickly as possible be even allowed to answer phone calls?

A customer's vehicle, with appointment made and reconfirmed earlier, was left in the SC for 36 hours before anyone bothered to call and inform the customer on the latest status of the repair?
There be no attempts were made by the SC to inform that there will be a delay from the initial estimation of repair?
The situation where a customer had to personally drive to the SC just to get a satisfactory answer be even allowed to occur?
 .
And you wonder why you have so many angry customers banging at service center desks? That tower you're sitting in must be pretty high to miss hearing all the unhappy voices down at the front.
.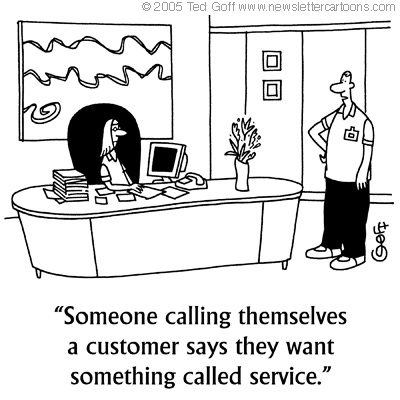 .
 So I wrote to VGM asking for clarification if it is true that there's a policy change concerning clutch plate replacements while at the same time highlighting the issues at the SC level. A reply came from FA Wagen a day later:-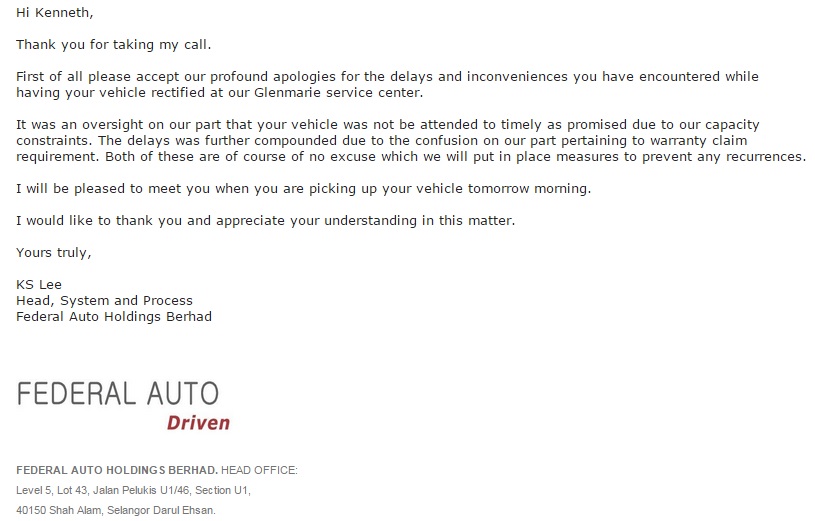 In not so many words, yes, we screwed up. We have more cars in our SC than we would like. And we were "confused" on the warranty claim requirement". Really? Are you saying a center like VW Glenmarie has never dealt with second clutch replacement? That customers like me who've had his first clutch replacement in November 2012 will only experience clutch plate issues 2-3 years later? Some owners report otherwise:-
There's a lot more of such complaints in Paul Tan's article when VGM claims
all DSG issues are permanently fixed
. It could also be argued that there's no way to ascertain if these comments are made by genuine owners. I can only say from my own personal experience that second or third clutch replacements are still happening and I'm one of the more recent case.
 .
Then VGM replied saying there has been no change to their policy and secondary data collection for clutch replacement is not necessary. So did Glenmarie served me BS to cover their own lapse? You be the judge.
 .
With so many complaints plaguing Volkswagen Malaysia today and the many pledges made by VGM to satisfy customer demands, this incident of mine is one of the many examples that things are still very bad on the service front. Here's more examples of irate owners taking to Facebook to vent their frustrations:
BUT DON'T YOU HAVE COURTESY CARS?
Whenever our cars are down, we have to make arrangements for temporary transport for the 2-3 days repair. Courtesy cars promised by VGM will only be given to owners suffering from
unscheduled breakdown and needs more than 48 hours repair
. So in a case where the SC messes the repair time like in this case, you're left out to hang on your own. No compensation, no courtesy car, sorry-I-would-like-to-help-but-ain't-nothing-I-can-do. After sales service is still very bad.
.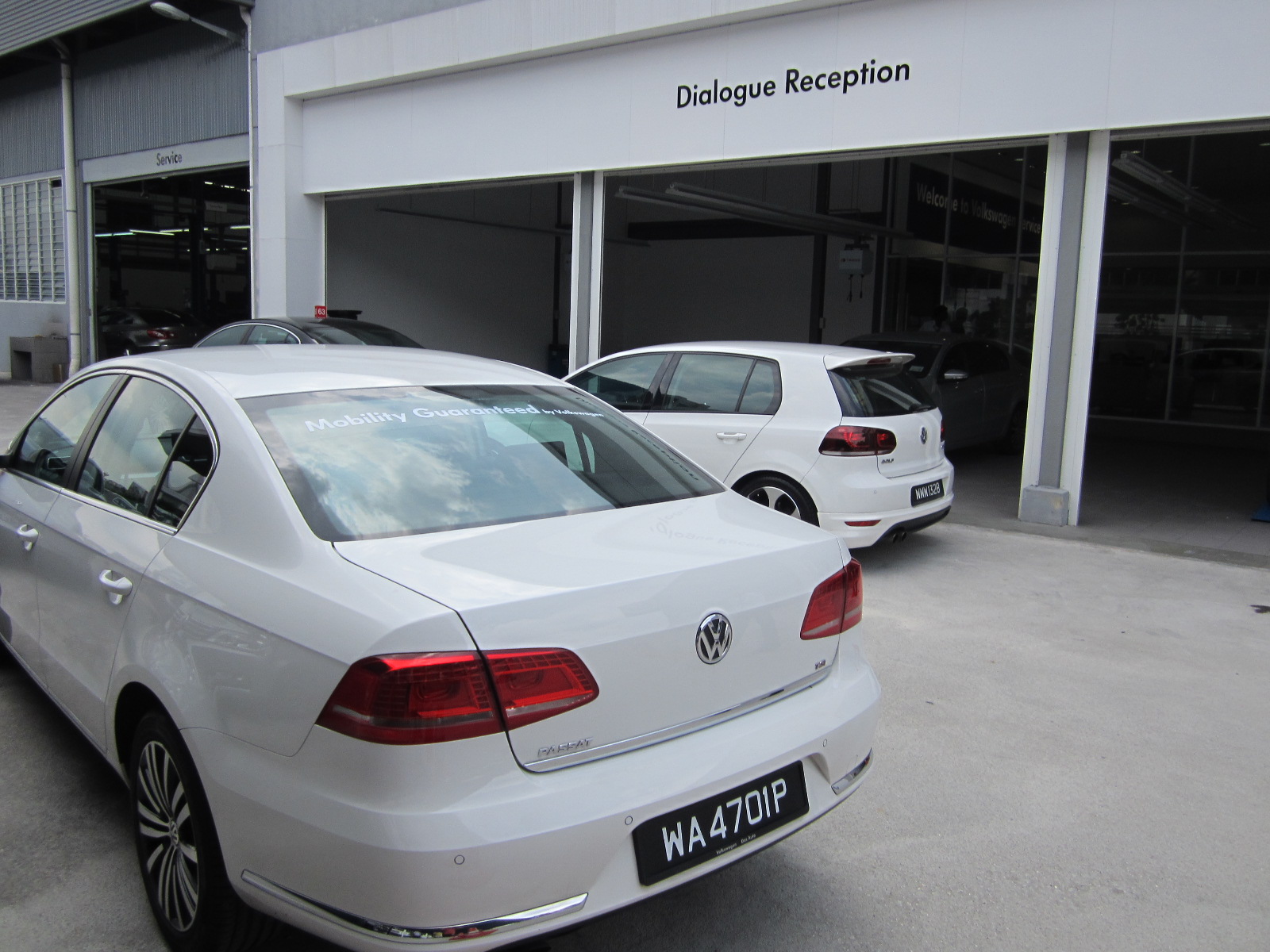 .
Even if you discount the problems contribute by the SC, we're still faced with one prevailing issue; what's this about premature clutch plate failure (and just to set the record straight, EVERYONE says VW gearbox got problem. It is NOT the gearbox per-say but a component related to the gearbox)?
.
I asked VGM on what could cause this failure and this was their reply:-
 .
"The juddering complaint is not due to worn clutch friction lining. It is due to clutch glazing under stop & go & high ambient conditions. For service solution, we have the latest level clutch where the glazing issue is fixed. All current produced cars have the latest part fitted."
From this statement, we can conclude two things:-
1) it's good that Volkswagen has identified the specific problem relating to premature clutch wear and have taken steps to address it.
2) I'm very much a cake person since it's the first thing I associate the word 'glaze' with. Clutch glaze is what happens when you have excessive heat causing various friction components within the clutch to lose its traction, resulting in the gears slipping.
.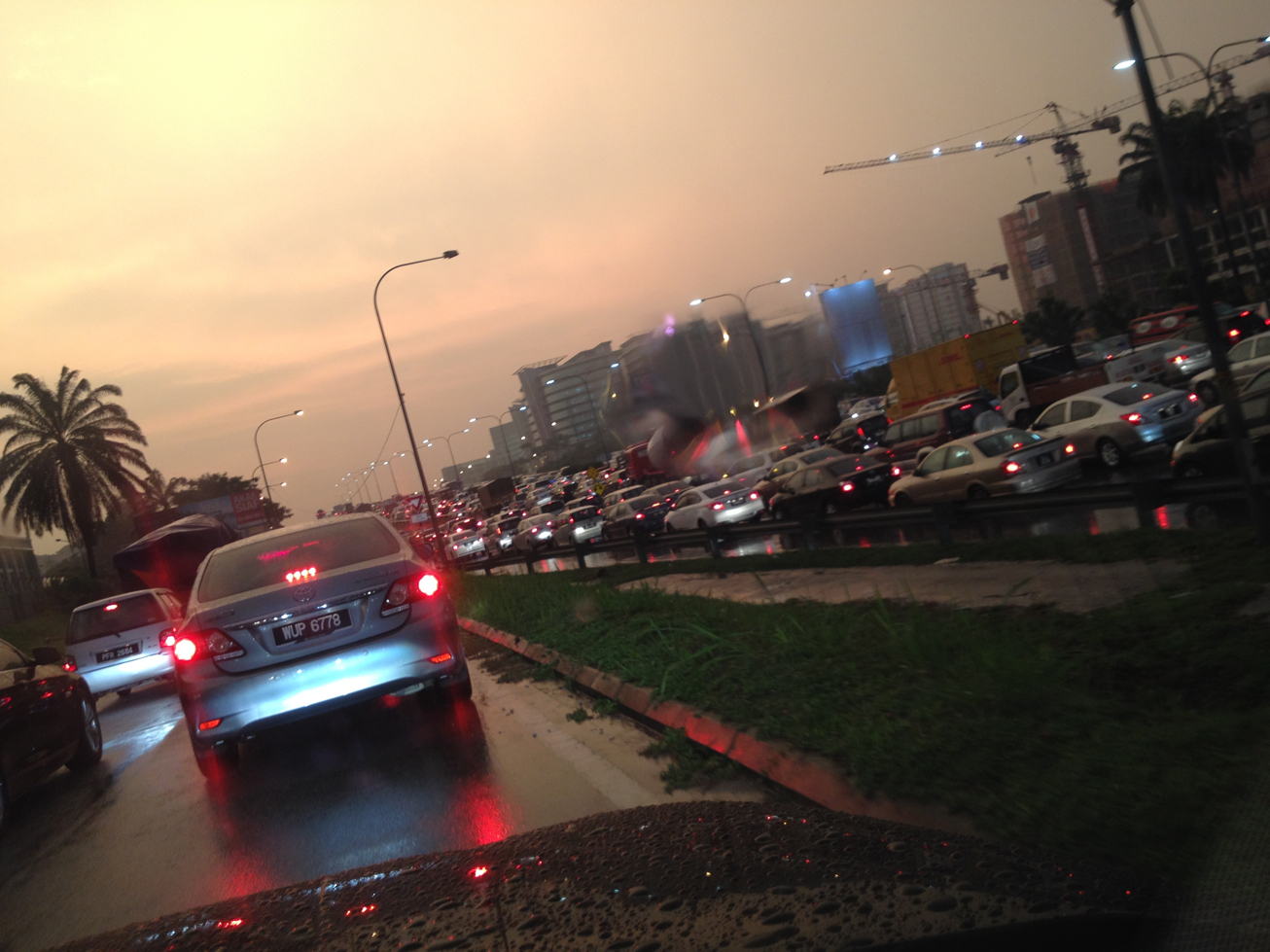 .
In other words, if your daily route involves seeing lots and lots of stationary tail lamps, you can expect your plate to be failing soon. The good news is the new plate is an improved version where the glazing is rectified and "should not have any problems in the future".
.
For those whose vehicle is out of warranty, don't fret. VGM's new Clutch Replacement campaign offers owners that are out of warranty to replace their DSG clutch at a special package price of RM1,888 including parts and labour, excluding government taxes.The normal clutch replacement price is RM3,090 for parts and RM840 for labour, which comes up to RM3,930. Since you only have to pay RM1,888 under this special package, that's a savings of RM2,042, or more than half. The package includes two years warranty for the parts, based on the invoice date. Terms and conditions apply.
.
Still, forking RM3,930 every two years (or 30,000km which was how long it lasted before the clutch judder became unbearable in mine) makes any VW car equipped with a 7-speed DSG gearbox a very expensive car to maintain.Fortunately, the part number used in my replacement is not the same as before so it's likely an upgraded component and should outlast the previous clutch plate and perform well for years to come.
.
So, is it time to buy a Volkswagen?
 .
Hopefully with this new "latest level clutch", the two most common issues (the other being mechatronic) plaguing VW would be laid to rest for good. They say that all continental purchases are marked with risks. From reliability to spare parts availability, service centre competency and costs, buying a continental is like putting your hand into a basket of snakes and not knowing when or if you'll be fatally bitten. Yet there's no denying the "poison" of driving a continental car; the thrill, stability and raw capabilities of the car that inspires a level of confidence in you that makes you go in a manner that may be perilous in an Asian made vehicle.
.
My take? It's worth a shot. Just be careful with what the service centre tells you at this point of time. Yeah, sad we paid a premium in choosing VW over others and have to deal with all this BS on personally following up on issues that, as a customer should not even be required in the first place. But trusting them fully sometimes is like putting your hand into a basket that's made of snakes, full of snakes. It's easy to pass the buck to the principal and say the fault is not theirs. Had I not written directly to VGM to seek clarification, the management of FA Wagen would not have been aware of my problem – which is a bit mind boggling to me since they have no system to actually measure efficiency and gaps in their service to their customers.
.
But I believe, this is temporary. I've owned another continental brand before coming to VW. When I took the keys to this other brand, they had only 5 SCs in the Klang Valley with cars awaiting service/repair packed to the brim (like VW, this other brand had a few common, recurring issues limited to a few parts of the vehicle), poor technical expertise and poor follow up. Today they've got a chain of SCs that's operating well, to the point where their experience even allows them to act as consultants to other export markets of the band. My ownership experience with this other marque allows me to draw contrast and I can say the improvements done by the principal here is faster since they have a bigger budget to sort things out.
.
Think about it; if you work as a VW service advisor today and each day your life revolves around trying to meet deadlines, dealing with volatile customers and being reprimanded by the management as things don't get done according to plan, how are you going to adopt improvements in the service front when each day you're trying to survive putting out bush fires as they happen. And they do happen quite often. However, as the number of cars at the SC decrease while they improve all aspects of their service, we will see strong positive changes. And it will happen very quickly once the most common issues with the DSG is sorted out, which I believe they have. VW's service interval is every 15,000km or 1-year whichever comes first. So for those who regularly commute the city  with the occasional outstation drive thrown in, by the time you get to your first service, you'd be experiencing something far different from mine.
.
Because if you don't, the people manning that service centre should be replaced, particularly if you've done your best in providing support to them. Start with those sitting high on the ivory tower.
.
Coming back to
Part I
of this article, reputation involves every single personnel of the entity that makes up the brand – more so if it involves those dealing with customers. Every single person is an ambassador to the brand. You don't need another case like this:-
.
.
where from what is written, it's again a people's-problem (not to mention again FA Wagen) dealing with an issue relating to a car, which could happen to any brand.
.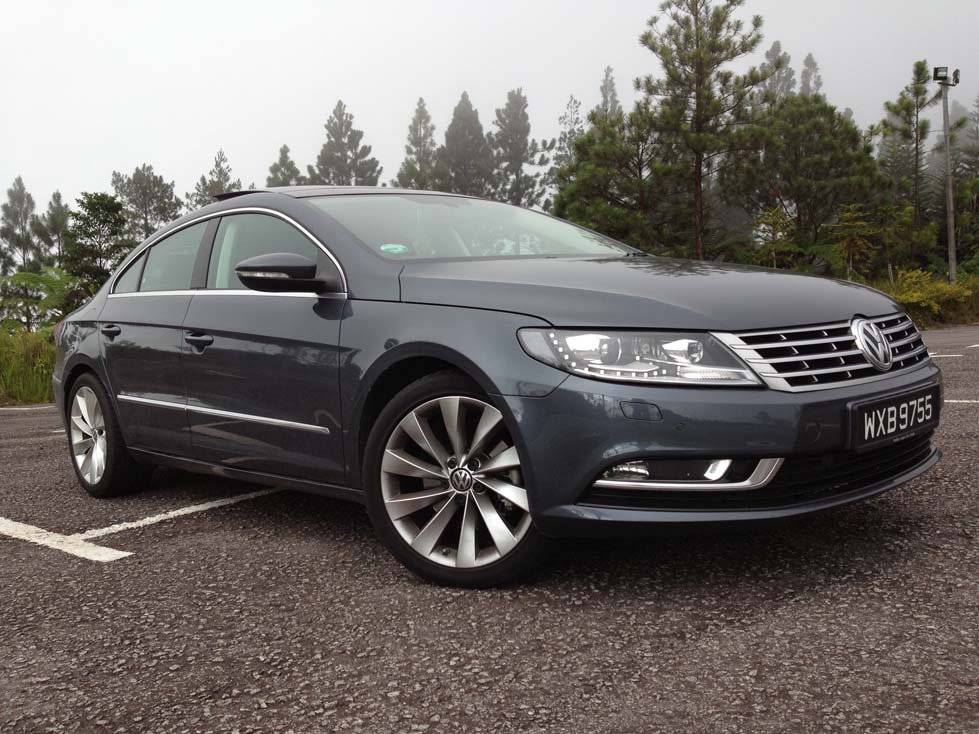 .
It's time to wake up – and time to bring the hammer down on some heads.
.
.