Stop a moment and take a look at the very device you're using now to read this. Amazing, isn't it? Whether it's a touchscreen smart phone, a tablet as thin as a pencil or a quadcore computer running at speeds unimaginable a decade ago, you hold a piece of technology that's was once reserved only for the rich and powerful. Give it a few years and you'll be using those very same devices currently costing a kidney for a fraction of the cost – well, except for a private jet in which case you have to be a very successful politician to buy and use.
.
Coming to cars, we're really quite pampered today. When the Kia Forte was launched, it gave the market a huge kick in the nuts by offering features such as keyless entry and engine Push Start – all with a price tag of less than RM100,000. Peugeot was the first to offer a turbocharged continental car selling for less than RM120k. Safety features such as ESP can be had from as low as RM42,888 with the Proton Iriz. Full LED headlamps are now found in Honda Accords. Park assist programs that automatically turns the steering wheel for you when parking and exiting is seen in the Peugeot 2008 while the Ford Focus gives you automatic emergency braking.
.
Yes, Magic – once found in the realm of vehicles costing above RM300,000 are now within reach for many Malaysians (well, those who could afford the inflated vehicle prices, that is – 1%-2% GST reduction notwithstanding).
.
And now one more vehicle offers its own kind of Magic, with features never before seen in this segment, let alone this price range. Behold the all new sensational Peugeot 308.
.
.
Design
.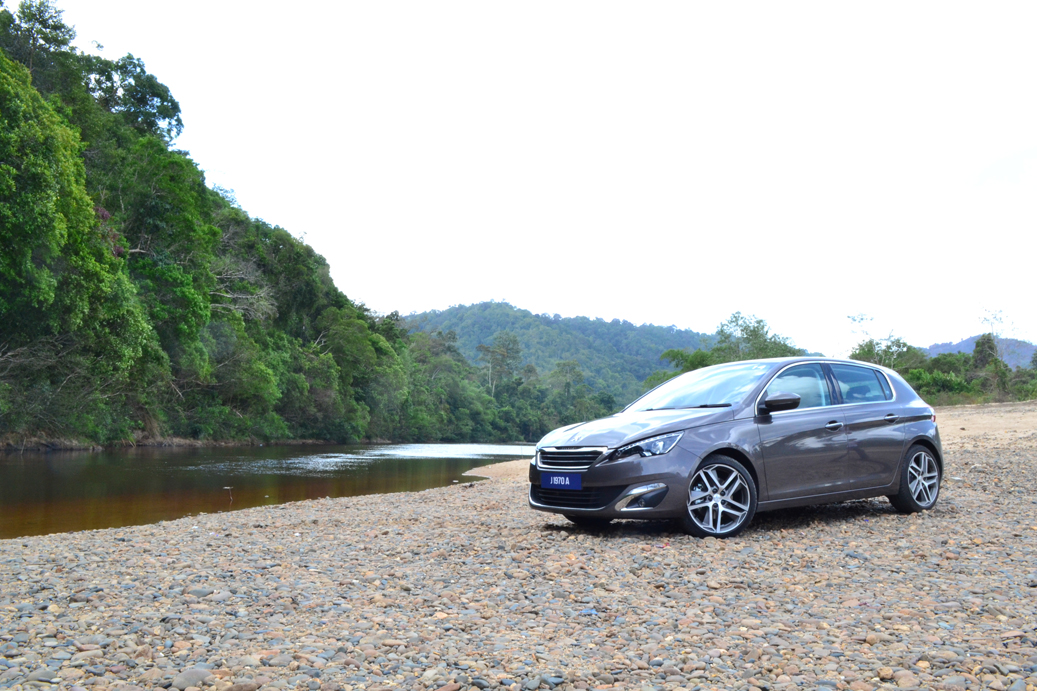 First seen in the movie Lucy starring Scarlet Johanss0n, the exterior of the all-new 308 (code named T9) is a radical departure compared to its previous incarnation. Like the 2008, 3008 and 5008, the new 308 features a sleeker design that, depending on how you look at it, is a fine balance between elegance, sportiness and quality.
The new face of Peugeot includes lots of chrome; the front grille outline, lower grille, fog lights makes clever use of these materials to create a mien that's classy and sophisticated without being gaudy. Most notably, the new 308 features the world-first full LED technology headlamp which consists of 31 LEDs (10 LEDs for the dipped headlamps, four modules of 4 micro-LEDs of the main beam and 13 LEDs for the Daytime Running Lights). The great thing about LEDs are they throw their beams instantaneously and consumes 50% less energy of light compared to halogen.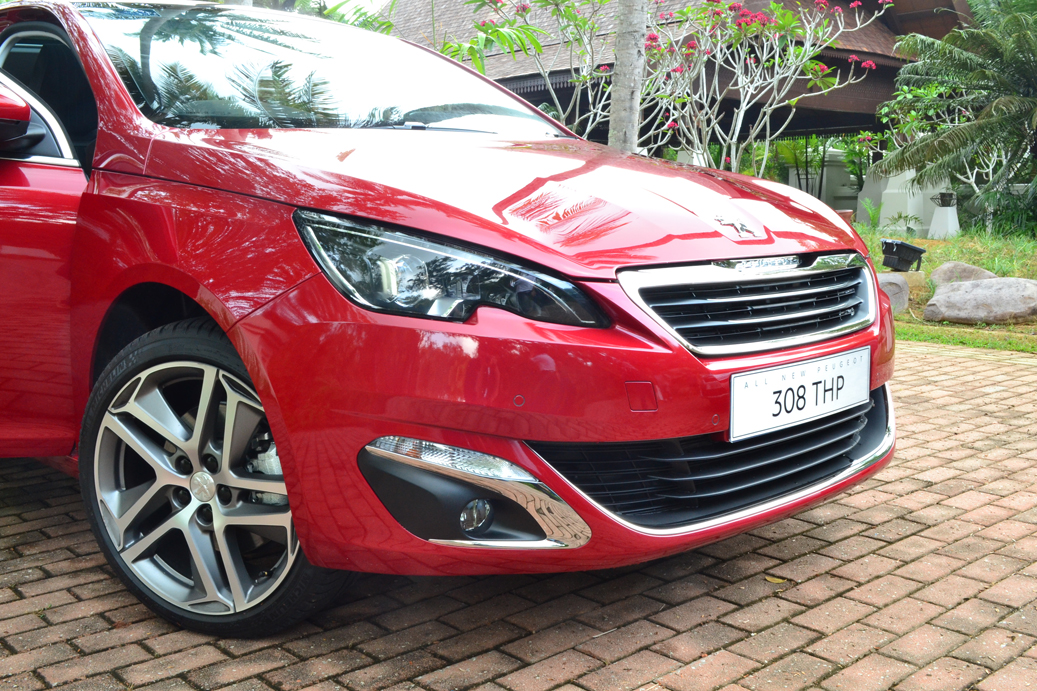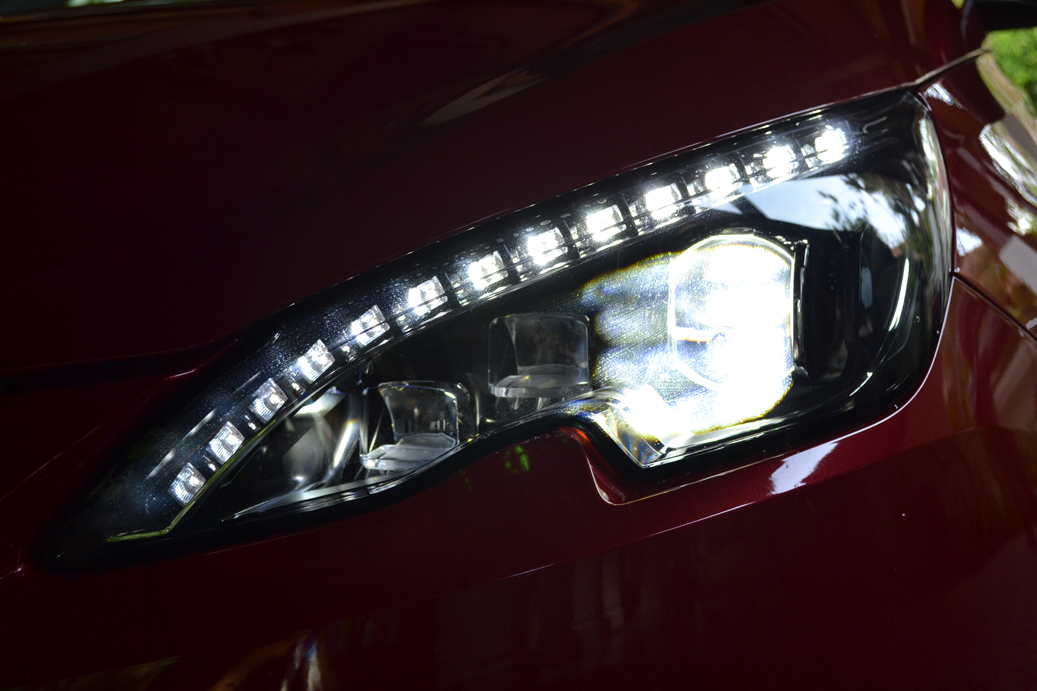 The beam throw is far and wide and does a fantastic job at illuminating the roads, regardless of weather conditions.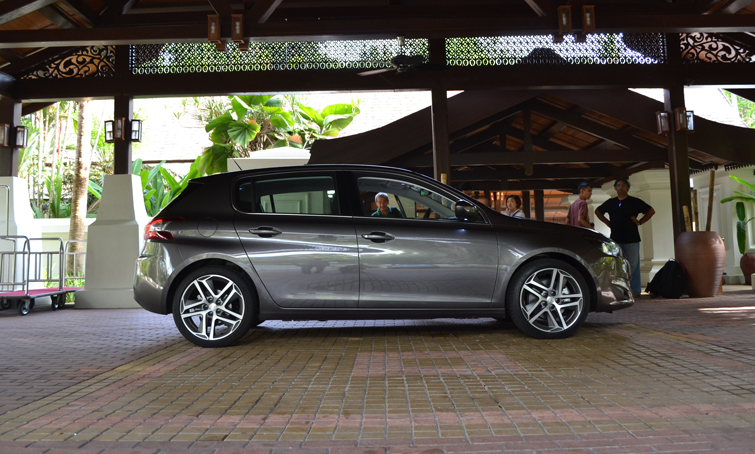 Seen from the side, a shoulder line connects the front headlamps to the rear and this creates an impression of a dynamically lowered car. Measuring 4,253mm in length, 1,804mm in width and 1,457mm in height, the new 308 is shorter in length and height as well as being narrower. However, despite being slightly more compact than before, wheelbase is longer by 12mm at 2,620mm which does not compromise rear legroom and this is thanks to the EMP2 (Efficient Modular Platform 2) that the new 308 sits on. Not only is size being better managed, the new platform places the 4 wheels closer to the four corners of the car while at the same time, shedding 140kg from its weight. That's like dropping two adults from its predecessor and this is largely due to the use of lighter and innovative materials such as thermoplastic for the tailgate which is a world's first.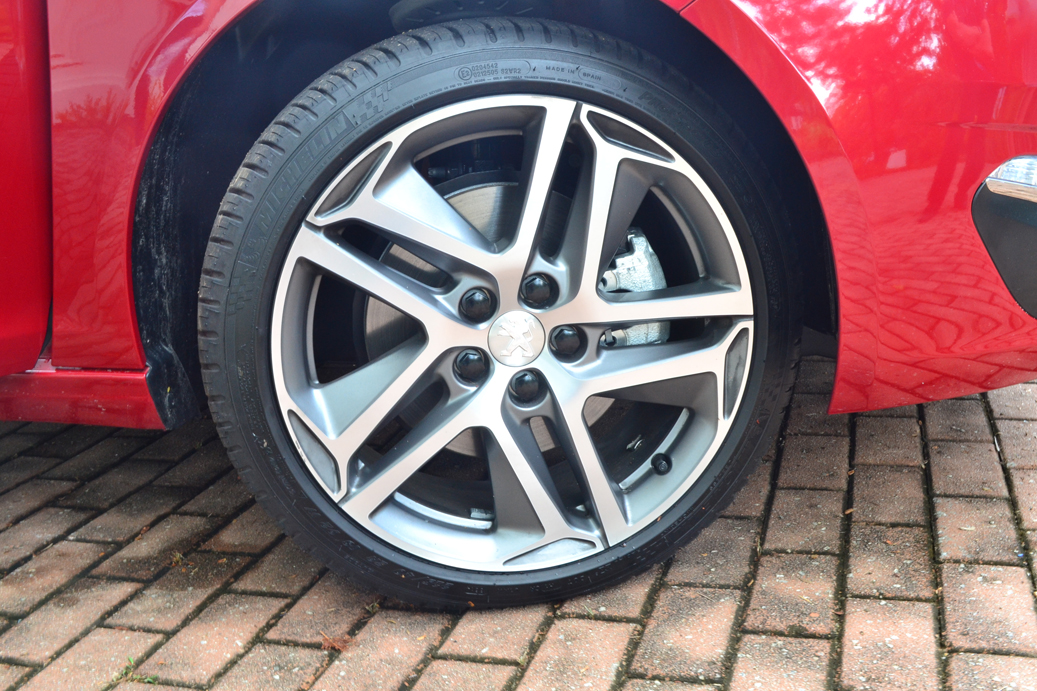 Those thinking of up-sizing their rims larger will rejoice in knowing that the new 308 comes with 18″ wheels, the largest in its segment and the examples we see here are called Sapphire and they're made of lightweight alloy wheels, wrapped with 225/40 tires.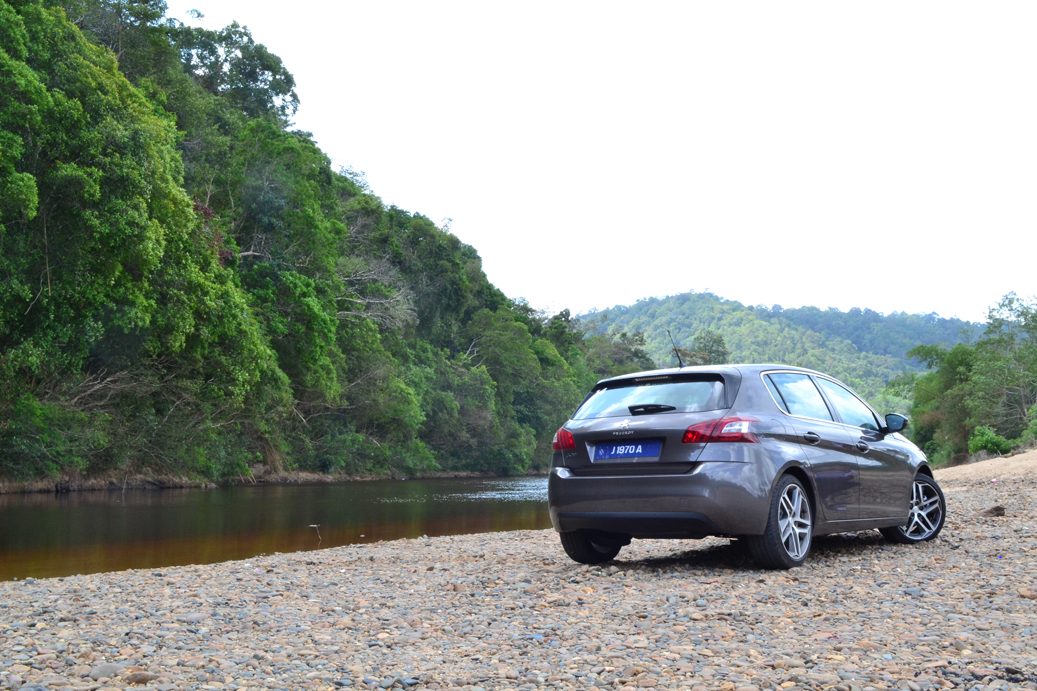 Looking at it from the rear, the shoulder lines lends an impression of a flared wheel arch while the minuscule rear wing and a bumper line that cuts across the tailgate makes the octagonal rear looking squared and muscular.  When lighted up, three distinct vertical 'claws' can be seen on each side, the overall effects blending well with the lines of the car.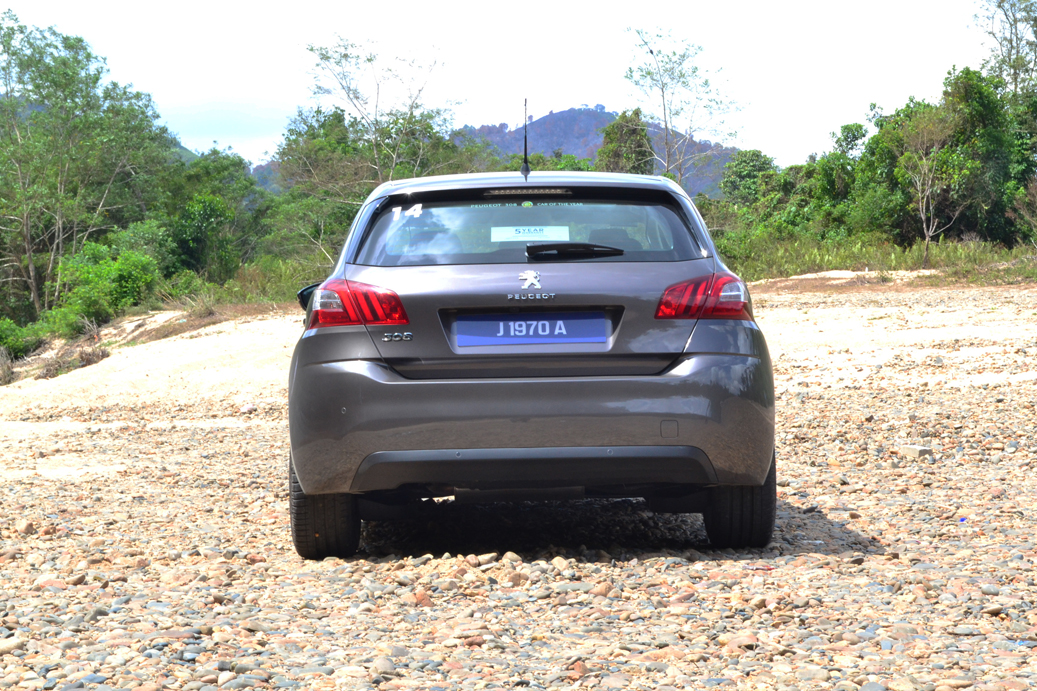 Performance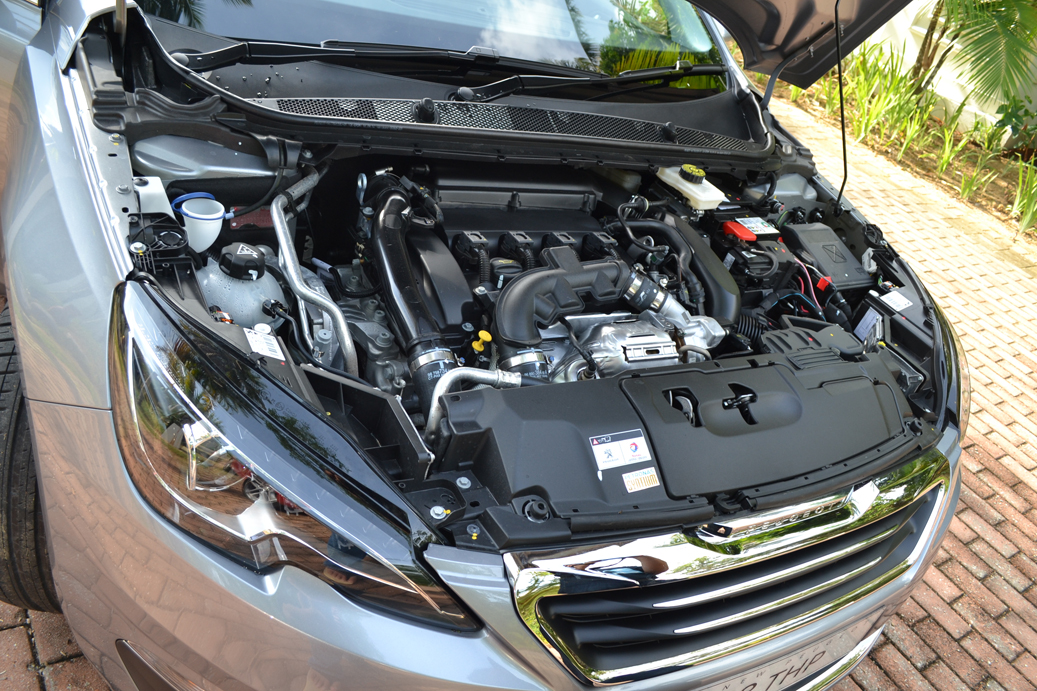 The 1.6litre twin scroll Turbocharged High Pressure (THP) engine powers the new 308 and some changes internally has been made to this engine to make it more suited for our climate, driving conditions and fuel quality. Power is rated at 152PS @ 5,000rpm with a maximum torque of 240Nm from 1,450rpm onwards. This means a slight drop of 4PS from the previous 308 while torque remains the same but honestly, you won't feel much of a difference when flooring it.
Thanks to the weight reduction and a new 6-speed transmission from AISIN that features Quickshift Technology (taunting faster gear changes, excellent fluidity, state-of-the-art torque converter ensuring effective drag reduction and maximum pleasure to use), power delivery is linear and during the test drive, shift shocks which was occasionally felt in the previous model was non-existent. Despite that, it's interesting to note that century sprint is slower now at 9.4 seconds compared to 9.1 seconds previously. In real life driving? I can't really tell.
Where the previous generation engine/gearbox combo tries to blow you away like a cili padi when you stomp the pedal, this one does so in a manner that's persistent, yet modulated. You won't be complaining much about the lack of power – but don't go challenging Golf TSIs to a drag race.
Ride and Handling
The new 308 features similar suspension set up as before, with Pseudo-McPherson front axle for the front and deformable cross member for the rear. Peugeot has significantly improved the comfort level to the point where despite running on low profile 18″ tires, comfort is not compromised. The car feels very planted on B roads and is able to soak up irregularities easily without you spilling coffee inside.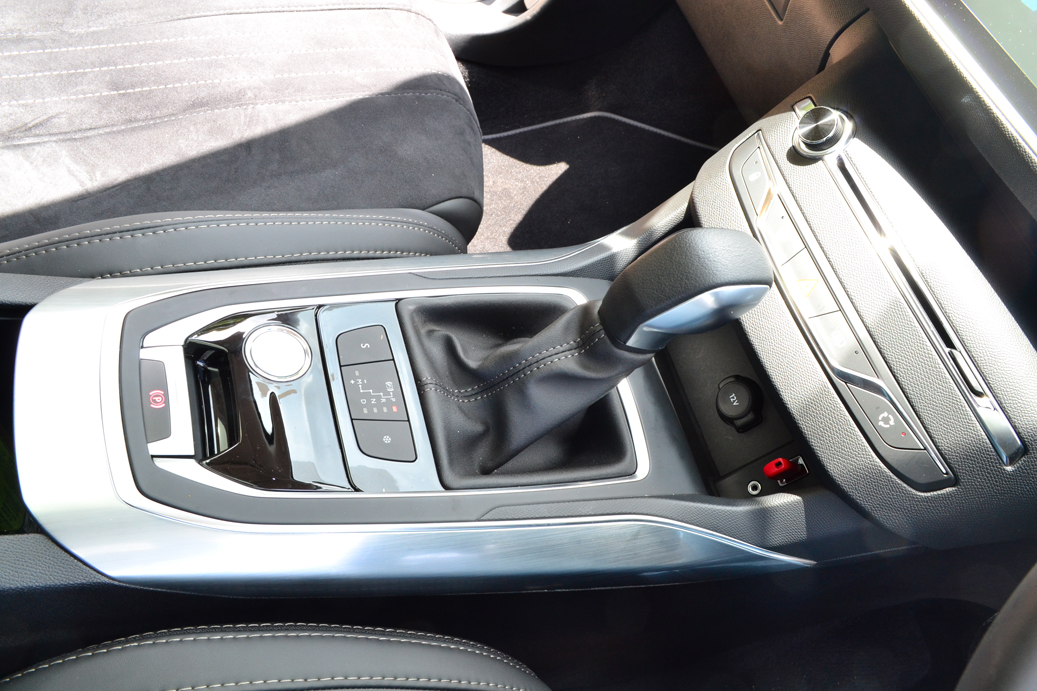 All I do know is that it felt a lot more nimble when changing lanes and tackling high speed corners. Compared to the previous generation where you are better off shifting gears manually, the new AISIN is much more intelligent and doesn't go a-gear hunting as often as it's predecessor. Our test track including some roads with steep gradient and the gearbox had no problem keeping up with whatever speeds we desired.
The 308 feels very quick and nimble and darting between lanes and is very planted when navigating corners at high speeds. Improvements here are contributed by the electric power steering. At crawling speeds such as searching for a parking lot, the steering requires feather-light effort in turning and resistance gradually increases as you pick up pace. Some automakers that adopt such a system may create an artificial feel of the steering to the point where you can't really tell how much grip your front tires have. The one used here fortunately does not suffer such a setback and I was able to cruise at speeds confidently. The helm is accurate but not to the point of being too jittery.
Another key  feature about the new 308 that's worth noting is the sound insulation. It's damn well good – one of, if not the best Peugeot model that keeps sound out. Only at speeds above 150km/h do we hear 'some' wind noise intrusion and most of the time, you'd only start to realize you're actually going pretty fast at speeds above 170km/h if you rely on audio input to gauge your speed. In most cases, your passengers can't tell the difference because the degree of audio cossetting is equivalent to that of luxury cars.
.
.
Cabin Convenience
.
The new 308's interior, called the i-Cockpit has been awarded "The Most Beautiful Interior" at the 29th Annual Festival Automobile International and it's easy to see why. The previous generation 308 had a dashboard that slants downwards from the front windscreen, occupying a significant amount of cabin space while necessitating a larger than usual windscreen.
Horizontal lines play a prominent role in the i-Cockpit, from the airconditioning vents to the center console and instrument panel, giving the entire dashboard a cleaner futuristic look. Buttons usually found in the center that's used for climate control and audio functions are absent but rather than looking bland and empty, the designers have done a fantastique in blending form and aesthetics. Soft plastics are felt on the top part of the dash as well as all four doors.
.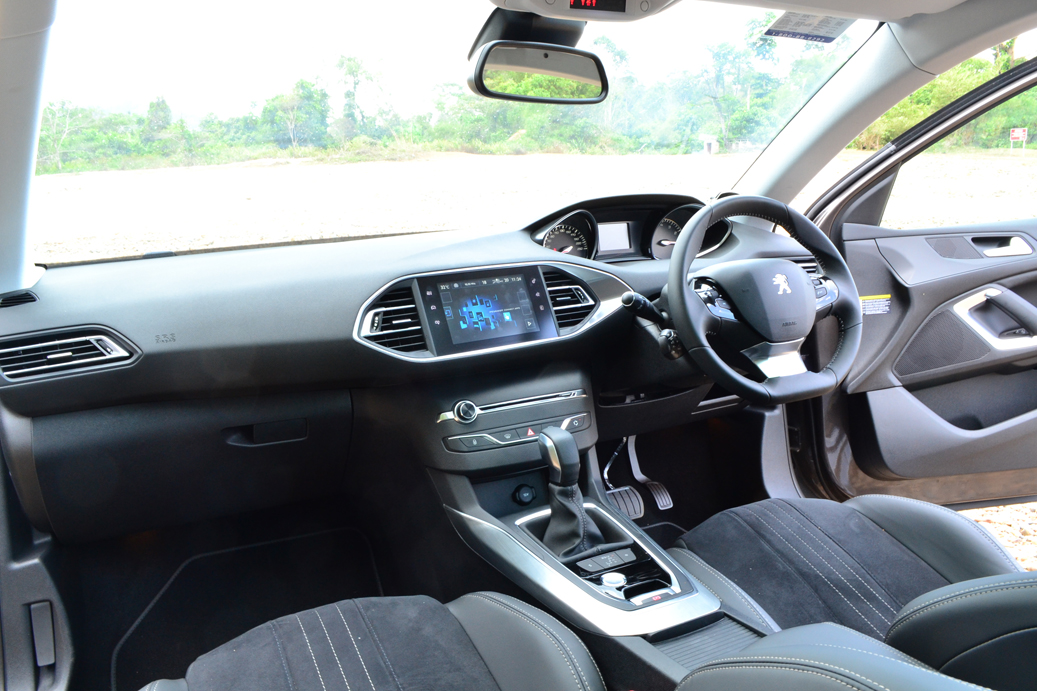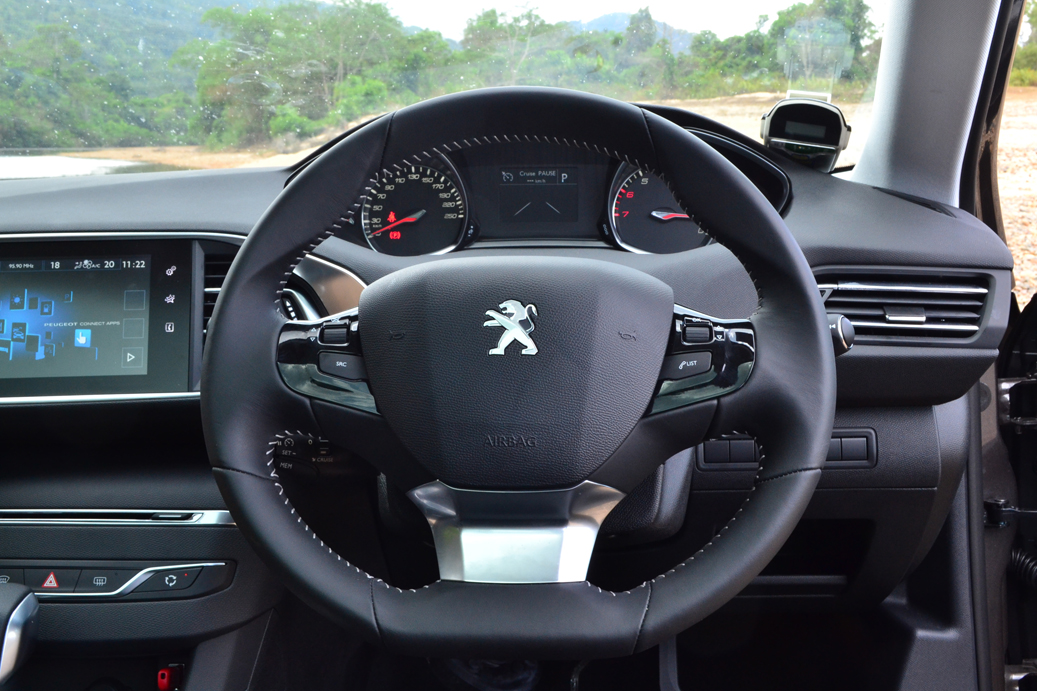 The leather wrapped steering has shrunk considerably. Smaller, oval in shape and very easy to manipulate at any speeds.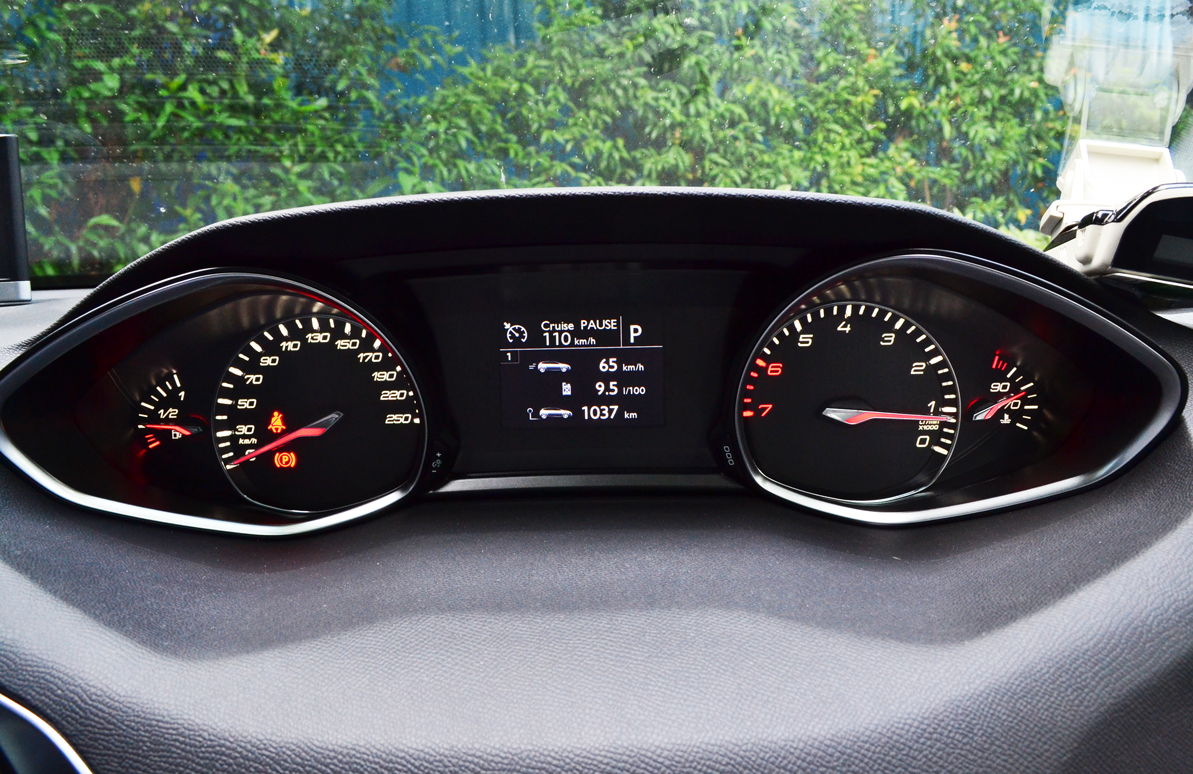 The new Peugeot cockpit design has the instrument panel is located in a high position, the steering wheel in a low position so drivers are supposed to see "over" rather than "through" the steering wheel like most other cars. However, almost everyone I know of complains that no matter how the adjust the tilt & reach steering wheel or the seat, some parts of the panel will be blocked. For me, it's always the lower panel being obstructed. The good thing with this newer design is the lower part of the panel does not feature any information for the driver (unlike the 2008's panel which has temperature and fuel meters). I had no issues with the new 308's lay out – well, except for one feature which takes a bit of getting used to since no one else have done this before. the rev meter is displayed counterclockwise instead of both speed and rev counter reading clockwise. So at times, I wonder at the edge of my peripheral vision how come my rev is so high when I'm moving at certain speeds when in reality, it's just normal. Peugeot did this to achieve symmetrical rotation of the needles to make it "easier to read". I think it's more to do with the French's penchant for flair.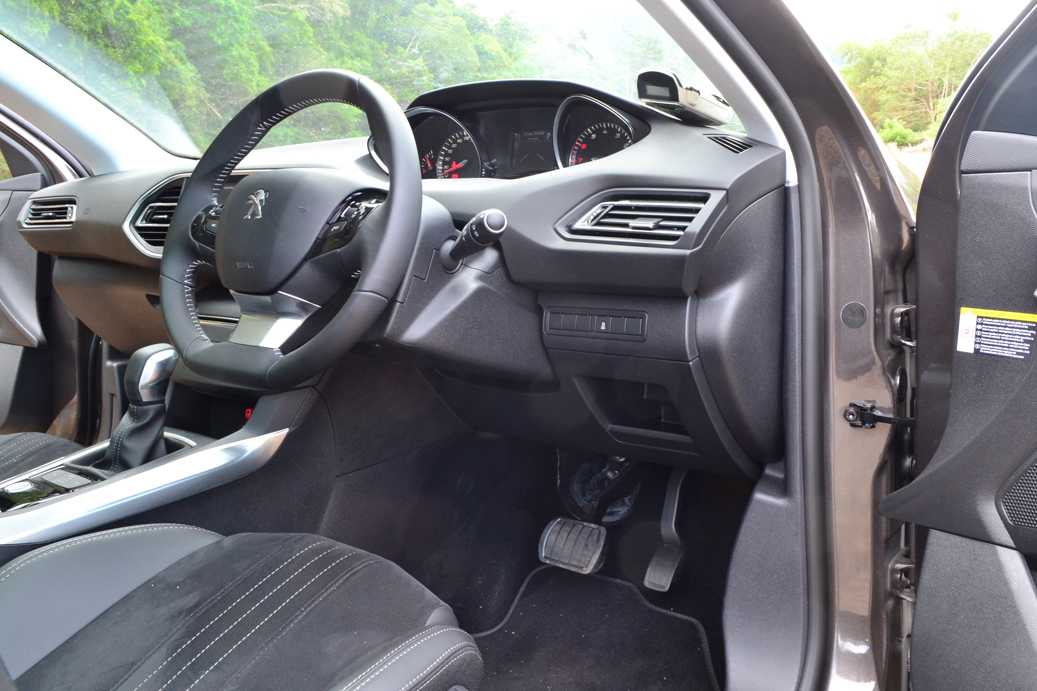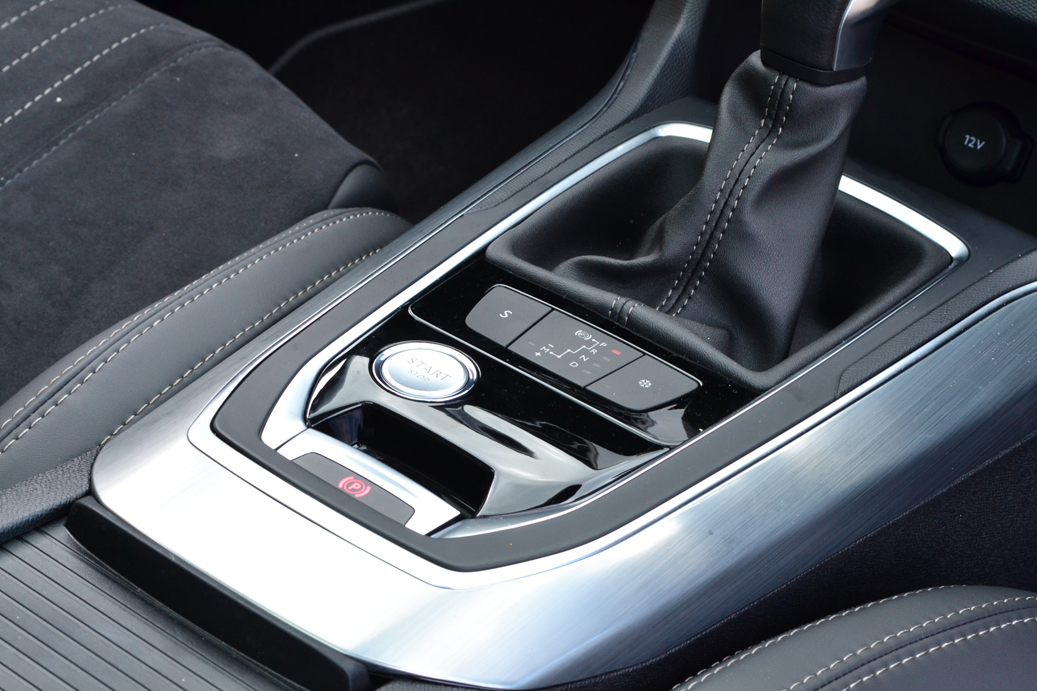 At long last, the new 308 gets keyless entry and Engine Start/Stop. The handbrake has been removed and replaced with an electric one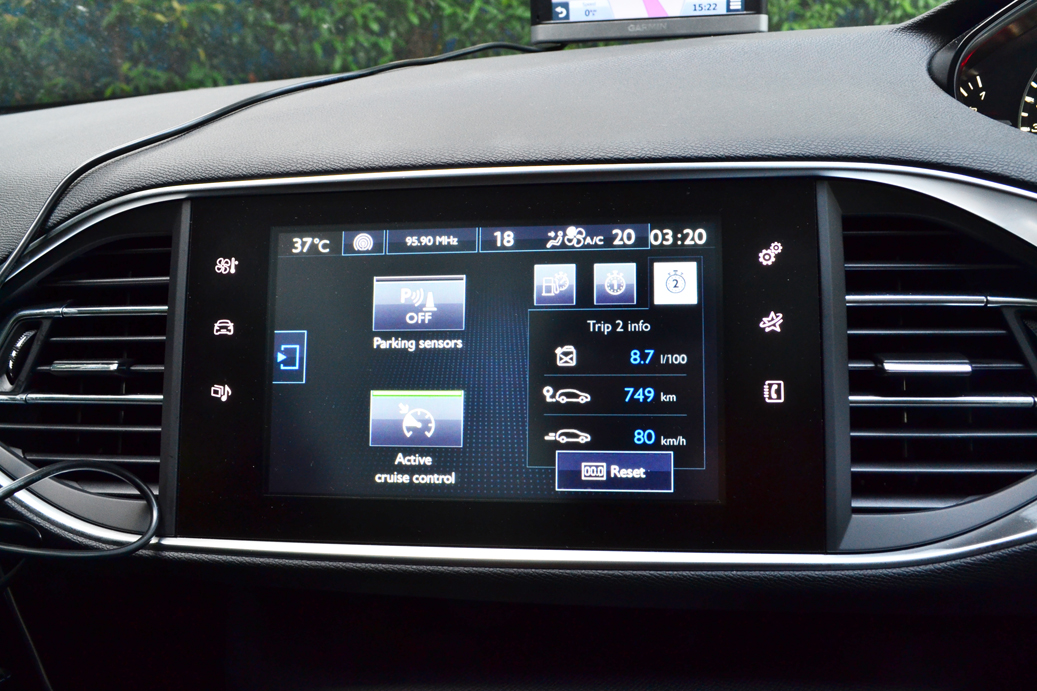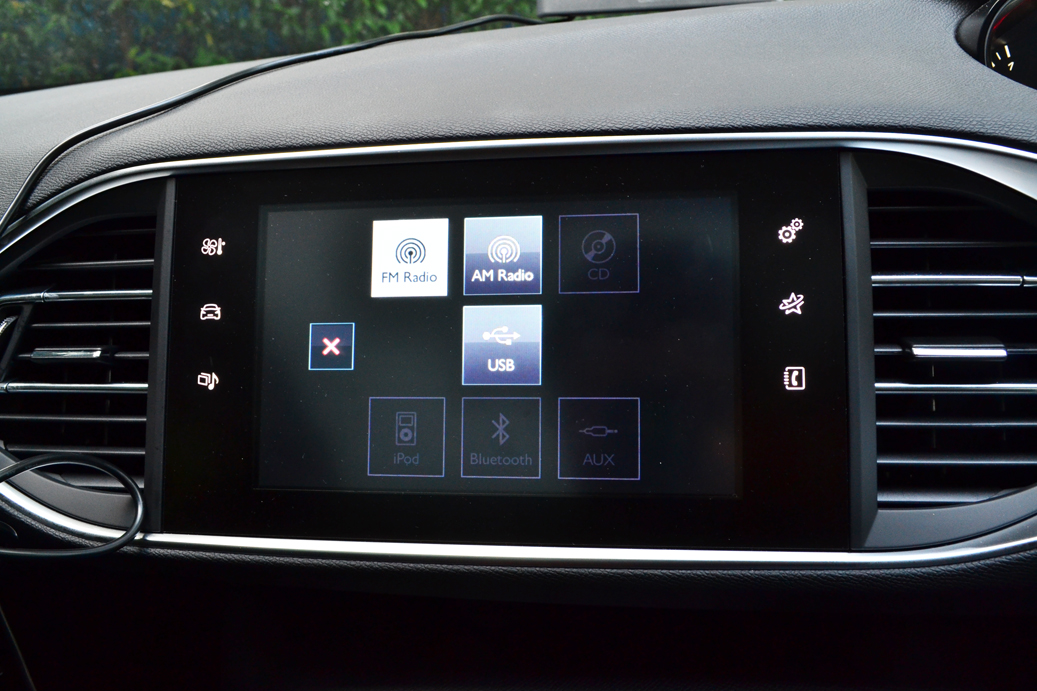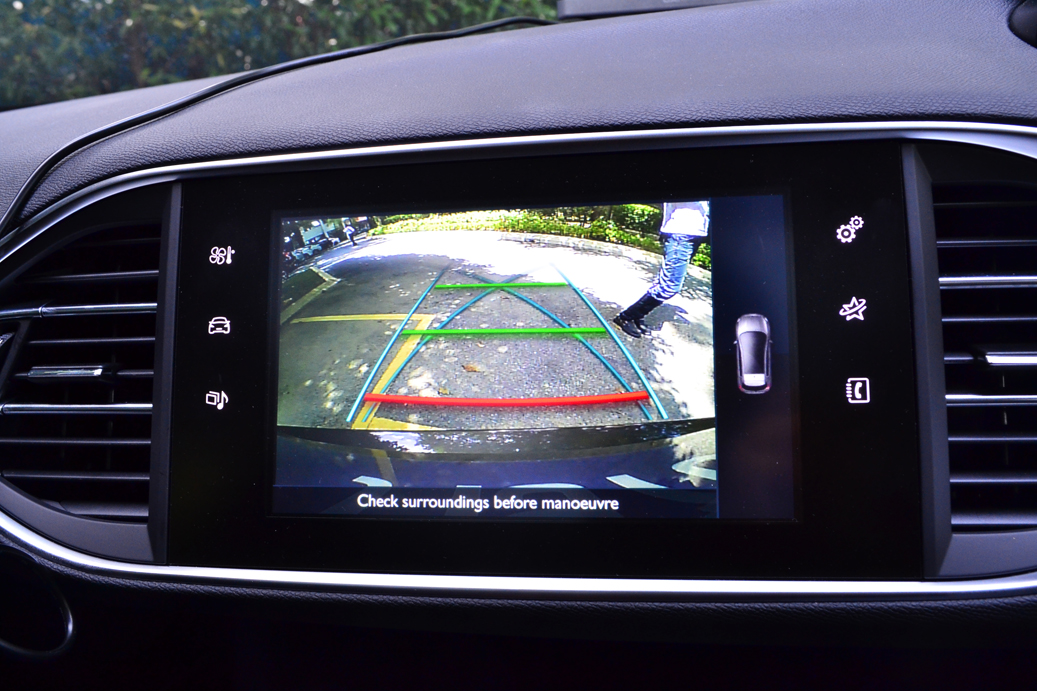 First in its segment is the humongous 9.7″ HD Multifunction Touchscreen where the following are accessed:-
Dual zone climate control
Driving aids (reverse camera)
Multimedia (Radio, USB/iPod connection, audio streaming, photo viewer, etc)
Telephone (Bluetooth handsfree, access to telephone contacts and profile, management of call waiting, etc)
Configuration (Management of the vehicle settings)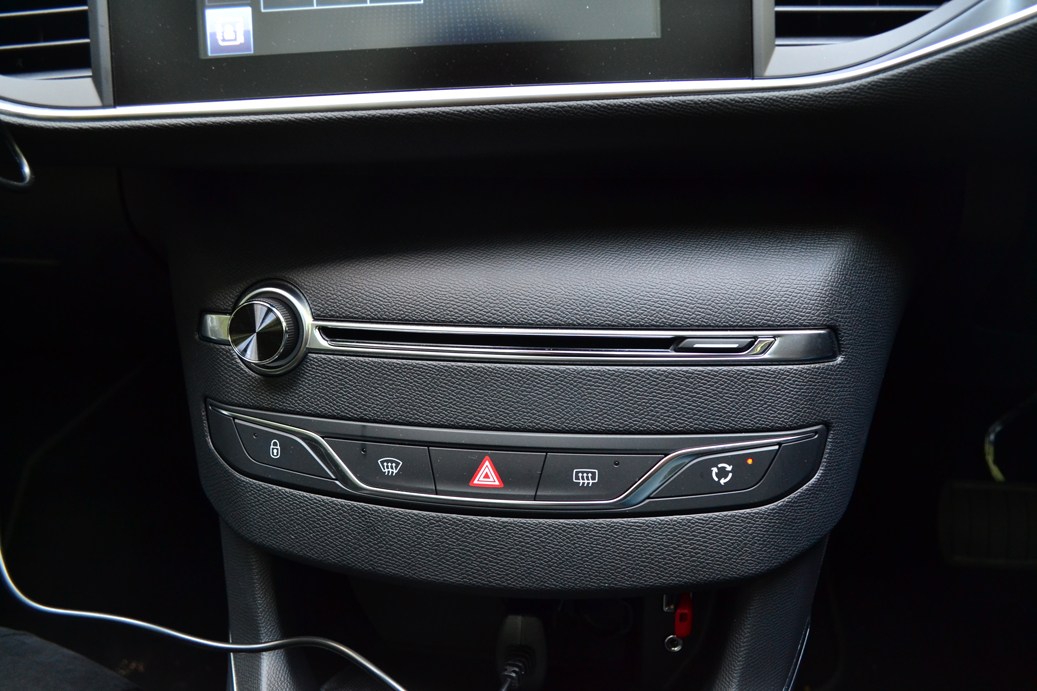 Directly below the touchscreen is the CD slot, audio volume as well as other common functions of the car.
For sound, the new 308 features a 6-speaker Arkamys sound system and I can tell you, it's one of the best around. Sound imaging, staging and clarity is reproduced in a manner that puts all other Peugeot's system's to shame and you get to enjoy them all the better with the excellent sound insulation.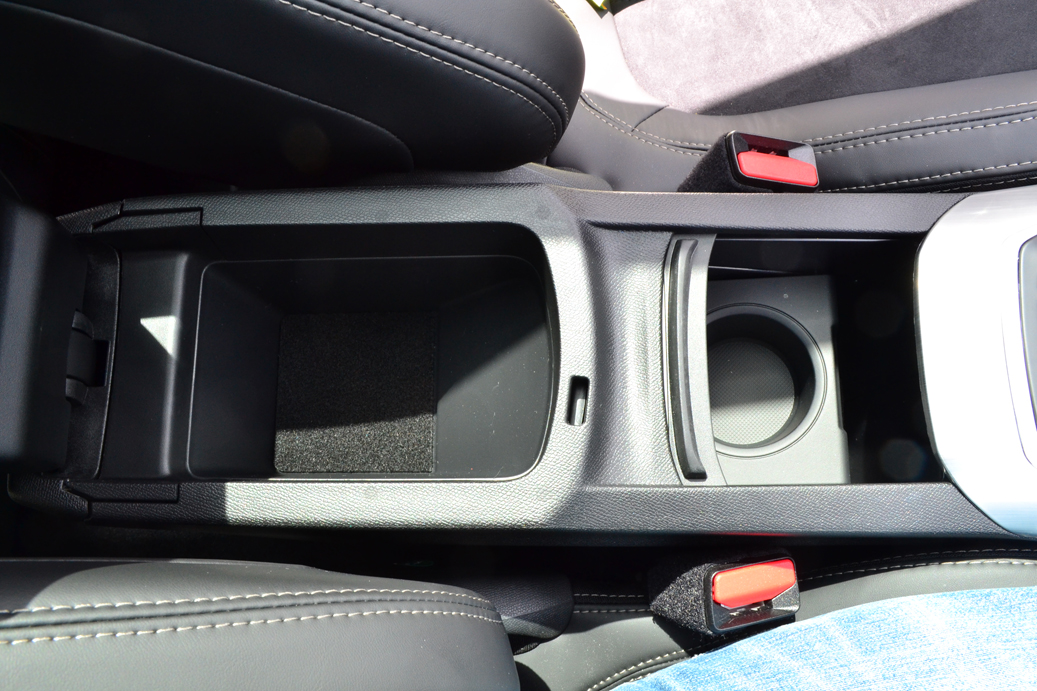 The only setback I see in the new 308 compared to the old is the number of cupholders; there's only one (albeit one that can be concealed with a retractable cover). The single cup holder can be tilted backwards to create more space in the center console. Storage here is not an issue as the arm rest console is deep enough to hold numerous small items such as Smart tags and keys – but given a choice, I'd really like to have two cup holders instead of one. Significant other would stake that one holder as his/her own, leaving you with your can of condensing cold can of coffee, secured between your legs.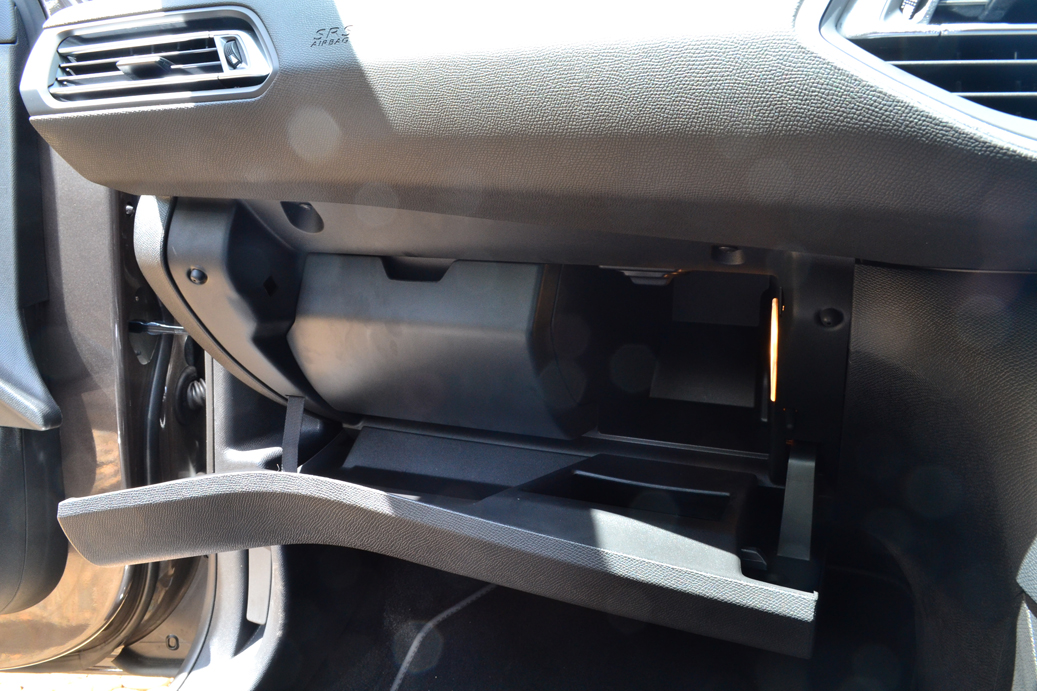 And as usual, the underwhelming glove compartment – shared with the vehicle's fuse box.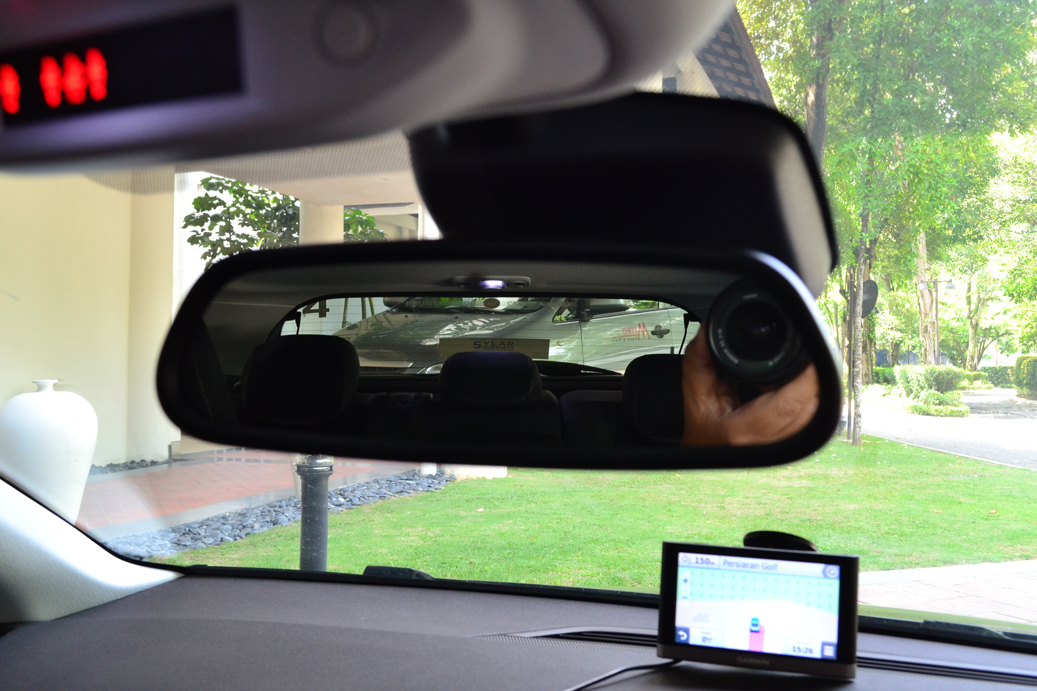 The other thing about the 308 that needs adapting is the limited view of the rear view mirror. Due to the C pillar which wraps around the back,  vision is limited and drivers are advised to make full use of the reverse camera before backing out. While this is not an issue when parking/exiting, motorcyclists who love weaving in and out of traffic might have a better (or in this case, worse) time of hiding from your vision. Signal guys – always use the signal when switching lanes.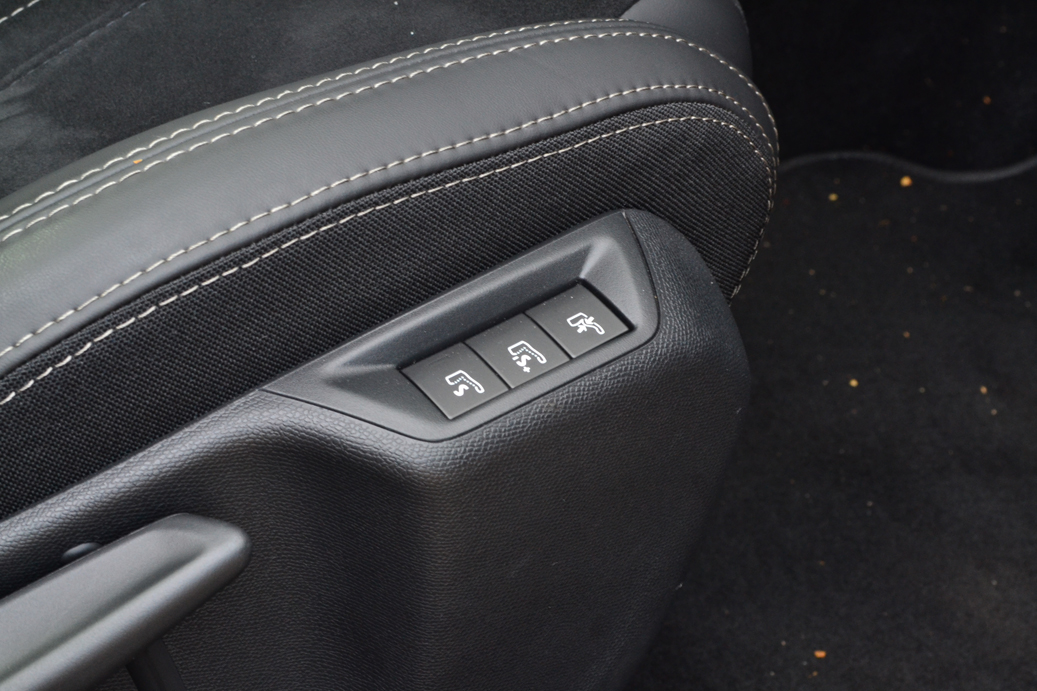 OSIM on wheels! Well, not quite the multi-articulating massage chair but this works in long distance driving, especially when it's seasoned with traffic jams along the way. The seats are sculptured alcantara sports seats which provides excellent support for both front and rear passengers and driver.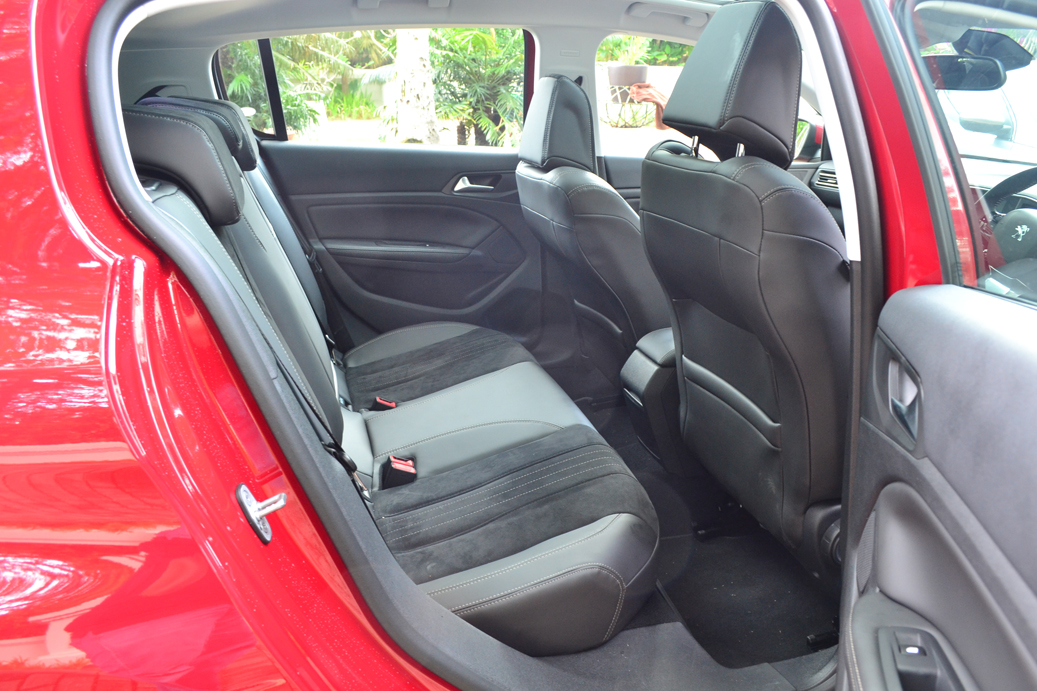 The rear legroom remains well off but headroom is a trifle bit short for my 178cm height. The reduced height does make the car appear a bit smaller but thank god for the panoramic moon roof. A bit sad that the rear air conditioning vents are not found here but having said that, I spent quite a fair bit of time sitting behind during the media trip to Terengganu and the climate control worked just as fine. Chilly even.
The only thing I wished in the 308 was to have better recline of the rear backrest but alas, it's (IMHO) still rather upright. Then again, that didn't stop me from snoozing off on the way back.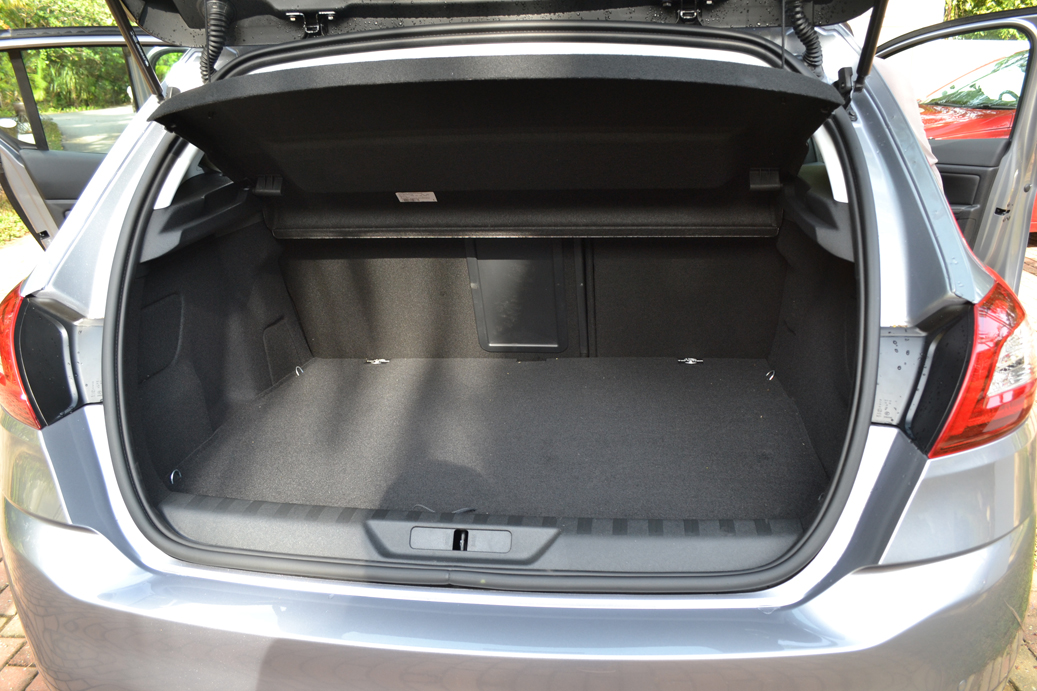 Peugeot claims the boot size is significantly increased compared to the previous gen. It now offers 470 litres of space, right up to 1,309litres with the rear seats down. That's more than 100 litres better than the Volkswagen Golf – which is great except to me, I didn't feel it had the size more commonly associated to sedans. Then I noticed that 470litres takes into account the total boot space – which includes this:-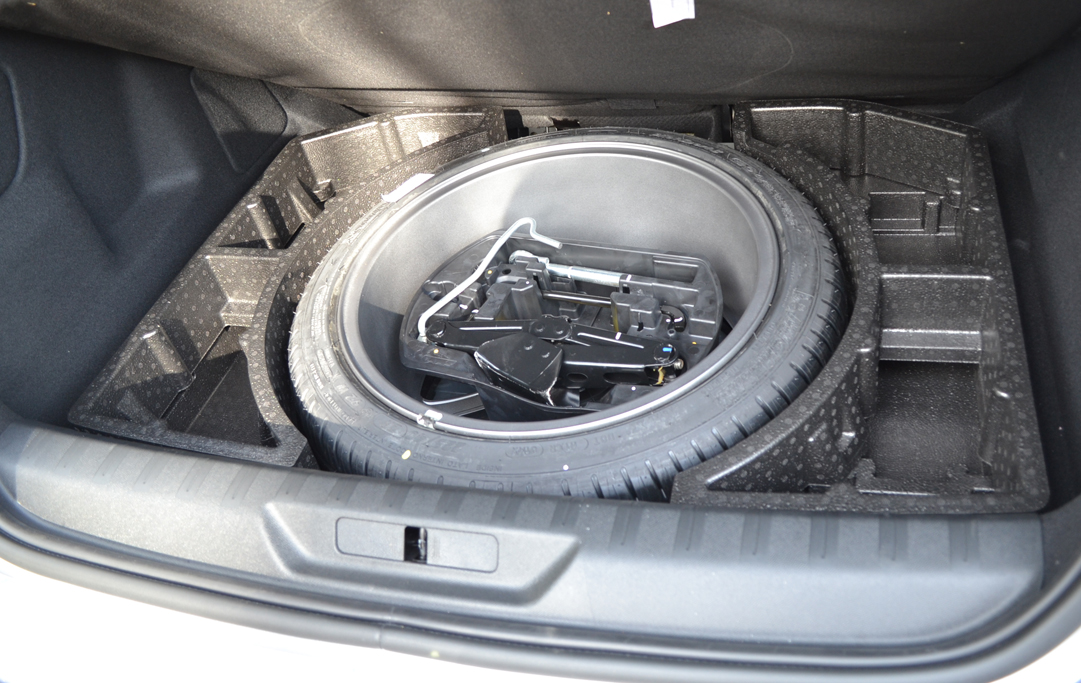 A full sized spare wheel which eats up about 3-4 inches of space, which translates to quite a significant amount of space, if you ask me.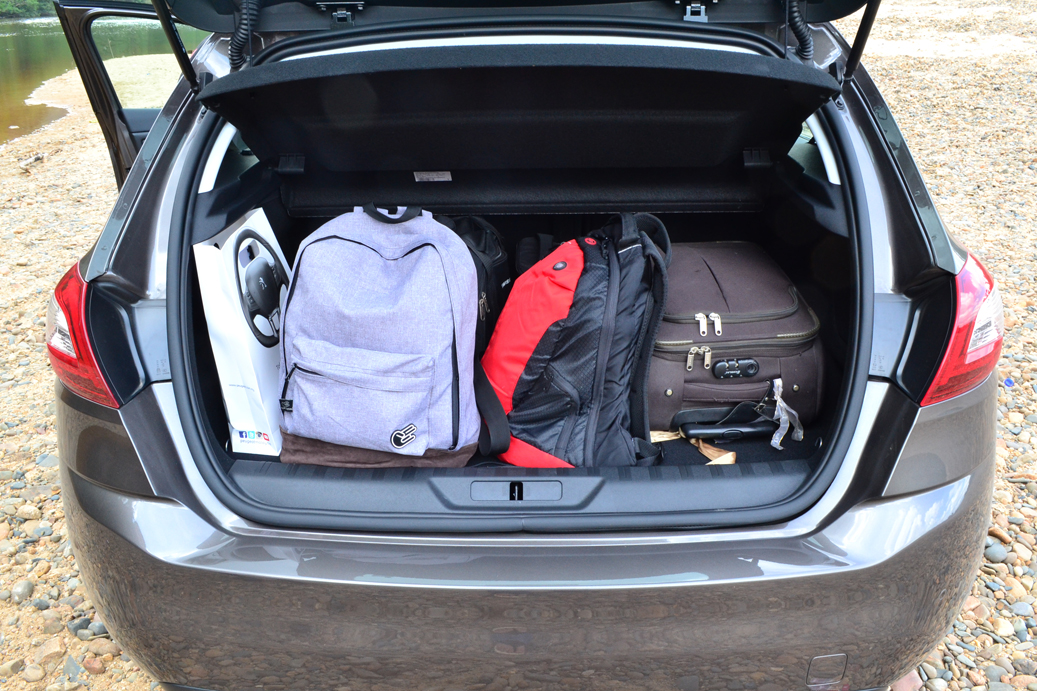 Still, for a weekend trip for three adults, it had no problems swallowing our bags.
.
.
Safety
.
Like most Peugeots, safety kit count remains high and the new 308 has the following:-
2 adaptive front airbags with a capacity of 40 litres for the driver and 80 litres for the passenger
2 side airbags
2 curtain airbags (total 6 airbags)
Audible fasten seat belt warning
Anti whiplash front seats with active head restraint
Pre-tensioning and force limiting front seat belts
Force limiting rear seat belts
Rear door child safety locks
2 ISOFIX location points (2 outer rear seats)
Auto illumination of rear hazard lights
ABS
EBD
EBA
Advanced Intelligent Traction Control
ESP
5-star Euro NCAP rating
Hill Start Assist
Integrated reverse camera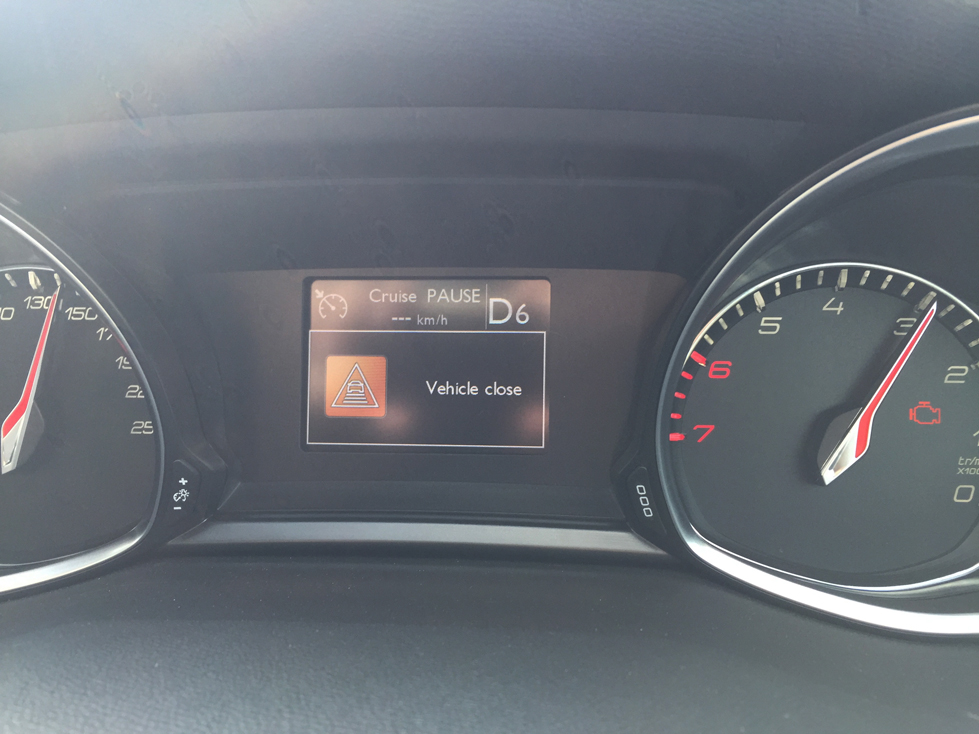 And for the first time for a vehicle costing less than RM150k, the new 308 has radar which detects the vehicle in front. The radar is part of the Driver Assistance Pack which incorporates the following three systems.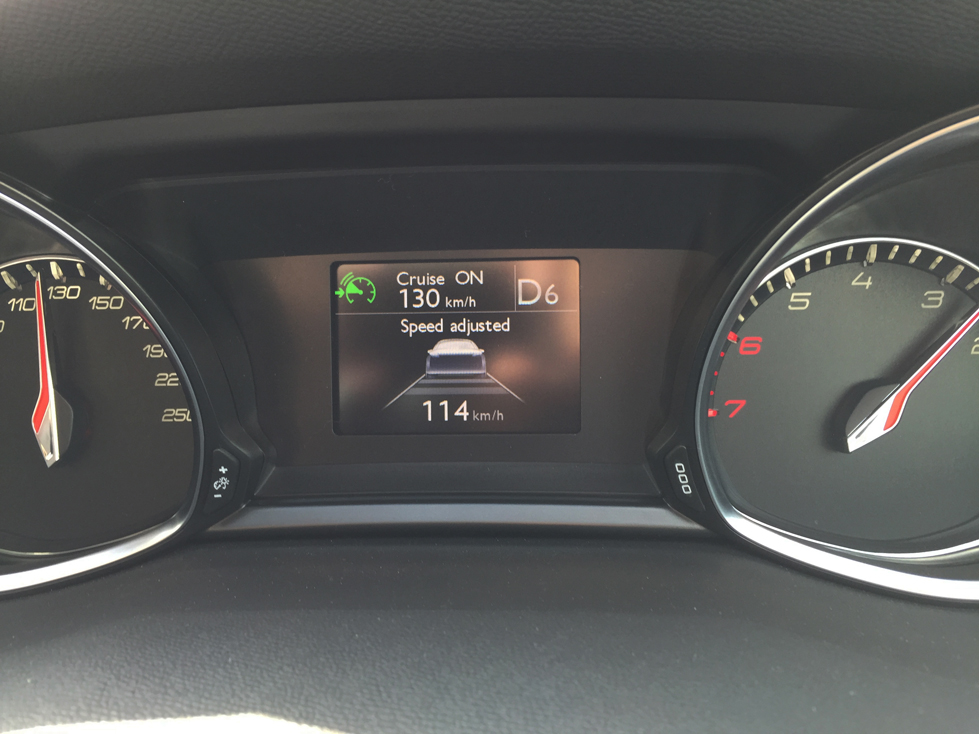 We all know how cruise control works; you accelerate to a speed you're comfortable with, turn on cruise control and activate it and the vehicle would continue along in the set velocity. It doesn't turn for you, it doesn't slow down for you. It'll just barrage along until you hit the brakes or turn off the cruise control.
The use of the radar which detects vehicles in front of the 308 allows it to collect reference speed (that is your speed and the vehicle ahead of you) and adjusts the speed accordingly. So say for example you're moving at 110km/h and a vehicle moving at 100km/h cuts into your lane while trying to overtake a lorry.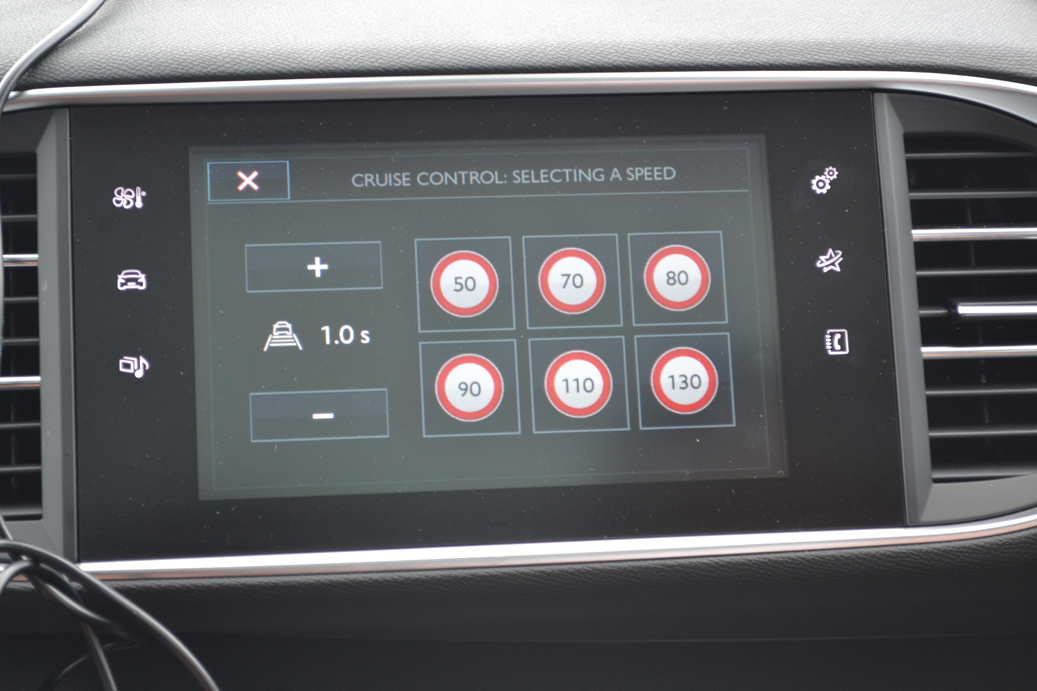 The system would slow your vehicle down to maintain a preset distance (expressed in seconds) between you and the vehicle in front of you. You can set how close or far by choosing (on the touchscreen) between 1.0, 1.5 or 2.0 seconds distance and you cannot turn this function off to take the "Dynamic" mode off and utilizing cruise control only. Doesn't work that way here but that's fine unless you like to tailgate.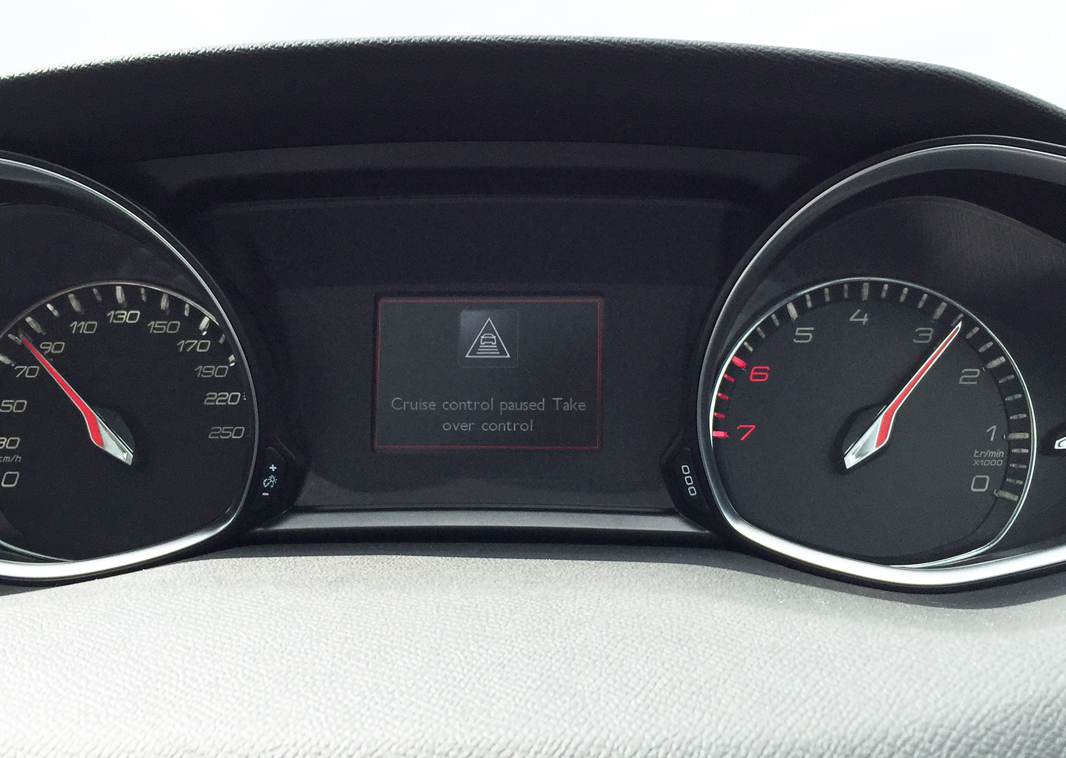 Emergency Collision Alert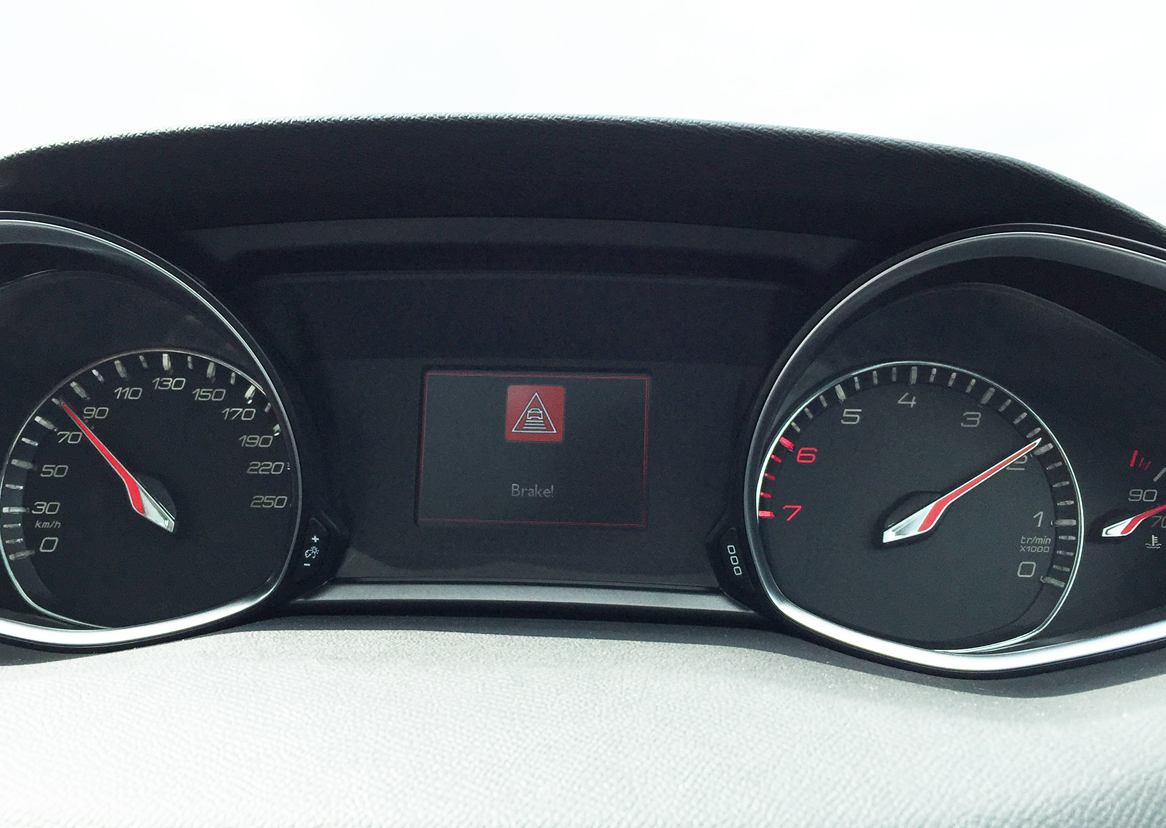 Regardless whether dynamic cruise control is activated or not, the Emergency Collission Alert is always active and will signal you of impending contact against the vehicle in front via an audio beep as well as a warning message on the multi function display.
TEXTING WHILE DRIVING? NO, NOT ME. 
YEAH, RIGHT
Emergency Collission Braking
For this price scale, dynamic cruise control is a first. As much as we're not supposed to text/insta/Facebook/WhatsApp while driving, at least one point of time in our lives, we've done this and sometimes, a split second is enough to slam into another vehicle moving slower. Dynamic Cruise Control mitigates (NOT PREVENT) the risk of contact by slowing the vehicle as much as 20km/h autonomously. No, it doesn't halt your car, nor does it slow down to 20km/h (both of which may cause any vehicle traveling at speeds behind to rear-end you. If, for example you're moving at 110km/h and fail to apply the brakes and the radar registers imminent contact in 0.5 seconds, the system will drop your speed to 90km/h.
The reason for dropping 'only' 20km/h is to allow the vehicle in front to pull away while you slow down or, if you're still coming in too fast, at least the impact would not be as bad as you would be traveling at full speed. I managed to test this and the sensation is akin to one jabbing the brakes upon realizing, at the last minute that they're too close. It's uncomfortable as you get violently thrown against the seatbelt not to mention quite a bit scary but it works well.
.
.
Specifications
The previous generation 308 had both the turbo THP and non-turbo VTi variant. At present time, Peugeot Malaysia is launching the THP model with no news on any non-turbo variant.
 Exterior
Full LED technology headlamps
18″ Sapphire Lightweight Alloy Wheels
Interior
Peugeot i-Cockpit
Signature lighting
9.7″ HD Multifunction Touchscreen – Air conditioning controls, vehicle configuration, driving aid, multimedia, telephone, reverse camera, CD player)
High Fidelity Arkamys Sound Staging with 6 speakers
Full digital connectivity with USB and Bluetooth
Automatic Electric Parking Brake
Intelligent Keyless Entry with Push Start
Dual Zone Climate control via touchscreen
Electric Lumbar and Massage Function Front Seats
.
.
Ownership and Maintenance
.
The all-new Peugeot 308 retails for the price of RM132,888 OTR inclusive of insurance (and GST) and comes with a 5-year unlimited mileage warranty with Peugeot 24 hours Assistance. You can have it in Nera Black, Rouge Red, Mocha Brown, Artense Grey and/or Pearl White (note that Pearl White costs an additional RM1,590)
Should you buy one? I'd say yes considering it's a totally new vehicle from ground up, with new technologies and features previously not seen in the segment/price scale. It's not perfect, with it being very reliant on the 9.7″ multimedia touchscreen for so many vehicle functions and the lack of rear air conditioning vents but it's so well knitted together, going from this to any other vehicle would be like switching your Smartphone to a classic Nokia. And with any technology, it's designed to move us forward and enhance our experience in using it – something that the new 308 has done so brilliantly.