There aren't many cars that pits styling as its main proposition largely because aesthetics are always subjective and different geographic cultures have vastly differing preferences and opinions on what's pretty and what's not. Which is why for a company like Hyundai to birth a vehicle like the Veloster is a huge gamble. Done right, it could bring new customers who may not be ready for the more corporate-looking sedans and SUVs offering.
Done wrong, they would be the butt end of automotive memes for decades to come.
Fortunately, the general reception has been rather positive. If anything, I would say the Veloster has aptly demonstrated Hyundai's New Thinking, New Possibilities philosophy. It's now slightly over a year since it first reached our shores and it still remains a rare sight on our roads – partly due to the punitive price tag, partly because of its lackluster road performance. But Hyundai isn't quite done with the Veloster.
After testing the Veloster Turbo for almost a year in Malaysia, Hyundai-Sime Darby Motors Sdn Bhd has decided to launched the more powerful variant. But does it have what it takes to change the perception set by its earlier launched 1.6litre under-powered sibling? Let's find out:-
Design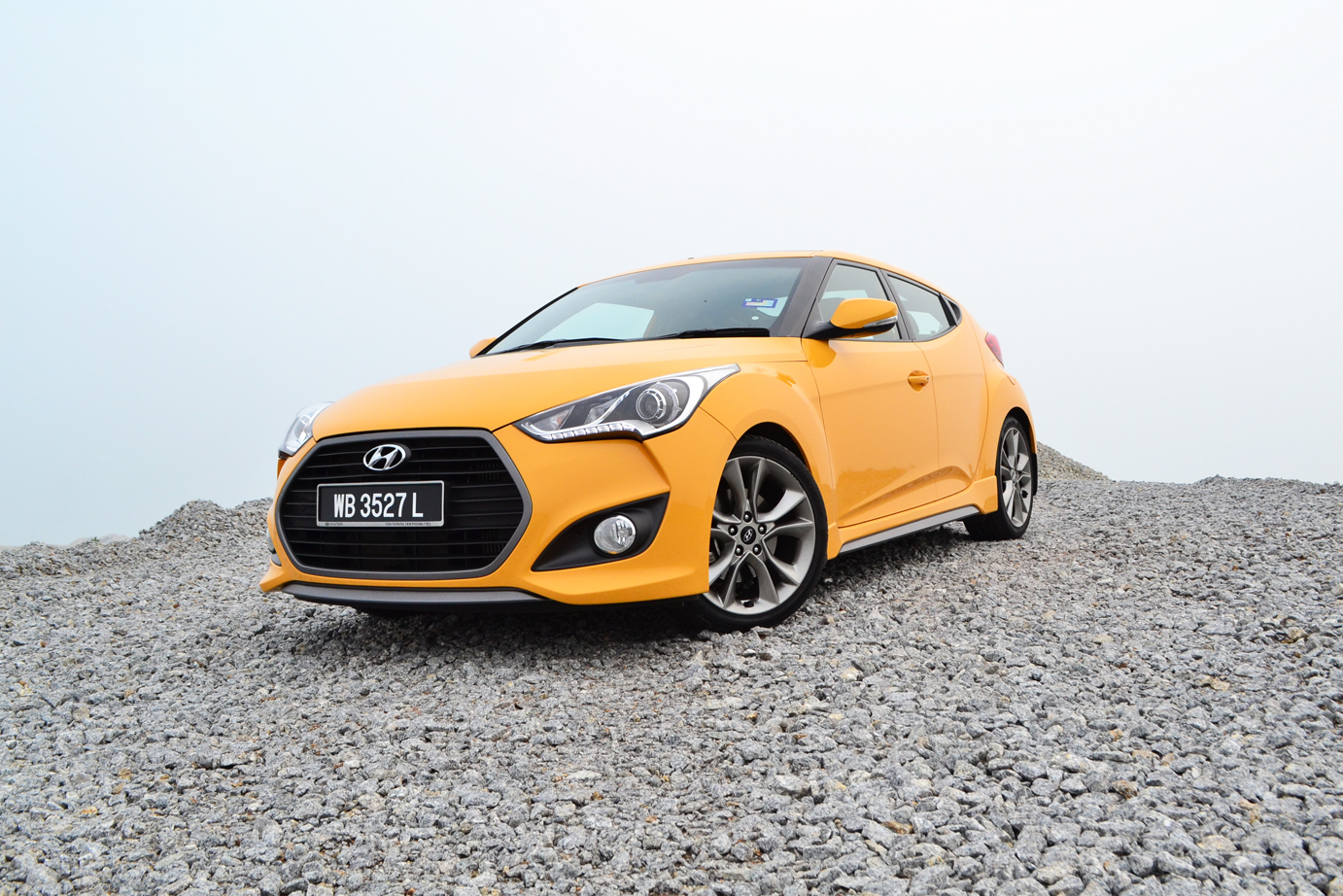 The Veloster is one of those cars that at first glance would probably get you wondering how many glasses of soju did the designers downed before creating this. After looking at it longer, it might not be such a bad idea. Having 2+1 doors (not counting the boot door) not only allows Hyundai to claim it being the only modern car to feature this design, it also poses as a safer car since rear passengers alight away from traffic (assuming one parks on the left side of the road). The overall shape is maintained in true lithe coupe form and a sunroof is thrown in for good measure.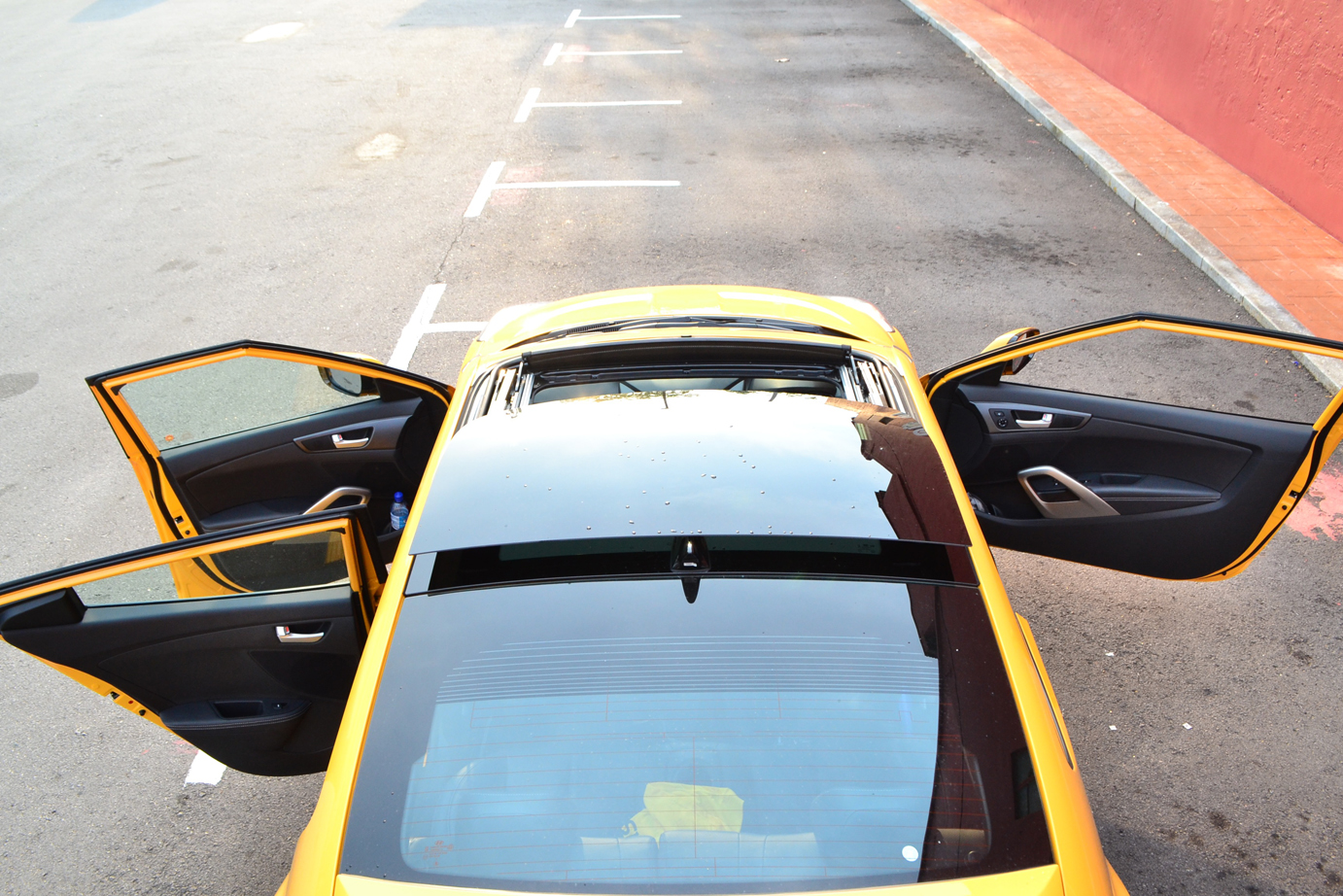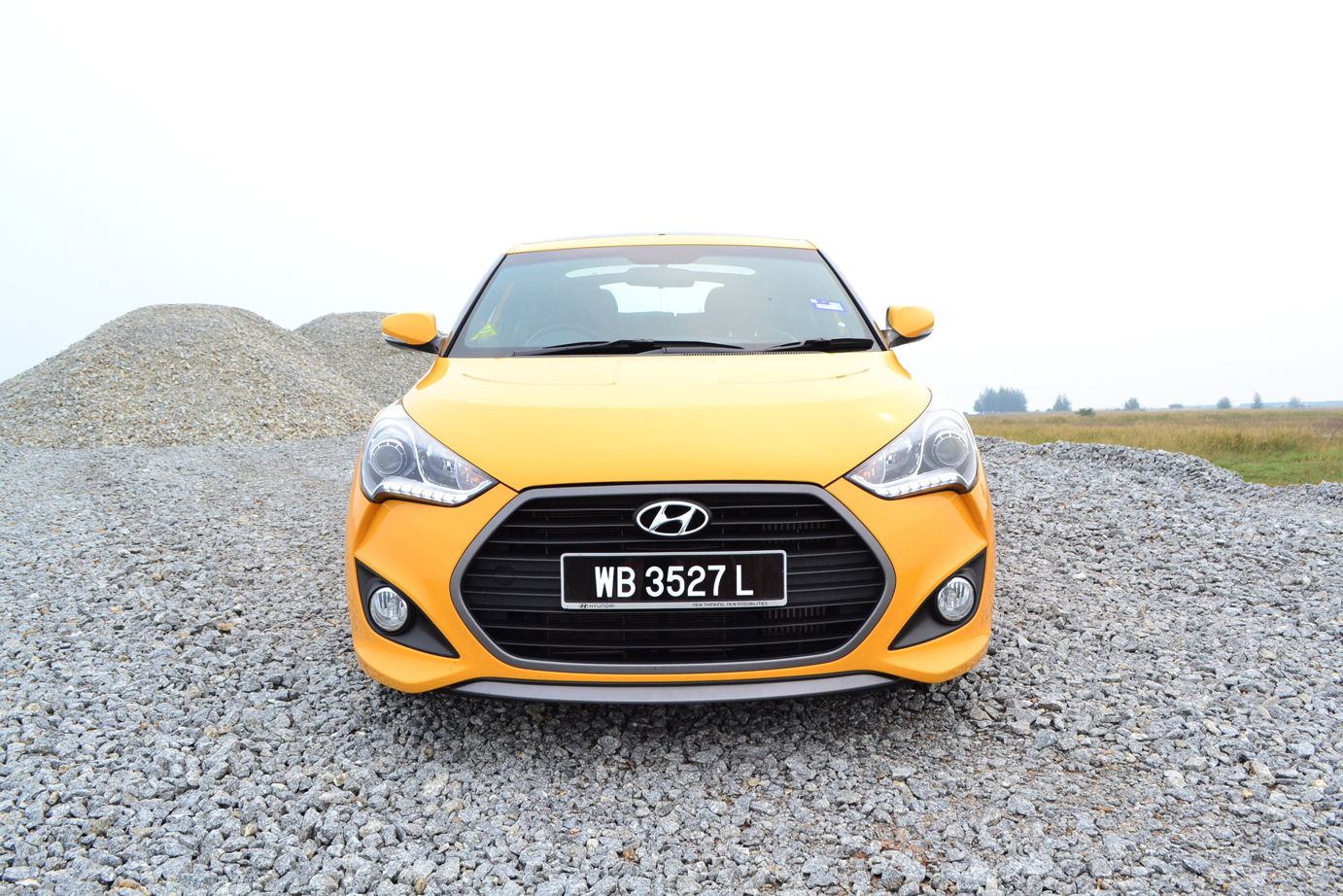 The Turbo variant is differentiated from its MPI offering by having round front fog lights (as opposed to a more rectangular one), large hexagonal matte black radiator grille as well as a front bumper lid. Daytime Running Lights line the bottom of the HID projector headlamps and the entire front looks suitably sporty and aggressive.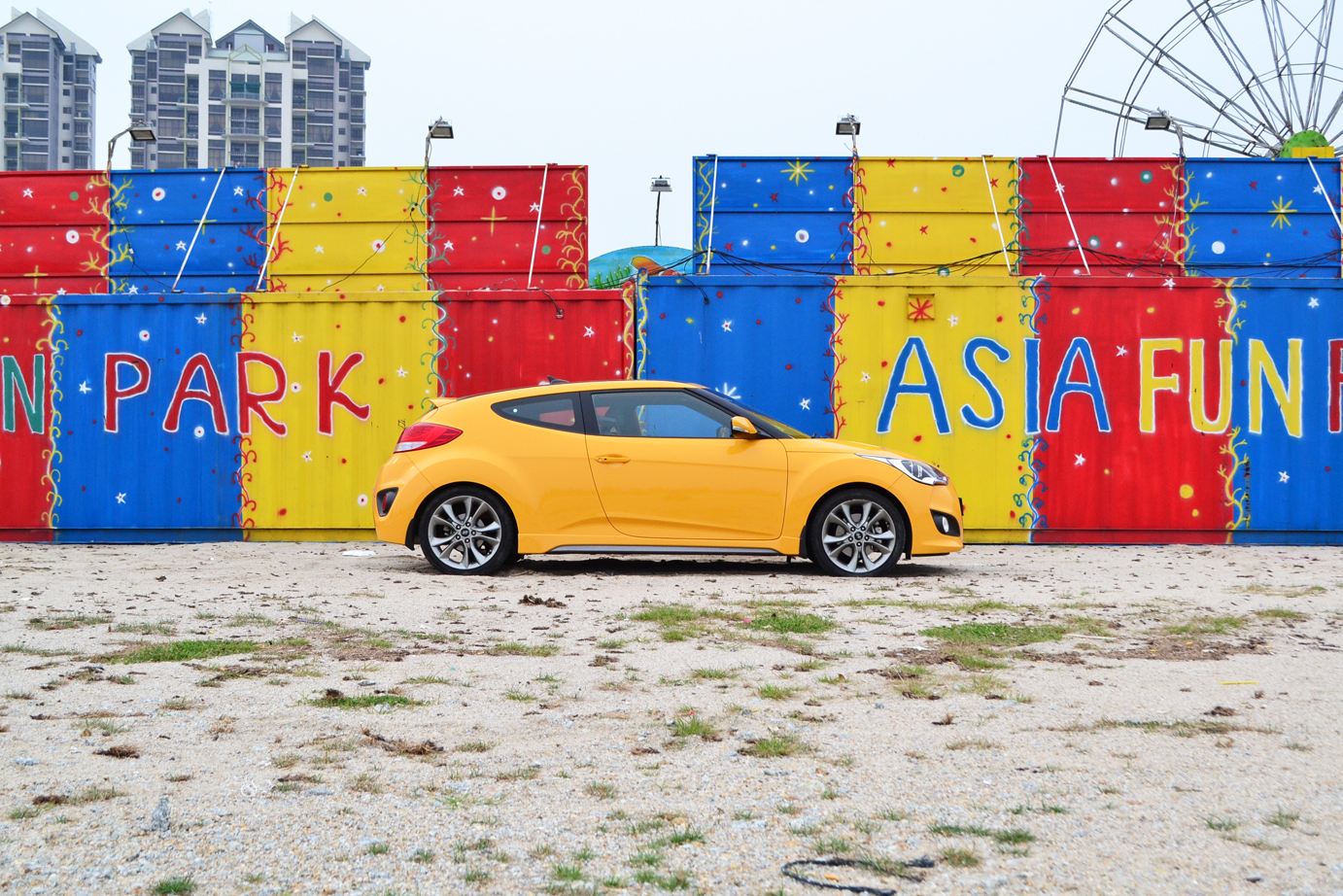 Measuring 4,250mm in length, 1,805mm in width and 1,405mm in height with a wheelbase of 2,650mm, it is about the same size as the Volkswagen Golf and the Peugeot 308 although it is the shortest, thereby making it appear more muscular on the roads. All Veloster variants run on 18″ wheels wrapped in 225/45 rubber although the alloy wheel design are different.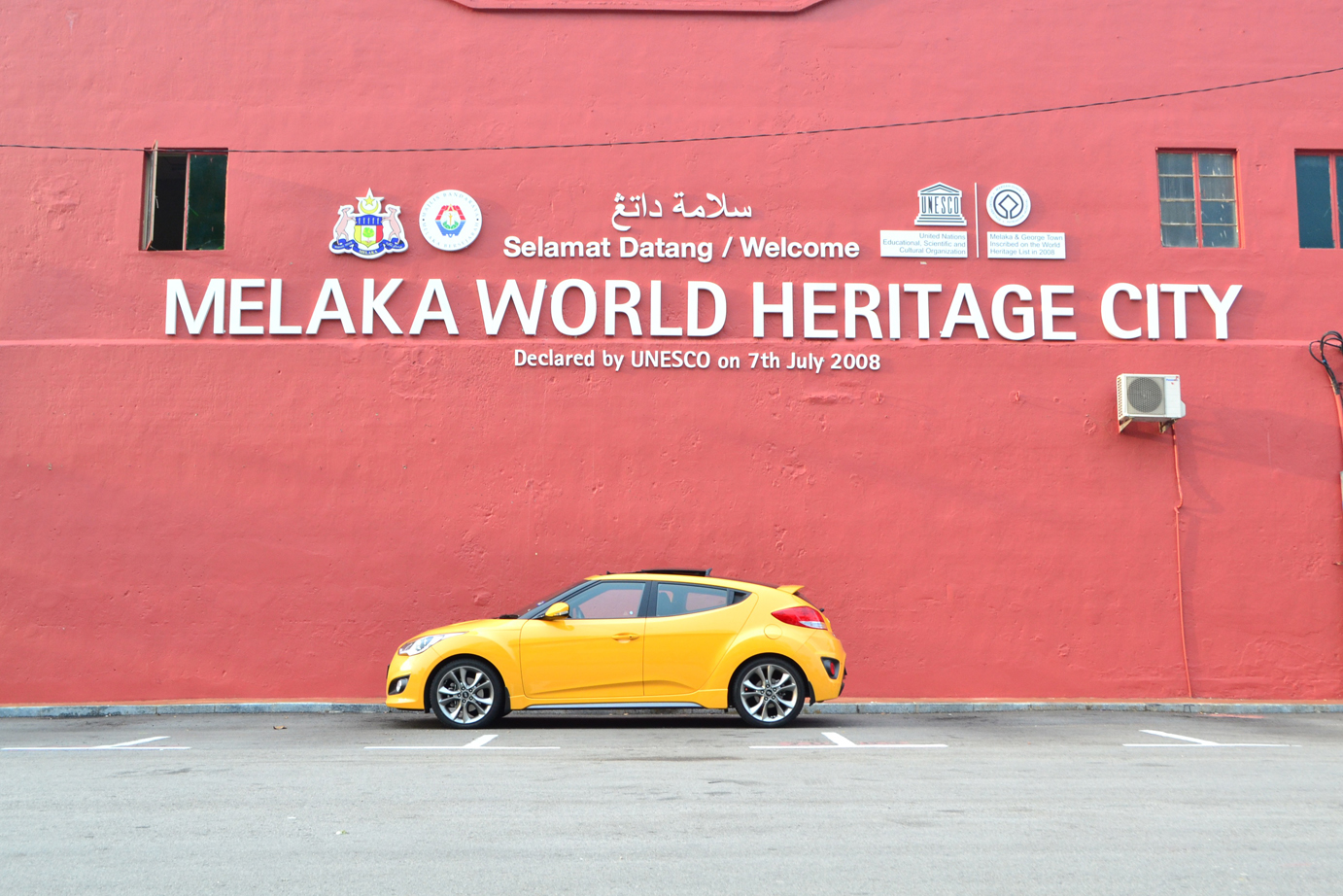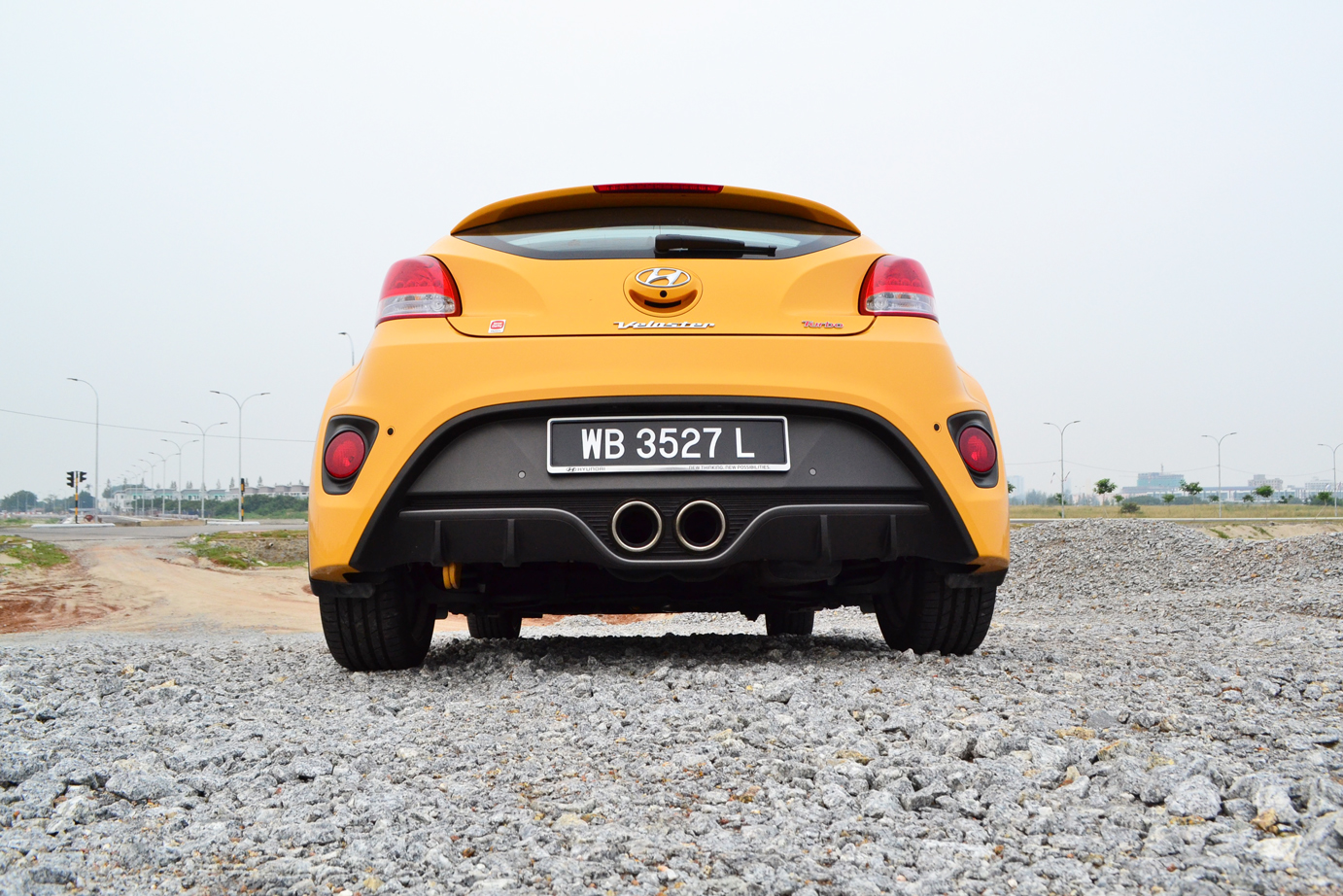 The most prominent feature for the rear would have to be the dual center mufflers. The rear skirt is also higher compared to the MPI variant and the rear diffuser is more obvious.
Performance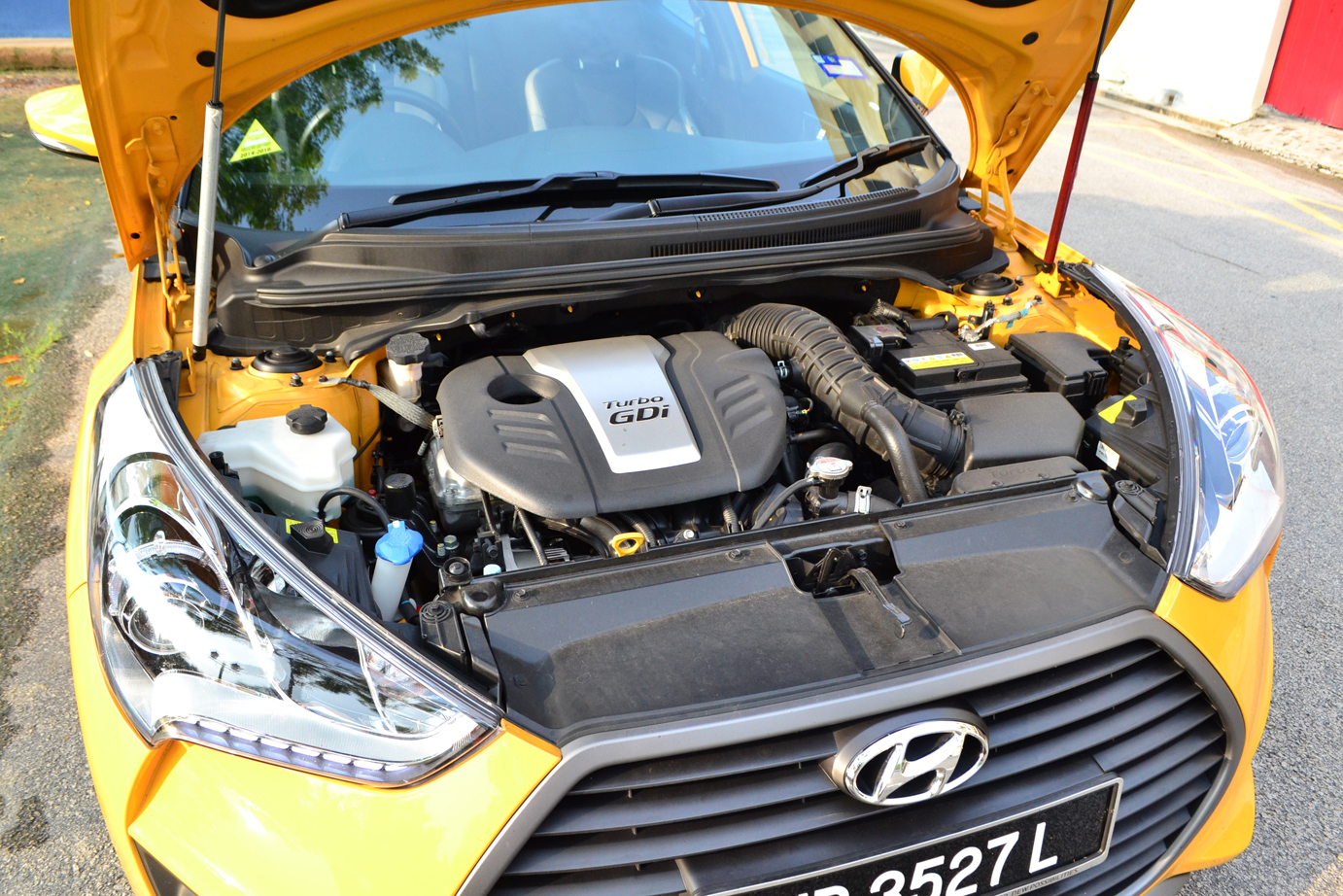 When the Veloster was first introduced in Malaysia in 2014, it came with a 1.6litre naturally aspirated engine that had many people wishing it had more grunt. A few months ago, the turbo variant was launched and it gets a 46% boost in power and 60% increase in torque compared to its MPI sibling. The turbocharged 1.6litre Gamma Gasoline Direct Injection features a maximum power of 186PS @ 5,500rpm and 265Nm of torque from as low as 1,500rpm to 4,500rpm and the end result is something quite unlike any Hyundai I've driven. The Kia Cerato Koup too shares the same powerplant but tuned to a higher output (18PS more) . The Veloster Turbo surges forward more urgently compared to the Cerato Koup, largely due to its dual clutch transmission.
More akin to continental turbocharged engines, the Turbo offers lots of push, hitting 100km/h from standstill in 8 seconds (for comparison's sake, the VW Golf Mk VII 1.4TSi does it in 8.4 seconds and the new Peugeot 308 in 9.4 seconds. The Koup achieves this at 7.4 seconds). Particularly amazing is the relative ease it takes to hit three digit speeds that starts with a number 2. There's no top speed data in the brochure and some sites report the Turbo capping at 214km/h but from personal experience, I can say it will outpace 1.4 TSi Golfs and 308s given sufficient road. And it doesn't need a lot of road to reach that kind of silly velocity.
Ride and Handling
While both the Veloster and Cerato Koup shares the same engine of different tune, their auto transmission couldn't be more different; The Koup pairs the engine to a conventional 6-speed gearbox whereas the Veloster opts for a 7-speed dual clutch transmission. Not to be confused with Volkswagen's 7-speed dry clutch DSGs, Hyundai's unit is developed in-house and is shared with US-sold Sonata Eco. So far, there are no major technical issues reported on this particular unit.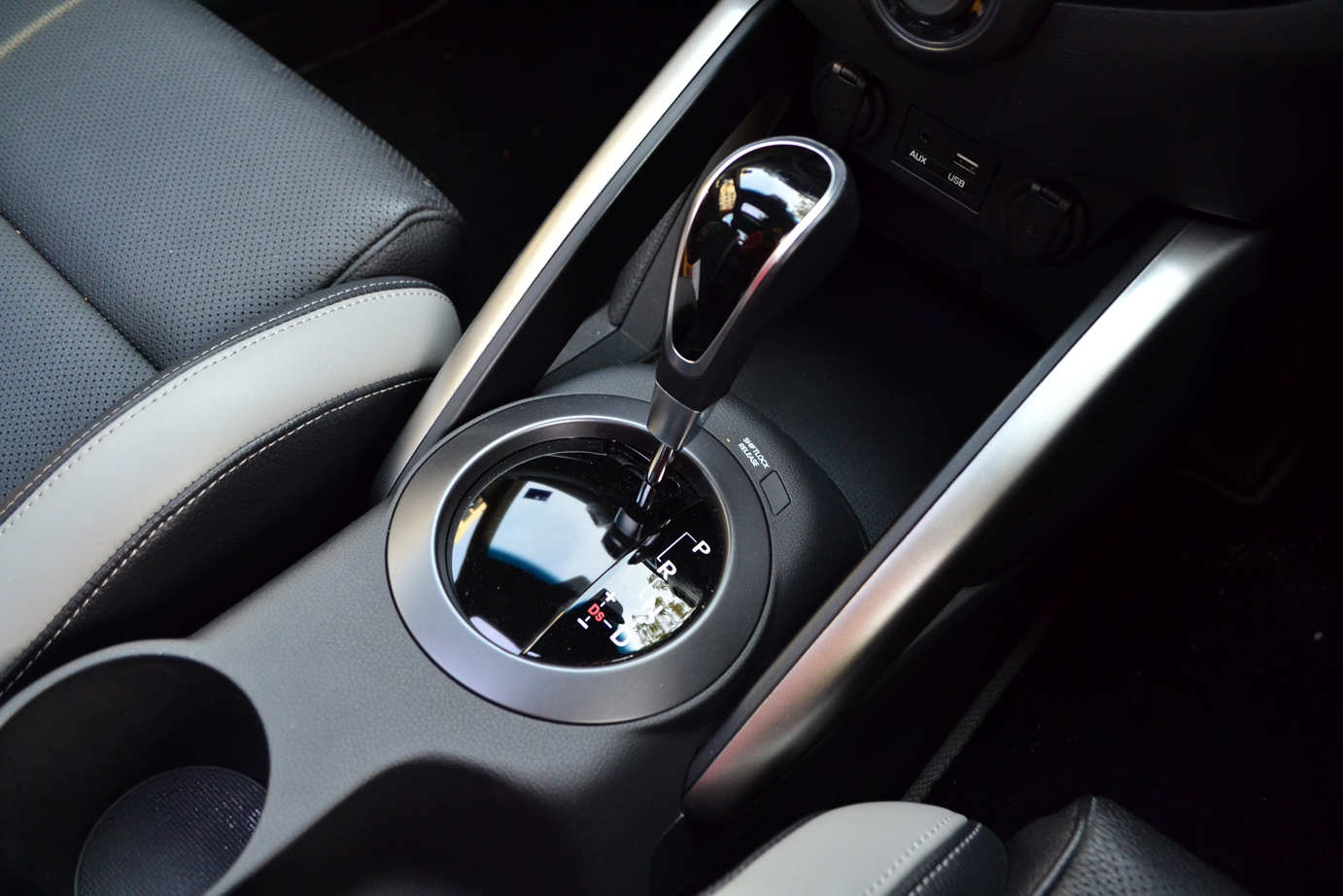 Hyundai's DCT works as seamlessly as any dual clutch system, except when driven hard, there is a very obvious jolt when the gears downshift. It's annoying at times, particularly when you had to deal with pesky supped-up Satrias inching to have an impromptu drag race with you at the traffic lights. There is a slight lag between stomping your foot to the pedal to the gear engaging. And times when you're stuck at low speed crawls, that annoying dual clutch juddering is present although I find it slightly easier to modulate its power delivery compared to DSGs.
If you were to ask how does it compare to what's commonly sold here, I'd say DSG –> Hyundai DCT –> Ford Powershift DCT
The Veloster Turbo is almost as stable as most continental hatchbacks. Being a front-engined, front wheel-driven vehicle, it is expected to demonstrate a certain degree of  understeer but on something looking as hot as it does, I expected it to manifest at highers speeds/sharper angles. Sadly, it isn't as accommodating, and the Vehicle Stability Management just cuts all the fun out. Ironically, I had more fun driving this with the ESP off.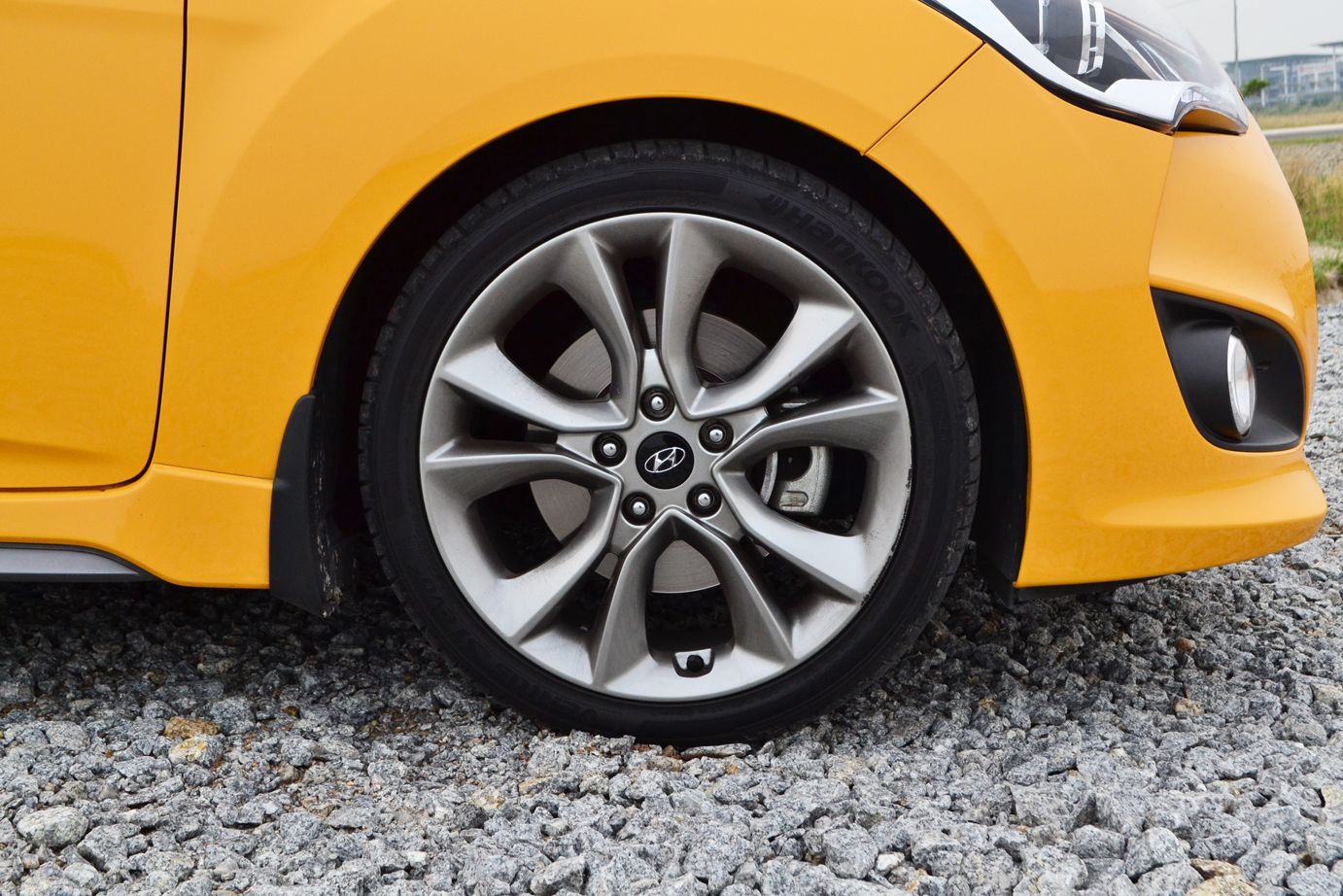 Despite running on 18″ wheels, the ride is surprisingly well sorted out; not bone jarring yet not overtly stiff. Slightly stiffer than a Honda Civic if you ask me.
The Veloster's motor driven power steering features Flex Steer, a system that changes the steering weight we first encountered in the Kia Cerato. Best left in Normal mode as Comfort is too light and Sport just makes your arm work a little harder turning it for no added steering feel.
The Veloster supposedly has Hill-start Assist Control but if you happen to find yourself idling on a slope, the car would slide back like any other non-HAC equipped model. Not sure if there's something wrong with this unit or HAC only works at the point when you start the car and not when the engine is running.
Cabin Convenience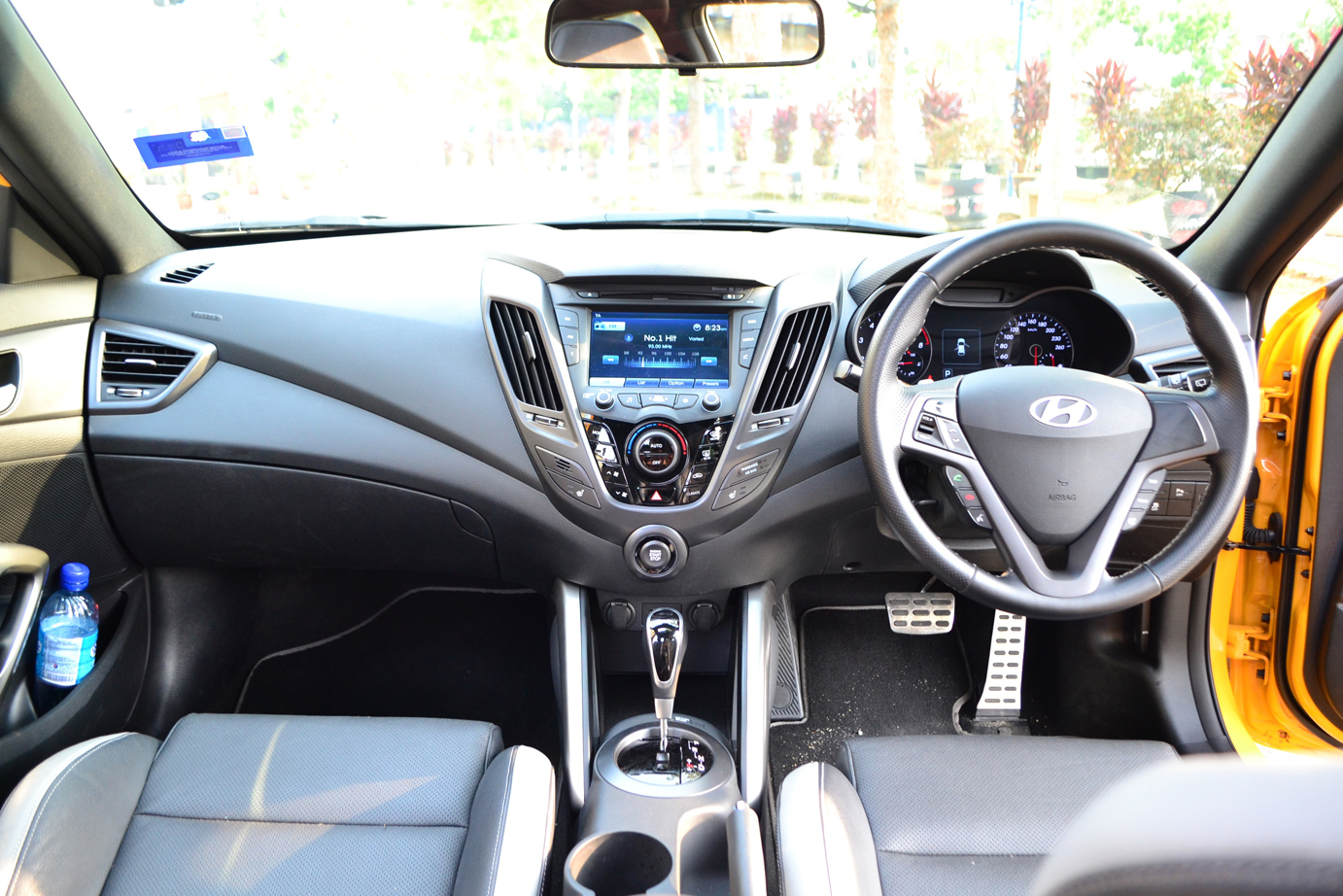 The interior of the Veloster is nice and cosy, not as claustrophobic as a VW Scirocco. Everything is within easy reach of the driver and everything has a very practical layout to it.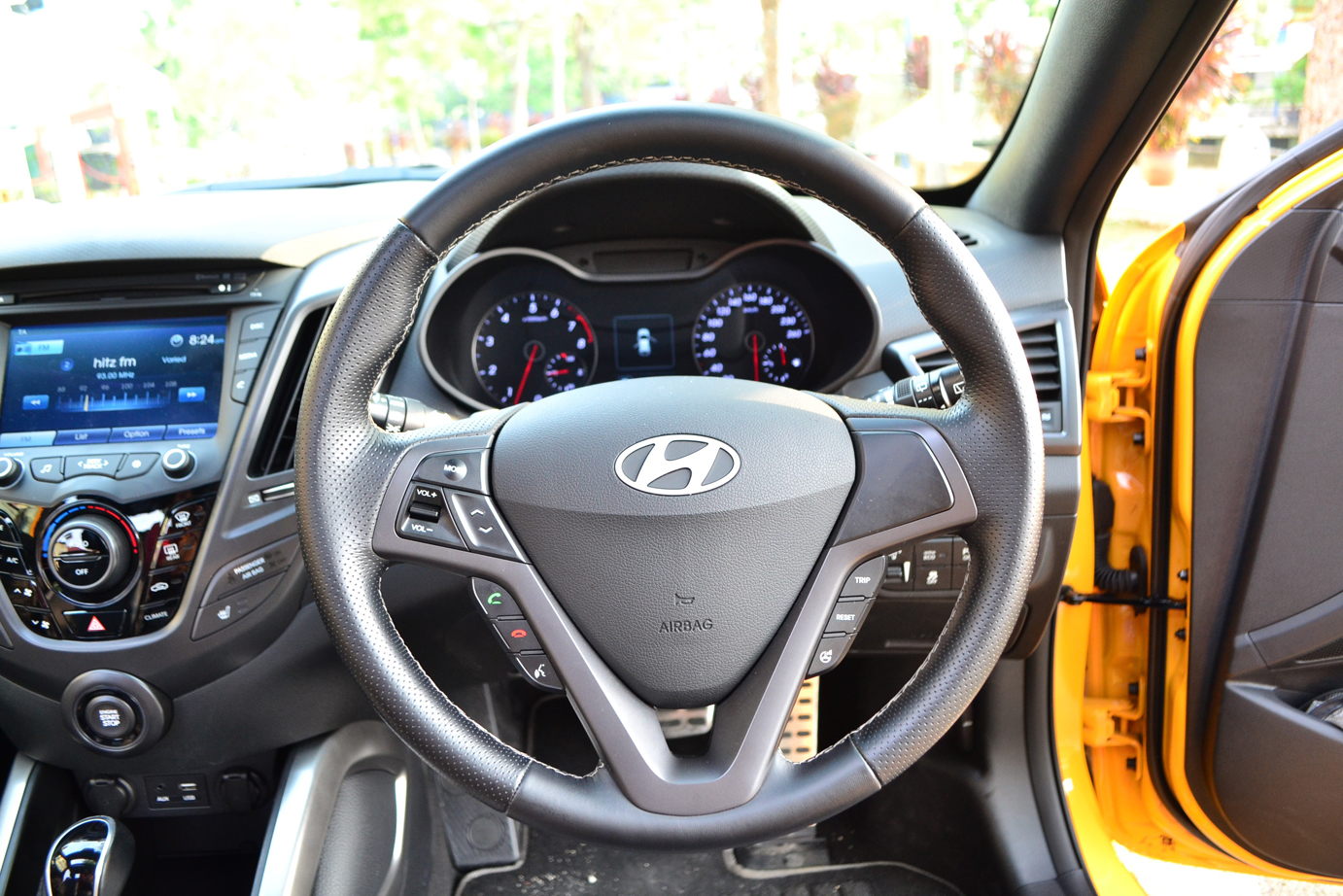 The steering wheel has buttons that controls audio, Bluetooth telephony, Multi Function Display and the Flex Steer selection. Paddle shifters are mounted in the back and there is no Cruise Control function.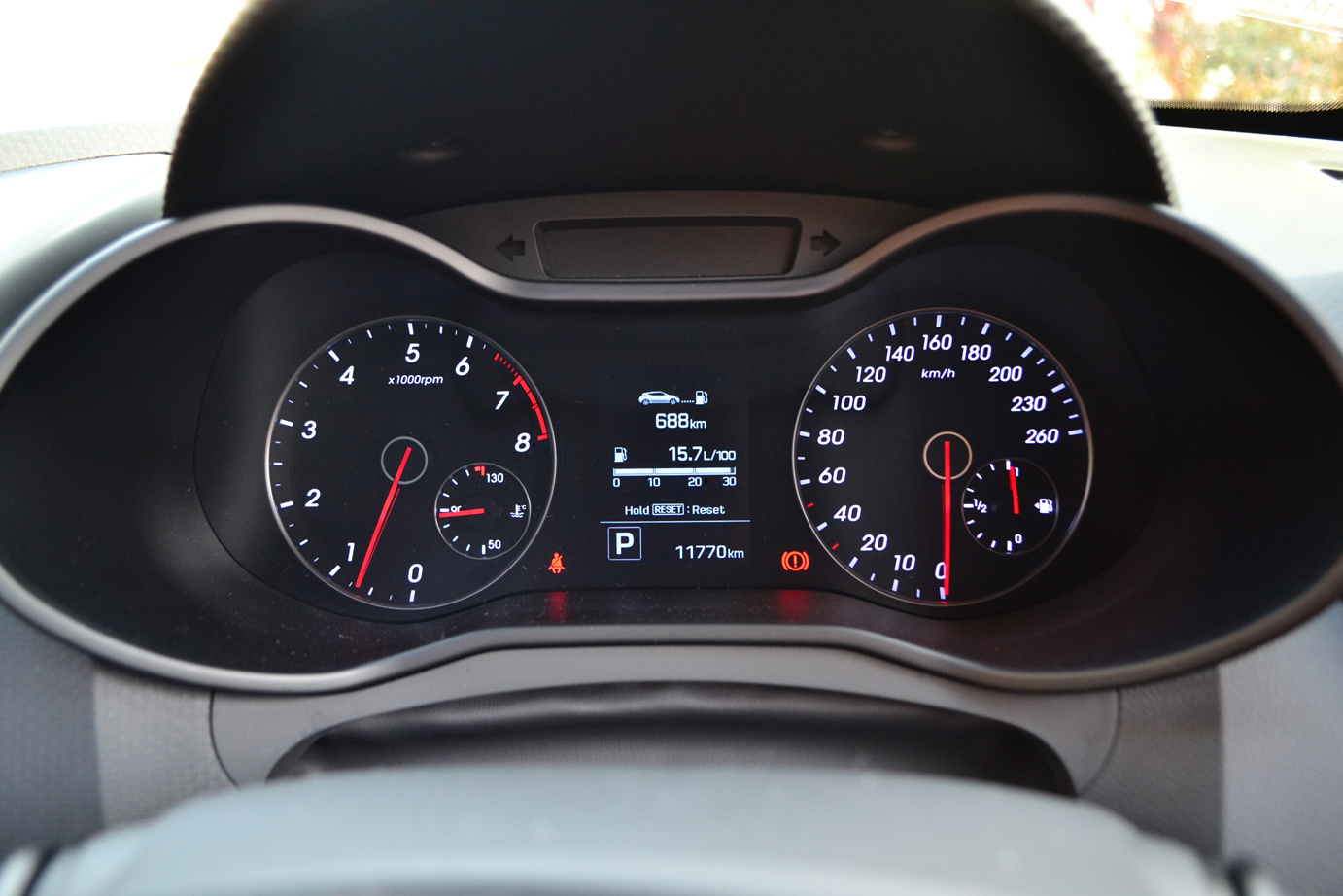 The Supervision Cluster is simple, easy to read and displays information such as real time fuel consumption, average fuel consumption, Trip A, B and service reminder.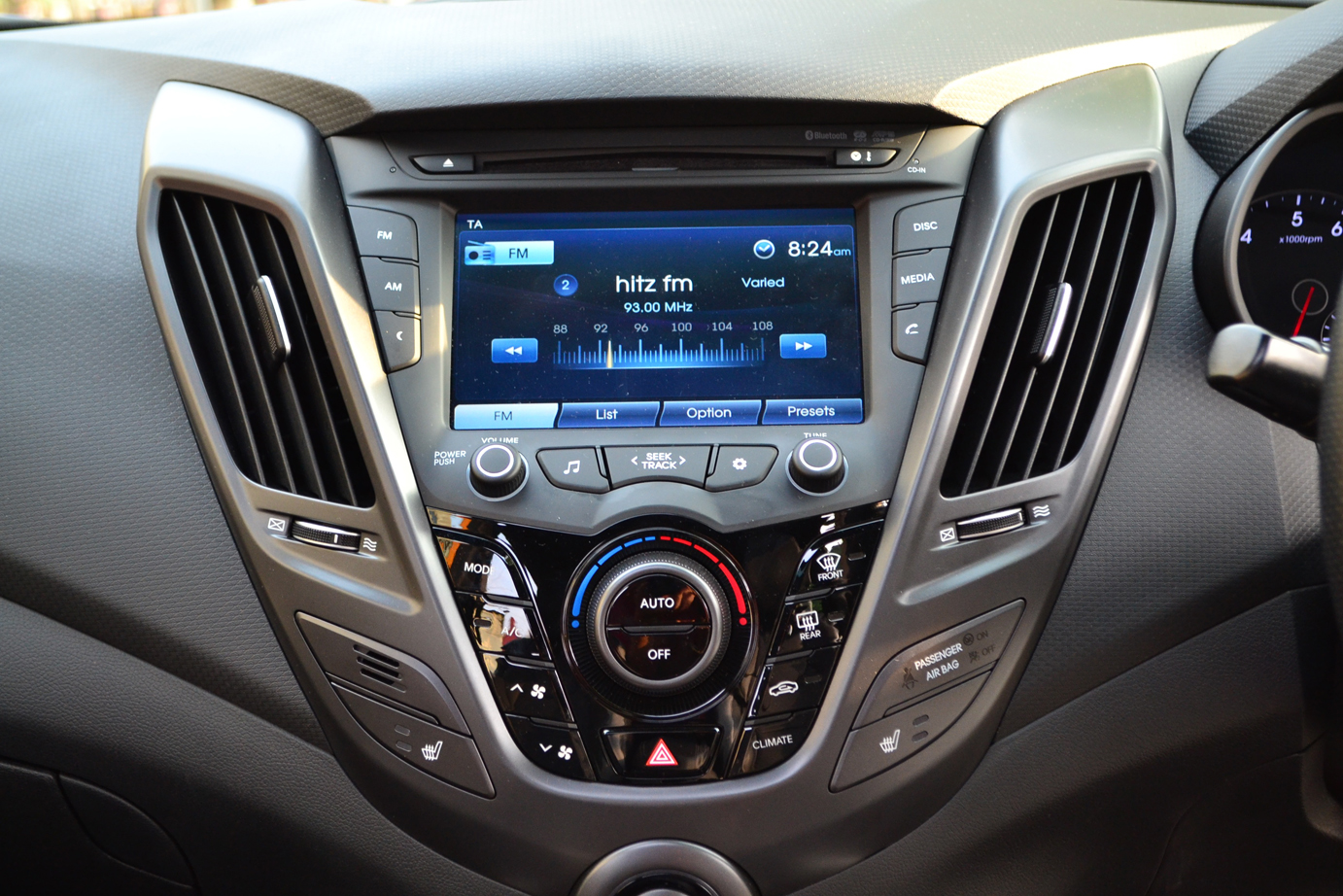 A 7″ colored TFT touchscreen that has Radio, CD, MP3, AUX-in, USB and Bluetooth functions sits in the center of the dashboard. Sound reproduction is handled by an 8-speaker system that's surprisingly good. Bass reproduction is excellent as well as the surround feel  but if you're expecting audiophile concerto imaging levels, you should go for luxury sedans.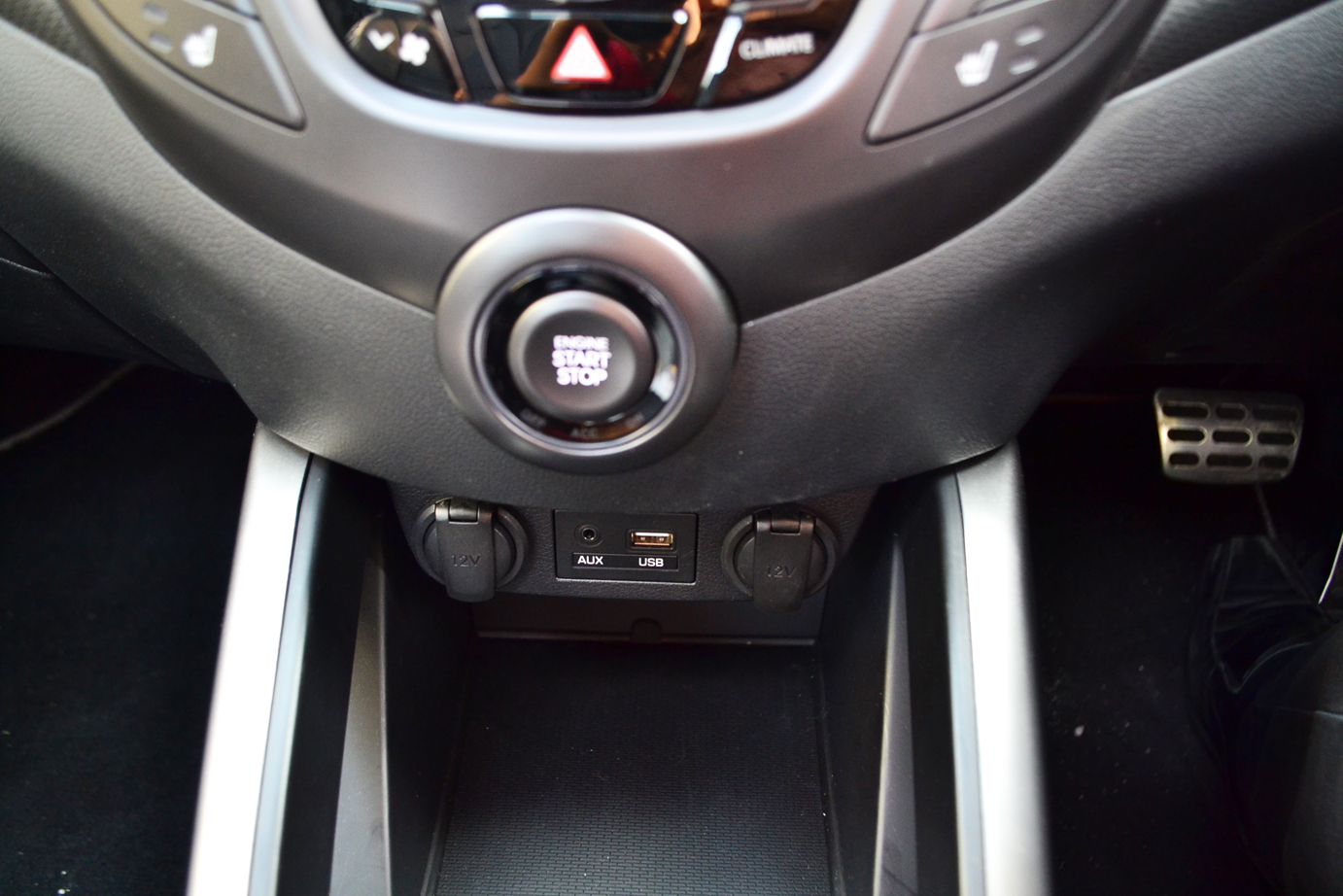 Below the single zone automatic air conditioning controls is the Engine Start/stop button and below that are two 12V power sockets, a USB and AUX port.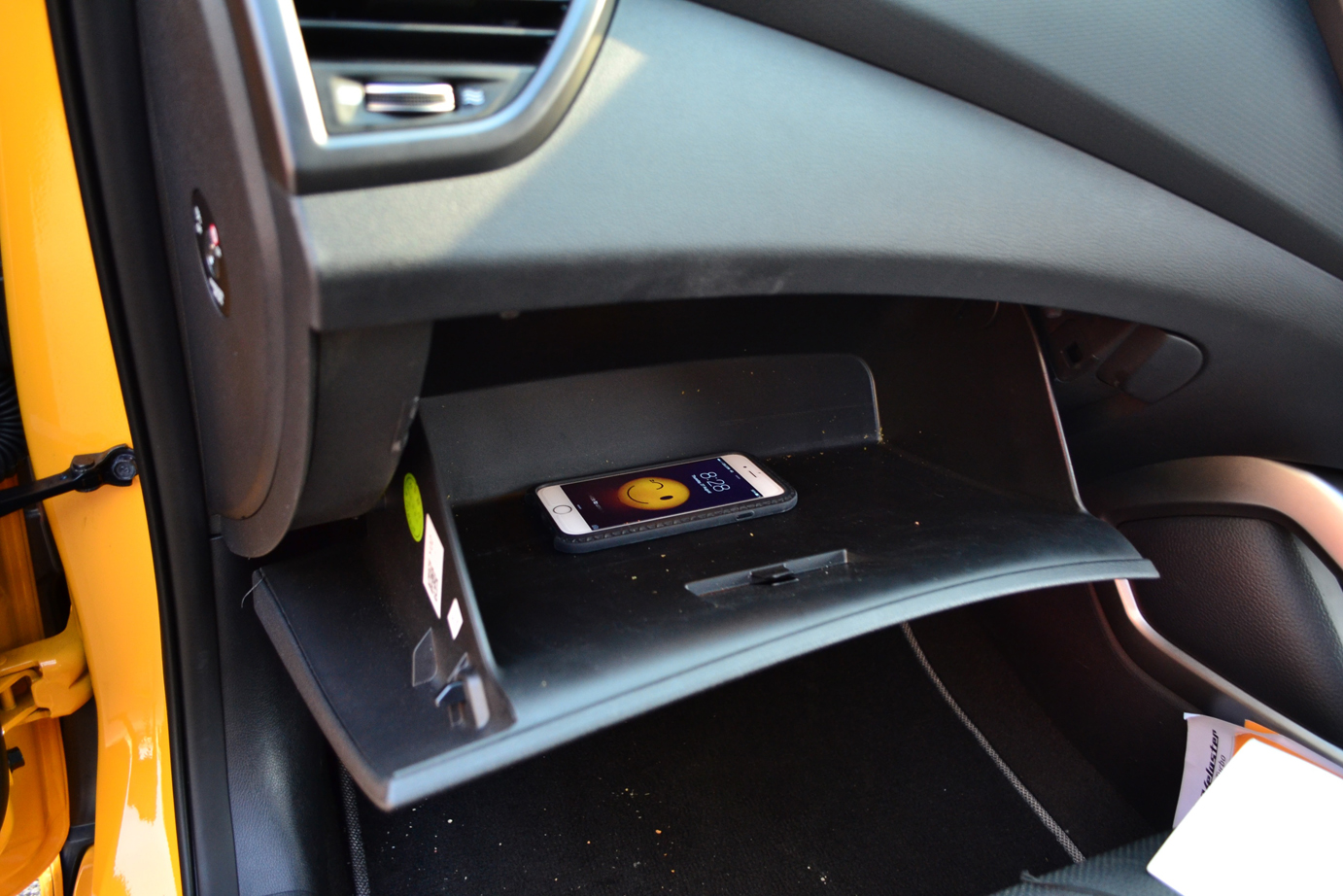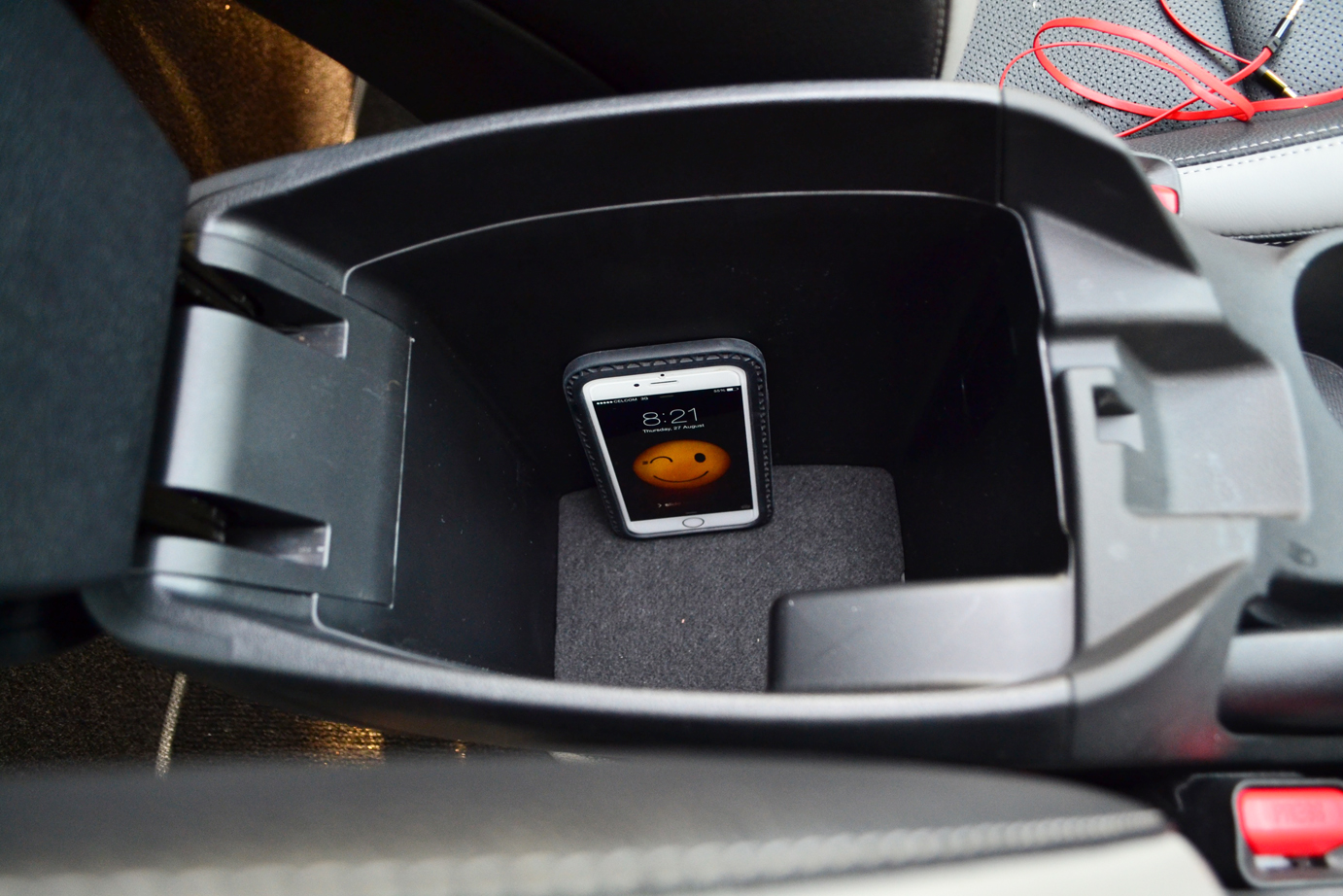 For nooks and holders, you'll find two cup holders next to the hand brake lever, a small platform in front of the gearstick to put phone and spare change and a deep center console for other small items to be hidden from view. Glove compartment space isn't too shabby either.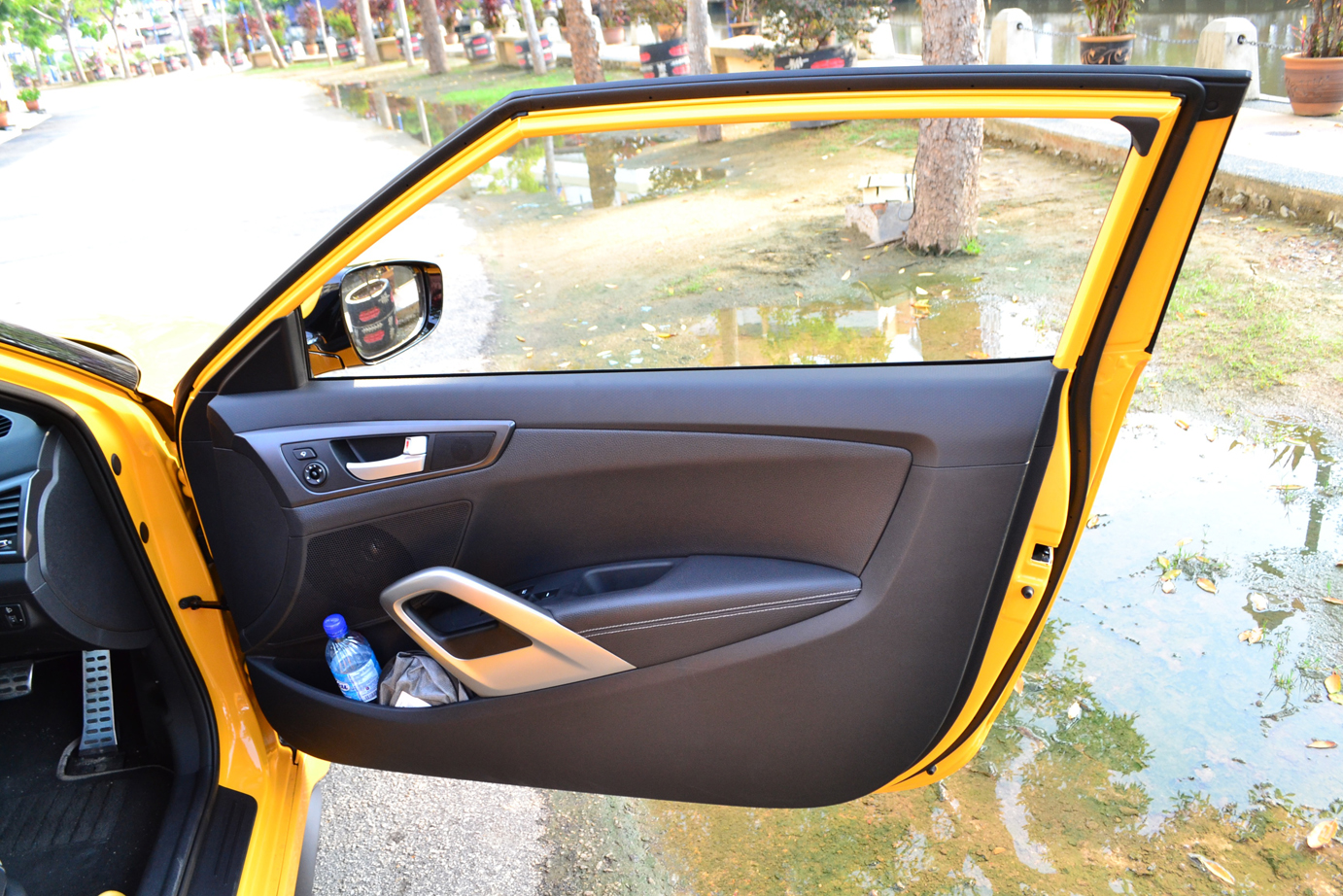 The door handles are very chic. Firm yet aesthetically pleasing. And it's certainly not often we see side window controls for three windows instead the usual two or four doors. The only thing I can complain about the doors is 1.5litre bottles can't fit.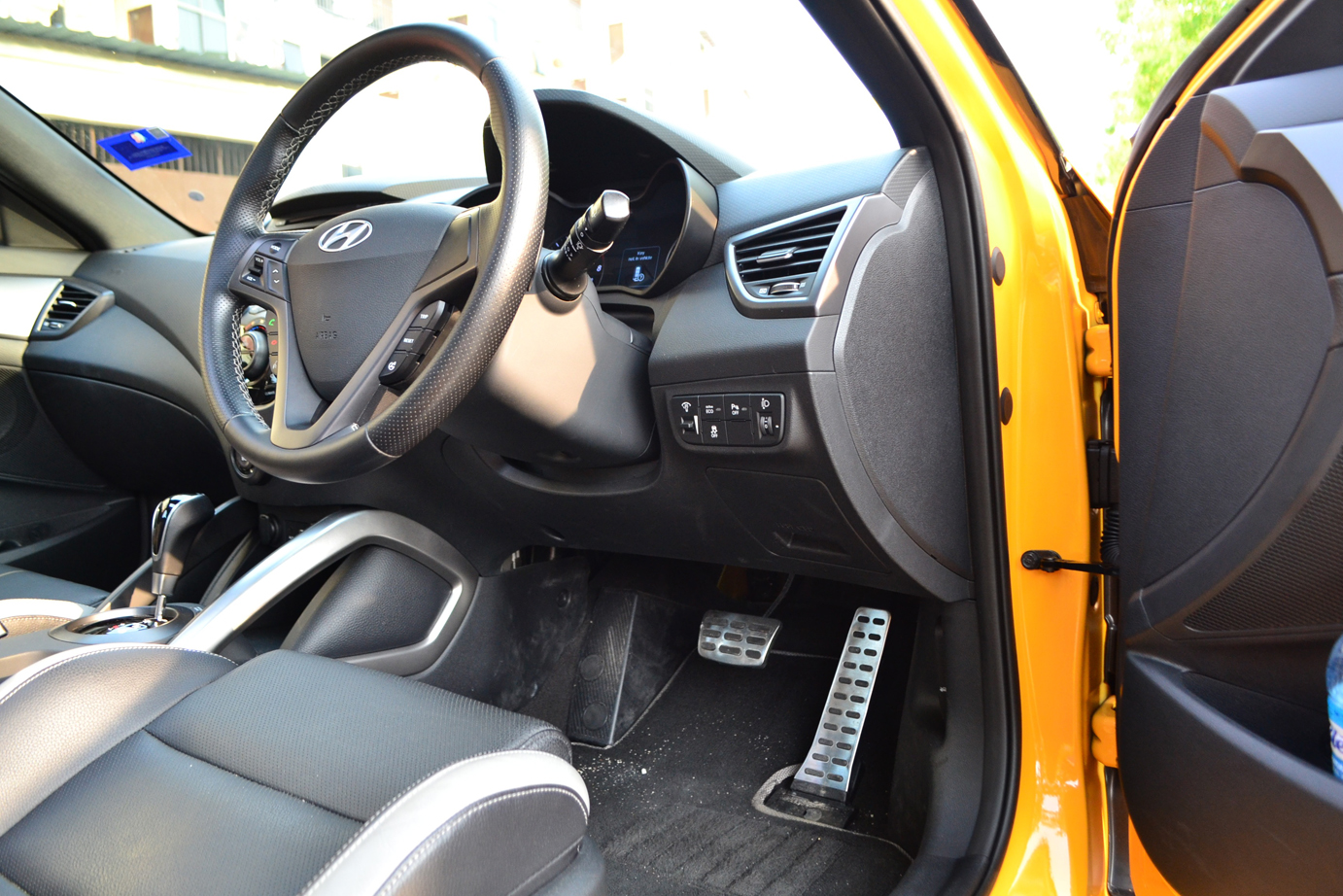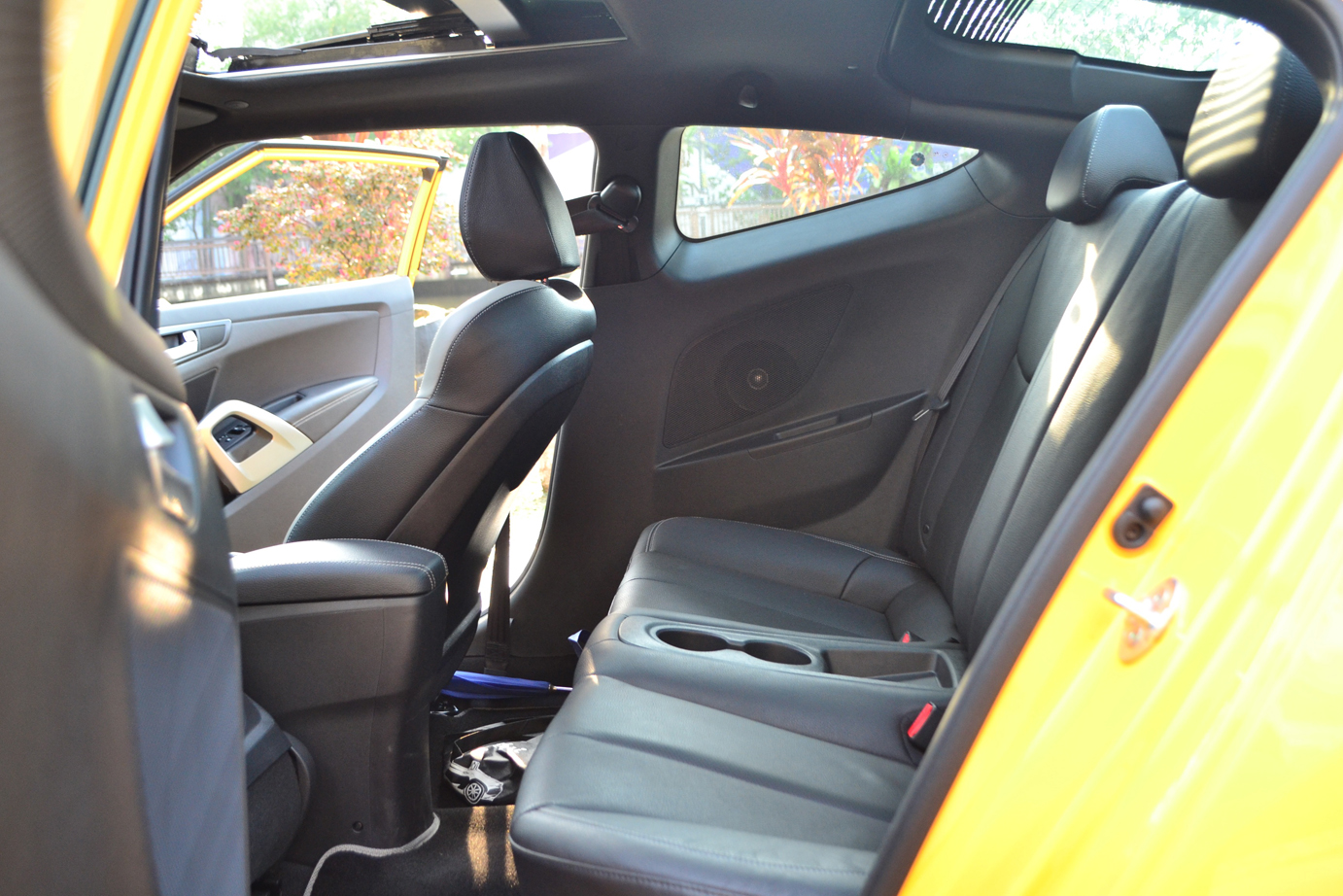 The best part of the whole cabin are the front seats; they are supportive and spacious. The same can't be said about the rear though,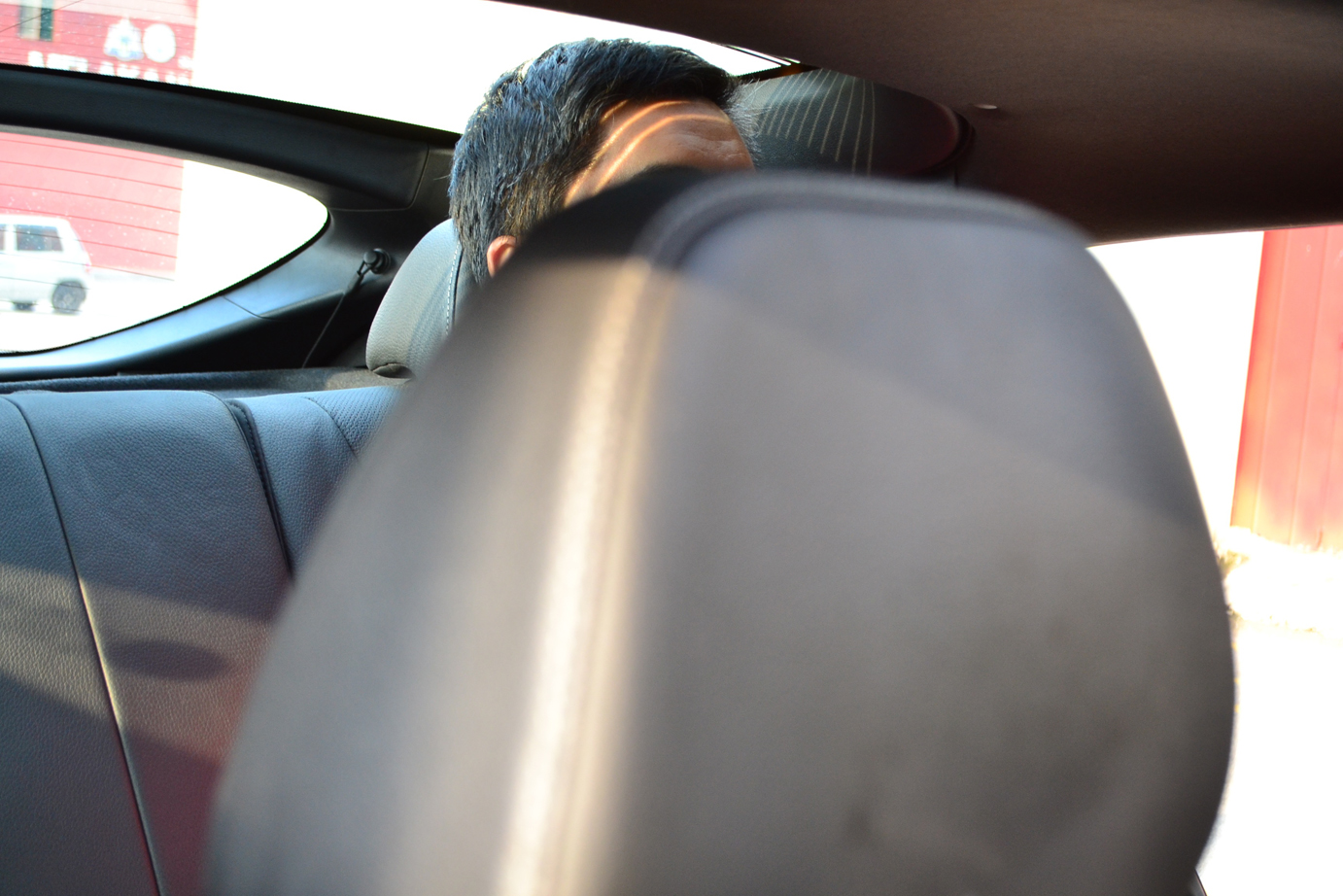 Legroom and headroom is compromised and like most coupes, the run hits part of your head, neck and shoulder if it is at its zenith. Rear passengers should also beware of the limited headroom when entering. Even a short passenger could risk bumping his/her head when using the rear left door. Also, do note that the Veloster is a 4-seater; there are no middle rear seat belts and instead, you'll find a permanent twin cup holder.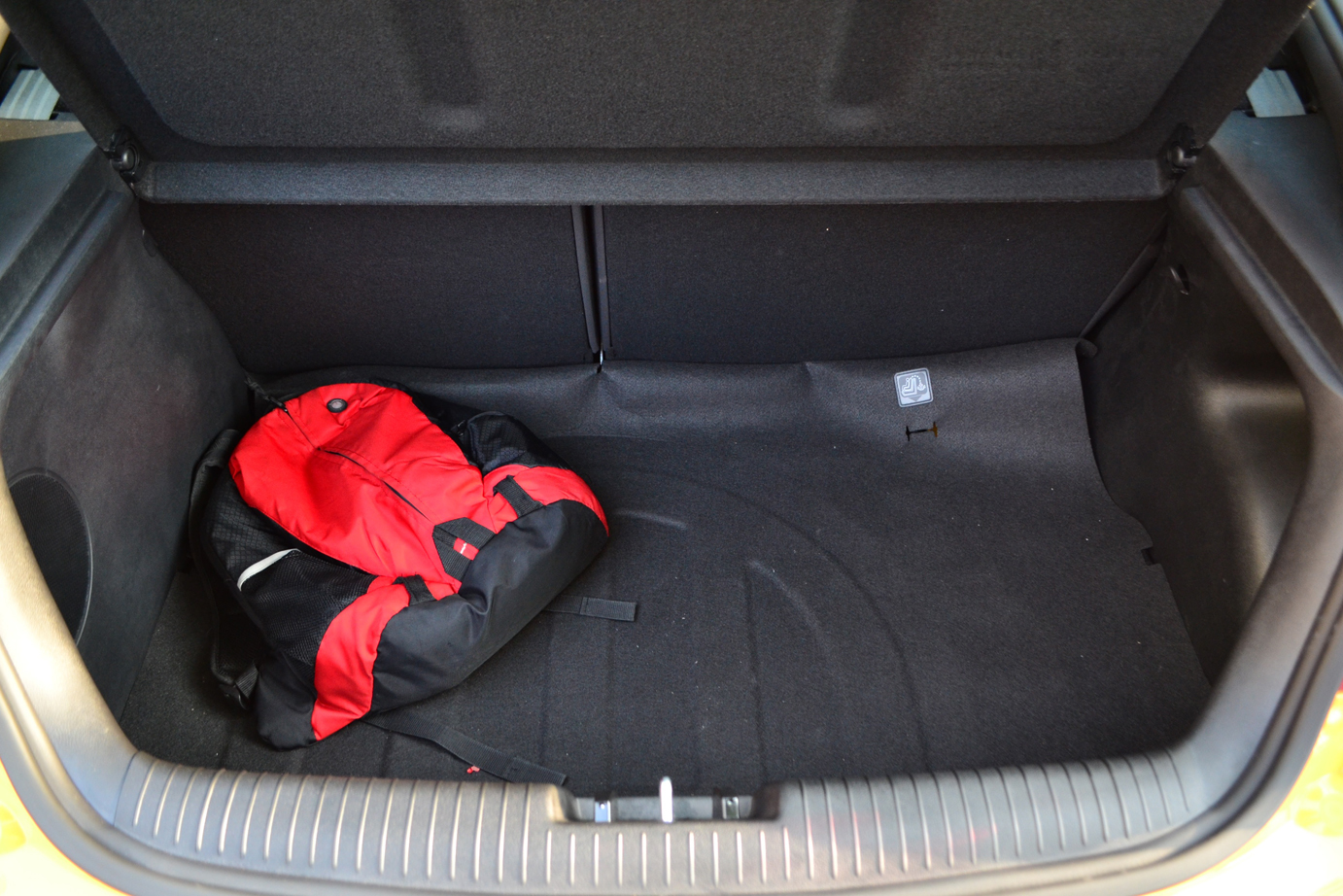 The boot is both wide and deep but you'd need to lift cargo a little higher to clear the boot opening. Cargo space can be further expanded with the rear seats down although you won't get a completely flat rear bottom. Below the boot floor is a space saver rear tire.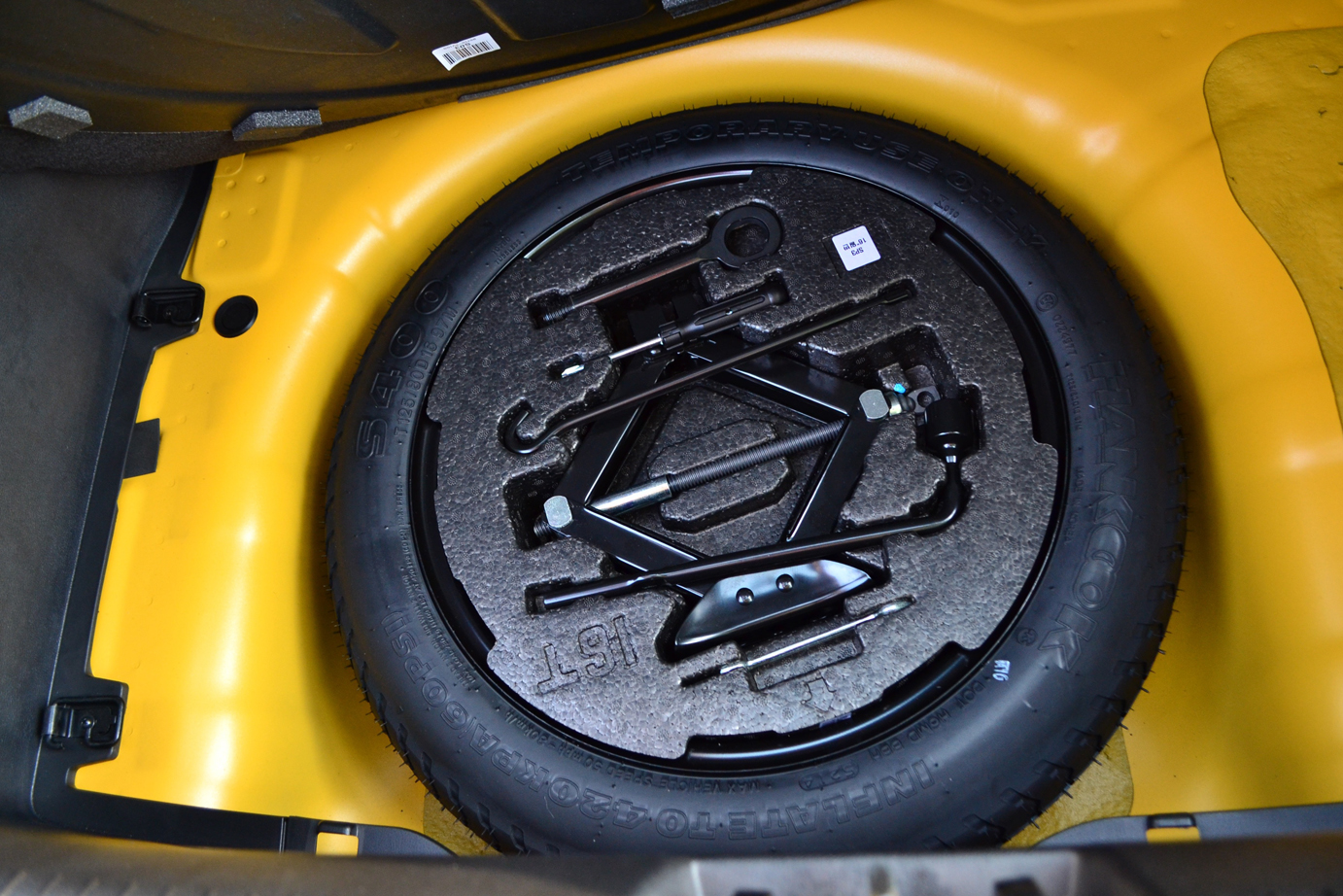 Safety
Even though there are three variants offered in Malaysia, the safety features remain the same:-
Driver and Front Passenger airbags
Side airbags
Curtain airbags (total 6 airbags)
ABS
ESC
Hill-start Assist Control (HAC)
Vehicle Stability Manager (VSM)
Specification
Exterior
Panorama front bumper lip
HID projection with LED headlamp
Rear spoiler with H.M.S.L (that's High Mount Stop Lamp – third brake lamp)
Front and rear foglamps
Daytime Running Lights
LED rear lamp
Front aeroblade wiper and rear wiper
Electric control and folding side mirror with signal
Body colored door out side handle
Racing decal (only for Turbo Sport variant)
Interior
Pure leather with grey side lining seats (orange side lining for Turbo Sport variant)
Powered driver seat with lumbar support
60:40 rear split folding seat
Supervision cluster
Powered window (Driver auto up/down)
Leather wrapped gear knob
Panoramic sunroof
Radio, CD, MP3, AUX-in, USB and Bluetooth audio system
Premium 8-speaker sound system
Smart Key with Start Stop button
Keyless Entry
Active ECO mode
Flex steer system
Auto air conditioning
Automatic headlamp with escort (follow me home function)
Manual headlamp levelling
Reverse sensor
Reverse Camera
Ownership and Maintenance
The Hyundai Veloster Turbo is yours for the price of RM152,476.14 OTR inclusive of insurance and GST and if you want yours to be more exclusive, you can take the Turbo Sport for RM156,213.70.  Like all Hyundais, the Veloster comes with a 5-years or 300,000km warranty, whichever comes first. Hyundai-Sime Darby Motors also packages Roadside Assist, a 24/7 assistance in the event of accidents, vehicle breakdown, parts malfunction or even a flat tire; for free.
The Veloster Turbo comes in five shades; Storm Trooper white, Young Gun Dark Grey, Phantom Black, Sunflower (as tested here) and Veloster Red. However do note that if you select the Sport variant, sunflower and red is not available.
Strangely enough, Hyundai claims the 1.6T-GDI is "High on adrenaline, low on fuel consumption" yet there is no published data on its FC. So I took it upon myself to measure based on real life conditions. The trip to Melaka and some running around (70% highway, 30% urban) saw me travel 303.3km and I pumped 24litres to full. This means a gross FC of 7.9litres/100km which isn't really too bad, IMHO. Full tank should see me achieving 650km at least which is quite the same as most 2.olitre Kia vehicles I've tested so far.
For the same price of most entry/mid-level D-segments, the Turbo isn't one of those mainstream cars. Even the Golf, sold at a higher price has a broader appeal, despite what we say about its after sales issue. So, is it really worth your money?
Well, think about it this way; being worthy or not is relative – and being relative means comparing against something similar. And really, there isn't anything quite like the Veloster.
A stylish 2+1 door coupe, with power to keep up, if not outrun other vehicles and a fuel consumption that's reasonable. Since the Koup isn't launched here, you won't find another vehicle with the same engine. You could go for the VW Golf or Peugeot 308 if you desire more practicality but they are a tad too many on the roads. The Veloster, particularly one that's painted like this one would definitely be the talk of whichever town you go.
So why not?
For more information, check out Hyundai Malaysia's website.