It wasn't too long ago that one needs a proper set of suit and tie to host a keynote presentation to customers and other stakeholders. But with the advent of young creative yet highly valuable companies, its not surprising to see a CEO stepping on stage attired in T-shirt and jeans. We have evolved to the point where going casual to a formal event is no long social taboo. Of course you have instances such as the orchestra where formal dress-code is enforced but as society goes beyond rigid traditionalists mindsets, we see a change in what's considered proper or improper.
And when you compare the KIA Optima K5 against the Hyundai Sonata, the difference between casual and formal could not be more apparent.
First off, let's look at the stately sedan; the new Hyundai Sonata. Launched here in December 2o14, the seventh-generation "LF" model has adopted a less intrepid design compared to its predecessor, the YF. The new Sonata still boasts an impressive list of features with some additional functions that'll make any executive shopping for a vehicle in this segment to include in his/her list of considerations.
The KIA Optima K5 on the other hand has a far more aggressive mien and tuned to reflect what its exterior implies, even though it shares the same engine as the Sonata. Cabin space is no less impressive and true to any Korean offering, its spec sheet is no less comprehensive.
Both play in the highly competitive D-segment market, in an arena fielded by established Japanese brands and performance oriented Continental marques. Does the Koreans have what it takes to score some goals here? If so, which would be a better player to pick? Let's find out.
Design
.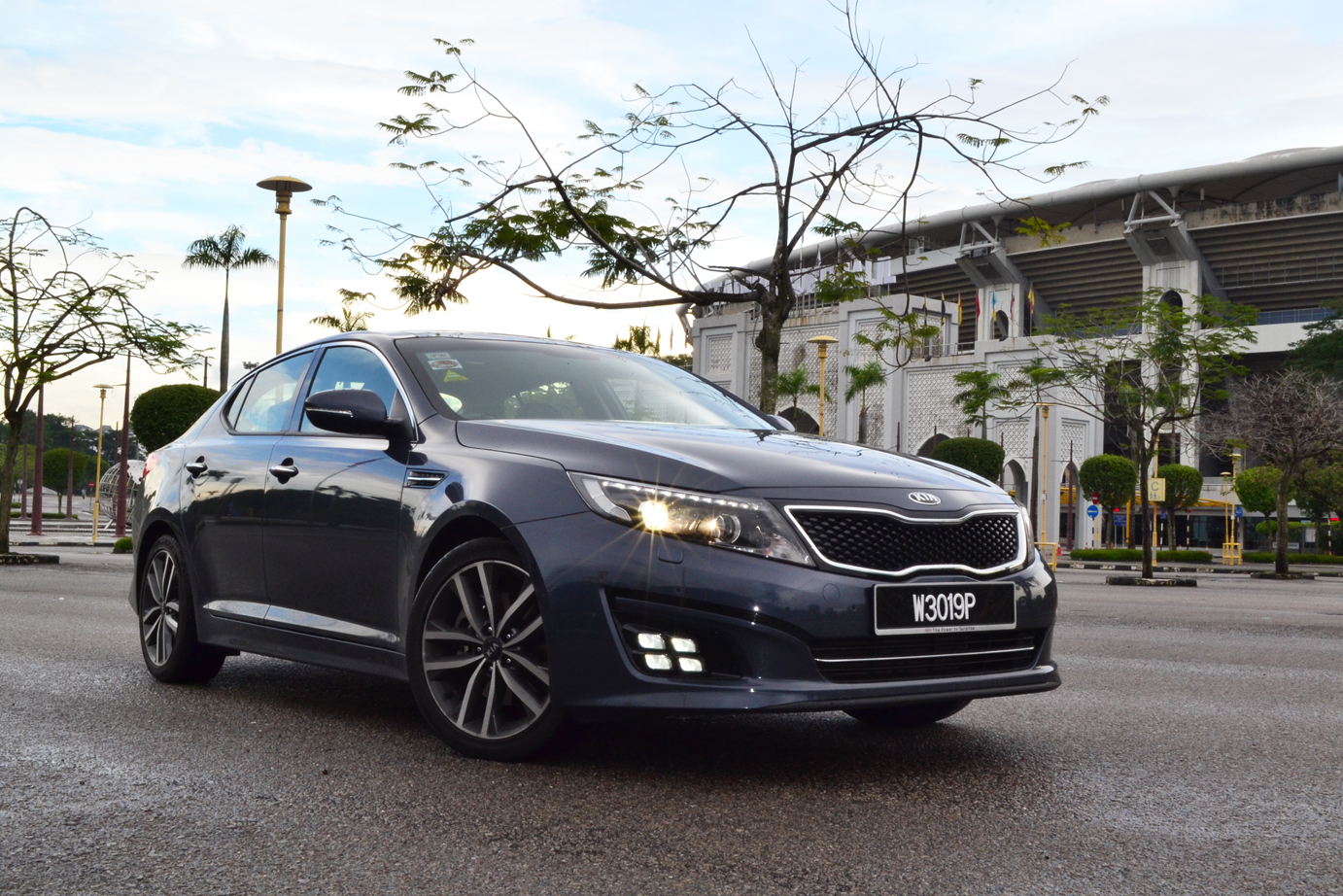 .
They may be identical underneath but nothing from the outside suggests they share the same pedigree. KIA's design approach appears to appeal to those young and young at heart; featuring a more aggressive and dynamic styling to reflect the spunky attitude of their owners. The K5's unique cube fog lights is the main visual attraction while its sharp grille is extended with the razor headlamps, making the entire front look lowered and wide.
The Sonata on the other hand presents trapezoidal lines with the primary focus of the front being the large grille and the elegantly sculpted front headlamps. Where the K5 has its LED Daytime Running Lights outlining the top of the lamps, the Sonata has its at the lower part of the bumper.
.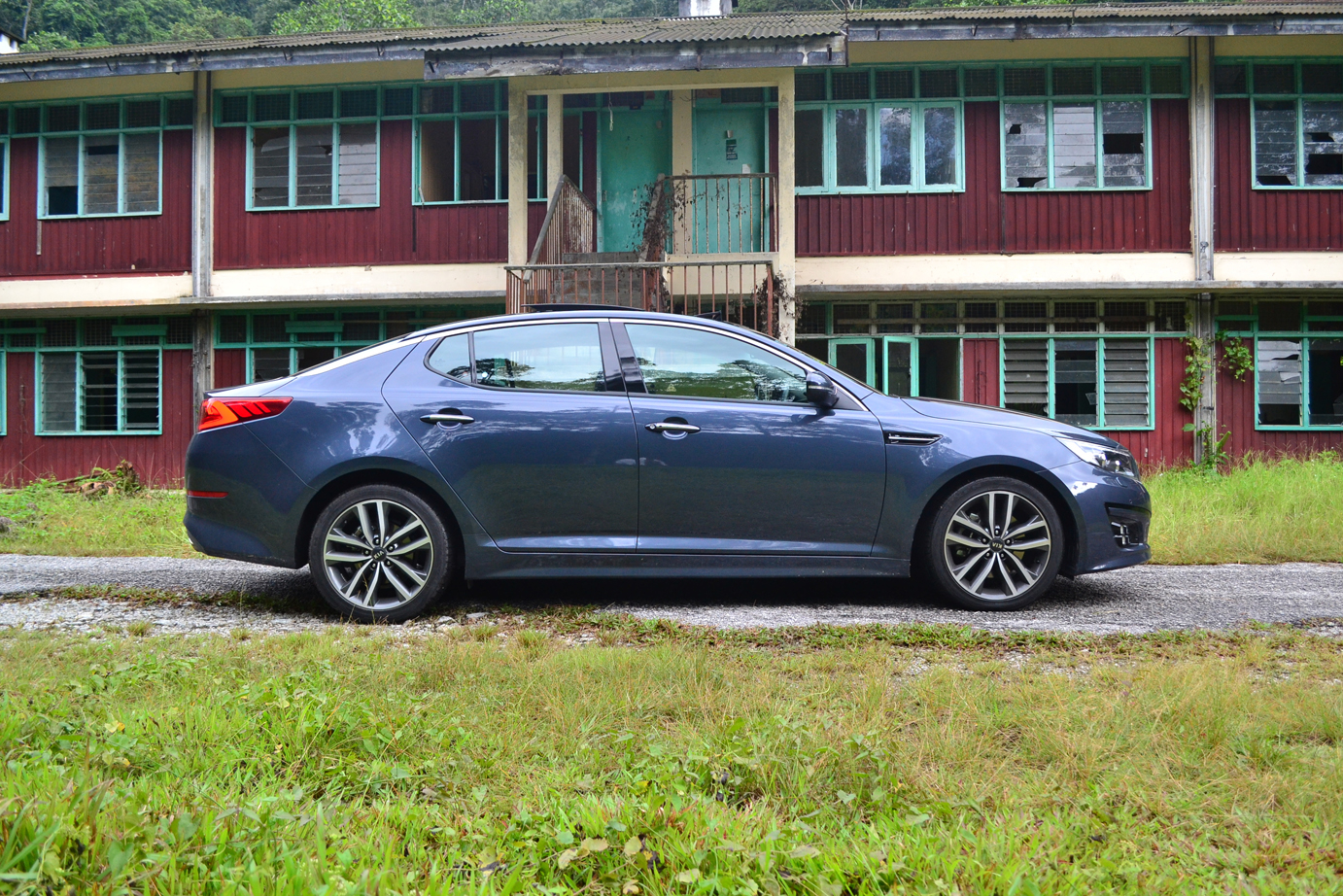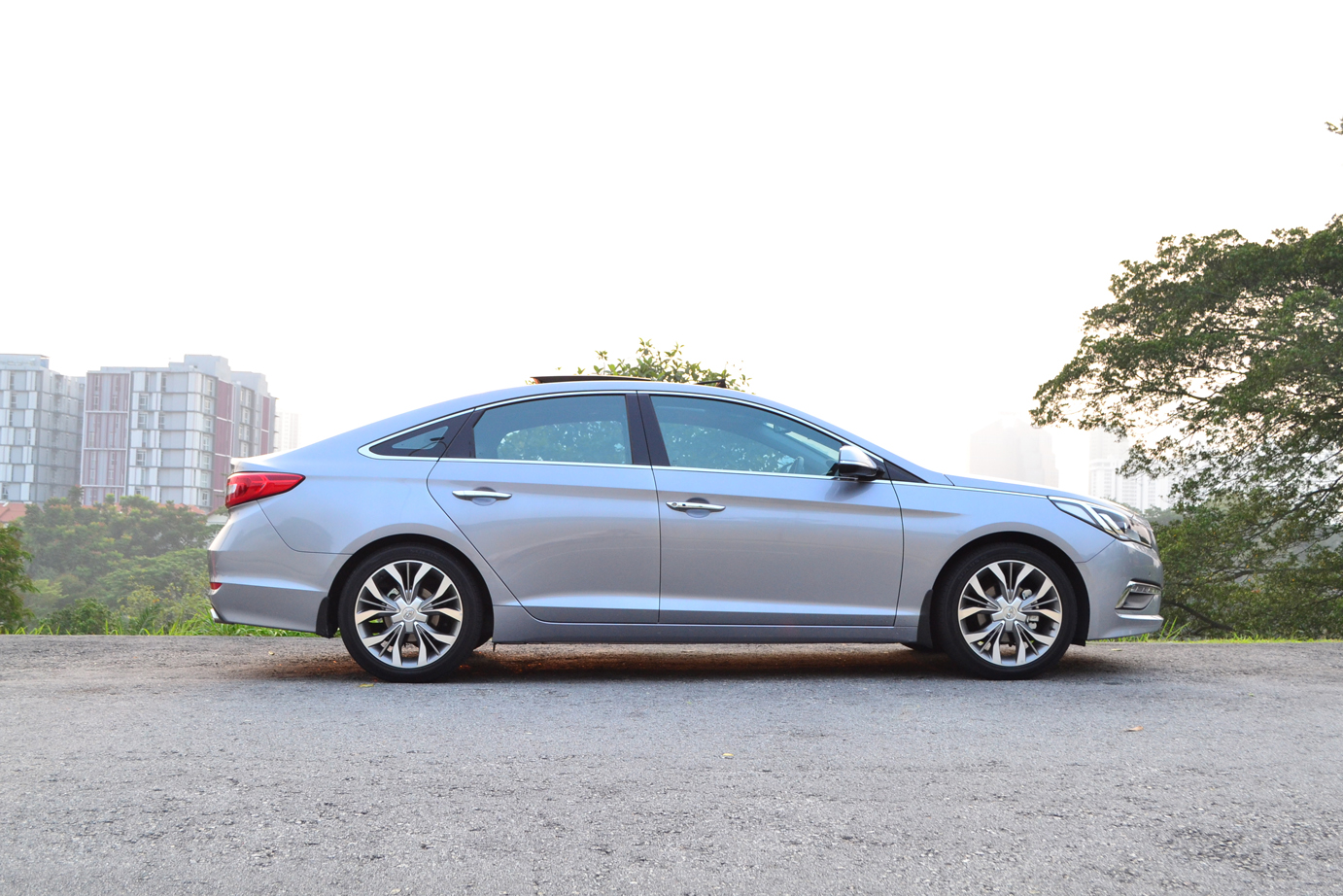 .
Their platform may be the same but in terms of dimensions, there are differences. The K5 is shorter by 10mm, thinner by 35mm and lower by 25mm compared to the Sonata's 4,855mm length, 1,865mm in width and 1,475mm in height. Wheelbase-wise, the K5 is also shorter at 2,795mm vs Sonata's 2,805mm. Put them side by side though, it's not obvious that the Sonata is a bigger car.
.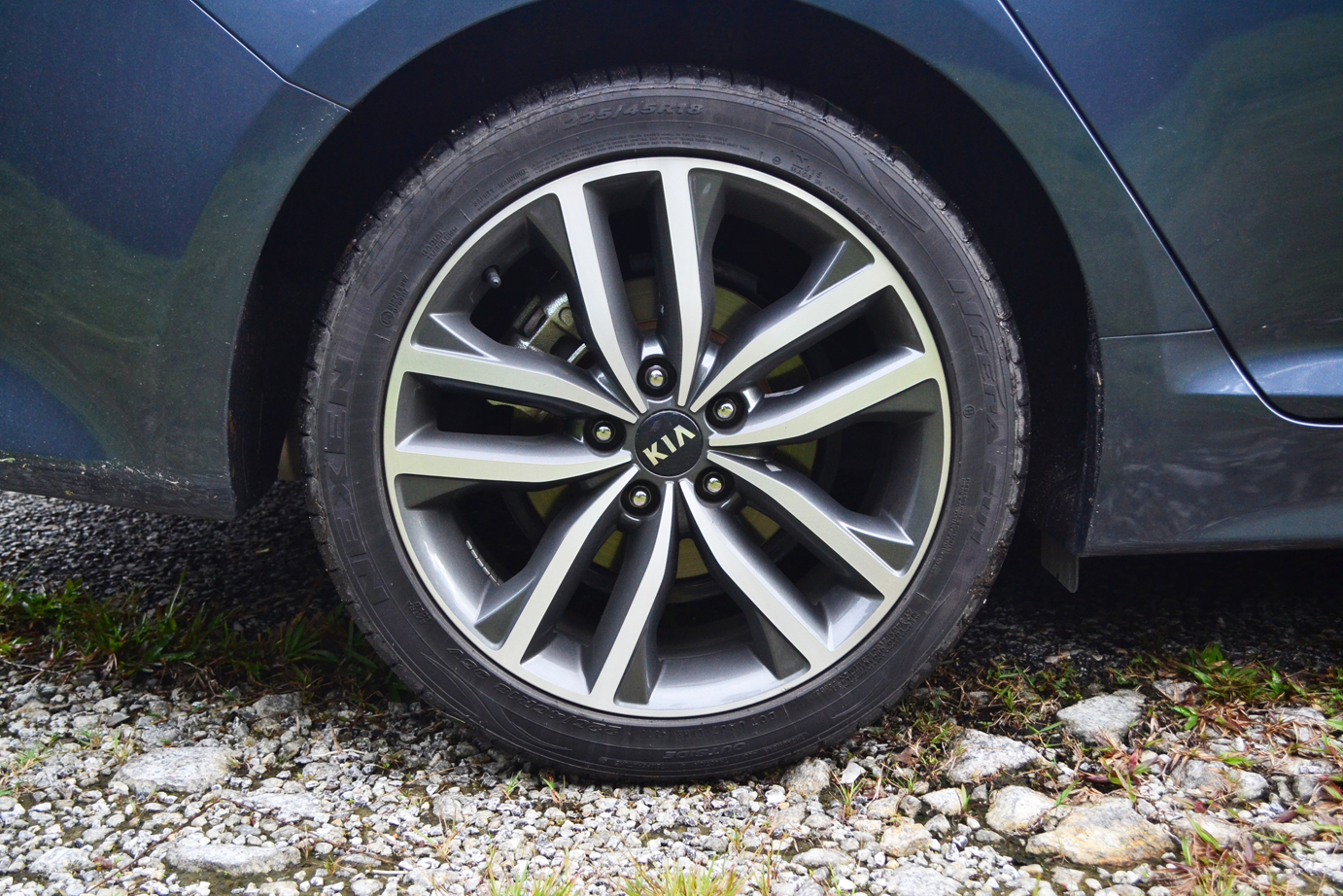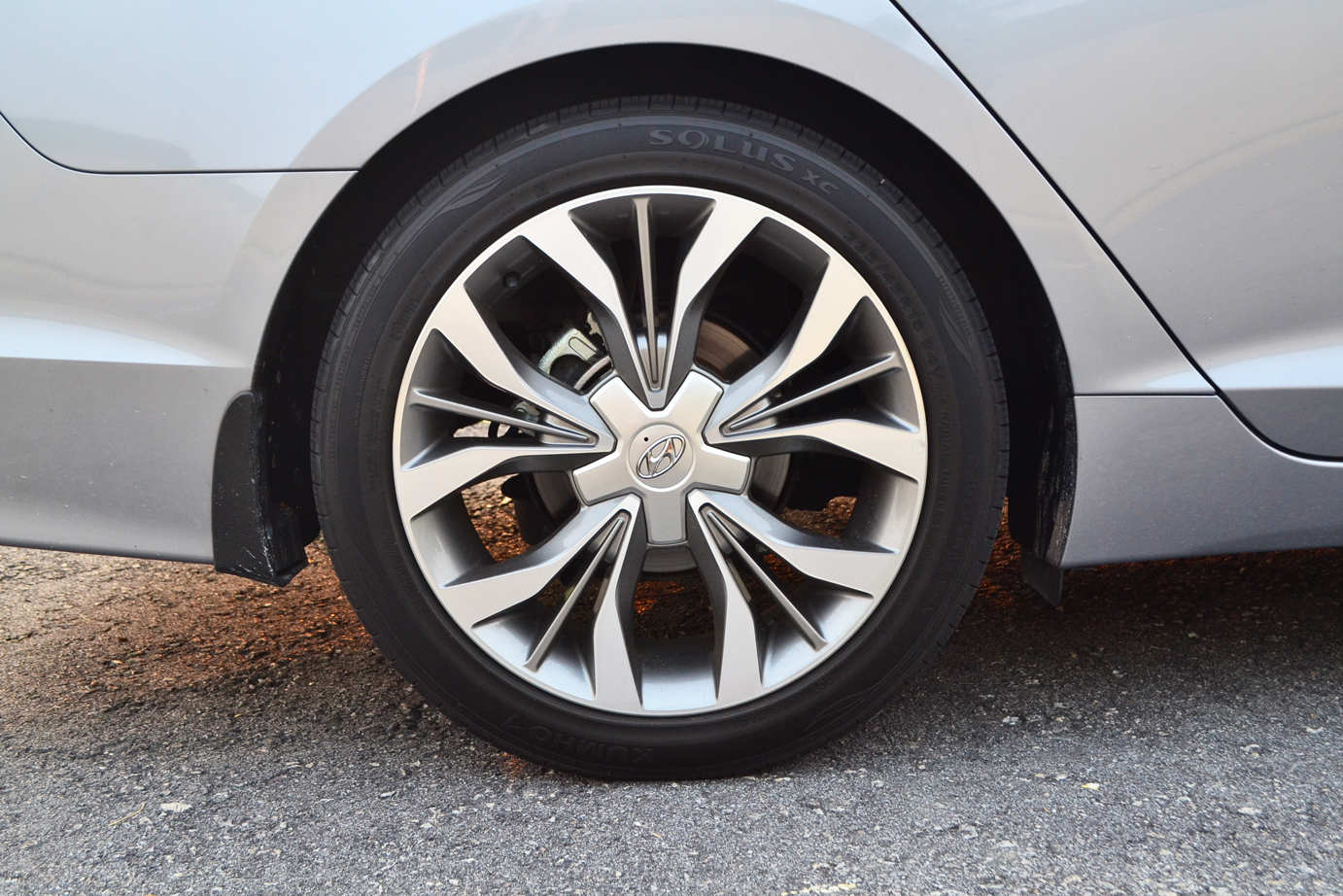 .
The Hyundai Sonata sold here comes in three variants and the Executive option here has 18″ alloy wheels (vs 17″ in the Elegance and Elegance B variant), the same as the K5. The Sonata's thread size is wider though, coming in at 235 vs K5's 225 while both tire profiles are the same at 45.
.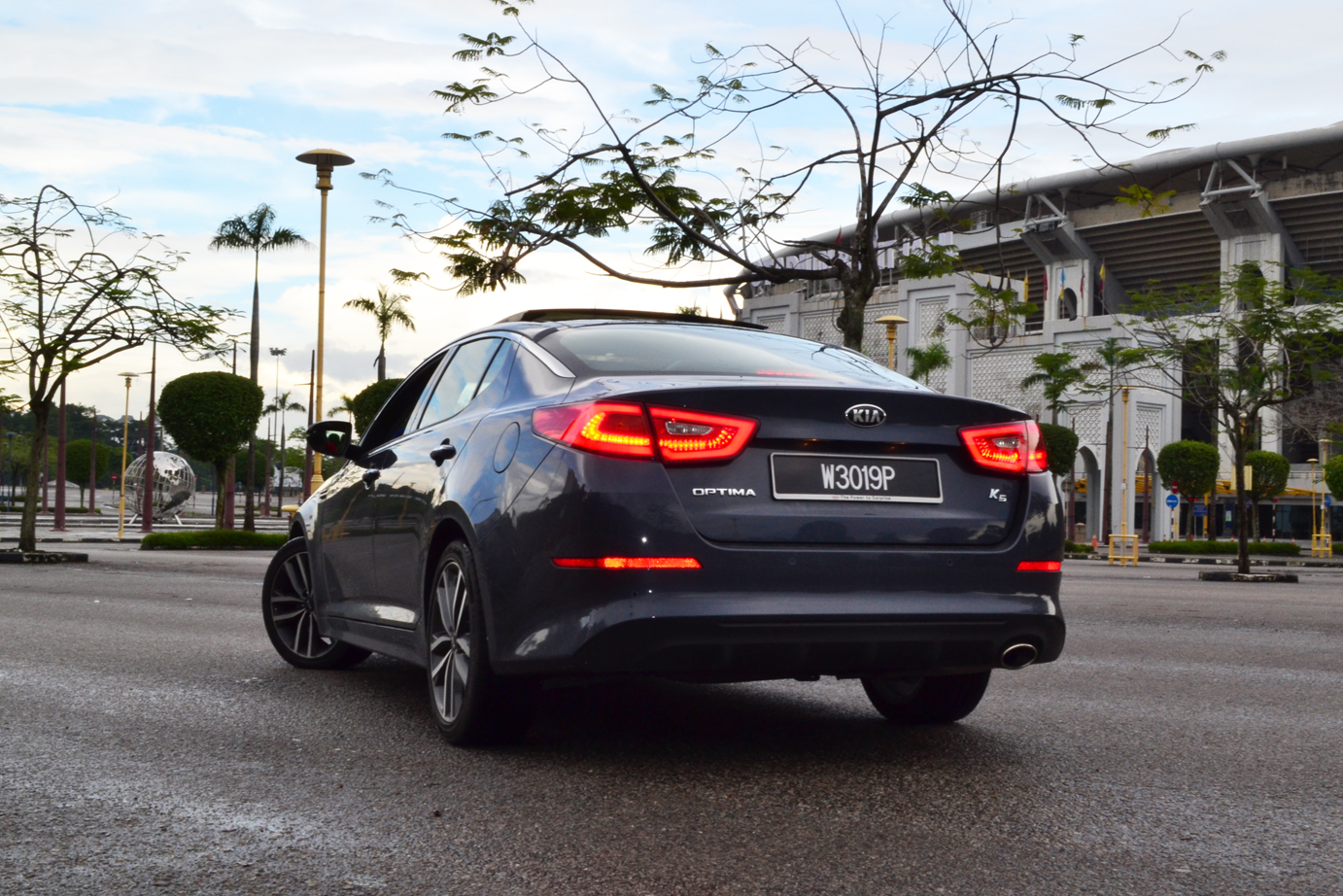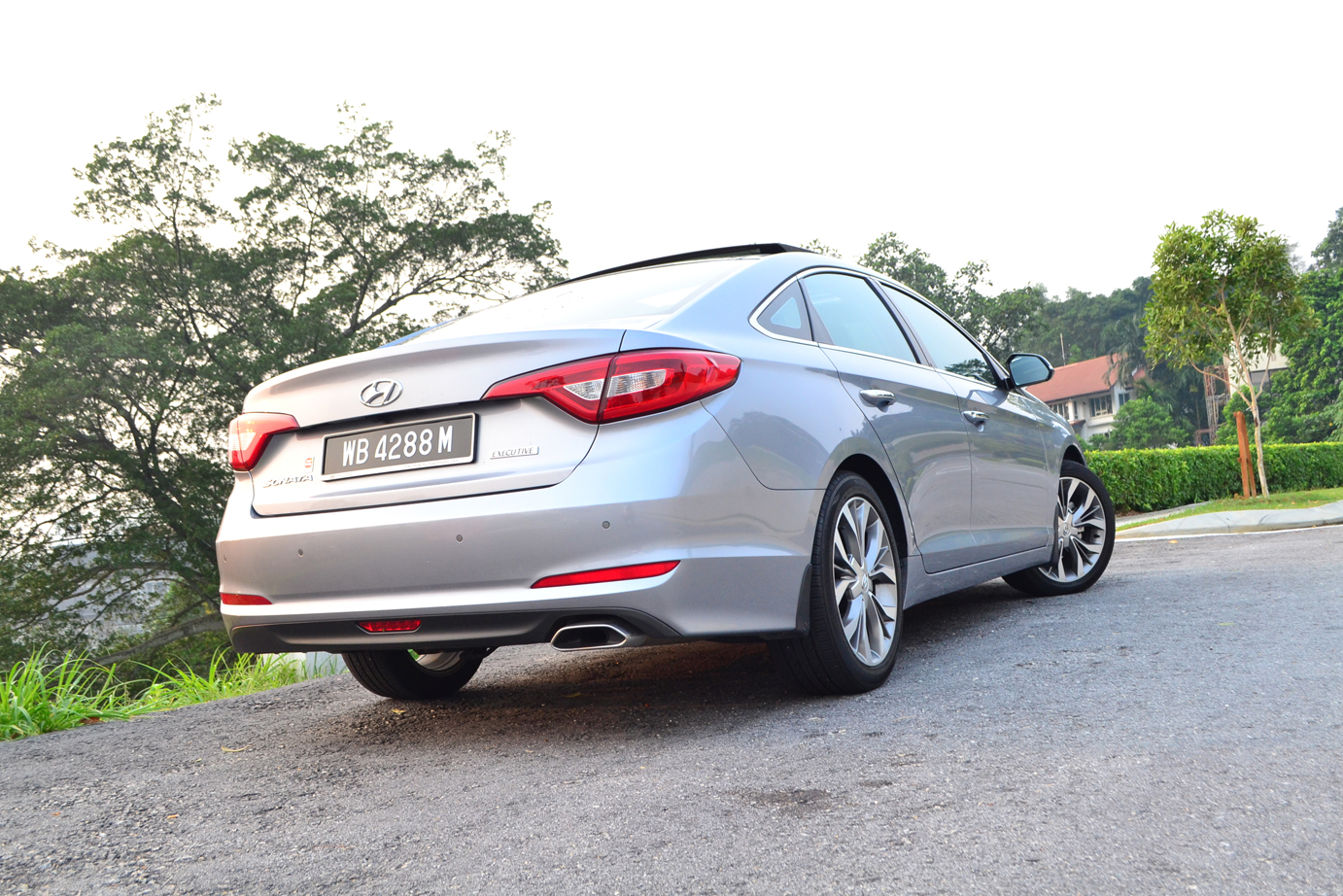 At the back, both K5 and Sonata employ LED rear combination lamps with rear fog lamps and at night, their silhouette are unique and easy to identify. The Sonata's trapezoidal tailpipe is a nice touch compared to the K5's oval pipes but the K5 has a more prominent air diffuser that lends it a more sporty stance when viewed from the back.
Performance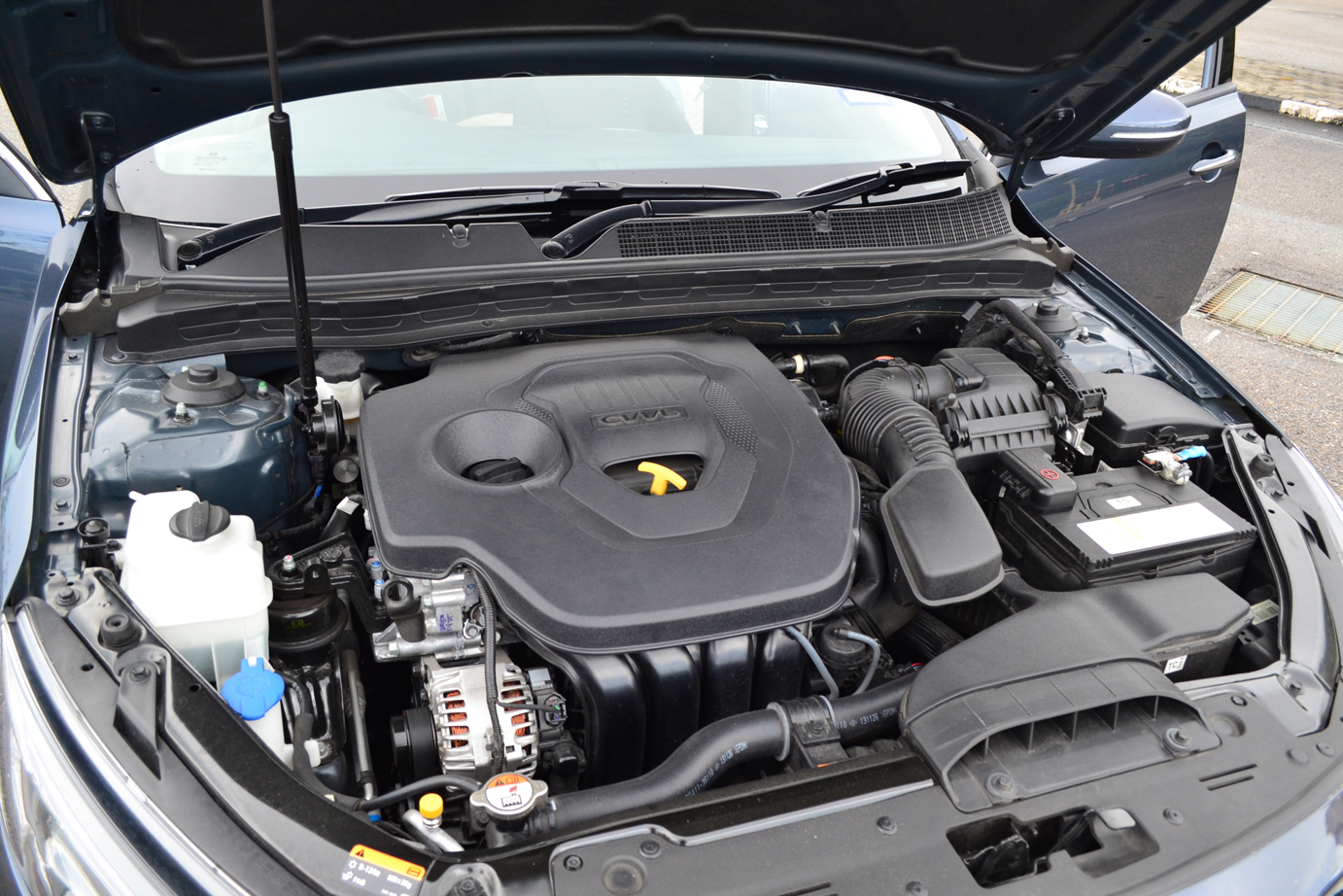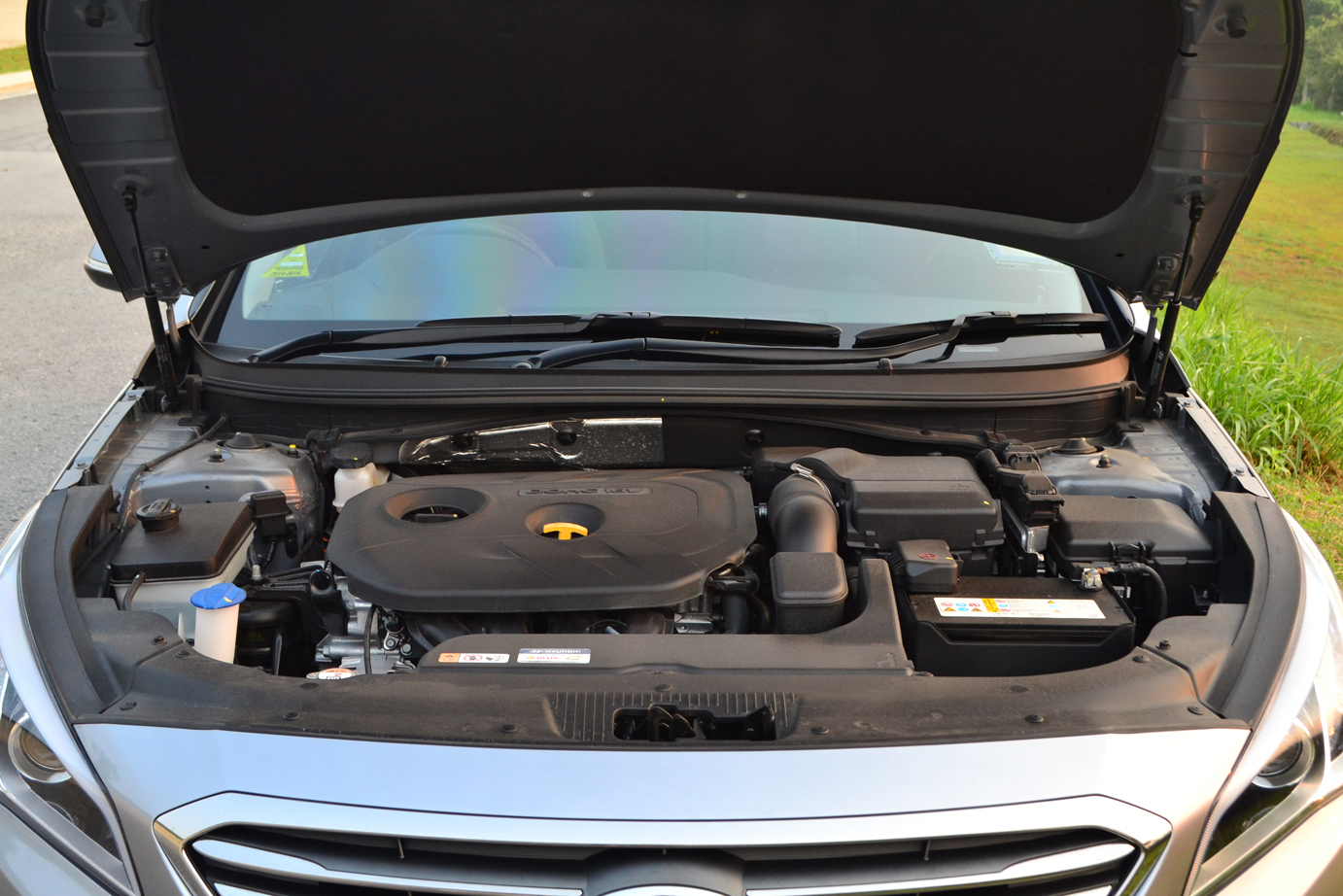 Both vehicles share the same Nu 2.0litre MPi gasoline engine but tuned a little differently with the K5 dishing out 165PS, 9PS higher than the Sonata's maximum 154PS. In terms of maximum torque, the K5 comes ahead with 198Nm @4,800rpm whereas the Sonata manages 194Nm @4,000rpm.
On the go, the power deficit is obvious, with the K5 feeling less lethargic compared to the Sonata. KIA claims the K5 can sprint from 0 – 100km/h in 10.6 seconds while Hyundai does not share any data at all, which is understandable since most who buys the Sonata would not bother with drag races much. Both engines deliver power in a linear fashion, although the K5 does it with greater urgency when floored.
.
Ride and Handling
Both Sonata and K5 pairs their engines with a 6-speed automatic gearbox and in terms of characteristics, they're pretty similar. Gear changes are done in a smooth, unhurried fashion and shift-shocks are minimal.
Both makes exhibit great driving feel when cruising on highways. Once you exit to B roads, the Sonata demonstrates a greater degree of wallowing if the roads have undulations, which is a let down considering Hyundai has gone to great lengths to improve the chassis's torsional and bending strength. The K5 may feel more planted at high speed corners but if you're looking for a tow-keh kind of comfort for the rear passengers, the Sonata would be a better option. Not only is it more pliant at reasonable driving speeds, the Sonata has better NVH when compared against the K5.
In terms of steering feel, both are nowhere near continental levels of sensitivity. Both features Drive Mode Select, a technology that changes the car's steering, throttle response and gear mapping. ECO aims for best fuel economy and the steering weight becomes the lightest, Normal is – well, normal whereas Sport holds gears longer, makes the steering heavier and throttle response is quicker. This is obvious when driving at a steady speed with the same throttle input, changing to sport moves the rev higher by about 400-500rpm while maintaining the same gear. Most of the time, I leave it at Normal.
.
Cabin Convenience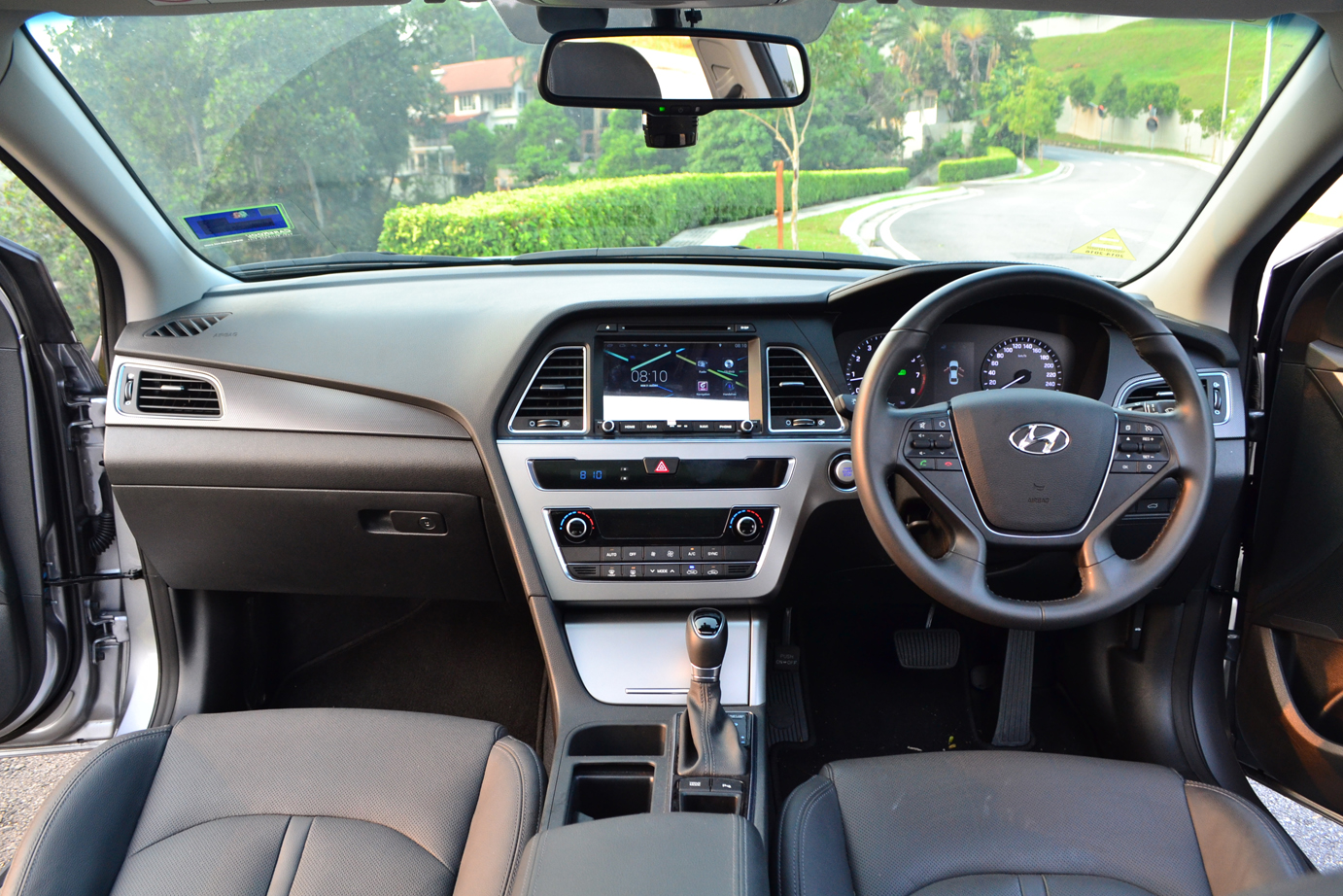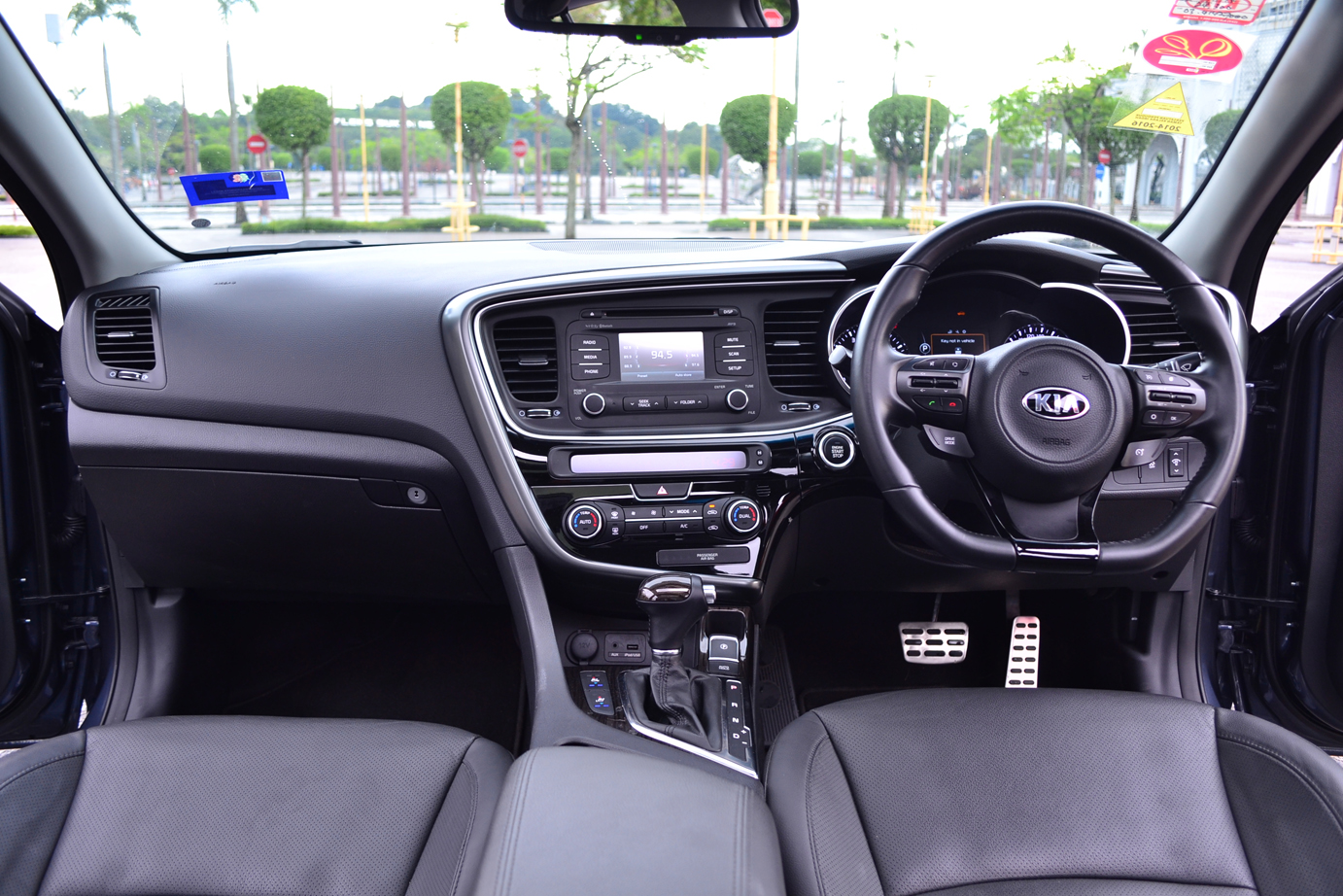 As different as it is on the outside, the cabin could not be more dissimilar. The Sonata's horizontal motif is obvious and materials used are soft touch quality. However, the large paneling on some parts of the dashboards gives beholders an underwhelming sense of design, something that the K5 has outdone itself to create a more continental feel within.
.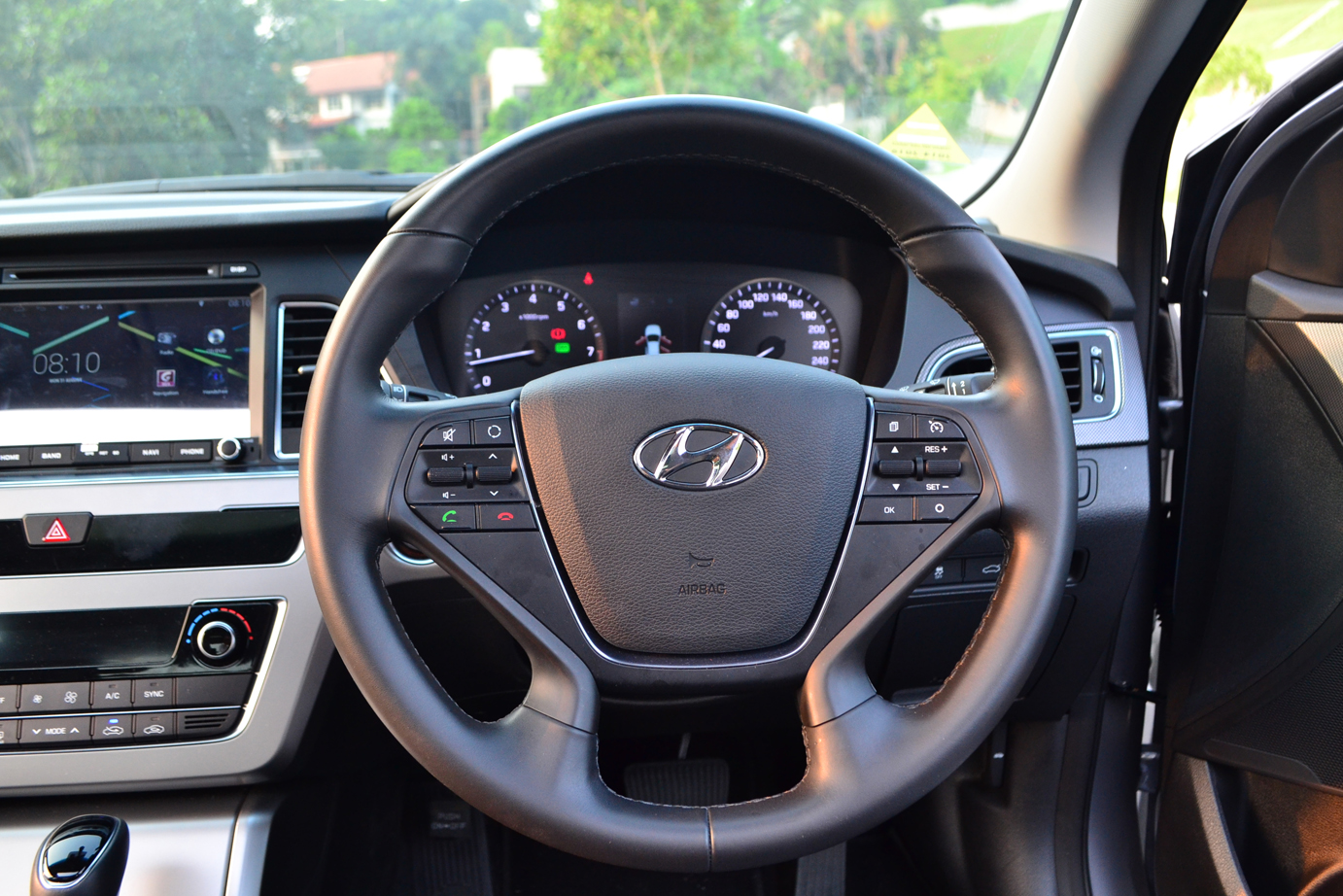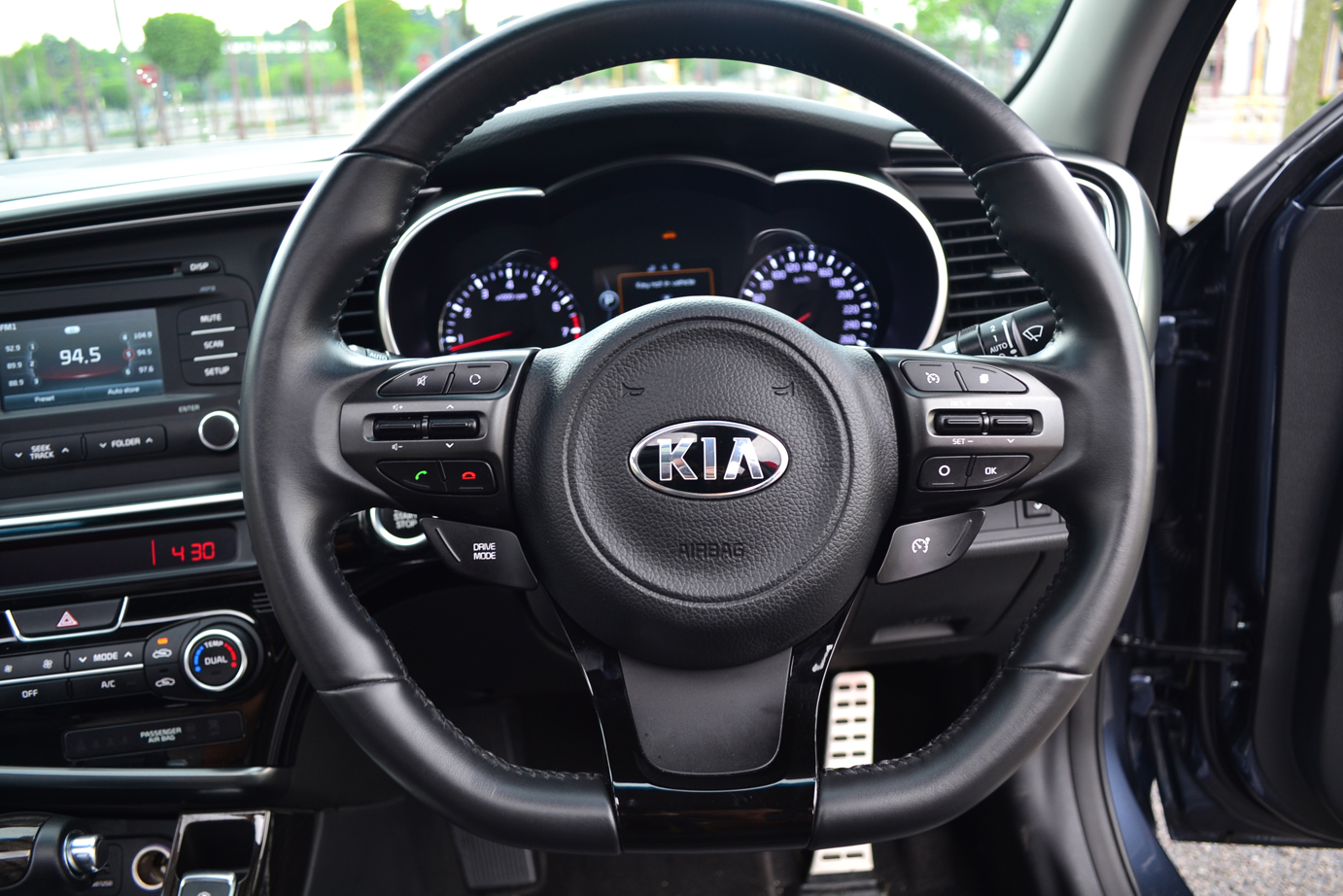 Flat bottomed steering in the K5 implies a more dynamic nature. Both Sonata and K5 provides a slew of controls on their steering wheel, namely audio, Bluetooth, cruise control and Multi Function Display. The K5 has its Drive Mode controls below the Bluetooth telephony buttons whereas the Sonata's button is near the gear stick next to the parking sensor activation.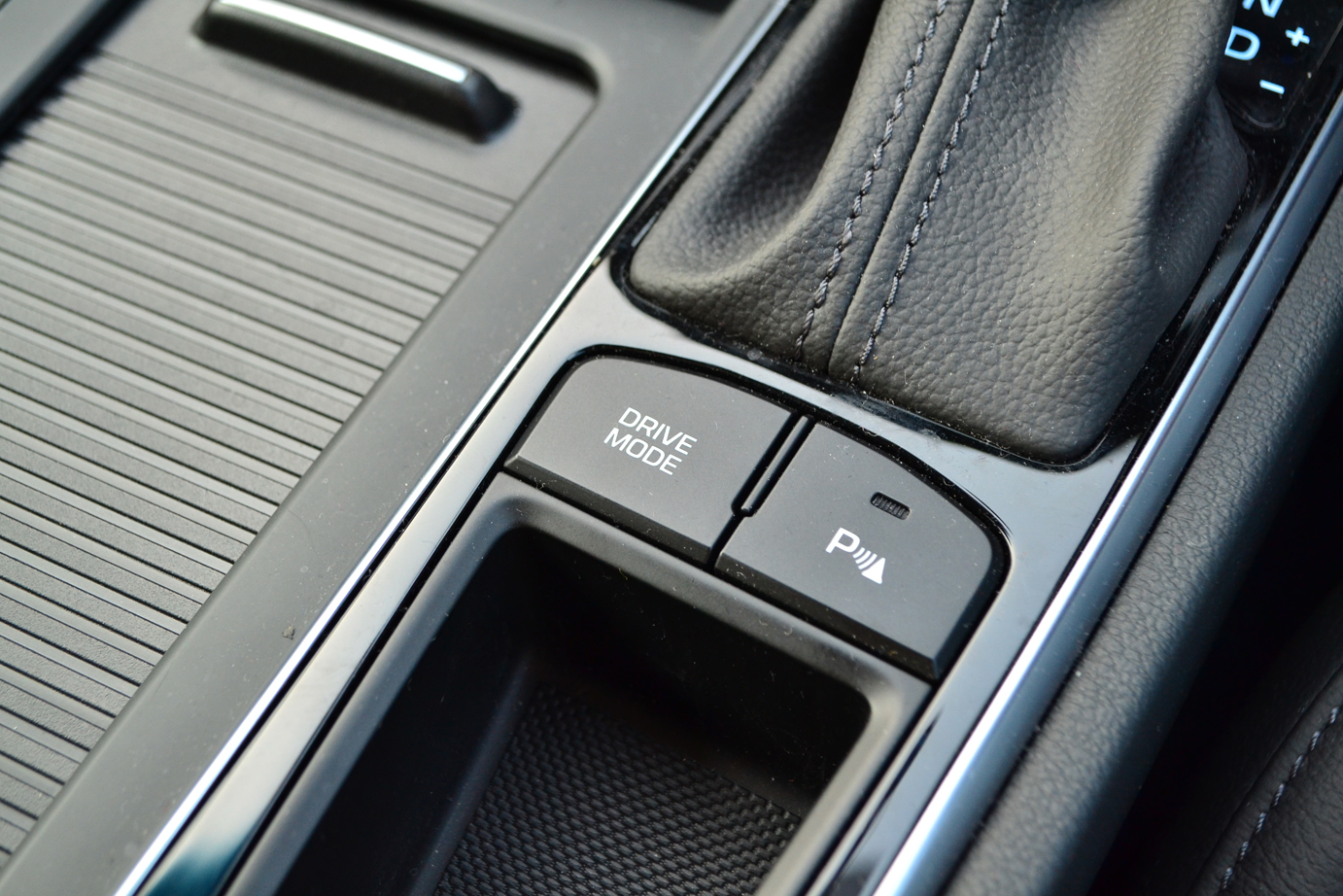 .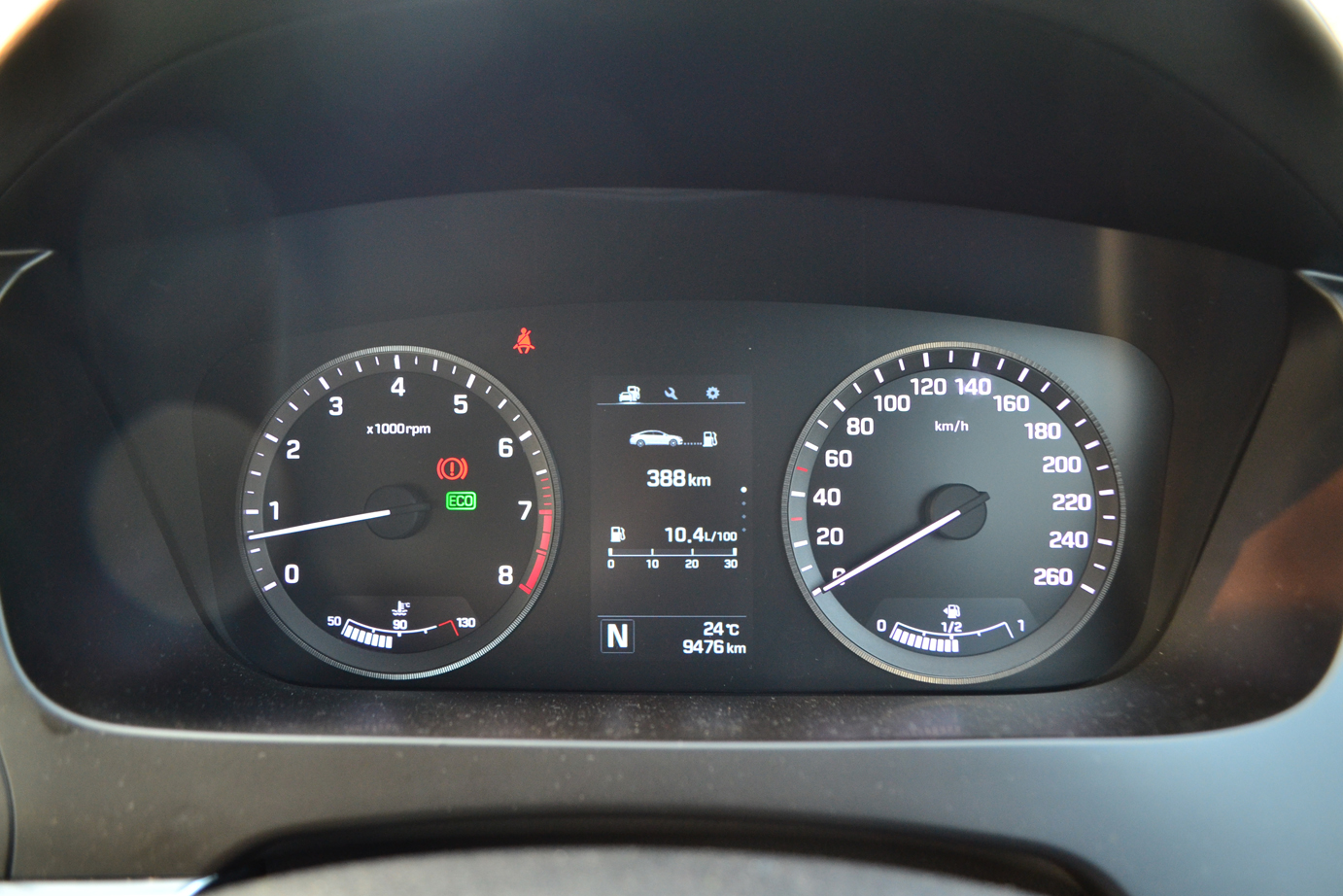 Both meter readouts are clear and easy to see, even under direct sunlight and while the Sonata's meters look a little basic, toggling between functions is a little more dramatic with some minor animation. The K5 displays just as much information with its fonts slightly larger, making the info display more compact.
.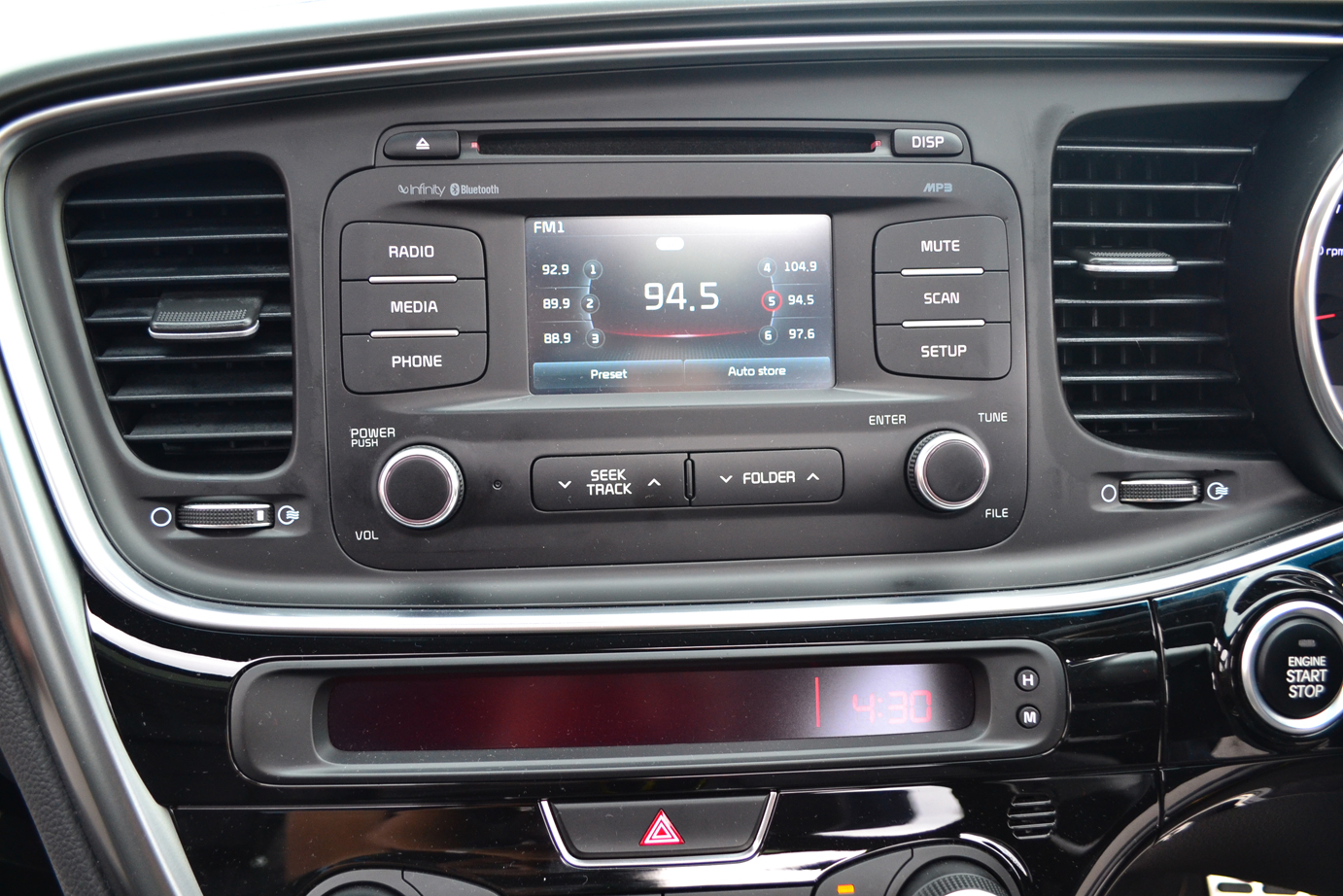 On the head unit side, the Sonata is a clear winner with its Android-powered Audio Visual Navigation (AVN) unit. With its huge display, one can access Google Play Store (via tethering) and download any app you have on your Android phone. Arguably, the best part about the AVN  is that Waze can be displayed on its screen. Do bear in mind that it needs to be connected to the Internet if you want up to date traffic info and  inputting destinations via the touchscreen can be a little tricky when you're on the move.
Compared to the 4.3″ TFT display in the K5 – well, it would be like taking a Samsung Note 4 and comparing it against an old Nokia.
But if you're the kind of person who loves your music, you would find the Sonata's speaker system to be abysmal. Bass reproduction is horrible, with no imaging nor staging present. In contrast, the K5's Infinity 8-speaker system does an excellent job at bringing out the best in Pop music.Trust me, if you ever get the Sonata, do sound-deadening and change those stock speakers.
.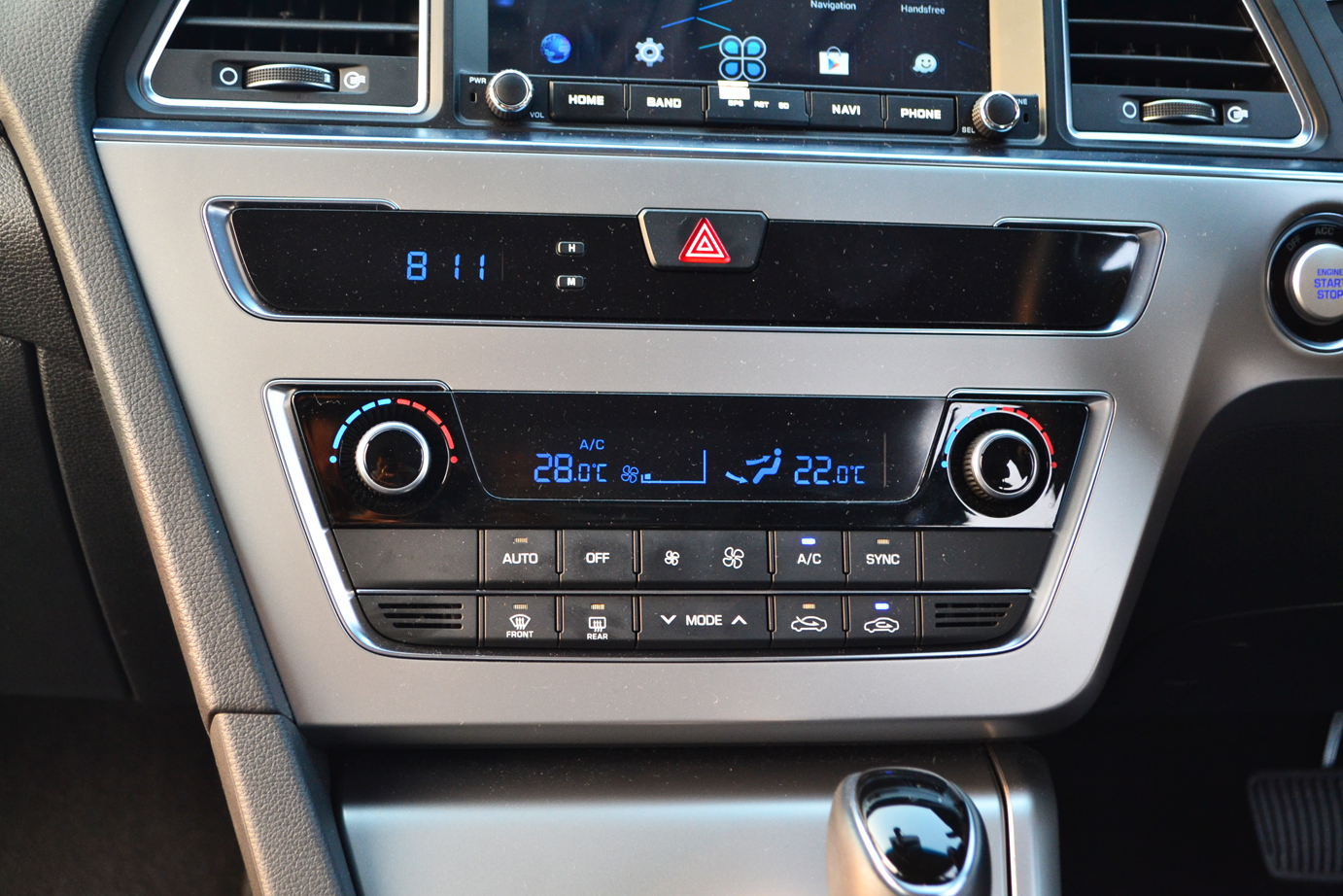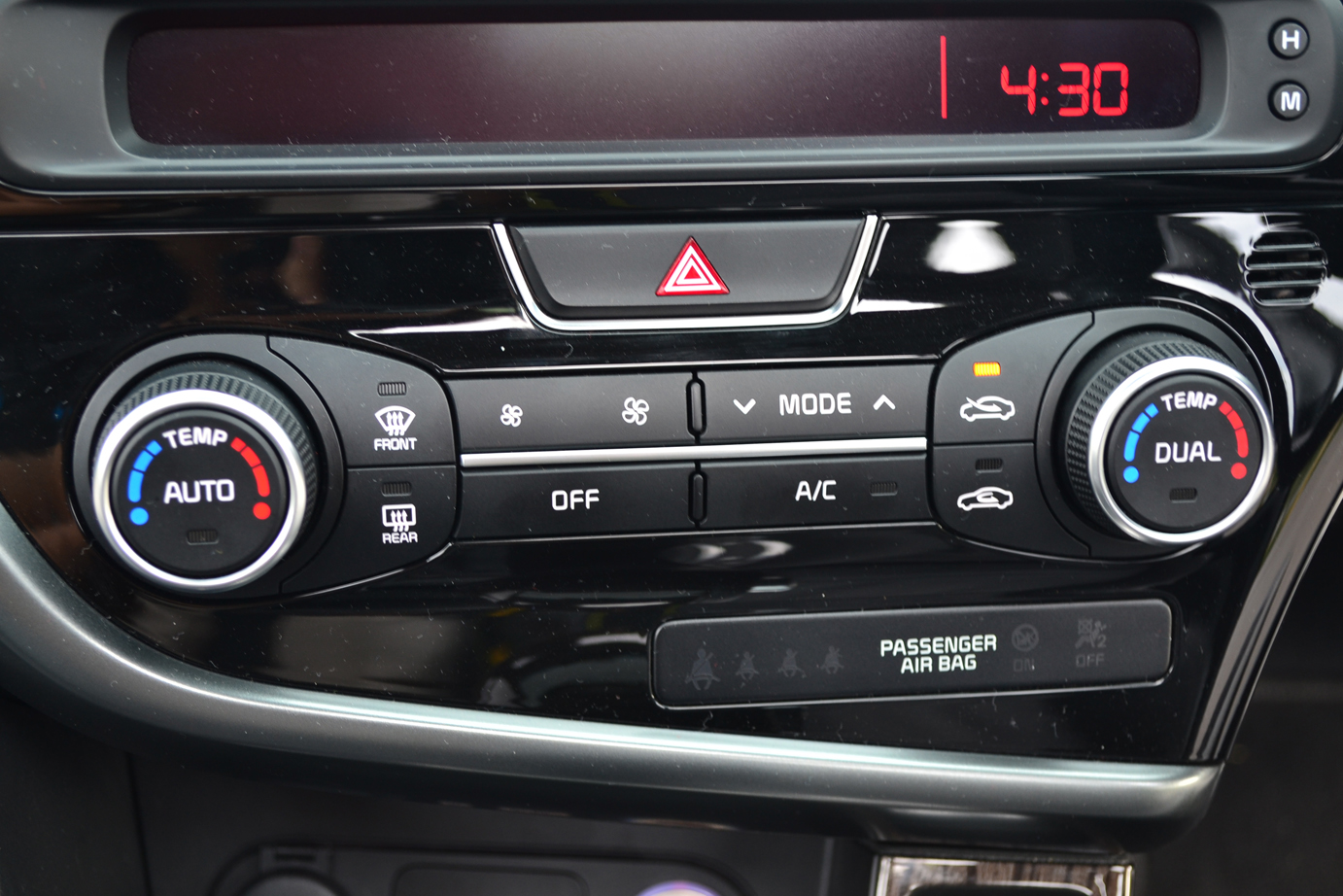 Both vehicles come with dual zone automatic air conditioning system but the K5 is one up with its cluster ionizer. In terms of throughput, both units perform similarly.
.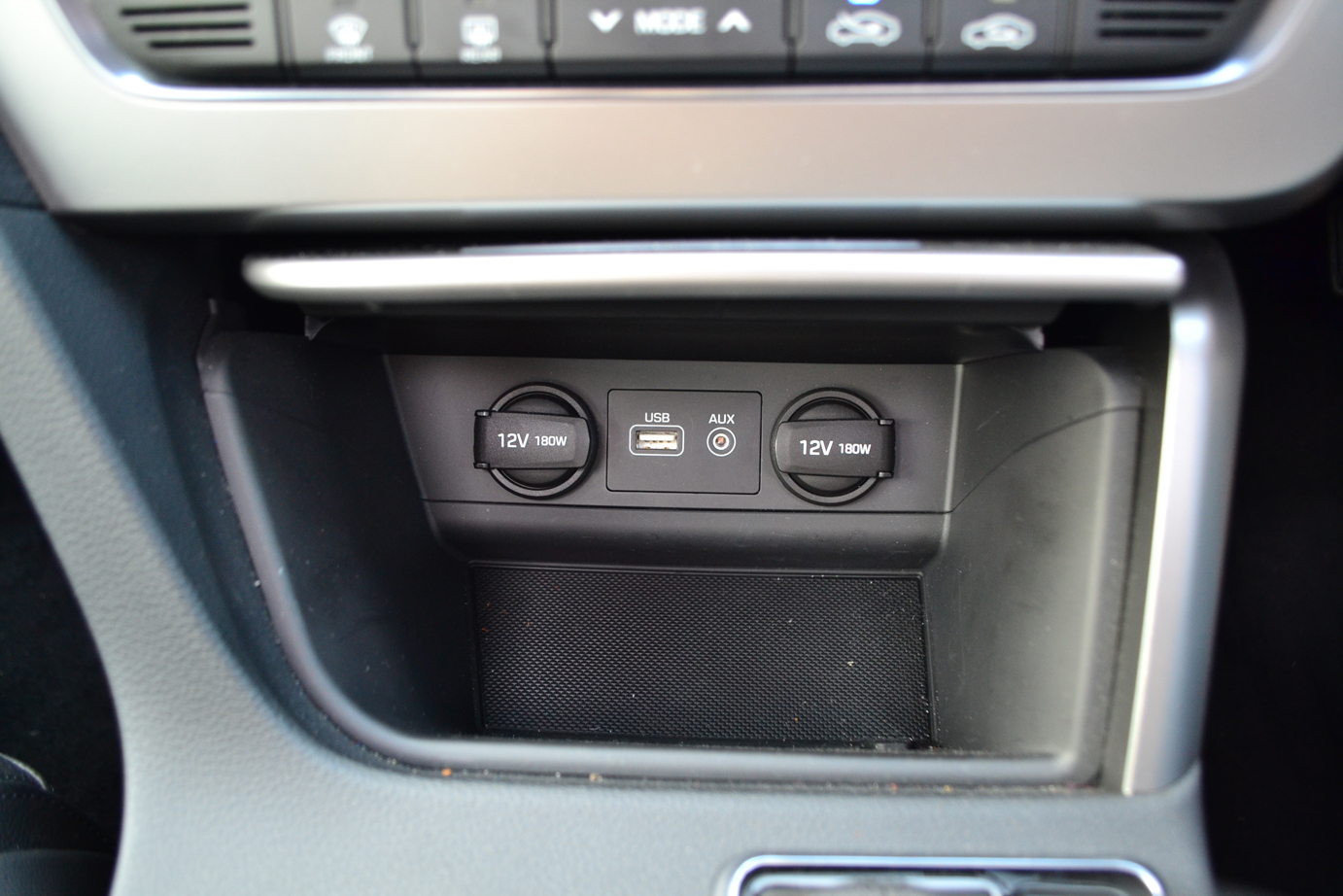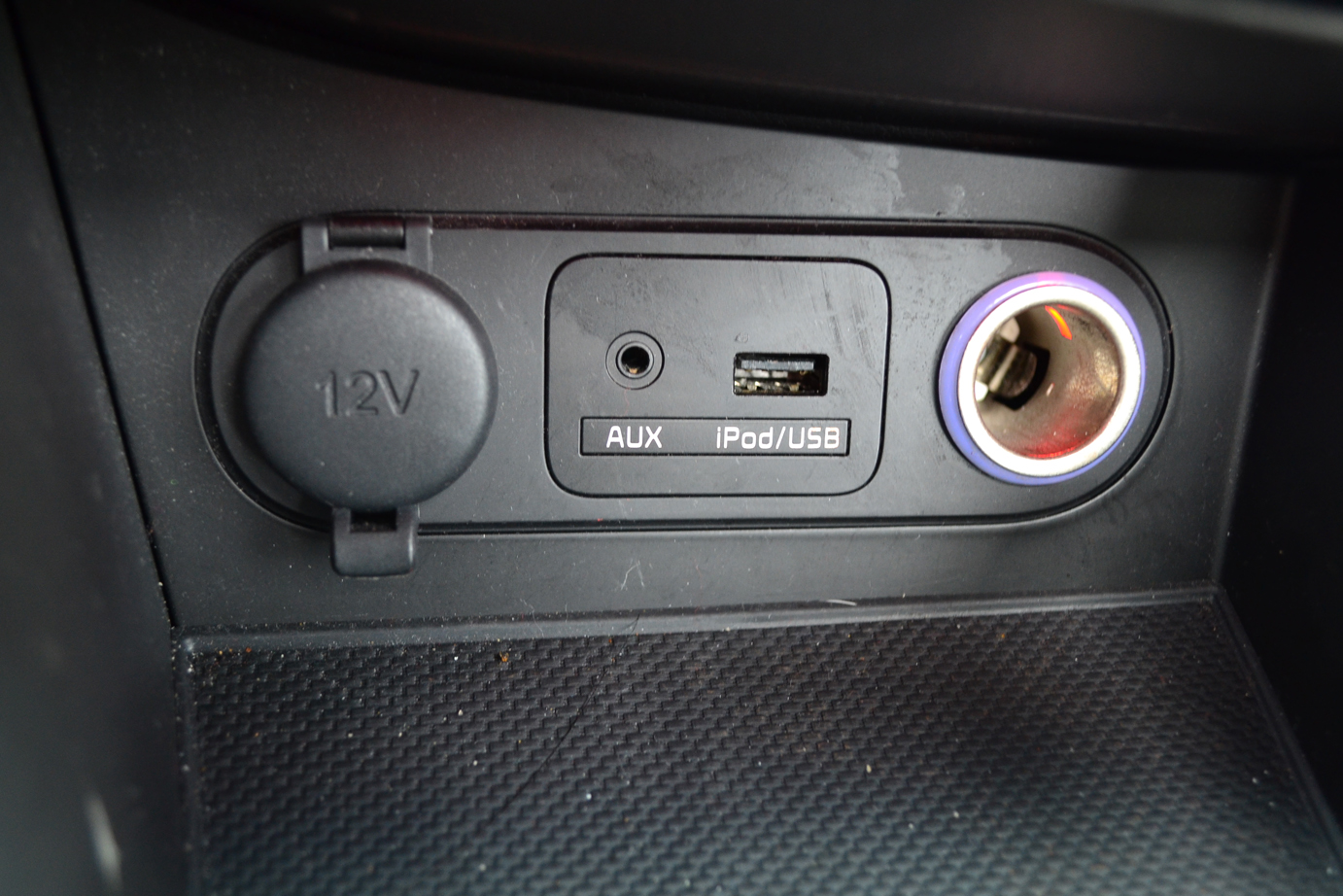 Below the air conditioning controls, you'll find two 12V, the AUX jack and USB/iPod ports. The K5 is the only one that has a cigarette lighter which is fast becoming redundant in today's increasingly popular vaping culture.
.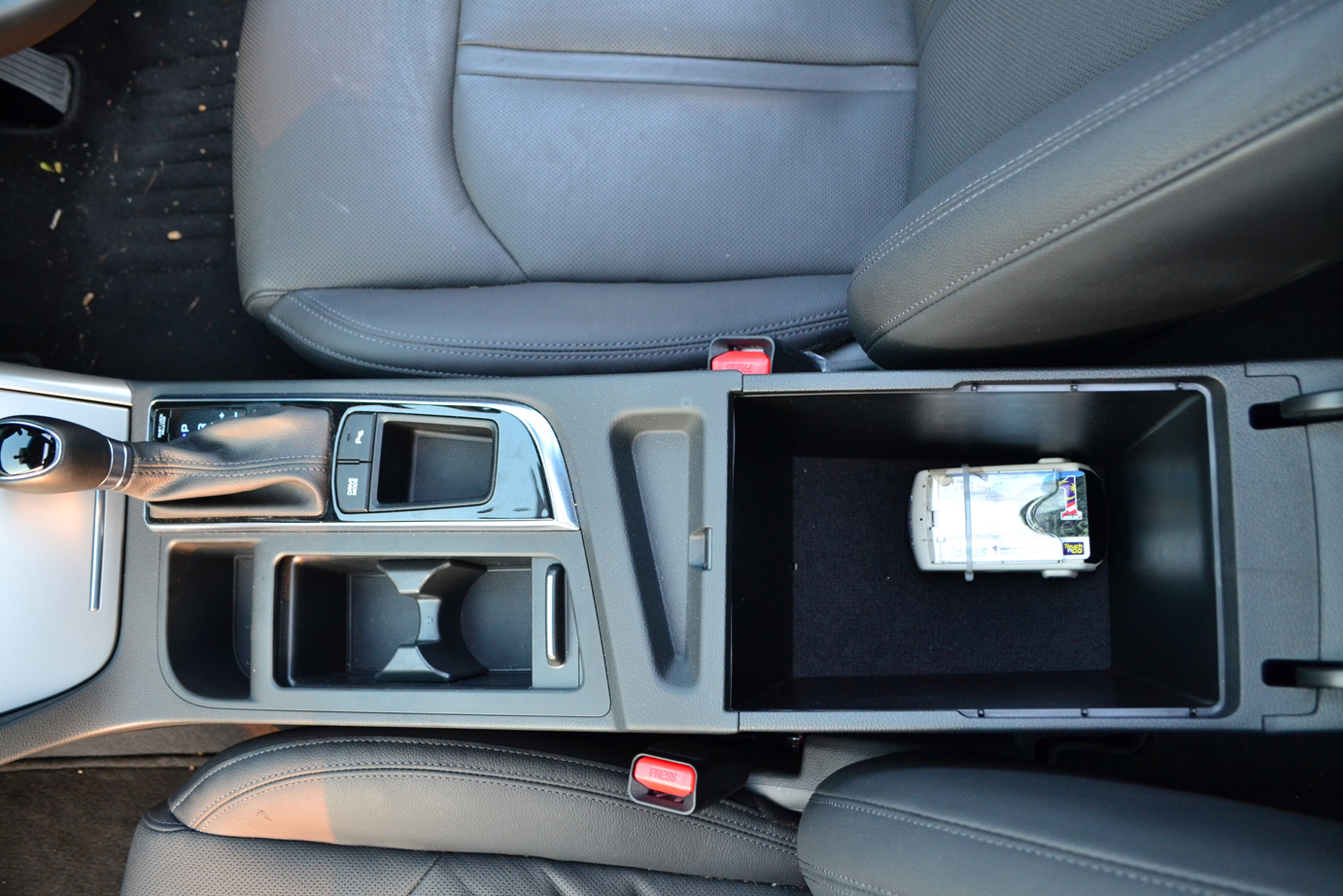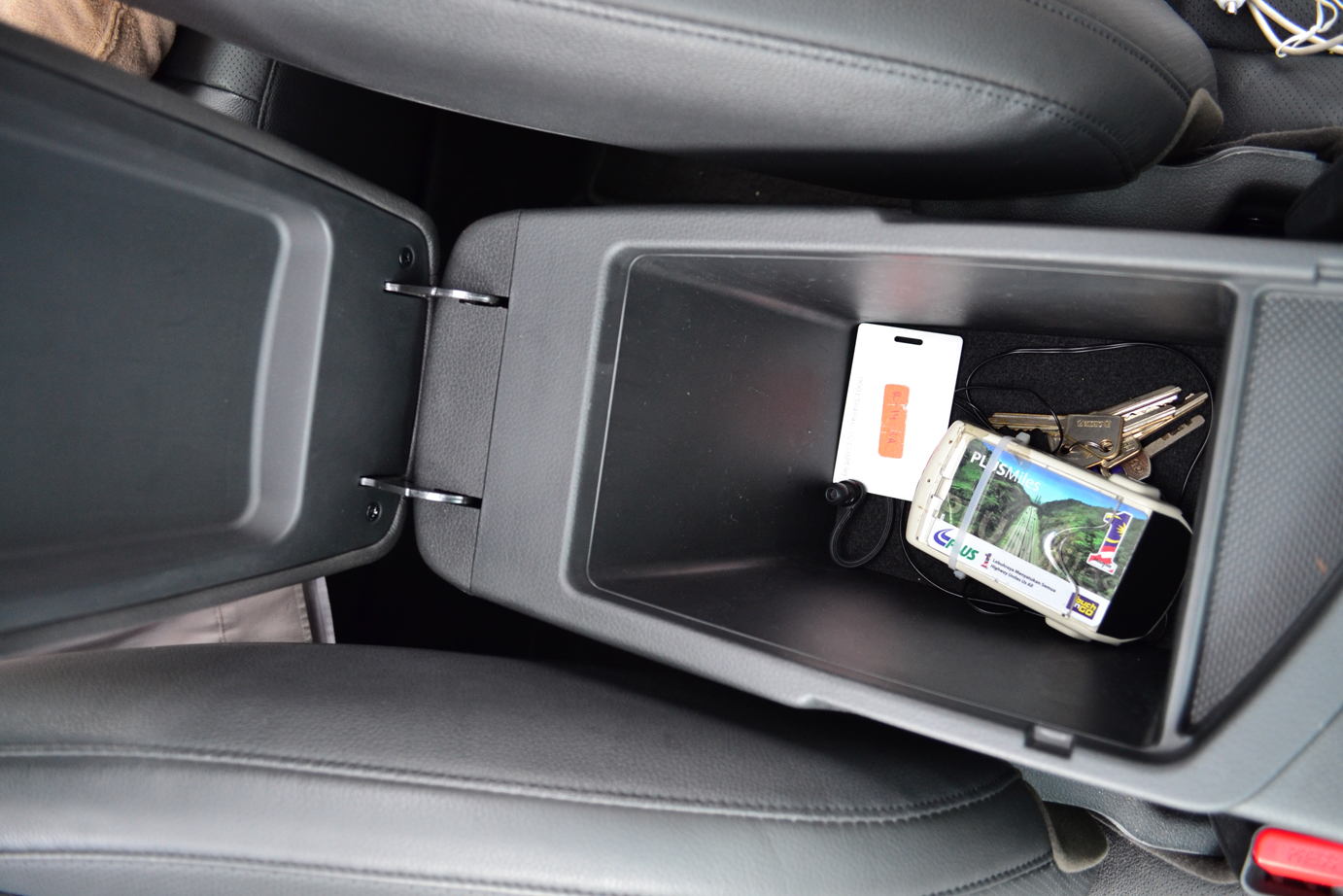 Neither cars can complain about storage places as the center console is deep and the cavity is big enough to swallow anything from keys to kittens.
.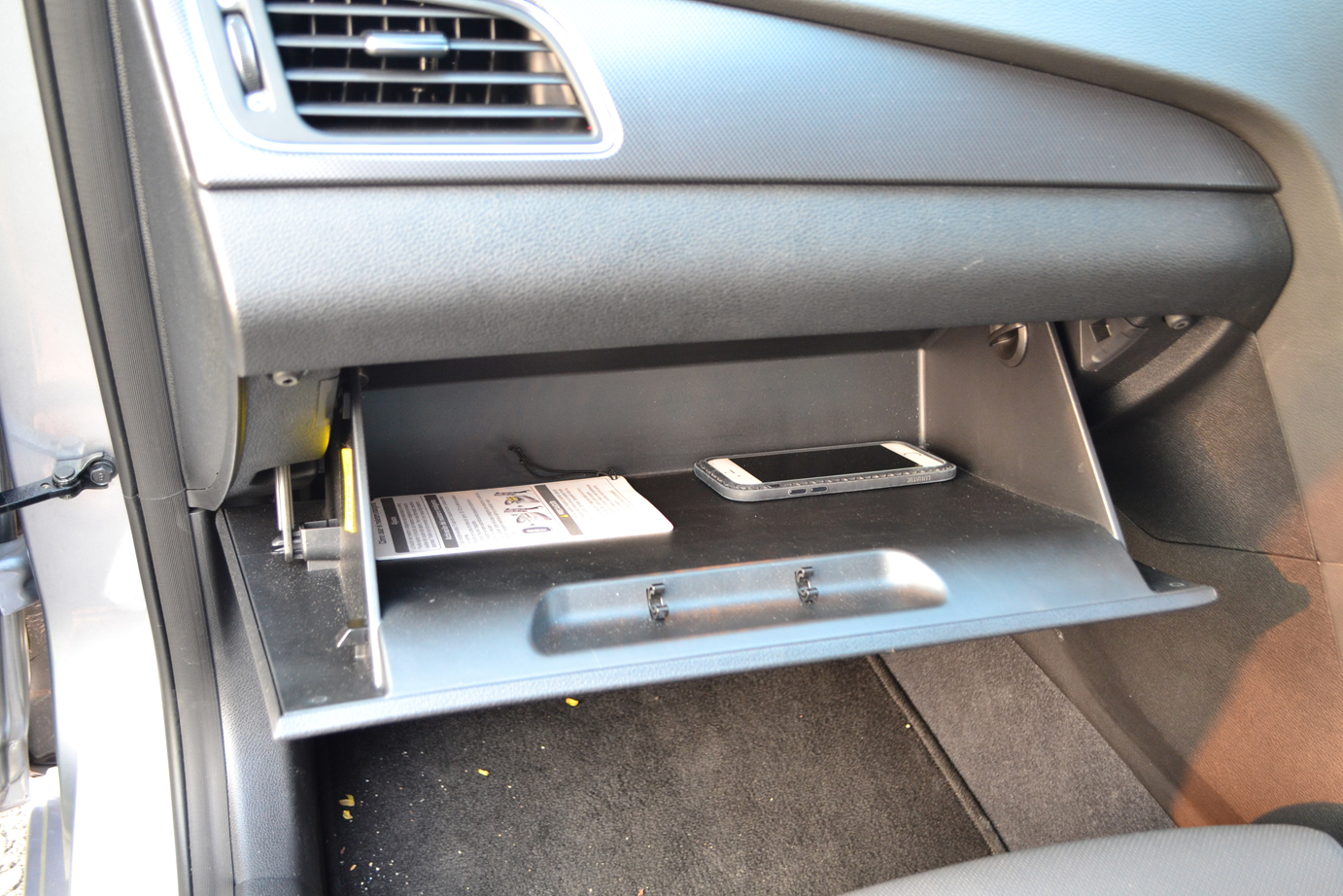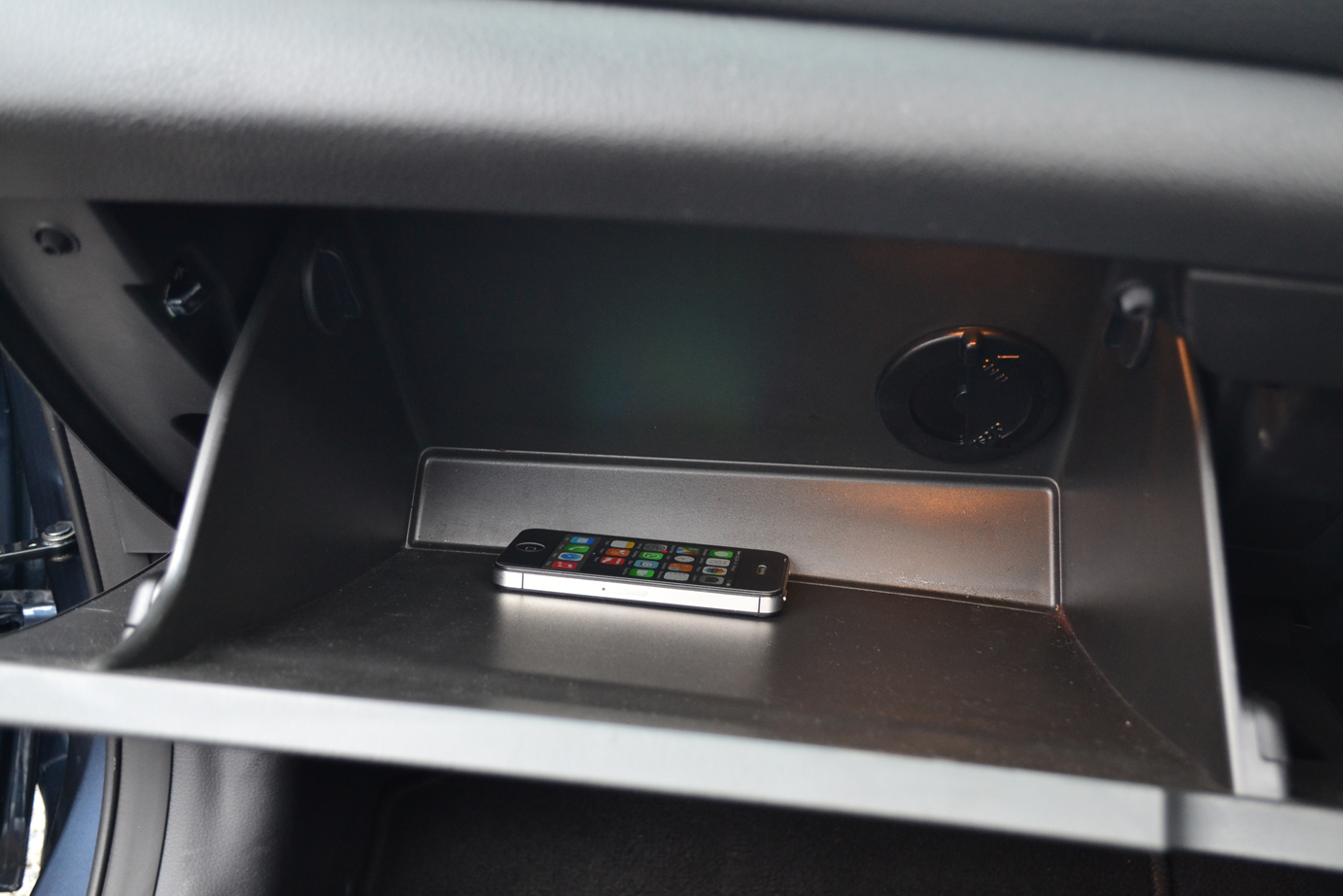 Both glove compartments has air condition vents inside to chill your phone in case it overheats – and the odd canned drinks
.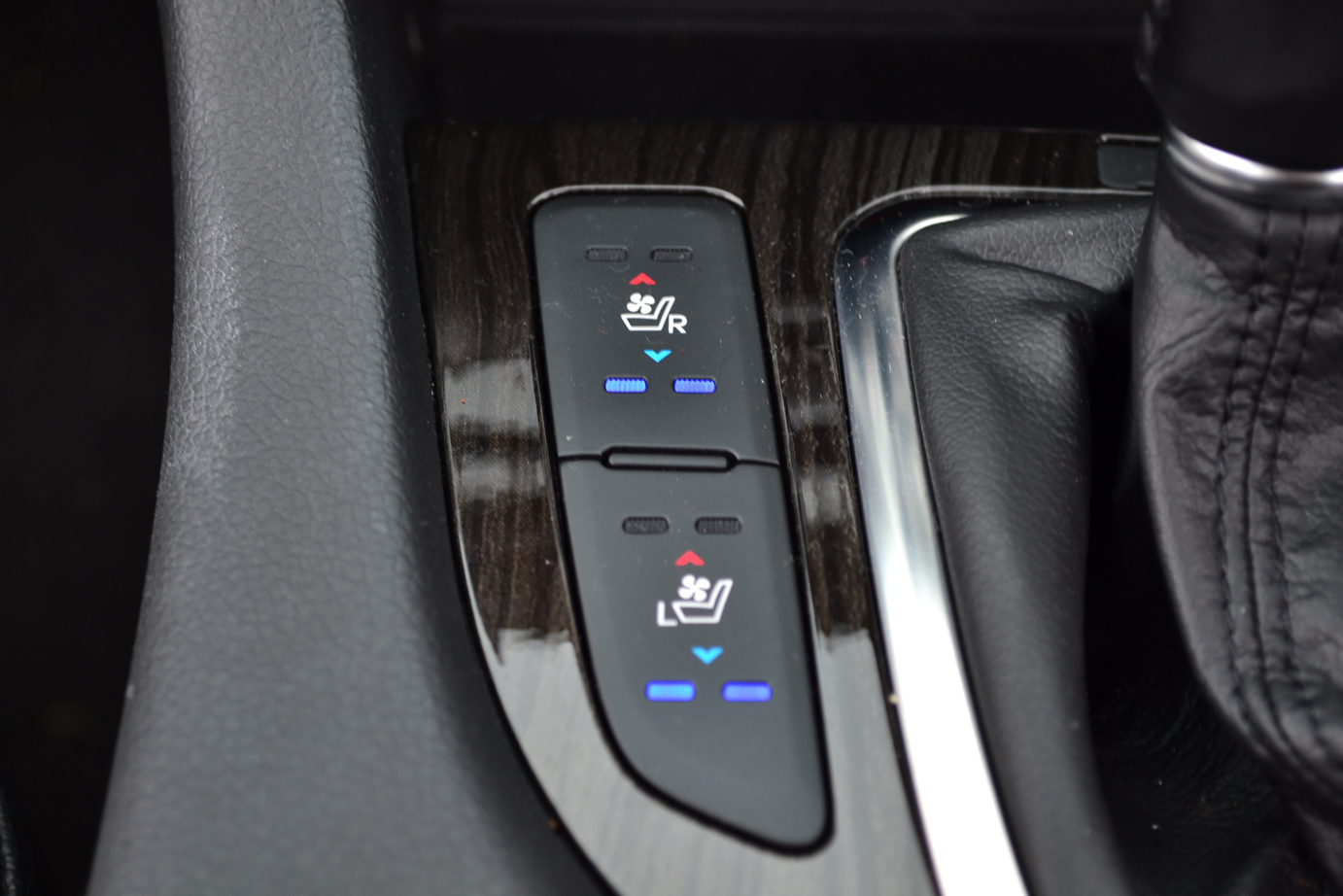 If you're the kind of person who regularly finds your car parked out in the open and the super heated leather seats cooking your bum, the K5 would be a better choice to be in as it comes with ventilated front seats that cools not only your ass but your back as well.
.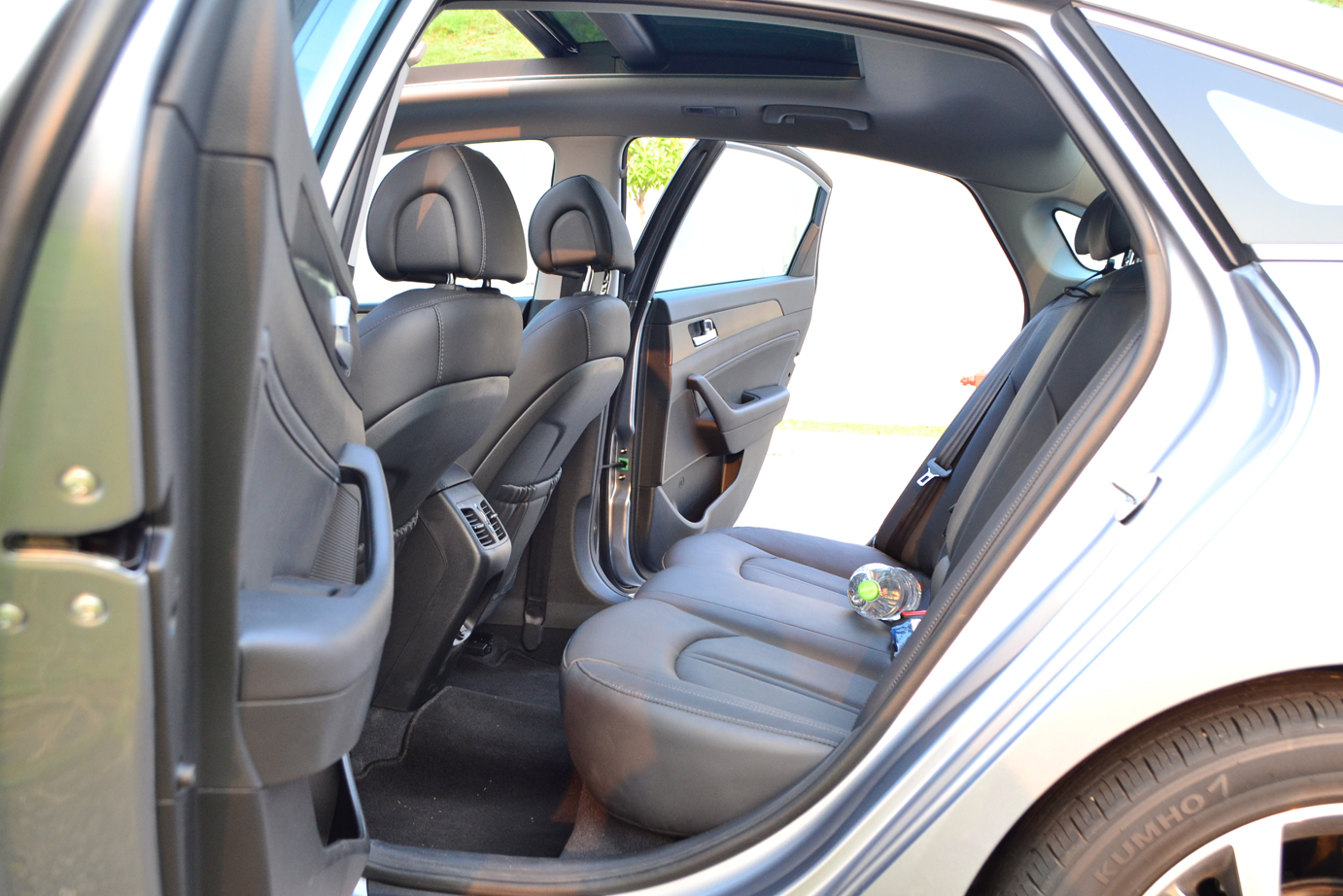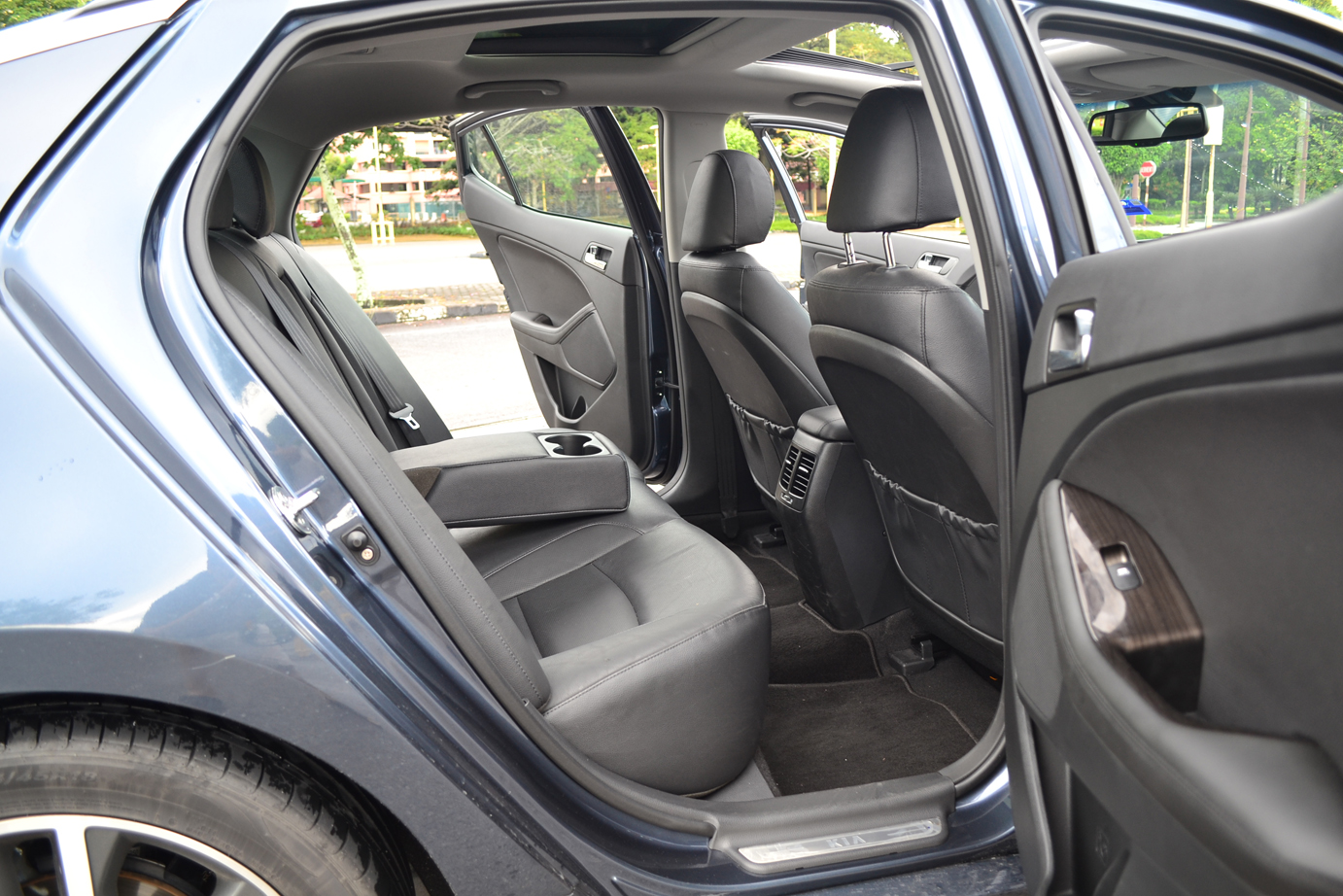 Benefiting from a longer wheelbase and a taller roof, the Sonata offers better rear head and legroom. Rear inclination is similar and both cools rear passengers with rear air conditioning vents
.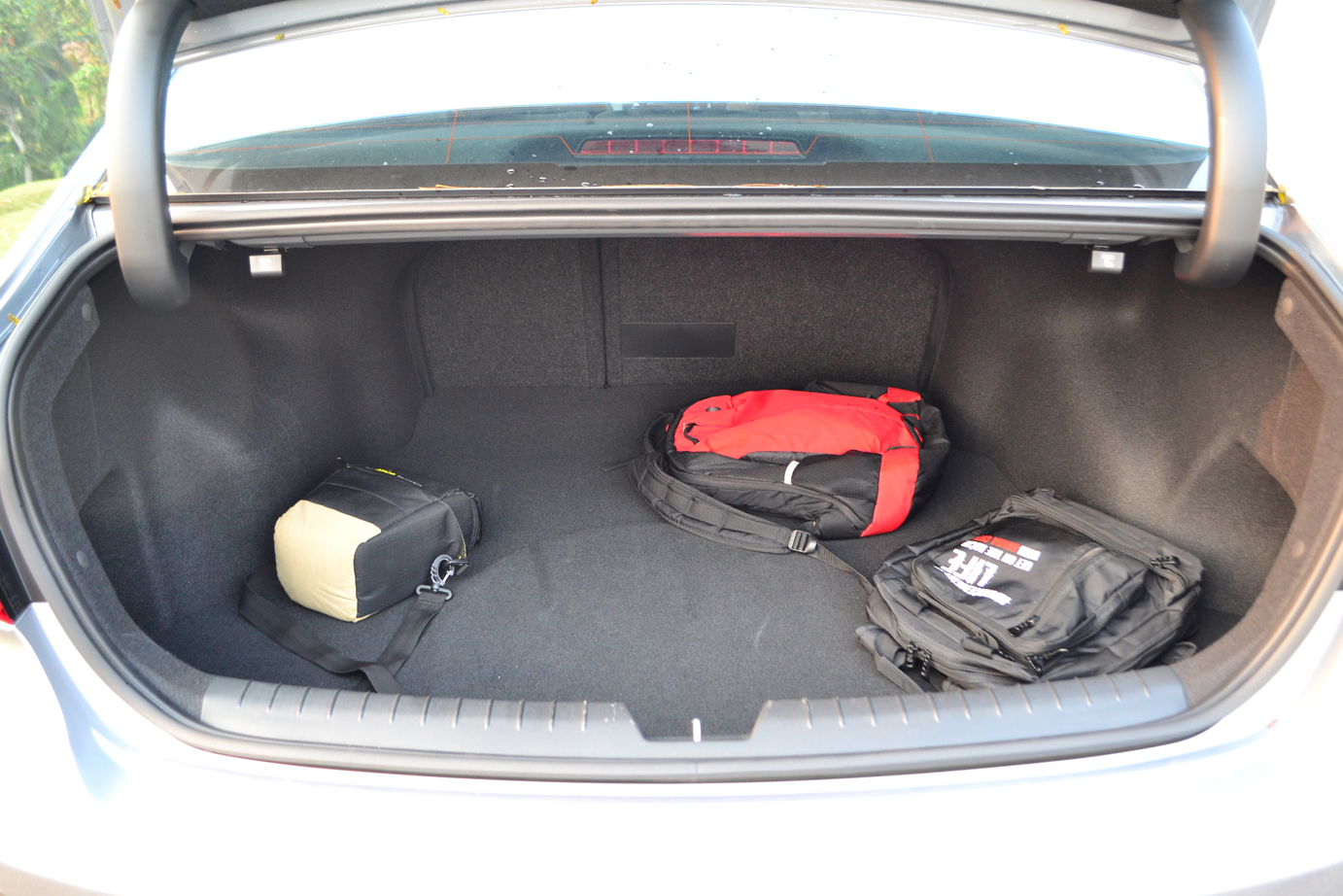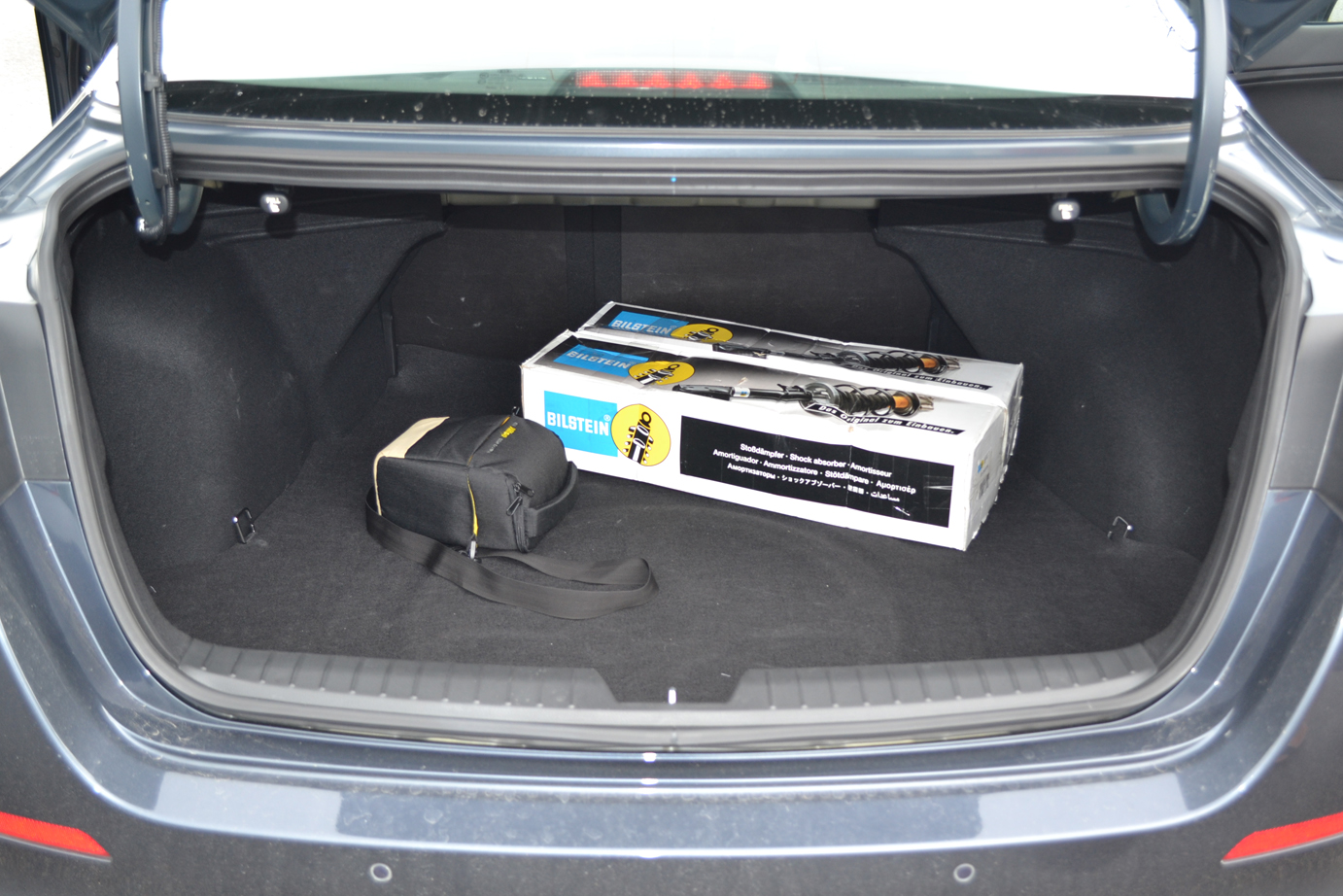 Boot space has the Sonata leading with 510 litres of space, a whopping 73 litres more than the K5's 437 litres. Taking a look inside, it's easy to see how the rear wheel arch eats into the K5's boot, limiting the number of wide cargo.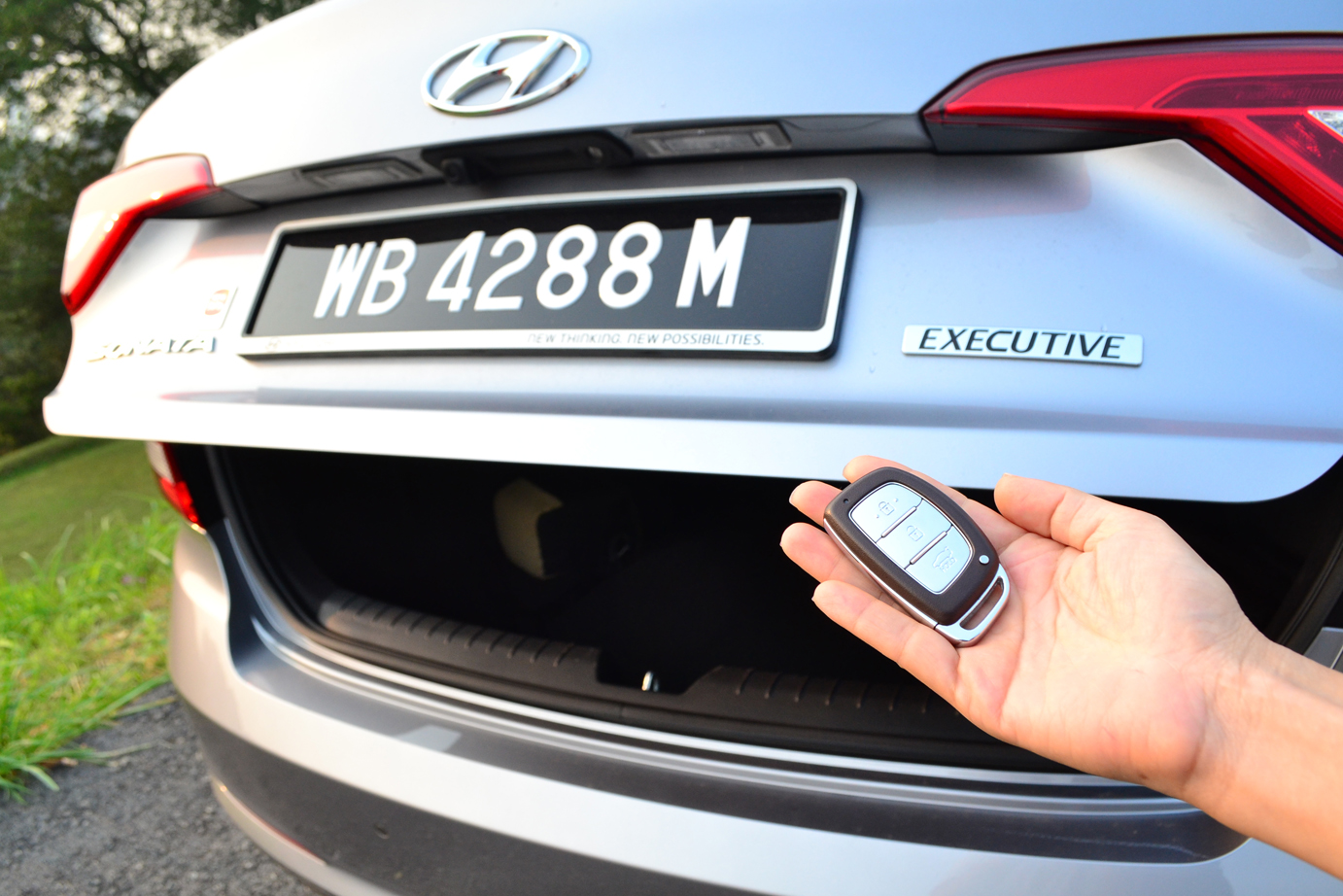 Aside from a larger boot, the Sonata has one of the best hands-free boot release feature in the market. While most adopt a kick-under-the-boot motion to open the rear, the Sonata has Smart Truck System that opens the boot when the keyfob is near for 3 seconds. During the 3-sec exposure, the car will be beeping and the signal lights flashing to indicate the trunk sensor has detected the key and if opening is not your intention, best to stand further away.
Safety
Both the K5 and Sonata comes fully equipped with active and passive safety features:-
Dual front airbags
Side airbags
Curtain airbags (total 6 airbags)
4 front parking sensors
4 rear parking sensors
ISOFIX
Speed sensing auto door lock
Impact sensing auto door unlock
ESP
ABS
BAS
HAC
TCS
The Executive spec Sonata has one additional advantage over the K5; it comes with Safe Drive Recorder, an in-dash camera system that records what happens in the event of an accident via a 3-axis impact sensor. Should it detect sudden impact, sudden brake or sudden start, video capture is automatically triggers and its  132 degrees viewing angle ensures nothing in front of it is missed, capturing evidence should police investigation be necessary.  The Safe Drive Recorder has a built-in GPS receiver with a pre-installed map, a speaker and built-in microphone with an option to mute sound recording and can record up to 3 hours on the SD card.
.
Specifications
Exterior
HID Xenon lamps with Auto leveling device
LED Daytime Running Lights
Auto Light with Escort & Welcome light and washers
Active Cornering Lights
LED rear combination light
Panoramic sunroof with power, tilt and sliding
Chrome-coated outer and inside door handles
Chrome-coated radiator grille
Electronic adjustable, electric folding side mirrors with integrated LED side turn signal
Aero blade wiper
Hydrophobic front glass with tinted front and rear windows
3-point ELR front seatbelt with height adjuster
3-point LER side rear seatbelt & 3-point static center rear seatbelt
K5 only
Gull wing folding side mirrors
4 ice cube LED type front fog lamp
225/45 R18 tyre size
Sonata Executive only
Welcome Light Door handles
235/45 R18 tyre size
.
Interior
Instrument panel with trip computer, Supervision cluster
Illuminated sunvisor
CD player/MP3/AUX/USB
Rear Camera display
Dual zone full automatic air conditioner with rear air vent
Electric chromic rear view mirror
Electronic parking brake
Leather wrapped seat upholstery
Powered front passenger seat
60:40 split folding rear seat with headrest adjuster and center armrest with cup holder
Cruise Control
Leather wrapped, tilt & telescopic, motor driven power steering with steering control for audio, cruise control, Bluetooth connectivity, Multi Function Display.
Drive Mode Select (Eco, Normal, Sport)
Push Start Button
Glove Box Cooler
Powered front and rear windows, auto up/down
K5 only
4.3″ Supervision cluster
4.3″ TFT LCD Audio Head unit
Infinity Audio sound system with 8 speakers & Subwoofer
8-way powered driver seat with memory
Air ventilated front seats
Sonata Executive only
4.2″ Color LCD Supervision cluster
Audio Visual Navigation (AVN) Android operating system
6 speaker system
12-way powered driver seat with lumbar support
Smart Trunk System
.
Maintenance and Ownership
The Sonata Executive, being the top trim among the three variants offered here retails for RM158,068.60 while the single trim KIA K5 is sold for RM149,888; both OTR prices with insurance. Both vehicles come with 5-years warranty but differ in mileage limit; KIA has unlimited mileage whereas Hyundai caps it at 300,000km (which is still pretty decent since you'd need to travel more than 5,000km monthly if you want to pass the limit). Hyundai has one more advantage though; it covers powertrain (engine and gearbox) warranty for 8-years (or 300,000km whichever comes first).
In terms of colors, the Sonata comes in six colors: Ice white, platinum silver, polished metal, remington red, dark horse and phantom black. K5 offers four; snow white pearl, satin metal, aurora black and smokey blue.
So, which to pick?
This is a tough one because each have their own strength and weaknesses.
I love the K5's engine, cabin layout, sound system, ventilated seats and overall driving experience.
I love the Sonata's exterior, AVN head unit, Smart Trunk System, rear space and overall cabin experience.
This is really down to hair splitting details, some you might be able to bring to a car accessory shop to rectify, some not so easy to modify. Before testing the Sonata, the K5 has impressed me enough to feel it's very near to continental feel, even if it lacks punch. The Sonata's power, though smooth takes it a bit too leisurely to my liking but then I won't be driving fast in a car like this anyway so adapting to its lower output would not be much of an issue since I place more emphasis on comfort.
For the first time in kensomuse's history, this review would call for a tie simply because the vehicle of choice is strictly a matter of preference. Just like a choice of clothes; some are more comfortable going out casual while others would rather die than to be seen in anything other than formal wear, there is no right or wrong. What matters is how you feel at the end of the day.