Moving seven persons in one vehicle isn't difficult with the myriad MPV choices in the market, starting with the budget Toyota Avanza. If you remove MPV from the equation (well, bosses don't drive soccer-mum vehicles to the office), there's very little to choose from if you want an SUV that can ferry seven persons with reasonable comfort. Not only do SUVs offer a higher seating position, they are more likely to survive the occasional flash flood.
But here's the catch. Your accounts department says you can't spend beyond RM200,000.
Under such a condition, you only have six choices and we've managed to assemble three here for review; the Kia Sorento, Hyundai Santa Fe and Nissan X-trail. The fourth option, the Toyota Fortuner which starts from RM169,929.47 for the 2.5G is the only one that comes with an archaic 4-speed Automatic gearbox and depending on where you are, new registrations is not very common nowadays. The new 2016 Fortuner should be launching sometime next year and that should stir things up a little. Also yet to be released is the Ford Everest which, from what we gather isn't exactly cheap with the base 2.2l XLT model rumored to start from RM180k. Also rumored to be launching next year is the third generation Mitsubishi Outlander which may come with a 2.4litre NA MIVEC engine paired to a CVT gearbox.
If it's diesel you want, the Santa Fe is almost the default choice of most Malaysians nowadays. For petrol, the all-new 2.5litre Nissan X-trail is more commonly seen plying the urban roads and so is the Kia Sorento 2.4litre petrol.
Each allows great flexibility in space and looks great in their own right. Which is the better choice? Let's find out.
Design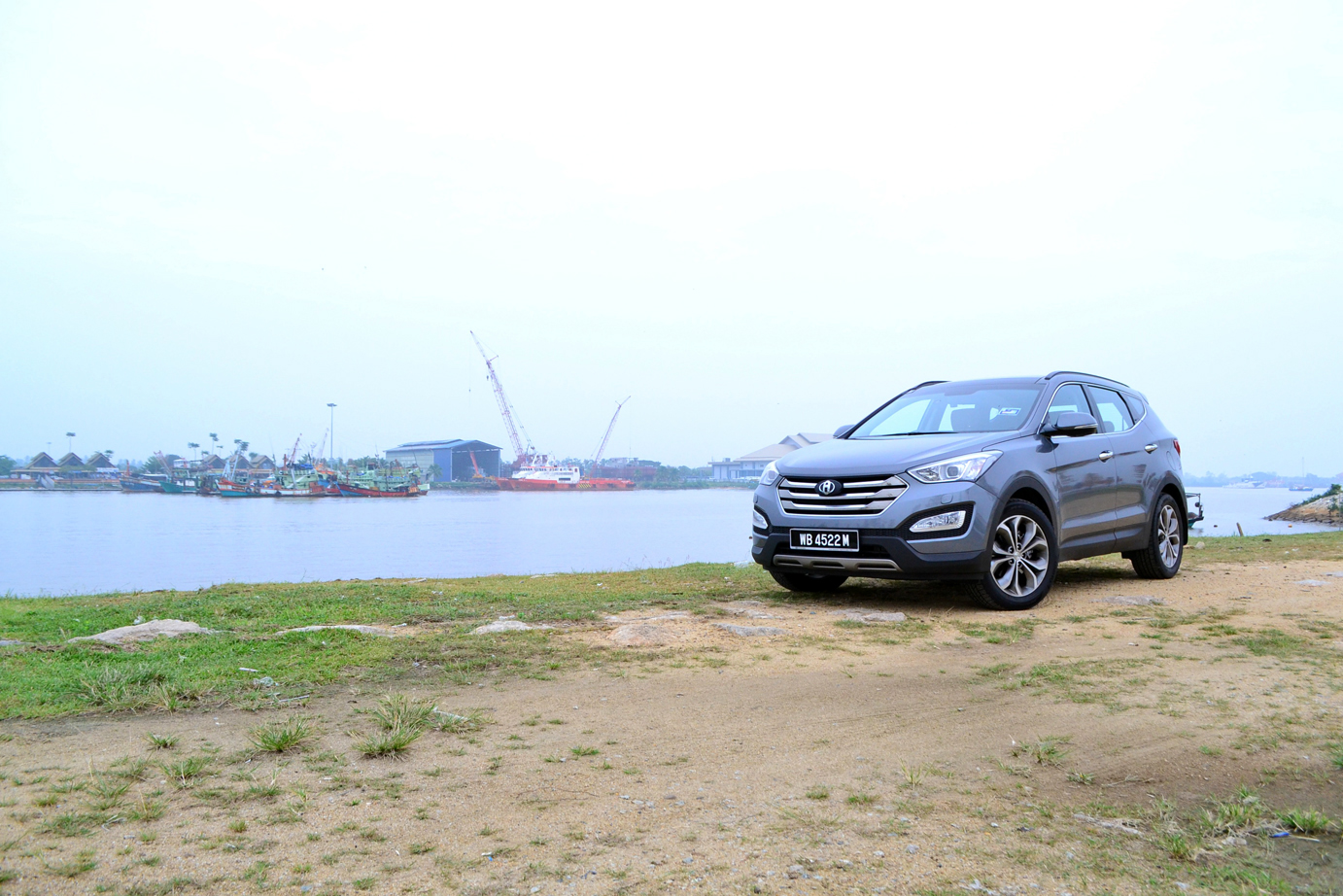 Santa Fe has an imposing chrome hexagon radiator grille flanked by a pair of HID Xenon headlamps (for the premium spec) and two enormous front fog lights. The front bumper skid completes the hulking appearance. It is the only one here without LED Daytime Running Lights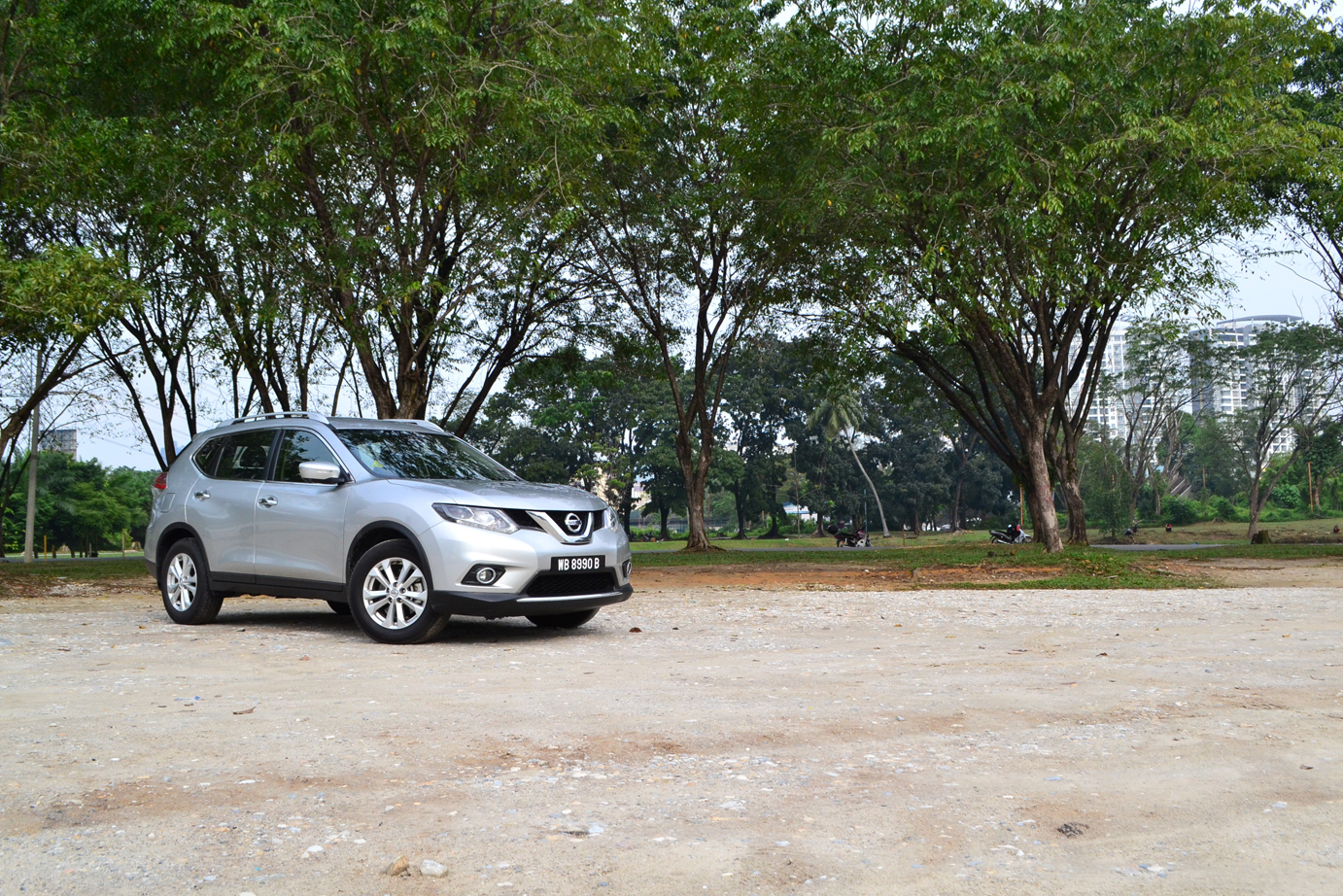 The X-trail on the other hand has a more aerodynamic design with a distinctive V-motion strut grille and boomerang shaped LED Daytime Running Lights. Chrome lining rings the front fog lamps as well as adorning various parts of the front fascia.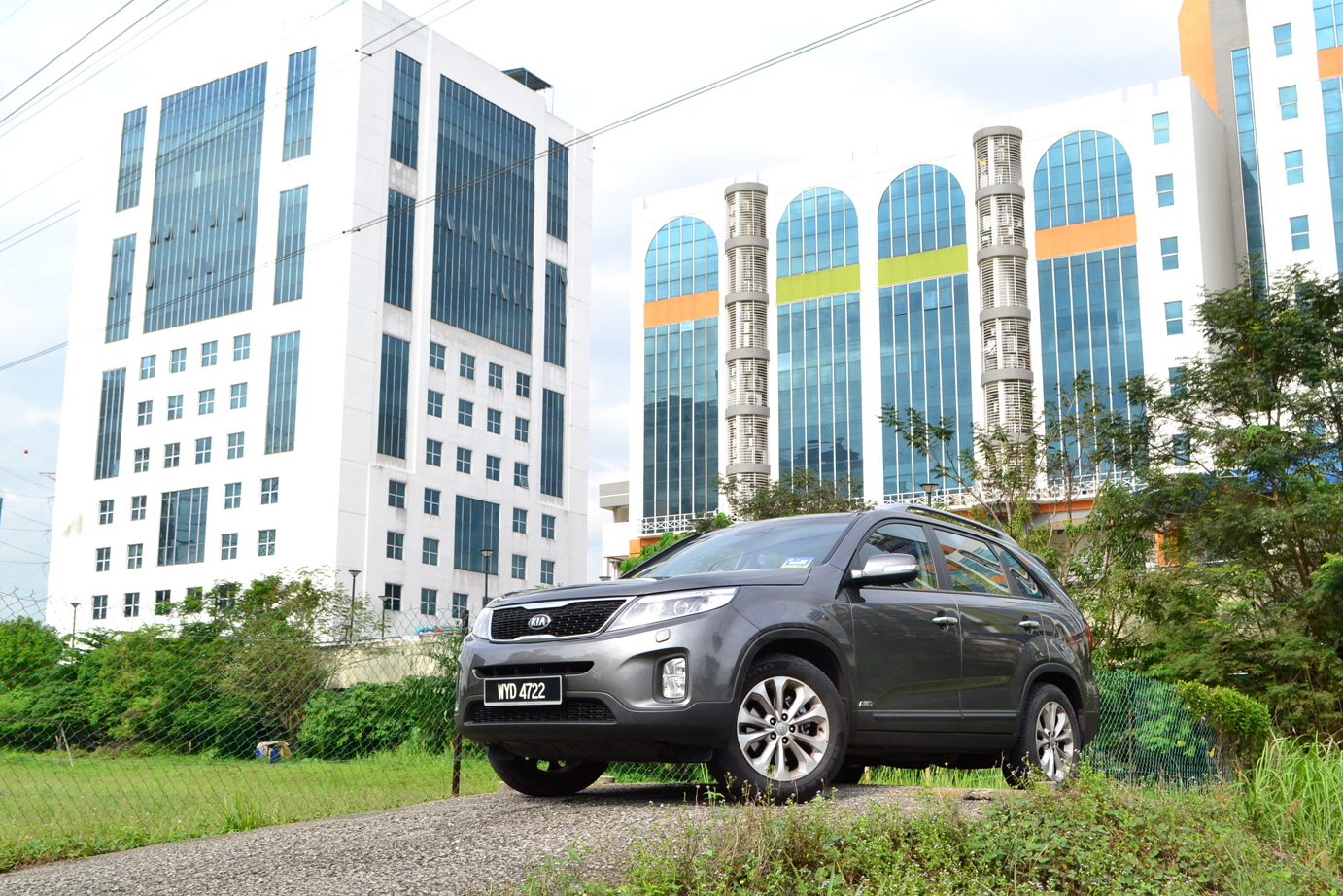 Arguably the most imposing on the roads, the facelifted second generation Sorento commands attention by its size and an LED Daytime Running Light strip lining the top of the HID Xenon headlamps, the largest in the group here.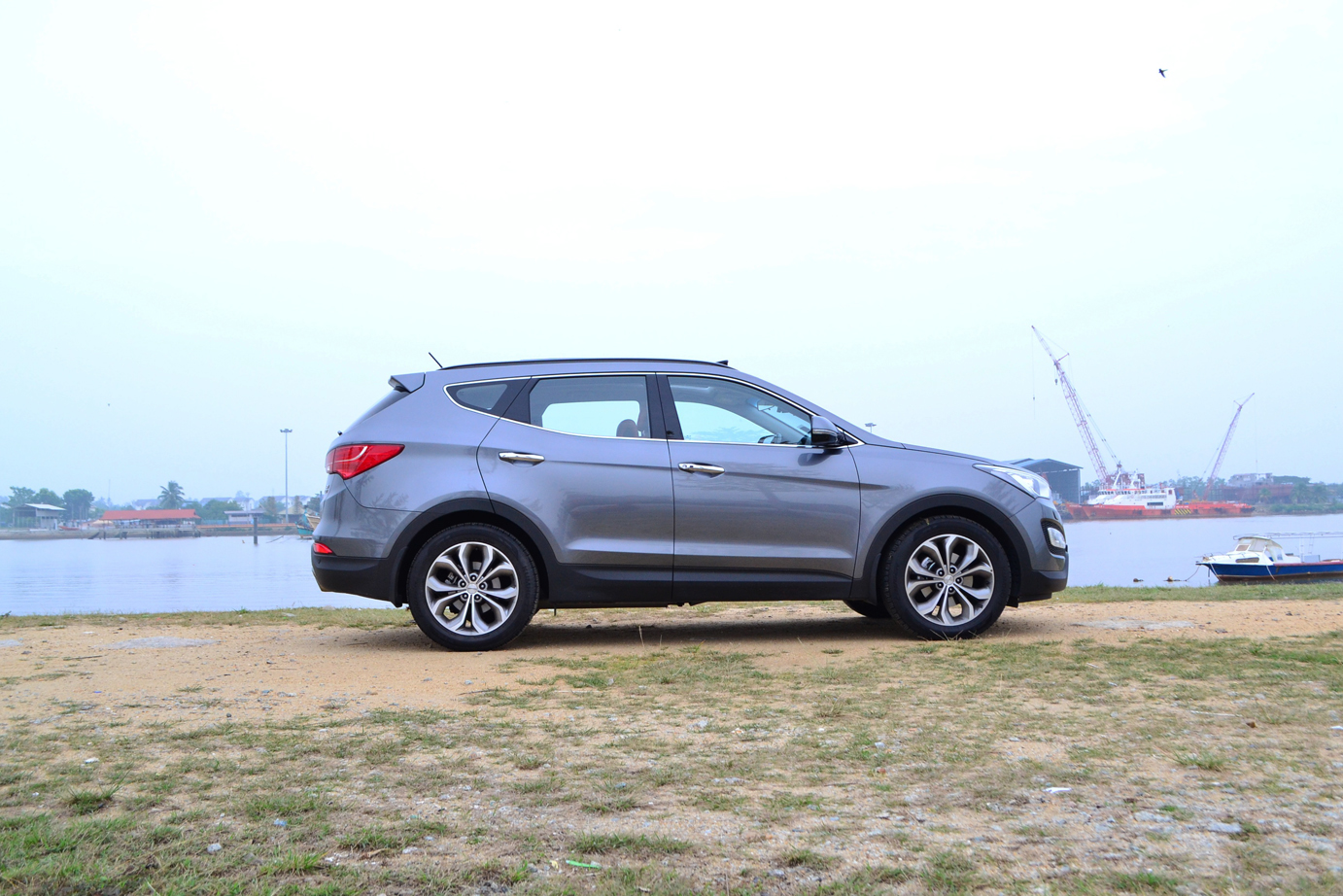 The Santa Fe measures 4,690mm in length, 1,880mm in width and 1,680mm in height with a wheelbase of 2,700mm. It may appear huge from the side due to rising glass and belt line and it features panoramic roof as wella as a roof rack.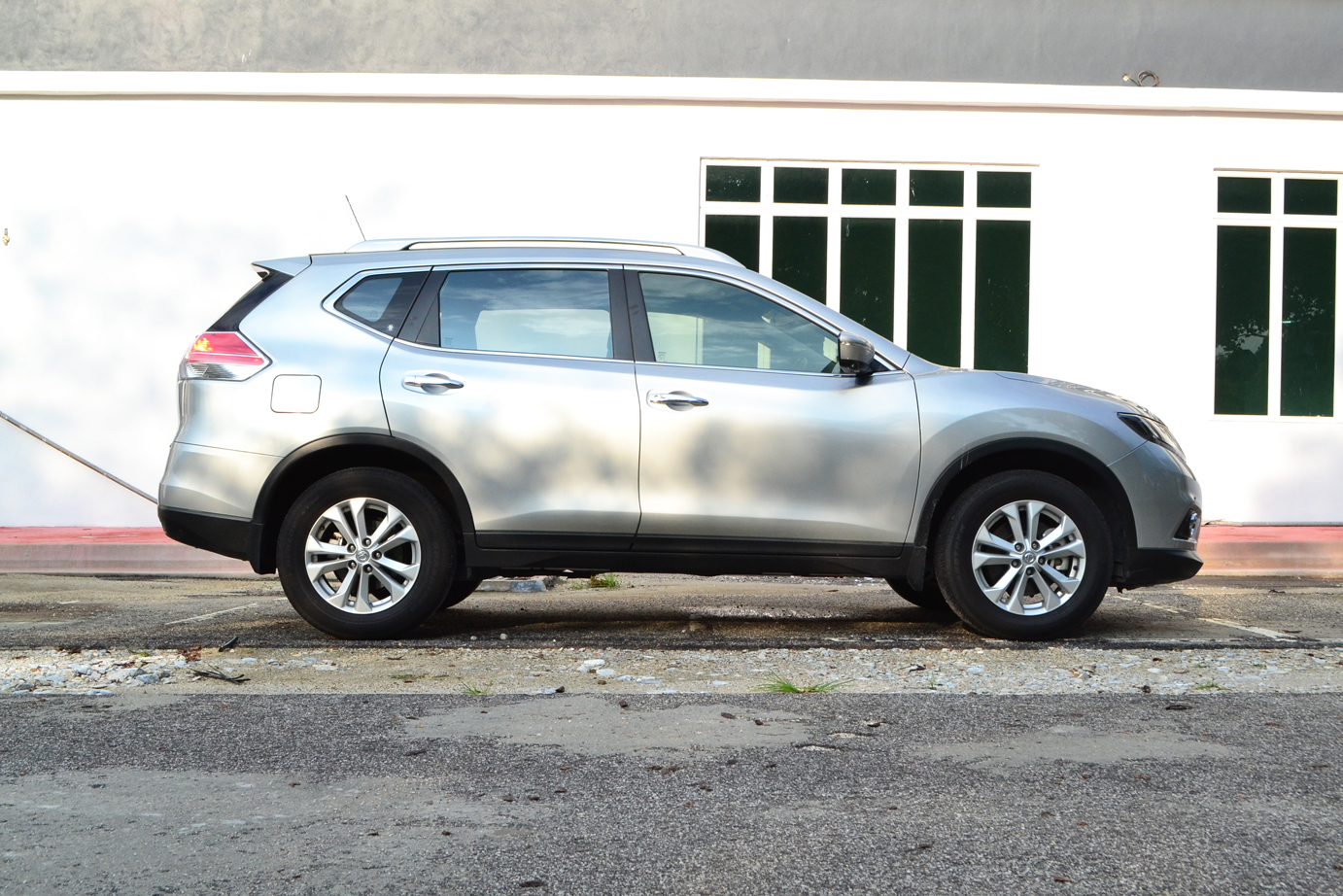 The X-trail on the other hand is shorter at 4,640mm in length, thinner at 1,820mm in width but is surprisingly taller at 1,715mm in height and has a wheelbase of 2,705mm. It may not have a panoramic roof but it does come with roof rails that accentuates its side profile along with chrome door handles and chrome window lining.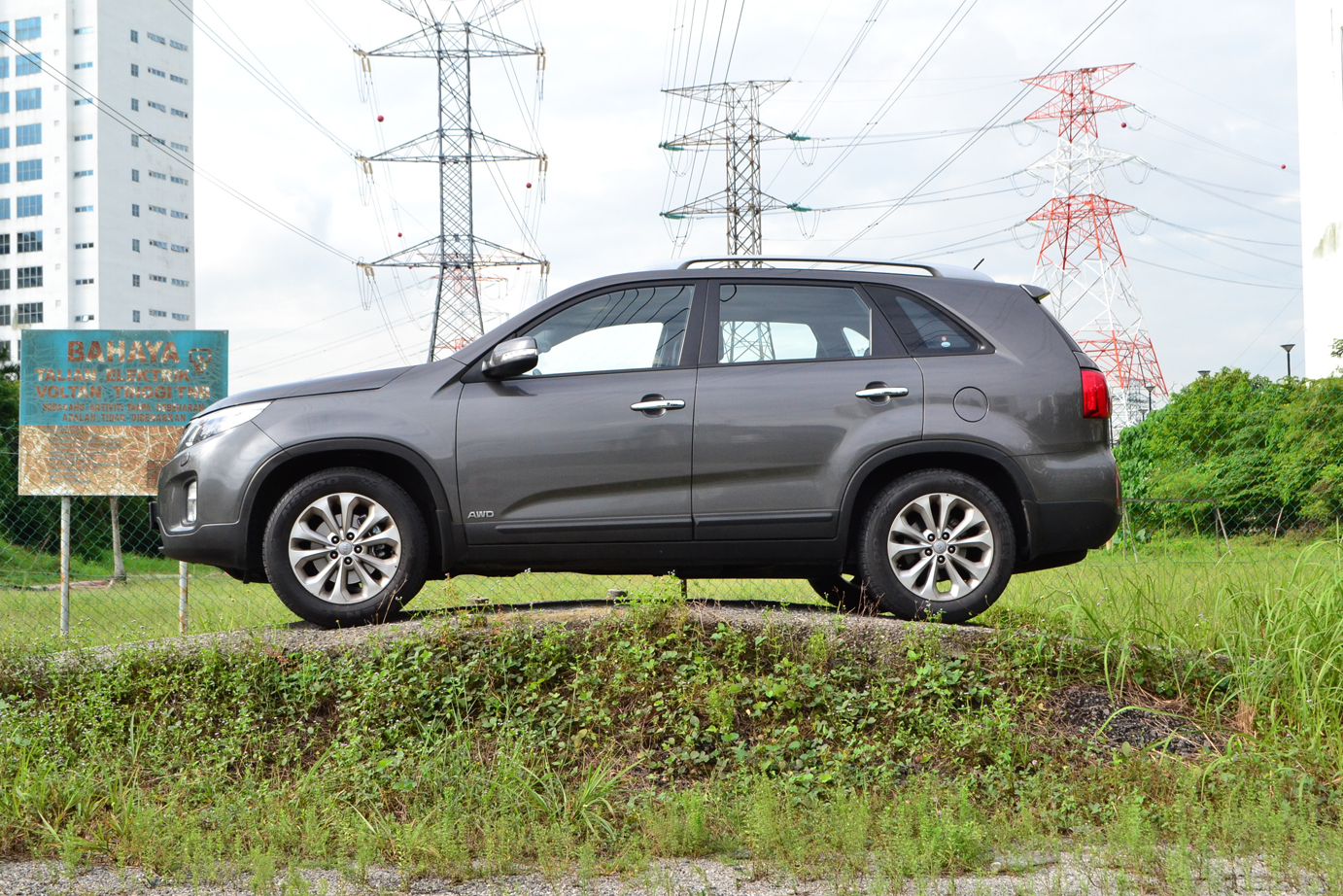 The Sorento has a length that's in between at 4,685mm but is the widest at 1,885mm yet shortest at 1,700 in height. Its width makes it the most challenging to navigate tight roads and there were a few near-misses between the side mirrors and basement access card scans.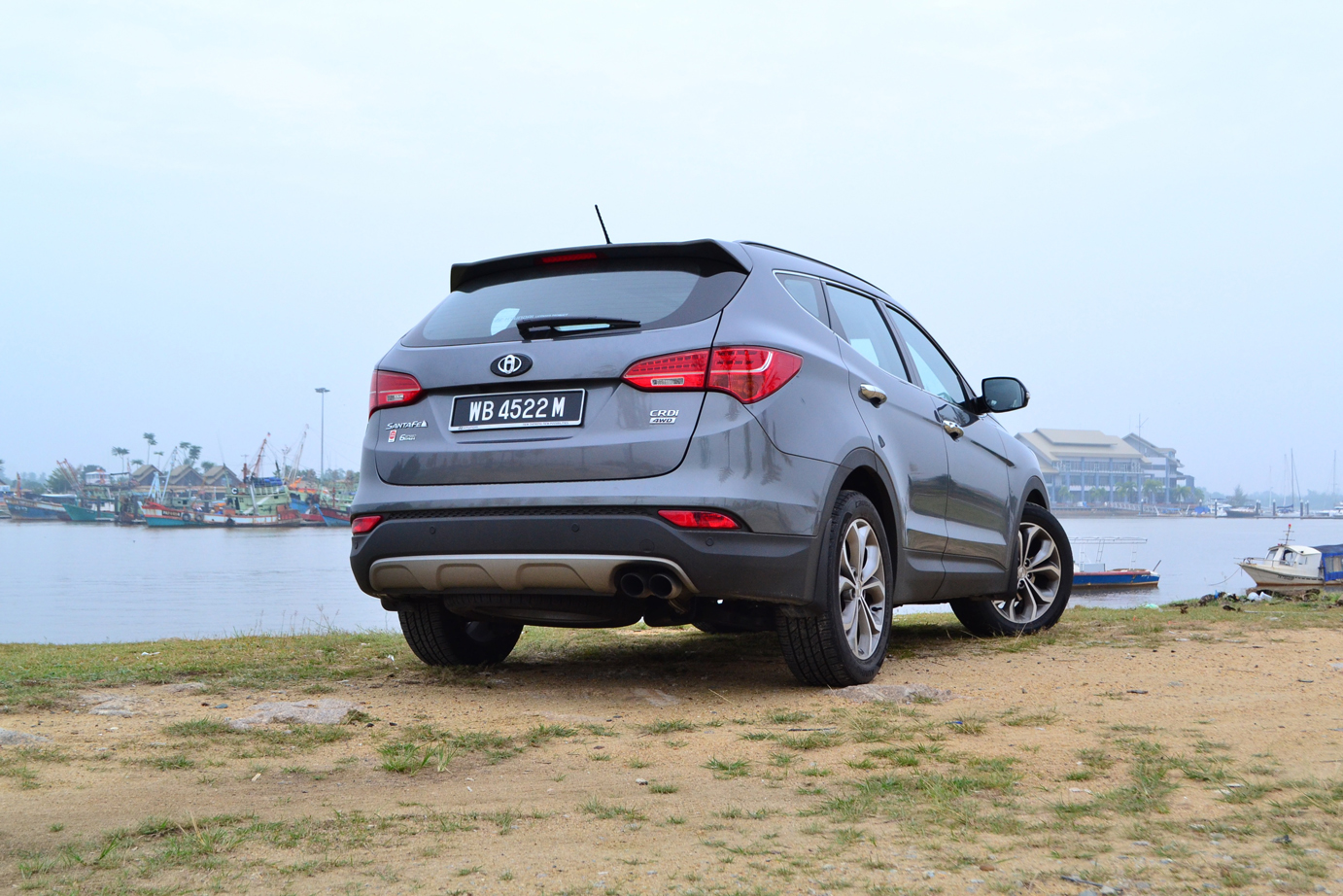 Unlike the front grille which takes up your attention, the rear of the Santa Fe has a balanced appearance with the LED rear combination lamp, rear bumper skid plate and high mount LED rear spoiler evenly complimenting each other.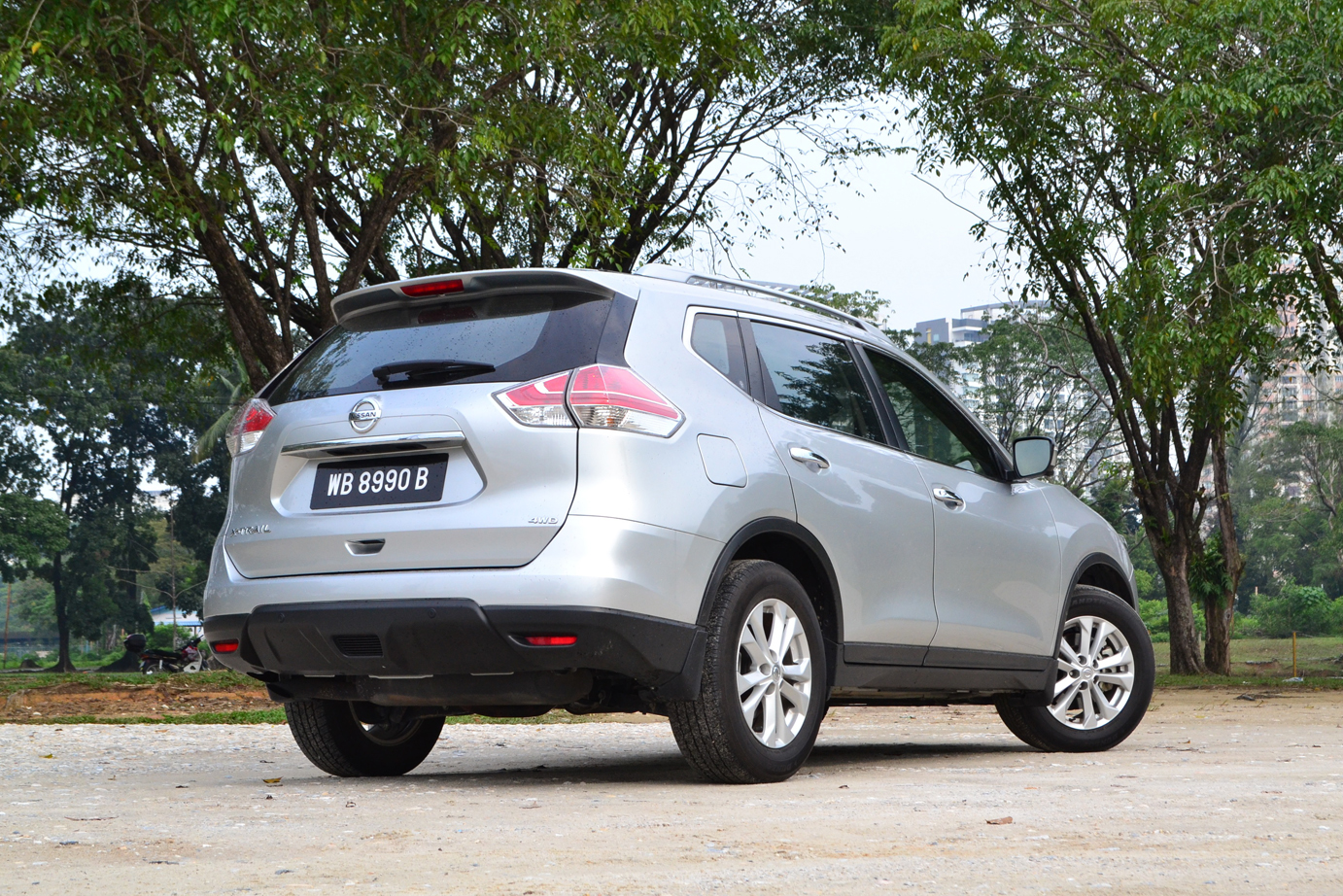 The X-trail's angular rear combination lamps are the key visual feature. It took a little getting used to when opening the boot from the back since the release button is located in the cavity below the number plate unlike most other cars which have the button at the number plate lights.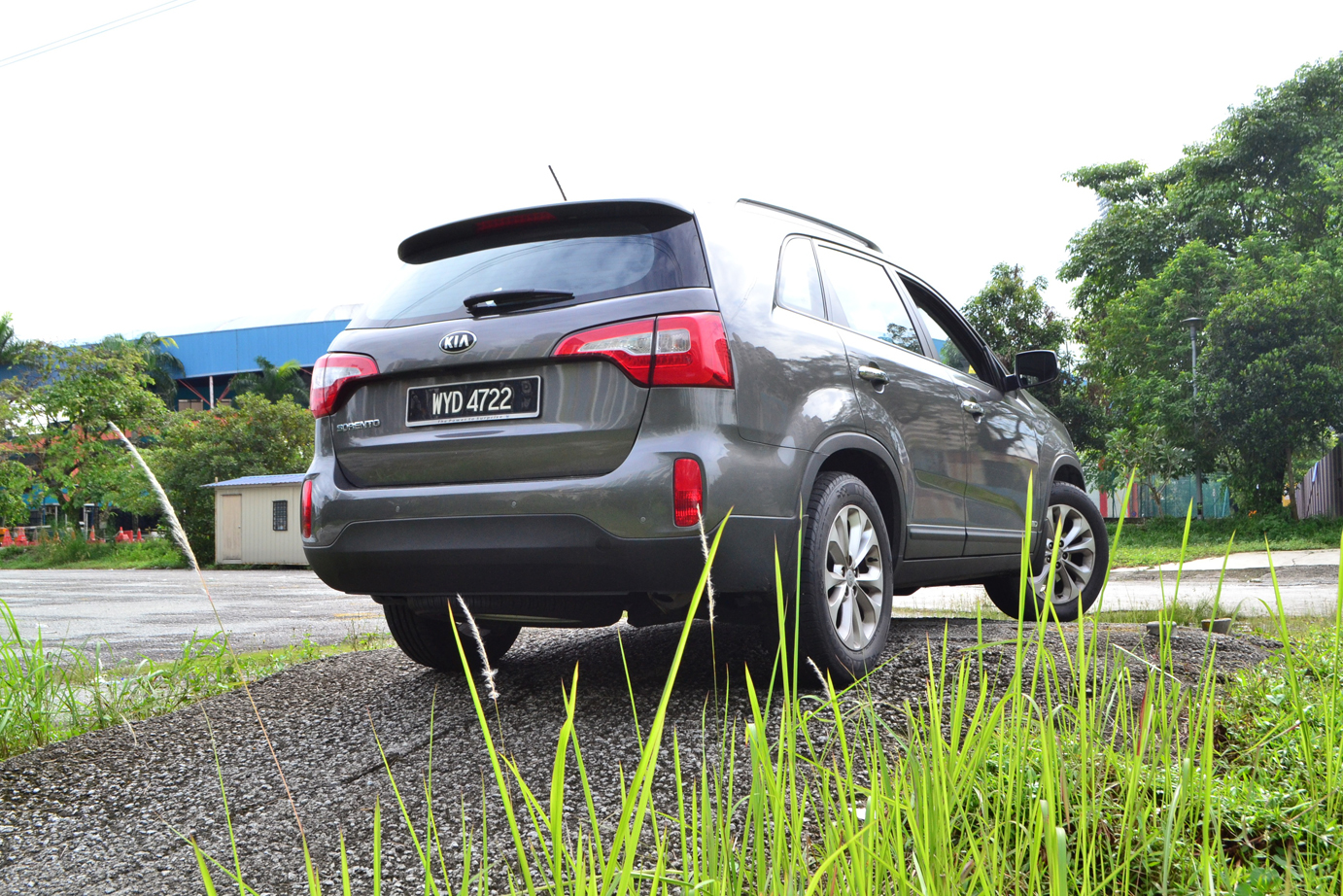 The Sorento's theme of huge-lamp emphasis carries on to the back where the horizontal combination lamp is the first thing you would notice. Also seen here is the spare tire which is located below the boot, similar to most 4x4s.
Performance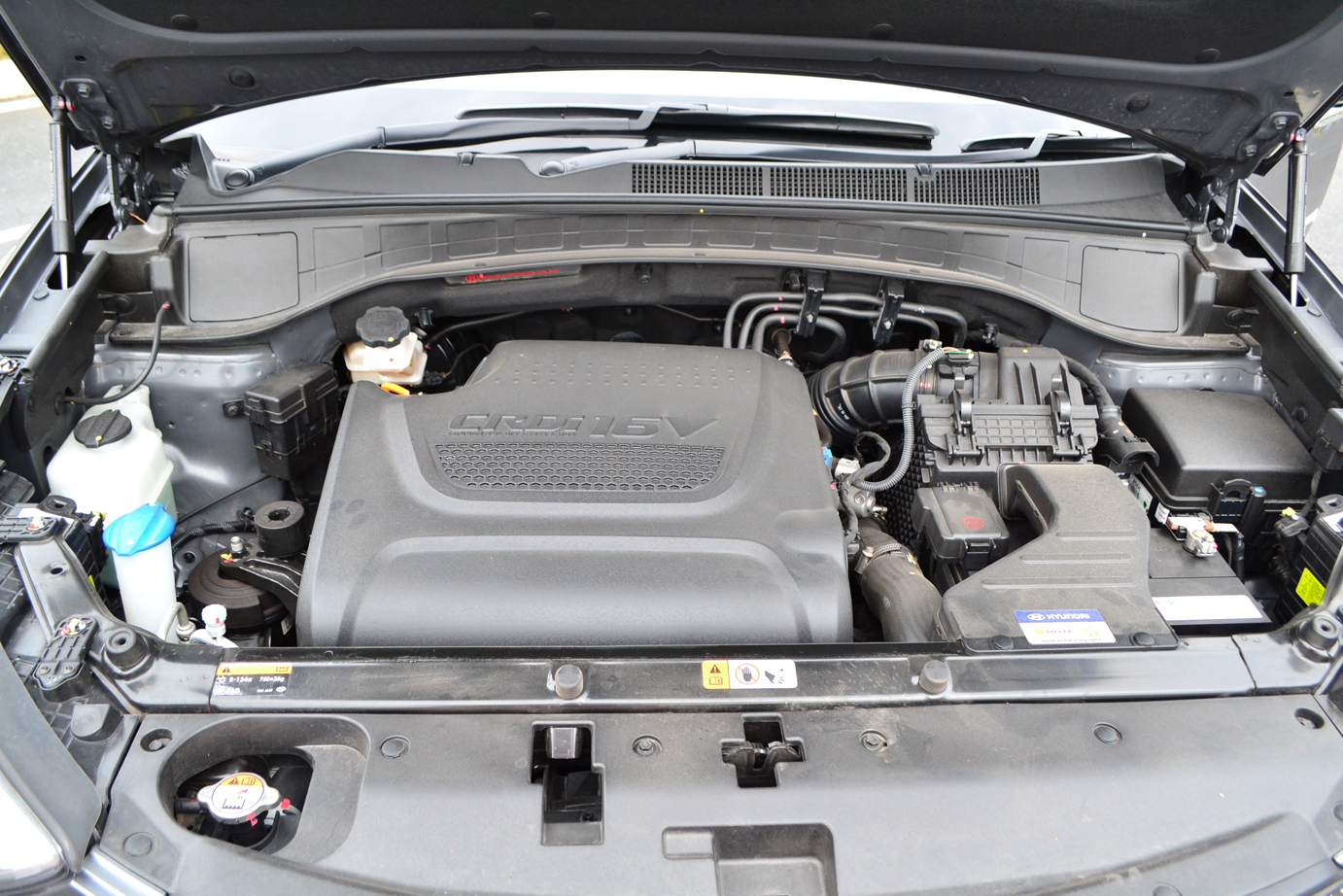 Santa Fe has a 2.2litre Common Rail Diesel Direct Injection engine, producing 197PS @ 3,800rpm and a maximum 436Nm @ 1,800rpm. Punchiest among the group and most capable in a spring up the highlands.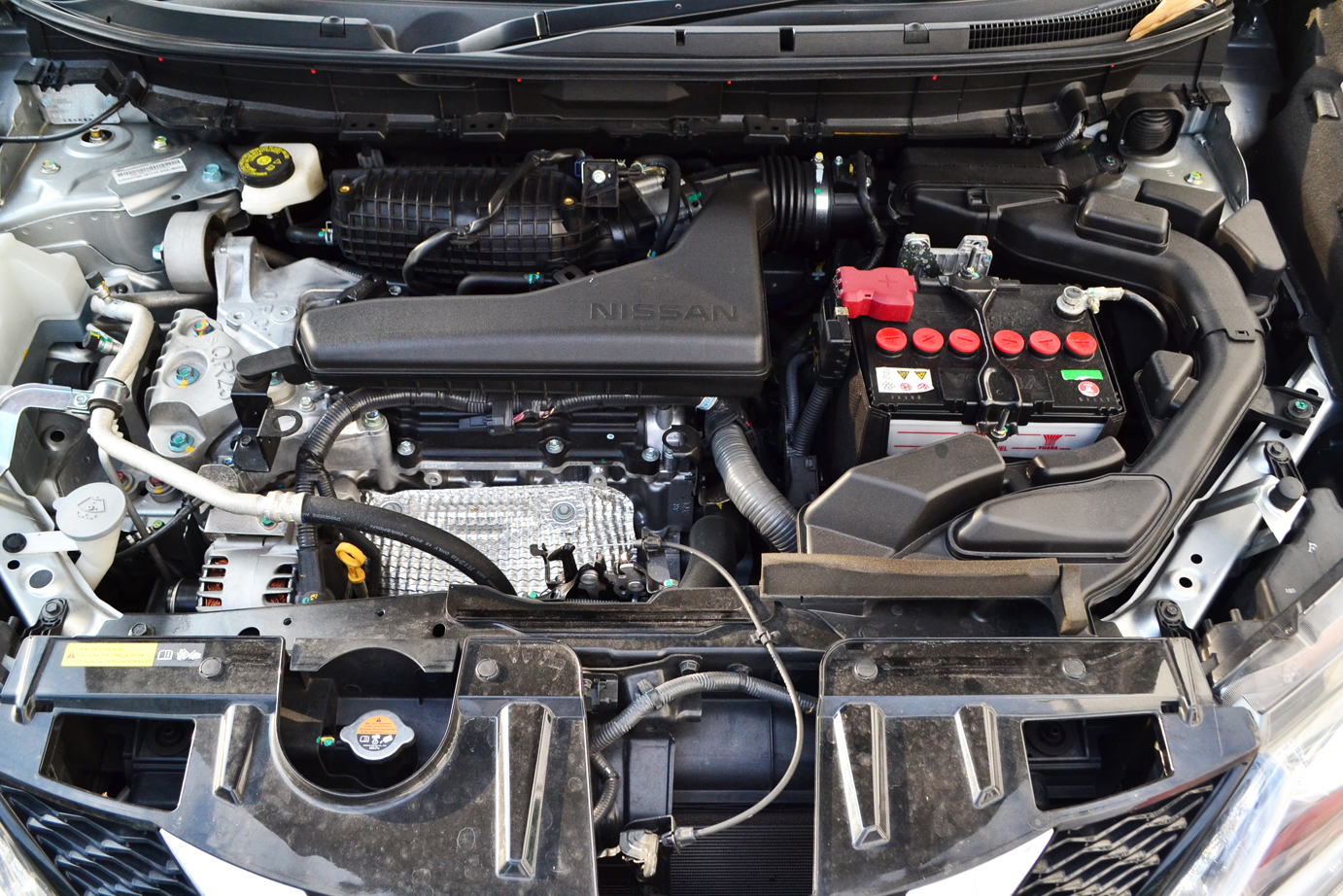 The X-trail's 2.5litre DOHC with Twin CVTC petrol engine has an output of 171PS @ 6,000rpm with a maximum torque of 233Nm @ 4,000rpm. Power delivery is jerky and sudden when floored but is more pliable with the ECO Mode switched on.
The Sorento makes do with a 2.4litre DOHC DCVVT Theta II petrol engine, also offered in lower priced Santa Fe but is the sole variant for the Sorento sold here. It produces 176PS @ 6,000rpm and a maxiumum torque of 227Nm @ 3,750rpm. Weakest among the three but still sufficient to haul a full load of passengers beyond legal speed limits easily.
Ride and Handling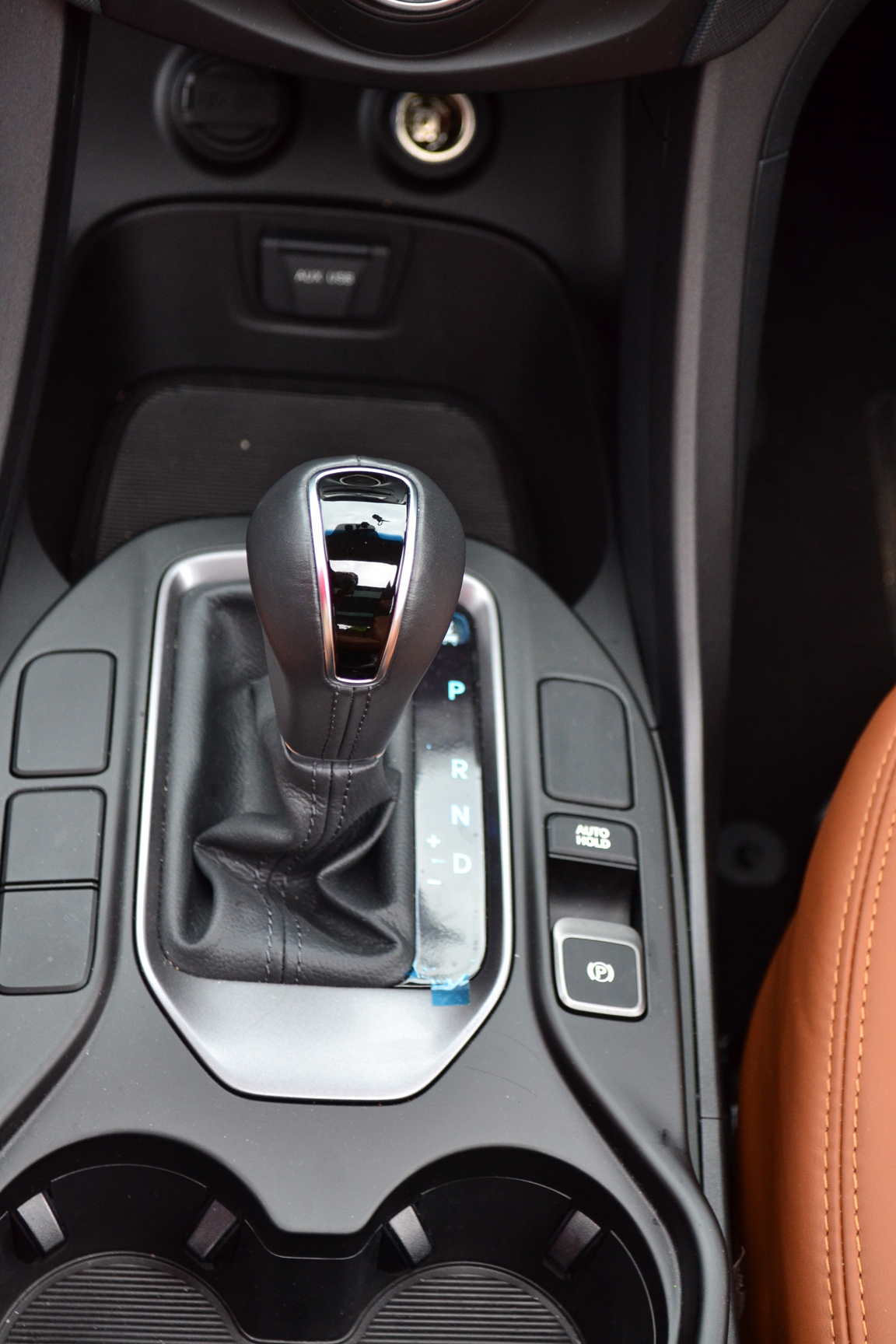 Santa Fe's diesel engine is paired with a 6-speed automatic transmission with gear changes done in a fuss-free manner and its full time 4WD ensures optimum drive performance at all times, rain, mud, flood or shine. The only gripe is the motor driven power steering (MDPS) conveys little road feel and the Flex Steer system which modulates steering weight comes across as artificial and best kept at Normal mode.
Santa Fe's party piece is the emphasis it places on noise, vibration and harshness. Since this three elements are always perceived by occupants (even when stationary), doing well here creates an impression of quality and substance; something that Santa Fe does very well with double junction insulated glass, polyurethane fender insulators, increased density of hood insulators, tunnel insulators, fender side cover and wedge strip and composite foam padding pillars.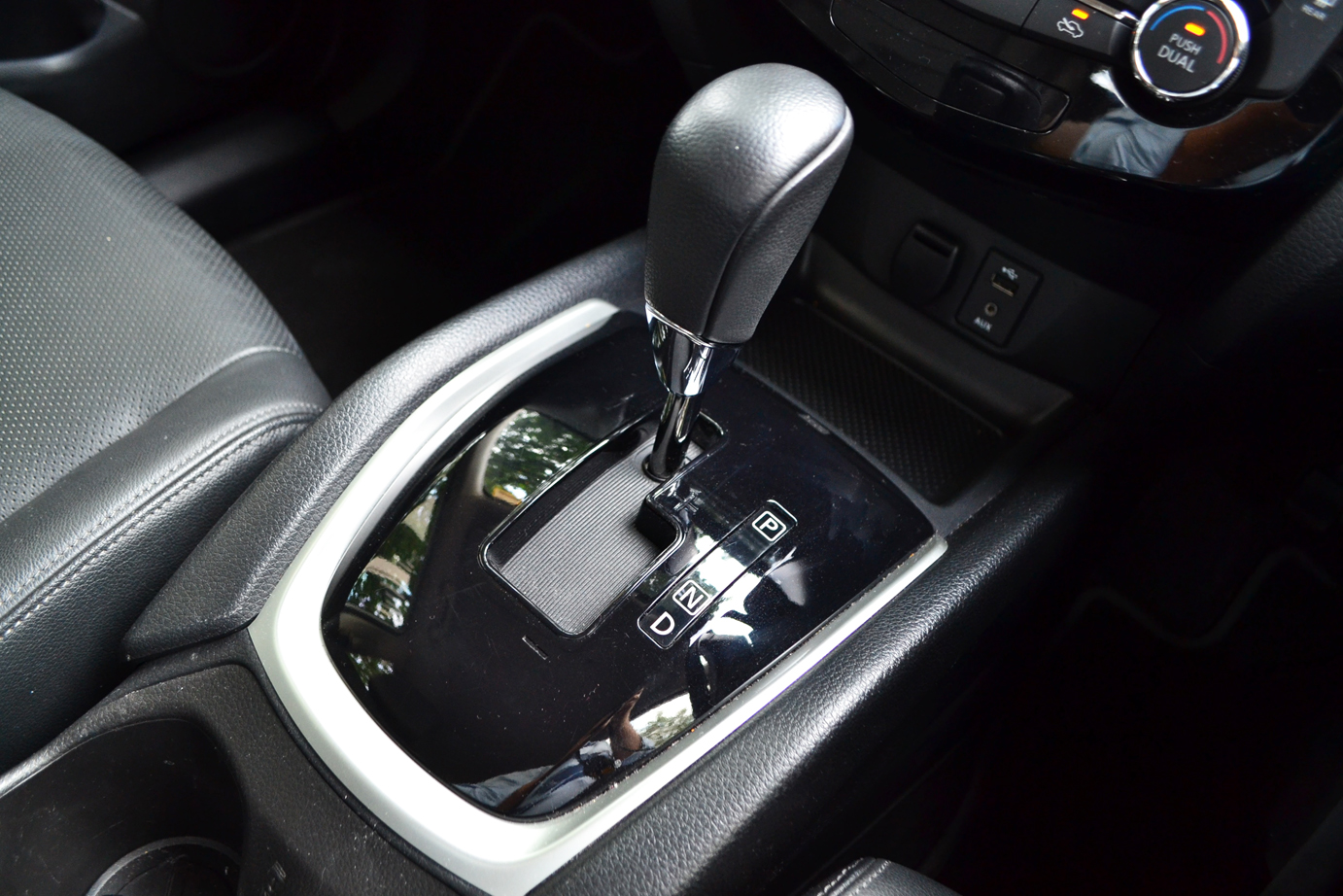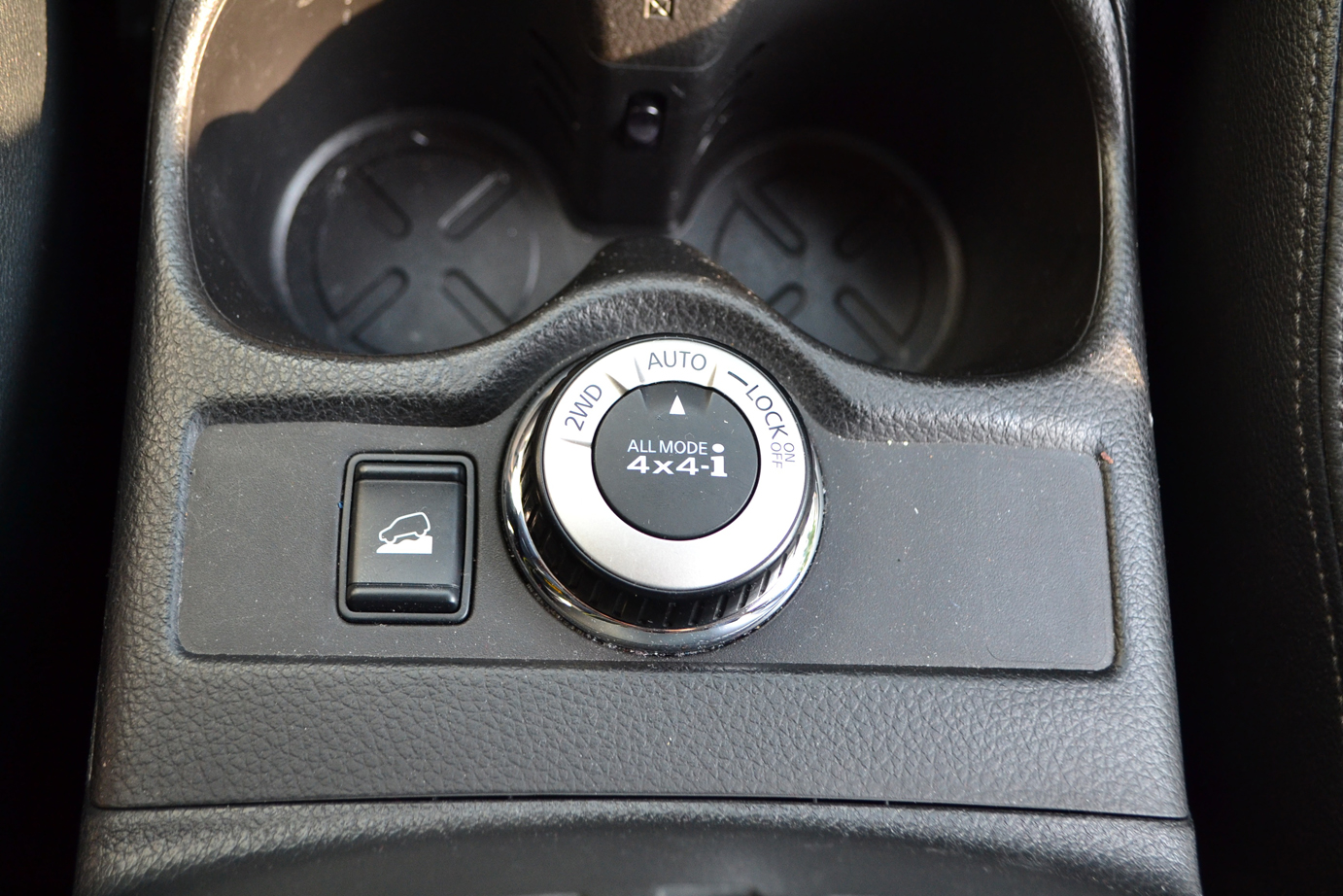 The X-trail comes with XTRONIC CVT with 7-speed manual mode and has an all-mode 4×4-i System, and intelligent four-wheel drive system that allows drivers to choose between 2WD for optimum fuel economy, Auto Mode that automatically adjusts power balance between front and rear wheels and Lock Mode for extra grip in challenging situations such as rain and uneven terrain. The X-trail has the most car-like feel thanks to its firmer suspension which allows faster cornering speed but it is the stiffest here.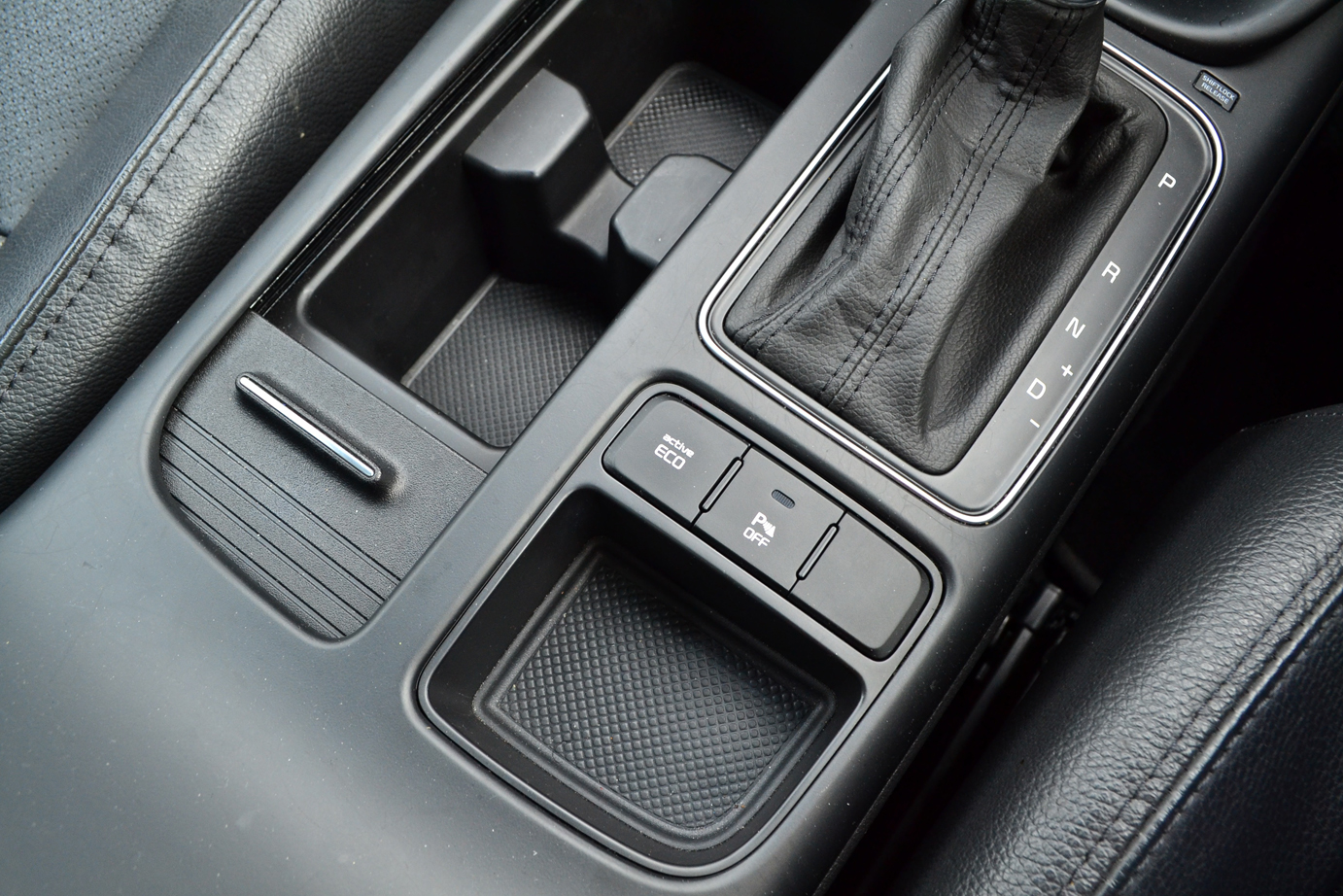 The Sorento, like the Santa Fe has a 6-speed automatic torque converter which shares similar characteristics with the Hyundai but Kia tunes their 7-seater. Among the three, the Sorento offers the softest suspension setting, thus providing better cushioning for occupants against potholes and speed bumps. However, by that same token, the Sorento wallows the most, making it a vehicle you would not want to throw into wide corners at high speeds.
Cabin Convenience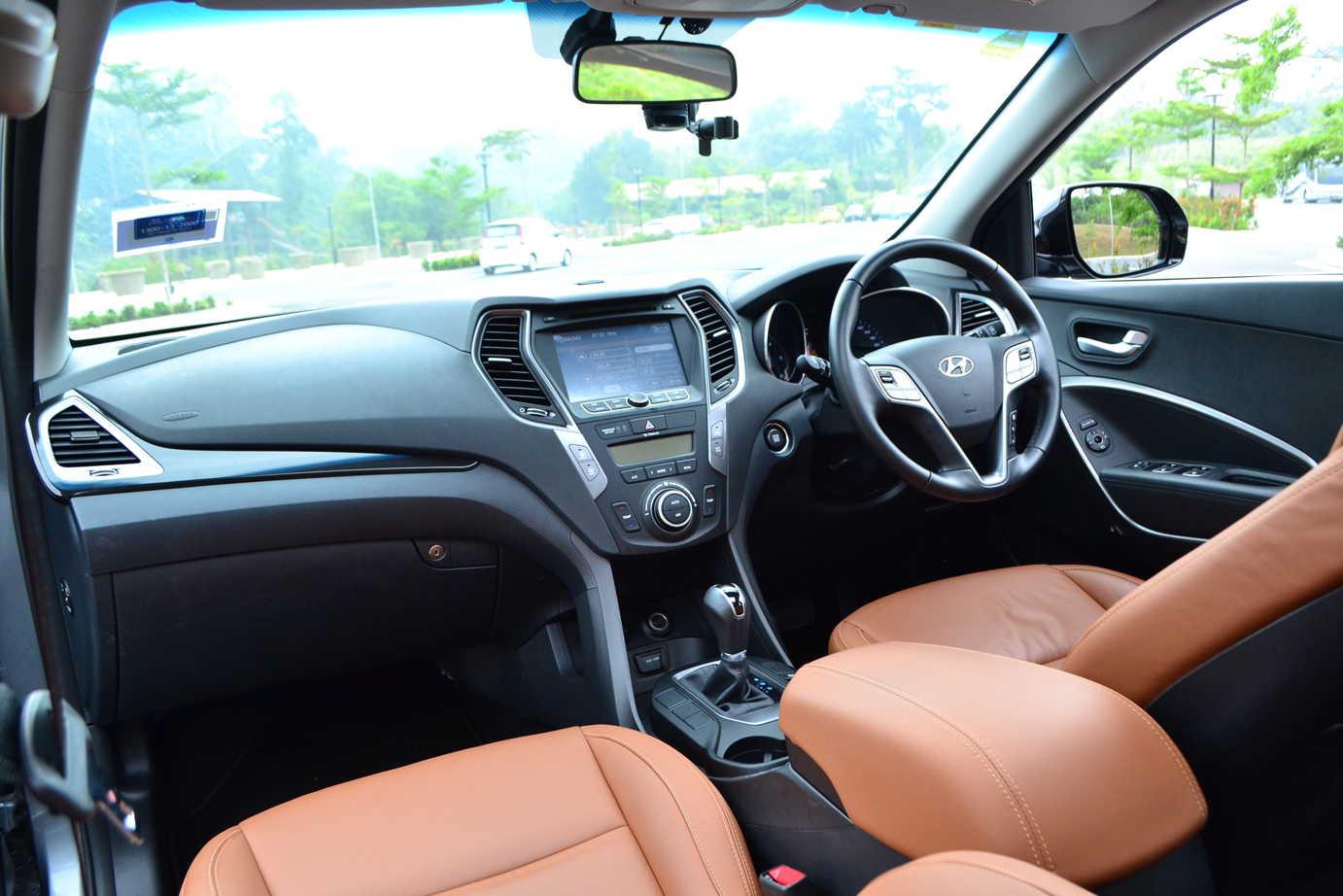 All three vehicles here offer versatility and space. With the Santa Fe, the hexagonal motif is brought into the cabin and brown nappa leather seats lightens the interior, creating a truly premium feel.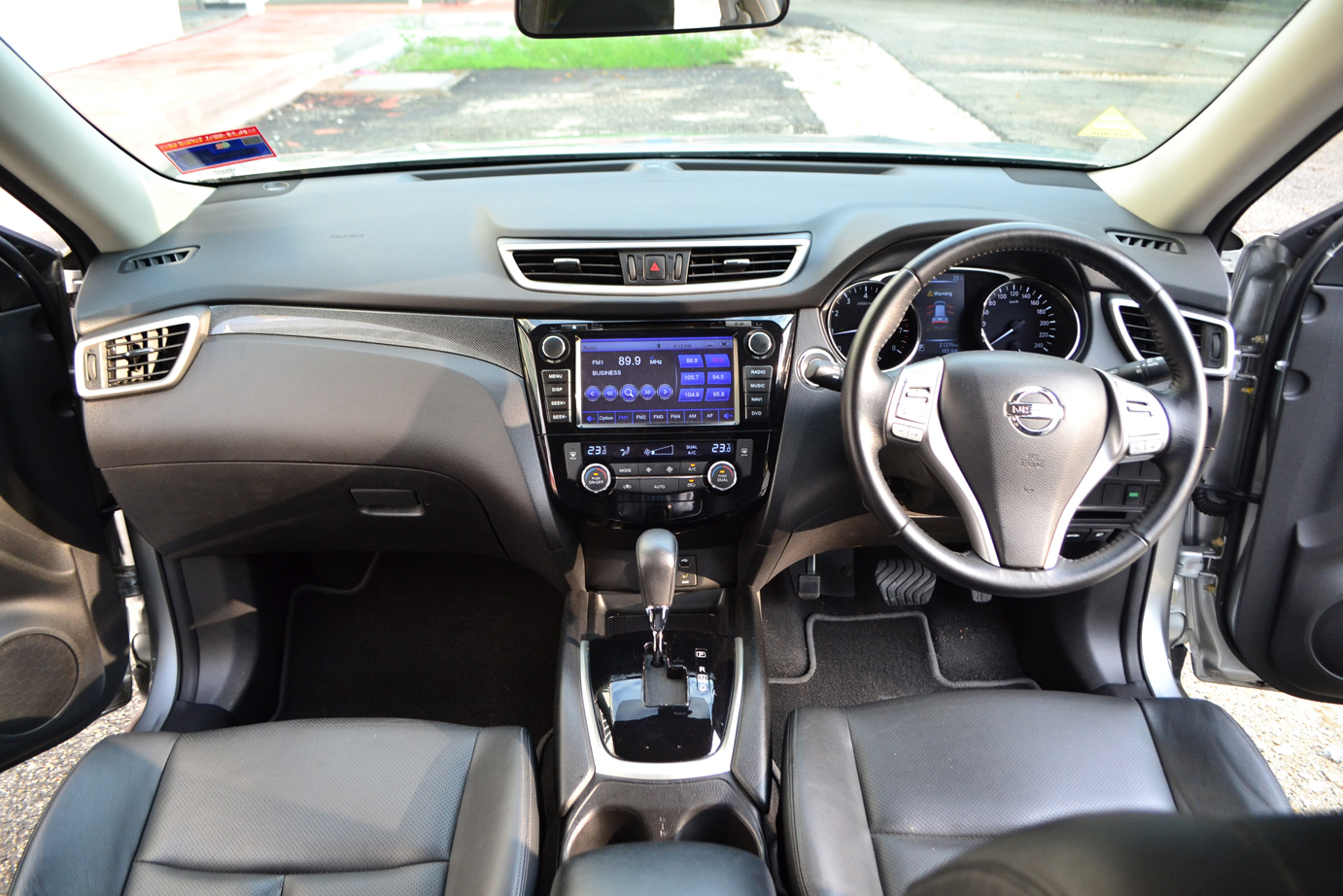 The X-trail's cabin layout is most car-like, where everything is within easy reach of the driver and the easiest to get familiar with in the shortest period of time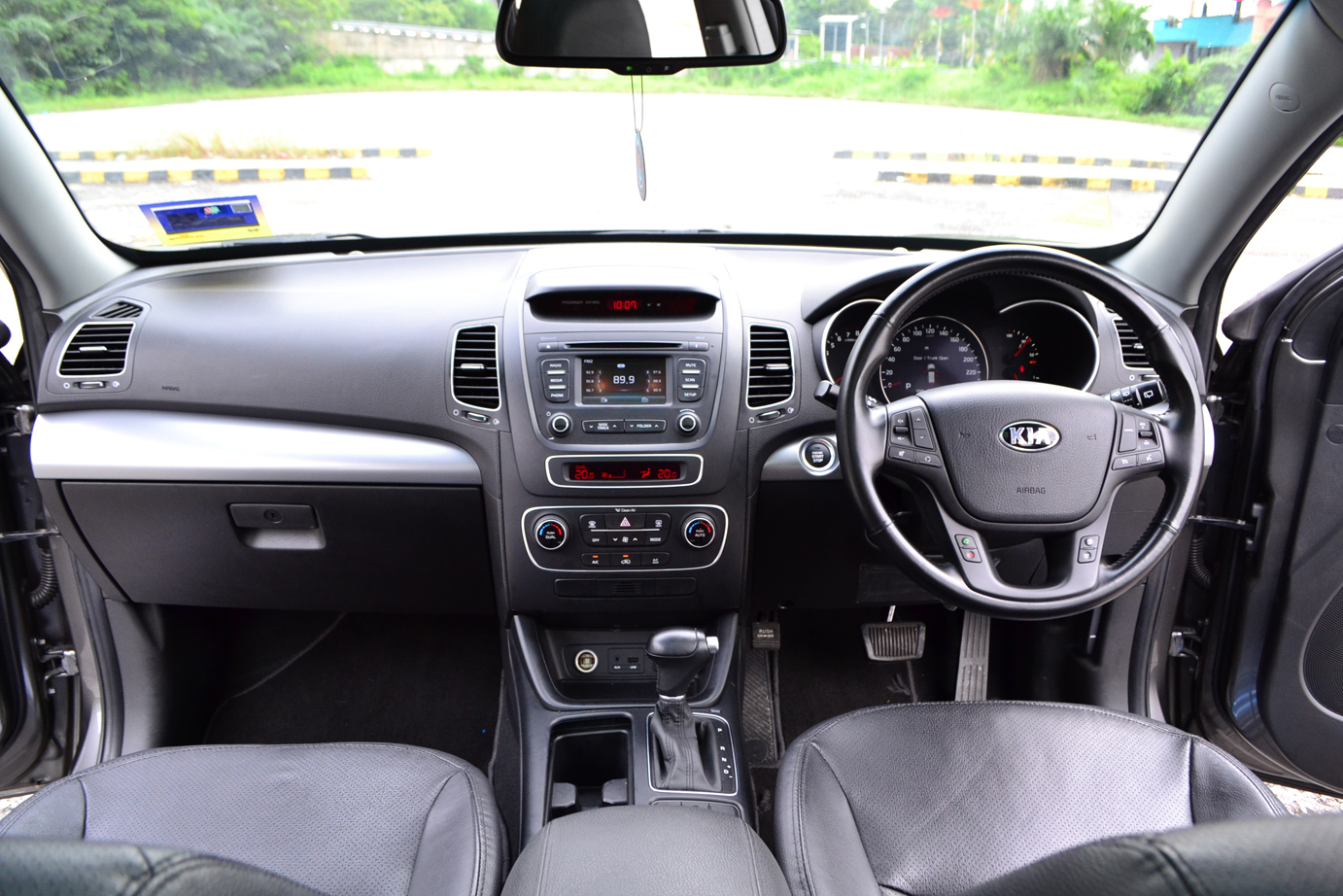 The Sorento offers the same Kia interior theme and if you've driven any other Kia, you would feel right at home here.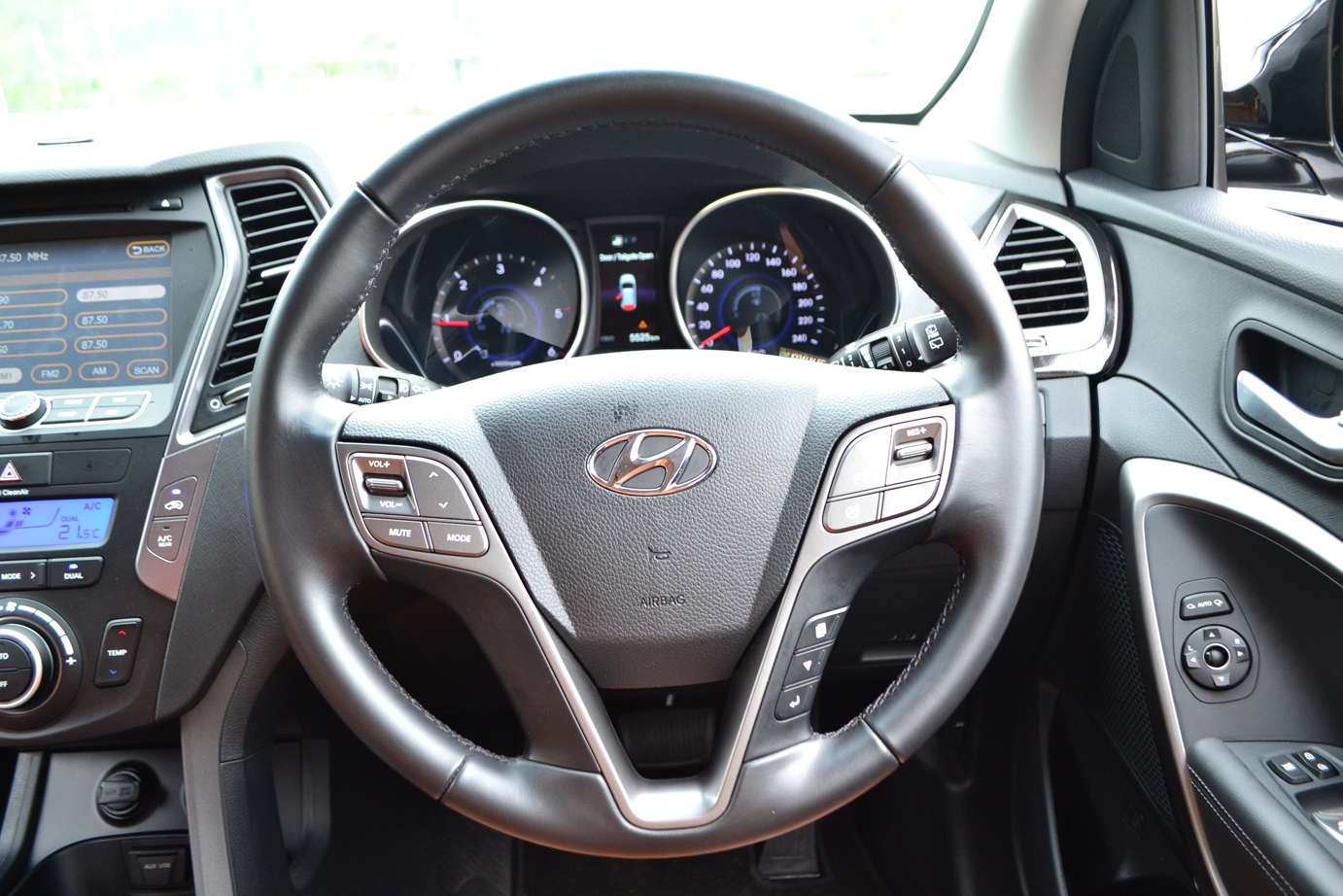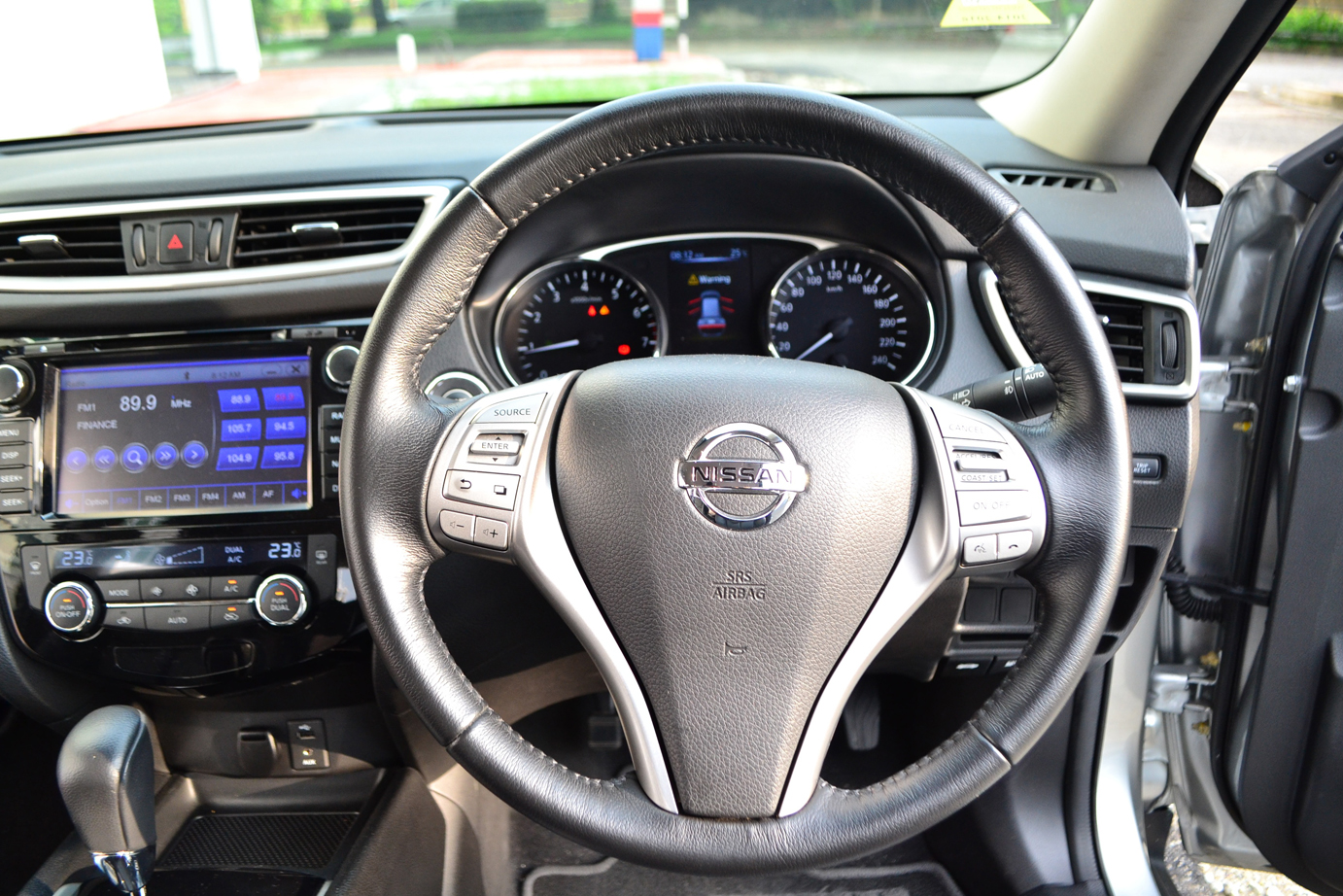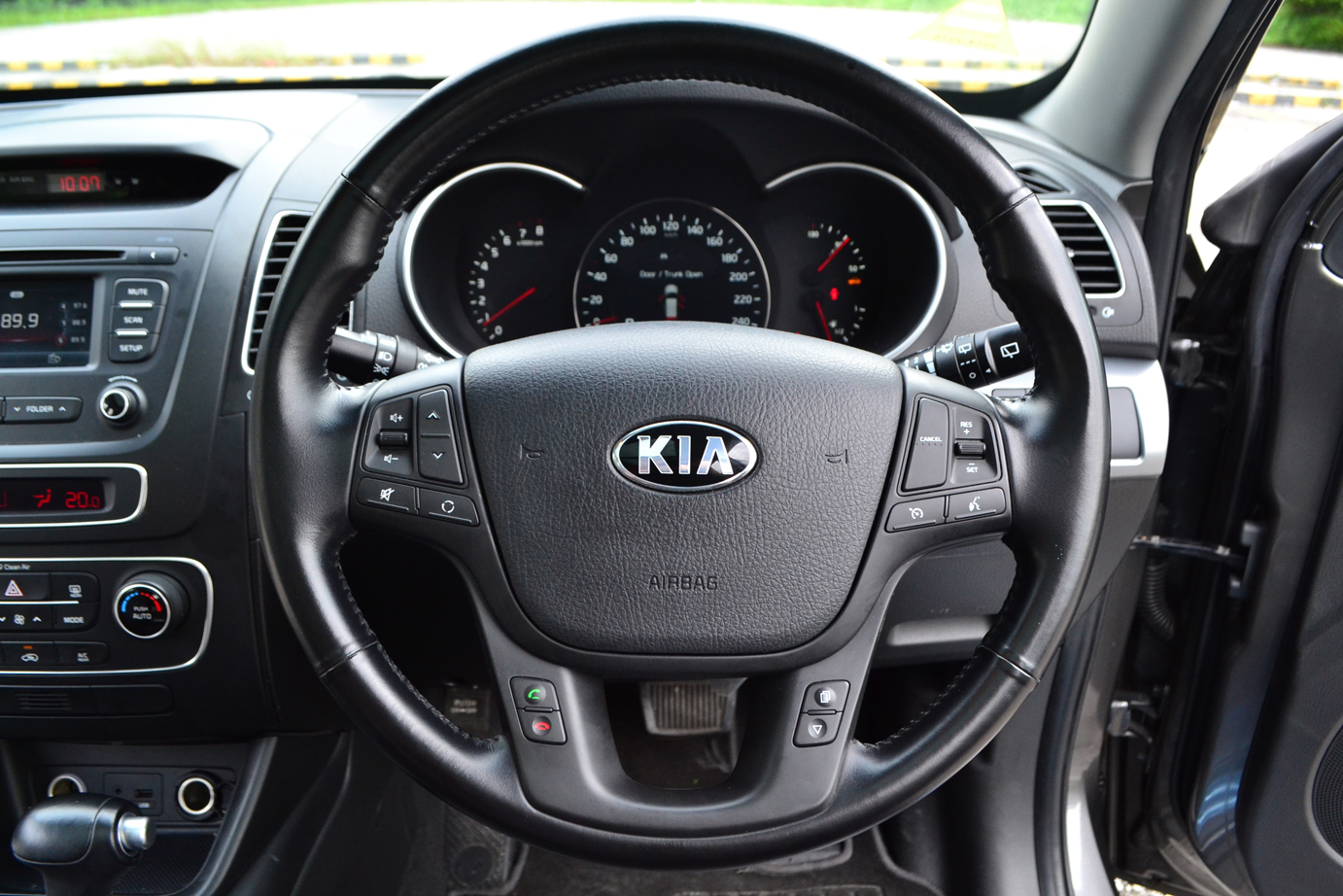 Santa Fe's steering is the meatiest and offers the best grip. Also the only steering with Flex Steer system that changes the steering weight but in an artificial manner so I left it most of the time in Normal. Comfort is too light while Sport just weighs it unnecessarily.
Among the three, X-trail's steering offers the best feedback on road conditions.
Sorento's helm is the lightest (if you exclude the Santa Fe's Flex Steer Comfort setting) and easiest to maneuver the behemoth in the urban jungle.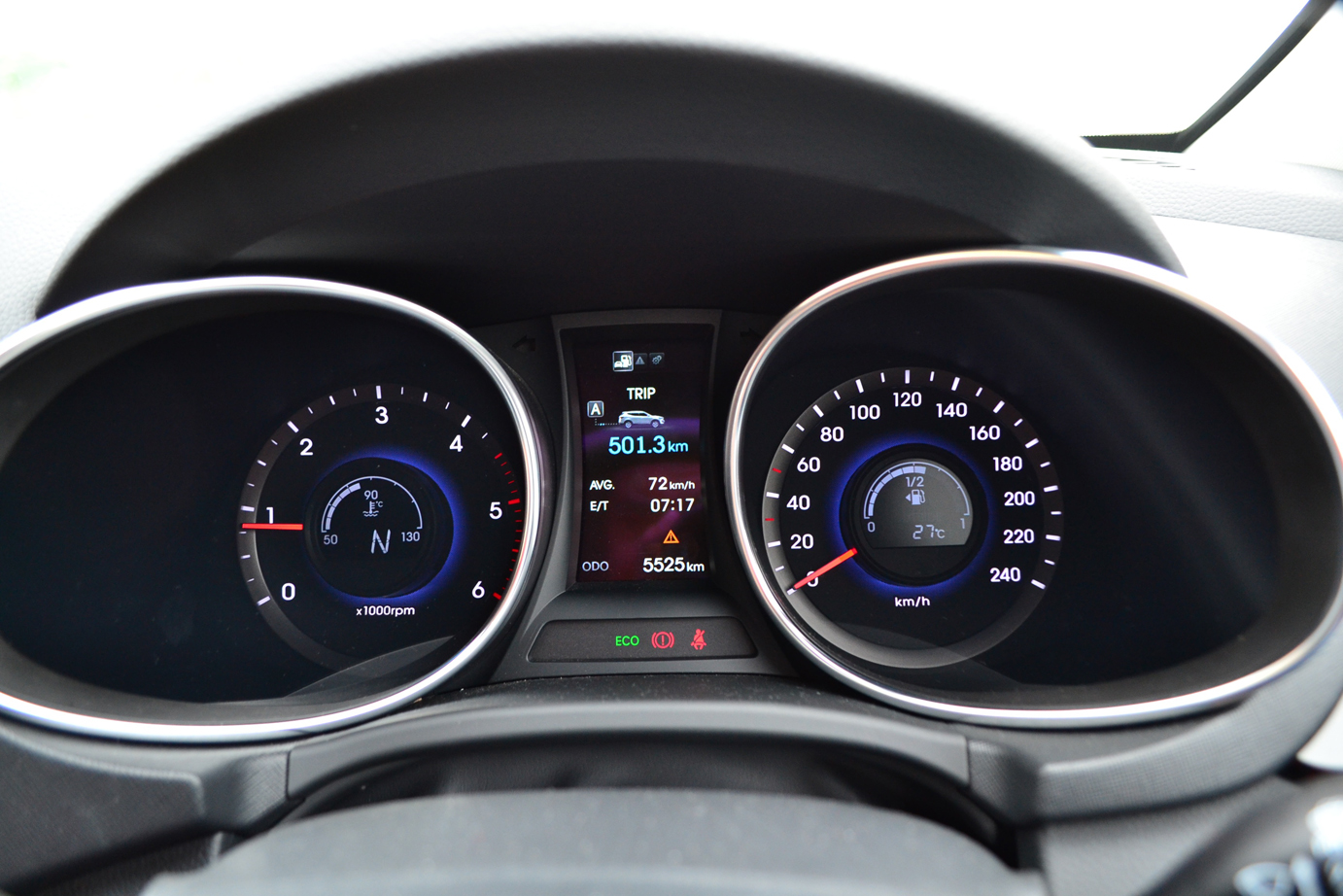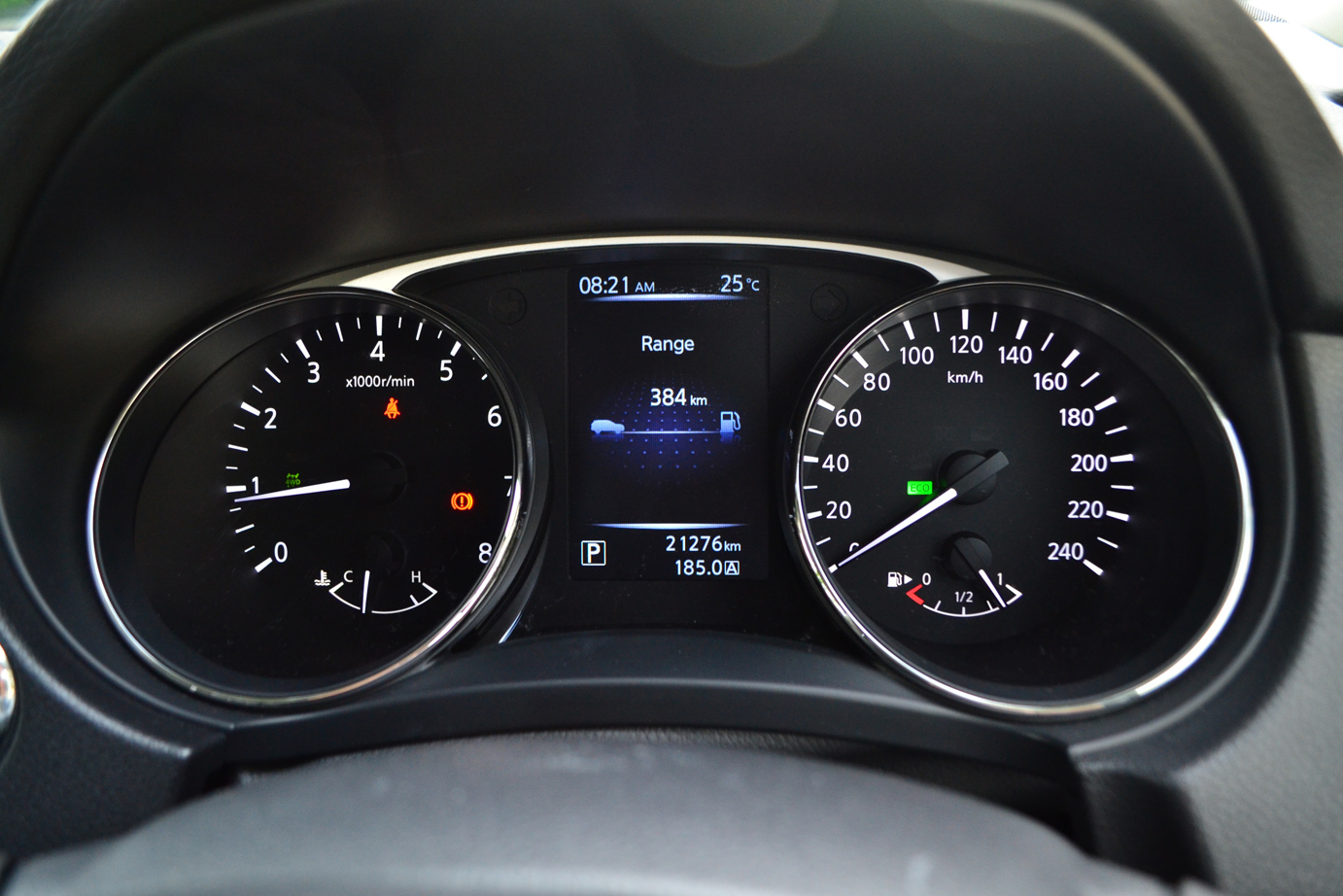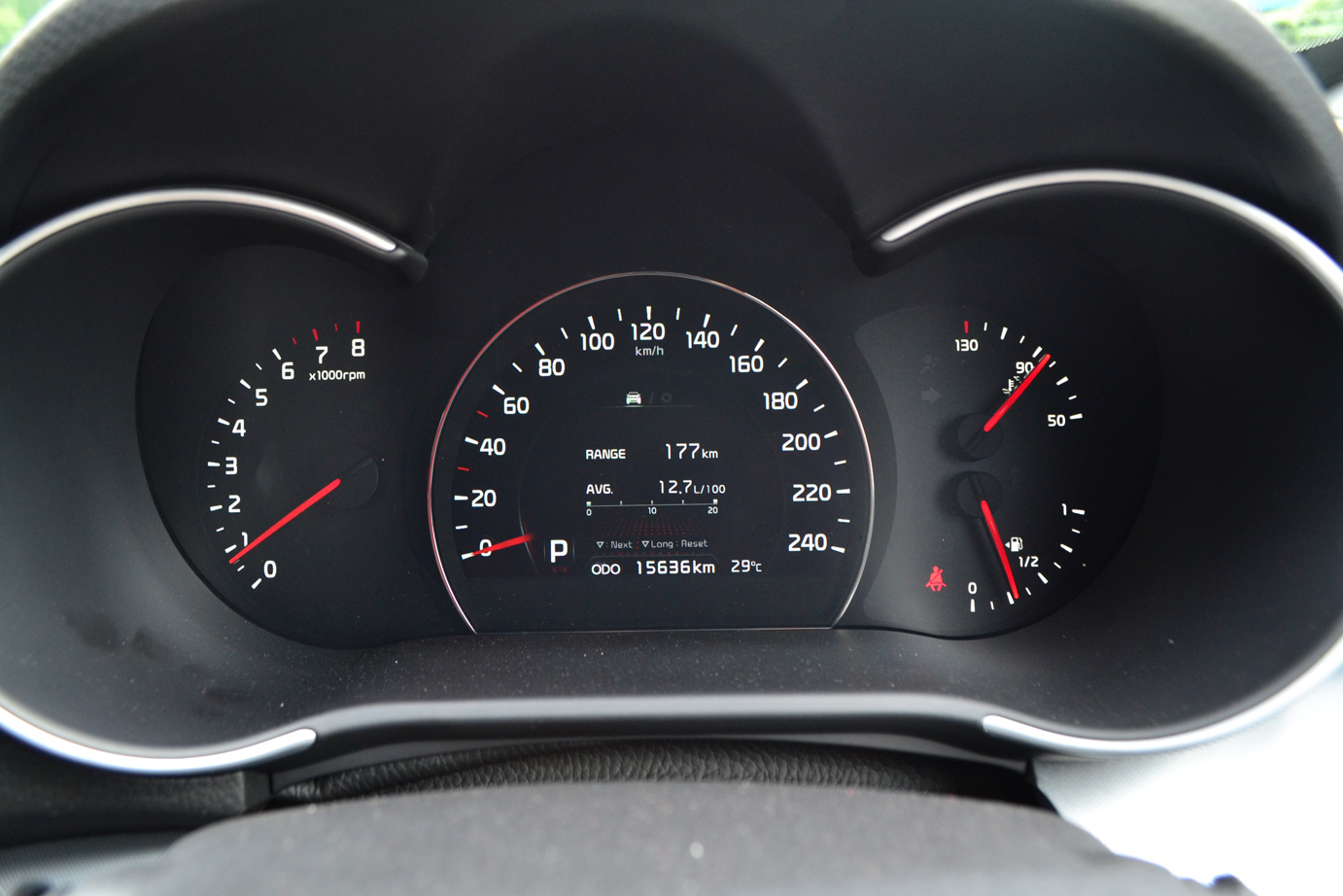 The Santa Fe's Supervision Cluster meter is has a 3D look thanks to its temperature and fuel meter displayed above the counters while a 4.2″ TFT LCD shows vital driving information clearly.
The X-trial has the large Multi Function Display with a full color 5″ Advance Drive Assist Display that allows you to even change the color of your display vehicle and relays safety information such as Active Chassis Control and Active Trace Control. It is the most sophisticated and conveys the most data to the driver.
The Sorento offers an even bigger MFD. Measuring 7″, the Supervision TFT LCD that's a little harder to read due to its smaller font size.
.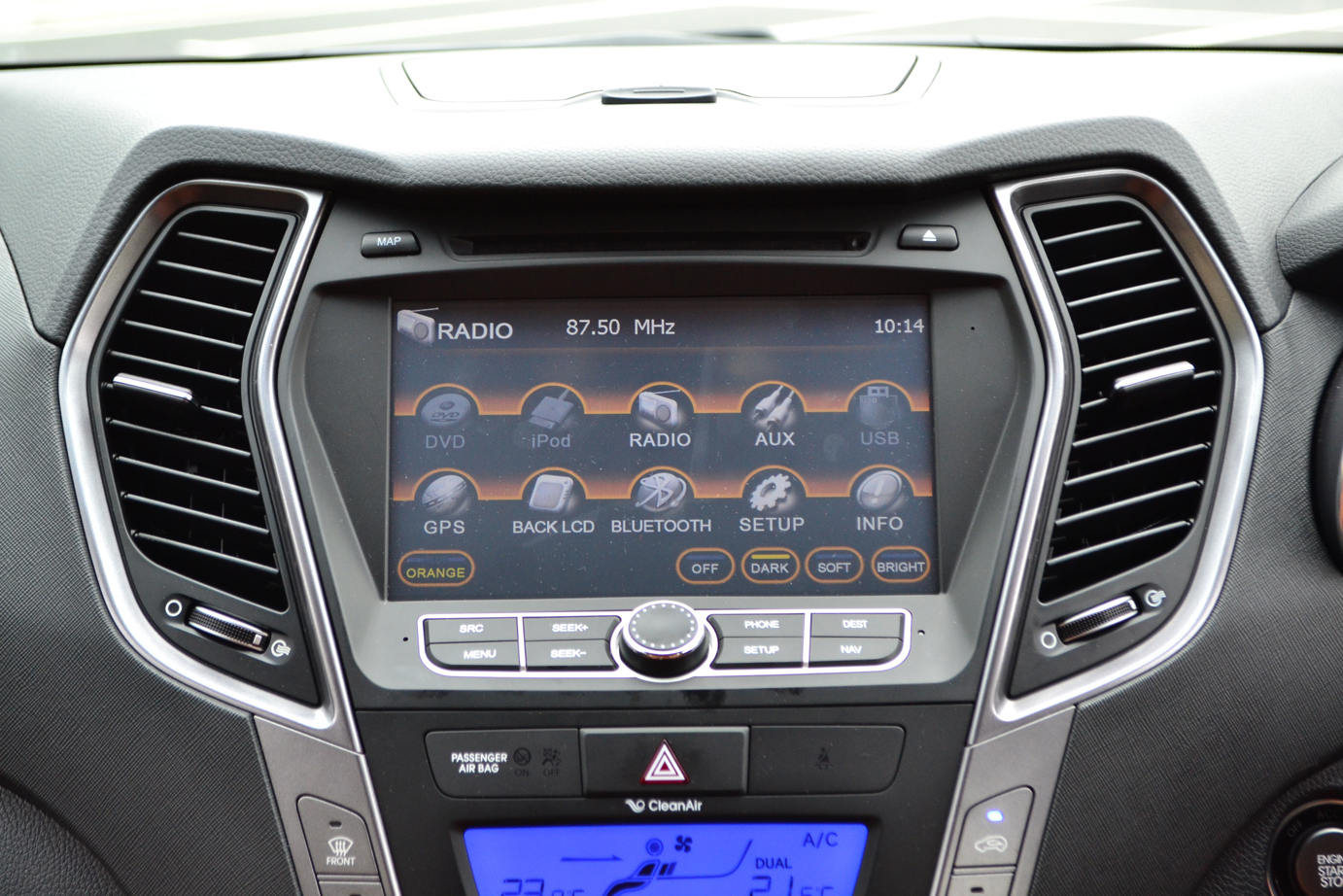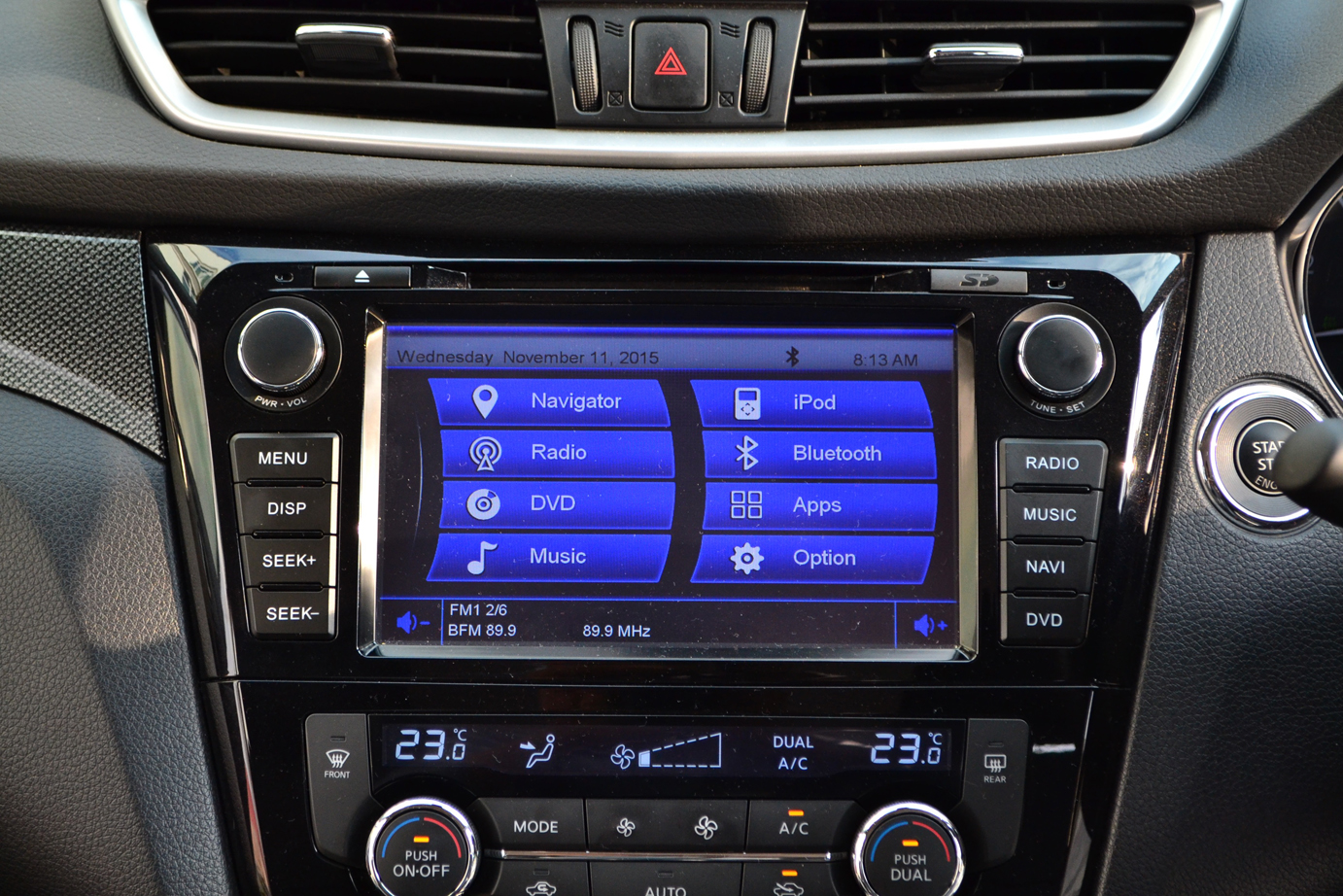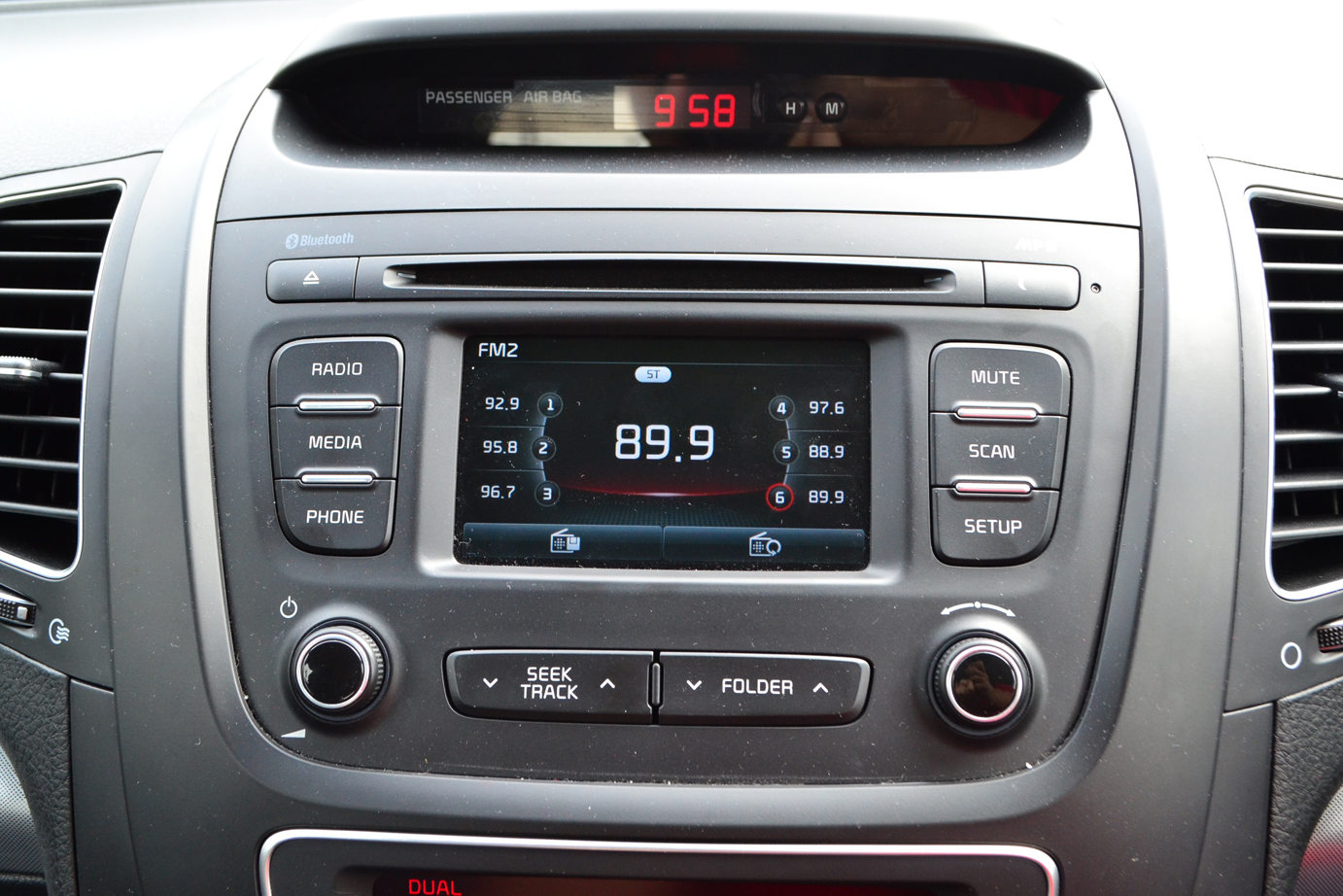 The premium spec Santa Fe comes with an Audio Visual Navigation system that's powered by Android and has the most features built in. Sound reproduction is handled by a 6-speaker system and it's marginally acceptable.
The X-trail, as tested here comes with an optional 8″ Multimedia Navigator which, like the Santa Fe also offers GPS navigation but using Tan Chong's proprietary software. Due to the nature of Waze getting traffic updates, it (Waze) is still the better choice, if you allow data that is (may not be feasible if you are roaming in a foreign country such as Singapore and Thailand.
The Sorento's headunit touchscreen is the smallest in size and like the other two, displays reverse camera images clearly, albeit in a tinnier fashion.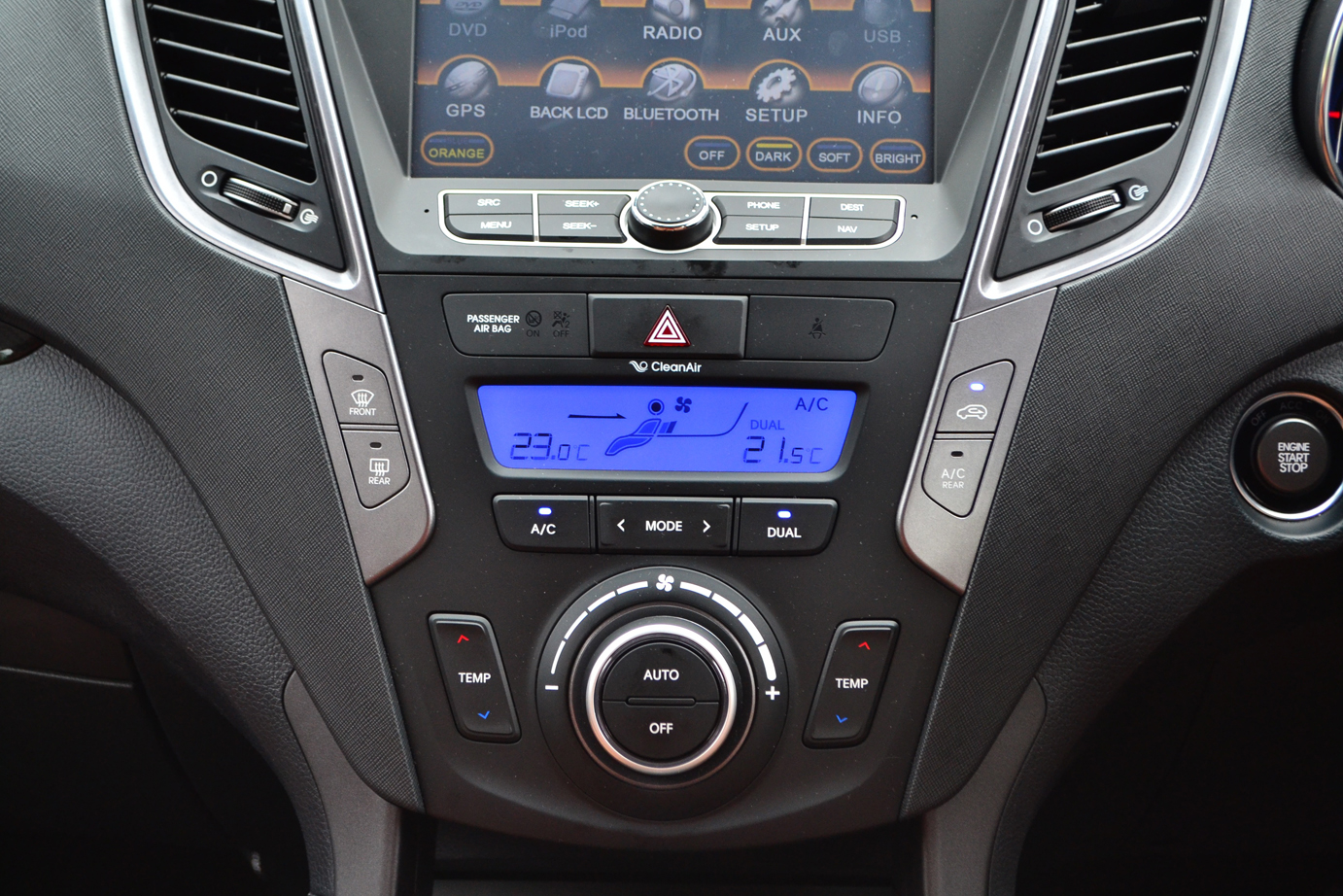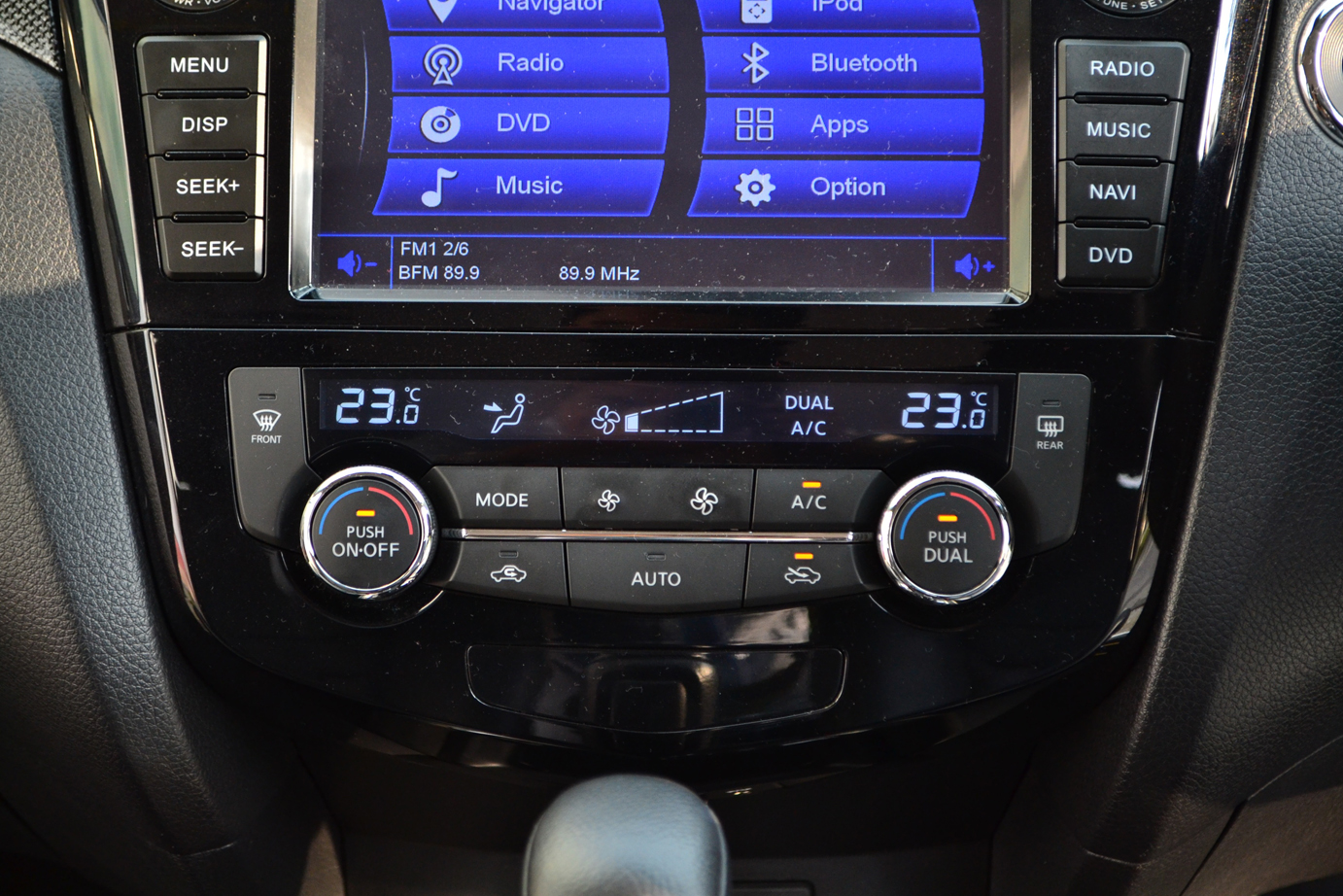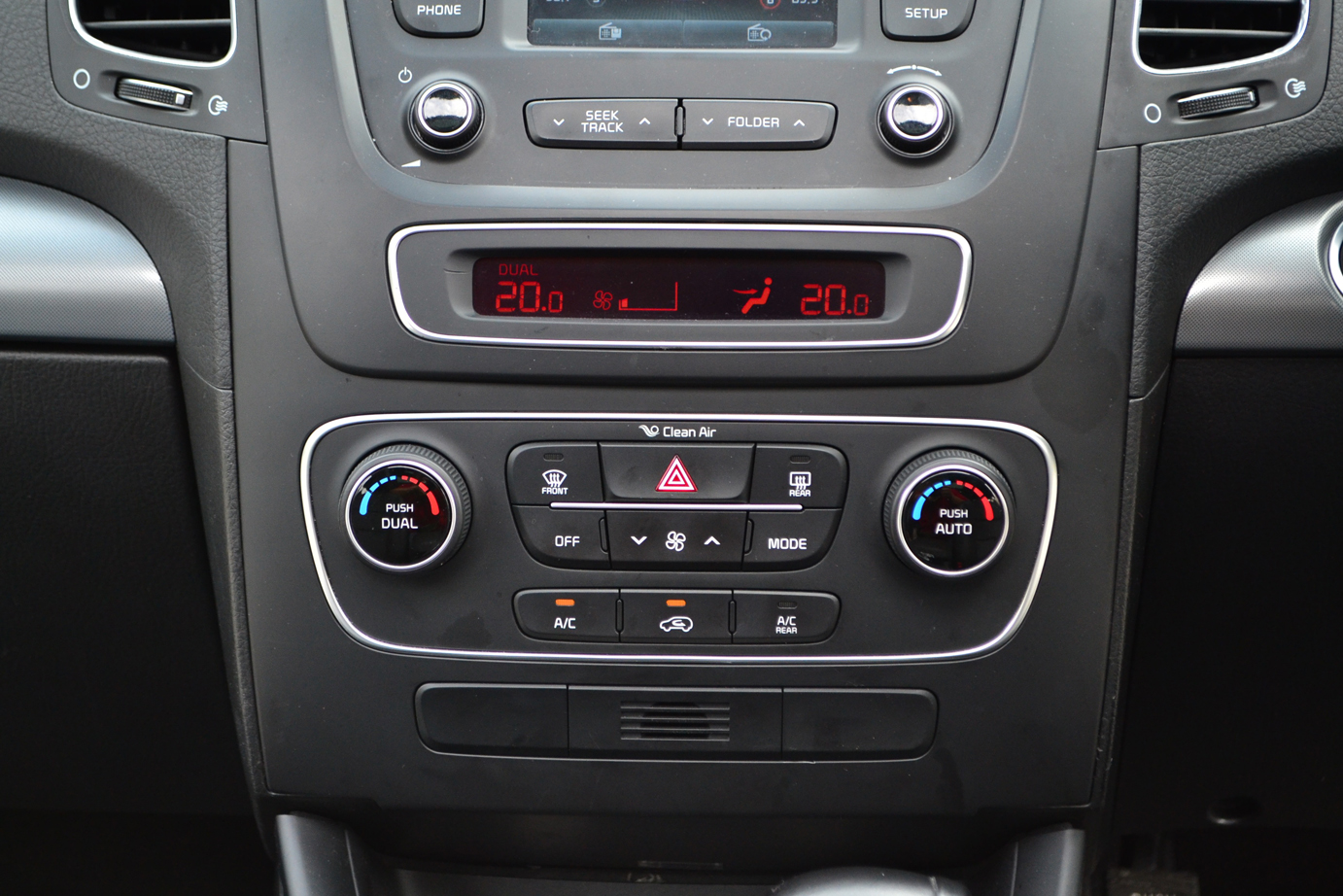 All three models offer Dual Zone climate control with both the Santa Fe and Sorento offering cluster ionizer. In case you're wondering if this is some sort of sales gimmick, the Sorento tested here is at least 3 years old and it exhibits barely any odor despite being used by numerous individuas as test unit so it works, IMHO.
In terms of throughput, the X-trail is the chilliest but it could be attributed to the fact that it is the only unit here without air conditioning vents for the third row, hence where the A/C rear button is absent unlike the Koreans.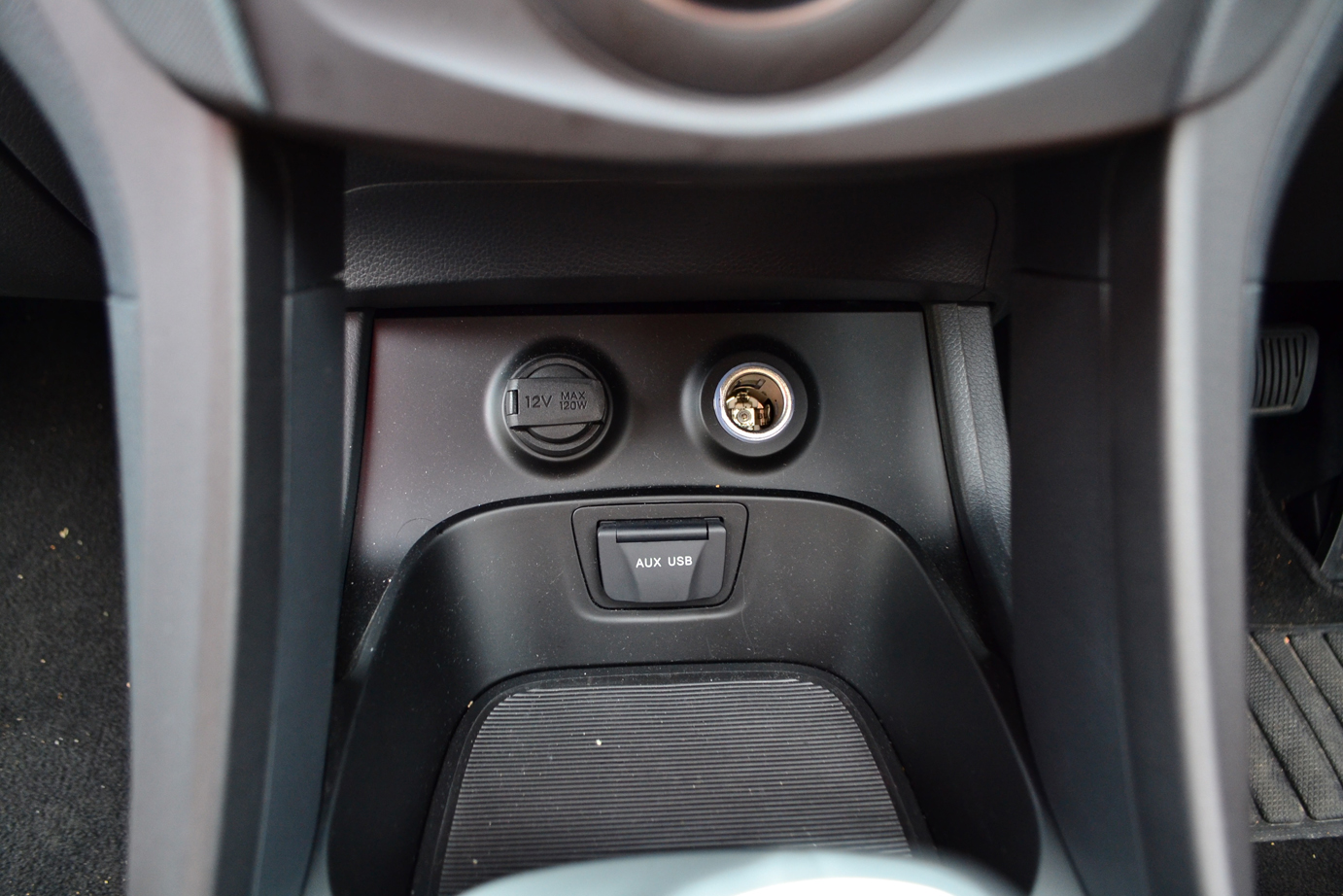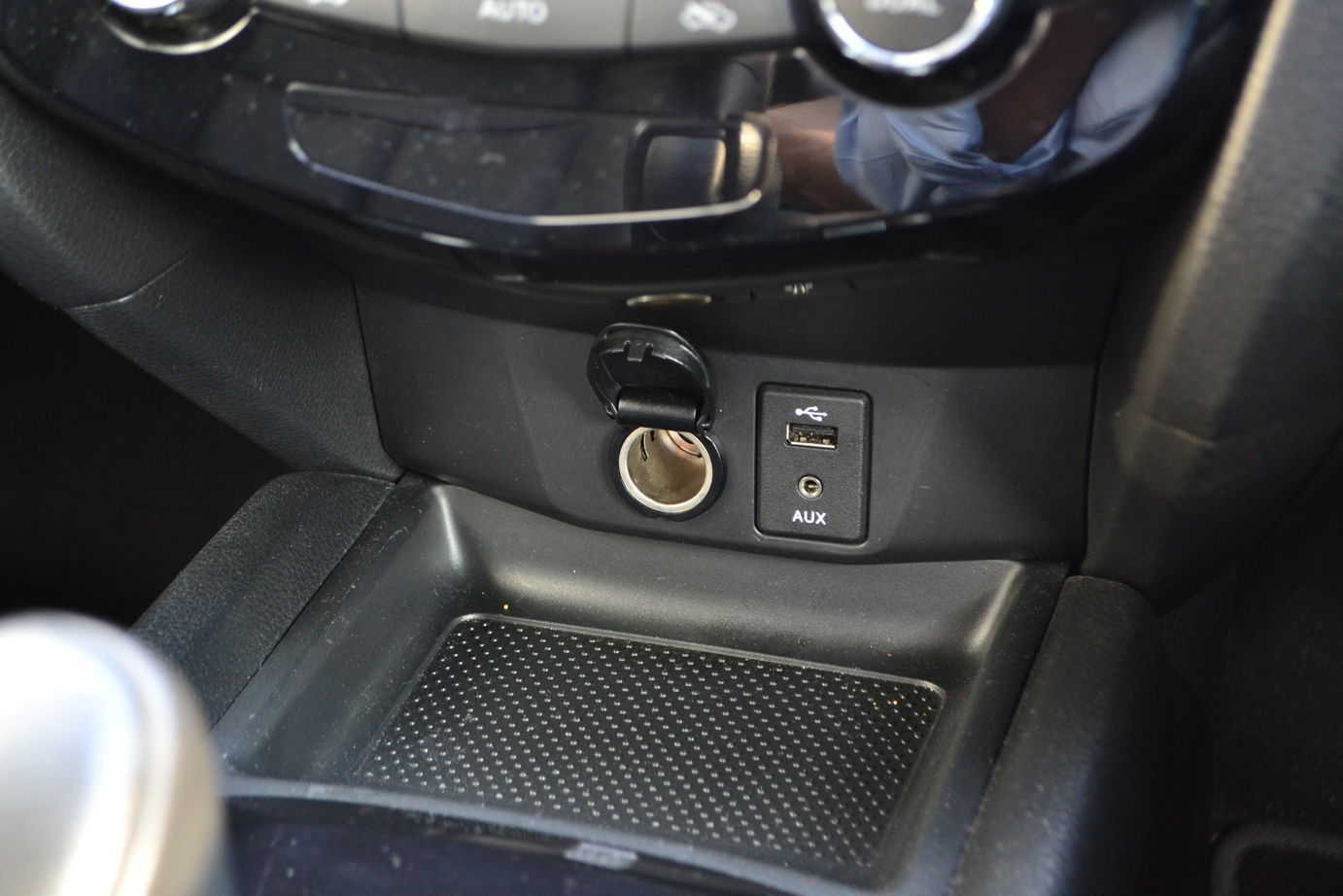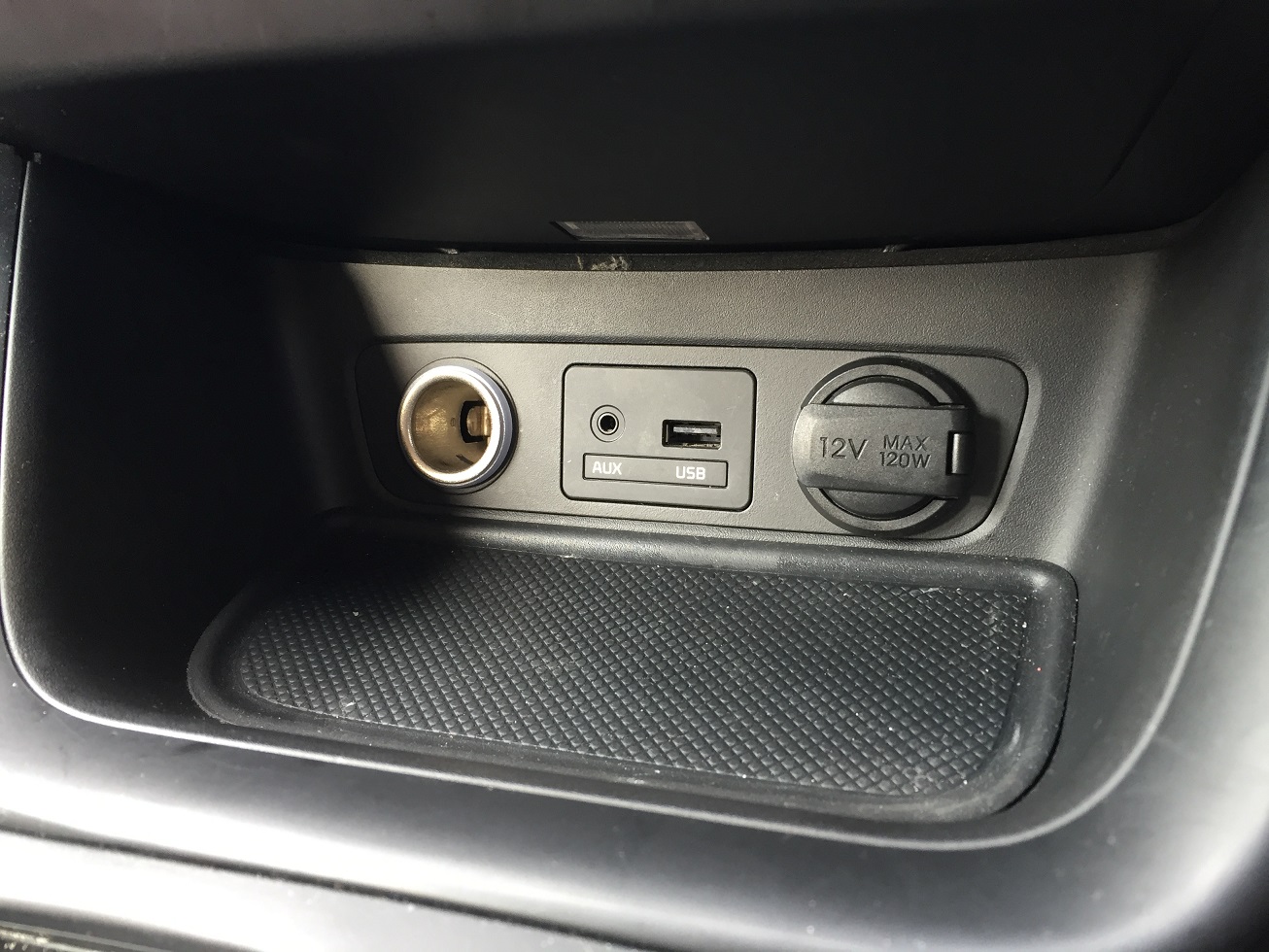 Two power ports (if you count the cigarette lighter) from the Koreans while the X-trail provides just one 12V.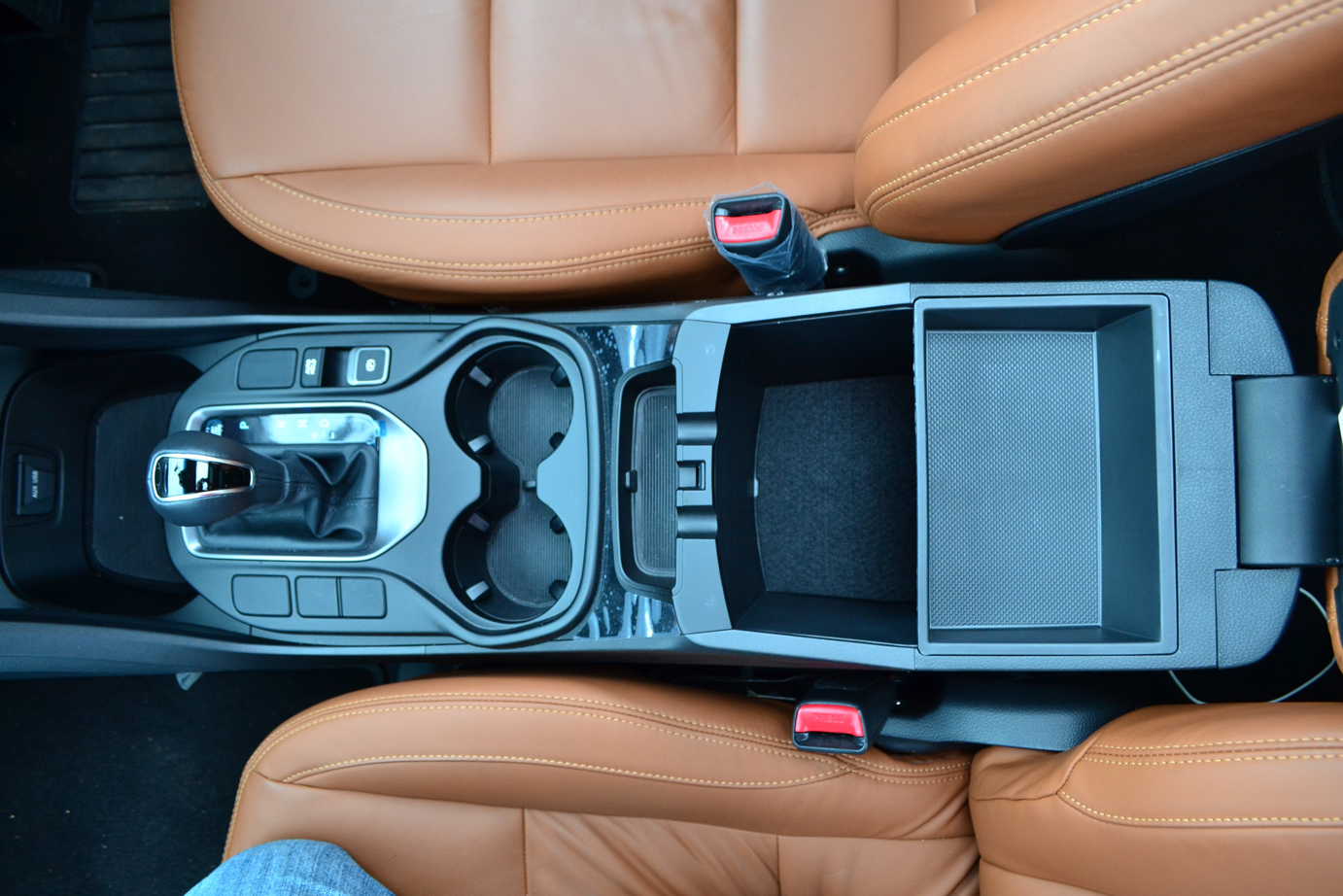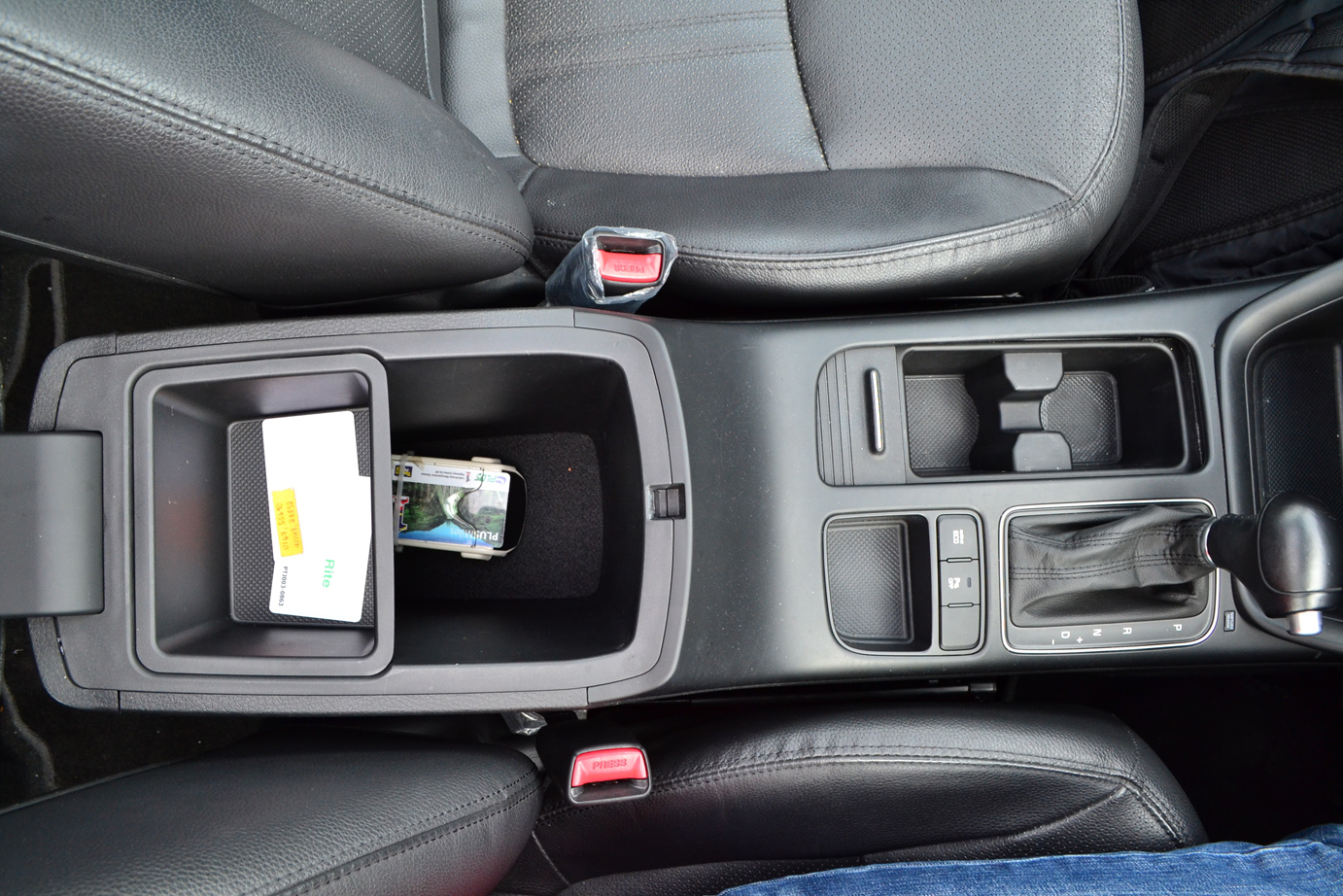 All three units have lots of cubicles for small items but the Sorento has a cover that can be pulled over the cup holders if you want to hide items that fit from prying eyes.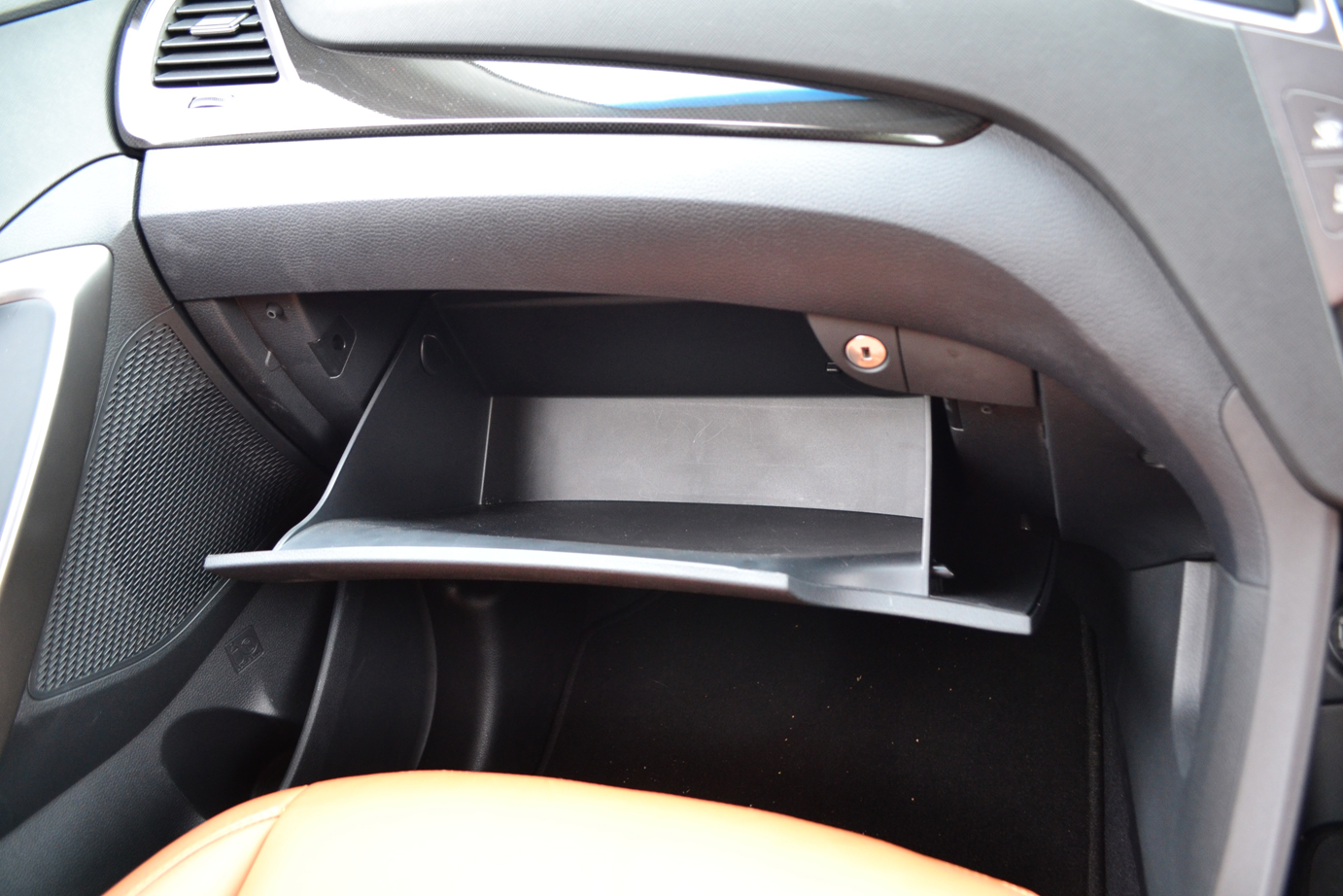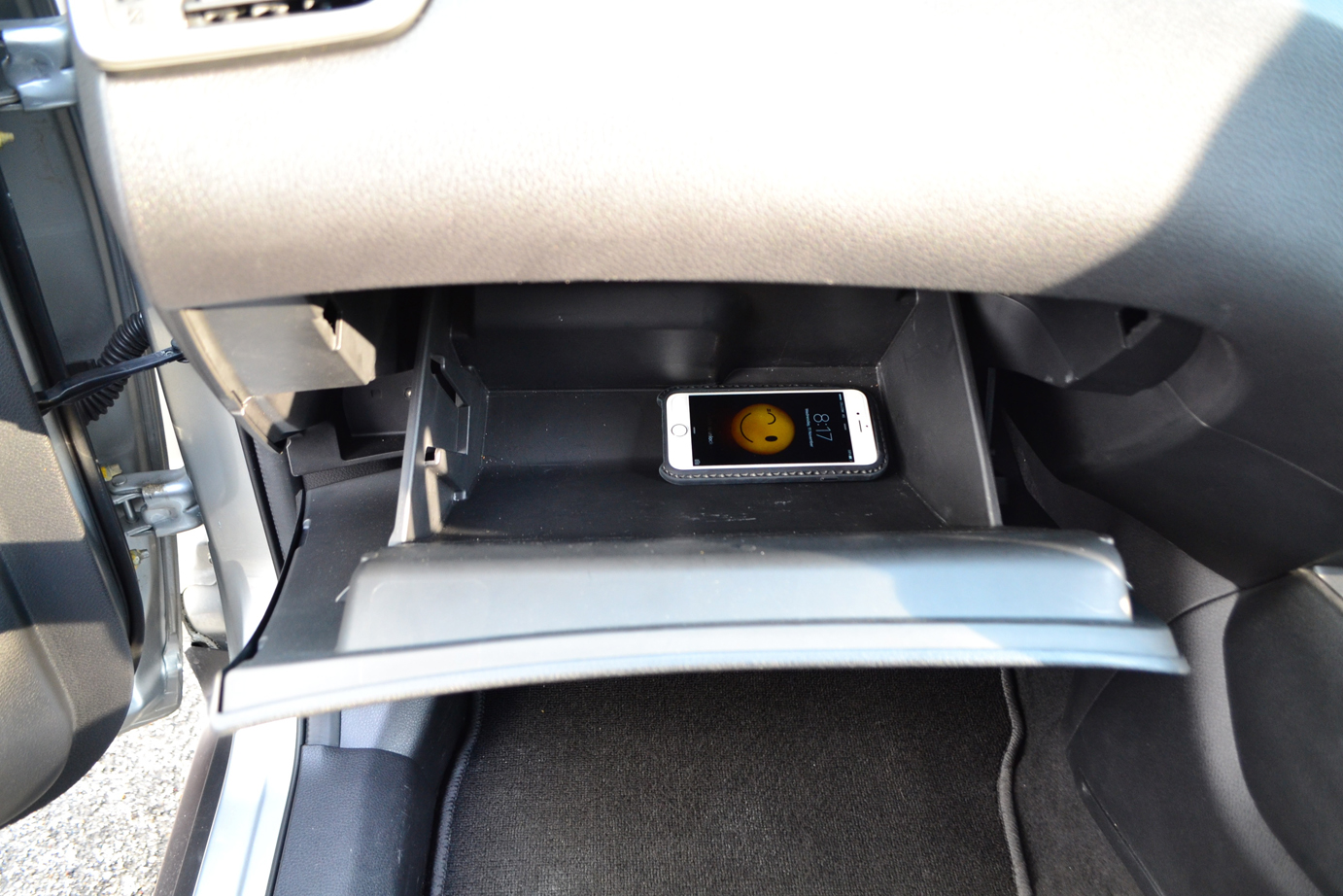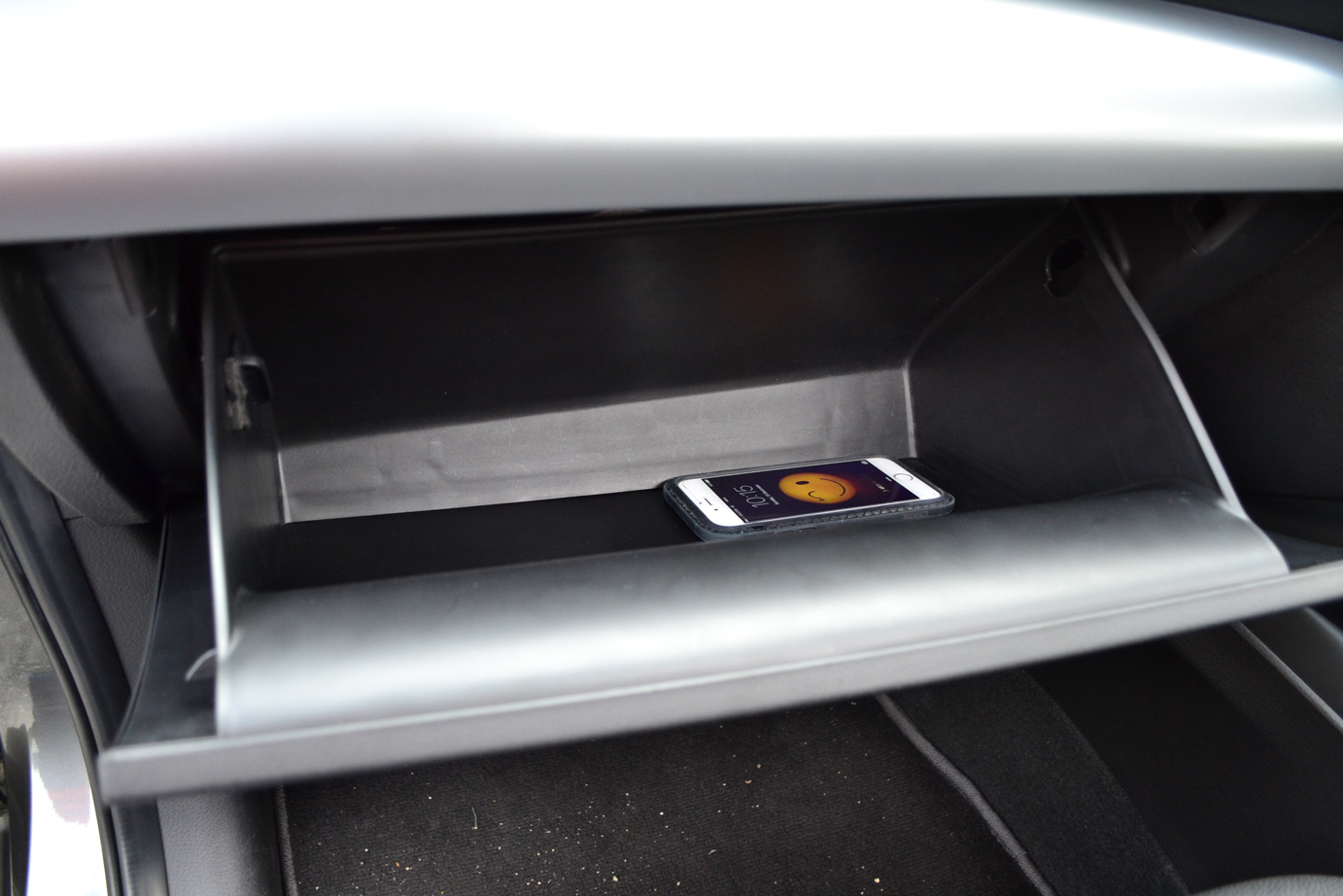 Largest glove compartment goes to the Sorento but the Santa Fe provides extra security by offering one that's lockable.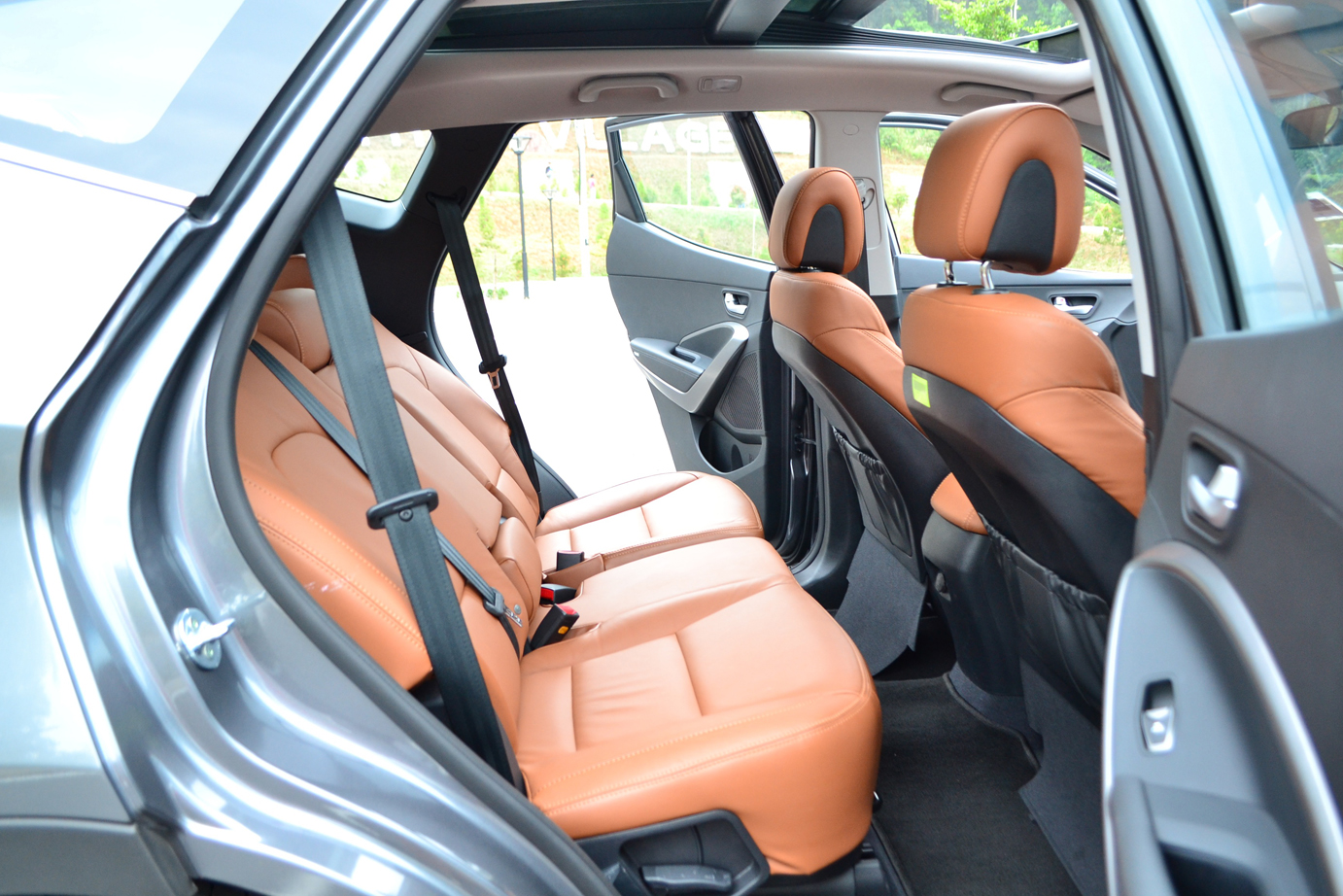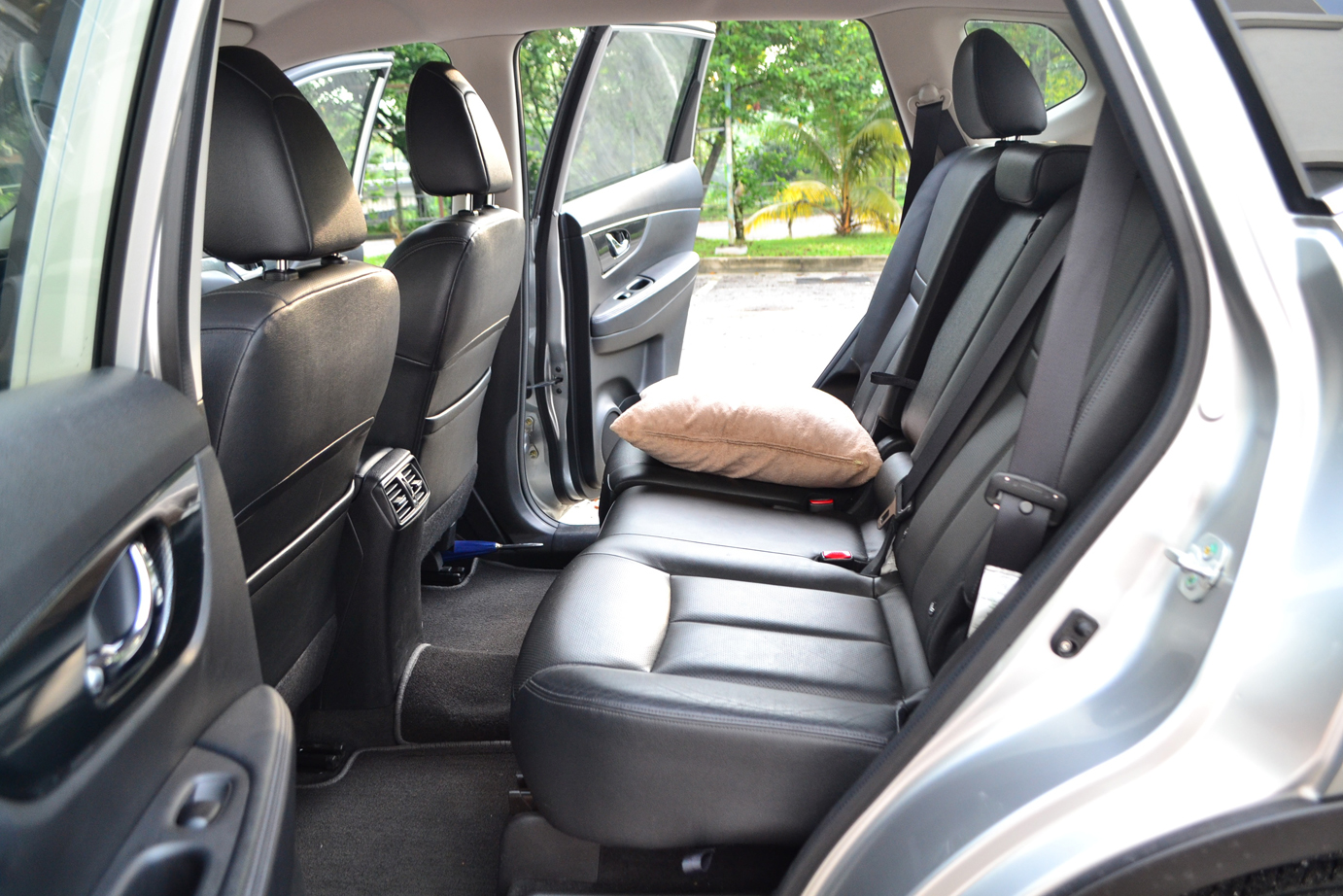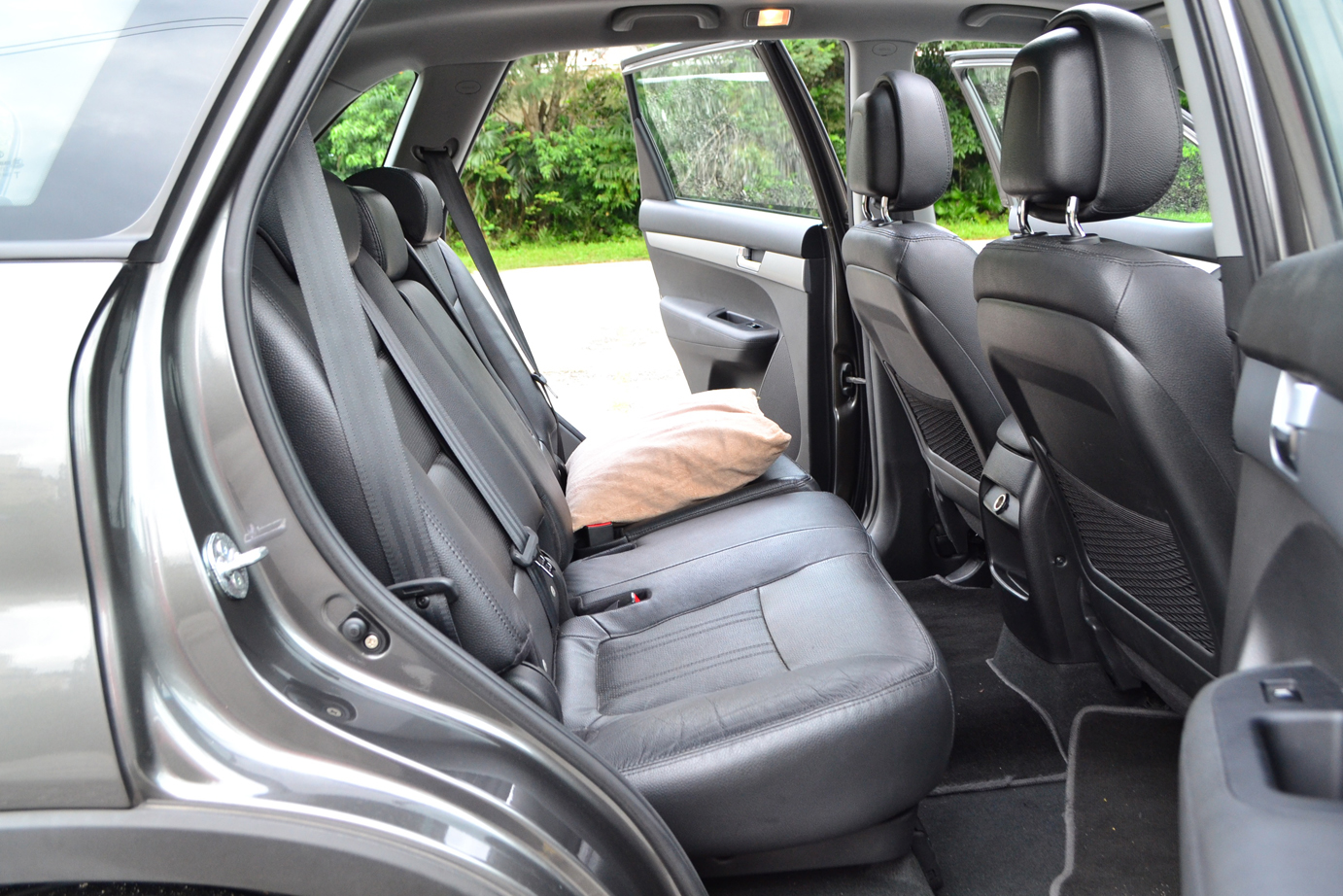 As 7-seaters, all three models here has space aplenty for 2nd row occupants and the backrest can be reclined slightly for better passenger comfort if the 3rd row is not used. Between the three, the Koreans provide yet another 12V socket at the back of the center armrest while the 2nd row air conditioning vents are found on the B-pillars.
The X-trail does not have the power port and the air conditioning vents are in the center. It has the narrowest bench among the three and three adults may find it a slight squeeze here.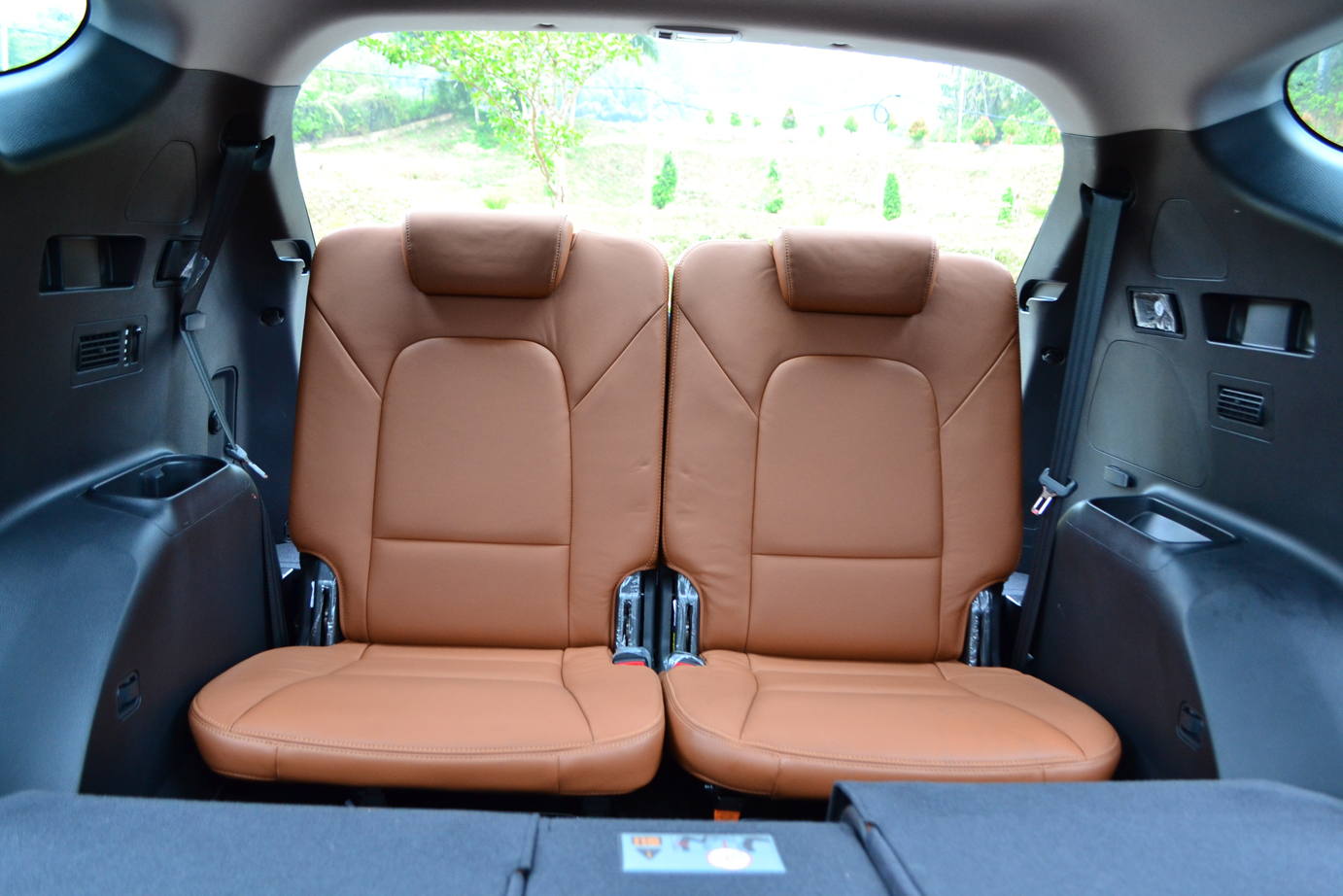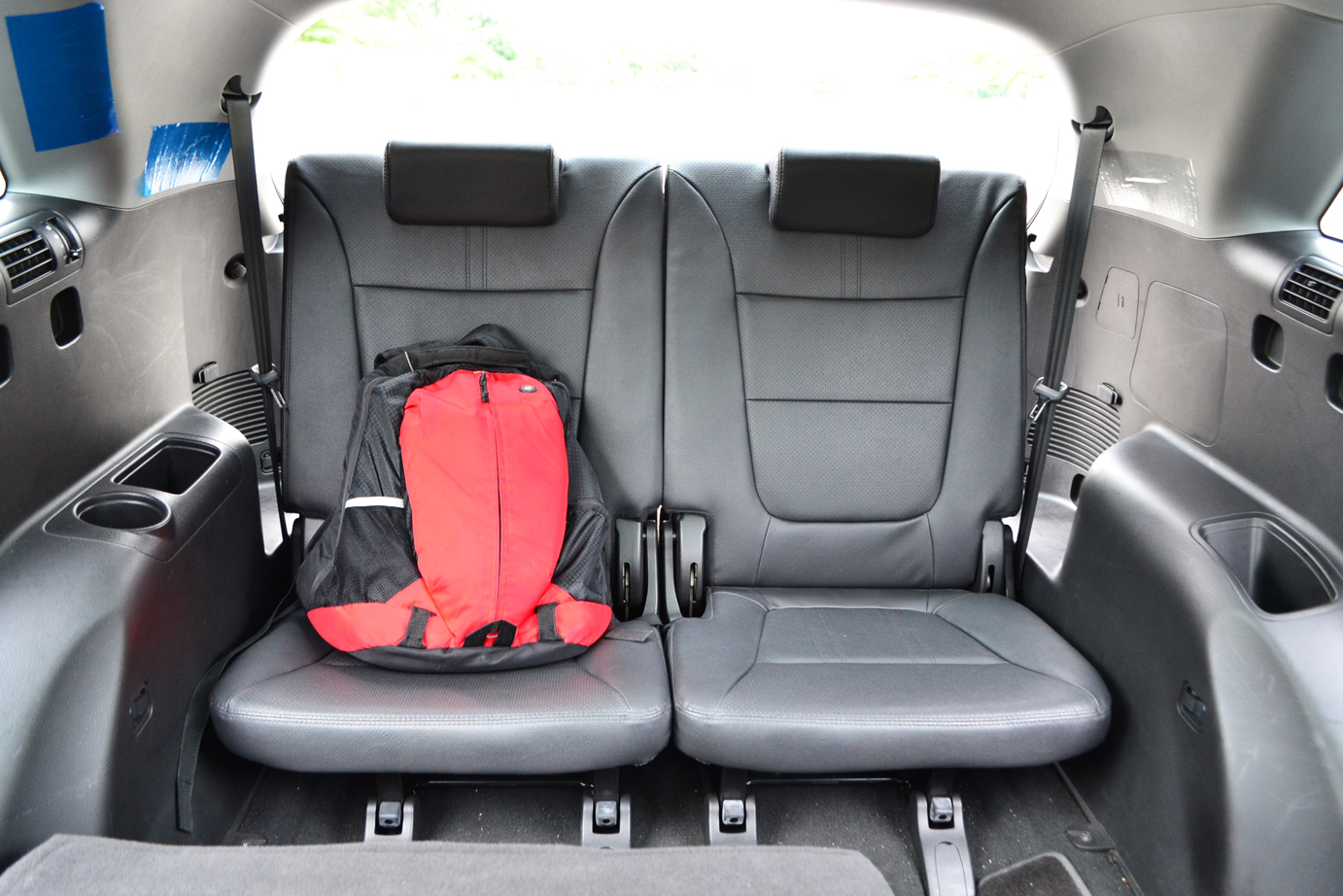 Despite being a 7-seater, the 3rd row is best reserved for children or anyone below the height of 5 feet. Between the three, the X-trail offers the least 3rd row legroom.
The catalog offered by Hyundai Malaysia states Santa Fe's luggage volume is 585 litres. That's not entirely accurate because in other markets, the SUV is offered in 5-seater guise and 585litre of cargo space is for that configuration. Santa Fes offered here comes as a 7-seater only and the 3rd row, even when folded eats into that space. Nevertheless with the 3rd row down, we still get an impressive 516litres of space and if the second row is also folded, you get 1,615litres of space.
Also unique to the Santa Fe Premium is the Smart Tailgate system which, like the new Hyundai Sonata, automatically opens the trunk once it detects the smart key that stays within its proximity for around 3 seconds. Makes hands-free loaded/unloading a breeze.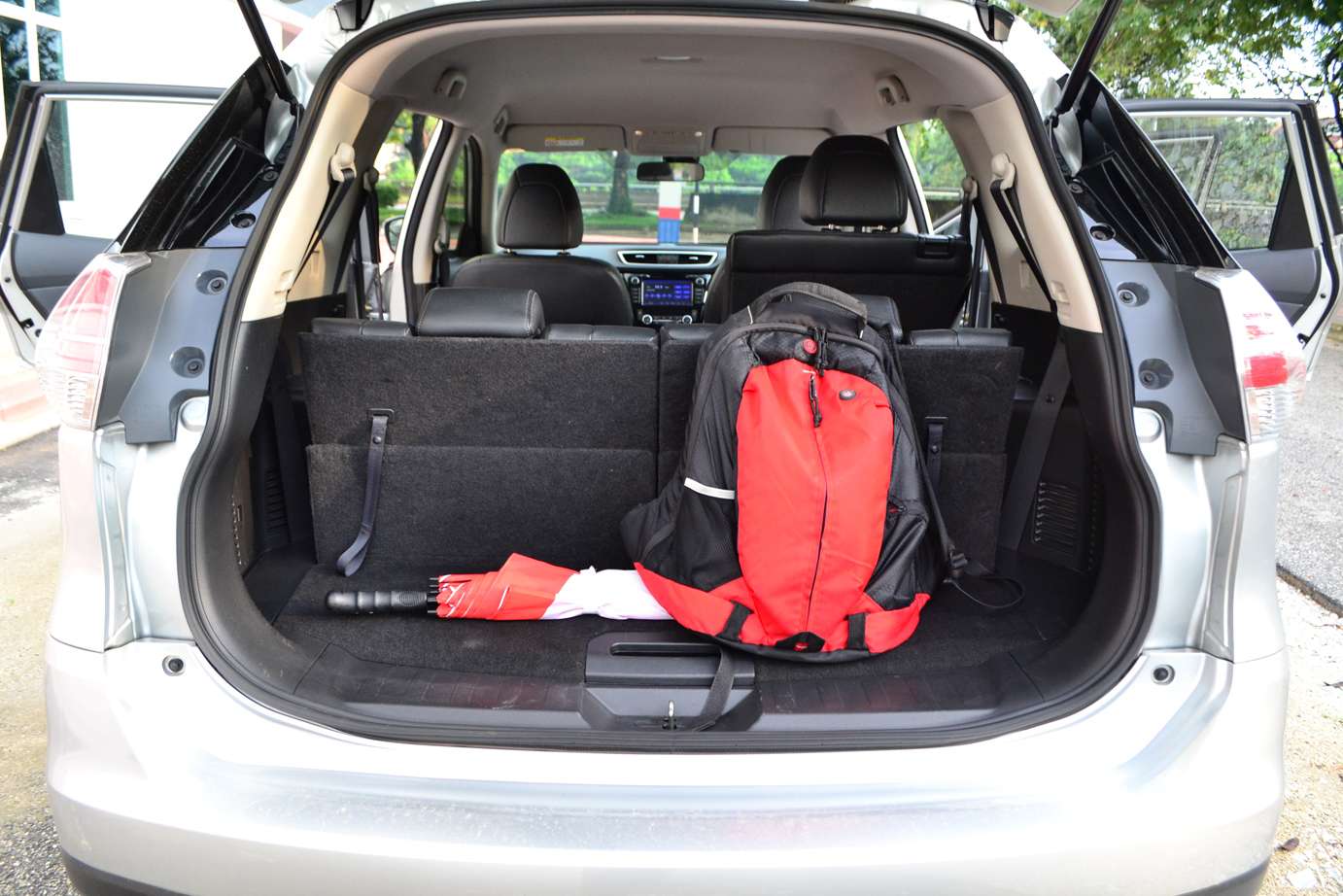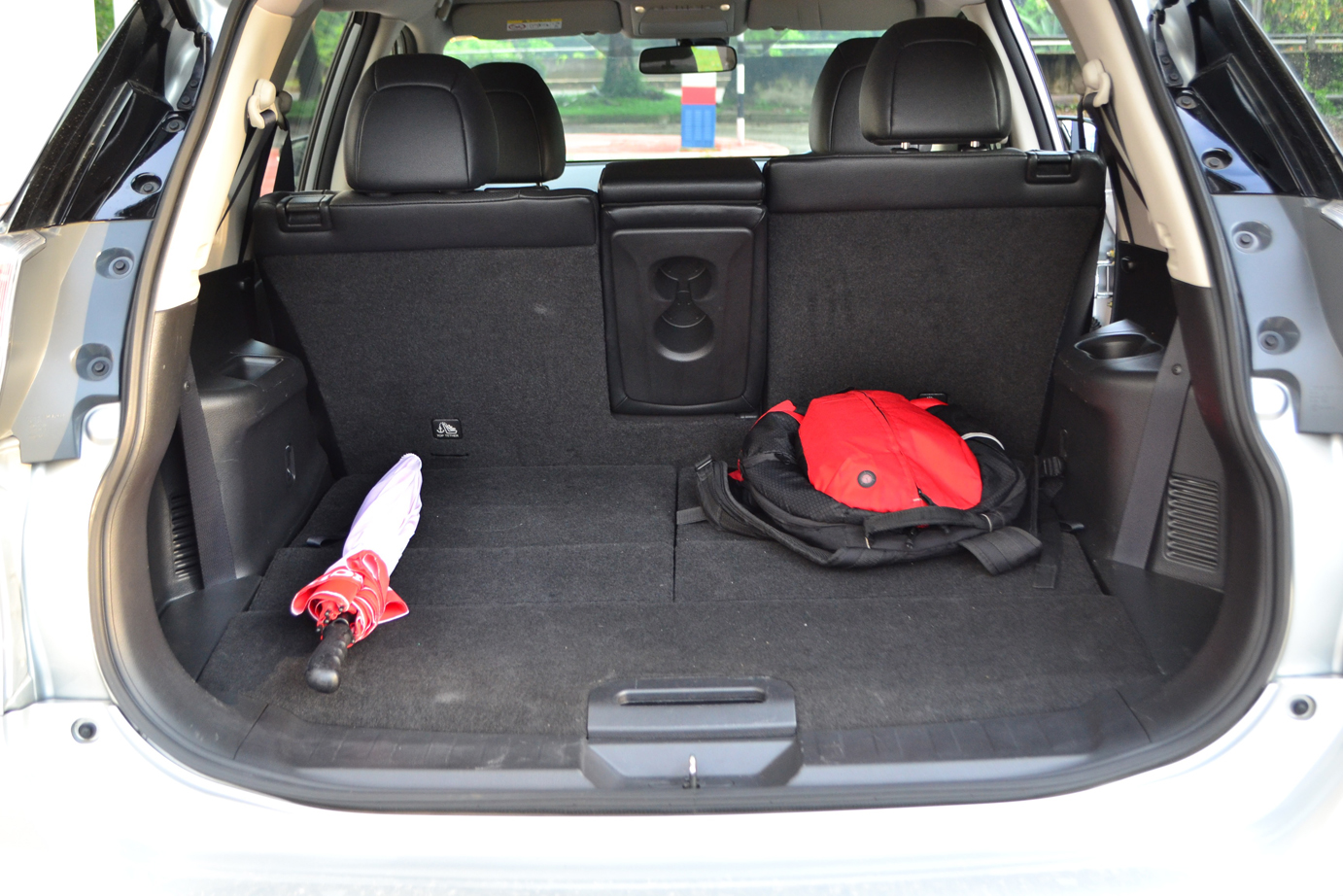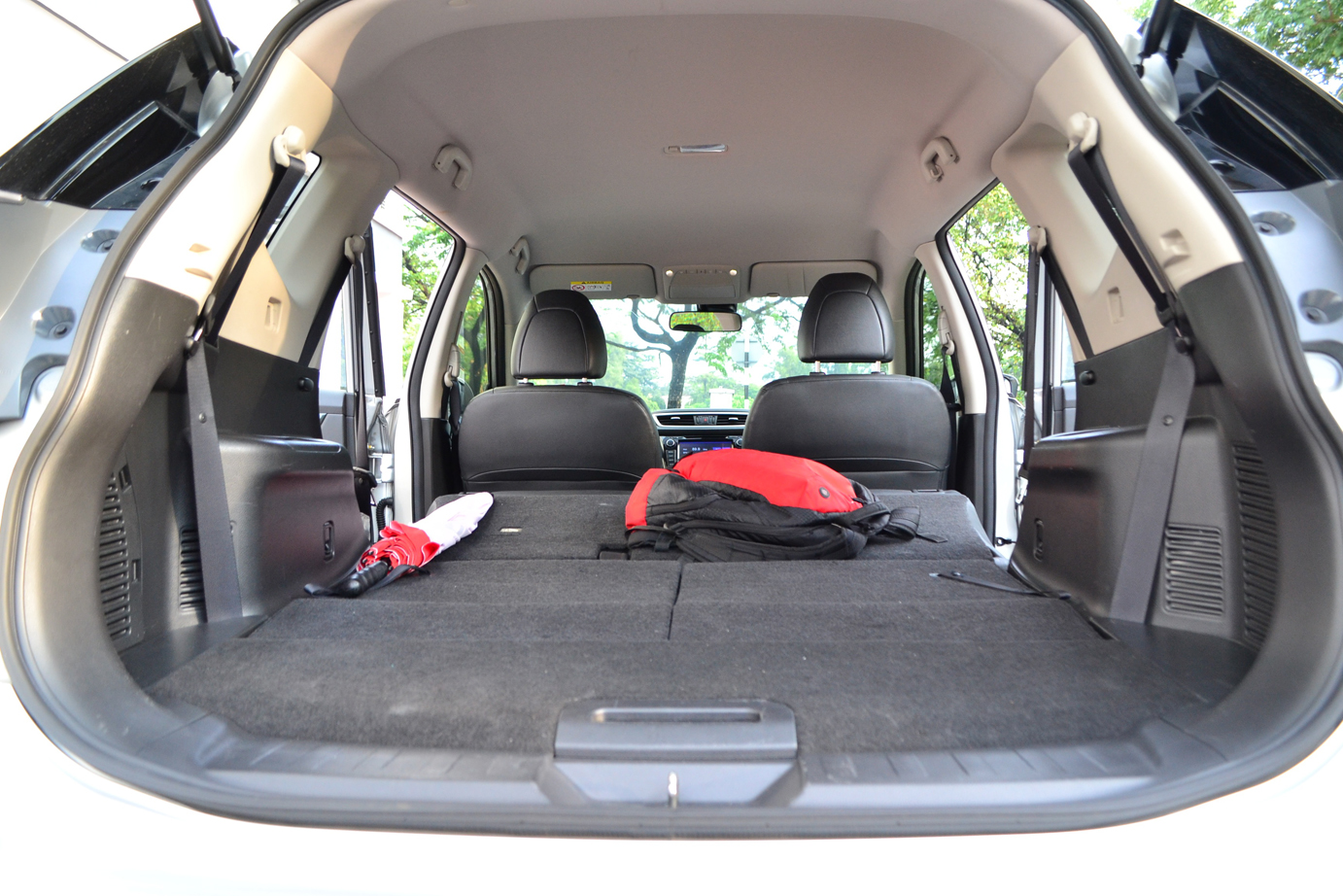 The Nissan X-trail meanwhile offers 550litres of space with the third row folded and the number goes up to 1,520litres with the 2nd row folded.
The Sorento has the largest cargo space with the third row down at 605litres. With the 2nd row down, the space increases to 1,662litres, the biggest in this group.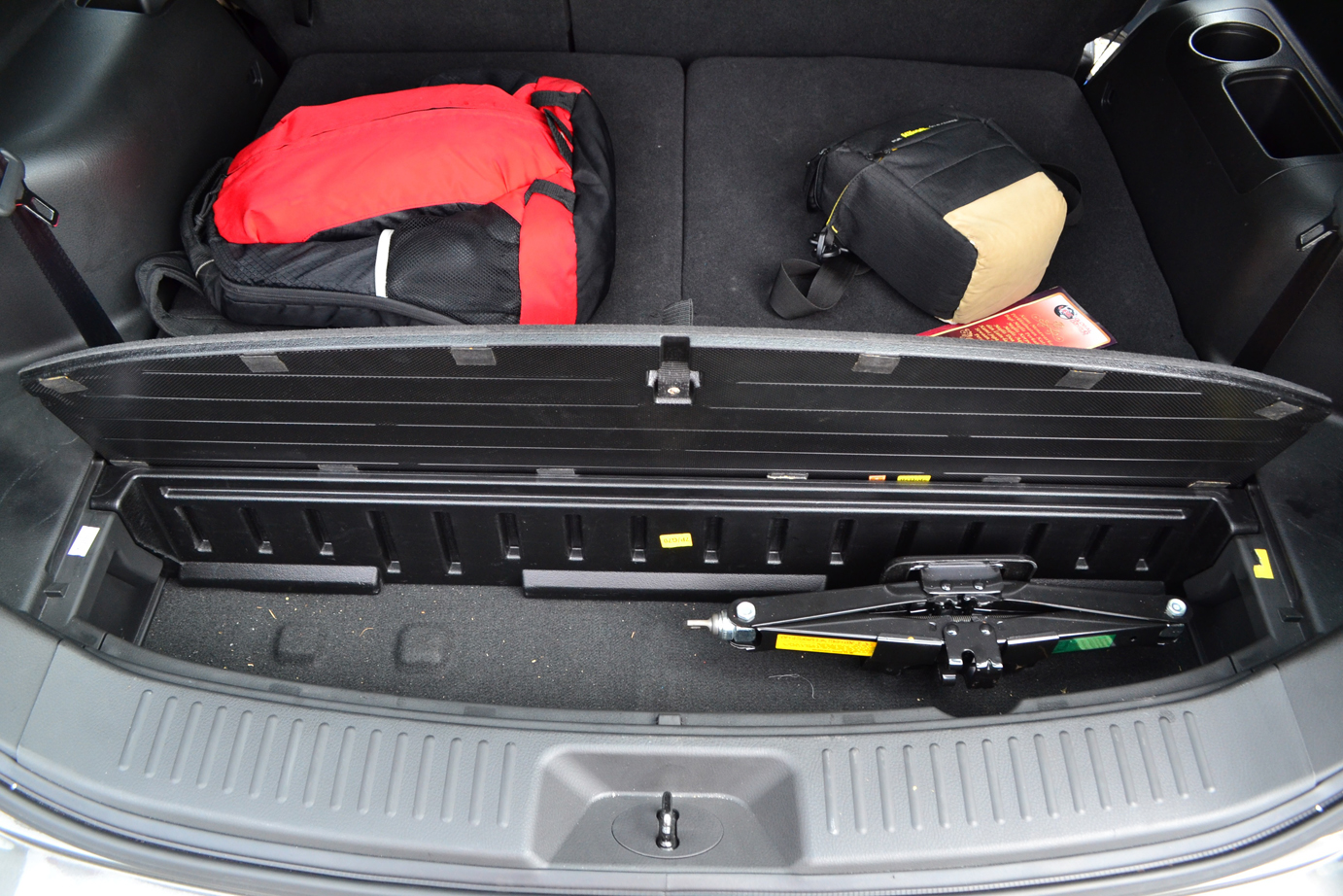 Both Santa Fe and X-trail has a compartment to stow away the tonneau cover when not in used but the Sorento does not have this feature. The X-trail is the only in the group that has the spare tire located below the boot while both Koreans mount the spare at the exterior below the boot.
Safety
The Santa Fe scored top marks by offering a full complement of 6-airbags, electronic stability control (delivers the right amount of braking force to each wheel based on engine torque and driving circumstance) and vehicle stability management (applies braking force to wheels individually to prevent over/understeer). The Hyundai Santa-Fe R 2.2 CRDI Premium has the following safety features:-
Dual front airbags
Two side airbags
Two curtain airbags (total 6 airbags)
ESP
Downhill Brake Force (DBC)
Hillstart Assist System
Brake Assist System
TCS
Vehicle Stability Management
Safe Drive Recorder
Safety Power Window
The Nissan X-trail 2.5 deserves special mention for introducing three innovative technology found on an SUV. The Active Chassis Control is a system that consists of three elements; Active Engine Brake (AEB) offers smoother deceleration (such as arriving at a corner or coming to a stop) by utilizing its CVT gearbox to apply engine braking, Active Ride Control (ARC) that automatically applies braking and adjusts engine torque after you hit a bump and Active Trace Control (ATC) which applies brake force to individual wheels for better traction when cornering. The full slew of safety features consists of:-
Driver and Front Passenger airbag (total 2 airbags)
Active Chassis Control: Active Ride Control / Active Engine Brake / Active Trace Control
Vehicle Dynamic Control (VDC)
TCS
ABS
EBD
BA
Active Brake Limited Slip (ABLS)
Hill Start Asisst
Front seat belt with load limiters & pre-tensioners DR: Double pre-tensioners AS: Single pre-tensioner
3-point Emergency Locking Restraint (ELR) (front x 2, second row x 3, third row x 2)
ISOFIX
LED High Mounted Rear Stop Lamp
360 deg camera
The Sorento on the other hand mirrors the Santa Fe in terms of safety features and offers a full complement of 6 airbags in its sole offering here. It provides the following:-
Dual front airbags
Side airbags
Curtain airbags (total 6 airbags)
Rear parking assist system
Speed sensing auto door lock
Impact sensing auto door unlock
ISOFIX
ABS
ESC
HAC
Active headrest
Safety window
3-point ELR type front seatbelt with height adjuster
3-point ELR type rear seatbelt
Specifications
Santa Fe R 2.2 CRDI Premium
Exterior
HID Xenon Headlamps with auto leveling, auto on/off
Cornering lights
LED combination tail lamps
LED rear spoiler
Front and Rear bumper skid plate
Front fog lamps
Rear fog lamps
Power foldable & adjustable door mirrors with wing mirror signal lamps
Headlamps washer
Interior
Leather steering wheel with audio, Flex Steer and cruise control button, tilt & telescopic
Leather wrapped shift knob
One touch turn signal
Brown Nappa leather seats
12-way power-assisted driver's seat
60:40 second row seat, recline
50:50 third row seat
Smart Tailgate System
Nissan X-trail 2.5
Exterior
LED Headlamps with automatic leveling, auto on-off
Front fog lamps
Daytime Running Lights
Power foldable & adjustable door mirrors with LED wing mirror signal lamps, puddle lamps
Rear wiper with reverse link
17″ alloy wheels with Dunlop Grandtrek 225/65 R17 tires
Interior
Leather steering wheel with audio, cruise control and Advanced Drive Assist Display (ADAD) switches, tilt & telescopic
Leather wrapped shift knob
One touch turn signal
ECO Mode
Around View camera
Dual zone auto climate control with rear vents
Intelligent key (i-Key) with Push Start Ignition
Tonneau Cover
Adjustable front & rear headrests
Leather seat material
8-way powered driver seat with lumbar support
4-way powered front passenger seat
5″ audio display with FM/AM/CD/MP3, AUX-In, USB Connectivity, Bluetooth telephony
6-speaker system
60:40 second row seat, recline
50:50 third row seat
10 cup holders (door x 4, center console x 2, rear armrest x 2, third row x 2)
Kia Sorento
Exterior
HID Xenon headlamps with auto levelling device
Headlamp washers
Escort light
Static bending light
Front and rear fog light
Panoramic sunroof
Roof rack
LED rear combination lamp
Chrome coated, pocket lamp outer door handles
Rear spoiler
Electric adjustable, electric folding with integrated side signal electronic side door mirrors
Interior
Leather upholstery
Leather wrapped motor driven power steering, tilt and telescopic
Auto cruise control
TFT LCD 7″ Supervision cluster
Radio/CD/MP3/AUX/USB/iPod Connectivity
6-speaker system
Rear view camera display
Dual zone automatic with cluster ionizer air conditioning
3rd row manual air conditioning
Electronic chromic mirror
Leather wrapped gear knob
Active headrest
6-way power seat (driver only)
2nd row 60:40 split folding
3rd row 50:50 split folding
Ownership and Maintenance
The Hyundai Santa Fe 2.2 CRDi Premium spec tops the RM200,000 mark by RM1,134.11 and that's inclusive of GST and excise duty, without insurance. If you want to stay below the RM200k mark, the Elegance spec can be had for RM181,385.32 but you would lose the HID Xenon headlamps (projectors instead), 19″ alloys (and tires), 6 airbags (Elegance only has 2), LED combination taillamps (buld type for Elegance), Nappa Leather (black normal leather), Dual Zone automatic air conditioning (single zone manual), Audio Visual Navigation (a standard radio+MP3+AUX+USB instead), Panoramic sunroof, rear view camera, rain sensor, Smart tailgate system. That's quite a lot of kit omitted for RM20k. The Santa Fe comes in Crystal White, Sleek Silver, Titanium Silver, Ocean View (blue), Red Merlot and Phantom Black. Ocean View and Red Merlot is not available for Elegence spec. It comes with a 5-years or 300,000km warranty.
The Nissan X-trail 2.5l is offered with the price tag of RM165,800. In 2WD guise, it has the lowest price tag at RM142,800 (both OTR inclusive of insurance) and comes in Tungsten Silver, Titanium Olive, Brilliant White, Diamond Black or Graphite Blue. It has a 3-years or 100,000km warranty.
The Kia Sorento is offered in its sole 2.4litre variant for RM156,800, making it the most affordable AWD 7-seater SUV in the group. You can choose between four colors: Snow Pearl White, Bright Silver, Glittering Metal and Mahogany Brown and it has a 5-years unlimited mileage warranty.
In conclusion, which to pick?
The Sorento is great for those seeking to move large number of people or cargo but its soft suspension makes it less of a driver's car. It's small touchscreen takes some marks off and even though Waze has taken over as our default Satnav choice, not offering GPS navigation makes it feel dated. Also, considering that the 3rd generation Sorento has already been launched worldwide, we may see its launch here soon so do consider the Sorento if the dealership offers a good discount.
The Nissan X-trail is a good handling vehicle with the right balance between space and handling. Unfortunately, even its most expensive variant only has two airbags and that's a shame considering it is technologically the most advanced in terms of safety technology thanks to its Active Chassis Control. Still, for the 2WD coming in at most 5-seater SUV price, it's easy to see why it makes perfect sense to get one if you're planning to use it on urban roads most of the time. It's not surprising to see why it was a runner up for the 2015 ASEAN Car of the Year
Ultimately, if budget is no issue, the Hyundai Santa Fe would be the best choice. Not only does it have the most goodies, its proven 2.2litre turbocharged diesel engine has been known to be reliable and owners have commented that over time, its NVH remains excellent. The main issue is the huge price gap between the Premium and Elegence. Not everyone is willing to spend almost as much as an entry level BMW 3-series or the Mercedes CLA on an SUV (let alone a Korean model) but unless you're venturing into the luxury market (such as the Land Rover Discovery and Audi Q7), this is simply the best equipped 7-seater money can buy.