Jaguar Land Rover (Malaysia) Sdn Bhd has launched the highly acclaimed new Jaguar XE sports sedan in Malaysia. The XE now completes the Jaguar sedan car range, in addition to the XF and XJ model lines.
The smallest, lightest and stiffest Jaguar sedan yet, the new XE is packed with many ground-breaking features.
According to JLRM managing director Tuan Syed Mudzhar Syed Ali, the Jaguar XE redefines the concept of the sports sedan.
"Its lightweight construction, streamlined styling, luxurious interior and outstanding ride and handling make it a true driver's car. In the XE, Jaguar has come up with a winner that is definitely a serious contender in the mid-size luxury sedan segment," he said.
Design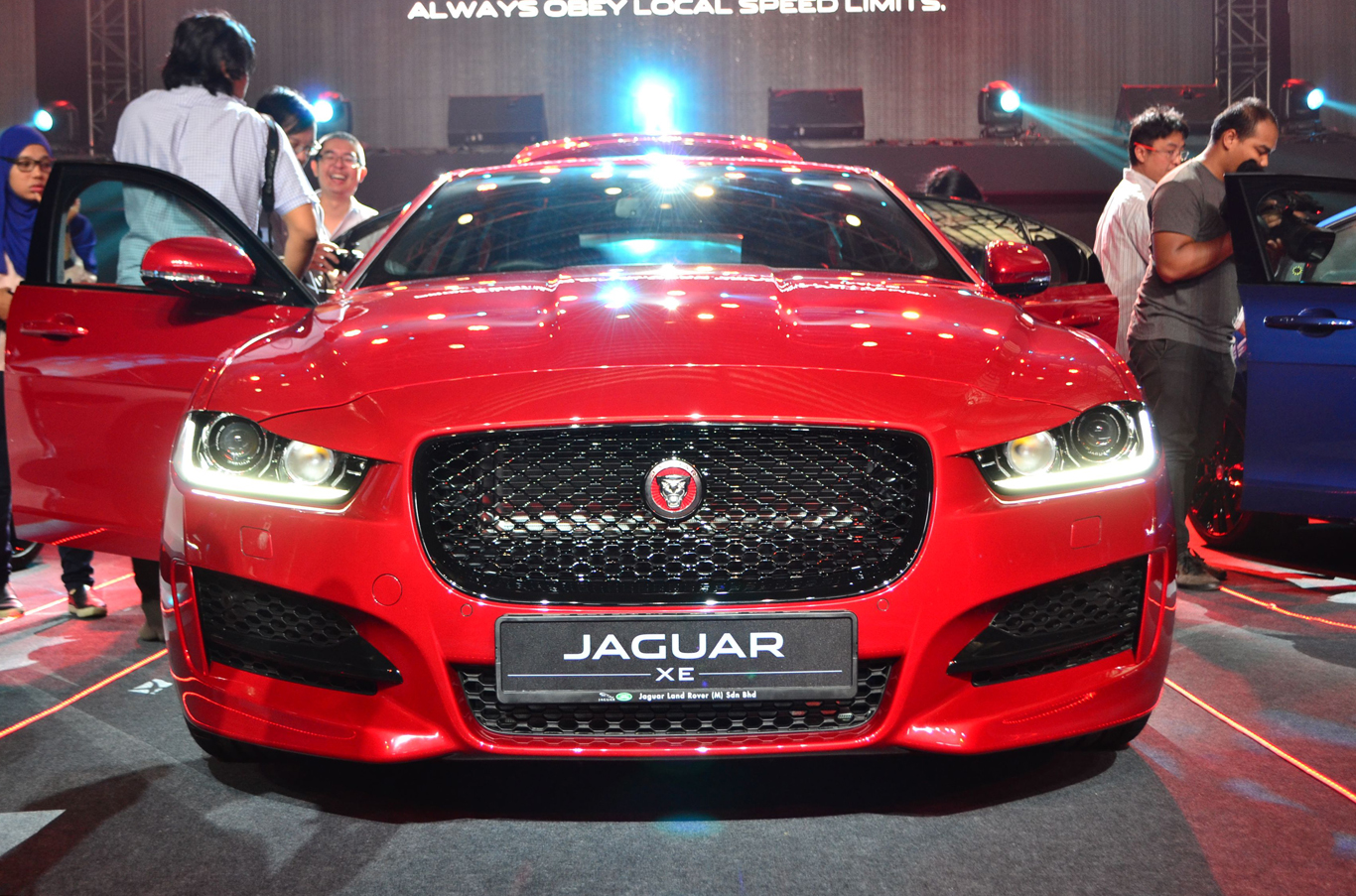 The new XE builds on this unique heritage, combining Jaguar's unrivalled expertise in lightweight construction with exquisite lines, sharp radii and perfectly executed surfaces.
The only car in its class to use an aluminium-intensive monocoque, the XE was developed in parallel with Jaguar's lightweight, modular vehicle architecture. Created from a clean sheet, this architecture – which will form the backbone of several future Jaguar models – unlocks entirely new design possibilities for the brand.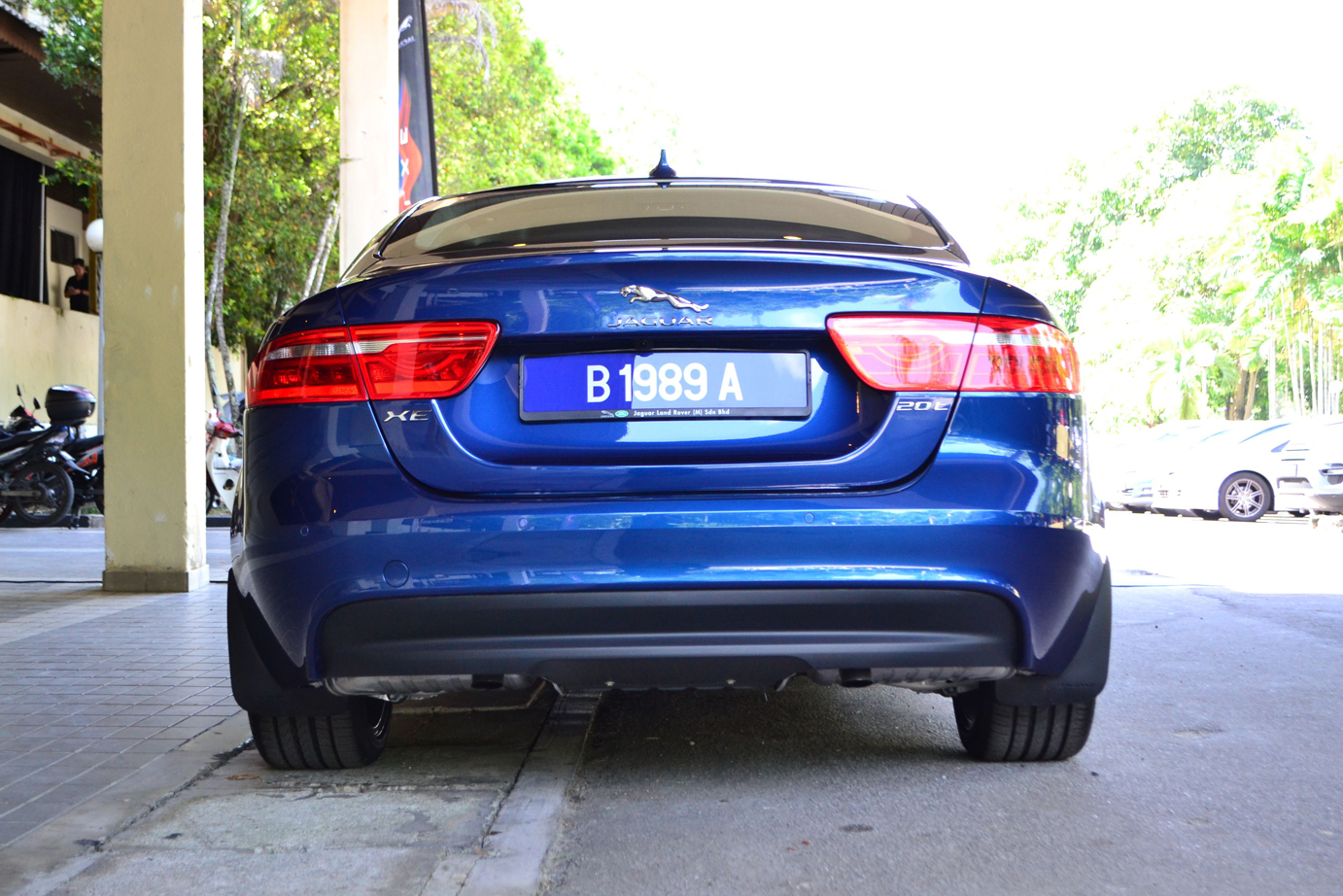 "Great proportions and a dynamic, edgy feel are at the core of Jaguar design. We wanted to create a strong sense of movement, and have given the XE a dynamic and purposeful look that is without compromise. Sleek, low, coupe-like exterior proportions combine with an efficient package that is instantly recognisable as a true Jaguar." — Ian Callum, Jaguar Director of Design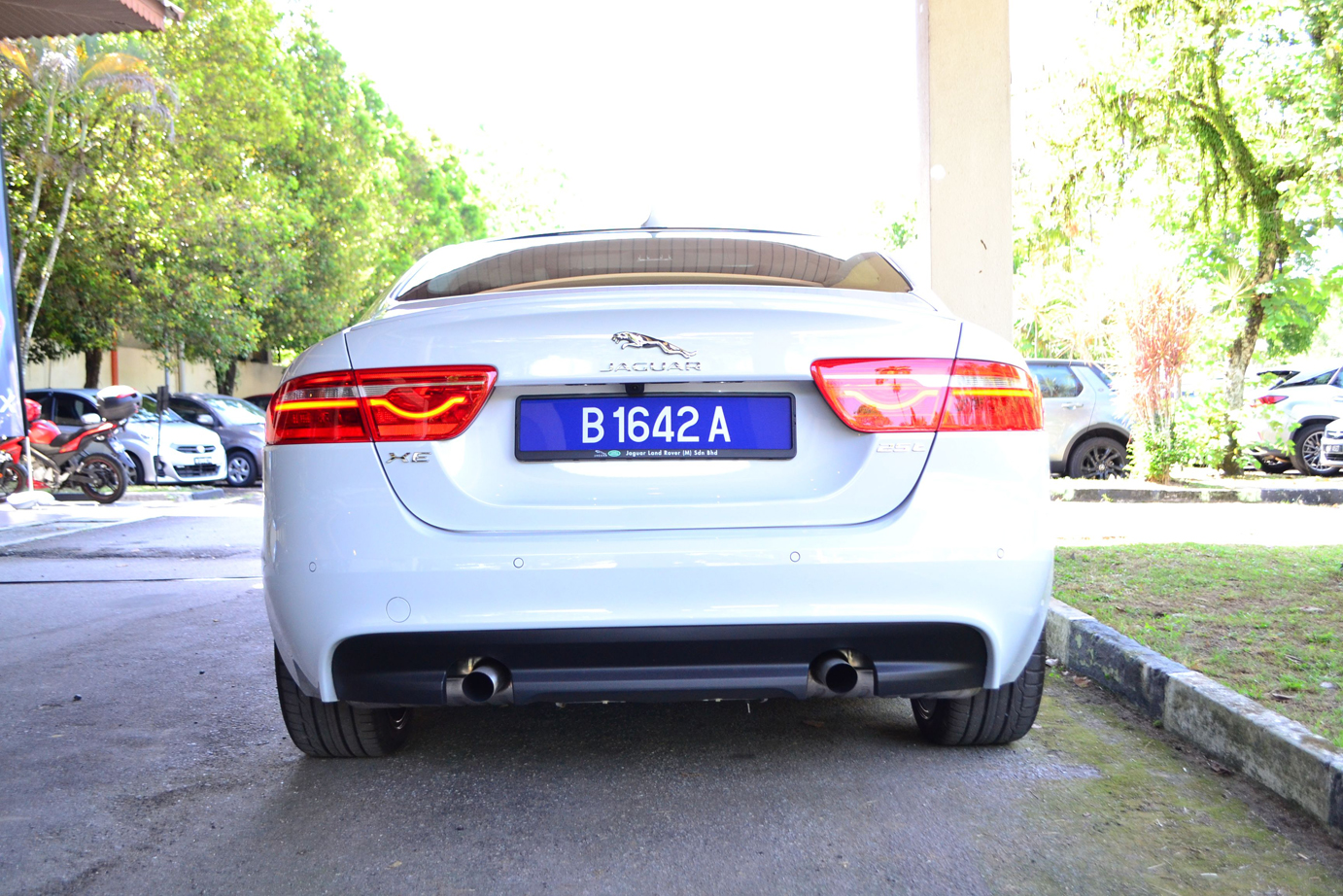 The strongly-sculpted bonnet is a testament to Jaguar's expertise in working with aluminium, creating a taut, muscular appearance. The very steeply raked windscreen and the rising waistline accentuate the streamlined, coupe-like profile, adding to the sense of movement.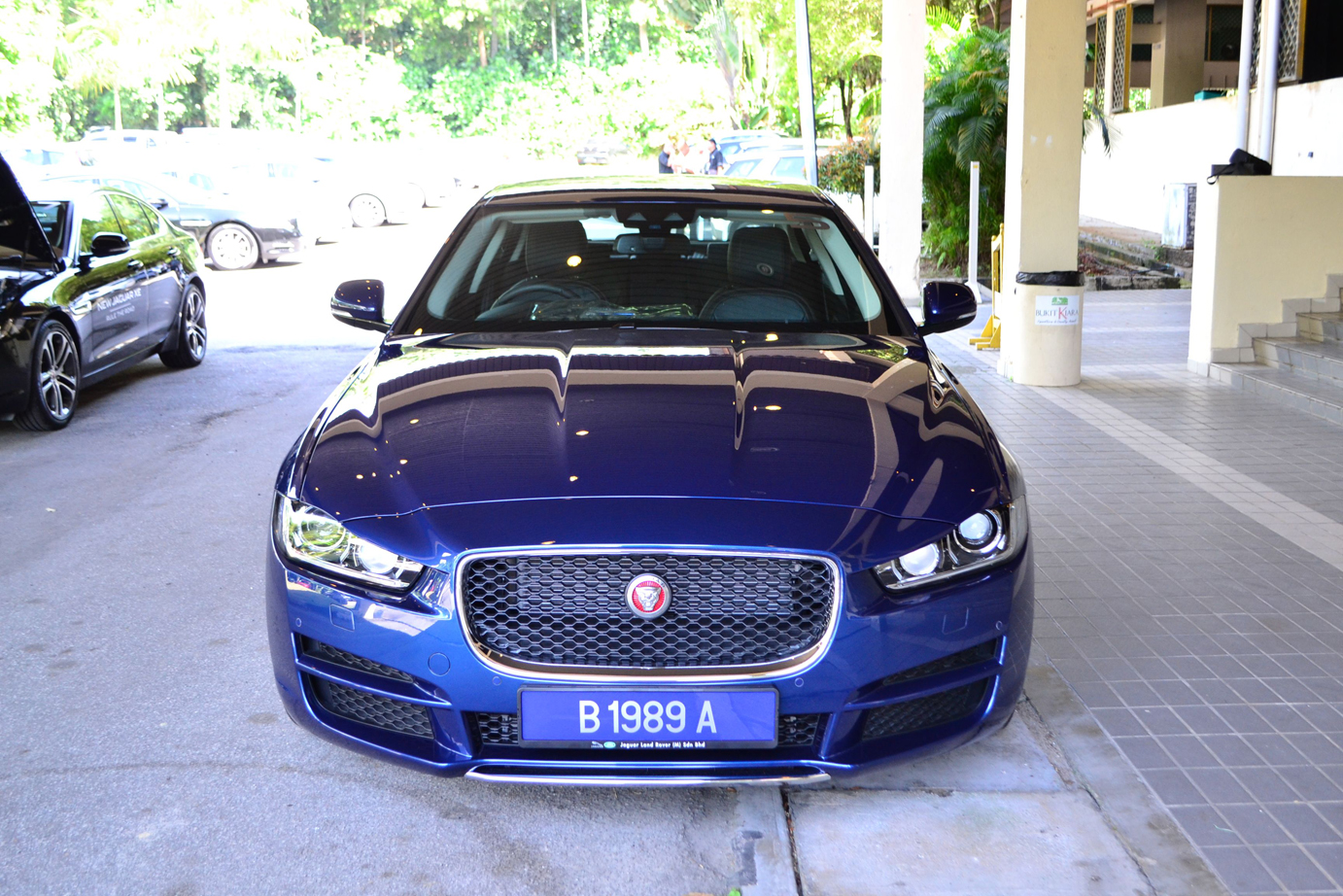 The signature 'J-Blade' running lights are another instantly recognisable Jaguar design. In the rear lights, a horizontal line intersecting a roundel is an iconic styling feature inherited from the iconic Jaguar E-type.
Smooth progress: Sleek styling, low aerodynamic drag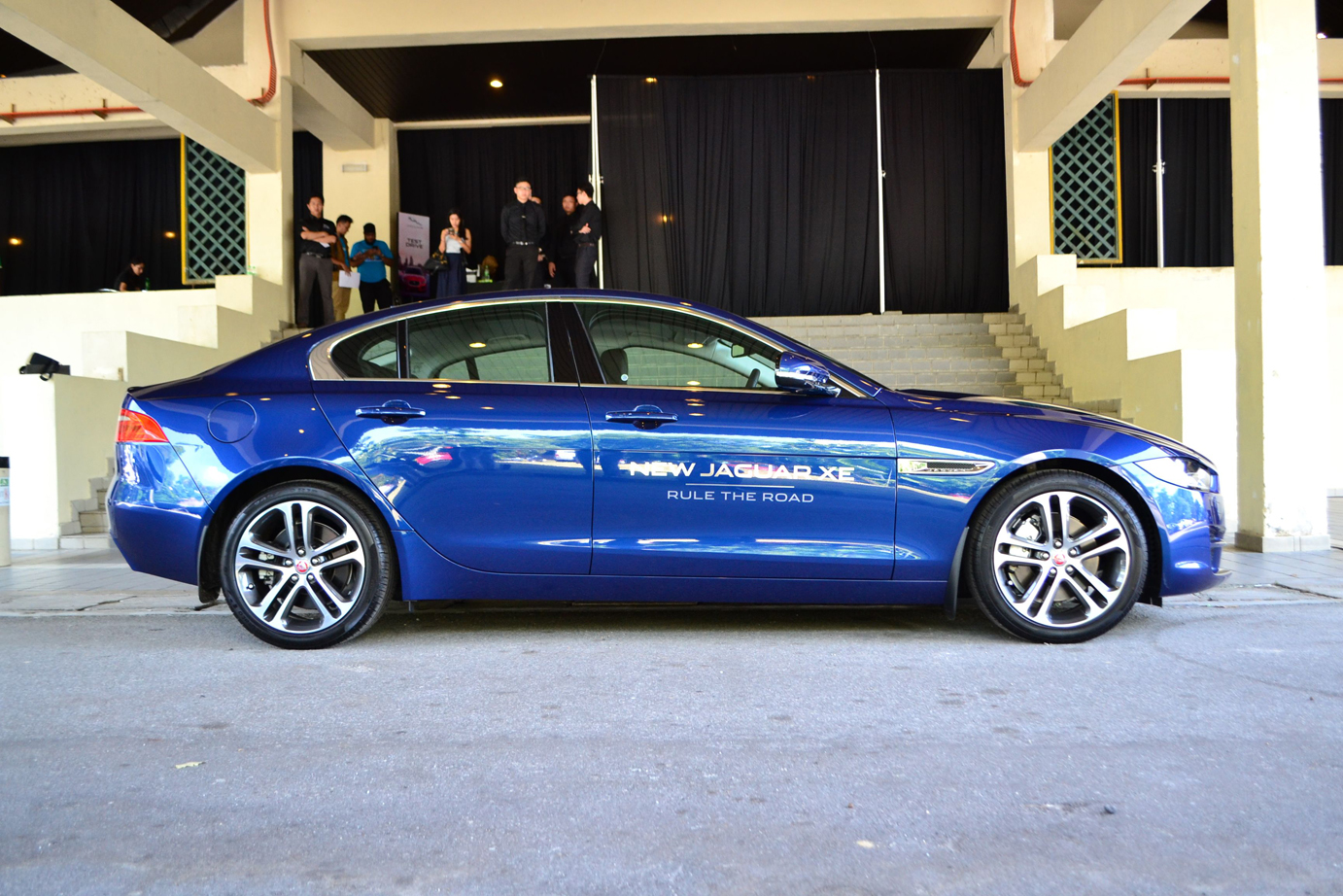 Jaguar has a rich history of designing stunning, yet aerodynamically efficient cars. The new XE continues this tradition of uncompromised form and function: its profile has the lowest drag coefficient of any Jaguar yet – Cd 0.26. This was achieved through a combination of over 1,200 computational fluid dynamics (CFD) simulations and over eight million hours of processor time.
The body's low-drag shape is enhanced by features that amplify each improvement made. Innovations include front bumper ducts which channel laminar airflow over the surface of the front wheels to reduce drag. This is combined with lightweight under-floor panels running back to the rear silencer, creating an almost perfectly smooth surface, also significantly reducing drag.
Performance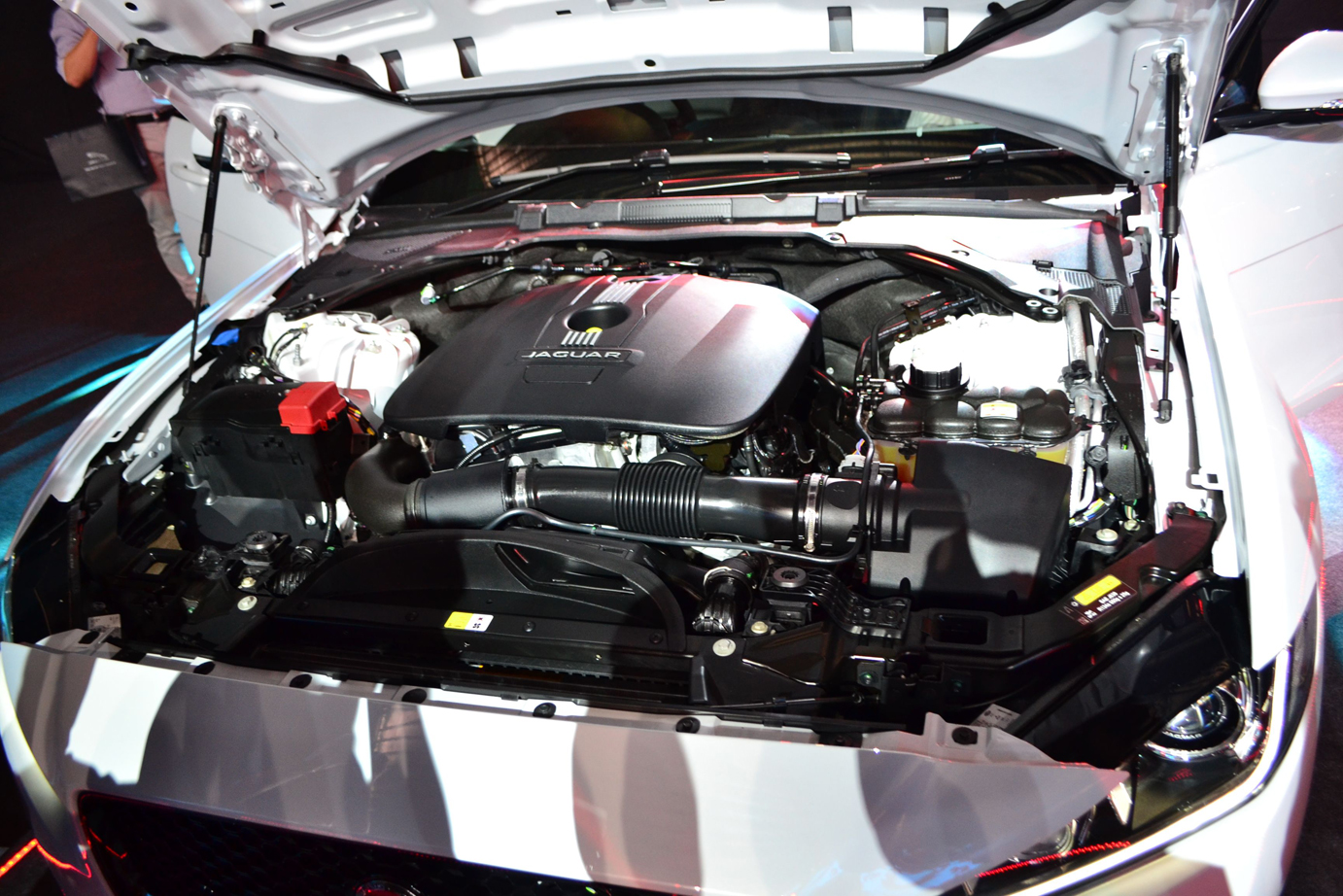 The XE is powered by a range of four- and six-cylinder petrol. All engines benefit from direct injection, variable valve timing and boosting to deliver clean, quiet combustion and exceptional throttle response. Intelligent stop-start systems and smart regenerative charging save even more fuel. Power is sent to the rear wheels through smooth-shifting ZF 8-speed automatic transmission.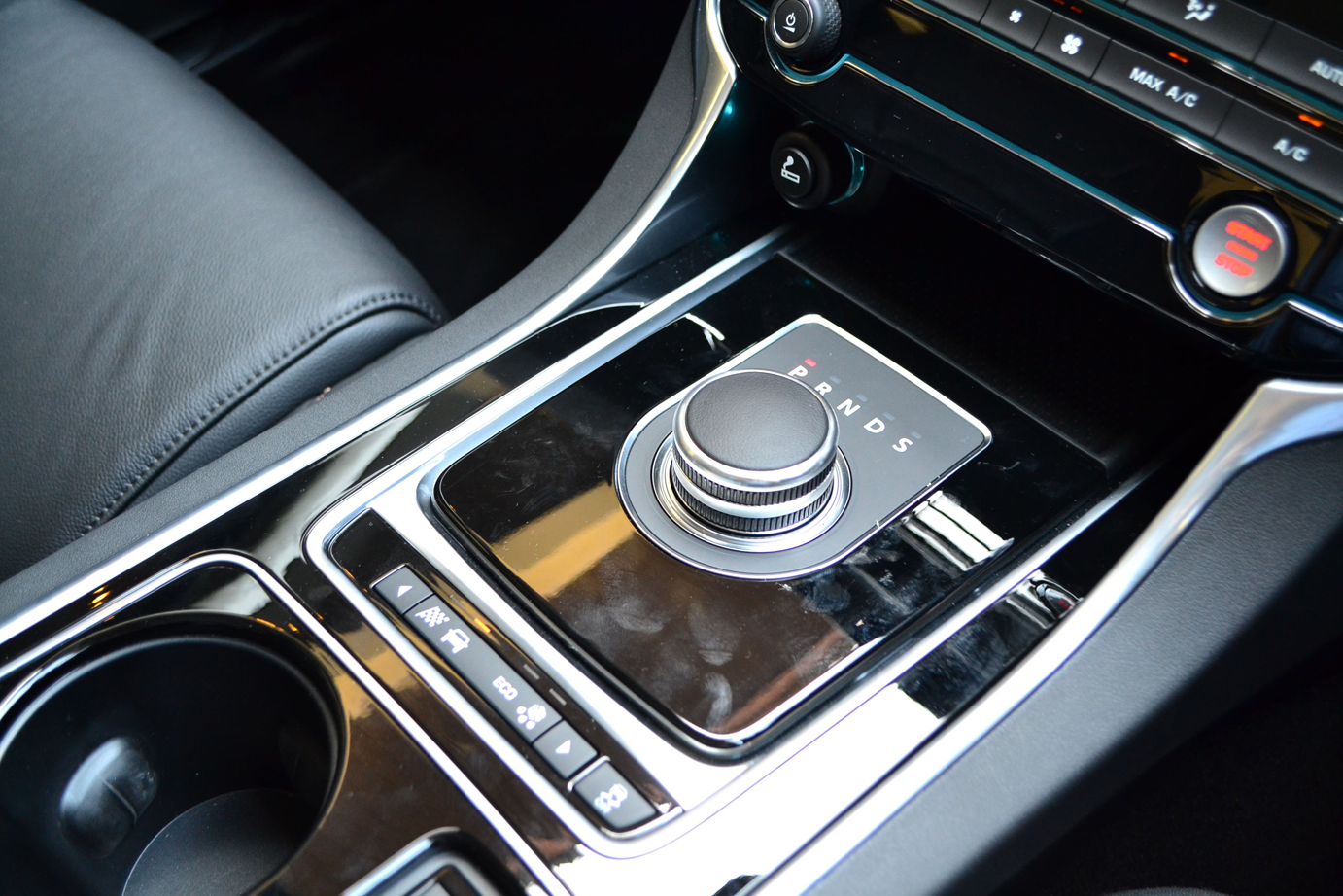 For Malaysia. we get three variants:-
XE 2.0 Petrol 200
Engine: 1,999cc, 4 inline, DOHC, Direct Injection, single monoscroll turbocharger
Max Power: 200 PS @ 5,500rpm
Max torque: 280 Nm @ 1,750 – 4,000rp,
0-100km/h: 7.7 seconds
Max speed: 237km/h
Claimed fuel consumption: 7.5l/100km
XE 2.0 Petrol 240
Engine: 1,999cc, 4 inline, DOHC, Direct Injection, single monoscroll turbocharger
Max Power: 240 PS @ 5,500rpm
Max torque: 340 Nm @ 1,750 – 4,000rp,
0-100km/h: 6.8 seconds
Max speed: 250km/h
Claimed fuel consumption: 7.5l/100km
XE 3.0 Petrol 340
Engine: 2.995cc, V6, DOHC, Direct Injection, Twin-Vortex supercharger
Max Power: 340 PS @ 6,500rpm
Max torque: 450 Nm @ 4,500rp,
0-100km/h: 5.1 seconds
Max speed: 250km/h
Claimed fuel consumption: 8.1l/100km
The petrol engine range begins with the turbocharged, direct-injection, 2.0-litre four-cylinder unit, which made its debut in the Jaguar XF and XJ sedans. Further refined for the new XE, this refined, lightweight powerplant is available in two ratings: 200PS/320Nm and 240PS/340Nm.
Weighing only 138kg, these all-aluminium engines feature twin counter-rotating balancer shafts to cancel-out second order forces, offering the smoothness and power of a naturally aspirated six-cylinder but in a smaller, more efficient package.
An innovative feature is the sheet metal turbine housing integrated into the air-gap insulated exhaust manifold. As well as saving weight, the assembly's reduced thermal mass means that the catalyst reaches light-off temperature more quickly, reducing emissions. The low-inertia turbine wheel delivers outstanding transient response.
For customers demanding superior performance and an exhilarating engine note from idle right up to the redline there's the XE S, which shares its supercharged 3.0-litre V6 with the lightweight F-TYPE sports car. This all-aluminium engine is a modular design with takes its core architecture, including the 90° cylinder bank angle, from Jaguar's acclaimed 5.0 V8.
A balancer shaft ensures that the V6 matches the larger unit for refinement, while the wide vee provides the packaging space for the twin-vortex Roots-type supercharger. Rated at 340PS/450Nm, this engine provides the XE S with truly exceptional acceleration, driveability and performance.
Ride and Handling
The rear wheel-drive XE is the only vehicle in its class to use an aluminium-intensive monocoque. This extremely robust yet light structure, together with double wishbone front suspension and an Integral Link rear axle, is fundamental to the XE's innovative benchmark vehicle dynamics.  The result is an exhilarating drive with exceptional fuel economy.
The XE has some of the most advanced driver assistance systems available. It marks the world debut of All Surface Progress Control (ASPC). Developed through decades of Jaguar Land Rover experience in off-road traction systems, it electronically maximises low-speed traction in adverse road conditions.
Another new feature, JaguarDrive Control, allows you to select Normal, Eco, Dynamic or Winter modes, each subtly changing the steering and throttle mapping. Eco mode encourages fuel efficient driving while Dynamic mode sharpens the throttle response and increases steering weighting. By selecting Winter mode, the system automatically dampens acceleration and applies more gradual traction for slippery conditions.
Another key feature on the new Jaguar XE is Torque Vectoring by braking – the state-of-the-art technology that has been proven on the F-TYPE Coupé. This high-tech innovation mitigates the onset of understeer by lightly braking individual inner wheels as required to help keep the car on the optimum line through corners.  The result is more neutral handling, reduced steering effort and, ultimately, a more rewarding driving experience.
The new XE is also equipped with a next generation Electric Power Assisted Steering (EPAS) to deliver the immediate and precise response and the connected feel expected of a Jaguar sports sedan.  Developed to the exacting standards and specifications demanded by Jaguar engineers, the EPAS endows the XE with new levels of driveability, manoeuvrability and steering precision that make it a true driver's car.
Cabin Convenience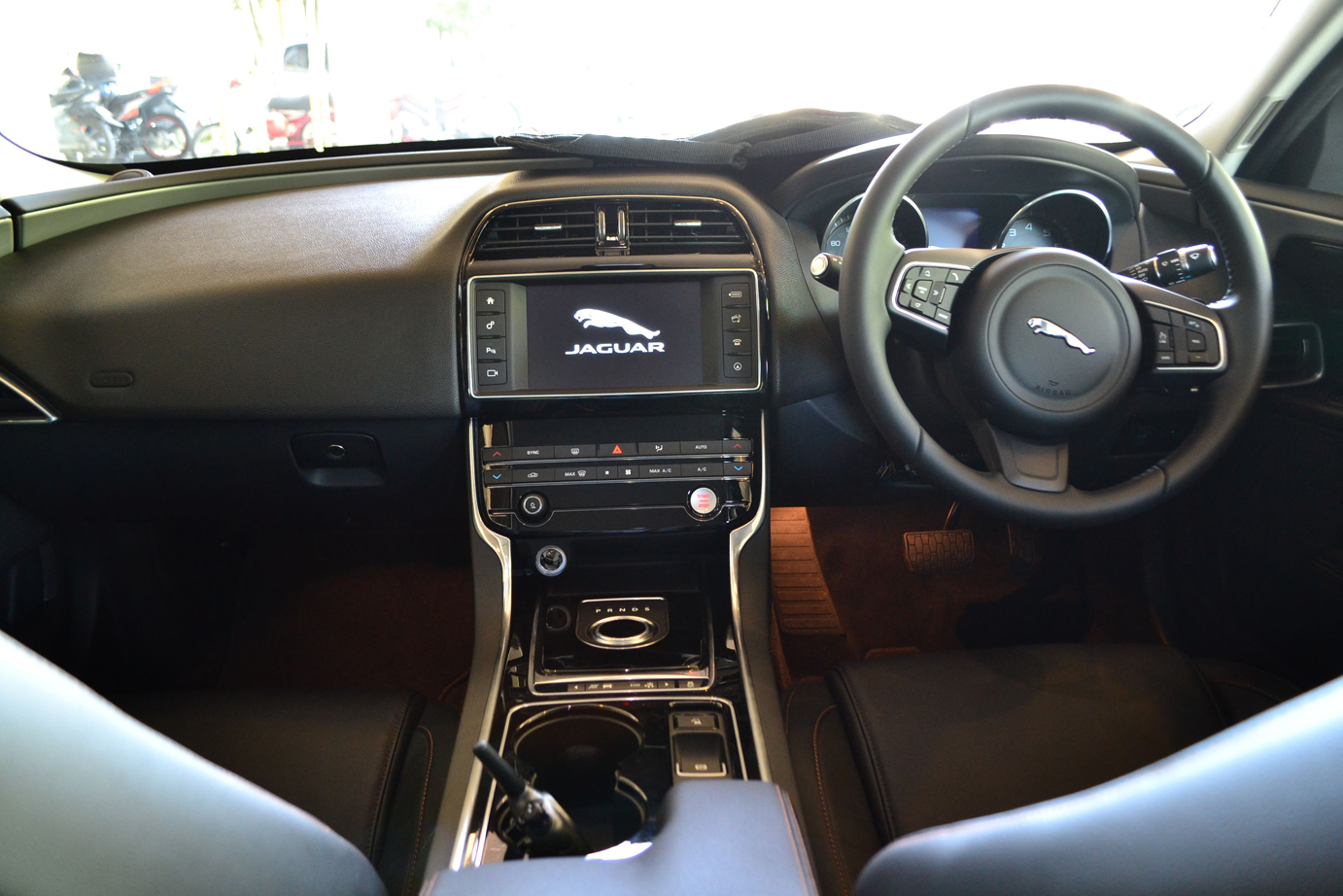 The XE's luxurious cabin offers outstanding levels of comfort and spaciousness. Exquisite materials and finishes combined with Jaguar craftsmanship make this a class-beating interior that is unlike anything else in the segment. The rear seats can comfortably accommodate three adults while a spacious 455-litre boot means plenty of luggage space, especially as the rear seats come with flexible 40:20:40 folding capabilities.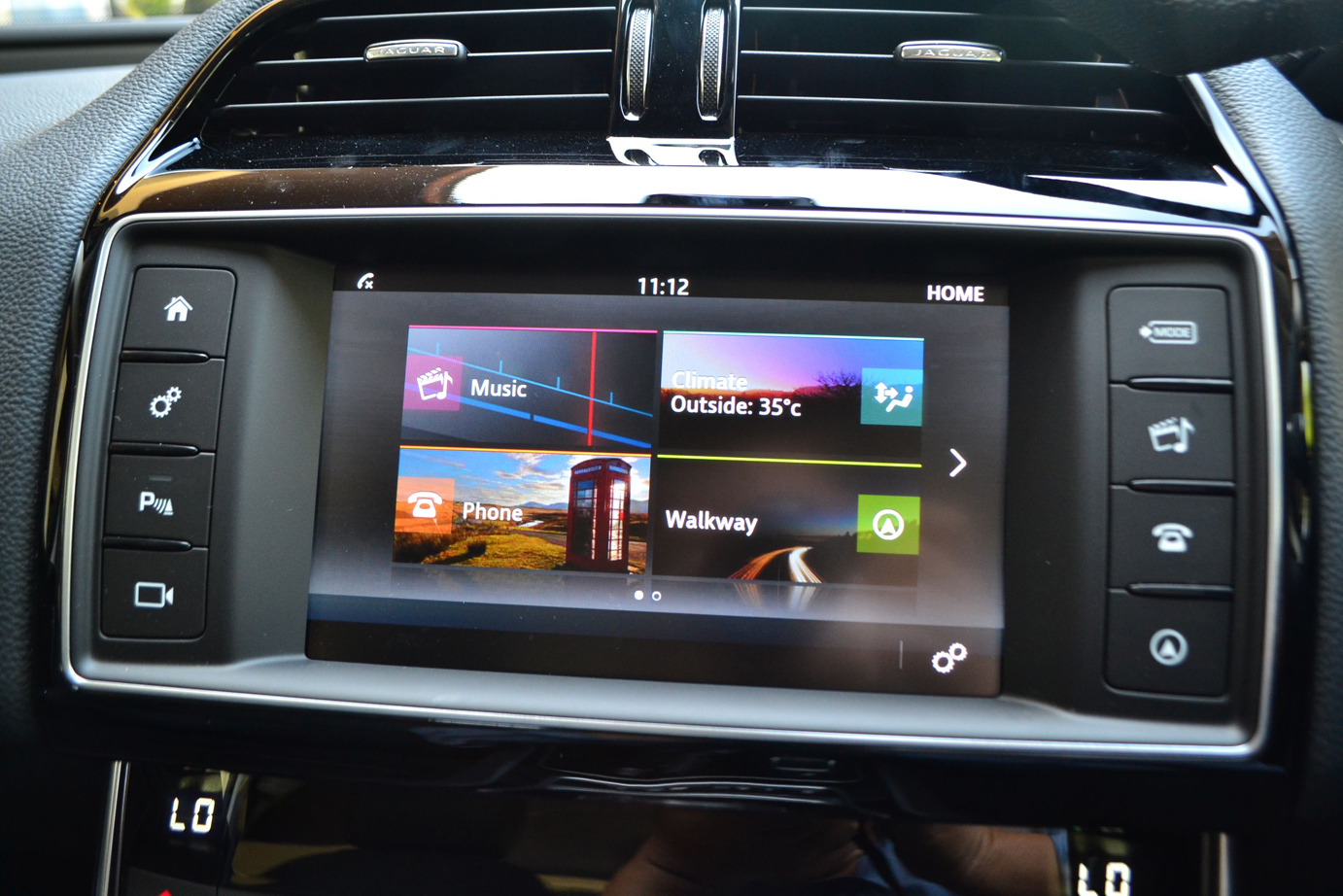 Jaguar's new InControl Touch infotainment system takes centre stage: its innovative 8-inch touchscreen featuring a clear, intuitive graphical interface and fast response times.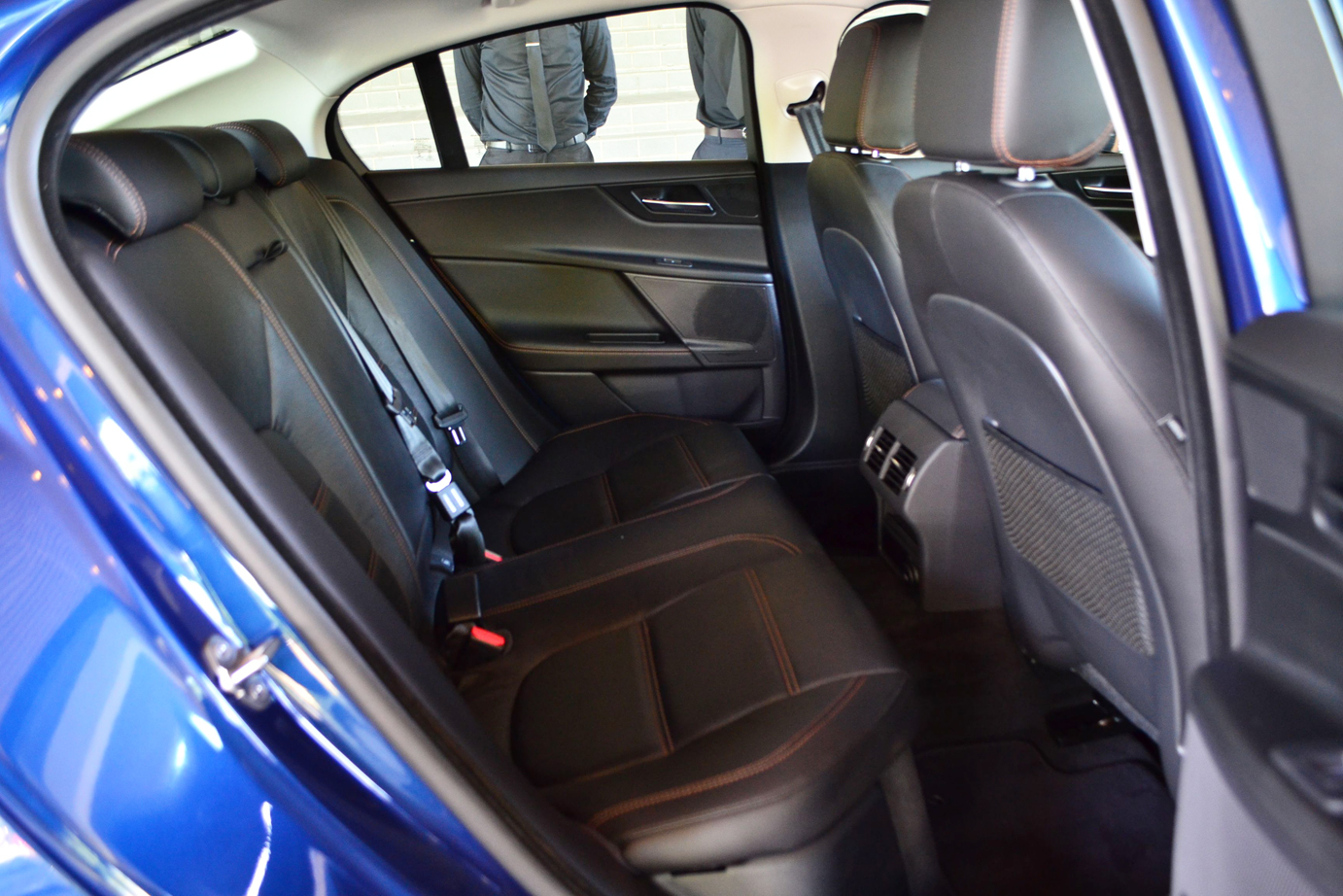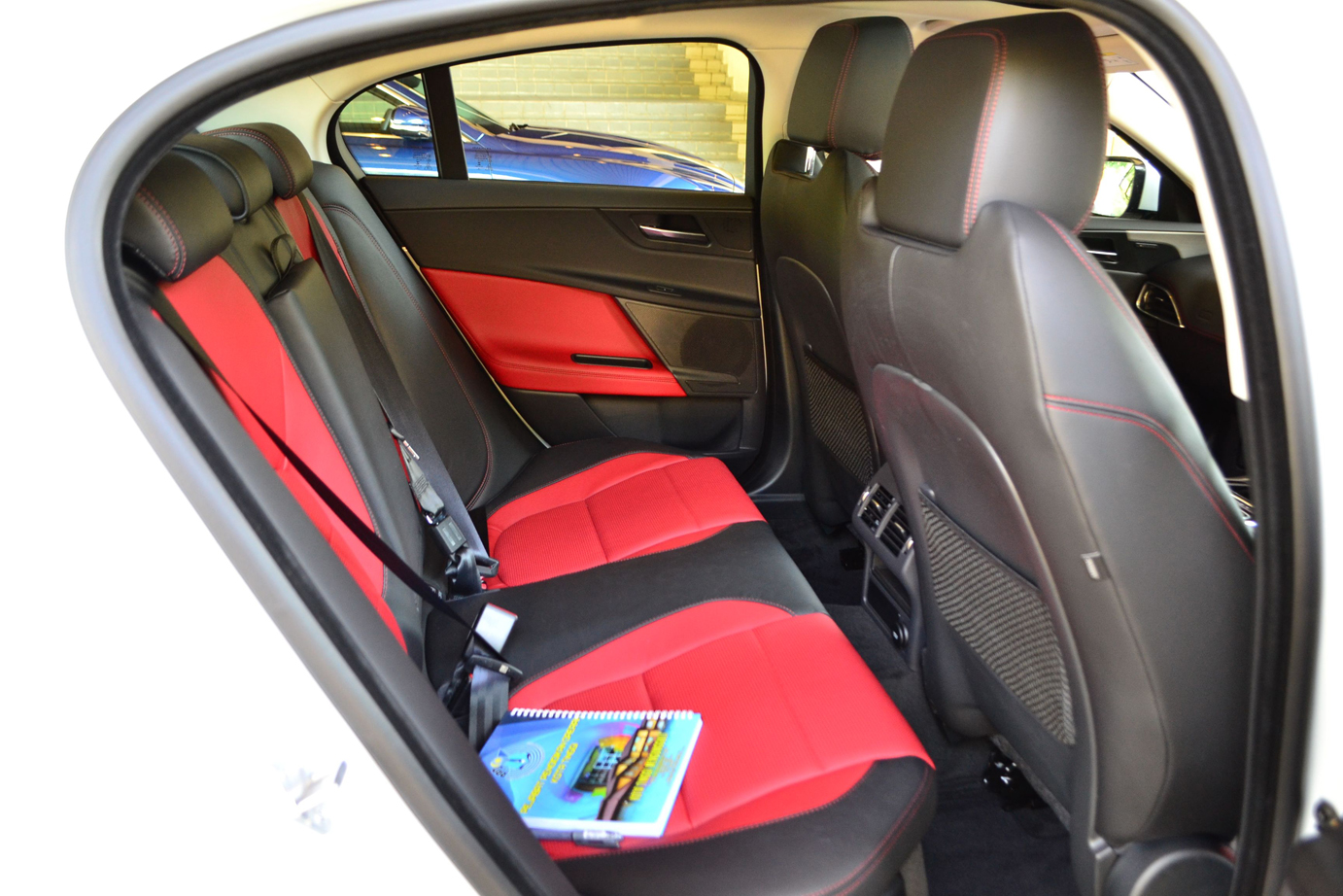 Two superb audio systems bring entertainment in XE to life. The Jaguar Sound System delivers acoustic range and power to XE's interior with 80W, four channels and six speakers. An optional higher specification system, the 380W Meridian Sound System, designed in conjunction with British audio experts Meridian specifically for XE, offer superb audio reproduction through 12 channels and 11 speakers including a subwoofer.
Safety
Making its world debut in the new XE is All Surface Progress Control (ASPC). This unique traction management system, akin to a low-speed cruise control, will give the XE unrivalled all-weather capability among rear-drive cars in the segment.
ASPC is ideal for low-grip surfaces such as snow-covered driveways and ungritted winter roads, and even wet grass. Developed with the input of decades of Jaguar Land Rover experience in off-road traction systems, ASPC can electronically gain traction with far less drama than the driver can achieve.
The system functions between 3.6km/h and 30km/h and is activated using the cruise control switches on the steering wheel. Having set the desired speed the driver concentrates on steering – the car takes care of the rest, ensuring smooth progress without skidding and without the driver touching the pedals. Available with automatic transmissions only, ASPC is compatible with all engines.
Ownership
Prices start from RM340,000 for the Jaguar XE Prestige, RM365,000 for the R-Sport and RM580,000 for the top-of-the-range Jaguar XE S. (Prices include GST but exclude registration, road tax and insurance.)  For a premium ownership experience, every XE comes with a five-year or 150,000km warranty and three-year roadside assist.  Owners of the 2.0-litre Prestige and R-Sport also enjoy a five-year or 80,000km free scheduled maintenance while the 3.0-litre S variant has a five-year or 65,000km package, whichever comes first.
To celebrate the arrival of this latest addition to the Jaguar family in Malaysia, every new Jaguar XE comes with an exclusive accessories package worth RM10, 000. The XE Launch Accessories package includes illuminated sill tread plates for the front, steering wheel-mounted gear shift paddles in Aluminium Red, specially-designed gear selector with premium dark leather top and rubber bezel with soft-touch grip, and unique tyre valve caps with a choice of four iconic designs.
The offer is valid for a limited number of units and for a limited time only, while stocks last.
For more information on the new Jaguar XE and the complete range of Jaguar models available in Malaysia, please go to www.jaguar.com.my or visit our authorised dealers – Sime Darby Auto ConneXion Petaling Jaya, SISMA Auto Glenmarie and SISMA Auto Kuala Lumpur.