Ownership Experience – something intangible that makes or breaks a brand. If it's rotten, it's like cancer – starts off with a few unhappy customers whose number steadily build until you wake up one day and see shitty reviews about your brand everywhere. By then, the company would try to execute some form of damage control and more often than not, the effort is too-little-too-late.
It was somewhat surprising to hear the CEO of Proton, Dato' Abdul Harith Abdullah to go on the record and admit that Proton's after sales service has been – disappointing and this, in turn has affected the ownership experience of the brand. It is not surprising then to note that if given a choice, many Malaysians would rather pay a little more for a foreign brand.
"This year marks our 31st year in business, which means we are into our new decade. For the past 30 years, it is impossible that we had not learnt anything and today, Proton takes this necessary step, to stride up to the plate if it wants to remain relevant to Malaysians," he added.
And this is where the My New Proton campaign comes into play.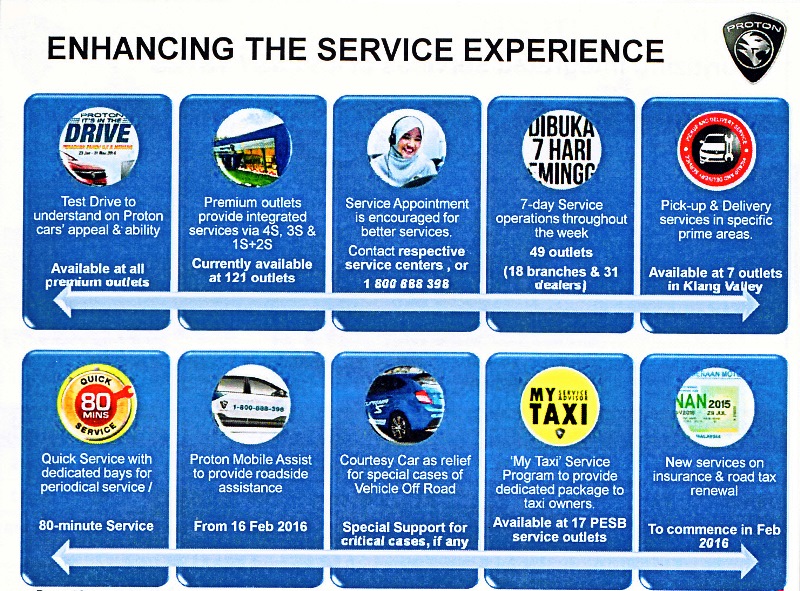 Aimed at improving the ownership experience, the campaign consists of 10 initiatives and it's as comprehensive as it can get.
But it's not the first time some Proton CEO has come up with bold Powerpoint slides and claiming quantum-leap improvements. Can we (still) believe what Proton says? Heck, some automotive sites who've been singing praises of Proton has been accused of being bought by the company, their credibility at stake (and this includes even Paul Tan where at one point, a rant by a supposed-owner of an Iriz contradicts what the site reports about the quality of the car)
After all, Dato' Abdul Harith Abdullah isn't the first and neither would he be the last CEO to make promises on improving after sales service. I'll give you an example:-
"We acknowledge that we have made mistakes in the past, but (now) we want to over-fulfill expectations – we want to go the extra mile," The company will be increasing their service capacity by 30% nationwide, through the expansion of existing service centres, the opening of new dealerships including 3S and 4S centres, and an increase in the number of technicians.
Familiar? Those words and promises were made by Armin Keller, Managing Director of Volkswagen during a press conference in 20 October 2014. Look at where Volkswagen Malaysia's after sales service now, one-and-a-half years later. The dwindling sales numbers from 8,916 units in 2014 to 6,405 units in 2015 should speak volumes about (poorer) market sentiments of Volkswagen despite them throwing a ton of discounts (source: Motortrader)
So, hot on the heels of Mr Melvin Phun's rant about how much better his Proton Saga ownership experience is compared to his Volkswagen Jetta, it seems apt that Proton learn from the mistakes made by others and not repeat them.
After all, patriotic Malaysians in support of our local industry, we should voice our needs and hold any company who makes claims responsible. Proton cannot afford to be "hot-hot-chicken-shit" anymore so let's see what goodies Proton has promised us:-
Upgrading the service network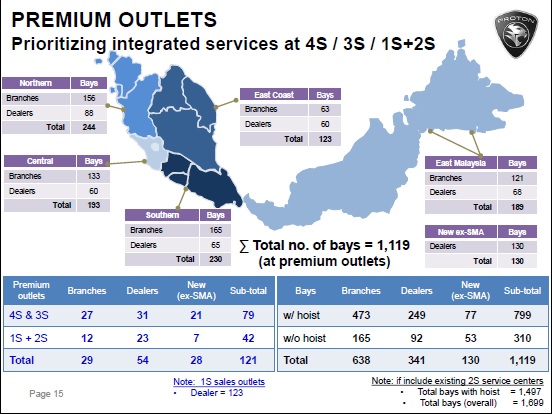 Strategy:
All outlets must either be a 4S (sales, service spare parts, body & paint), 3S or at a minimum 1S+2S.
What Volkswagen did:
New Technical Service Centres with the capacity of at least 30 service bays when expanded.
kenso's 2 cents:
A service centre is only as good as its service providers. You could set up a 4S the size of Kuala Lumpur International Airport for all we care but if the service advisers and mechanics stay impotent in resolving QC issues, the facility might as well be a sewage treatment plant with blocked pumps.
Owners want competent mechanics and empathic service advisors. Front liners play a vital role in enhancing ownership experience. Therefore, skills such as communication, crisis management, scheduling, technical training, general trouble shooting, anger management, phone management, etc should be trained and its program refined.
Staff attitude is also very important. The promotion and cultivating of positive attitude should be across all levels and internal development programs should be considered and put into place.
.
.
New Call Centre Hotline 1-800-888-398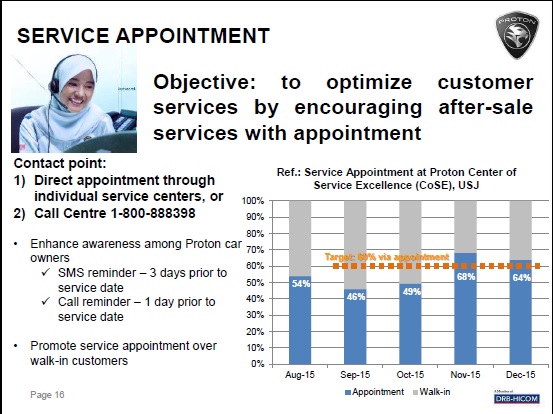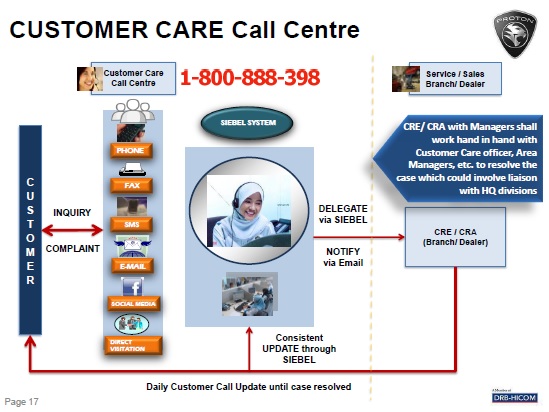 Strategy:
Centralized call centre that helps booking appointments and service reminders. Also used to manage Proton Mobile Assist (more on this later)
What Volkswagen did:
VGM has a hotline too – well, two actually.
Emergency line: 1-800-88-2389 (active 24h/7d for breakdowns. They coordinate tow trucks to recover any vehicle breakdowns  and provide vital information relating to the Mobility Guarantee program)
Office line: 1-800-88-8947 (only office hours Between 9.00 am and 6.00 pm. General enquiries)
kenso's 2 cents:
Having a call centre that reminds you of your service schedule is great but the onus of making the appointment still falls onto you. There are 3.76 million Protons registered since 1985 and as of end 2015, about 370k units are still under warranty. The SMS reminder would be great for those who make appointments weeks in advance but last I heard, there isn't a shortage of service bays so most owners can make appointments within days. Still, people are forgetful so having this isn't a bad thing.
What would be good is a centralized system that observes & estimates service date. I used to have a Toyota and Hyundai company car and the dealership of these two companies either call or SMS to remind me to check if it's due for service and call me when the car is ready for collection. You'd be lucky to even get through the outlet hotline, much less if someone who promises to call you back from Volkswagen Glenmarie do so.
.
.
Open Seven Days a Week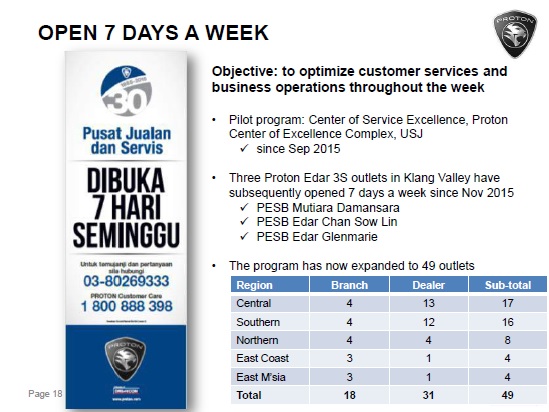 Strategy:
Extending business hours for customers to experience Proton's sales and service
What Volkswagen did:
Extended SC operation days to 7 days. Lasted a few months before it was back to normal 6-days-a-week. Reason: Backlog of servicing is cleared and customers can service on time now.
kenso's 2 cents:
It's great to have the showroom and SC open on weekends. Some of us are quite busy and weekends would be a great time settle the car (and for some, a chance to get away from home – Sayang, abang go service the car, k? You take care of the wailing kids, ya? Yay!). The problem with this is operational cost, which is likely borne by the outlets. If the outlets agree to take this cost in, they would need to be creative in attracting potential buyers to their showroom.
.
.
Pick up and Delivery Service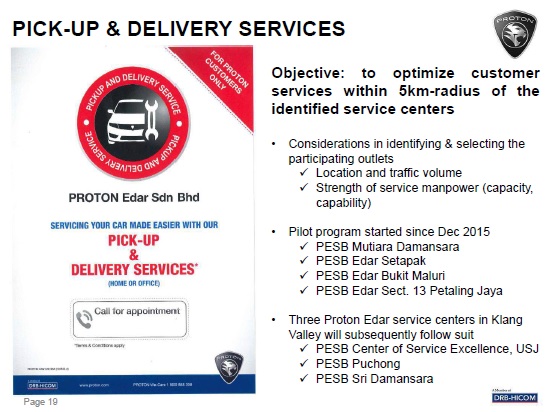 Strategy:
Most Proton owners are the working class and to service their cars would mean taking leave from their otherwise busy schedule just to do that one task. Proton Edar staffs will come to the owner's home/office to collect their car for service and drop it off once servicing is done, sparring owners the need to apply leave.
What Volkswagen did:
Errr … nothing.
kenso's 2 cents:
This is one area where Proton has outdone VGM. Proton isn't the first to offer concierge pick up and drop off; Renault is with the Fluence. Operational costing, like open on weekends has to be taken into consideration and at this point, only FOUR Proton Edar Sdn Bhd outlets offer this service with three more to follow later. Smaller 3S or 1+2S may not have the staff capacity to execute this program.
Security needs to be emphasized if this program is rolled out to all states. Owners must have a safe and secure way of knowing who is an authorized personnel from Proton before the keys are handed over. Also, the handover procedure must be clearly spelled out (When I gave you my car no scratch, now you return got scratch! I set up Proton boycott page then you know!!) and owners need to be wary of any valuables left in his/her car.
.
.
Quick 80-min service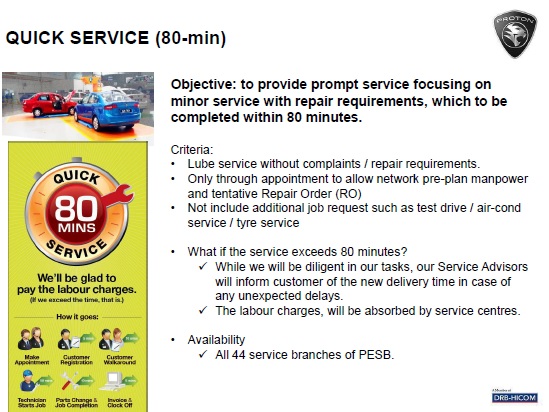 Strategy:
Don't waste customer time. Quick in and quick out if there are no major complaints.
What Volkswagen did:
Quick Service bays are also offered in selected service centers and they're usually completed within 2 hours – once they get around starting the job, that is.
kenso's 2 cents:
The 80-mins service may be possible but outlets needs to plan its service centre resources. If a centre has 6 bays with 6 mechanics and one of them calls in sick/inoperable, the 80-min service would not mean staying in the outlet for 80-mins. You could make an appointment for your car at 9am but if the service advisor only attends to you at 11am, your entire morning is as good as gone.
.
.
Mobile Assist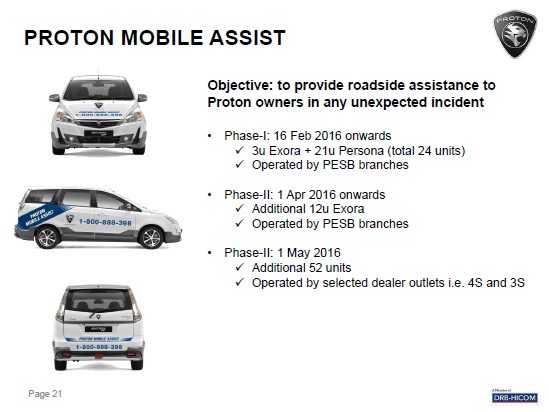 Strategy:
On-site assistance for any technical issues. Light repairs such as battery replacements can be done.
What Volkswagen did:
Call the Emergency Hotline. Tow truck will come.
kenso's 2 cents:
Operating much like AAM's WoW (Workshop on Wheels), a response vehicle will be sent to your location once you report a breakdown. It's great if it's simple problems such as battery failure and changing punctured tires. With VW, you makes lots of new friends ….. tow truck friends.
No info on which area is covered (Could you have a breakdown in Tangkak and call Mutiara Damansara Proton Edar for support?). What is the KPI for response time? Does the Hotline have the means to track response time and how to improve them? What kind of services/repair on site that can be carried out? What are the terms and conditions of using this service?
.
.
Relief (Courtesy) Car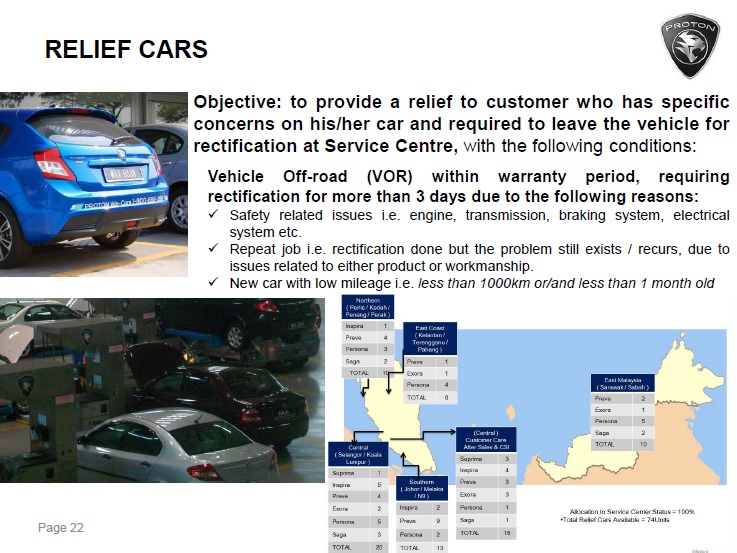 Strategy:
Minimize owner's inconvenience by providing courtesy car. Conditions for courtesy car is as above.
What Volkswagen did:
VGM also offered "more than 200 courtesy cars" for unscheduled breakdowns requiring more than 48 hours repair under it's Mobility Guarantee program
kenso's 2 cents:
Courtesy cars are double edged swords; they can either please customers or piss everyone off when courtesy cars are not immediately available or absent altogether. In my experience dealing with VW Glenmarie, the service adviser shared inaccurate information; first saying Glenmarie has cancelled giving courtesy cars because too many people complained no cars, to limited cars because people aren't returning cars. Either way, the Mobility Guarantee is a promise that doesn't work all the time due to poor controls.
It could happen to Proton as well. The good news is a Proton isn't as complex as a VW TSI to repair. The danger comes if there are shortage of parts, wrong problem diagnosed or owners not returning on time so strict monitoring and enforcement must be in place. After all, if VGM muddle things up with "over 200 units", things can do downhill very fast with Proton's present 74 courtesy units.
.
.
My Taxi Service Program
Strategy:
Encourage taxies (which majority are Protons) to service in authorized SCs which, in turn ensures safer cars for passengers and extra revenue for the outlet
What Volkswagen did:
Nothing … VWs aren't taxies.
kenso's 2 cents:
kensomuse is always supportive of any initiative that supports ethical taxi drivers so such a move would encourage authentic parts to be installed into taxis that requires repairs.
.
.
Insurance and Road Tax Renewal Services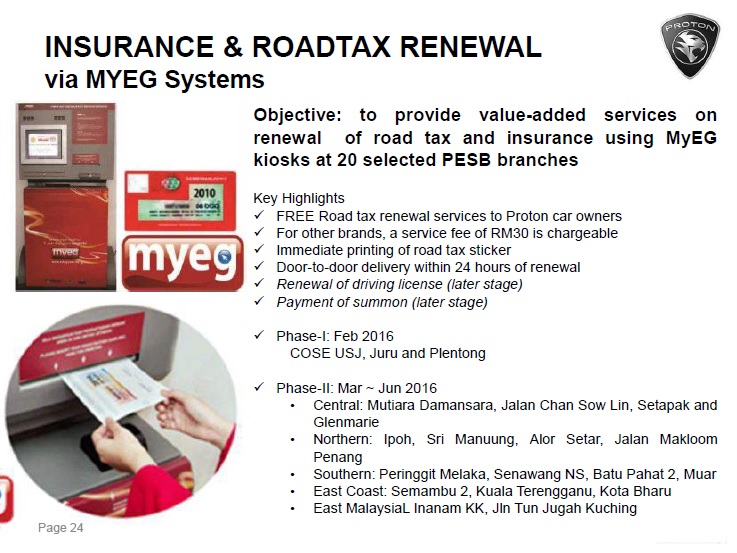 Strategy:
Value added service for customers
What Volkswagen did:
They can't even call back on follow ups.
kenso's 2 cents:
Excellent service if the service outlet is able to take note of the road tax and remind the customer that it is time to renew. Of course, for those with outstanding JPJ/police summons, do clear them up otherwise Proton can't provide this to you; that would be your fault, not theirs.
.
.
Service fix improvements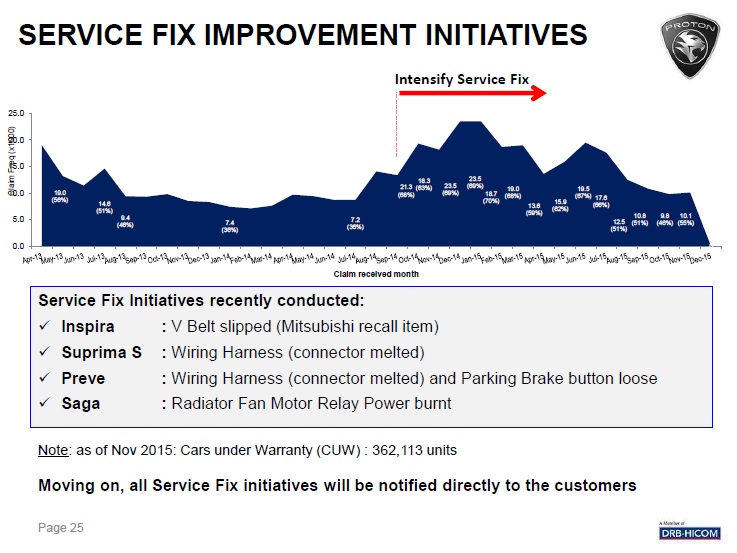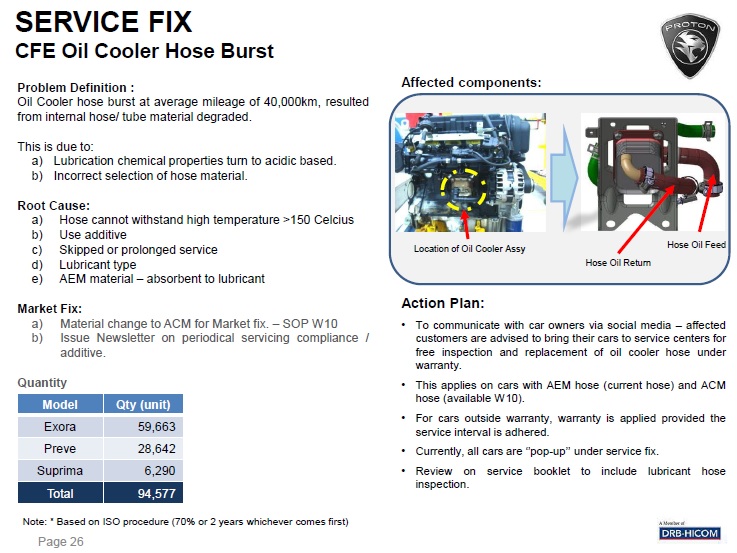 Strategy:
Increase transparency and improve vehicle reliability
What Volkswagen did:
The last recall they did was on DSG transmission oil replacement. Worn clutch pack, broken piston rings? Nope, no issues. VW cars are the best! Except Dieselgate but that's only because we got caught.
kenso's 2 cents:
About time they take responsibility and behave as a responsible company
.
.
And there you have it. How My New Proton compares against Volkswagen Always By Your Side. Deep down, I hope BOTH companies improve and restore not just faulty/unreliable vehicles but their own brand image so that as consumers, we all benefit and enjoy exceptional Ownership Experience.
For VW, the absence of a central careline that monitors/tracks/resolves all complaints remains an obvious misstep on the part of the company. It's sad that almost every marketing campaign they launch in Facebook is marred with dissatisfied customers blasting the company. Doesn't help when the PR agency handling the page responds with a standard "Pls PM us your name, contact, vehicle registration, etc" with no proper resolution stories to share. The negative after sales perception cannot be countered with sales campaigns.
For Proton, focus on your customers, yes. But focus on your staffs too. They are family, they have family. Inspire them to improve, to be better than before. Once the attitude is fixed, great things will come. There are many Malaysians who wants to see Proton shut down and how can we blame them since after 31 years, we still have old technology, substandard quality issues, poor after sales support and causing an inflation of other car prices. It's good that they've taken the first step in acknowledging the problem and put into place measures to improve. While they're good to have, I hope the management be realistic and consider the mechanisms that needs to be put into place before all those initiatives can be executed as planned.
For that, the answer lies with those at the bottom, not the higher ups of the company. You cannot streamline a brand without streamlining the people manning the company. I've worked in multinationals before and if there are elements in the middle or upper management that is not in line with the new direction, it is highly disruptive to the campaign. It's time to put Pride behind and focus on what's Proper.