By now, we all know that the soon to be launched Proton Perdana is based on the 8th generation Honda Accord and many continue to argue on Proton's decision regarding this. 31 years in the business and still cannot come up with its own fully made-in-Malaysia vehicle?
The truth is, this is welcoming news. It costs millions to build a car from scratch and using another (proven) vehicle's platform allows Proton to leapfrog the development process. Furthermore, with Honda technology (albeit one that's a generation older) underpinning the new Perdana, the perception of Japanese reliability should serve as a confidence boost. Let's be realistic – if Proton today plonks the all-new Petronas direct injection engine into the car, how many people would say first batch buyers are white lab rats?
Thanks to our friends from automachi, we now have the opportunity to see Perdana. And it looks good.
Design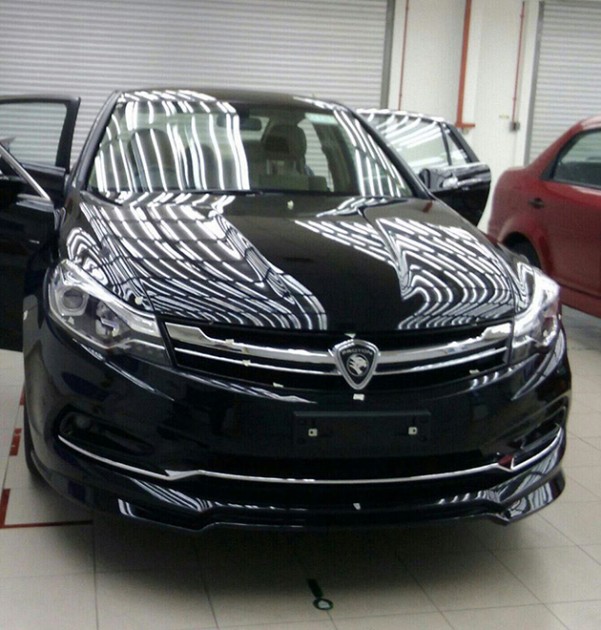 Aside from similar dimensions with the 8th gen Accord it is based on, the entire front shares little resemblance to the donor car. The horizontal grille has the appearance of being extended to the sides with the front headlamps. This would create the illusion of a lowered and wider stance. The headlamps is supposed to be HID with LED Daytime Running Lights.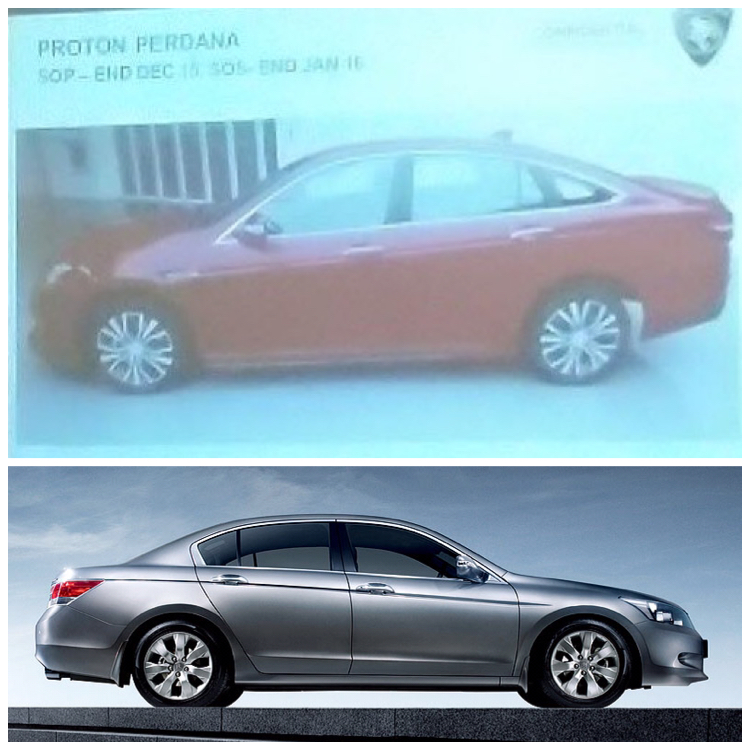 Seen from sides, a side garnish adorns the front fender not unlike the Kia Optima K5 and the rear three-quarter window has been redesigned. The rake of the C pillar also appears to be more tapered while the door shoulder line that cuts through the door handles is retained. The picture above also shows a fin antenna and there is a rear spoiler.
The rear of the Perdana appears to end abruptly, a styling cue quite similar to the Preve. The over-the-sides horizontal lines can be seen here with the chrome bar and tail lamps.
Performance
Two engine variants based entirely on the 8th Gen Accord:-
2.0litre SOHC i-VTEC that should produce about 156PS and max torque of 189Nm.
2.4litre DOHC i-VTEC that produces 180PS and max torque of 222Nm.
Both are paired to a 5-speed automatic transmission. Yes, "just" 5-speed but no one has complained it's a fuel guzzler so you'll survive.
Ride and Handling
The 8th Gen Accord had double wishbone suspension for the front and multi-link rear suspension at the rear. Judging from how Honda is forbidding Proton from changing the engine/gearbox combo, I won't be surprised to see this being retained.
Cabin Convenience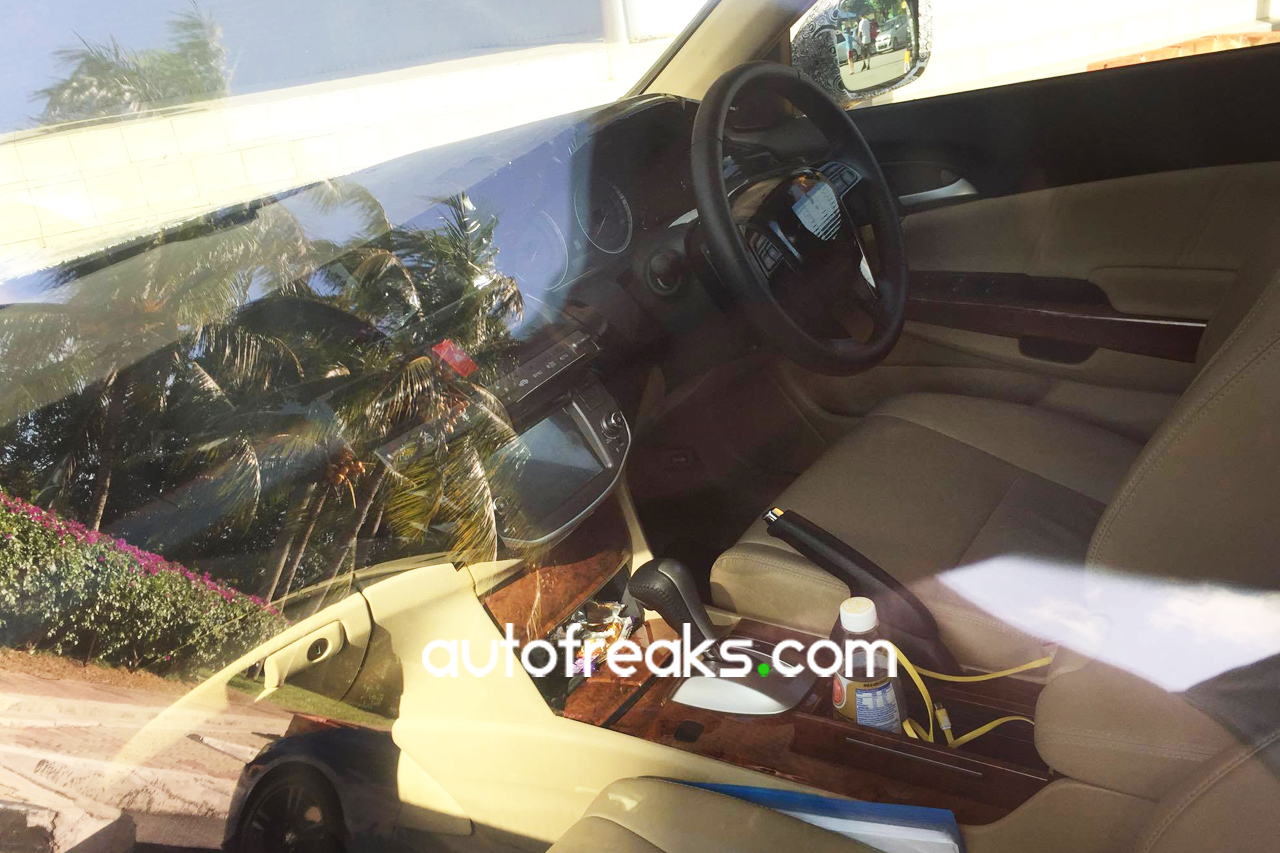 The interior, thanks to our friends from autofreaks.com looks similar to the Accord except all those buttons are now streamlined to a touch screen. Word has it that the screen has reverse camera and GPS built in. The beige interior here is the 2.4litre while the 2.0l variant features a black interior.
With the wheelbase being retained, we can expect a spacious cabin inside
Safety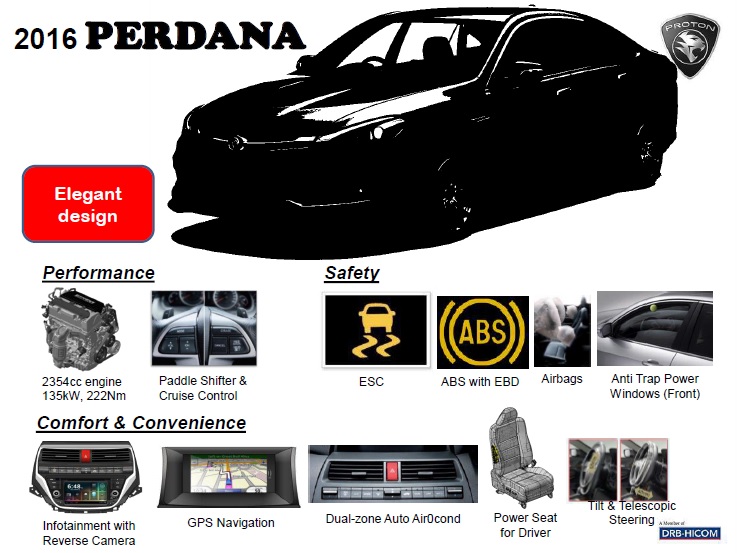 In this aspect, what we know for sure is it has ESC, ABS, Airbags (4 in the 2.4litre while the 2.0 gets only 2 front airbags) and Anti trap power windows (for the front). The rest, we'll have to wait till launch date.
Maintenance and Ownership
Proton has dropped the indicative price of RM100,000 to RM150,000. My guess is the 2.0litre would sell for RM110,000 to RM120,000 whereas the 2.4litre would ask for nothing less than RM140,000.
Would it sell? Forking more than RM100,000 for a "Proton" sounds excessive, no? Especially since it's "old tech".
I don't think so. Look at it this way;-
You want something of high value. Value means more bang for buck, cheap and good
You want something reliable and doesn't break down.
If you're a company director, you want something that allows you to contribute less to income tax. No, this doesn't mean you don't love the country; it's good governance where profit is channeled to other areas to the company to grow more.
The Perdana would definitely qualify for Point 1 since for less than RM150k, you get the top spec 2.4litre model. Sure, it may be 2 airbags and 1 gear cog short of what everyone else is offering but it is spacious and a proper D-segment. For that price, you can't even buy the cheapest Camry and a mid-spec 9th gen Accord 2.0litre.
Point 2 is already a given since it's based on old-but-proven tech. As mentioned before, spare parts for the engine and gearbox should be easy to find since tampering is not allowed by Honda.
Point 3 is related to Capital Allowance of a company. By purchasing something less than RM150k, you can to benefit maximum Capital Allowance that saves company taxes. For more info, read HERE.
Would I buy one? As a company car, why not? It would prove to be frugal and from a company perspective, cheaper to run compared to say, a Volkswagen Passat.
As for the "face" part of driving a Proton instead of a Honda and Toyota, I'm patriotic. More so if Proton does a good job at transforming its Ownership Experience. At least they treat customers better than some continental brands.