Jack Ma, the founder of Alibaba and one of the richest man in the world recently said this:
"The worse people to serve are the Poor people.
Give them free, they think it's a trap.
Tell them it's a small investment, they'll say can't earn much.
Tell them to come in big, they'll say no money.
Tell them try new things, they'll say no experience.
Tell them it's traditional business, they'll say hard to do.
Tell them it's a new business model, they'll say it's MLM.
Tell them to run a shop, they'll say no freedom.
Tell them run new business, they'll say no expertise.
They do have somethings in common: They love to ask google, listen to friends who are as hopeless as them, they think more than an university professor and do less than a blind man.
Just ask them, what can they do. They won't be able to answer you.
My conclusion: Instead of your heart beats faster, why not you just act faster a bit; instead of just thinking about it, why not do something about it. Poor people fail because on one common behaviour: Their Whole Life is About Waiting."
These words resonate very much with me. We possess infinite capacity for change, to reinvent ourselves to be better. All it takes is to take that first step and it's ok even if you might think it's small or inconsequential compared to the result of others. Incremental effort would eventually add up to a force that could move mountains and greatness is achieved with consistent improvements.
Applying the same philosophy on a car, you'd get the Mazda SKYACTIV; Four new technologies that gives you a driving experience unlike any other when combined. How much better?
We take the Mazda 3 for a spin to find out. Launched here in March 2014 , the CKD version was launched a year later and we have seen quite a number of them on our roads. A full tank of petrol, some clear hill B-roads and an M3 – let's see what the car can teach us:-
Design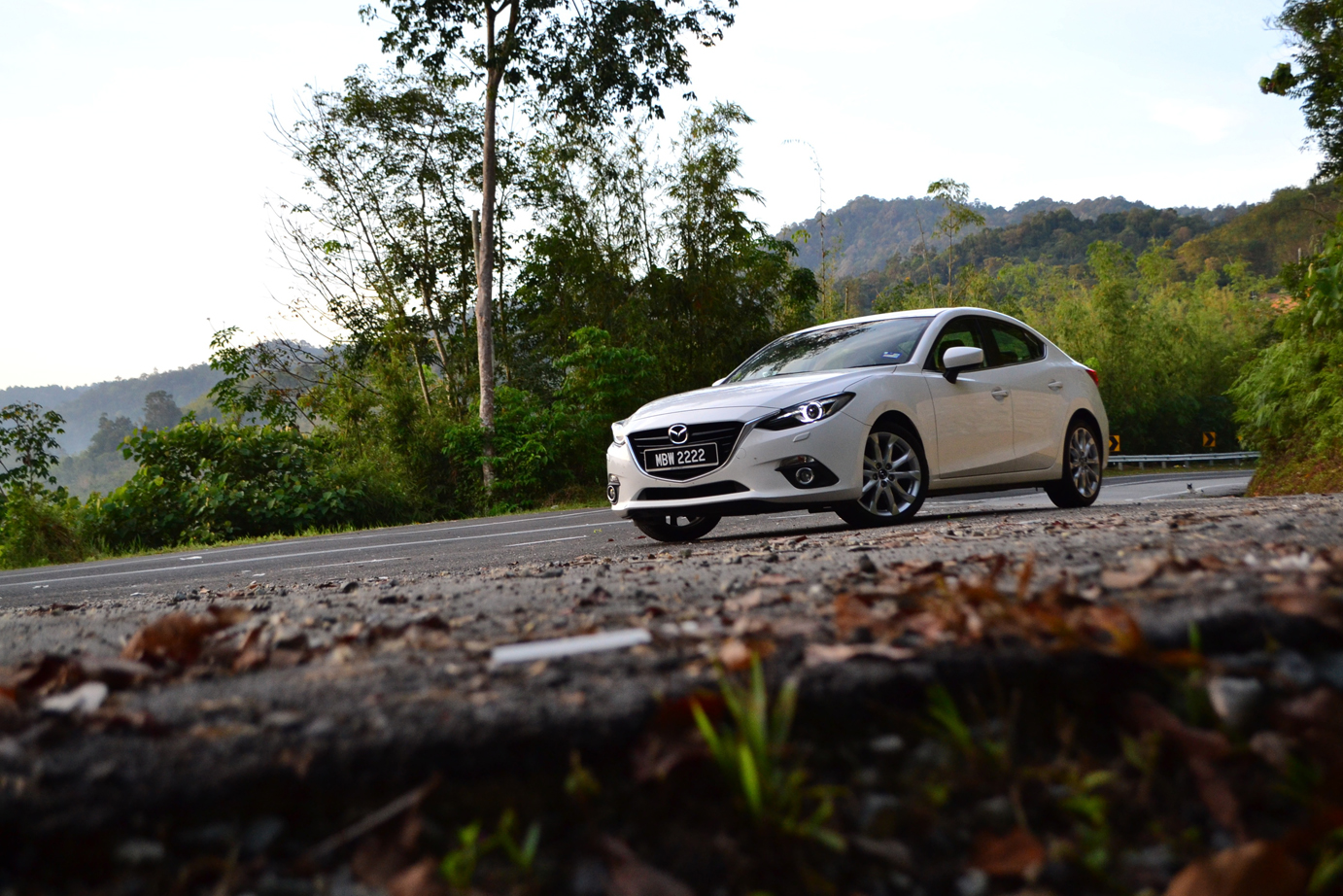 Available in two different guises, the unit seen here is the High spec which features Bi-Xenon headlamps with Daytime Running Lights (the more affordable GL spec comes with Halogen and no DRLs). Drawing from the KODO design of capturing motion from living forms in nature, the design conveys power, agility and resilience – all of which are amply displayed in the Mazda 3. Personally, I find the 3 to be the perfect example of the design instead of the Mazda 6 which appears stretched.
Measuring 4,580mm in length, 1,795mm in width and 1,450mm in height, the Mazda 3 has a balanced proportion with a long bonnet, crease lines portraying huge front fenders and a raised rump like an curled animal ready to pounce.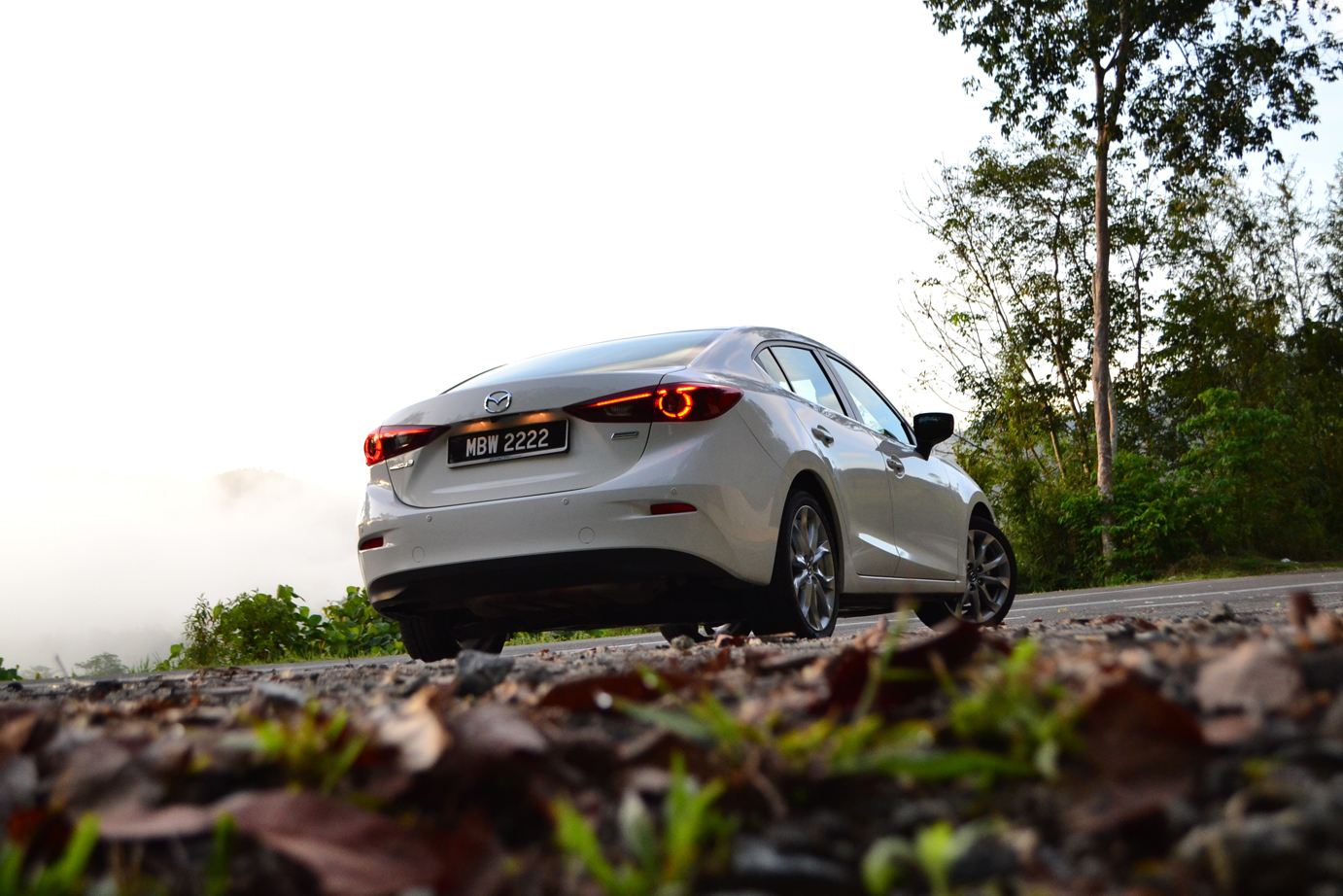 The horizontal lines on the tail lamps expands the rear width and the owl-eyed light silhouettes makes it unmistakable in the night. It's too bad that Mazda didn't design the rear exhaust pipes to be visible (unlike the Mazda 3 Hatchback and Mazda 6); that would certainly increase the rear end appeal.
.
Performance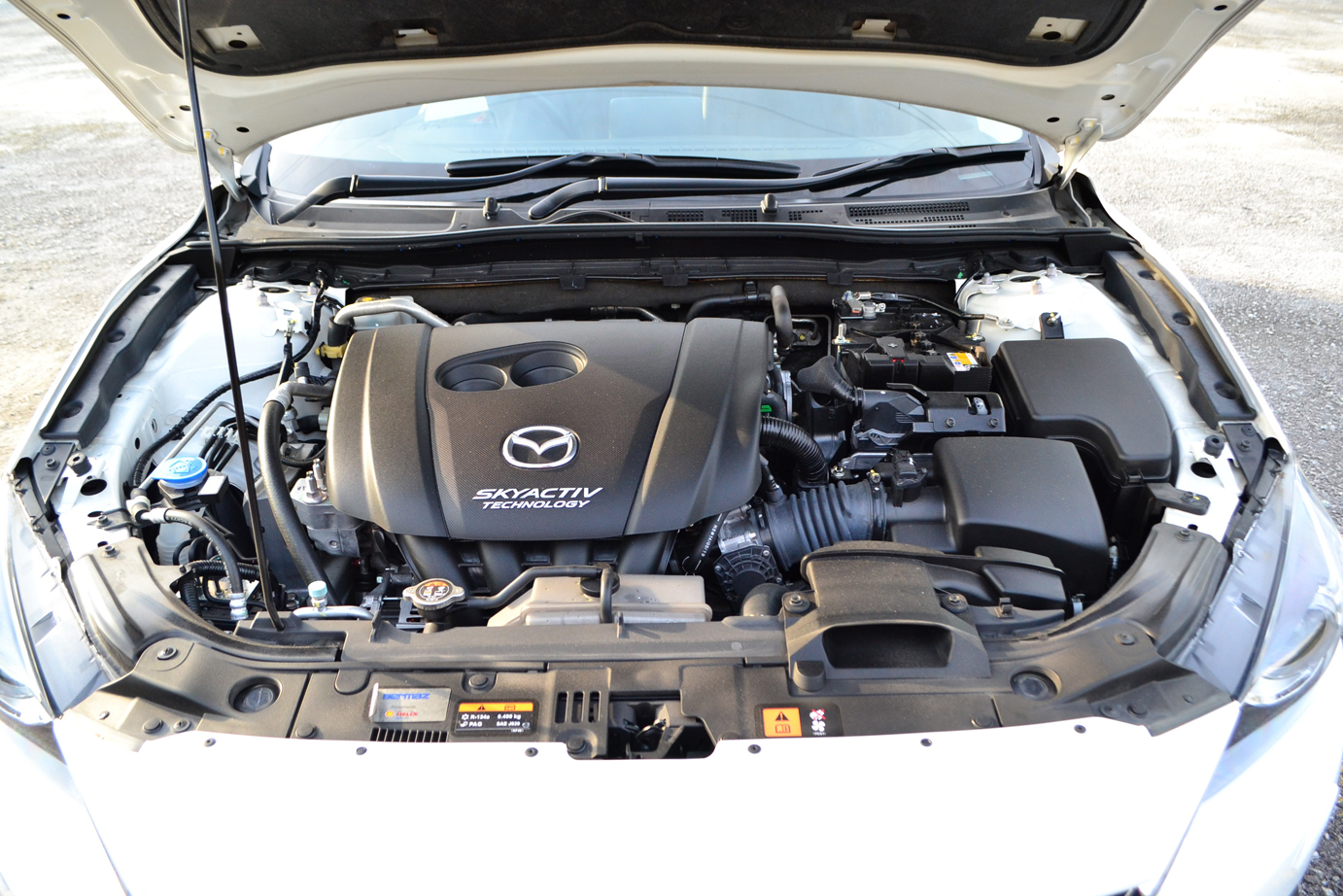 The first piece of the SKYACTIV technology is the SKYACTIV-G engine. Powering the Mazda 3 is the 2.0litre In-line, 4 cylinder DOHC 16 Valve engine powerplant that produces 162hp @ 6,000rpm and a maximum torque of 210Nm @ 4,000rpm, the same engine found on the Biante, Mazda 5, Mazda 6 and CX-5.
On the go, the direct injection engine feels eager and willing, power delivery is linear and you would have to be revving it high before power tapers off. You won't get that over-powering, seat-gluing sensation more commonly associated with turbocharged vehicles. If that's the kind of C-segment sedan you're looking for, you should can stop reading this review and go test a Volkswagen Jetta or Peugeot 408.
Instead, the SKYACTIV-G offers an output characteristic that's easily modulated; by that, I mean it's among the easiest to get used to. Within minutes, you'd have a good inkling of how much you need to step to overtake another vehicle ahead of you. No dual-clutch lag, no CVT-power tapering off. Just an honest, decent work horse that's very efficient, even in Japanese standards.
.
.
Ride and Handling
Which brings us to the other three SKYACTIV technologes; the SKYACTIV-DRIVE 6-speed transmission, SKYACTIV-BODY and SKYACTIV-CHASSIS, all incorporated contributes to the Mazda 3's main selling proposition; the drive.
For an Asian made car, it's great! For too long, other manufacturers in this region has tried to mimic the composure of continental vehicles and more often than not, the result shows there is much room for improvement. Either the ride becomes so sensitive that it becomes jittery or so numb that you have very little sense of what the wheels are doing. Steering feel, the flex of the chassis, the shift in vehicle weight, the way power is transferred to the wheels – these traits play important roles in Jinba-Ittai – the feeling of oneness between car and driver.
And no car before has ever succeeded in expressing this the way Mazda does.
The Mazda 3's suspension is neither too pliant until it undulates dizzily with uneven roads nor is it still to the point where it is bone jarringly uncomfortable for all passengers. The SKYACTIV-BODY + CHASSIS creates a sweet-spot balanced suspension where the 3 can tackle corners confidently and you'll know when the front end starts to understeer long before it happens. In the Mazda 6, I felt it was bulky and at times ungainly but with the 3, it was non-existent.
To many, the Mazda 6 was supposed to be the epitome of SKYACTIV. It was a good introduction but I felt the Mazda 3 is the one that nailed. And you know what's funny? I had tested it before and I could feel the handling difference in that short 10 minutes drive. But it wasn't until driving it longer, bench-marking against what I've driven on different roads in driving driving conditions that I begin to see why this is such a great car.
The electronic power steering (EPAS) is excellent; light at low speeds and progressively gets heavier as speed builds up. The helm does a fine job providing road feel, better than most Asian made models.
.
.
Cabin Convenience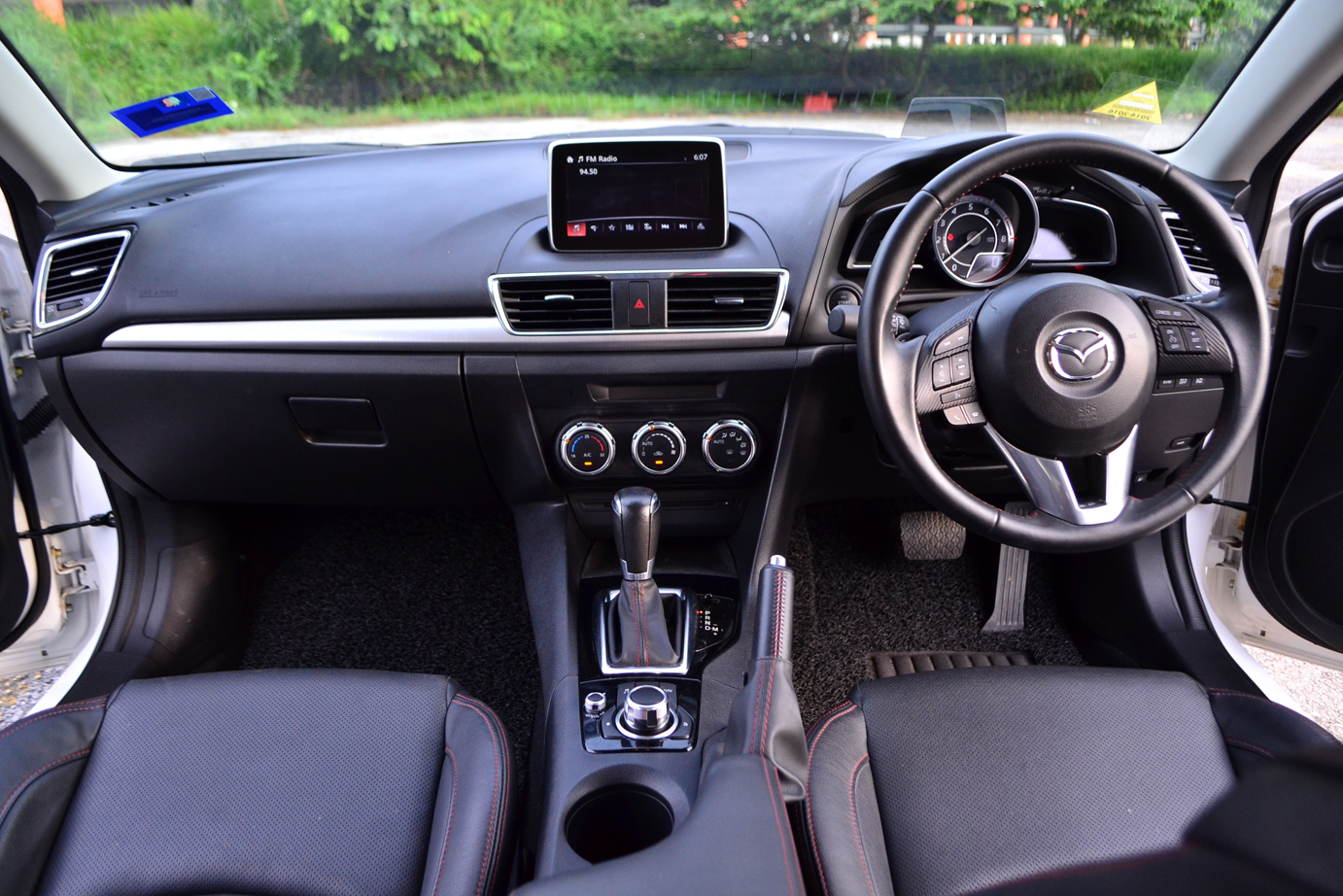 The interior fit and finish of the Mazda 3 exudes quality one would expect from luxurt continental makes. That said, the cabin space may not measure up to some C-segment continentals despite its wheelbase growing 60mm longer. It's not uncomfortably tight – just compact.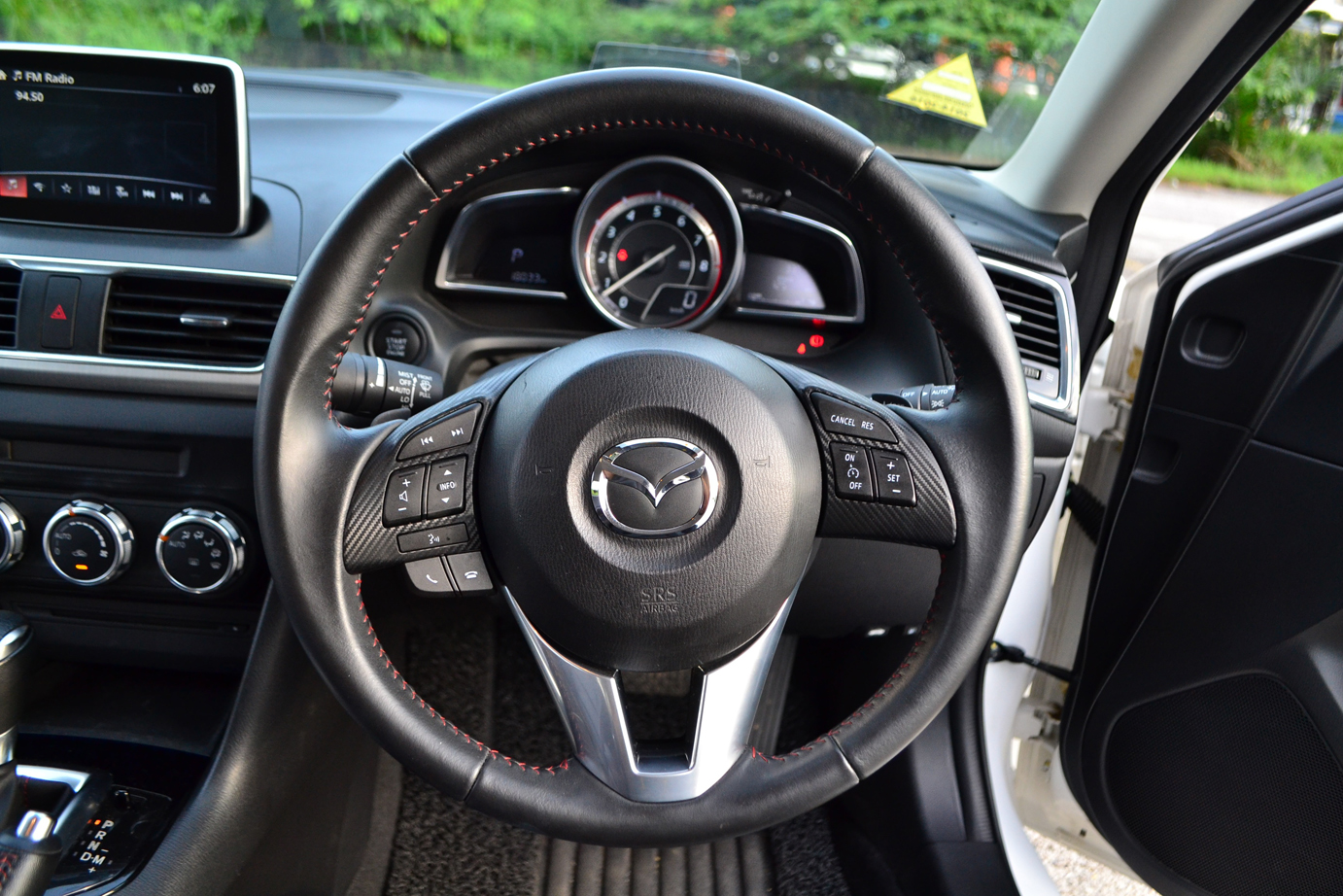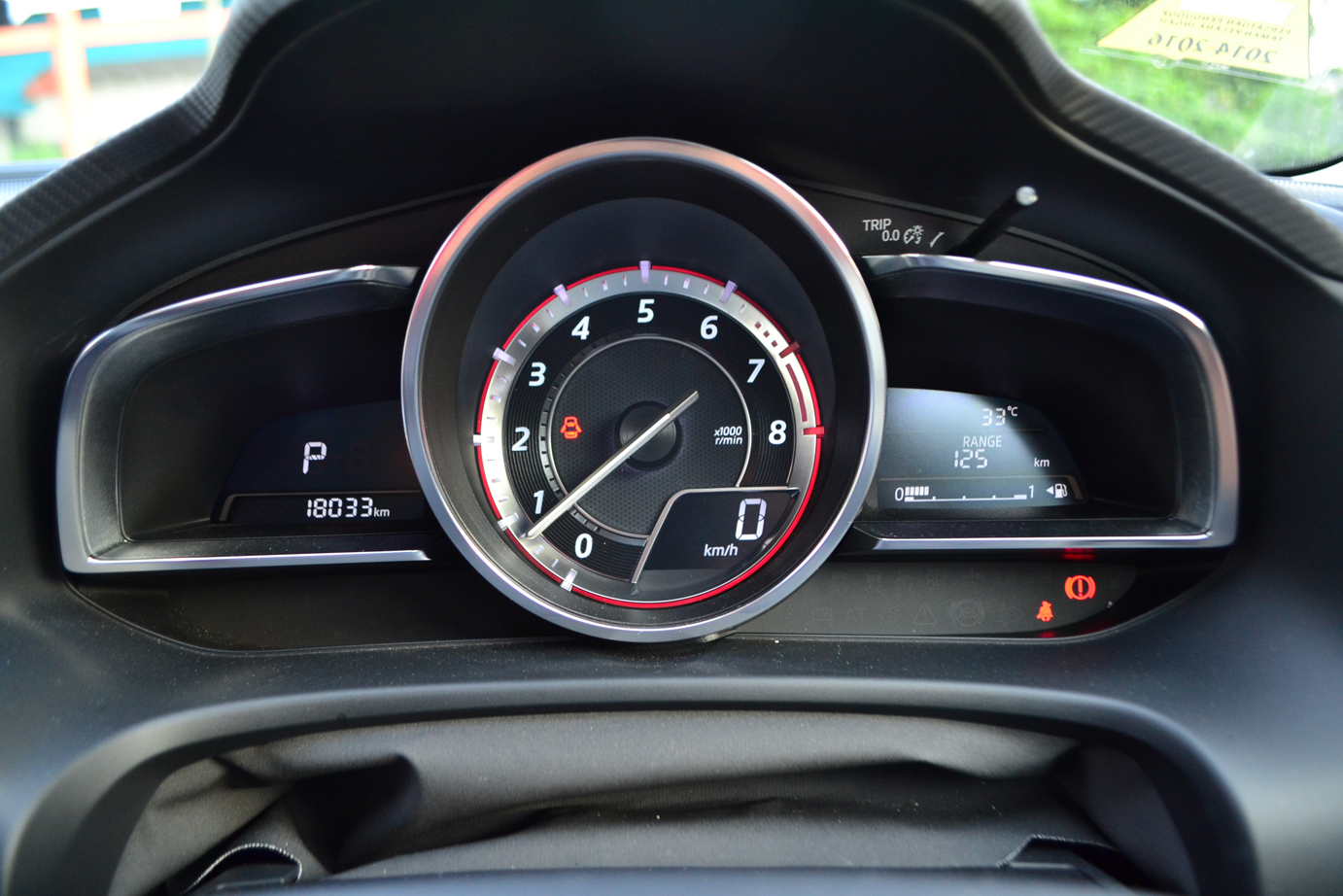 The leather wrapped helm has good grip and for meters, you'll see a single sporty rev counter with a digital speedometer. The font size can be a little small but with a head-up display called the Active Driving Display, real time driving data such as speed and navigation info is projected above the dashboard and you won't need to glance away from the road.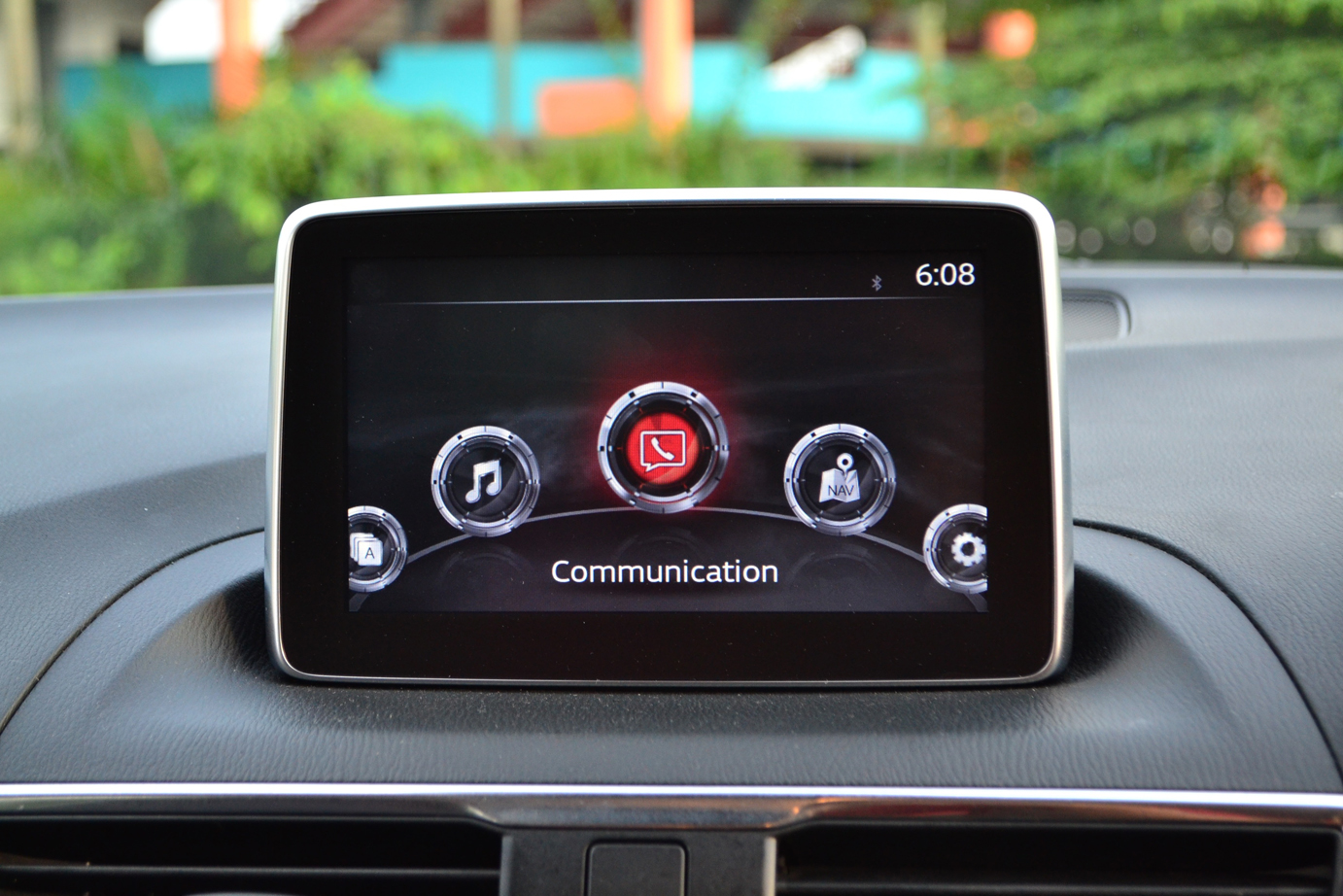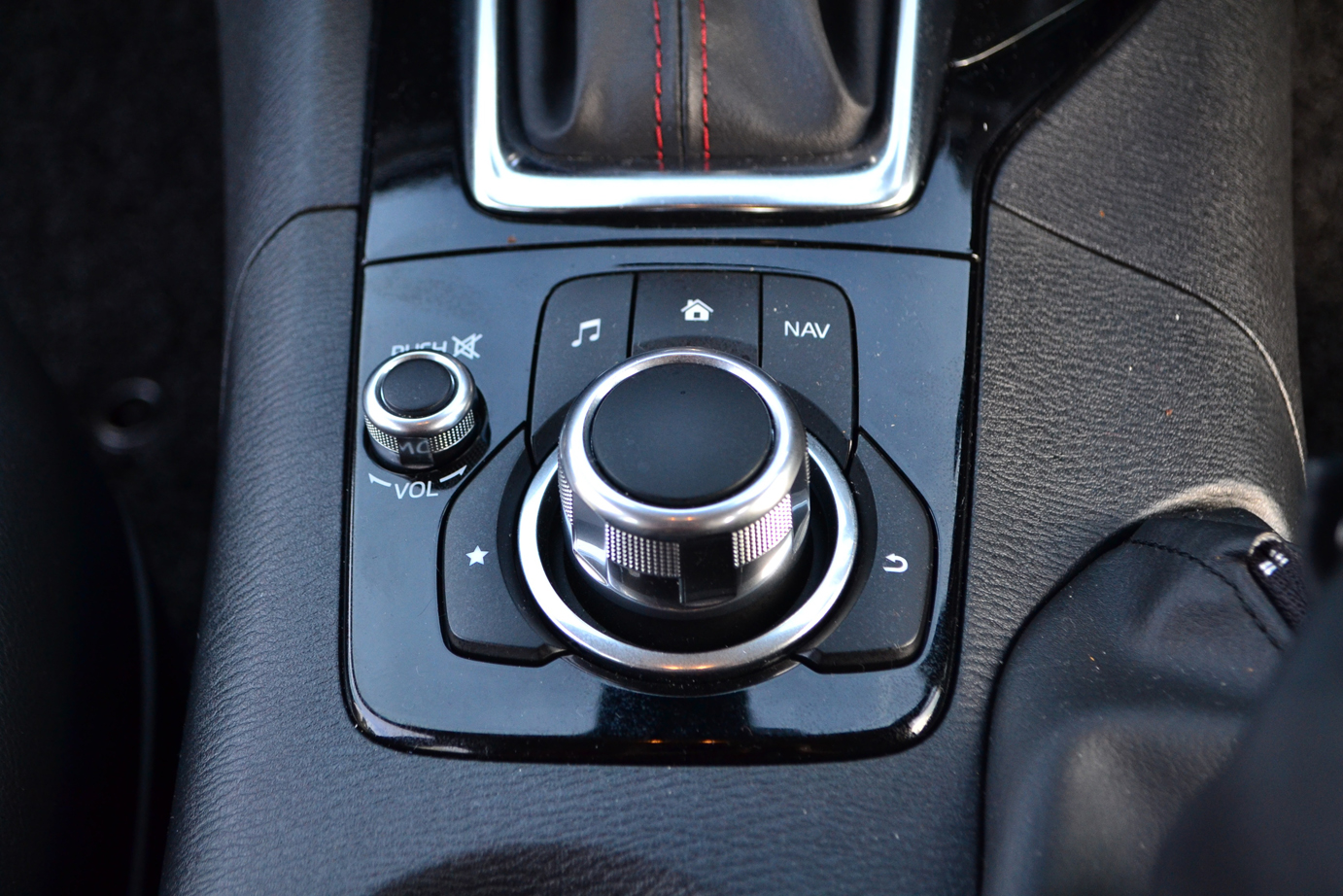 For infotainment, the Mazda 3 has MZD CONNECT with a 7″ LCD Display. The display, unlike many other vehicles sits high up the dashboard, making it easy to read and cycle through. You can access audio, navigation, Bluetooth telephony and other display settings via the Commander Control, a scroller found in between the front seats. It's pretty easy to get used to and before long, you can skillfully navigate yourself through the functions without staring at the display.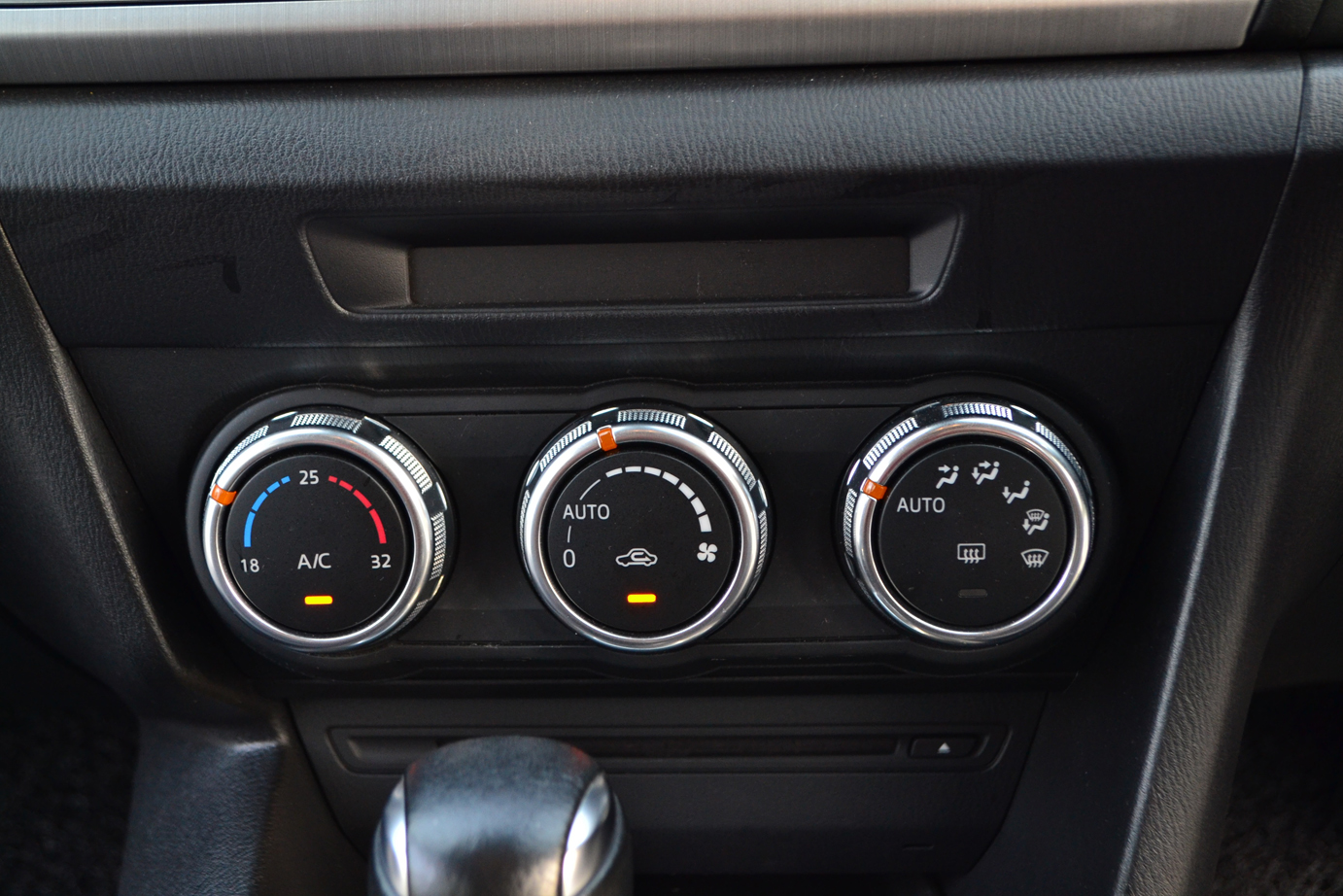 The single zone automatic air conditioning unit is more than adequate for our weather. More often than not, I'd just leave it at step one.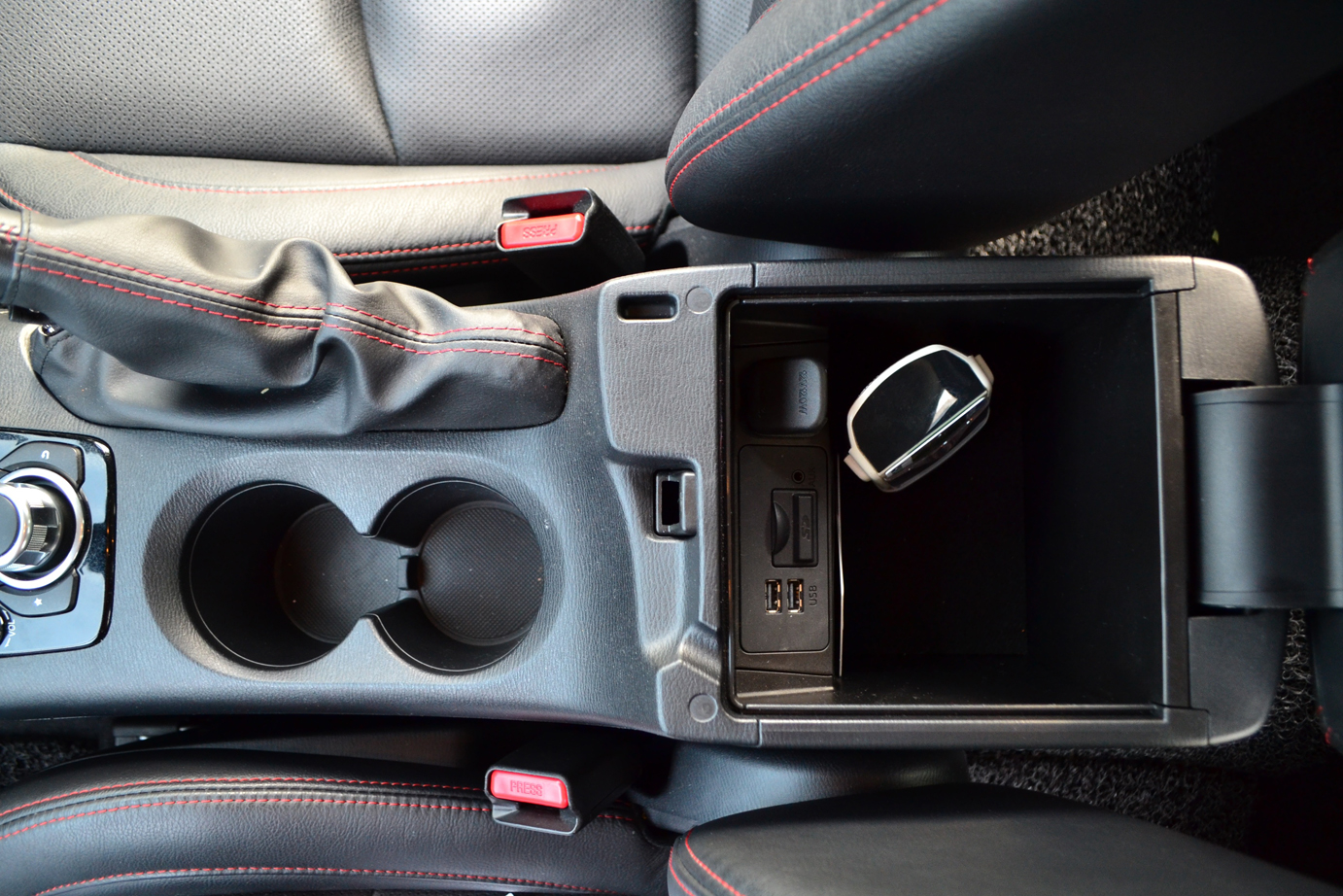 Within the center console is the 12V port, SD card and two USB ports. The compartment is deep enough to hold a Smart Tag standing so items such as wallets and phones would fit here nicely.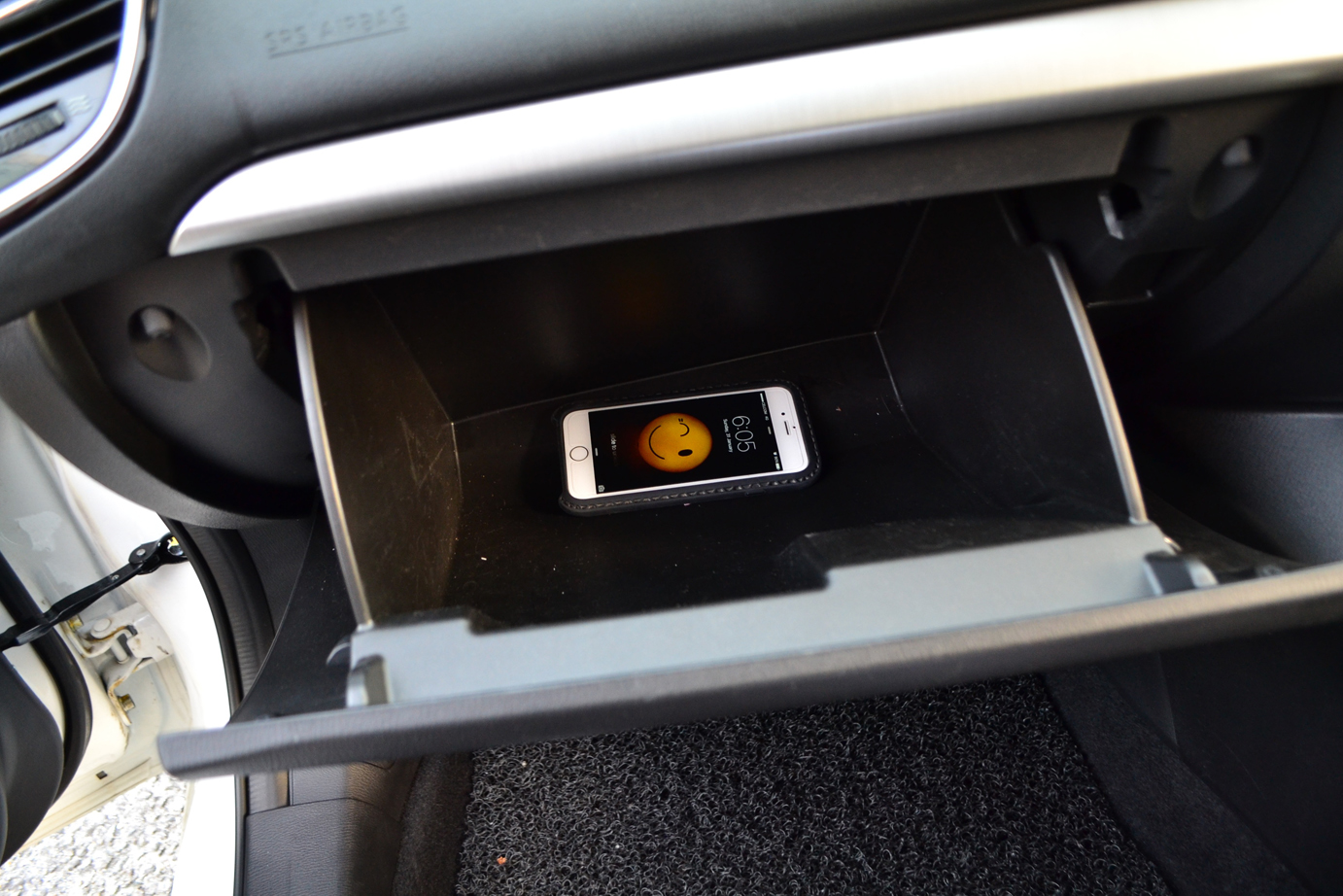 Huge glove compartment. Could fit a couple of kittens in there.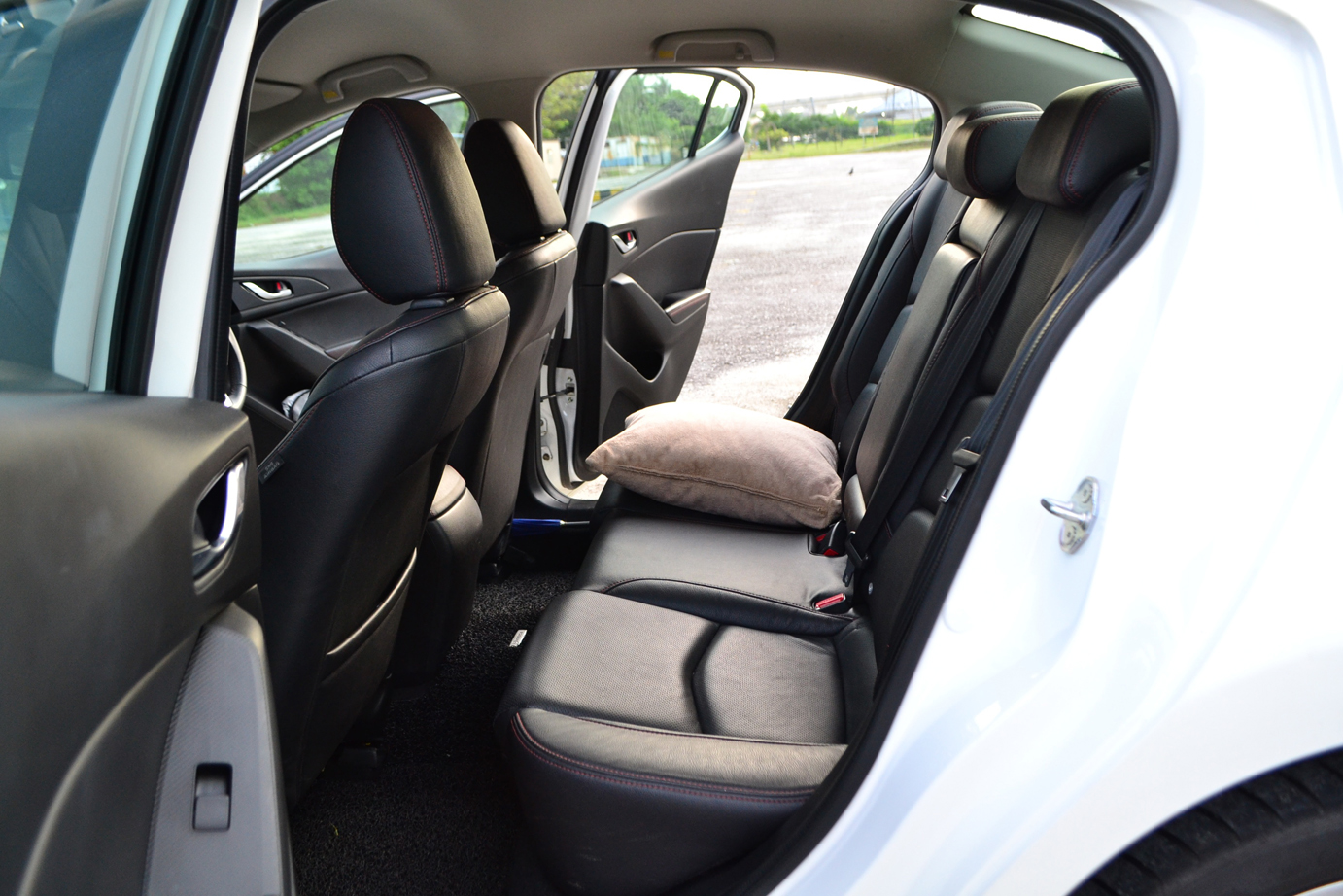 Rear legroom is fine. As I said, it's compact but not too tight. Tall passengers may find the sloping rear roof to be close to their heads though. Sadly, there are no rear air conditioning vents.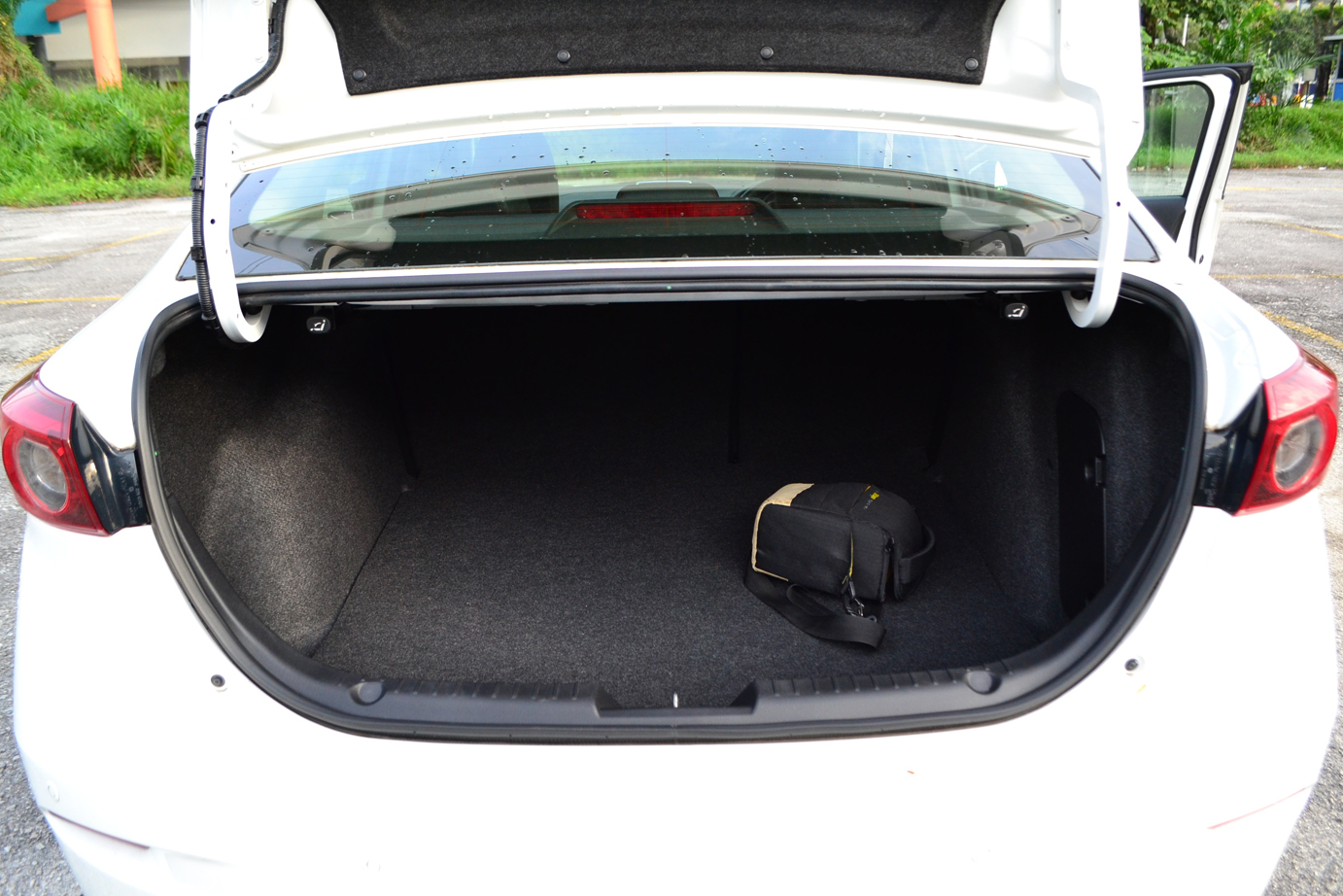 You get 408litres of cargo space which is more than sufficient for most outstation trips and underneath the floor board is  a space saver tire.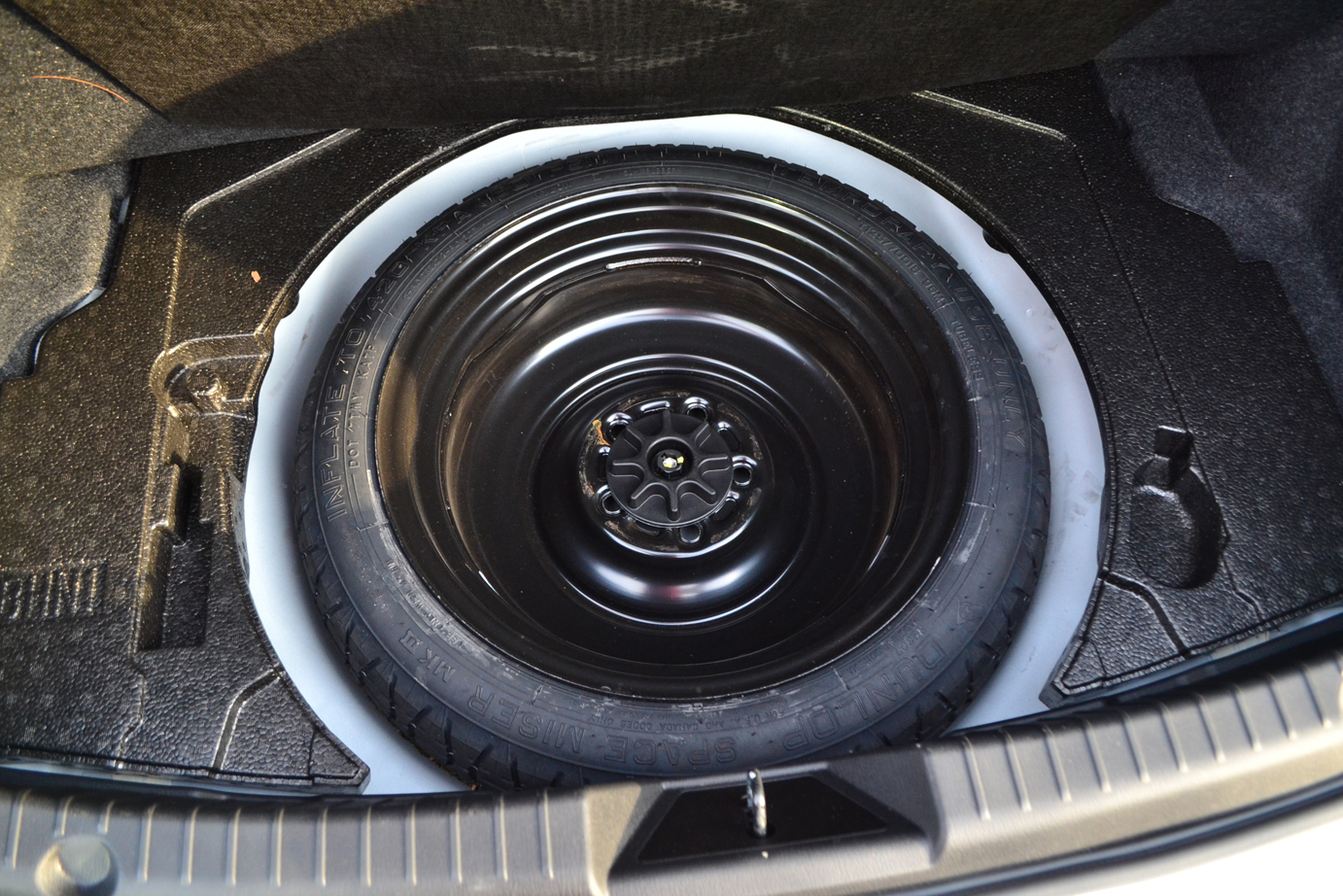 .
.
Safety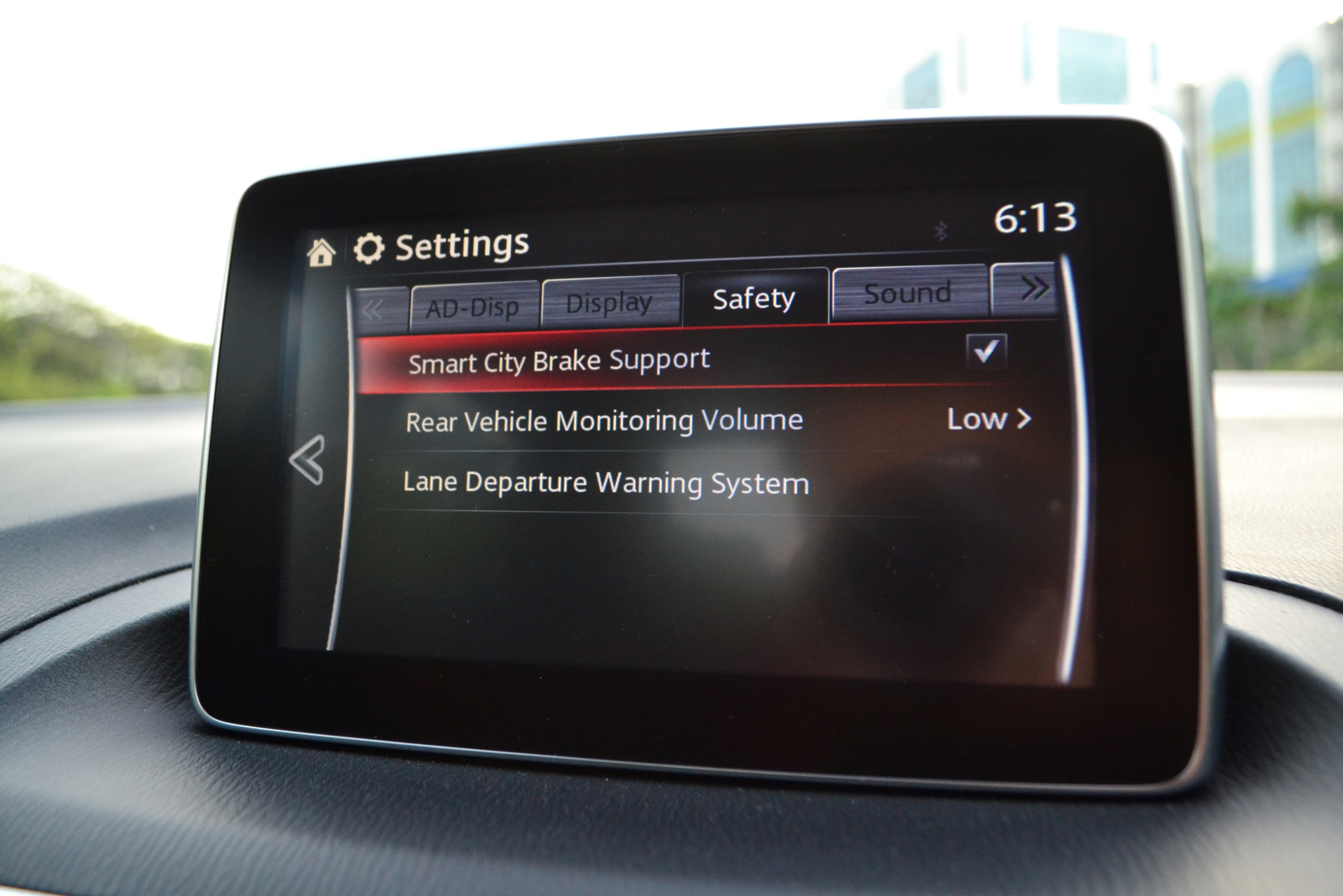 The Mazda 3 sedan High spec has the following safety features:-
Front airbags
Side airbags
Curtain airbags (total 6 airbags)
ABS
EBD
DSC
TCS
Adaptive Front-lighting System(AFS)
High Beam Control System (HBC)
Smart City Brake System (SCBS)
Rear vehicle monitoring (RVM)
Lane Departure Warning System (LDWS)
ISOFIX
Immobilizer & Burglar Alarm
.
Specifications
Sedan High Spec as tested
Exterior
Bi-xenon with auto levelling headlights
Front fog lights
Power foldable side mirror with turn indicator
Daytime Running Lights
Auto windschield lights
Interior
Leather upholstery and seat
Tilt & telescopic multi-function steering wheel
Paddle shifters
Electronic adjustable seat
Automatic single zone air conditioning
Engine Push Start
Smart Keyless Entry
i-Stop Idling Stop System
MZD CONNECT with 7″ LCD Display & Commander Control
GPS Navigation
Active Driving Display
Auto cruise
AM/FM, CD, Bluetooth, AUX @ USB (6-speakers)
.
.
Maintenance and Ownership
The CKD Mazda 3 High Spec retails for RM120,705.30 OTR without insurance (add RM3,649.09 for insurance premium if this is your first car with no NCB) and comes with four different colors to choose from:- artic white, aluminium metallic, meteor grey mica and blue reflex mica. Sadly the soul red metallic from the CBU range has been removed but considering it dropped RM15k, it's quite a bargain even if some CBU features such as the i-Eloop regenerative breaking and sunroof is removed.
The Mazda 3 comes with 3 years warranty and 3-years free scheduled maintenance according to manufacturer's recommendation.
Truly, the Mazda 3 is the car that made me a true believer in the Zoom Zoom philosophy. You want cutting edge new technology? Japanese reliability? Good looks? Entertaining at corners? The Mazda 3 has got it all. Sure, it can make do with a larger cabin but that would ultimately upset the clean design it has now. Nope, proportion-wise, it's perfect. My chief complain is the lack of Follow-Me-Home light. In today's offering, having the headlamps to stay on a little longer would improve safety and make it more convenient. Having said that, if you stay in a condo/apartment, this isn't a deal-breaker.
So go for an extended drive if you can. The Mazda 3 is a car best experienced first hand, not talked about. Head over to www.mazda.com.my or a showroom nearby to know more.