Compact SUV demand has been steadily increasing for the past few years and crystal balls of industry analysts worldwide seem to indicate that this segment is here to stay. This appears to be happening in Malaysia as well and today, we have no less than six compact SUV models to choose from.
Well, six may be subjective since the definition of what makes up a "compact SUV" may not be agreeable to all. How do you differentiate it from (what I would see as) a compact crossover such as the Subaru XV and Mitsubishi ASX? One magazine may say those two models are in the same segment, another online portal may say otherwise. There are no ISO standards to conclusively categorize one type of vehicle from another so in our interpretation, we'll stick to six. In December 2014, we did a detailed shootout between the Peugeot 2008, Ford Ecosport and Great Wall Haval M4 and now we're back for another compact SUV shootout this time comparing the three new models launched since the last shootout.
The Honda HR-V was introduced in February 2015 and since then, it has become the MyVi of compact SUVs; everywhere you go, you're bound to encounter one. With its strong branding, perceived Japanese reliability and a sensible yet handsome packaging, it is without a doubt, the king of the segment.
The next model with a Japanese proposition is the Mazda CX-3. Coming in at the tail end of 2015, the CX-3 has been a hit among many Malaysians with its beautiful KODO Soul-of-Motion design, attractive interiors and loaded with lots of tech that makes you one with the vehicle.
The new kid on the block is the Renault Captur. Stylish and fun, it has the smallest engine displacement in the segment but don't make the mistake of underestimating this continental; it's very capable at B-roads and frugal too.
For this comparison, the picture layout shall be in the format of the HR-V/CX-3/Captur, done in alphabetical order of Honda, Mazda and Renault and does not represent the order of preference.
.
.
Design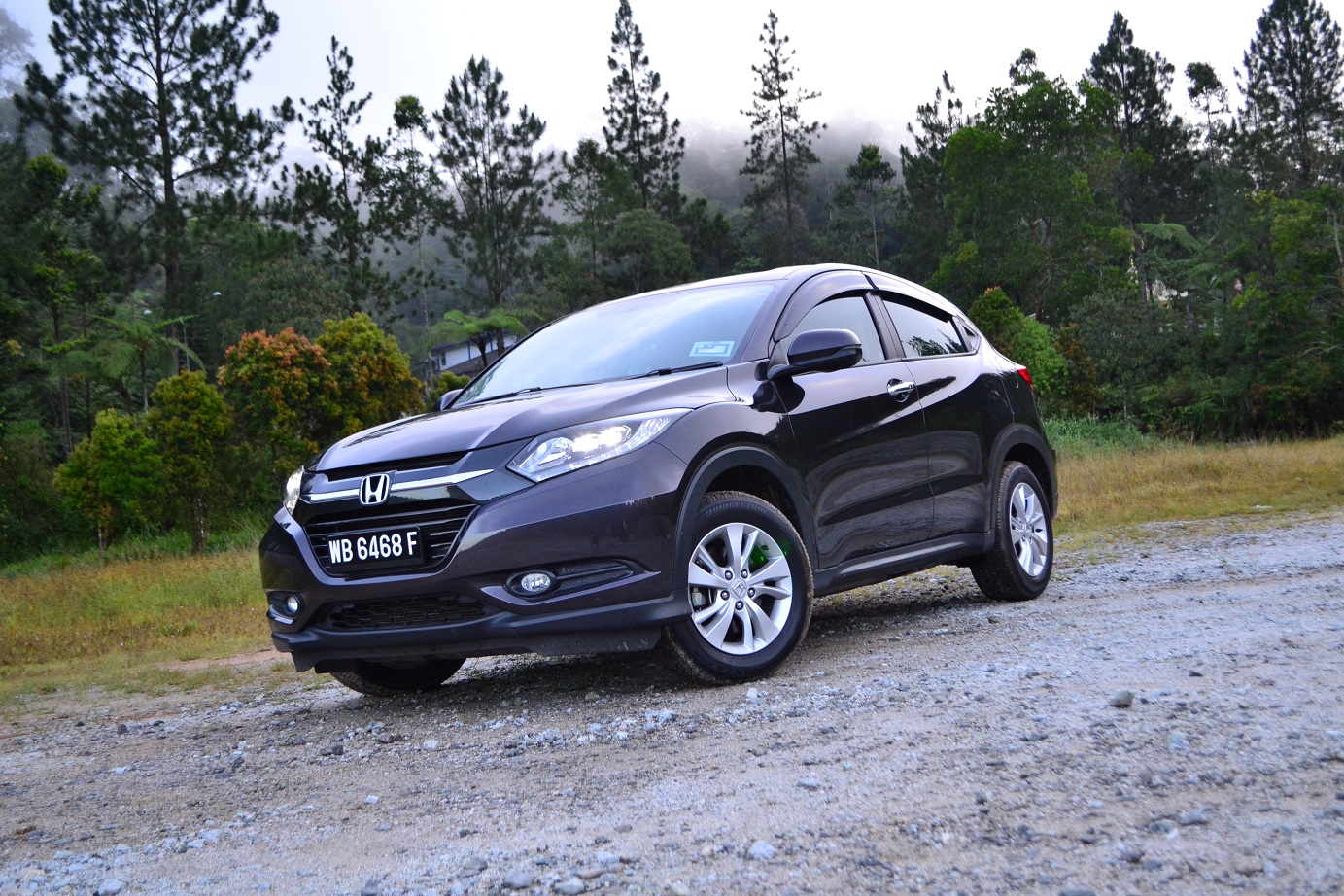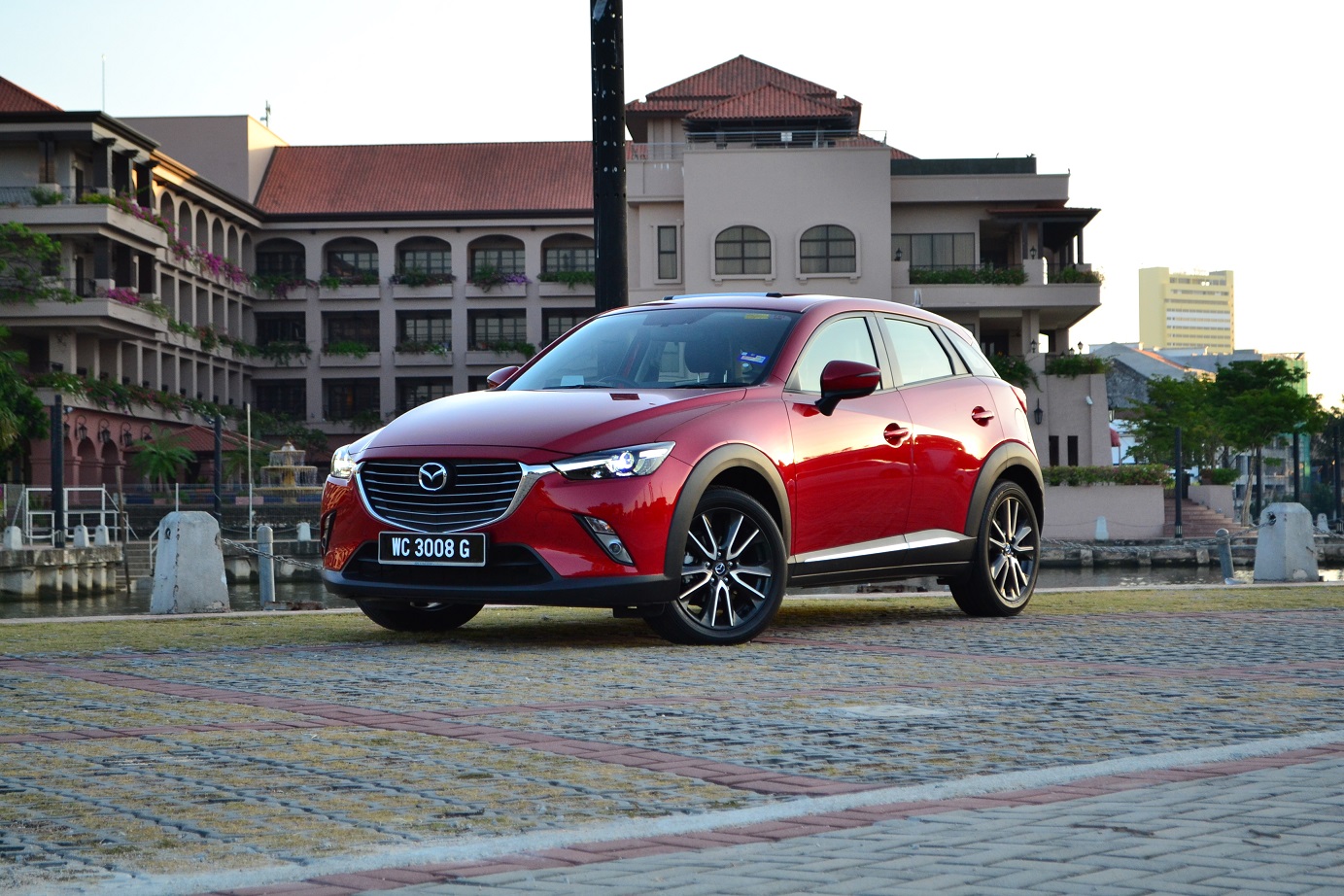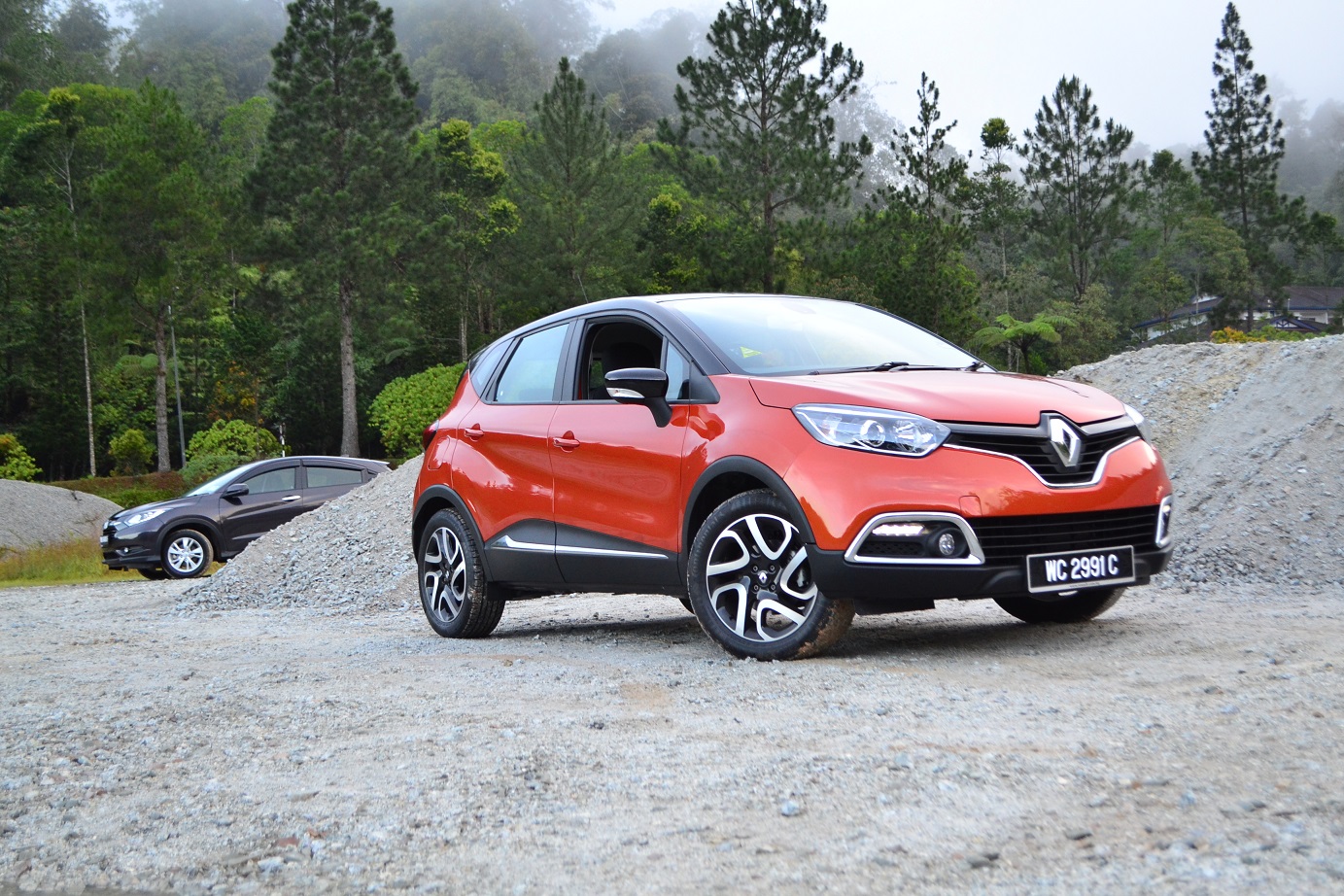 All three vehicles has a sleek exterior reminiscent of coupes, albeit in an SUV form and among these three, it's the HR-V that pulls this design off best with its 'hidden' rear door handles.
That said, the other two contenders are great eye pullers as well. The CX-3 favors a long hood with short overhangs, something that Mazda has been using for all its KODO-inspired vehicles and it works well in projecting an image of strength and vitality.
The Captur has arguably the cheekiest design in the group. Instead of rakish lines, the Captur favors a more bulbous appearance, playing on curves to attract the viewer like those found on the fairer sex.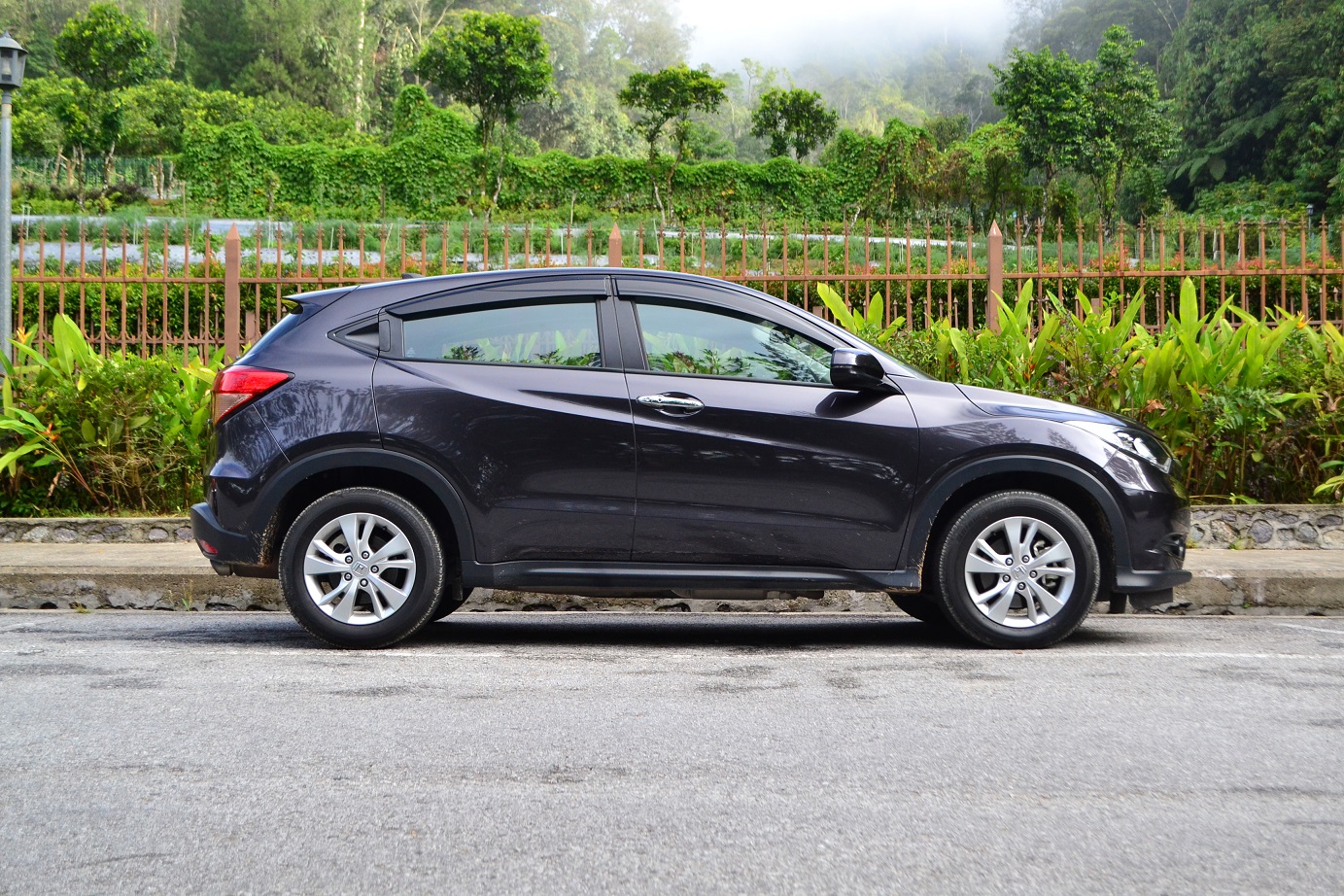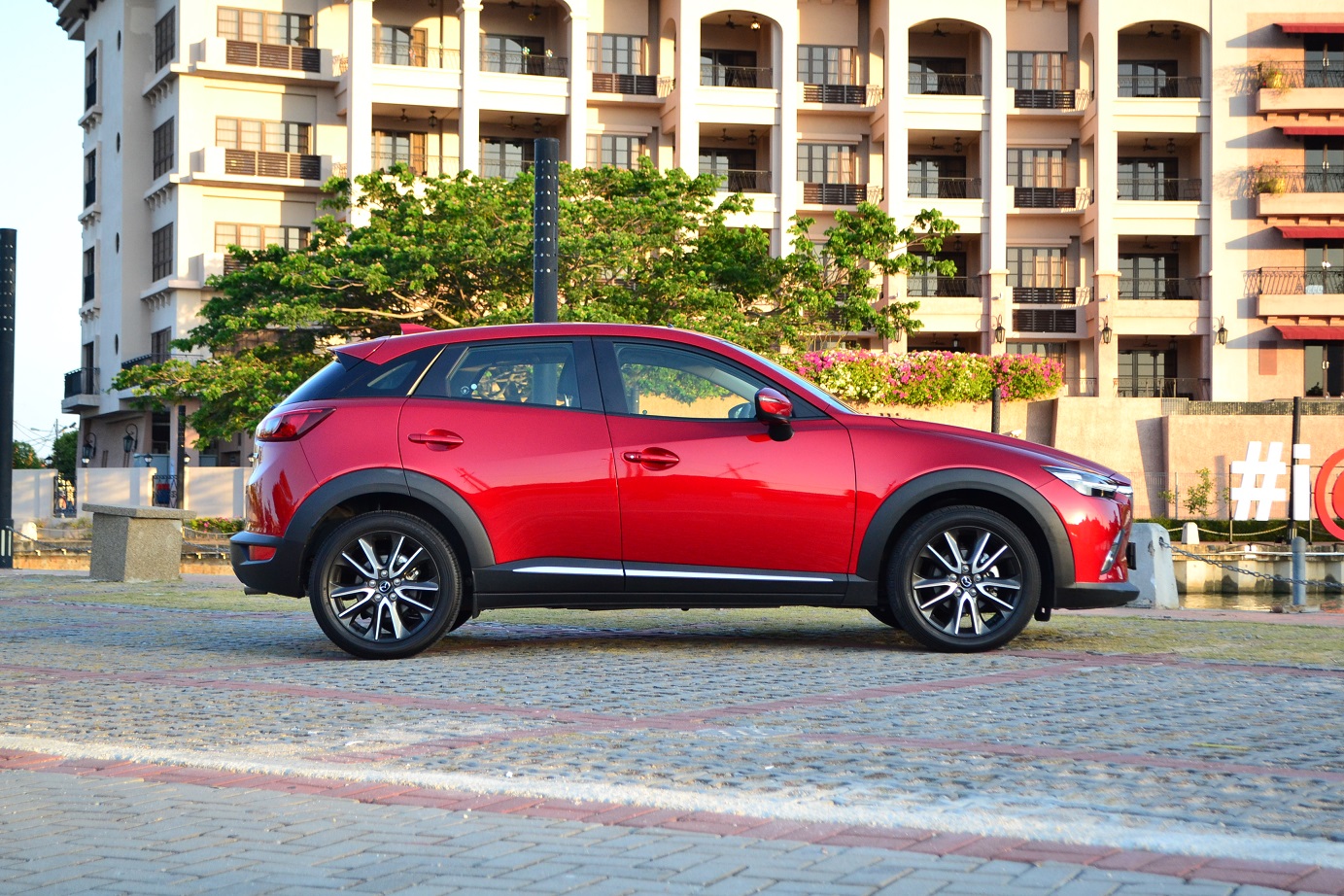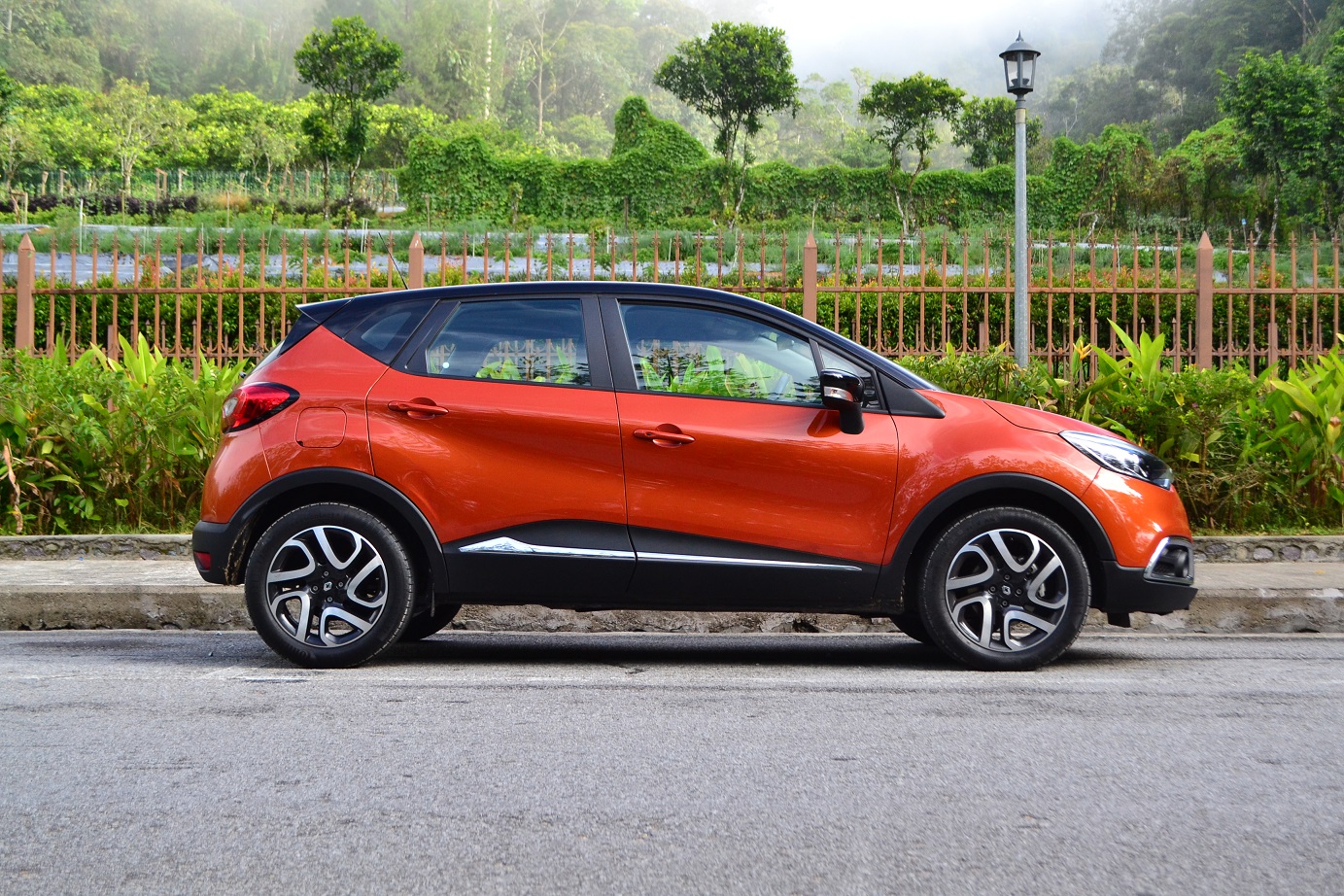 HR-V is the biggest SUV here (actually, the largest when compared to the other three tested earlier too) with it measuring 4,294mm in length, 1,772mm in width and 1,605mm in height. Personally, I felt that the stock 16″ alloy wheels with 215/60 tires should come one size larger but that's subjective.
The CX-3 on the other hand has slightly smaller dimensions at 4,275mm in length, 1,765mm in width and 1,535mm in height, The black wheel arch trimmings lends an image of large oversized wheels, not that it needs much help since it has the largest rim size in the group; 18″ alloy wheels with 215/50 rubber.
The Captur on the other hand is the smallest of the group with it being 4,120mm in length, 1,770mm in width and 1,570mm in height, making it the easiest to maneuver and park in tight spaces. It has 17″ black diamond-cut wheel rims wrapped in 205/55 tires.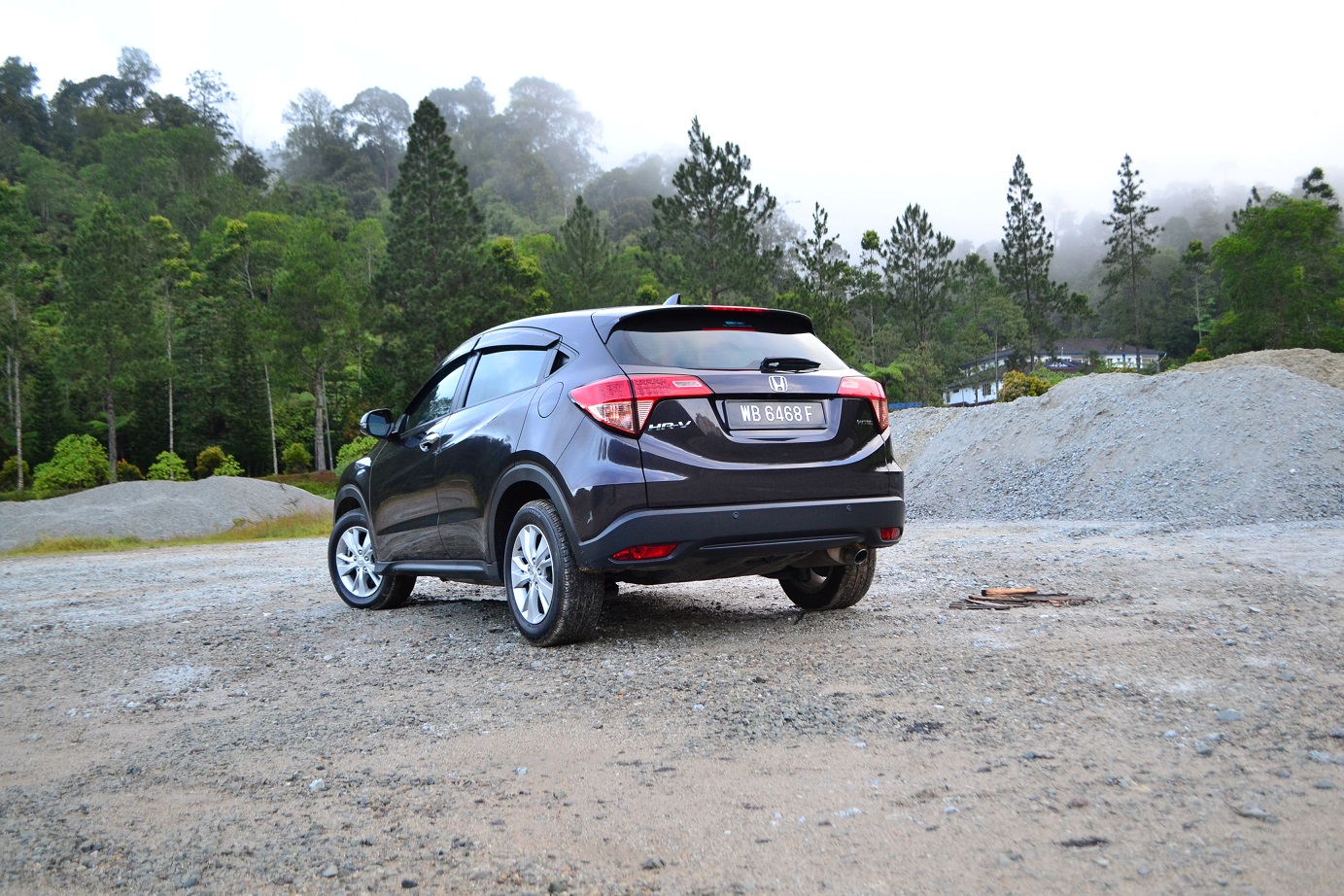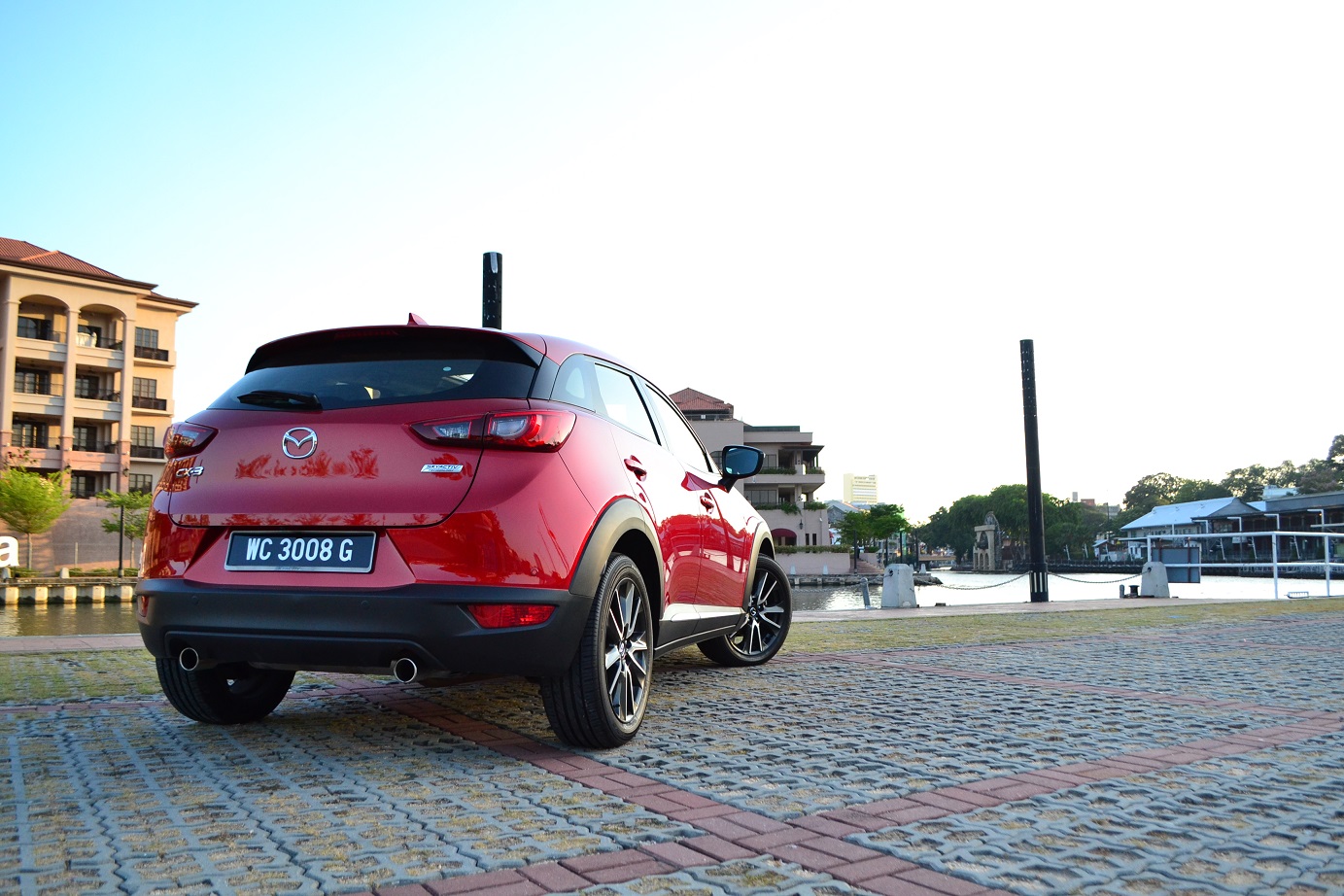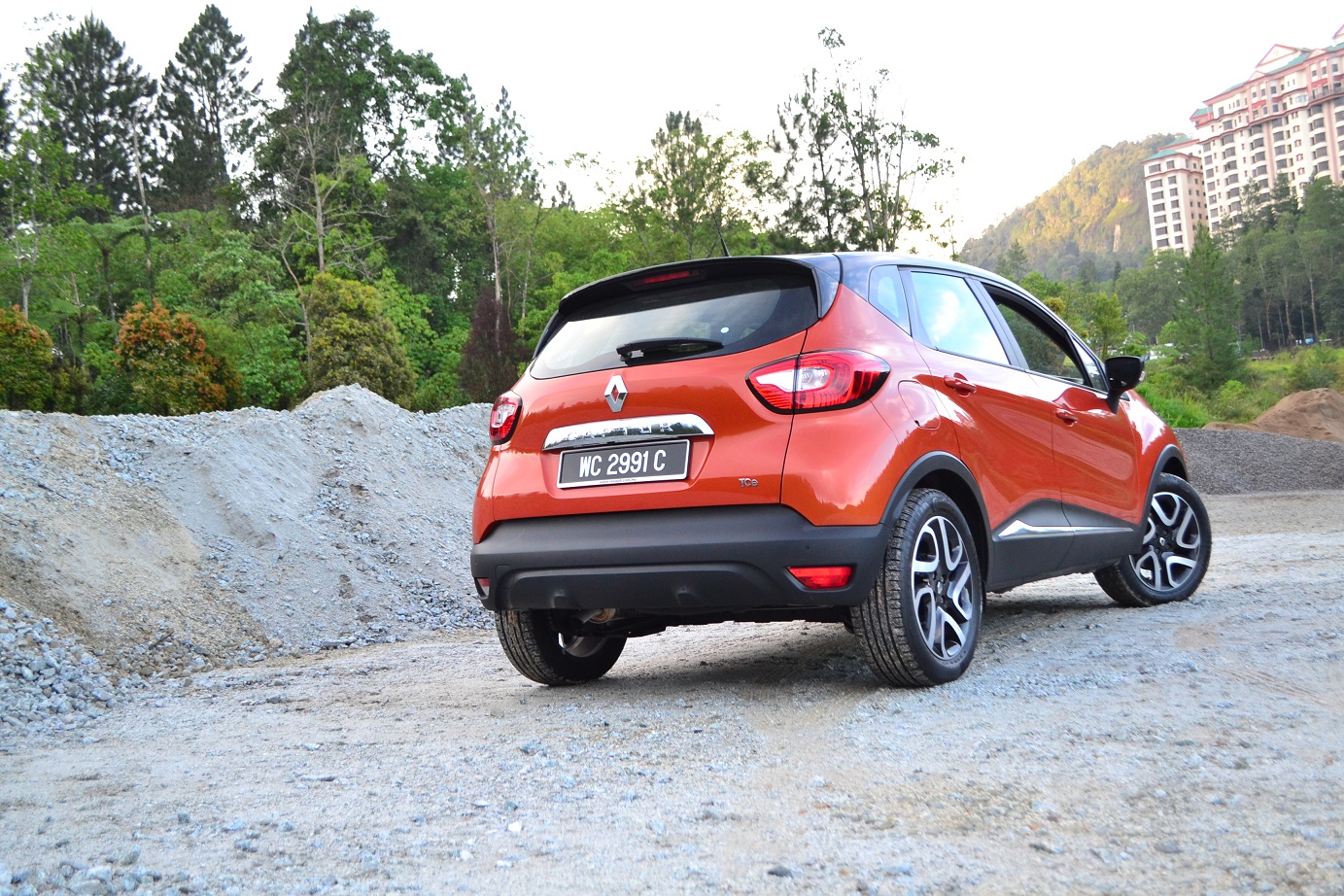 At the back, the HR-V has arguably the most conservative appearance with crease lines that makes for a larger rear while the CX-3 is the sportiest thanks to its dual tail pipes and sharp rear lamp design. The Captur has a more upright tailgate, making it look more hatchback than SUV.
All three look great but perhaps it's a case of one-too-many with the HR-V. It has become too common to stand out. The CX-3 on the other hand has, IMHO the sleekest design and in this shade of red, people pay attention to it. But it's the Captur that had people staring twice. I even had a petrol station attendant giving me a thumbs up. Perhaps it's the rarity (heard only 50+ units in Malaysia so far) but there is no denying that the Captur is the quirkiest here.
.
.
Performance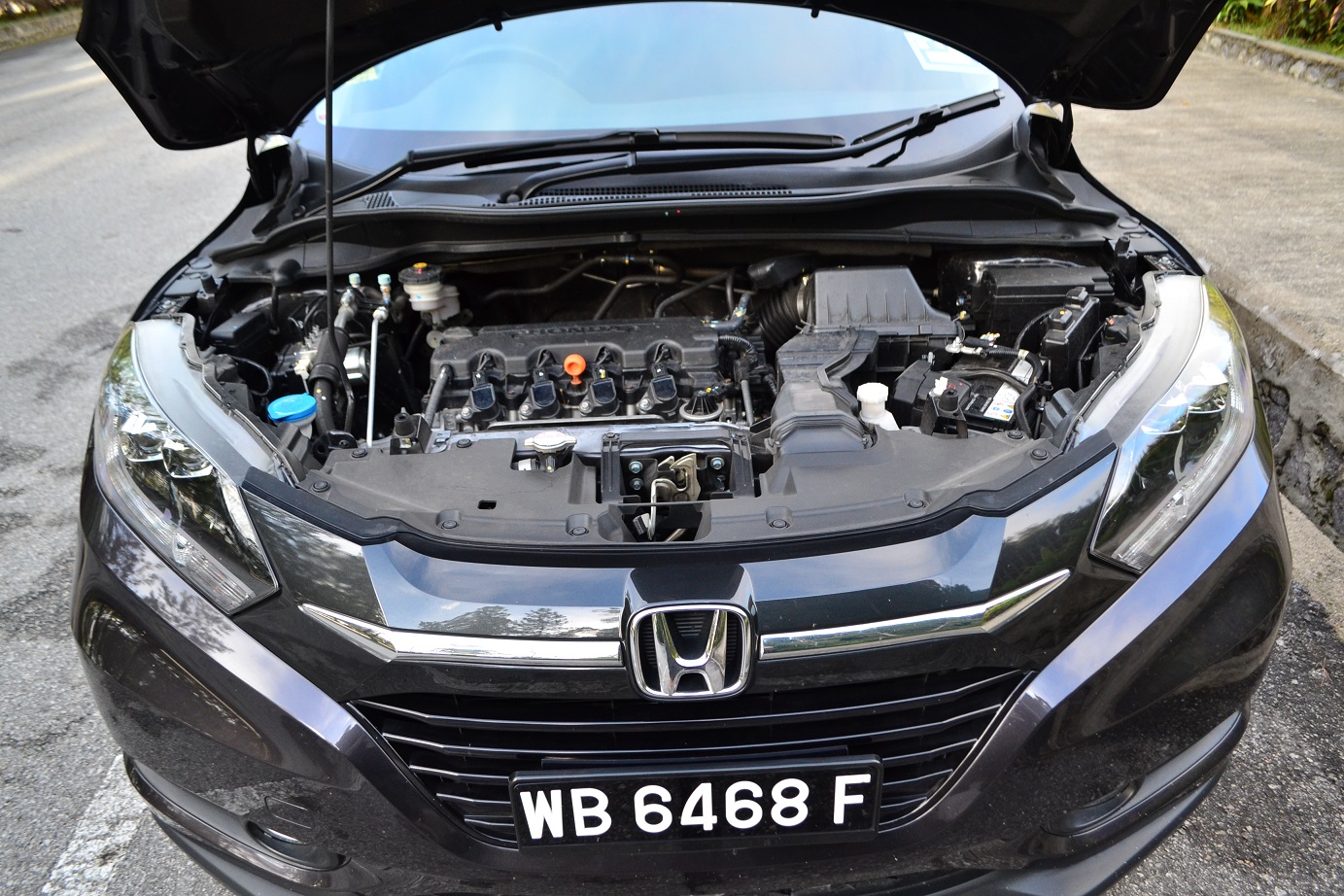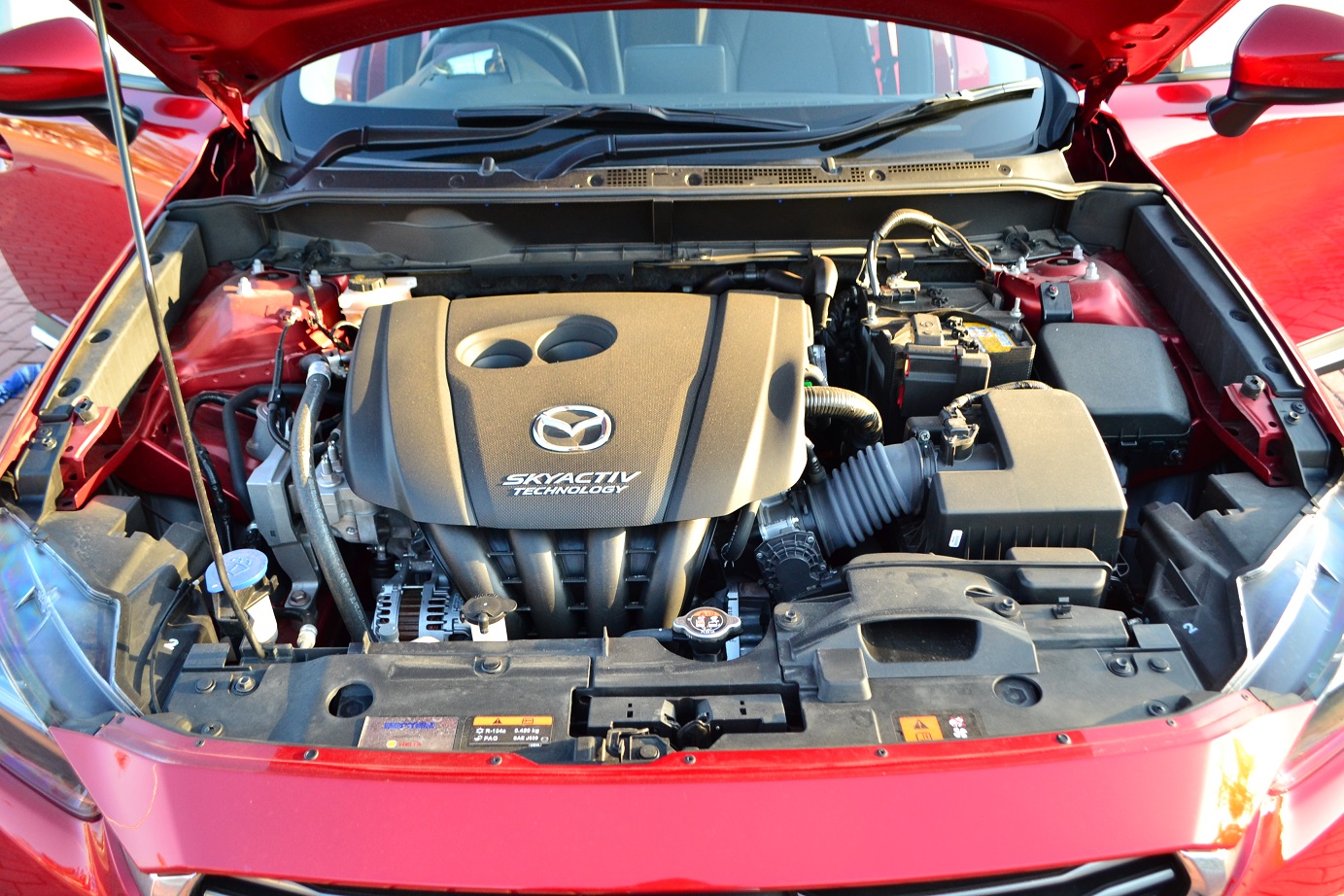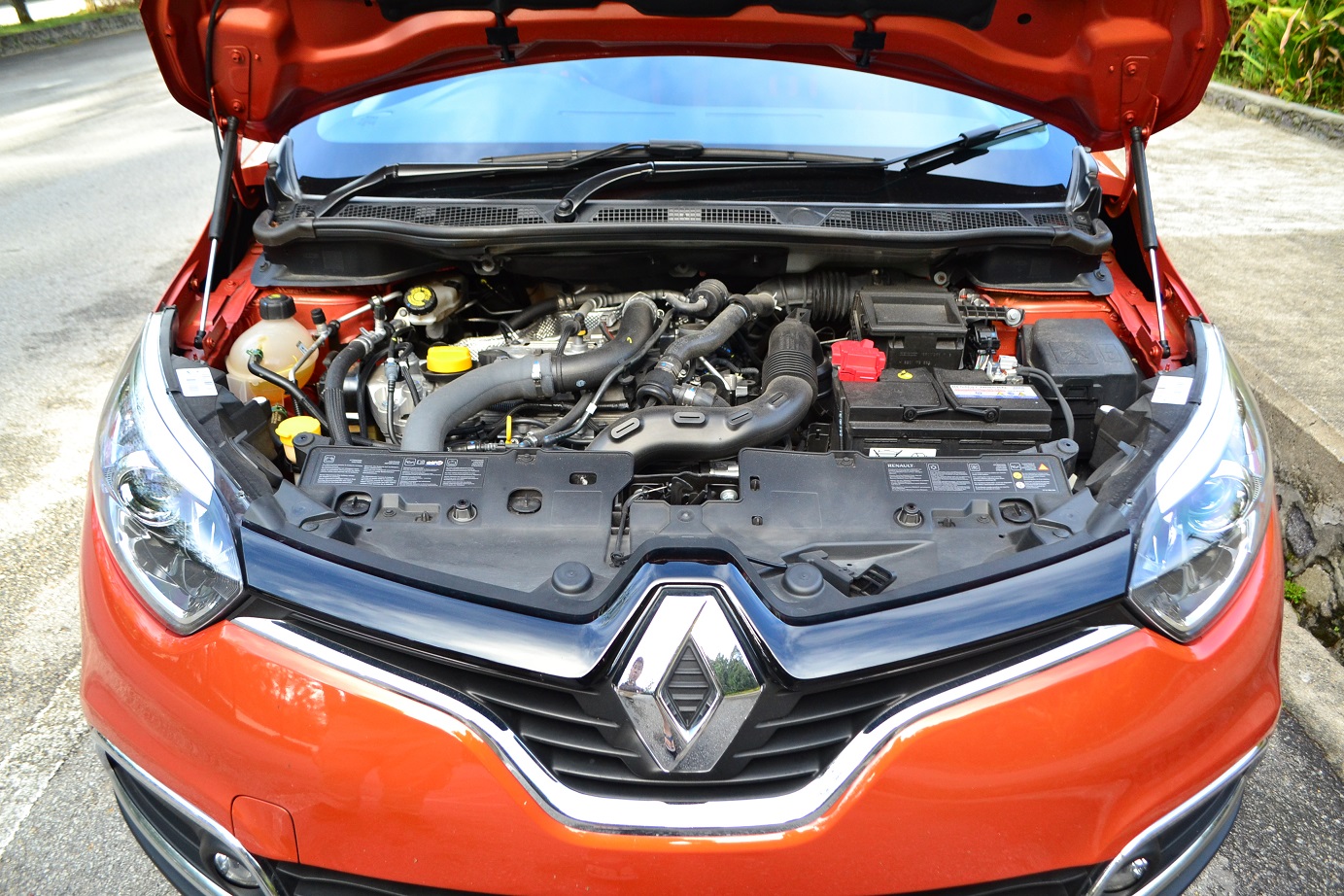 Quick facts
HR-V – 1.8litre SOHC i-VTEC Multi-Point Programmed Fuel Injection system (PGM-FI) engine producing 142PS @ 6,500rpm and max torque 172Nm @ 4,300rpm
CX-3 – 2.0litre SKYACTIV-G, In-line, 4 cylinder DOHC 16V Direct Injection engine producing 154hp @ 6,000rpm and 204Nm @ 2,800rpm
Captur – 1.2litre TCe 120 Turbocharged sequential multipoint injection engine producing 120PS @ 4,900rpm and max torque 190Nm @ 2,000rpm
The HR-V may have the weakest output in the group but it makes up for smoothness in terms of power delivery. It picks up speed in a leisurely fashion and is perfect for families who wants to go about their daily business unhurriedly. Turning off ECO Mode and shift down to DS mode for better acceleration speed when overtaking.
The CX-3 is the most powerful in the entire segment and it lives up to its Zoom Zoom legacy. It is the only unit to feature engine auto start/stop during idle and is also the only one that does not have an ECO Mode. On the go, power delivery at low revs is excellent and it is easy to modulate your progress with little throttle control.
The Captur have an engine displacement of only 1.2 litre so producing the least amount of ponies in this group test isn't surprising. However, it being turbocharged allows maximum torque to be achieved the quickest among the group but runs out of steam at higher speeds sooner than the other two. In ECO Mode, gearshifts are slower.
Ride and Handling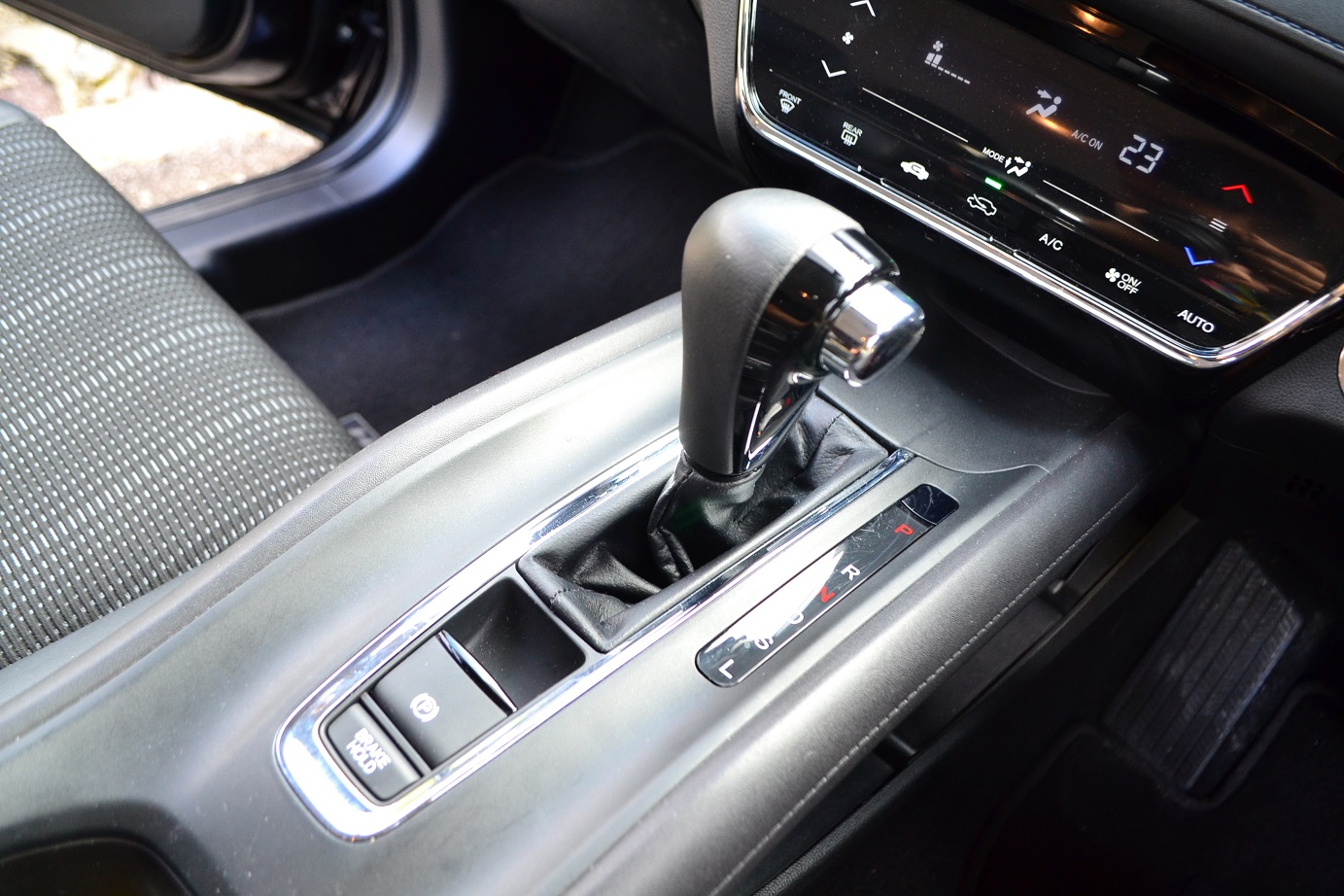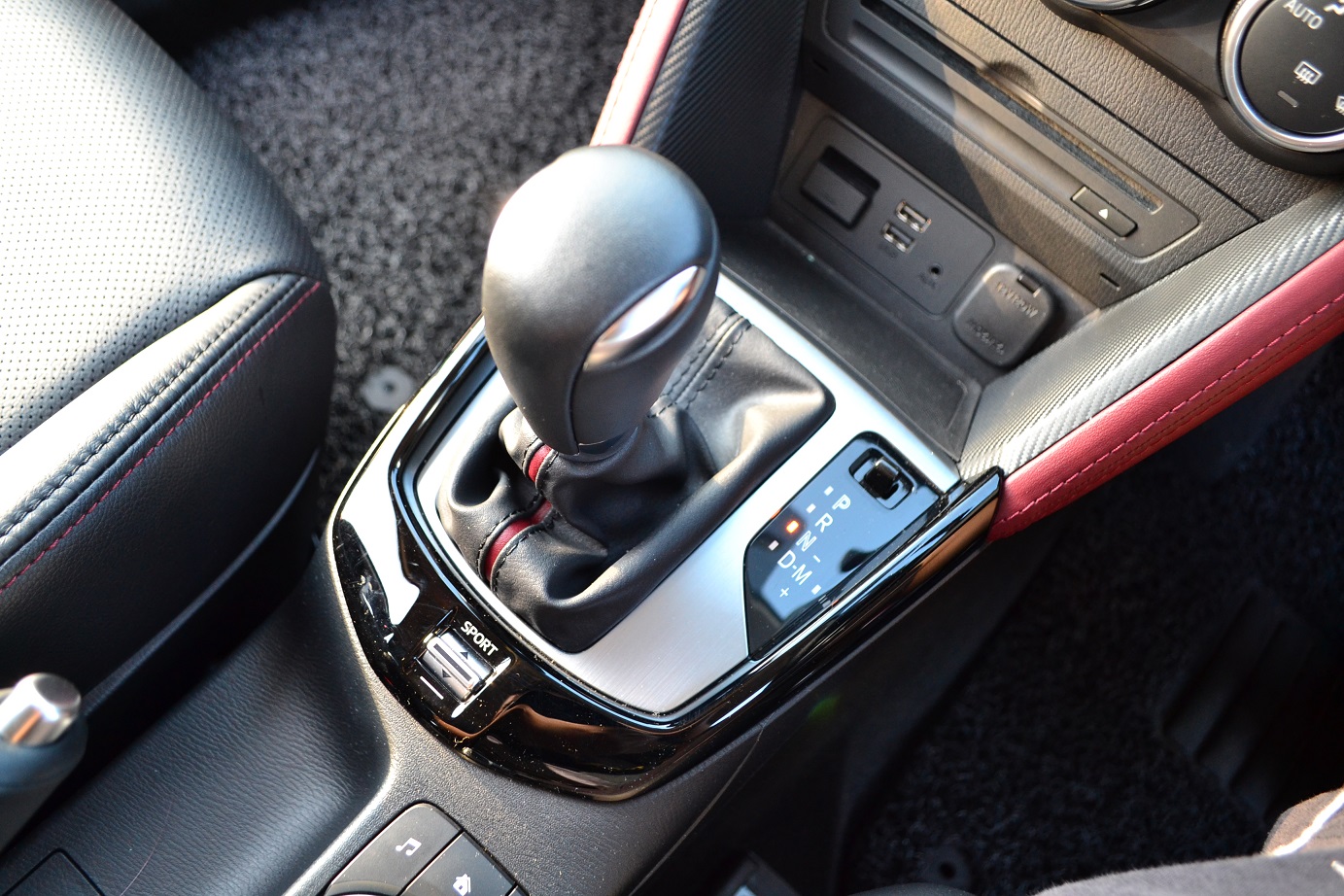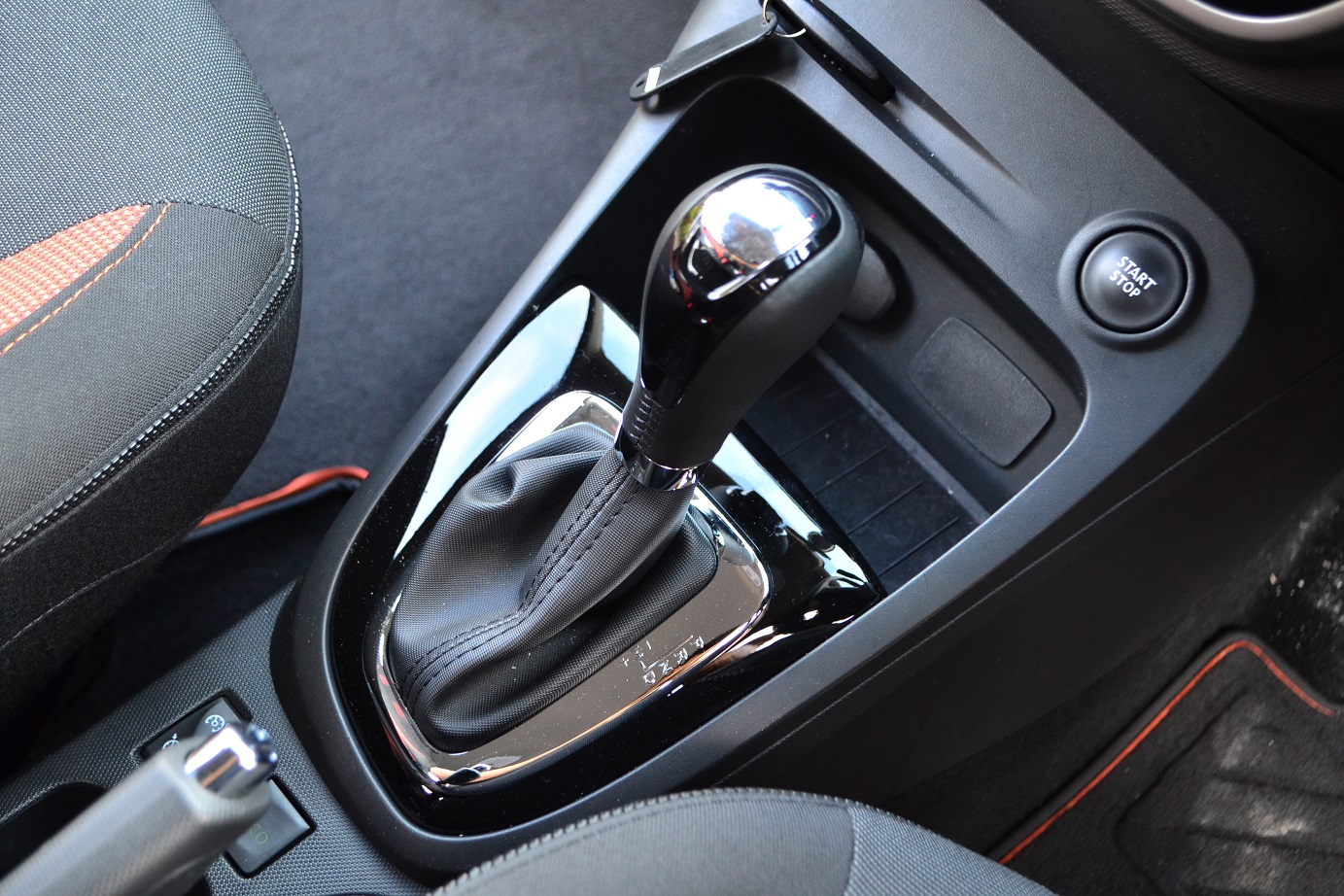 Quick facts
HR-V – Transmission: CVT
CX-3 – Transmission: SKYACTIV-DRIVE 6-speed automatic
Captur – Transmission: 6-speed Efficient Dual Clutch (EDC)
The HR-V's suspension is tuned for comfort first, the CX-3 the best balance between comfort and handling while the Captur is slightly on the hard side. Both the Captur and CX-3 performed well in B-roads where the vehicle's balance is easily managed around corners but with the stiffer suspension found on the Captur, the ride can be easily upset by road imperfections. The CX-3, with its SKYACTIV-BODY and SKYACTIV-CHASSIS holds an edge over the Renault. Jinba-ittai for Mazda isn't just rhetoric –  in the CX-3, it has translated into the fulfillment of a promise. The HR-V isn't built for high speed corners and even though the Captur has less horses compared to it, the Renault is faster around bends.
In terms of steering feel, the HR-V offers the least feel, followed by the Captur and CX-3.
On NVH, the HR-V appears to be the best, with road noise intrusion coming in at speeds above 130km/h which the CX-3 has a slight engine vibration that can be felt on the steering, gear and pedals. It's not immediately apparent but when you swicth to Sport mode where the gears are held a little longer, the vibration worsens. We can't be sure but it could be just this particular test unit. The Captur's NVH performs the poorest in this group with wind and road noise intruding at speeds of 100km/h.
Cabin Convenience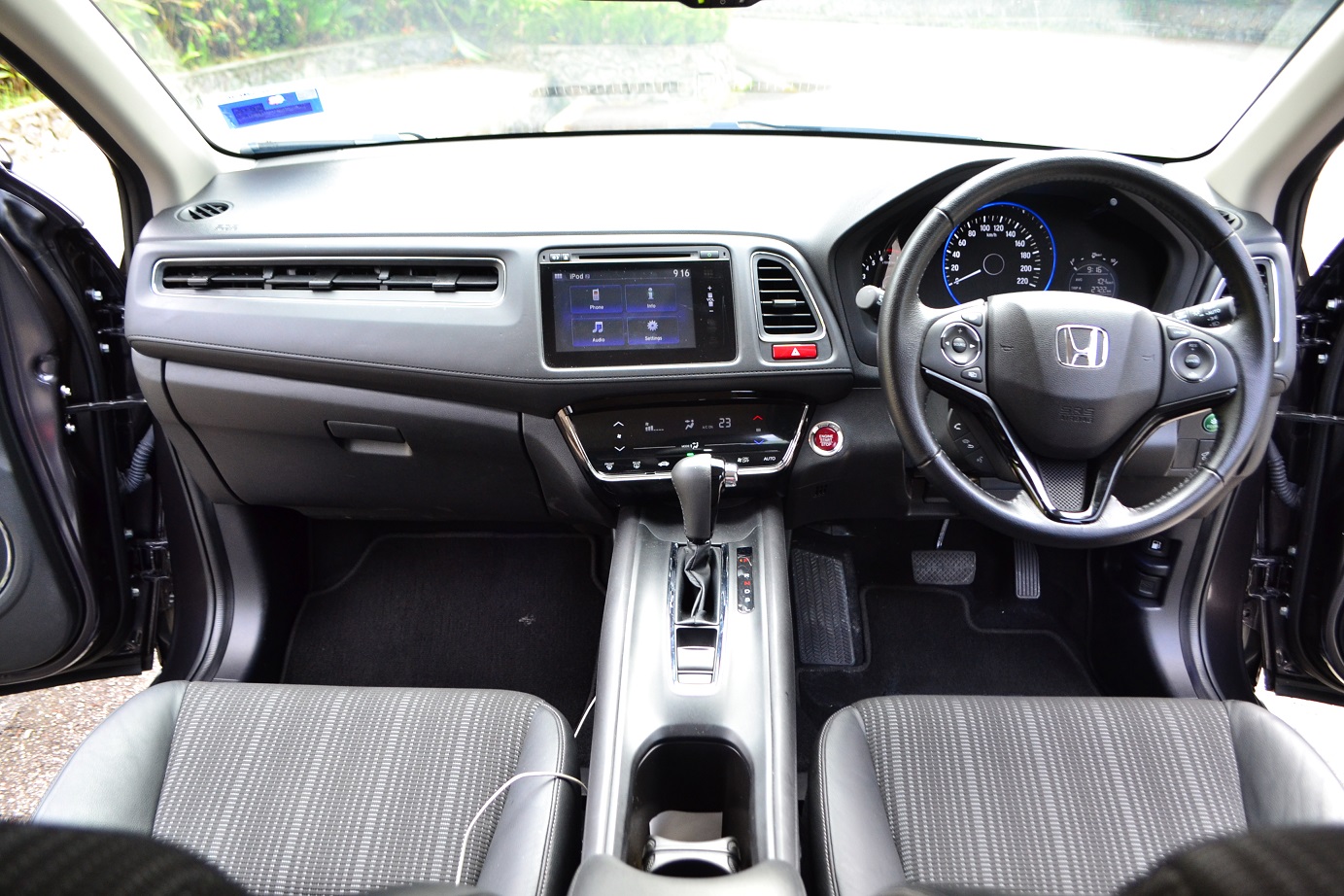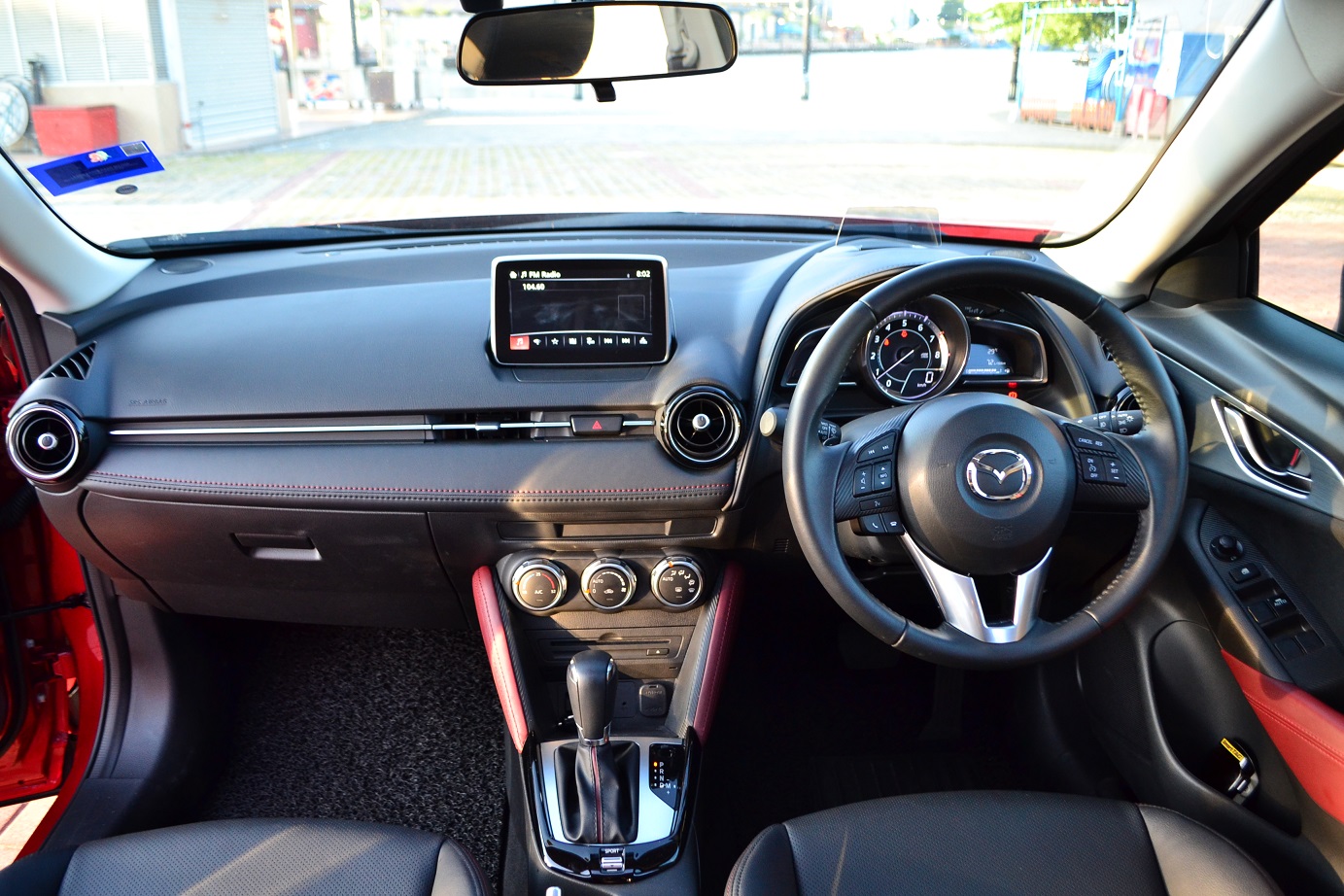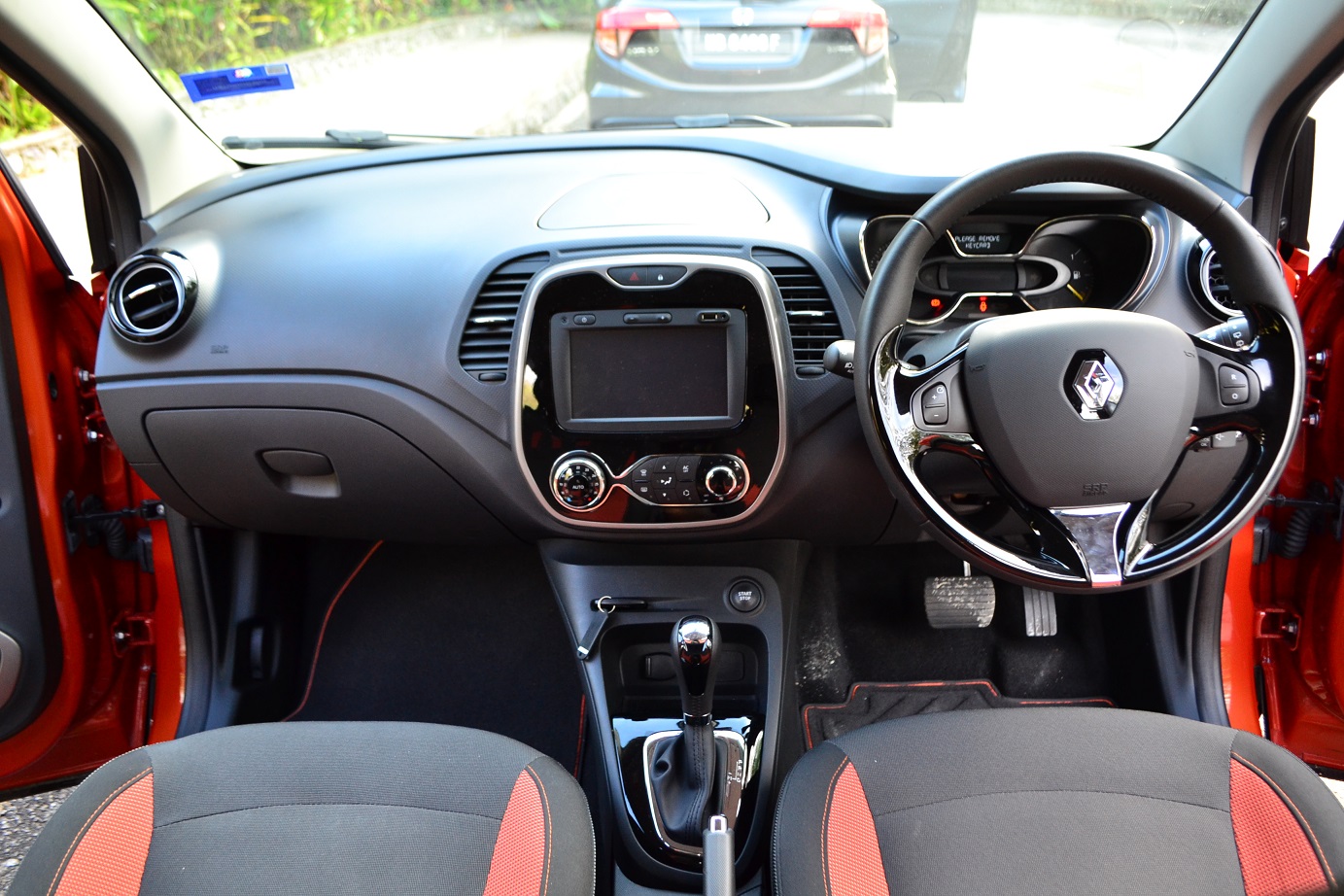 All three models exhibit high levels of quality inside and one of the benefit of getting an SUV is an elevated sitting position, which all three here provides. The HR-V is the largest and it clearly shows in the cabin where the front passenger and driver have a bit more space between them compared to the CX-3 and Captur. In this respect, the Captur feels the narrowest yet strangely, despite having the lowest vehicle height, the sitting position offered by the Captur seem to be the highest. Where the Captur feels tight, the CX-3 is cosy and the fit and finish is the most premium among the three.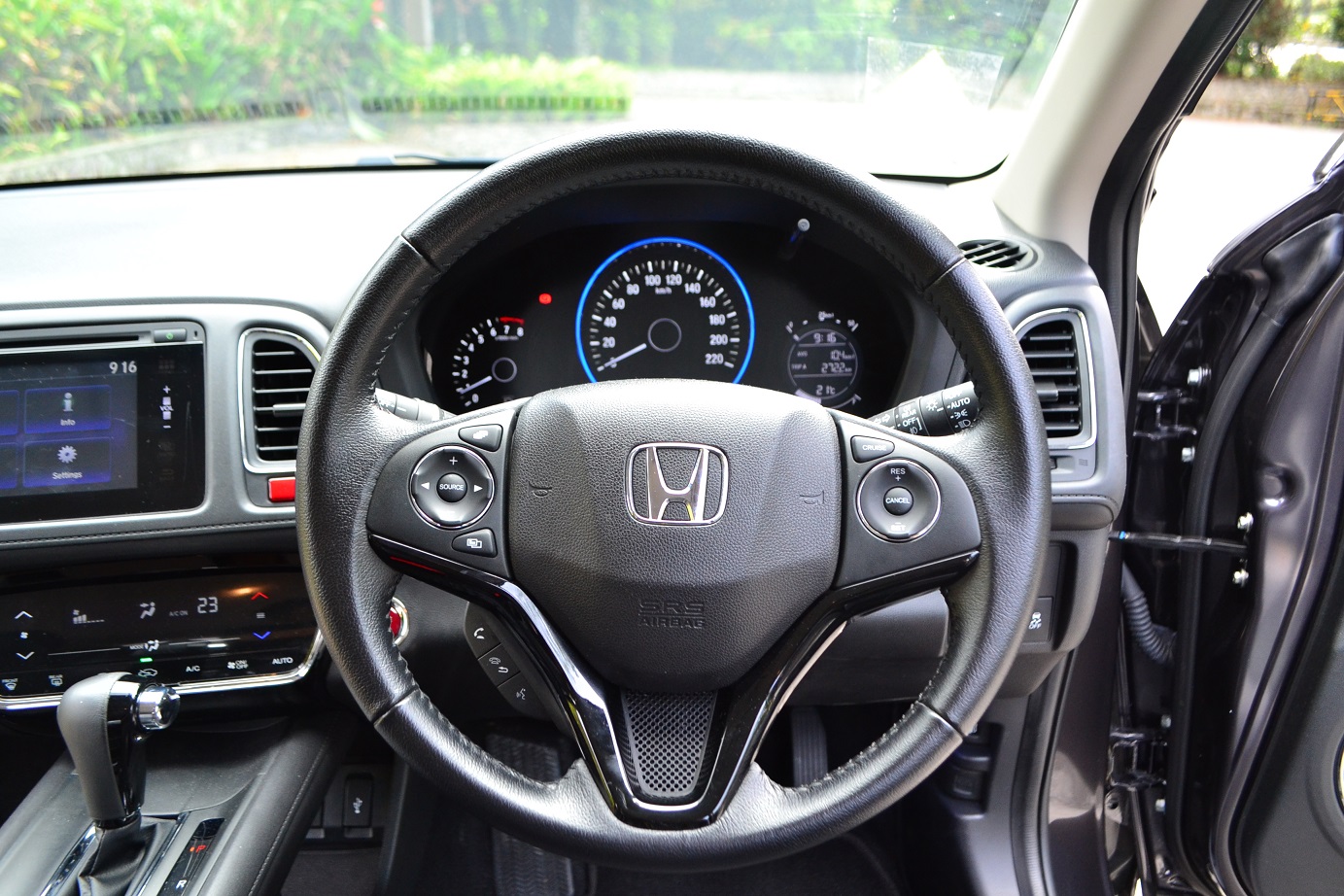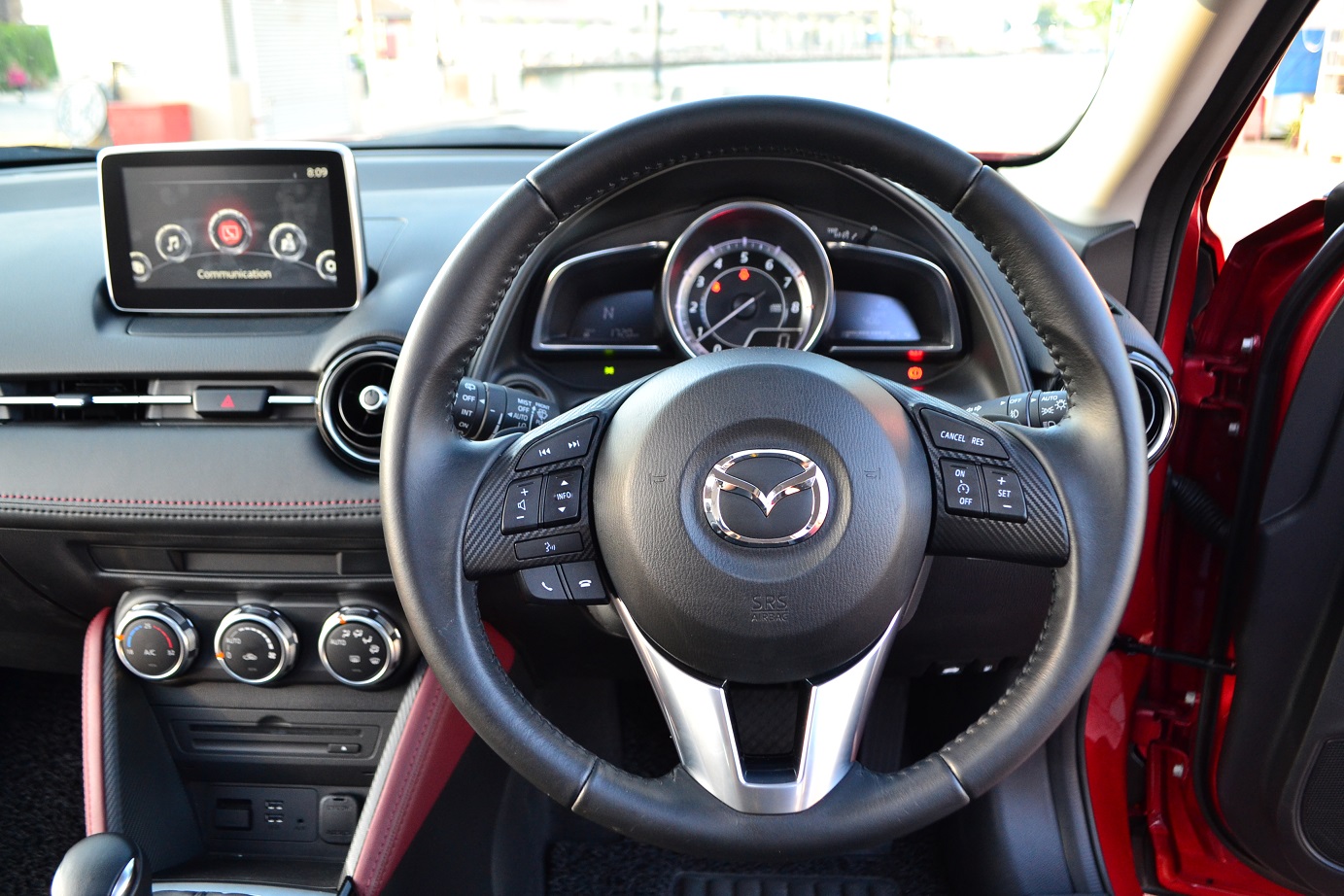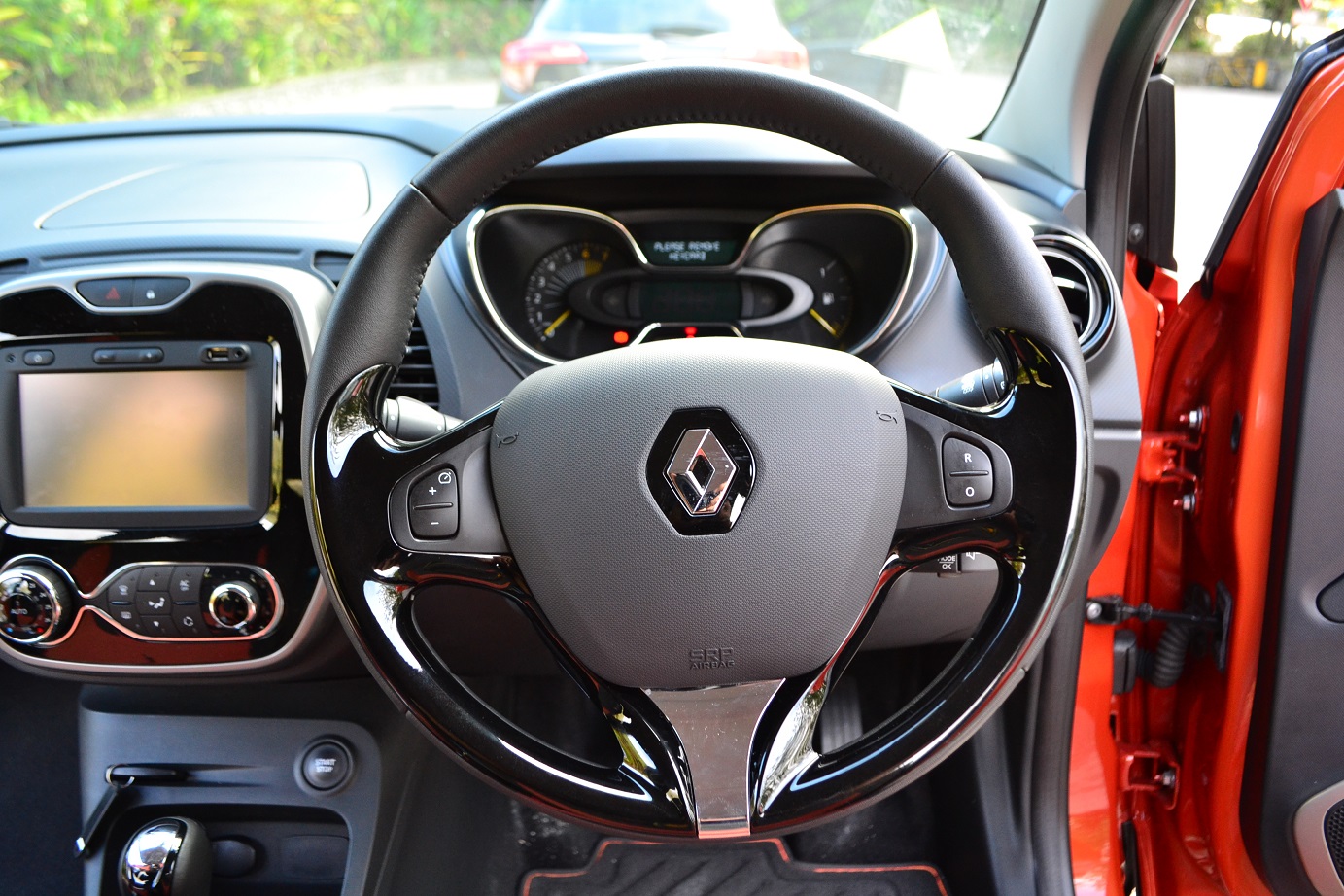 All three has leather wrapped steering and are tilt & telescopic adjustable. The HR-V's offers the best grip whereas the CX-3 and Captur could do with thicker padding. I don't know what's up with the Captur's half piano-black finish – it reflects light at certain angles and a magnet for finger prints. The designers probably felt it was necessary to match the same finish on the headunit and gear panel. The CX-3's helm is the only one here with paddle shifters.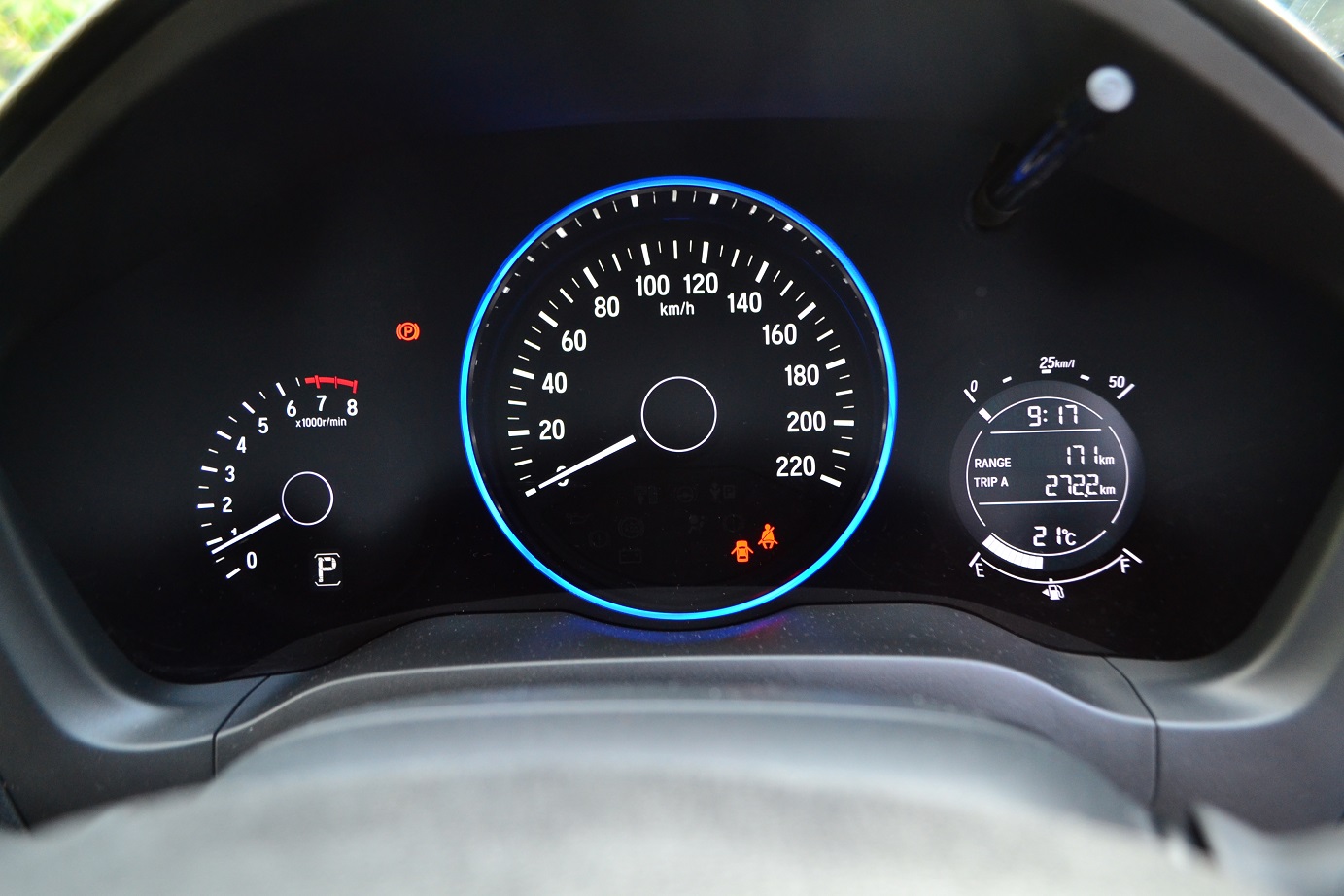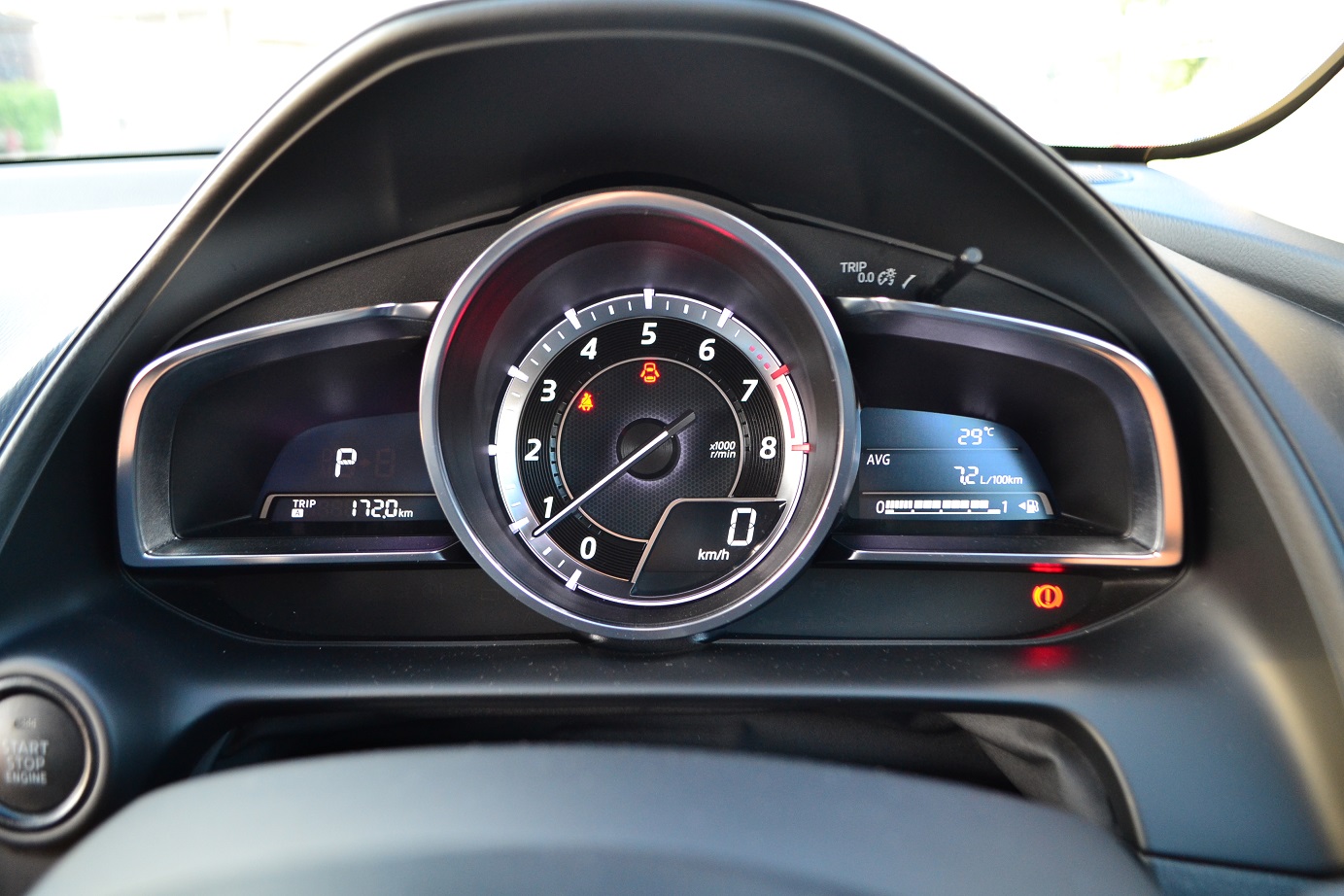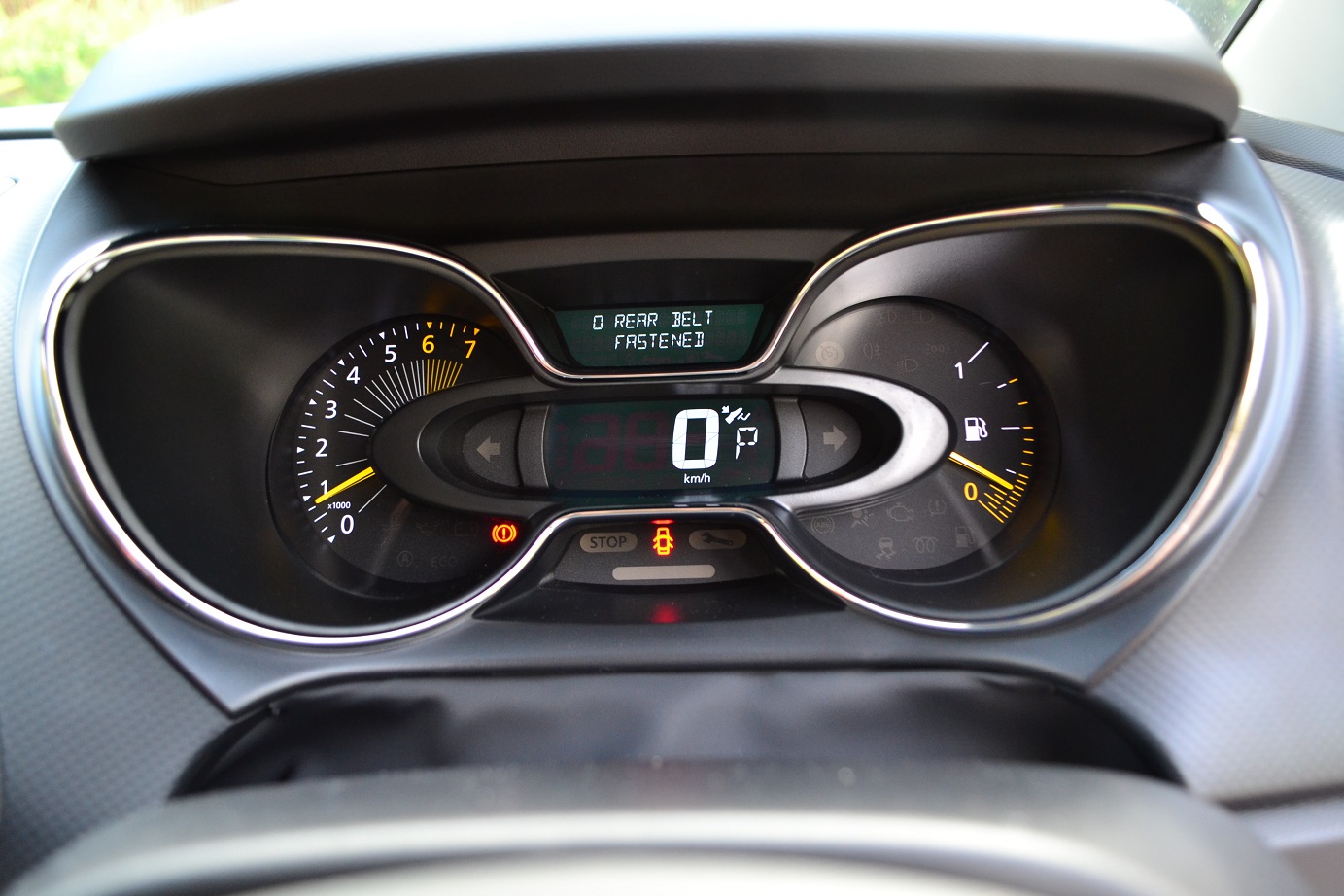 Equally puzzling is the omission of engine temperature in all three models. You'd see a blue icon light up during cold start up and that's about it – until it overheats. Good thing is engine nowadays are more hardy and the tendency of it having a fever is low. Just …. make sure you check the water reservoir often ya?
The readout on the HR-V is clearest while the CX-3 has stylishly small fonts (fortunately, you don't have to rely on it much since you can see how fast you're going with the head-up display). The Captur has the funkiest meters and as bewildering as it may first appear, it's easy to get used to.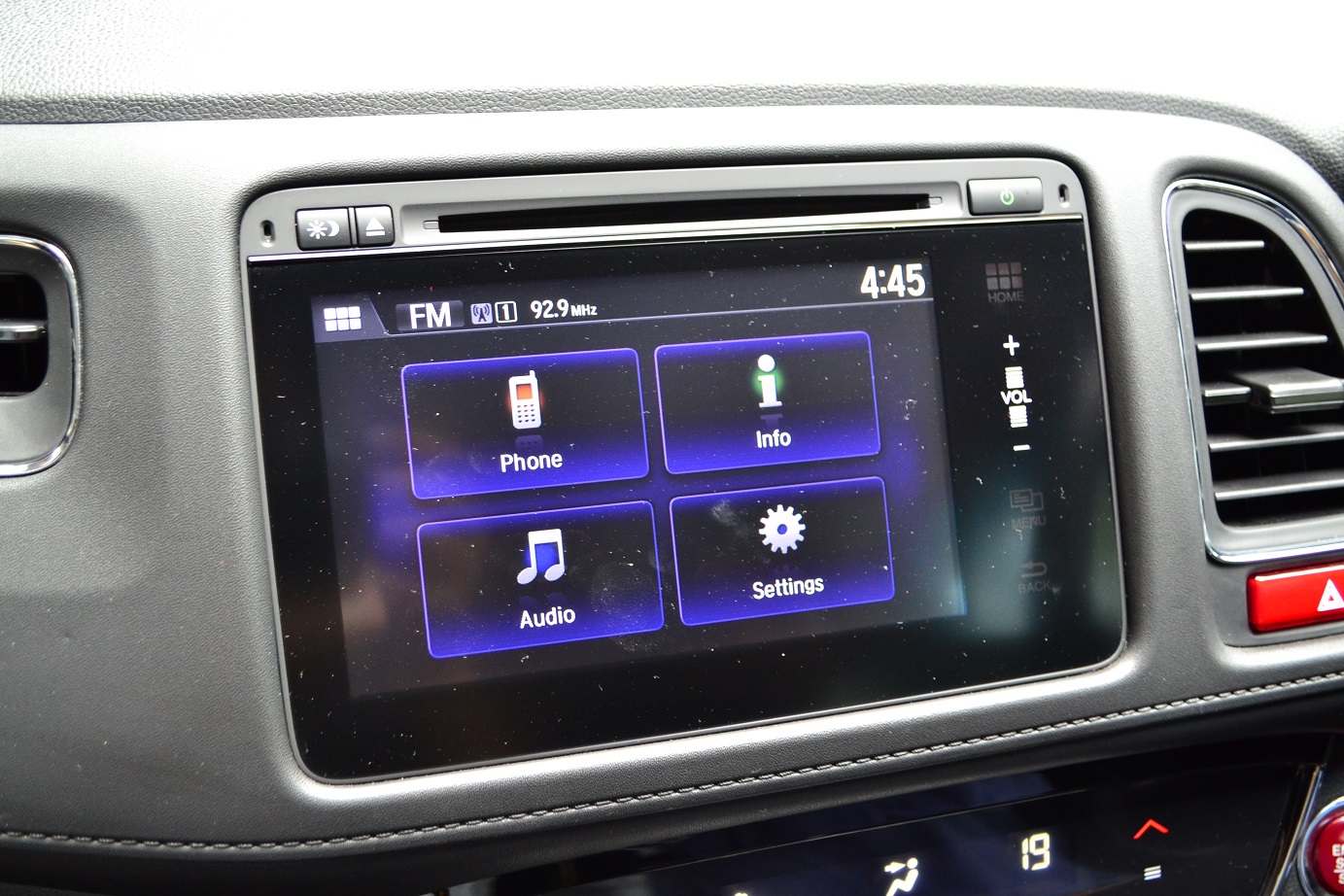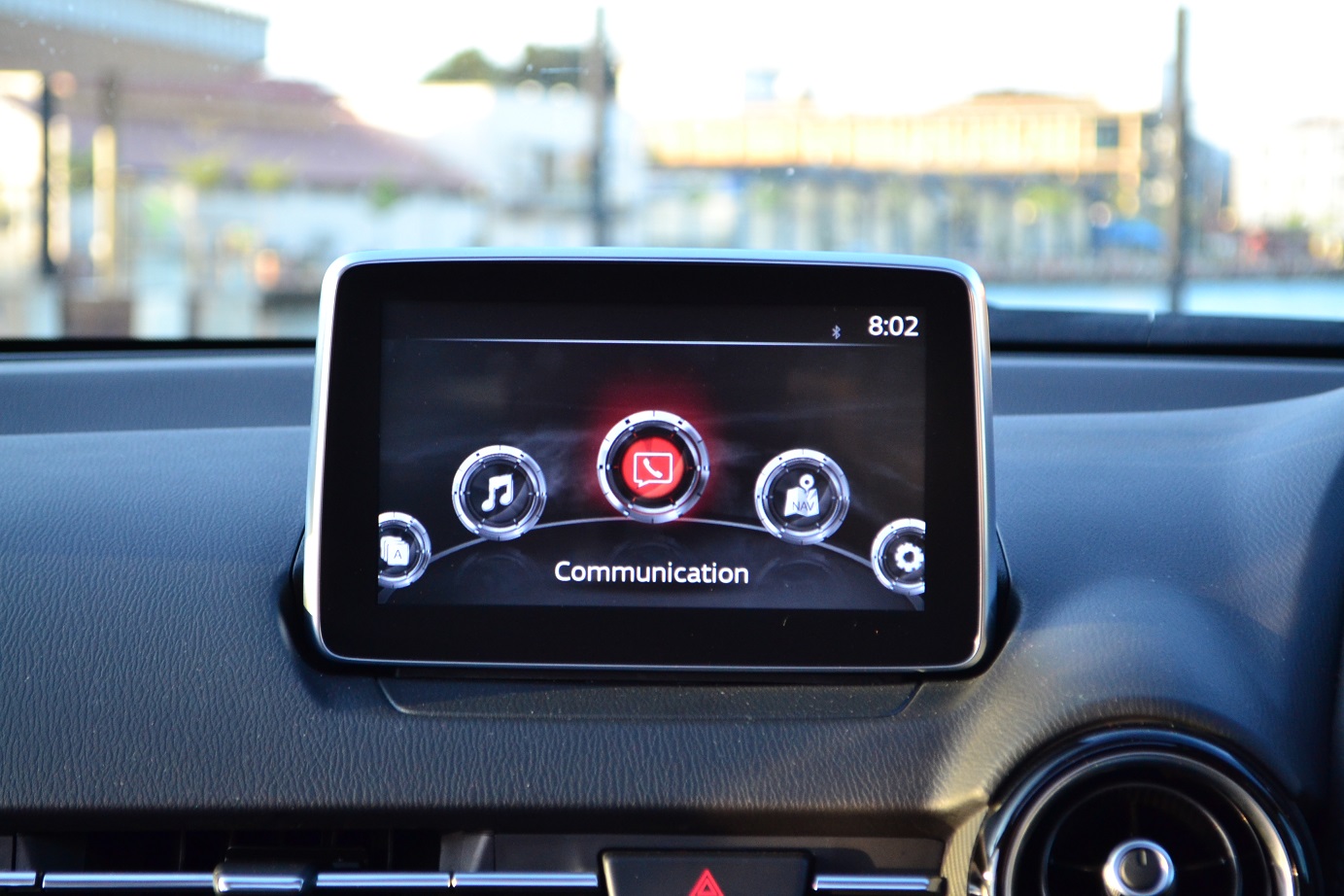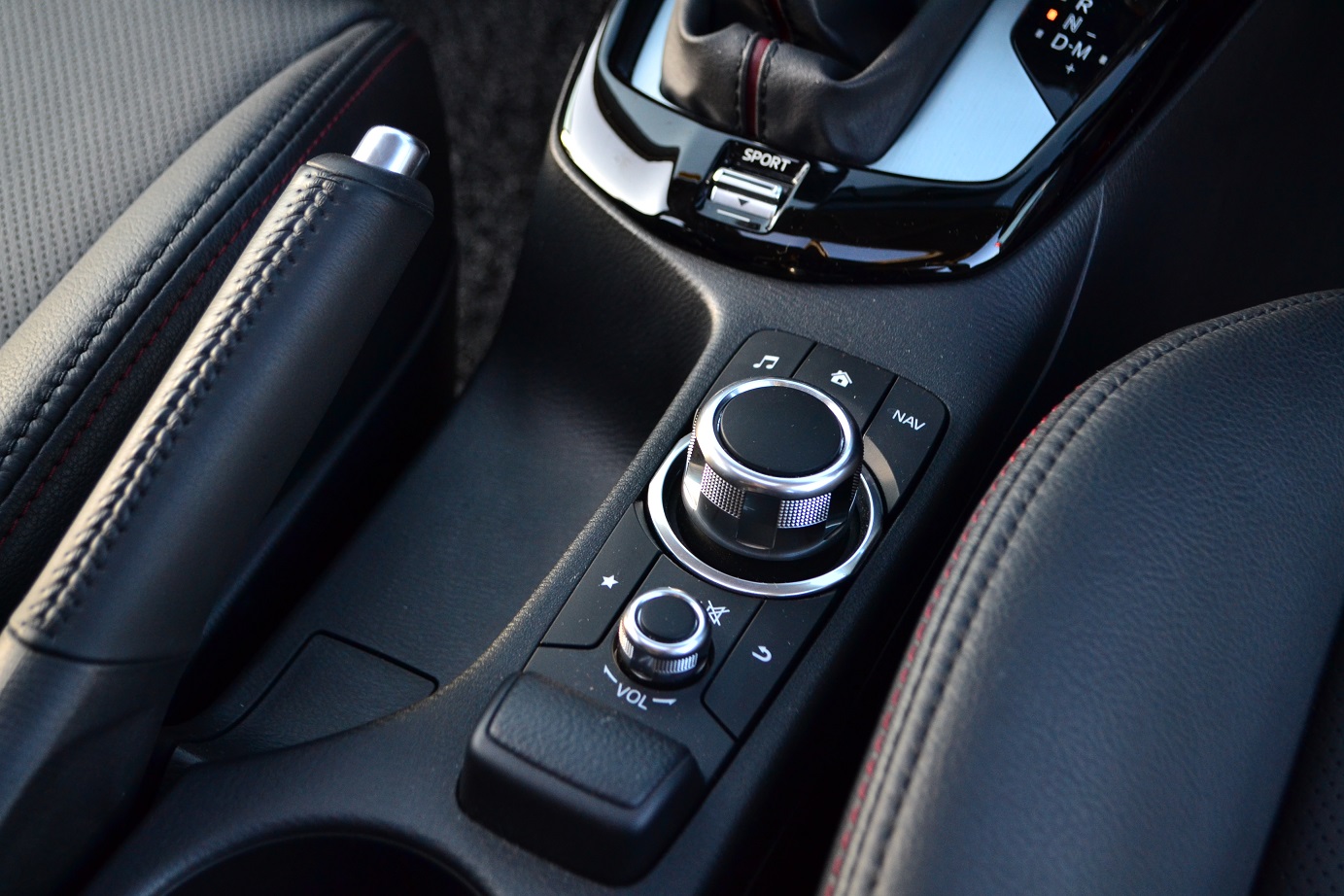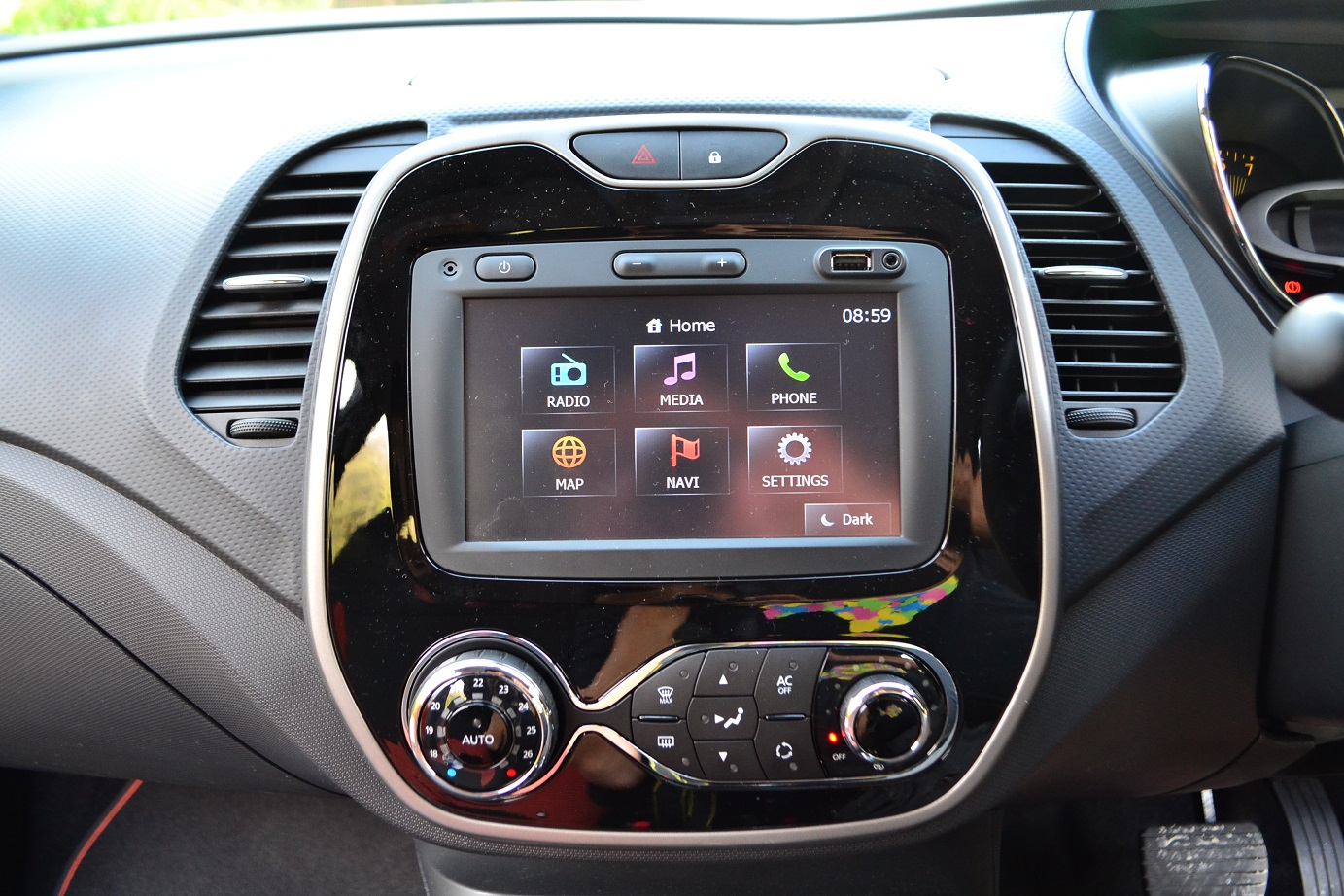 The HR-V V-grade as tested here features a 7″ Touchscreen Display with radio, CD, AUX, USB, HDMI, Hands-free telephony and even has Voice Recognition that can perform certain tasks through verbal instructions. It is the only unit here that does not have an in-built navigation system but Honda has deliberately designed it as such since the HDMI port (the only vehicle in this group that has this) allows app mirroring with compatible smartphones which means Waze navigation system can be displayed here.
The CX-3 has SatNav but the Mazda Navigation comes as a cost option. Control of the 7″LCD is done via Commander Control located next to the handbrake. It is intuitive to use and once you're used to it, flipping between functions is easy and quick. It also helps that the display is seated high on the dashboard which allows your eyes to see which function you're at without drifting too far from the road.
The Captur has satellite navigation built in as a standard and is the simplest to use. It's speaker system is also the punchiest and clearest, followed by the CX-3's and HR-V's, all three featuring a 6-speaker set-up.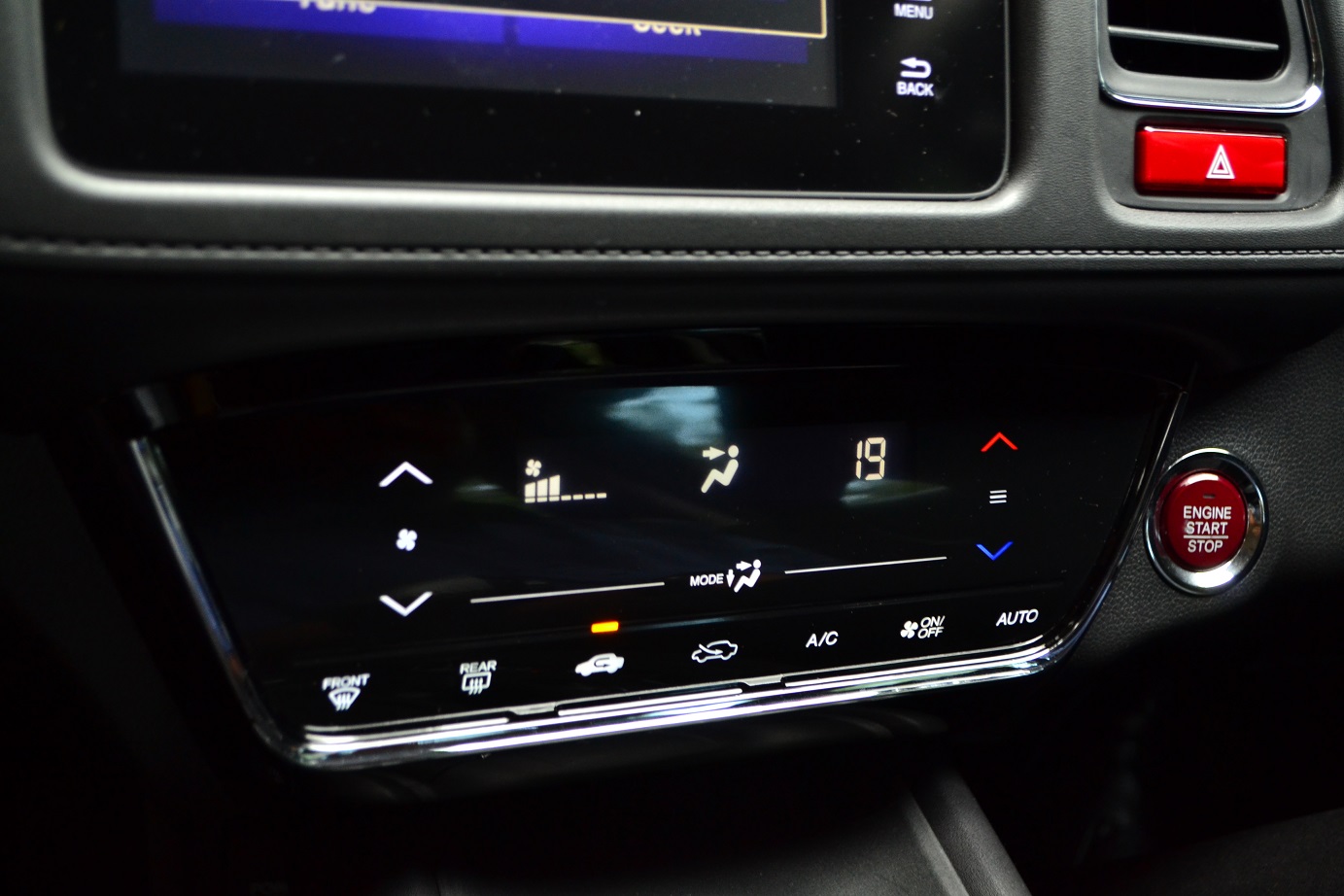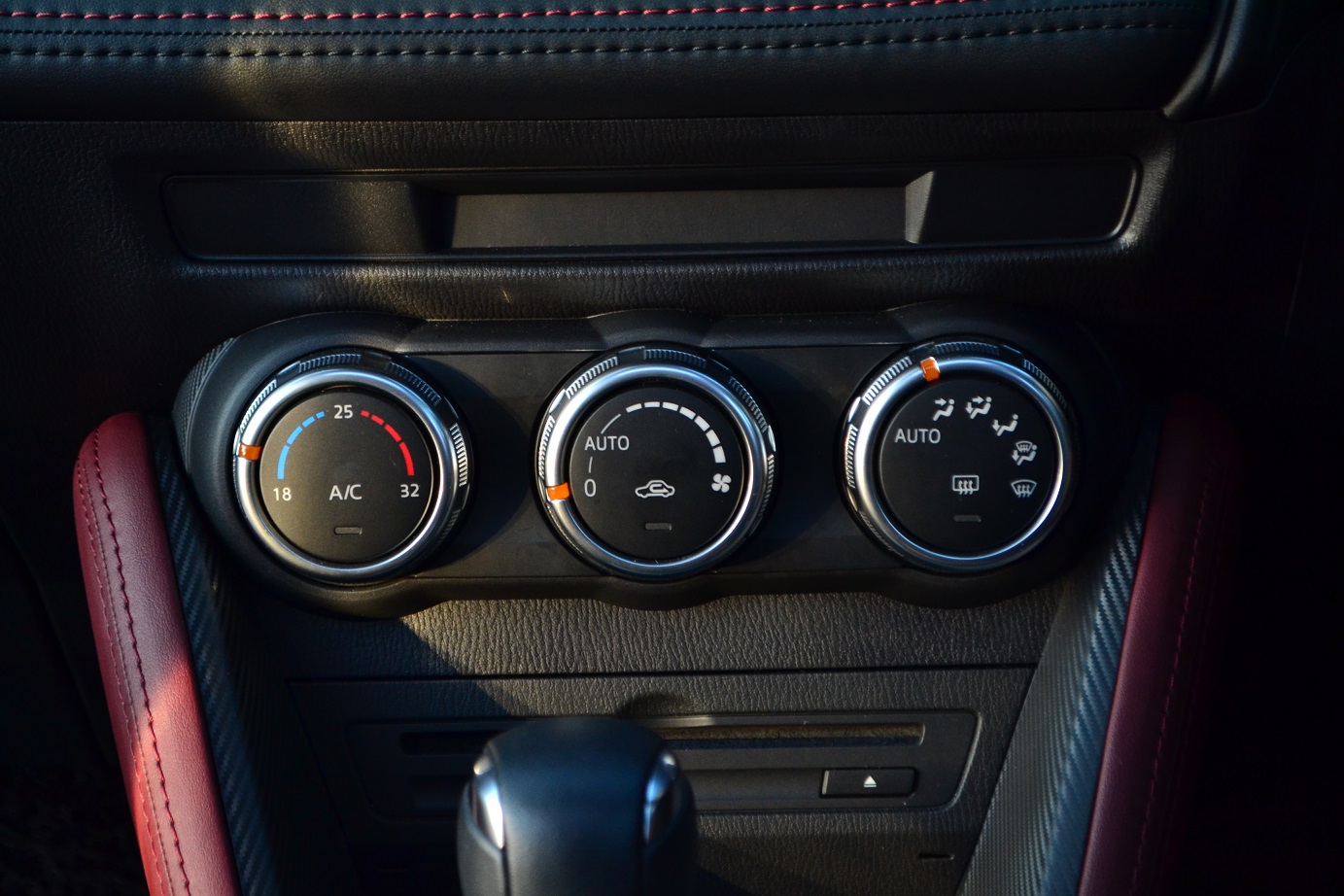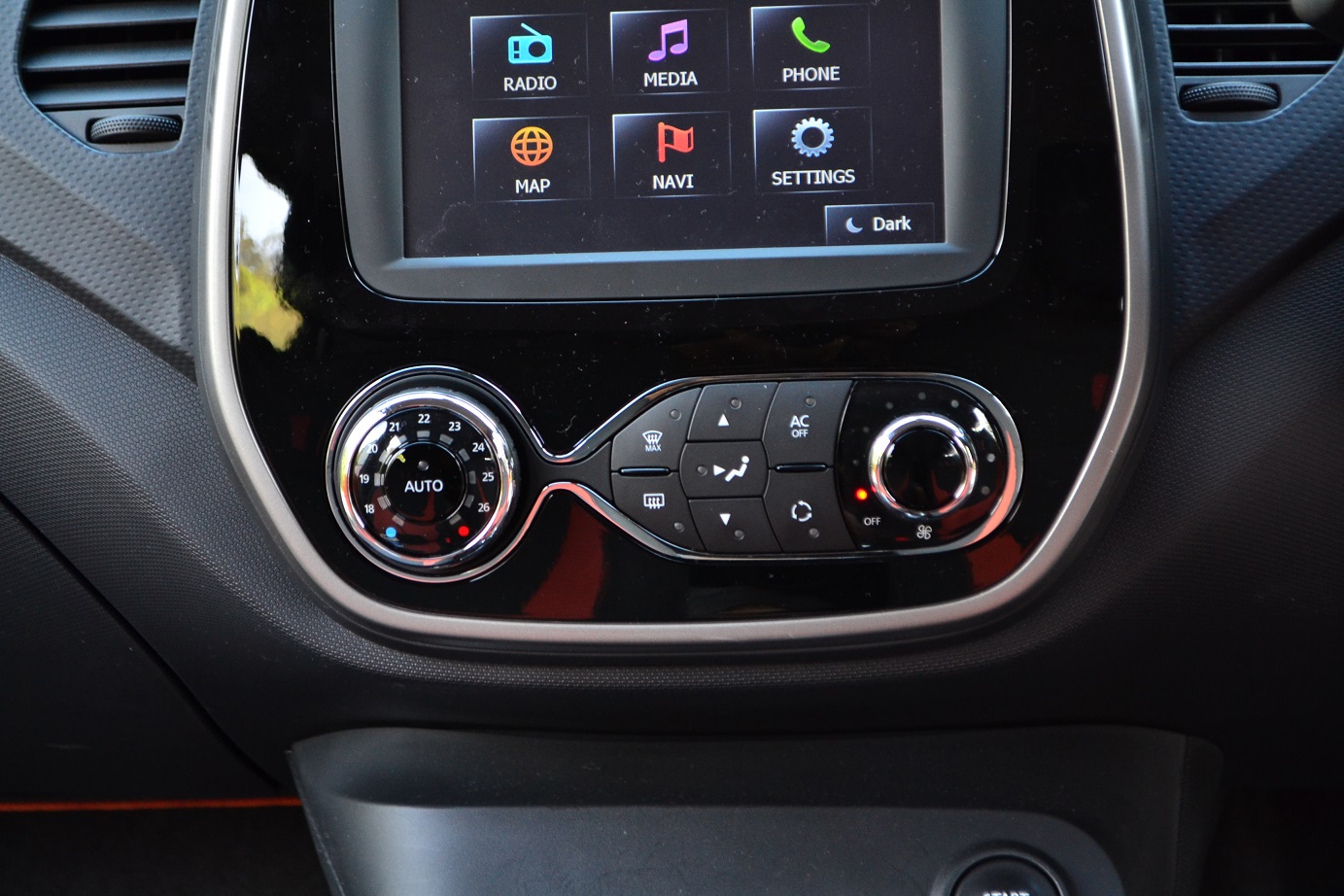 It's all digital for the HR-V's climate control system while the CX-3 and Captur provides rotary knobs and they're all single zone automatics. I find the HR-V's air conditioning to be the coolest followed by the CX-3 and Captur although I must say that the HR-V test car came with window tinting. Still, the throughput efficacy appears to be in that order at night where tints don't play such a large effect.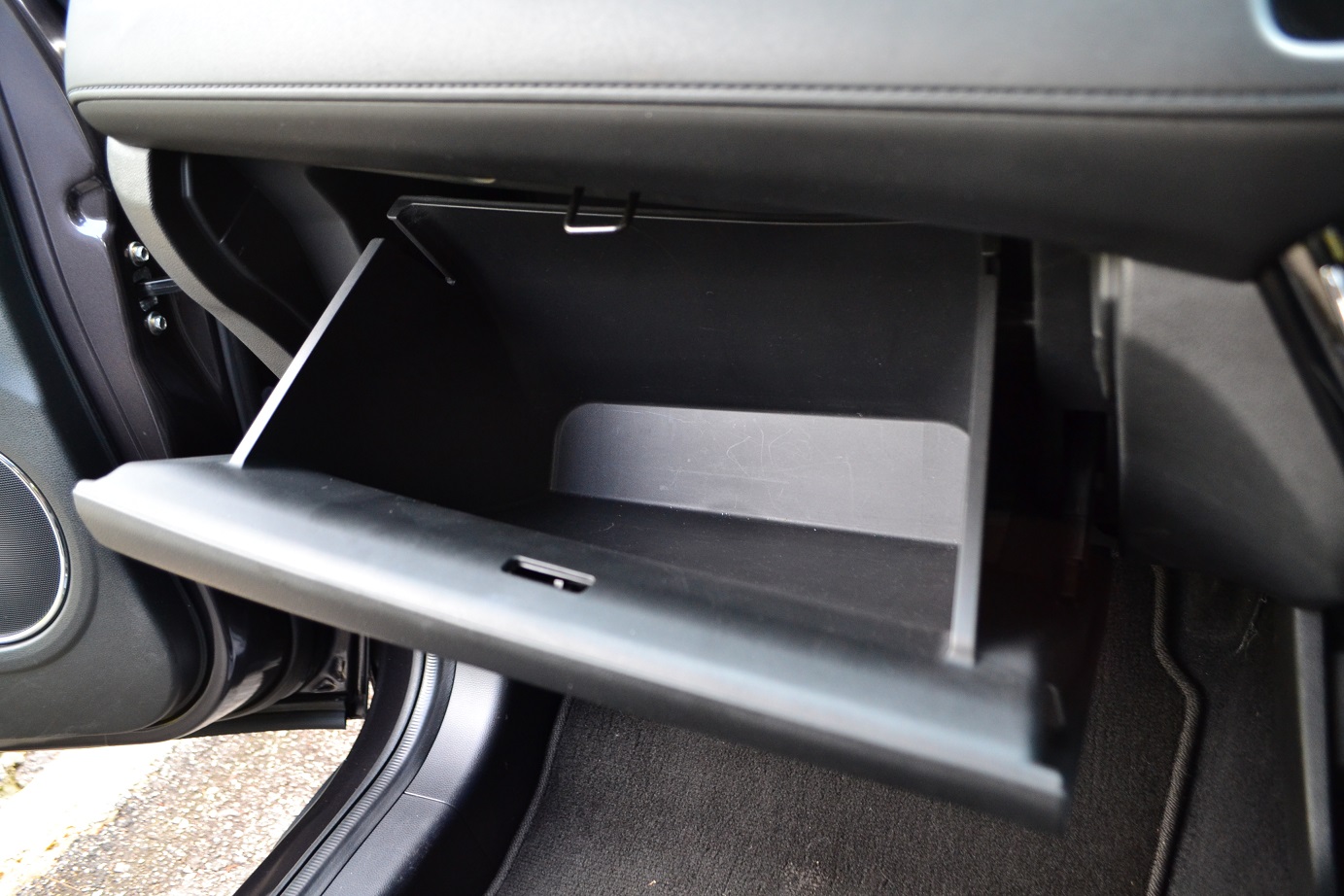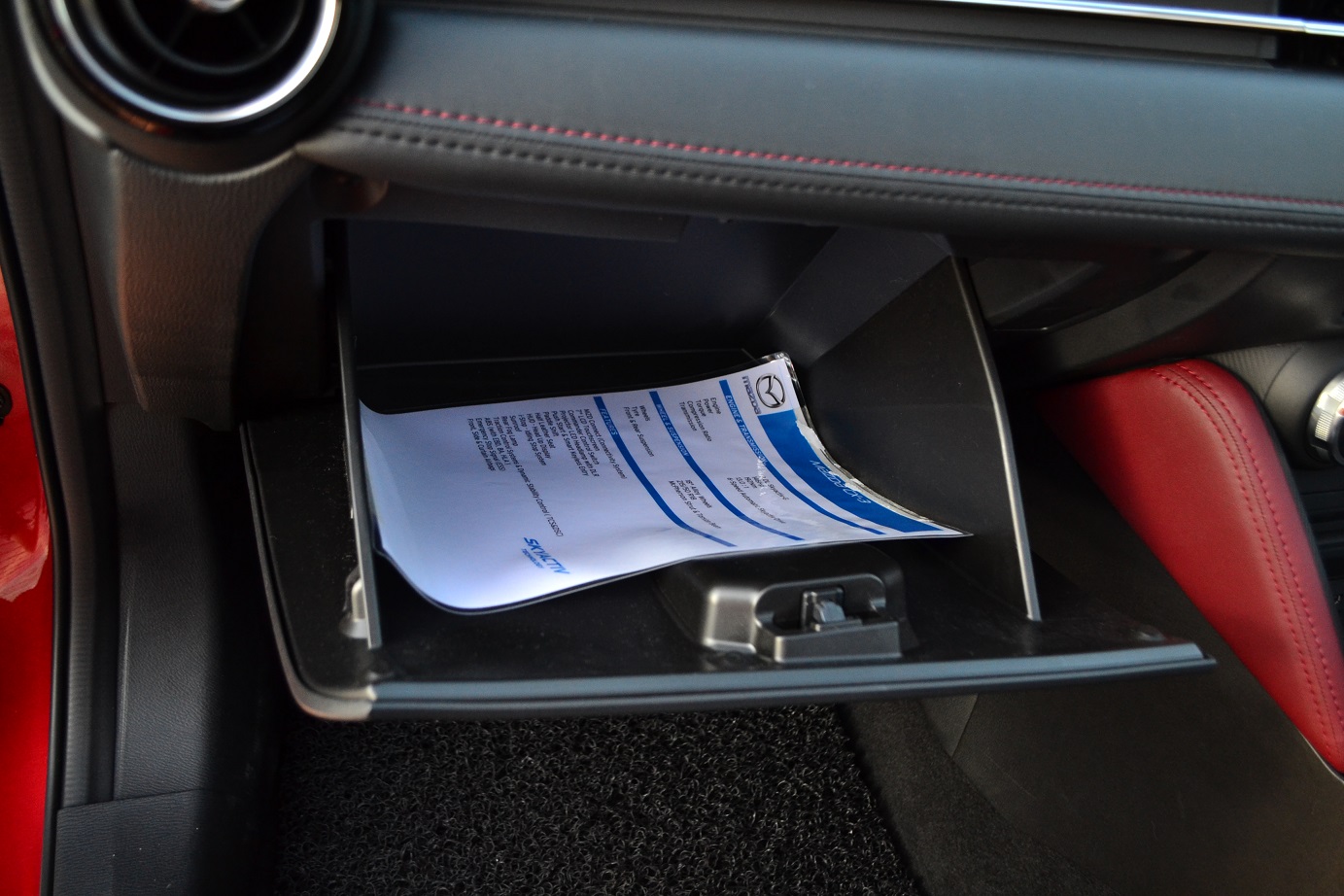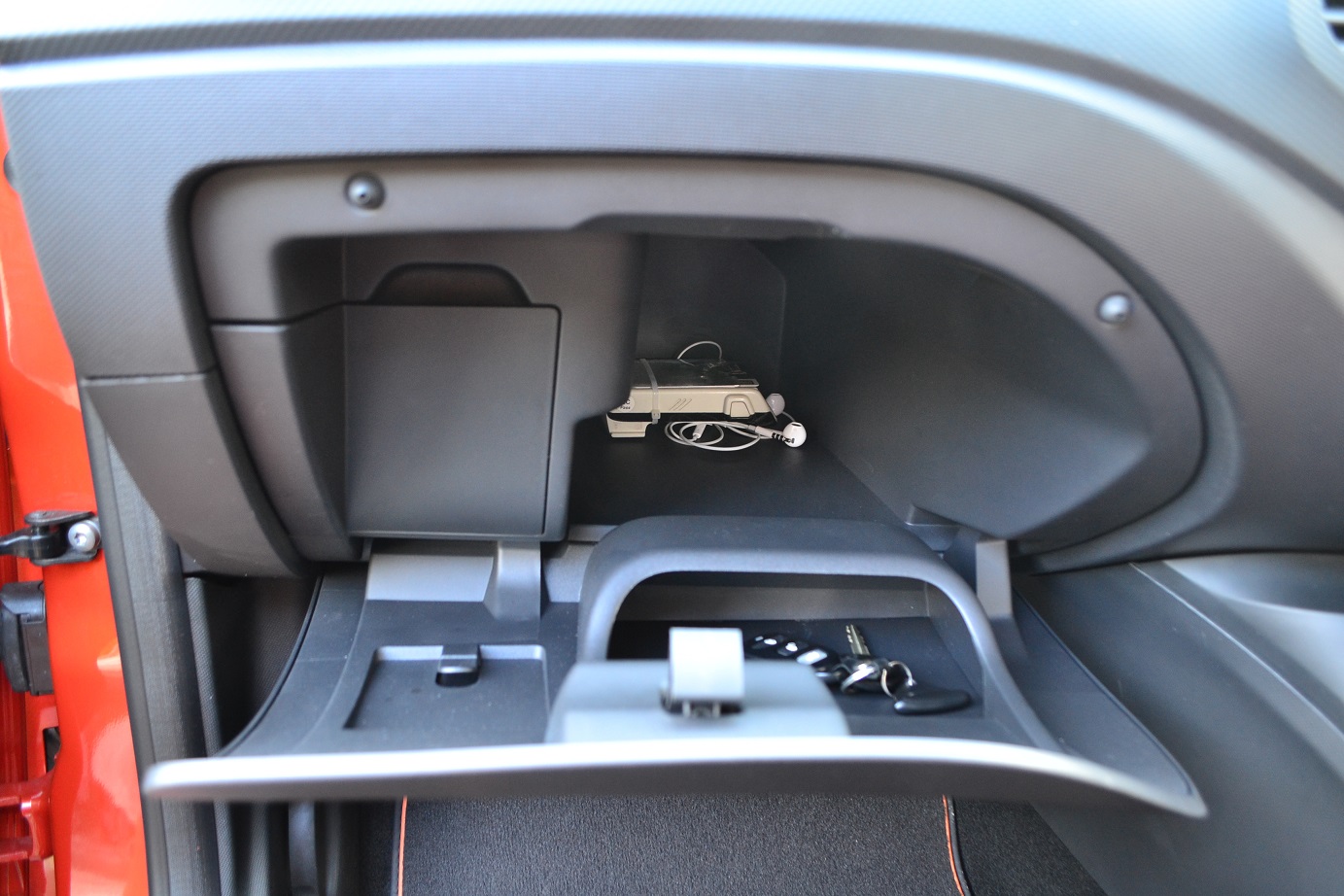 Both HR-V and CX-3 has huge glove compartments whereas the Captur, true to its French idiosyncracy, offers only half the space while the other is occupied by the fuse box.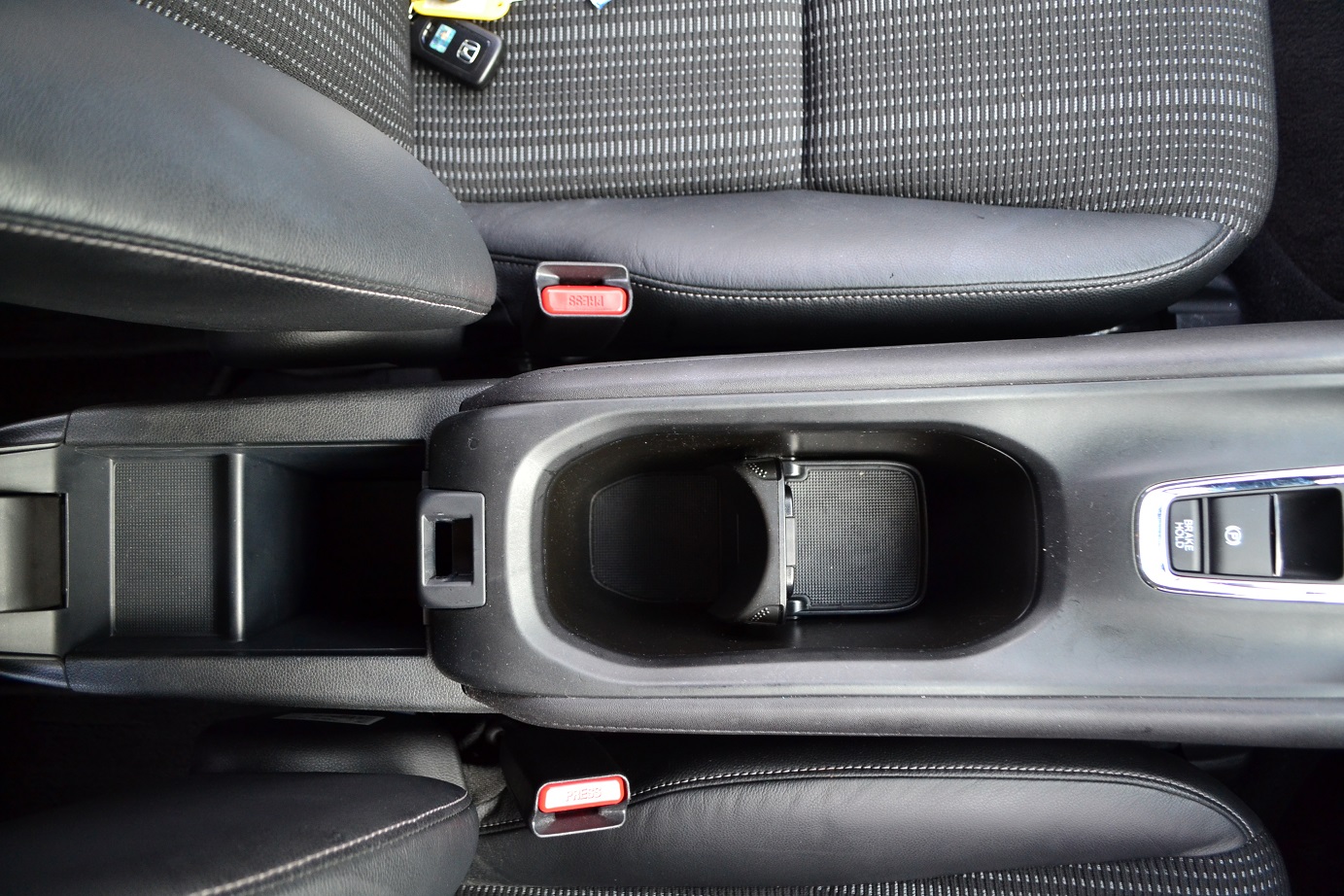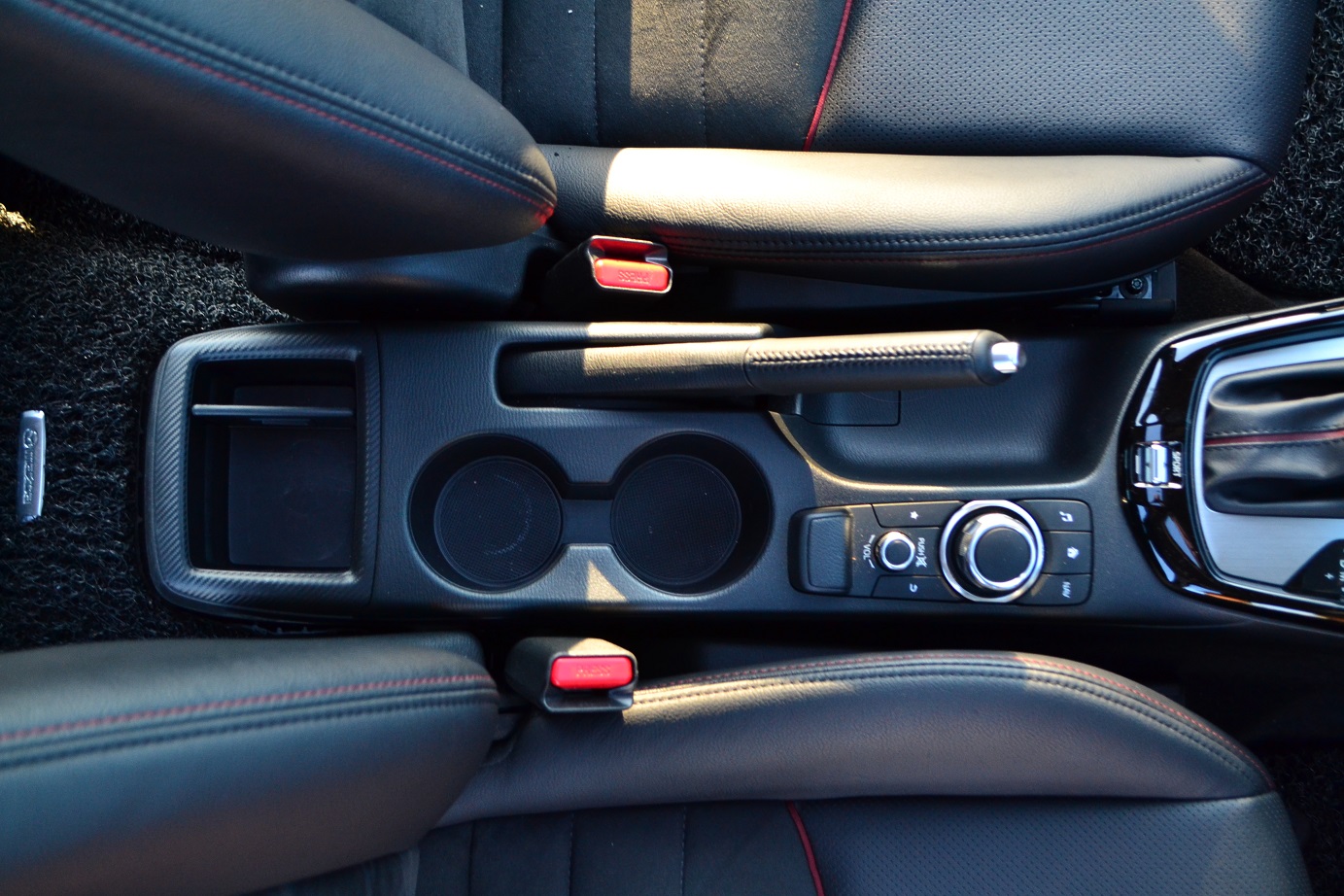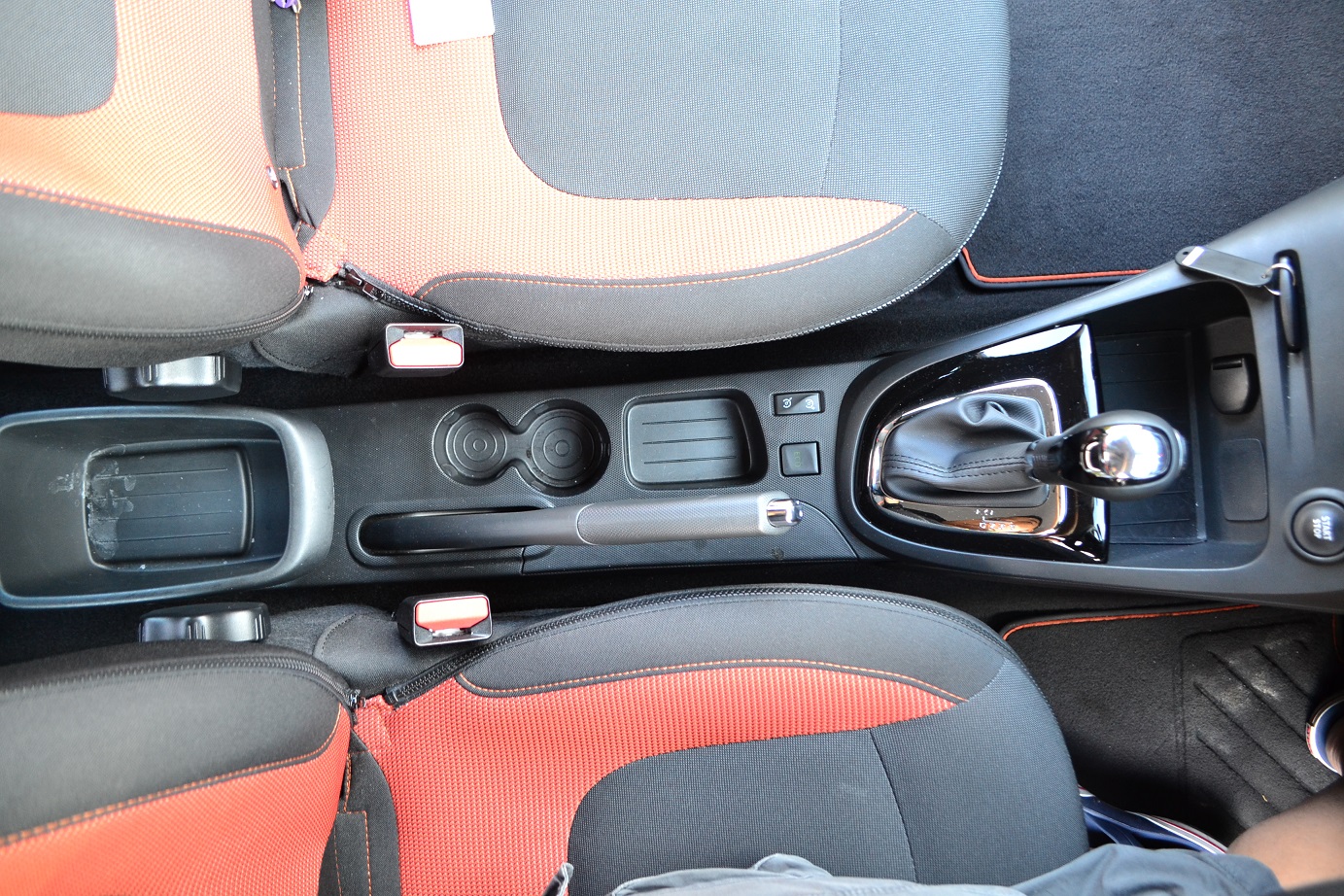 Only the HR-V has a center armrest with a compartment in this group and that makes driving a lot more comfortable. The HR-V also has a false platform cupholder where you can flip it up for a taller cup. The Captur offers the poorest cubicle size and quantity here, with one cupholder smaller than the other.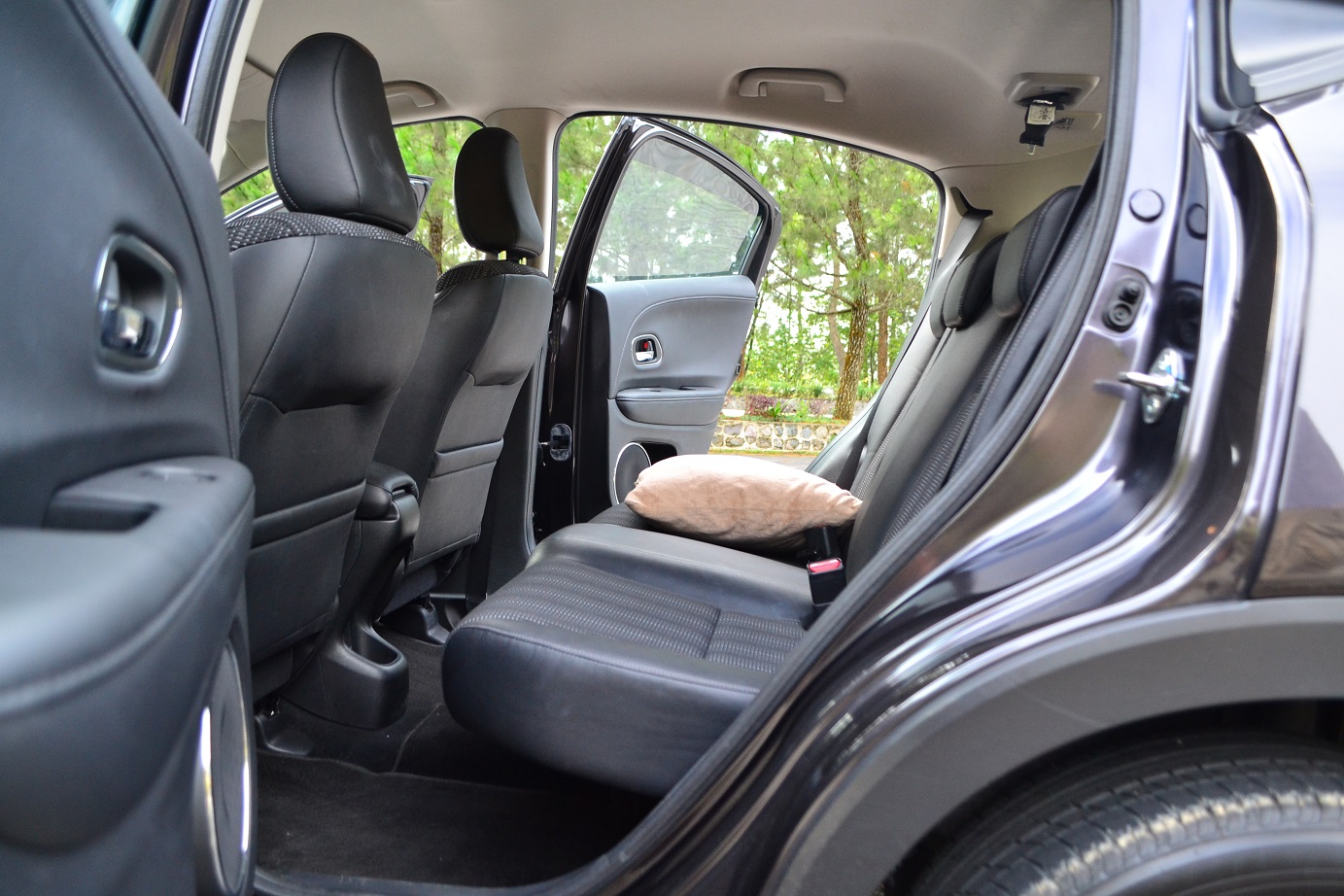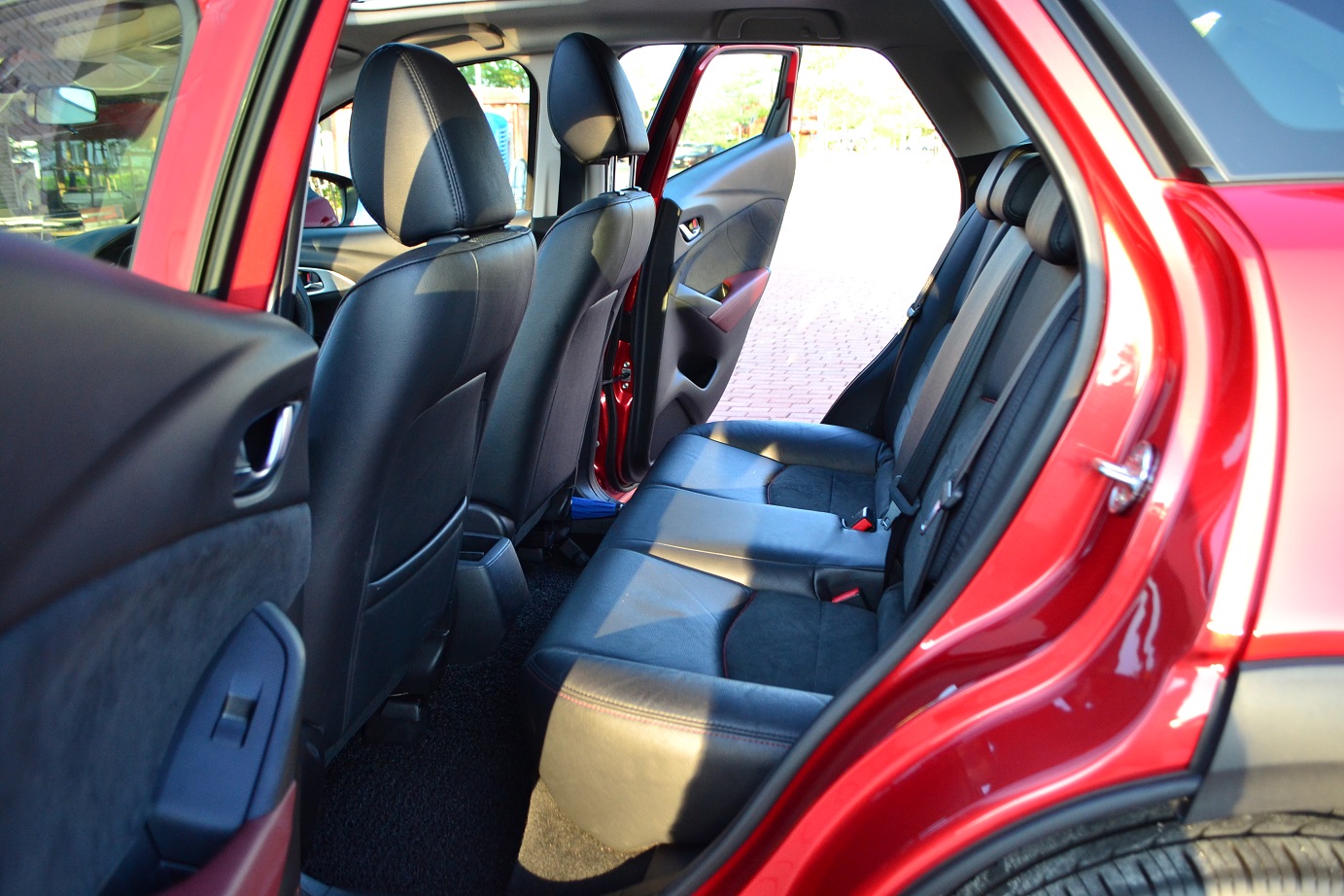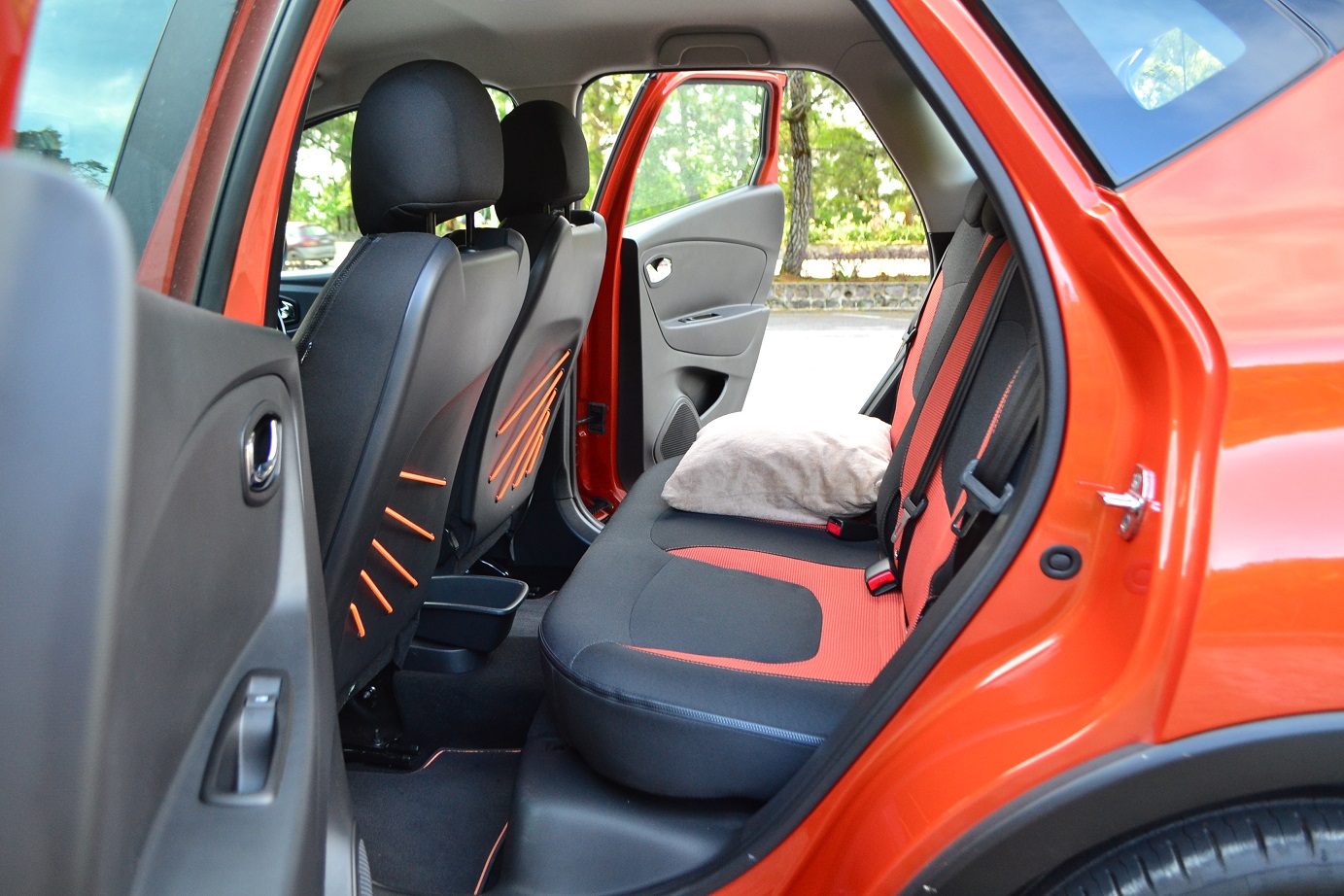 Rear passengers would find the HR-V to be a much more comfortable place to be, both in legroom and headroom. The backrest also the least upright compared to the other two. Both the CX-3 and Captur scores poorly here; I can't decide which is worse.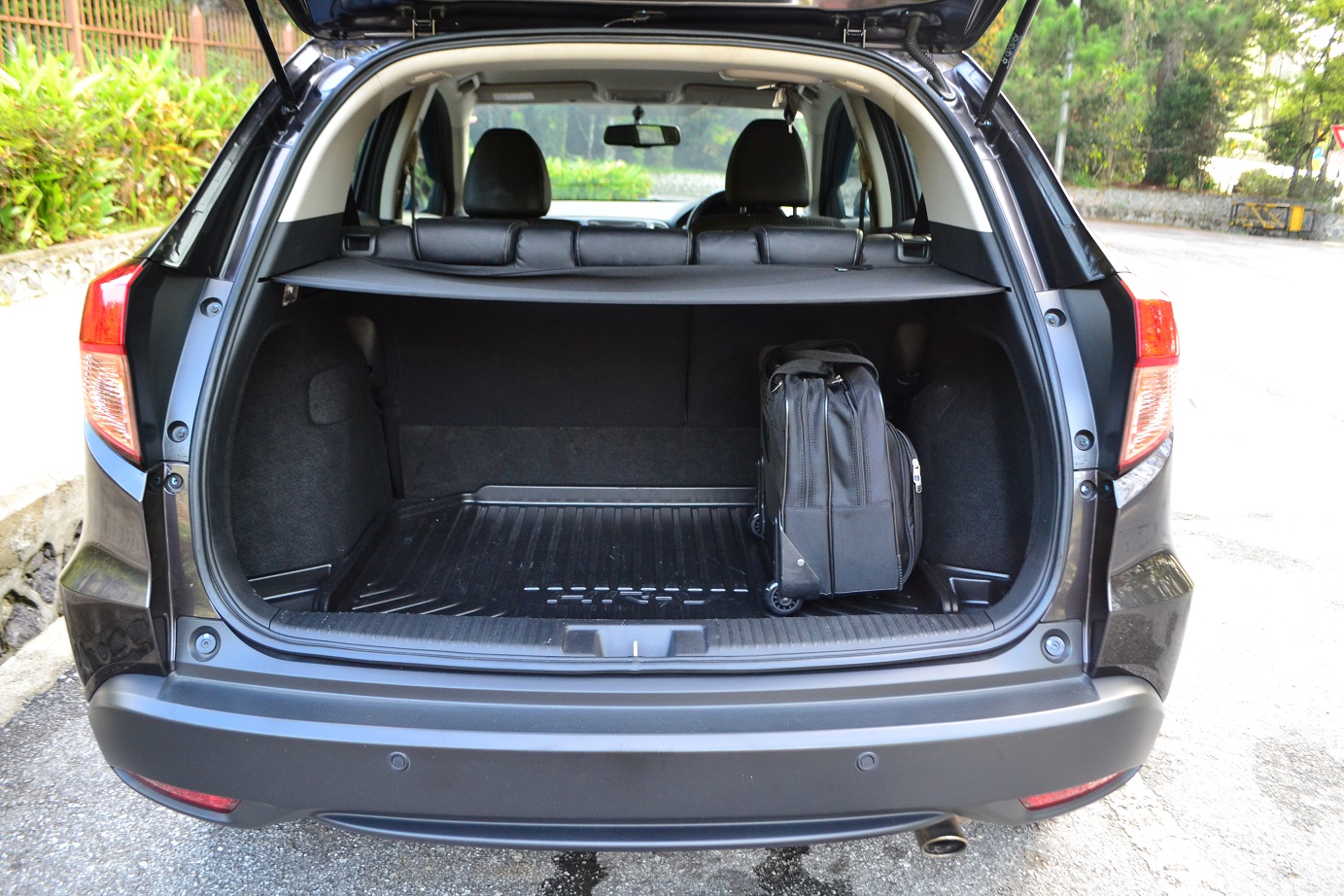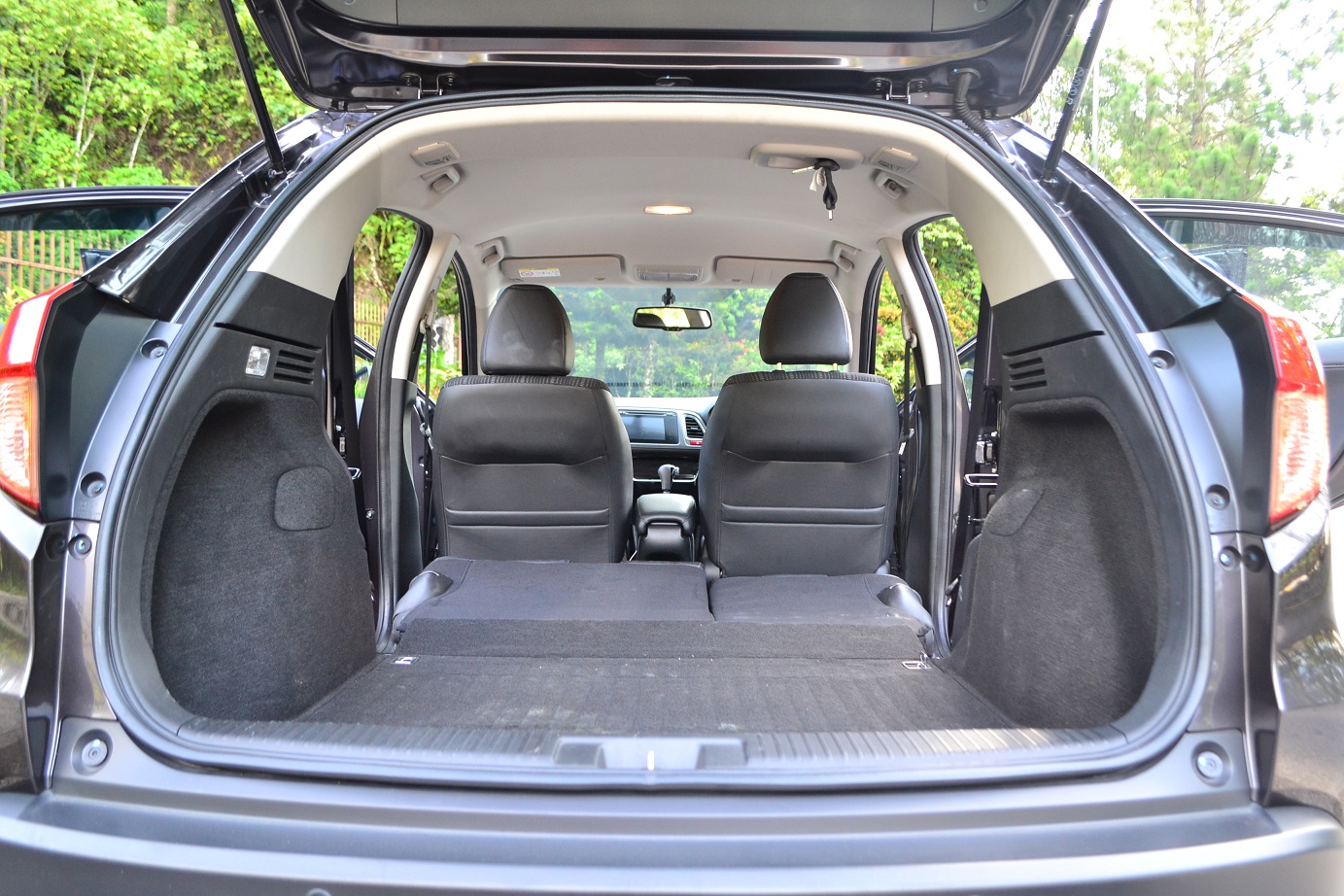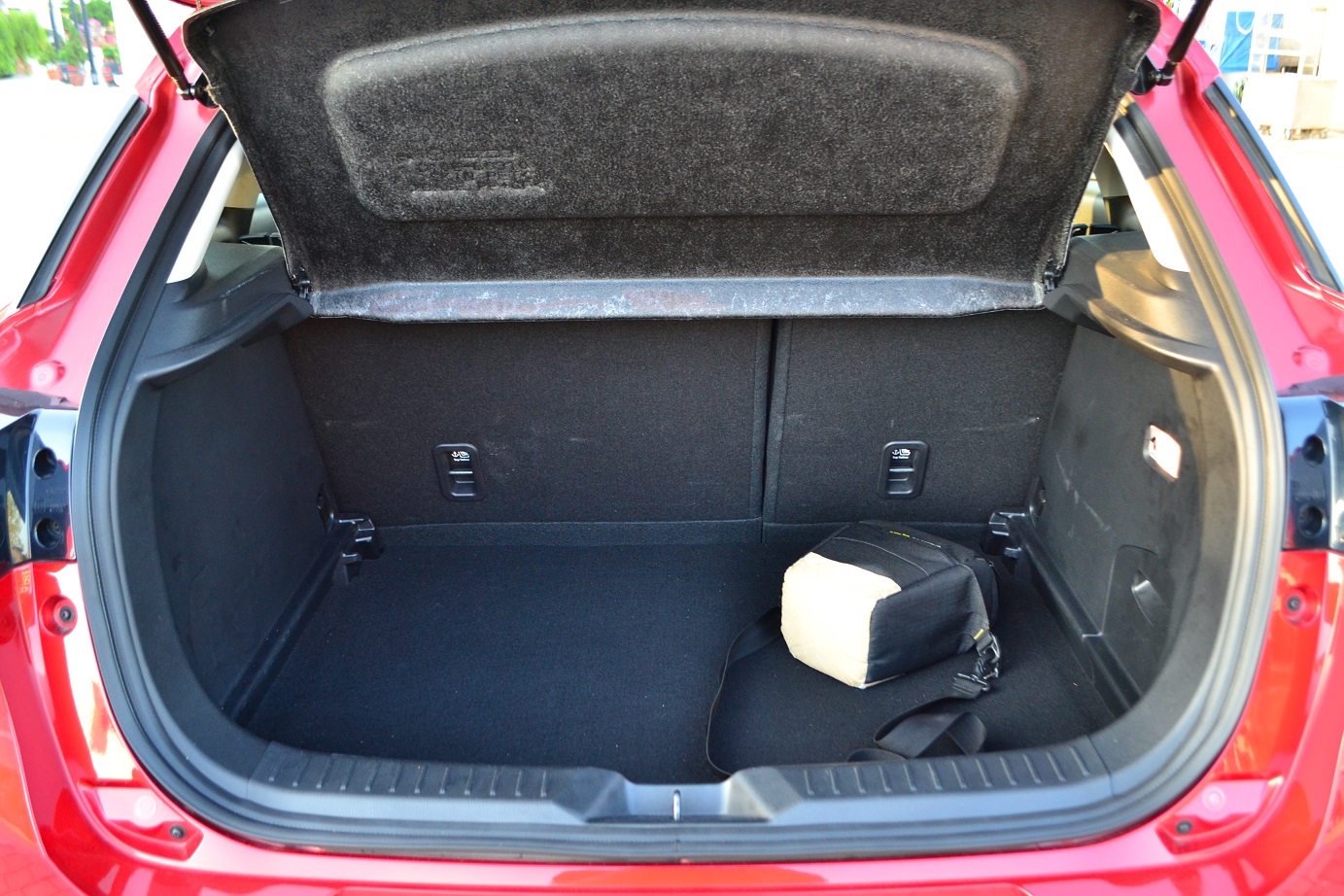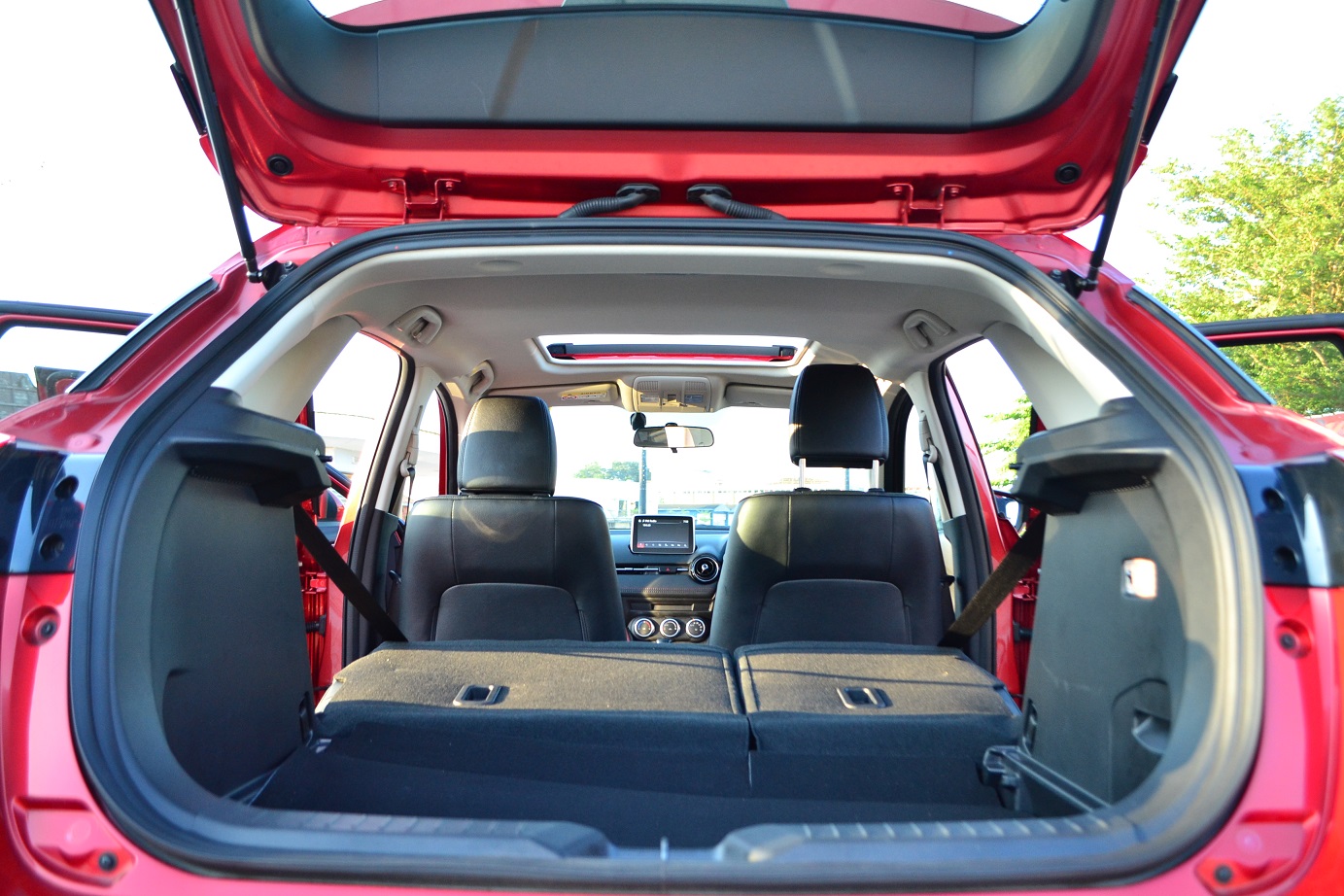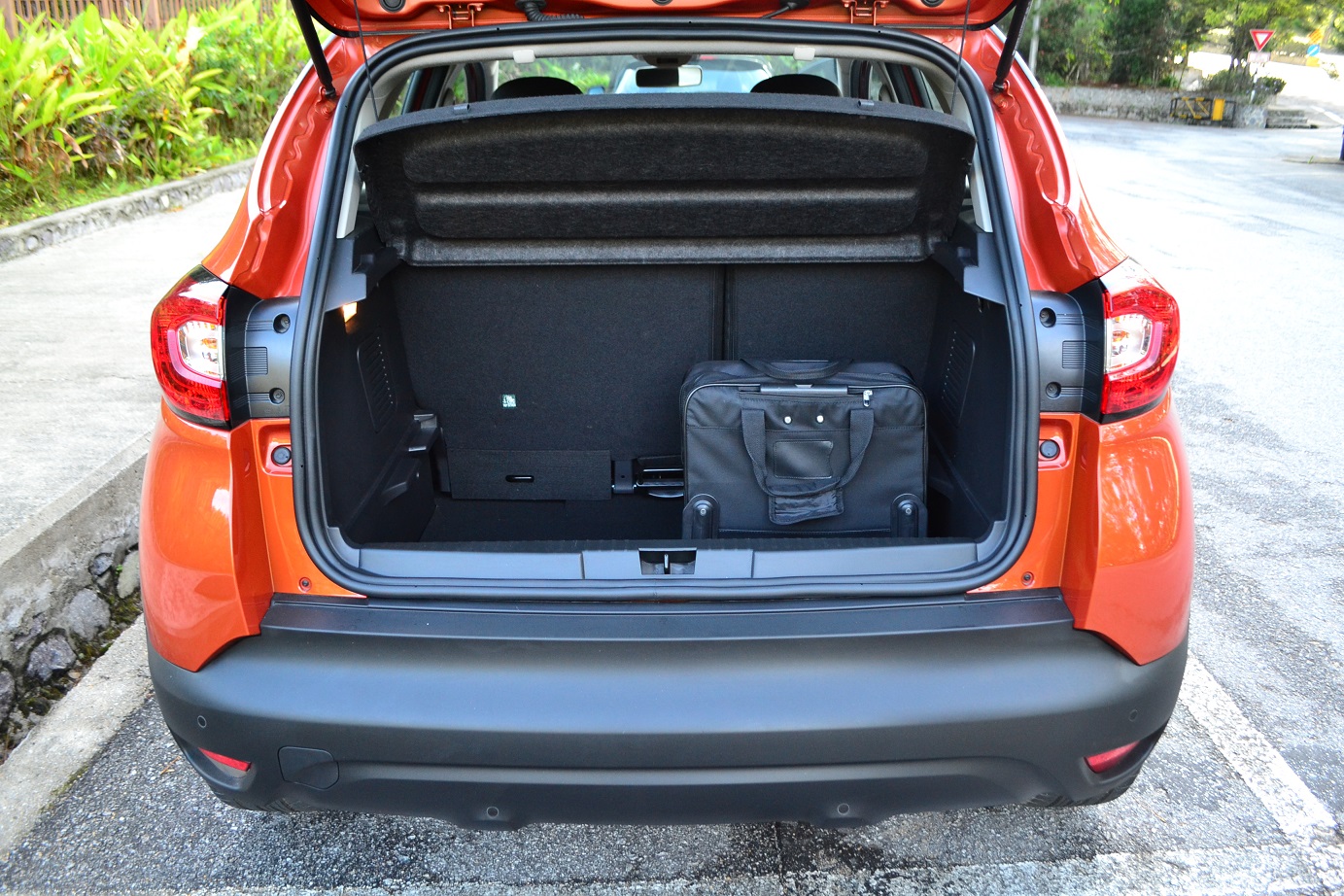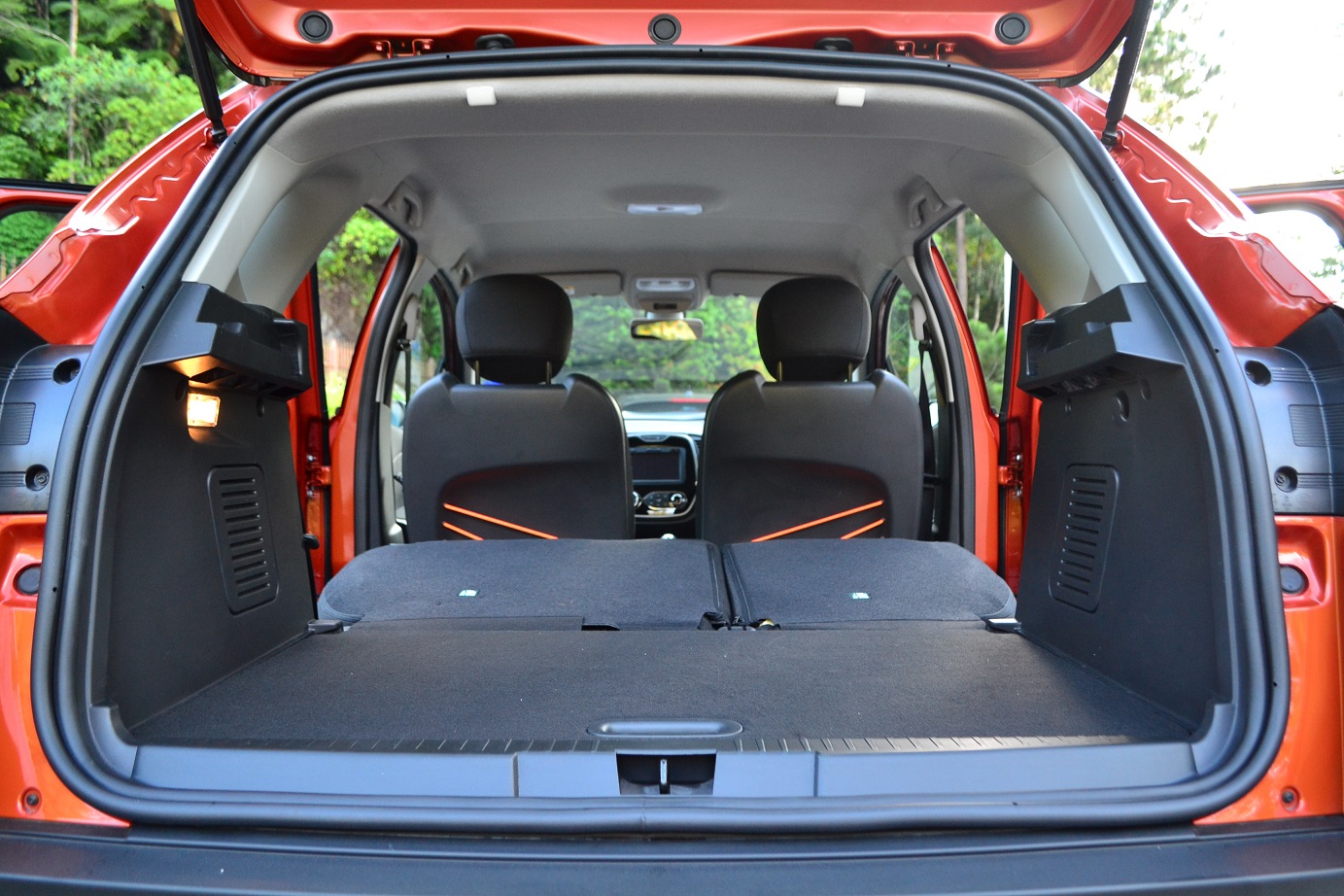 If you're talking about luggage space, few can match Honda. As much as 437litres of space can be had with the rear seats up and it can be expanded to 1,032litres with the seats down. Not only that, the rear seats can be folded up , allowing tall cargos such as plants to access the maximum height of floor to roof, thereby providing greater flexibility when moving odd sized cargo.
The CX-3 is the only unit with a sunroof and when open gives an airy ambiance to the cabin. Cargo space isn't as good as the HR-V since with the rear seats up where it can hold 350litres but with the rear seats folded, it trumps the HR-V opening up 1,260litres of space.
The Captur offers a false floor board which allows you to separate fragile items such as egg and flower from other hard cargo. Cabin space with the rear seats up is 377litres but the rear bench can slide forward to and in this configuration, that space increases to 455litres and goes all the way up to 1,235litres with the seats down.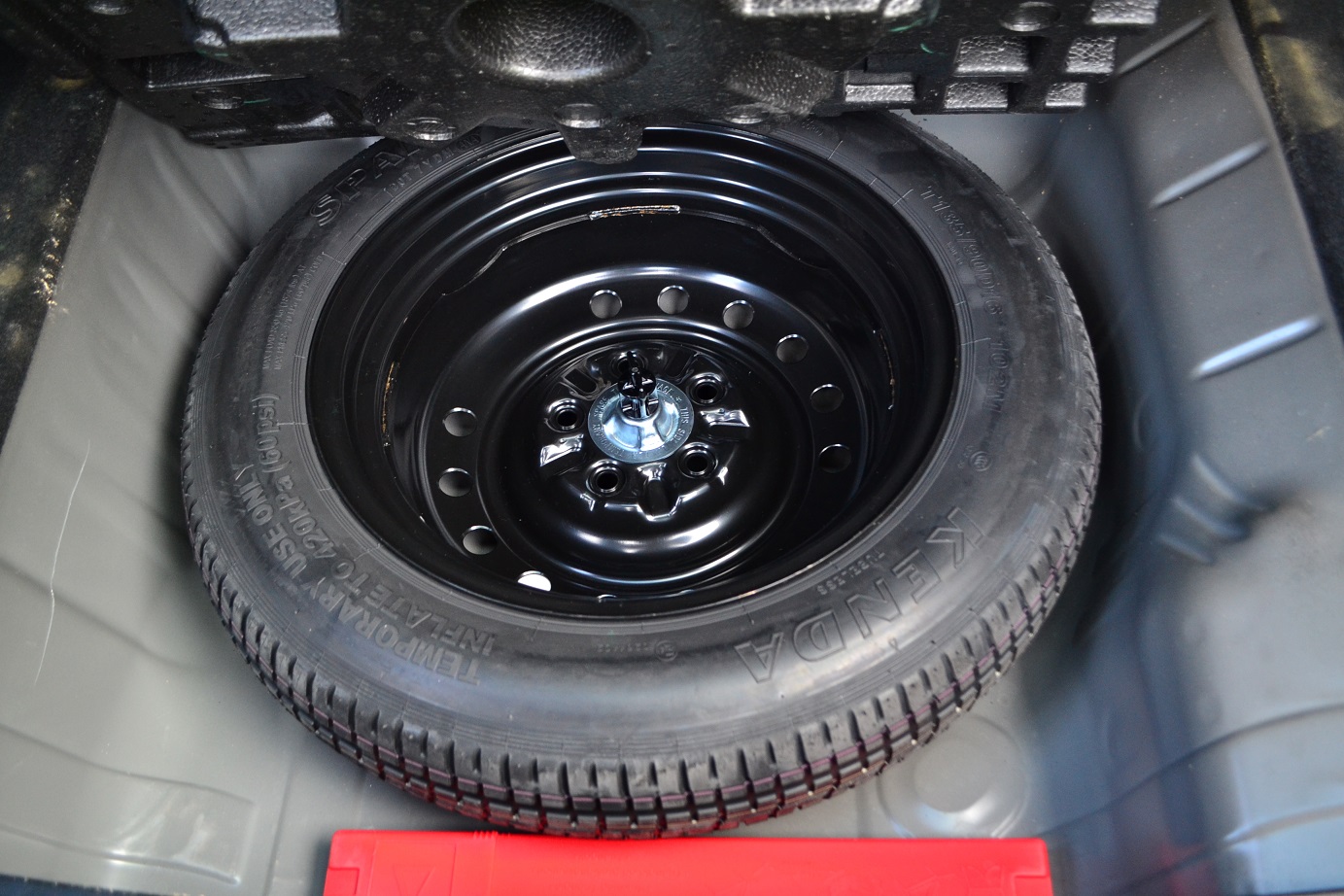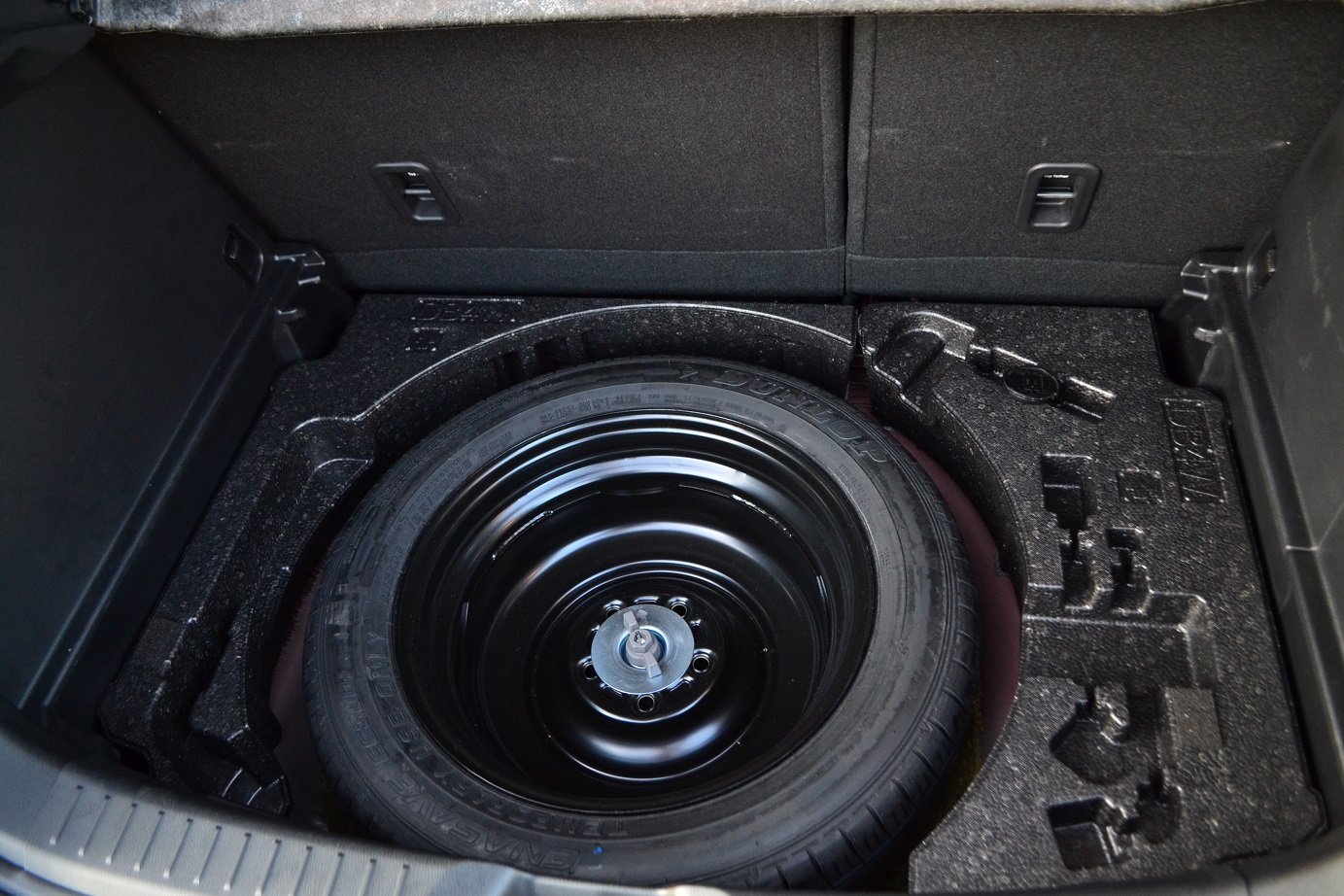 All three makes provides space saver tires for spares.
Other features worth mentioning (in no particular order):-
All three has keyless entry and engine push start
Self-locking vehicles aren't common yet both the CX-3 and Captur auto-locks the vehicle the moment the key leaves the vehicle about 5 feet from the door if the engine is switched off and all doors are closed. The HR-V would need you to lock manually.
The Captur is the only vehicle offering removable seat covers. Mud, milk and the occasional puke from a mate who had a bit too much to drink is not an issue for this car.
The CX-3's seat is the only one with leather-suede combination
All three has reverse camera but only the HR-V's reverse guide lines are dynamic (meaning they turn as you turn the steering wheel) while the other two has static lines.
Safety
Honda HR-V V-spec
Dual front SRS airbag
Side airbags
Curtain airbags (total 6 airbags)
Emergency Stop Signal
One Touch Lane Change
VSA
HSA
ABS
EBD
BA
Electric Parking Brake
Automatic Brake Hold
Security Alarm system with Ultrasonic sensor
Immobiliser
Rear seat ISOFIX
Front seat pretensioner seatbelt with load limiter
Rear seatbelt 3-point ELR (x 3)
Mazda CX-3
Front airbags
Side airbags
Curtain airbags (total 6 airbags)
Dynamic Stability Control (DSC)
ABS
EBD
BA
TCS
Hill Launch Assist (HLA)
Emergency Stop Signal (ESS)
Vehicle alarm
Immobilizer
Reverse camera
Renault Captur
Front airbags
Side airbags (total 4 airbags)
ESC with Roll Movement Intervention – if the body roll angle threatens to become excessive. It makes use of the ESC's control unit to brake individual wheels
ASR
ABS
EBA
3 height adjustable rear headrest
Driver seat belt reminder
Height adjustable driver and front passenger seat belts
3-point rear centre seat belt
ISOFIX
Side indicators
Automatic dipped headlights and windscreen wipers
Rear parking distance control
Reverse camera
Hill Start Assist
Alarm
Specifications
Honda HR-V V-spec
Exterior
LED Automatic Headlights
LED Daytime Running Lights
Front fog lamps
Rear fog lamps
Side mirror with turning lights
LED rear combi lights
Chrome outer door handle
Shark fin antenna
Interior
Smart entry with Push Start button
Cruise control
Multi-angle rearview camera
ECON Mode
Tilt & telescopic steering wheel
Foot rest
Day/Night Rear View mirror
Intermittent variable front wiper
Intermittent rear wiper
Half leather black upholstery
High deck centre console
Leather steering wheel & gear knob
Power adjustable & retractable door mirrors
Single auto air conditioning system
2nd seat dive down, reclining & tip-up
Sunvisor ticket holder
Coat hanger
Vanity mirror (driver & assistant driver side) with illumination
Manual height adjustable driver seat
7″ Display Audio system with CD
6 speaker system
2 x USB socket
1 x HDMI socket
Hands-free telephone (HFT) steering switch control
Voice recognition steering switch control
Mazda CX-3
Exterior
LED Headlamp with Adaptive Front-lighting System (AFS)
Headlamp with Auto On/Off & Auto Leveling
LED Daytime Running Lights
Front (LED) fog lamps
Rear fog lamps
Powered foldable side mirrors with turn indicators
Front wiper, intermittent time adjustable with rain sensor
Interior
Leather suede upholstery
Fully automatic air-conditioner
MZD CONNECT with 7″ LCD Display & Commander Control
Audio System (CD, AM/FM, AUX, USB)
6-speaker system
Active Driving Display (Heads-up Display)
Drive Selection Switch
Multi-function tilt & telescopic leather steering wheel with paddle shifter
Cruise control
Engine Push Start Button
Smart Keyless Entry
Sunroof
i-Stop Idling Stop System
Renault Captur
Exterior
Halogen automatic headlamps
Halogen Daytime Running Lights
Auto wiper
Front fog lamps
Rear fog lamps
Painted door mirror casing
Two-color exterior paintwork
Electric folding door mirrors
Interior
Card unlocking system with hands-free function
Upholstery with removable covers
Leather wrapped steering wheel
Leather wrapped gear lever knob
ECO Mode
Single auto air conditioning system
7″ MEDIA NAV Evolution multimedia system with radio, USB, AUX
6-speaker system
Bluetooth telephony
Ownership and Maintenance
The Honda HR-V comes in three different variants and the unit tested here is the top-of-the-line V-spec priced at RM117,933.59 OTR excluding insurance (add RM3,566.41 for insurance if you have no NCB). It is available in 5 colors; Ruse Black Metallic, Alabaster Silver Metallic, Modern Steel Metallic, Taffeta White, Crystal Black Pearl and comes with 5-years unlimited mileage warranty with up to 6 free labor service alternating with paid service up till 100,000km and the service internal is every 10,000km.
The CBU Mazda CX-3 has only one guise and it retails for RM131,158.30 OTR excluding insurance (add RM3,924.69 if no NCB) and you can have it in 5 colors; Soul Red Metallic, Crystal White Pearl, Jet Black, Meteor Grey and Deep Crystal Blue. It has 3-years warranty with 3-years free maintenance including labor, parts and lubricants.
The Renault Captur also comes in one variant and has a price tag of RM117,200 OTR excluding insurance. You have 4 bi-colors to choose from; Arizona Orange & Diamond Black roof (as tested), Pacific Blue & Ivory roof, Ivory & Diamond Black roof and Beige & Diamond Black roof. Like the HR-V, the Captur comes with 5-years unlimited mileage warranty but does not offer free service like the other two Japanese offerings. Instead, you'll have access to RENCARE, a 24-hour toll free number (1-800-888-663) which provides 24-hour vehicle breakdown or accident assistance and minor on-the-spot repairs. They even deliver batteries and petrol if required.
You're still here? Good. Now comes the hard part; which to pick?
It's easy really:-
If you're a family man and favors practicality above all else, the HR-V is the compact SUV for you. It's equipped with modern amnesties, good network of after sales support and, if you must say, better perceived resale value. Best in cabin space and comfort.
If you're a driver's man, you will find the CX-3 to be the most entertaining to drive, both in straights and corners. With an interior that puts some luxury brands to shame, it will impress passengers with its opulence. Just don't put anyone taller than 170cm behind. Best in performance, ride and handling.
If you want to be different, to stand out over the droves of HR-Vs and the less common CX-3, the Renault Captur would be a good choice. While I was in Jeju Island, every time a bright colored Captur zoom by, it would certainly catch my attention. Best in conspicuous design.
At the end of the day, it depends entire on what aspects you are looking for in the SUV. In this group, their strengths clearly point to the target market they're aiming for. Once you've identified what's important to you, go and test drive to your heart's content. After all, it's still your decision at the end of the day.
For more information, head on over to:-
Official site for Honda Malaysia HR-V
Official site for Mazda Malaysia CX-3