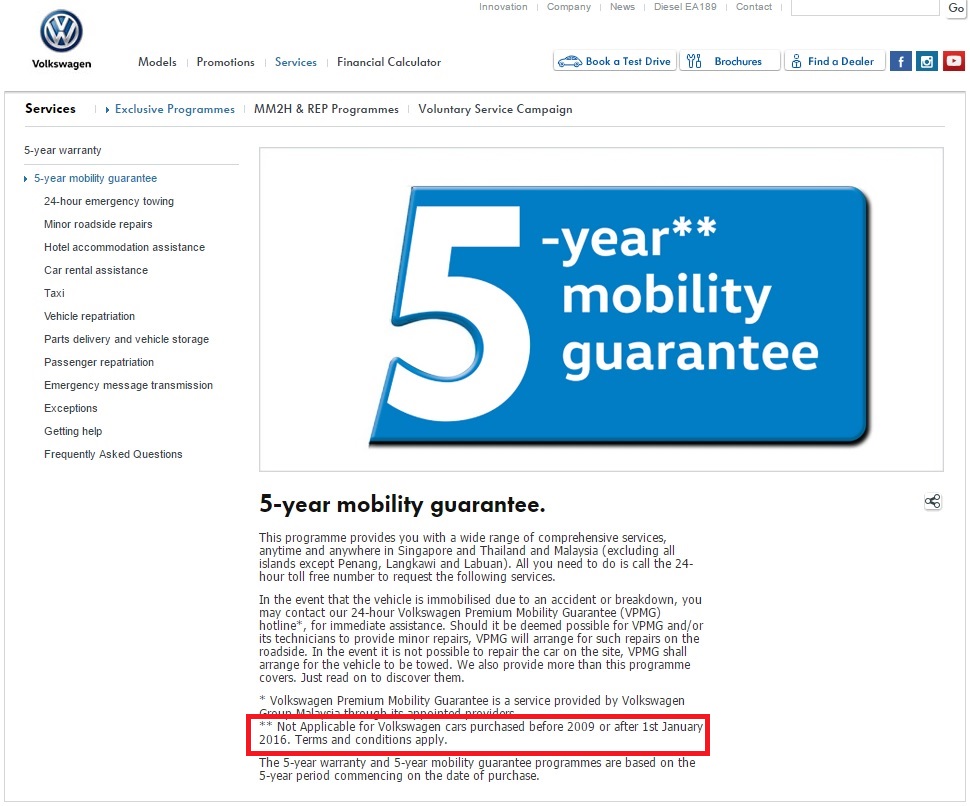 Have you seen Volkswagen Malaysia's Mobility Guarantee page in their Official Website?
Seems that they've just added a new clause within the contract that states the 5-years Mobility Guarantee is "Not Applicable for Volkswagen cars purchased before 2009 or after 1st January 2016. Terms and conditions apply"
If your car registration card bears this year's stamping, here's what you lose out:-
– No more roadside repairs
– No more hotel accommodation assistance
– No more car rental assistance
– No more taxi reimbursement
– No more vehicle repatriation
– No more parts delivery and storage
– No more passenger repatriation
– No more emergency message transmission
.
Do note that the vehicle's 5-years unlimited mileage warranty remains INTACT.
 .
Still, it makes you wonder why they would remove it. If I were to guess (and I reiterate that this is purely a hypothetical opinion and does not represent the absolute truth so please check with the nearest Volkswagen showroom, ok? I'm not the Washington Post; can be easily sued), I'd say it's mainly due to them slashing so much on profit to clear stocks that they don't have any more margins to purchase the insurance.
 .
Insurance? What insurance?
 .
Not many may know but there are third party service swhere the principal can subscribe to in order to offer the services as stipulated by Mobility Guarantee. One such example is
Mondial Assistance
which covers all the points above by charging an insurance premium. With VW slashing prices so much, they may have little margin to cover those vehicle under this scheme.
 .
What about those who purchased their vehicles FULL PRICE? Well, from the statement, it seems they are affected as well even if the company has earned maximum profits in that transaction. If new, non-discounted vehicles registered this year are given exception and Mobility Guarantee is included, wouldn't this be another
Maxis shitstorm
 waiting to happen? Who knows? Again, please do check with your Volkswagen dealership to clarify, ya? Got this clause "Terms and conditions apply" so that can mean anything.
If your VW is registered this year, you should clarify with the dealership as soon as possible.
 .
Good luck and all the best!!