The folks at Mercedes-Benz Malaysia (MBM) are on a roll. They've just completed the first half of 2016 with another record-breaking performance.
Delivering a total of 6,017 cars to customers in the six-month period ended June 2016, the premium German marque registered double digit growth of 17 per cent compared to the same period last year.  Consequently, Mercedes-Benz Malaysia retains its position as the leading premium brand in Malaysia, with YTD June market share of 2.5%, maintaining record unit sales for the 16th consecutive month. In addition, Mercedes-Benz Malaysia achieved a new milestone in June 2016, recording its best ever month with a total of 1,203 cars sold, and recording its best ever quarter in 2nd Quarter 2016 with a total of 3,359 cars sold.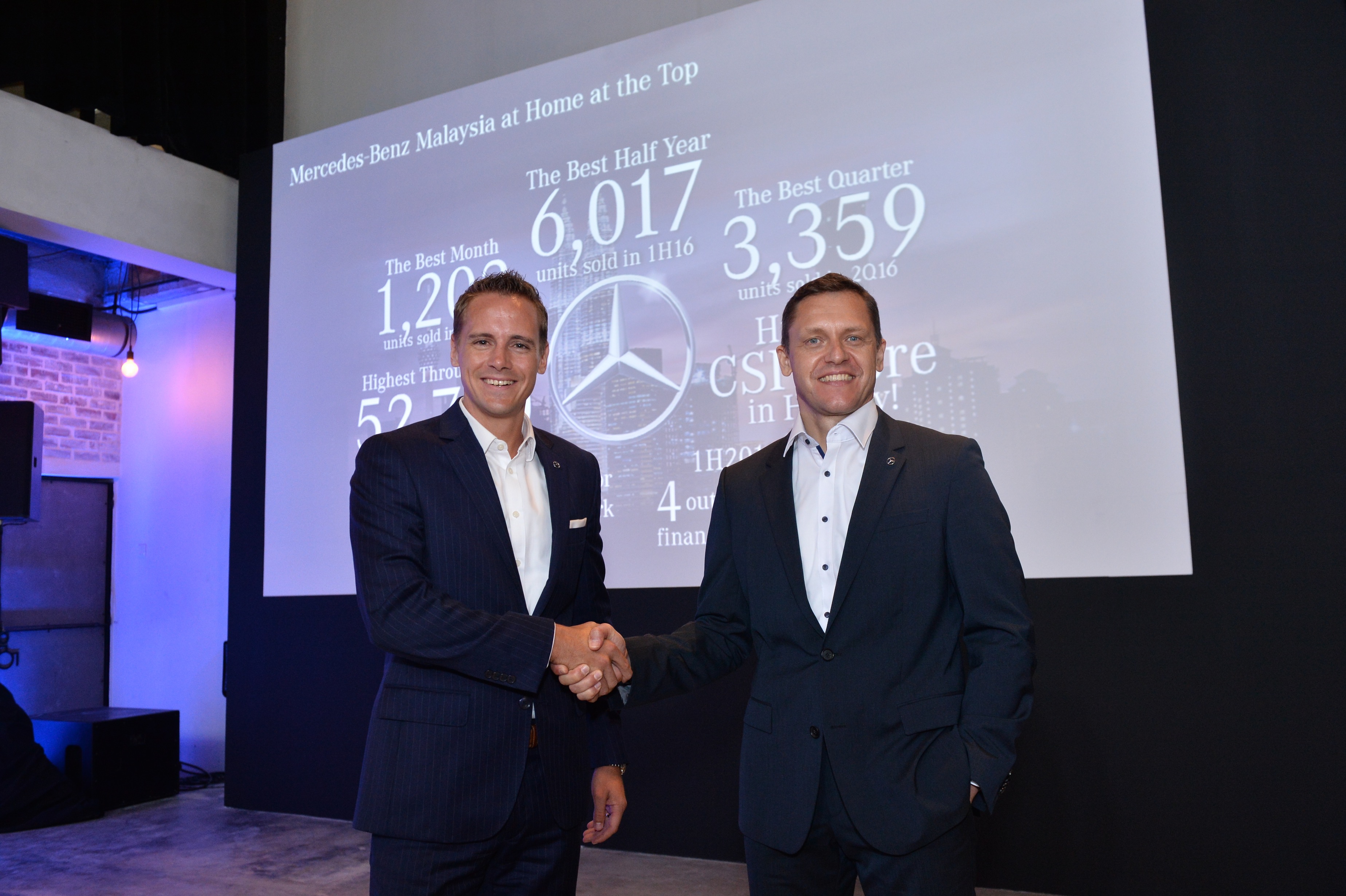 The Mercedes-Benz Malaysia service network serviced a record number of 52,700 cars during the first half of the year, an increase of 18 per cent compared to the same period last year. Notwithstanding the significant increase in vehicles service, Mercedes-Benz Malaysia achieved its best Customer Satisfaction Index (CSI) After Sales rating in history and achieved leadership position in the competitor benchmark study.
 The breakdown of the first half consists of the following;-
The C-Class – 2,534 units,  (130% growth)
The E-class – 1,063 units
The S-Class – 549 units
The GLC – 483 units
The GLE – 93 units
The A-class – 570 units
Others (B-class, CLA, GLA) – 708 units
Mercedes-Benz Malaysia's best month, best quarter and best half year achievements mirror the success of the Three-Pointed Star on a global level. Daimler AG recently reported that it had breached the one million mark, delivering 1,006,619 units of Mercedes-Benz cars to customers worldwide in the first six months of 2016, a growth of 21.1 per cent compared to the previous year.
Up 17% local, 21.1% global. Those are insane growth numbers in today's weak economy and you'd have to wonder what on earth is lighting Mercedes-Benz's fire. Here's what we think;-
The Secret of Winning in the Auto Industry

Building brand value of a company is like trying to move a piece of string from Point A to Point B. Why a string? Because brand value is determined by customers, not the company. What the company can do is to embark on initiatives to make the brand look more attractive in the eyes of the consumer. You can't force your belief of how you see your own brand onto others, which means pushing your brand (the string) is far less effective compared to pulling it.
Following so far? Good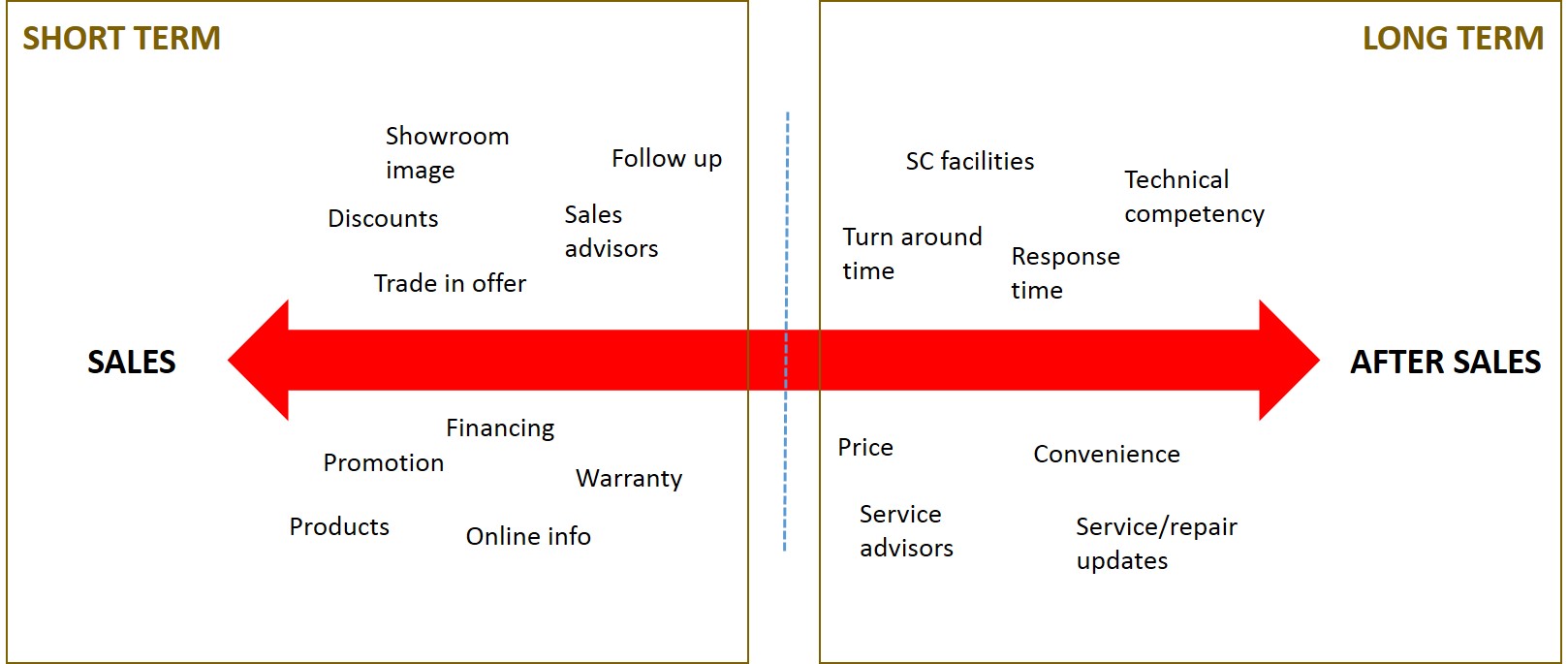 The process of developing an automotive brand (or any equipment supplier with an element of service support) is divided into two components; Sale Management (emphasizes more on Push) and After Sales Management (Pull).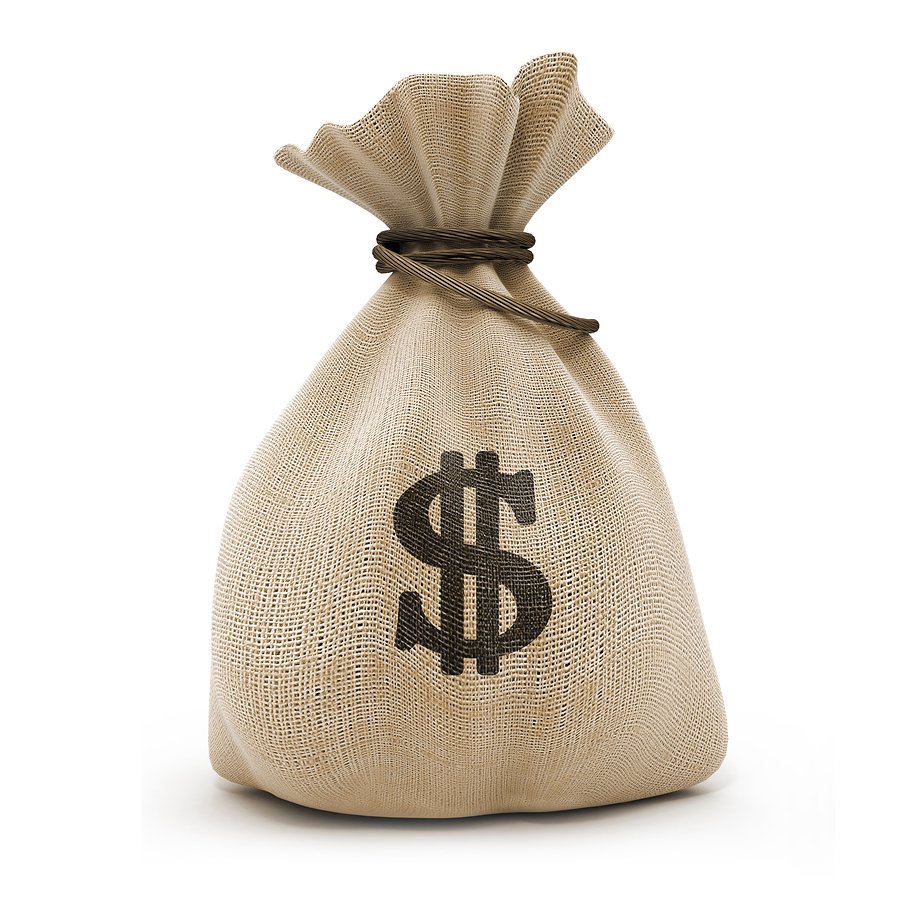 It's not hard to understand why so many companies prioritize sales and marketing since it's the one bringing in the dough. Tweaking elements in the Sales component would have a more immediate effect and that's what most companies do if they want to boost short term numbers; hence why I labeled it Short Term. Want more sales? Throw in interest-free promotions, overtrade or outright discounts to make more noise in the marketplace.
There are also activities related to sales that requires more resources to execute such as setting up flagship stores like the Mercedes-Benz Autohous, proper sales training of its sales advisers as well as customized financing package via Mercedes Benz Agility Financing. These serve to provide a positive and stress-free shopping experience for any potential customer.
In contrast, After Sales is often seen as a cost centre – sucking money in setting up service centres with well-equipped service bays, hiring qualified technicians, service advisers, service managers, purchasing tools and equipment certified by the principal and keeping inventory of parts. For what? Just to support owners who only brings their cars in during warranty period? That's not an investment – that's just throwing money away.
Speaking strictly from a business point of view, wouldn't it be better if a company wash their hands of long term after sales commitment and get paid upfront for selling cars? That, is precisely how most Open Approve Permit (AP) holders operate – get a large open space, build a couple of tents and park their wares there. AP holders are interested in short term monetary gains and isn't bothered if the vehicle you procured is a lemon. Without the need to invest in after sales infrastructure, you can get them cheaper but you also take the risk of settling your problems on your own.
Then, it's no longer a problem of the brand but the issue is with the seller.
But when you think about it, brand value is formed during the entire tenure of ownership. So if a person keeps a car for, say, 7 years, the Sales Management plays a very small part compared to After Sales. What happens when the car breaks down? How costly to get it repaired? How convenient is it for me to get it serviced? How quickly can I expect the SC to respond to complaints? Does the SC update me on the status of my vehicle's repair or do I have to be the one calling?  All play a role in that Value assessment.
Therefore, it makes sense to embark on strategies that not only emphasizes on Push (sales) but Pull (after sales) as well. Brands like Toyota and Honda has done well in this area & consumers have associated many positive traits such as dependability, good after sales service and excellent resale value.
But no one has done it in the premium segment.
We're not making a ridiculous suggestion that MBM become a Japanese mainstream brand. We're saying Mercedes Benz offering the same dependability of providing the best products and services to the Malaysian market.
Just like going to a St Regis in Langkawi Island would elicit the same wonderful experience as the St Regis in Hawaii, visiting a Mercedes Benz Autohaus in Penang should provide the same experience as the Autohaus in Petaling Jaya.
But there's a problem; the responsibility of providing After Sales service lies with dealerships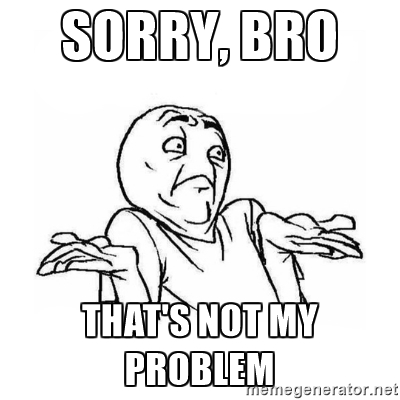 Whenever there's a dissatisfaction at the dealership level, customers would attempt to escalate it to the principal and more often than not, the complaint gets passed back to the dealer and the customer is in no better position than before. Take Volkswagen for instance; for the longest time, owners have been upset with the lack of understanding and empathy given by authorised service centres. Bringing it to the management level in Volkswagen Malaysia has been equally if not more frustrating for the lack of action. As I've mentioned before in an earlier article, dealers want to make money first, sell cars second while principals want to sell cars first, money second. This misalignment can boil to the point where dealers even sue the principal while the customer's bucket load of problems gets passed around.
The key in inspiring cooperation from dealers is for principals to assist them in the process of selling cars. In the case of Mercedes Benz, not only are cars flying off showrooms, they even influence dealer share prices. Check out Cycle & Carriage Berhad's share price right after MBM made public the 1H spectacular performance results.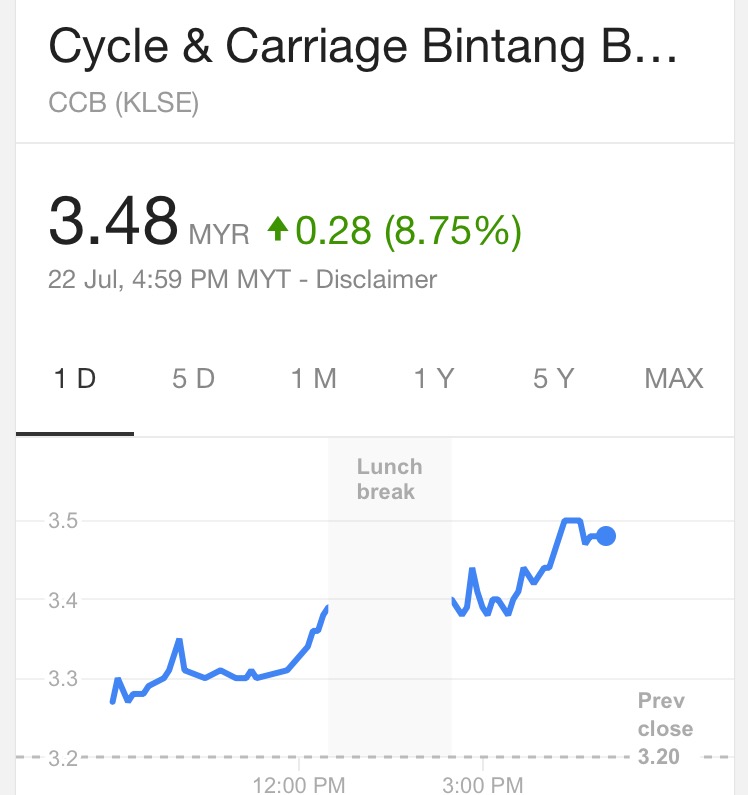 With such strong tail winds blowing Mercedes Benz's sails, getting compliance from the dealers should not be too difficult. Mega dealers will see it is in their best interest to invest in talent and build more Autohauses in order to stand out different, both from each other and from their competitors.
To date, Mercedes-Benz Malaysia has done the following;-
launched two revamped Autohauses during the first quarter of 2016. Upgrading of the Cycle & Carriage Bintang Autohauses in Petaling Jaya, Selangor and Georgetown, Penang to reflect the latest Mercedes-Benz corporate identity, featuring upgraded showrooms and customer lounges, required a total investment of RM 11 million.
introduced the all-new Mercedes-Benz City Store at TREC in Kuala Lumpur, a fresh new concept in the automotive retail experience which involved an investment of RM4.3 million.
unveiled the first Mercedes-Benz City Service by Hap Seng Star offering the newly introduced Mercedes-Benz Service Differentiation; The Star Lounge, Premier Express Service, Drop & Go, and Door to Door Service.
invest RM 3 million annually in its Apprentice Training Centre (ATC) to produce sufficient world-class technicians to deliver unparalleled customer service. To date, more than 770 highly-skilled technicians have graduated from ATC.
re-emphasized Proven Exclusivity by Mercedes-Benz, a programme offering certified pre-owned Mercedes-Benz cars with uncompromised quality, value and assurance to customers. WithProven Exclusivity, Mercedes-Benz Malaysia aims to reach out to a new market segment of buyers further extending its portfolio.
provided in-house financing services, offering comprehensive and innovative financing solutions designed to meet customers' needs.  In the first half of 2016, four (4) out of every ten (10) cars sold by Mercedes-Benz Malaysia werefinanced and insured via Mercedes-Benz Services Malaysia, servicing a portfolio of over RM 1.5 billion.
In the area of sales, Mercedes-Benz Malaysia introduced the Mercedes-Benz C-Class Coupé in three variant forms; the C 200 Coupé, C 250 Coupé and C 300 Coupé. Additionally, the much anticipated Mercedes-Benz E-Class consisting of four variants; the E200 Avantgarde, E250 Avantgarde, E250 Exclusive and E300 AMG Line, were presented for the local market.
With the bests set in the first half of the year, Mark Raine, Mercedes-Benz Malaysia Vice President, Sales and Marketing, Passenger Cars has a lot to be smiling about. He said, "We are proud to have set new milestones in 2016, having surpassed the 6,000 mark in unit sales in the first half of this year. The key to our success is the combination of a comprehensive product range, a strong dealer network, and customer-centric strategies in delivering the Best Customer Experience. With the launch of our new SUVs, the C-Class and the E-Class, we are confident to continue this growth path."
MBM has and continues to enhance its brand position by embarking on both Push and Pull strategies, getting compliance from its dealership network by getting them to set up Autohaus showrooms, Mercedes-Benz City Store and City Service as well as enhancing its After Sales service by producing competent technicians via the Apprentice Training Centre. It's not something that can be done overnight and not so easy to be imitated by its competitors. Is that the best that MBM can do? Of course not but if they keep doing the right things in delighting their customers, they're set to leave the rest of the competition behind in a cloud of dust.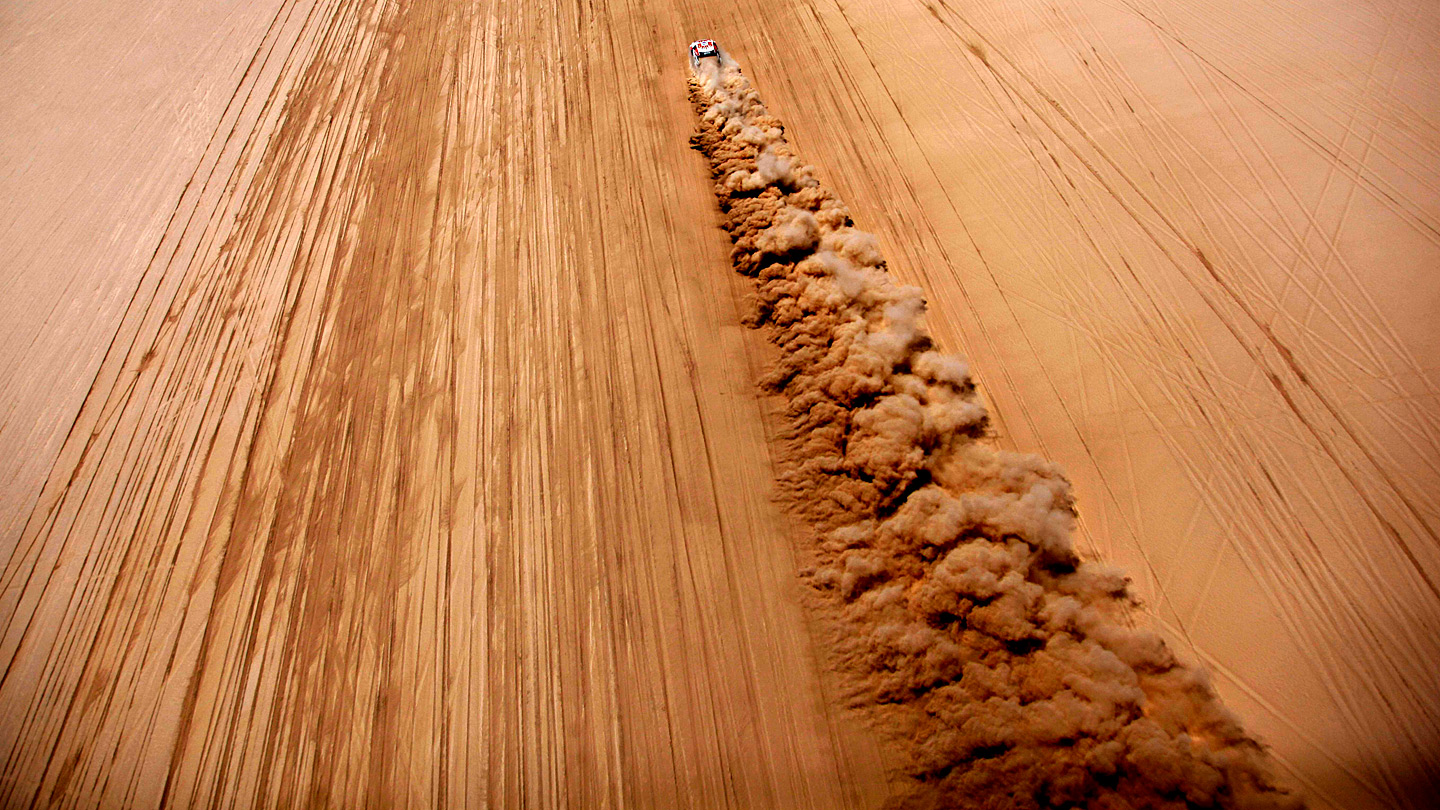 Photo by ESPN 2011 Sports Photo of the Year