Korean automotive brands has managed to establish a positive reputation today yet their people are not letting their guard down. They know that in the technology race, Japan isn't out and tailing close behind is China who has taken the Korean's place in trying to gain a foothold in the global economy. And so Koreans continue to push themselves and Hyundai Motors isn't any different. The fact that they've achieved the 4th largest vehicle manufacturer in the world is a testament of the will of Koreans.
The latest introduction of the handsome all-new Tucson here in our shores shows how committed Hyundai Motors is in carving a more substantial market share in Malaysia. But has the general public overcome the perception of inferior-to-Japanese thinking commonly associated with Korean brands? Is there sufficient brand equity to sway Malaysians to be more pro-Korean? Let's find out;-
Design
While 'handsome' is contentious, there is no doubt that the Tucson turn heads whenever it goes.  It has grown to be bulkier than the second generation it replaces, yet manages not to appear cumbersome, fluidic horizontal lines lending an edge in sophistication. The bonnet line is now higher, wider and more muscular compared to its predecessor.
The high spec Executive variant as tested here features a huge chrome coated (the other variant being the Elegance gets metallic silver) hexagonal radiator grille, LED light guide and Daytime Running Lights mounted below the front fog lights. While the automatic headlamps are projector type, the bulbs inside are halogen but no less effective in illuminating the roads at night.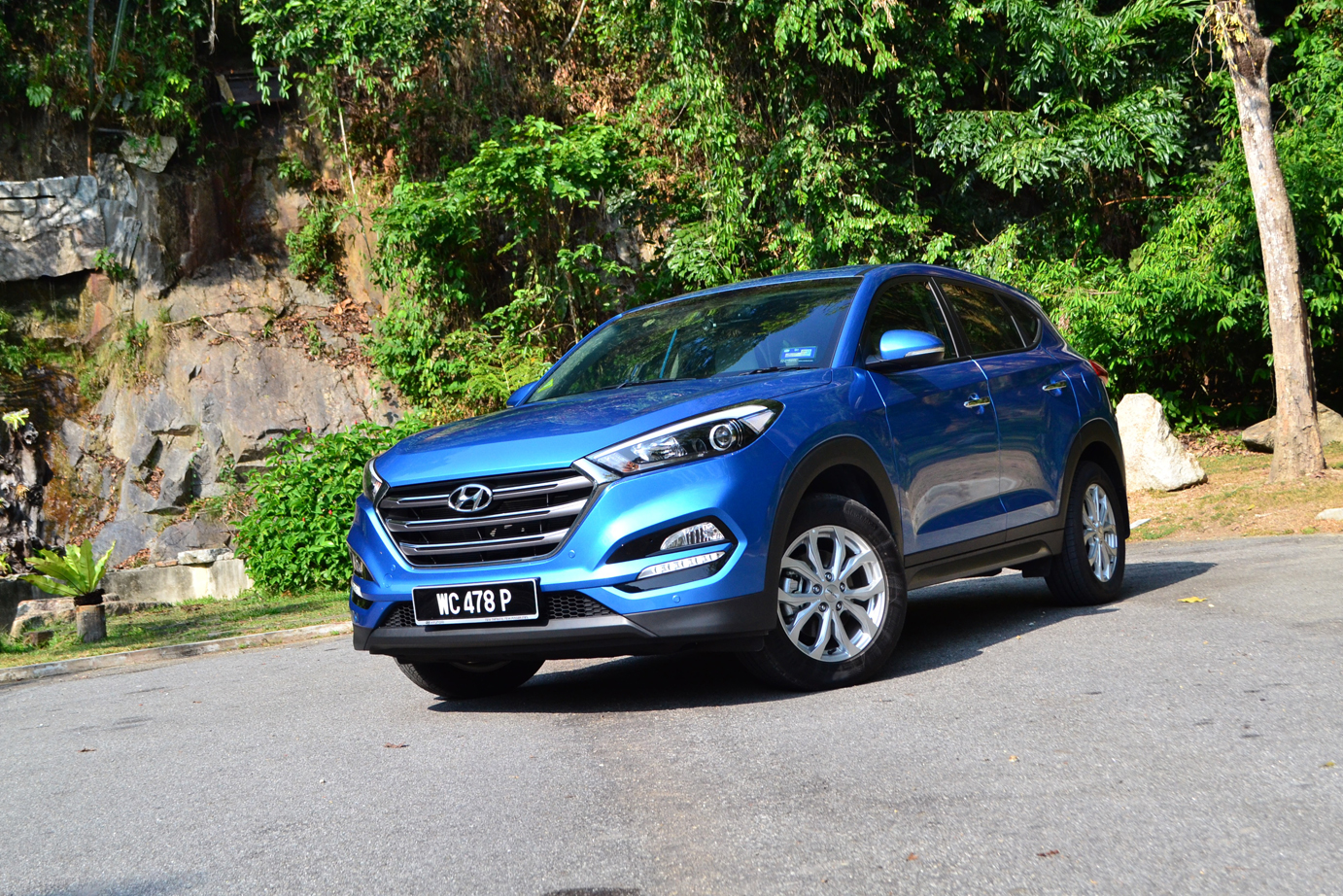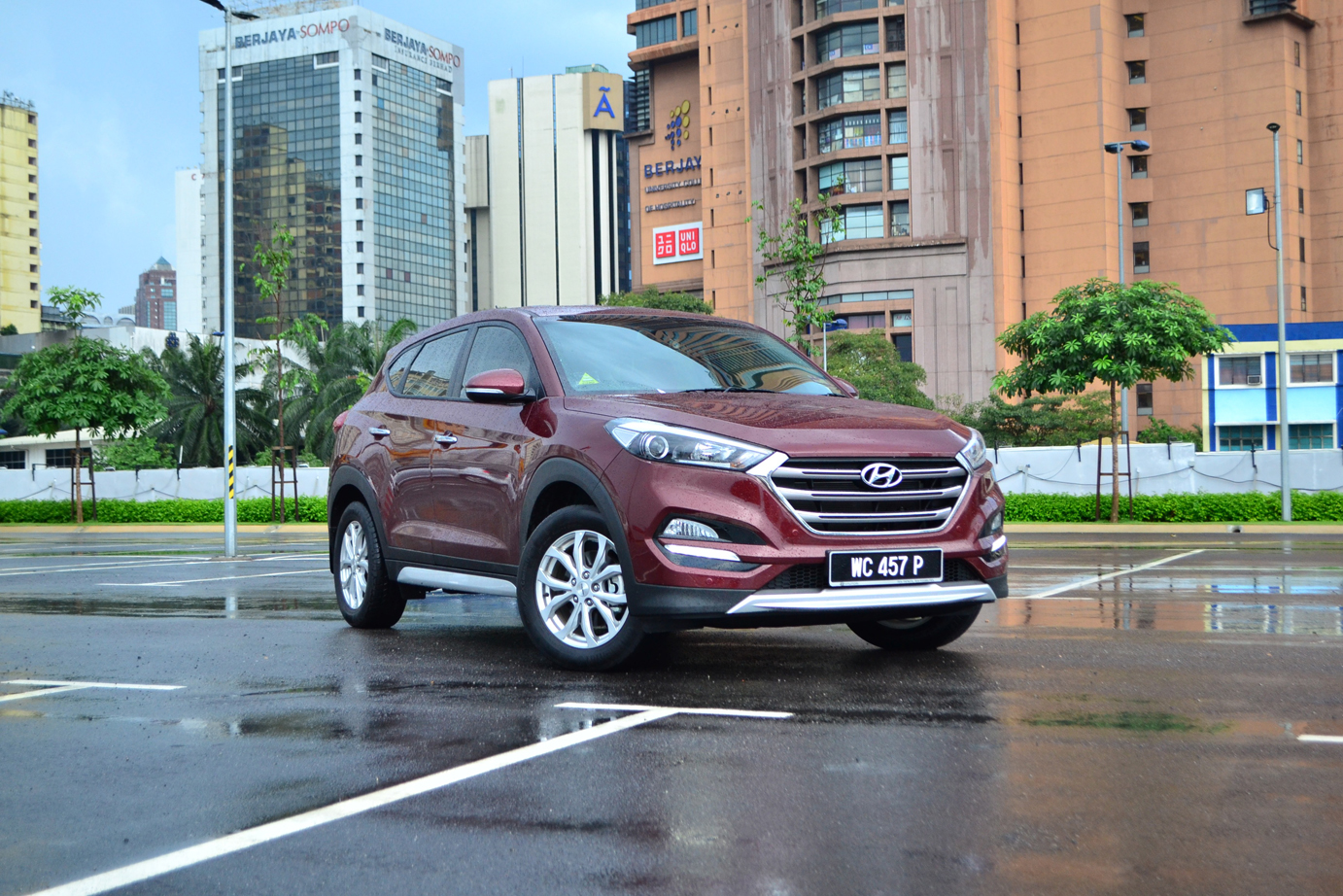 Buyers have the option of purchasing the front, side and rear skid plate set as an option and personally, I think the kit contributes to the visual appeal of the SUV.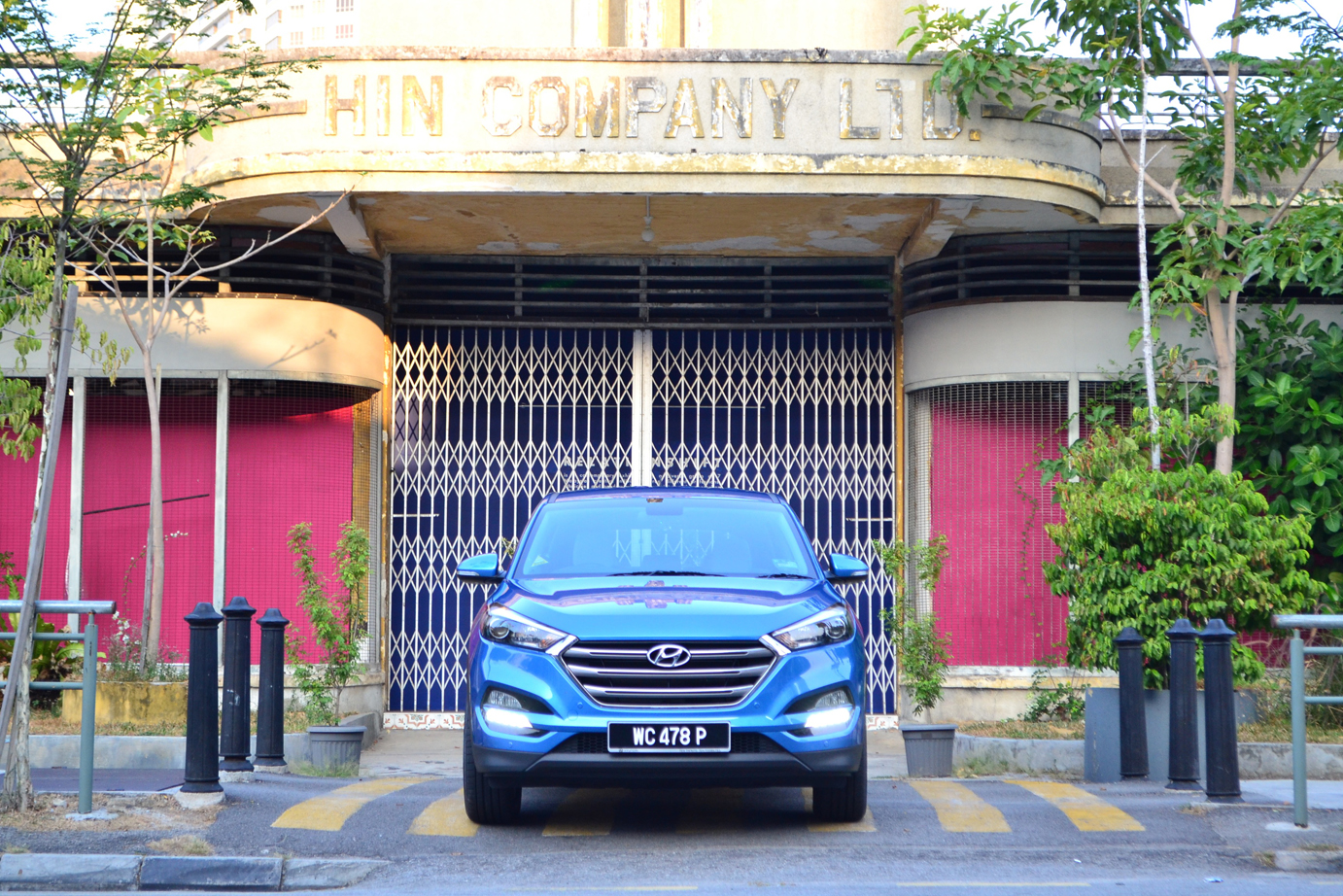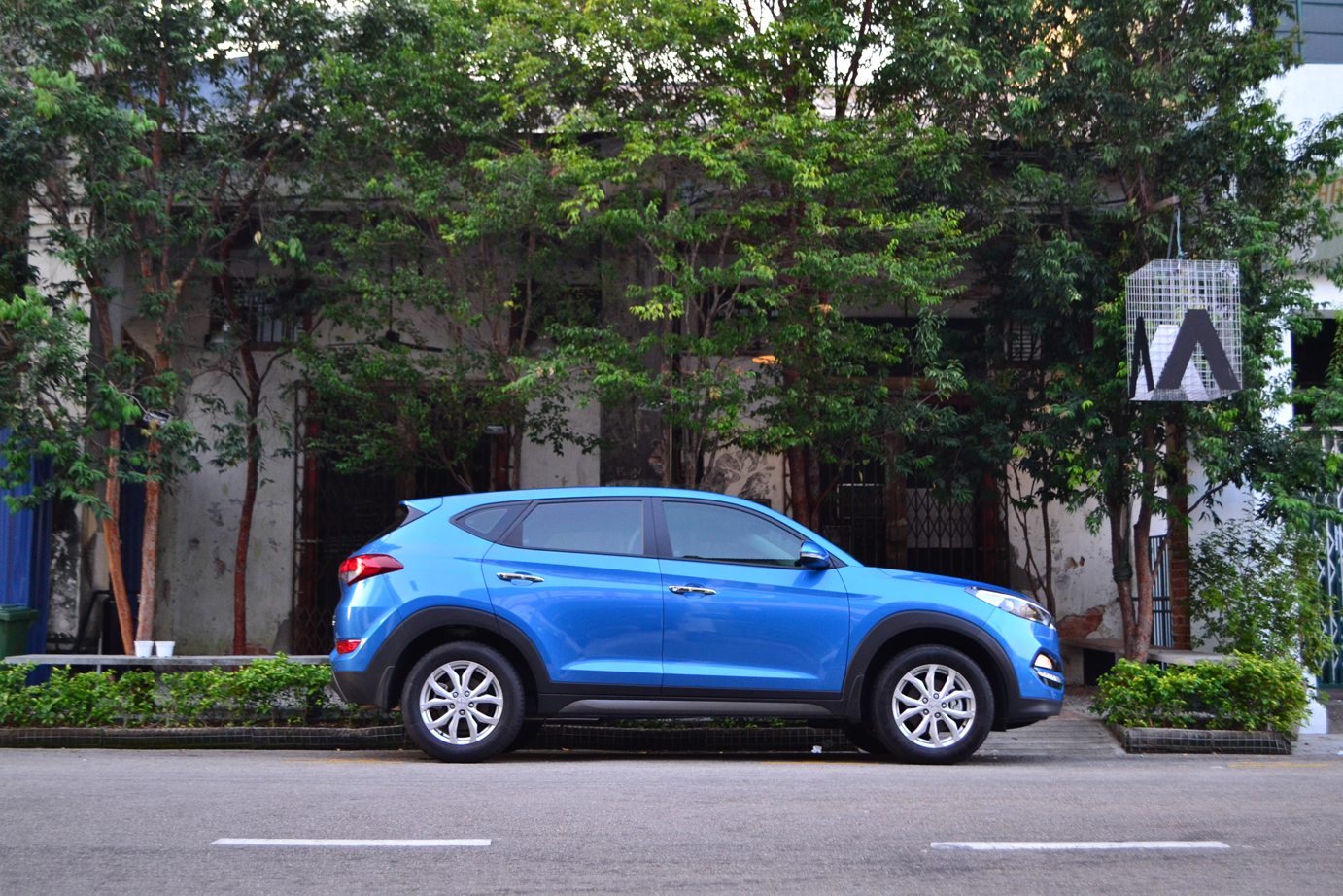 The Tucson measures 4,475mm in length (up from 4,410mm), 1,850mm in width (up from 1,820mm), 1,655mm in height and has a wheelbase of 2,670mm (up from 2,640mm).
Black fenders makes the 17″ wheels look larger, overall balancing the rising belt line upper carriage with a strong bottom. The rear spoiler garnish also helps in accentuating the aerodynamic side profile design.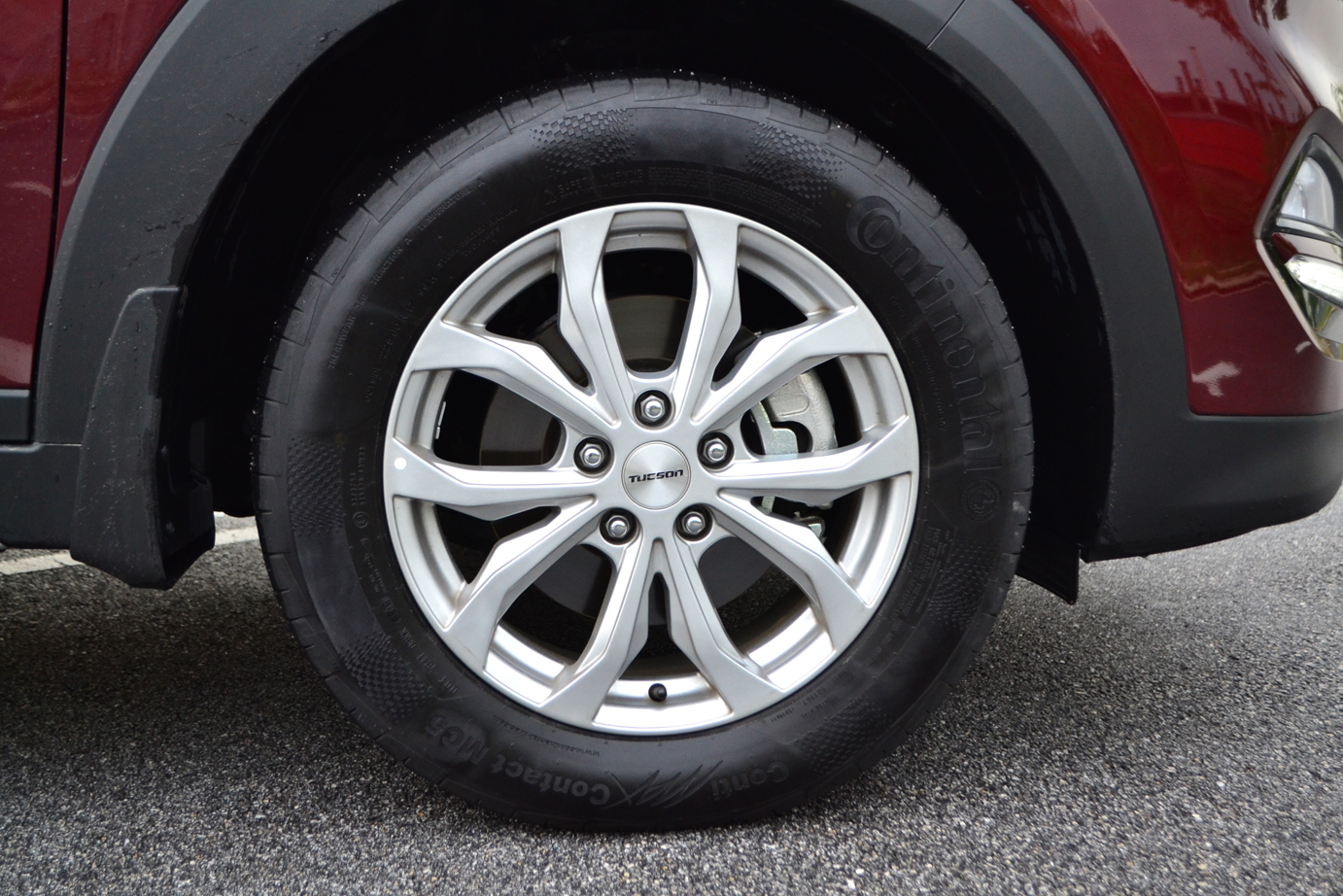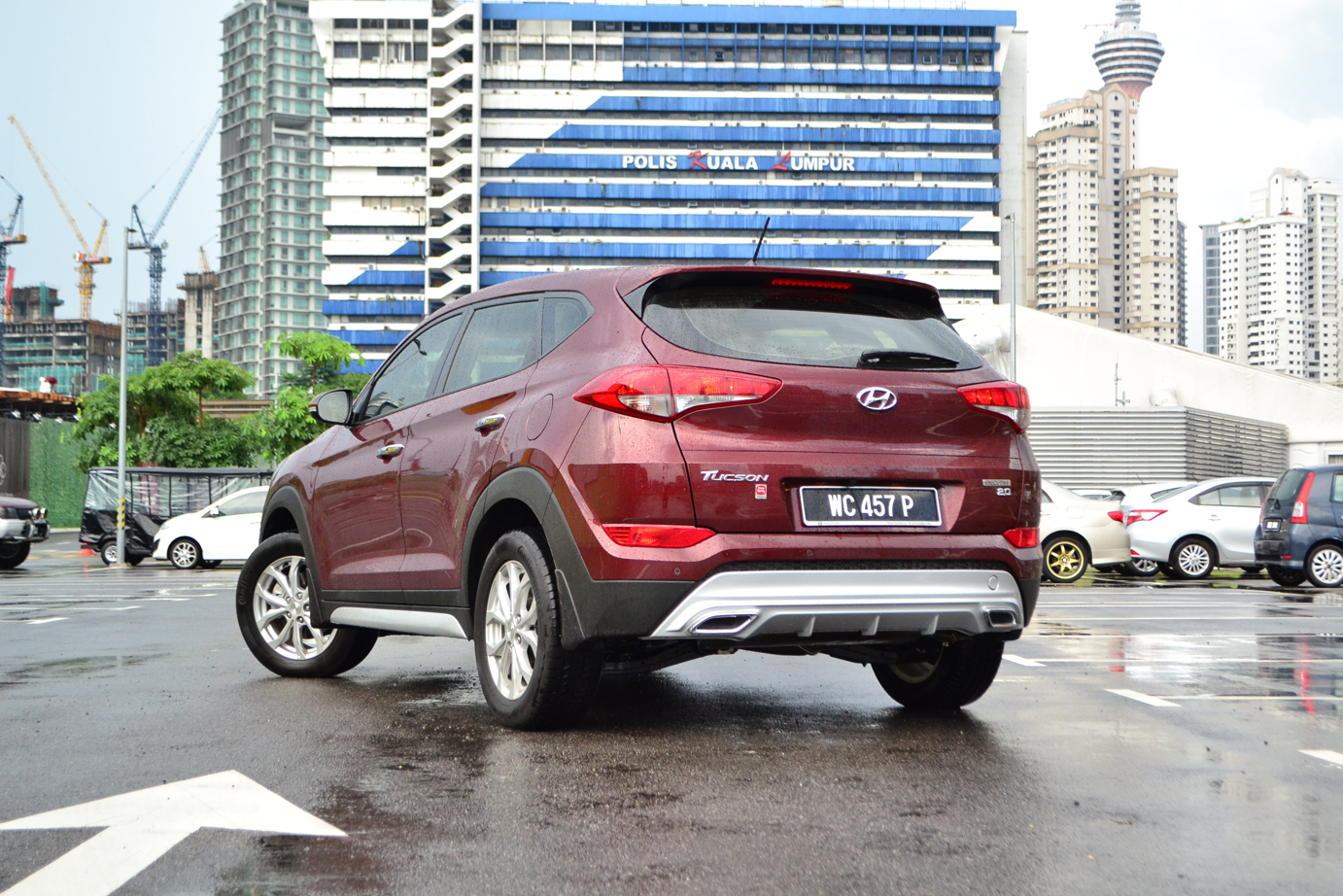 The skid plates incorporates twin, non-functional tail pipes that matches the long horizontal rear combination lamps.
Performance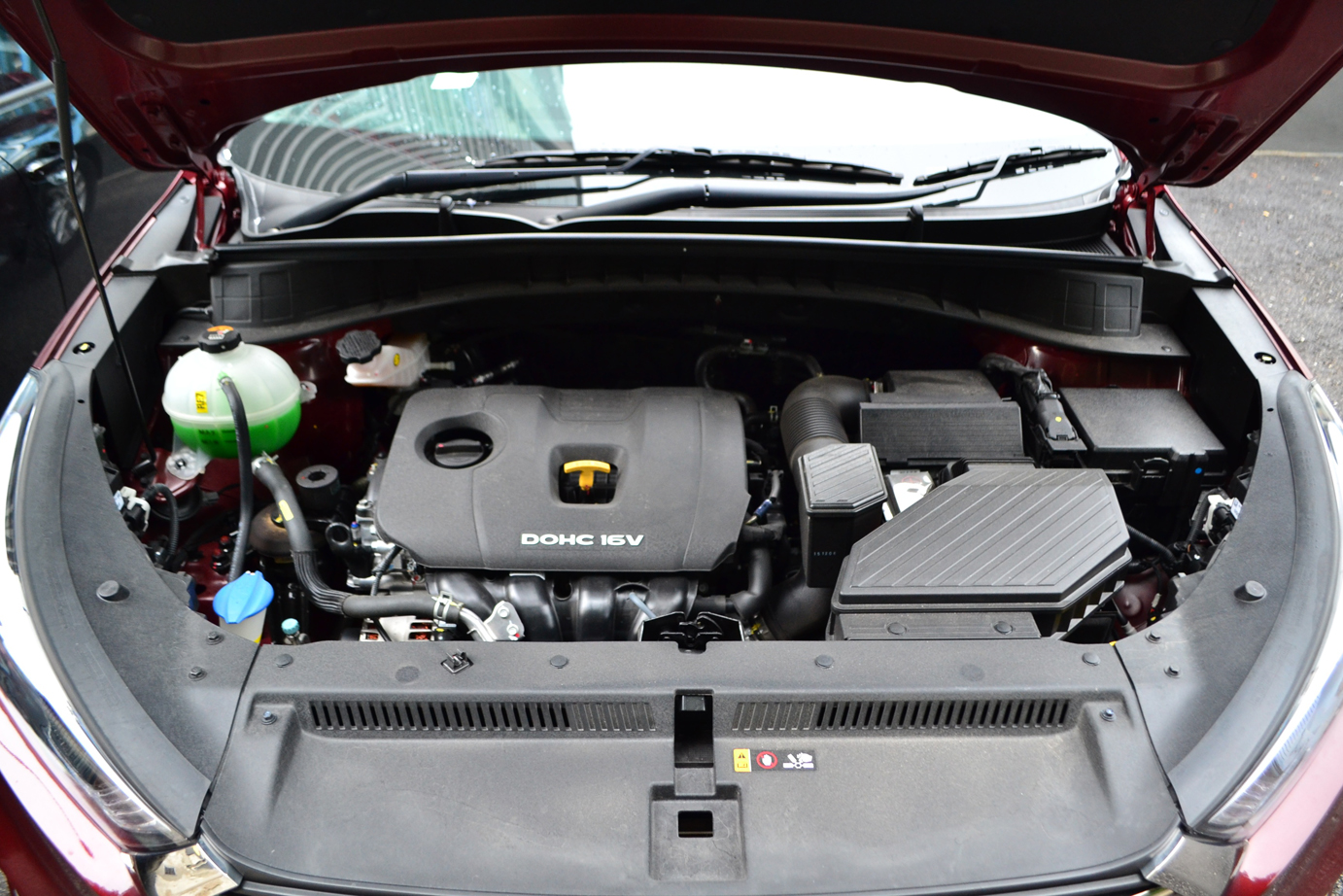 Hyundai has chosen not to change the NU 2.0litre MPI engine which produces 155PS @ 6,200rpm and a maximum torque of 192Nm @ 4,000rpm. It's not the quickest engine around but when the gears are engaged fully, you'll find there is sufficient power on tap. It sprints well to speed limits but will run out of breath above 150km/h, not something you should be doing often in an SUV anyways. For all intents and purposes of driving within the urban jungle, the engine does its job well.
Ride and Handling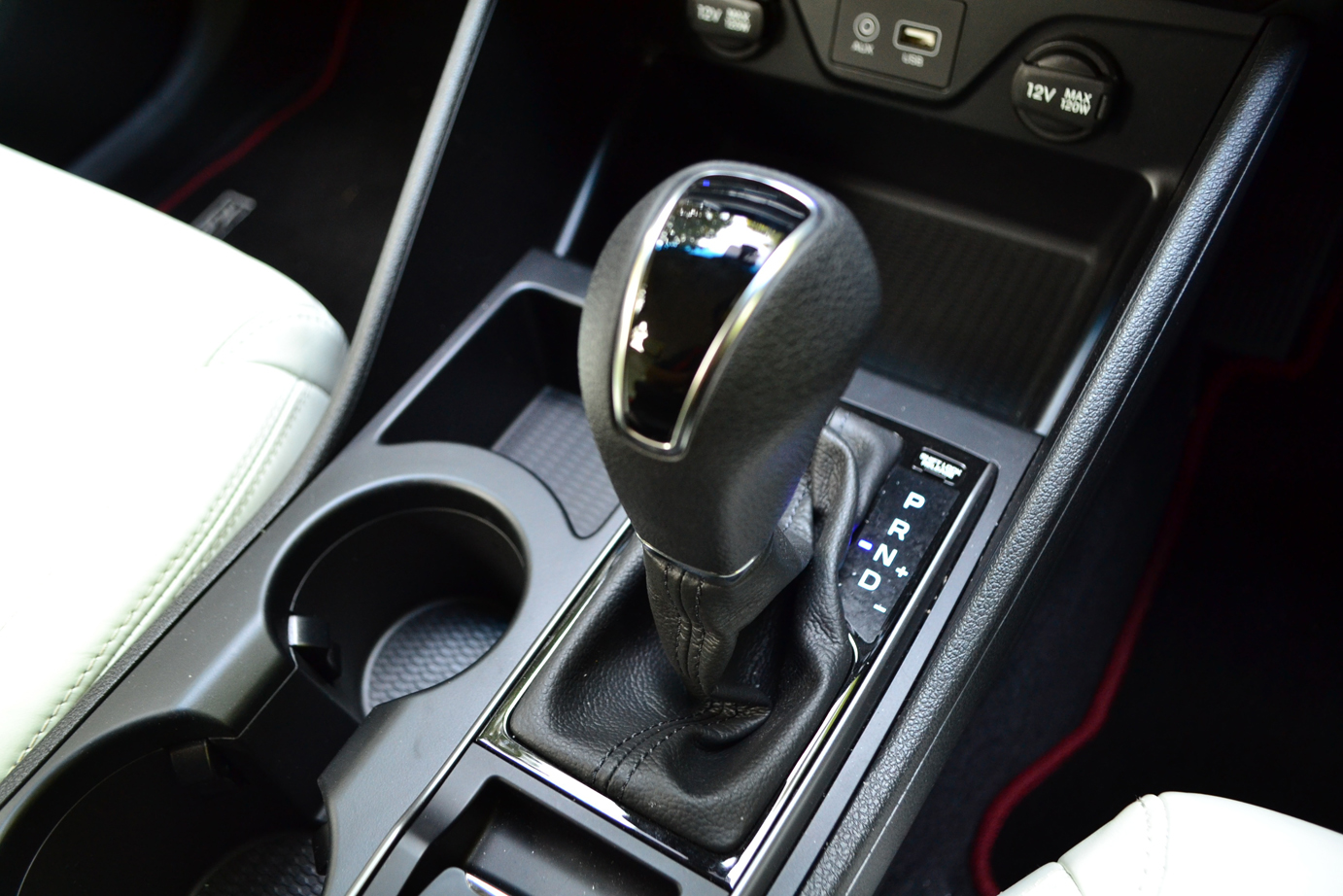 Paired to the engine is a 6-speed automatic transmission that is as smooth as regular torque converters get. There isn't much to complain but neither is there anything remarkable about this combination. Noise insulation is good for its class, the suspension is alright and the cabin keeps all but the worse vibrations away.
The Tucson features McPherson struts for front suspension while the rear has multi-link which not only improves handling but contributes to ride comfort as well. Throw it around the bend, the Tucson would behave just as well as its competitors. The steering is light and a joy to use in the city but can feel lifeless at times.
Cabin Convenience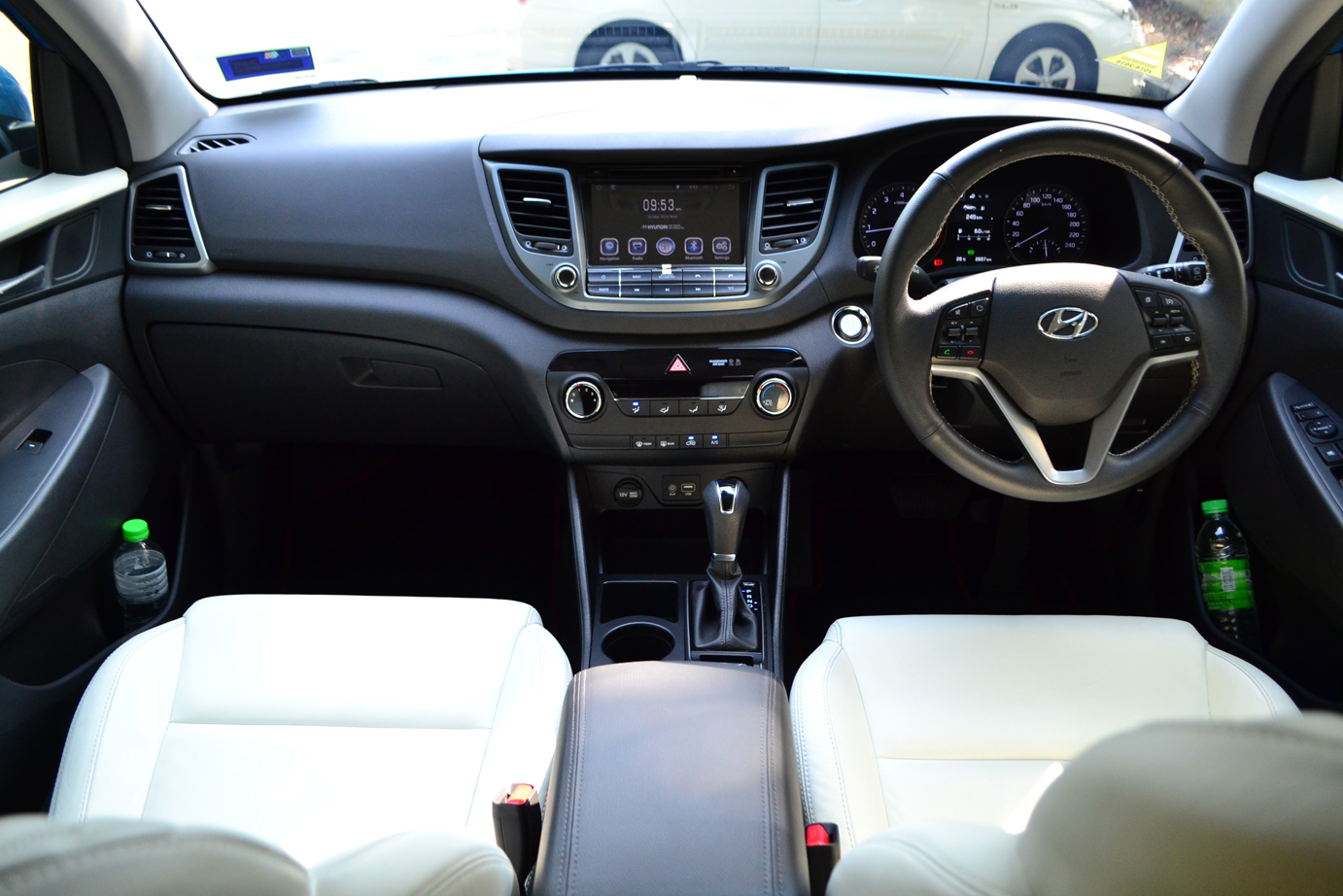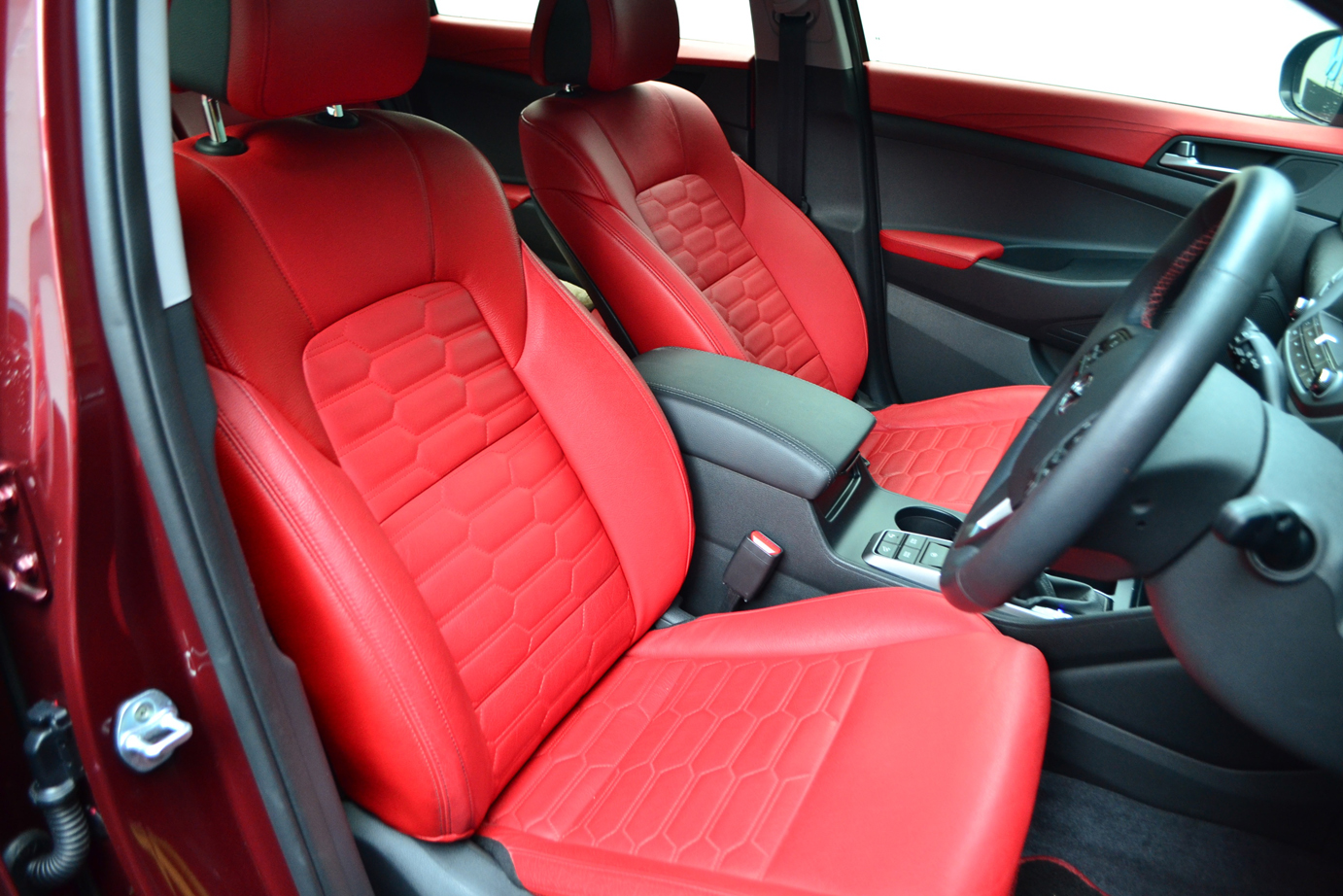 The main attraction of the new Tucson is its interior – it feels like it's meant for royalty here. The car comes standard with black leather seats but you may choose, as a cost option to install red leather seats or white nappa leather. The leather covers part of the inner door panels as well and selecting colored seats has a profound effect on the cabin ambiance.
The new Tucson's fluidic sculpture theme is more apparent on the dashboard where the instrumentation 'flows' from left to right. Every control is within easy reach of the driver and ergonomic without fault.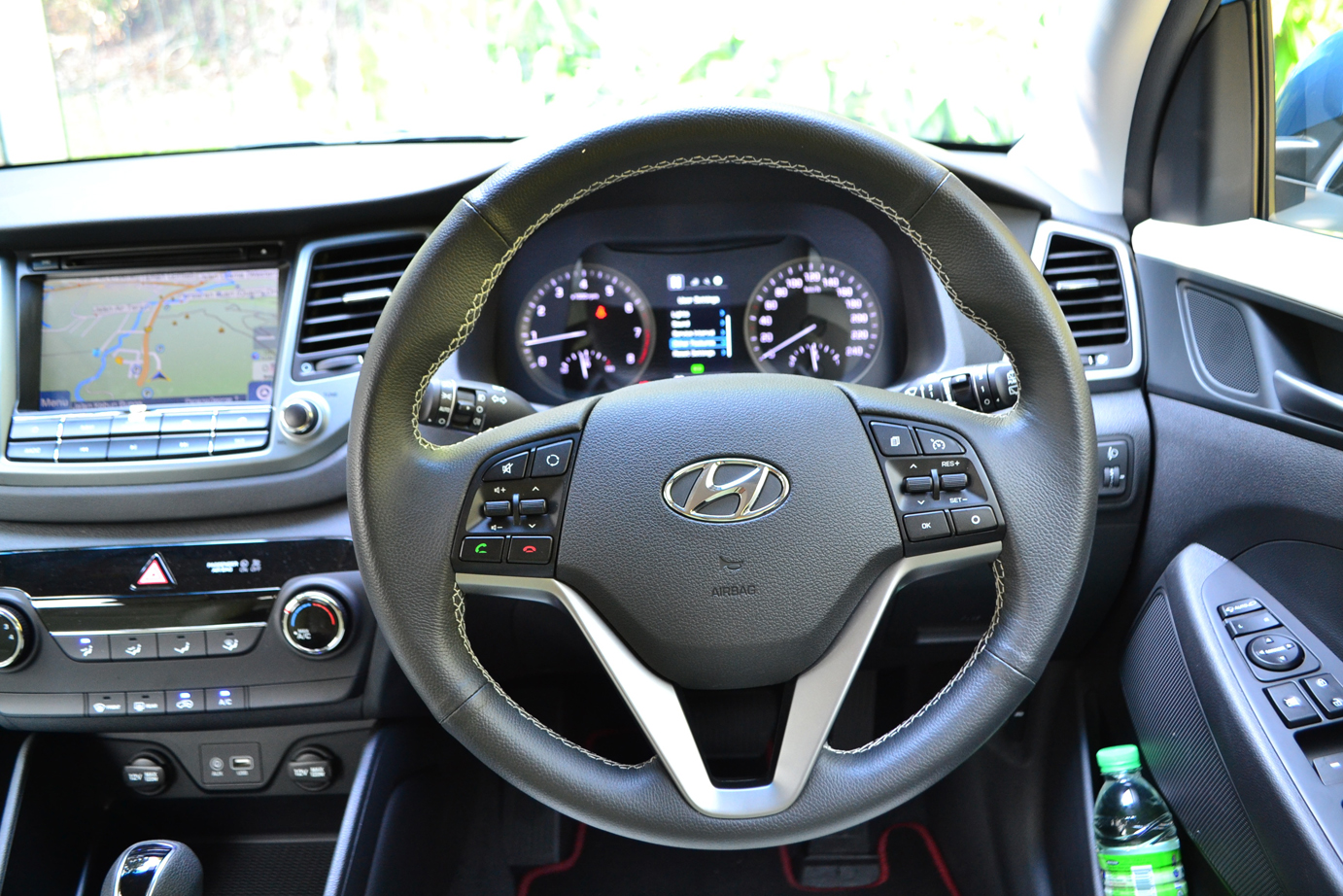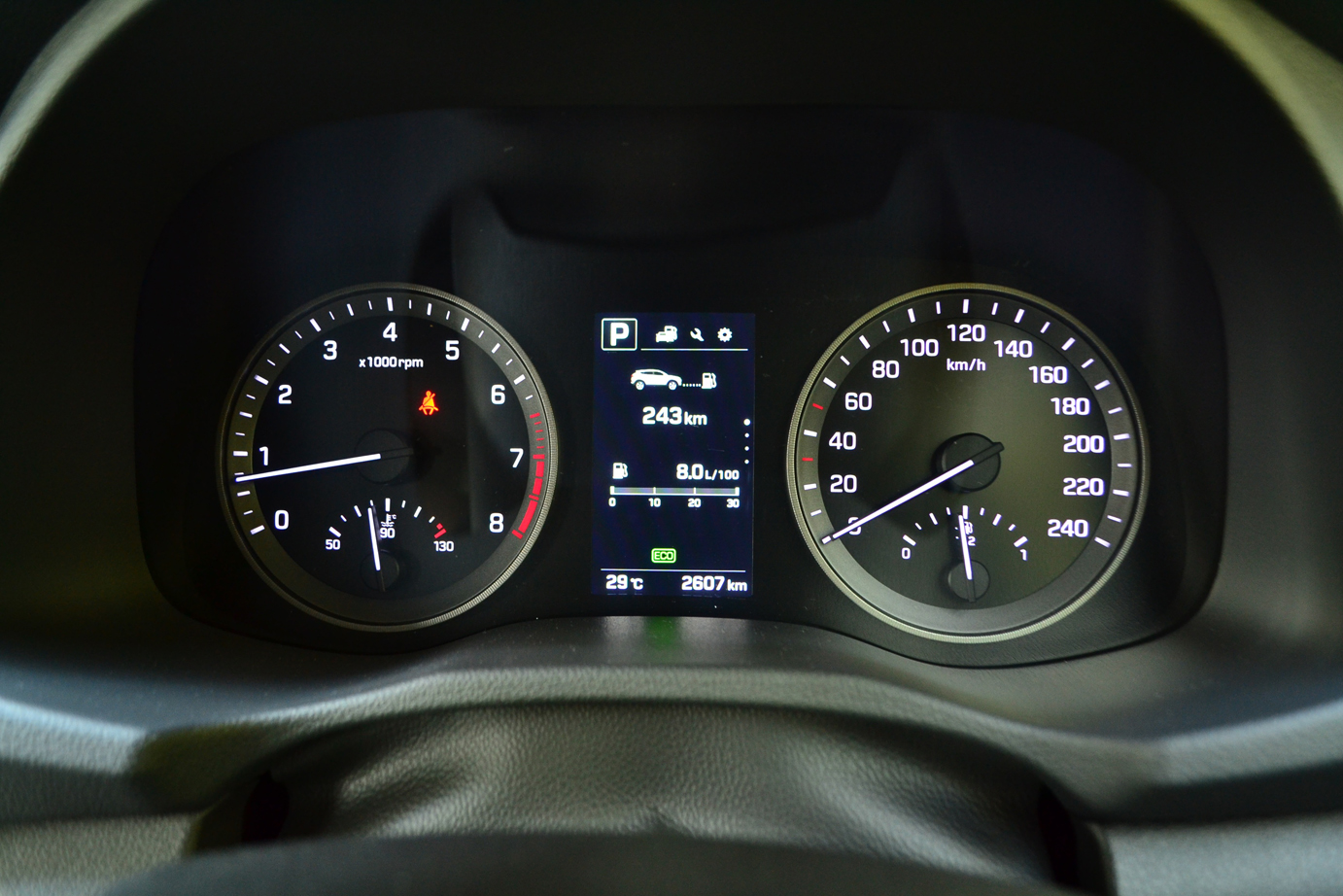 The leather wrapped motor driver power steering is manual tilt and reach adjustable and offers good grip for the driver. On the left are audio as well as telephony controls while on the right are the buttons for the Multi Function Display and Cruise Control.
The Supervision Cluster with 4.2″ Color TFT LCD display readout is clear and easy to read even under direct sunlight.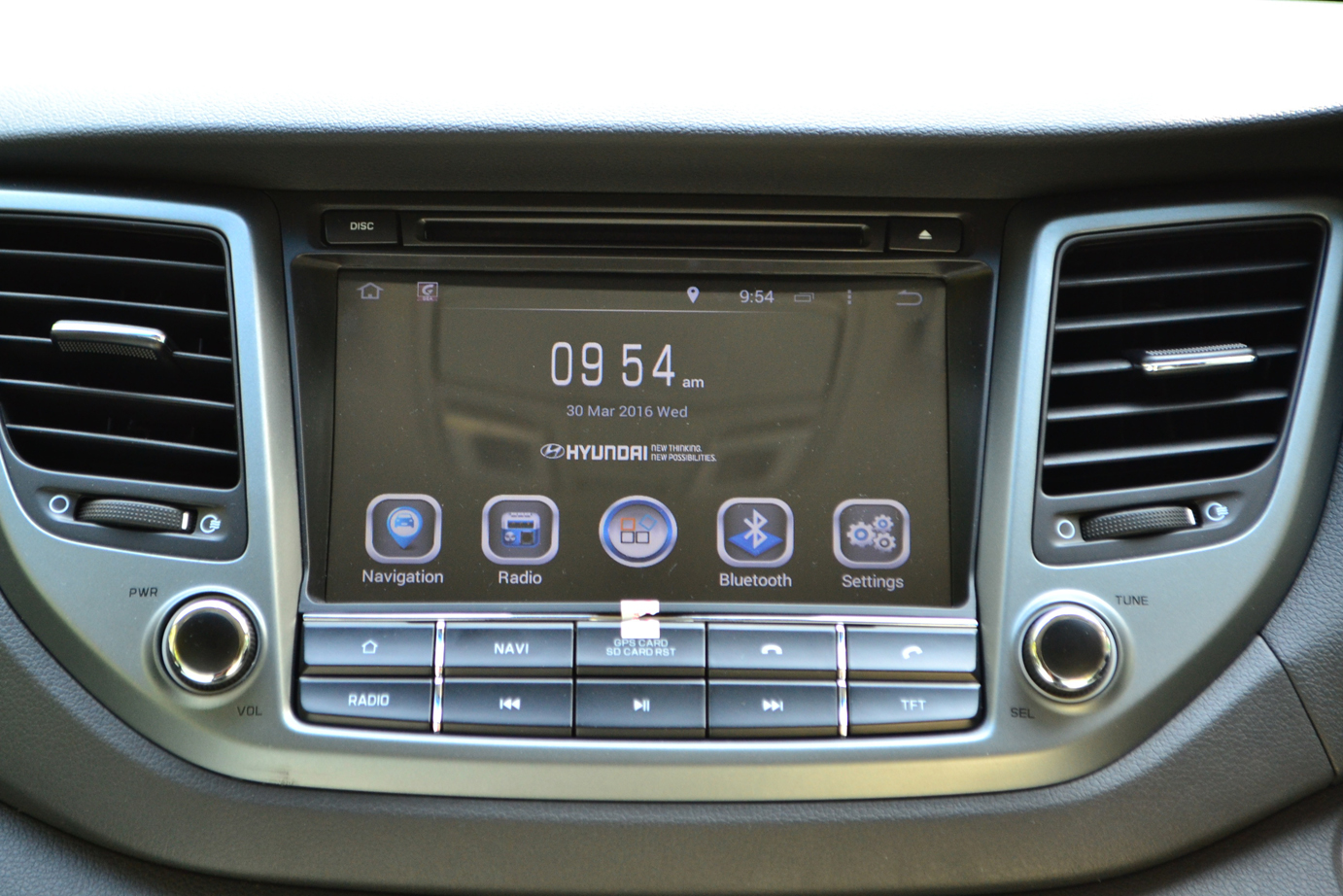 The Executive variant as tested here comes with an Android powered (KitKat in case you wanted to know which version) Audio Visual Navigator (AVN) which allows you to install apps found on Google Playstore. The problem with this unit is that it's not smooth and may require multiple finger stabs to get the unit to do what you want. The good thing is Waze can be displayed on the huge screen. The bad thing is it needs to be connected to your phone (or MiFi) in order to function. The boot up time for the unit is slow, requiring more than 10 seconds before you can start using it but thankfully, the reverse camera display is activated the moment you put the gear on R.
Sound reproduction is fair and is played through a 6-speaker system set-up.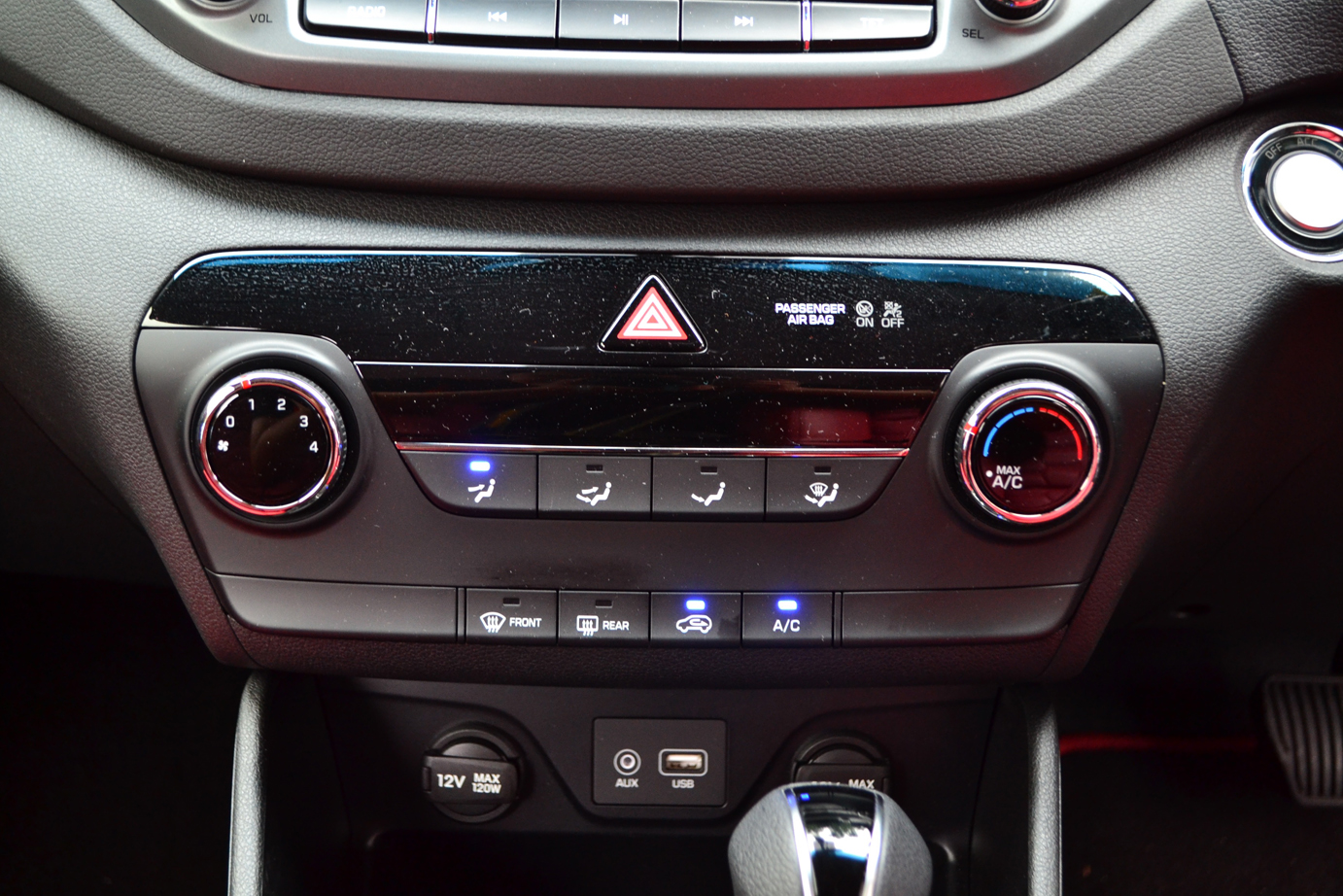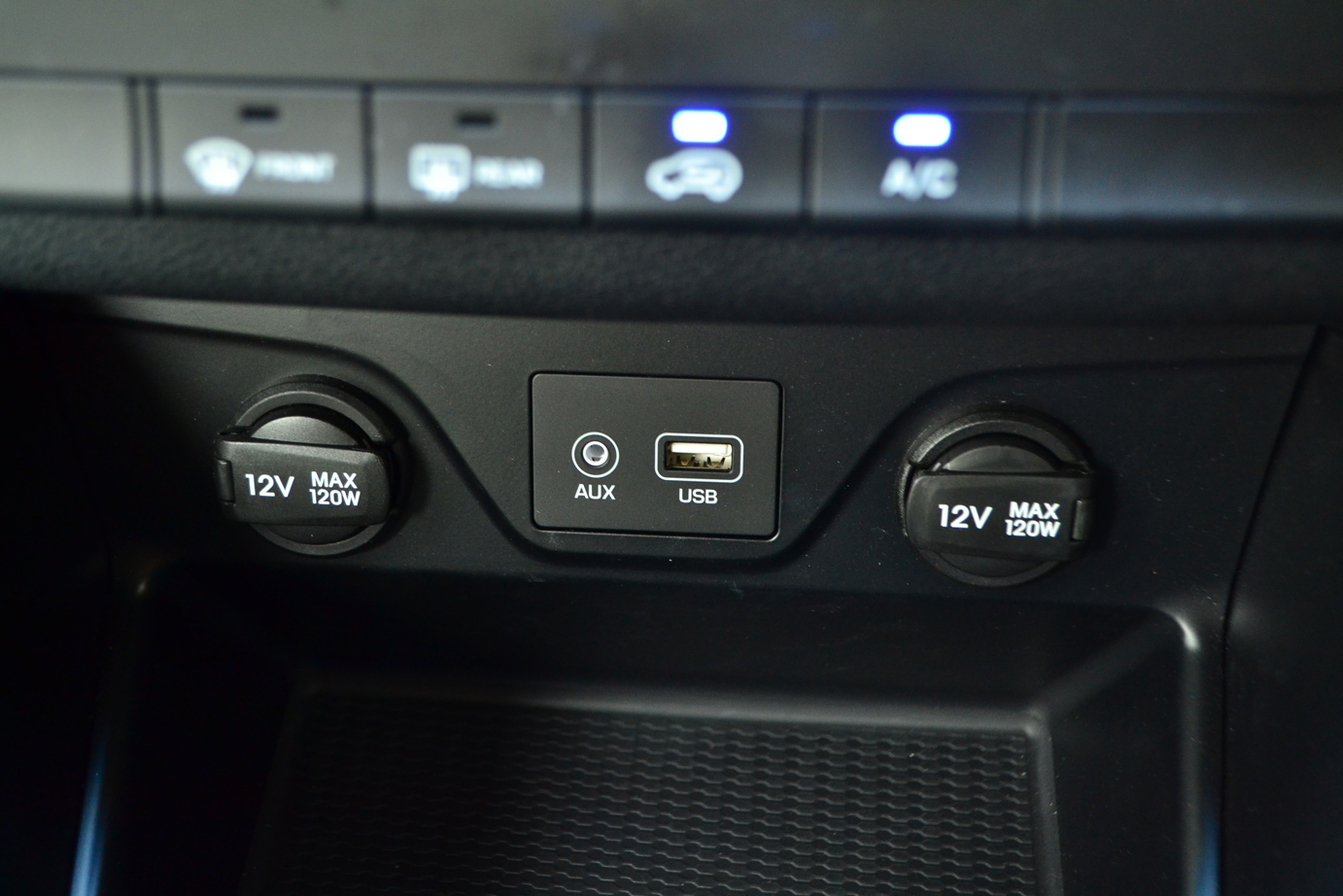 It has manual air conditioning controls and the throughput is decent. Below the aircon controls are two 12V ports (no cigarette lighters), AUX and a USB port.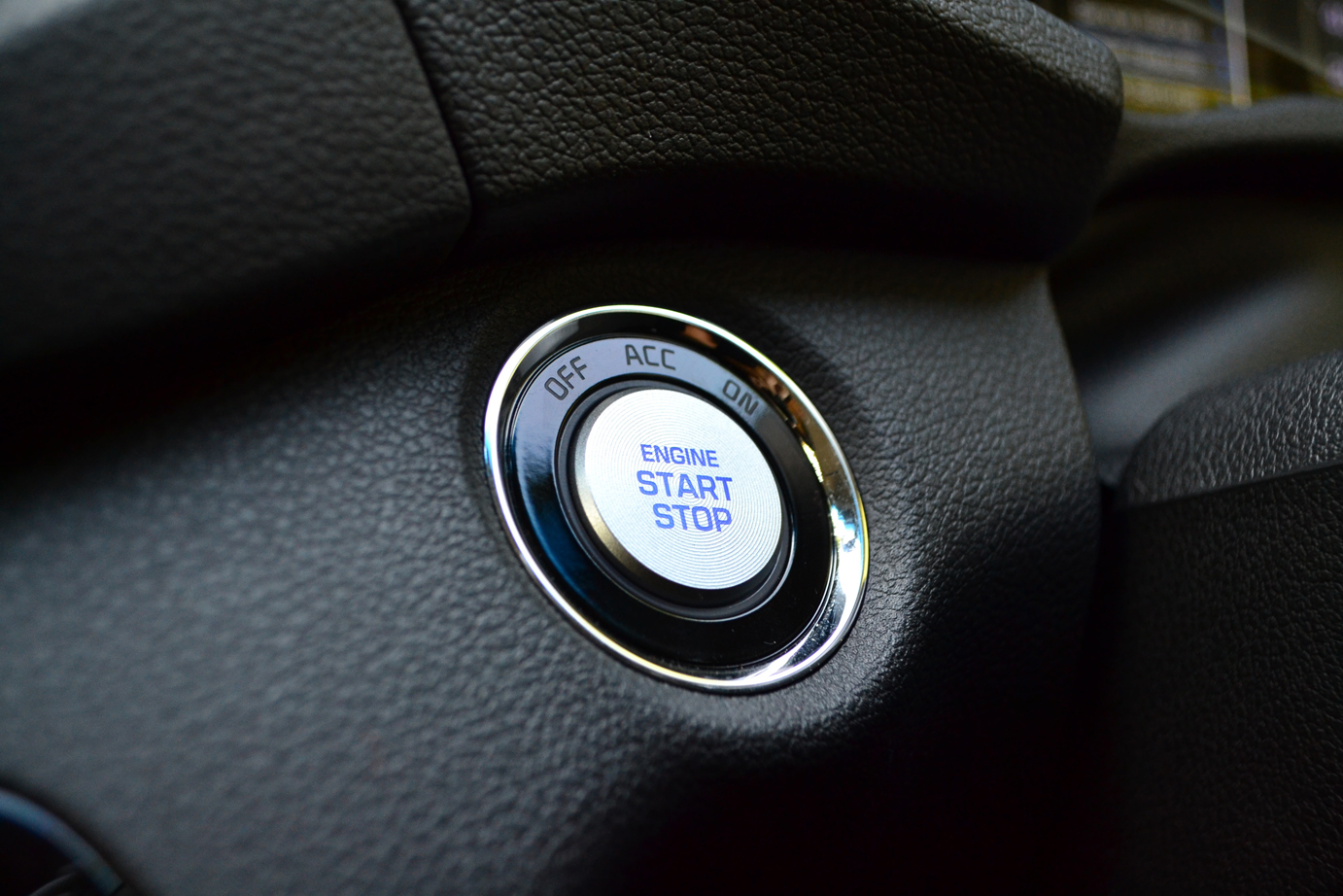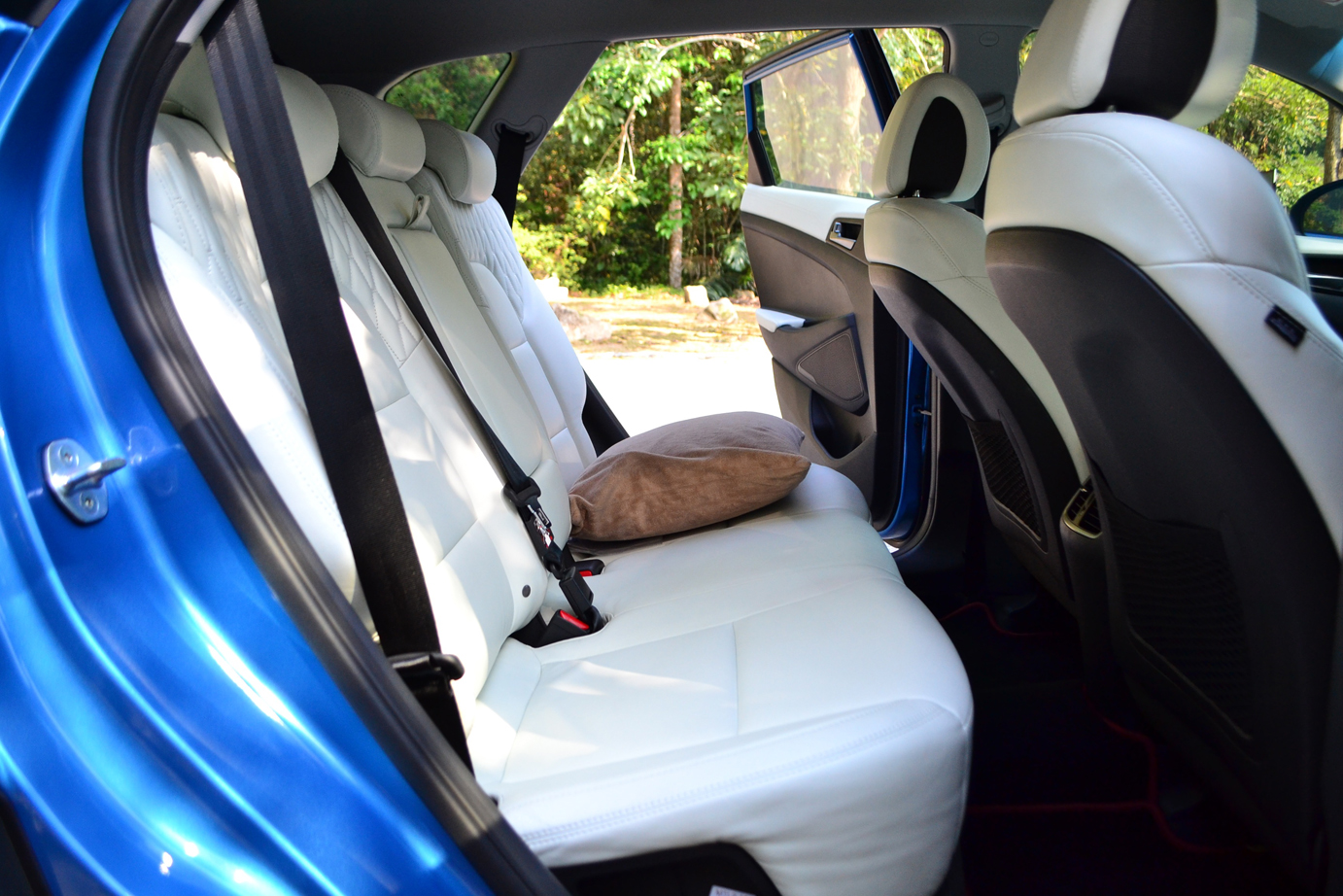 Some has commented that having white leather may not be wise since it gets dirty easily. I argue that a white color vehicle would be worse since it's exposed to the elements. I adore the nappa white found in this model because not only does it make the cabin look bigger, it increase the sense of class when it's contrasted with a black interior. Having white also allows me to see where the dirt is and clean it up. On the rear seats, you'll find some patterns on the backrest and it is a comfortable place to be in, with rear air conditioning vents. The backrest can also be reclined slightly.
If you want to impress passengers with the insides of a car that doesn't come with a premium luxury price tag, this would be it.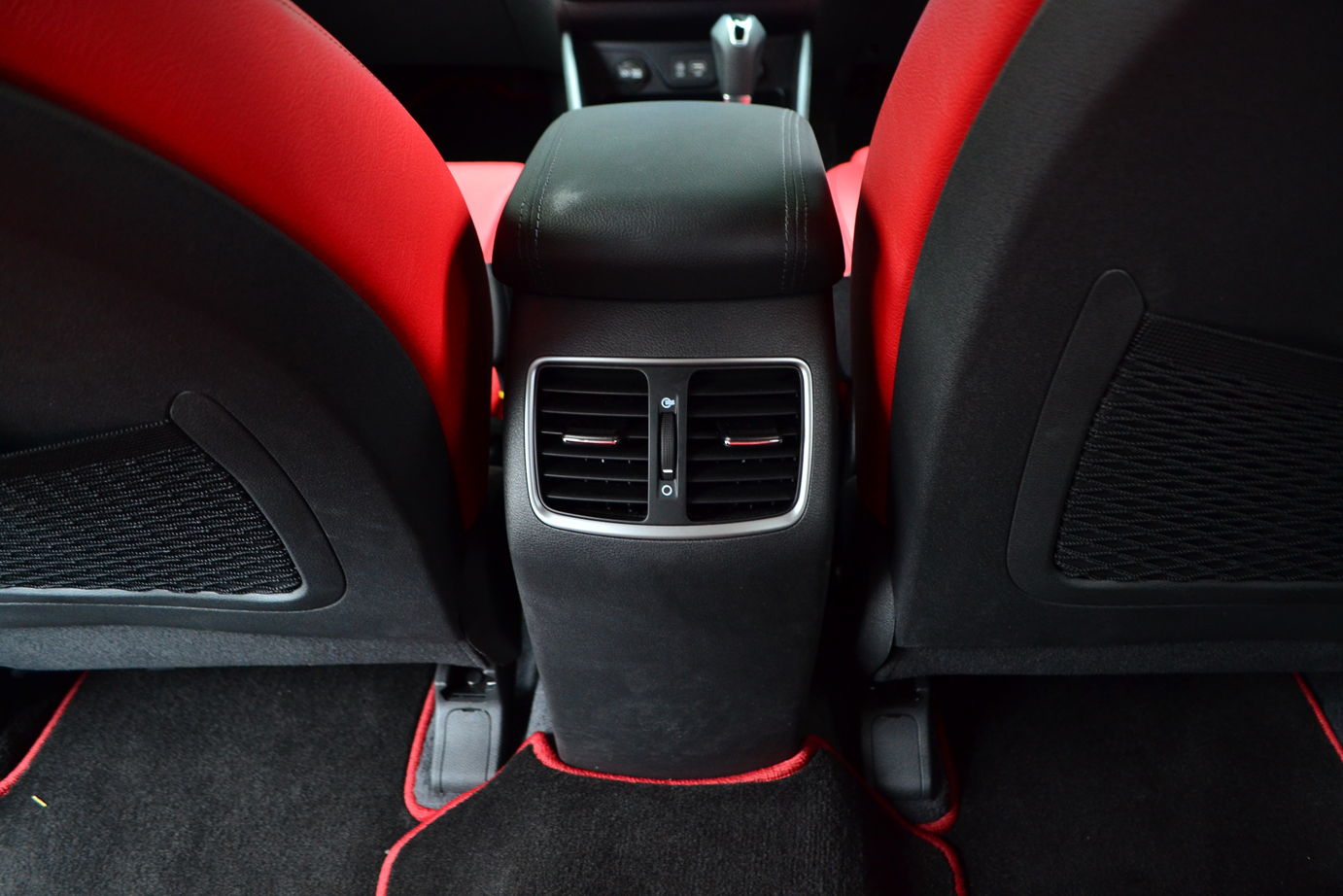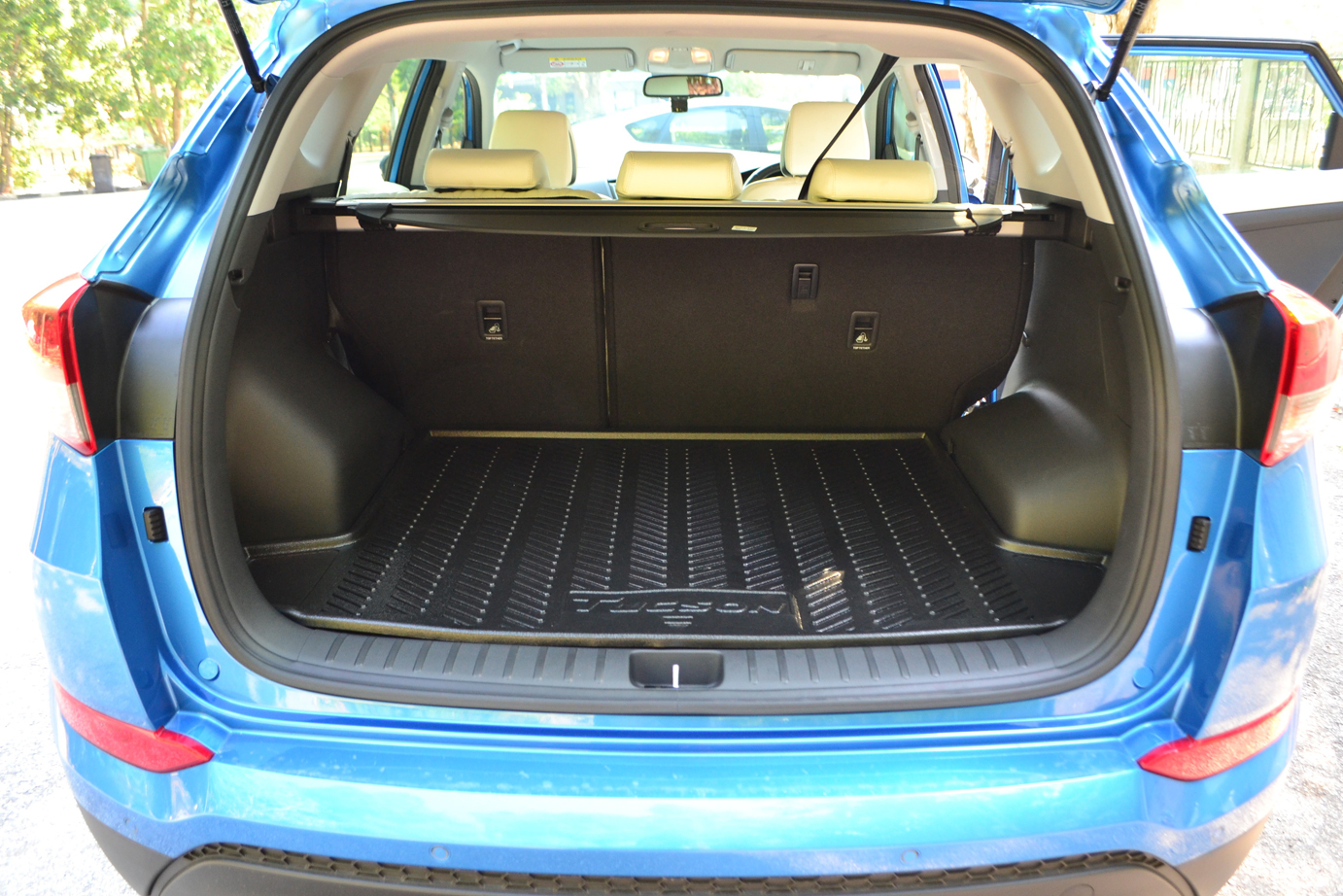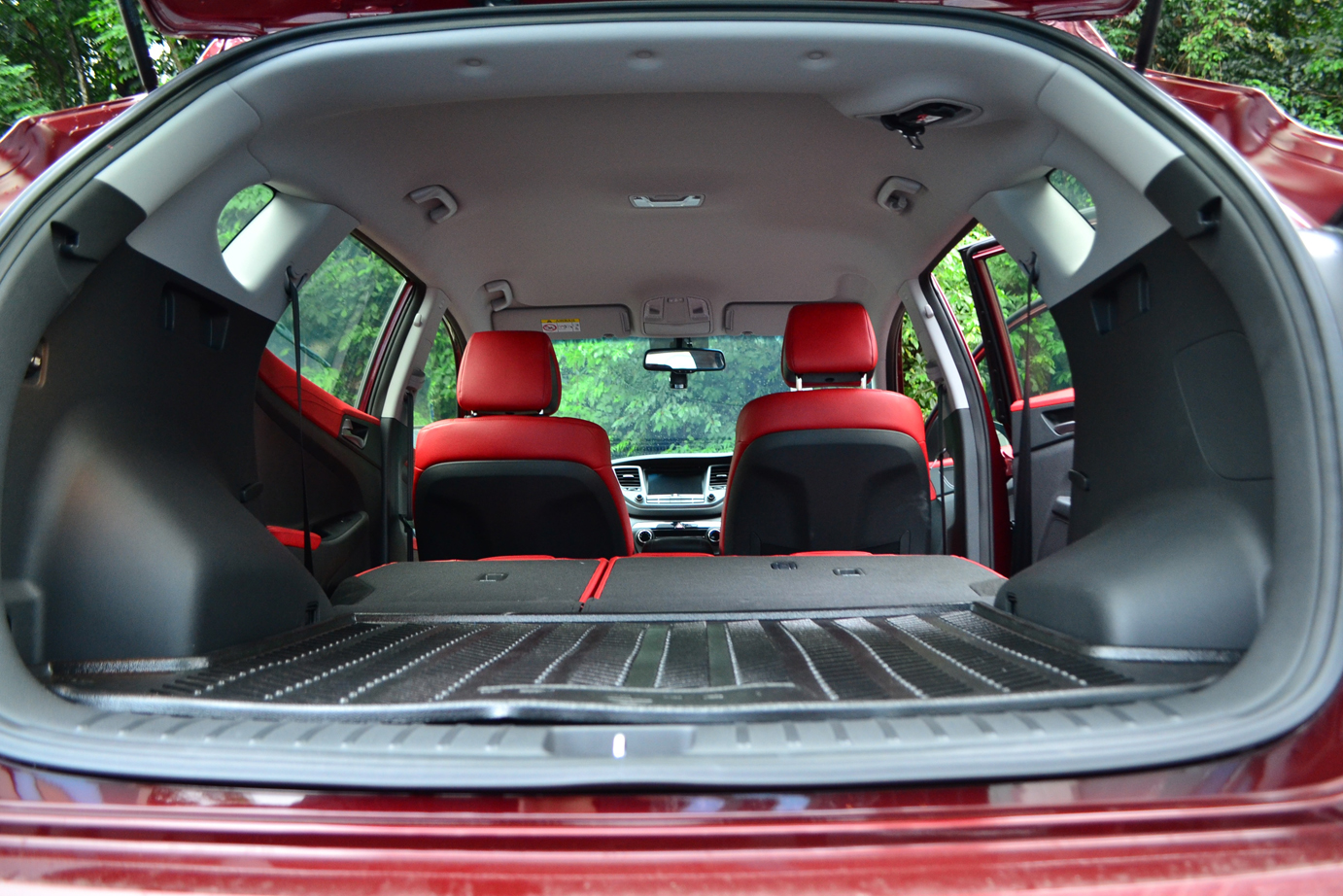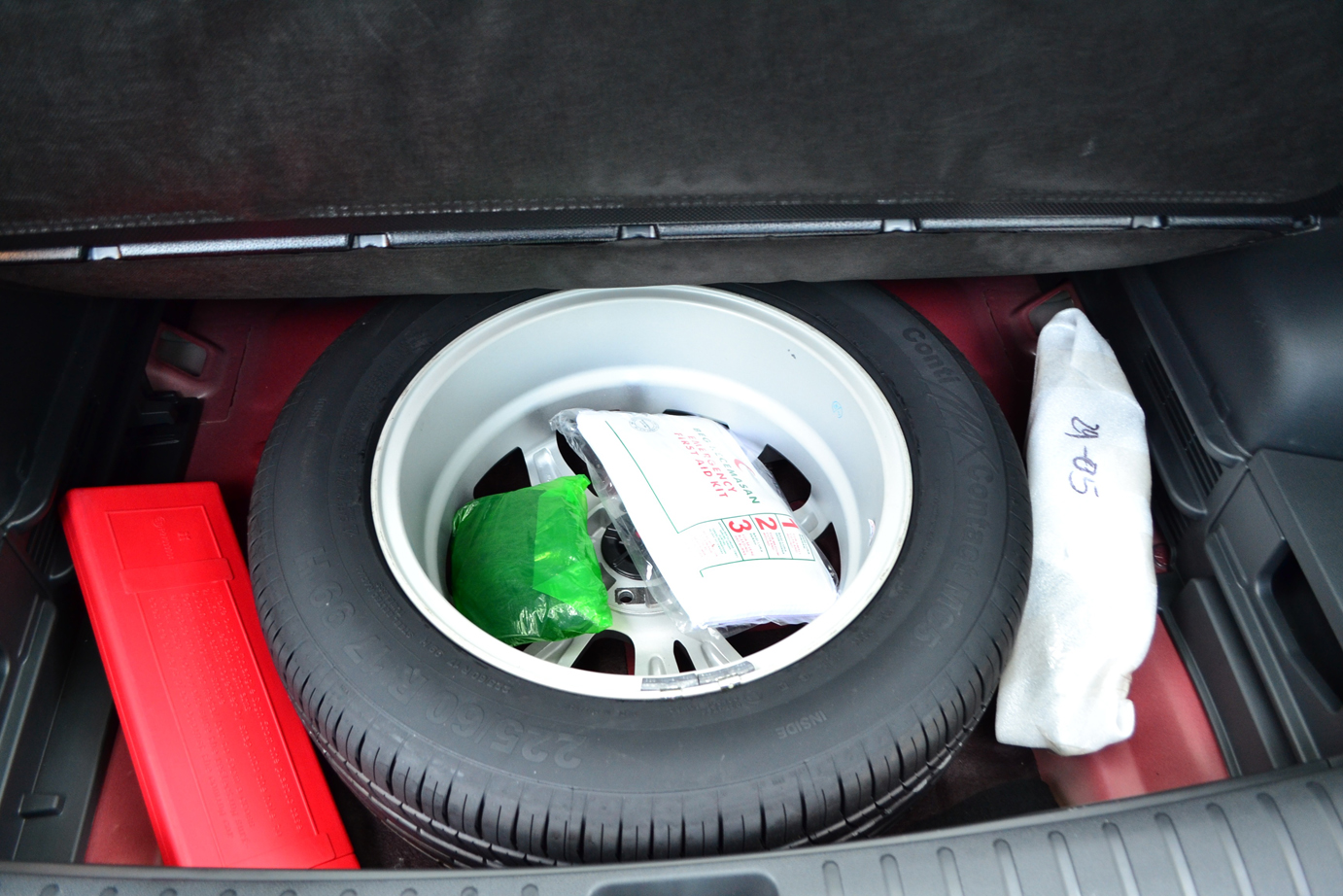 Cargo space in the Tucson is great; you can fit an adult bicycle inside with the rear seats folded and with the seats up, a tonneau cover prevents prying eyes from seeing its content.
Safety
The Executive-spec Tucson does not disappoint when it comes to safety features;-
Front airbags
Side airbags
Curtain airbags (total 6 airbags)
ABS
ESC
Hillstart Assist Control (HAC)
Downhill Brake Control (DBC)
Brake Assist System
Vehicle Stability Management
Safe Drive Recorder
The more affordable Elegance variant omits the safe drive recorder as well as the side and curtain airbags, reducing the total airbag count to two,
Specification
The Executive variant, as tested here comes with the following specifications;-
Exterior
Chrome coated radiator grille
Chrome coated door handles with pocket lighting
Projector halogen headlamps
LED light guide
Front & rear fog lamps
LED Daytime Running Lights
LED High Mounted Stop Lamp
Electric, folding side mirror with turn signal
Puddle lamp
Optional front, side and rear skid plates
Interior
Leather seats
Powered 8-way + 2-way lumbar support driver seat
60:40 rear folding seats
Supervision cluster with 4.2″ TFT LCD
Electronic Parking Brake (EPB)
Electronic Chromic Mirror (ECM) with compass
Rear console air vent
Driver's side auto up & down + safety window
Audio Visual Navigation (AVN)
Steering wheel audio control
AUX + USB + Bluetooth connectivity
Smart key with start stop button
Keyless entry
Auto cruise control
Manual air conditioning
Auto light control
Head lamp leveling
Head lamp escort
Front & rear Parking Assist System
Rear view camera
Ownership and Maintenance
The Executive variant retails for the price of RM142,632.60 inclusive of GST and excise duty and comes in 7 different shades; pure white, sepia topaz, pepper grey, platinum silver, ruby wine (seen here with the red leather), ara blue (seen here with the white leather) and phantom black. Like all Hyundai sold here, the Tucson comes with 5-years warranty or 300,000km mileage whichever comes first.
Is it worth buying?
The Tucson is a car that does everything relatively well. It's ok at accelerating. It's ok at cornering. It's ok at cruising. All in all, it's ok to the point where it's – unremarkable. It's a vehicle that you expect to perform reliably everyday, whether driving to work or sending the kids to school. Being an SUV, I love the good visibility it affords and is more likely to survive in flash flood conditions. While it can be argued that any SUV gives you that, the Tucson arguably has better aesthetics, both inside and out.
And looking good is what Koreans excel at. Only this time, it's got dependability to back it up. That, to me is more than what can be said compared to some other continental makes.