Paradigm shift is defined as major changes in how some processes (including thought processes) are accomplished. My paradigm was shifted by something called rotan when I was young. There is no better instrument in – 'motivating' someone to conform to a certain thought process (ie Shut up and eat your vegetables).
Today, the 4-feet-one-inch-thick rattan stick is replaced with something more sophisticated – Economics.
Plagued with education loans and low salary scales that aren't growing as fast as the high-income nation preached by the government, many fresh graduates seek an inexpensive vehicle to buy and run. It's amazing how economics can shape the preference of a vehicle type. The general consensus back in 2004 was that Asians prefer sedans over any other vehicle form. This was also the year that the Perodua MyVi was first introduced and – well, we all know what happens next.
Over time, the new generation get used to driving around with a smaller-than-sedan boot and learn to appreciate the easier to drive and park benefit of a hatch. My first car was a Suzuki Swift, the second was a Peugeot 308, the third a VW Golf – see a pattern here? Aside from the fact they're a lot easier to find a spot at crowded parking lots, they offer an exhilarating driving experience.
Which is why when I was given the opportunity to test the Ford Focus Sport+, I jumped at it. Not that I'm particularly enthusiastic about the test drive because I've enjoyed previous sedan drive sessions (can't seem to get the seat support right for my frame). I am curious because I've heard so many praises being heaped on it and somehow I don't get it. Either I was completely drunk or I'm testing the wrong variant.
This is my chance to find out;-
Design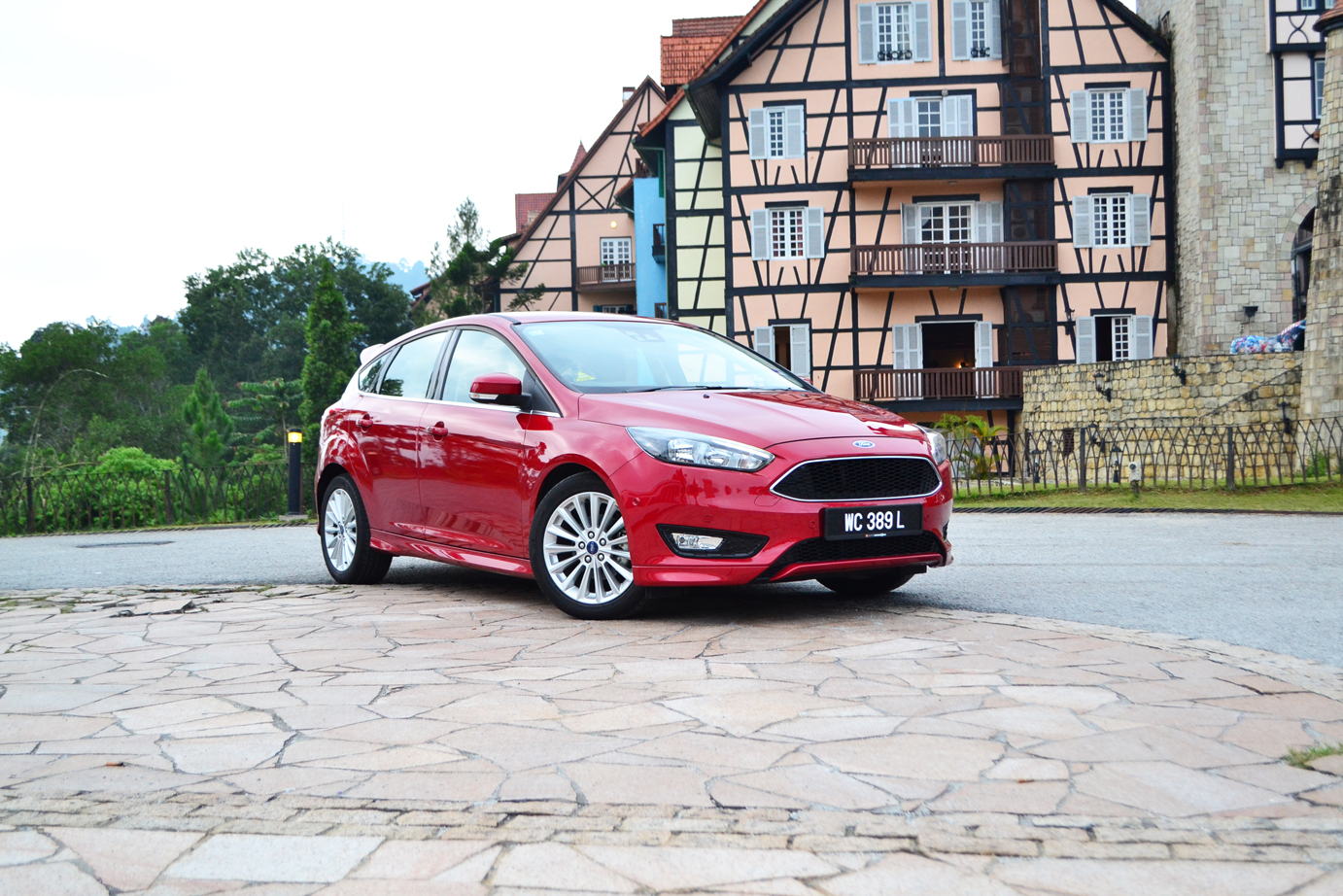 Being a facelift of the third generation Focus, much of the design cues from its predecessor remains the same. Kinetic design that purportedly conveys a sensor of movement even when staying still, the new Focus's front features slimmer, more angular headlamps with a trapezoidal design that's more apparent on the grille instead of the lower bumper in the pre-FL version.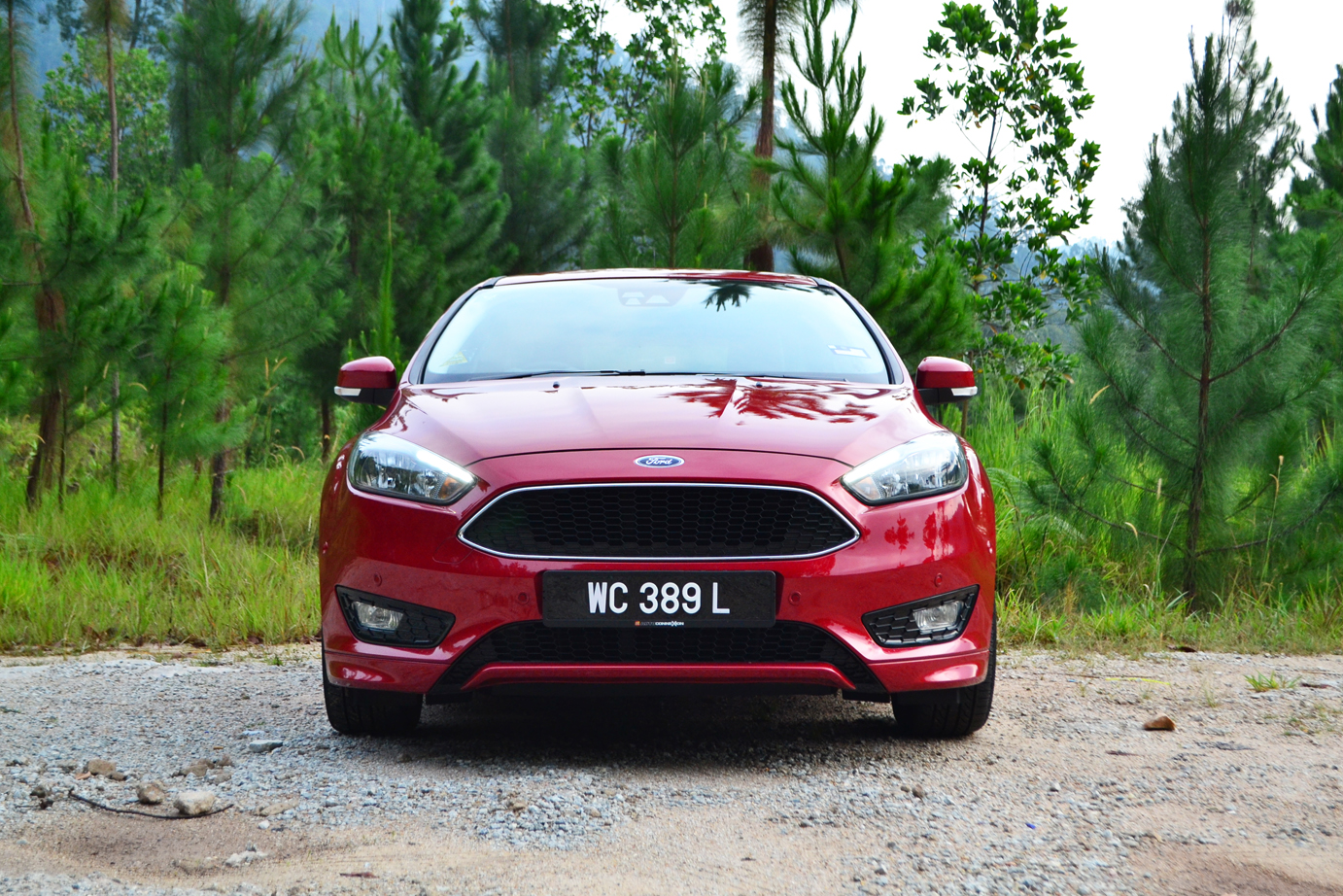 The front is now noticeably more – 'polite', dropping the more aggressive mien in the pre-FL. Easy-on-the-eyes as some may put it with the seamless flow of the grille, flanked nicely with the trapezoidal headlamps, underlined with squarish front fog lamp housing. It looks good, even if its road presence is a little diminished due to its more refined outlook.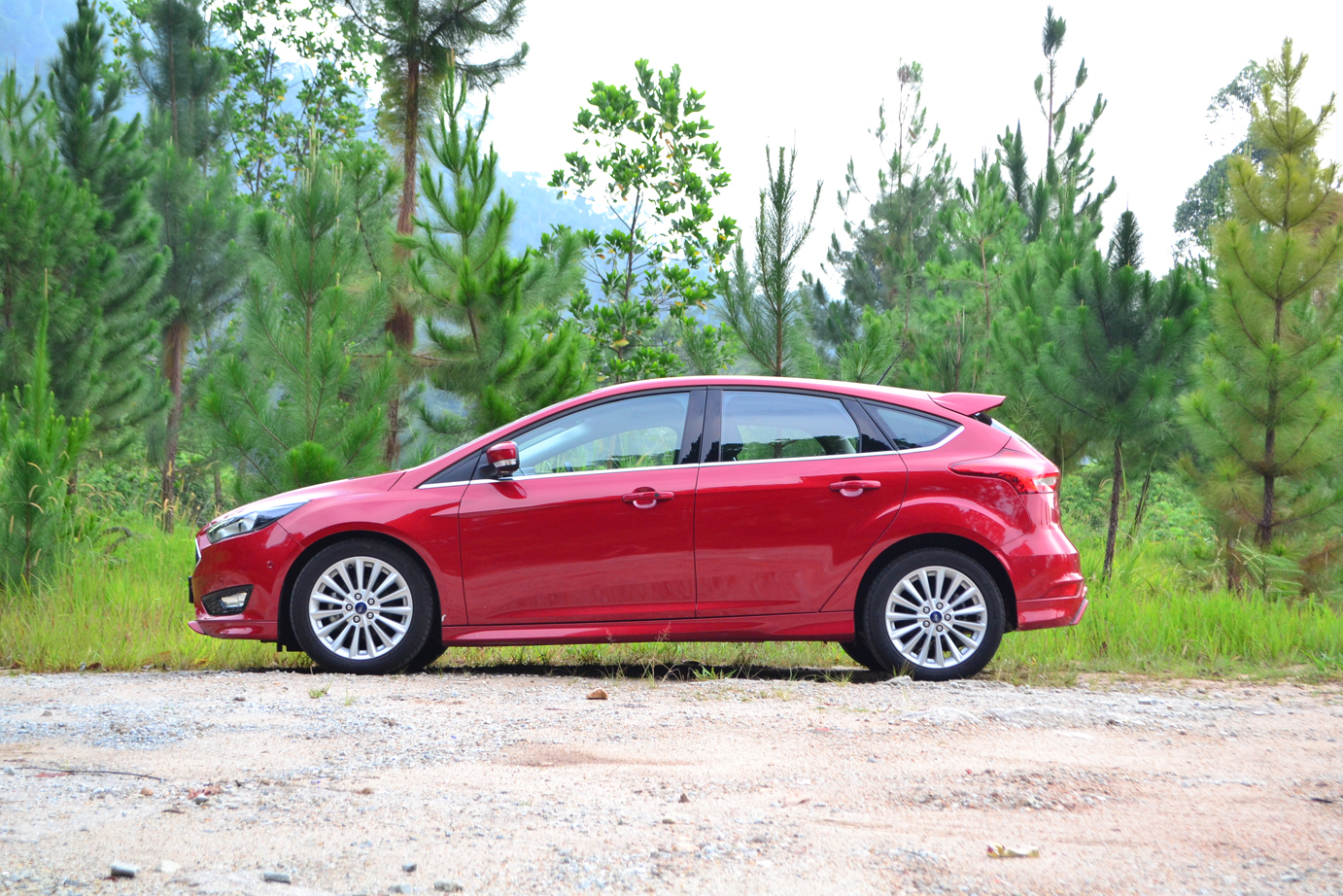 The Sport+ measures 4,360mm in length (4,534mm for sedan), 1,823mm in width (2,044mm in you include side mirrors) and 1,469mm in height with a wheelbase of 2,650mm. For wheels, you get 17″ alloy wrapped in 215/50 rubber.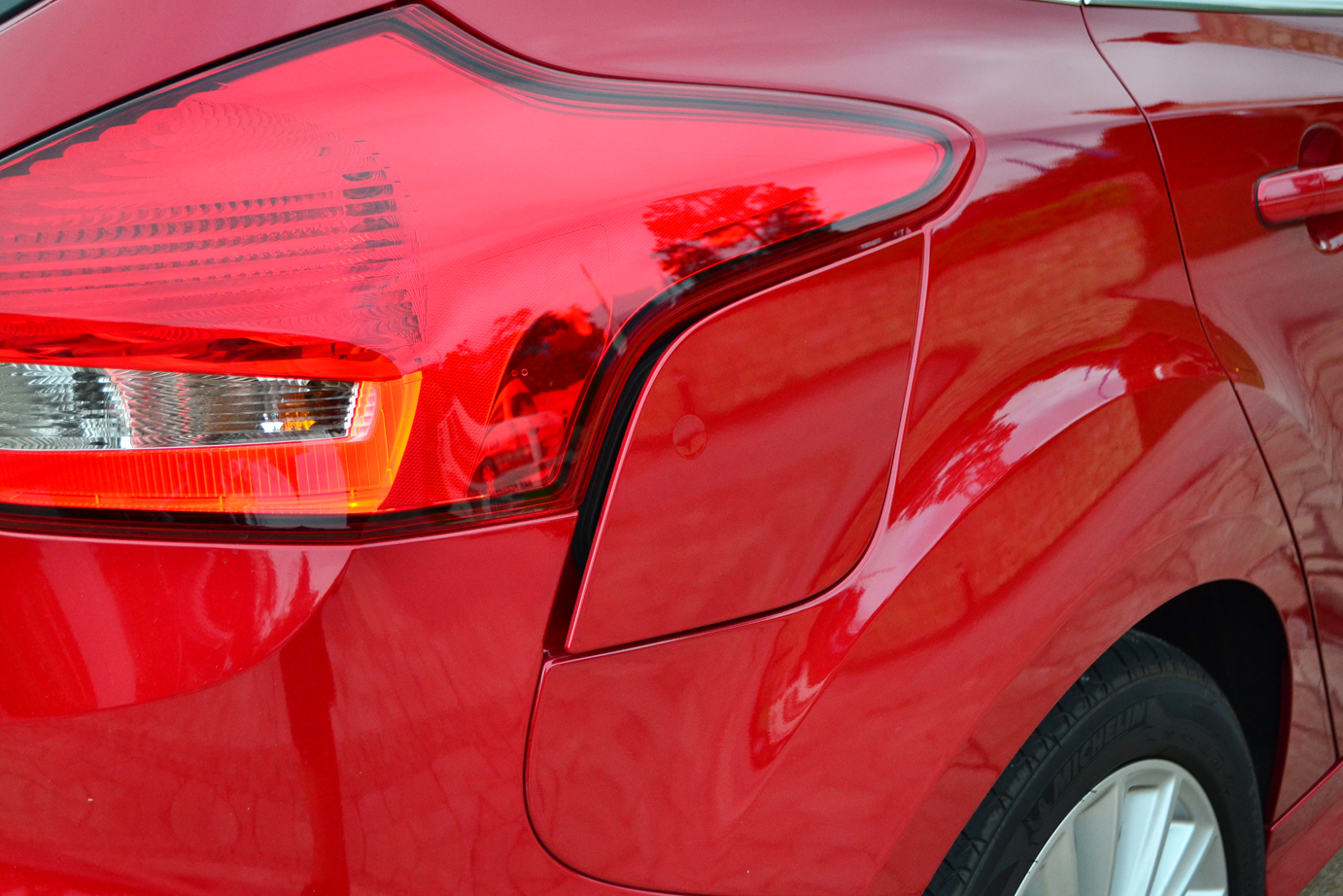 One of the most unique design cues of the Focus is how Ford integreted the fuel lid as part of the design of the car.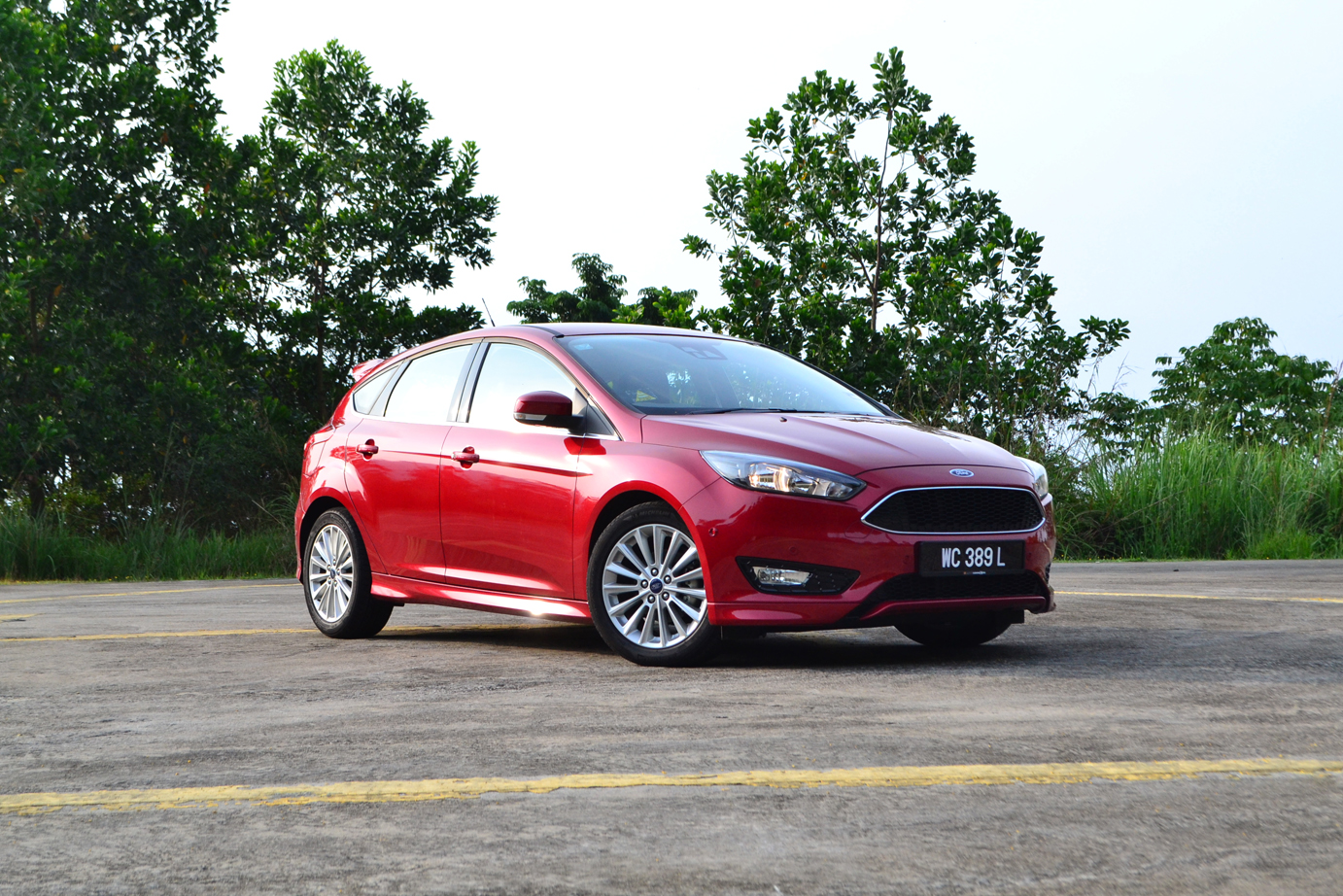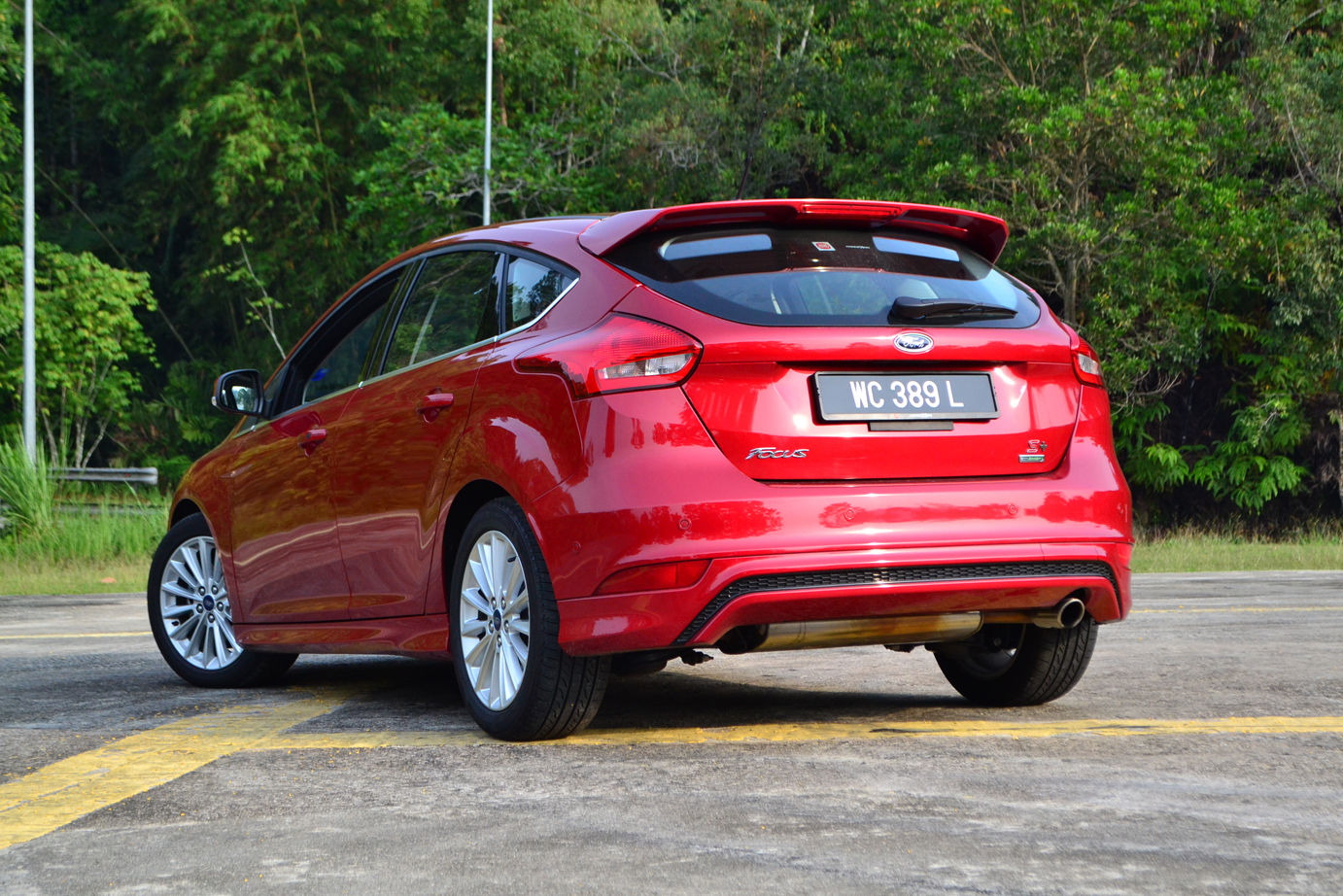 While the front may look genteel, the rear portrays a more athletic stance. The pulled arrow rear tail lamp shape is present, though made slimmer while the rear spoiler and what appears to be something akin to a rear skid plate makes the entire rear end look higher, poised as if to sprint. This is my favorite view of the car.
Performance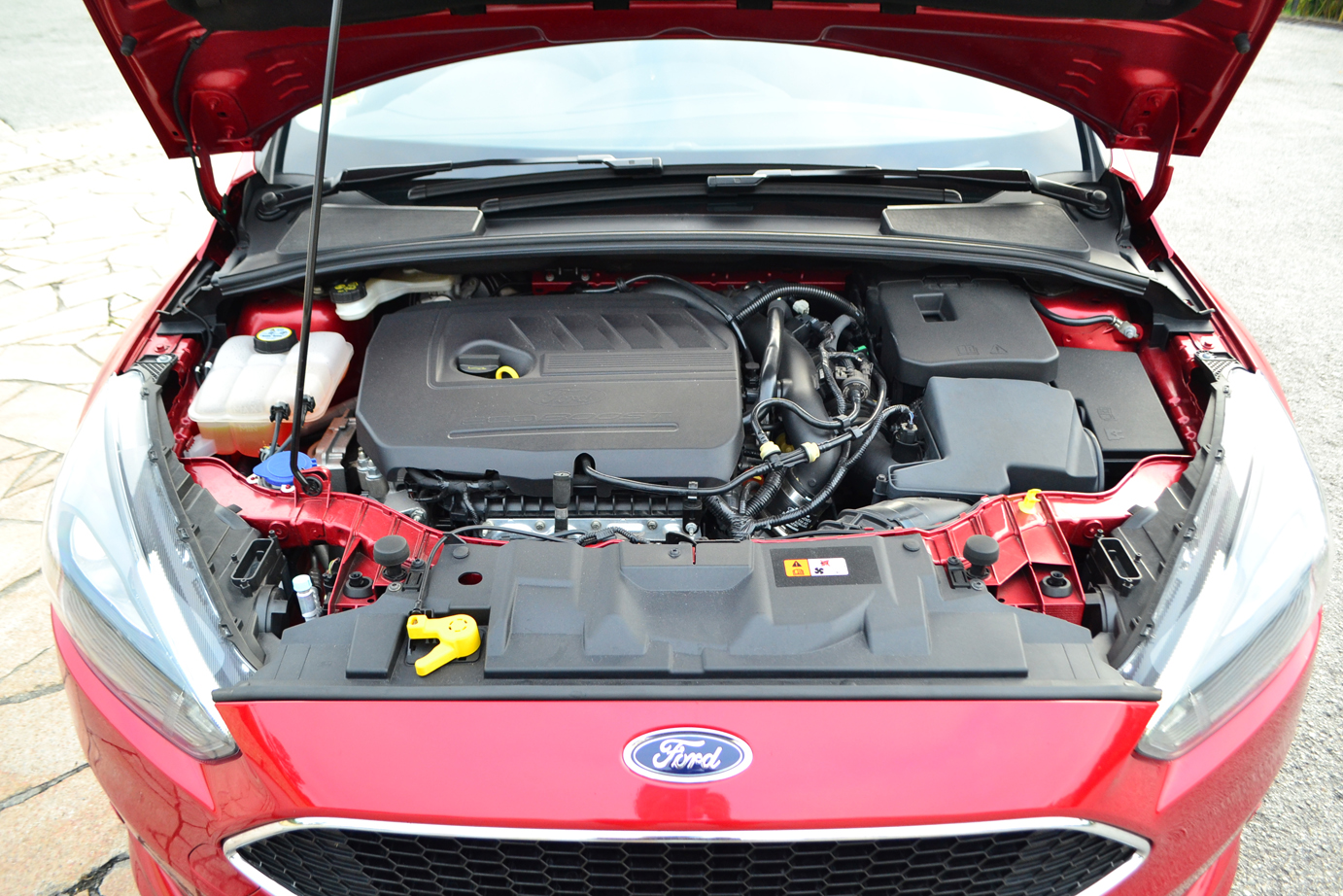 The 1.5-litre four-cylinder EcoBoost engine found in the Focus is the most powerful in its class, producing 180PS  (@ 6,000rpm) of power and 240Nm (@ 1,600-5,000rpm) of torque. A far cry from the 2.0 litre Twin Independent Variable Camshaft Timing (Ti-VCT) engine (170PS @ 6,500rpm and 202Nm torque @ 4,550rpm) it replaces. When gunning the pedal, you'll hear a low, guttural soundtrack that's not common for a non-sports oriented vehicle, the name Sport+ notwithstanding.
There are no official 0-1ookm/h data given by Ford Malaysia but it's fast, by our estimates below 9 seconds, probably closer to the 8 seconds mark. Acceleration is gradual and urgent but not brutal unlike some of its dual-clutch gearbox equipped competitors and this makes the Focus a lot easier to drive as you can easily modulate the amount of power you need. And if you ever find yourself on the traffic lines next to a Volkswagen Golf 1.4 TSI and a Peugeot 308 THP who're itching for a sprint, go ahead and let them enjoy your rear end. This engine does not disappoint!
.
.
Ride and Handling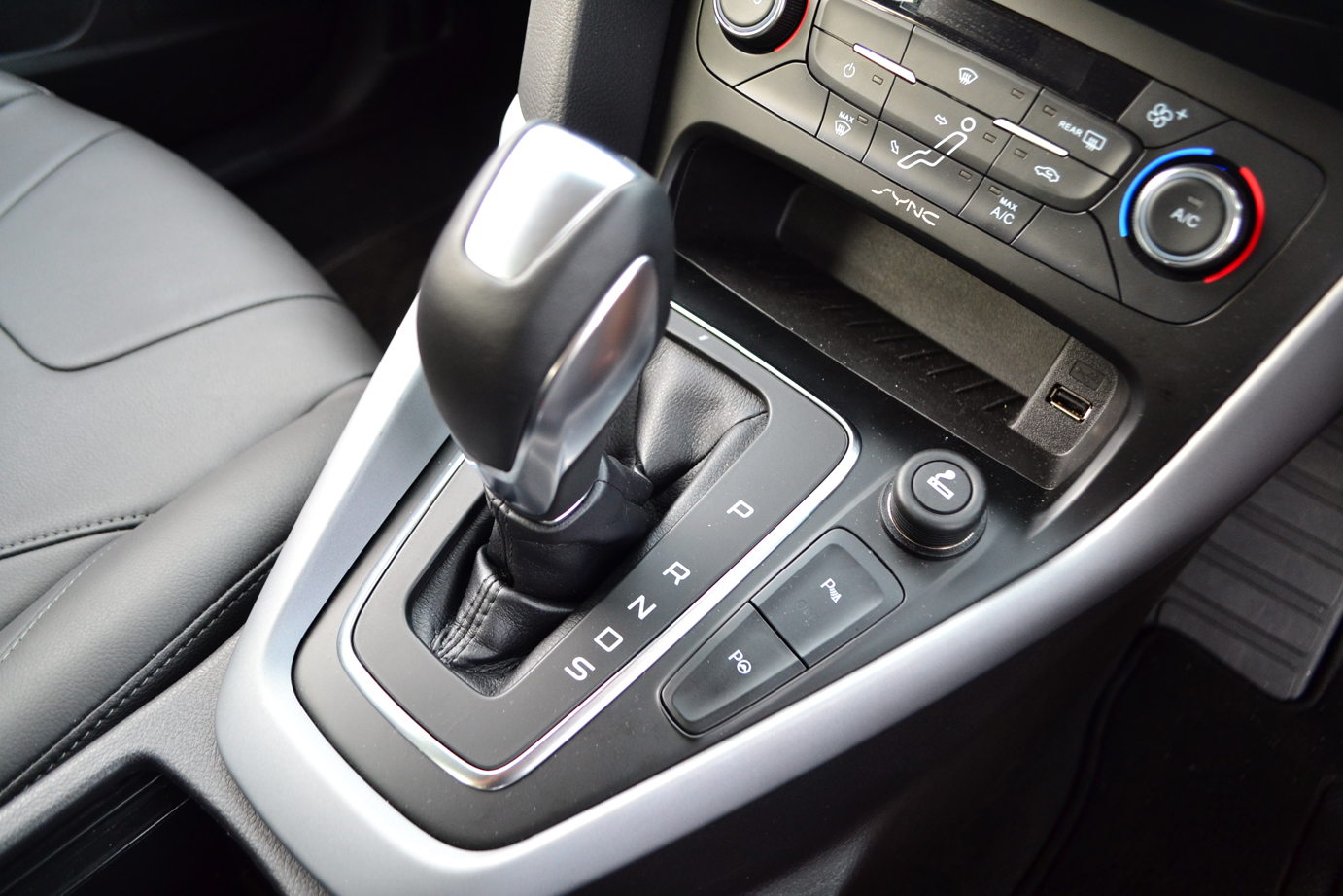 Wait, we haven't even moved to the main course. The Ford has always had a reputation for making the best handling vehicles in the market and some consider the Focus to be the epitome of that specialty. The new Focus certainly lives up to this reputation.
For my test, I took the car up and around the hilly roads of Bukit Tinggi to test how much does it take to throw it off balance. The back roads are usually bereft of traffic and most of the time, the road condition is bearable. Plenty of turns to throw at the Focus. And the Focus eats a lot of corners, more often than not, my sensibilities refuses to push it more.
It could also be that the size of my balls don't quite measure up to the car.
Ford has always made its Focus to have great balance and the new car has plenty to show for it. Every time when you brake and/or turn the steering wheel, the shift in the car's weight is easily managed and it takes a lot of hard driving to push it off balance. In most cases, you'd know when understeer is going kick in and recovery from such a situation is easy, even with the vehicle's stability program switched off. Ease off the accelerator, allow the speed to cut down gradually while alternating between turning and straightening the steering; you'll soon regain control and try again.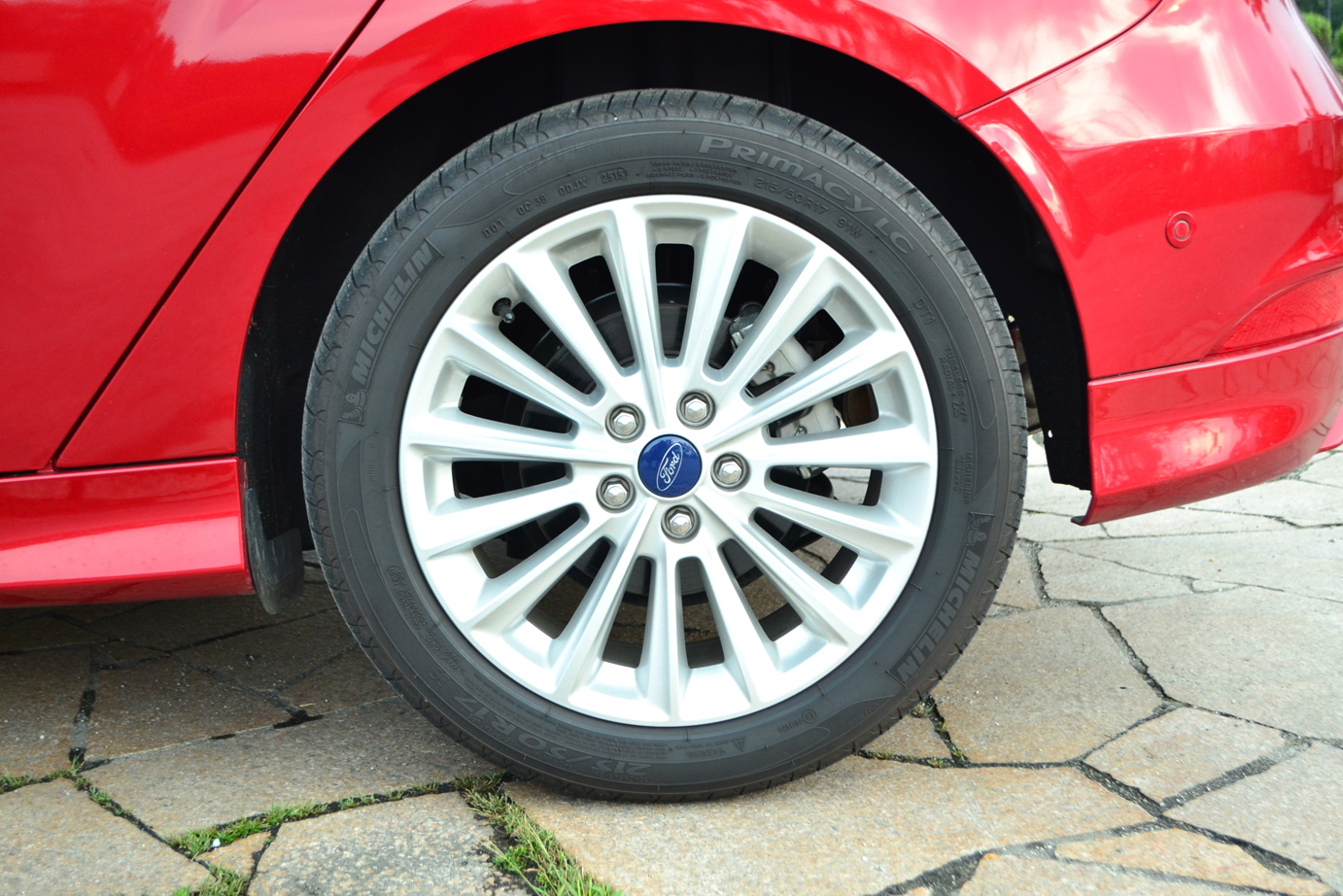 The 17″ wheels offer fantastic grip and the stock car comes 'only' with comfort/fuel economy oriented Michelin Primacy LC. God knows how much more you can push the car if you trade these in for performance oriented tires such as the Michelin Pilot Sport, Bridgestone Potenza or even Pirelli P Zeros if money is no issue. There are some who felt the helm feedback isn't as good as a VW Golf. I thought it was fine with me but it may be that I've grown accustomed to the chassis's balance that I was making adjustments to my drive based not solely on the wheels but the entire car itself.
The suspension is a little on the hard side, similar to a Peugeot 308 but slightly more comfortable. Considering the amount of handling prowess it has, it's surprising that its not bone jarringly hard. All but the worse potholes are soaked and on the highways, the Focus is an adept cruiser, providing good stability at high speeds. And while we're on the freeway, let's talk about noise insulation. The Focus, perhaps due to its aerodynamic design does a fairly good job at isolating passengers from wind noise and road noise only starts intruding at speeds above 150km/h.
.
.
Cabin Convenience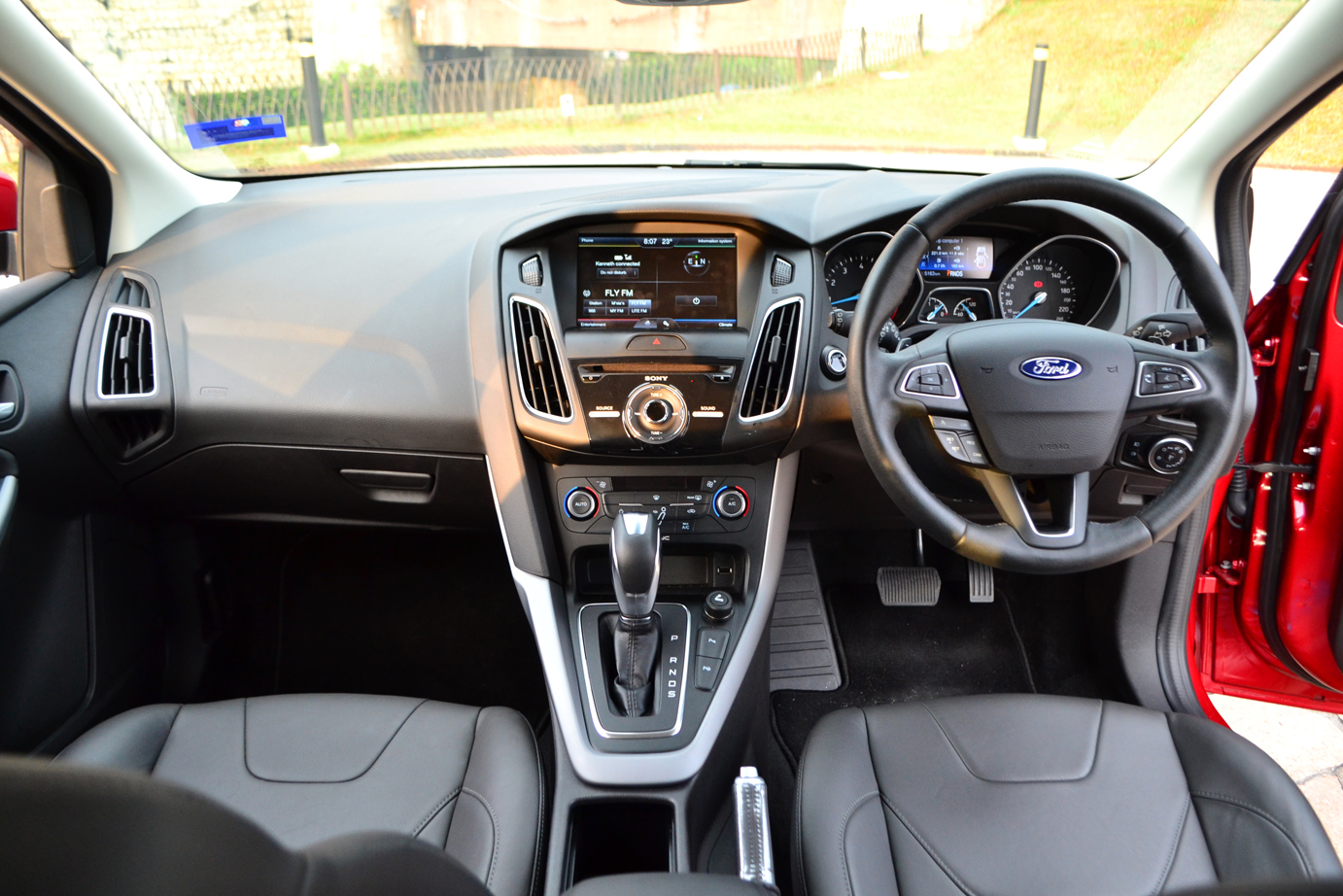 Just like the exterior, the cabin has a more sophisticated feel. Fit and finish is, as always top notch and ergonomic to a fault. Cozy is the word we'd use to describe what it's like living in a cockpit of the Focus and everything is designed to be well within reach of the driver.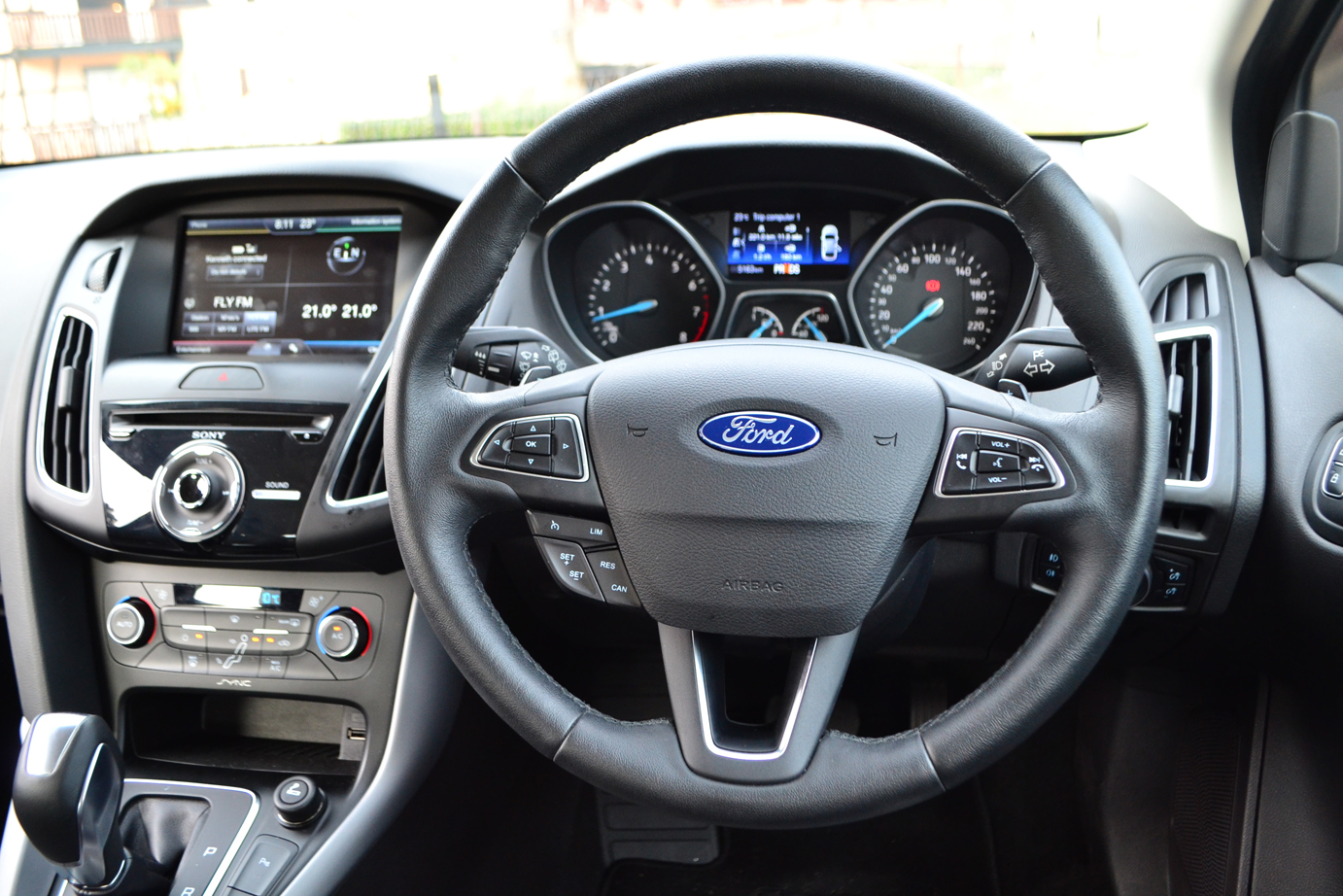 The usual suspects are all here; left button for MFD controls and right side for audio/Bluetooth telephony. Below the MFD controls are the cruise control buttons. On a personal note, I would have preferred the leather wrapped steering to be thicker, allowing better grip but it's not a deal breaker.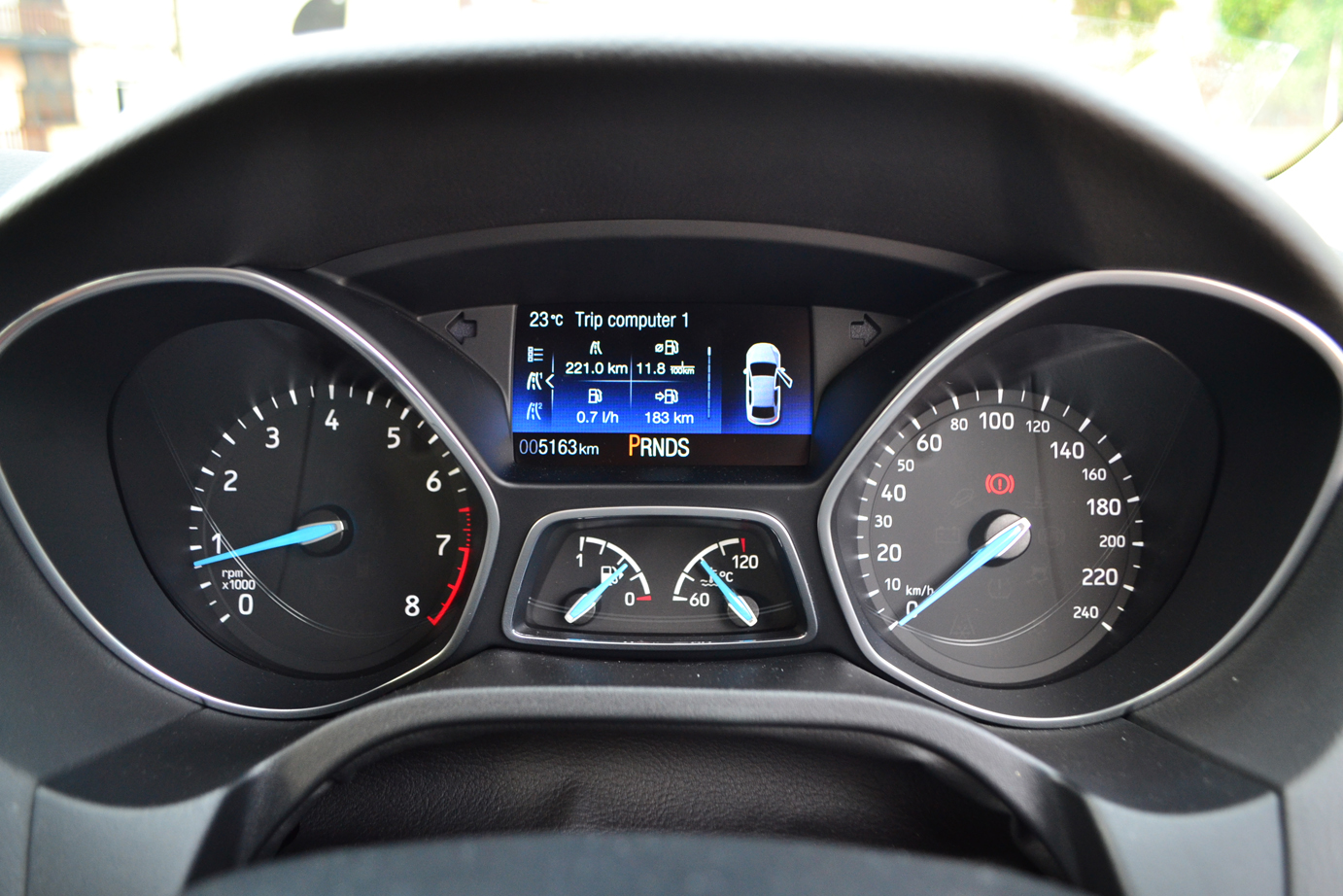 Information overload? The meters are simple and easy to read, no matter the lighting condition but the color TFT screen may be a little on the small side.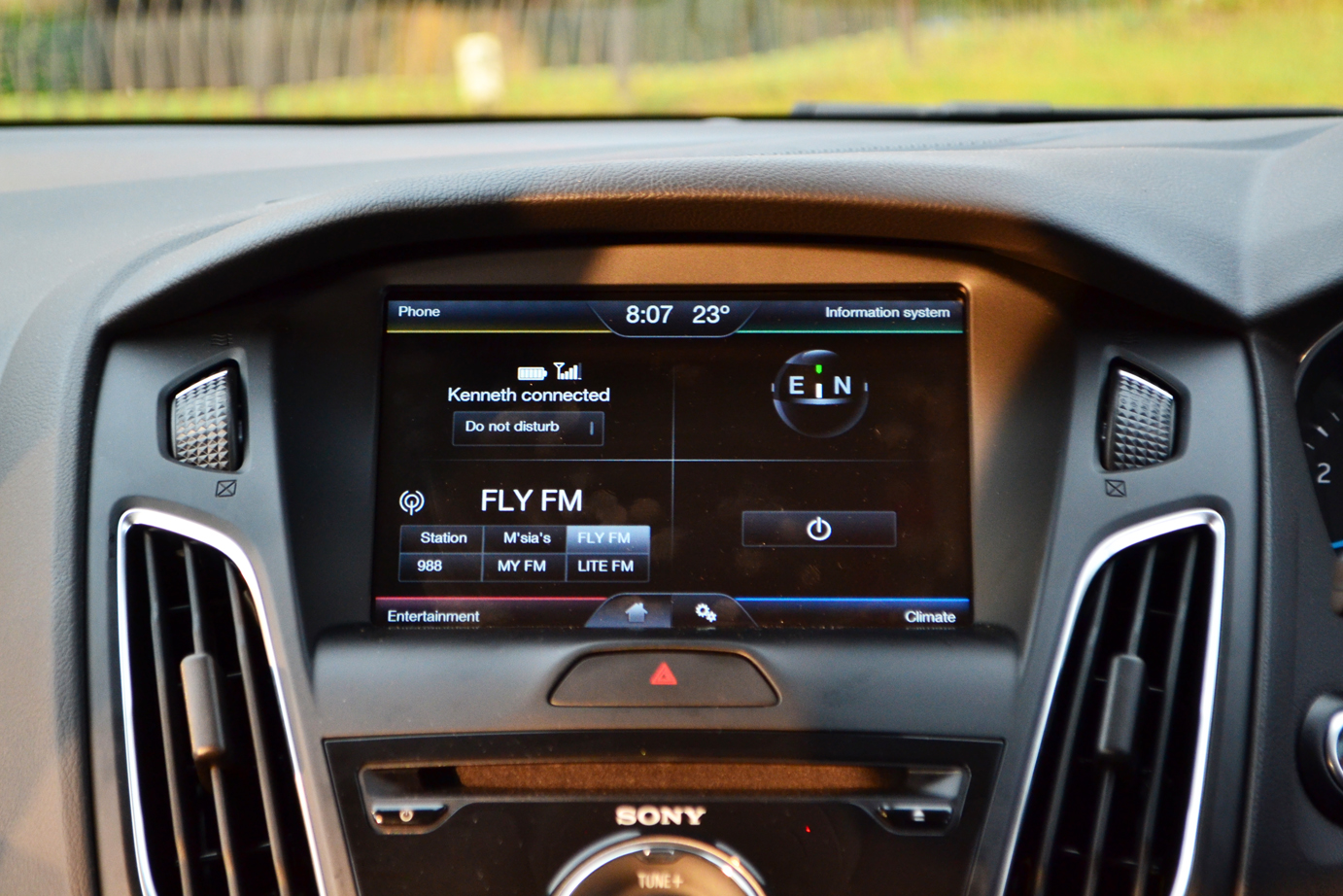 Like most modern Ford models, the Focus gets an 8″ Color TFT Display with SYNC 2. The screen is divided into four quadrants and accessing the function is as simple as clicking the colored bar.  There is a USB slot located below the air conditioning controls for iPod/iPhone/pendrive connectivity.
The SYNC 2 system works flawlessly in the Focus, allowing you to alter certain functions of the vehicle such as air conditioning or even read and reply SMSes via voice command. It's cool to use once you get used to it but call me old fashion but I prefer to manually make those adjustments myself.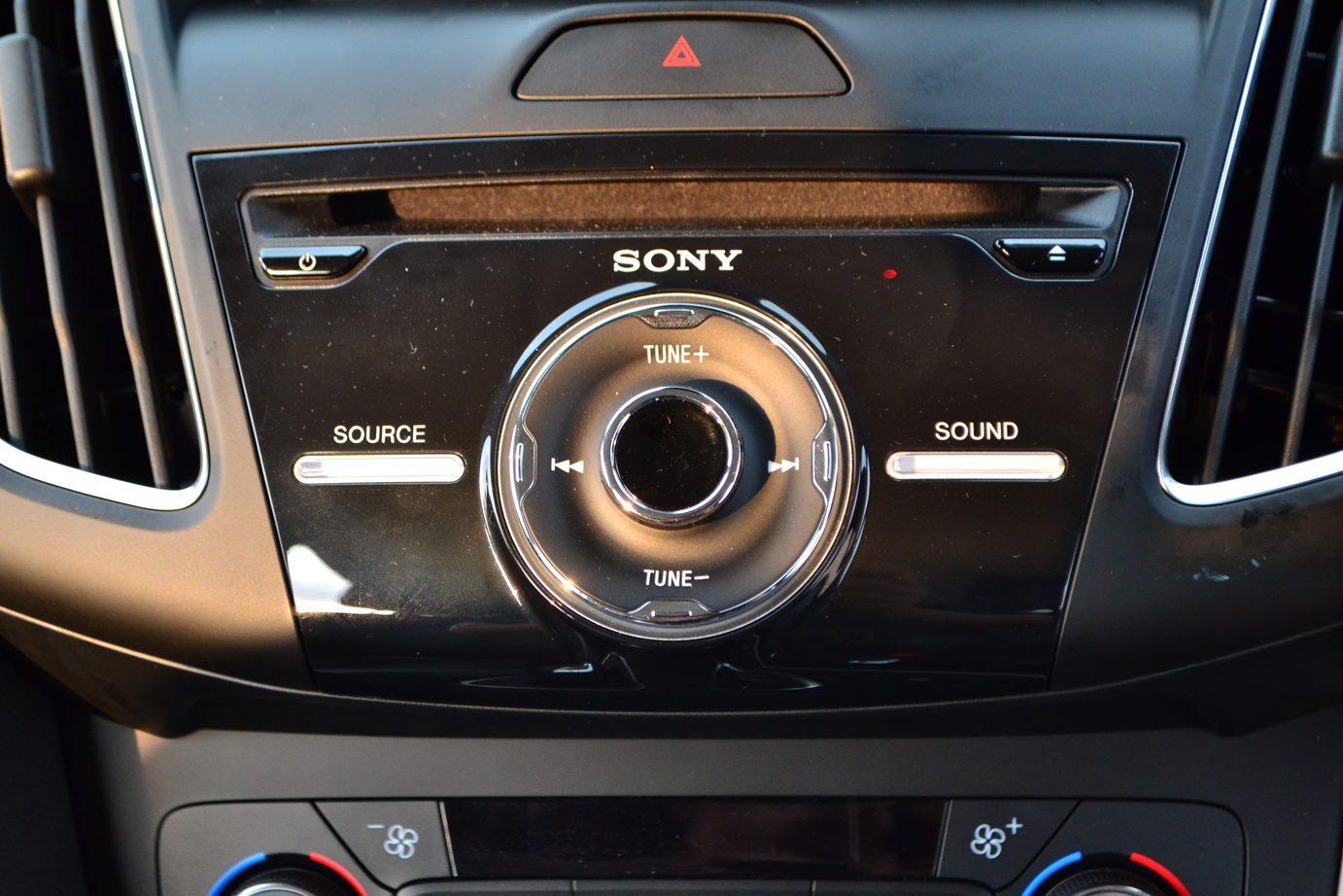 Sony has always been an OEM partner for Ford and the Focus features a 9-speaker system set-up that does a marvelous job at reproducing music.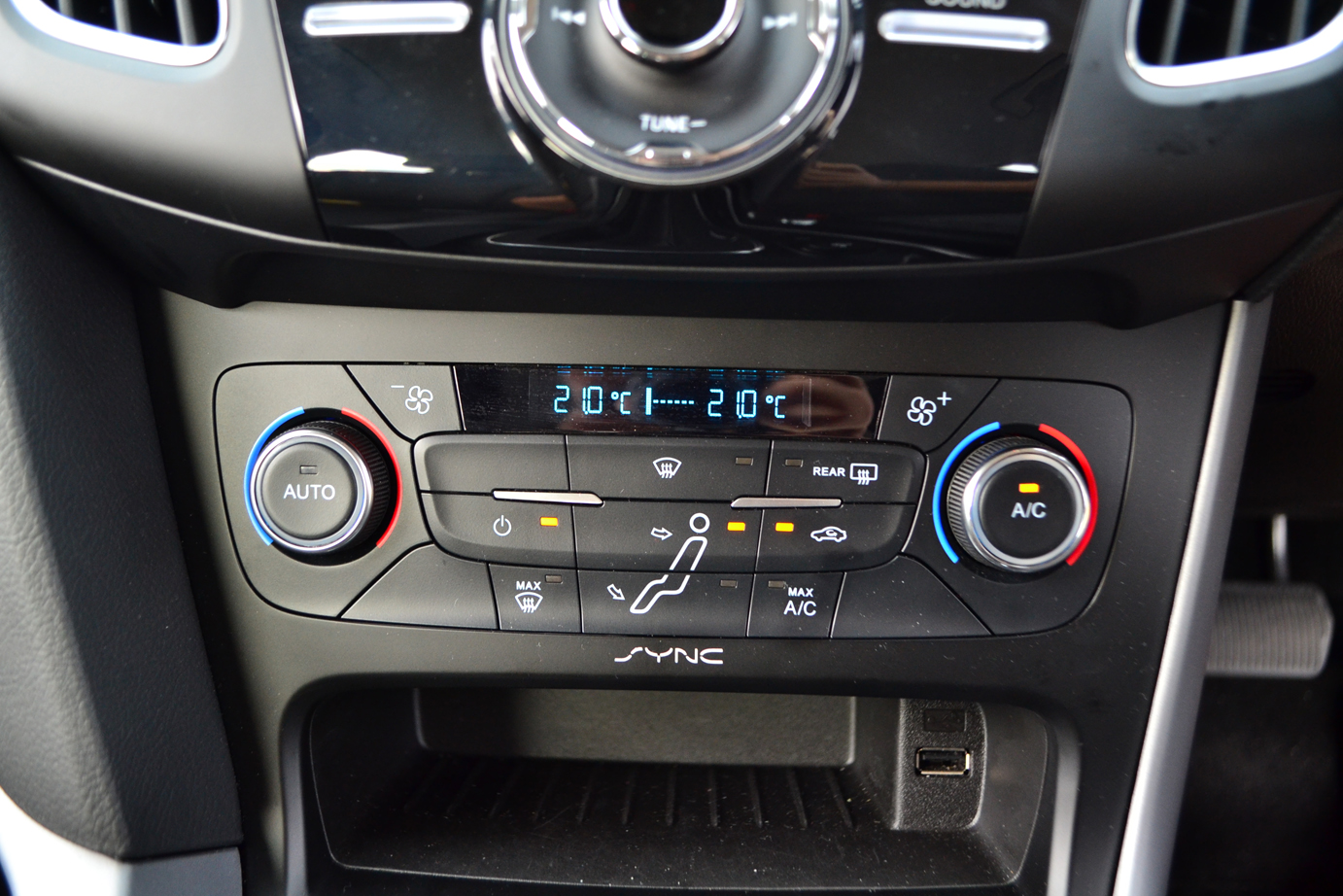 Ford gives you dual zone automatic air conditioning system and it's adequate for our weather. Most of the time I leave it at 21 degrees and it's good for all conditions.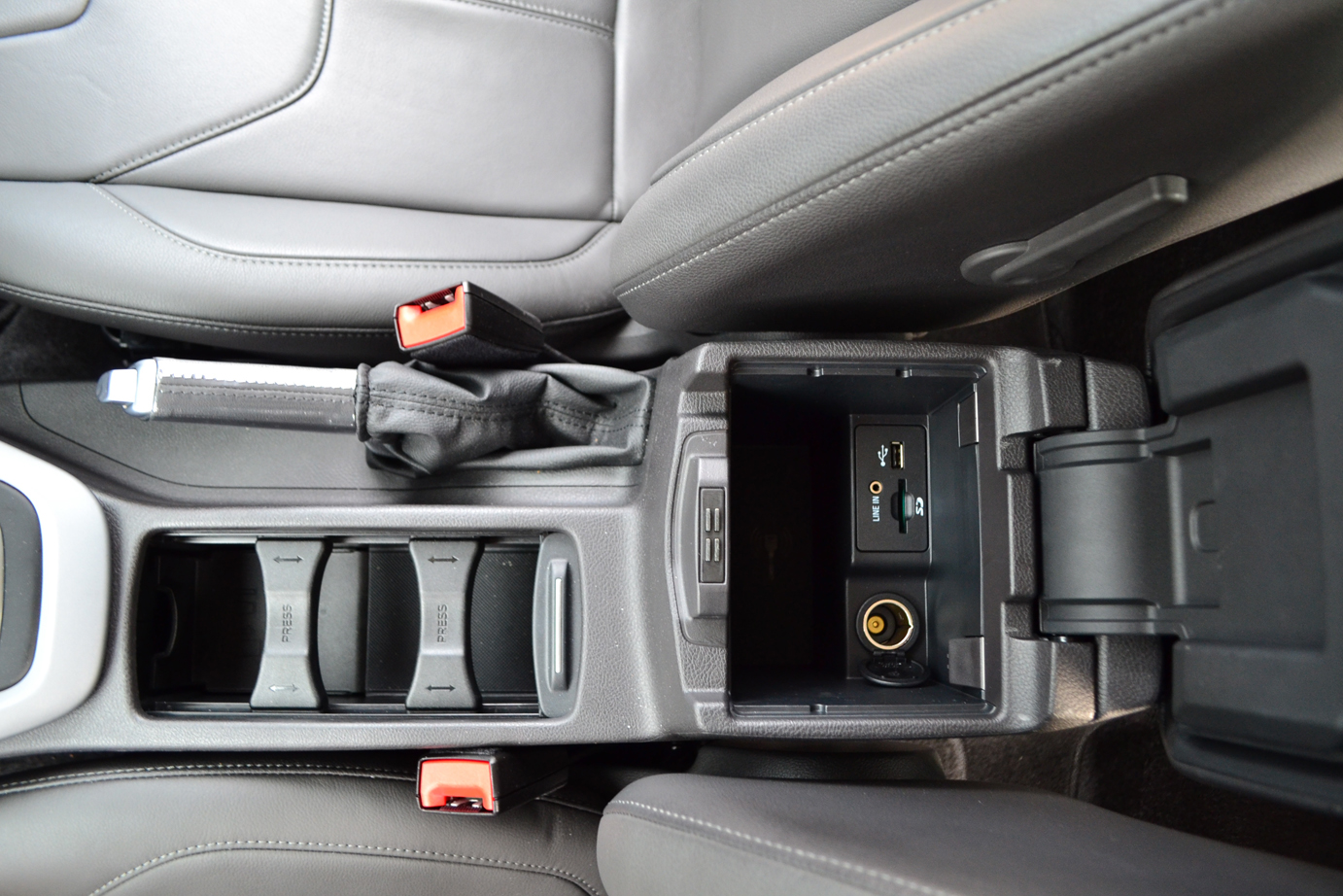 You will find one USB port, one AUX In, one SD Slot and one 12V power outlet inside the center compartment. The compartment itself is narrow and could fit a Smart Tag.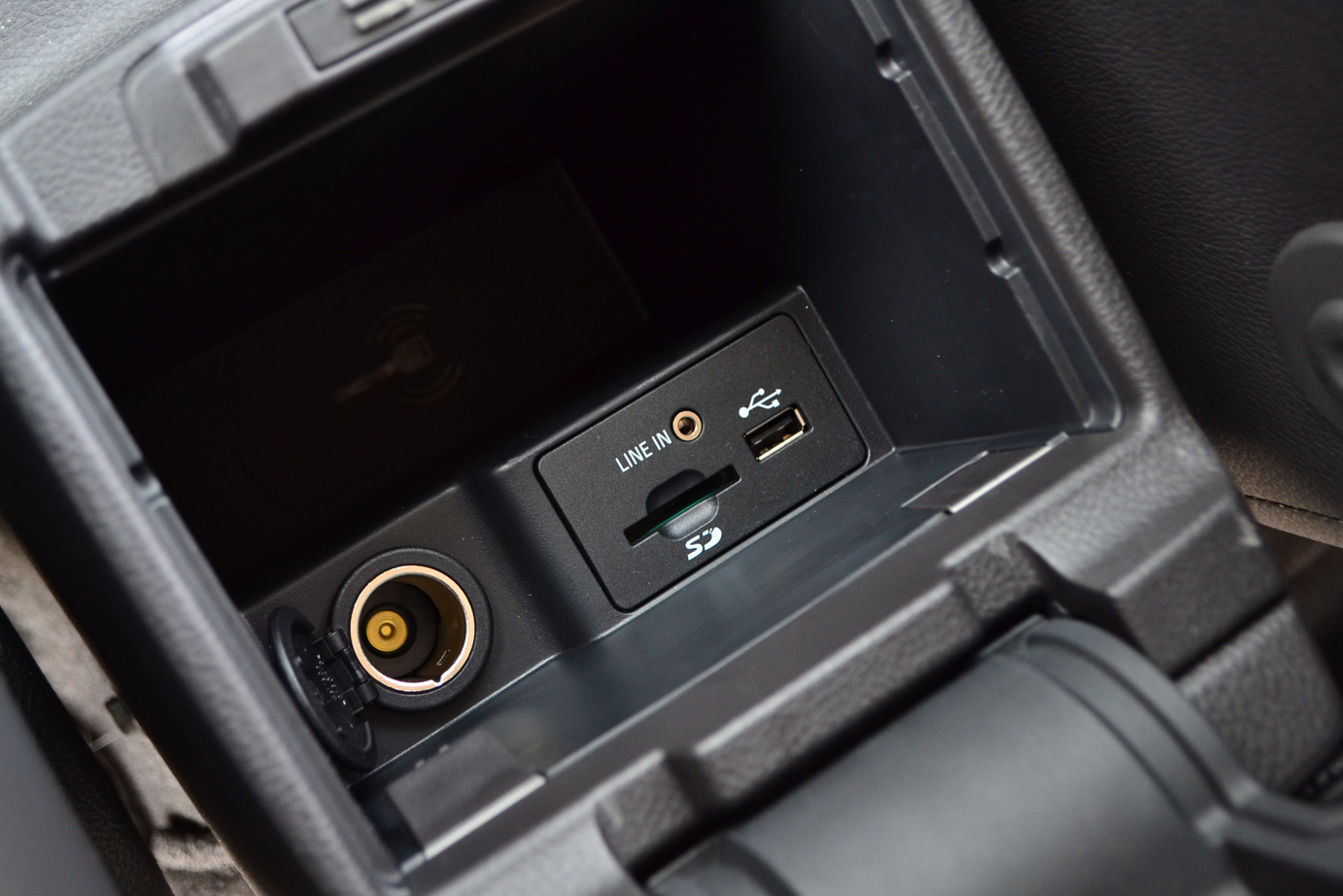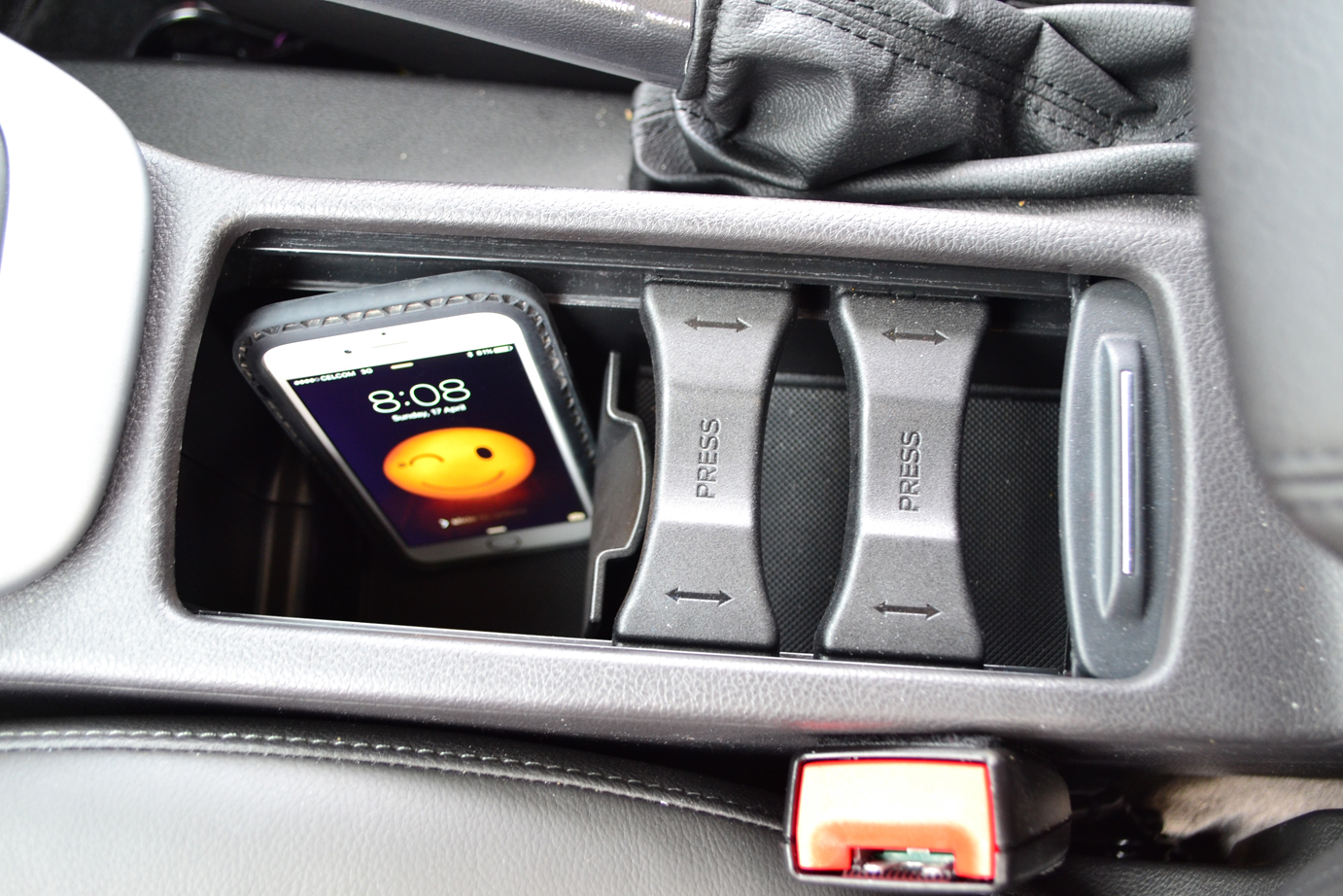 One nifty thing about the Focus is the adjustable cup holder(s). As you can see above, the center has two 'sliders' that can be re-positioned according to the diameter of the vessel holding your drink. Not only that, the bottom of the compartment can be shifted to reveal a deeper cavity for taller bottles. That cavity is roughly almost double the original depth as you see how my iPhone sits in.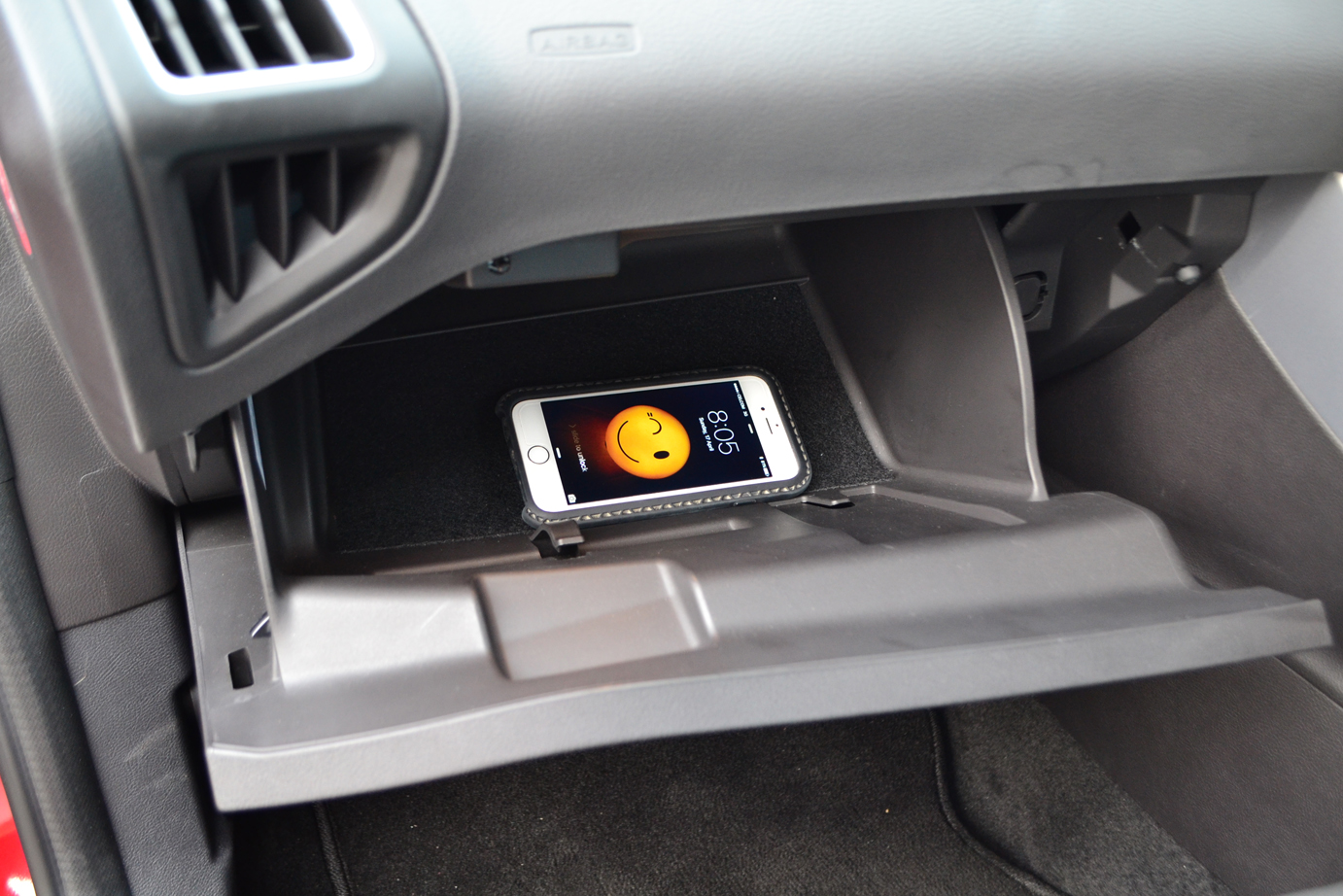 The glove compartment is big, more than enough to swallow anything but the largest handbag.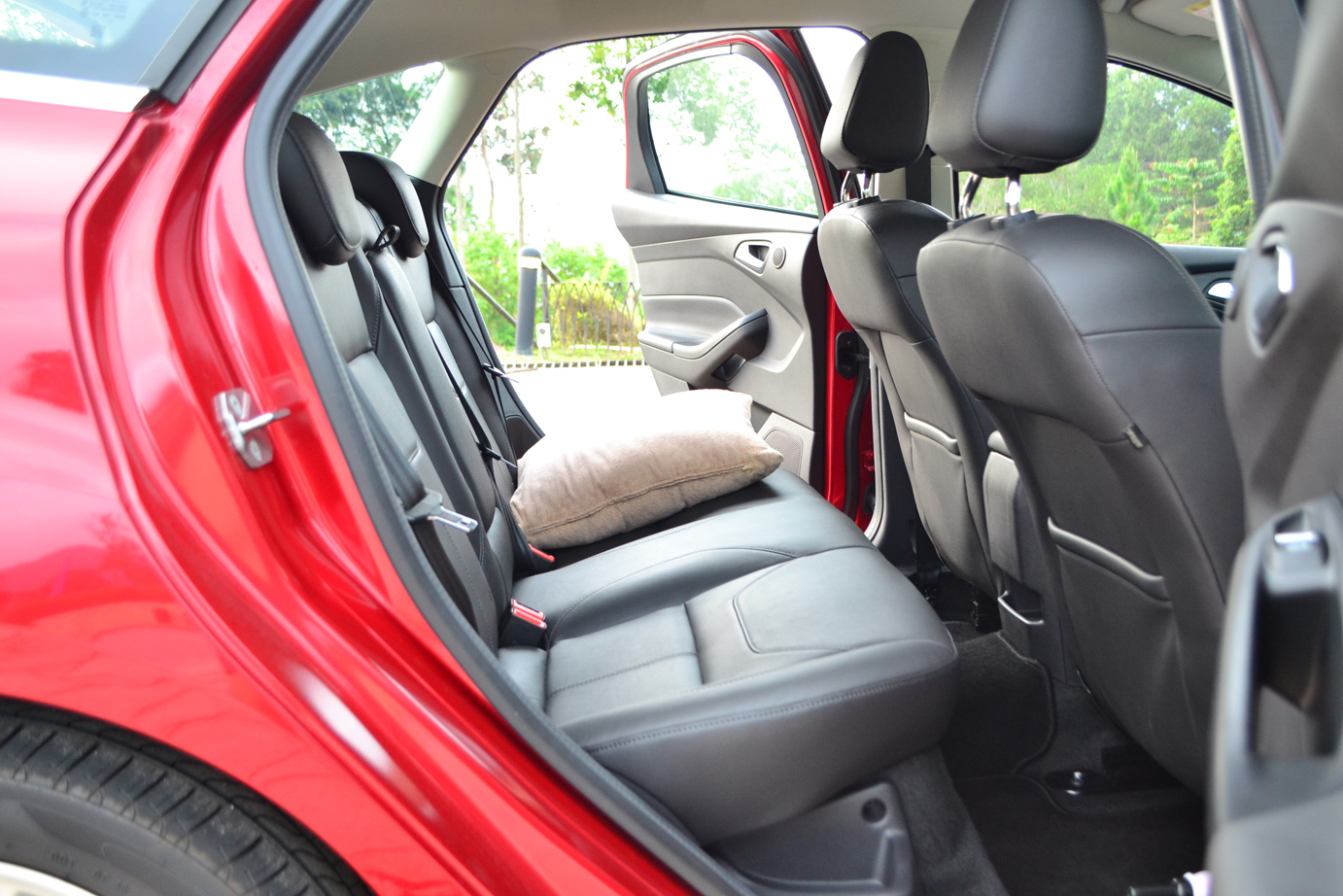 One of the things I hated about Ford is how poorly the seat support is and my previous experience with the Titanium+ sedan reinforces that belief. The Sport+, fortunately has a different driver seat design and it supports me well, more than some other vehicles in the market. The same cannot be said about the rear bench. Headroom and legroom is tight and though sitting two adults is fine, long distance trips for those 6ft or taller may be uncomfortable.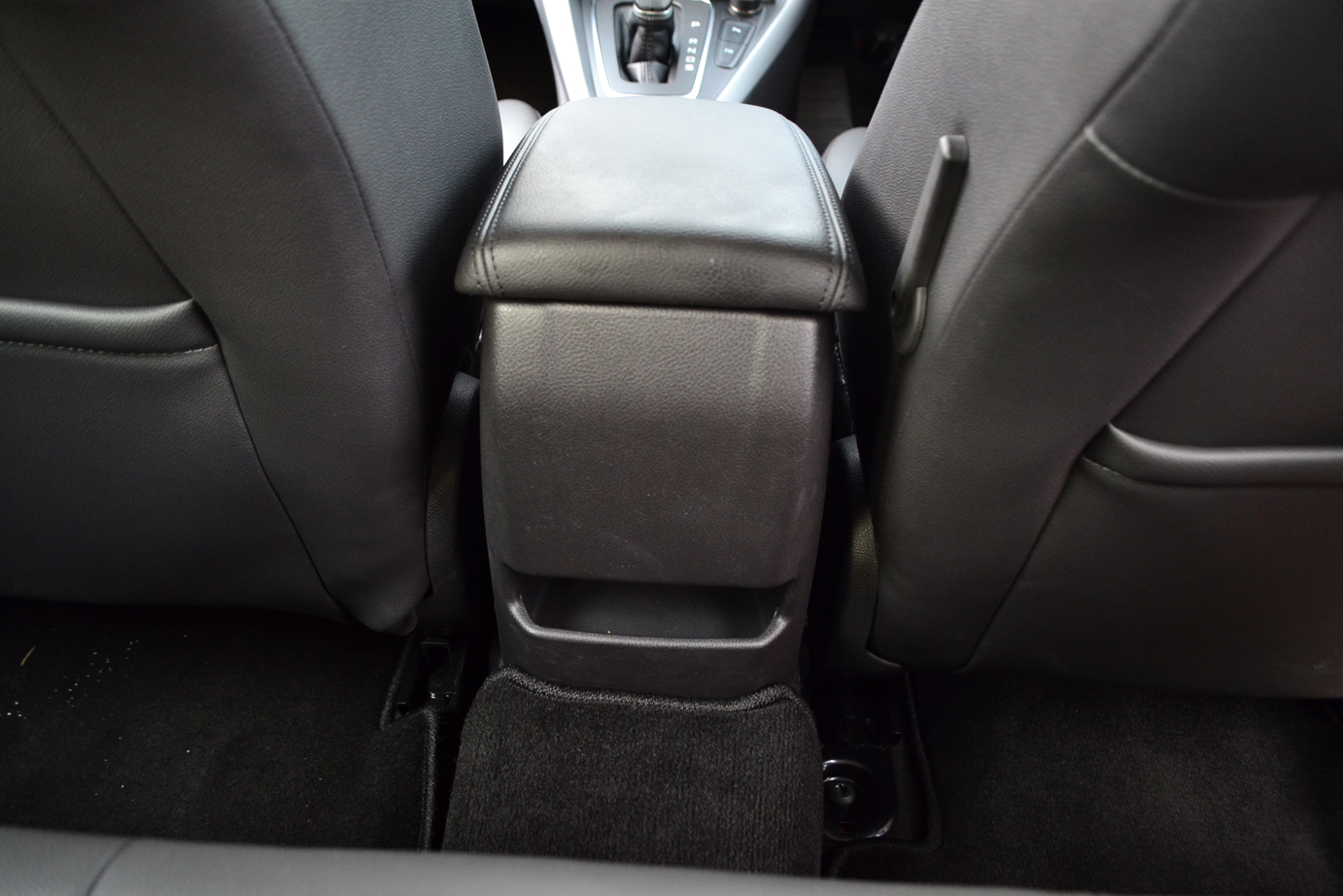 There are no rear air conditioning vents in the Focus unfortunately/ Even if it is a small cabin and the front vents are powerful enough to cool the entire cabin in a short period of time, the lack of vents is a bit of a letdown.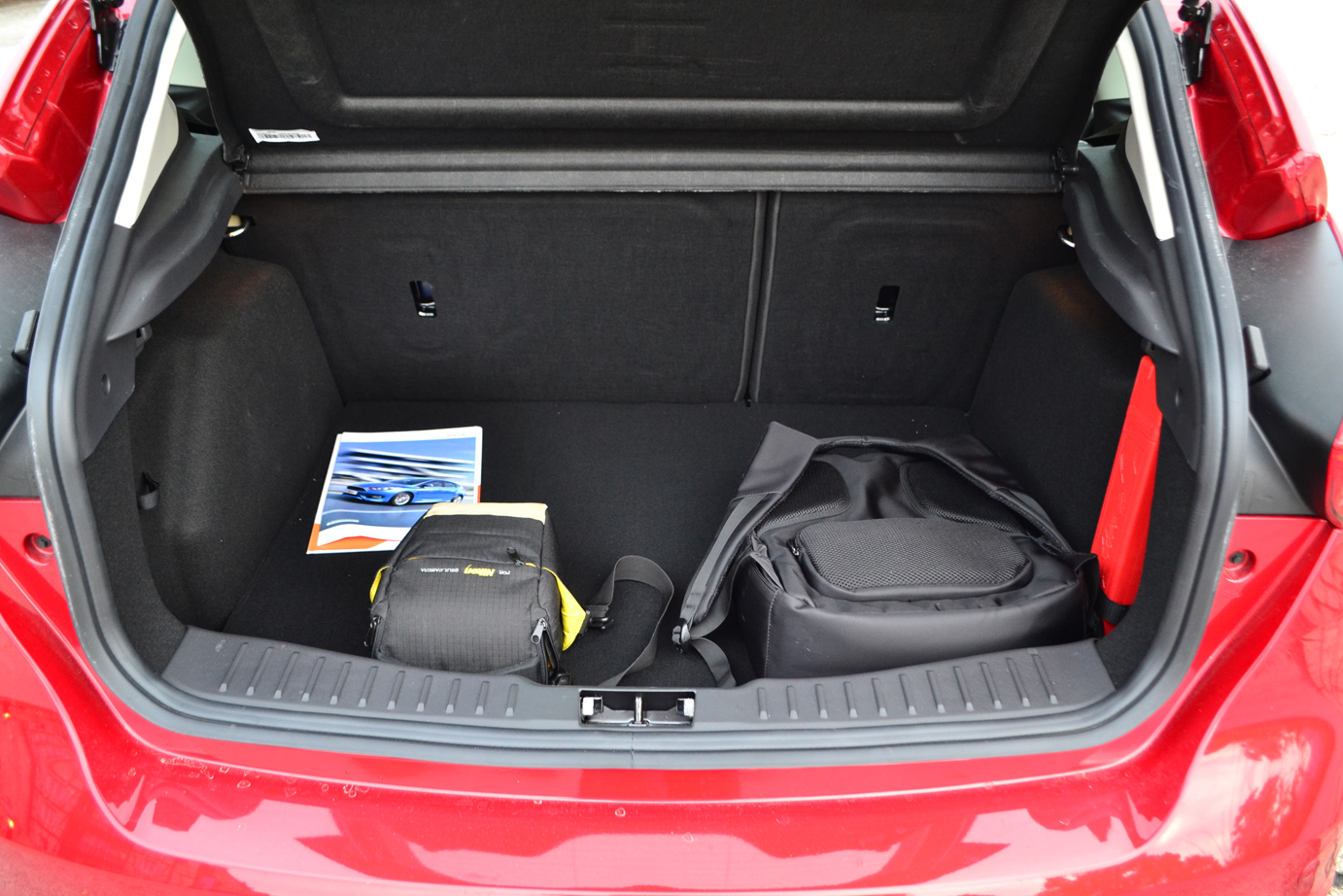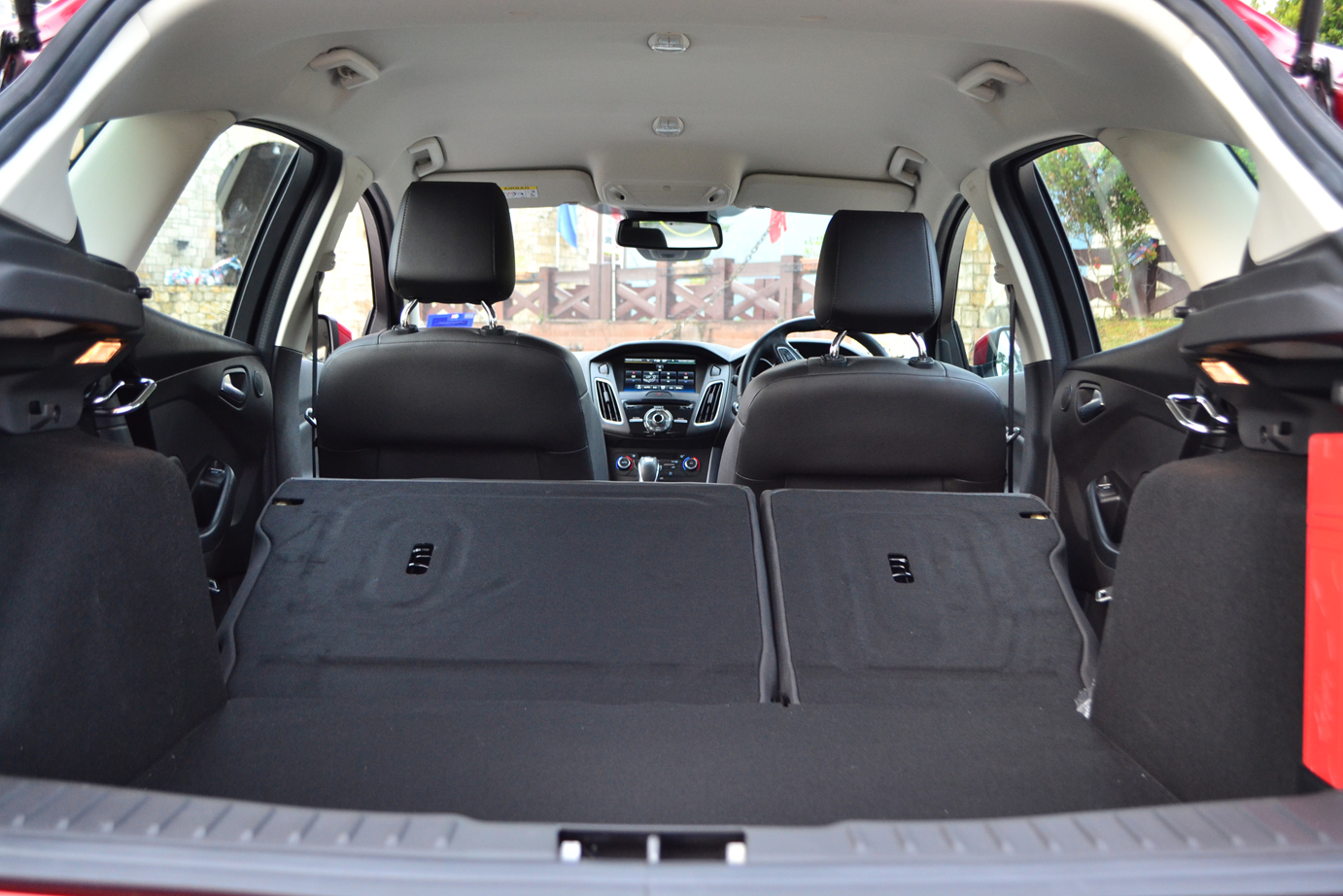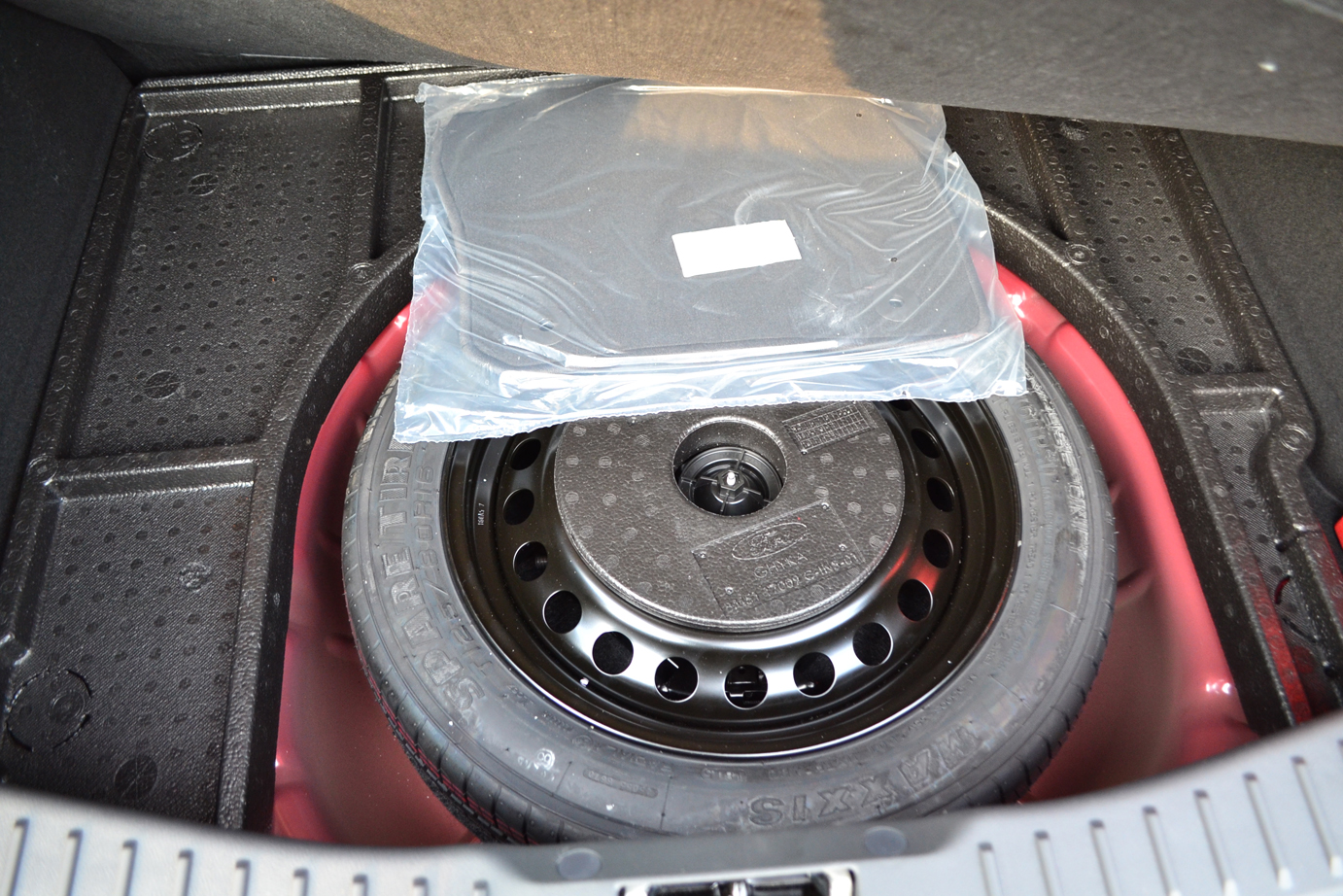 No data on the amount of boot space though although it looks good enough for a small family's outstation trip and can be expanded with the 60:40 seats folded down. A space saver tire is found below the boot floor.
.
.
Safety
The Ford Focus Sport S+ deserves top marks for providing safety features usually reserved for vehicles costing more than RM200k. They consist the following:-
Driver & front passenger airbag
Side airbags
Curtain airbags (total 6 airbags)
ABS
ESP
Hill Launch Assist
Keyless Entry/Start
Perimeter Alarm
Passive Anti-Theft System EPATS
Front Parking Aid Sensors
MyKey
Follow-Me-Home lighting
Enhanced Active City Stop
BLIS with Cross Traffic Alert
SOS Post Crash Alert
ISOFIX
Enhanced Active Park Assist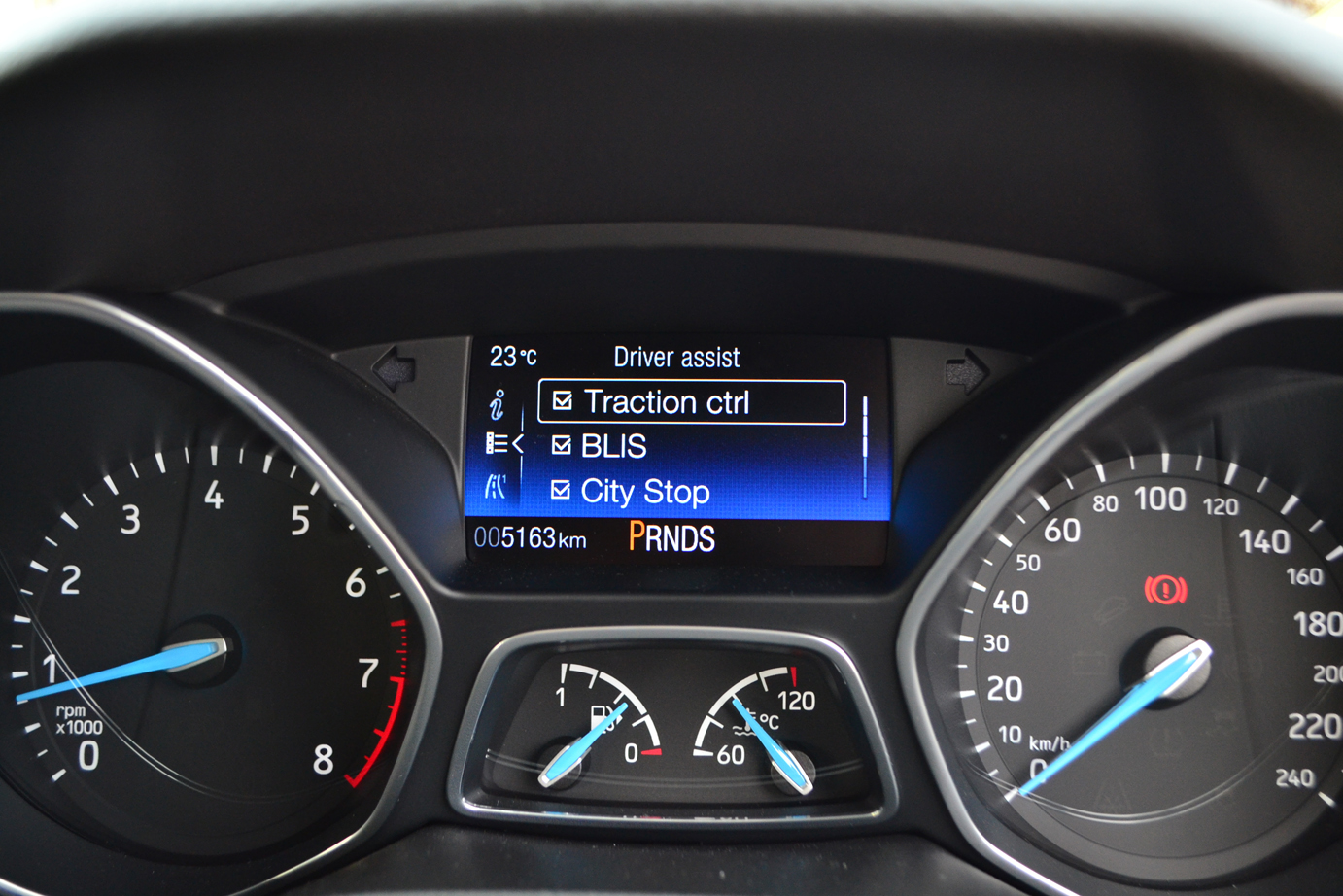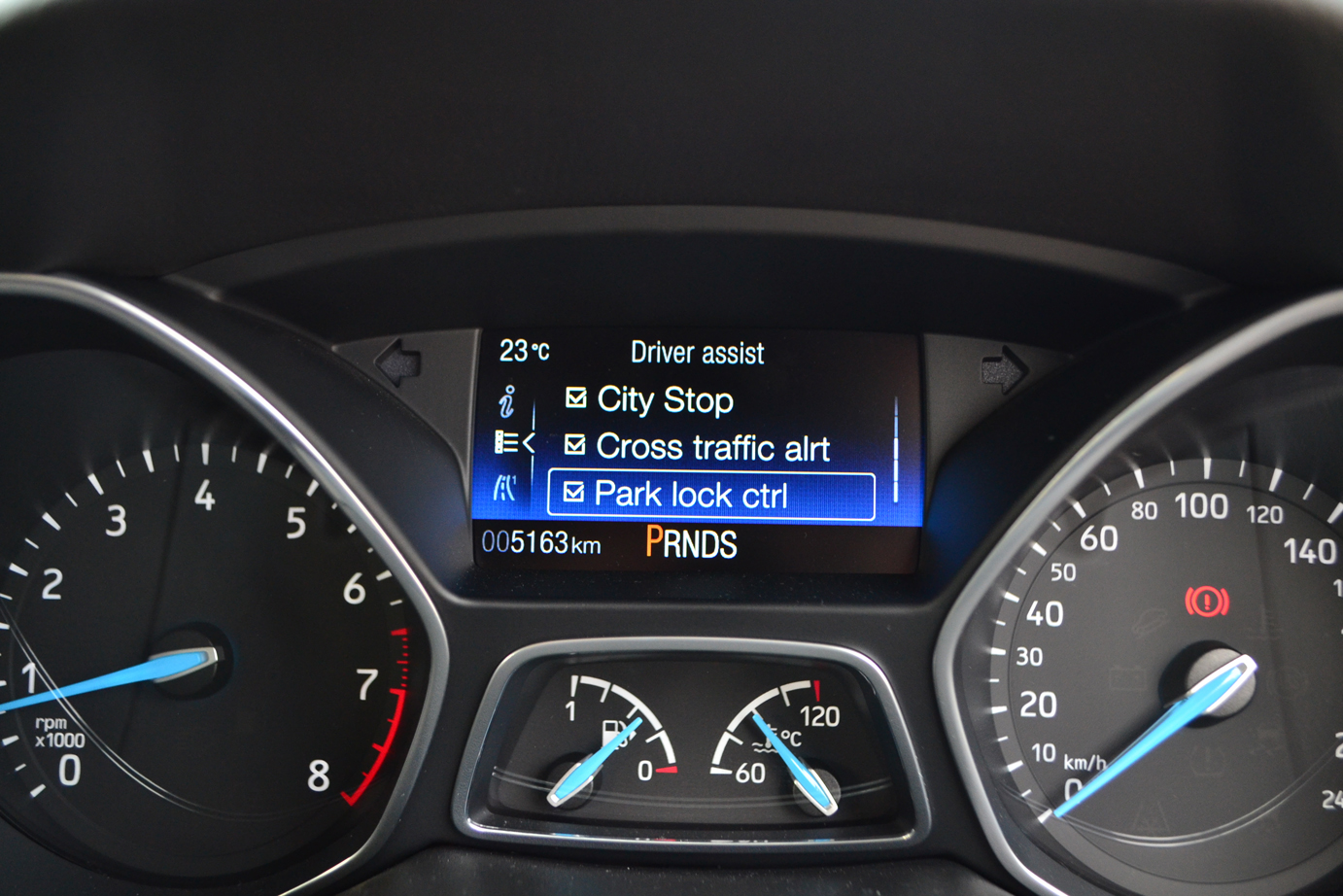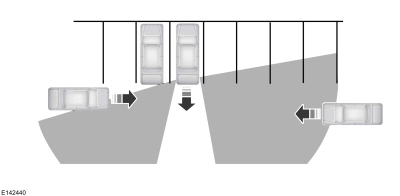 When we tested the Titanium+ sedan during the launch, we did not notice a feature called cross traffic alert. It is a system designed to alert you of vehicles that are approaching the rear of your vehicle from the side when your transmission is in reverse (R). Any approaching vehicle from up to 14 meters (or 45 feet) will be detected and an audio as well as visual alarm will trigger within the cabin. It is very sensitive and one feature that's far better than reverse cameras since the detection angle is far, wide and not subject to human eye error.
Combined with Blind Spot Indication System, it greatly decreases the chance of accidentally bumping into other cars.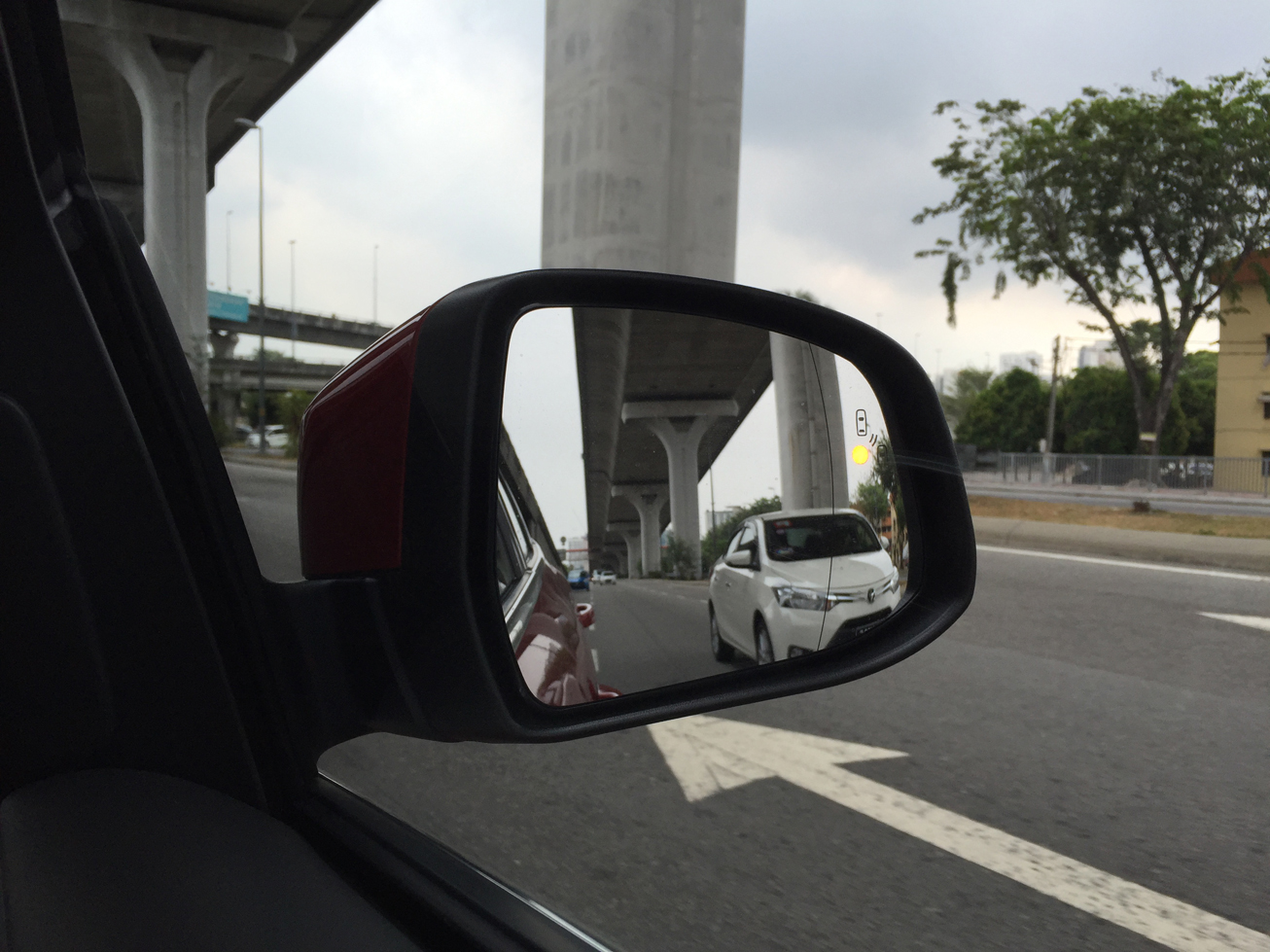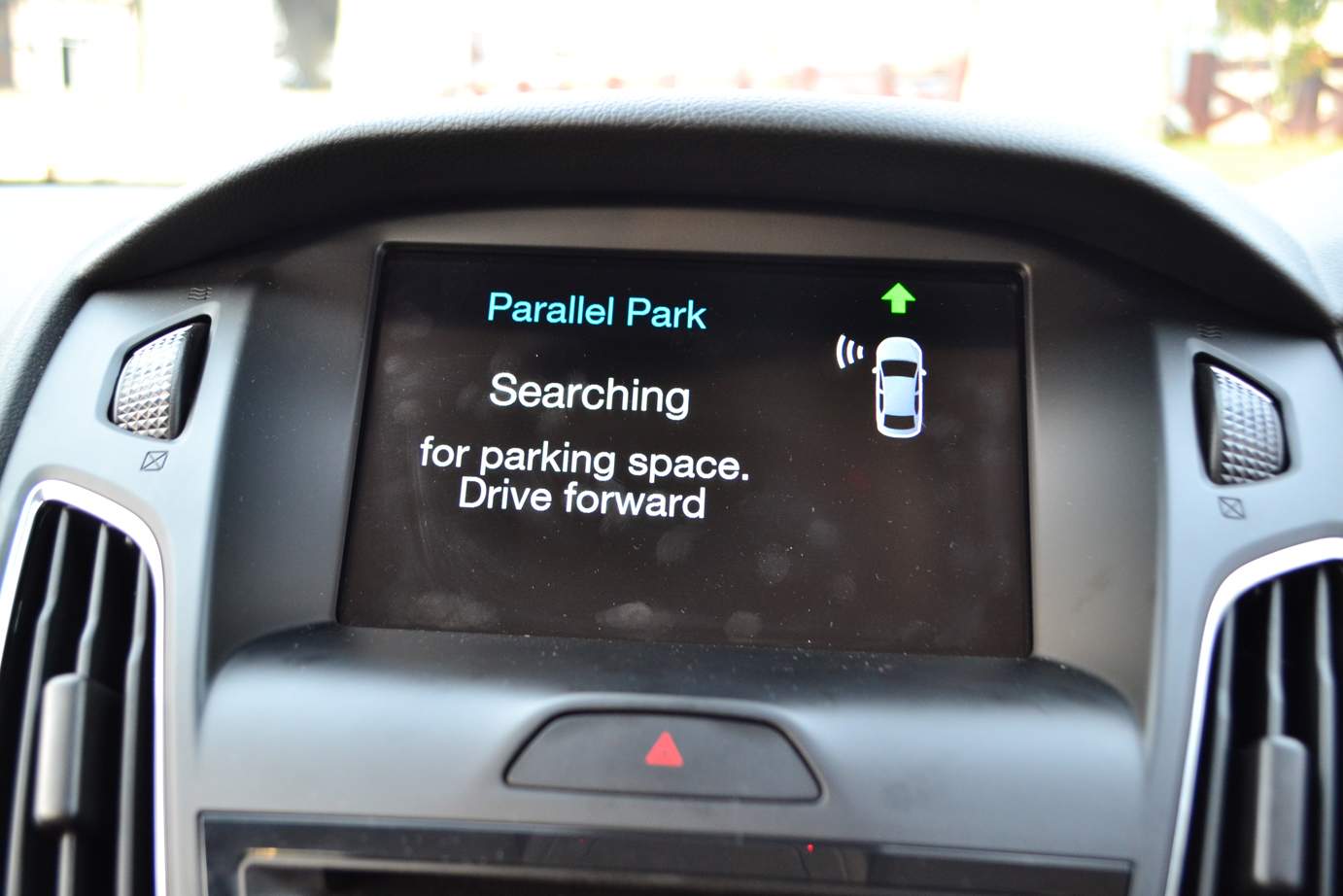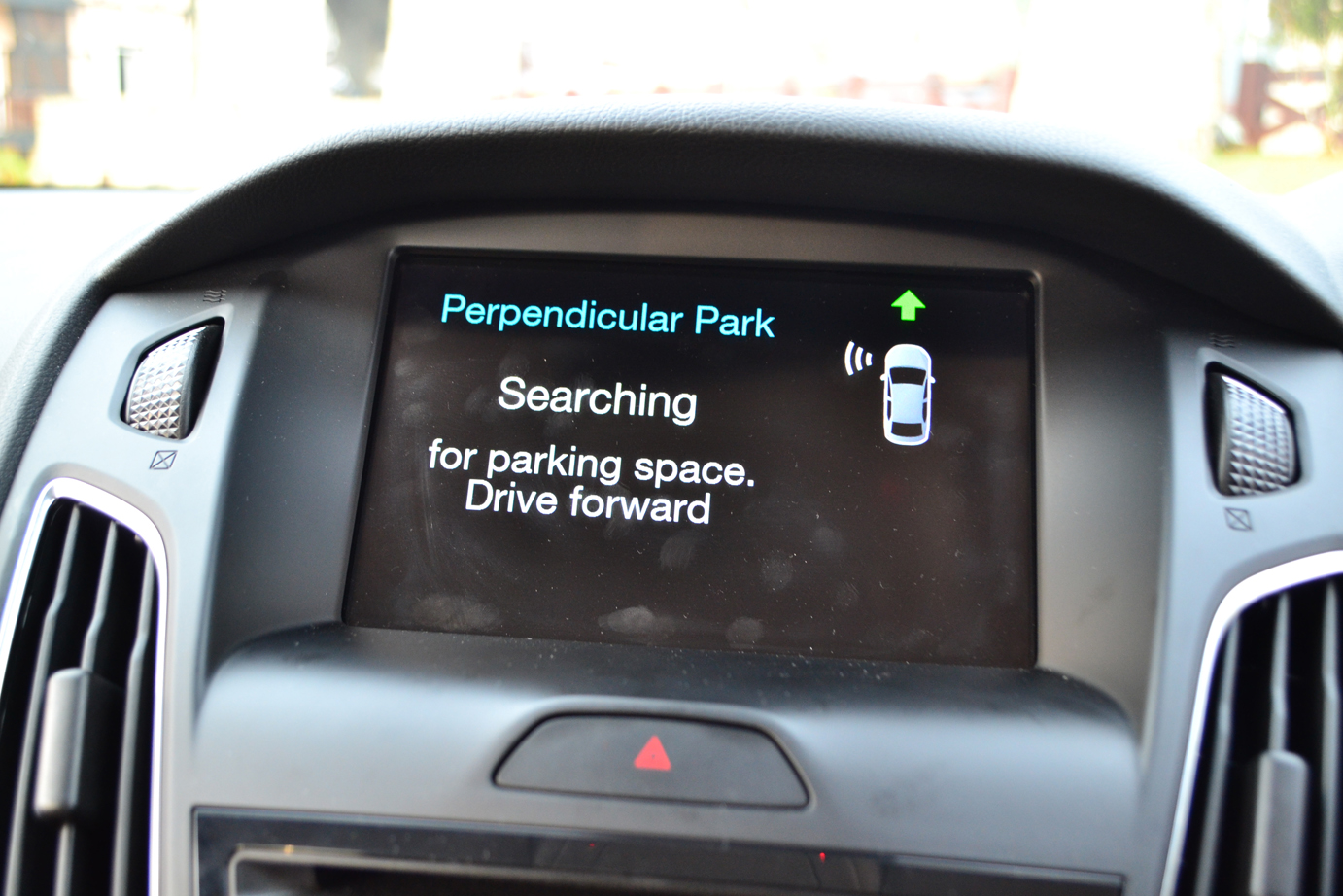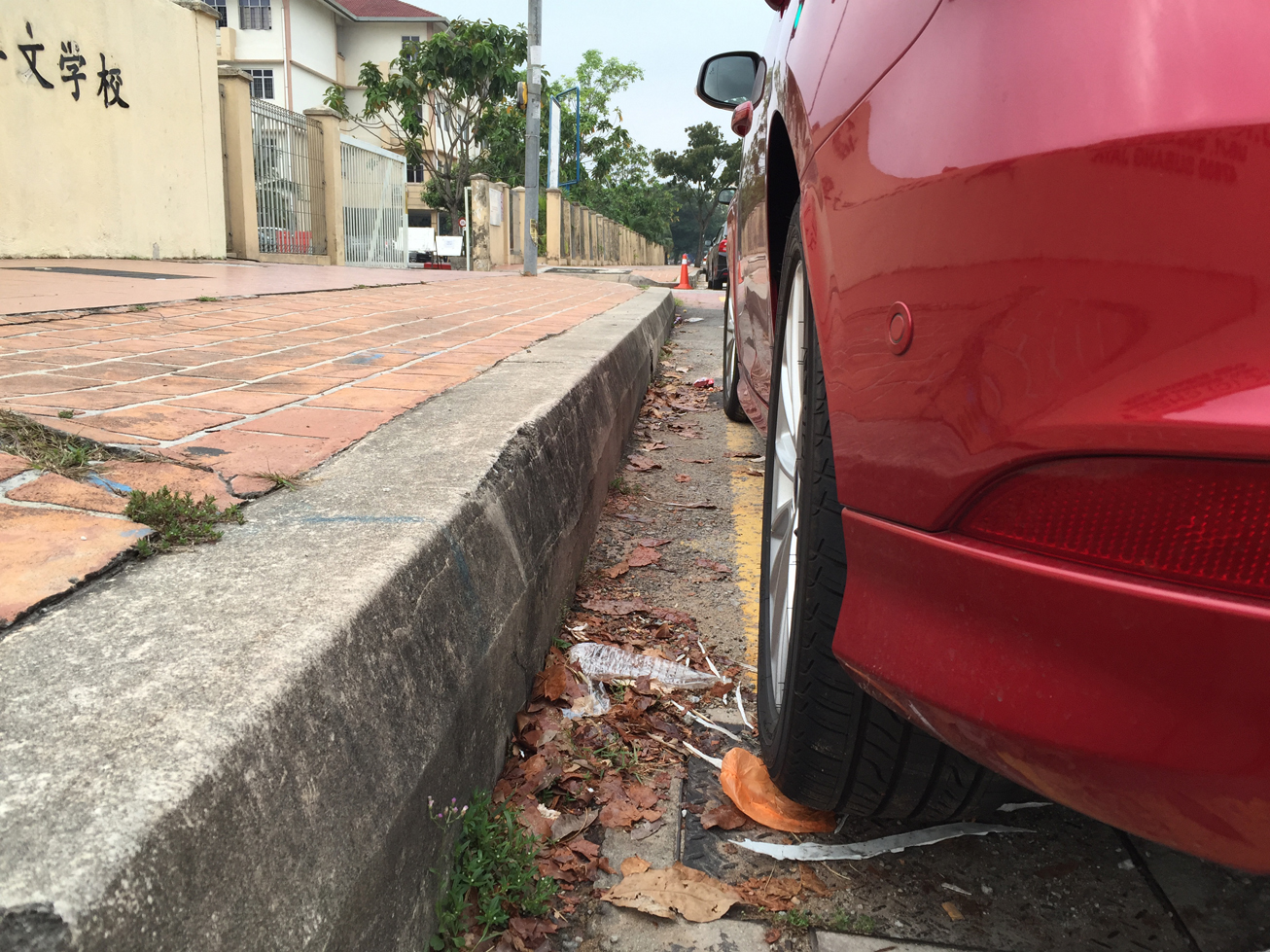 The Focus is one of the first few non-luxury vehicle to have autonomous parking and it's now improved with the Enhanced Active Park Assist that does both side and parallel parking. The system works well in any situation where there is space in between two objects but beware of road kerbs such as the one above where if you're not careful, you might scrape your rims. The system not only 'parks' the car, it also helps you to exit out of a tight spot.
Here's a couple of videos on how the system works:-
Another key feature found in the Focus is Active City Stop which brakes the vehicle autonomously when travelling at speeds below 50km/h. Yes, with humans having difficulty following instructions of not using their mobile phones while driving, be it Pokemon Go, last minute entry of destination in Waze or just messaging someone else, this function is a must for any modern city car.
Here's how it works:-
Active City Stop as seen from outside
.
.
Specifications
As the most expensive variant in the Focus line, the Sport+ isn't wanting in terms of specifications:- Exterior
Full body styling kit
Sport suspension
Auto halogen headlamps with Manual headlamp leveling control
LED Daytime Running Lights
Power adjustable side mirrors with side indicator, heated, auto-folding and puddle lamps
Front Fog lamps
Rear Fog lamps
Rain sensing wiper
Rear intermittent wash/wiper
Active Grille Shutter
Interior
Dual Zone EATC air conditioning system
Trip computer, EcoMode, Message Centre, Steering wheel tongle control, outside temperature display
Dual tone Horn
Covered Cupholders (roller shutter) and 12V powerpoint in armrest stowage bin
Powered 1 shot up/down windows
Remote/powered child-proof rear door locks
Steering wheel mounted paddle shifter
8″ Color TFT Display SYNC 2 (1x USB, 1x AUX Jack & SD Slot + Front Storage USB)  (Trend line gets a 3.5″ Dot Matrix Display SYNC)
9-speaker system
Manual 4-way Driver Seat adjust with manual lumbar adjust – V-shape Sport Style with High Bolster
Manual 2-way front passenger seat adjust
Rear Centre armrest with integrated cup holders
Leather wrapped, tilt and telescopic steering wheel – 3 spoke
Color TFT cluster
Electrochromatic rearview mirror
Overhead console – sunglass holder includes submarine sight
Illuminated sunvisor
Door sill scuff plates
Ambient lighting & footwell lights
Front individual map sights and rear map sights
Rear grab handle – folding damped with coat hooks
Ownership and Maintenance
The Sport+ as tested here has a price tag of RM139,888 OTR excluding insurance. It is available in 4 different colors' Frozen White, Panther Black, Candy Red (as seen here) and Winning Blue. Like all Ford vehicles sold here, the Focus comes with a standard 3 years or 100,000 km (whichever comes first) manufacturer's warranty and has an additional 2 years or 100,000 km on selected parts and labor extended warranty with the Sime Darby Auto Connexion (SDAC) Extended Warranty Program (EWP). Total years covered is 5-years or 200,000km whichever comes first.
Ford Malaysia also offers 3-years (or 60,000km whichever comes first) free maintenance and for that same period also provides battery warranty unlike some of its competitors that only gives 1-year battery warranty.
So is the Ford Focus Sport+worth a look?
Definitely. Once you get pass the RM140k-ish price tag, smallish interior and the lack of rear air conditioning vents, you'll find one of the most capable hatchbacks around. Ford don't call it a hot hatch but for its performance, it's close enough. If that's not sufficient to move you, then consider the Focus is loaded with one of, if not the best safety features in the market. What is already an easy to drive and park vehicle is even simpler thanks to electronic aids and slow speed fender-bender incidences are lesser. I do wish it was designed to have a more assertive exterior but if it's wolf-in-sheep's clothing you want, this would be a fine example.
.
.