When Singapore introduced stricter emission standards in 2015, Euro 5 Diesel has been made available to a number of petrol stations.  This new development has allowed many automotive brand to explore the option of introducing their range of cleaner diesel engines without jeopardizing its performance and longevity and motorist need not resort to just pick-up trucks for private registration.
Among those taking advantage of this is Mazda with the launch of the SKYACTIV-D turbocharged diesel engine powered models. Although it's only the Mazda 6 and CX-5 2.2litre SKYACTIV-D that's being sold now, Mazda is planning to bring in the 1.5litre SKYACTIV-D equipped Mazda 2 and CX-3. In fact, they've brought in this media unit you're about to read a year ago for testing and review purposes and when the key was handed to me, it had clocked more than 18,000km going through various media and in-house use who aren't known to be particularly gentle with test units.
Essentially, anything that could go wrong should have manifested by now so this should be a fair assessment. We wanted to see if;-
All that hype about diesel being fuel efficient is true
Does the Mazda 2 have Zoom-Zoom in its heart
Is it practical as a daily driven car
Before we go on, it should be noted that the Mazda 2 SKYACTIV-D is not launched in Malaysia (yet). Bermaz Motors is still evaluating the need to do so, which is why the media unit is making its rounds among the media to gauge public response and gather feedback from various media. There is no official spec-sheet, no official prices yet.
This is our 'feedback':-
Design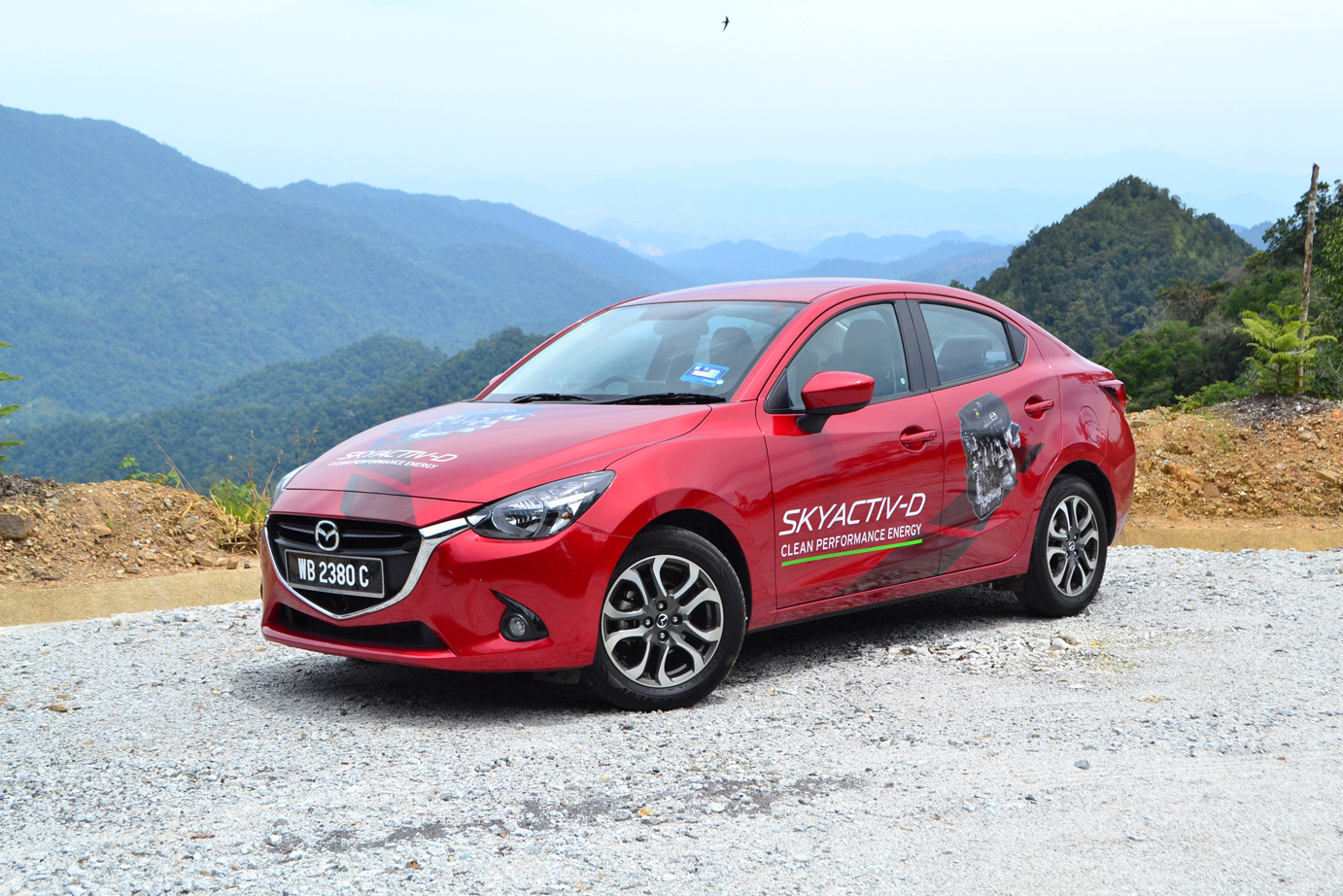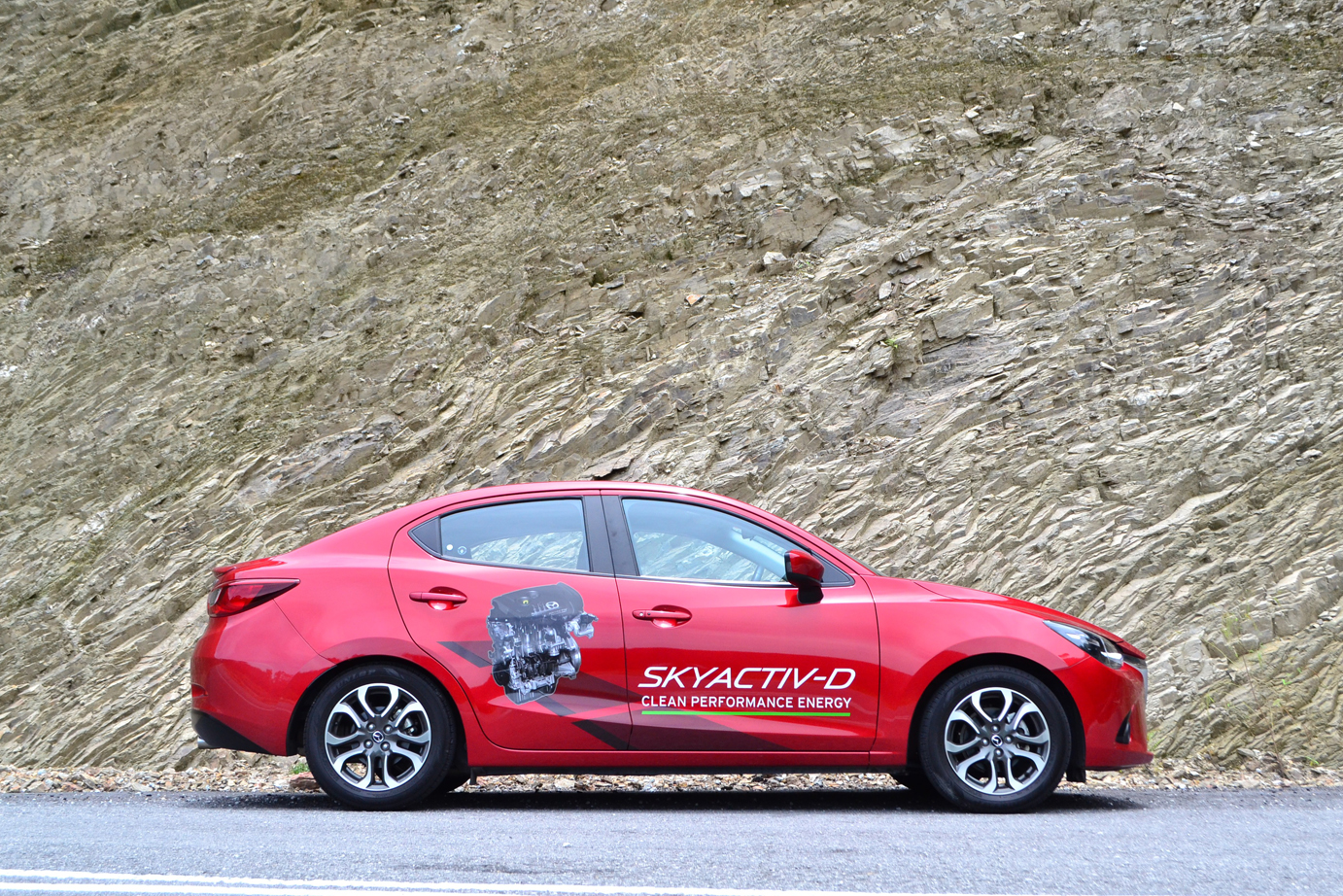 First, let's talk about the design. Very little distinguishes the diesel variant from its petrol siblings. You'll find the same KODO; Soul in Motion design that captures the essence of poise before movement. A large defining grille, huge headlamps and a cute 'comma' front fog lamps makes up the front mien. Dynamic lines follow and emphasize the curvature of the side profile, making it look like muscle ripples of an athlete.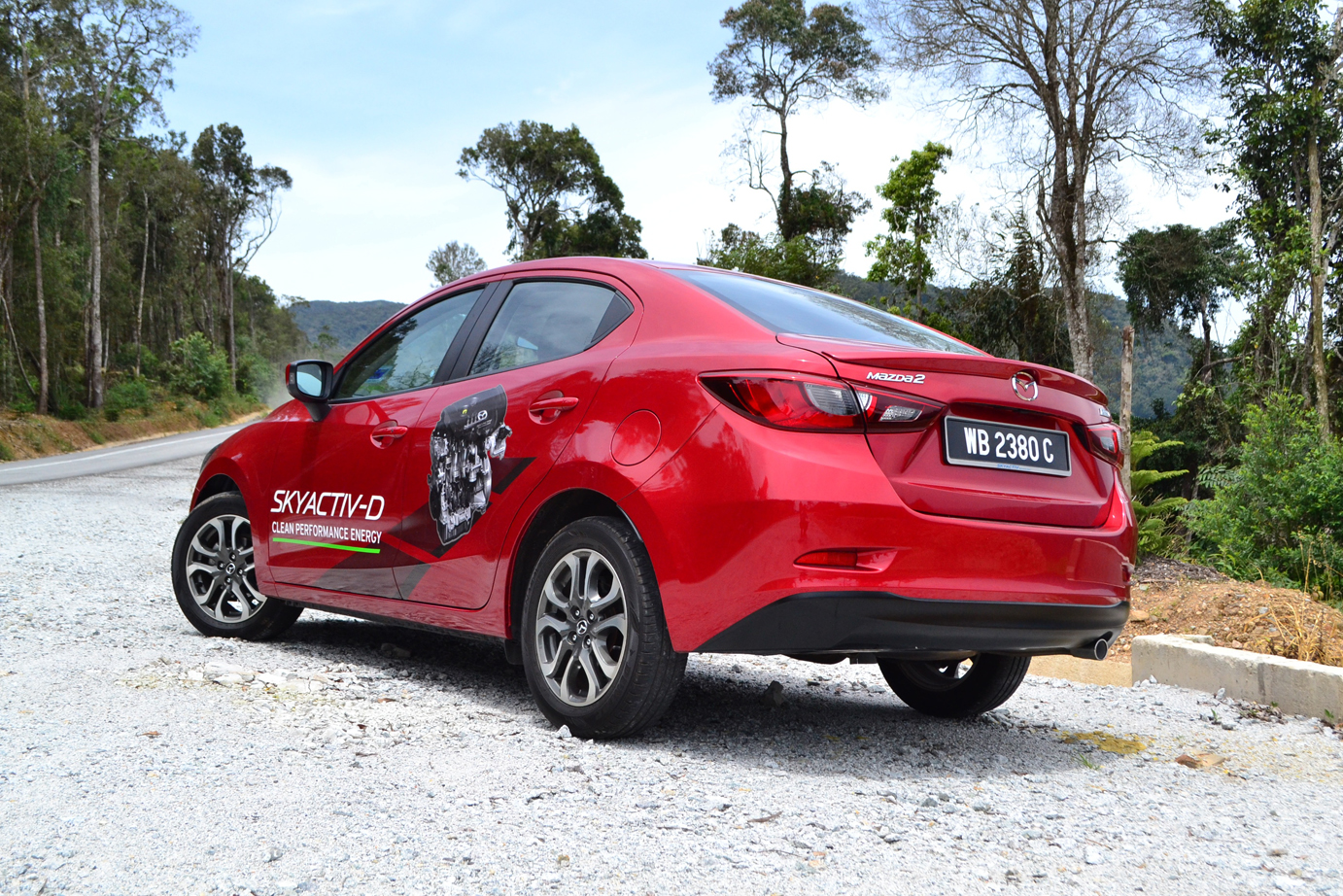 Most sedans that's derived from hatchbacks usually have an awkward rear but not so with the Mazda 2. With a high boot line connected to a slanting C-pillar which ends with a a rear spoiler, the M2 SDN has a coupe look that's easy on the eyes. The horizontal rear lights help to create a widened rear that, coupled with a black rear skid plate creates an image of balance and grace. This is arguably one of the better looking compact sedans in the market.
Performance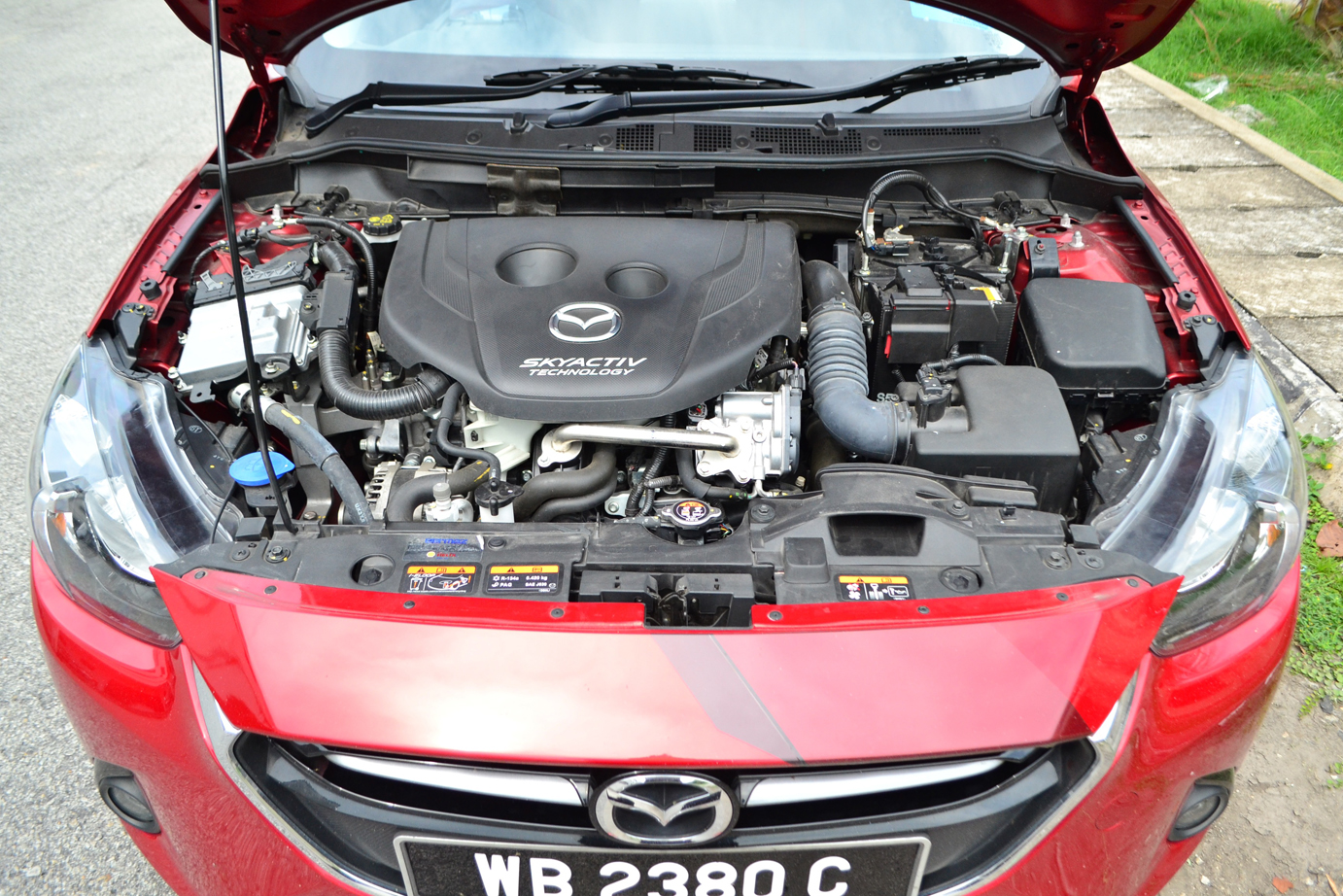 At the heart of the M2 Diesel is the yet-to-be-launched here SKYACTIV-D 1.5litre 4-cylinder 16-Valve Turbo Diesel engine that has a maximum power of 105PS @ 4,000rpm and a maximum torque of 250Nm from 1,500rpm to 2,500rpm.
In case you missed it, 250Nm is higher than the 240Nm you find in a VW Golf/Jetta 1.4TSi, Peugeot 308 and most family turbocharged C-segment sedan/hatchbacks. Planted in a car that's one segment smaller, you get an instrument of pure joy on the roads. Like most diesel powered vehicles, all you need to do to go fast is to go half throttle. Flooring the pedal is counter productive as you would just increase the rpm beyond its optimum torque band and the expectation of the surge of power to continue on (like a petrol engine) would result in disappointment. At half throttle (and hovering around 2,500rpm), the surge of power is relentless.
Remember that this is a small and light car so the torque pull is amazing. It doesn't torque steer (that feeling you get when the car pulls to one side during rapid acceleration) much and it just pulls all the way beyond 160km/h if the gas pedal is modulated correctly. The best way to appreciate a diesel engine is to drive it up the hills where the difference of torque between a petrol and a diesel is more apparent. Here, the M2 truly shines as its quick acceleration and high torque makes quick work of any other vehicle except those driven by the insane.
There are no official 0-100km/h figures but it is definitely a sub-10 seconds car and regardless if you're a fast driver or a leisurely one, this engine is one of the best in the market.
Ride and Handling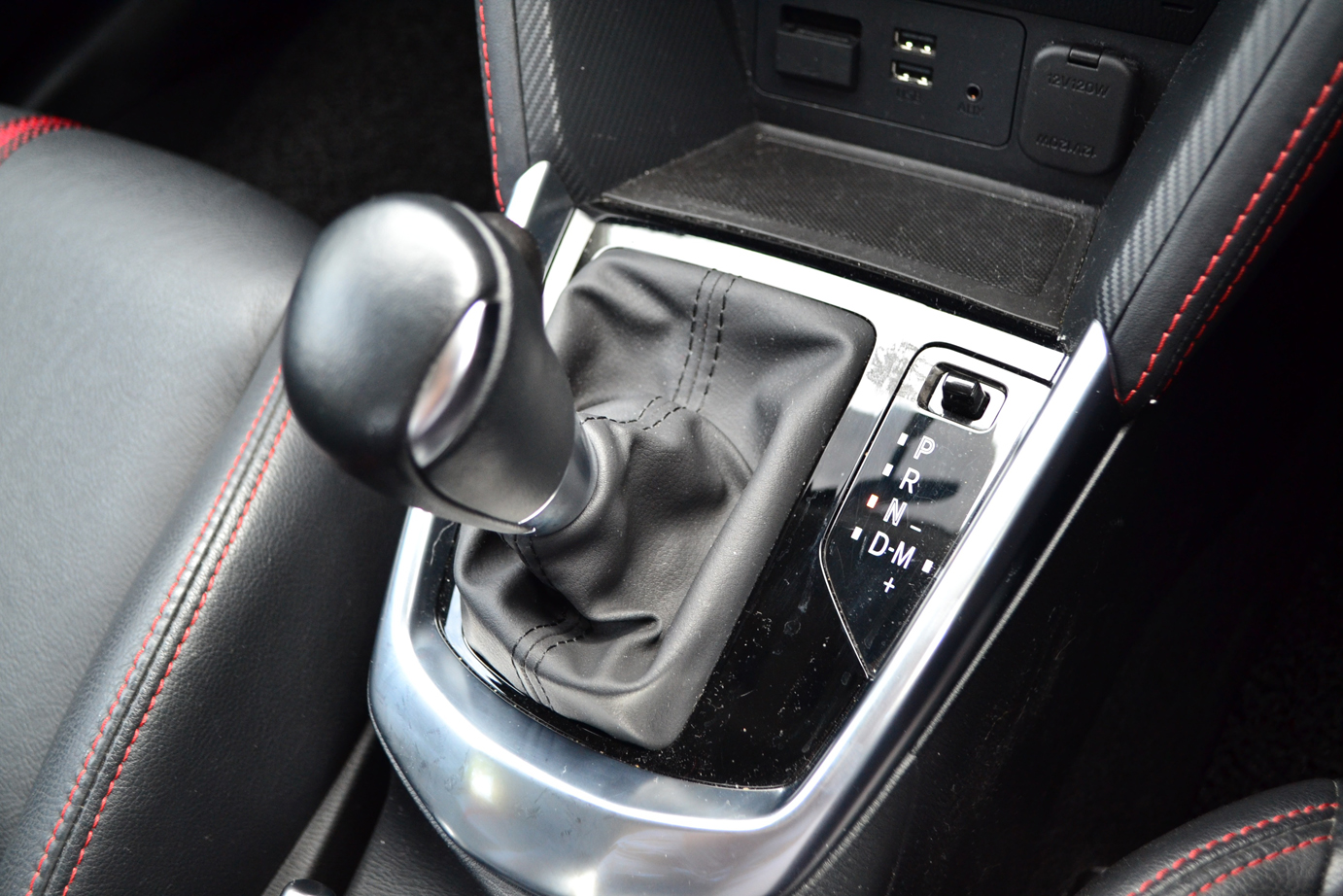 Does it have Zoom Zoom? Oh yes! In abundance!
The uses McPherson struts for the front suspension and torsion beam for the rear – which isn't much different from most family cars. But the secret to M2's prowess is partly due to its remarkable SKYACTIV-BODY AND SKYACTIV-CHASSIS which does not flex much during hard cornering. Granted that this is a small car and there isn't much metal sheet to begin with, it's lightness and rigidity, combined with its 4 tires which are placed as close to the edge of the car as possible ensures the M2 remains stable under almost any driving conditions, be it high speed cruising or the mountainous roads of Cameron Highlands.
Steering feedback is great; you'd have no trouble knowing when you're reaching the limits of traction. Which is a lot. The only other time I had trouble throwing the car off balance is the Ford Focus; which makes the M2 a much better sleeper car since no one would expect such high level of precision and performance from a compact sedan.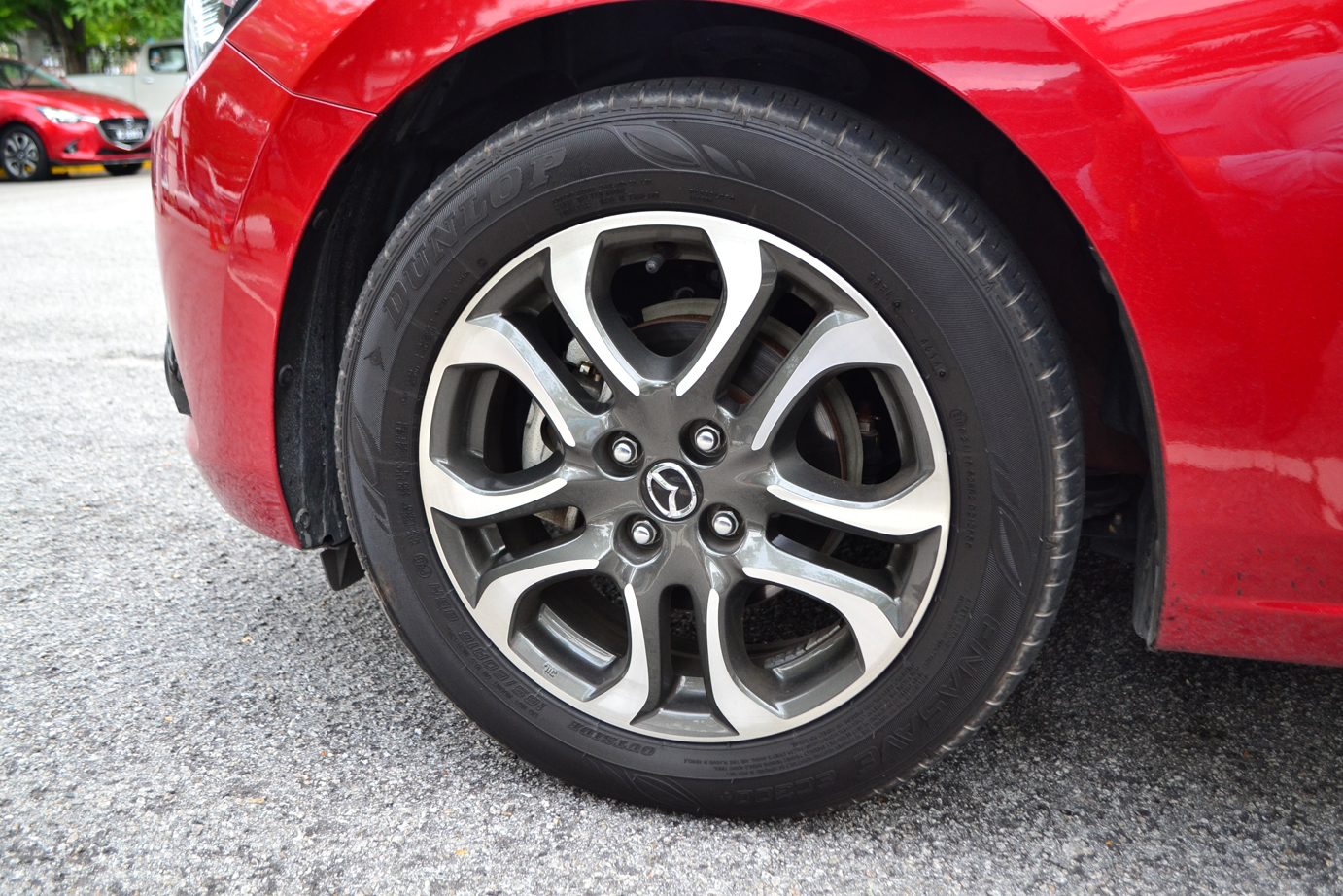 The unit tested here is equipped with 16″ wheels wrapped in 185/60 rubber and although the suspension can feel a tad hard, it is a good compromise for the added grip it affords. On regular roads, it is more than sufficient to provide comfort for passengers.
As for noise insulation, the M2 is excellent with wind and road noise intruding only at speeds in excess of 150km/h.
Cabin Convenience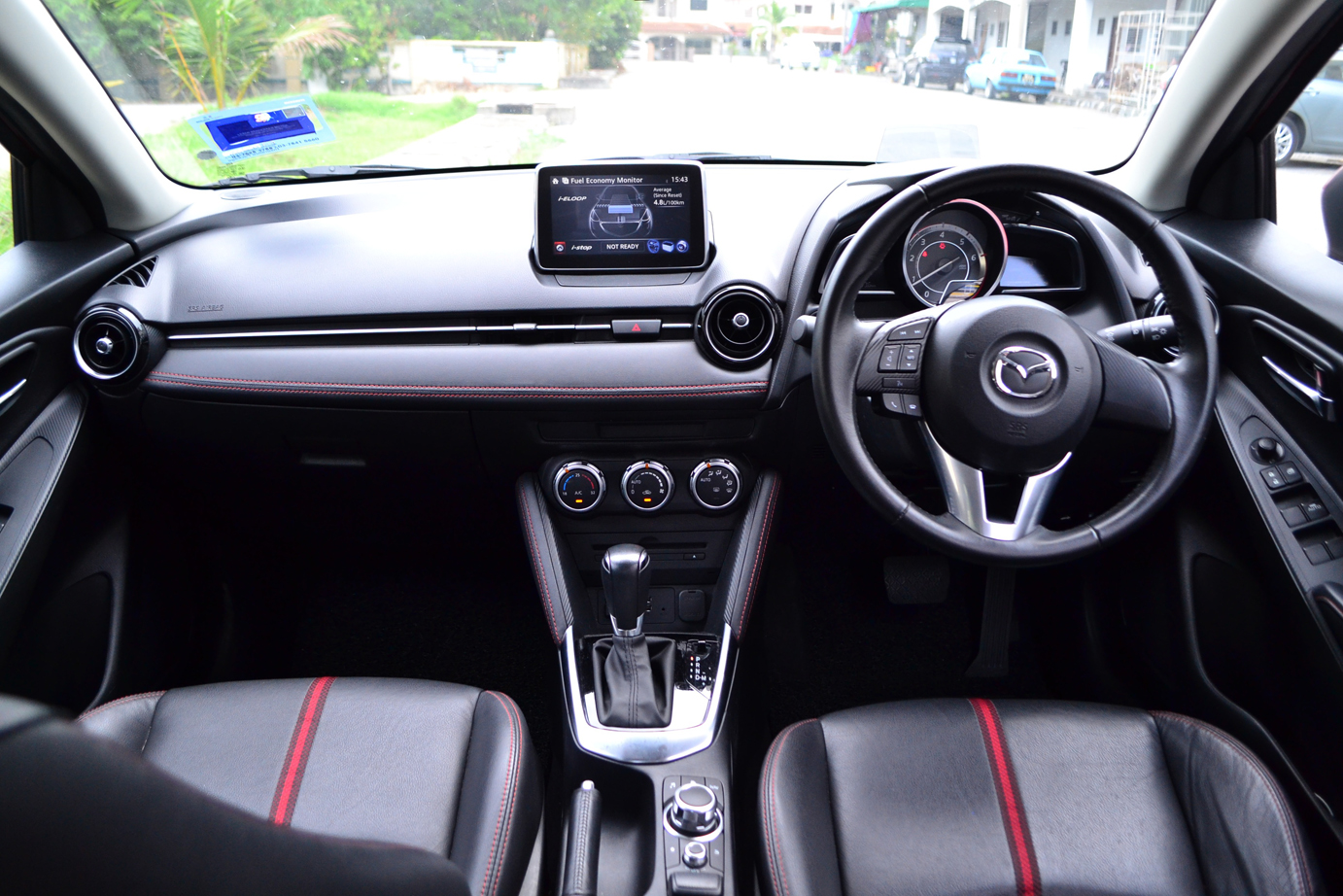 Typical outstanding Mazda fit and finish in the M2. The red stitchings, leather wrapped dash and beautiful design makes this cabin one of the best in the compact car segment.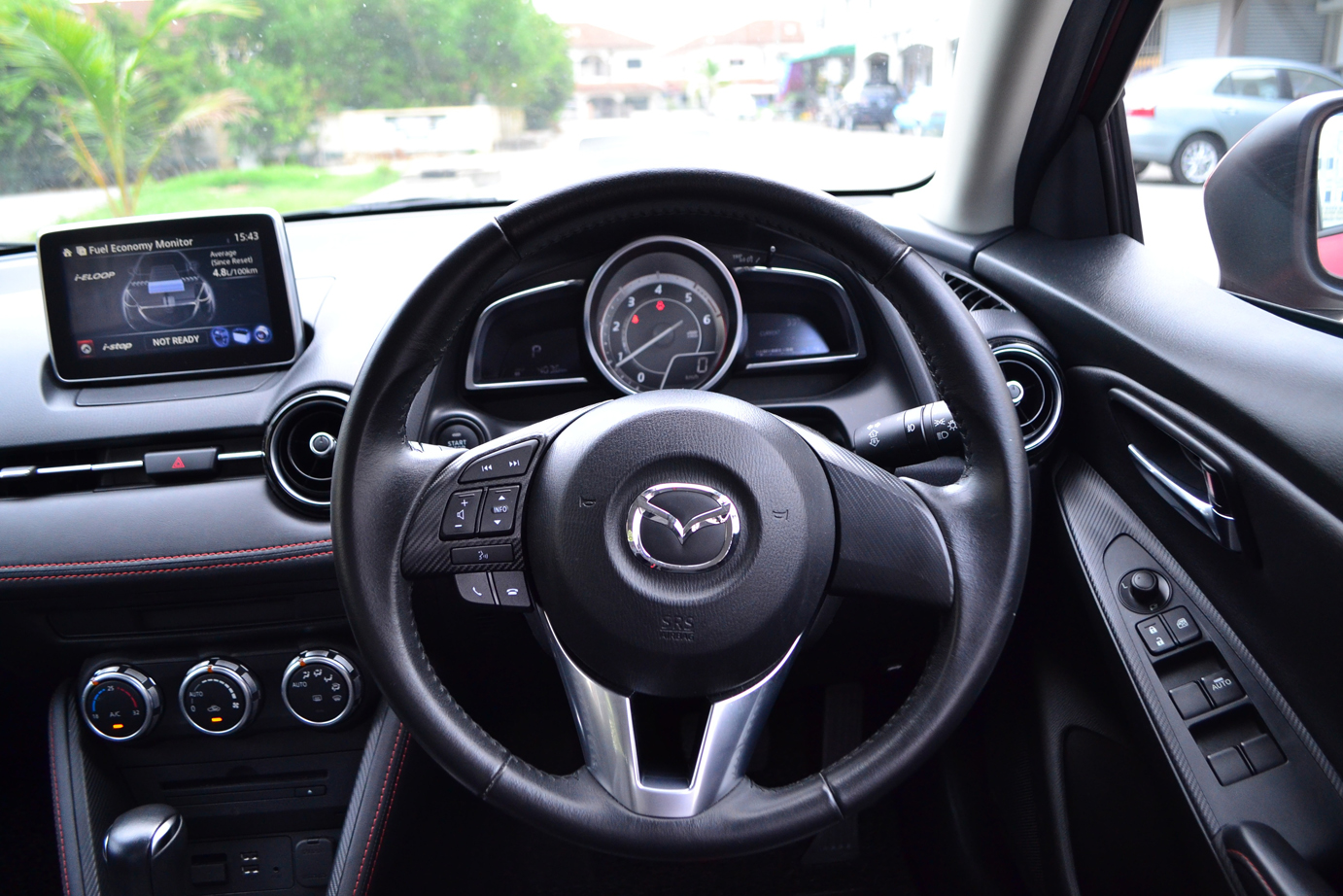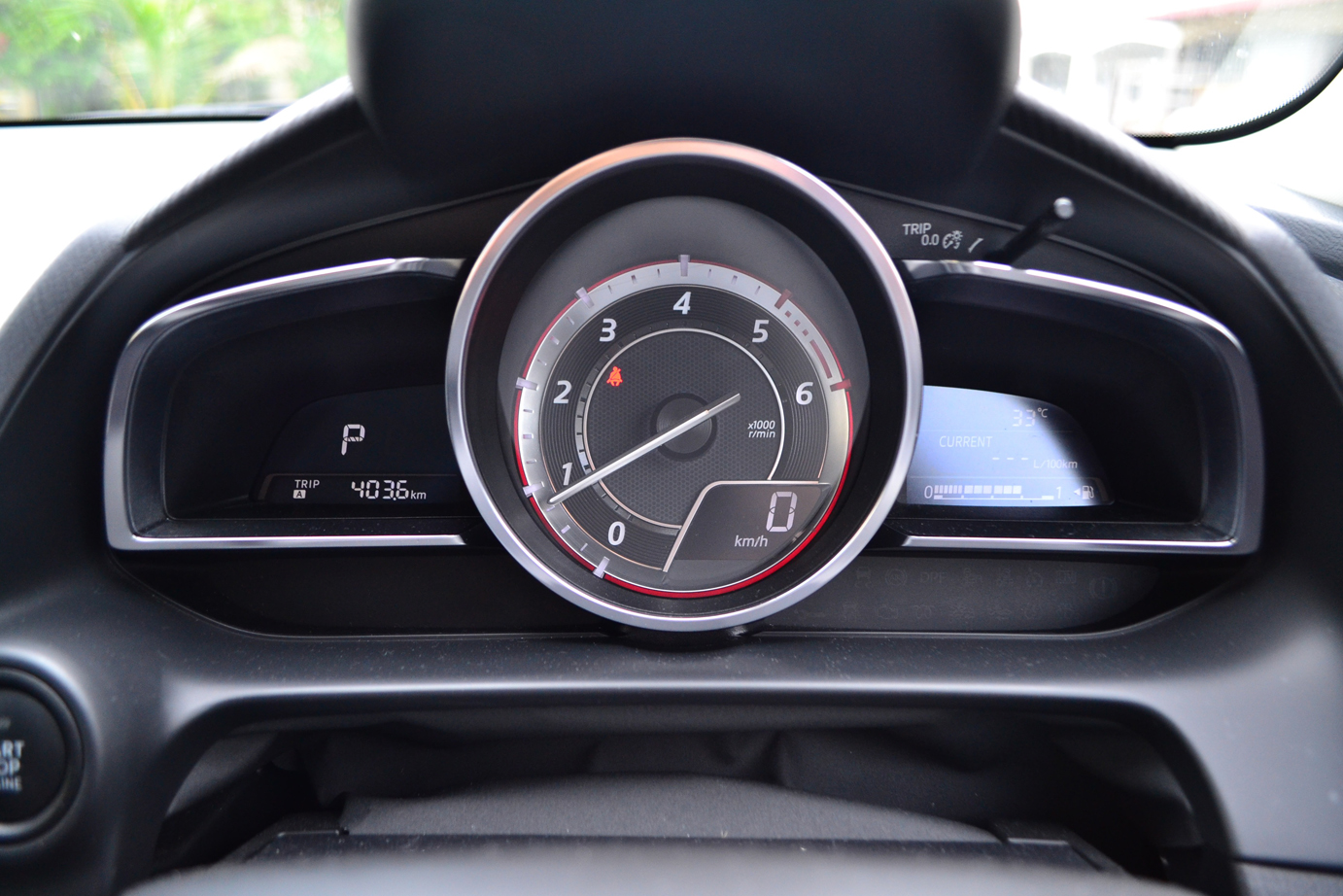 The meter readout, just like the CX-3, is clear but might suffer from glare and not so easily read, more so when the fonts are so small. Fortunately, the rpm and digital speedo is big and the inclusion of a head-up-display means you don't need to look down to see how fast you're traveling.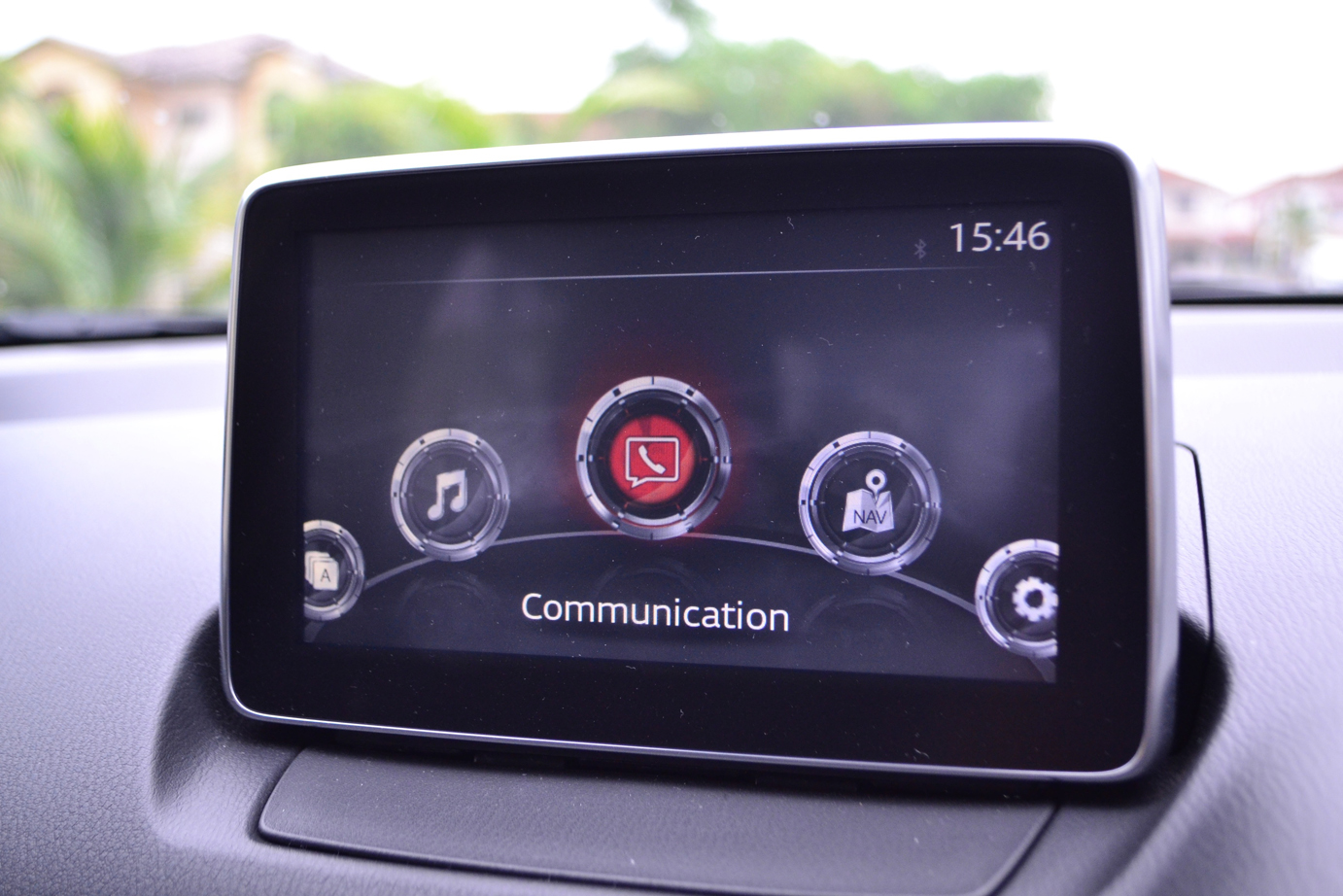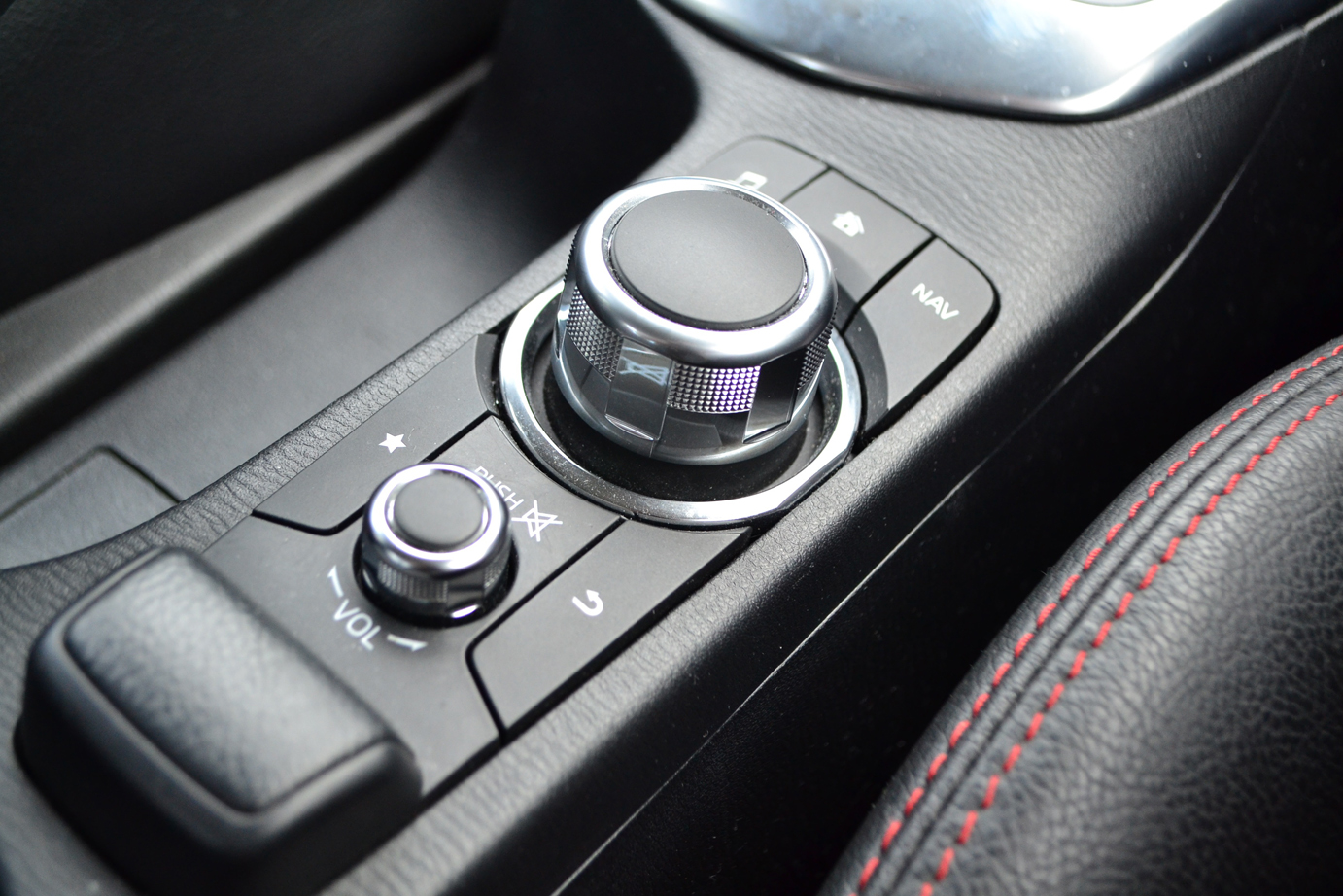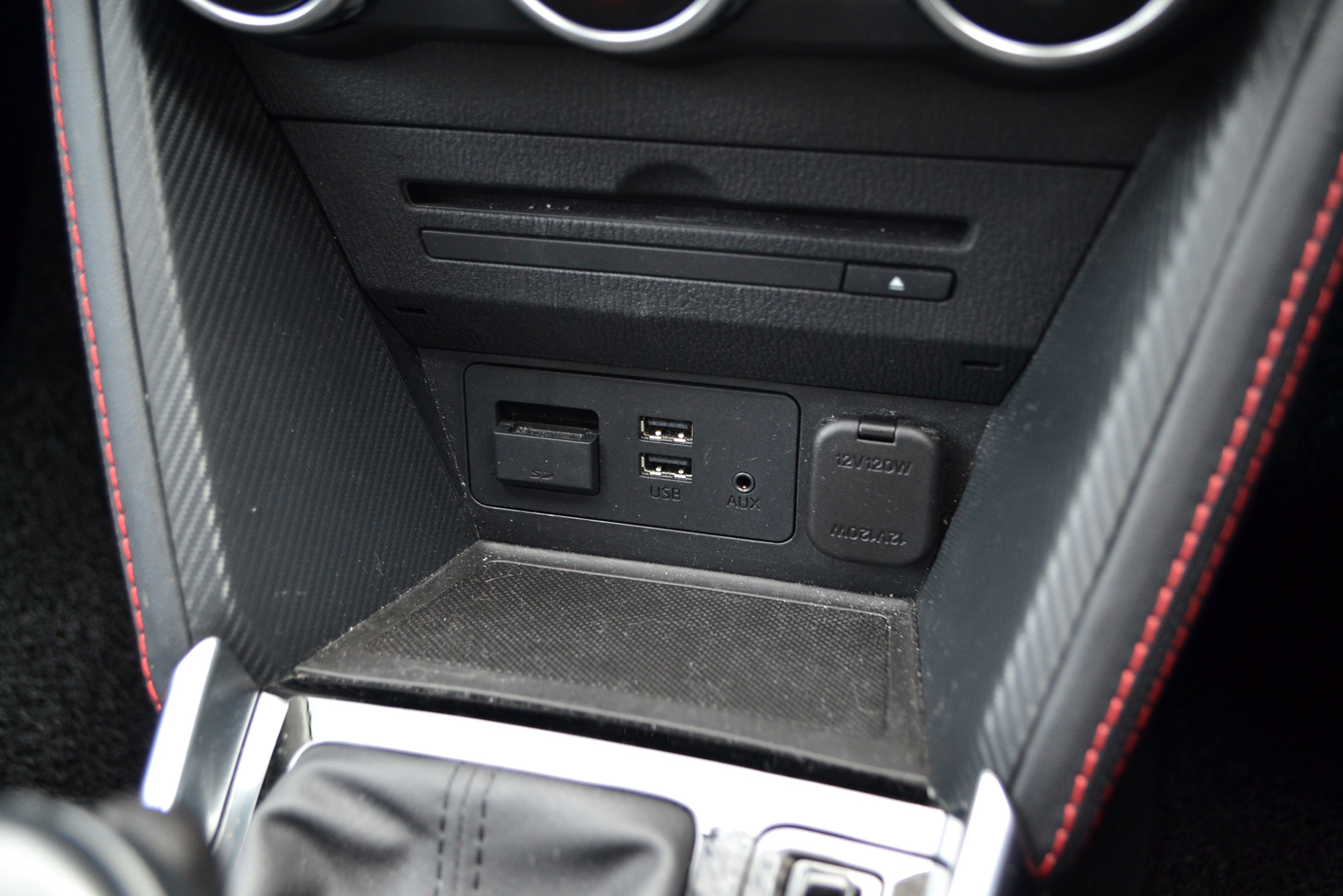 The M2 has a 7″LCD that's controlled using the Commander Control located next to the handbrake. Once you get used to where the buttons are located (there aren't that many to begin with so it's relatively easy to use), accessing various functions is quick and easy.
The system accepts USB connectivity via pendrive or iPod/iPhone/iPad and the ports are located below the air conditioning controls. Next to these ports is the AUX-In, 12V power port as well as the SD card slot for the navigation system. Audio playback is done through a 6-speaker system and the sound is decent. It does not have clear staging and imaging but at least clarity is acceptable.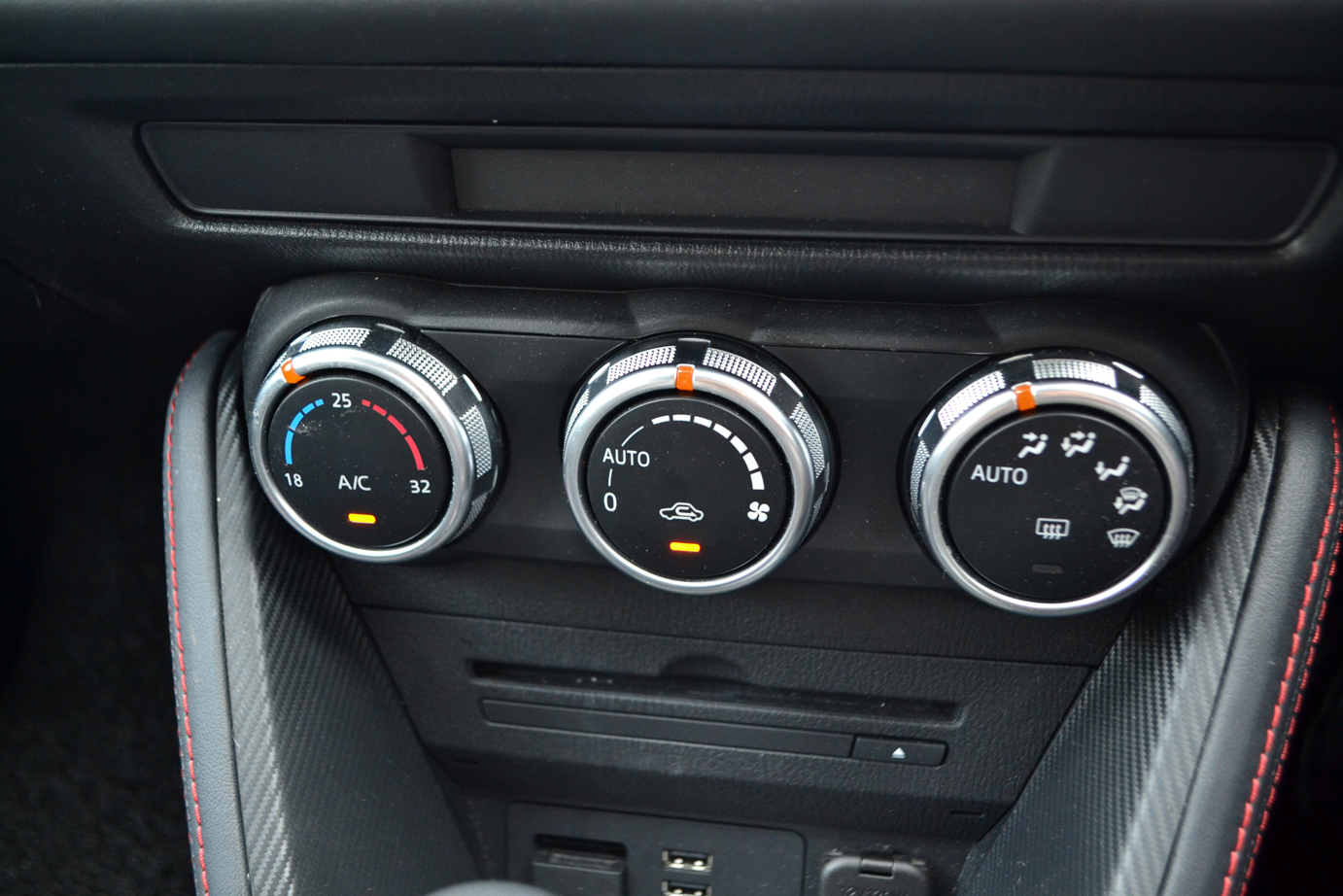 The air conditioning system is a single zone automatic climate control system and throughput is good enough for a small car. Being small also means there is no need for rear air conditioning vents as cold air can easily reach rear passengers.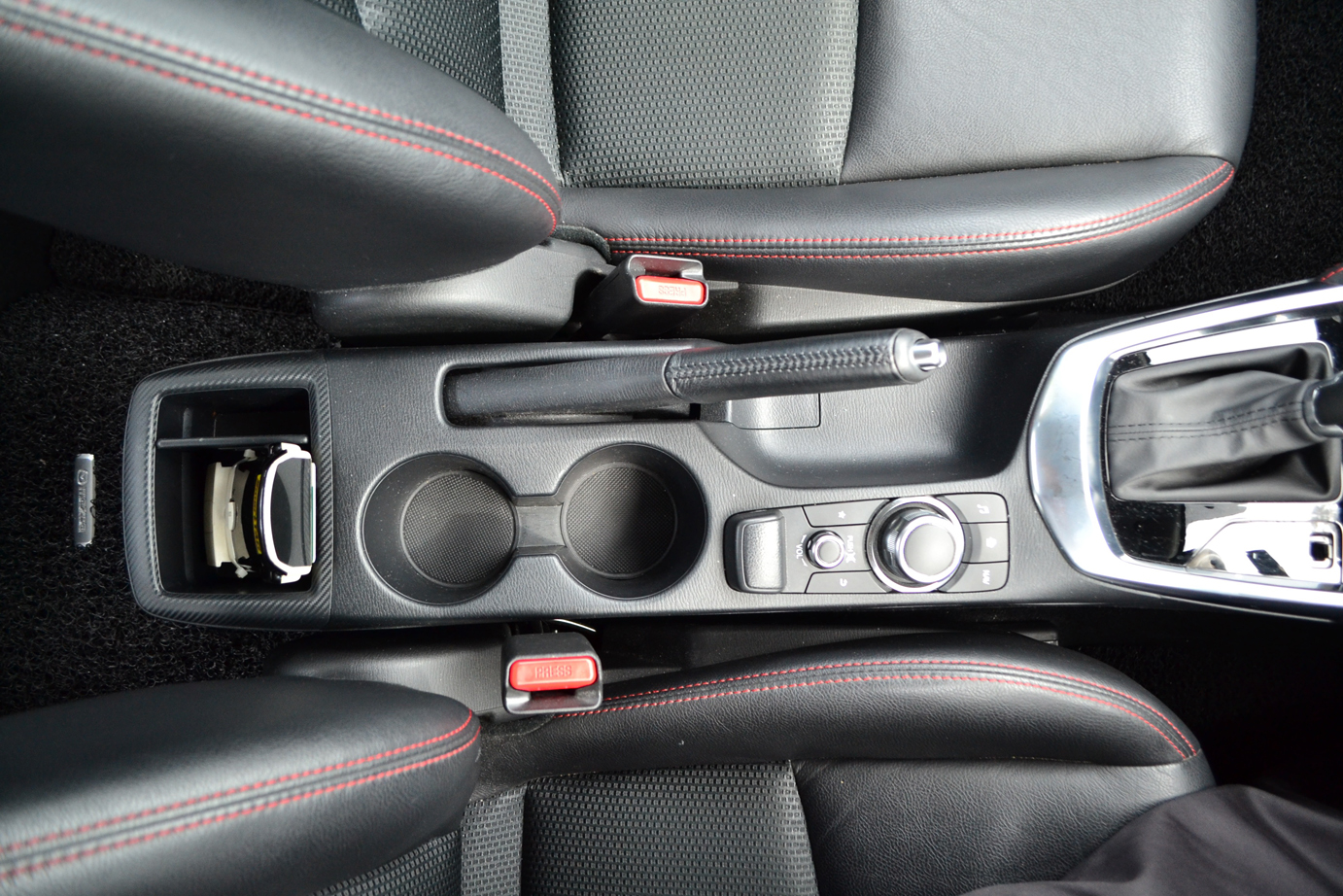 I do wish the M2 comes with an arm rest – it would have made long distance driving a lot more comfortable. Still, it's not a deal breaker. With 2 cup holders and a compartment to put Smart Tags and mobile phones, it's easy to find places to keep small items.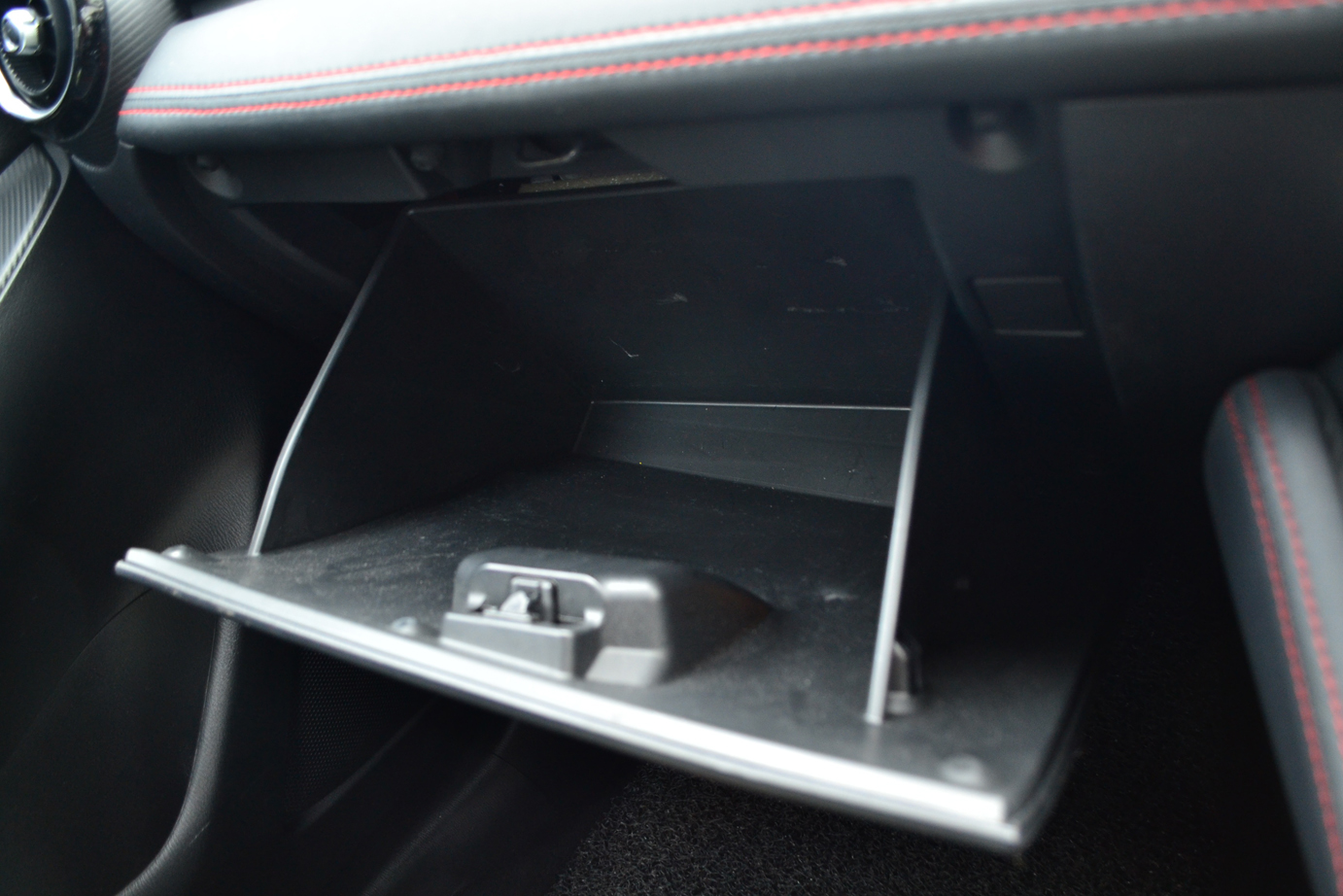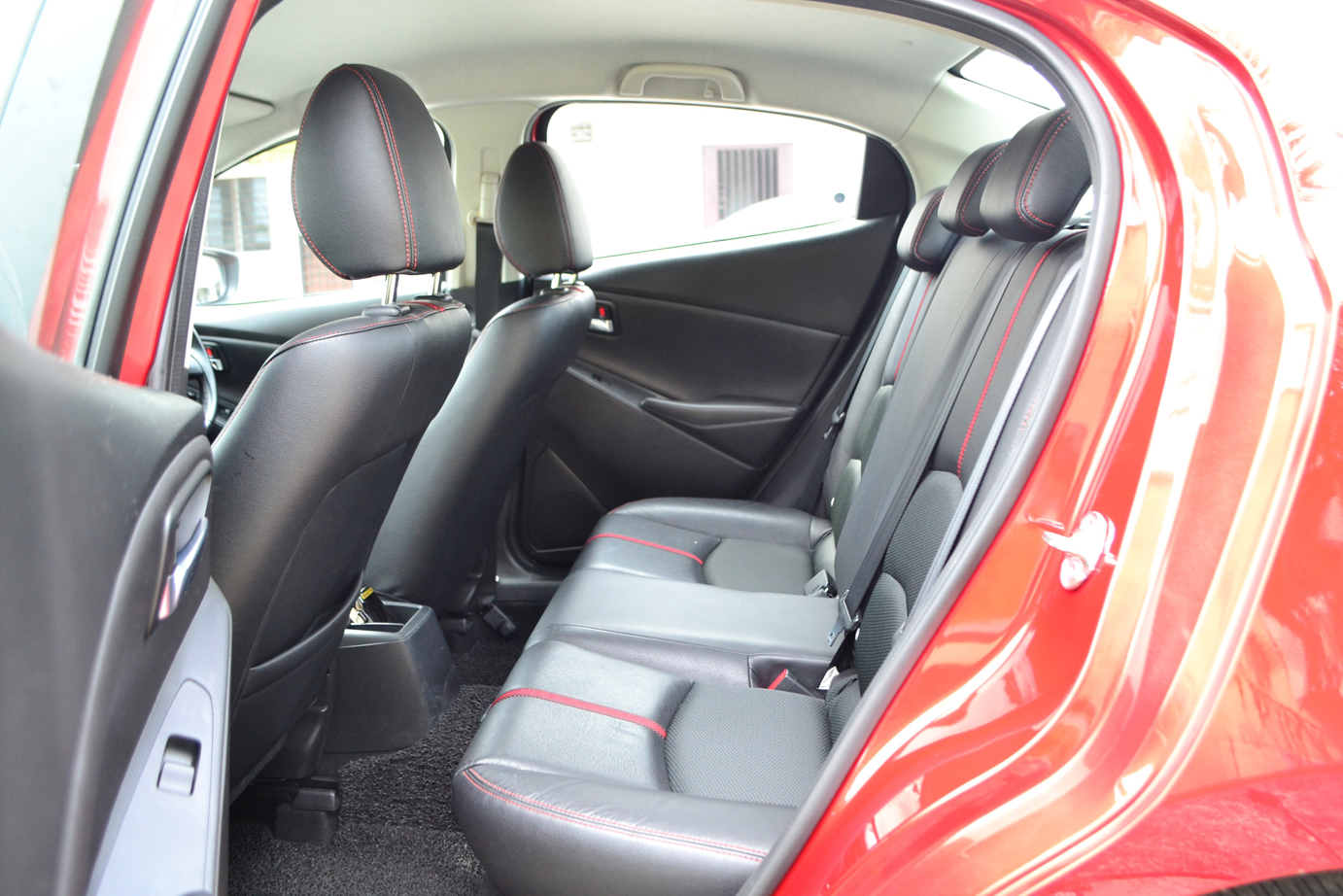 The M2 is a small car and so it's not surprising to find the rear leg and head room to be comprised. Tall passengers may find it a little uncomfortable for long journeys and the transmission hump means only young passengers can sit comfortably in the middle.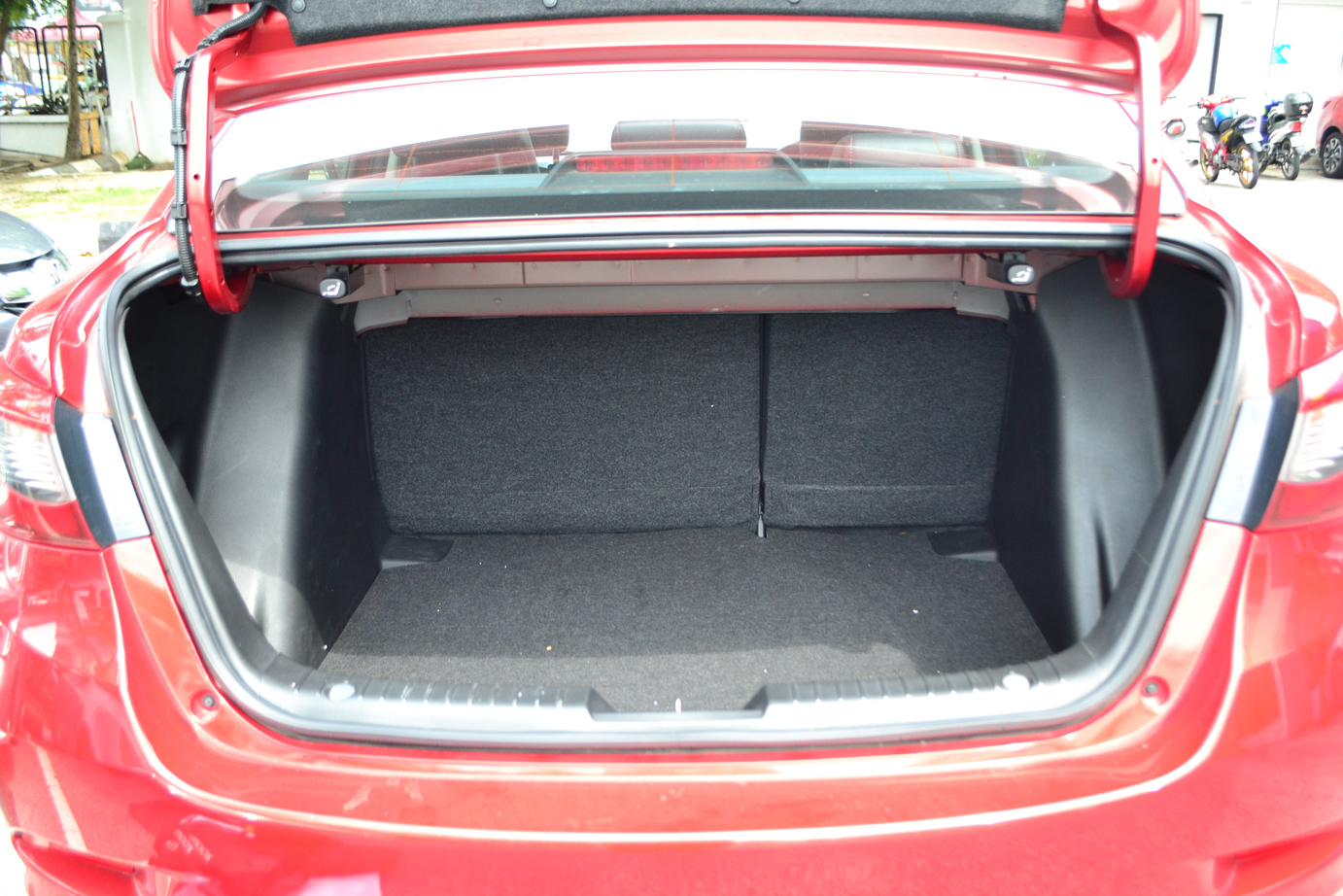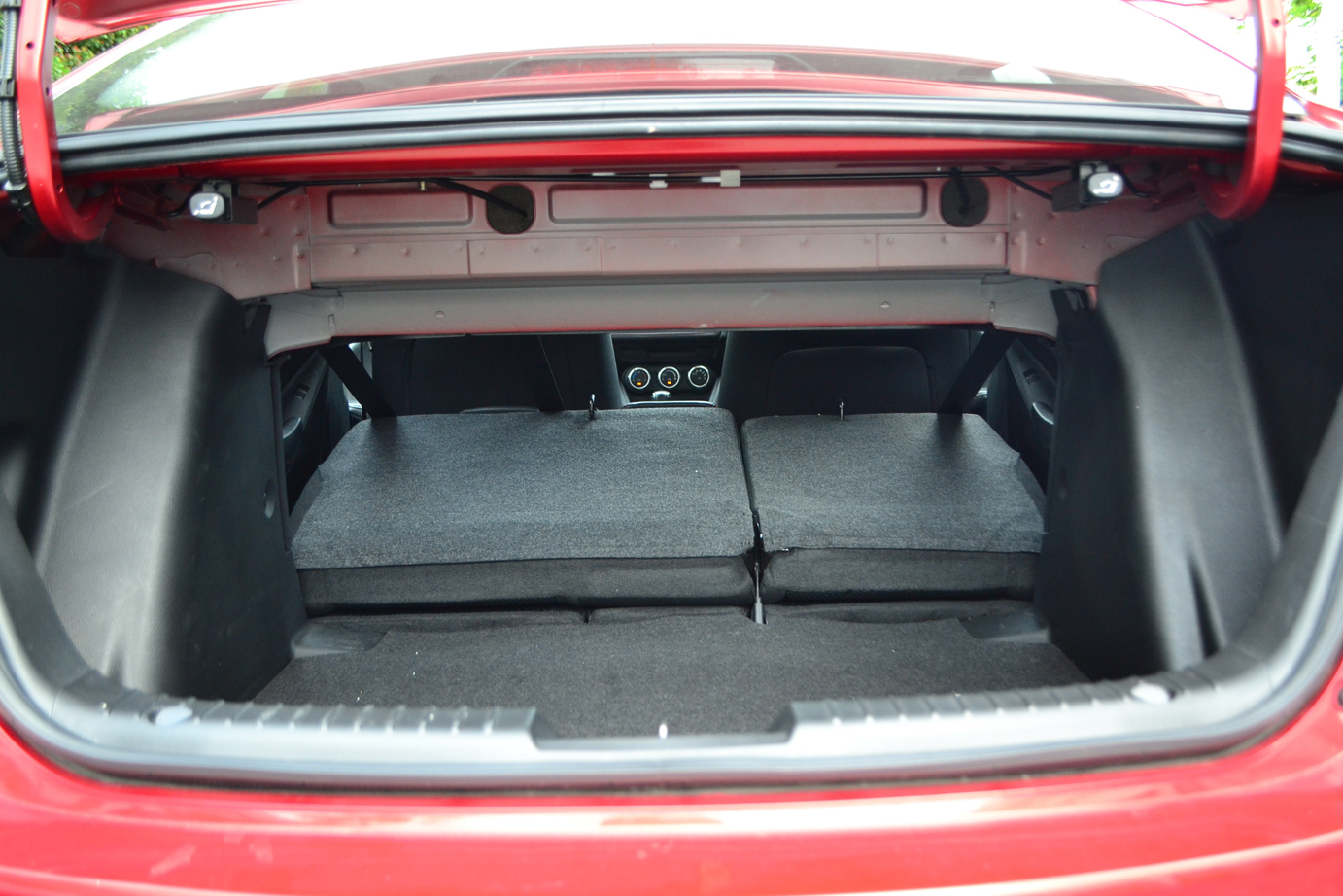 Boot space for the sedan is a little tight due to the wheel arches that intrudes within. Still, it's better than the hatchback and the space can be increased by folding the 60:40 rear seats down.
Safety
Remember that the M2 SKYACTIV-D is not officially launched but the preliminary spec sheet indicates that it comes with formidable active and passive safety features:-
Burglar alarm
Engine immobiliser
Auto door lock
Dynamic Stability Control
TCS
Hill Launch Assist
EBD
ABS
Emergency Signal System
Front airbags (2 airbags in total)
Seat belts (front) with pretensioners, load limiters and height adjustable shoulder anchorages
Seat belts 3-point lap sash (all-seats)
Side impact door beams
ISOFIX
High mount stop lamp
Specifications
Bermaz brought the high spec M2 SKYACTIV-D and it's specifications is as follows:-
Exterior
Halogen headlamps
Front halogen fog lamps
Rear wiper with intermittent function
Rear spoiler
Gun metallic radiator grille
Power side door mirror with turning lamps
Exhaust extensions
Interior
Smart keyless entry system
Push start button
Analog tachometer
Active Driving Display
Trip computer
Tilt & telescopic adjustable steering wheel
Automatic Air conditioning system
High gloss back and satin chrome air louver bezel
Soft touch black with red stitch and satin chrome front panel
PVC door trim material
Leather and fabric with double red stitch seat material
Leather steering/satin chrome wheel material and bezel
Leather wrapped hand brake
60:40 split fold backrest
Front room lamp with spot lamps
Rear room lamp
Trunk cover
CD player, single disc (MP3 compatible)
7-inch full color touch screen display with center commander (MZD Connect)
Bluetooth connectivity
Voice recognition
Steering wheel-mounted audio controls
Auxiliary-audio input jack (3.5mm mini-stereo)
USB-audio port x 2
SD card slot (for navigation system – optional)
6-speaker system
Ownership and Maintenance
Since it's not launched no one knows how much the M2 SKYACTIV-D is going to be sold here. Those who've tested this have nothing but praises and that includes me. Bermaz was asked when will it be available and it's Managing Director, Dato' Seri Ben Yeoh has remarked that it's all a matter of striking a balance between price and value. As it is, the 1.5litre SKYACTIV petrol  has a price tag of RM87,956 on-the-road with insurance, inclusive of a three-year (or 100,000 km  whichever comes first) warranty and a three-year/60,000 km free service package. If the spec as tested here is brought in, it would definitely be more expensive; probably close to the RM100k mark. I say this because the SKYACTIV-D 2.2litre equipped CX-5 and Mazda 6 both costs more than the petrol equivalent.
It makes sense for Mazda to launch the higher capacity SKYACTIV-D because the target market for CX-5 or Mazda 6 is different from the Mazda 2 and CX-3. The smaller cars appeal to a market that is more price sensitive and if it costs almost as much as a C-segment sedan/SUV, it won't sell as well. It is understandable why Bermaz would want to take their time to carefully consider the price position of the 1.5l SKYACTIV-D.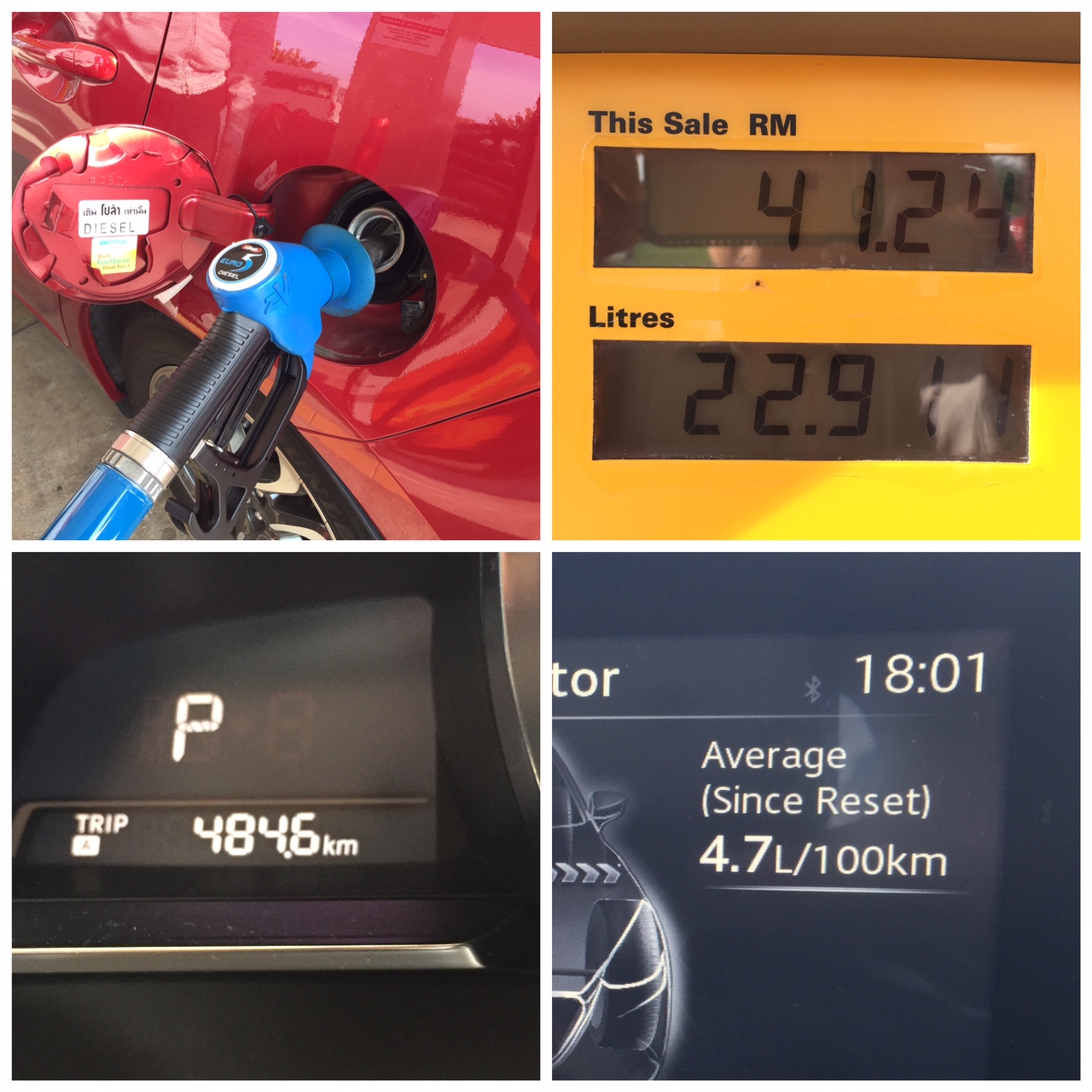 I hope they will decide sooner because even if it costs more, this is one car I wouldn't mind buying and keeping.
It's small so it's easy to park.
It's powerful so I can take it out to scare GTIs plying Ulu Yam and Genting
It's frugal. The picture above was taken after driving it from KL to Ipoh to Cameron Highlands to Sitiawan and Bidor  with 484.6km covered before refueling to the brim again with just 22.911litres. That's 21.15km per litre which is hybrid category.
There is no other car, hybrid or otherwise that can provide the combination offered by the M2 SKYACTIV-D. The only setback is that it requires Euro 5 Diesel to run. Pumping regular Euro 2M Diesel may clog up the injectors and damage the engine and Bermaz has mentioned all SKYACTIV-D to stick to a strict diet of Euro 5 D.
Which isn't a problem now that it is sold in over 100 BHP, Petronas and Shell stations nationwide. I was surprised to find one of such station in the trunk road between Bidor and Sitiawan (not even in the main town).
So let's all wait in anticipation of the price