A couple of days back, I came across an article published by FreeMalaysiaToday about used car dealers facing tough times. In the article, the first 4 paragraphs illustrates how bad it is by quoting ONE second hand car dealer, then the rest of the article quoted ONE editor from ONE automotive related portal. I thought it was a shitty piece of article because;-
the lack of comments from more than one source (both in dealers and industry observers)
there is no accurate way of calculating second hand registrations without JPJ's cooperation in sharing the number of ownership transfers. Those numbers thrown by Blake Chen, the writer of the FMT article refers to new vehicle registrations.
All in all, the writer talks about second hand car dealers, spends more than two thirds of the article quoting from one company and throws new car registration numbers in an article talking about second hand car sales. I've known the editor quoted in this article for some time, both online and personally and I say this; Kon is one of the most respectful editors I've ever known, exact in his words and certainly would not confuse the public with mixed up numbers. It's either this piece of article was FMT's cheap attempt at finding something to write about concerning second hand cars or it's an advertorial from one of the named companies in the article so screw accuracy.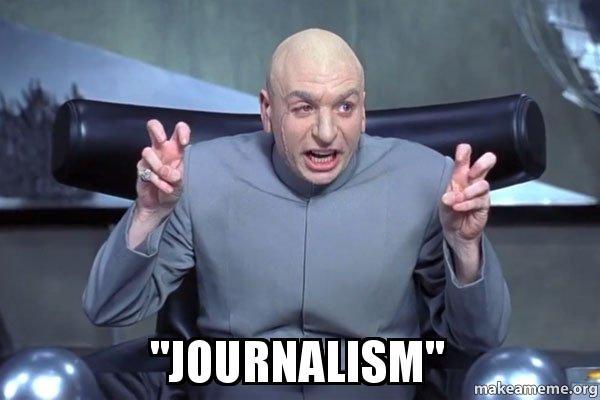 Regardless, the article does talk about a consumer pattern change that's affecting a whole industry – are second hand cars going redundant?
Let's break it down to a few angles …
The Customer
Who buys a second hand vehicle? He/she who;-
Can't pay the new price tag (either in income or blacklisted by CCRIS)
Doesn't want to suffer the first few years of high depreciation
It's cheaper
Can't pay the deposit for new but hey, this second hand one says no deposit required!
The key word here is AFFORDABILITY.
Affordability is relative. Like how some might feel spending RM1,200 for a hairdo is cheap compared to those who frequent barber shops, affordability does not necessarily mean cheap. Some luxury brands are recording phenomenal sales while the 'Cheap' (ie those that carry low price tags) brands are selling less than the year before.
Here's a rundown of some of the mainstream brand's performance for Jan – Sept 2016 vs 2015.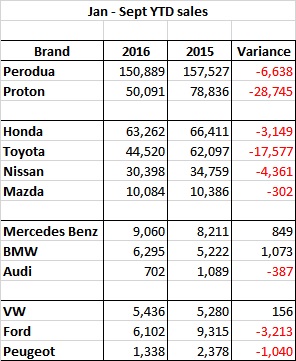 Overall despite what the government may tell you, things are looking crappy for the auto industry this year. BMW and Mercedes-Benz continue to record outstanding performance with both companies adopting strategies that allow them to tap into different ends of the higher income spectrum (BMW aims for price superiority while MBM focuses on premium price for premium features).
Perodua, despite introducing the Bezza and Proton launching the Persona is doing less than before. It can be argued that the models were introduced late in the year but since it's coming to year end, everyone is slashing profits to clear stocks so it's not clear if the newer national make models will need to go through the same process.
The grave situation affecting the lower many attribute to a few factors;-
banks tightening the loan approval process which affects
PTPTN loan defaulters who can't earn enough to keep up with inflation caused by
GST & other inflation-causing factors which
discourages consumer spending sentiments more effectively than cactus rubbing onto a rapist's genitals.
The corporate sector is fighting for dear life in the current economic climate, with the bigger boys lobbying for Parliment to make it easier for them to sell to the masses. The latest toward this is the 2017 budget giving a RM4k discount for those buying an Iriz in order to be an Uber driver.
Which comes to the second question …
The Second Hand Car Dealer
Where does that leave the second hand car dealer?
I never knew there was an association that represents dealers. The Federation of Motor & Credit Company Association of Malaysia (FMC for short website HERE) is an association that, for its 49th year  in existence is one that I've not heard of much. Heck, I've been going through their website and not only does it look ancient, it's List of Members even returned an error.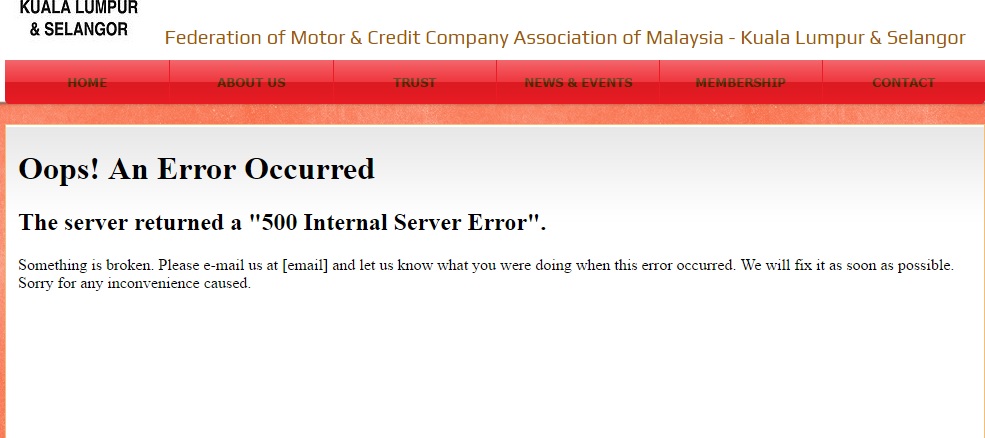 Last update in its News and Events page was on 8 September and the event before that was Dec 2015 48th anniversary dinner.
Small wonder why most people have not heard of them. If this is the association that represents the interests of second hand car dealers, congratulations – you're well along the path of AAM, the Automobile Association of Malaysia. Failure to observe changes around you and adapt accordingly will result in extinction.
Let's face it. Second hand car dealers offer;-
Someone else's car that someone else no longer needs/wants
vehicles that usually carries a higher-than-new bank interest rates
known and unknown issues that may cost a bomb to repair
I-sell-you-the-car-You-figure-out-where-to-get-it-serviced/fixed
Yes, second hand car dealers usually aim to make money by negotiation the best margins for him/herself without thinking of long term relationship.
Which is stupid.
And arrogant.
Small wonder why there are some negative comments online on wanting to see second hand dealers get buried for the implied abnormally high profits during good times.
The Road Out
But all is not lost. Second hand cars, like new ones play an integral part of our transportation system. Just so it carries a lower price tag doesn't mean it's any less stressful for the buyer. More so when the seller doesn't really know the full history of the vehicle.
Like everything else these days, the one that wins business are those who offer VALUE – which basically means the customer getting more for the same payment.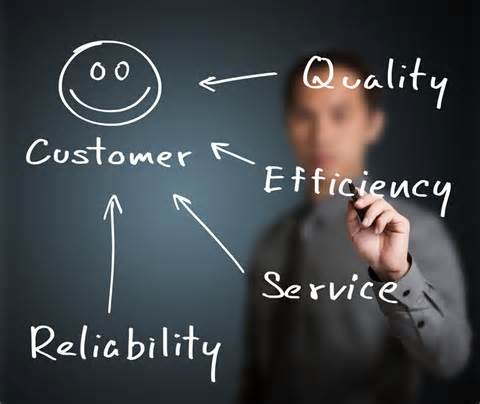 Here are things that has meaningful Value for second hand car dealers to offer;-
Talk to banks to see if any form of lower interest or flexi-loan that can significantly reduce the monthly payment (hence lower the risk threshold for new loan applicants)
Aside from the mandatory Puspakom inspection for vehicle ownership transfers, tie up with independent workshops to check the condition of the vehicle. There's no absolute way of confirming if a component is going to breakdown or not (metal fatigue, micro fractures, hoses hardening, etc)  but at least risk areas are highlighted for potential owners to consider.
Build a network of service centres/workshops that can service the vehicle sold by the second hand dealer. Focus on ensuring the customer has a good follow up
Refurbish cars that can be good enough to be Uber/Grab vehicles. Like the Iriz deal, offer discounts to attract those interested to jump on the ride sharing app bandwagon. Heck, why don't they directly contact Uber/Grab and work something out with them?
Some of these tips above don't cost additional money but most certainly takes up more time to research and execute. Done well, Trust will be established between the used car dealer and the buyer who may return for a trade-up or to purchase another vehicle. Why miss this opportunity?
We've got the government throwing billions of ringgit rescuing Proton and you expect the government to come to your aid? Not a wise thing to do. Especially when you consider this;  when comes to second hand/refurbished dealers Pekema, the association for Malay vehicle importers and trade has better relations with the government (how else can you explain why the AP system remains in place despite so many calls to abolish it & the government keep changing its mind)
Pekema appears to have more activities, it's website is regularly updated and seem to offer more for their members. I've tried looking at both sites (does not help that FMC's listing page does not load) and do not see Pekema being part of FMC.
If this is true, then hoping that FMC could change the industry would be as effective as getting a drunkard doing heart surgery.
If FMC cannot help you, then you need to get out of the shit hole yourself. Start by doing the right things and focus on the customer. There are a lot of Malaysians who needs an affordable car that's inexpensive to run, fuel efficient that needs little repair. You have these in your stockyard. Either continue to hold your depreciating asset & hope to catch someone that is willing to spend more for your profit or improvise and give better Value. Your customers will love you for it, inspiring loyalty and independent workshops will want to work with you as you give them (continuous) business.
Times are bad but bad times are also a time for opportunity. There are so many fresh graduates who cannot produce 3 months salary slip (because they do not have a job to begin with) to apply for loans (because no car means no job). What can be done to help these candidates? Without understanding this crucial point, second hand car dealers continue to lose out to Perodua and Proton that continue to offer newer, more efficient at attractive prices.
Have you checked the used price of continental vehicles? The price of a used 2010/2011 BMW F10 5-series 523i has dropped below RM150k, well within range of those with a budget to buy a new D-segment vehicle. What incentives does the dealer have to entice people of this segment to consider the Beemer? What are the assurances for continuous technical support? These and so many more questions will be in the minds of potential buyers.
At the end of the day, used car dealers should do a bit of research, spend a bit more effort in doing more for the customer –  It won't do to just sit back and complain of the situation. Spend your time to do something meaningful; there is still time to make a difference.